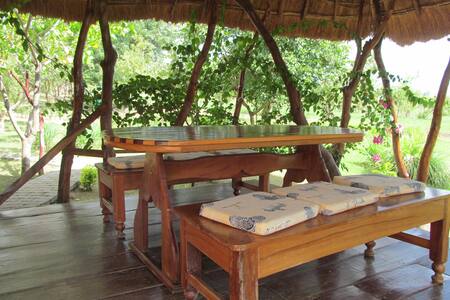 Casa de campo inteira · 5 hóspedes · 4 camas · 1 banheiro
The best kept secret in Uganda-cozy Familybanda
Our cottages are located high above the valley of the river Nile with stunning views.Its very close to the Tangi gate, one of the main entrances of Ugandas biggest National Park, the Murchison Falls NP. The cottages belong to the NGO "NTS" that cares for orphans and widows in Northern Uganda. All profit of the rooms goes directly to needy and vulnerable and supports the construction of a school for orphans. The place is an oasis of peace and tranquillity, enjoy the fire place and the hammock !
Located on 20 acres of beautiful savanna just 2 minutes from Mubaku Gate and 10 minutes from Paraa Ferry of Murchison Falls National Park We have 2 charming self contained rooms with double and twin bed options plus free accommodation for drivers, ample space for campers, enjoy an epic game drive in the park, visit the spectacular falls or just chill in our chic thatched dining room or beside the campfire surrounded by spectacular bird and animal life (warthogs, olive baboons, hippos by night).
Set up in a natural environment, all our rooms are constructed from locally sourced material to offer an eco-friendly experience to all guests. The architectural plan represents the traditional Acholi hut. Breakfast is included in room rates and guests can order other meals from our fully equipped & stocked kitchen. The hotel owns tour vehicles with a max capacity of 9 px for guests who would like to do a game drive in the park.