On an area of 10 hectares in a unique location, surrounded by the sea and pine forests and located perfectly calm, there are 2 small guest houses and a saltwater pool for common use. The House Bougainvillea with its heavenly blue shatters provides a lot of space for a couple or on request we can provide a single bed for a child. House Bougainvillea has 40m2, a large room with sleeping area, bathroom with W/C and Shower and an open plan kitchen (fridge and cooking facility) and a large terrace with chairs and a table. The property is planted with fruit trees, olivetrees, turf and a kitchen garden. As a highlight there is a saltwater swimming pool and a barbecue for commone use. The distance to the private beach is about 150m and the difference in height of 65m with steps leading down. It is a small private beach that belongs to the property and is not accessible from outside (only accessible by boat). You'll need a car with 4 wheel drive, the prices are around 40-45€ per day, so we are told by the local car rental. Due to our house is located on a sand street (1600m from the asphalt Road) and need a little bit of driving experience. The next Supermarket is around 15min by car, a very nice tavern at the Pefkos Bay with delicious homemade food is around 7min by car and the Chora, the main city of Skyros is around 25min away by car. Skyros is an island whose history reaches far back to the mythological times. Theseus, Lykomidis, Axill and Neoptolemos are people of mythology which are inseparably connected with the history of the island. The Neolithic period, the classical period, the Roman and subsequently the Ottman empire and the invasion of pirates all shaped the islands history, a habitat with archaic roots that live on still today in the traditional customs and practices. In the two museums of the island – the ethnology and the archaeological museum – many documents and monuments of this important past can be found. Skyros is the largest island of the island complex of the Northern Sporades and is characterized by a unique scenic feature. The northern part of the island is rich in dense pine forests and scenic areas, in the southern part there is a shepherd landscape with dense bush vegetation, which offers a haven of rare beauty for goats, sheep and the unique skyrianic pony. The most picturesque point of the island is without doubt the Xora, the main village of the island, with its houses shaped in the form of an amphitheater huddled against a 179m high rock. On the top of the rock is an old castle, where you can enjoy a great view over the vast blue Aegaen Sea. Remarkable is the construction of the castle, as it is only accessible from one side; all the other 3 sides drop steeply down to the sea and offered a natural defense against attacking enemies. Next to the castle is the monastery of St. George, who is the patron of the island; it's another magnificent viewpoint not to be missed. Some of the beaches of the island offer their very own aesthetic beauty. On the north side these are the beaches of Athitsa, Agalipa (which is reachable only by boat), Agios Petros, Gyrismata and Pefkos. The south side offers the long beach of Kalamitsa and Kolymbada.
O que os hóspedes estão dizendo:
"Nós (27 e 31) passou duas semanas maravilhosas na mais bela casa de hóspedes em Pefkos. A pousada está localizada nas terras dos anfitriões e é também a sua casa vizinha. É bem decorado e tem o seu próprio pequeno terraço (ver fotos, tudo parece realmente gosto). Embora Kostas e Viola ao vivo ao lado, você tem a sua privacidade e não vai conseguir nada um do outro com. Com o uso da piscina que sempre teve prioridade. A ilha de Skyros é linda e tem muito a oferecer, a paisagem é diferente no norte e no sul. Obrigado mais uma vez muito para o grande apoio dos anfitriões. Kostas e Viola são realmente muito bom, honesto e acima de tudo, útil. Fomos apanhados no aeroporto e dirigi de volta lá no final da nossa estadia. Eles nos deram conselhos e apoio que se pode ir com eles como nós não tinha carro. A recomendação para contratar um 4x4 é, definitivamente, o direito de os últimos 700 metros da casa de hóspedes não estão a levantar com um carro normal. A ilha também oferece outro tal drive-duro caminho :) Amor Viola e querido Kostas os polegares para cima para você - faz o bom trabalho. Queremos ir lá novamente e pode recomendar a ninguém."
Skyrian style apartment, built in the second building of a condo with a fully equipped kitchen, fireplace, air- conditioning, flat-screen TV, a large balcony and a garden on the front side.Structured in 3 levels and in a single space: the first level includes the WC and the kitchen. On the second floor, there is a handmade living room with built-in sleeper sofas and a TV, while in the third level there is a traditional bedroom with a desk and a double low floor bed.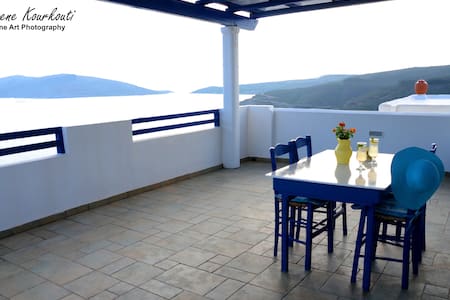 Apartamento inteiro · 4 hóspedes · 2 camas · 1 banheiro
Summer house with majestic view of the Aegean!
This new private apartment is located on a high hill, 300 metres from the picturesque port of Linaria and is the first floor of a two-story summer house. It has a big yard and a balcony, which has uninterrupted views of the Aegean Sea, and there is a quiet secluded beach below which makes this a unique spot.The accommodation is light and airy, tasteful and modern.The kitchen is fully equipped, and fitted with a large fridge and oven. The bedroom has a double bed with wooden, fitted cupboards.