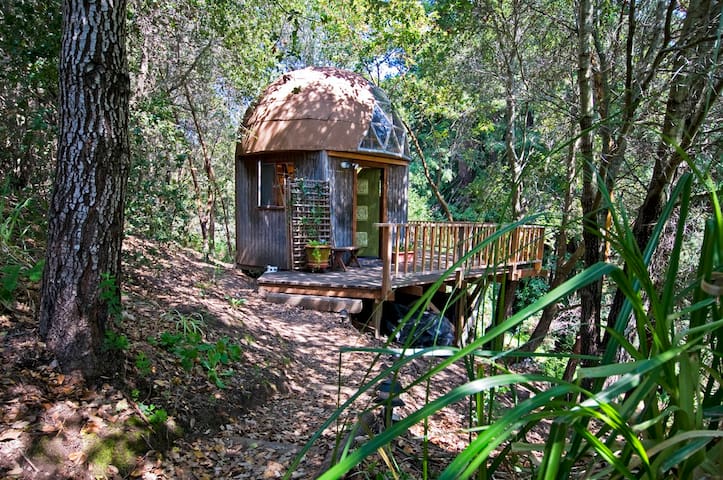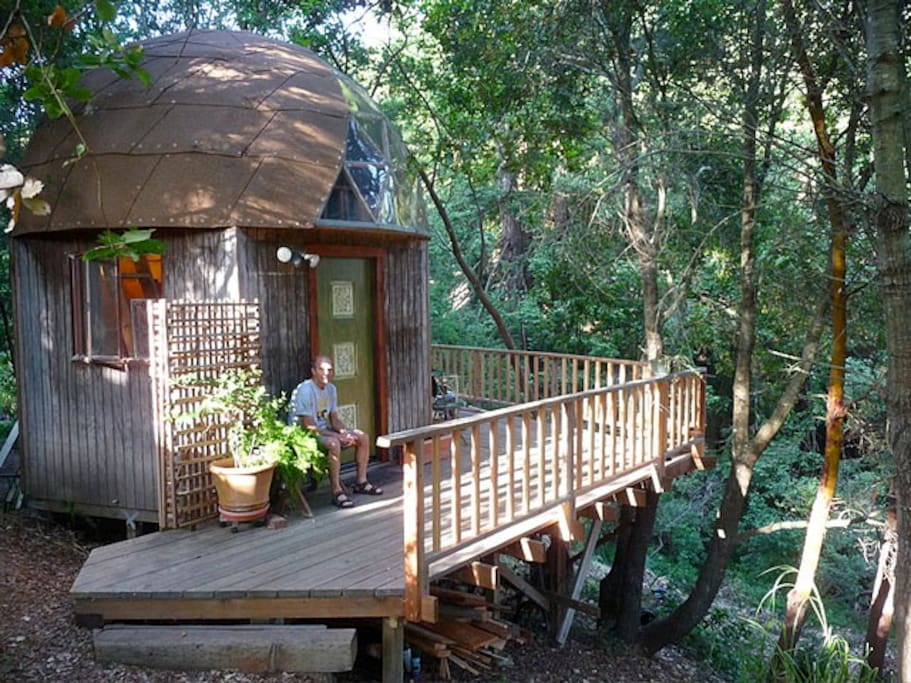 Mushroom Dome Cabin: #1 on airbnb in the world
Com um sótão de domo geodésico e um grande deck nas árvores, você sentirá como se estivesse em uma casa de árvore na floresta. (Não pode reservar? Se você quiser um retiro da natureza aqui, reserve o nosso doce Hummingbird Haven: https://www.airbnb.com/rooms/6562632) Estamos em uma localização tranquila e conveniente. Sombreado por árvores de carvalho e Madrone e ao lado de um bosque de Redwood, você pode desfrutar do ar livre do convés. No verão, é legal e no inverno você pode ouvir o riacho correndo abaixo.
With a geodesic dome loft & a large deck in the trees, you'll feel like you're in a tree house in the woods.
(Can't book? If you would like a nature retreat here, reserve our sweet Hummingbird Haven: https://www.airbnb.com/rooms/6562632)
We are in a quiet yet convenient location. Shaded by Oak and Madrone trees and next to a Redwood grove, you can enjoy the outdoors from the deck. In the summer, it is cool and in the winter you might get to hear the creek running below.
O espaço
Temos 10 acres ao lado da terra sem cercas para que você possa desfrutar da natureza: simplesmente passear no convés, fazer uma caminhada na floresta, observar os beija-flores, acampar as cabras, ir à praia ou olhar para as estrelas - como Enquanto a lua não estiver cheia. ; ) Durante o verão, se não houver nevoeiro noturno, podemos ver a Via Láctea aqui. Para verificar a nossa disponibilidade, clique no link "Solicitar para reservar". E sim, se não estiver disponível, já está reservado! Se você quiser ficar aqui em um fim de semana durante o verão, você precisará fazer seu pedido de reserva com cerca de 6 meses de antecedência. Nós, no entanto, ocasionalmente recebemos um cancelamento, então, se você quer uma data já reservada, pode nos informar e nós o notificaremos de um cancelamento. Se você quiser ficar aqui, mas o Mushroom Dome está reservado, agora temos o Hummingbird Haven disponível: https://www.airbnb.com/rooms/6562632. Você terá o mesmo acesso à natureza e a caminhada nas sequóias, uma ótima visão e muita privacidade. Para não mencionar as centenas de Hummingbirds que zumbem ao redor do estúdio, sol, um jardim de flores e uma fonte em seu pátio privado. (Leia toda esta descrição antes de fazer um pedido de reserva.) A cabana semi-rústica acolhedora e limpa tem um loft sob uma cúpula geodésica (a "tampa de cogumelos"). No loft é um colchão Casper Super-popular, de tamanho Queen, que permite um sono muito confortável e apenas sair, Nós fornecemos lençóis limpos e fronhas. Muitos cobertores também são fornecidos. A outra "cama" é um sofá que podemos fazer em uma cama. Se houver dois de vocês, mas você deseja camas separadas, faça a reserva para 3 ou me avise antes do tempo - há $ 10. Cobrar por usá-lo como uma cama. No loft, temos uma tela plana HD de 32 "e um reprodutor de DVD (sem TV) para filmes. (Temos mais de 80 filmes que você também pode visualizar). No piso principal (um Pentágono) é o sofá e uma mesa de pull-out, bem como uma mini-cozinha. Aqui você encontrará um fogão duplo profissional, uma pequena geladeira, um forno de torradeira, um liquidificador, um Popper de pipoca de ar quente, uma prensa de café francesa, um spinner de salada - mesmo um mixer - e todos os pratos e equipamentos que você precisa para preparar um lanche ou uma refeição Ou para abrir um copo de vinho. Temos 2 mesas onde você pode desfrutar de refeições, jogos, etc .: 1 dentro e 1 fora no grande deck que enfrenta as sequóias vermelhas. Nós também temos uma churrasqueira no deck com um queimador de gás extra no lado. Nós fornecemos café orgânico, chás, aveia, pipoca, manteiga, mel, açúcar, levedura nutricional (para a pipoca!) Especiarias, óleo e vinagre e vários lanches. Nosso poço de água é tratado por um ozônio, uma luz UV e um filtro de água macia. Se você tem um bebê e você não vai precisar da segunda cama, faça sua reserva para 2 e informe-nos se você precisa de uma pequena almofada para o loft. Novamente, se houver dois de vocês, mas você quer usar a segunda cama, faça sua reserva para 3. O banheiro bonito tem um chuveiro travertino, pia de azulejos personalizados e um banheiro de compostagem autônomo Natures Head. Alguns convidados tiveram um problema com o nosso banheiro, então eu quero deixar claro que temos uma cortina para a porta do banheiro e nós exigimos que você coloque seu papel higiênico usado no lixo. (Não cheirá) Se você seguir as instruções sobre como usar o banheiro, ele não terá nenhum odor. Se o pensamento de usar um banheiro de compostagem forçou você a sair, então não faça uma reserva aqui. ; ) Nós fornecemos toalhas, sabão, shampoo, condicionador, secador de cabelo, etc. (uma palavra de cautela: o banheiro tem um teto baixo. Se você tem mais de 6 anos, você pode ter que fazer um pequeno mergulho aqui e aí.) Como os sábados são muito procurados (e nós gostamos de ser gratuitos aos sábados), exigimos uma estadia mínima de 2 dias nos finais de semana. Tenha em mente que as noites de sexta e sábado são de US $ 140. cada. Portanto, ficar aqui em um fim de semana custará US $ 280. Mais os US $ 30. Taxa de limpeza, a taxa de arbiliário de US $ 40 e o Imposto Transiente do Condado de Santa Cruz de 11% de cerca de US $ 34. Então, para o fim de semana, será um total de US $ 384. Para ficar por 1 dia a meio da semana custa um grande total de US $ 192. Nos feriados de 3 dias, exigimos uma reserva de 3 dias. (Isso inclui o Dia dos Presidentes, o Memorial Day, o dia do MLK e o Dia do Trabalho). Mas para ficar aqui em um fim de semana, você geralmente terá que reservar a cabine 6 a 10 meses de antecedência - a menos que você tenha sorte para encontrar um cancelamento! O horário de check-in é entre 4 e 10pm. Se você quer vir mais cedo ou mais tarde, isso pode ser organizado às vezes. O horário de check-out é meio dia. Como experimentamos algum dano de clientes, agora precisamos de US $ 100. depósito de segurança. Embora pareça muito isolado aqui, estamos a menos de 10 minutos para a Aldeia Aptos, onde você encontrará lojas, restaurantes, uma loja de alimentos saudáveis, Safeway, etc. Estamos localizados centralmente na Baía de Monterey: a 10 minutos da praia (Rio Del Mar e Seacliff State Beach), bem como o parque estadual Nisene Marks de 10 000 hectares para quilômetros de caminhadas ou ciclismo em terra firme nas Redwoods e ao longo do riacho Aptos. Estamos a 20 minutos do centro de Santa Cruz, a 25 min. Para o Beach Boardwalk, a 45 minutos de Monterey e do mundialmente famoso Monterey Bay Aquarium, a 50 min. Para Carmel e 1 1/2 horas para o Big Sur indo para o sul e San Francisco para o Norte. Sim, estamos localizados em uma das mais belas áreas da Califórnia. (Estes tempos não são durante a (s) hora (s) de ponta;) Uma das atrações que damos por certo é que você pode ver estrelas aqui à noite - a menos que haja uma lua ou nuvens brilhantes. Durante o verão, em uma noite clara, podemos ver a Via Láctea. Se você ama colibris, traga sua câmera. Nosso jardim é a casa do ano todo para muitos colibris de Anna. (Nós geralmente temos cerca de 250-500 durante todo o ano) Durante o verão, também somos chamados de casa por muitos Rufus e Allen Hummers também. Então você tem que ver nosso "Aeroporto Hummingbird" onde os alimentamos com cerca de 160 oz. De xarope em um dia de verão! Por favor, não fumar na cabine ou na propriedade. Nós costumávamos deixar os fumantes ficarem aqui, mas eles apimentam a cabine e é um risco de incêndio para fora. Alguns telefones celulares não funcionam aqui, mas desde que temos wifi gratuito na cabine, se seu telefone funciona com uma rede wifi, você é bom para ligar. Às vezes, você pode obter o serviço da Verizon no banco giratório pela entrada. Para aprender sobre coisas para fazer na área, faça uma pesquisa na internet para Santa Cruz, CA. Os cães são bem-vindos para ficar aqui, mas com alguns requisitos: uma vez que temos tantos animais, exigimos que seus cachorros sejam mantidos em uma coleira quando estiverem fora (as cabras ficam muito nervosas com cães soltos). Além disso, não permitimos cães no sótão ou no sofá, por isso, traga uma cama para cachorrinhos. (Seu cachorrinho pode ir no sofá se você trazer uma capa para isso) Se isso for difícil, avise-nos e nós providenciaremos um travesseiro de cachorrinho. Nós temos um portão que podemos configurar para que seu cão possa estar fora da coleira no convés. Se você está trazendo uma criança pequena, podemos colocar um futon dobrável (2 / 3rds do futon ou uma almofada de espuma ao lado da cama). Apenas nos avise antes do tempo. Tenha em mente, porém, que uma criança não deve ser deixada no sótão sozinha porque a cama é bastante alta contra o trilho. Como estamos a cerca de 3 milhas até o ponto de ônibus mais próximo, é muito difícil ficar aqui sem um carro. Você está convidado, se você achar que você seria harmonioso aqui, para se juntar a nós em nossa farmácia de Permacultura em desenvolvimento. Pet as cabras, confira as nossas galinhas, gatos, cães em miniatura e aproveite o ar muito fresco. Nós lhe daremos um pouco de leite de cabra se você quiser tentar. E eu até posso ensinar-lhe como leite uma cabra. Se você vier aqui quando não há luz da lua e o céu estiver claro, você verá muitas estrelas. Cansado do calor no verão? Uma vez que estamos à beira do "cinturão de nevoeiro", pode ser solitário e legal aqui. Se você quer um lugar ruidoso, você não vai gostar disso: a maior parte do som vem dos pássaros ou dos grilos chilreando, as rãs de árvores croando e a brisa soprando pelas árvores. As pessoas vivem aqui na terra, então não espere que ela seja totalmente desprovida de sons humanos e da serra de corrente ocasional. :) (Alimentamos os ramos de carvalho de cabra)
We have 10 acres next to land without fences so you will get to enjoy nature: just hang out on the deck, take a hike in the woods, watch the hummingbirds, pet the goats, go to the beach or gaze at the stars - as long as the moon isn't full. ; ) During the summer, if there isn't any nightly fog, we can see the Milky Way here.
To check our availability, click on the "Request to Book" link. And yes, if it isn't available, it is already booked! If you want to stay here on a weekend during the summer, you will need to make your reservation request about 6 months in advance. We do, however, occasionally get a cancellation, so if you want a date that's already booked, you can let us know and we will notify you of a cancellation. If you want to stay here, but the Mushroom Dome is booked up, we now have the Hummingbird Haven available: https://www.airbnb.com/rooms/6562632. You will have the same access to nature and the hike in the redwoods, a great view and lots of privacy. Not to mention the hundreds of Hummingbirds that hum around the studio, sun, a flower garden and a fountain on your private patio.
(Please read all of this description before making a reservation request.)
The cozy and clean semi-rustic cabin has a loft under a geodesic dome (the "mushroom cap"). In the loft is a Queen-sized super popular Casper Mattress which allows for very comfortable sleeping and just hanging out, We provide clean sheets and pillow cases. Plenty of blankets are also provided.
The other "bed" is a couch that we can make up into a bed. If there are going to be 2 of you, but you want separate beds, please make the reservation for 3 or let me know ahead of time - there is a $10. charge for using it as a bed.
In the loft, we have a 32" HD Flat Screen and a DVD player (no TV) for movies. (We have over 80 movies you can view as well.)
On the main floor (a Pentagon) is the couch and a pull-out table as well as a mini kitchenette. Here you will find a professional double hotplate, small refrigerator, toaster oven, blender, Hot Air Popcorn Popper, French Coffee Press, a salad spinner - even a mixer- and all the dishes and equipment you would need to prepare a snack or a meal or to open a glass of wine. We have 2 tables where you can enjoy meals, games, etc.: 1 inside and 1 outside on the large deck that faces the redwoods. We also have a barbecue grill on the deck with an extra gas burner on the side. We provide Organic Coffee, teas, Oatmeal, popcorn, butter, honey, sugar, nutritional yeast (for the popcorn!) spices, oil and vinegar and various snacks. Our well water is treated by an ozonator, a UV light and a soft water filter.
If you have a baby and you won't be needing the second bed, make your reservation for 2 and let us know if you will need a small pad for the loft. Again, if there are 2 of you but you want to use the second bed, please make your reservation for 3.
The cute bathroom has a Travertine shower, custom tiled sink and a Natures Head self-contained composting toilet. Some guests have had a problem with our bathroom, so I want to make it clear that we have a curtain for the door to the bathroom and we require that you put your used toilet paper in the trash. (it won't smell) If you follow the instructions for how to use the toilet, it won't have any odor. If the thought of using a composting toilet grosses you out, then don't make a reservation here. ; )
We provide towels, soap, shampoo, conditioner, a hair blow-dryer, etc. (a word of caution: the bathroom has a low ceiling. If you are over 6' you may have to do a little ducking here and there.)
As Saturdays are very much in demand, (and we like to be free on Saturdays), we require a minimum 2 day stay on the weekends. Keep in mind that Friday and Saturday nights are $140. each. Therefore, to stay here on a weekend will cost $280. plus the $30. cleaning fee, the $40 airbnb fee and the 11% Santa Cruz County Transient Tax of about $34. So for the weekend, it will be a total of $384.
To stay for 1 day mid-week costs a grand total of $192.
On 3 day holidays, we require a 3 day reservation. (This includes Presidents Day, Memorial Day, M.L.King day, and Labor Day.) But to stay here on a weekend, you will usually have to book the cabin 6 - 10 months in advance - unless you are lucky to find a cancellation!
Check-in time is between 4 and 10pm. If you want to come sooner or later, this can sometimes be arranged. Check-out time is noon.
As we have experienced some damage from guests, we are now requiring a $100. security deposit.
Although it feels very isolated here, we are less than 10 minutes to Aptos Village where you will find stores, restaurants, a health food store, Safeway, etc.
We are centrally located on the Monterey Bay: 10 minutes from the beach (Rio Del Mar and Seacliff State Beach) as well as the 10,000 acre Nisene Marks State Park for miles of hiking or dirt biking in the Redwoods and along Aptos creek. We are 20 minutes to downtown Santa Cruz, 25 min. to the Beach Boardwalk, 45 minutes to Monterey and the world-famous Monterey Bay Aquarium, 50 min. to Carmel and 1 1/2 hours to Big Sur going south and San Francisco to the North. Yup, we are located in one of the most beautiful areas of California. (these times are not during rush hour(s) ; )
One of the attractions that we take for granted is that you can see stars here at night - unless there is a bright moon or clouds. During the summer, on a clear night we can see the Milky Way.
If you love hummingbirds, bring your camera. Our garden is the year-round home to many Anna Hummingbirds. (We usually have about 250-500 year-round) During the summer, we are also called home by many Rufus and Allen Hummers as well. So you have got to see our "Hummingbird Airport" where we feed them about 160 oz. of syrup on a summer day!
Please, no smoking in the cabin or on the property. We used to let smokers stay here, but they stink up the cabin and it is a fire hazard outside.
Some cell phones don't work here, but since we have free wifi in the cabin, if your phone works with a wifi network, you are good to call. You can sometimes get Verizon service on the swinging seat by the driveway.
To learn about things to do in the area, do an internet search for Santa Cruz, CA.
Dogs are welcome to stay here but with a few requirements: since we have so many animals, we require that your dogs be kept on a leash when outside (the goats get very nervous with loose dogs). Also, we don't allow dogs in the loft or on the couch downstairs so please bring a doggie bed. (your doggie can go on the couch if you bring a cover for it) If that is difficult, let us know and we will provide a doggie pillow. We have a gate that we can set up so your dog can be off the leash on the deck.
If you are bringing a small child, we can put a folding futon (2/3rds of the futon or a foam pad next to the bed ) Just let us know ahead of time. Keep in mind, though, that a child should not be left in the loft by themselves as the bed is fairly high up against the rail.
As we are about 3 miles to the nearest bus stop, it is pretty difficult to stay here without a car.
You are invited, if you feel you would be harmonious here, to come join us on our developing Permaculture farmette. Pet the goats, check out our chickens, cats, miniature dogs and enjoy the very fresh air. We will give you a little goat milk if you would like to try it. And I might even teach you how to milk a goat. If you come here when there is no moonlight and the sky is clear, you will see lots of stars.
Tired of the heat in the summer? Since we are on the edge of the "fog belt", it can be both sunny and cool here. If you want a noisy place, you won't like it here: most of the sound here comes from the birds or crickets chirping, the tree frogs croaking and the breeze blowing through the trees. People do live on the land here though, so don't expect it to be totally devoid of human sounds and the occasional chain saw. : ) (We feed the goats oak branches)
Acesso dos hóspedes
Há acesso wifi na cabine, Great água e algumas boas trilhas para caminhada à direita na deck, bem como uma natureza sandbox no seco creek cama sob o Redwood Grove. (No inverno, pode ter água corrente) Os hóspedes também são bem-vindos para passear, visitar os nossos animais em nosso pequeno "farmette" (3 cabras, lotes de galinhas, 2 cães pequenos e gatos) e fazer perguntas.
There is free wifi in the cabin, great well water and some good hiking trails right off the deck as well as a nature sandbox in the dry creek bed under the redwood grove. (In the winter, it can have running water) Guests are also welcome to wander around, visit our animals on our little "farmette" (3 goats, lots of chickens, 2 small dogs and cats) and ask questions.
Interação com os hóspedes
Eu quase sempre interagir com os nossos clientes. Eu adoro fazer com que eles se sintam bem-vindos e em casa, mostrar-lhes os beija-flores e compartilhar meu conhecimento dos grandes lugares para ir na nossa bela área. Deixe-me saber se você não quiser interagir comigo e eu vou deixá-lo sozinho rapidamente. ; )
I almost always interact with our guests. I love to make them feel welcome and at home, show them the hummingbirds and share my knowledge of the great places to go in our beautiful area. Let me know if you don't want to interact with me and I'll leave you alone quickly. ; )
Outras observações
Nós temos um lugar bastante estreito - e em alguns lugares, íngreme -. Há desvios para passar nos carros que se aproximam. Por favor, leve-o devagar. Ocasionalmente, temos uma queda de energia durante o inverno. Se isso acontecer, forneceremos luzes operadas por bateria. Se a estrada principal é bloqueada por uma árvore derrubada, eu informo como entrar ou sair da nossa área.
We have a rather narrow - and in a few places, steep - driveway. There are turnouts to pass oncoming cars. Please take it slowly.
Occasionally, we have a power outage during the winter. If that happens, we will provide battery operated lights. If the main road is blocked by a downed tree, I'll let you know how to get in or out of our area.
---
Ideal para famílias e crianças
---
Hóspedes adicionais R$32 / noite após 2 hóspedes
Depósito de Segurança R$324
Preço de Fim de Semana R$469 / noite
Apoia o Compromisso de Salário Digno
As pessoas que limpam a acomodação desse anfitrião recebem um salário digno.
Saiba mais
Sempre se comunique através do Airbnb
Para proteger seu pagamento, nunca transfira dinheiro ou se comunique fora do site ou aplicativo do Airbnb.
Saiba mais
---
Espaços comuns
1 sofá-cama
---
Não são permitidas festas ou eventos
O check-in é a qualquer momento depois das 16:00
• Please, no smoking either in the cabin or on the property
• Please don't sleep here with tooth or skin whitening material: they bleach the pillow cases and sheets.
• If you want to bring a dog, please send a request. (We have goats and cats) As so many people are allergic to cats, please don't bring yours.
• Dogs must stay on a leash when outside.
• Dogs are not allowed in the loft.
• No wild parties, please.
• Please don't drink wine in the loft.
• If you use the barbecue, you are required to clean it. But don't close the side lid if the burner is still hot!
• Please wash and put away your dishes, pots, etc. before leaving.
• Please don't bring a lot of food or water in plastic. (those #1 clamshells can't be recycled)
We provide all the dishes you will probably need, so please don't bring disposables either.
• If you want to use real candles, please talk to us first. We provide a rose quartz mood light.
• Please take short showers.
Você deve também levar em conta
Dog(s), cat(s) e other pet(s) live in the house
---
---
Kit de primeiros socorros
---
A estadia mínima por noite para esta acomodação varia.
---
Aptos, Califórnia, Estados Unidos
Cadastrou-se em Julho 2009
We live on 10 beautiful acres of sun, oak forest, redwood groves and gardens with a small community made up of ourselves (Kitty and Michael), 1 of our adult sons, 8 other young adults, a Chiropractor, a plumber, and a retired mason, 3 goats, a parrot, 4 cats, 2 small dogs, 17 chickens and over 200 hummingbirds.

Kitty teaches Universal White Time Gemstone Healing, is a healer, artist, builder, farmer and musician.
Michael works at the University of California, Santa Cruz Extension in Silicon Valley, managing the International Education program. He bikes, runs, swims, sometimes all in the same day. Together, Kitty and Michael teach Meditation classes with the "Teaching of Intuitional Metaphysics" under the guidance of the Masters Babaji, Jesus, and St. Germain.

The young adults here are photographers, surfers, artists and/or musicians and budding farmers.
We are slowly turning this land into a permaculture farm and a center of creativity, learning to live simply, with joy and kindness.

We hold a public non-denominational meditation at our house every Sunday night: you are welcome to join us if you are here.

We have been hosting on airbnb since July, 2009 and really love what this company has made possible. We have met so many wonderful people from around the world that we would never have met if we hadn't had this opportunity with airbnb! Some of our guests (especially the ones from Europe) have never seen a hummingbird before and here they get to see them up close - just a few feet from them as the birds "hum" around the feeders.

We welcome you to come experience the peace and tranquility that our wonderful land has to offer.
Taxa de resposta:
100%
Tempo de resposta:
em até uma hora
Explore outras opções dentro e fora de Aptos
Mais lugares para ficar em Aptos: