126 Apartamentos para Alugar
Im Freien Wohnung in einem kleinen Dorf, den ganzen Weg durch die Wiesen, aber so nahe Amsterdam.
Appartement Buitenleven In der Veranda unseres typischen Einfamilienhaus im malerischen Dorf Zuiderwoude, in unmittelbarer Nähe von Amsterdam, unser kleines Apartment Buitenleven liegt. Dieses typische Holzstil Land Haus mit seiner eleganten Interieur, perfekt kapselt den Geist der Freiheit. Das Zuhause hat eine leichte, fröhliche Atmosphäre und herrlicher Aussicht. Es hat einen eigenen Eingang, ein Bad mit Dusche, Waschbecken und WC, eine voll ausgestattete Küche, WLAN-Internet und einem 32-Zoll-Flachbild-LED-TV. Im Erdgeschoss gibt es zwei richtige Betten. Auf der ersten Etage verfügt die Wohnung über ein geräumiges Schlafzimmer mit zwei neuen Betten (die getrennt werden können) Es wird Platz für 4 Personen, oder Familie mit 2/3 Kinder. In dieser neu renovierte Wohnung scheint die Sonne von morgens bis zum Mittag. Genießen Sie den freien Blick über die Wiesen. Kühe und Schafe im Frühjahr in der Nähe von unserem Vorgarten und im Frühsommer weiden lassen, finden viele Wiesenvögel hier ihre Lieblingslebensraum. Erleben Sie die Ruhe und Stille. Hören Sie den Gesang der Vögel, das Quaken der Frösche und das Rascheln des Windes durch das Schilf. Und das alles so nah an dynamischen Amsterdam. Es dauert nur 15-20 Minuten mit dem Auto in die Stadt, kostenlose Parkplätze im Norden von Amsterdam und nehmen Sie den kostenlosen Fähre zum Hauptbahnhof zu gelangen. Oder nehmen Sie die Bushaltestelle in Broek in Waterland (kostenlose Parkplätze) für einen direkten Bus nach Amsterdam (20 min.). In diesem schönen Teil von Waterland werden Sie Radfahren, Wandern, Kanufahren und flüstert (Boot) Wege. Historische Orte wie Marken, Monnickendam, Broek in Waterland, Volendam und Edam sind nur einen Steinwurf entfernt. Fahrräder und ein Ruderboot stehen Ihnen kostenlos zur Verfügung. Im Dorf finden Sie Tea Garden 's End und die Wine Warehouse finden. Beide bieten köstliche Erfrischungen. Es gibt einige Geschäfte und Foodmarket in Broek in Waterland und Monnickendam, ca. 3 km von Zuiderwoude. Wir lieben Hosting hier Menschen und mehr als glücklich sein, Ihnen Tipps, wo zu gehen und was zu tun ist. Die Unterkunft ist ideal für Paare oder Familien mit 2/3 Kinder), Senioren, Wanderer, Radfahrer, Geschäftsleute, Ruhesuchende, Menschen, die Sightseeing lieben. Amsterdam ist gleich um die Ecke, 15 Bus-Minuten vom Broek in Waterland! Wir freuen uns darauf sie begrüßen zu dürfen!
Die freie Sicht auf die Wiesen. Kühe und Schafe im Frühjahr in der Nähe von unserem Vorgarten und im Frühsommer weiden lassen, finden viele Wiesenvögel hier ihre Lieblingslebensraum. Erleben Sie die Ruhe und Stille. Hören Sie den Gesang der Vögel, das Quaken der Frösche und das Rascheln des Windes durch das Schilf. Und das alles so nah an dynamischen Amsterdam. Es dauert nur 15-20 Minuten mit dem Auto in die Stadt, kostenlose Parkplätze im Norden von Amsterdam und nehmen Sie den kostenlosen Fähre zum Hauptbahnhof zu gelangen. Oder nehmen Sie die Bushaltestelle in Broek in Waterland (kostenlose Parkplätze) für einen direkten Bus nach Amsterdam (20 min.). In diesem schönen Teil von Waterland werden Sie Radfahren, Wandern, Kanufahren und flüstert (Boot) Wege. Historische Orte wie Marken, Monnickendam, Broek in Waterland, Volendam und Edam sind nur einen Steinwurf entfernt. Fahrräder und ein Ruderboot stehen Ihnen kostenlos zur Verfügung. Im Dorf finden Sie Tea Garden 's End und die Wine Warehouse finden. Beide bieten köstliche Erfrischungen. Es gibt einige Geschäfte und Foodmarket in Broek in Waterland und Monnickendam, ca. 3 km von Zuiderwoude.
We had a wonderful stay in the apartment of Caroline and Jos. What a delight it was to arrive back from cycling and sightseeing to a serene restful environment. Loved afternoon drinks on the terrace by the canal. The apartment was spotlessly clean and had all that we needed for our stay. The bed and pillows were the most comfortable we experienced in all our travels through Europe. All communication with Caroline was prompt and very friendly. There was plenty of information and attractions in a display folder as well as personal recommendations from Jos and Caroline. Their English is remarkable so we were able to enjoy conversations with them. Thank you for providing such a lovely place to end our holiday.
Helen
2016-09-18T00:00:00Z
The host canceled this reservation 41 days before arrival. This is an automated posting.
Elke
2016-02-27T00:00:00Z
The place is amazing! surrounded by nature but a short distance to Amsterdam, we loved to spend time in the city but we loved so much more to be back to a cosy, quiet, place like Caroline's. We hope to be back in warmer weather, so lovely and so much to see if you enjoy nature and history.
Moon
2017-03-05T00:00:00Z
Caroline was a very nice and hospitable host. The house was amazing and warm, I had a great time relaxing and exploring the neighborhood. Highly recommended!
Paul
2014-11-25T00:00:00Z
It has been a really pleasent stay for us in Caroline's and Jos' place, they are really friendly and had been really really helpful and had made our stay in netherland feel like a blessing comparing to the rest of our trip towards germany, the place is very well located with easy access to the city with the kind guidance of the very affordable carpark by Caroline on the first day on our arrival, there are also a whole bookshelf of travel info in the apartment The place itself is very cozy and it feels like home, can't really ask for more tbh :)
S
2015-03-29T00:00:00Z
Great country, great region, great and helpful hosts in a wonderful place. That would be the best summary. If you are a nature and biking lover and are searching for a nice accommodation with a great location - this is a place for you. We spend a wonderful weekend in Caroline and Jos' place, the place is great, has all the facilities that are needed, you can find all the necessary and practical info and maps in one of the well prepared folders for tourists - not sure that to add more. Ah, yes! They even booked the best weather for our stay: warm and sunny at the beginning of November!
Jola
2014-11-02T00:00:00Z
Caroline was a fantastic host. She was very welcoming on our arrival, gave us maps and recommended good places. The appartment was very clean, comfortable and exactly as described and shown in the pictures. We'd definitely recommend as a perfect place to visit Amsterdam and the waterland area.
Claudia
2016-10-14T00:00:00Z
When I woke up the first morning and looked out the windows I thought I was in Paradise! This place is in an amazing location surrounded by fields, canals, tons of birds, and rabbits. The house is located along a strip of houses out in the countryside, at the front is a small narrow access road, narrow canal, and then fields. At the back is a wider canal and then fields again. Hard to believe this could be so close to Amsterdam! The suite is inside the owner's house - very nicely done, good layout with kitchen, living area, bathroom, upstairs bedroom, lots of windows and really nice colours, wooden staircase and floors. Being able to use their bikes was very convenient. Caroline was a great host providing information, brochures and maps of the area. The map showing all the bike trails in the area was particularly helpful.
Susan
2014-05-16T00:00:00Z
Tipo de Acomodação
Casa/apto inteiro
---
Tipo de Imóvel
Apartamento
---
Acomoda
4
---
Quartos
Zuiderwoude, Holanda do Norte, Holanda
De wagen is gelegen op een boerderij in de buurt van Amsterdam in medeival dorp Zuiderwoude. Op deze boerderij vind je allerlei dieren, koeien, schapen, honden, katten en veel vogels. De boer groeit zijn eigen groenten in een grote tuin. U zult genieten van het prachtige uitzicht en het geluid van vogels. De wagen heeft een keuken en een Comfortabele bed.
De wagen is gelegen op een boerderij in de buurt van Amsterdam in medeival dorp Zuiderwoude. Op deze boerderij vind je allerlei dieren, koeien, schapen, honden, katten en veel vogels. De boer groeit zijn eigen groenten in een grote tuin.
De wagen is gelegen in de buurt van Zuiderwoude, een dorp in een middeleeuws sfeer. Andere bekende plaatsen in het gebied zijn Broek in Waterland, Volendam en Marken. De wagen bevindt zich op 6 km van Amsterdam. In Broek in Waterland vindt u de dichtstbijzijnde restaurants te vinden.
The most brilliant AirBnB experience! Beautiful countryside, fantastic accommodation, and the best breakfast I've had in ages! Sophie was so generous and friendly, we couldn't have asked for more. Loved meeting the dogs too. Can't wait to come back!
Dan
2016-08-06T00:00:00Z
It was perfect! Great view, nice and quiet with spectacular breakfast.
Jou Rney
2016-07-03T00:00:00Z
The wagon was an awesome place to relax and the breakfast was amazing. The bikes are a double plus because we get to view the countryside. I would definitely come back to this place again.
Daicy
2016-08-02T00:00:00Z
Great experience even though the farm is a bit further from Amsterdam than we expected, but I would gladly go back for a longer stay !
Selma
2016-08-15T00:00:00Z
Wir waren über Pfingsten in dem super süßen und gemütlichen Wagen in Zouderwoude, den Henk uns vermittelt hat. Es hat alles ganz wunderbar geklappt und die Kommunikation mit Henk war freundlich, schnell und reibungslos. Wir haben uns auf dem Hof bei Familie Van Zanten sehr wohl gefühlt und kommen gerne wieder. Das Frühstück war großartig und die Nähe zu Amsterdam in totaler Idylle hat uns super gefallen. Vielen Dank!
Nicole
2016-05-17T00:00:00Z
very clean and comfortable place, 10 min away from the bus station, breakfast is the best you can have i can only say good things about my stay
Maroun
2016-10-02T00:00:00Z
We spent 2 lovely nights in the carriage. The wagon's decor is cute and the bed is very VERY confortable. Every morning, Sophie would bring us an amazing breakfast, including many products from her farm and garden (home made yogurt, eggs, fruits...). Sophie and Jan spent time showing us the farm and teaching us how to milk the cows. It was a great experience! The wagon is located in a beautiful area, made of lakes and canals. Sophie lend us 2 bikes to we could enjoy the landscape. The farm is 20 minutes driving from Amsterdam center. We recommend!
Pierre-Anthony
2016-08-14T00:00:00Z
Many thanks to Sophie and Hank for the friendlyness, for taking care of everything and for your help on keeping our journey with a good fibe. It would be nice to see you soon again.
Georg
2016-07-19T00:00:00Z
Tipo de Acomodação
Casa/apto inteiro
---
Tipo de Imóvel
Apartamento
---
Acomoda
2
---
Quartos
Zuiderwoude, Noord-Holland, Holanda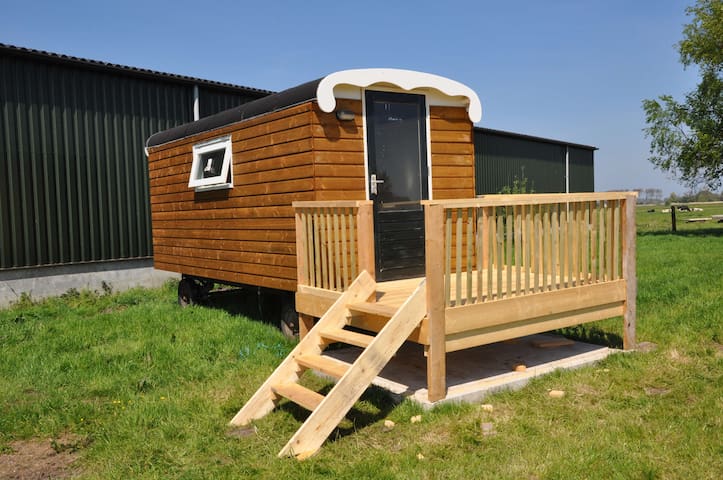 Bonito estúdio projetado último andar no barco com um grande terraço e vistas deslumbrantes sobre a água. O estúdio é muito leve. Gosta de viver na água com acesso fácil e rápido ao centro da cidade interna (com um lugar de estacionamento privado gratuito).
Por favor, sei que este estúdio privado está no piso superior da casa flutuante e está disponível para os meus convidados, enquanto eu estou-me a viver nos dois pisos inferiores do barco. Seria ótimo se pode me enviar um inquérito antes de fazer um pedido de reserva como eu poderia ter prometido o estúdio com outros hóspedes que ainda têm de fazer a reserva. E não hesite em contactar-me se você gostaria de ter mais alguma informação ou se você tiver quaisquer perguntas. O estúdio brilhante e luz está no piso superior da casa flutuante e acomoda quatro pessoas. Ele tem uma cama de casal e um sofá que se converte em um realmente confortável cama de casal para dormir. O estúdio tem uma casa de banho moderna e tem um grande terraço com capacidade para relaxar e desfrutar do lado de fora. Por favor, também sabemos que o estúdio não tem uma cozinha completa, mas é equipado com um bom microondas / forno, frigorífico, fogão de água, máquina de café (com chá / café).
IJburg é uma moderna área de arquitetura com barcos muito bem desenhados em Amsterdam. A área tem todas as facilidades e comodidades que você precisa, incluindo supermercados, alguns bons restaurantes e bares e uma grande praia com clube de praia Blijburg. Aqui você também pode ir vela, windsurf, kite surf e remo de embarque. Há também um bom porto.
Everything throughout this trip was absolutely fantastic. Aart was really helpful both before and during our stay. The flat was really well maintained and was in a beautiful unique setting to boot. Oh and there's a paddle boat, what more could you ask for?
Alex
2016-08-28T00:00:00Z
Sehr schönes Hausboot in ruhiger Lage. Ca. 15 Min. mit der Tram 26 vom Amsterdam Central entfernt. Fährt ca. alle 10 Minuten. Das Hausboot ist für 2 Personen ausreichend, für 4 Leute könnte es etwas eng werden. Sehr schöne Terassse, nur leider hat das Wetter nicht so ganz mitgespielt. War alles sehr sauber. Aart ist ein sehr netter und herzlicher Gastgeber mit dem man sofort warm wird. Es gab keine Schwierigkeiten. Hätten uns sogar Fahrräder von ihm ausleihen können. Werde das Hausboot auf jeden Fall weiter empfehlen.
Franziska
2016-04-18T00:00:00Z
The stay at Aart`s house boat was great! We really enjoyed all of it - it`s really just about 10 minutes by tram to go to the city and the house boat is all cozy, nice and clean. Thanks a lot for letting us stay till the evening and for your breakfast and the bottle of wine and everything else that made our trip to amsterdam as good as it was! Greeting to you and your two lovely kids! Michi, Elena, Julian and Nora :)
Nora
2015-01-06T00:00:00Z
It was excellent, a quiet place to recharge energy with a very nice host and helpfull recomendations! Love the houseboat experience, we dont wanna leave the house ;) We hope to come back in sunny days.
José Carlos
2014-12-04T00:00:00Z
Aart was very friendly only we didnt see him much The area the houseboat was situated was some 20 minutes by tram from Central Station and easy walk to the houseboat Unfortunatly there were no resturants or shops apart from a small supermarket that only opened 8-6pm nearby The houseboat only had a microwave oven which was not clean and what we thought was a coffe machine Neither had intructions as to how to use them we had never used either styles before What we would suggest is a Nespresso machine or similar and maybe a toaster with milk,bread,butter and maybe jam or similar so as we could make a basic breakfast We would have been prepared to pay a little more for the convience and not have had to go into the city to have breakfast We also didnt bring any soap with us and there was none supplied for showering Also a TV or radio would have been great as there is nothing to do at night in the area and no connection to the outside world in the houseboat Only after searching around did we find the Internet code roughly written on an brocher I think a more formal folder with a few bits of local information and transport options would have been valuable
Marilyn
2016-06-01T00:00:00Z
Very lovely host and very intresting accomodation not far away from center - by bike (Aart offer 4 bikes - I think less as 5 km ) or by tram (6 stops only). Aart also offered us free parking place . In summer is definietly perferct also for 4 adults (huge terasse) but in winter a bit too small :-) from our point of view. Thank you Aart!
Natalia
2015-12-25T00:00:00Z
I stayed with my husband and daughter for 3 nights and we had a great time. The house boat was a wonderful place to experience and Aart was a really lovely host.
Gillian
2015-10-30T00:00:00Z
Very pleased,perfect quiet location and excellent host
Yiannis
2015-02-15T00:00:00Z
Tipo de Acomodação
Quarto inteiro
---
Tipo de Imóvel
Apartamento
---
Acomoda
4
---
Quartos
Amsterdã, Holanda do Norte, Holanda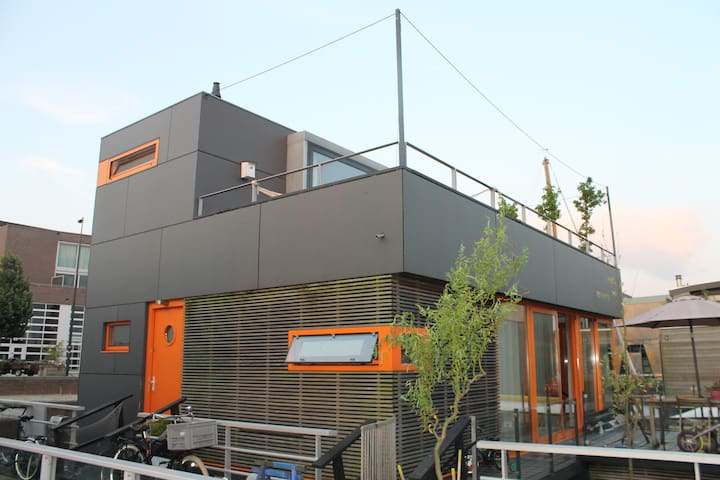 Stunning Penthouse in Amsterdam, located on the oldest city forest. Ten minutes from Central Station Center. Unique views over the city on the spacious balcony. Nice living room, good kitchen and clean bathroom. TV and internet
Tipo de Acomodação
Quarto compartilhado
---
Tipo de Imóvel
Apartamento
---
Acomoda
2
---
Quartos
Amsterdã, Noord-Holland, Holanda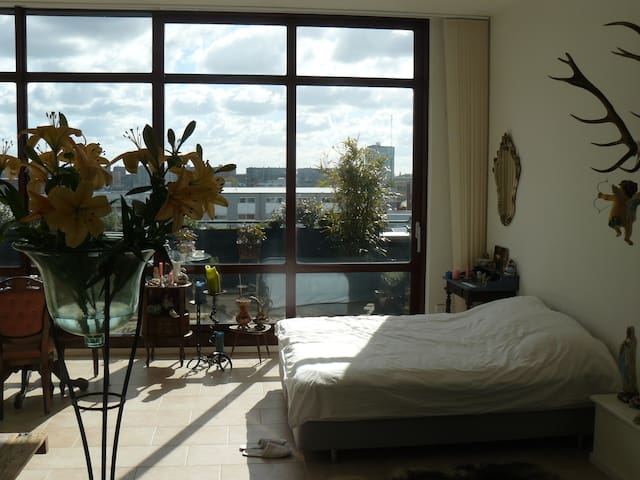 Dette studie ved siden af "Ij 'flod er frisk indrettet i et helt nyt område i Amsterdam. Det ligger lige for motorvejen, og der er gratis parkering så perfekt til folk i bil, men også kun 15 min. fra central station med sporvogn.
Dette studie / loft er placeret på havnefronten, så du vil nyde nice ture langs 'IJ' flod. Du `ll komme efter på gangen i det åbne køkken, som er fuldt funktionsdygtig. Over køkkenet er en dejlig seng, som kan nås med trapper. I den åbne stue med døre til haven er en comfi sofa og også en anden sofa, som kan omdannes til en anden dobbeltseng (det er en sovesofa), hvis der er 3 eller 4 personer opholder sig. Kvarteret er i udvikling. De første blokke af lejligheder har allready været bygget, men der kan stadig være nogle konstruktion arbejde foregår i området under dit ophold. Normalt gør ikke `t give nogen gener.
Lovely and comfortable place to stay with friends if in Amsterdam. It is a new housing area so there is construction going on which got loud. Transport links were great and got us straight in the centre and nearby supermarket for food, there is also a cute restaurant a 5 minute away. I am very thankful to both Clara and Martijn who ensured that my friends and I had a comfortable stay.
Naomi
2017-03-26T00:00:00Z
Very good
Lucien
2016-01-11T00:00:00Z
The host helped us navigate from the airport to the listing and let us check in early since we had so many bags that we didn't want to have to carry through the city. The apartment is very modern, recently built from what I could tell. There was plenty of space for the three of us. Nice and clean and only ten minutes walk away from the tram which takes you straight to the centraal station. The shower was great and the beds and couch were really comfortable. Overall, a great value and I recommend this place.
Garrett
2016-03-24T00:00:00Z
L'espace est parfait pour trois ou quatre personnes. C'est moderne et facilement accessible en voiture. Sans voiture par contre, il faut compter +-25 minutes de marche pour arriver à l'arrêt de Tram le plus proche car la zone est en travaux. Ensuite vous êtes dans le centre en 10 min, c'est pratique. La communication avec l'hôte s'est bien déroulée.
Maxime
2016-02-08T00:00:00Z
totally satisfied! super nice flat, everything looks like in the pictures. The city center is easily accessible, with bike and also with tram. you can walk on water, opposite the house, very relaxed. Next year i'll be back!!! Kind regards Nicole
Nicole
2015-12-09T00:00:00Z
Willem is een super gastheer! Toen wij aankwamen was hij nog bezig met de studio te poetsen, alles was heel netjes en exact zoals op de foto's. Ook was Willem heel behulpzaam in verband met wat er tijdens ons verblijf te beleven was in de stad. Het centrum van de stad is zeer gemakkelijk te bereiken met het openbaar vervoer. 15min wandelen tot aan de tramhalte, en dan 15min op de tram. De studio zelf is met de auto zeer makkelijk te bereiken, vlakbij de autostrade.
Wout
2016-01-22T00:00:00Z
Lovely apartment. Willem was great. Would recommend! Thank you!
Martin
2016-02-26T00:00:00Z
The Appartment is part of a very stylish designed row house complex, very close to the waterfront. We really enjoyed the beautiful interior, especially the walk-in closet. The host, Willem, was very kind and gave us some advice about our stay in Amsterdam. The district, where the apt. is situated, is still in a construction phase. When you step out into the little garden, you will look at some unfinished houses, but this didn't bother us. The IJmeer ist ca 30m away and you can enjoy a walk on the embankment. If you want to go to the city centre, it's a 10-15min walk to the tram station. When you step out of the apt, you should turn right and follow the street, otherwise you will be stopped by many hoardings. ;) All in all, we really liked the Appartment and its design and highly recommend it.
Sina
2015-12-07T00:00:00Z
Tipo de Acomodação
Casa/apto inteiro
---
Tipo de Imóvel
Apartamento
---
Acomoda
4
---
Quartos
Amsterdã, Noord-Holland, Holanda
Luxusní apartmán se nachází v těsné blízkosti parku (Vliegenbos), pouhých 15 minut od centru Amsterdamu. Ideálním výchozím bodem pro návštěvníky, kteří chtějí prozkoumat Amsterdam na kole, a spát uprostřed klidu a přírody ...
Centrální umístění, příroda, romantické, klid a mír
Tato oblast je velmi klidné nachází v těsné blízkosti parku, s tenisovými kurty blízkých .. Pouhých 15 minut od centru Amsterdamu. Kromě toho existují desítky nádherných cyklotras v blízkosti ...
Tipo de Acomodação
Quarto inteiro
---
Tipo de Imóvel
Apartamento
---
Acomoda
4
---
Quartos
Amsterdã, Noord-Holland, Holanda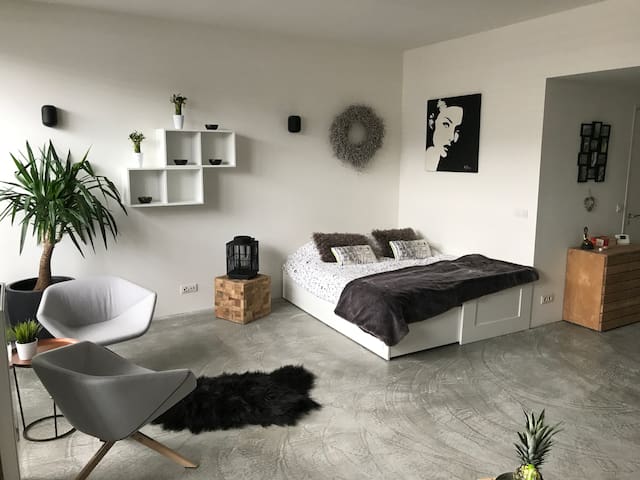 La chambre est de 20 m2 et peut accueillir deux personnes avec un boxspring vraiment agréable et un petit balcon. Sa lumière, confortable, appartement calme dans la région à venir: Nord. Il y a aussi un grand (Partagé) salon, avec balcon, cuisine et salle de bains. Bus 34 de la gare centrale s'arrête devant la porte, et vous êtes en 20 minutes au centre d'Amsterdam.
Die Gegend ist offen und international.
Tipo de Acomodação
Quarto inteiro
---
Tipo de Imóvel
Apartamento
---
Acomoda
2
---
Quartos
Amsterdã, Noord-Holland, Holanda
apartamento lindamente 75m2 no norte de Amesterdão. LIVRE de estacionamento. Localizado a apenas 15 minutos de Adam Central no barramento 34. O banheiro foi recentemente renovado, com uma grande banheira relaxante. O quarto tem uma cama de casal. Sala ampla com varanda.
Great place, clean apartment. Close to the city with the bus but far enough to avoid touristic agitation. Free parking
Simon
2017-04-09T00:00:00Z
Very kind to give the information , the apartment is great and clean
Caroline
2017-03-12T00:00:00Z
Tipo de Acomodação
Casa/apto inteiro
---
Tipo de Imóvel
Apartamento
---
Acomoda
2
---
Quartos
Amsterdã, Noord-Holland, Holanda
Bom apartamento, recentemente remodelado. Tem uma grande sala de estar com um terraço ensolarado. luxuosa casa de banho com banheira e dois quartos de dormir grandes com camas que podem ser flexivelmente divididos. É uma área residencial com lojas, restaurantes, supermercados e mercados ao virar da esquina. É um passeio de bicicleta 10 minutos do centro da cidade, mas se você quiser ir de autocarro ou metro, as paragens de autocarro estão apenas a um minuto do apartamento. Seu também tem estacionamento gratuito em frente do apartamento e um elevador.
Restaurantes, loja e mercearia poucos passos de distância
As a first time AirBnB user this was perfect. It was reasonably priced and plenty of space. Perfect location to ride bikes to the Amsterdam Central. Awesome hospitality and easy to communicate with Host for questions and requests.
Skye
2017-04-05T00:00:00Z
Tipo de Acomodação
Casa/apto inteiro
---
Tipo de Imóvel
Apartamento
---
Acomoda
6
---
Quartos
Amsterdã, Noord-Holland, Holanda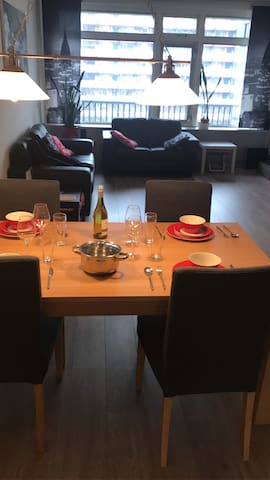 Este apartamento de 2 quartos piso térreo é ideal para famílias ou amigos que querem visitar Amesterdão. O apartamento tem 70 metros quadrados e tem um jardim ensolarado. O apartamento é moderno e muito confortável. O centro fica a apenas 15 minutos de autocarro ou 20 minutos de bicicleta. Em um 1 minuto a pé do apartamento há: 2 supermercados, uma padaria, alguns restaurantes, bom açougueiro qualidade e algumas outras lojas de supermercado de boa qualidade. Ideal para cozinhar.
O apartamento está localizado no norte de Amesterdão, que é uma área mais calma mas ainda assim muito conveniente. Há 2 ônibus direto para o centro da cidade, que levá-lo lá em 15 minutos. Ao virar da esquina do apartamento você encontrará 2 supermercados e todas as lojas necessário para compras diárias e muito mais. Também há um parque e vários jogo jardim mesmo ao lado do apartamento. Muito conveniente para famílias e animais de estimação.
Você terá tudo o que precisa dentro de 2 minutos a pé! Isso é o que torna este apartamento incrível. Os supermercados, restaurantes, padaria fresca, outras boas mercearias culpado, o parque para uma boa caminhada ou relaxar sob o sol. A loja de bicicletas onde você pode alugar uma bicicleta para ir para o centro em 20 minutos. Ou desfrutar das antigas aldeias holandeses, como Volendam dentro de 45 minutos de bicicleta.
Kann ich nur empfehlen!
Peter
2017-01-29T00:00:00Z
We had a wonderful stay at Janines appartment. It is a very cosy appartment and we felt like home. Thank you! :)
Cornelia
2016-11-23T00:00:00Z
Lovely apartment, cosy, neat and easy to get to from centraal. Everything you need for a wonderful stay in Amsterdam! Highly recommend
aziz
2016-10-25T00:00:00Z
good location, close to public transportation and grocery stores, large rooms, great beds
Ivana
2016-11-09T00:00:00Z
L'appartement est très spacieux et confortable. Tout était très propre à notre arrivée. L'arrêt de bus se trouve à 2min à pieds, le bus vous conduit en centre ville en 25/30min. C'est tres pratique.
CLEMENCE
2016-12-04T00:00:00Z
Alles in allem ganz gut , lange wartezeit beim Check-in und starke hygienische mängel in der Küche ( geschirr , handtücher , töpfe pfannen )
Jefrey
2016-11-27T00:00:00Z
Janines house is cozy and accommodating. It is 20/30 mins to the main attractions of amsterdam by public transport (if you dont mind the journey) and like 10/15mins by car. There are shops 5 mins away from the house and the neighborhood is quiet, although as 3 girls, we didn't feel too comfortable walking around at night. We enjoyed exploring Amsterdam :)
Sammy
2017-03-20T00:00:00Z
Me, my boyfriend and my cat stayed for a month in this apartment. We really enjoyed staying there and we felt at home. The neighborhood is very nice: supermarket (AH, Action and Aldi), laundry service, bakery... are at 3 minutes walk and safe. We left our car parked for a month right in front of the aparmtent (free parking) and didn't even get broke. The description from Janine is actually very good. Just to say that the pictures aren't representing as good as it should the apartment. Like the bathroom with the jaccuzi and the sunny terrace! Of course, the apartment is in the north of Amsterdam, so you have to get used to take the bus or take a bike to go the the city center. But if you stay for at least two week it should not be a problem. To put in a nutshell, Janine and her family (we didn't met her) are very nice and welcoming persons. The apartment is a good place to enjoy a long visit in the Netherlands (close to Centraal Station). So I definitly recommend it!!
Kimberley
2016-09-01T00:00:00Z
Tipo de Acomodação
Casa/apto inteiro
---
Tipo de Imóvel
Apartamento
---
Acomoda
4
---
Quartos
Amsterdã, Noord-Holland, Holanda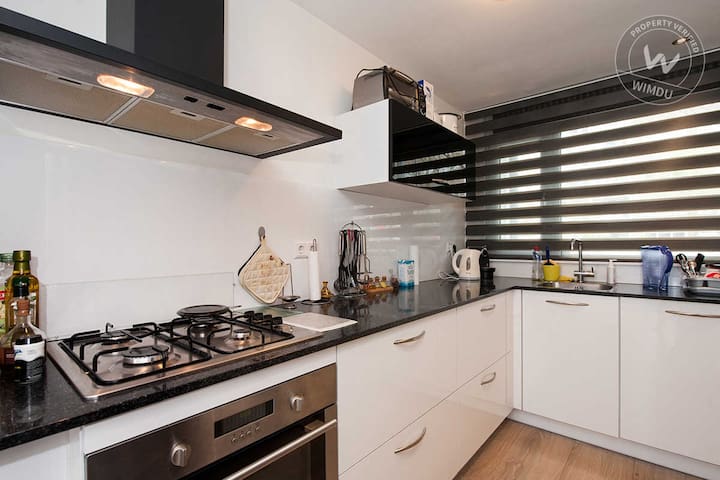 Você, como uma mulher, quer um lugar tranquilo e seguro para ficar em Amsterdam? Então, meu apartamento é o lugar para estar. Você começa um quarto limpo e tranquilo, com uma boa cama e vista para o verde. Você compartilha o resto com o proprietário. O centro da cidade é facilmente acessível por ônibus.
Este lugar é apenas para mulheres! Eu gostaria de oferecer às mulheres que estão viajando sozinho um lugar seguro e tranquilo para ficar. O que tenho a oferecer é um apartamento muito espaçoso, 15 minutos de autocarro (nr.32) do centro da cidade de Amesterdão. Imerso no verde em Baanakkers Park. A uma curta distância de shoppin(SENSITIVE CONTENTS HIDDEN) Boven 't IJ com todas as principais lojas. A partir daqui a região bonita de Waterland com aldeias como Durgerdam, Monnickendam, Volendam e Marken é fácil de alcançar. Você pode encontrar vários restaurantes em uma curta distância do apartamento. O apartamento é agradavelmente tranquilo, espaçoso e luminoso. De todos os quartos você olhar para fora em verde e da sala de estar, a vista é panorâmica. Eu tenho um bom, luz do quarto, único para você. O resto do apartamento é acolhedor, com cores naturais e móveis. Você compartilha o apartamento comigo e às vezes com a minha parceira. Estou fora um monte de trabalho ou reuniões sociais. O edifício tem um elevador eo apartamento está em um nível tão ideal para pessoas com dificuldades de locomoção. Você tem acesso a Wi-Fi e TV. Você pode usar a cozinha para cozinhar ou fazer café da manhã. Há espaço na geladeira para colocar o seu próprio material. Eu tenho uma grande casa de banho com banheira e chuveiro separados. O banheiro é separado do banheiro. Ambos são branco e puro. Se você quiser, eu posso comprar-lhe coisas para o pequeno almoço (3 euros por dia). E você também pode alugar uma bicicleta de mim para explorar a cidade e para o ambiente. (5 euros por dia) Se você tem alguma dúvida, estou muito disposto a respondê-las. Acolho-vos de todo o coração!
It's been a great time to stay at Mirjam's place, very comfortable place , with warm and light color of the furnishings,and quiet neighborhood. I enjoyed very much. Mirjam was very nice and hospitable!
Ichen
2016-07-08T00:00:00Z
Miriam's apartment is on the fifth floor of a building in an area with woods and meadows so the views are marvelous - you are up with the birds. There is even a nest right outside the bedroom window, and birdsong will accompany you to the nearby bus stop. I particularly enjoyed a Dutch breakfast on the balcony and the wide-ranging conversation we shared. If you stay with Mirjam, you will experience a different side of Amsterdam. Highly recommended.
Laura
2015-04-29T00:00:00Z
Ich hatte eine sehr schöne Zeit bei Mirjam und ich freute mich besonders über den herzlichen Empfang!
Gertraud
2014-05-01T00:00:00Z
I couldn't have asked for a better place to stay in Amsterdam. Mirjam was a wonderful, generous and helpful host and made me feel very at home. Her home is lovely and in a beautiful, peaceful and convenient location. She has my highest recommendation.
Alexandria
2015-08-04T00:00:00Z
Mirjam mi ha accolto con gentilezza, la descrizione e le foto della casa erano veritiere. Le indicazioni per trovare l'appartamento erano chiare ed è stato abbastanza semplice perchè si trova proprio dietro la fermata del bus.
Claudia
2016-06-16T00:00:00Z
the room was really clean and cozy. Mirjam is nice, we had a really interesting chat. Thank you Mirjam, hope to see you again.
Chuyue
2016-04-27T00:00:00Z
The green, quite place that Mirjam offers is everything she says and I loved my stay here. The room is very large and bright, all the rooms very clean and the internet worked very well for my 4 days here. I used the bus transportation from the stop immediately outside the apartment, and additionally I had a great time biking from her house to the ferry and then around central Amsterdam. Mirjam is a lovely, helpful, accommodating host. While I was not at the apartment very much, I enjoyed every conversation we had and consider her my friend. I look forward to someday returning to Amsterdam and staying with Mirjam again.
Sue
2014-09-15T00:00:00Z
Mirjam's place was perfect...exactly as advertised. Clean, quiet, and amazing hospitality. Very easy to get into the city by bus, and nice to have a quiet place at the end of the day. Would definitely stay here again!
Alexandra
2013-09-18T00:00:00Z
Tipo de Acomodação
Quarto inteiro
---
Tipo de Imóvel
Apartamento
---
Acomoda
1
---
Quartos
Amsterdã, Holanda do Norte, Holanda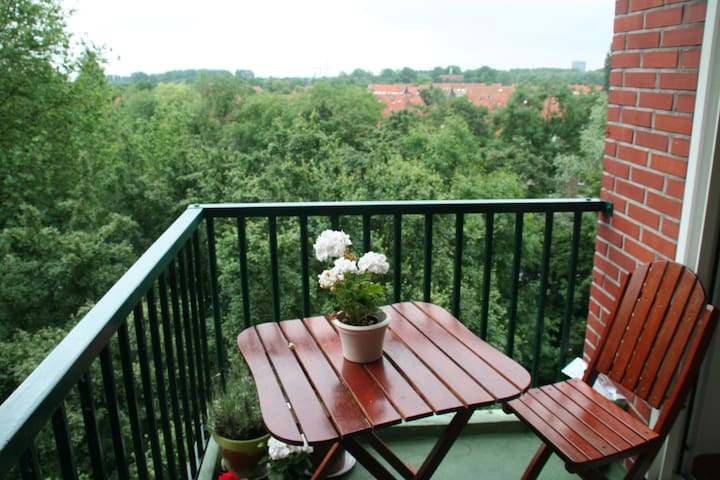 Este apartamento é perfeito se você quer passar alguns dias em Amsterdam. Tem 2 quartos, espaço suficiente para dormir por quatro pessoas, e uma grande sala com uma mesa de ténis de mesa! Nosso apartamento está localizado no 9º andar, então a vista é bastante grande!
A vista (a partir do nono andar) é maravilhoso, o apartamento é leve e muito espaçoso. Ele está localizado numa zona tranquila de Amesterdão, na orla da cidade, enquanto o centro de Amesterdão é um autocarro de 20 minutos de distância. Outro ônibus leva você em 15 minutos para o bairro de hip Amsterdam Oriente.
A vizinhança é tranquila, aldeias pitorescas e paisagens típicas holandesas estão nas proximidades. No térreo, há vários supermercados e lojas. Os autocarros para o centro da cidade param em frente do edifício e saem a cada cinco a dez minutos.
The pictures did not do it justice ! This place was beautiful!
Sabrina
2016-07-12T00:00:00Z
The appartment was perfect. Actually, the photos do not give credit to such a beautiful place, it is very well lighted clean and spacious. Although is not in the central area of Amsterdam, it is very easy to arrive there as the bus stop is just in front of the building and it works 24H. It has all the ammenities and just downstairs you find up to 3 grocery stores, bakery, bike rental, an ATM. Rianne and Jannis were very nice and super thoughtful and gave us various tips of the city. I would definitely recommend it
Nicole
2016-05-09T00:00:00Z
We had an amazing experience in this apartment and it was as described in the reviews. The location is quite interesting as it is on the outskirt of Amsterdam, which is quite close to the city but at the same time you feel that you are on the Dutch countryside. I definitely recommend for people that have been previously to Amsterdam so they can experience it from a different perspective. Getting the apartment was quite easy as Rianne and Jannis left the keys with they neighbor as they were on holiday. The building is easy to reach by ferry then by taking the bus 33 for 15 mins. The apartment is spacious and clean with a very nice view overlooking the countryside. The best thing about the apartment was the ping pong table in the living room which made our time in the apartment much more interesting. The building is very new and is located in a center with supermarkets, restaurants, bike shop, and everything you need. All in all I definitely recommend this apartment for people that don't want to stay in the Centrum area.
Sergio
2016-08-23T00:00:00Z
Great apartment, out of the busy city centre. Retro feel to the spacious apartment. Rianne is lovely and answered all questions promptly. We would recommend this apartment
angela
2016-07-27T00:00:00Z
The appartament was perfect! Ryanne is an amazing host and very helpul! I can just suggest this appartament, is not in the centre of amsterdam but is very well connected to the central station with a bus that stop just under the building. If I going to spend again few days in this lovely city, I ll call Ryanne again..Highly raccomended!!!
Matilde
2016-06-28T00:00:00Z
Me and my 3 friends were at Riannes' apartment for a few days. There's nothing negative to say! It's big, clean and there's everything you need. It isn't that central but you can go to Bus line 33 an it takes you in one way to the center of Amsterdam! There's also a supermarket, 50m away from the apartment. So everything is perfect! :)
Max
2016-05-03T00:00:00Z
Appartamento molto spazioso, silenzioso, caldo e accogliente. Unica pecca distante dal centro, però è presente una fermata del bus proprio di fronte che permette facilmente di muoversi per tutta Amsterdam. I proprietari sono stati molto gentili e disponibili ad ogni eventualità. Lo consiglio a tutti coloro che vogliano farsi una vacanza nella splendida città di Amsterdam!
Barbara
2016-01-02T00:00:00Z
Unser Flug wurde leider gestrichen und so kamen wir erst mit 12 Stunden Verspätung an, trotzdem verlief alles problemlos und eine Freundin von Rianne empfing uns beim Apartment. Es ist etwas außerhalb des Zentrums gelegen, aber eine Busstation befindet sich direkt vorm Haus und auch ein Supermarkt ist gleich um die Ecke. Es ist sehr groß und modern, sauber und hat alles was man braucht. Wir verbrachten hier eine wunderbare Woche und werden es gerne weiterempfehlen.
Thomas
2017-01-05T00:00:00Z
Tipo de Acomodação
Casa/apto inteiro
---
Tipo de Imóvel
Apartamento
---
Acomoda
4
---
Quartos
Amsterdã, Noord-Holland, Holanda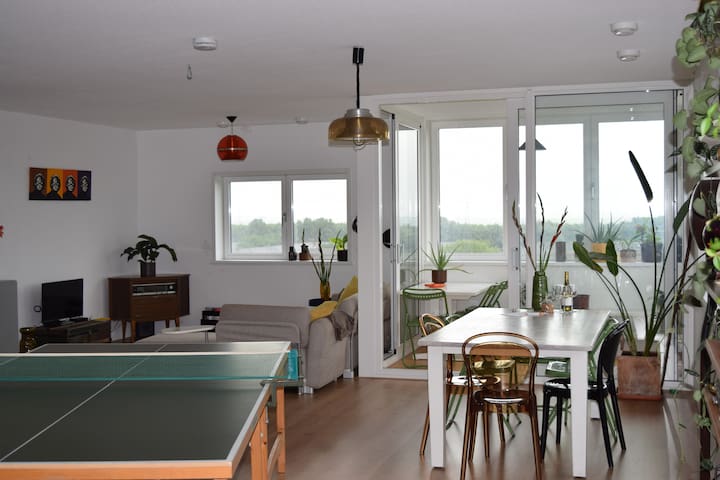 Estamos localizados no up-and-coming Amsterdam Noord, rodeado por vegetação e apenas a 20 minutos do centro de Amesterdão de bicicleta ou de ônibus. O nosso quarto com a sua própria varanda é grande para um pouco de paz e uma boa noite de sono - uma xícara de chá e dicas para explorar diferentes partes do Amsterdam incluído. Nós Entes fazer nossa casa um espaço tranquilo e confortável para vir depois de um dia fora de casa, e nós adoraríamos recebê-lo a partir de onde você estiver viajando para o nosso belo cidade natal!
Je verblijft in de logeerkamer van ons onlangs gerenoveerde appartement in een rustige en groene Amsterdam Noord. De kamer krijgt veel licht en heeft een aangrenzende balkon, en het is ingericht voor het comfort van onze gasten met een dikke dubbele luchtbed, een comfortabele stoel bij het raam en wat ruimte voor uw kleding.
Really nice experience. We'll never forget it!
Alejandro
2017-04-03T00:00:00Z
loved this apartment and the hosts were extremely friendly and approachable!
Jessica
2017-04-09T00:00:00Z
Thanks Tanja and Roger!! Incredible experience close to Amsterdam Centraal (aroun 10 mins by bus) and comfy room with all needed! The greatest thing were our hosts, really welcoming and charming! We will definitely repeat :) totally recommended!!!
Pat
2017-03-26T00:00:00Z
Tipo de Acomodação
Quarto inteiro
---
Tipo de Imóvel
Apartamento
---
Acomoda
2
---
Quartos
Amsterdã, Noord-Holland, Holanda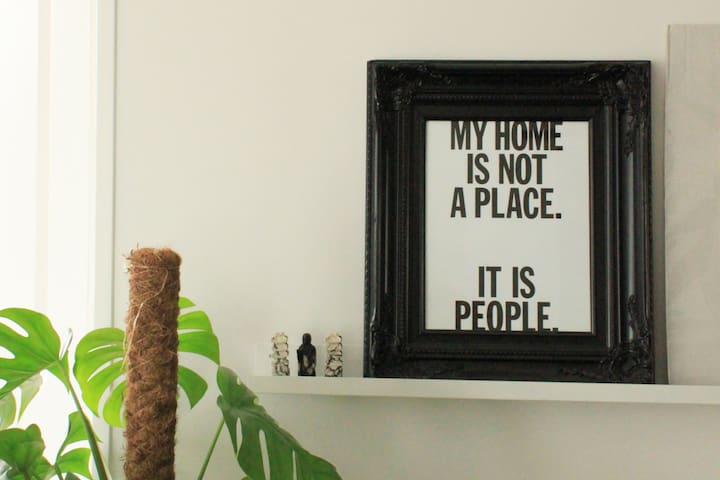 Totalmente equipada sala privada com um espaçoso terraço, situado no verde distrito norte Amsterdam + estacionamento gratuito. Este apartamento fica a apenas 10 minutos de distância do centro com a estação de ônibus bem na esquina.
Espaçosa sala privada moderna. terraço ensolarado grande. Banheiro com banheira + lavabo. Confortável cama de casal para 2 + sofá que pode ser transformado em uma cama. O apartamento é de 125 m2, eu vivo aqui com a minha mãe. Na maioria das vezes estamos fora da casa e você é mais que bem-vindo para usar o resto do lugar. Nós amamos hospedagem, respeitar a privacidade de nossos hóspedes e desfrutar de ajudá-lo a dar a volta Amsterdam. Este quarto privado é perfeito para 1-2 pessoas. Quer se trate de negócios ou de lazer que o traz a Amsterdam, este quarto é excelente para qualquer um.
Verde distrito de Amesterdão Norte. shopping center 5 minutos a pé com supermercados múltiplas, lojas, padarias e muito mais. anel estrada muito perto e está disponível estacionamento gratuito. Vários parques na área.
I booked the accommodation on behalf of my Fiancee's son and his girlfriend for a "surprise" 25th birthday trip to Amsterdam for 6 days. Throughout the experience, Raul was perfect in providing good and responsive information when asked and helped the two of them from the moment they arrived (in fact even beforehand by sorting out a collection taxi for them from the airport) to the moment they left. Great experience, great host and, according to them, a great time in the city too.
phil
2015-10-30T00:00:00Z
The room was very nice everything was perfect. Raul is an awesome host and very welcoming and helps where he can. The connection to the central is also very good! Great to discover Amsterdam and get a good sleep afterwards! Highly recommended! We already thinking about coming back :) Arne&Jessy
Arne
2015-08-30T00:00:00Z
Bonjour, je voudrai dire, en commençant, que nous sommes satisfaits de notre séjour à Amsterdam et en particulier de l'accueil qui nous a été réservé par Raul. Nous étions attendu et Raul nous a donné un bon coup de main, en portant les bagages, pour s'installer. Tout au long de notre séjour dans l'appartement de Raul, nous avons été correctement traités et Raul a été un hôte très discret. Occuper une chambre dans un appartement en cohabitant avec les propriétaires n'est pas évident. Raul a fait ce qu'il fallait pour qu'on soit à l'aise. Merci à lui et à sa maman.
Malik
2016-02-20T00:00:00Z
I booked Raul's place for my parents who were travelling to Amsterdam for a short city trip. They are new to Airbnb and I checked with Raul if he was happy for my parents to stay. The feedback from my parents have been great! Raul was friendly, helpful and very welcoming to them :) Sharing his space was a pleasurable experience and they would recommend to others. He has a convenient location and is only 15-20 mins by bus to central Amsterdam. Thank you for looking after them well Raul! :D With me, Raul was prompt and professional with his correspondence prior to their arrival. His directions were quite clear. My only issue was having pre arranged an airport pickup with Raul several weeks in advance (I wanted a smooth start for my parents when they arrived in a new country) he unfortunately cancelled this just 2 days before my parents were travelling so they had to make their own way there on public transport.
T
2016-04-25T00:00:00Z
Raul is a great guy and with a amazing sense of humour. The flat is absolutely fabulous. My stay was amazing in terms of both communication as well as the bedroom. The shower was amazing and luxurious as well. The location of the flat is only 15 minutes by bus to the central station and shops are just 3 minutes walk from the entrance of the home, which is ideal for quick or last-minute buying (like food, drinks etc). It was the best airbnb experience and I hope every airbnb is like this. Looking forward to staying again in the near future.
Sotiris
2016-10-16T00:00:00Z
很赞!如实描述,五星好评!房子在一个很安静的公寓楼上,楼下就是到火车站的公交,游玩累了还能在宽敞的阳台上喝杯茶非常棒!房东好客热情细心!
Ruyu
2015-05-01T00:00:00Z
Great place to stay. Easy bus ride to the city center. Very clean and nice. Raul was very kind as was his mother. Highly Recommended.
Brenden
2017-03-07T00:00:00Z
Raul and his mother has been there for us whenever we need something during the stay. Really willingly helpful, which we appreciate so much. House was really clean and a cute balcony was a perfect bonus. They keep the guests' privacy so well it almost felt like our place. I definitely recommend Raul's place to the ones who considers coming to Amsterdam.
Hee-Joon June
2017-02-08T00:00:00Z
Tipo de Acomodação
Quarto inteiro
---
Tipo de Imóvel
Apartamento
---
Acomoda
2
---
Quartos
Amsterdã, Holanda do Norte, Holanda
Um belo, confortável quarto duplo / twin com excelente vista sobre a água. The Historic City Centre fica a 5 minutos de autocarro ou de passeio ao longo das frentes de água de Amesterdão.
O espaço Java B-2-B é aberta. Grandes vistas, sol a sol, navios passando, tranquila, apenas a 5 minutos do Centro Histórico. Este é um grande espaçoso quarto Studio, Single, duplo ou de casal, como você gosta.
Inteligente. Área de classe média. Pessoas mais jovens. Saudável, Desporto, bares, restaurantes. Afluente.
O local é maravilhoso. E o apartamento é muito legal. O Igor nos recebeu com muita atenção e educação. Recomendo a todos.
Daniel
2015-08-09T00:00:00Z
Eu e minha amiga adoramos como Igor nos recebeu, muito atencioso e prestativo. Meu inglês não é bom, mais Igor teve paciência e explicou tudo certinho. O local é muito interessante e bonito. Tem ônibus que vai direto da estação central a casa de Igor. E também é possível ir a pé! Adoramos!
larissa
2016-10-07T00:00:00Z
Disposição do imóvel fiel as fotos do perfil. Bom anfitrião, transporte público próximo. Recomendo
Othon
2016-12-27T00:00:00Z
A estadia no Igor foi nossa primeira experiência com o Airbnb e ficamos muito satisfeitos. Antes da chegada ele nos passou informações precisas sobre como chegar até o apartamento dele e também algumas dicas sobre o bairro. O quarto é amplo, bem iluminado, tem uma vista maravilhosa e oferece muita privacidade. O quarto é o banheiro também estavam muito limpos. E foi excelente a comodidade ter disponível no quarto frigobar e máquina de café. Recomendamos!
Natacha
2016-09-14T00:00:00Z
Gostamos muito de ficar na casa do Igor. A localização é ótima, rua tranquila, vista linda para o rio, ônibus próximo a residência, casa limpa e aconchegante. Tínhamos café, chá, petisco, suco e TV no quarto. Igor foi muito receptivo e atencioso conosco.
Luara
2016-08-08T00:00:00Z
The description was very accurate. The host so welcoming and accommodating. The room was clean spacious and as described. Travel to and from the city was quick . Igor was always helpful, and we would have been lost, without his loan of a plug connection to make my ipad work. I had forgotten to pack mine.
Ethel
2015-06-22T00:00:00Z
Igor was a great host. He helped with directions for easy navigability and provided a few welcoming drinks and snacks. Overall, we couldn't have been happier with the modern design, comfortable beds and amazing view.
Tony
2016-11-11T00:00:00Z
Our stay in Amsterdam was very enjoyable. From the start Igor was helpful with directions and instructions, and made checking in a breeze. Igor was also very helpful with any questions we had during our stay, whilst also always respecting our privacy. The room itself was very large and had great views over the water. Although the location seems kind if strange, it was actually a very nice area, close to shops and within easy transport to the centre. Absolutely nothing to complain about!
Olivia
2016-11-14T00:00:00Z
Tipo de Acomodação
Quarto inteiro
---
Tipo de Imóvel
Apartamento
---
Acomoda
2
---
Quartos
Amsterdã, Holanda do Norte, Holanda
Meu quarto fica ao lado de um shopping center, incluindo 2 grandes supermercados. No andar de baixo planas deixar vários autocarros que você está em Amsterdam Centraal 15 min. Este lugar é fácil e rapidamente acessível a partir da Estação Central de Amesterdão. O apartamento fica em um local tranquilo, tem muito espaço, limpo e arrumado, e tem excelentes vistas a partir do 11º andar. O apartamento é adequado para casais, amigos tranquilos / namoradas e / ou pessoas a negócios.
lugar muito seguro porque a entrada no térreo no noite será fechada automaticamente e você só veio com uma chave.
À beira da água para Amsterdam Central estão alguns bons bares que são populares especialmente na primavera e no verão. O NDSM é um lugar de entretenimento popular, visitada na primavera e no verão.
Chantal's room is very clean and big! There was a problem when we were going to check in, but she helped us a lot and tried hard to solve that. Large supermarket are just 2 mins away from her room!
Misaki
2017-03-22T00:00:00Z
Wir waren ein vier Tage im Apartment von Chantal und haben uns in ihrer sauberen, hellen schön eingerichteten Wohnung sehr wohl gefühlt. Die Anreise mit dem Auto ist sehr unkompliziert und das Parken für dortige Verhältnisse günstig, sprich ca. 8 Euro pro Tag. Um ins Zentrum Amsterdams zu gelangen kann man direkt gegenüber in einen Bus einsteigen, in dem man mit Kreditkarte zahlen muss. Bargeld wird dankend abgelehnt. Dier Fahrt bis ins Zentrum dauert ca. 15 Minuten. Bei Fragen wurde uns immer von allen Busfahrern sehr freundlich weitergeholfen. Im Großen und Ganzen war es ein toller Städtetrip, mit toller Unterkunft und sehr hilfsbereiter Gastgeberin. Während des Aufenthalts hielten wir über (SENSITIVE CONTENTS HIDDEN) Kontakt zu Chantal und haben so easy und zeitnah Informationen erhalten.
Julian
2017-04-01T00:00:00Z
Chantal was so helpful, and very easy to contact. We picked the keys up with ease and she helped us with directions to the flat. She also gave us recommendations and was super friendly. The apartment was really nice- the pictures didn't do it justice! The shower is fab! It only takes 10 mins on the bus to get to the centre and there is a bus stop right outside. Had a great stay, thanks Chantal!
Josie
2017-03-05T00:00:00Z
The apartment is just as the pictures but better. It's very new and updated and very clean. Bus stop is right below and a 20 minute ride into the city center. Grocery store is right across the street. Host was there to check us in and check us out. Overall Tim and Chantal were very warm and welcoming. Would definitely stay here again!
Ajey
2017-03-18T00:00:00Z
Nice location near busstation and shopping centre. Clean, quiet and spacious apartment. Lovely shower and understanding host. Very good place to stay at in Amsterdam. :-)
Alex
2017-03-19T00:00:00Z
The flat is beautiful and you can come to the center in 15/20 min with the bus. Chantie is very friendly and the stay was quiet good.
Ayse Gül
2017-02-26T00:00:00Z
Clean and comfortable space!
Lara
2017-02-19T00:00:00Z
Very nice quiet appartment with a lot of space and all required things were available. Public transport and possibilites to shop are close by. Chantal was a very kind host and replied immediately to our requests.
Matthias
2017-03-26T00:00:00Z
Tipo de Acomodação
Casa/apto inteiro
---
Tipo de Imóvel
Apartamento
---
Acomoda
2
---
Quartos
Amsterdã, Noord-Holland, Holanda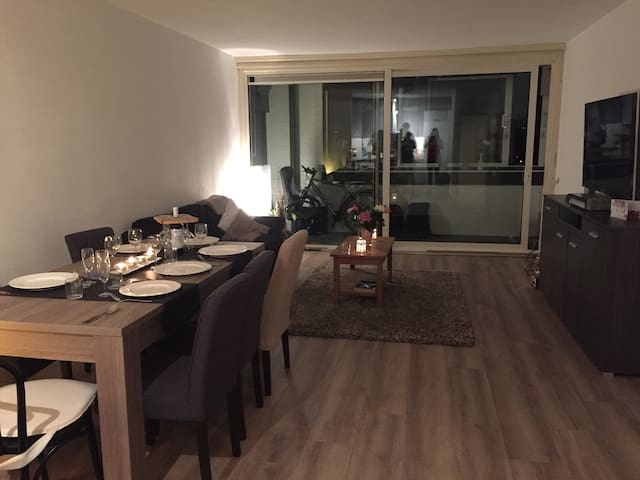 Tipo de Acomodação
Quarto inteiro
---
Tipo de Imóvel
Apartamento
---
Acomoda
2
---
Quartos
Amsterdã, Noord-Holland, Holanda
Minha casa é em parte norte de Amesterdão, realmente silencioso, espaçoso e seguro, um lugar agradável para ter um bom descanso depois de um dia agitado de passeios. Demora 18 minutos de autocarro (funciona 24 horas) ou de bicicleta a partir da estação central, onde o centro absoluto da A'dam.
Meu apartamento é espaçoso e limpo, 85 m2, situado em um edifício residencial tranquila branco com 11 andares. Existem 2 elevadores disponíveis. A paragem de autocarro fica a 200 metros de distância. O grande centro comercial fica a poucos minutos a pé. Existem suficientes lugares de estacionamento gratuito em torno do edifício (veja um dos pic). Eu tenho 2 quartos. A pequena sala (12 m2) está com uma cama de solteiro (Boxspring alta qualidade real), a grande sala (20m2) está com uma cama de casal (ajustável elétrica na cabeça e no pé) com dois colchões separados. Um desses dois quartos será alugar a você - o quarto pequeno para uma pessoa e o quarto grande para dois ou três (neste caso, uma única cama extra dobrável será colocado) pessoas. Wifi alta velocidade disponível. 24 horas de água quente. Parque de estacionamento grátis. check-in flexível e check-out vezes, em consulta com o proprietário. Aluguer inclui o uso do quarto pivate e casa de banho (compartilhado) (se houver outro convidado). A casa de banho com aquecimento de piso é novo, luxuoso e espaçoso. Você está convidado a permanecer na sala de estar e sentir-se livre para usar a geladeira, fazer o café ou o chá na cozinha aberta. Você pode fazer um privilégio de usar a varanda, que tem sol o dia todo. Você está convidado a contactar-me se você tiver alguma dúvida
O bairro é muito verde, tranquila, segura e pouco convincente. Você vai ver os coelhos selvagens correndo por aí, enquanto apenas cerca de 18 minutos para o centro absoluto (estação central) de ônibus. É apenas a poucos minutos a pé para o campo holandês, onde você tem uma excelente vista de vacas, campos e aldeias ...
Quiet and clean apartment.A good place to stay away from the bustling Amsterdam city. Xiong's apartment is definitely a good choice to those who wants to experience a typical neighborhood living environment in Amsterdam.
Sim
2015-05-29T00:00:00Z
Xiong's place was great. I felt very safe around the neighborhood. His apartment was very clean and has a very large (luxurious) bathroom. I didn't see Xiong, but his neighbor friend Reina took care of everything. She is a very sweet, wonderful lady. His place was surprisingly easy to find, about 30 mins bus (#33) ride from Central Station, no transfer, and then 3 mins walk from the bus stop, and buses come about every 10 mins and they are on-time, amazing.
Cj
2015-10-02T00:00:00Z
Xiong war bei meiner Ankunft nicht anwesend, er hat jedoch eine Nachbarin gebeten mir alles zu zeigen und zu erklären. Obwohl ich erst relativ spät gegen 22 Uhr angekommen bin, war das absolut kein Problem. Die Wohnung war sehr sauber, das Bad hätte nicht sauberer sein können und das Bett war mehr als bequem. Am nächsten Tag abends hatte ich dann Gelegenheit mich mit dem Gastgeber Xiong zu unterhalten. Er ist wirklich ein super Typ, sehr aufgeschlossen und hilfsbereit. Leider war mein Aufenthalt in Amsterdam nur sehr kurz, bei meinem Nächten Besuch wird er definitiv meine erste Anlaufstelle sein! Danke für alles Xiong! Thanks for everything Xiong!
Christoph
2015-08-02T00:00:00Z
I cannot comment on the accommodation as I had to cancel my trip with six days prior to my stay. I was unable to get my refund as Xiong has communicated clearly in his profile. I can comment on Xiong's communication. He is always available and replies quickly. He wasn't going to be in town, but appointed a neighbor to meet me on my arrival. This made me feel safe and welcoming.
Alex
2015-07-09T00:00:00Z
Although we didn't meet the owner (he was away on bussiness) his neighbour, Reina, very friendly lady, told us and presented everything in the apartment. The room was nice, clean, spacious and comfortable, as well as the rest of the apartment. Calm area, quite good connections with the city center, a few shops around, a lot of parking places next to the building. We are very satisfied and recommend this host.
grzegorz
2015-04-12T00:00:00Z
Эта шикарная квартира в спокойном и доступном районе на севере Амстердама оставила великолепное первое впечатление об этом городе. Хозяин квартиры Сюн - отличный парень, добрый, отзывчивый и гостеприимный. Его квартира не только выглядит потрясающе, со вкусом, аккуратна и блестит, но и продумана до мелочей. Все для человека! Сюн всегда был на связи и очень быстро отвечал на письма (за что я ему отдельно благодарен). И даже то, что это был мой первый опыт в airbnb и то, что английский мой далек от совершенства - все прошло успешно! Рекомендую!
Yuriy
2014-12-20T00:00:00Z
Very attractive apartment in a nice area, close to shops and very convenient for public transport. A bit away from the centre of Amsterdam which was really good because I do not like the noisy tourist areas when I am trying to sleep. I did not meet Xiong but the lady who had the key was easy to find and gave me a helpful map of the city.
Frederick
2015-06-26T00:00:00Z
I really enjoy stay at Xiong's apartment. Its a really beautiful place and he has it nicely organized. He take care of us, and provide us solutions to our arrive problems. He us very kind
Gabriel
2015-01-02T00:00:00Z
Tipo de Acomodação
Quarto inteiro
---
Tipo de Imóvel
Apartamento
---
Acomoda
1
---
Quartos
Amsterdã, Holanda do Norte, Holanda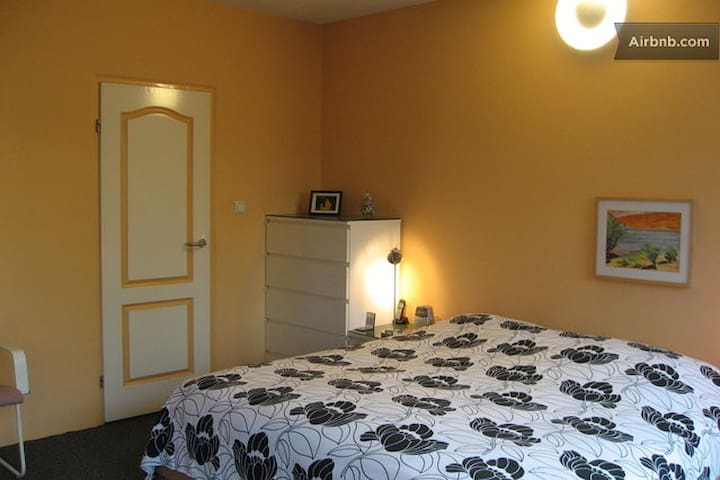 Zuiderwoude - Airbnb
:
Média de

4.8

de

5

estrelas, de acordo com

682

avaliações de hóspedes
1

–

18

de

126 Apartamentos para Alugar
Insira as datas para ver o preço total. Taxas adicionais serão aplicadas. Impostos podem ser adicionados.