Mais de 300 Apartamentos para Alugar
Tipo de Acomodação
Casa/apto inteiro
---
Tipo de Imóvel
Apartamento
---
Acomoda
6
---
Quartos
Park ridge, Illinois, Estados Unidos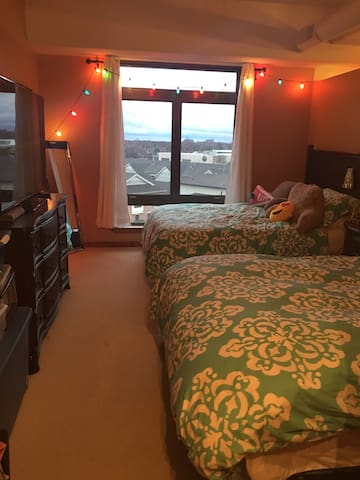 Excellent place to stay, near all amenities, 5 min walk from the blue line. Minimalist decoration as I'm moving out (no TV, empty closets....), and you'll have all the apartment for yourself. In addition to the bedroom, you'll have a sofa, a great dining room, an exercise bike and a laundry service in the basement.
Week-long reservations are welcome
Nice residential neighborhood, good architecture, and safe all the time, near the blue
Tipo de Acomodação
Casa/apto inteiro
---
Tipo de Imóvel
Apartamento
---
Acomoda
2
---
Quartos
Chicago, Illinois, Estados Unidos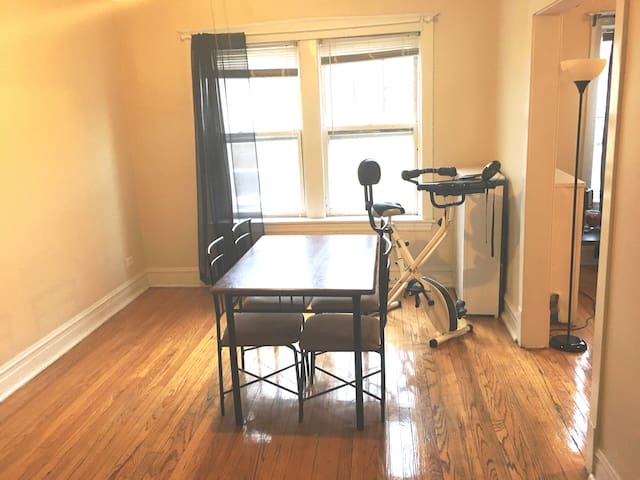 Light-filled, modern, cozy home in a friendly and safe neighborhood. Located just off the highway and a ten-minute walk from the blue line. We proudly welcome guests of all backgrounds and places!
Our home is located on the third floor of the apartment complex. There is a gated courtyard for added security.
My husband and I came into town for a showing of Hamilton and stayed here for two nights. We were blown away by the beautiful studio and the quality of accommodations! Very secure, but simple to get into; the building and neighborhood are charming and safe, and the studio itself is artistically decorated and relaxing. The radiators kept the place wonderfully warm even in the dead of winter, the bed was amazingly comfortable, and the art was inspiring! Access to the rest of the city via the Blue Line was ideal, a very short walk to the train station, allowing us to get back and forth from Millennium Park and the airport with ease-- and even dash down to Logan Square for some excellent Cuban food. We had a wonderful Valentine's dinner at Bread & Wine nearby, and saw bunnies on the lawn at dusk! I absolutely loved our stay at this studio and I hope to return someday. Such an absolute jewel and so perfect for a weekend-length trip!
Elise
2017-02-16T00:00:00Z
Tipo de Acomodação
Casa/apto inteiro
---
Tipo de Imóvel
Apartamento
---
Acomoda
4
---
Quartos
Chicago, Illinois, Estados Unidos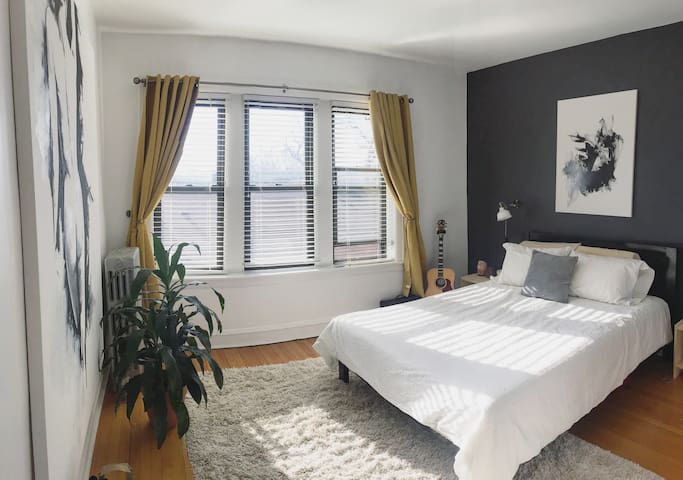 Comfort, location, and amentities are some reasons there is no place like this home. This chic and modern apartment has a cozy feel with a hotel-like quality. It's surrounded by public transportation and walking distance to bars and restaurants.
This space is ideal for relaxing nights while on vacation. It is spacious, quiet, and bright with color and art. It's kept very clean and gets much sunlight. Stay up watching Netflix, Hulu, or 3D movies and enjoy provided breakfast in the morning. It's perfect for solo adventurers, business travelers and couples alike. Hope to meet you soon!
There are many businesses within walking distance such as a grocery store and a convenience store. There are also great restaurants in the area such as Wyler Road restaurant located on Central Park and Belden or Ground Control located on Armitage and Kimball.
It was nice for price we paid. She was not great when it came to being on time at meeting locations, even though she did keep you informed. She is a very friendly and helpful host, everyday she would check in.
Lukumanu
2017-04-09T00:00:00Z
Very nice. Would recommend.
Nate
2017-03-17T00:00:00Z
Gabrielle's home has been my favorite airbnb experience by far. Her apartment is gorgeous, clean, and very chic... I could tell a lot of effort was put into giving it personality. My friends and I had a blast! Gabrielle even left some food and drinks for us. The apartment was conveniently located by a liquor store, little bakery, restaurants, gas station, and bus stop. We were on a busy street, but it still managed to feel safe and quiet inside. Communicating with Gabrielle was also very easy and she was super flexible with her time!!
Jamanee
2017-03-12T00:00:00Z
Gabrielle's place was exactly as listed. She was extremely accomodating and quick with her responses. She went above and beyond to make sure I had everything I needed to have a great stay.
Whitney
2017-02-27T00:00:00Z
Gabrielle was awesome! I would rage 10/10 for communication. I booked the place. a few months ahead and I had questions, alot of them, and she was able to respond to them efficiently. She helped put alot, not only about answering questions about the booking, but about my stay in Chicago in general. Im very picky about my bed, pillow, and the overall aura of the place I stay and once I walked into the house, it just felt right. Everything was very clean and modern and it was very home-y. It was perfect for a vacation, I felt (EMAIL HIDDEN)ing from California, I was not prepared for the cold and this house had ac and heat which was perfect. The bathroom is very clean and she even took out the time to leave stuff for us in the morning to eat. The price was so cheap but it was so worth it. She invited us into her home and we treated it as it was ours. If you're staying for a few days for vacation and want to come back to a house that felt like home, I would recommend this place. Thanks so much Gabrielle for having us.
Tran
2017-03-21T00:00:00Z
This stay was one of my best experiences. Gabrielle was such an accommodating host. The apartment was so inviting and very quiet. The neighborhood is vibrant with many bars and restaurants in walking distance. Finding parking on the street was very easy too. Won't be dissapointed.
Brandon
2017-03-08T00:00:00Z
The stay was great! Great location, easy check-in, and awesome communication from Gabrielle. Highly recommended!
Mary
2017-02-22T00:00:00Z
This place was so cozy and inviting. It was very clean and very chic! Couldn't beat the price and Gabrielle is very helpful and knowledgeable about the city. This place allowed for a great visit to the Windy City.
Jeffrey
2017-02-12T00:00:00Z
Tipo de Acomodação
Casa/apto inteiro
---
Tipo de Imóvel
Apartamento
---
Acomoda
3
---
Quartos
Chicago, Illinois, Estados Unidos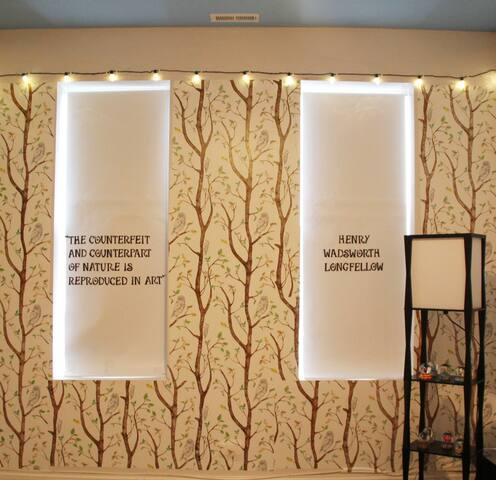 Enjoy your travel
Its quiet, safe and really close to Ohare Airport. Easy access to local transportation.
Aziz is really great, understanding, and flexible. Would definitely recommend it.
Maleah
2017-04-01T00:00:00Z
Aziz is very helpful man, his house was clean and i really enjoyed my stay there. Thank you Aziz!
nabil
2017-04-09T00:00:00Z
Clean, easy to find, and close to the Blue line which was perfect for me. Aziz is friendly and helpful. Couldn't have asked for a better host.
Liz
2017-03-30T00:00:00Z
AZIZ appartment are very close to airport. Clean and very nice guy. Fast internet.
Winnie
2017-03-20T00:00:00Z
Thanks Aziz was very ssupportive at the check in and kept a good comunication. For me was useful this place as I needed to rest and sleep. I recommend Aziz place Thanks Aziz.
Mario D.
2017-03-27T00:00:00Z
Aziz was a great host who took the courtesy of providing me with clean towels and whatever I needed when I asked. They also cooked me dinner and it was delicious! They were very helpful and communicative. Would definitely book again!
Ahmad
2017-03-16T00:00:00Z
Tipo de Acomodação
Quarto compartilhado
---
Tipo de Imóvel
Apartamento
---
Acomoda
1
---
Quartos
Chicago, Illinois, Estados Unidos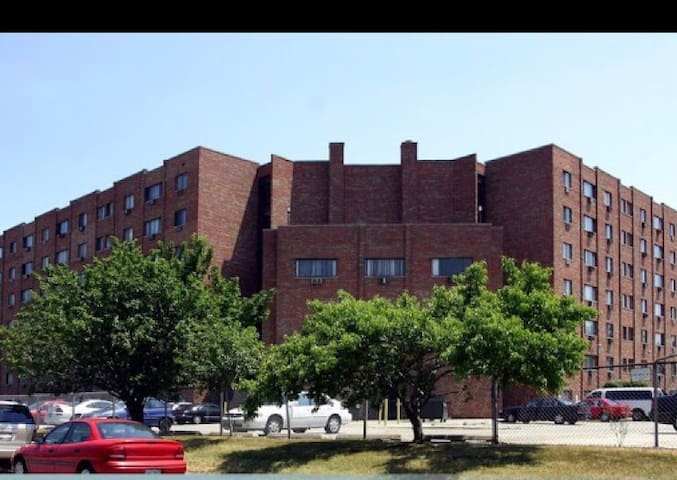 Close to downtown
Tipo de Acomodação
Quarto inteiro
---
Tipo de Imóvel
Apartamento
---
Acomoda
1
---
Quartos
Chicago, Illinois, Estados Unidos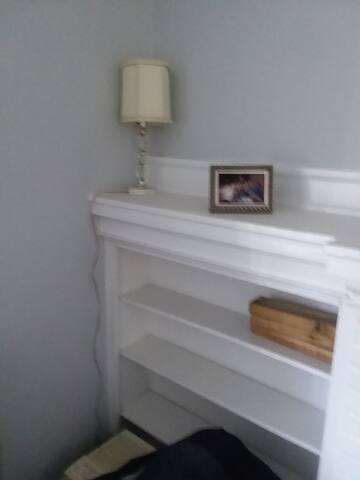 I love my little studio apartment: great light coming in through the windows, adorable breakfast nook with lots of plants, & a sweet little kitchen with lots of pots & pans if you feel like cooking. I also love my neighborhood: lots of delicious/ cheap middle eastern & north African restaurants (plus a fashion hijab store) right below my place, a divey diner & bar across the street, & the blue line (which goes to Logan Square, Wicker Park, & the loop) less than a mile away. Free street parking!
Good value. Hannah is quick to respond to messages and the apartment is clean.
Victoria
2017-01-02T00:00:00Z
Very comfy, warm, well decorated place to stay in Chicago neighborhood near great restaurants and shop. Would highly reccomend! Hannah was great with communication and very helpful! Would like to return and highly reccomend.
Lea
2017-02-26T00:00:00Z
Great location. Great space. Everything was communicated clearly to us. Loved it. Would definitely stay again.
Denise
2017-04-02T00:00:00Z
Hannah was a lovely host! Very easy to communicate with and her studio was actually larger and closer to downtown than expected!! Would definitely stay again.
James
2017-04-10T00:00:00Z
Beautiful place!
Sarahn
2017-02-09T00:00:00Z
Hannah's place is perfectly located! It's in a fun diverse neighborhood and extremely close to public transit! I felt safe and comfortable the entire time and we even ate breakfast right across the street from our apartment! My only suggestion is that the bed isn't super comfy with two people because it's a little worn in the middle. We made it work by putting a pillow in between us to hold us out of the center :) Not a huge turn off or anything and could easily be avoided by bringing a small airbed for one of the people or another blanket so you don't have to share the smaller one :) Other than that the apartment is perfect, spunky, and a great experience for a Chicago stay!!!!
Sarah
2017-02-19T00:00:00Z
Hannah was a great host! The apartment was cute and cozy-perfect for our weekend in Chicago! Close to public transportation too!
Elizabeth
2017-03-05T00:00:00Z
It is a central place, with am easy access to the main highway
Gerardo
2017-03-19T00:00:00Z
Tipo de Acomodação
Casa/apto inteiro
---
Tipo de Imóvel
Apartamento
---
Acomoda
2
---
Quartos
Chicago, Illinois, Estados Unidos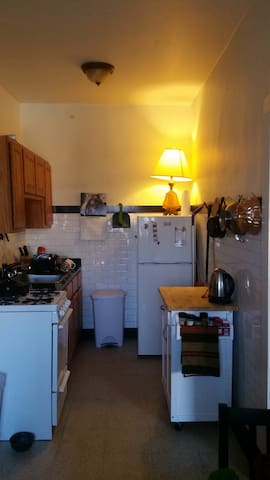 This is a completely renovated one bedroom loft located in one of Chicago's most interesting and historical neighborhood. This modern & chic spot features some unique qualities, besides the charm you have a private roof top deck as a bonus. It is close to tons of restaurants, bars and local markets, like Revolution Brewery, La Oaxaquena Mexican Restaurant and Windy City Produce Inc. This spot is perfect for couples, solo adventurers and/or business travelers.
Welcome to a brand new industrial chic retreat. This unit was designed and remodeled to perfection features a private deck, exposed brick entertaining area with a smart TV and complimentary Netflix, fully equipped kitchen with stainless steel appliances and a dining table perfect for a couple. In the bedroom you will find an extremely comfortable california king size bed with memory foam mattress and clean sheets. The brand new bathroom has everything you will need for your stay including clean towels, toiletry and a hair dryer.
You will be staying in the heart of Avondale near six corners with tons of shopping and restaurants. Wicker Park is also nearby, where there are tons of restaurants, cafes, clubs and bars.
Dariya's place was absolutely beautiful and comfortable for basic living. Everything is furnished so once you walk into the space, it feels immediately like a stylish apartment. The bedroom has a giant comfortable bed with plenty of light and sunshine. The bathroom is directly across the bedroom with a clean, modern shower. The closet is huge and can fit a giant wardrobe. The kitchen has basic amenities including pots and a pan. You'll need to fill it up with groceries but the kitchen does have salt, pepper and sugar. There are also cleaning supplies in the bathroom and kitchen if you need it. All in all, the stay was very comfortable and the check in process was smooth.
Ren
2017-03-22T00:00:00Z
The pictures don't lie, this place is beautiful. The hosts were lovely and very helpful. Bonus: the Mexican food restaurant just below the apartment and the CTA is right out the door. Location is close to a lot of shops and yummy food places. This is the place to stay if you want to be away from the hectic city.
Amber
2017-03-30T00:00:00Z
This place is absolutely gorgeous, very modern with a little touch of industrial brick walls. Everything is brand new in the apartment and super clean. Bed is very comfortable and the apartment has all the amenitites one would have in their home. Dariya was a fabulous communicator and helped out tremendously, she even spoke with the owner of the restaurant downstairs to allow us to keep our bags when we were already checked out. The restaurant owner downstairs Rodrigo is also very nice and the restaurant is delicious! Over all our stay was perfect and I would highly recommend this place to anyone. It is about a $15 Uber to downtown and same to the airport.
Krystina
2017-03-19T00:00:00Z
Loved this Place!! Everything was perfect! The place was absolutely gorgeous! Convenient parking!
Cassie
2017-03-24T00:00:00Z
Loved the place. It's cozy and exactly as pictured. It's also near great food.
Chanae
2017-04-02T00:00:00Z
Tipo de Acomodação
Casa/apto inteiro
---
Tipo de Imóvel
Apartamento
---
Acomoda
2
---
Quartos
Chicago, Illinois, Estados Unidos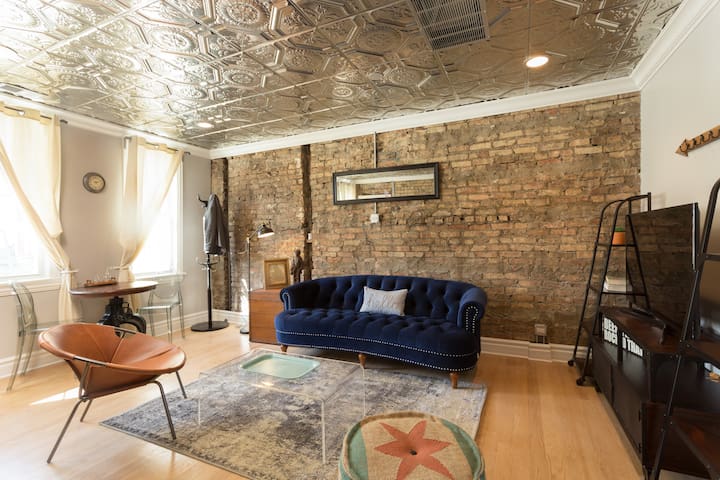 New luxurious apt. with a modern and rustic look located in one of Chicago's safest neighborhoods. Apartment is conveniently located next to several means of public transportation, 10 mins away from downtown and Ohare airport. Metra station, which is the safest and most comfortable way to get to and from DT, is only 2 blocks away. Jefferson Park blue line is ~half a mile away, and the 92 redline bus is on the corner. Stay in comfort as you enjoy your Chicago trip to the fullest!
Apartment has been completely renovated from top to bottom. Some of the features include a walk in shower with 12" rain head on teak wood floors for the most enjoyable shower you've ever had. The spacious eat in kitchen is great for feeling home away from home. The living room with 60" TV is spacious and great for hanging out after a day of sight seeing.
Jefferson Park is one of Chicago's oldest and most unique neighborhoods. It is known as a hub for trains and buses located at the I-90/94 split, and is a great option for commuters to downtown. It is recognized for low crime (0.3 crime per 1000 people) and great food and bars. (URL HIDDEN)
Tipo de Acomodação
Casa/apto inteiro
---
Tipo de Imóvel
Apartamento
---
Acomoda
5
---
Quartos
Chicago, Illinois, Estados Unidos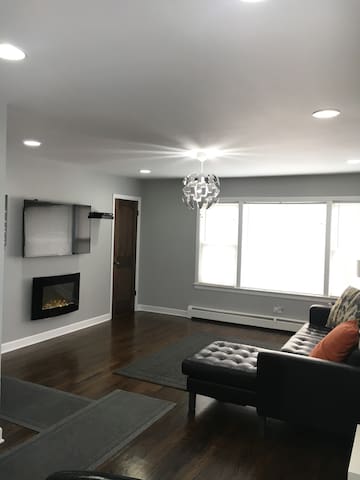 Cozy, recently renovated, 2-bedroom apartment located steps away from the fantastic views of the 606 biking/walking trail. Location just minutes from the Blue Line train and other public transportation that travels into downtown. Many bars/restaurants in Logan Square and Wicker Park to explore.
Cozy, 2 bedroom and 1 bathroom apartment that comfortably sleeps 6 guests. Bedroom 1 has a queen size bed, and bedroom 2 has a full size bed with a playpen available upon request. The kitchen has stainless steel appliances and seats 4 guests comfortably. The refrigerator is stocked with your basic breakfast foods, consisting of coffee, milk, eggs, and toast. The living room has a sofa, love seat and chair. It is large enough to fit an air mattress and accommodate an additional 1-2 guests. There is a large, flat screen TV and an electric fireplace. Movies can be watched by using the Xbox console available.
The apartment is located between two popular neighborhoods, Logan Square and Humboldt Park. You can walk, bike, drive, or take an Uber/Lyft to nearby bars and restaurants. The Bloomingdale Trail (606 Trail), is located 1 block north of the apartment. If you take it East it will take you through Humboldt Park, Logan Square, Bucktown, and Wicker Park.
Nice air bnb about a 15 minute walk to Logan Square restaurants and nightlife. Metro rides to city were time consuming. Definitely worth to use Uber or Lyft when traveling out of the area. Home was nice and cleanly. Dario and Alicia were very good hosts and very responsive. Would recommend to future guests.
Jenna
2017-04-09T00:00:00Z
We really enjoyed the space. The home is much larger than it looks in the photos. Parking was easy & close and the neighborhood was quiet. It's a bit of a walk to the blue line but we mostly drove ourselves around anyway. I would recommend Dario & Alicia's space. It was cute & comfortable.
Rebecca
2017-04-06T00:00:00Z
Very clean and updated apartment in Logan Square. The hosts were quick to respond to communications.
Lisa
2017-04-02T00:00:00Z
Tipo de Acomodação
Casa/apto inteiro
---
Tipo de Imóvel
Apartamento
---
Acomoda
6
---
Quartos
Chicago, Illinois, Estados Unidos
My place is close to Irazu, Silom 12, and Lucy Flower Park, 90 Miles, Western Blue Line, California Blue Line. You'll love my place because of the neighborhood, the comfy bed, the light, close to the train/bus, free street parking!, close to several bars and restaurants, near 606 running/walking, bike path, near parks. . My place is good for couples, solo adventurers, business travelers, and families (with kids).
There's a nice amount of seating space at my place and plenty of windows to give it light and life. It's spread out enough to where you have comfortable space to move around in and relax. Second bed is a twin sized bed so please keep this in mind when booking.
My neighborhood is close to public transportation that will connect you to downtown, the burbs, etc. There are a few grocery stores, restaurants, bars all within walking distance of the apartment as well as a brand new bike/jog/walk path called the 606 that is awesome and at the end of the block behind me.
Dennis was very communicative and when we had a small problem he was more than willing to go out of his way to help.
Bailey
2016-10-03T00:00:00Z
This is a great place for the price. It is spacious, CLEAN, comfortable, and is close to one of the main streets that will get you to downtown. Its near Wicker Park where all the clubs and restaurants are. If you take the Armitage bus to Western, you can catch the Blue Line train down town. Its close to Walgreens . There is a corner store across the street. GREAT PLACE! Dennis is really nice.
Sandra
2016-11-27T00:00:00Z
Great spot!
Emily
2016-09-12T00:00:00Z
The apartment is in a very nice residential, a bit far from the metro but worth the walk. We really liked the decor of the house and Dennis was very kind to us. Highly recommended
Inés
2016-11-06T00:00:00Z
It was a pleasure to stay at Dennis' place for the weekend. He was extremely helpful every step of the way and was on call if we needed anything or had any questions. The flat is in a great location, clean, big (much bigger than we expected) and comes with a little welcome pack with some great restaurants and bars in. I wouldn't hesitate to stay here again, thanks Dennis!
Jack
2017-03-19T00:00:00Z
Our host was very considerate with our arrival plans. The place was very roomy and true to what is noted in description.
Judy
2016-08-29T00:00:00Z
Dennis was extremely welcoming and his place was awesome. Will definitely stay again
Ashley
2016-12-04T00:00:00Z
Dennis responded quickly to all messages, and was very helpful. The apartment was clean, as promised. The neighborhood is nice and there are plenty of restaurants within walking distance, as well as a CTA stop.
Jenn
2016-11-06T00:00:00Z
Tipo de Acomodação
Casa/apto inteiro
---
Tipo de Imóvel
Apartamento
---
Acomoda
4
---
Quartos
Chicago, Illinois, Estados Unidos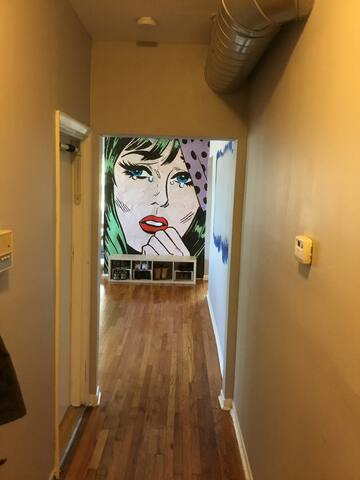 Our apartment is walking distance from parks, restaurants, bars, river paths and minutes from public transportation/bike rentals. Queen size bed/recliner in private, locking, air-conditioned room. Common bath and kitchen. My roommate and I are gone from 6am-11pm most days.
Quiet spot in a great walkable neighborhood with plenty of free street parking and entertainment close by. The room has a locking door, recliner and queen size bed; perfect for couples and kids. I don't always find the time to do a deep clean after a guest leaves/before another arrives as my schedule is hectic, but fresh linens are ALWAYS available in a visible area.
The proximity to the Chicago river trail, Horner and Welles Park, public transit, Divvy bike rental stations and stores makes this a great place to enjoy your trip to Chicago.
Stephanie foi bastante atenciosa, respondendo com rapidez às minhas perguntas. Embora tenhamos nos visto rapidamente apenas uma vez, eu ficaria novamente em sua casa. O bairro é bastante calmo e agradável. Pena ser um pouco longe do centro.
Yumi
2016-08-05T00:00:00Z
Thanks for a great stay -- very welcoming and helpful!
Hans-Erik
2016-03-18T00:00:00Z
Nice location to visit the city, 10 min to metro station by foot. Had not much contact to stephanie, but conversation was friendly. The walls are very thin, so everthing can be heard from the other rooms. But would recommend.
Friederike
2016-10-02T00:00:00Z
Stephanie's place was comfortable for stay. She communicated well and the room was clean. Overall a good experience!
Pranav
2016-09-05T00:00:00Z
My experience with Stephanie was great. She makes checking in and out really easy. The apartment is clean and the room is more than generously sized with a comfty chair. The only thing that may not be for everyone is that the walls are thin and I could hear everything outside and upstairs. I didn't have any issues with it though and it didn't make me feel uncomfortable. Overall, I enjoyed my stay!
Cindy
2016-05-19T00:00:00Z
This is my third stay in Chicago, and Stephanie's place is my new favorite place. I will definitely book here in the future. The neighborhood is quiet and so cute! Stephanie's place is very close to public transportation, as well. The apartment is clean and quiet. The room is large, comfy, and just as described. Stephanie is very helpful and kind, responding very quickly any time I texted with a question(URL HIDDEN)
Rhonda
2016-07-19T00:00:00Z
I liked Stephanie's place and the neighborhood is convenient. It gave me exactly what I needed to feel welcomed and fall in love with Chicago.
Aseel & Brenda
2016-09-12T00:00:00Z
Stephanie was great! She was so friendly and welcoming, the room was huge and the bed was comfortable. Great location with parking available and quick access to downtown. Can't beat the price or the host!
Megan
2016-04-16T00:00:00Z
Tipo de Acomodação
Quarto inteiro
---
Tipo de Imóvel
Apartamento
---
Acomoda
2
---
Quartos
Chicago, Illinois, Estados Unidos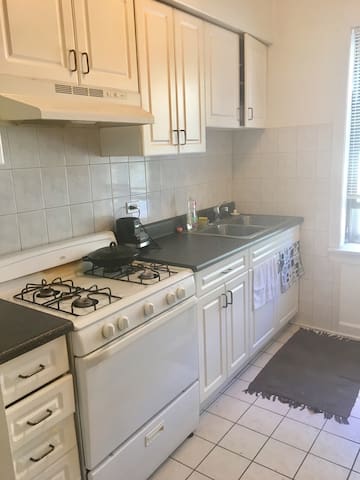 Still in the process of furnishing, will post updated pictures soon.
My apartment is really awesome! It's huge for one person, but I have a pull out couch and air mattress to fit extra people. I also have a desk in an office off to the side of the apartment. There is also a deck you can hang out on.
I live by one of the best Mexican restaurants in the city: L' Patron Tacos. Burlington Bar is also close by, but Logan Square is only a mile away and there are a ton of restaurants, nightlife, and shopping things there.
Tipo de Acomodação
Casa/apto inteiro
---
Tipo de Imóvel
Apartamento
---
Acomoda
4
---
Quartos
Chicago, Illinois, Estados Unidos
My cozy and stylish studio is located in the great Chicago neighborhood of Logan square. Close to public trans that will have you downtown in 20 min. I have two very friendly cats that stay there while I'm away, they just blend in.
This place is just fantastic! Clean, fun and quiet! Emily is super responsive, very friendly and sweet! Her two kitties made my friend and I felt very welcome to the home. I will always recommend Emily's place if you wanna have a home away from home! :)
Elise
2017-03-30T00:00:00Z
Everything was great - the neighbourhood has excellent restaurants and the apartment is about 10-15 minute walk from the train, so it was an ideal place to eat well and get into the city quickly. The cats are very friendly.
Thomas
2017-03-27T00:00:00Z
Great and comfortable place, actually a little bigger than what appears on the photos. Nice quiet neighborhood, close to many shops, cafes and restaurants, and a 10 min walk to the blue line. The cats are super friendly and didn't bother at all. Nice equipped kitchen, good shower, and the apt receives a lot of sun. Emily is super nice and made the whole process very easy, including check in and check out procedures. The little issue we had with the heater was resolved right away, and she gave us great tips for exploring the city. Overall great stay, definitely recommend!
Fernanda
2017-03-18T00:00:00Z
Great host. Clean place. Adorable cats!
Emily
2017-03-05T00:00:00Z
Emily was very flexible in working around our schedule and was responsive for coordination and questions. We were a little surprised by the cats by that was completely our fault for misreading the listing. The cats ended up being extremely friendly and a fun surprise.
Cody
2017-02-19T00:00:00Z
Emily was great with communication - fast and responsive and in touch with us the whole time and readily available for questions or concerns. The apartment itself was clean and cozy and the bed was extremely comfortable. Logan Square is a great neighborhood with plenty of eating choices and things to do within easy walking distance and the Blue Line gets you downtown quickly. The building itself is on a quiet tree-lined street - at times parking can be an issue, especially at night. Nothing major. Just be prepared to spend several minutes looking for a space and maybe walking two or three blocks. Overall, a really nice experience. Thank you, Emily!
Brenda
2016-12-31T00:00:00Z
The apartment was adorable, accommodations were great, and the host couldn't have been more accommodating. Added bonus: two adorable, sweet wonderful cats! We felt right at home.
Phillip
2017-03-19T00:00:00Z
Tipo de Acomodação
Casa/apto inteiro
---
Tipo de Imóvel
Apartamento
---
Acomoda
3
---
Quartos
Chicago, Illinois, Estados Unidos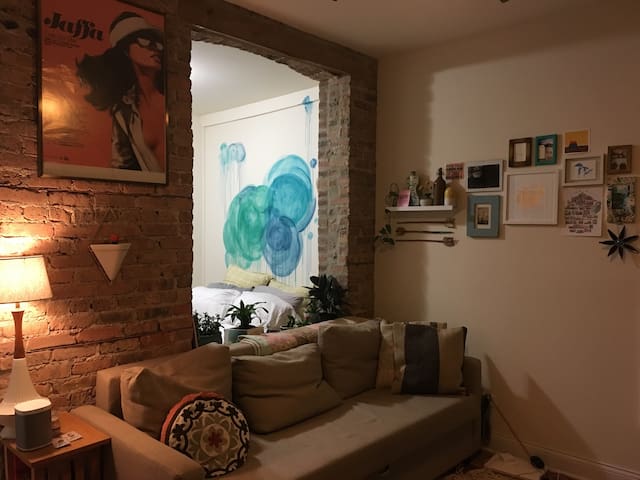 When I am out of town I love making my home available for others to enjoy.
Great fit for couples, or adventurous nomads. -Queen bed -kitchenette -refrigerator, gas stove, oven, microwave, toaster, rice maker, crockpot, french press, four person dinner table. -Fresh towels and soap provided. -Roku HDTV -Futon for third person or children. -Hangars and closet space.
Logan Square has been considered a quiet residential neighborhood until the last few years. An influx of residents from downtown has recently made it one of Chicago's hottest neighborhoods for nightlife and dining. This makes it filled with a diverse set of people from all income brackets and walks of life. Restaurants, coffee shops, bars, boutiques, organic grocery stores, and farmers markets all within a 5 minute walk.
This place is great. Logan Square is definitely a great neighborhood- not too far out and easy to get downtown, and the apartment is conveniently on the same street as the (fare card only) blue line subway entrance. Tyler left the keys for us in a lockbox, and provided a very thorough guide on parking in Logan Square. The place was clean and definitely spacious, didn't feel cramped at all with two people. I feel like Tyler probably does this a lot, and he made us feel comfortable without ever being there. Much appreciated!
Gregorio
2016-11-22T00:00:00Z
Ich hatte eine sehr gute Zeit in Tyler's Apparement. Obwohl er nicht vor Ort war, hat er per Email nachgefragt, ob alles in Ordnung ist. Das Apartment ist ruhig gelegen und nur wenige Schritte von der CTA Blue Line (Logan Square) entfernt. Würde wieder hier wohnen!
Wolfram
2017-02-13T00:00:00Z
Me and my girlfriend came to Chicago for a quick vacation. Tyler was very welcoming and informative. The apartment is in a quiet neighborhood around great bars and restaurants. Highly recommended
Joe
2016-11-29T00:00:00Z
Everything went perfectly well and I was highly satisfied. Though Tyler was away, he was communicative, provided me with thorough instructions, and attentive to making sure my stay went smoothly. The apartment was clean and the bed was comfortable after long days of exploring. When the internet went down, Tyler had that issue fixed within minutes. (Appreciate that!) The L train is just steps away from the door which is convenient for those who want to go into the city and back. I would definitely stay here again my next trip to Chicago!
Sakounluck
2016-11-18T00:00:00Z
very wonderful stay at Tylers place. everything was as expected. it was so warm and clean inside. seriously so conveniently off the train and near some of my favorite places for coffee, beer and vegan food. I didnt need to ask to borrow some of it this time but he has apple cider vinegar, which cures everything! so we will definitely request to stay here any time we visit. thanks again, Tyler.
Angela
2016-12-16T00:00:00Z
Tyler's place was centrally located, very clean and accessible
Justin
2017-04-02T00:00:00Z
Tyler's place was charming and easy to access, and Tyler was accessible and kind throughout our stay! We appreciated the accurate description of his apartment.
Julia
2017-01-14T00:00:00Z
Tyler was great with communication. The place was as advertised on the post. Across the street from logan square blue line. I would stay again.
Christian
2017-01-01T00:00:00Z
Tipo de Acomodação
Casa/apto inteiro
---
Tipo de Imóvel
Apartamento
---
Acomoda
3
---
Quartos
Chicago, Illinois, Estados Unidos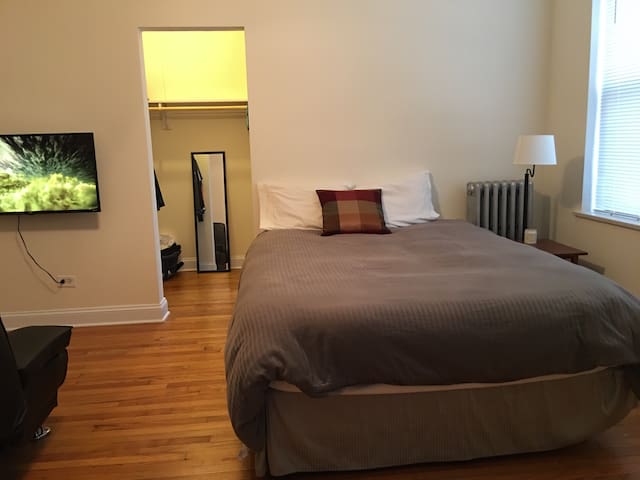 Less than 1/2 a mile from the Logan Square Blue Line CTA. About 1.5 miles from The 606 Trail. In walking distance to many cute boutique shops, coffee shops, restaurants, parks, music venues and a movie theatre. It's accessible and convenient. Walking distance to many things. One of the trendiest neighborhoods, the cleanliness, the natural light, the outdoors space, the kitchen and the the comfy beds. My place is good for couples, solo adventurers, business travelers, families, and big groups.
Tipo de Acomodação
Casa/apto inteiro
---
Tipo de Imóvel
Apartamento
---
Acomoda
8
---
Quartos
Chicago, Illinois, Estados Unidos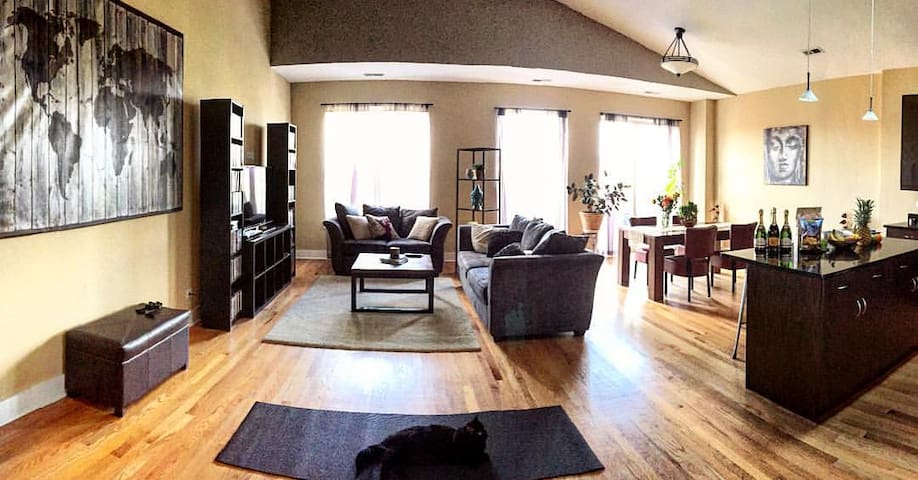 Perks & Quirks: **500sq ft - Private Space *Secure Building *Renovated *New Appliances *Natural Lighting *Squeaky Floors *Singing Radiators **Great Location - Logan Square *For Chicago neighborhood descriptions: (URL HIDDEN) *Great Neighbors *Pets Allowed *Huge Pet-Friendly Park steps away *Mom & Pop Restaurants & Cafe's nearby *New Binny's Liquor Store directly across street *New Cermak Grocery Market catty corner
Public Park next door Binny's Liquor Store Cermak Grocery Taco Joint Brew Brew Cafe Golden Nugget Restaurant Within walking distance of nighttime hotspots
Kelsey's place was very spacious and clean. The building is older and uses boiler heating so the temperature is difficult to control. It was hot during the day and cold at night so I would recommend bringing layers. Other than her apartment was great and I would stay here again.
Kailey
2017-03-19T00:00:00Z
The host canceled this reservation the day before arrival. This is an automated posting.
Stephen
2017-03-31T00:00:00Z
The location was great. There's a grocery store across the street and a breakfast place on the corner. It's very close to public transit as well. The room is spacious and comfortable. The hostess, Kelsey is really nice! She gave us fruit and had flexible check in hours. 10/10 would stay here again!
Robert
2017-03-25T00:00:00Z
Kelsey was an awesome host who was a pleasure to speak with. Very quick to respond and overall would recommend her to anyone looking for a place to stay.
Hector
2017-03-12T00:00:00Z
First off I rarely complain. I keep an open mind. I will be positive and I will share the negative. Positives: Great communication with hostess. Key handoff went as planned. Location was good for our needs. Space provided was adequate. Negatives: Dirty bed, dirty floor, not only no clean (URL HIDDEN) sheets at all. Expected to sleep on a blanket found on the closet floor. No clean towels for showering, only 1 already used towel hung over the shower rod. No wash cloths, only 1 used smelly hand towel hanging over the toilet. 1/4 roll of toilet paper as we arrived with no replacements. Dirty dishes in the sink. No silverware, no coffee maker.
Julie
2017-03-26T00:00:00Z
Tipo de Acomodação
Casa/apto inteiro
---
Tipo de Imóvel
Apartamento
---
Acomoda
2
---
Quartos
Chicago, Illinois, Estados Unidos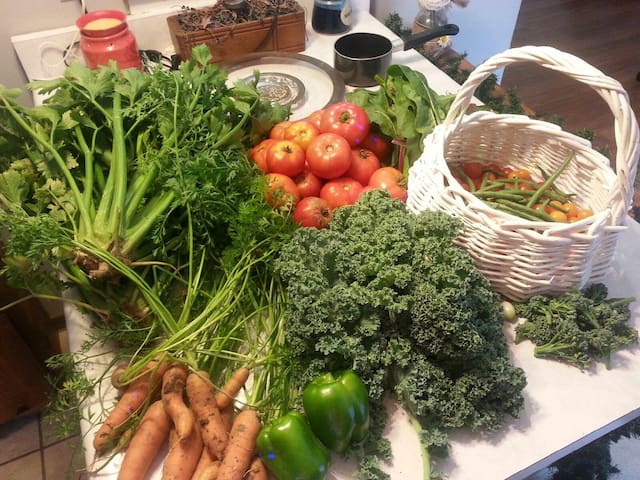 Quiet, cozy, sunny 1 bedroom apartment in courtyard building will ensure comfortable stay for two people. Irving park is safe, diverse, and centrally located neighborhood halfway between Chicago's downtown and O'Hare International Airport.
Quiet, sunny, cozy, 1 bedroom apartment in courtyard building will ensure comfortable stay for two people. Irving park is safe, diverse, and centrally located neighborhood halfway between Chicago's downtown and O'Hare International Airport. My flat has a unique blend of modern and vintage. It's a top floor unit in a 3 storied building. Having windows on both: east and west side provides a great amount of light in the apartment during the day. Hardwood flooring throughout the unit. Bedroom has a new queen bed, memory foam mattress, and a small closet. Bathroom has an original large vintage soaking tub with shower, a sink, and a toilet. You'll find 2.5-seat leather sofa, 2 springy bentwood frame fabric chairs (so great for relaxation), bookcase, coffee table and 39 in flat screen tv with over 150 channels and HBO, all in living room. Kitchen is equipped with a variety of appliances and utensils. There is a back door in the kitchen to second, rear courtyard. Breakfast room is attached to the kitchen. I also, have an office desk in that area. Ideal for a vacationer, a student, a business traveler or anyone who is looking for fully furnished centrally located apartment in a save neighborhood. Free WiFi Cable with 150 channels, including HBO. Towels, bedding, linens, shampoo. Laundry services on premises. I try to provide all comforts of home. Guests will have full reign of the apartment unit to themselves throughout the length of their stay unless otherwise specified. Two bus stops on the same block - #80 Irving Park and #82. With connections to Blue, Brown, Red CTA Subway lines (bus #80) you're guaranteed to get anywhere in the city limits. Interstate 90/94 5 minutes. Check In: 4:00PM Check Out: 12 PM
Loved my stay here! Art was incredibly quick to respond to questions leading up to our arrival and met us with little warning when we got into the city later than we expected to. His flat is very inviting - it's in a great neighborhood that's pretty central. We drove to CHI from Saint Louis, and we were able to find a parking spot within a block of the flat each time we parked our car. All of the furniture was super comfortable, everything was very clean and organized, he had a cheat sheet of all the information we'd need (check-out time, internet password, etc) and the memory foam mattress allowed me to sleep better than most nights in my own bed. The one negative thing I would say is that while there is an A/C unit in the bedroom, right above the bed, there isn't A/C anywhere else in the apartment. There are ceiling fans and floor fans, though, which kept us pretty cool when we were relaxing and watching the Olympics in the evenings after we got back from sightseeing. We also just kept the A/C unit running with the bedroom door closed, so we were able to sleep in a nice cool room. Overall - this place is lovely. Great location, nice and quiet, didn't see or hear any other neighbors, and Art was communicative and very kind. Thanks for a great stay!
Kaylen
2016-08-11T00:00:00Z
Nice place to stay, wonderful neighborhood, great location for bus lines, easy to get to the Blue Line.
Carol
2015-05-13T00:00:00Z
When we arrived Artur met us and reserved a parking spot right outside of his apartment for us, which was very helpful. His place was clean and cozy and had all of the amenities we could have asked for. Highly recommended.
Bryan
2016-07-05T00:00:00Z
Artur was an amazing host , He waited for me even when my flight was delayed to land , took the time to show me around the house . the place is exactly as described , very comfortable and well equipped. Would definitely recommend .
Hossam
2016-03-18T00:00:00Z
The experience was amazing. The apartment was right next to two different subway lines. I had to stay here for work, and it was an easy commute to come down to the Loop every day while I was there. I also found myself declining to eat in the Loop because there were so many amazing spots next to Artur's place. Finally, it was the perfect place to stay and unwind after a long day of work. This space was great and I highly recommend it to anyone.
Paul
2015-08-01T00:00:00Z
Artur was a most gracious host, and his apartment was very clean. This place is perfect for a single or couple in their twenties, who want a clean and safe apartment for the weekend.
Lee
2016-04-22T00:00:00Z
Very great experience at Art's place. Its about 15 mins walk or 10 mins by bus. Very safe neighbor, even we always came back after 10 p.m or 11. A 7-11 is just across the street, and some good restaurants nearby. The apatment got almost everything in it,a landry house just in the 1st building. We defentiny will stay there again next time we are in Chicago.
Xingyu
2016-08-02T00:00:00Z
Highly recommend Art's place! The apartment is very comfortable, clean, and located in a quiet neighborhood with some small convenience stores nearby. It's only a quick 10-15 minute walk from the Irving Park stop on the blue line (or a 5 minute bus ride), which was perfect as we relied solely on public transportation. Art himself is a wonderful host -- he was very communicative and made sure we had everything we needed during our stay. We would definitely try to stay here again the next time we're in Chicago!
Rebecca
2016-06-20T00:00:00Z
Tipo de Acomodação
Casa/apto inteiro
---
Tipo de Imóvel
Apartamento
---
Acomoda
2
---
Quartos
Chicago, Illinois, Estados Unidos
1

–

18

de

Mais de 300 Apartamentos para Alugar
Insira as datas para ver o preço total. Taxas adicionais serão aplicadas. Impostos podem ser adicionados.