29 Apartamentos para Alugar
Quiet 1880's Victorian in the heart of downtown Pensacola. Very secure 2nd floor retreat with private staircase. Beautifully decorated with local art, just trees outside your window and sometimes fireworks after a ballgame. Walk to the YMCA, library and our vibrant downtown Pensacola scene, named one of America's 10 best.
Secure and quiet 2nd floor apartment with private staircase, heart pine floors and ceiling with a walk in closet and beautiful fireplace. The walls are filled with colorful works by local artists. The kitchen is fully equipped for short or long term stays with stove, microwave, large frig and includes coffee and fixings. Relax on the shady front porch or the private back yard garden. Satellite and smart TV with internet access. Pensacola was the first American settlement and is full of history and interesting museums. The YMCA, library and downtown are just a couple of blocks away, no car needed. The world's most beautiful beaches are a 10 minute drive or take your bike for miles of beachfront bike trails. Pensacola was recently named one of the best small cities in the US and one of the "Best 10 Streets in America". We are a short walk from a vibrant street scene with amazing bars and restaurants.
Our home is located in North Hill, one of the oldest and safest neighborhoods in Pensacola. Full of beautiful "Painted ladies", the Victorian houses are amazing. People here are friendly and you will see people jogging, walking their dogs and just being "neighborly". We are just 2 blocks from the library and there are a variety of shops, restaurants, bars and museums within easy walking distance. A list of nearby restaurants, walking maps and brochures with info on things to see and do in Pensacola are available for guests.
Wonderful apartment in a gorgeous old house. Very close to downtown Pensacola. Would definitely stay here again!
Jeff
2016-08-28T00:00:00Z
Cute spot. Thanks Lisa
Patricia
2017-03-27T00:00:00Z
Quiet and nice location in historic neighborhood. Close to library, main post office, and access routes. Friendly neighbors.
Stan
2017-03-03T00:00:00Z
I've stayed in many Airbnb's and this one was my favorite. Cute, airy, and lots of natural light. Very close to everything
Barron
2017-03-16T00:00:00Z
This was my first time ever using Air BnB and at first I was a little nervous. I didn't know how I would feel about sharing a home with a stranger. This was actually quite the opposite! When we first arrived, we were a little scared because it definitely has a historic feel to the house but once we got inside our apartment we felt much more comfortable. Everything was completely private. The house is huge but it's set up like an apartment community inside. Everyone has their own private apartment/studio inside the mansion. We had our own staircase and entered through the side of the house. We didn't even see anyone the entire 5 days we were there! It was so quiet and peaceful (minus the train nearby). The kitchen inside of our apartment was so helpful! We were able to take an uber down the street to the grocery store and cooked all of our meals during our stay which saved us a lot of money. The kitchen came with everything we needed except for spices which I made sure to pack before hand. I was surprised at how close everything was to the house. We were able to do an easy quick walk to palafox road which has all kinds of bars, restraunts, shopping boutiques, etc. we even walked all the way down to the harbor. The house is a short 15 minute drive from the airport and about a 15 minute drive to Pensacola Beach. The uber cost $17 each way to the beach. We had a great time and had no issues while staying here. Lisa was also very accommodating with allowing me to check out at a later time since my flight left in the evening. I would definitely recommend staying here for your vacation if you're looking for a relaxing getaway.
Marisa
2015-12-01T00:00:00Z
Excellent, safe, clean place to stay. Easy walking distance to downtown area. I enjoyed the convenience.
Megan
2016-08-04T00:00:00Z
Right from the start Lisa was a wonderful host, ensuring that we had everything we needed to make our stay as comfortable as could be. As for the apartment itself everything was exactly as pictured and expected. Located just a couple of blocks off of the downtown area the apartment was close enough to allow us to walk pretty much everywhere we wanted to go, while being just far enough away to afford peace and quiet for when we returned from our evenings out. The highway was also conveniently close, providing for quick access to both the mall area as well as the beach. We had a wonderful time and would definitely stay again/recommend!
Nate
2016-03-02T00:00:00Z
I had a great stay at Lisa's place! A short walk or Uber ride to downtown with some great food and the waterfront which was great! I didn't get a chance to go to the arts festival that was in town, but I ran the Pensacola marathon. It was a great place to relax before and after the race! Hope to come back and stay again sometime! Easy to communicate with.
Sally
2015-11-09T00:00:00Z
Tipo de Acomodação
Casa/apto inteiro
---
Tipo de Imóvel
Apartamento
---
Acomoda
2
---
Quartos
Pensacola, Flórida, Estados Unidos
Its a few blocks from where new years event was and it was a nice stay
Eric
2017-01-01T00:00:00Z
Bill was very welcoming and the Airbnb was very clean and comfortable! It was close to the main downtown street and he gave us great suggestions for food.
Haley
2016-09-25T00:00:00Z
Bill and Debi were very easy to communicate with. They had everything prepared and ready for us when we arrived. They were very welcoming and had a lovely apartment.
Nick
2016-12-31T00:00:00Z
We had a fabulous time. Other some wonderful live piano music from an upstairs neighbor for some time on check in afternoon, we heard not one sound from other homes during our stay. Everything needed was provided in the room. The location was awesome for our forays of the downtown area with included clubs, shopping, a hockey game and restaurants. The free trolley was wonderful and one line stopped right out front, the other line just a few easy blocks away. Thank you, Bill and Debi for a great place to stay in walking distance of everything.
Don & Audrey
2016-12-18T00:00:00Z
Bill and Debi's place was perfect for our 10 day stay in Pensacola. The location is within easy walking distance of downtown Pensacola (Palafox Street). Getting to the beaches is a short, pleasant car ride. The apartment was very comfortable, well equipped and quiet. Bill was very responsive to any questions we had. Highly recommended.
Eric
2016-08-25T00:00:00Z
Stayed in Pensacola for 2 nights with my wife and we are pretty familiar with the city. This listing was in a great location to downtown and the room and house were amazing. Looking forward to renting it again the next time we go to Pensacola.
Johnathon
2016-08-28T00:00:00Z
Bill and Debi are very thoughtful and caring hosts with great attention to detail. I stayed in their place an entire month and they constantly made sure I had a steady supply of clean towels and linen. The washer and dryer were very useful due to my long stay for work. The place has everything you need to live long term for a month or just a few days. I loved making breakfast in the morning and having the ability make dinner, thereby avoiding eating out every night. The location is perfect, I walked to and from the main palafox drag many times. I can't recommend a stay here enough!!
Jon
2016-11-09T00:00:00Z
Bill & Debi's studio was perfect for the long weekend! They were very prompt with their communication and provided instructions for everything I would need. They were also very flexible with my check out time which was extremely helpful! The studio was exactly as described. We were even able to whip together a small Thanksgiving dinner. Great location with some nice historic neighborhoods surrounding the building. Easy parking and quiet building.
Savannah
2016-11-27T00:00:00Z
Tipo de Acomodação
Casa/apto inteiro
---
Tipo de Imóvel
Apartamento
---
Acomoda
2
---
Quartos
Pensacola, Flórida, Estados Unidos
apartamento lindo, enrrollado, pequeño estudio de 600 pies cuadrados en la casa histórica ubicada en el barrio deseable este de la colina, y sólo un paseo corto al centro de Uber! El nuevo barrio Publix está a sólo una manzana de distancia. Fácil acceso a las playas y un estado a otro así.
Pequeño pero ecléctico, este encantador rincón tiene suelos originales de madera, puertas de arco, y una bañera con patas para relajarse después de un largo día en el sol. Tenga en cuenta que si bien hay un televisor en las fotos, no no funciona! No hay televisión por cable / / Wifi en este apartamento!
East Hill es un barrio tranquilo, popular Pensacola con muchos restaurantes y restaurantes locales. Los favoritos locales incluyen la taza de café, flor del cactus, y en la misma calle es McGuires, Costa del Golfo Brewery, y la bahía de Pensacola Center. El nuevo barrio Publix también es sólo una cuadra de distancia!
A nice place, perfect for a couple's stay. It was easy enough to find with directions Nicole provided.
Jessie
2016-11-14T00:00:00Z
Nicole's spot had all we needed! Quiet, kitchen access, seamless check in and out, neat decor. Thanks!
Hollie and Bodie
2017-03-05T00:00:00Z
Easy to find. Clean. Comfortable. All as advertised. Very spacious. Perfect for our short trip. Well stocked with shampoo bandaids etc. we would stay here again!
Kemberli
2017-02-20T00:00:00Z
Very nice apartment. Would certainly stay again. No wifi when I was there but we didn't need it.
Marco
2016-08-22T00:00:00Z
This is a very cute, eclectic and private cottage! Very close to Downtown Pensacola and the bay! Nicole is very easy to contact and accessible for anything you need!
Debbie
2016-11-27T00:00:00Z
Unique and beautiful place and a wonderful host! Close to everything that we needed and my wife loved the interior decor! Definitely recommend, and will visit again!
O'Ryan
2016-08-22T00:00:00Z
Very cute place, very clean & eclectic. Nicole was very gracious and available. Five stars.
Tayler
2016-12-17T00:00:00Z
Nicole's place is just as advertised. I stayed here one night on a cross country roadtrip, and it was a cozy and relaxing place to stop.
Therese
2016-11-18T00:00:00Z
Tipo de Acomodação
Casa/apto inteiro
---
Tipo de Imóvel
Apartamento
---
Acomoda
2
---
Quartos
Pensacola, Flórida, Estados Unidos
Joselito was a great host! This was my first time using AirBnb with my partner and I and it was fantastic. We were met as soon as we pulled up for check-in and he was more than helpful with getting us settled in. The place was very clean and welcoming; it felt like staying at a friends house. He offered us the use of his kitchen, living room, and even let us borrow his iron! A wonderful stay!
Caleb
2017-03-25T00:00:00Z
awesome place
doug
2016-06-25T00:00:00Z
Everything went to plan and as we expected. He welcomed us at entry which was very helpful
Sean
2014-09-03T00:00:00Z
Telly was really welcoming and professional! He even has Netflix for your room. :)
Kimberly
2016-05-30T00:00:00Z
Отзывчивый, коммуникабельный, жилье уютное, приятно удивила чистота
Aleksey
2014-05-26T00:00:00Z
Ok
Gianni
2016-07-17T00:00:00Z
Joselito was great. My friends and I had some problems on the first day with renting a car so he was nice enough to pick us up and took us back to his place until we could figure something out. The room had enough space for three of us to unpack and move around easy enough, and the rest of the house was very clean and tidy. The neighborhood was nice and quite and there was a grocery store right up the street. I would recommend staying here and if we ever go back we would stay here again!
Kassi
2014-08-13T00:00:00Z
Great place to stay. Overall was a good experience, the host was inviting and made great conversation. The host does live in the house as expressed in the listing, but wasn't intrusive. He showed you your room and then didn't hover. I liked that most of all. He was mindful of your privacy which is very nice. The common area has great amenities; nice TV, internet, kitchen, fridge, laundry, etc. All new appliances. Honestly, no problems, nice stay overall, would recommend and stay again.
William
2016-06-27T00:00:00Z
Tipo de Acomodação
Quarto inteiro
---
Tipo de Imóvel
Apartamento
---
Acomoda
2
---
Quartos
Pensacola, Flórida, Estados Unidos
Great location close to everything in Pensacola! Not too far to the beach either. The dog park is right down the street. Small place, but very cute and cozy!
Megan
2016-09-11T00:00:00Z
We were very happy with our last minute selection. It is very cute and artsy. It was so nice to have such a colorful cozy place to stay that also welcomes our tiny canine companions. We all 3 slept like 'logs'.
Lisa
2016-03-23T00:00:00Z
My husband and I really enjoyed the Snowbird. It's perfect for a couple traveling on a budget like us. The neighborhood is quiet and scenic, full of gorgeous old houses. Beverly was a considerate host and we really enjoyed the extra little touches like the snacks and mini fridge full of bottled water/
Carrie
2016-05-17T00:00:00Z
Beverly's suite was immaculate! It was clean and had everything I could have thought of... Even coffee and bottled water. This was my first time staying in an Airbnb where I could bring my dog. There was a nice size backyard for my dog to walk around and it was in a nice quiet neighborhood with lots of sidewalks for walking should I have brought one of my younger dogs. :) I also loved that there was parking pad right next to the suite so I didn't have to go far to unload my things. The apartment was very quiet, which I appreciated considering the last place I stayed was very loud. This was probably my smoothest Airbnb experience yet. Beverly is a great host. I would recommend to anyone traveling by themselves to Pensacola.
sarah
2016-07-19T00:00:00Z
Snowbird was more than enjoyable. Beverly had everything prepared for us when we arrived and was more than hospitable. Her correspondence with us was more than helpful. Thanks again for everything!
mason
2016-07-14T00:00:00Z
Beverly was super communicative and hospitipal (left water and snacks for us) and the place was really nice and cozy. Really nice stay!
Angela
2016-07-23T00:00:00Z
We had a very enjoyable 5-night stay. The space is cozy, clean and very comfortable. We were out most of the day but enjoyed mornings an evenings in such a peaceful setting. The neighborhood was super cute. Loved "Oh Snap," the nearby cupcake and cookie bakery. Also recommend "Bagelheads" for breakfast or lunch. Both walking distance. Thanks again Beverly!
Kristi
2016-08-21T00:00:00Z
Awesome place! Very private and Beverly was very accommodating. She had snack's and coffee stock up in the room. Will definitely come back!!!
Jorge
2016-05-02T00:00:00Z
Tipo de Acomodação
Casa/apto inteiro
---
Tipo de Imóvel
Apartamento
---
Acomoda
2
---
Quartos
Pensacola, Flórida, Estados Unidos
2 Schlafzimmer / 2 Bäder, 1 Schlag bis Matratze. 1400 s / w, komplett eingerichtete Wohnung mit einem gemeinsamen Waschraum. Sehr privat und sicher. Leicht erreichbar und nur wenige Minuten von der Innenstadt, dem Strand oder das Einkaufszentrum. Dieser Ort Packs ein Schlag für den Preis. Check-out die Bilder und sehen Sie die neu aktualisierten Terrasse mit Zugang zu einem Holzkohlegrill und Feuerstelle, die für die Unterhaltung Ihrer eigenen Gäste ideal ist. Ich bin immer wieder Dinge zum Besseren so beim Check-in den Bildern von Zeit zu Zeit zu ändern.
Dies ist ein triplex. Es gibt nur 3 Einheiten trotz, wie groß das Gebäude sieht auf dem Bild. Das Gebäude liegt tief in die Menge, wie Sie sehen, und das ist der "Haustür" Ansicht. Jenseits der neueren Holzzaun ist reichlich Platz für Ihre Hunde zu laufen. Es ist vollständig umschlossen. Ich AirBnB erlauben, die Preise zu verwalten, sondern t
Dies ist eine ruhige Gegend, trotz der Tatsache, dass es auf einer ziemlich stark befahrenen Straße liegt. Es ist breiter als die meisten Wohnstraßen in diesem Bereich, damit die Menschen die Vorteile dieser Tatsache nehmen. Sie werden Schwärme von Kindern sehen draußen an einem bestimmten Tag zu spielen, so dass es auf jeden Fall eine typische Wohngegend ist. Obwohl ich in der Nacht von mir bequem zu Fuß bin, kann ich nicht empfehlen es für alle, die nicht vertraut sind mit ihrer Umgebung ist.
Vince's place was clean and nicely furnished. The kitchen wasn't fancy, but had everything we needed. We appreciated the provided beach chairs and umbrella. The neighborhood wasn't the nicest, but we didn't feel unsafe. 30 minutes or so from beaches. All in all a great stay.
John
2017-03-31T00:00:00Z
Vince was awesome, definitely accomadated our every need... was kind and respectful.....?we definitely had a blast!!!!
Darryl
2016-12-11T00:00:00Z
Vince's place was clean, cozy and comfortable. It seemed to have a good vibe. We had more than enough room for just the 2 of us. It also seemed secure for our mother/daughter time. It was nice to have the kitchen and washer/dryer and we made good use of them. We especially appreciated the beach chairs, umbrella and ice chest that Vince provided. The place isn't super close to the beach but it wasn't terribly far, either. About 15-20 minutes by car and easy to get to.
Debra
2016-10-08T00:00:00Z
This is a great place to stay with the family. It is a quiet friendly neighborhood. The house is well designed with lots of good safety features (lighting) that helped my parents. Kitchen works well with enough room to make a big meal. Definitely a good value!
Lisa
2016-11-26T00:00:00Z
Vince was a great host and the place was wonderful. It was big, clean, very comfortable and has everything you'd need, including washer/drier, and cooler, umbrella and chair for the beach. Thanks Vince! We will definitely go back.
MERT
2016-10-16T00:00:00Z
Vince was great...he showed us around the apartment and was available for any questions. The place was wonderful! Very comfortable and has everything you'd need, including a washer/dryer. We brought our dog and there was a nice fenced in area where we could let her off-leash. The neighborhood wasn't walking distance to downtown but was an easy drive.
Julie
2016-07-24T00:00:00Z
Vince is a great host! We flew in and he provided beach towels, a cooler, a beach umbrella, and sunscreen! We had a great time and headed to Pensacola beach everyday! Thanks Vince!
Heather
2016-07-22T00:00:00Z
He was there to greet us and give a walk thru of the property. Close drive to the beach and the neighborhood was very quiet.
Candice
2016-07-18T00:00:00Z
Tipo de Acomodação
Casa/apto inteiro
---
Tipo de Imóvel
Apartamento
---
Acomoda
6
---
Quartos
Pensacola, Flórida, Estados Unidos
Wonderful 1 br detached garage apartment in the heart of Pensacola's historic North Hill district. Extremely private and totally fenced for your four legged companions. Comfortable queen bed with plenty of pillows. Tastefully decorated with breakfast nook, coffee/tea, microwave, mini fridge, TV, WIFI, and plenty of storage. Guests also have full access of the patio including classic lighting and propane grill. Come enjoy all that downtown Pensacola has to offer! Pets welcome.
Built in 1927, the Pace House is located in the Historic North Hill District of Pensacola.
North Hill is one of the largest residential historic districts in the State of Florida and is listed on the National Register of Historic Places. It contains more than 600 historic homes built between 1870 and the 1930's. A stroll through our tree lined streets reveals a literal outdoor museum of architectural treasures from Queen Anne, Neoclassical, Tudor Revival, Craftsman Bungalow, and Mediterranean Revival to Art Moderne.
Tipo de Acomodação
Quarto inteiro
---
Tipo de Imóvel
Apartamento
---
Acomoda
3
---
Quartos
Pensacola, Flórida, Estados Unidos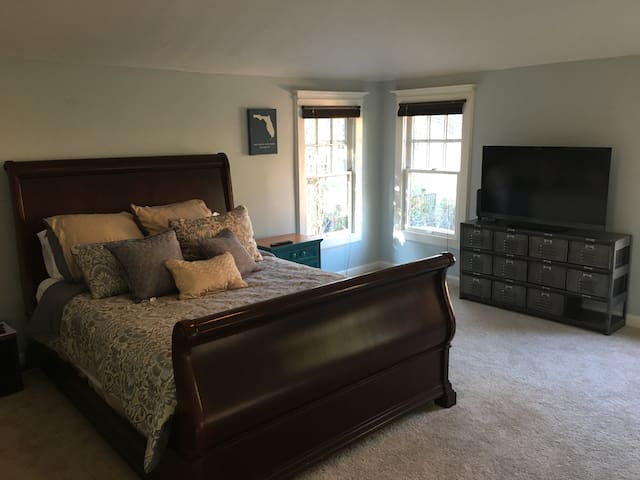 Spacious second story apt in historic 1889 home located in downtown Pensacola. Walking distance to all the downtown hot spots and surrounded by the historic North Hill neighborhood. 2 beds, 1 bath. Large second story balcony, garden courtyard, pets allowed. Unfortunately this Apt. is not suitable for those who are unable to use stairs. NOTE- I will consider longer leases as well as nightly stays.
We didn't meet Tracy but the appartment was very easy to find and I had all the information from Tracy before our arrival. The appartment is localized in a big house. The rooms are huge. There is not a lot of place for the cars but we let our car in the street without any problem. Downtown of Pensacola is about 15 minutes by foot, 2 min by car.
Delafontaine
2016-11-14T00:00:00Z
We loved staying here. The house was perfect for my family of 4. The AC was nice and cold and the shower was hot. Even the people staying downstairs were awesome. Whenever I go back to Pensacola, this i where I am staying, no doubt about it.
Armando
2016-06-26T00:00:00Z
Loved this place, great character and huge rooms. We had a very cozy night after enjoying the nearby beach. Loved it!
Troy
2016-06-22T00:00:00Z
We had a great stay! The space was absolutely perfect for our twin toddlers (of course we blocked the staircase) and two dogs. Very large rooms which was perfect. The neighborhood was great for our morning run and easy drive to the beach. One night minimum was also key for us as we were just passing through town. Will absolutely try to stay here the next time we are through. Also, Traci was very prompt to respond to any questions.
Allison
2016-11-21T00:00:00Z
We had a wonderful time in this beautiful historic home! It was cozy and had all the amenities we needed for a relaxing vacation with no worry. Our goal in Pensacola was to go to the beach and try new restaurants and we only had a short drive (15-20 minutes) to Pensacola Beach and we could walk to all the great shops and restaurants downtown. The neighborhood was nice, a mixture of similar homes and law offices made for a quiet and peaceful atmosphere. The neighbors/tenants were friendly and accommodating. We already want to come back!
Alisa
2016-07-10T00:00:00Z
We stayed one night only and didn't meet Tracy but she was in touch promptly via text messages and provided everything needed for out pleasant short stay at the lovely apartment. Short walk to downtown, the area felt safe and nice neighbourhood. The apartment is very spacious, bedrooms comfortable and kitchen well appointed.
diana
2016-08-19T00:00:00Z
This place was super cool! We loved the historic feel to it, and it was very spacious! The bed was also super comfy. Tracy was very responsive and took us in at the last minute (and accepted our two cats) when we had to evacuate from a hurricane. I can't thank you enough! Would definitely recommend.
Megan
2016-10-07T00:00:00Z
Simple, clean, perfect for what we needed.
Veronica
2016-12-11T00:00:00Z
Tipo de Acomodação
Casa/apto inteiro
---
Tipo de Imóvel
Apartamento
---
Acomoda
4
---
Quartos
Pensacola, Flórida, Estados Unidos
我们的运输府位于历史悠久的彭萨科拉市中心,你可以步行或骑自行车的彭萨科拉湾,历史街区,棒球场,或湾中心。漫步Palafox酒店农贸市场只有三个街区远,再加上最好的餐馆和酒吧在彭萨科拉。你一定会喜欢住在我们新的,干净,方便的公寓,设有完整的厨房,卧室,与街边停车起居区。伟大的夫妇,独奏冒险家和商务旅客。 POC和LGBT欢迎。
带全套厨房的上方,提供私人公寓
我们主要的房子建于1902年,我们生活在美国历史最悠久的地方之一!翻新的维多利亚式住宅是我们的正常现象这是适合步行和bikeable市中心的所有彭萨科拉的。
Lovely apartment, very clean and modern. Lindsay has a book of suggestions that will keep you entertained and happily feed for days. Great location for downtown and/or the beach.
Don
2017-02-26T00:00:00Z
Great place to stay! Very close to the beach. The property looks just like the pictures and is very clean and updated. Lindsay was a great host.
Whitney
2017-04-09T00:00:00Z
What a lovely place to stay! It was clean, comfy and relaxing for our little family of 3. We were visiting family in town but wanted our own oasis with our new baby and it provided that. The modern updates and homey touches made it feel like it was ours for our 5 night stay. We would recommend this place, location and the hosts. We just loved it! Thanks for a great vacation!
Brittany
2017-01-04T00:00:00Z
We traveled down for Spring Break and stayed for 3 nights. The house is located next to all kinds of restaurants, bars, shops, the water, and you can pretty much drive anywhere you want (golf, beach, etc) in 10-20 mins. Definitely a nice upgraded space and will be back in the future.
Jimmy
2017-03-23T00:00:00Z
This is an excellent place to stay. The location is very convenient from downtown and a 15-20 minute drive to the beach. We had all the amenities we needed and more. Loved the modern, airy, welcoming vibe of the place! Lindsay was a great host. Dinner at The Grand Marlin is a MUST if you're looking for fresh seafood. We hit up Joe Patti's fish market on the way out of town for fresh seafood to take home. (Coolers and ice provided.) We also had great experiences at The Wine Bar, World of Beer, and The Bodacious Brew (breakfast and coffee). On Saturday, we visited the farmers market downtown where they had local arts and crafts and yummy produce! I would highly recommend staying here and will definitely be booking again if I make it back to Pensacola.
Robin
2017-03-04T00:00:00Z
Stay here, great place to stay. Close to all of the great downtown restaurants! Don't miss Ruby Slipper for breakfast. 5 Sisters Blues Club for lunch and dinner (fantastic) The Tin Cow for spiked shakes and the Wi e Bar for a great quiet evening!
Susan
2017-02-13T00:00:00Z
Great place to stay, this was our second time staying and will be back in the future.
Jim
2017-04-04T00:00:00Z
We felt welcome and at home. Lindsey has a beautiful apartment detached from the main house that has everything you need including a Keurig, which was nice for my 3am early mornings trying to get over jetlag. It's a quick walk to downtown where you'll find all the things pensacola has to offer
Nicole
2016-09-15T00:00:00Z
Tipo de Acomodação
Casa/apto inteiro
---
Tipo de Imóvel
Apartamento
---
Acomoda
4
---
Quartos
Pensacola, Flórida, Estados Unidos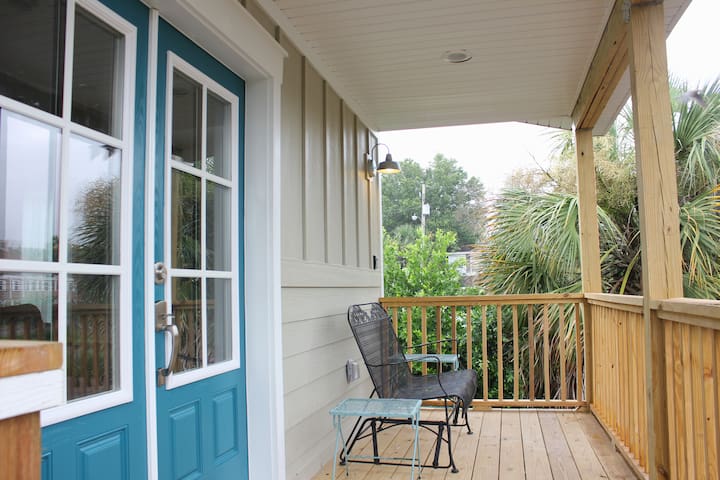 Everything about our experience with Paul and this apartment was the best AirBnB experience we've ever had. The apartment is absolutely gorgeous and very comfortable. It is right downtown within walking distance of everything we were doing and yet had plenty of parking for both the people staying with us and some friends that came to hang out. Paul was super easy to work with and always responsive to messages. They even stocked the fridge with beverages and made up a few snack trays. The homemade rum cake was the biggest hit of all though. They even had a huge stock of anything and everything that you might need on hotel stay such as toiletries and common otc medications. All of the little things you're apt to forget and then need. If we ever go back to Pensacola with a group of 4+ this is where I hope to stay. Thank you guys for a wonderful birthday trip.
Ian
2016-09-22T00:00:00Z
My experience in Paul's house was excellent. I have traveled with airbnb a lot, and it is the best house and the best host that i have had. I really recommend this place, the house is huge and it is ideal for a family or a group of friends. Paul is amazing, i will totally go back to Pensacola!! My experiencia en la casa de Paul fue excelente. Yo he viajo mucho con airbnb y esta casa fue la mejor en la que he estado. Además, Paul fue un gran anfitrión. Realmente, recomiendo este lugar, la casa es gigante y es ideal para una familia o un grupo de amigos. Totalmente, regresaría a Pensacola y a la casa de Paul.
carolina
2016-06-20T00:00:00Z
We came to Pensacola for a Younique work training and Paul and Diane were exceptional hosts. Their home was beautiful and perfect for myself and the 5 ladies that traveled with us. They were very flexible with checkin & out which worked out perfect. They met us at the home and went above and beyond to make sure our stay was great. Diane made a homemade rumcake that was to die for along with fruit & cheese trays and a stocked refrigerator with drinks. Overall, the house was perfect, the location was perfect, the communication from Paul & Diane was perfect. I highly recommend staying with them. We will definitely rebook when we are in the area again. Thank you so much! :)
Whitney
2016-10-09T00:00:00Z
Our stay in Pensacola was made great staying at the beautiful home of Paul and Diane. They both were there to welcome us and show us around the house and property. From the fruit tray, to the rum cake and the cheese and crackers tray perfect after the long drive. Highly recommended this place when you truly want a home experience rather than a condo or hotel. Finally it was more than we expected jumping in the car to get a few things is not what you want to do and we didn't have to do any of that it was already there. Thank you for making our get away great. God Bless, The Garretts
Art
2016-06-28T00:00:00Z
Beautiful home with an eclectic mix of furnishings. Perfect in-town location for easy access to great eats and venues. Now the owners just need to make a book about the history of the home to add even more charm. Thanks again to Paul & Diane for being fabulous hosts and taking care of all our needs!
Kathleen
2016-12-11T00:00:00Z
Our stay was more than perfect! The apartment was absolutely beautiful and the owners were extremely helpful and accommodating. Neighbors were friendly. If we return to Pensacola, we will definitely stay here again. Close to downtown and a short drive to the beaches. We could not be more pleased with our trip.
Annie
2016-06-06T00:00:00Z
This was by far the best AirBnB I have ever rented. Paul and Diane made me and my friends feel welcome from before we even showed up. A courtesy text message about when we will arrive so that we could go over checking in. They met us at the front door, showed us around the house, and gave us a delightful snack. Always attentive and available to answer any questions, the hosts clearly cared about and had pride in their guests, their home, and the location. The house was cozy and clean. Downtown Pensacola is only a short walk from it. A tremendous experience, I cannot recommend this listing high enough.
Derek
2017-03-19T00:00:00Z
The Victorian property was even better than what the pictures showed. Paul and Diane treated us like family and made our arrival perfect and worry-free. Whenever we contacted them via text or email, they responded nearly instantaneously. Overall, Paul an Diane provided an experience and atmosphere that was beyond any luxury service found at a 5-Star Condo. Whether it as giving us the lay of the land on where to eat and shop, to the small attention to details, such as having flowers and a baked caked ready, this property and its host has to truly be experienced by anyone looking to stay in the Pesacola / Bay area. We will definitely be coming back!
shawn
2016-07-07T00:00:00Z
Tipo de Acomodação
Casa/apto inteiro
---
Tipo de Imóvel
Apartamento
---
Acomoda
6
---
Quartos
Pensacola, Flórida, Estados Unidos
Don't stay here
Allyson
2017-03-03T00:00:00Z
Tipo de Acomodação
Casa/apto inteiro
---
Tipo de Imóvel
Apartamento
---
Acomoda
4
---
Quartos
Pensacola, Flórida, Estados Unidos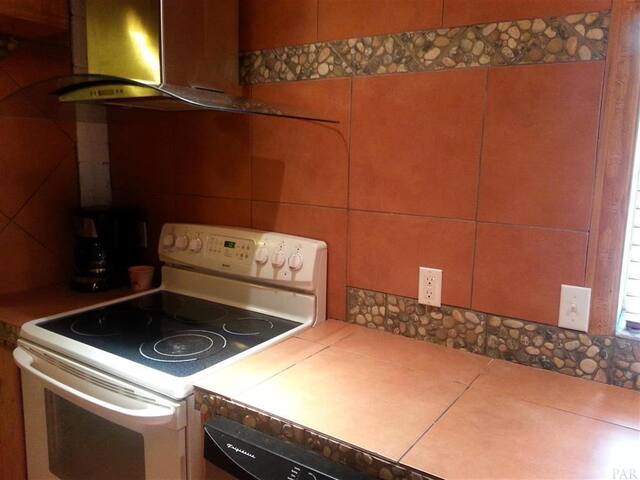 Tipo de Acomodação
Quarto inteiro
---
Tipo de Imóvel
Apartamento
---
Acomoda
2
---
Quartos
Pensacola, Flórida, Estados Unidos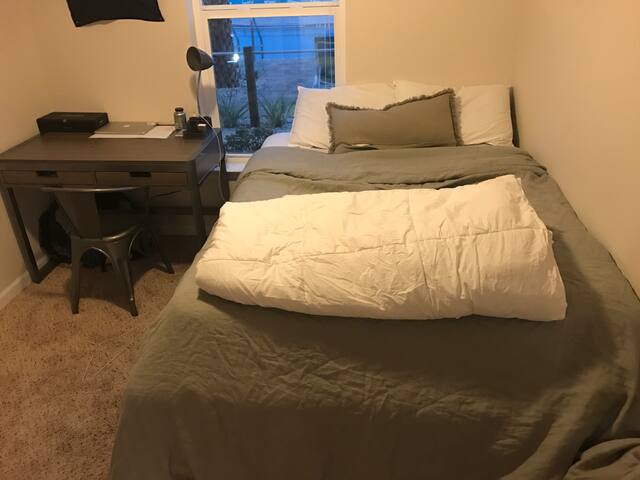 1/1 apt in 1889 home in the beautiful Historic North Hill neighborhood. An easy walk from downtown Pensacola and all the hot spots. This place has a large front porch, garden courtyard, classic clawfoot tub and pets are allowed! There is a washer and dryer in the unit if you need to wash away some of the road. This house is old and has its quirks and charms, I am always working out the quirks and cultivating the charm. Isn't that just the Southern Way! NOTE- longer-term leases are available.
North Hill is a beautiful and quiet historic neighborhood. There are 4 little parks in easy walking distance and downtown Pensacola is a 20 minute walk away. Enjoy the huge old Magnolia and Live Oak trees as you take a stroll by some of Florida's finest Historic homes.
Tracy was great! The place was perfect for what we needed. I'd definitely love to stay here again if I ever do a longer trip back to Pensacola.
Tiffany
2016-05-09T00:00:00Z
We really loved our stay in this historic gem of a house and the beautiful historic North Hills neighborhood(URL HIDDEN)Walking and exploring the neighborhood became one of our favorite things to do. If you have a pet this is a great place for them lots of room and cool wood floors. This location puts you in the middle of all the best thing's to do in Pensacola, the great downtown is within walking distance. Tracy was a great host she delivered everything promised, we'll be back!
Jim
2016-07-09T00:00:00Z
This home was very well kept and unique! My wife and I just loved the charm of the home. We highly recommend staying in Tracy's house!
Tyler
2017-01-01T00:00:00Z
Great place to spend a long weekend. There is a lot of space so you can really spread out. It's very tastefully decorated, relaxing and warm. The location was ideal- right down the road from downtown Pensacola and an easy 15 minute drive to the beautiful beaches. You'll have your own entrance and off-street parking, wifi, hotel amenities (towels, shampoo, hair dryer, etc.) and two beach towels. There's a laundry machine and dryer available, coffee maker, dishes and cooking supplies, board games, a DVD collection and a shelf of books to keep you entertained. Tracy was very responsive and helpful during and before my stay. The unique shower was a fun experience for me, but if you happen to be traveling with an elderly person or someone unable to step into a raised bathtub, you might want to consider other options. Overall, I would highly recommend Tracy's place!
Joanna
2016-08-03T00:00:00Z
We loved our stay! Has a lot of great character and awesome location, few blocks from the highway, close to the bridge going to the beach, walking distance to downtown. Good lighting, spacious, quiet and has everything you need for a nice stay. We would seriously move in if we could, loved it, thank you Tracy!
Aaron
2016-07-21T00:00:00Z
This place is a perfect location to explore PCOLA. Easy walk to historic district and other hot spots. As others of stated this is an older home and work in progress but is clean and with comfortable bed. Host is accommodating and responds quickly.
Chad
2016-07-24T00:00:00Z
I truly enjoyed my stay. It was so nice to feel at home while away from home. The house was clean and comfortable. Walking distance from downtown. The host was great. She was very accommodating with check in and check outs. Great communication and easy to follow instructions. Great experience. Would defiantly stay here again. Thank you!
Taryn
2016-08-29T00:00:00Z
The location and neighborhood was great. It was very spacious and had a comfortable bed and nice bathroom. Tracy was very accomodating as we booked last minute and it was great to extend our vacation.
Joy
2016-06-08T00:00:00Z
Tipo de Acomodação
Casa/apto inteiro
---
Tipo de Imóvel
Apartamento
---
Acomoda
2
---
Quartos
Pensacola, Flórida, Estados Unidos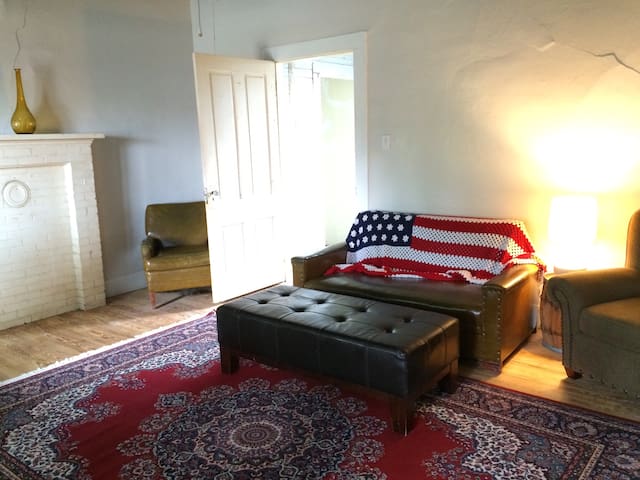 My place is close to the beach. You'll love my place because of the coziness. My place is good for couples, solo adventurers, business travelers, and families (with kids). Apartment is upstairs. The private upstairs apartment has a private half bath. The shower bathroom is downstairs. Guests walk through a shared room to a private shower bathroom. Private shower bathroom meaning host does not use the shower for personal bathing. It is a nice step in shower.
My apartment is unique because it is located in an historical neighbor within my 5,000 square foot home. My home was built around 1895 with 10 ft ceilings and bullnose doors.
I love the historical neighbor of East Hill that I live in. We love to walk on the city sidewalks and see all the different house styles especially the craftsman cottage style houses. We enjoy the two city maintained parks on our street.
Our first experience was really good and it's certainly not our last .
Kenneth
2016-07-24T00:00:00Z
Ruth was so pleasant very sweet. My family really enjoy our stay. If you are ever in Pensacola Florida make sure to check her home out beautiful home historical site in the bed slept very well.Everybody was saying how the bed was so comfortable. Thank you so much for your hospitality.
LaCresia
2016-10-08T00:00:00Z
The place was very clean and met our ends. The location was very convenient for restaurants and the beach.
Susan
2016-06-27T00:00:00Z
Ruth was extremely hospitable. We couldn't have been happier
Brendan
2016-08-01T00:00:00Z
We really enjoyed staying at Blount Street Retreat. Ruth and her husband were really nice and help out in anyway possible. Ruth posted and suggested of places to eat and the Beach is literally 15 minutes from her house. Ruth's house is very nice and clean. On the second day of being at Blount Street Retreat, the air condition kinda went out. Ruth and her husband fix it the same day. They are very quick about attending to your needs. The neighborhood was very nice and quiet. If you decide to stay at Blount Street Retreat, you will not be dissapointed. We plan on going back in September.
Josey
2016-06-24T00:00:00Z
Nice and well kept place. We enjoyed our stay.
Clay
2017-03-16T00:00:00Z
Ruth's location is very central to many things in Pensacola - our destination was the Bay Area Center, but we found ourselves not only close to that, but the beach, the historic downtown and many other points of interest. The rental is situated in an old family home with enough seclusion to feel private. The only time we saw our hosts were at check in and check out. Linens / towels / and a few other comforts well provided for. Clean and comfortable. I love my family, but I also love closing a door to read a book when away from home :)
Ryan
2017-02-19T00:00:00Z
Ruth place was not the intended target for our stay, the intended location was clicked however Ruth place is where it took us and we didnt know. We are currently pursuin legal assistance as Ruth nor airbnb has been no help in returning our monies.
LaShundra
2017-04-01T00:00:00Z
Tipo de Acomodação
Casa/apto inteiro
---
Tipo de Imóvel
Apartamento
---
Acomoda
6
---
Quartos
Pensacola, Flórida, Estados Unidos
Fully furnished one bed, one bath apt in historic home in downtown Pensacola. Walking distance to the main drag, or hang out in the garden courtyard or on the large covered porch with a view of scenic North Hill. Nightly or longer leases available!
This is a full apartment, not a share. This is the first floor apartment (1/3) of a historic home from 1889! There are two different entrances, including a large covered porch in front, as well as a garden courtyard out back, equipped with a chiminea for enjoying an evening fire. The bed is a brand new gel-foam mattress on a full size antique Eastlake bedframe. The bathroom has a clawfoot tub with a shower, with a full laundry room beside it. All linens and towels will be provided.
The host canceled this reservation the day before arrival. This is an automated posting.
Nicola
2016-06-19T00:00:00Z
The host canceled this reservation the day before arrival. This is an automated posting.
Kim
2017-01-22T00:00:00Z
Very spacious and comfortable rental in a quiet neighborhood.
Tiffani
2016-04-18T00:00:00Z
Tracy greeted us when we arrived with the news we'd been upgraded to the two-bedroom space upstairs. The place was spacious and clean. Everything we needed was provided (including an assortment of coffee for the coffee maker). The location was wonderful, and we were able to walk downtown with no problems. The neighborhood felt safe, even at night while walking our dog. I would definitely stay here again.
Linda
2016-04-15T00:00:00Z
The host canceled this reservation 7 days before arrival. This is an automated posting.
Jake
2016-02-27T00:00:00Z
We loved our experience. The apt is so comfortable and the history, 15 ft ceilings and claw foot tub are full of old southern charm. Our bedroom window opened up to a small deck where we had coffee every morning. The location was perfect. Close to down town and 15 min from the beach. The kitchen was stocked with spices and the air conditioning ran flawlessly. Tracy was wonderful and even let us use her grill. A train does go through and call out to you every night but I imagine you get used to that. We will definitely stay here again
Teresa
2016-06-03T00:00:00Z
The host canceled this reservation the day before arrival. This is an automated posting.
Chrislyn
2017-03-30T00:00:00Z
If you like an older, homey place this is for you. We loved the vintage feel of the place with high ceilings and older fixtures. It is close to the area with restaurants and shops, but is quiet at night. The kitchen has adequate utensils and equipment, and the washer/drier are a plus. The bed and furniture are comfortable and stylish.
Ellen
2017-03-05T00:00:00Z
Tipo de Acomodação
Casa/apto inteiro
---
Tipo de Imóvel
Apartamento
---
Acomoda
2
---
Quartos
Pensacola, Flórida, Estados Unidos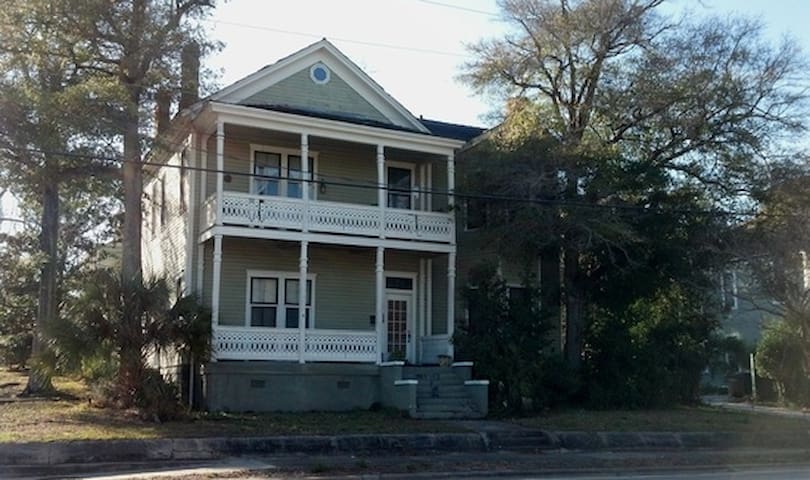 Ella's home is a great place to put up, Its spacious and well located near the beach and also quite close to the famous restaurants. She is an excellent host, she catered to our requirements of having 2 extra guests and also provided us with beach stuff (towels, chair and umbrella.) The house is extremely tidy and well maintained. It was a pleasure being a part of Ella's place, it certainly added to the joy of what is Pensacola:) P.S. Sorry Ella we unknowingly took your two bath towel :P
Ayush
2017-03-18T00:00:00Z
Tipo de Acomodação
Casa/apto inteiro
---
Tipo de Imóvel
Apartamento
---
Acomoda
6
---
Quartos
Pensacola, Flórida, Estados Unidos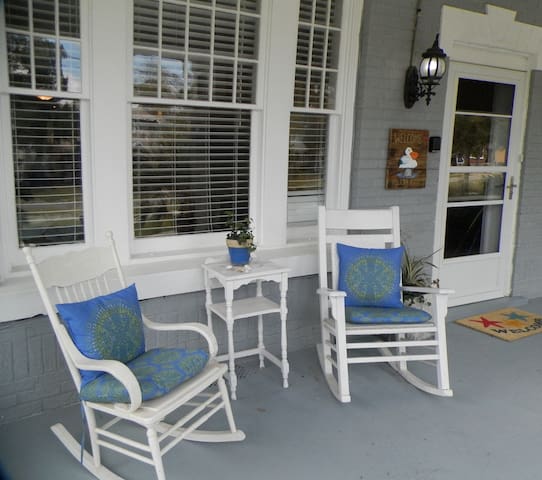 Business traveler's dream! You are SHORT walking distance to Airport, Target, Cordova Mall, Publix, BoneFish, Twin Peaks and the list goes on! I hope you feel at home, please use of the fridge, chromecast (tv streaming), WiFi and even enjoy some light cooking! Keep in mind this is a studio, although you have full private access; if you bring a guest, they will be sleeping in the same room as you. Also as you can see in the pics, it is not a formal kitchen just the basics and small sink.
This is a unique, private and spacious suite, equipped with central heat and A/C; no window unit! There is one flight of stairs to go up in order to get to the unit. Once there you should feel right at home. I've got the basics covered for you including, clean linens and vinyl covered new bed, tile in shower and bathroom, fridge, induction cooktop and toaster oven. There are neighboring business suites so during normal business hours it's best to be respectful of noise; however most of the nearby shops and businesses close around 6pm.
You get to look forward to being literally minutes walking distance to many great eateries as well as Target, Cordova Mall, Twin Peaks, Publix, multiple day spas, and even the Airport! (see map picture)
The space was just as it was listed and was perfect for me. The location was great and very peaceful, not too far from anything. Thomas and Gershon were very helpful and checked in on me to make sure that I was OK and that I had everything I needed. I would definitely stay here again.
Shelby
2016-06-27T00:00:00Z
We were extremely late due to traffic and still was welcomed and give a tour. We didn't feel like an inconvenience at all. Even though we knew we were. The place was exactly what we expected and was great to come back to every night.
James
2016-06-29T00:00:00Z
Great studio in a great location... close to great shopping, dining, and entertainment! Thomas is extremely accommodating and his property manager, Gershon, is fantastic and was available to assist with any questions or needs. They both went out of their way to make sure I was comfortable and had everything I needed during my stay. Highly recommend!
Stephanie
2016-07-26T00:00:00Z
The room is exactly as it's laid out in pictures. Thomas resides out of town and was not present, but his property manager, Gershon, was. Gershon was extremely accommodating upon our late arrival (horrible traffic made a very long drive from St. Louis), and was kind and helpful. After discovering that shower towels weren't left, Gershon came back the next day while we were at the beach and left them on the chair by the entryway. When we left on Sunday morning, I contacted Gershon to let him know we were heading out, and he asked if everything were enjoyable and if there were anything else we needed. He was very kind and attentive. Upon our departure, I'd realized while driving through Tennessee that I'd accidentally left all of our hygiene products, brushes, hair products, etc., in my hygiene bag in the bathroom. I'd contacted Gershon and asked if I could pay to have the items returned. He agreed, and stated that he'd take care of it. On Monday morning, I prepaid and emailed to Gershon a mailing label to have my items returned. He'd texted back acknowledging the transaction, and expressed he'd send my items back. By Tuesday morning, I'd contacted Gershon and learned that he'd not sent my hygiene items. By that time the prepaid mailing label for shipping had expired. It is now Wednesday and I've still not heard back from Gershon on any other developments regarding my items. I realize that it was my mistake to have left these things in the apartment, but we'd made an agreement - and I'd spent more money - to get my things back. All in all the room is great, and the location is nice in relation to the beaches. I just wish things could've gone a little differently in the aftermath.
Amy
2016-06-13T00:00:00Z
Thomas and his property manager were perfect and quick! We needed a last minute place for our weekend getaway and this place was very fitting!
Brandon
2016-06-06T00:00:00Z
Came I town for a tournament and the place was great! I recommend to anyone coming to the area for a brief or extended say.
Willie
2016-07-18T00:00:00Z
Thomas's studio was everything we needed for our stay. It was a quiet neighborhood, not far from downtown and the beach. We enjoyed our stay very much.
Mary
2016-09-07T00:00:00Z
The location was perfect for me, close to friends, family and stores. The apartment was quiet during the night and privacy was never a problem. Thomas was easy to communicate with and followed up to make sure all was well. He responded to minor issues with Chromecast and the Thermostat app quickly.
Garry
2016-10-17T00:00:00Z
Tipo de Acomodação
Casa/apto inteiro
---
Tipo de Imóvel
Apartamento
---
Acomoda
4
---
Quartos
Pensacola, Flórida, Estados Unidos
Waterfront location on Bayou Texar with close proximity to downtown Pensacola, only 15 minutes to Pensacola Beach. Great views and setting in the oldest neighborhood in the US. Private waterfront porch and entry. Kitchenette for light food preparation. King bed with luxury linens, full bath. Outdoor shower, grill, shared yard with fire pit, paddle board, kayak & dock access. Walk to neighborhood restaurants & pub. Good for couples, solo adventurers, & business travelers. Enjoy De Luna's Landing!
De Luna's Landing is a very unique spot centrally located on the water near Pensacola's downtown area in the oldest neighborhood in the country. The private studio space is coastal, comfortable and fun. The setting is a bird watcher's paradise - watch the herons stalk, and osprey and pelicans dive. Centrally located with amenities for a perfect executive extended stay. Just off Scenic Highway. Within 5 minutes to downtown Pensacola, 10 minutes to the airport, 15 minutes to NAS and the beach. Live on the water and experience all that Pensacola has to offer!
Walking neighborhood with unique local restaurants - known as restaurant row. Public boat ramp nearby. The ideal Pensacola location.
Robert was easy to communicate with before and throughout the trip. The description was very accurate. The neighborhood was very peaceful and relaxing. The view was beautiful from not only inside the place but off the baot dock. Robert provided beach towels, chairs and many other things needed for a relaxing getaway.
Frank
2016-07-11T00:00:00Z
We felt very welcome and the room was more than i expected with the view that left us wanting to come back. They were very attentive to any needs. I recommend this location to a couple who really want to escape relax. The view is so relaxing and takes your breath away.
Beatrice
2016-07-07T00:00:00Z
Roberts waterfront studio was the best place we could have picked to stay in Pensacola! The welcoming atmosphere of the entire studio was better than expected, with the accessible lake right in our backyard was the icing on the cake. Robert and Kris both made us feel comfortable being a part of their home and gave us great ideas and recommendations on food and fun! We can't wait to go back!
Alex
2016-07-05T00:00:00Z
Robert and Chris were wonderful host. Robert always responded to my messages immediately. This place is very clean and nice. The outside area is very private and relaxing. I recommend this place and we plan to return.
Travis
2016-07-17T00:00:00Z
Robert's place is on the water and has an awesome covered private patio. Decorated beautifully and complete with a very comfortable king sized bed! We would definitely recommend this place, and hope to return some time. Communication was very prompt too.
Patricia
2017-03-14T00:00:00Z
Probably one of my best AirBnB stays ever. The place was super clean and the location was perfect. Rob was there whenever we needed him but still gave us undisturbed space if I didn't have any questions.
Avery
2017-03-19T00:00:00Z
This place was exactly what we were looking for. Quite, clean and cozy. Robert was a great host and I will for sure be using this location again for future trips to pcola!
Max
2016-08-14T00:00:00Z
Was just like the pictures. Views were great. Had everything you could need to have a great stay.
Tayler
2017-01-18T00:00:00Z
Tipo de Acomodação
Casa/apto inteiro
---
Tipo de Imóvel
Apartamento
---
Acomoda
2
---
Quartos
Pensacola, Flórida, Estados Unidos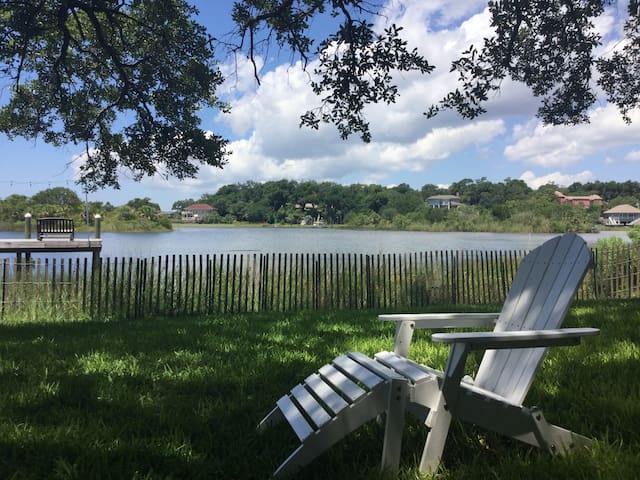 West Pensacola - Airbnb
:
Média de

4.88

de

5

estrelas, de acordo com

567

avaliações de hóspedes
1

–

18

de

29 Apartamentos para Alugar
Insira as datas para ver o preço total. Taxas adicionais serão aplicadas. Impostos podem ser adicionados.