Three bedrooms two beds each. With the birds wake up every day, facing the beautiful scenery, sunny, kangaroos will often appear in front of you, modern home bathroom to make you feel comfortable. If demand can also provide Chinese and Western cuisine.
Called "Hidden Valley" is entirely a paradise, from Melbourne's Tullamarine Airport is just 25 minutes away, the town has a variety of supermarkets, food and daily necessities everything, there is a direct train urban center of Melbourne. Taxis can always make an appointment call.
Here there are golf clubs, health room, tennis court, swimming pool, racecourse, you can take a walk in the picturesque surroundings.
Tipo de Acomodação
Quarto inteiro
---
Tipo de Imóvel
Casa
---
Acomoda
2
---
Quartos
Wallan, Victoria, Austrália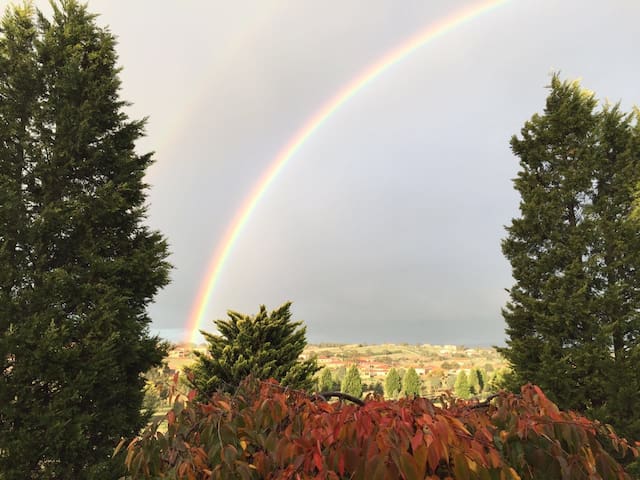 局促背后的一个教堂1860,工作室2是走在维多利亚州最古老的陆镇楷模的商店,咖啡馆,公园和学校的距离。工作室2是私有的,时尚,舒适的共享庭院和有趣的建筑。
这是作家一个伟大的度假胜地。它是隐蔽,安静 - 但就在镇上。有一个大工作台,如果你想集思广益或项目组的工作,我们可以提供一个白板。如果你正在寻找一个安静的撤退,这间一室公寓是一个完美的目的地,它只是一个小时了墨尔本。
楷模是最古老的陆镇维多利亚和有古老的教堂和历史建筑中一个古老的青石监狱 - 所有公寓的步行距离内。艺术展览在老法院经常举行。有沿着小溪散步,非常愉快。客人还可以在当地的公共球场打高尔夫球。有步行距离之内的两家酒吧和一些餐馆。
Great place & Caroline was very welcoming, would highly recommend :)
Lachlan
2016-03-27T00:00:00Z
Very welcoming and helpful host. Place exceeded my expectations. Was a great little room hidden from society. Will be coming back again shortly thats for sure!
Fabian
2016-03-23T00:00:00Z
Studio 2 was a warm, comfortable place to stay which was much welcomed after some exhausting days at the racetrack. Caroline is a lovely host who took great interest in our pastimes. Such a great little spot behind the old church & centrally located.
Simone
2016-09-25T00:00:00Z
Caroline was a wonderful and welcoming host. Id recommended studio 2 to any Melbourne based creatives looking for a quiet, warm and interesting stay in Kilmore. Also, great cookies.
Boxcar
2016-11-04T00:00:00Z
Great place! Perfect for what I needed and great price. Very clean, spacious and quiet. Even though I didn't get there till 12:30am, it was an easy process getting in, hassle free. Caroline was very quick at responding to my questions and made it a very easy stay!
Lauren
2016-12-18T00:00:00Z
Perfect for a nice, easy stay. Comfy bed, great towels. Well equipped for a couple stay. Caroline was very prompt responding to messages and very friendly and easy to deal with.
Tanya
2017-03-18T00:00:00Z
If you are in Kilmore for any reason I would recommend this quiet, well equipped and clean studio apartment for one or two people.
Rosemary
2017-03-11T00:00:00Z
Very nice place. Caroline was a lovely host, very warm personality and helpful with questions. Would recommend.
Chai
2016-04-05T00:00:00Z
Tipo de Acomodação
Casa/apto inteiro
---
Tipo de Imóvel
Apartamento
---
Acomoda
2
---
Quartos
Kilmore, Victoria, Austrália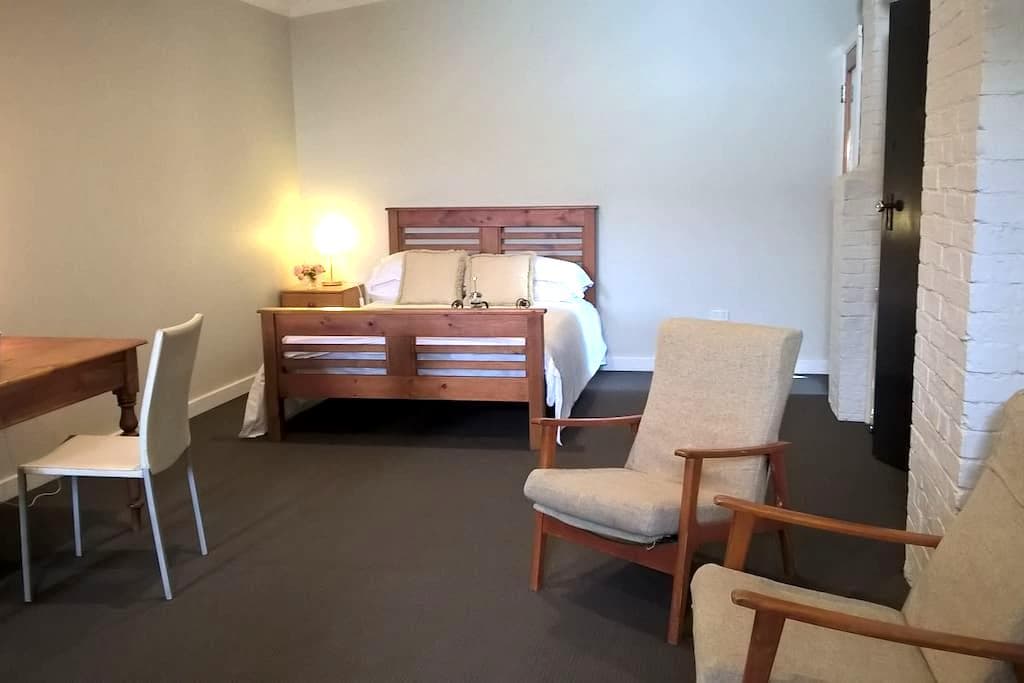 坐落於上市'Bindley屋"(1862年大約)遺產的美麗的花園。兩個私人自助式小屋(工作室式公寓)的選擇。舒適的木頭生火,拆分系統交流,大床,浴室有水療中心,著呢,餐飲區,停車場。
乾淨,舒適。 設備齊全的廚房。 浪漫木生火。 豪華雙人水療。 美麗的花園。 在步行距離為楷模的設施。
位於楷模鎮靠近主要街道,民辦學校,高爾夫球場,賽馬場和歷史建築的心臟。
Wow, what wonderful picturesque cottage style accommodation. Very quiet and clean and everything that one needed was definitely available. We will definitely be back and recommend it to all.
Richard & Tania
2016-02-07T00:00:00Z
My boyfriend and I absolutely enjoyed our stay at Bindley. Jennifer was the perfect host, she went the extra step and had balloons set up for Zac's birthday, eggs in the basket, and tea candles in the bathroom. The wheely TV was a great idea and we were able to watch TV from the comfort of the spa. Tractor the dog was very friendly and entertaining the second we stepped out of the car. Honestly we would have been happy to stay outside just talking to Jennifer for as long as we could, she was such an amazing persons juggling everything with 3 kids as well. The room was perfect and everything was easy to use, and Kilmore was beautiful with their autumn leaves. Quiet, peaceful and cosy, we highly recommend it :)
Amali
2015-04-10T00:00:00Z
Jenni could not have done more to make our stay comfortable. A very comfortable and clean apartment with views to a gorgeous garden, plenty of good quality food for breakfast and excellent cooking facilities. A great base to explore the requgion and close to Melbourne on the train if your looking for a day in the city as well.
Robert
2014-11-10T00:00:00Z
Jenni and the family were so welcoming and hospitable from the moment I arrived, ensuring that I had everything needed to make this stay a memorable experience. Attention to detail was second to none - from ensuring that the firebox was full of kindling, to bacon and eggs in the fridge for breakfast(!). The surroundings are stunning and the township of Kilmore is only a 5-10 minute walk away from Bindley House. Whilst this was a work trip, I'll definitely be coming back with my partner for a holiday in the very near future!
Luke
2015-11-27T00:00:00Z
We wanted a short escape to the country and Jenni's cottage was the perfect place to relax. Log fire, huge spa bath and a kitchen full of breakfast goodies! Tractor, the family labrador, was made THE most charming co-host! Wonderful hosts and a perfect city escape.
Non
2015-06-09T00:00:00Z
Everything about our stay at Bindley was perfect!! The breakfast, spa, wood fire, picturesque gardens, beautiful cottage, everything was delightful! Loved meeting Trevor the lab, easy walk into town down the main street with great food options. Highly highly recommend staying here, for a cute little couple's getaway not too far at all from Melbourne.
Tessa
2016-03-26T00:00:00Z
I booked this place as a surprise getaway for my parents- both had a fantastic time. They really enjoyed the relaxing environment of the place, central location (waking distance to shops and restaurants) and Jenni's welcoming hospitality. They definitely will be returning in the future.
Jasmin
2016-12-11T00:00:00Z
Jenni was very kind to allow me to book for a friend of mine. they had an amazing weekend, and are now very happy and relaxed!
Jenny
2017-03-12T00:00:00Z
Tipo de Acomodação
Casa/apto inteiro
---
Tipo de Imóvel
Pousada
---
Acomoda
2
---
Quartos
Kilmore, Victoria, Austrália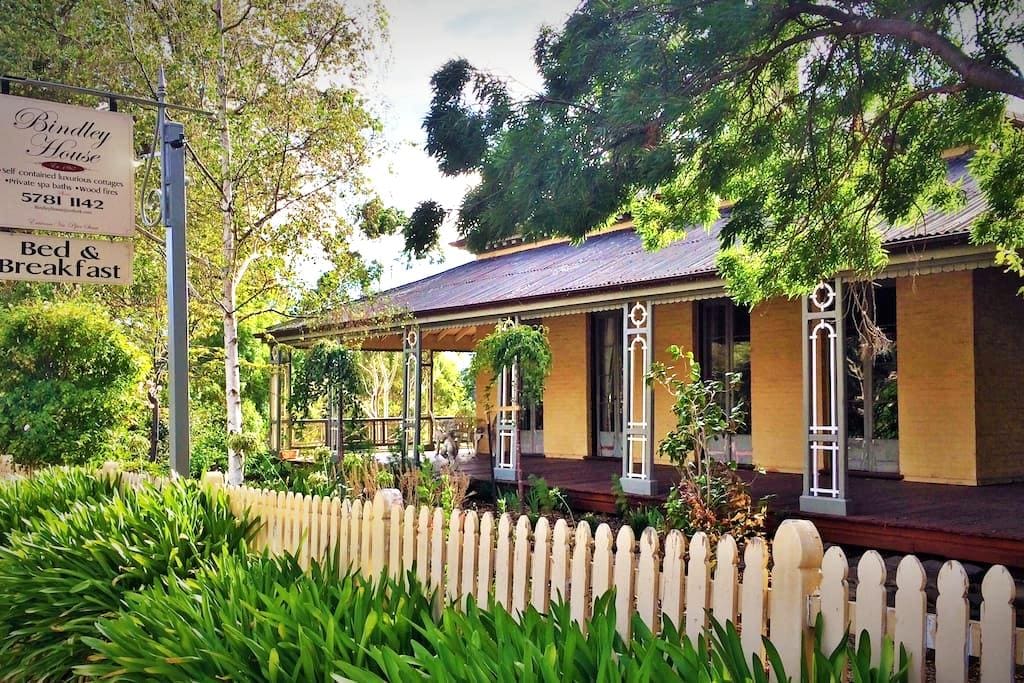 En la planta baja área separada, amparo de aparcamiento para huéspedes con entrada directa desde la carretera. Cocina en la habitación, cuarto de baño. camas individuales adicionales están disponibles en la casa principal, si se aplica cargo adicional requerida. Los huéspedes pueden hacer uso de las principales áreas de la casa de vida y la cocina y el lavadero. Amplia terraza con excelentes vistas en la vida privada con vistas semi medio rural Invitar jardines con un montón de plantas alentadores vida de las aves y sillas de jardín, área de la chimenea, bajo la cubierta de barbacoa y asientos
Tranquila, con vistas relajantes, pero cerca de la ciudad con menos de 5 minutos en coche al Hospital Kilmore, Assumption College, Escuela Internacional de Kilmore, centro de ocio, club de golf, Racing Club, oficina de correos y una serie de propiedad familiar restaurantes, cafés, comida para llevar y hoteles, supermercados, gasolineras y sitios de reparación de coches Somos una propiedad de bajo consumo con calificación de 5 estrellas de la energía, la electricidad solar, la iluminación LED en todas partes, el tanque de agua para la casa y los jardines, electrodomésticos eficientes, agua caliente calor continuo con controladores electrónicos y grifería monomando. Aire acondicionado evaporativo de arriba La sala de abajo se construye a partir de paneles de acero sándwich de espuma. Servicios adicionales incluyen ventiladores de techo, calefacción adicional, manta eléctrica, reproductor de DVD con algunas películas clásicas de Australia Como se mencionó anteriormente hay una pequeña cocina en la habitación o los huéspedes pueden hacer uso de la cocina principal o algún otro servicio en la casa principal
Un ambiente rural agradable con una gama de embarcaciones de fin de semana y mercados de productos frescos en un lugar histórico con un número de atracciones turísticas en las áreas circundantes tenemos una serie de senderos y parques públicos de todo el área de La mayoría de las empresas alrededor de la ciudad son de propiedad local y se ejecutan, por tanto, están proporcionando todo un buen servicio a los clientes estén contentos.
The area is self contained under the hosts home. We were awoken around 5.30am on both mornings of our two day stay by very frequent loud footsteps, creaking floorboards & plumbing from the above house. Due to apparently being the hosts first guests we thought they may not be aware of how loudly their noise travelled to the underneath guest room. Despite politely informing Peter of this, we were told that he was aware & that "it's not a guest house". This made me wonder, if we weren't paying guests then what were we to the host? If a little consideration had been shown, this review would have been different. The hosts were able to accommodate extra family at short notice. The bed was comfortable & warm, and the bathroom had a heater. If we had been shown some consideration & weren't sleep deprived there would be no real issues.
Simone
2016-11-12T00:00:00Z
I really enjoyed my stay at Peter and Linda's place. Their hospitality was fantastic and welcoming. The heater in the bathroom was a nice little touch. Linda's home cooking was yummy and the chocolates....wow. I would recommend a stay at their place if you're close to Kilmore. Getting around was easy, being central to the township. Peter's local knowledge was well appreciated. Loved the modern feel to their accommodation and having your own private undercover car park and bathroom was extra convenient. Thanks again.
Terry
2016-11-26T00:00:00Z
Enjoyed a very comfortable stay at Peter and Linda's. Very welcoming and great hospitality.
Emily
2017-02-22T00:00:00Z
Tipo de Acomodação
Quarto inteiro
---
Tipo de Imóvel
Casa
---
Acomoda
2
---
Quartos
Kilmore, Victoria, Austrália

Merli公园床和早餐是接近的美景,餐厅和餐饮,文化艺术和酒区。 1小时墨尔本旅游景点,和塔斯马尼亚渡船,35分钟国际机场。 5分钟到国家和市郊列车服务。你一定会喜欢的,因为农村的意见,对人民,在大自然中散步,安静的位置和氛围我的地方。楷模充满了历史,只是跟利兹。我的地方是好夫妻,独奏冒险家和商务旅客和小宠物。
梅林公园床和早餐是一个梦幻般的住宿,夫妻和小动物。有很多有趣的散步,本土鸟类和动物,在一个大型公园成熟的原生植被就在马路对面。该公寓是完全包含了一个厨房/家庭房和带连接的独立卧室的自我。洗衣服务可通过与利兹安排。
楷模是最古老的内陆城镇刊登宪报,许多原有的建筑物仍然屹立不倒。利兹与原1841 Willowmavin调查一个特殊的家庭协会这样一来,她谈谈历史,并得到一个导游。有很多餐馆和18小时,每天超市购物。 楷模公立医院对急性,生育,老年医疗和急救广泛的设施。楷模是一个大的旅游顷墨尔本,本迪戈和西摩/ Puckapunyal一个小时的中心。
The BnB was a charming one bedroom unit with a separate living/kitchen/dining. The unit was part of the same structure as the host's house, but there was a separate entrance for guests. We were able to take our small dog. There was a small enclosed yard where he could stay securely during the day, and was allowed inside at night. The unit was very clean and pleasantly furnished. Our host had put out welcoming vases of home grown roses from her beautiful garden. There were plenty of supplies for a simple self prepared breakfast, and kitchen had all the amenities we required. The neighbourhood was very quiet and had a charming park across the road, with a creek running through it. There were lots of warbling magpies and other birds in the big old gum trees. We enjoyed our stay and would recommend it to couples who are interested in accommodation not far from Melbourne in a quiet and scenic location. Host Liz is very friendly and accommodating.
Leonie
2016-12-31T00:00:00Z
A warm welcome, followed by a tour and a chat added to the ease of staying in this relaxing and inviting two room studio. Thank you for making myself and Oscar feel at home; and for the breakfast supplies; all added to a very enjoyable stay.
Cynthia
2017-01-10T00:00:00Z
Tipo de Acomodação
Quarto inteiro
---
Tipo de Imóvel
Casa
---
Acomoda
2
---
Quartos
Kilmore, Victoria, Austrália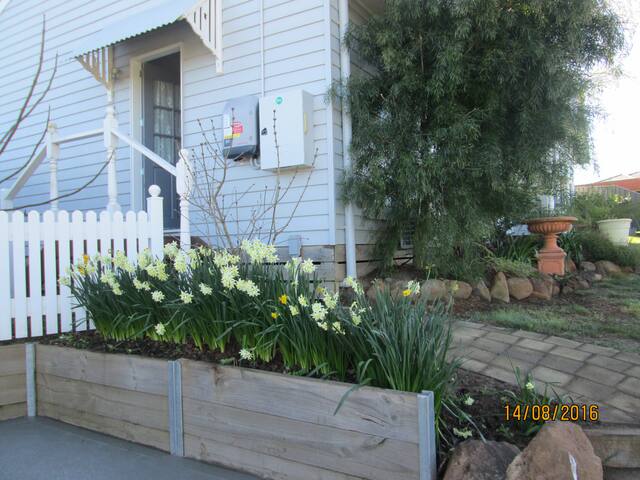 5-Sterne-Selbstversorger-Einheit im 1. Stock befindet sich direkt neben unserem Innenreitkomplex Bringen Sie Ihr Pferd und mit den vorhandenen Stallungen Verleih, Angeln in der voll Lager Damm oder genießen Sie einfach im Land zu sein auf einem internationalen arabischen Pferdegestüt bleiben
Land Ruhe und Stille am besten, doch nur 2 km vom Hauptort von Kilmore
Tipo de Acomodação
Casa/apto inteiro
---
Tipo de Imóvel
Pousada
---
Acomoda
2
---
Quartos
Kilmore, Victoria, Austrália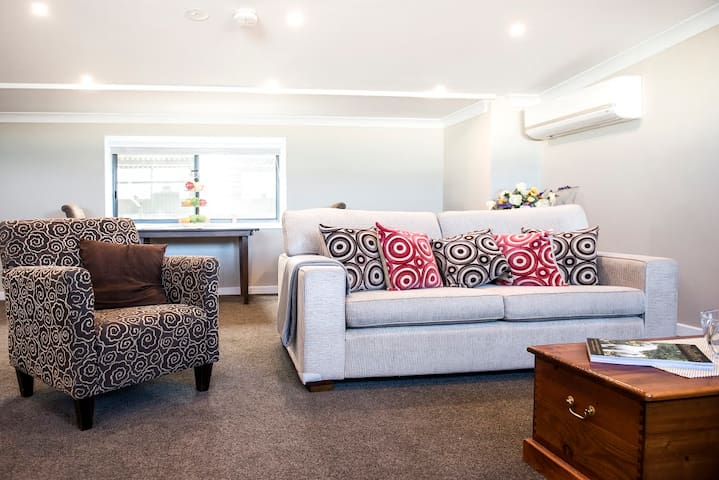 Instant Book - late in the day bookings allowed. Superhost, A comfortable safe place to stay, and it has all the essentials that you would require, like a fully equipped kitchen and two separate lounge areas with televisions. It's a great relaxing place to unwind from a long flight or if you are passing through and want get a good nights sleep and freshen up before you head into the city of melbourne. Or just to stay if you feel like it.
The Lodge is a comfortable place to stay
The neighbourhood is clean and safe place to stay,
Another fabulous stay. Thank you and see you again soon!
Steve
2017-03-16T00:00:00Z
Great accommodation which is well suited for my work commitments. Thanks for great service. See you next week. Cheers
Steve
2017-03-15T00:00:00Z
Very helpful and friendly host. Well equipped new house. Good value as well at the time of booking.
Hans
2017-02-12T00:00:00Z
Great place. Great People
Lasse
2017-02-17T00:00:00Z
Kylie was very accomodating with our requests and very last minute booking and changing plans. Her partner made the check in process easy and was as kind as Kylie had been while organising our stay! The house is modern, well equipped and clean - we were disappointed that we could only stay for the one night and not spend our holiday there!
Lachlan
2017-02-05T00:00:00Z
Very nice house, lovely host. We felt at home. Thanks :)
Lucie
2017-03-18T00:00:00Z
I would highly recommend this place. You feel like u r at home. Very clean, upscale and comfort wise just like a five star hotel
Riz
2017-03-30T00:00:00Z
This place is great! Full of amenities and upscale finishes. Great location on the north side of Melbourne. It is in a neighborhood where a car is needed to get to shops and restaurants and there is no wifi. Godard (?)let us in and showed us around. Great kitchen to cook anything you need. Lots of space to hang out and relax. We were very happy with our stay!
Brandon
2017-02-19T00:00:00Z
Tipo de Acomodação
Quarto inteiro
---
Tipo de Imóvel
Casa
---
Acomoda
2
---
Quartos
Craigieburn, Victoria, Austrália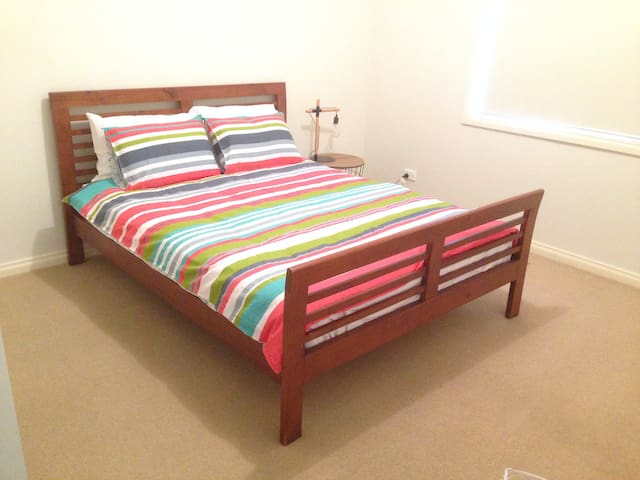 Casa moderna localizada no bairro residencial ao norte de Melbourne, perto do Aeroporto com 2 quartos separados disponíveis. 1 Rainha Cama (esta listagem) e 1 cama de solteiro com rodízio puxe quarto (ver lista separada), o espaço guarda-roupa e desenha disponível. banheiro compartilhado (com outra listagem) e acesso à cozinha compartilhada e espaço de escritório. Estacionamento na rua disponível e estacionamento na rua e transferência de aeroporto pode ser organizado por uma taxa adicional. Animais de estimação com gato residente. No perto de transportes públicos.
Aeroporto transferências podem ser organizadas com aviso prévio e taxas adicionais. Por favor, note estação ferroviária mais próxima fica a 7km e paragem de autocarros 5km, a área regional, de modo geral, apenas uma vez por hora, por favor, ter em conta ter um carro é geralmente necessário.
Brand new propriedade, tranquila e agradável sensação do país 40 km local de Melbourne CBD, perto do Aeroporto.
nice airbnb experience
George
2017-01-26T00:00:00Z
The house is on the main road about 4 miles from the train station. You need a car to get around, or you can hike and enjoy the fresh air like I did. Nicole kindly provided rides on days I needed grocery. House amenities include lots of kitchenware for the culinarily minded traveler. The neighborhood is quite new and they're still adding houses to newly cleared land. Kangaroos can be seen at a distance. Great outdoors experience for personal rejuvenation :)
Kai
2017-03-23T00:00:00Z
Tipo de Acomodação
Quarto inteiro
---
Tipo de Imóvel
Casa
---
Acomoda
2
---
Quartos
Mickleham, Victoria, Austrália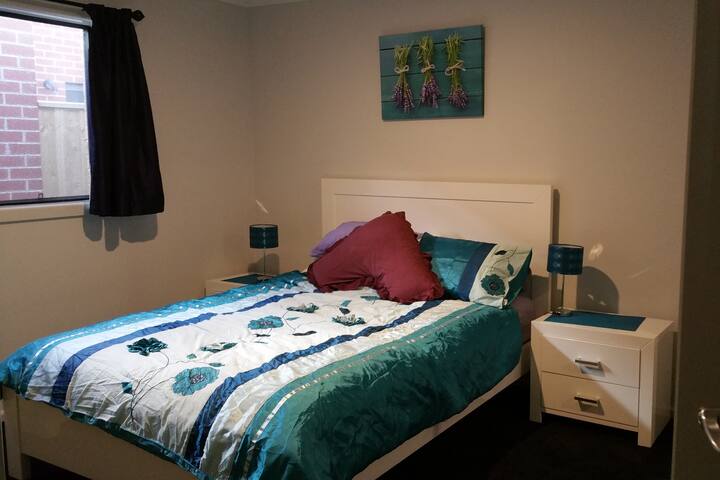 My place is a Luxury 3 bedroom, brand new house 18 mins from Melbourne Airport 6 mins to Craigieburn Station 3 mins to Craigieburn Central ( Shopping Mall, Restaurants, Cafe's, Supermarkets and Cinema) 4 mins to Public Golf Crs 35 mins to Melbourne CBD 2 mins to the Bus stop Highlander Park at your doorstep, beautiful lakeside walkways. You'll love my place because it's located in a quiet neighborhood within close reach of all amenities & it's fully furnished with modern comforts
1 x large bedroom with en-suite bathroom. Sleeps two on Queen size bed. Child up to 6 yrs can stay on existing bed free of charge. There is Heating / Air conditioning. 1 x medium size bedroom . Sleeps two on Queen size bed. Child up to 6 yrs can stay on existing bed free of charge. Shared bathroom. There is Heating / Fan. 1 x bedroom . Sleeps two on Double bed. Shared bathroom. There is Heating / Fan. Please note that there is no Air - conditioning in the Dinning/ Living area however a Fan will be provided on request.
A great place to stay, with a very easy drive to Melbourne Airport. Communication from Tina was great beforehand, and she was incredibly welcoming. The area is very quiet with a lovely park out front, and the house was extremely clean and very comfortable. I highly recommend.
Kyle
2017-04-04T00:00:00Z
Wonderful place
Tassie
2017-01-05T00:00:00Z
Tina was very friendly and took us on a house tour before she left. The house had all the necessities and cookware, so it's good if you want to spend time cooking a meal together. The house was spacious and very clean. There is a park just in front of the house so it's good to take your kids and have some fun time.
Carlos
2017-02-26T00:00:00Z
Can't wait to come back and stay at this place! The house was very clean, spacious, had a two car garage and was very close to a big shopping complex. Thanks for your hospitality!!
Matthew
2017-01-07T00:00:00Z
This is a lovely new home. Beds were comfortable. Bonus was the park outside.
Elaine
2017-03-14T00:00:00Z
Tina was so easy to communicate with! The house was in perfect standard and was really cosy. Great value for money
Kayla
2017-02-11T00:00:00Z
Can not thank Tina enough, after our flights were canceled we had to drive from adelaide to Melbourne to catch our new flight. On returning home our flight was rescheduled to land at 1am, Tina arranged a lock box with keys so that we could let ourselves in. Although we only stayed a few hours it was conveniently close to the air port, clean and comfortable.
Jayme
2017-03-24T00:00:00Z
Tinas place is amazing! The park is close by, just in front of the house. Great location for travellers who need to stay near the airport.
Rebecca
2017-02-08T00:00:00Z
Tipo de Acomodação
Casa/apto inteiro
---
Tipo de Imóvel
Casa
---
Acomoda
6
---
Quartos
Craigieburn, Victoria, Austrália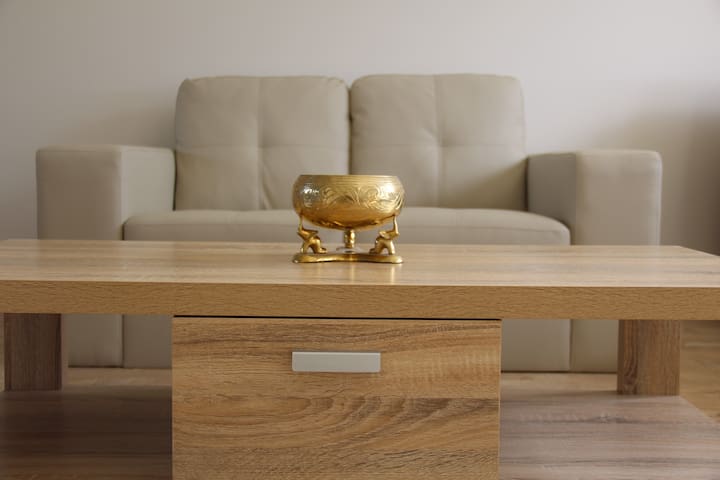 享受glamping上生产的20英亩土地。我们所在的V线车站的步行距离,并有25分钟的车程到墨尔本机场内。 欧陆式早餐包括在内。
Vivimos en una propiedad de 20 acres en las afueras de los suburbios y pensamos en ofrecer nuestra pequeña joya para que otros puedan disfrutar. Tenemos aproximadamente 40 ovejas, unos chooks y nuestros tres perros. El Merri Creek corre a través de nuestra propiedad y dependiendo de la época del año puede ser alta tranquila. En los meses más secos del agua permanece en los pozos de agua. La caravana está equipado con una ducha y WC y una unidad de aire acondicionado de ciclo inverso. El servicio de agua caliente permite una ducha de 5 minutos y luego esperar 5-10 minutos y el agua se caliente de nuevo para la segunda persona. La caravana tiene una nevera de bar, si necesita más espacio que puede tener acceso a una nevera en la caseta. El té y el café se proporcionan, así como el pan / cereales para la primera mañana. Cualquier otra cosa que necesite, solo pido y estoy seguro de que seremos capaces de ayudarle.
Donnybrook es su ciudad típica de campo con solamente un pub y una oficina de correos.
Penny's place was great. Very clean, well stocked kitchen in utensils and breakfast & snack food. Fantastic air con! Clean bed with comfy pillows. Can sit outside while the gorgeous sheep stare at you eating breakfast. And a nice view of the beautiful homestead. The V/line train that is mentioned wasn't a problem, don't believe we heard it until the morning.
Jb
2017-03-26T00:00:00Z
Nice to be in the country so close to Melbourne. It's a RV so my expectations were realistic. Bed was comfy. Very clean. Had cereal, milk, tea and coffee provided. Some bread for sandwiches too. Close to railway was both good and bad. Easy to get into town but then had trains going past. I'm used to living in the country so not used to such noise. I brought earplugs and was fine then. Nice and friendly hosts. Made me feel welcome. I liked going for a walk in the paddock like at home.
Jeremy
2017-03-03T00:00:00Z
A great alternative to a traditional hotel/motel stay lovely and private with a scenic outlook. Very nice, comfortable, clean van.
Amanda
2017-03-20T00:00:00Z
We had a great stay at the little caravan. Penni & Mick was great hosts and even invited us for a BBQ! The caravan was spotless and perfect for a couple. Penni even went out of her way and dropped us off at the airport.
Aidan
2017-03-23T00:00:00Z
Perfect place for those who don't like city rush! Very cosy caravan with all necessary needed, including kitchen, shower, and beautiful views. Also convenient location as very close to the airport. Thanks a lot! We would love to come back.
Guillem
2017-03-05T00:00:00Z
The stay was great, had everything we needed and was cosy. The host was straight down to help if we had any problems and was always friendly
Krystina
2017-03-18T00:00:00Z
Awesome place! Great connection with the nature & the wild. Got to see wild kangaroos/wallaby. In front of our camper, there's a flock of sheep as well! Caravan is cosy and tastefully furnished. Host left some food supplies for us too.
Levina
2017-03-07T00:00:00Z
A lovely clean caravan with beautiful scenic views.
Jennifer
2017-03-26T00:00:00Z
Tipo de Acomodação
Casa/apto inteiro
---
Tipo de Imóvel
Trailer
---
Acomoda
2
---
Quartos
Donnybrook, Victoria, Austrália
It is a brand news house with all modern facilities. * Private area separated by sliding door. * Private Bathroom with tub. *Free wifi,phone&Netflix *10 mins walk to woolworth & restaurants,2 mins walk to coles petrol station. *small study room.
Can provide covered parking for one car,access to backyard, kitchen.
The place is nice. Towels weren't provided, but were given upon request.
Alina
2016-11-05T00:00:00Z
We had a great time staying with Sandy and Raj. We were very well welcomed, the suite where we stayed was private and the house is amazing. Very tidy, clean, nice smelling. Everything was perfect for a great stay. Thank you.
Mariano
2016-12-19T00:00:00Z
Fantastic experience. Very clean and homely experience. Really nice people!!
Vikram
2017-01-13T00:00:00Z
Value for money
Johan
2016-12-29T00:00:00Z
Perfect if privacy and neatness is important for you. Good place and friendly hosts
Ricky
2016-11-12T00:00:00Z
We stayed with Sandy for a week and it was a great experience. The house is new, clean, quiet and is located not too far away from the airport. Sandy is extremely helpful with tips and local knowledge. Sandy is friendly and makes a wonderful host. We feel at home. We would definitely recommend Sandy's place for a quiet easy stay in Melbourne.
kulsom
2017-01-21T00:00:00Z
We booked late in the afternoon due to a change in our travel plans. Sandy went out of her way to accommodate us and make sure we had a very pleasant stay. She and Raj keep their place immaculately clean! It was a pleasure meeting both of them.
Allen
2016-12-27T00:00:00Z
Worked great for me during the Great Ocean road.
Yalli
2017-01-10T00:00:00Z
Tipo de Acomodação
Quarto inteiro
---
Tipo de Imóvel
Casa
---
Acomoda
2
---
Quartos
Wollert, Victoria, Austrália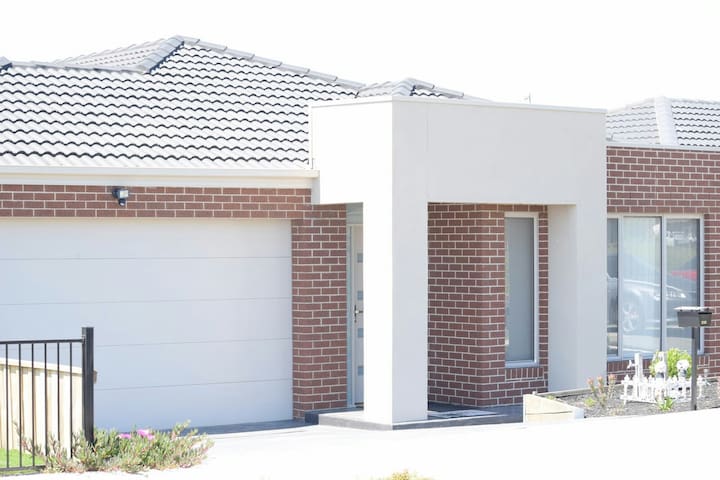 Set amongst picturesque bushland, my house is close to public transport. A place to unwind and relax, with its cozy modern ambience, high ceilings, a wood heater, fabulous kitchen and amazing views, Ideal for those traveling solo.
Tipo de Acomodação
Quarto inteiro
---
Tipo de Imóvel
Casa
---
Acomoda
1
---
Quartos
Kilmore East, Victoria, Austrália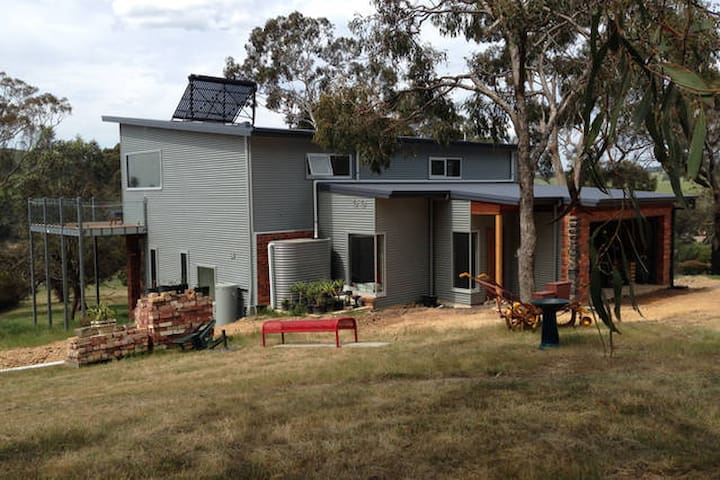 We offer you a private room with a queen size sofa bed, (pullout bed) by night and a sofa by day. This room includes linen and towels. One night stays includes a light breakfast. It will be ready for you when you wake!
This room can accommodate 2 people. You will have use of a bathroom and toilet. Downstairs you have use of the kitchen, dining area and sitting room. Courtyard out back offers a day bed and a peaceful garden. The front garden offers outdoor views of a park, lake and the cafe offers delicious meals all day breakfasts along with cakes and coffee. We both work full time depending on our rosters we maybe home during the week or weekend, we enjoy company and respect privacy as well. 100 metres from the door the local bus will take you to the Craigieburn train station 529 or 537. Miki cards We are 500 metres from a shopping mall, this offers cinemas, restuarants, cafes, boutique and supermarket shopping.
We are very fortunate to be across the road from a lake and park. 100 metres from the door the local bus will take you to the Craigieburn train station. We are 500 metres from a shopping mall, this offers cinemas, restuarants, cafes, boutique and supermarket shopping.
Lorraine and Ross are great hosts that made me feel very welcome and at home.
Stephen
2015-09-09T00:00:00Z
Lorraine and Ross are wonderful hosts. Their home is beautiful and they're very welcoming toward guests. Some Airbnb hosts just leave you to your own thing regardless, but Lorraine and Ross are the type of hosts that are up for a chat if you are. It's like a more personal version of a hostel, so I can see why backpackers would enjoy staying here. Cragieburn is only an hour by train from Flinders Street, which is great because it's a lovely escape from the city without being too far from it. It's also easily accessible by car to almost anywhere. The restaurants in the area are great and open until about 9pm, which is late enough to be able to come back from wherever you spent the day and get a late bite to eat. Staying with Lorraine and Ross is a great decision, so go for it!
Liam
2015-02-12T00:00:00Z
I was very happy to meet Lorraine who was able to meet a young Chinese student from the airport for me as I couldn't make it in the middle of the night. i wanted the young girl to be safe and she was in such good hands.
Shirley
2015-07-18T00:00:00Z
The reservation was canceled 18 days before arrival. This is an automated posting.
Carlos
2015-03-21T00:00:00Z
Lovely Hosts Perfect location for Airport stop overs
Elana
2016-05-18T00:00:00Z
This was my first Airbnb experience, and it was great! Lorraine was so kind and helpful with all our questions since it was our first time in Melbourne, she picked me up at 1am for $30 which was so nice, especially when I probably would've had a hard time if she didn't. House was very cute and clean. It was a great stay! Definitely recommended!
Julie
2015-12-04T00:00:00Z
Lorraine and Ross are wonderful People. I felt very welcome. the house has a positive energy that can be felt.
Walter Michael
2016-02-21T00:00:00Z
Lorraine's place was nice and quiet in a great location! They were very helpful in providing directions to the property and letting us know how to get in. A very friendly couple, would love to stay here again :)
Kelly
2016-01-02T00:00:00Z
Tipo de Acomodação
Quarto inteiro
---
Tipo de Imóvel
Casa
---
Acomoda
2
---
Quartos
Craigieburn, Victoria, Austrália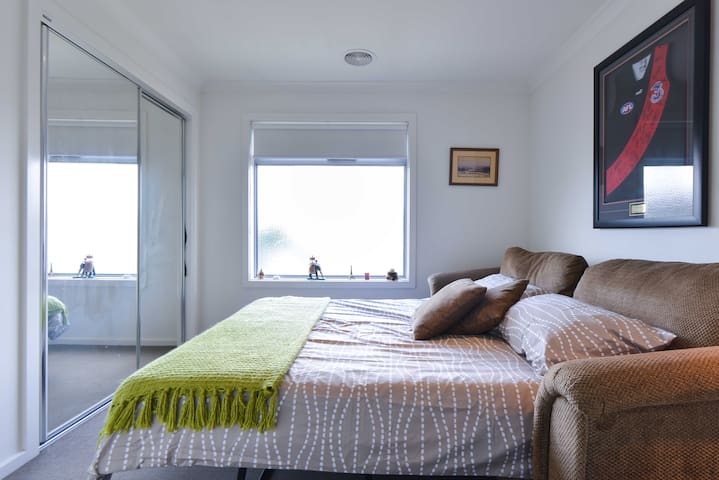 This cottage is immaculate and has been set up perfectly to ensure comfort. Beautiful views at sunrise and sunset! A great place for a retreat. Mary was a very nice host and provided everything I needed for my stay. Very highly recommended!
Daria
2017-01-28T00:00:00Z
Bourke's Reef is a delightful country cottage located near the main house on a semi-rural property in Willowmavin a short drive from the township of Kilmore. The cottage is completely separate, private, spacious, tastefully decorated and well equipped with everything needed for a comfortable and enjoyable stay. Just bring your suitcase! The bathroom is large and modern with a good-sized shower and includes a washing machine and dryer. Quality furnishings, linen, cooking equipment and basic supplies including salt, pepper, olive oil, tea, ground coffee, milk, yogurt, homemade muesli, fresh bread, fresh fruit, Vegemite, peanut butter, marmalade, honey, butter, eggs were all provided. Information on the history of the local area and tips on things to do are provided too. Mary even dropped in some fresh local produce and herbs for us part-way through our stay! Our stay was quiet, relaxing and we loved being surrounded by wildlife including kangaroos, echidnas, rabbits, birds as well as the neighbour's sheep, alpacas and horses. Evenings were typically spent on the veranda, cooking a BBQ, enjoying a glass of wine and watching the sun set - beautiful. Mary (and her husband Jim) are superb and thoughtful hosts, providing everything you need whilst completely respecting your privacy. I highly recommend a stay at Bourke's Reef!
Vanessa
2017-03-24T00:00:00Z
Beautiful cottage- clean, spacious, quiet and great view. The cottage had everything we needed plus more! The cottage was bigger than we expected. We had a very relaxing time and loved our stay.
Naarah
2016-03-16T00:00:00Z
The cottage was gorgeous and a perfect distance from the city for a little break. Loved the fireplace and the morning view over the pasture w/ the animals. Hosts were also lovely and extremely helpful when we got a little lost finding the place in the dark.
Kirsta
2016-10-15T00:00:00Z
Thankyou for a lovely stay. We enjoyed feeling so welcomed but also feeling we had utmost privacy. The accomodation was beautiful, elegant, well stock with everything we could have needed as well as beyond comfortable. I wish we could have stayed longer!
Elise
2017-01-14T00:00:00Z
If you're looking to get away from it all, this is a lovely place to stay. Very clean, with a comfortable bed and gorgeous linen. Everything looks and feels new and fresh. Kangaroos visit the grounds at night, and the view of the stars is amazing.
Jenny
2017-03-16T00:00:00Z
Staying at Willowmavin has been our best experience with Airbnb - absolutely fantastic. The location is magnificent, the cottage is absolutely beautiful - my idea of a heavenly place to stay in! If you want to get the feel of rural Australia yet be close to everything, then this is a must visit place. However, it is the hosts, Jim and Mary, who are the complete standouts. They were helpful, hospitable and extremely generous, not just with their time, but the beautiful provisions they provided continuously. We will most definitely return!
John
2017-01-04T00:00:00Z
A very comfortable, spotlessly clean and well furnished cottage, put together by a very considerate host. Fabulous views of beautiful Aussie countryside with grazing livestock (joined by a mob of roo's just 30 metres from our picture window). A really good bed ensured a great night's sleep. Generous provisions for a full breakfast - and a nice bottle of wine for dinner courtesy of the owners. Lots of nice touches, highly recommended.
Peter
2016-05-02T00:00:00Z
Tipo de Acomodação
Casa/apto inteiro
---
Tipo de Imóvel
Casa
---
Acomoda
3
---
Quartos
Willowmavin, Victoria, Austrália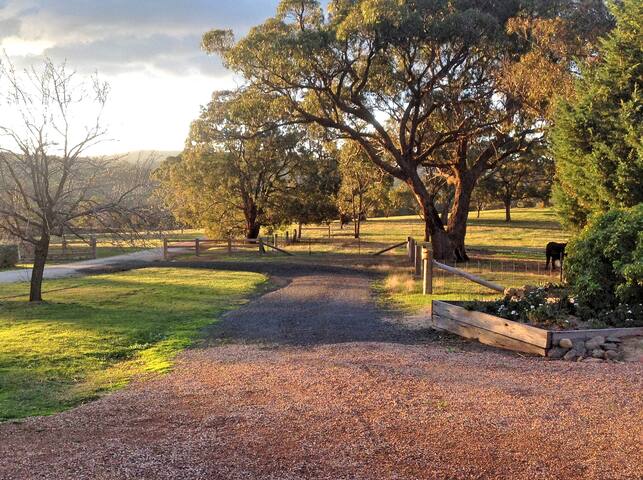 Renovated 2 bedroom self contained cottage in the beautiful Macedon ranges. Only 70 kms from Melbourne CBD and 40 mins from Tullamarine airport. Set on 70 acres, with kangaroos, wombats and abundant birdlife to enjoy. Wineries, bike tracks, walking!
Self contained cottage, comfortable and clean. 2 TVs, fully equipped kitchen with dishwasher. You will have privacy but we are close by if you need anything. Local wines and our own eggs are available if you would like them. Feel free to wander around the property, take a stroll to the creek that runs around the back, or ride your bikes around the countryside.
We have wineries, bike tracks, walks, views, pubs and restaurants, abundant wildlife as well as the famous and eerie Hanging Rock all nearby.
We visited for a girl's weekend and had a ball the cottage was clean the hosts were very friendly and willing to help. The views where amazing and the kangaroos where so close. The house had everything you needed for a lovely weekend with everything just down the road. Will we back soon.
Belinda
2016-07-25T00:00:00Z
Our stay at Hilleen hosted by Catherine was above and beyond it was absolutely fantastic!! it was peaceful and very comfortable. Would recommend to everyone!
Ryan
2016-03-28T00:00:00Z
I could not have imagined a better place for my children and I to stay on our visit to Melbourne. The accomodation was warm and welcoming and our hosts were absolutely delightful, taking the Children out to feed the cows and the chickens, a true memorable experience for all three of them. The cottage itself was well appointed with so much I didn't expect - a fully functioning kitchen with EVERYTHING you need (inlcluding coffee and a coffee machine!!!!!) The decor was modern country farmhouse chic, it was clean and spacious and housed the 5 of us with plenty of room. The beds were warm and comfy and the little garden out the front made for a beautiful touch. The owners made us feel unbelievably welcome by inviting us over for a beer by the fire (which was lovely by their little pond) and catering to whatever we may have needed. It was nice not to be close to the city but still be 30-40 minutes away should we want to go exploring, however, the Macedon Ranges has plenty to offer and the surrounds are to die for. This cottage is literally in the perfect central location for copious amounts of exploring and adventures! Everything was just perfect. Thank you for a lovely and memorable time away. Anyone who books will not be left unhappy!! Hope to book again soon!!
Jade
2016-07-03T00:00:00Z
It was lovely staying at "Hilleen". Cath and Kelly were very helpful, not just to me but the rest of the party who stayed (5 adults and 2 infants). Pictures don't do the place justice. If you are ever around this part of the world, treat yourself by staying here.
Matthew
2016-03-16T00:00:00Z
Hilleen cottage is a self contained unit set in a beautiful landscape with an abundance of wildlife especially kangaroos and rabbits. The place is nicely furnished with all the necessary everyday items. The lovely couple, Catherine and her husband were very welcoming and hospitable. We stayed for week. Would highly recommend anyone looking for a place to stay in Lancefield.
Eelen
2016-10-01T00:00:00Z
Excellent communication and really lovely folks. All who were there really enjoyed their stay and would definitely stay here again.
April
2016-11-26T00:00:00Z
What a wonderful way to begin our holiday in Australia! Catherine and her husband are great hosts and made us feel welcome from the moment we arrived. The cottage is cute with everything we needed for a family of four. The beds were especially comfortable and we needed sleep after traveling for 22+ hours. The surroundings are beautiful and the wildlife was amazing.
Linda
2016-12-18T00:00:00Z
Experience was excellent and what we needed for 4 adults going to music @ hanging rock. Very friendly hosts. Farm cottage in rural location not too far from Lancefield, etc for a pub meal, if u want to eat out, otherwise full kitchen & well supplied house - just bring major food. would stay again. Thanks
Paul
2017-02-12T00:00:00Z
Tipo de Acomodação
Casa/apto inteiro
---
Tipo de Imóvel
Casa
---
Acomoda
6
---
Quartos
Lancefield, Victoria, Austrália
A luxury fully self-contained private one bedroom unit in close proximity to Lancefield & Romsey. Elegant bedroom, beautiful ensuite. Country style kitchen. Wood fire, TV, Foxtel. Wifi. Undercover parking. Continental breakfast provisions.
Luxury Fully self contained one bedroom Unit with an elegant queen size bedroom with modern spacious ensuite. Fully equipped country style kitchen. Wood fire plus electric heating, large flat screen TV with Foxtel. Wifi connection. Completely private accommodation with your own entrance and undercover parking. Continental breakfast provisions provided.
Lancefield and Romsey are beautiful country towns populated with wonderful country people. We are only 35 minutes drive from Tullamarine International Airport and 55 minutes from Melbourne. Enjoy the Lancefield Farmers market on the 3rd Saturday of each month and meet the locals. Beautiful cafes and eateries where you can decide to dine inside or out. We are in close proximity to Hanging Rock where you can discover the beauty of the Rock or perhaps attend one of the many concerts held there. The townships of Woodend and Kyneton are also only a short drive away.
Modern, luxurious and comfortable. The best Air B&B we have ever stayed at. Wonderful, could not of asked for more!
Sam
2017-03-12T00:00:00Z
The host was super friendly and hospitable. Nothing was too much trouble..
Andrew
2016-05-30T00:00:00Z
Anne and Martin were wonderful hosts. The cottage was delightful- very clean, neat and picturesque. Anne was very helpful in giving us directions (as (SENSITIVE CONTENTS HIDDEN) maps lied to us). They left cute chocolates on the bed and provided a complimentary breakfast. The open fire was incredible- warmed up the entire cottage and made it feel very homely. The cottage is very secluded and is a fantastic getaway from the city. Martin was very helpful in giving us tips for things to do in the area and was always available to help. We wish we could have stayed longer and we will definitely be back again! Thank you so much!
Isabel
2016-04-09T00:00:00Z
Five star! Simply magnificent! The fire, the chocolates, the space, the paddocks, the decor, the champagne. It was spotless and charming and Ann and Martin were wonderful hosts. You could not do better then book here for your Airbnb stay.
Louise
2015-04-19T00:00:00Z
Clean comfortable, great countryside, nice people.
Russell
2016-12-31T00:00:00Z
What a gorgeous place! The overall feel of the place was clean and inviting. Martin and Anne made sure the fire was burning before we arrived and had the house stocked with everything we could want. A perfect place to "come home to" after exploring the cuisine and hiking in the surrounding areas.
Brian
2016-08-22T00:00:00Z
We had a wonderful stay at Curragh Farm. Every detail was magnificent - homemade cookies, warm open fire throughout the night, fully stocked fridge and pantry. The place itself was kept immaculately and cosy. The perfect city getaway. We will return again for sure.
David
2015-08-09T00:00:00Z
I recently stayed here for a week and all I can say is that it was perfect. The week was mostly cold and so my fully self contained mini home was amazing. I was met and walked into a room with fire already burning, an amazing bedroom (bed was superb), stunning bathroom and full kitchen. I loved all the touches and to be honest was happy relaxing in the comfy couches. I had some work to do so there was a great desk to use and Internet. I loved this place as was quiet, fully equipped and I really liked my hosts ... lovely people and I felt very comfortable. I already plan to come back to this wonderful location.
Megan
2016-07-11T00:00:00Z
Tipo de Acomodação
Casa/apto inteiro
---
Tipo de Imóvel
Pousada
---
Acomoda
2
---
Quartos
Lancefield, Victoria, Austrália