In Vilabertran you are one of the jewels of the best preserved Romanesque Catalunya: Canon Santa Maria de Vilabertran, it takes place Schubertíada, musical festival of great renown, where every year there are a number of concerts and recitals in a frame unique .Also you can enjoy walks along the Font de l'Abat, La Torre d'en Reig, and different NARSs there exposed for the entire population.
Cozy two-bedroom apartment in Vilabertran. Very quiet and sunny apartment, equipped with everything you need to spend some fantastic days of rest in a privileged area of Alt Emporda.
The area is very quiet, plus easy access to parking at any time.
El piso es perfecto, tiene de todo, es grande, luminoso, cómodo, limpio… hemos estado muy muy bien! Además está muy cerca de todo y muy bien comunicado, no se tarda nada en llegar a Figueres o ir hacia la costa. La acogida ha sido fantástica, nos encantó el detalle de las botellas de vino! En cuanto tengamos otro fin de semana para disfrutar por la zona, volveremos a tu piso Joan. Muchas gracias!
Albert
2017-04-04T00:00:00Z
El piso es muy acogedor, las condiciones son geniales y esta muy cerca del centro de Figueras. Joan ha estado muy atento para cualquier necesidad que ha surgido. Seguro volvemos a contactar con él par futuras visitas!
Javier
2017-04-09T00:00:00Z
Joan nos ha tratado muy bien! ha estado atento en todo momento de lo que nos pudiese faltar, el piso es muy amplio, cómodo y limpio. La zona nos ha encantado ya que es un pueblo muy tranquilo para descansar sin el agobio de la ciudad y a 5 minutos de Figueres. Está justo enmedio de todos los lugares interesantes de la comarca para visitar. Nos ha gustado mucho por la tranquilidad pero a la vez cerca de los sitios de interés que estuvimos visitando como Peralada y Roses. Sin duda repetiremos! Gracias Joan!
Victoria
2017-03-31T00:00:00Z
Tipo de Acomodação
Casa/apto inteiro
---
Tipo de Imóvel
Apartamento
---
Acomoda
3
---
Quartos
Vilabertran, Catalunya, Espanha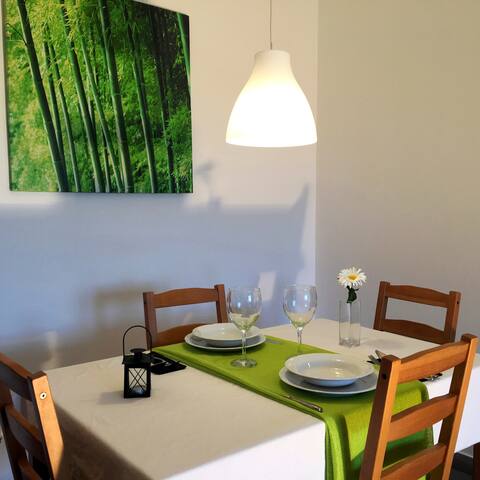 Quarto amplo com vista para o jardim, varanda e banheiro privativo. Aproveite a tranquilidade da cidade de Vilabertran ea excelente localização da casa, a 2 km de Figueres, perto da praia e das montanhas. Estacionamento, cozinha para hóspedes no andar de cima e dois terraços para almoço ao ar livre, tomar uma bebida, ler um livro, tomar sol ou simplesmente apreciar a vista. Se você está procurando uma sala exclusiva na minha casa de 250m2 é ideal.
Valoro molt positivament la nostra estada a casa de la Gloria. En tot moment ha estat molt atenta i pendent que tot estigués al nostre gust. La casa estava molt neta i les fotografies s'ajustaven molt a la realitat. Cada matí ens deixava la taula de la terrassa parada amb algunes pastes i sucs per esmorzar. No puc dir res negatiu sobre la nostra estada. 100% recomanable ☺
mireia
2016-09-10T00:00:00Z
Un vrai plaisir ce séjour chez gloria. accueil tres chaleureux , gloria est très disponible et prête a donner des conseils pour visiter la region. nous recommandons vivement cet logement.
sylvie & denis
2016-11-01T00:00:00Z
Gloria was een zeer vriendelijke host. Zij deed haar uiterste best om het mij naar de zin te maken. Kamer was prima. Ontbijt voor Spaanse begrippen okay. Omgeving is rustig. Dorp is enigszins authentiek en leuk om te bezichtigen
Tonny
2016-09-19T00:00:00Z
It was a great experience staying here. The room is really nice and tidy. Bathroom is clean. Breakfast is super. Gloria is an exceptional host. She goes above and beyond to make sure the guests are welcomed and feel like home. Really recommend this place!
Nadya S.
2016-08-31T00:00:00Z
Excelente lugar muy limpio, amplio, muy acogedor. Muy buena experiencia
Javier
2016-09-16T00:00:00Z
Ottima sistemazione per chi come noi ha bisogno di un posto facilmente raggiungibile e di strada, durante lunghi spostamenti in macchina.
Chiara
2016-09-28T00:00:00Z
Great 1-night stay. The room is private, very spacious, clean, has a balcony, and the best part, it has an en-suite toilet and shower. The free parking spot in front of the building was a pleasant surprise. Gloria's son received us late at night and is very gracious and pleasant. Also nice was the free breakfast on the top floor kitchen with some nice views. I recommend this place if you're in the area or passing through. Other notes: Wifi is slow but usable. The room is one level up, you will take the stairs. There are two cats in the house.
Enrico
2016-10-25T00:00:00Z
Experiencia ESPECTACULAT. Si todos los anfitriones son como Gloria y todos los airbnb son como su casa creo que los hoteles van a cerrar muy pronto!!! Gloria es muy muy amable y su trato con las personas muy agradable y dulce, tambien habla muchos idiomas ( la he escuchada hablar en italiano, francese, catalano, castellano), una persona estupenda. La casa es muy grande y limpia, a lado hay un grande espacio para aparcar, la habitacion grande limpia y con bano privado es simplemente perfecta. Pero sobre todo durante el desayuno me parecia de estar cuidado de mi madre, gloria es muy atenta ( tenia leche sin lactosa, que muchos bares no tienen) y habia preparado muchissimas cosas deliciosas. Al final nos ha dado unas informaciones muy importantes para llegar a nuestro destino final, con mapa dibujada da ella. Simplemente super, para un precio muy bajo.
Antonio
2016-08-25T00:00:00Z
Tipo de Acomodação
Quarto inteiro
---
Tipo de Imóvel
Apartamento
---
Acomoda
2
---
Quartos
Vilabertran, Catalunya, Espanha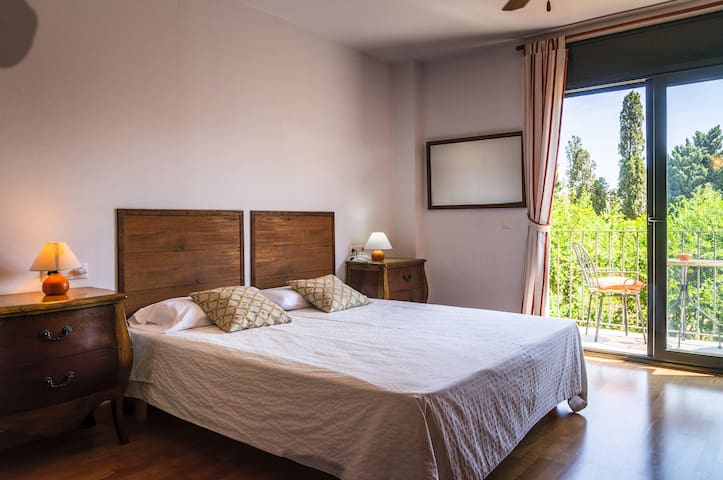 apartamento Central, em zona calma e nenhum ruído durante a noite. Muito completo e confortável (com quarto de casal) e um sofá tipo de click-clack na sala de (URL HIDDEN) espaço de estacionamento incluídos. A três minutos a pé do centro da cidade, o Museu Dali e as lojas e restaurantes. A 10 km da Costa Brava.
Todo o apartamento de 50 m2, muito brilhante e ensolarado, com terraço. A sua localização apenas três minutos do centro da cidade torna-o ideal para visitar as principais atracções da mesma: Dali Museum, Empordà, Museu do Brinquedo, edifícios modernistas, mercado de alimentos semanalmente, La Rambla. Ele também pode servir como base para excursões curtas para toda a região de Empordà, Costa Brava Norte, parques naturais do Cabo Creus, Aiguamolls, l'Albera, Salines e visitar os mosteiros de Sant Sant Pere de Roda e Quirze de Colera ea igreja de Vilabertran, famosa pela sua igreja escolar, e as cidades medievais de Castelló d'Empúries, Besalú e Perelada. Mínimo de duas noites.
O apartamento está localizado em um muito próximo ao shopping ea uma curta distância de restaurantes, bares e supermercados zona muito calma da cidade.
We had a lovely stay in Gemma and Toni's apartment in Figueres. We agreed that we would collect the keys from Gemma and Toni at their apartment on the coast, so that we could get to Figueres earlier than otherwise (we had booked last minute) which meant we had a beautiful scenic route down from France! Gemma and Toni were very helpful, giving us excellent directions to the apartment, and setting us up with a coffee before we carried on our way. The apartment is perfect for a couple, well stocked with everything you could need, including some nice little extras such as some little candles. It was clean and comfortable, although as a previous reviewer said, the internet connection is via a mobile device, so really quite slow. There was a secure parking space in the car park underneath the apartment block, which is an essential for us with our vehicle, and useful in the town centre. The apartment is very well located, close to the centre of town and the Dali Museum, along with other attractions. There is also a supermarket very close by. Unfortunately for us, we did not realise that the museums are all closed on Monday, our only full day there, so we were unable to go to the Dali Museum as we had planned! Entirely our mistake, and one to be aware of - apparently this is the norm for Spain. We consoled ourselves with a fabulous lunch at a top rated restaurant we found on tripadvisor, and will be sure to check in future. We will have to return another time! We would recommend this apartment for anyone coming to Figueres, and hope to be back.
Sarah
2015-03-10T00:00:00Z
La experiencia ha sido perfecta. El piso esta situado en una zona al lado del museo Dalí pero muy muy tranquila. Además tiene todo tipo de comodidades y de muy fácil acceso. En cuanto a los anfitriones nada que objetar más que cosas buenas. Siempre flexibles y muy amables para cualquier cosa que necesitásemos. En resumen es un sitio el cual deseo repetir si es posible!
Ruben
2014-07-28T00:00:00Z
De Verdad el anfitrion escribo a mi Disposicion en todo Momento y la localizacion me Gusto mucho a Pasar Que esta en Zona muy centrica era muy tranquilo y si Lo Que esperaba Tal cuaö Como en las Fotos
franni jose
2014-10-02T00:00:00Z
A very well maintained appartment located centrally and most importantly - around the corner from the Dali Museum. Gemma & Tony were very helpful and made sure that there was everything that we would need in the house. Thank you so much.
ron
2015-06-27T00:00:00Z
L'appartement se trouve dans un immeuble moderne , tout près du musée Dali et du centre historique . Il est très bien décoré et très agréable . Gemma est une personne très sympathique qui nous a accueillis chaleureusement . Si vous venez en voiture , le parking dans le sous-sol est vraiment un plus . Je conseille vivement ce logement . Il est parfait .
Dominique
2016-10-11T00:00:00Z
La préparation du voyage a été excellente avec plusieurs messages qui ont permis de se retrouver comme chez soi. L'accueil a été chaleureux et l'installation rapide. L'appartement est idéalement placé et le garage libère du souci de la voiture. L'appartement est calme et proche des quartiers animés. Il est très pratique. Seul bémol, la connexion internet est trop lente.
Daniel
2015-11-01T00:00:00Z
Gemma and Tony's place was excellent. Everything was arranged and displayed beautifully and artistically. We had everything we needed and the location was excellent, close to the Dali Museum and the bus and train stations. The bed was very comfortable and Tony greeted us and showed us how to get to the places we needed to go as well as walking us to his favorite places to eat nearby. It was very well equipped and very clean. Thank you for letting us stay in your wonderful place.
Dan
2015-05-23T00:00:00Z
Gemma was wonderful in communications and greeting us, we felt very welcomed and taken care of. The apartment was perfect, great location, well setup and stocked, quiet neighborhood.
Rebecca
2015-05-08T00:00:00Z
Tipo de Acomodação
Casa/apto inteiro
---
Tipo de Imóvel
Apartamento
---
Acomoda
2
---
Quartos
Figueres, Catalunya, Espanha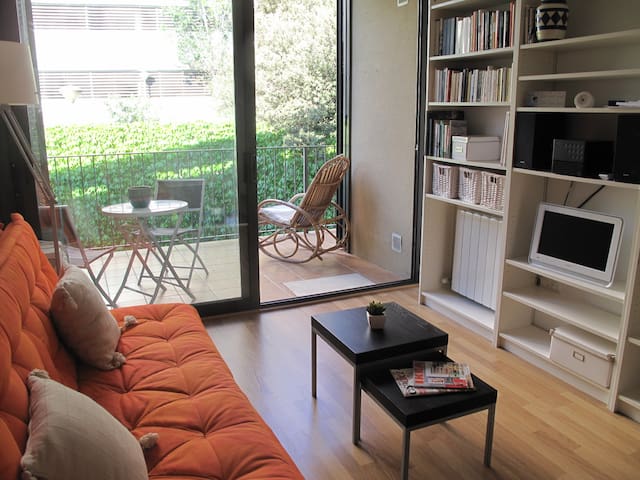 Une chambre simple et propre dans une petite maison qui se trouve à 10 minutes à pied de las ramblas. Merce est très sympa et Tana la chienne aussi j'y reviendrai avec plaisir.
joan
2017-03-19T00:00:00Z
Tipo de Acomodação
Quarto inteiro
---
Tipo de Imóvel
Casa
---
Acomoda
1
---
Quartos
Figueres, CT, Espanha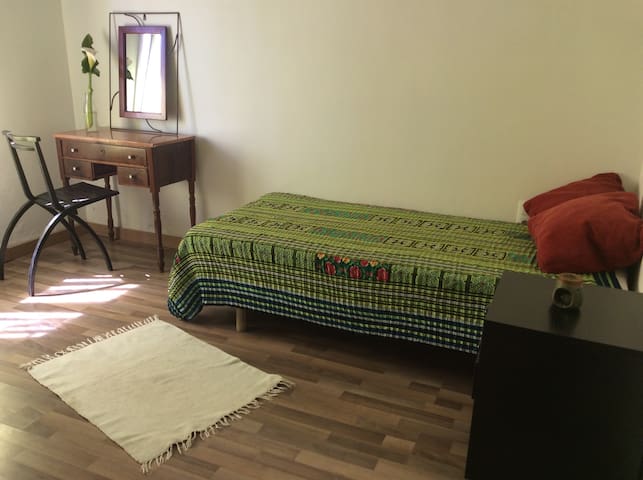 Et soveværelse med dobbeltseng og cabboard. Masser af lys. Fuld badeværelse. Køkken, spisestue og stue i et behageligt rum. Masser af lys. Fremragende internetadgang. Alle neccesary amenties til madlavning (med mikrobølgeovn men ingen ovn). Alt i perfekte forhold. Vaskemaskine. Rolig bygning. Alle lejligheder er beboet af deres ejere. Lejlighed lovligt registreret med regeringen som "turist lejlighed". Gæsterne skal betale kontant 0,45 euro per nat som "turist skat".
Møbleret med god smag. Særlig omhu med rengøring og holde faciliteter i gode forhold.
Stille, middelklasse kvarter med ingen "trouble-markører" af nogen art. Det store flertal af mennesker i området er spaniere og ejere af deres huse / lejligheder.
Estupendo. El apartamento es acogedor, muy bien equipado con todo en perfecto estado. A destacar la limpieza, comodidad y la preciosa ayuda de Maria Elena en todo lo necesario. Para repetir!
david
2017-01-13T00:00:00Z
POSITIVA AL MAXIMO
maribel
2017-03-24T00:00:00Z
Très bon accueil de la part d'Elena Maria ! Appartement conforme à la description et aux photos. Je le recommande pour votre passage à Figueras.
François
2017-02-17T00:00:00Z
Elena María es de una gran gentileza, hasta vino a buscarme a la estación del tren. Persona interesante con quien nos encontramos algunas afinidades. Todas sus indicaciones, sus consejos muy bien. El departamento muy bien ubicado, limpio, con elementos de calidad. Lo recomiendo absolutamente
Gerardo
2017-03-02T00:00:00Z
Accueil chaleureux, Elena est à disposition si besoin. Annonce correspondant parfaitement. Ville touristique pas loin de la côte Costa Brava.
Sandra
2016-08-22T00:00:00Z
Un accueil très chaleureux, un appartement très agréable, propre et proche de la gare routière pour atteindre la Costa Brava. Une dame charmante et très conciliante, une super expérience que je recommande !
Julia
2016-08-16T00:00:00Z
Elena has been an exceptional host and our communication was excellent. The apartment is very clean and she made sure to make us aware of every little detail in the house. I would definitely recommend the apartment to whoever wants to explore Figueres and Costa Brava. I will definitely try to book the apartment again for my next holidays to Figueres!!!
Dimitris
2016-09-11T00:00:00Z
Everything was great and Elena's very nice and helpful!
David
2016-11-25T00:00:00Z
Tipo de Acomodação
Casa/apto inteiro
---
Tipo de Imóvel
Apartamento
---
Acomoda
2
---
Quartos
Figueres, Catalunya, Espanha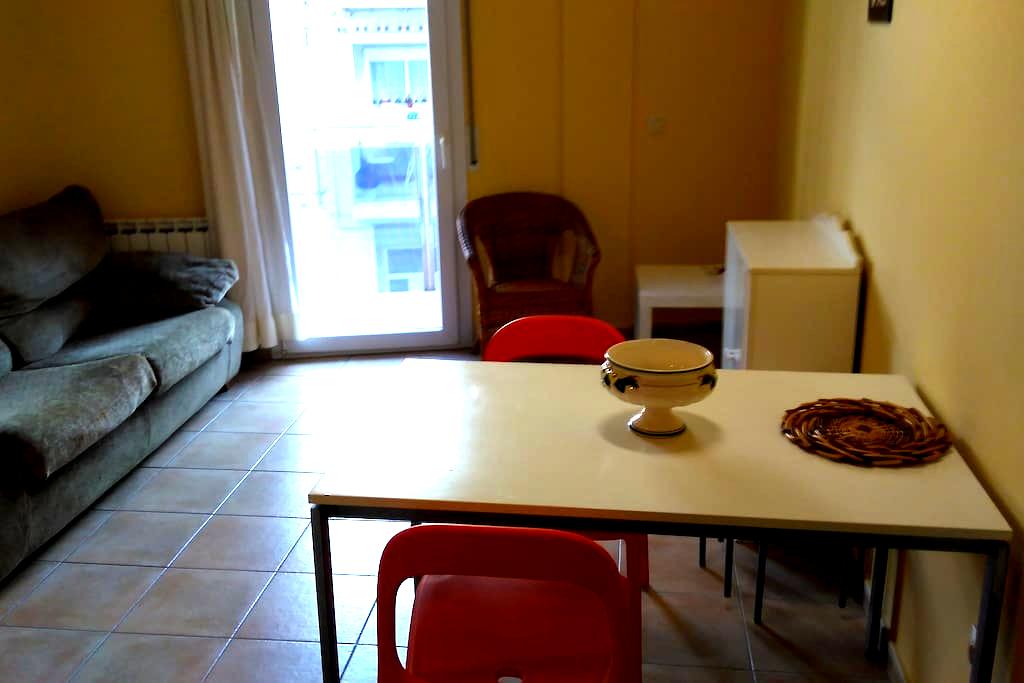 Eu sou uma menina sociável, silencioso e limpo. O apartamento é confortável e renovado. É uma caminhada de cinco minutos do centro da cidade e do Museu Dali e da estação de tre. Tem uma área de estacionamento a 2 minutos a pé. Eu tenho dois gatinhos amorosos. O apartamento tem Wi-Fi.
Apartamento precioso y genial ubicado. Marta es encantadora y te hace sentir como en casa. Sin ninguna duda repetiría la estancia. Recomendable 100%
Rosa
2017-03-09T00:00:00Z
Very beautiful flat! I recommend it to everyone!!!
Аминат
2017-03-17T00:00:00Z
Thank you Marta for your great reception, the room is really nice and spacious, your cat absolutely adorable, let's hope we can be back one day! Oh, and great recommendation for the restaurant, too, thanks for everything!!
Guido
2017-04-02T00:00:00Z
He tenido la suerte de poder alojarme en esta bonita casa y compartir una experiencia muy positiva. La casa esta genial ubicada, tranquila, cuenta con todas las comodidades y el vecindario es muy amable. Recomendable 100 %
Paula
2017-03-24T00:00:00Z
El departamento es hermoso y Marta fue muy amable con nosotros. Está impecable y muy lindo decorado, dan ganas de quedarse varios días! La cama es muy cómoda y en la cocina se puede cocinar lo que deseen. Gracias por alojarnos Marta! Fue un gusto haber pasado por este departamento.
Carolina
2017-03-30T00:00:00Z
Perfect host and very comfy appartement! Thank you Maria
Rafi
2017-03-05T00:00:00Z
Marta's apartment is a dream. Gorgeous and clean. The room is very spacious and you will be visited by Hobs—the white kitten. He is so playful and affectionate; he's a cat who doesn't know he's not a dog. Marta is extremely kind. We felt at home in her apartment. Cristina and I want to thank you for everything.
Diana
2017-04-01T00:00:00Z
Excelente la estadía. Tal cual las fotos.
Pedro
2017-04-11T00:00:00Z
Tipo de Acomodação
Quarto inteiro
---
Tipo de Imóvel
Apartamento
---
Acomoda
2
---
Quartos
Figueres, Catalunya, Espanha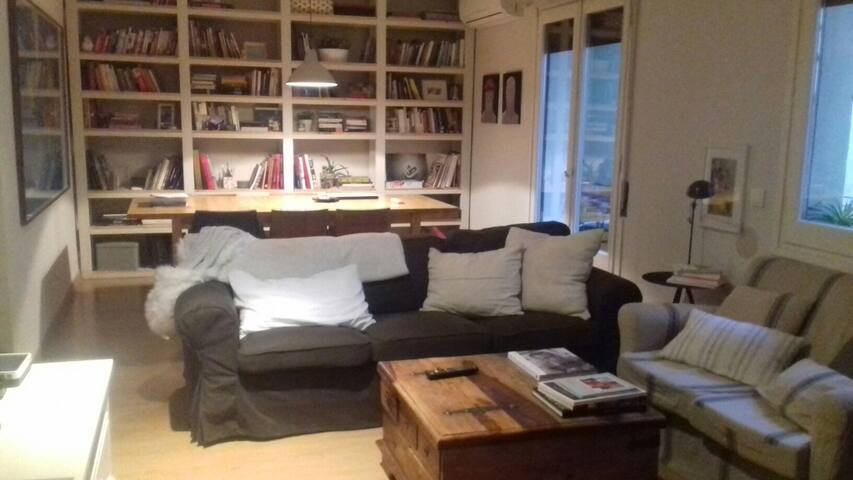 Attractions: Dali Museum 5 minutes walk. Very close to the Costa Brava, the Cap de Creus and the Fageda d'en Jorda. A 22km of Roses, 33km of Cadaques, L'Escala at 29km and 40 from Girona. You'll love my space Small and cozy, ideal for a trip to the Costa Brava. My accommodation is good for couples and adventurers.
The host canceled this reservation 169 days before arrival. This is an automated posting.
Genevieve
2017-02-24T00:00:00Z
The host canceled this reservation 23 days before arrival. This is an automated posting.
Sophie
2017-03-09T00:00:00Z
Tipo de Acomodação
Casa/apto inteiro
---
Tipo de Imóvel
Apartamento
---
Acomoda
2
---
Quartos
Figueres, Catalunya, Espanha
estúdio romântico e acolhedor do artista capaz de viver. Localizado numa zona tranquila, perfeita para a área de descanso. Diáfano, cama de casal, cozinha funcional, casa de banho com chuveiro grande. 5 minutos de carro da estação de AVE e 15 min a pé do centro e Museu Dali.
estúdio do artista, boêmio, inspirador, confortável e acolhedor. Tem muita luz natural e boas vistas. Grande cama de casal. berço de viagem para os bebês. Cadeira e mesa para quatro pessoas ou mais.
tranqüila, bairro residencial. Serviços nas proximidades: padaria, café, limpeza a seco, parque infantil, supermercado ....
Un séjour parfait ! Un appartement idéalement situé pour les visites en centre ville et pas trop loin de la plage. Nous y retournerons à coup sur.
Pierric
2015-09-11T00:00:00Z
Ein sehr hübsches und künstlerisch eingerichtetes Studio in dem alles vorhanden ist, was man braucht. Die Lage ist perfekt. Es stehen ausreichend Parkplätze vor dem Haus zur Verfügung. Gegenüber ist ein Supermarkt und eine Tankstelle. Die Nachbarn, die wir getroffen haben, waren auch nett, sodass man sich schnell eingelebt hat.
Stefan
2016-09-04T00:00:00Z
bien ubicado, piso muy agradable qie tiene "una alma"
Camille
2015-05-09T00:00:00Z
We had a great stay at Montse's apartment. It is very well equipped, near a supermarket and a short walk into the centre of town
Jeff
2016-06-11T00:00:00Z
We had a lovely stay. The place had a great view, was very safe, secure and clean. We would definitely recommend staying here.
Michelle
2014-05-12T00:00:00Z
Très bel appartement,parfaitement situé, tout s'est bien passé ! Merci beaucoup
Antoine
2015-06-09T00:00:00Z
A great studio, we felt really at home. It had everything we needed and was very clean and comfortable. Very easy to park and drive into and out of Figueres. Communication with Montse was very efficient. We wouldn't hesitate to stay there again. Very highly recommended.
Elaine & John
2014-06-05T00:00:00Z
We spent 4 evenings at Montse's, visiting the surrounding Costa Brava. It was a great location for this as we had a car and the street parking was very easy and free! There is also a supermarket just across the road and a bakery just downstairs which was very handy. The apartment was quaint and it was nice to have a small kitchen to do our breakfasts and light evening meals in. We were a bit disappointed by the lack of wifi and washing machine but this did not ruin our stayby any means. Montse was a helpful host, and whilst we didn't get to meet her, we met her lovely mother on arrival.
Tamsin
2014-07-25T00:00:00Z
Tipo de Acomodação
Casa/apto inteiro
---
Tipo de Imóvel
Loft
---
Acomoda
2
---
Quartos
Figueres, Catalunha, Espanha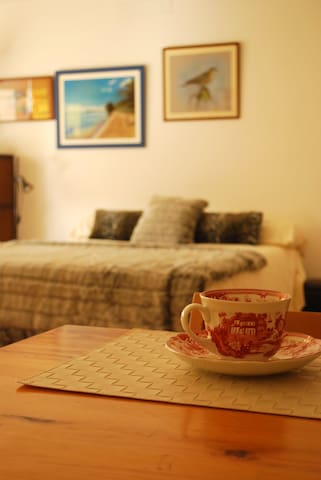 Gezellig en modern appartement gelegen in de binnenstad, op 2 minuten lopen van het Dalí-museum en een ruime keuze aan restaurants, winkels en cafés. Geplaatst tegenover de modernistische Casino Menestral gebouw, in de straat oversteken van een oude stad
Gezellig appartement in een hoek met een balkon, mooi uitzicht over het centrum van de stad sfeer en parkeerplaatsen beschikbaar op aanvraag ongeveer 50 meter afstand. 50m2 appartement, 2 slaapkamers, woonkamer, keuken met alles wat je nodig hebt en een badkamer. 1 dubbel bed 150x190 cm 1 dubbel bed 135x190 cm Een aanrader voor een uitje vakantie in Figueres of reizigers die geïnteresseerd zijn in uitgaven een paar dagen een bezoek aan de CostaBrava-Empordà gebied rond Figueres (Cadaqués, Aiguamolls en Cap de Creus Natural Reserves, Romeinse erfgoed zoals Sant Pere de Roda, Vilabertran en Sant Quirze de Colera, de oude Griekse stad van Empúries of wijngaarden van de Albere en natuurreservaat gebied).
de wijk ligt in het echte centrum van de stad, is vol van activiteit tijdens de dag, maar rustig 's nachts. Restaurants, bars en allerlei winkels zijn beschikbaar rondom en ook een van de beste verse markten van Catalonië elke dinsdag, donderdag en zaterdag. Een zeer goede plek om de lokale sfeer te voelen!
Bel appartement en centre ville et accueil très sympathique de Jaume. Cependant nous avons très vite regretté de ne pas pouvoir profiter de la place de parking proposée dans l'annonce, car indisponible. Le stationnement dans la rue est limité et payant, à condition de trouver une place. Un parking gratuit existe bien à 300m de l'appartement, mais hélas il est très difficile d'y trouver une place.
Michel
2016-05-01T00:00:00Z
Das Appartement liegt mitten in der Altstadt, ist ruhig, angenehm und sehr sauber. Die Einrichtung ist sympathisch und es hat alles, was es braucht (auch eine Klimaanlage!). Wir haben uns in Figueras sehr wohl gefühlt. Schade war, dass wir Jaume nicht persönlich kennen gelernt haben, da er abwesend war. Seine Vertreterin wickelte die Wohnungsübergabe schnell und unkompliziert ab.
Jürg
2016-07-08T00:00:00Z
Great place to stay in Figueres! Brand new and 5 min to the Dali museum and a host of restaurants. Juame is very accommodating. He has setup a personal (SENSITIVE CONTENTS HIDDEN) map with all his favorite places even. There was coffee, sugar, salt, pepper and some spices. He even had a little bottle of olive oil. Way more than most places. Since it is downtown it can be a little noisy with the doors open but it is fine with them closed. Beds were nice and bathroom was very clean. And there is a pastry shop downstairs to get your morning fix! Would definitely rent there again.
Jim
2014-10-14T00:00:00Z
My experience staying here was perfect. Jaume was a great host. My train didn't get into Figueres until very late but he was nice enough to receive me at what ever time I needed. The next morning we had a coffee together and he told me about all the things to do in the town and in the surrounding area. The flat is in a great location and was spotless. I can't wait to stay here again next time I am in the area.
Tony
2014-06-24T00:00:00Z
Jaume est un hôte très accueillant, attentionné, parlant français,qui nous a indiqué les bons restaurants , les petits plus dans les visites. les photos sont fidèles et l'appartement est très clair, agréable,bien équipé, idéal pour visiter la ville, la région et les sites liés à l'oeuvre de Salvator Dali.
jean marc
2015-02-19T00:00:00Z
Jaume was wonderful hosts!! He is friendly, helpful, intelligent and matey. Jaume recommended a lot of interesting places in the area of Figueres : Castellated de Sant Ferran, Casa Museu Castellated Gala Dali. The apartment is clean, large, airy and modern with large windows looking over the center of town. The Teatre-Museu Dali was a 5 min walk away. This is a great place to visit Figueres and we will be happy to stay here many times. Highly recommend Jaume apartment!!! Мы останавливались в апартаментах Jaume на две ночи. Это замечательный вариант для знакомства с Родиной Сальвадора Дали! Квартира чистая, большая,полностью оборудована, светлая, со свежим ремонтом и с прекрасным месторасположением! Jaume очень внимательный, культурный, общительный, интеллигентный молодой мужчина. Он познакомил нас с городом, с его окрестностями по карте, порекомендовал места, которые следует посетить в первую очередь, подсказал как и где припарковать машину, он великий знаток своего города и заметно, что знает и любит его. Я всем рекомендую приезжать в этот замечательный городок на пару-тройку дней останавливаться в его апартаментах. Поверьте, здесь не будет скучно и есть, чем занять это время! Thanks a lot for all your attention, caring, Jaume!!!
Надежда
2016-01-03T00:00:00Z
We felt very welcome in Figueres. The location was greaf and the apartment was outstanding.
Elizabeth
2015-05-23T00:00:00Z
Whilst Jaume was not able to meet us when we arrived, his friend Lis made us welcome. The flat is ideally located in Figueres, close to shops, restaurants and the Dali museum. Figueres itself is a great spot from which to explore the region.
Andrew
2015-09-19T00:00:00Z
Tipo de Acomodação
Casa/apto inteiro
---
Tipo de Imóvel
Apartamento
---
Acomoda
4
---
Quartos
Figueres, Catalunya, Espanha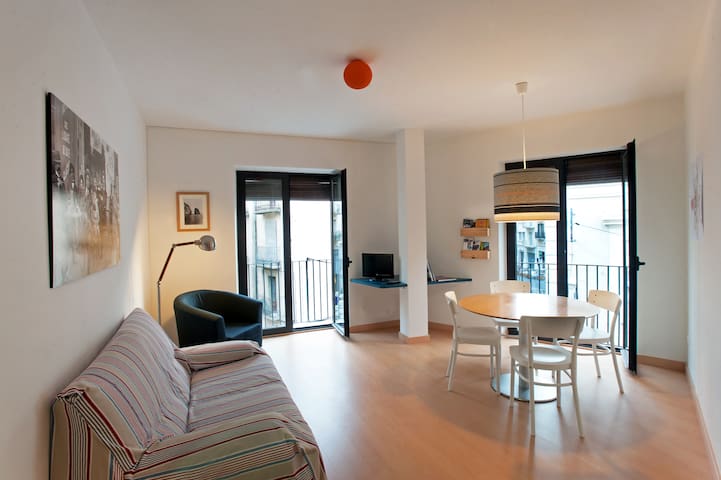 Family Independent apartment in Figueres a 10 minute walk from the Museu Dali. It has a large living room of 35 sq m with flat screen 32-inch, air conditioning, a table, a chair and sofas. We have 2 bedrooms: the first with double bed (latex mattress and cotton sheets) a spacious bathroom with shower and toilet. The second bedroom of 10 square meters with two beds (latex mattresses and cotton sheets) for 2 people next to a toilet with toilet and sink. There is no kitchen but we have a small fridge for you can save what you buy some at the supermarket. It is in a very quiet front of a square, so the apartment is quiet and bright neighborhood. The neighborhood has a wide variety of restaurants and bars with wifi, very welcoming and good price. Possibility to wash and dry their clothes at a cost of 5 € (3 € washing, drying 2 €). You have to pick up the keys in the 1B floor, which is where we live or if I had any problems or doubts about that visit in Figueres and surroundings.
Maravilhosa hospedagem!!! Fei e sua mãe, Isabel, nos acolheram como se fossemos da familia!!! Ótimos aposentos, espaçosos, limpissimos, e com excelente localização!!! Ótimas dicas de passeios! Muito, muito obrigado!!!!
Amana
2015-04-26T00:00:00Z
Teniem problemes amb l'hora de sortida standard i Fei va accedir amablement a deixar-nos més marge. Estem molt agraïts per això. Mercès per tot
Elisabet
2016-12-04T00:00:00Z
Ottima accoglienza, la casa è vicino ad un parco pubblico a circa un chilometro dal centro. Facile da raggiungere dall'autostrada ideale per una tappa verso la Spagna
massimo
2014-08-10T00:00:00Z
Nous avons passe un bon séjour a Figueres. Appartement bien placé. Facilite de stationnement
sandra
2015-05-26T00:00:00Z
La casa es básica para dormir únicamente, de forma cómoda y fácil. Los baños no los tiene acondicionados completamente y lo que sería la cocina lo utiliza como habitación con 2 camas. El barrio está bien, pero pilla un poco retirado del centro. Fei es encantador y te ayuda con todo lo que le preguntes.
Carlos
2015-08-25T00:00:00Z
Nous sommes venu en famille, 2 enfants et deux adultes.Fei,nous a très bien reçu. L'appartement est bien situé, Figuéres est une petite ville, le musée Dali est à 10 minutes. Si vous venez en voiture, vous pouvez trouver de la place pas loin. L'appartement est nickel pour une nuit, histoire d'aller voir le musée. Peut-être plus compliqué si vous restez plusieurs jours car il n'y a pas de cuisine. Mais Fei nous a proposé d'utiliser la sienne à l'étage du dessous. Bref, on a aimé.
Olivier
2016-07-30T00:00:00Z
Notre séjour chez Fei et sa mère Isabel dépassa toutes nos espérances: Outre l'appartement très spacieux et calme situé idéalement près des commerces, d'un supermarché, de bars et restaus, et à 10mn à pieds du centre (voir les 78 autres commentaires à ce sujet !), nous avons surtout partagé des moments inoubliables avec eux deux, à discuter longuement à la terrasse du café ou au coin du balcon, parfois jusque 1h du matin, et toujours sans voir le temps passer. Fei et Isabel ont été ravis d'aider ma fille à perfectionner son Espagnol, et nous ont conseillés et aidés tout le long de notre séjour, sans pour autant être intrusifs, et sans contrepartie aucune. Ils sont si aimables, généreux, et chaleureux, que nous avons eu un petit pincement au coeur quand on les as quittés. Nul doute que le titre de l'annonce: "appartement familial" est représentatif ! Accueil familial garanti si vous êtes ouverts, et que vous souhaitez passer un séjour de partage avec une famille catalane, tout en gardant votre indépendance. On gardera le contact avec Fei et Isabel, c'est sûr ! --------------- Commentaire de ma fille Naomi: Recuerdos inolvidables, tengo muchas ganas de volver :* gracias por todo
Jean-Christophe
2015-05-08T00:00:00Z
Big and bright apartment in the center of Figueres. Everything was clean and perfect! Fei is a really nice guy and helped us with everything we needed. I can absoletly recommend a stay in his Apartment! Great!
Michael
2015-08-17T00:00:00Z
Tipo de Acomodação
Quarto inteiro
---
Tipo de Imóvel
Apartamento
---
Acomoda
4
---
Quartos
Figueres, Catalunha, Espanha
Идеально подходит для семей, Апарт-отель K предлагает полностью оборудованные современные апартаменты в 50 метрах от театра Дали-музей, где вы можете насладиться городом и отдохнуть спокойно. 4 человека Лофт имеет все удобства, вам нужно! Он имеет просторную спальню с кухней и гостиной, кондиционер, отопление, телевизор с плоским экраном 32 «», сейфом и бесплатным Wi-Fi. В ванной комнате есть ванна, фен и мыла. Мы ждем!
Tipo de Acomodação
Casa/apto inteiro
---
Tipo de Imóvel
Loft
---
Acomoda
4
---
Quartos
Figueres, Catalunya, Espanha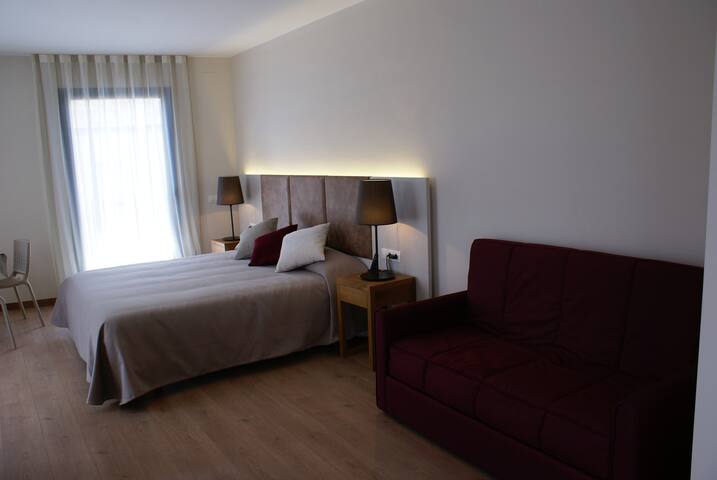 Chambre double, spacieux et calme, situé à deux pas du musée Rambla et Dali. A 20 mn des plages de Roses, Empuriabrava, Santa Margarita. Cadaqués. Ligne directe aux plages des bus de la région.
Le logement est idéal pour les voyageurs qui veulent profiter d'un voyage touristique et Alt Emporda Figueras. Également conçu pour les personnes qui voyagent pour le travail. Il est situé dans le centre de la zone commerciale, où les meilleurs magasins, restaurants, bars, jour et nuit environnement.
Idéalement situé à quelques pas du musée Rambla et Dali. À moins de 100 mètres de la gare routière et ferroviaire. Jeudi marché hebdomadaire.
Tipo de Acomodação
Quarto inteiro
---
Tipo de Imóvel
Pousada
---
Acomoda
3
---
Quartos
Figueres, Catalunya, Espanha
Meine Wohnung ist in einem zentralen Bereich von Figueres. Der Bahnhof ist drei Minuten zu Fuß, Rambla sieben und der Dali Museums 10 Minuten zu Fuß. Es ist von zentraler Bedeutung, aber nicht in der lauten Umgebung. Es ist eine flache, zur Ruhe zu kommen und besuchen Sie die Umgebung schön sind. Es gibt einen Parkplatz neben dem Bahnhof fünf Minuten zu Fuß.
My floor is divided into two parts. On the inside there are two rooms. There is also room, kitchen and one bathroom. There is an outdoor area on a terrace of 120 m2, where we have built two wooden houses where they can sleep 4 people in single beds. There is also a sofa bed. This part of the house is rustic. Ideal for children and people with adventurous spirit. It has a wood stove that gives a special charm.
The area is very quiet. If visitors make more noise than usual from 23h, sure there will be problems. A small drawback is that the bells of a nearby bell tower. I prefer to let you know, it can be annoying, especially in summer with the windows open. In winter barely heard. I'm used to, and I even like to hear them.
Todo perfecto. Carme es una persona sensacional, haciéndote sentir como en tu propia casa y dándote total autonomía. Repetiría sin duda.
Rubén
2017-01-13T00:00:00Z
En primer lugar la descripción de la casa y su ubicación es muy adecuada a la del anuncio, una casa muy bonita decorada, equipada con todo lo necesario y acogedora, con un patio que parece mentira que pueda estar en el centro de la ciudad. La anfitriona Carmen bastante agradable, majísima y que se preocupó mucho por la comodidad en nuestra estancia . Estuvimos muy a gusto y pocas anfitriones existen como ella. Recomiendo este alojamiento, tanto para parejas, como para un grupo de amigos.
Jesús
2016-11-12T00:00:00Z
La primera vez que hemos estado en Figueres y gracias a Carme y su encantadora casa, ha sido unos días geniales. Tanto el trato como la estancia han sido inmejorables, procurándonos todo lo necesario y haciéndonos partícipe del mismo hogar. Carme es una anfitriona atenta que mima y cuida cada detalle. Además, puedes vivir una experiencia más rural si lo deseas en sus cabañas en el jardín más zen de Figueres.
Ana y Matt
2016-10-30T00:00:00Z
A pesar de estar en noviembre preferimos la opción de la casa rústica de madera que tiene en su inmensa terraza. Estuvimos en la gloria, la calefacción siempre la teníamos prendida cuando volvíamos por la noche. Carme siempre atenta a todo. Una anfitriona estupenda y servicial. El piso está muy céntrico, al lado de la estación de tren y de todo tipo de servicios. La opción de estar en la habitación rústica, en verano, tiene que ser una delicia ya que hay de todo, al aire libre, para estar muy cómodo. Recomendable, sin duda.
Manuel José
2016-11-20T00:00:00Z
Ce fut un super séjour, Carmen est très accueillante et très sympathique. On a appris plein de choses sur la Catalogne. L' endroit est très bien situé tout proche du centre ville et l' appartement est très bien. On reviendra c' est sûr : ) It was great. Carmen is very hospitable and very friendly. We learnt many things on Catalonia. It is well situated, very close to the centre and the flat is very comfortable. We will definitively come back : ) Fue estupendo ! Carmen es muy acogedora y simpatica. El piso era confortable y la casa estaba muy bien situada, al lado del centro. Hemos aprendido muchas cosas sobre Cataluna Una cosa es cierta, vamos a volver : )
Sylvie
2017-02-19T00:00:00Z
Carne ha estado atenta en todo momento para que nuestra estancia fuera lo más agradable posible.
Francisco José
2016-11-05T00:00:00Z
Tipo de Acomodação
Quarto inteiro
---
Tipo de Imóvel
Apartamento
---
Acomoda
6
---
Quartos
Figueres, Catalunya, Espanha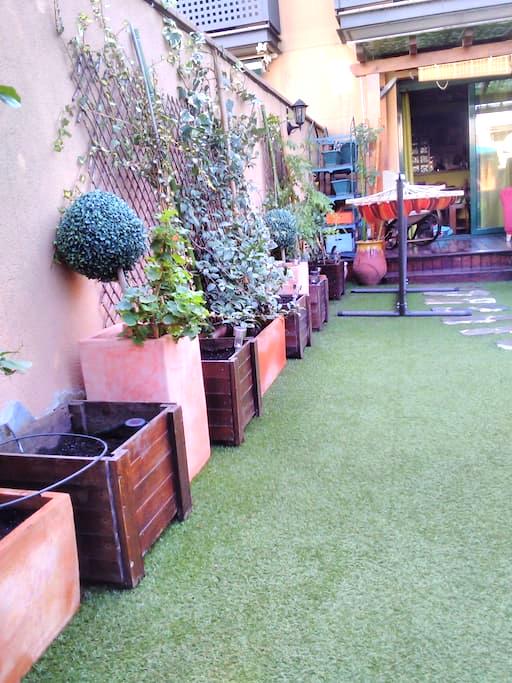 Stylish apartment in the heart of the city of Figueres. Located in a classic building rehabilitdo, the building stands out for its strong personality and contrasts, as it combines a stylish, modern decor with preserved ancient rooms that give a unique and sophisticated air elements.
Ideal for families with children, couples or groups of friends.
Located in the heart of the city of Figueres, a minute walk from the Dalí Museum, shopping area and the Plaza del Ayuntamiento, its location is excellent.
Tipo de Acomodação
Casa/apto inteiro
---
Tipo de Imóvel
Apartamento
---
Acomoda
6
---
Quartos
Figueres, Catalunya, Espanha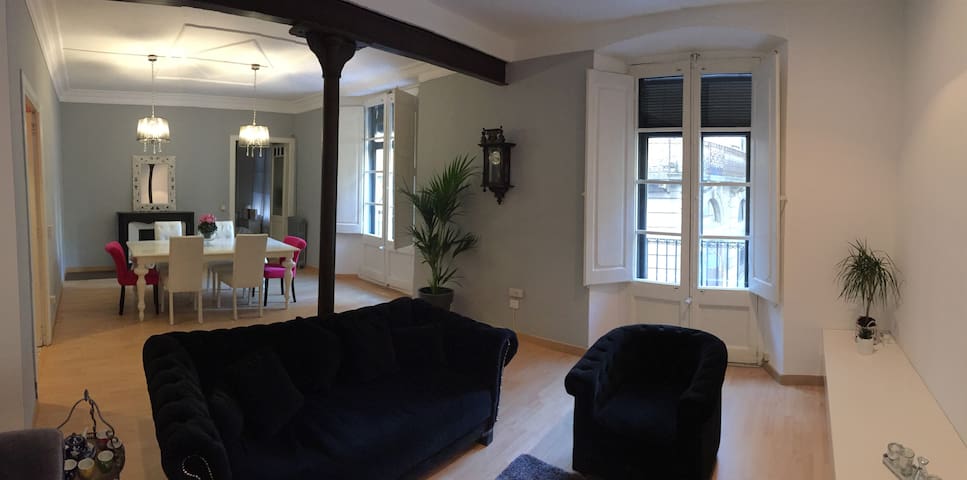 House located in the center of Figueras. In the historic and commercial center. It is a house with a courtyard, 2 bedrooms. One with double bed and the other with two single beds. It has dressing. Kitchen, living room and bathroom. Located 2 minutes from the train station and 5 from the Dali museum and shopping area of Figueres. The tourist office is 2 minutes walk. Every Tuesday, Thursday and Saturday Figueres celebrates the weekly market. Very close to home.
The host will send via e-mail relevant and specific to reach the house indications.
quiet neighborhood with basic services: public and private parking for 2 minutes, supermarkets, tourist office market. The shopping area is a 10-minute walk. The host has a personalized guide to the main services of the district (restaurants, bars, supermarkets ...)
La maison est bien équipée . Le quartier est calme et à proximité de la gare à 5 mns du marché et 10 mns du musée. Anna est très tres sympathique. Je recommande ce logement adaptée pour 4 (URL HIDDEN) y a en plus une cour ou on peut manger et jouer...un studio est possible en plus, attenant à l'appartement. .
françoise
2017-02-10T00:00:00Z
Tipo de Acomodação
Casa/apto inteiro
---
Tipo de Imóvel
Casa
---
Acomoda
4
---
Quartos
Figueres, Catalunya, Espanha
We offer our duplex / duplex apartment in the immediate vicinity of the center of the emerging town of Figueres for nice guests.
A spacious, bright living room with dining area, a fully equipped kitchen, a guest bathroom and a single bedroom can be found on the first floor of the apartment on the 2nd floor. are located on the upper floor, the bathroom, the master bedroom, another children's bedroom and as a highlight the spacious roof terrace with stunning views over the city and the mountains of the Costa Brava. A spacious, bright living room with dining area, a fully equipped kitchen, as well as a single bedroom and a guest WC, form the first floor on the 2nd floor of a renovated manor house. On the upper floor is the main bathroom, a double bedroom and another children's room. The large roof terrace with views over the roofs and across the Catalan countryside are the highlight of this apartment.
In the immediate vicinity there is everything your heart desires. The Rambla is not far away and is ideal for walking. the neighborhood urban furnishings This converted by Dalí Museum to City Theater Teatro Museo Salvador Dalí with the Torre Gorgot at the old city walls is one of the most visited museums in Spain. Other museums in Figueres are the Toy Museum, Art Museum Museu de l'Emporda and the Museum of Naive Art. The Estadi Municipal de Figueres holds about 9,500 visitors. means of transport Figueres is located on the highway Autopista AP-7 and is 50 km from Girona Costa Brava airport. East of the old town of the town's station is located with regional and national connections, RENFE, Spain's national railway. In December 2010, the Figueres-Vilafant station was opened, which is on the high speed line between Barcelona and Perpignan and has a direct TGV link to Paris. AVE to Madrid and Barcelona are since 2012 are available. Figueres also has a local bus company, TMF, which has three lines and currently a Elektrotestbus. Other important information Guides are ready to advice we can give!
Tipo de Acomodação
Casa/apto inteiro
---
Tipo de Imóvel
Condomínio
---
Acomoda
4
---
Quartos
Figueres, Catalunya, Espanha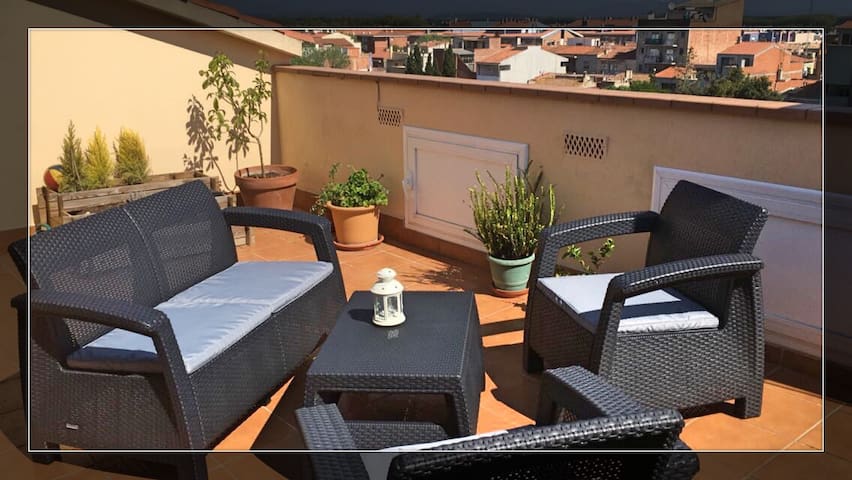 Dúplex independiente dentro de una casa de pueblo a 4 kms de Figueres y 9 de la playa. Buena comunicación de autobuses y fácil aparcamiento. En el pueblo hay 3 bares-restaurantes, tienda y farmacia. Dispone de TV, WIFI, toallas, utensilios de cocina...
Está justo en el centro del pueblo en la plaza de la iglesia, a 100 metros del campo abierto, por donde se pueden dar largos paseos sobretodo al atardecer. A 4 km. está Figueres (museo Dali) y a 9 Kms tienes la segunda marina más grande de Europa (Empurabrava) con mas de 30kms de canales artificiales y navegables, con una la playa de 3 kms, así como la playa de La Rubina, donde se admiten mascotas. Por supuesto tendras toda la información de los alrededores, ya que llevo todala vida viviendo en esta zona y en el mismo lugar.
Esta en la plaza de la iglesia, pero queda en un callejón apartado donde no hay ruidos. Se puede aparcar cómodamente en la misma plaza.
The apartment was terrific, and Jose-Maria very gracious and welcoming. We had a wonderful visit to the seashore and were extremely comfortable during our stay. Recommended!
Mark
2015-10-07T00:00:00Z
El apartamento es tal cual se ve en las fotos! Esta muy bien equipado, tiene todo lo necesario! Estuvimos muy agusto! Jose Maria es muy atento y pone todo de su parte para hacer la estancia agradable. Respecto al pueblo, supongo que mucho mas como ir con coche, nosotros dependíamos del transporte publico y al ser fin de semana y festivos la frecuencia de autobuses es mas baja... de todos modos si tienes esto en cuenta, sin problema.
Lola
2015-10-13T00:00:00Z
Excelente ubicación,un pueblo tranquilo y el apartamento tiene todo lo necesario para disfrutar unos días en la Costa Brava. El anfitrión muy amable, preocupándose en todo momento de que nos sintiéramos como en casa
Mónica
2016-07-07T00:00:00Z
José María's place is perfect. Set in an old church courtyard. Has everything a couple needs. Comfy bed and bathroom on the second floor and living room and kitchen on the first. It is compact but it has a good layout. Great parking as well.
Ken
2017-04-05T00:00:00Z
José Maria ha sido muy atento y amable con nosotros. La casa es tal y como se ve en las fotos. Es un lugar apropiado para descansar y visitar lugares. Se encuentra a 10 minutos en coche de la playa.
Marivi
2016-07-01T00:00:00Z
Un alojamiento muy correcto, ubicado muy cerca de Figueres. Tiene dos plantas, por lo que mejor no llevar maletas muy grandes, puesto que se comunican con una escalera de caracol. Está justo al lado de la iglesia y a las 8 de la mañana empiezan a sonar las campanas, a tener en cuenta en función del uso que se le quiera dar al alojamiento. Está limpio y perfectamente equipado. José es un anfitrión súper amable y dispuesto a echarte una mano en lo que necesites!
Miriam
2016-09-08T00:00:00Z
Hemos pasado 3 noches en el apartamento de José Maria. El lugar es tal y como se muestra en las fotografías, pequeño, pero limpio y cómodo, ideal para una pareja. José Maria se mostró en todo momento solícito y amable, atendiendo nuestra peticiones y resolviendo nuestras dudas. El pueblo es pequeño y tranquilo, pero ideal para desplazarse por la zona. Lo recomendamos al 100x100.
Manoli
2015-09-28T00:00:00Z
Tres chaleureux et gentil
Evan
2017-02-23T00:00:00Z
Tipo de Acomodação
Casa/apto inteiro
---
Tipo de Imóvel
Edícula
---
Acomoda
3
---
Quartos
Vila-sacra, Catalunya, Espanha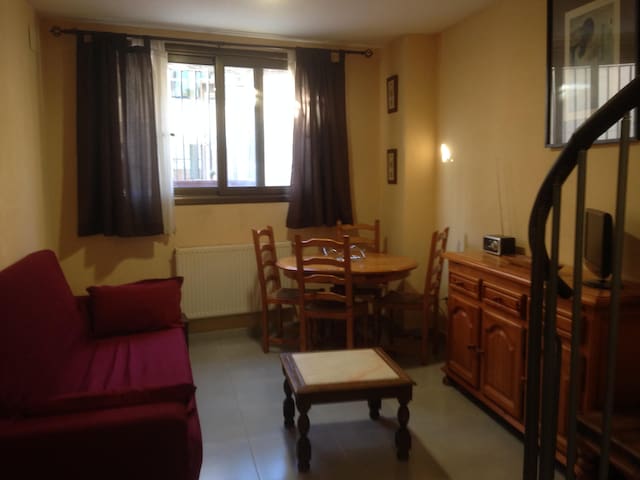 La casa està al costat de la Rambla que es pot veure des del balcó. És ideal per als viatgers de parelles, de negocis i d'aventura. 5 minuts a peu del Museu Dalí i el Museu de Joguets. La zona és plena de restaurants i botigues. El meu Casa this Al costat de la bella Rambla de Figueres, A 5 minuts caminant del Museu Dalí, El Museu del Joguet i el Museu de Pintura. És ideals per a parelles, i Per Aquells Que Viatgen en solitari a l'aventura o per Negocis.
Has 1 room with a confortable làtex - double bed, a living room with open kitchen, a sofa and a large table to eat and work. 1 bathrooms with shower, and washing machine. There is also a balcony with table and chair overlooking the Rambla. In the house you will find coffee, tea and hand made galetes. La casa tenie 1 habitació amb un llit doble de làtex molt còmoda. Al costat del llit es pot afegir un llitet de beu si cal. El saló és ampli, amb cuina oberta menjador i un sofá.1 bany amb dutxa. L'habitació i el saló donen a un balcó amb tauleta i cadires.
En general la ciutat és famosa pels seus excel·lents restaurants. Alguns han guanyat premis de gastronomia per la seva qualitat. L'últim, el restaurant Cap i Pota amb el premi Michelin. A l'Hotel Duran es conserva una sala on sopava Dalí i la intectualidad de la seva època, ahi podeu menjar bé. També hi ha cuina itallana, xinesa i japonesa com el Sushi Bar al Parc Bosc, un lloc tranquil entre els arbres. Les sidreries Tzots i Lizarrán amb els seus irresistibles punxes, que van sortint de la cuina amb safates plenes de sabors. La millor opció per anar a fer un cafè és la Rambla, tot i que també hi ha altres llocs com la plaça del Teatre Jardí. No us perdeu tampoc la confiteria de la ciutat. A les pastisseries més antigues es fan encara les famoses flaones i panellets. Depenent de les vostres ganes i resistència podeu passar molt temps en els museus de Figueres. El museu Salvador Dalí, al Museu de Juget i també el Museu Empordà, amb una col·lecció permanent sobre artistes que van estar per la comarca. La zona comercial està al centre de vianants i en ella es troben les botigues més conegudes d'Europa i altres palpentes autòctones amb bon gust en la decoració. Parades amb iogurt fresc o gelat que ofereixen amb fruites, llaminadures i fruits secs, a nens i grans.
Accueil chaleureux dans un appartement agréable, propre et très bien situé (proche de commerces et de restaurants et à moins de 5min à pied du musée Dali). A recommander !
Marion
2017-02-14T00:00:00Z
Beautiful, cosy, clean apartment in the centre of town. Surrounded by nice shops, cafes, restaurants and tabernas. We've been traveling for 10 months, it was great to cook for ourselves in the well equipped kitchen, and to have access to a washing machine too. The bed mattress was latex and one of the most comfortable we've slept on for a long time. It was lovely to come home each day, once the sun had gone down,to a centrally heated apartment too. It's a 5 minute walk to the Dali Museum and Sant Pere Church. 15 minutes to the castle which has a great walk or run around its perimeter. 10 minutes to the train or bus station, where you can get transport to the whole area. In fact Figueres and this lovely apARTment are the peffect place for the perfect holiday
Frances
2016-12-07T00:00:00Z
I had a lovely weekend staying at Revveka's apartment. She and her husband were very welcoming, friendly and easy to organize check in and check out times. The apartment is very clean, comfortable and tidy with everything you need. And a very comfortable bed. It is also right in the centre in a quiet street and easy to get around and visit Figueres. I would definitely recommend this place to stay....top marks!!!! Thank you Revveka. Lots of love....
Rebecca
2016-10-30T00:00:00Z
Great Apartment very good ambient, close to the supermarket and places for eat and buy something else. I think we´ll come back someday again. Thank you Revveka¡¡
Cristian
2016-12-30T00:00:00Z
Appartement mignon et très propre, situation idéale pour se déplacer à pieds. Revveka est sumpathique, souriante et son appartement est très bien équipé ! Bien que central double vitrage qui nous a permis de bien dormir. Je recommande !
laure
2017-04-10T00:00:00Z
Un accueil très chaleureux et un appartement où l'on se sent bien, à 15 minutes à pied de la gare TGV et à deux pas du centre historique et de la Rambla. Une adresse à garder pour un prochain séjour.
Cecile
2017-03-06T00:00:00Z
Gracias Revveka y Esther, la casa muy bien situada y limpia, tal y como se aprecia en las fotos. En cuanto tengamos unos días libres repetiremos, nos ha encantado!
Enric
2017-01-01T00:00:00Z
La casa era muy acogedora y cómoda, además de súper céntrica. No tuvimos ningún problema. Estamos encantados :).
Marta
2017-01-04T00:00:00Z
Tipo de Acomodação
Casa/apto inteiro
---
Tipo de Imóvel
Apartamento
---
Acomoda
2
---
Quartos
Figueres, Catalunya, Espanha