In the heart of Somerset's rolling countryside, this impressive country cottage combines secluded luxury with classic rural chic. Tucked away in a hamlet, close to Bruton and historic Bath, The Cottage is far from unassuming.
Tipo de Acomodação
Casa/apto inteiro
---
Tipo de Imóvel
Casa
---
Acomoda
4
---
Quartos
Upton noble, Somerset, Reino Unido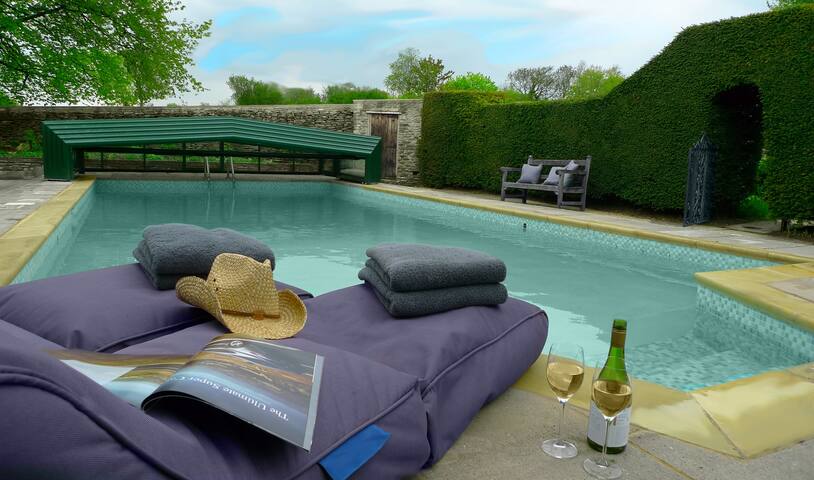 MINT LEAF COTTAGE is centrally located in Bruton within walking distance from Hauser & Wirth, Gants Mill, Longhouse, Mill on the Brue, At The Chapel and the FMLY Store. Enjoy your Welcome Hamper and read the Guide Book listing local attractions. Free parking, free WiFi, breakfast supplies (tea / coffee / sugar / milk / muesli), books, magazines, toiletries, fresh towels & linen and stylish interiors from Nordic Style. Relaxing roll-top bathtub pairs nicely with a glass of wine! Children welcome.
MINT LEAF COTTAGE is a quaint and charming 19th Century 'Workers Cottage' set in the heart of bustling Bruton. All the main attractions in town are accessible by foot - Longhouse, Mill on the Brue, Alchemy Antiques, the FMLY store and Truffles French Bistro are across the road. At The Chapel (boutique cafe/restaurant set in a former chapel) is 5 mins walk up the High Street and Hauser & Wirth Art Gallery and Roth Bar & Grill is a splendid 15 mins yomp through pretty country fields – watch out for some spectacular sunsets over the Dovecote (also a 15 mins walk and well worth the hike!). MINT LEAF COTTAGE offers you a relaxing escape from the rat-race to take a long soak in the tub, put your feet up, grab a book, relax in bed and let all your troubles drift away! We have a great cleaning team on board and you will find the cottage clean, light and bright with 2 double bedrooms (one king bed / two single beds which can be converted into one king size bed) and a marble bathroom with freestanding roll-top bath and telephone taps (no shower). The lounge comprises a window seat, Freeview TV and dining area under the stairs which seats four. The kitchen - with window overlooking the lawn - comprises kettle / toaster / oven / hob / washing machine / fridge / freezer / utensils / crockery / cutlery / tea / coffee / sugar / muesli / cookies for your stay. The bathroom comprises claw-foot freestanding roll-top bath (with telephone taps but no shower), freshly-laundered towels, hand towel, bath mat, shampoo, conditioner, bubble bath and hand-wash.
BRUTON é uma cidade medieval de chocolate-box e simpática vila (cerca de 3000 habitantes), que foi polvilhado com Stardust e celebridades residentes nos últimos tempos (Nicholas Cage / Johnny Depp / Stella McCartney / Andrea Corr / Pearl Lowe / Mariella Frostrup / Kevin McCloud - para nomear alguns!). Há pubs tradicionais e bons restaurantes, incluindo trufas (em frente), At The Chapel (5 minutos a pé até a High Street), Roth Bar & Restaurante (ligada à Hauser & Wirth - 15 minutos a pé através de campos país) e Cozinha de Matt ( em sua casa). Há também um Takeaway chinês do outro lado da estrada e Budgens ao lado se você gosta de uma pizza e uma garrafa de vinho no sofá! A atração principal para a aldeia é Hauser & Wirth Galeria apresentando a arte contemporânea em um ambiente peculiar. A entrada é gratuita. A paisagem é linda. Se você gosta de caminhar, não perca uma caminhada até o pombal para vistas magníficas sobre Bruton. Outros passeios incluem Creech Hill (o ponto mais alto no Sudeste Somerset), Dunkery Hill (o ponto mais alto em Somerset), Torre do rei Alfred, Stourhead Ornamentais, Cadbury Castle e Glastonbury Tor. DIAS DE VIAGEM * Shepton Mallet (ver senhoras fábrica tomada lojas de Mulberry) * Frome (10 milhas - lar de Babington House, que oferece tratamentos de spa metade do preço no Cowshed toda segunda-feira) * Bath (20 milhas) * Glastonbury (17 milhas) * Sherborne * Wells (10 milhas) * Wookey Hole (ótimo se você estiver viajando com os pequeninos) * Stonehenge (30 milhas) Glastonbury Festival (8 milhas) ocorre todo mês de junho e Bruton faz um pit-stop para comutar para o evento. -se Bruton hospeda 2 menores festivais de música a cada ano - Farm Fest e baile. ANDAR: Creech HILL Meio dia de caminhada campo a partir de Bruton (cerca de 13,2 km / 8.2 milhas de comprimento), com belas vistas para a Torre do imponente rei Alfred no Stourhead Estate - uma imagem icônica dos níveis de Somerset. Esta caminhada circular leva na mira de Bruton e as cabeças para as terras exuberantes rodeiam, levando-o até o alto local local de Creech Hill, que é notável por um univallate Idade do Ferro Hill Fort. Ele apresenta no livro 'da Inglaterra 100 Melhores Vistas "e apresenta fortes da Idade do Ferro, um templo romano e florestas antigas. Voltando, você é tratado com mais delícias locais e uma visão encantadora de Glastonbury Tor. ANDAR: REI ALFRED'S TOWER, BREWHAM Torre do rei Alfred é um marcando o local onde o rei Alfred reuniu as forças de Somerset, Dorset e Wiltshire, antes de sua derrota decisiva na batalha de Edington, em 878AD 160 pés torre loucura de altura. Foi erguido em meados do século 18 pelo banqueiro Henry Hoare II, então proprietário do imóvel Stourhead, e domina a paisagem em Chase Área de impressionante beleza natural do Cranbourne. Em seu livro 'da Inglaterra 100 melhores vistas', o National Trust descreve o Vista a partir de Creech Colina em direção Stourhead como a melhor vista do Somerset Levels ", Creech Colina está sete milhas ao norte e mais próxima dos níveis. Parece até Stourhead por trás dele, e olha transversalmente a Cadbury para a esquerda. "ele tem vista directa sobre a cidade de pedra calcária de ouro de Bruton, no fundo do vale Brue e com apenas a sua igreja e dovecot visível à distância."
Trina and Phil were wonderful hosts they gave us a lovely warm welcome and greeted us at their cottage. We were given full access of the cottage and our first impressions were wow. The cottage had a real beautiful luxurious feel and we felt honoured to be the cottages first guests. Everything was clean, fresh and new and the bathroom had a gorgeous roll top bath with marble tiling, a real stunner. We were given a wonderful greeting hamper with lots of goodies and treats and they had left us a chilled bottle of wine with chilled glasses in the fridge. We were given lots of information on the area, places to visit and eat including the restaurant owner's names and discount cards. We were given the opportunity to ask any questions and given contact details. The welcome pack was so informative and covered everything you would wish to know from domestics to about the location and its surroundings, it was so well thought out and professional. The hosts gave us an overview of themselves and the cottages history and were really interested in getting to know us too, a real personal touch. Trina and Phil made us feel so welcome and comfortable around them and we were so excited to spend a wonderful week in their lovely cottage. They made us feel that we could be home away from home in their cottage, which made us want to look after it like it was our own, as you could see the love and care they had poured into it. This was our first time staying in a cottage and we feel thoroughly spoilt as the cosy cottage is so stunning and in such a beautiful location and setting. We visit the area three to four times a year and have always had a great break, but this stay was much more special and allowed us to be a real family again. We desperately needed time to rest as well as regroup as a family and this stay allowed us to do this. The bedrooms were wonderful and the beds were so comfortable that we had a lie in every day, something we very rarely do, so cannot thank them enough. Our children had their own space too, which gave us more quality time together as a couple. None of us wanted to leave the stunning cosy cottage and we wish we could have stayed for longer. We would stay in the cottage again within a heartbeat as it really is a truly stunning and quaint cottage. The area is breath taking and the cottage is central or close to so many landmarks and places of interest, we found our way around really easily. We cannot thank Trina and Phil enough for sharing their gorgeous cosy cottages with us. We would strongly recommend staying here to any potential future guests as you will definitely have a wonderful stay, we did. Thank you - Richard and Family x
Richard
2016-08-26T00:00:00Z
We had a really lovely stay at Cosy Cottage. Bruton is absolutely gorgeous, and well worth a visit, and Cosy Cottage is extremely well located - just off the High Street - and within easy walking distance of some great places to eat, and visit. Trina was extremely helpful and friendly in all her communication with us. The cottage has been newly refurbished and was very comfortable, and with everything we needed for a fantastic stay! Thank you x
Sarah
2016-09-02T00:00:00Z
Lovely cottage in a beautiful part of the world. All communication was speedy and spot on....we may well be back!
Jo
2016-11-07T00:00:00Z
Great cottage for a break in Bruton. Walkable to all local attractions/restaurants. Lovely living space and thoughtfully set up as a rental. Nice touches like some toiletries and a hot water bottle available, lots of magazines and books, great local information. Very good value for money and a quick booking with great comms from the owner. Would recommend a travel blackout blind for families with young children, just due to location/street lighting.
Fiona
2017-02-05T00:00:00Z
The cottage is really very comfortable, clean and in a great location. We actually visited twice, once for 3 weeks in October, and again for a couple of nights in March. The first visit was one of the first at the cottage, and there were a few minor problems that were all sorted out quickly. By the second visit all went very smoothly. The location is very convenient and nothing is lacking. We have wonderful memories and hope to visit again soon.
Philippa
2017-03-24T00:00:00Z
Perfect place to stay in Bruton. We loved the fact that it is right in the Centre yet quiet and peaceful.
Kinley Wangmo
2017-01-15T00:00:00Z
Just lovely! A last minute trip out of town and the whole experience was a delight. Charming, super comfortable and effortless communication with Trina. Highly recommend. Bruton itself is a foodie heaven, glorious countryside and Hauser & Wirth 5 minutes away made for a perfect 2-day escape.
Josephine
2017-03-30T00:00:00Z
Nice cottage ,good location.
Chris
2016-12-11T00:00:00Z
Tipo de Acomodação
Casa/apto inteiro
---
Tipo de Imóvel
Casa
---
Acomoda
4
---
Quartos
Bruton, Inglaterra, Reino Unido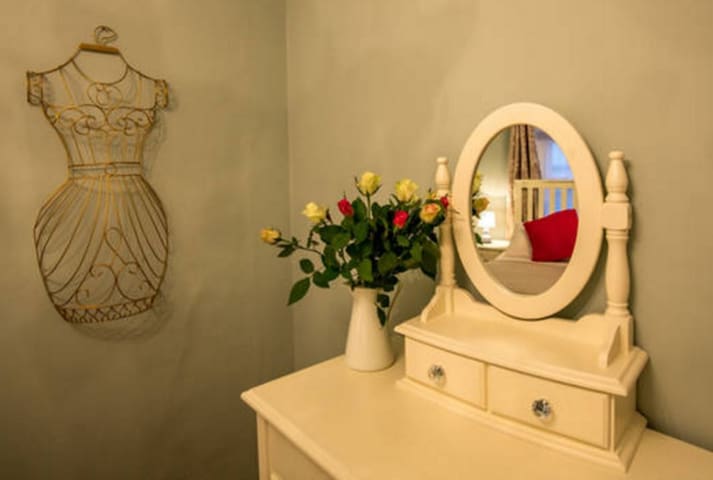 The cottage (a former apple store) is in the heart of Bruton. It overlooks our secret garden and beyond that the church and dovecote. The open plan interior has a bedroom upstairs and a living room, kitchenette and bathroom/wet-room downstairs.
É a segunda vez que me hospedo no cottage da Mrs. Jocelyn. O lugar é limpo, arejado, cosy, e super bem localizado.
Ana
2015-09-08T00:00:00Z
The train set got rave reviews, according to our six-year-old, "the best train set ever!" And happy grown-ups too - Jocelyn was a great host who did everything possible to help, provided homemade cupcakes and jams and the accommodation was fully equipped with everything that we needed.
Torie
2015-10-30T00:00:00Z
Jocelyn was extremely helpful and the place was wonderful and bright just as the ad describes. We highly recommend!
Meaghan
2015-06-08T00:00:00Z
Lovely place...I would definitively recommend it
Leonardo
2015-09-01T00:00:00Z
Jocelyne was the perfect host and Brutun is a gorgeous place with exceptionally friendly people
Sarah
2016-11-17T00:00:00Z
This was a lovely place to stay. Jocelyn was there to greet us, and gave us a very warm welcome. She was a very generous host! We had a couple of hiccups but Jocelyn responded very promptly to fix things. Bruton is a very interesting historical town- and it was great to have views towards the church from the windows! Thank you!
Clare
2015-05-12T00:00:00Z
Jocelyn is a fun and outgoing host! The house was lovely and really quaint!
tai
2014-07-17T00:00:00Z
I had a lovely 2 nights at Jocelyn's. Delightful little place , comfortable and interesting . Everything I needed and Jocelyn made me very welcome.
Sue
2016-06-10T00:00:00Z
Tipo de Acomodação
Casa/apto inteiro
---
Tipo de Imóvel
Casa
---
Acomoda
3
---
Quartos
Bruton, Reino Unido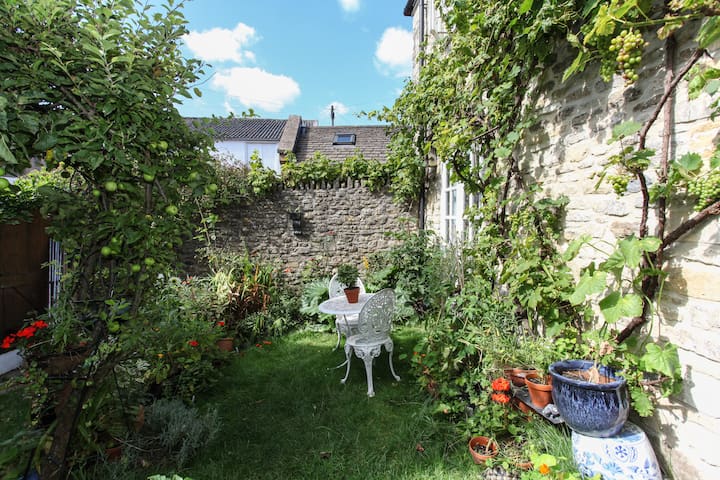 Our hideaway Barn is close to Bath & West Showground, Hauser & Wirth Gallery and Restaurant, At The Chapel, Stourhead House & Gardens, Wincanton Racecourse, Glastonbury Festival and Kilver Court. A 5* rural hideaway in the heart of the Somerset countryside (but only 5 minutes from Bruton). Ideal place for a couple, a family with children or a group of friends. Use of private lake and boat. Stunning countryside for walks and picnics. Private garden with BBQ and seating. Min 2 night stay.
Surrounded by a great choice of restaurants, pubs and wonderful walks.
Delightful conversion of farm building into an airy spacious two private bedroom "barn". Lovely countryside. Fiona was away but Bruce and their daughter Laura were marvelous hosts - even driving to lead us the way to a recommended and very good pub lunch and offering to drive us to where we'd booked dinner (we declined because it was quite a long way!). The barn is beautifully appointed and Bruce was very generous in provisioning the kitchen. Very highly recommended
Ian
2017-03-14T00:00:00Z
Tipo de Acomodação
Casa/apto inteiro
---
Tipo de Imóvel
Casa
---
Acomoda
5
---
Quartos
Shepton Mallet, Inglaterra, Reino Unido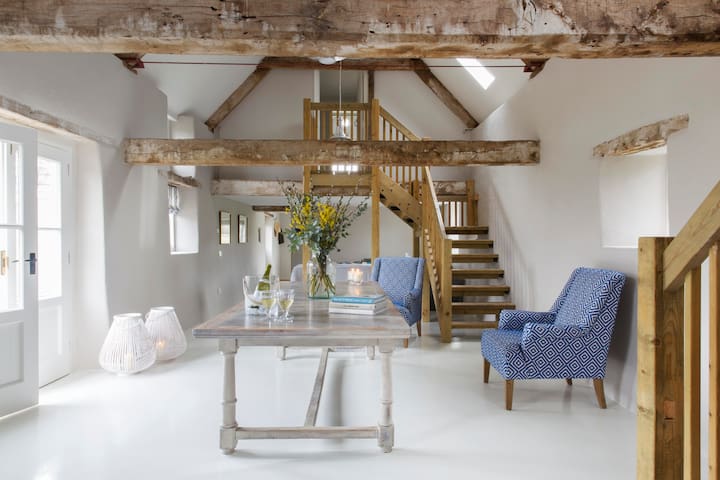 The Cider House is situated in the garden of Orchard House in the village of Westcombe. This unique and snug cottage has only recently been converted and is perfect for couples or small family. Ideal for Glastonbury, Bath, Bruton & Penny Sq Barn.
Completely self contained bijou cottage with large bath for total relaxation and separate wet room & loo.
Westcombe is a small hamlet famous for its cheese, its micro brewery and its unique mix of people. Located 5 minutes from Bruton famed for 'At the Chapel' restaurant and Hauser & Wirth Art Gallery, and a host of unique shops. Glastonbury festival site is 15 minutes away (main gate) and the shuttle bus service at Royal Bath and West show ground 10 minutes away. Bath is 30 minutes by car, Bristol 45 minutes. Castle Cary train station 15 minutes away.
An idyllic location (rolling hills, high hedged lanes) and a wonderfully appointed conversion of a small cottage. The photos don't do the cottage justice. It's a wonderful, snug hideaway. We escaped work for a long weekend and left everything behind us. The hosts are warm, welcoming and accommodating. An array of breakfast and foodie bits were there on our arrival. Fundamentally, faultless.
David
2015-07-20T00:00:00Z
This was a beautiful place...really close to Longleat. It was romantic and we were left delicious fresh eggs for our breakfast.
Georgia
2015-09-10T00:00:00Z
Jeremy & Lucinda were the perfect hosts, to match their perfect cottage. The photos are wonderful but it's honestly even better in real life! From the fresh eggs waiting for us on arrival, the gorgeous fire, amazing bath to the heated floors - we couldn't fault it. The location of the cottage was ideal for us as we visited Longleat Safari Park which took about 20/30 minutes. Hope to be back soon, thanks again for a lovely weekend stay.
Monica
2015-07-26T00:00:00Z
I picked this place because of the amazing reviews and everything that people have mentioned is absolutely true. There is no expense spared on the Cider house and it makes it a truly wonderful place to stay. The communication with Lucinda and Jeremy was excellent and we absolutely loved our stay. If you like dogs, cats and exploring the outdoors, there is no better place to stay. Thanks for hosting us. Dave and Sara
David
2016-08-16T00:00:00Z
Gorgeous place. Fantastic hosts. Possibly one of the nicest places I have stayed in on AirBnB. Thank you so much for your hospitality.
Jeremy
2015-09-27T00:00:00Z
I can without hesitation say that the Cider House West is a superb place to stay. The house has been beautifully decorated, the location is very tranquil and the hosts are wonderful. If you want a proper break from hectic city life, look no further. Thank you Jeremy and Lucinda!
Michael
2015-07-05T00:00:00Z
This was our first airbnb and we are complete converts! We were welcomed (and helped with our bags) by Lucinda who was lovely and had left us milk, eggs, breads and jams etc. The log fire and underfloor heating were perfect for a summer holiday that ended up being a wash out and Jeremy even kindly provided us with jugs of his own scrumpy cider to sit in front of the fire with! Perhaps the best indication of how lovely Lucinda and Jeremy (and their daughter) are is that we took them up on their offer to babysit our 4 month old while we grabbed an early supper, it was the very first time we have left him with anyone. We would wholeheartedly recommend the Cider House West, the pictures don't do it justice and we genuinely hope to return soon!
Rebecca
2015-08-26T00:00:00Z
Jeremy and Lucinda provided us with a perfect base in Somerset. The house is a small jewel, beautifully restored with everything that one might need for a comfortable stay. The bath upstairs is especially wonderful. The location is ideal for exploring Bruton, Glastonbury, Wells and Cheddar, but it's also great for a quiet weekend sitting outside and listening to the countryside.
Adam
2015-07-12T00:00:00Z
Tipo de Acomodação
Casa/apto inteiro
---
Tipo de Imóvel
Casa
---
Acomoda
2
---
Quartos
Westcombe, Inglaterra, Reino Unido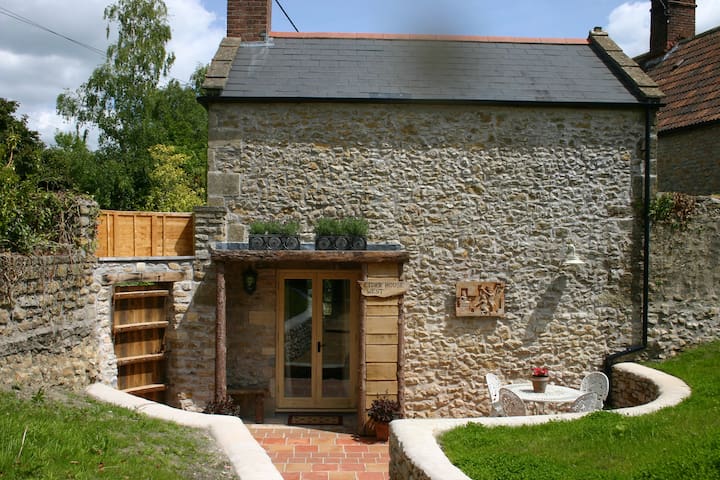 Our two bedroom cottage is on a quiet hidden lane in the historic town of Bruton. Relax in the garden which backs on to a wildlife meadow. walking distance from train station, town center and local schools. Parking on the premises.
Guests have the use of the whole cottage and garden. Upstairs there is a double bedroom with King Size bed and a single bedroom, both overlooking the garden and wildlife meadow. Bathroom with shower over bath. Open plan kitchen and sitting downstairs. Kitchen area has bar with stools and comes with kettle, fridge, washing machine, oven, microwave and toaster. A basic breakfast is provided in the cottage for you to eat at your leisure.
Until recently the historic town of Bruton was recognised for its schools - Kings, Sexeys and Bruton school for girls. Also for it's ancient Bartons and its link with Steinbeck. Now we are known for our variety of restaurants, two wedding venues and the newly opened Hauser and Wirth art gallery. Bruton is also central for many holiday destinations including, Glastonbury, Wells, Frome and Bath. National Trust properties Stourhead and Lytes Cary are also close by. Good walking area and we are on the Macmillan Way and Leland Trail. Local maps are provided.
Excellent Trip. We had a lovely stay at Christine's and Christpopher's cottage over Christmas period. The cottage was cosy and we had everything we needed. The breakfast items were excellent and were very much appreciated. Christine and Christopher are very welcoming and lovely people. Bruton itself was a nice village with few shops, museum, few pubs and even a healthfood shop, a gem in the High Street that stocks dairy free and gluten free items, raw chocolate, some fresh organic produce and lot of other great stuff :) Bruton has lot of walks to offer and it's surrounded with beautiful countryside with lush hills. We visited Glastonbury, Wells and Royal Navy Fleet Air Arm museum in Yeovil. There's many places to see and visit in 15 miles radius. Car is essential for this but if you're a keen walker you can do without a car and just enjoy the beautiful walks in the countryside. We would definitely stay again. Thank you both for a great stay.
Nadja
2015-12-29T00:00:00Z
We only had one night in Bruton, but Christine's house was a perfect place for a stopover and she and her husband were great hosts who made us feel very welcome. It was a very cosy, warm cottage with stairs hidden away in the corner going up to the bedrooms and bathroom. I loved the tiny laneway of old houses, and how the grass out the back was speckled with spring flowers. But what will make this house stand out in our memory is Christine's "breakfast menu"- what a great way to let us know what was on offer, especially Christine's delicious home made bread and cakes. Oh yum!!! These were a real treat - thank you :)
Helen
2016-05-02T00:00:00Z
Christine made us very welcome at the cottage. It is a lovely place to stay, on a quiet lane, close to the town. The house is very comfortable, the breakfast perfect. We loved the homemade bread and the chocolate brownies. Highly recommended.
mary
2016-01-24T00:00:00Z
The cottage is well equiped and very clean. A really lovely place to stay at. It is very close to the town centre. Would highly recommend.
Elaine
2016-12-04T00:00:00Z
Lusty Garden was perfect! Warm, cozy, and great location for our visit visiting father-in-law in Somerset! Fresh hot bread and a fridge stocked with breakfast trimmings was a treat!
Becky
2017-01-04T00:00:00Z
My husband, 3 year old son and I loved our stay at Christine's cottage! The location was so peaceful and we enjoyed watching the pheasants come to the garden each evening. The wonderful bread, cakes and other essentials in the fridge made for a lovely welcome. The cottage is not large but there was more than enough room for us all for the week and it was a great base from which to explore the surrounding area. It was very cozy and warm, clean and the kitchen was well equipped. Would definitely recommend.
Cayce
2016-04-08T00:00:00Z
Christine was a great host, house was very clean and tidy and breakfast provided was excellent. She also provided highchair and a cot for our baby, so were very comfortable. I highly recommend to others!
Ana
2016-03-30T00:00:00Z
Beautiful spot in the UK. Christine has a lovely little cottage an Bruton is great. Loads of nice walks and pubs with great food and friendly staff. With Christine's recommendation we also walked to Shepton Montague. The Montague pub does the best burger I have ever eaten! Christine was a great host. Her brownies were awesome!
Chris
2016-05-29T00:00:00Z
Tipo de Acomodação
Casa/apto inteiro
---
Tipo de Imóvel
Casa
---
Acomoda
3
---
Quartos
Bruton, Somerset, Reino Unido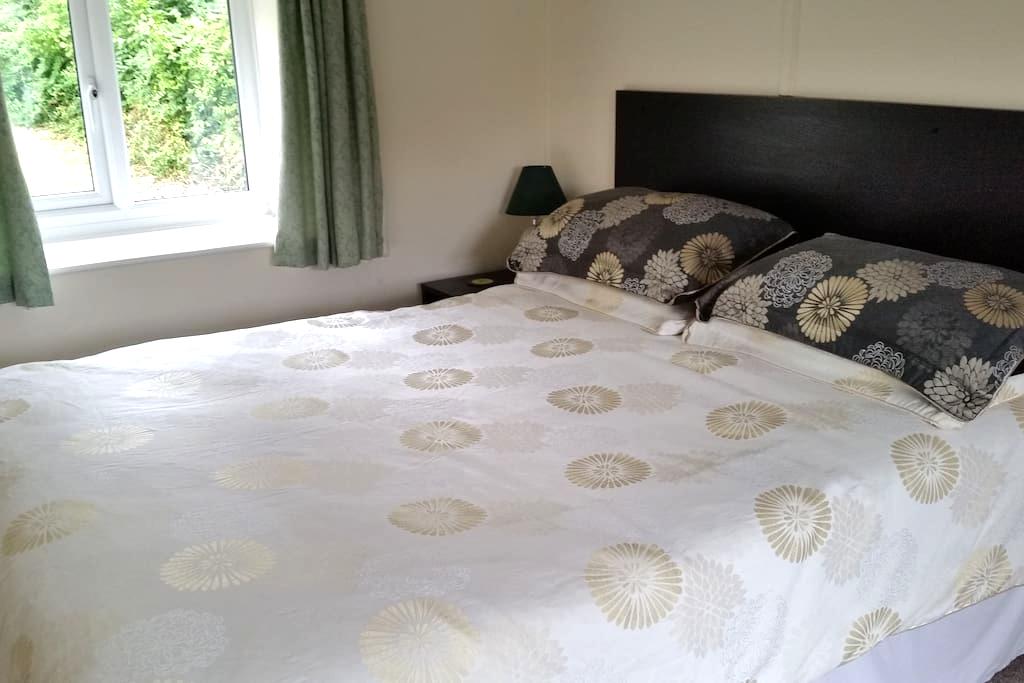 The coach house is an annexe to our home, with its own entrance and parking on a quiet no through lane, a short drive from the medieval village of Nunney and 3 miles from the popular market town of Frome. Bath, Longleat, Stourhead, Bruton and Glastonbury are all only a short distance away.
The coach house is a large, airy space with room for relaxing. It also has a dining table and chairs and a kitchenette with all the basic cooking facilities including fridge, combination microwave/convection oven and grill, and two ring hob. There is a kingsize bed with quality cotton bedding, converting to singles if necessary; a separate wet room with shower and WC, and plenty of fluffy towels. Tea and fresh coffee making facilities are always available. Our views and sunsets are beautiful!
A walk beyond the gated road past a duck pond reaches a fish restaurant and petrol station with shop. A longer walk or short drive takes you to the medieval village of Nunney, with its own ruined castle, pub and shop. The market town of Frome, with an abundance of independent shops and restaurants and more listed buildings than any other town in Somerset, is 3 miles away.
This was my second stay here and I enjoyed it as much as the first. A relaxing, peaceful stay in a lovely place. I hope to return.
Angie
2017-01-12T00:00:00Z
A lovely welcome and a perfect place for me to stay whilst running a training course in nearby Nunney. Jane and james were perfect hosts - friendly and warm. The studio arrangement was great - it felt spacious and comfortable. All the facilities were great and the bed was wonderfully comfortable. The peace and quiet of this cottage were just what I needed. I will be back!
Judith
2017-04-03T00:00:00Z
Smooth sailing from booking to arrival to departure. Lovely cosy place too. We enjoyed staying very much!
Dishan
2016-10-26T00:00:00Z
We thoroughly enjoyed our stay at the Cosy Coach House, which was a well located base for our visit to South West England. The property had everything a guest could ask for (including milk and eggs in the fridge for breakfast!) and there is a shop and great local restaurant a short walk away. Had we required anything, we're sure Jane would have been more than happy to help. Thanks for a lovely stay!
Paul
2017-03-26T00:00:00Z
We loved staying here. It is very peaceful & comfortable. Jane definitely thought of everything & there are loads of little cute touches in the Coach House. Jane & her husband were perfect hosts & they even put some of their own chicken's eggs in our fridge for breakfast! Would recommend to anybody who needs some peace & quiet or after a great base to explore Somerset. We'd stay here again
Gavin
2016-07-12T00:00:00Z
Thank you Jane and James for a lovely stay. The coach house is charming and cosy. The coach house is private but Jane and James are on hand if you need anything. We ate at the Talbot inn and the George, and visited longleat.
Ruth
2016-09-16T00:00:00Z
Great place to stay, made us very welcome and exactly as outlined. Would definitely recommend this.
Marc
2016-04-12T00:00:00Z
Jane and her husband were wonderful, friendly hosts – there to meet us when we arrived and very helpful with anything we might need. We loved the Coach House – it has such a lovely atmosphere and is spotlessly clean, with wonderful views of the garden. Everything is provided for a comfortable stay, including some much appreciated eggs and milk and it was great to to have private parking beside the cottage. We walked to the pretty village of Nunney which has a castle, and when we were staying a fantastic Fayre. Frome, with all its arty shops, is a few miles away and also has several supermarkets to stock up on supplies. The Coach House would be a great base if you are visiting Bath and all the wonderful Somerset villages and National Trust properties in the area. We would highly recommend staying here and will most definitely be back! Thank you Jane!
David & Joey
2016-08-08T00:00:00Z
Tipo de Acomodação
Casa/apto inteiro
---
Tipo de Imóvel
Casa
---
Acomoda
2
---
Quartos
Nunney, Reino Unido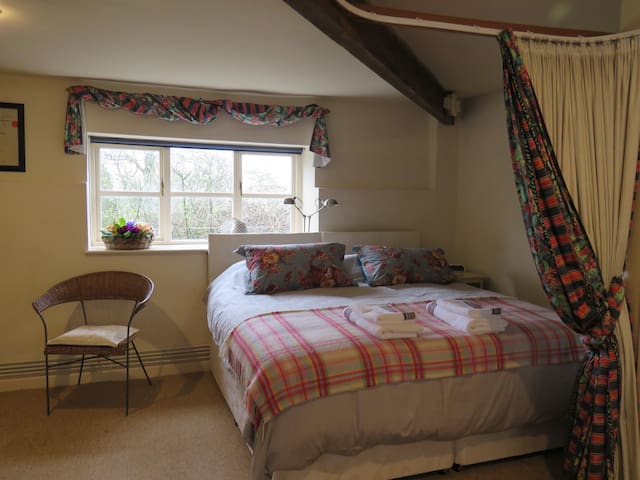 This ground floor annexe offers a double bedroom with luxury en-suite shower and well equipped kitchen/sitting room with comfortable sofa bed French doors look out over a beautiful valley to the south. Only five minutes walk to the pub!
Little Acre is a beautifully converted apartment which offers couples or small families the ideal place to relax and enjoy this beautiful part of Somerset
Batcombe is a quiet and picturesque village. Nestled in an outstanding valley with beautiful views, Batcombe offers stunning walks and an award-winning pub, yet lies only 2 miles from arty Bruton and only 10 minutes drive to Glastonbury Festival purple parking. We are an easy 45 minutes drive to Bath, Longleat Safari Park, and the Cheddar Gorge.
Lovely private apartment in very quiet location in picturesque Batcombe. The facilities were excellent despite TV and wifi not working during our visit, and Pip left an abundant amount of supplies for breakfast and snacks, couldn't have been better.
David
2016-08-15T00:00:00Z
Perfect pit stop en route to Cornwall - gloriously comfortable bed and fantastically kitted out. I only wish we could have stayed longer... Next time!
Alexa
2016-07-03T00:00:00Z
Another short but lovely stay in this beautiful place - super comfy and Pip made us feel very welcome. A home from home.
Alexa
2016-09-18T00:00:00Z
Pip was very welcoming. The accomadation exceeded our expectations. Although we had to leave very early Sunday morning Pip got up to wave us off. A nice touch. Would definitely stay again.
Keith
2016-07-04T00:00:00Z
Beautiful apartment in a lovely secluded and quiet part of the countryside. Very well equipped, great shower and we enjoyed a lovely breakfast! Many thanks!
Rebecca
2016-08-13T00:00:00Z
Friendly welcome, comfortable modern accommodation, and a beautiful view across the countryside surrounding this lovely village.
Fabian
2016-08-26T00:00:00Z
Pip was very helpful before arrival with clear instructions of how to get there, as well as being flexible on arrival time. She gave us a very friendly welcome, as well as well stocked breakfast supplies in a lovely, clean apartment, which all made our stay really enjoyable. She was also very patient with our late returns from work and a change of guest midweek!
Rachel
2016-07-29T00:00:00Z
A really good introduction to Airbnb. Three of us stayed for the night and it worked really well. We were greeted very warmly and shown round. Comfortable double bed with en suite and a sofa bed in the sitting room/kitchen. The kitchen would have been more than adequate had we been staying for a much longer time and provisions left for breakfast were extremely generous. We didn't have time to explore the village but we did find the pub. The host was very welcoming and helpful - even though the kitchen was closed he rustled up enough for a snack lunch and was interesting to talk with. It's not the simplest place to find but we used a Map app on a tablet and that with local knowledge help from our host got us there without problems. When I'm that way again and relatives don't have a spare bed I shall certainly stay at Little Acre. On top of everything, the price charged was generously little.
Penny
2016-06-26T00:00:00Z
Tipo de Acomodação
Quarto inteiro
---
Tipo de Imóvel
Casa
---
Acomoda
3
---
Quartos
Nr Bruton, Somerset, Reino Unido
Well appointed double room in the centre of the charming village of Evercreech. Private guest bathroom and use of living room. Near to the wonderful towns of Glastonbury, Wells and Frome. Parking is free on the quiet street and there is fantastic village pub offering good food. Continental breakfast included.
Evercreech is a charming working village in the heart of the Somerset countryside with easy access to the lovely cities of Wells and Bath. Close by is the Bath and West show ground which hosts numerous and varied events throughout the year. There are pubs and restaurants in the vicinity offering good food including The Bell within walking distance of the house, The Three Horseshoes at Batcombe, and At the Chapel in nearby Bruton. Also in Bruton is the renowned Hauser and Wirth Gallery with its beautiful gardens, regularly changing art installations, and excellent restaurant, The Roth Grill.
This is a superb BNB: quiet and close to the Church. Clean tidy and excellent room with very comfortable bed. The bathroom, with its brilliant shower, is exclusive to guests and Linda could not have been more helpful, friendly and welcoming. Excellent breakfast. The directions to the house need a little more precision. Highly recommended in every respect.
Peter
2016-10-26T00:00:00Z
Tipo de Acomodação
Quarto inteiro
---
Tipo de Imóvel
Casa
---
Acomoda
2
---
Quartos
Evercreech, Inglaterra, Reino Unido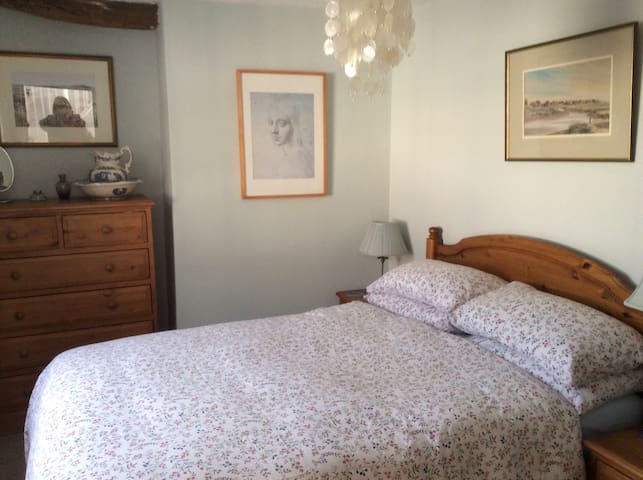 Our cottage is situated in the picturesque village of Nunney, 3 miles from Frome, complete with its own castle and great country pub. Built in 1693 the cottage is packed full of quirky period features, while outside is a large sunny garden. Book in Summer or Autumn and you can even try a variety of fruit and vegetables we grow. Around Nunney there are lots of walks to do or it is a short drive to Longleat Estate, Stourhead, Bath and Wells. Babington House is also only a 5 min drive away.
Being one of the oldest houses in the village it has plenty of quirky features. There is an original wall painting dating back to the 17th Century and the bathroom door is the old window lintel from the original cottage. You can snuggle up in the winter months with a book and a glass of wine in front of our great wood burner. Or make use of our beautiful large garden in the warmer months with a variety of fruits and vegetables to enjoy.
Nunney is a very community led village, everyone is extremely friendly and welcoming. The village itself is beautiful to walk around and has a great local pub and nice cafe. There is also a Spar (not open on Sunday). On Sunday however you can enjoy the local cakes and teas in the church from 3-5pm.
What an absolutely stunning cottage. So stylish and comfortable. A real home from home and Zoe did everything she could to make us welcome and comfortable. Thank you for the delicious treats in the fridge Zoe! We will definitely be booking again!
Anna
2016-11-27T00:00:00Z
Treetops cottage is the perfect romantic getaway. The decor is beautifully done and gives it a home away from home feeling. And breakfast in the fridge was a lovely touch. We spent every evening in front of the wood burner playing games and drinking wine. Nunney is gorgeous with a friendly pub down the road. And it's a great place for exploring Somerset including Mells (Talbot Inn is fantastic for food!), Bruton and Frome. We thoroughly recommend treetops to anyone looking to get away from it all.
Freya
2017-02-19T00:00:00Z
Lovely homely little house. Great to have the wood burner in February! Comfy beds, great bathroom and kitchen. Perfect!
Tracey
2017-02-15T00:00:00Z
The cottage is beautifully decorated and cosy throughout. It provides everything you would want for a long weekend stay, we especially enjoyed the wood burner! I would thoroughly recommend this for anybody wanting a relaxing country escape.
Annwen
2016-12-04T00:00:00Z
What a wonderful weekend at Zoe and Hugo's gorgeous cottage. It has so many lovely touches throughout the house, we had a very comfortable stay and slept so well:) A very peaceful tranquil place to stay with so many places to visit near by. We ate out in the local pub and the experience from the food to the service was spot on. Highly recommended x
Ceri
2017-02-26T00:00:00Z
The cottage was even better than described. It has been recently decorated to a very high standard with many original features still present from the c.17 century. Zoe thoughtfully provided fresh orange juice, milk, tea, coffee, eggs, bread and mushrooms so we could have breakfast without having to do some shopping first. The cottage is in a picture perfect setting with a very short walk to the local pub and shop. The pub and the locals were very friendly. The cottage is also about 10 minutes from Frome by car which is a must see town. Although we didn't meet Zoe in person, she was available through the message system and her friend in the village was around and provided everything we needed.
sarbjit
2016-07-31T00:00:00Z
Absolute perfection. Our long-weekend at Treetops Cottage could not have been more wonderful, or more English. From the afternoon teas served at the village church, the beer garden at The George, and the 14th century moated medieval castle. Zoe and Hugo's gorgeous little cottage included a well stocked kitchen with everything we needed to cook for ourselves. Zoe was even kind enough to include sausages, eggs, and bacon for our first morning's breakfast. The beds were lovely and comfortable and little things like throw blankets, fresh flowers, hand-soap and hand-lotion, made Treetops feel like home. From Treetops we enjoyed day -trips to Frome, Bath, and Stonehenge. The Bell at Rode offered a not-to-be-missed spectacular Sunday roast. We absolutely loved our time at Treetops and are very grateful to Zoe and Hugo for allowing us the opportunity to visit.
Alex
2016-08-16T00:00:00Z
My boyfriend and I stayed at Treetops for 2 nights over New Year. The cottage is charming and beautifully presented. Very peaceful and everything provided you could want for. A wonderful log burner in the sitting room where we spent cosy days, spacious pretty bathroom for lots of happy wallowing in the bath and a good well equipped kitchen. The village is very pretty and peaceful. There is a village shop, pub and restaurant all within walking distance. We loved this cottage and didn't want to leave. We would love to return in the summer to enjoy all the garden has to offer.
Lucie
2017-01-02T00:00:00Z
Tipo de Acomodação
Casa/apto inteiro
---
Tipo de Imóvel
Casa
---
Acomoda
4
---
Quartos
Nunney, Inglaterra, Reino Unido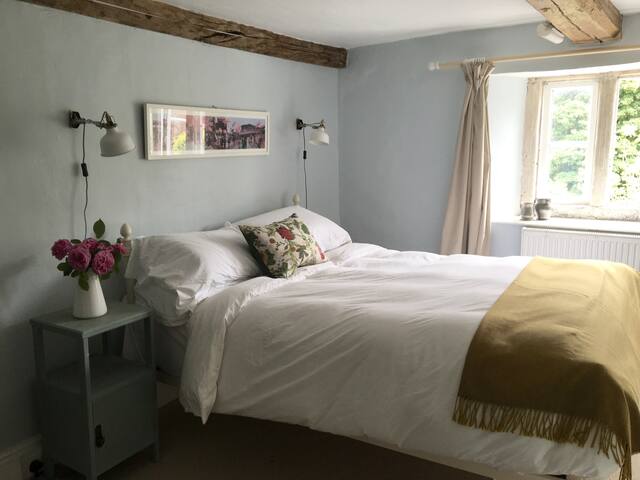 Business ready with good internet and phone reception. Grace Cottage, 1 minute walk to town, perfectly located with secluded garden. The cottage has Sky, wifi, washer/dryer, dishwasher, fridge/freezer and plenty of towels and comfy bedding. A cosy wood burner with logs, gas central heating plus a log burner in the garden for alfresco evenings. Whether travelling for business or pleasure, Grace Cottage provides the perfect getaway with comfort and country style. Dogs with clean paws welcome!
Grace Cottage is a pretty 2 bed cottage accommodating 4 people. When accessing this lovely cottage you will get a taste of times gone by, appreciating the secluded and unique 19th Century workers entry route, which has all the original Victorian charm that modern day living has lost. I will do my best to include extras that I hope enhance your stay including the provision of a travel cot should you have a baby with you, please let me know in advance. You will find all you need for self catering accommodation and I will provide the basic tea, coffee, sugar, butter etc which I hope helps those arriving out of hours. The cottage has a fully equipped kitchen with washer/dryer, dishwasher, microwave etc. The bathroom is upstairs and has a shower with shampoo, soap and shower gel. The living space has a comfy sofa and a futon by request, should you have an extra guest with you, there is a dining table for 4 and a log burning fire, which creates a cosy environment for those cooler evenings, whilst relaxing, watching Sky TV or staying in touch with friends and family with the available wifi. You can dine alfresco on the patio overlooking the cottage garden and ornamental pond and during your evenings on the patio, should you get a bit chilly there is an outside wood stove for you to remain toasty. During the summer months you will also have access to a BBQ. There is designated parking for 1 vehicle and I can advise on further parking if needed. The Cottage is 45 minutes from Clarke's Village in Street and about the same distance from Bath. Grace Cottage is uniquely located with easy walking access to the town and driving to some of the best attractions that Somerset has to offer such as Longleat House and Safari Park, the Cathedral City of Wells, Castle Cary, Stone Henge, Wookey Hole Caves and so much more including The Mill On The Brue, the children's outdoor activity centre. If you enjoy walking you will find an abundance of footpaths over some of the most beautiful parts of England. You will not be disappointed in this pretty cottage and its surroundings and you can book with confidence, knowing that many before you have stayed and had a wonderful time. Business travellers are very welcome and you will find the cottage quiet and relaxing with good internet access and good mobile phone reception plus the bonus of a parking space, something of a rarity in Bruton. We will do all we can to help so should you need something specific then please do let us know.
Grace Cottage sits in a quiet private lane on the edge of Bruton. A perfectly located 2 bedroom pretty cottage, just 1 minute walk to town, with a secluded garden and designated private parking. Start your day by sitting in the garden and watching the sun rise over the unspoiled, ancient town of Bruton with only the distant church bells to remind you that there is a whole community waiting to welcome you when you venture out. You can be sure that you will be comfortable as the cottage has Sky TV, wifi, washer/dryer, dishwasher, fridge/freezer, microwave, cooker and a hairdryer. I will provide the cooking basics such as tea, coffee, sugar and will put some provisions in the fridge for you, in addition to plenty of towels. The cottage has a wood burner (plus heating) and a log burner in the garden for night time socialising and relaxing, I will provide enough logs to get you going and more can be bought just a 2 minute walk from the Cottage. Whether you are travelling for business or pleasure, Grace Cottage provides the perfect quiet getaway with comfort and country style. You will not be disappointed when you explore the town with its exquisite shops, fantastic restaurants and access to so many wonderful walks. Grace Cottage welcomes all, including dogs who wipe their paws at the door!
Highly recommended. Everything was perfect, confortable, clean, quiet, great location, fantastic communication. Many extras in terms of food and treats.
Vivienne
2017-01-02T00:00:00Z
We had a lovely stay and Carrie was very helpful to us ahead of our stay. Would stay there again. Really enjoyed Bruton too.
lara
2017-04-04T00:00:00Z
Tidy, cool and confortable. Carrie recieved us with the house warm chimeny on and Christmas lights in the house
Itziar
2016-12-12T00:00:00Z
Caroline and her husband were very friendly and couldn't do enough to help. We had a problem with the front door key that was provided, but they sorted it quickly and were very apologetic. The cottage itself was gorgeous and immaculate with lovely little touches, like basic food items being provided. We wouldn't hesitate to stay here again.
Sophie
2016-10-23T00:00:00Z
Carrie's cottage is nicer than the photos suggest. Comfy throughout and lots to love. Particularly the wood burner. Carrie leaving a few little bits for us to enjoy made it all the better. A few minutes walk to restaurants and the town centre, parking outside and easy access. All great.
Richard
2017-02-12T00:00:00Z
Carrie made us feel extremely welcome. We don't feel there was anything else she could have done. Carrie provided freshly laid eggs from her own hens as well as coffee, tea, bread and butter etc. She reassured us not to worry about our dogs in her cottage, as she just wanted us to enjoy our stay; that was very kind of her. We were grateful to find dog friendly accommodation with a secure garden which was pristinely clean! Excellent! If you're not a dog owner, please still consider this cottage as Carrie cleans it so thoroughly, you'd never know a pup had been there...everything is modern, in good order, but the cottage still retains charm and character. We used the log burner and the host even dropped by some extra logs later in the evening. We stayed here to visit Longleat and the journey was about 30 minutes. Despite arriving in driving rain, lol, we enjoyed our stay and left feeling refreshed.
Jane
2016-10-26T00:00:00Z
Great stay, will certainly be back again. Thank you
Jeffrey
2017-02-08T00:00:00Z
Muy agradable estancia y ubicación
Miguel Angel
2016-12-08T00:00:00Z
Tipo de Acomodação
Casa/apto inteiro
---
Tipo de Imóvel
Casa
---
Acomoda
4
---
Quartos
Bruton, Inglaterra, Reino Unido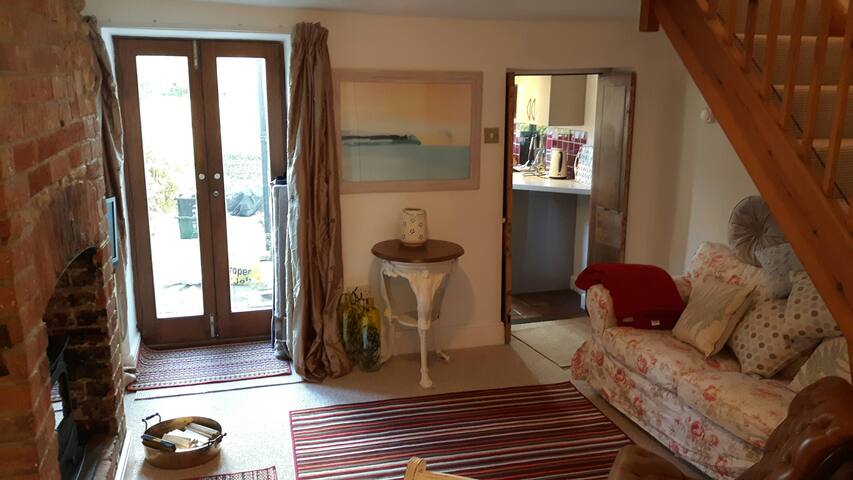 Located in a quiet backwater with wonderful views and country walks in ancient woodland and nearby grand estates, yet only a couple of miles from the A303 with easy access to London. Local highlights are the Hauser & Wirth Gallery and other spots in the increasingly hip town of Bruton 4 miles away as well as Longleat Safari Park (9 miles) and the beautiful Stourhead (NT, 2 miles). Ideal for a spring break to enjoy the beauty of the local scenery or simply to relax in our beautiful surroundings!
A newly converted stables block incorporating the character of the old flint and stone walls, yet with all modern luxuries such as a wood burning stove, eco electric radiators, duck down and feather duvets and leather sofas. Situated right on The Macmillan Way which runs 290 miles from Boston in Lincolnshire to Abbotsbury in Dorset.
The locality is generally quiet, however Somerset is the home of cheese making, with several award winning cheddars such as Wykes, Barbers, Keanes and Godminster made nearby, along with local Cider. The world famous Glastonbury Festival is held 10 nearby, whilst both Bath and Wells are a short distance away with a wealth of attractions. Quirky towns like Frome, Shaftesbury and Castle Cary are on your doorstep, and the seaside at both Lyme Regis and Burnham on Sea are both approx 30 miles distant. Several National Trust houses are in the vicinity, the closest Stourhead only 3.5 miles away, and Alfred's Tower just 2.5 miles away.
We had a really lovely weekend here to get away from the city for a little bit. Very relaxing, super quiet, lovely pool and area. Perfect place to go and recharge your batteries!
Linda
2016-08-30T00:00:00Z
Absolutely stunning accommodation; spotless and finished to an impeccable standard. Pool and tennis court area are a lovely place to be. Wendy was a fabulous host offering excellent local knowledge. Always available when we needed her (which wasn't often owing to the quality of the residence) yet also completely non intrusive. Thanks again Wendy!
Ben
2015-06-29T00:00:00Z
Lovely stay in a great location. The barn conversion has been done to a really high standard. Having the log stove made it very cosy, the addition of curtains/blind in the lounge would have made it even more so. Wendy was a perfect host and made us feel very welcome. Can't finish with out mentioning the lovely pool and tennis court which made it a perfect family location.
Mark
2015-09-05T00:00:00Z
Wendy's cottage is a lovely little bolt hole out in the middle of nowhere (but not too out in the middle of nowhere!) Starting with the cottage itself, it was clean, well presented, warm, comfortable and well appointed in terms of facilities. The Kitchen had lots of plates and cutlery, a big dishwasher, excellent hob and oven, plenty of fridge and freezer space and a decent kettle and toaster, all top things on my wish list for a comfy stay. In addition the shower has excellent pressure, lots of space and plenty of hot water, also all big things on my list. Bedrooms were spacious enough with again sufficient storage and felt cosy and comfortable. We also loved the open plan living space which was perfect for the three of us and could cover four with similar comfort. The facilities were great also and Wendy was always happy to take the cover off the pool for us even when our 7 year old fancied a dip in the rain. The tennis court was an added bonus which we made great use of. Just be aware that there is a property rule that any guests not on the original booking, are not allowed to use any of the facilities, be they individual or otherwise. Wendy is a very welcoming and helpful host, with lots of helpful information. She was really quick in responding to any of our messages. We always felt that she was on hand to help if we needed anything which was great but she also left us our privacy.
Amanda
2016-08-23T00:00:00Z
After 4 days of camping with a one year old we arrived at Druley Hill Farmhouse and were very happy indeed to be welcomed there by Wendy who showed us around and left us to it. The house was perfect for us and our little girl, very tidy and comfortable indeed. The outside space was great, sheep & chickens to go and look at and the pool & tennis court very easy to have fun in. When it was raining the wood burner made the house very warm and cosy indeed. Thanks Wendy - We all had a really great time.
Cecily
2015-08-23T00:00:00Z
Our family (two young boys and my partner) had a wonderful time for 5 nights in Wendy's cottage. Although the weather was changeable we made good use of the lovely pool & tennis court and also made a number of trips including to Wookey Hole and Stourhead (pretty glorious National Trust property). Wendy was extremely welcoming complete with lovely cake and homemade jam on arrival and we felt right at home. The cottage itself is fantastic and very easy to live in, great feeling and facilities. Thank you! A special break.
Kat
2015-08-19T00:00:00Z
The cottage is beautifully maintained and is in a lovely country setting not far from Bruton (and lots of other lovely Somerset villages, attractions and gastropubs). Wendy is very welcoming and happy to recommend places to go/see. Would definitely recommend to anyone looking for a place to stay in the area.
Aj
2016-01-04T00:00:00Z
This has to have been the most relaxing of short holidays. We booked on Wednesday and were greeted by Wendy on Friday, during which time she had answered all my queries and more. We were very comfortable in the converted stables, airy and spacious with plenty of room for 3 or 4. The highlight for me was the large pool which was a blissful 73 degrees the morning we left, although my husband preferred to play tennis! We enjoyed all the facilities and felt very spoilt. Wendy and her husband were always on hand, very happy to meet all our needs and delightful company. Our son joined us from London and really appreciated the easy train journey to Gillingham (we live in Cornwall!). We borrowed Wendy's ordnance survey map and walked through the forest to Stourhead (National Trust) from Charlton Musgrave. This is a beautiful corner of Somerset, there's so many interesting places to visit. Whatever your taste in art, I recommend the Hauser and Wirth Gallery at Bruton for their lovely gardens and delicious restaurant. We would certainly want to stay with Wendy again, this was ideal for a family weekend and our dog was in seventh heaven with the forest just across the road and even a comfortable bed for him too!
Heather
2016-07-18T00:00:00Z
Tipo de Acomodação
Casa/apto inteiro
---
Tipo de Imóvel
Casa
---
Acomoda
4
---
Quartos
North Brewham, Bruton, Somerset, Reino Unido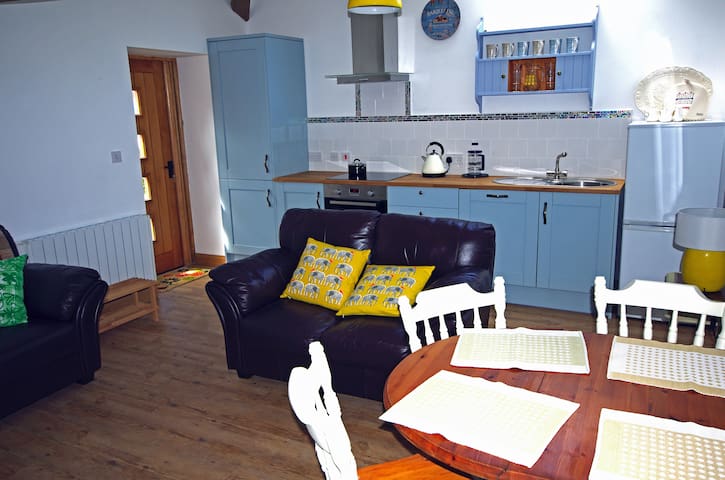 Nestled in the heart of Batcombe, our recently renovated coach house offers a comfortable place to stay. This picturesque village offers fantastic walks across the mendip hills & great local pub. Weekend bookings must be a minimum of 2-nights.
Little Brook is a recently renovated 18th century coach house and stable. It is a detached property situated in the quiet, west end of the village. Upstairs is the large master bedroom with king-size double bed and ensuite shower room. Downstairs is a spacious twin bedroom, (which can be made up as a double bed). There is also a separate bathroom downstairs. The beds are very comfortable, with white cotton bed linen, and feather pillows. Cotton towels are also provided. An additional 1-2 guests can be accommodated on a sofa-bed by arrangement and for a fee. Little Brook is a self-catering rental, and the kitchen is equipped with fridge-freezer, gas hob, electric ovens, microwave, and dishwasher. A washer/dryer means that you can keep on top of clothes' washing too. Hot water is available 24/7, and central heating is available throughout the property. There is wifi and a landline. (Calls on landline are charged on an 'honesty' basis.) Multi channel Sky TV HD and DVD are accessible on the 32" wide screen HD TV in the sitting room. There is also a stereo + iPod lead. In addition, the master bedroom features a freesat TV and DVD. There is also a secluded, walled patio with 6-seater picnic table and a bench, which is for guests' private use. As a self-catering operation we are more than happy to help set you up with some basic provisions for when you arrive, a basket of eggs, bread and other delicious local produce can be provided so feel free to drop us a line to discuss. Alternatively, if you don't feel like cooking, the village pub, (which is child and dog-friendly), serves fine ales, wines and great food every day of the week, and it's just down the lane. WEEKLY RATES The weekly rates are for the whole cottage, but there will still be the cleaning fee of £20. If you are interested please let me know and I will send it as a special offer. DOGs- are welcome but there is a charge of £25 p. dog, p. week, or £40 for x2 dogs. Otherwise it's £5 p. dog p. night. We tend to limit dogs to x2 maximum. Please keep dogs off the furniture, clean up after them and provide them with their own beds and other doggy-kit, plus a towel to dry them off after a wet walk.
"Batcombe is dream England. It is a place you would be happy to reach by chance at the end of a long day's journeying." (Candida Lycett Green, journalist.) It's a small and friendly village, very much off the beaten track. But local events are often on the cards: tastings at Westcombe cheese and Wild Beer in neighbouring Westcombe, cricket up at the recently renovated village pitch, or monkeying about with the kids in the excellently renovated playground - great for all ages and equipped with football pitch and cricket nets in addition to swings, play-fort and zip wire. Wonderful walks stretch far and wide in every direction straight from your doorstep: endless footpaths roam over the Mendip hills, with views across to Glastonbury Tor and beyond, or you can wander along the valley, following the river Alham.
Sasha was very welcoming and helpful during our stay at Batcombe. Both the house and the village are lovely and we had a wonderful time. Sasha's advice on things to do in the area were great. The children in particular loved the playground.
Daniela
2014-10-29T00:00:00Z
Beautiful place to stay in a beautiful village. Rupert & Sasha are very friendly and helpful. I hope to return again soon :)
Victoria
2015-05-10T00:00:00Z
We found Little brook easily following Sasha's directions and arrived at a beautiful cottage in a great quiet village setting. The cottage is just as we imagined it to be and just perfect us and our 2 dogs. It has everything you need for a weekend or much longer stay and you can walk for miles straight from the cottage. We loved the friendly village pub which does great food, beer and local cider and the only negative about the place is we had to leave so soon . We would highly recommend Little brook and we will hopefully be back soon. Thank you Sasha for letting us stay!!
graham
2016-06-01T00:00:00Z
We spent the first 3 nights of our Honeymoon here. It was wonderful! The cottage is really cosy, Sasha has stocked it with everything you could possibly need, and a few extra treats, which were greatly appreciated. Sasha really looked after us and made us feel at home. We very much enjoyed our stay and would highly recommend it. We will hopefully visit again, for our anniversary maybe.
Sarah
2015-09-18T00:00:00Z
A charming village, great recommendactions from Sasha on places to visit in the area, comfortable place to stay - felt right at home. Great hositality. I could not recommended it enough.
Robert
2016-10-17T00:00:00Z
Batcombe is beautiful, the cottage was sweet and well-equipped for adults and Sasha and Rupert went out of their way to provide toys for our daughter, as well as a lovely breakfast hamper for us. It's not really set up for babies (no cot or highchair on site - Sasha borrowed a travel cot from a neighbour) but would be fine with older children. All in all, a wonderful weekend with attentive hosts.
Annie
2015-05-25T00:00:00Z
Everything was perfect, warm, nice food, clean, good beds and a lovely surroundings! I can highly recommend a stay at Little Brook!
Agot Johanne
2014-11-30T00:00:00Z
This is a really wonderful place to stay - very well appointed and thoughtfully finished accommodation set in a beautiful, unspoilt village with generous and helpful hosts. Cannot recommend enough.
Jago
2014-11-01T00:00:00Z
Tipo de Acomodação
Casa/apto inteiro
---
Tipo de Imóvel
Casa
---
Acomoda
4
---
Quartos
Batcombe, Inglaterra, Reino Unido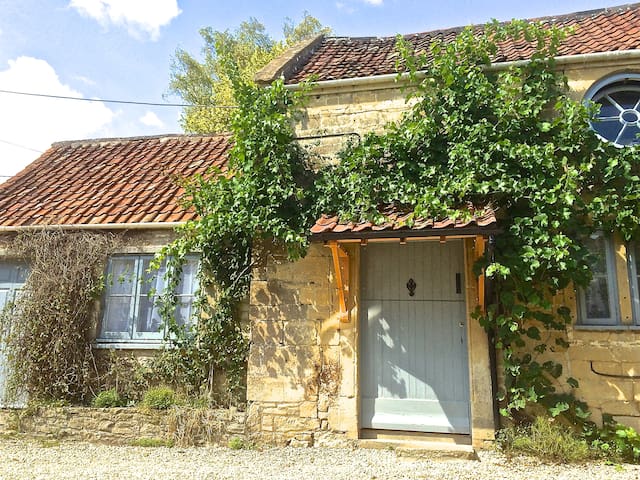 Our home is the wing of a large Georgian house and we offer a first floor, double bedroom with an en-suite bathroom. An additional, double room is also available (see below).
The house is a unique property built c.1760 with a grand Victorian stair hall. The room is at the end of a long gallery on the first floor and has an en-suite bathroom. An additional adjacent double room is also available. The rooms may be taken as a pair in which case the bathroom would be shared. Continental breakfast is available for a supplement.
Evercreech is surrounded by beautiful and accessible walking country and the area is dotted with charming small towns with lots to see and do. There is a friendly local pub, another close by in Batcombe (both serving good food all day) and a range of eateries in Bruton including At the Chapel, Matt's Kitchen and a couple of pubs. Evercreech is well-placed for the Bath and West Showground and Wells, Glastonbury, Sherborne and Bath are all within easy driving distance. Nearby National Trust properties are Stourhead, Montacute and Lyte's Cary. Internationally-renowned art centre, Hauser and Wirth (with lovely food served in The Roth Grill) is 4 miles away at Bruton.
We had a lovely, albeit brief, stay in Evercreech. The room and en suite bathroom were excellent and a great place to relax. The house is beautiful! Barbara was very welcoming and helpful recommending places to eat for the evening. Thanks very much.
George
2016-05-29T00:00:00Z
Evercreech House is beautiful with good off-street parking. Barbara gave us a warm welcome and kindly provided cherries and cake in our room. The adjacent, large bathroom was traditional with a wonderful bath/shower and nice toiletries. The lack of modern amenities in the room (no TV, radio or shaver point) didn't bother us and maybe even added to the 'traditional' experience! Barbara was able to provide an adaptor so we could charge our toothbrushes and good wifi meant we could watch BBC News online. She even drove me to the showground when I'd missed the bus! We hope to return next year!
Ken
2016-08-07T00:00:00Z
We had a wonderful stay, beautiful house and a great breakfast. Barbara is a very kind and accommodating host
Sherrill
2016-06-27T00:00:00Z
I signed up with Barbara at Evercreech because I was going to a Wedding in the next villiage so location was ideal. Sadly Barbara was unable to be at the house that weekend but had a wonderful friend of hers who stepped in. The room was very clean and large and had a fabulous bathroom. Tea making facilities were excellent. Barbara left a delicious Lemon Drizzel cake in a tin for me. Homemade. It was my home from home as the wedding was a 3 day event .... All over a very good experience
Julie
2016-09-05T00:00:00Z
Barbara was by far the nicest host i have ever had on airbnb so far. Really helpful and very nice to us.
sean
2016-05-31T00:00:00Z
Beautiful house and village, Barbara was an excellent host and the room was exactly as described. Every amenity was provided you could possibly need! She helped out with information on the surrounding area and where to go, and her communication before and during the stay was impeccable! 5 stars! Highly Recommend!
Oscar
2016-05-02T00:00:00Z
Barbara's home is beautiful and her rooms very comfortable. Barbara made us extremely welcome; she is a very gracious and helpful host.
Neil
2016-04-18T00:00:00Z
We seriously had to pinch ourselves when we stepped into Evercreech - it is a beautiful home, full of historical character and charm. The rooms were in keeping with this and provided the comfort of home with historical feel of the building. We had a generous and and warm welcome from Barbara completed by the thought to detail in the room ( homebaked sponge was an absolute winner). Our only regret was that we weren't able to spend more time getting to know Barbara and enjoying the peace of the house. We had to come in late and go early and Barbara was gracious in her accommodation of our requests. We would not hesitate in recommending this beautiful home to anyone wanting to stay in the area. We would love to return!
Simon
2016-08-24T00:00:00Z
Tipo de Acomodação
Quarto inteiro
---
Tipo de Imóvel
Casa
---
Acomoda
2
---
Quartos
Evercreech, Somerset, Reino Unido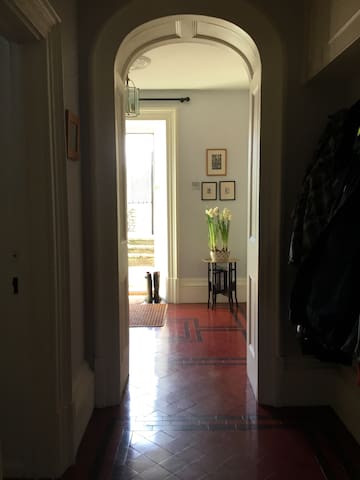 Bruton is a sweet and funky little town in South Somerset . Everything is walkable and the locals are super friendly . We have great restaurants , pubs , shops and an amazing art gallery . My home is super family friendly but minimal and clear enough to be enjoyed by those without kids . There is a large garden with very climbable trees and a little play house. You can stay in and get toasty by the woodburner or explore . Frome , Bath and Bristol are all close .
It's a minimal family home with a large outdoor space in a town small enough to potter around on foot. There are 3 bedrooms : one double , one single that can have another single added and another small single room . I have a studio in a converted shed in the garden that can also be used if necessary (it's fully converted with electric , heat , Windows and furniture so not as she'd like as it may sound ! )
They are kind , easy always helpful and up for a bit of over the gate banter .
Lovely home, like a typical english cottage. We spent very lovely envening near the fire. Close to Longleat and Bath. Nice little town. We had a lot information and very nice attentions for us and for our children.
Julien
2017-01-01T00:00:00Z
Tipo de Acomodação
Casa/apto inteiro
---
Tipo de Imóvel
Casa
---
Acomoda
5
---
Quartos
Bruton, Inglaterra, Reino Unido
Rustic basement studio and shower room in a lovely Edwardian house located in the high street of the historic town of Bruton. Shops, pubs,restaurants, the railway station, schools and the Hauser and Wirth gallery are all within a few minutes walk.
The studio has its own front door at the back of the house which opens up to a beautiful courtyard garden from which there is view of the dovecote and kings school. there are tea and coffee making facilities, a mini fridge, tv with free view, and heating. There is wifi, but this can be unreliable in the room but is available in my kitchen on the level above. The shower room with complementary toiletries, is a 'sheltered' step away, outside on the same level as the basement (see photo). Bread and muesli are provided by the host, for a do it yourself breakfast but there are plenty of restaurants 2 minutes away that serve full English breakfasts.
Bruton has a very friendly community with a population of around 3000 people. A few doors away from my house is a great restaurant called the Chapel where you can get delicious pizzas and good coffee. Across the road from the house is the Bruton Castle pub where you can have drinks and meals most days of the week. There is a vegetarian restaurant called the Green Monkey a few doors along from the pub which is open nearly every day. The Hauser and Wirth art gallery is 10 minutes walk away.
Carla is a delightful host! I only stayed one night and she made me feel so welcome and at home I wished I could have stayed longer. The room is as described, it's quite unique, it's like being in a cosy wine cellar. The bed is super comfy... wow. Carla even has come cereal and jam and bread there for you and a kettle to make tea... all handily ready. It's very private and when you wake up in the morning and come up the steps to the patio, you are welcomed with the most beautiful view across the village and fields. It's a great little place to stay, beautiful and very practically located. Carla is very respectful and considerate and keeps in touch via messages if you have any questions... When I asked her how I could get to the gallery, she even took her time to show me around Bruton a little, which I enjoyed very much. I really enjoyed my stay there, and felt instantly at home from home. I hope to visit Bruton again, I had a great time especially thanks to Carla and her wonderful sense of hospitality. Thank you! Xx
Petek
2016-04-07T00:00:00Z
Our stay at Carla's was absolutely wonderful. The basement itself is full of character and very cosy. Even though the showeroom is just outside, you hardly notice and really didn't bother us. The views from the house are beautiful and Carla provided lots of information and leaflets for nearby food, attractions, things to do ect. Carla was very welcoming and catered for our every need. Would recommend this stay to anyone fancying a few days away! Thankyou very much!
Hannah
2016-04-05T00:00:00Z
My husband and I stayed overnight the day before toddling off to the Glastonbury Festival and fell completely in love with the room and with the hostess, Carla. The bedroom was wonderfully quirky and cave-like with plenty of space and facilities. Bed was very comfortable too and we both slept well. The sweet little shower-room is just outside the bedroom door so you only have to take a quick step outdoors before you're in there - and a dressing-gown is provided if you need to get up in the middle of the night. Carla was, frankly, quite delicious, and it wasn't long before we had cracked open a bottle of wine to share in the garden! She was also asked and was very appreciative of our comments about what she could do to improve the room (a hook here-and-there, a slightly bigger fridge if possible etc.) As Glasto police decided to delay arrivals for six hours the next day, Carla very kindly allowed us to make use of the room for a few extra hours which was immensely helpful. We'll definitely be back to stay the next time we're down her way!
Jane
2016-06-22T00:00:00Z
The studio was exactly as described and very clean. Carla was a lovely host. Good communication and recommondations. Good location in Bruton, a lovely village.
Tina
2017-04-01T00:00:00Z
Carla's basement studio is fabulous. The instructions to find the place were very easy and we were greeted very warmly by Carla and a cup of tea when we arrived. The basement itself is warm, cosy and just as the photo and has all the facilities that you need. Carla also kindly provided tea/ coffee/ breakfast things too. There is a clever access road with easy parking through the garden so we didn't need to disturb Carla when we came and went through the day/ evening. Bruton is a beautiful place and we spent some time wandering around. Carla left out some useful information about the town and even gave us a torch and a clever locals route to lead us home cross country over the fields after the party! She couldn't have been more hospitable. Thank you ever so much.
paul
2016-06-20T00:00:00Z
It was a real pleasure to stay with Carla; she was very welcoming and the room itself was lovely.
Sam
2016-08-06T00:00:00Z
Carla is a truly charming, friendly and helpful host. I arrived in a bit of a panic over an almost wedding cake disaster, Carla made me a cup of tea, gave advice and came to show me the way to drop it off. The studio is charming, just as described, with a very comfy bed, a little fridge with milk and butter for breakfast and really nice bread. The shower is fast and hot and the steps up from the studio lead to Carla's lovely tiered garden going down to the river, with a great view. It would be perfect for a longer stay, if I had had longer I would have brought my paints.
Lindsay
2016-09-12T00:00:00Z
Another great/unique air B and B stay. Our communication prompt and a delightful welcome from Carla. The cave-like room was charming with original stone walls and curved ceiling. Freshly baked bread and plenty of extras in our room. The bathroom and shower are seperate but only a step away and a very private/secure space. Carla made us feel very at home... allowing us to store our wine in her larger fridge! Her garden is a beautiful walk up to the house/cave room. Location is excellent to explore Bruton. Really good value for money. Thankyou Carla
Lynn
2016-07-17T00:00:00Z
Tipo de Acomodação
Quarto inteiro
---
Tipo de Imóvel
Casa
---
Acomoda
2
---
Quartos
Bruton, Reino Unido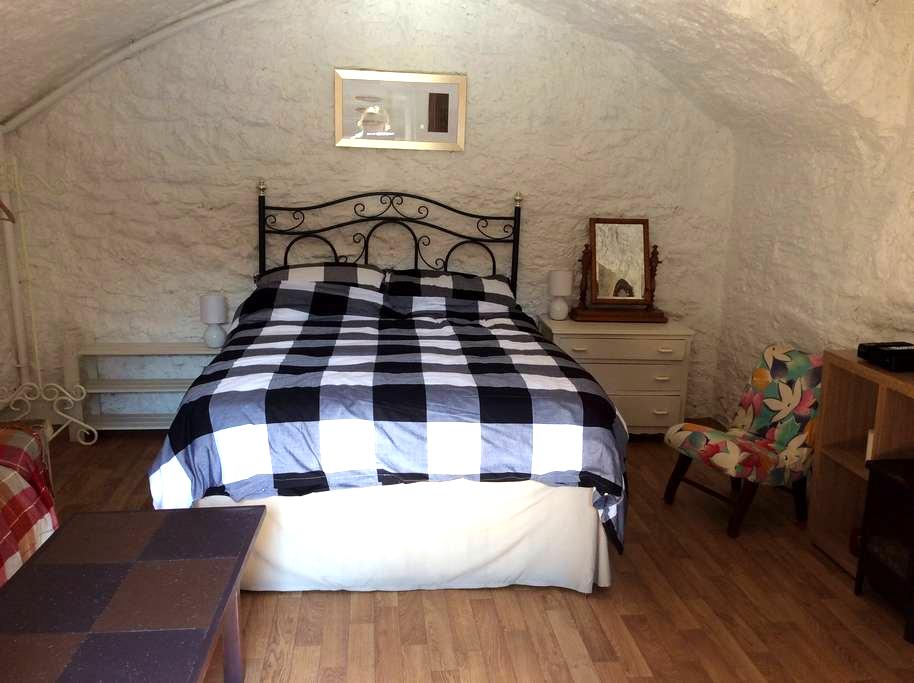 Enjoy relaxing in our new, contemporary home situated close to the amenities of Frome and Bath yet set in a picturesque, rural, Somerset Mendip village. Well appointed guest accommodation with continental breakfast provided and off road parking.
Accommodation comprises: 1 x First Floor Kingsize Room with en-suite 'rainfall' shower 1 x First Floor Twin Bedroom with stylish Guest Bathroom (bath with shower) All bedrooms have "Freeview" TV. Complimentary afternoon tea on arrival and an extensive Continental Breakfast provided each morning. Guest living room available for you to relax. Free WiFi for our guests. Off road parking available.
Trudoxhill is a village located just off the A361 with easy access to the following: Frome historic town centre, 10 minutes drive Bath City Centre, 30 minutes drive Nunney Castle, 10 minutes away Stourhead National Trust House and Gardens, 20 minutes drive Longleat House and Safari Park, 6 miles. Bruton, Hauser & Wirth Gallery, 8 miles. Wincanton Racecourse and several local Golf Courses close by. Wells, 17 miles. Glastonbury Festival site, 25 minutes away Local Private Schools: All Hallows (6 miles), Bruton Schools for Girls and Kings School Bruton (8 miles).
Jane and Graham are wonderful, welcoming and attentive hosts who care about the small details that make your stay so enjoyable. Their home is beautiful; a modern, spacious, architect-designed home. The bedroom and bathroom are spotlessly clean and of high quality. Bedding was luxurious (feather duvet) and mattress so comfortable it ensured a great night's sleep. Small details such as bottled water in your room and warm towels are great. The continental breakfast again was beyond expectations... Jane and Graham had prepared an excellent fruit salad, quality yoghurts, warm croissant and pain-au-chocolat, toast, jams and excellent coffee. Their dog Woody is a gorgeous Goldendoodle who is gentle and quiet. Jane and Graham are very pleasant people; engaging and interesting, but not overwhelming. I genuinely cannot fault my stay with them at all, it is some of the best accommodation I have ever stayed in and I'm well travelled (four continents). Jane and Graham, you've done a great job, I hope I have more meetings in Frome so I have an excuse to stay with you again!
Paul
2016-11-23T00:00:00Z
Excellent hosts, excellent accommodation. Ideal for my stay, close enough to the chess venue. Pleasant area and scenery.
Cornelius
2016-05-16T00:00:00Z
Graham is a good gentleman who helped us to take heavy suitcase into their house. He also provided a great breakfast for us on the morning. His house is big and comfortable. There are two bathroom in the house which is important for team people. The wifi is great and rooms are tidy. I strongly recommend you to choose their house.
Larina
2016-07-10T00:00:00Z
Jane and Graham welcomed us very well. I would like to thank them once again on behalf of myself and my friends. Everything was so beautiful, as you can see in the photographs. Breakfast was fabulous. I definitely recommend staying here to anyone looking for a dreamy house.
Fatih Kerem
2017-04-02T00:00:00Z
Our stay at Jane and Graham's was a very good experience. We were warmly welcomed, they are both really interesting and nice people, who made feel confortabl straight away. The rooms were very cosy, one has an ensuite bathroon, the second one can benefit from a second bathroom with a bathtub. All amenities were clean, and towels and shampoo/soap was provided. Breakfast was provided, and was huge : croissant, pain au chocolat, homemade marmelade, cereals, and hot drinks, we couldn't ask for more! Finally, there is loads of parking space, and the place is both remote in the countryside, and close to all main touristic sites, such as Bath and Stonehenge! In a nutshell, I would definitely recommend staying at Jane and Graham's, it was absolutely perfect!
andre
2016-08-15T00:00:00Z
An extremely comfortable and welcoming stay with Jane and Graham. A lovely home, just as described complimented by a superb breakfast. Their dog Woody is a delight!
Nick
2016-03-28T00:00:00Z
Warm, friendly, happy, helpful. Beautiful home and room with a fantastic continental breakfast. Home made marmalade a real treat.
Mark
2016-01-21T00:00:00Z
That was a perfect stay with Jane and Graham, in their beautiful house, modern, bright and tidy, clean to perfection, extremely comfortable. And they are wonderful couple! I do recommend this house to the highest level of #1 !
Rosen
2016-08-12T00:00:00Z
Tipo de Acomodação
Quarto inteiro
---
Tipo de Imóvel
Casa
---
Acomoda
4
---
Quartos
Trudoxhill, Inglaterra, Reino Unido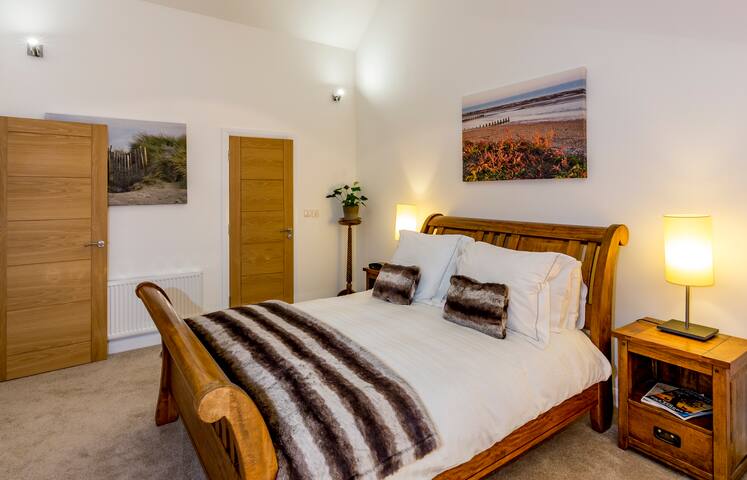 Beautiful 4 bedroom cedar shingle bungalow, set in 5 acres of idyllic Somerset country side. Staggering views and 4 miles from historic Bruton. Sleeps 7
As you enter the house, there is utility room with loo and washing machine and fridge. The kitchen/dining room is huge and open plan with Aga at one end and log fire at the other. 2 x Large trifold doors open onto the verandah, beautiful for these summer evenings and eating out. There is a fire pit in the garden for BBQ's and also the sauna There is the snug room with bifold doors onto the verandah, with wood burner and two sofas to relax and read your favourite books. Bedroom 1 Master bedroom with on suite and king size bed Bedroom 2 double bed Bedroom 3 - currently has a bunk bed for children but could sleep 2 adults Bedroom 4 - is small, but will take a double bed if necessary but currently has two cots for our twins! Bathroom is huge with Shower and double ended bath. The main house can sleep 8 and the railway carriage 2 l
When the sun sets in summer there is no place I would rather live! We live in utter tranquility, with little noise and distant neighbours. You can buy organic meat from the local farms, and also un-pasteurised milk, yoghurt and eggs. There are various pubs worth going to and some fine restaurants in Bruton including The Chapel and Matts Kitchen. Historic Bath is only 50 minutes away in the car. treat yourself to a Roman hot spa.
Tipo de Acomodação
Casa/apto inteiro
---
Tipo de Imóvel
Casa
---
Acomoda
7
---
Quartos
Bruton, Somerset, Reino Unido
1

–

18

de

29 Casas para Alugar
Insira as datas para ver o preço total. Taxas adicionais serão aplicadas. Impostos podem ser adicionados.