The top floor of our home is available with a shared front entry. Barry and Stefi live downstairs and will be home. We back onto a canal and are minutes away from the beach, airport, and new boat launch ramp. The bed sitter has a balcony overlooking the canal with a bar fridge, microwave and kettle. Available downstairs upon request is a laundry, kitchen, pool, pool table and BBQ. Small dogs welcome. Two additional private queen bedrooms upstairs. WiFi and ethernet internet.
Our space is well suited for families or couples. The street will easily park a few cars or trailers etc. One of the great benefits is it is an ideal location for dog lovers, the pathways over and around the canals and the dog friendly beach make it a holiday for them as well. The new Nojoor road boat ramp enables easy access to the Maroochy river and of course you can fish from our deck if you wish. The local beach has cafes and a surf club, with a tavern closeby. We have some adult bicycles available on application; the pathways extend to Coolum beach and over the river south to Maroochydore. You can bring your kayak/stand up paddle board for perfect flatwater paddling; direct access from the house.
Large open spaces with walking paths along canals and over the lagoon. The homes were established 20 years ago on large blocks with parks and open spaces. The kids can play soccer across the road.
Tipo de Acomodação
Quarto inteiro
---
Tipo de Imóvel
Casa
---
Acomoda
6
---
Quartos
Twin Waters, Queensland, Austrália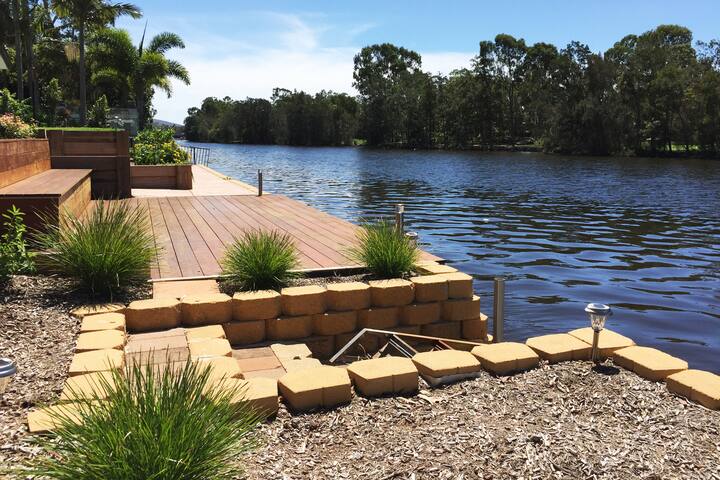 Private room in a new designer built home - lakefront, midway between Noosa and Mooloolaba - ideal location to explore the entire Sunshine Coast. There are picturesque walks around the lake and birdlife and fish abound. A short drive to surf beaches, great restaurants and markets. Wheelchair accessible. Gay friendly hosts. A Golfers dream - a choice of leading courses, Twin Waters and the new Maroochy River Golf Course are within 5 kms .
You are offered a beautifully appointed large bedroom with QS bed and TV with a spacious ensuite bathroom. A private patio extends from your room, where you can choose to have breakfast or a welcome drink. You have access to the private Media Room with a large curved Smart TV – complete with Foxtel, if you wish to watch sport or movies or just relax and read a book. The magnificent outdoor terrace overlooking the pool and an expansive view of the lake is also available. You have access to free WiFi. We are gay friendly, discreet hosts, available should you need us, but we will not intrude on your space unnecessarily. If you have special requirements, please feel free to ask. There are kayaks to allow you to explore the beautiful homes on the lakefront, bikes available and fishing from the deck overlooking the water is an option. We have 2 very friendly medium sized dogs – Pepper and Ollie.
Our new designer built home is situated in a north facing position on Twin Waters Lake, approximately •8 minutes drive from Sunshine Coast Airport, •8 minutes from Maroochydore •30 minutes south of Noosa and only a few nimutes from the beautiful surf beaches of North Shore and Mudjimba. We are also minutes away from two of the Sunshine Coast's leading golf courses, Twin Waters and the newly opened Maroochy River course. The Twin Waters Novotel Resort is also very close by, as are restaurants and shopping facilities.
I stayed for 6 days with Merran & Anne and would have loved to stay for another week if possible. Merran & Anne were so lovely, helpful and made me feel very welcome. They have been super helpful and friendly. I will definitely stay there again! The neighbourhood is quiet and the house is just awesome. Nice layout and beautiful interior. Having breakfast with a view on the lake is just priceless. Highly recommend the location but even more meeting Merran & Anne.
Svn
2016-09-06T00:00:00Z
Amazing weekend. The villa it's awesome and they are very welcoming and friendly. Free and fast access by the bedroom to the pool with a delicious continental breakfast in the early morning. Perfect surprise for my girlfriend. Recommended! :)
Michael
2016-11-05T00:00:00Z
We had a great experience. Merran and Anne are really friendly. They made very nice Breakfast that was served in an amazing view. Everything was so wonderful,We enjoyed kayaking and they helped us to do that. will definetely recommend their place :)
Athena
2016-10-01T00:00:00Z
This is definetely the best Airbnb experience i've ever had. Merran and Anne are the most friendly and warm people i've met. They are very hospitable and warmhearted. Their house is lakefront and brandnew and very clean. We are offered great breakfast every morning,they made very nice toast and coffee. Ollie and Pepper are so cute!Everything is so wonderful,I will definetely recommend their place to future guests!
Silvia
2016-01-30T00:00:00Z
The house is fantastic, it is looks exactly as pictured. The place is very clean, beautifully decorated. The bed is very comfortable and everything was well prepared. Merran and Anne are very friendly and nice. They are very happy to share the process of the house design and construction, all the details of the house is well designed, it is amazing. We are enjoy all the moment of living in this place, enjoying the sunrise in the morning, swimming in the outdoor Pool, having a breakfast in front of lake view, play with lovely dog of Pepper and Ollie and say morning to the people who are playing the kayaks in the lakes. What a lovely day. When I come back to Brisbane, I told my friends, the time of we are staying in the house is the most unforgettable experience for the short trip in Sunshine Coast. We want to tell everyone.Everything was excellent about the house, even we just stay one night, it is very impressive and pleasant stay experience. We hope we can come back next time for a longer stays. I really recommend you to stay at this place. Thanks. Cheers~ Eva &Jing
Jie
2016-09-30T00:00:00Z
A beautiful modern home in an absolutely amazing place right on the water, with great hosts, Merran and Anne. The stay was faultless, with everything you see in the online description including kayaking and breakfast, plus the advice and help from hosts who really care about your stay. I would highly recommend this experience.
Jed
2016-12-04T00:00:00Z
We had a great Easter holiday there! Werran and Anna are so kind. Guys, you should be there. It's worth to stay there if you wanna have a good holiday. Nice views, good location.,Beautiful breakfast. Merran and Anna can show you fabulous Sunshine Coast. I love there. Gonna back again!
Roy
2016-03-31T00:00:00Z
Anne & Merran were delightful hosts, welcoming and helpful yet happy to let you go about your way. Their beautiful new home is uniquely positioned on the waters edge, with stunning lap pool and relaxed outdoor seating, it was like being in a private resort. The bedroom is in the adjacent corner of the house leaving you feel like you were the only ones there. A comfortable and well appointed bedroom with private bathroom, courtyard and separate access, there is nothing more you could need for a relaxing night away.
Amey
2016-03-13T00:00:00Z
Tipo de Acomodação
Quarto inteiro
---
Tipo de Imóvel
Pousada
---
Acomoda
2
---
Quartos
Twin Waters, Queensland, Austrália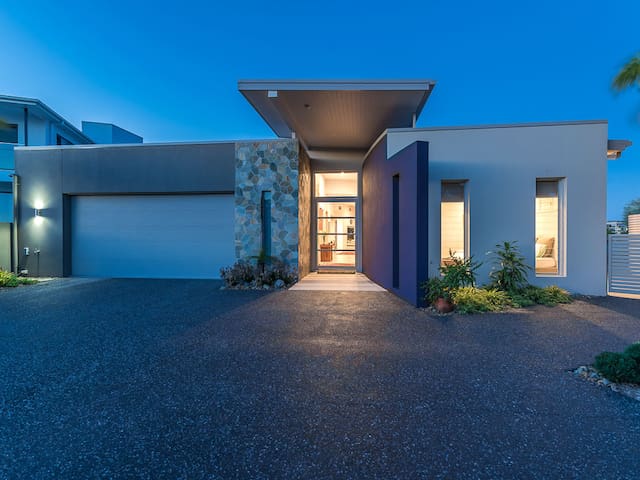 This self contained space has its own private entry with a sensational view across the Twin Waters Golf Club. The room includes queen bed, bathroom and kitchenette. There is also a comfortable lounge with extensive library. All guests have access to the resort style pool and outdoor entertaining area. The house is 10 minutes from Mudjimba Beach and Sunshine Coast Airport. It also houses "The Eighteenth Hole", another Airbnb listing which sleeps 3 / 4 guests.
Larger than an average hotel room.
Twin Waters is a quiet, sought after suburb positioned at the centre of the gorgeous Sunshine Coast. Our house is situated on Fairways Island which, as the name suggests, is surrounded by waterways and golf course.
Very spacious, clean and comfortable accommodation. Everything inclusive plus she includes fruit and breakfast for her guest. Excellent views. Patsy, is an excellent host and gives you the privacy if that is what you are after too.
Lee
2017-04-09T00:00:00Z
Tipo de Acomodação
Quarto inteiro
---
Tipo de Imóvel
Casa
---
Acomoda
2
---
Quartos
Twin Waters, Queensland, Austrália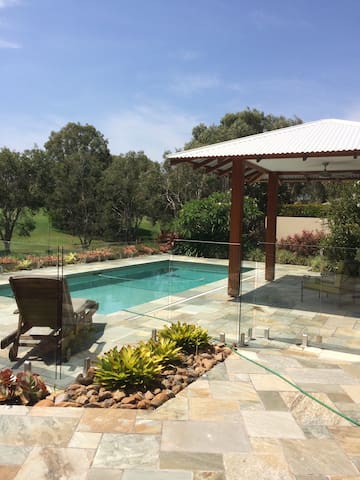 Our two bedroom, two bathroom air-conditioned apartment is located in a gated community at Novotel Twin Waters Resort on the beautiful Sunshine Coast and is 100m from the beach, river and lagoon. It is a 10 minute taxi ride from the airport and a 10 minute walk to local restaurants and coffee shops. The unit is on the first floor with river views and the building has a lift and underground parking. There is free Wi-Fi, Foxtel, an I-Pod dock, separate laundry and a large balcony with a BBQ.
It is ideally located in a secure gated community, adjacent to the resort. You can enjoy listening to the sounds of the ocean or the serenity of the native birds as you enjoy the river views on the balcony.
A secluded area, close to airport, beach and on the Novotel Twin Waters Resort.
Our stay was magical the views are amazing we felt like we were at home
Rochelle
2016-09-12T00:00:00Z
Could not speak highly enough of this apartment. Perfect location, just as described, great service!
Graham
2016-06-25T00:00:00Z
Absolutely fantastic, from our easy conversations with Robin and her assistance with an fuss free check in. The unexpected welcome package and an absolutely stunning location, parking and apartment. Robin has great taste in furnishings and choices of restaurant so we recommend reading her tips about the local area. A wonderful luxurious getaway.
Martin & Megs
2016-08-23T00:00:00Z
This was my first time using airBNB, and I couldn't have dreamed of a better experience. Robyn was able to help with an early check in time and a map of the resort to help us find our way around, she helped us with our arrival and included some wonderful treats with the room. The unit itself was absolutely breathtaking, the photos do not do it justice. The kitchen was fully equipped for family dinner party had we so wished, and we thoroughly enjoyed the tea and coffee amenities. The unit has two pools extremely close by, and we're very quite and comfortable, so if a beautiful 100m walk to the secluded beach isn't your thing, the choice of the resorts facilities will suit you fine. We were right in between the weddings ceremony and reception, the walk home was well lit and paved, perfect for a walk home after a night of dancing. This weekend away was the perfect holiday getaway for my family and encourage anyone to choose this for your next Sunshine coast holiday.
Bel
2015-11-09T00:00:00Z
Perfect stay for families, with a modern apartment with all the bits you need, in the twin waters complex and its activities. A 2 min walk to a beautiful beach and 30 mins drive to Coolum or Mooloolaba for great food. Amazing stay thank you
Troy
2017-02-11T00:00:00Z
We had a wonderful stay at this holiday apartment at Twin Waters. The apartment was very spacious, modern and well presented. We enjoyed the balcony in the evenings and the resort gardens and lagoon in the day time. Thank you Robyn for letting us use your lovely holiday home.
Hannah
2016-04-18T00:00:00Z
I thoroughly enjoyed my stay at Robyn's place as the unit was very spacious, full of light, in great condition with all possible appliances including coffee machine (I am a coffee tragic, I must admit). The view from the balcony is breathtaking. The unit is in a great complex that is full of greenery, has plenty of pools scattered around and has a feeling of serenity and peace about it. The complex is very well panned and has a sense of wonder about it. Very efficient reception, always happy to help. Robyn was very welcoming even before I have arrived and provided her phone number in case there were any problems. A welcoming card and a bottle of wine waited for me on the kitchen counter - I guess, because it was my birthday and I was very moved by this gesture. It was a pleasure to deal with her and I found this to be a very pleasant personal touch. The place had easy access to nearby towns of Maroochydore, Mooloolaba that have all trappings for fine dining and boutique shopping. I highly recommend this place to anybody who is looking for a peaceful, very comfortable and pampered stay at Sunshine Coast. Nataliya
Nataliya
2016-01-09T00:00:00Z
Robyn gave us all the information we needed for an easy arrival. She was very understanding of our situation when we nearly had to cancel due to our dog needing emergency surgery. Fortunately we were able to continue our holiday and absolutely loved being there. The apartment was spacious and very clean and tidy. Thankyou for a great stay, we will definately recommend and hope to stay again.
Vanessa
2016-01-05T00:00:00Z
Tipo de Acomodação
Casa/apto inteiro
---
Tipo de Imóvel
Apartamento
---
Acomoda
4
---
Quartos
Twin Waters, Queensland, Austrália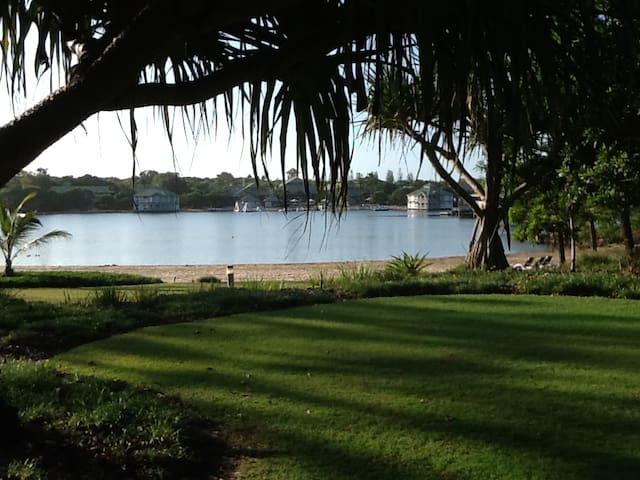 large room en suite within a spacious water front resort style home, heated pool, fishing on the deck.
Novotel Twin Waters is 2.5 k from our house, it is a pleasant 30 mins stroll, or 10 mins by bike, less than 5 mins by car. The nearest beach is 2 k away, 10 mins by car you will be at the largest shopping complex on the Sunshine Coast, called Sunshine Plaza.
Voted the best address in the world. Our house is at the end of a private island, quiet with breath taking view.
Daniella and Jan have a beautiful home in a very nice suburb in Twin Waters. They made me feel very comfortable and were gracious hosts. Jan makes a great cup of coffee and I had a great week attending a conference at the Novotel resort which is a short 20 min walk away. I would highly recommend them and would definitely stay there again.
Todd
2015-08-03T00:00:00Z
Daniella and Jan were lovely hosts and we would definitely stay with them again.
Mandy
2016-12-17T00:00:00Z
Daniella and Jan have been almost like mum and dad - very caring and integrating. They famiy atmosphere was relaxed and they integrated me almost like their own son! The room was spacy, clean and comfortable, with a very nice ensuite bathroom. The Twin Waters lake view from the living room was just as spectacular as Jan's yummy morning coffee. I can definitely recommend this little peace of paradise to anyone who wants to have a relaxed stay in a beautiful spot along the Sunshine Coast.
Thomas
2015-10-06T00:00:00Z
Very friendly hosts! Beautiful location! Comfortable room. I only stayed for 2 nights for a conference at the Novotel twin waters. It took about 30-40 mins to walk , but it was an easy and pleasant walk.
Charlotte
2015-11-23T00:00:00Z
Beautiful, clean, and spacious room!Amazing! The hosts are wonderful people. Definitely recommend it.
Yusuf
2015-11-28T00:00:00Z
Everything really worked very smoothly and the room etc met all my expectations. Generous host who makes a great coffee! Exceptionally clean and well equipped.
Dianne
2016-10-02T00:00:00Z
Really enjoyed my stay. Great people made me feel very welcome. Recommend
Yosanta
2016-09-12T00:00:00Z
I was attending a conference at the Novotel Twin Waters Resort and found this lovely place to stay nearby (a nice 30-35 min walk). Daniella and Jan are perfect hosts, who helped me with everything I needed. There was a very friendly and relaxed atmosphere, and the site is just fantastic.
Paul
2015-08-22T00:00:00Z
Tipo de Acomodação
Quarto inteiro
---
Tipo de Imóvel
Casa
---
Acomoda
4
---
Quartos
Twin Waters, Queensland, Austrália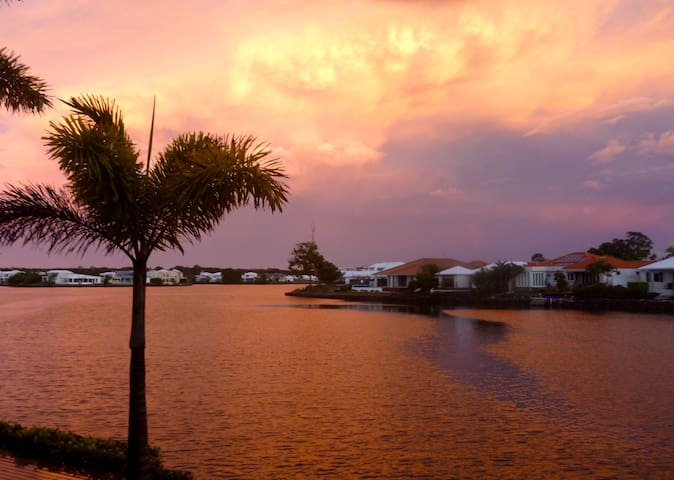 Enjoy yourself in our beautiful and luxurious oasis by the beach boasting two living areas, outdoor entertaining area and refreshing inground saltwater pool. We look forward to warmly welcoming you! NOVOTEL TWIN WATERS EVENTS - We are very close by and are happy to include complimentary car lifts to and from venue in line with event start/finish times of your event ** please confirm our availability to do this at time of your booking - pls note min 3 night booking applies **
Leonie was great. She made the stay very special, being a vibrant and positive person, with lots of helpful information about the area. The house was perfect, and all facilities were better than expected. Thanks for the stay.
Victoria
2016-07-28T00:00:00Z
Great room and house to stay in. Leonie was very friendly. Highly recommended.
Dean
2016-10-17T00:00:00Z
Leonie and Neil were awesome hosts! They were particularily super helpful to give us some brilliant ideas of what to do in the area and places to check out, and made an especially big effort to make us feel welcome! The place was perfect for what we needed, Leonie and Neil were extra accomodating to help make this trip work out well for us!! Would HIGHLY recommend them as hosts - awesome people in general.
Jessica
2016-08-08T00:00:00Z
Leonie is a very kind hosts. We enjoyed a movie" Miss Fisher " together. Have a lovely time with her and her cousin Eva. Absolutely 2 cute dogs. :) Clean & Beautiful home and pool. Unfortunately we haven't got a time to try the pool. Overall We would recommend to stay with her.
Cheuk Ming
2016-07-14T00:00:00Z
Literally made it feel like I was a person living in a share house. Was great, large space within living areas. It was a great spot for any keen golfers. 5 mins between two great course.
Nelson
2016-08-20T00:00:00Z
Host made us feel very welcome, and it was a great place to stay in a great location.
Jim
2016-07-10T00:00:00Z
Our experience was amazing, we enjoyed our stay in the house, it is very comfy and the family was just kind and nice.
Charles
2016-11-12T00:00:00Z
Leonie was a great hostess and had great communication leading up to our stay. Despite some last minute changes which prevented us from staying with her, she was flexible and very accommodating! Thanks so much!
Aimee
2016-09-04T00:00:00Z
Tipo de Acomodação
Quarto inteiro
---
Tipo de Imóvel
Casa
---
Acomoda
2
---
Quartos
Twin Waters, Queensland, Austrália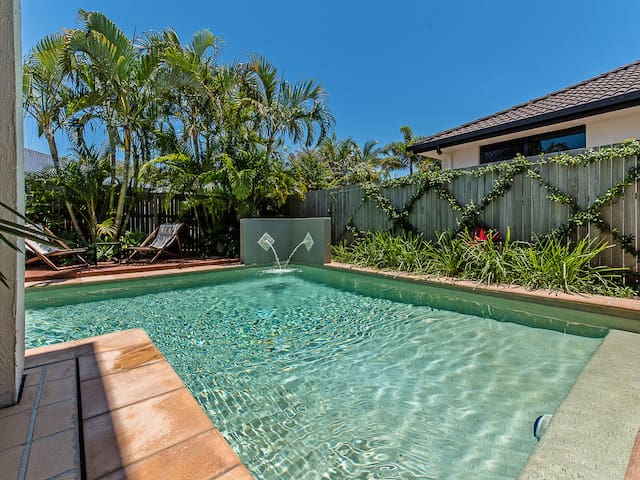 Extra large 3 bedroom + study apartment minutes to the beach. Ground floor with undercover parking for 2 vehicles. Suitable for families or small group enjoying a break. Generally minimum 3 night stays but may consider 2 nights on request.
Tipo de Acomodação
Casa/apto inteiro
---
Tipo de Imóvel
Apartamento
---
Acomoda
8
---
Quartos
Twin Waters, Queensland, Austrália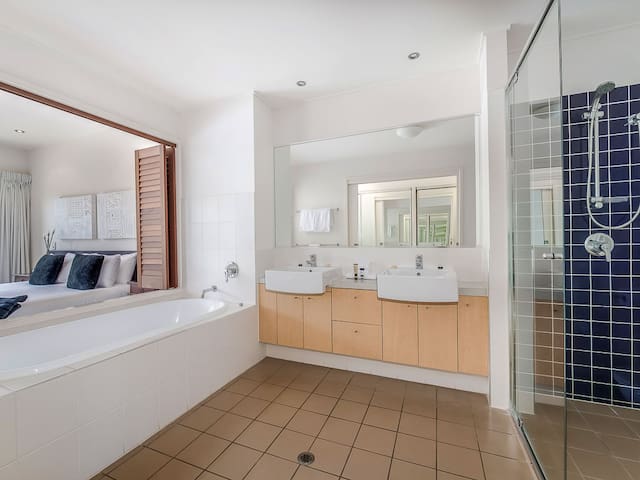 Want a Sunshine Coast retreat where you can watch the sun set over the beautiful lagoon at the Twin Waters Resort. Then Reflections is the place for you! 2 bed, 2 bath sleeps 4, Private parking, with access to private pool, own garden, Foxtel, wifi (fee applies) and BBQ. You can also access all the Novotel Resort facilities, including restaurants, bar, water park, Sailing, Kayaking and Golf. The surf beach and Maroochy river are 5 mins walk. Sunshine Plaza and Airport are a 15 min drive.
Direct lagoon water views and ground floor access make this a dream holiday destination. You can't help but relax!
Perfect accommodation for the family. Everything you need to enjoy a break.
Megan
2017-04-09T00:00:00Z
Shhhhh !! Don't want to tell everybody how great this place is !! Lovely villa , well equiped and great amenities , we will be back. .
Rob
2017-03-11T00:00:00Z
Great apartment, beautiful location. Will be back again
Cath
2017-03-05T00:00:00Z
Tracy is a wonderful host; thank you for a great holiday!
Corinne
2017-01-12T00:00:00Z
Tipo de Acomodação
Casa/apto inteiro
---
Tipo de Imóvel
Apartamento
---
Acomoda
4
---
Quartos
Twin Waters, Queensland, Austrália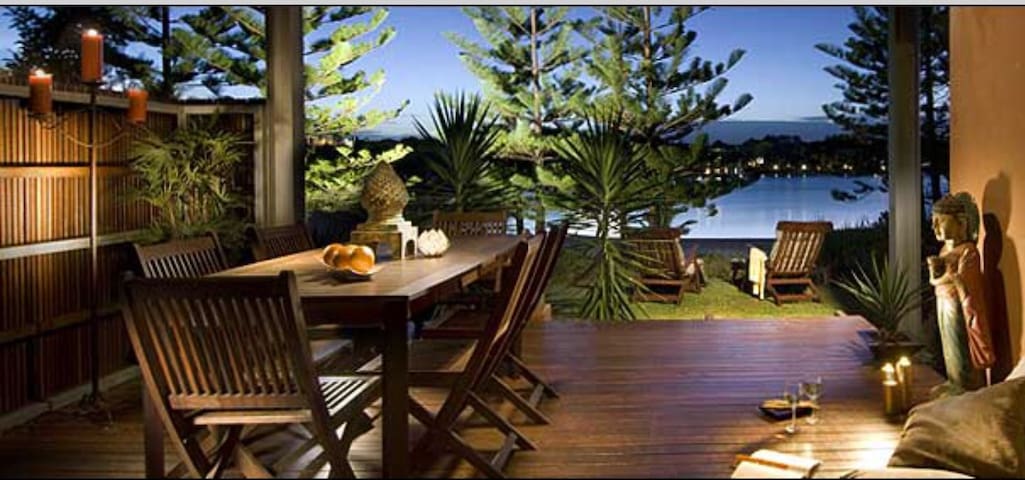 Sunny modern apartment within The Sebel complex (formerly known as The Grand Mecure), only ten minutes from the airport and close to all the Sunshine Coast has to offer. Close to Twin Waters Golf Club. Sit on the balcony and enjoy the magnificent view over the central lake while watching the sunrise. With complimentary use of all the adjacent Novotel facilities across the short bridge walk including gym, pool and restaurants and only a five minute walk from the beach or river what more do you need.
The unique thing about this property is it not only has the security of being in a gated complex with a pool but boasts access to all the Novotel has to offer including gym, pool, spa and restaurants. All of this accompanied by magnificent views.
Karen was a pleasure to deal with. The apartment was above expectations, great sized balcony, lovely decor and great for kids to be able to use Novotel Facilities.
renae
2017-01-10T00:00:00Z
We enjoyed all the resort facilities available at Twin Waters and also the two pools closer to the unit. The unit itself was spacious and comfortable for a family with lovely kitchen and two bathrooms. Our host Karen even left us some supplies for breakfast which was a lovely touch. Karen's communication leading up to our stay was amazing and we were made to feel very welcome.
Cathy
2017-01-01T00:00:00Z
Exactly what it says on the advertisement.
barry
2017-01-15T00:00:00Z
Tipo de Acomodação
Casa/apto inteiro
---
Tipo de Imóvel
Apartamento
---
Acomoda
4
---
Quartos
Twin Waters, Queensland, Austrália
Luxurious fully furnished air conditioned apartment, in gated resort community. Very private location. Tropical surrounds. Short strolls to beautiful beach or riverfront. 10 minutes to Maroochydore airport, restaurants and beach side tourist hub.
Ideally located in a secure gated community, and only a short stroll from the resort facilities, this very comfortable unit, exudes relaxation and serenity. Listen the the sound of the waves breaking on the beach whilst enjoying the musical calls of all the native birds.
Nestled in a very private corner of an exclusive residential community, our ground floor unit is surrounded by native flaura, providing a very serene relaxing atmosphere whilst being so close to the Maroochydore river and Mudjimba beach.
Nice stay, easy to check in as the apartment is in the Sebel complex. Friendly staff, and Tony and Lisa where very helpful answering any queries. The resort is a little isolated however, with limited dining options nearby.
James
2016-07-22T00:00:00Z
Twin Waters is a beautiful part of the world and our accommodation was nicely suited for our needs to attend a family wedding. It was well appointed with access to all amenities and facilities. The apartment is pefectly located in a peaceful setting. Tony and Lisa are fantastic hosts ... responding quickly to any query and providing us upfront with all information we need. Thanks heaps - we hope to make a return visit.
Tracey
2016-04-10T00:00:00Z
We had such a lovely time at Tony & Lisa's beautiful apartment! Everything we needed and centrally located for a wedding we were attending at Marcoola. Would definitely recommend!
Lizzi
2015-09-21T00:00:00Z
Great place to stay, everything was just like the listing and was such a brilliant location for a wedding we attended. The apartment was spacious and well stocked with all the amenities we needed. Tony was great to deal with and responded to queries immediately. I would definitely recommend this place to anyone looking for a relaxing space, we can't wait to come back again!
Jess
2016-01-12T00:00:00Z
Tony was very prompt, kind and helpful in all of our queries. :) Our family thoroughly enjoyed celebrating Adam's birthday. The apartment was spacious, comfortable and clean. We had a lovely swim in the lake, evening walks along the water seeing fish and ducks, played cricket on the beach and body surfed the waves. It was an excellent summer family holiday and a great location! Thank you Tony and Lisa!
Bernice
2016-01-05T00:00:00Z
This place was perfect for us and our staff! Thank you for having us Tony and Lisa we really appreciate it!
Megan
2016-07-29T00:00:00Z
This i sthe most amazing apartment in a perfect location. SO comfortable, welcoming, relaxing and in a beautiful bish setting beside the beach. Unbelievable! We couldn't believe our luck.
Mowgiliboy
2017-03-05T00:00:00Z
Great apartment with everything you need for a wonderful holiday. Very large space with plenty of room for our whole family (6 adults, 2 children & 1 baby). All the amenities you could want and the location is absolutely perfect. Only a few minutes walk to the beach, river, pool or resort lagoon with free activities. Tony & Lisa were the perfect hosts, very responsive to questions and so helpful with information about the apartment. Highly recommend staying here to anyone!
Shannon
2016-09-20T00:00:00Z
Tipo de Acomodação
Casa/apto inteiro
---
Tipo de Imóvel
Apartamento
---
Acomoda
8
---
Quartos
Twin Waters, Queensland, Austrália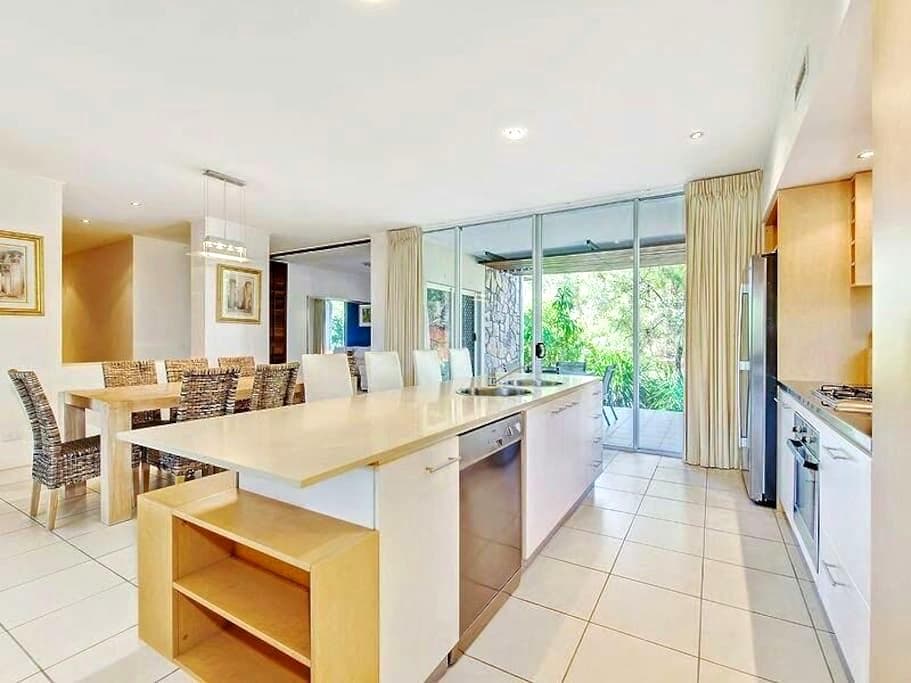 Right on the banks of Maroochy River, great for water sports lovers. Quiet home and neighbourhood suitable for family or business people. Well situated with a 5 min drive to Sunshine Coast Airport and 10 min drive to Maroochydore. 17 minute walk to Novotel Hotel Twin Waters. Breakfast included.
Sandy & Warren were so welcoming, friendly & caring. We felt very comfortable staying with them for over a week, like we were part of the family. Their home is beautiful, the rooms/beds/bathroom very comfortable & the pool is amazing. The location is so peaceful backing onto bushland & the Maroochy River. It was a real treat to play with their dog Tammy. She is so friendly. Thank you both for being so generous with your time & home. We will miss you.
Belinda
2016-10-06T00:00:00Z
Sandy and Warren and Tammy (the dog), were marvellous from the start, communication was easy and quick, queries answered promptly. Being our First time at an Airbnb, we were unsure of what to expect, from the moment Sandy and Warren greated us on Friday our minds were put to ease. We enjoyed having a good chat with our hosts, over some food and drinks which was great, The house was beautiful, room great with a super comfy mattress which we miss already. The neighbourhood is quiet and very relaxing, we enjoyed a great walk around the water with our hosts and we didn't want to leave. Warren and Sandy could not do more for us and went far beyond the service one would expect, We are so glad we made the choice to stay with Sandy and Warren rather than at Novotel Resort. We were not rushed to leave the property on Sunday after our fabulous bacon and egg breakfast. An experience we will remember and hope to have again with them in the future. Make sure to play some game a with Tammy the dog, you will have fun with her she will become your best friend. Don't look else's where stay here or you will regret it
Nathan
2016-05-16T00:00:00Z
It is a modern house to live in. Sandy and Warren are very friendly. We enjoyed the whole house , especially the double room and the very private bathroom. Quite neighborhood and close to everything. Tammy, the dog, is very quite and lovely. I think it is really worth to spend your holiday here. Highly recommend. Next time if we are coming here, we will choose this lovely place again.
Feng
2016-11-27T00:00:00Z
Sandy and Warren are not just amazing people to hang out with but top hosts! The place is so beautiful - the pictures do not even begin to capture just how stunning and perfectly positioned their home is. So accomodating, welcoming and professional. Sandy and Warren went above and beyond. Highly recommend!
Anna
2016-11-05T00:00:00Z
It was great to feel at ease during my five night stay. Sandy and Warren are very welcoming and hospitable in their beautiful home. The private bedroom and bathroom were so lovely and the home is conveniently located near the Novotel where I was attending a conference. Thank you Sandy, Warren and Tammy for a very comfortable stay and accommodating my comings and goings . xxx
Joelle
2016-09-11T00:00:00Z
This was a very last minute booking and I mean last minute but what a gem of a place. Sandy Warren and of course Tammy made us feel very welcome and We felt at home immediately. Nothing was to much trouble. loved our walk with You guys and seeing some of Australia's beautiful scenery/ animals especially the large kangaroo We are only sorry that it was a very brief visit but hope to be back before to long. Sandy and Warren were the most wonderful hosts . As the saying goes "arrive as strangers leave as friends" Thank You so Much for sharing Your beautiful home.
sue
2016-10-30T00:00:00Z
This was the first time we had used AirBnB. It was amazing! The host's home was beautiful, and their hospitality was just above and beyond anything we expected! We would highly recommend this property and hosts to anyone wishing to stay in this part of the world, it was the best experience we could have had; well above our expectations and we are planning a return visit. We sincerely hope all AirBnB properties and hosts are like this and if not, they should be!
Jodie
2016-07-19T00:00:00Z
I had a fantastic stay with Sandy and Warren. They are very attentive and lovely hosts who were always very accommodating and fun to hang out with. I was attending a conference at the nearby Novotel Twin Waters and found staying here a much better option, not only being much cheaper but also being able to prepare my own food in the kitchen. The house is lovely and backs onto the bush which leads down to the Maroochy River and there is lots of bird life to sit around and look at whilst lounging by the pool :-) Looking forward to the next conference so I can hang out with Sandy and Warren again.
Sophia
2016-10-25T00:00:00Z
Tipo de Acomodação
Quarto inteiro
---
Tipo de Imóvel
Pousada
---
Acomoda
2
---
Quartos
Twin Waters, Queensland, Austrália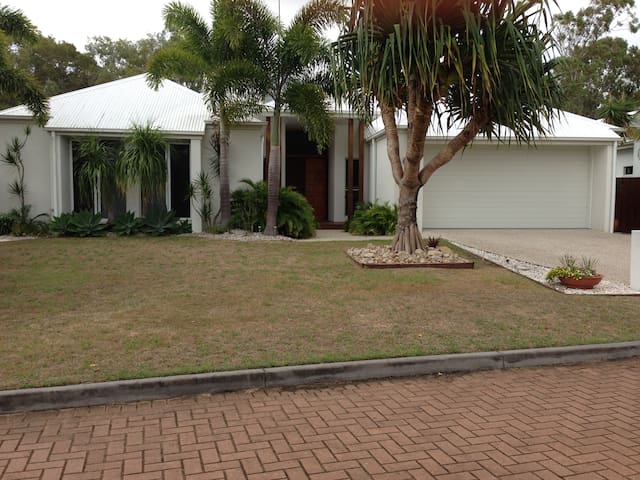 Modern space including 1 bedroom, 1 sitting room with sofa bed and bathroom with separate toilet. A small kitchenette is included with the sitting room. Set right next to the 18th green of Twin Waters Golf Club and 5 minutes from Mudjimba Beach. Sunshine Coast Airport is 5 minutes with free pickup if necessary. Continental breakfast included.
Amazing hospitality. Recommended
Paige
2017-02-11T00:00:00Z
Same a previous. Thanks
claire
2016-12-15T00:00:00Z
Lovely location with separate and private self-contained area for guests within a well maintained home. Lovely garden overlooking the golf course. A relaxing stay. Thanks so much Patsy. See you again when we are next in the area.
Steven
2017-04-09T00:00:00Z
WOW!!! What an amazing sanctuary to stay. For me it was the perfect quiet space I required after long days at work. I had the best night sleep in the extra comfy bed. I felt like I was on a soft fluffy cloud. The option of air-conditioning or fans for my comfort. The decor was just beautiful and modern. Lots of books, games and video for entertainment. A pool to dip into to refresh and a view of open green fields to allow the mind to wonder. I am so grateful for Patricia's hospitality. I praise her on here offering of this clean, comfortable space, and I thank her for being who and what she is....Perfect!
irfan
2017-01-28T00:00:00Z
We have had such a wonderful time in Patricia´s home so we wanted to stay two more weeks! And fortunately it was possible.
Elisabeth
2017-03-18T00:00:00Z
It was wonderful!!!
Leonardo
2016-12-26T00:00:00Z
Great position on the Sunshine Coast, central to everything in a beautiful quite location. The accommodation is private and beautifully decorated by the host, everything you need and more. Microwave, fridge, TV in the bedroom and lounge and able to watch the golfers approach the 18th whilst sitting in the pool. Totally loved it, with 6 golf courses within 30 min drive
Tracey
2017-01-08T00:00:00Z
Fråga vad som ingår i "breakfast" och "luftkonditionering".
Elisabeth
2017-04-01T00:00:00Z
Tipo de Acomodação
Quarto inteiro
---
Tipo de Imóvel
Casa
---
Acomoda
3
---
Quartos
Twin Waters, Queensland, Austrália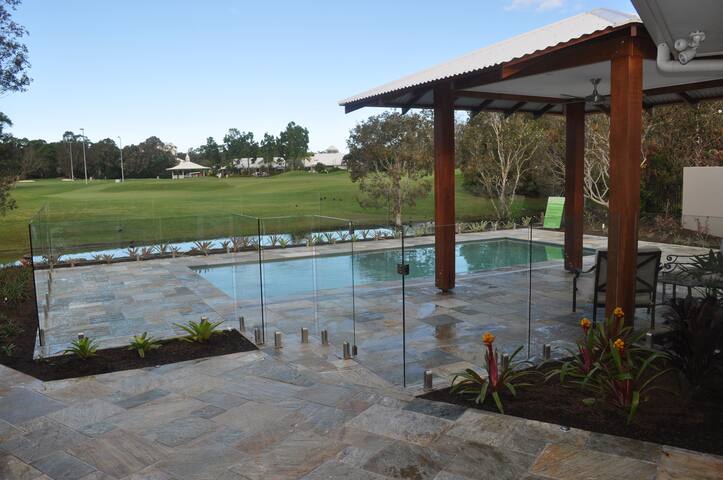 My place is close to restaurants and dining, the beach, and family-friendly activities. You'll love my place because of the outdoors space and the ambiance. My place is good for couples, solo adventurers, business travellers, families (with kids), and furry friends (pets).
The host canceled this reservation 12 days before arrival. This is an automated posting.
Giselle
2017-03-31T00:00:00Z
Tipo de Acomodação
Quarto inteiro
---
Tipo de Imóvel
Casa
---
Acomoda
2
---
Quartos
Twin Waters, Queensland, Austrália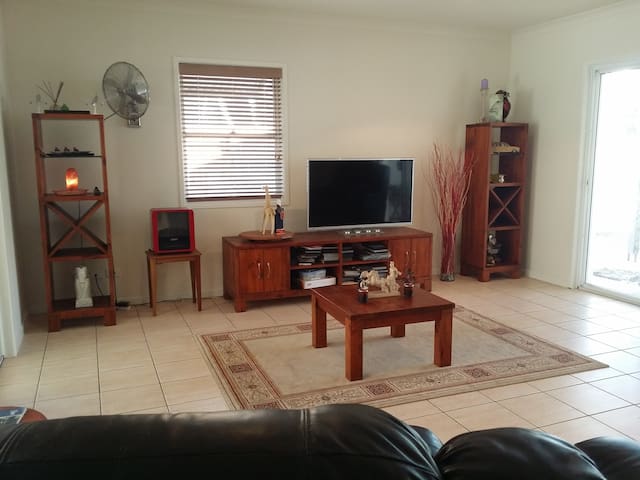 3 Bedroom Apartment - large kitchen, car parking, outdoor dining, sweeping views over the Maroochy River and Buderim, ample room for 6 Guests ! Bring your family for a week of relaxation in this beautiful spot on the Sunny Coast!
We had a great time, we love twin waters looking forward to coming back
Suezy
2016-10-19T00:00:00Z
Our stay at Twin Waters was wonderful. Rino greeted us warmly and gave us a fabulous surprise with a upgrade to a larger unit than we had originally booked. The house was beautiful and spacious with all the amenities to really feel like home. The only disappointment was we couldn't stay longer to enjoy more of Twin Waters itself.
Sherrie
2016-09-06T00:00:00Z
The apartment was fantastic, quiet and very family friendly. The amenities are great. I would certainly stay again.
Naomi
2016-12-10T00:00:00Z
Great place to stay and Rino was easy to deal with
Paul
2016-10-30T00:00:00Z
Very friendly check in. Good to meet Rino and his team at the Sebel. Easy check in. Apartment was lovely , clean and accurately described. Good facilities to use at the resort. No gas in the BBQ but that was remedied quickly.
Shaheen
2016-09-25T00:00:00Z
Awesome little 2 story villa! My family and I loved it, in fact we didn't expect it to be so lovely. It was modern yet homely at the same time. I'm a chef and I thought the kitchen was equip and well set up, I actually liked cooking in it. Really thoroughly enjoyed our stay and will be back again for Christmas next year!
Adelene
2016-01-06T00:00:00Z
Perfect place for family celebration/mini holiday! Very relaxing area with walking distance to beach and resort facilities. We 6 adults had a wonderful stay at Sebel Twin Waters. We highly recommended it for a short or long stay. We will definitely come back again and spend a longer holiday. Our host Rino and Reception Staff are very friendly and helpful !
Therese
2016-10-01T00:00:00Z
We loved the stay! Amazing location and apartment. We loved having the use of all of the Twin Waters facilities (pools, aqua park, mini golf, resturants) and Rino was really easy to communicate with. Thanks for a great little getaway!
Ellie
2017-01-01T00:00:00Z
Tipo de Acomodação
Casa/apto inteiro
---
Tipo de Imóvel
Apartamento
---
Acomoda
6
---
Quartos
Twin Waters, Queensland, Austrália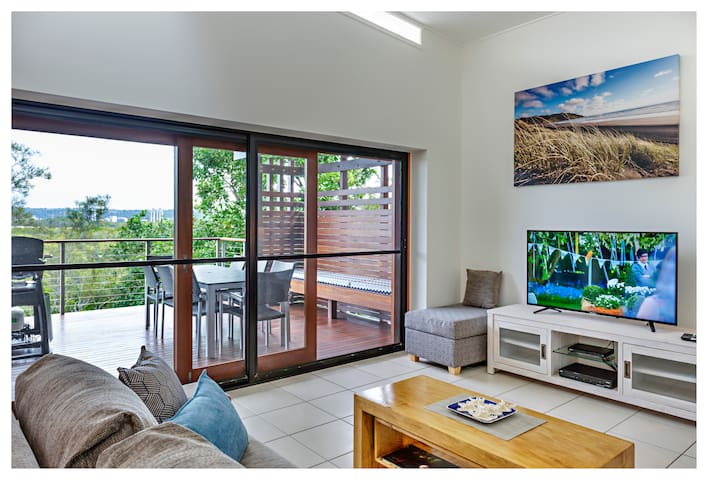 Our penthouse apartment is situated in a high security gated community on the river with beautiful water views. We are 10 mins from the Sunshine Coast Airport and can arrange free pickup. Brisbane Airport is about 1 hour away with buses that drop you at our door. Your private area offers one bedroom, a sitting room with sofa and TV, a private balcony, private bathroom with shower/bath and separate toilet. Also use of rooftop entertainment area with bbq & kitchenette.
We are only a 5 minute drive from the beach and coffee shops. A 5 min drive or 15 minute walk to the Novatel Resort and a 5 minute walk to the beautiful Twin Waters Golf Club. There is a well stocked store within a 5 minute walk where you can buy excellent take away food. Noosa is just a 20 minute drive north and Mooloolaba is 10 mins away. Australia Zoo is 25 minutes by car.
Twin Waters is a highly sought after residential quiet suburb with friendly neighbours. There are great walking tracks around the canals.
Tipo de Acomodação
Quarto inteiro
---
Tipo de Imóvel
Condomínio
---
Acomoda
2
---
Quartos
Twin Waters, Queensland, Austrália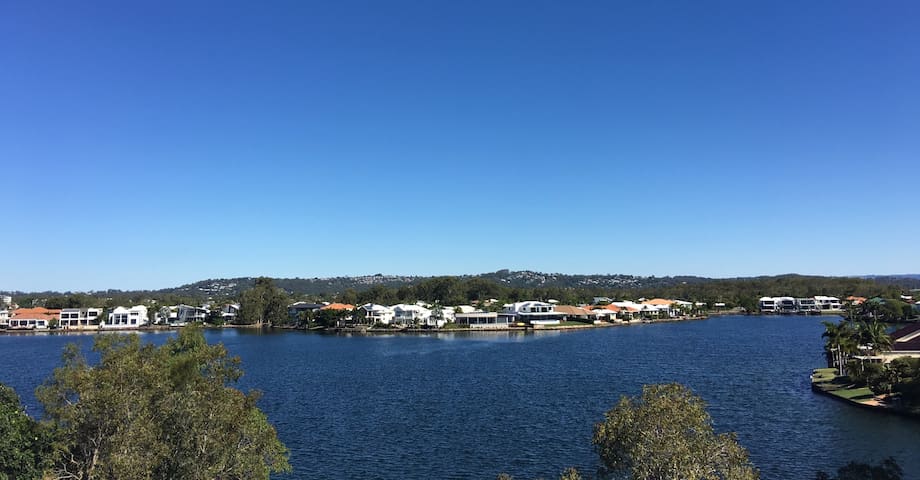 Stunning 2 Bedroom split level town house in a beautiful gated community. Centrally located to all the Sunshine Coast has to offer. 5 minutes from the Sunshine Coast Airport, 30 minuets from Noosa Heads. Featuring 2 swimming pools,spa and BBQ facilities,
A modern and lovely furnished home. 2 bedrooms with king beds and 2 Bathrooms. Beautiful private courtyard with a BBQ and outdoor dining table. Access to the gated communities 2 swimming pools, Spa and BBQ area.
This is in a leafy and quiet location . Great for two couples and those seeking privacy .
Tipo de Acomodação
Casa/apto inteiro
---
Tipo de Imóvel
Casa
---
Acomoda
4
---
Quartos
Twin Waters, Queensland, Austrália
My place is close to Novotel Twin Waters, Maroochydore, Coolum ,Sunshine Coast Airport Twin Waters Golf Club. You'll love my place because of Its proximity to everything on the sunshine coast. My place is good for couples, solo adventurers, and business travellers.
James made me feel very welcome he's a friendly guys and very accommodating. His place is lovely the rooms was great very comfy bed and the bathrooms is really nice the pool area is lovely the location is nice and quiet too. His place is only about 10 mins walk to Novotel and the beach so perfect location good value for money.
daniela
2016-10-23T00:00:00Z
Tipo de Acomodação
Quarto inteiro
---
Tipo de Imóvel
Apartamento
---
Acomoda
2
---
Quartos
Twin Waters, Queensland, Austrália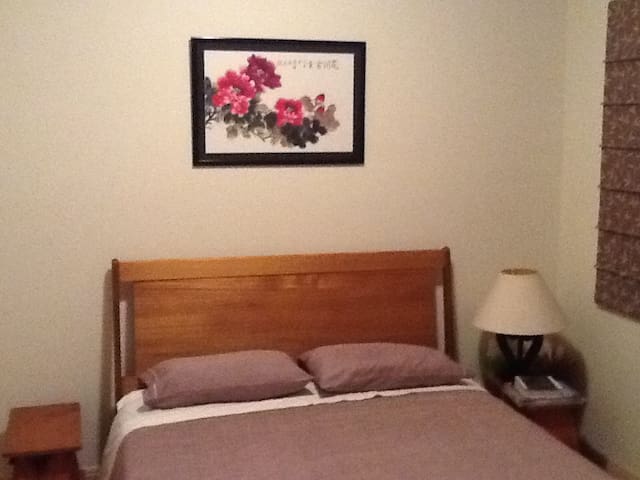 Our place is close to the beach, the shops, Maroochy river and many of nature's playgrounds. You'll love our place because of the tranquility, the sound of birds chirping and lovely sea breezes. We are pet lovers so our place is pet friendly too. NOVOTEL TWIN WATERS EVENTS - We are close by and happy to include complimentary car lifts to and from venue in line with your event start/finish times ** pls confirm our availability to do this at time of your booking - 3 night min booking applies **
For my first Air BNB experience the bar has been set very high!! Leonie was most welcoming host, even from my pre arrival contact to my entire stay I truly felt at home and relaxed. She is a true advocate for the surrounding area and a wealth of knowledge on where to go and what to see. It was a wonderful experience and I am so happy to have been welcomed into their home :)
Barbara
2016-10-09T00:00:00Z
Leonie was a fabulous host and made me feel right at home. The location was perfect for the conference I was attending at the Novatel, the pool was lovely, and the bed super comfortable. Thanks Leonie!
Fi
2016-09-10T00:00:00Z
Leonie was such a darling! She was extremely caring and took really good care of me and my friend! Had such a great time staying at your place. Hopefully in the future we can stay for a longer period!
Divya
2016-09-12T00:00:00Z
Tout est là pour passer un merveilleux séjour. Très belle maison spacieuse, beau jardin et belle piscine. Tout l'équipement dont a besoin un voyageur est présent. L'accueil y est chaleureux et tout est pensé pour faciliter la vie ici. Je recommande à tous cet endroit.
Axel A.
2016-10-17T00:00:00Z
Leonie was very friendly and made me feel very comfortable. The room was clean, bed was comfortable and overall I was really, really pleased.
Andrew
2016-09-23T00:00:00Z
Made very welcome amazing. Great thanks
Pam & Colin
2016-10-12T00:00:00Z
My boyfriend and I felt welcome from the first second we arrived! We only stayed for one night and left early next morning.. but we really enjoyed our brief stay. The house is beautiful, super comfortable bed, and Leonie was a great host. She was enthusiastic about the area and gave us a lot of suggestions for things to do. We could even borrow bikes. We would love to come back!
Monica
2016-09-27T00:00:00Z
We only stayed with Leonie for one night but what a lovely stay! There is a saying that goes: "you may not remember what someone says, or what they do, but you'll always remember how they made you feel" and this is perfect for Leonie. From stepping in through the front door her lovely energy and friendly personality made us feel instantly at home. The place is really clean and the pool area in the garden is beautiful. Quiet, lovely neighbourhood close to canals to bike around (we borrowed bikes to do this) and about a 5 'min drive to a supermarket and other amenities. Thank you Leonie!!
Beatrice
2016-10-23T00:00:00Z
Tipo de Acomodação
Quarto inteiro
---
Tipo de Imóvel
Casa
---
Acomoda
2
---
Quartos
Twin Waters, Queensland, Austrália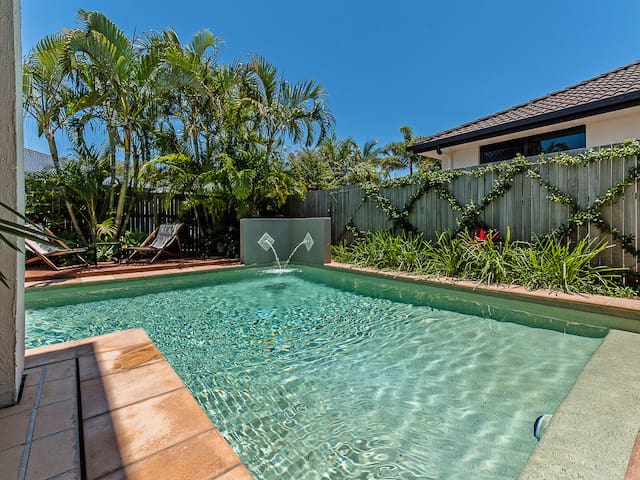 1

–

18

de

Mais de 300 Espaços para Alugar
Insira as datas para ver o preço total. Taxas adicionais serão aplicadas. Impostos podem ser adicionados.