Localizado nas montanhas de Wicklow, ótima localização para caminhantes, famílias e grupos com alojamento relaxante, acolhedor e confortável. Zipwiring atividades no local, reserva com antecedência é essencial, Zorbing em breve! Chá / café na chegada.
fogo quente, chá / café na chegada, novas instalações, incluindo alojamento, duche / WC, jantar / cozinha, juntamente com banheiro / área de serviço totalmente equipada. Confira nosso lado actividades ao ar livre à direita na (URL HIDDEN) Viagem Berço disponível a pedido.
What a fab rural getaway! Clean, comfortable, warm and those views! Stunning. Thank you so much for having us x
Rosie
2016-05-25T00:00:00Z
Myself and a couple of friends stayed here for 1 night. It was absolutely fantastic. The rooms were clean and modern along with the bathrooms. The setting was absolutely beautiful. There were the most magnificent views from the bedroom windows of the Wicklow countryside. My only regret is that we didn't stay longer. Tom was extremely helpful and couldn't do enough for us. We all particularly loved the dogs Buddy & Buttercup :) We are already looking at coming back for a couple of days in the Summer.
Michelle
2016-04-01T00:00:00Z
endroit calme et agréable au coeur de la nature , hôtes disponibles et accueillants
Loïc
2016-09-08T00:00:00Z
Tom was friendly and welcoming. The accommodation is comfortable and clean. The location is beautiful and calm. We were disappointed with the lack of breakfast but everything else made up for it. We will be happy to go back.
Isabel
2016-05-23T00:00:00Z
Really enjoyable axperience as wild as Ireland gets. Unforgettable!
Thenes
2016-07-13T00:00:00Z
Very well received in a wonderful house.
Erwan
2016-07-30T00:00:00Z
We only met them briefly on arrival.
Trevor
2016-08-14T00:00:00Z
We had a wonderful experience staying at the Green Adventure EcoHostel. We ended up getting in quite late from the airport, but everything was open and ready for us. The facilities are top notch, with nice beds and high quality facilities. While the location is quite remote, it allows guests to see a beautiful, rural side of Ireland. Thomas was incredibly friendly, and showed us around the farm a bit. We even got to see the tail end of a calf being born!
Patrick
2016-03-24T00:00:00Z
Tipo de Acomodação
Casa/apto inteiro
---
Tipo de Imóvel
Casa de campo
---
Acomoda
8
---
Quartos
Tinahely, Wicklow, Irlanda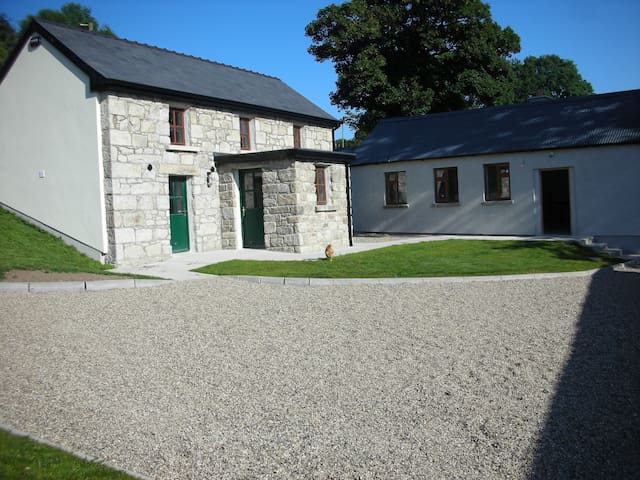 4 chambres à louer s'il vous plaît me contacter pour voir la disponibilité ne vont pas par le calendrier. Merci de bien vouloir me contacter Nous sommes mis au coeur de Co. Wicklow au milieu des vallées où les vues panaromic sont specticular. Ici, nous élevons des chevaux de peinture américains parmi nos autres animaux d'élevage. Toutes les chambres doubles salle de bains. Bon petit déjeuner irlandais. Quatre miles de Ballybeg Hse, même que d'autres B & B. S'IL VOUS PLAÎT NOTE PRIX EST PAR PERSONNE AVEC PETIT DEJEUNER S'IL VOUS PLAÎT NOTE NOUS SOMMES 1,5 MILES DE PUB LOCAL ET TROIS PAYS DE MILLES SUIVANTE PUB
Large espace ouvert avec de belles vues panoramiques magnifique comté de Wicklow. 1,5 miles à PUB LOCAL ET 3 miles othet PUB LOCAL. 5 miles à Carnew & Tinahely, 10 MILES Gorey. Chambres de bonne taille DÉCENT EN ALL SUITES. ENTRETENU DAILY. Grande salle à manger. PEUT ÊTRE RECUEILLIS ET RETOURNÉ LOCAL BUS TRAIN ETC
pueblo precioso con unas vistas fantásticas. muy silencioso. bares tiendas locales, etc en los pueblos cercanos
Susan was very friendly and welcoming. I did not have cell phone service but she kept communication open through the AirBNB app. Room was very clean, nice large comfy bed and great shower. We were given a cup of tea and light snack on arrival and made us feel comfortable staying in her house and was provided a AWESOME and large traditional Irish breakfast of Eggs, Bacon, Sausage,Toast & cereal. Home has beautiful sweeping views of the valley and green hill sides. Home is 30 min from the coastal towns, 15 min from town of Gorey and 5 mins from a awesome local pub called The Gap. I would stay here again and recommend!
Brian
2016-06-13T00:00:00Z
Great Location and service, Recomend
Conor
2017-02-26T00:00:00Z
Stayed for one night for a wedding at nearby Ballybeg House. The host showed us a nice clean and quiet room. And gave us a key. The venue is about 5 miles away so you'll need a car. The house is quite easy to find and the host was very friendly. The breakfast was excellent and she gave us a lift to Ballybeg to collect the car, which saved us €15 in a taxi. Thanks Sue!
Dermot
2014-09-28T00:00:00Z
Lovely house in a beautiful quiet location. Sue was an excellent host, texting me directions to her place, making sure everything was comfortable for me when I arrived and providing a hand drawn map to Ballybeg House where I attended a wedding. Clean and spacious bedroom and the dining room has an outstanding view of the Wicklow countryside. Fine traditional Irish breakfast too.
Klaus
2015-07-20T00:00:00Z
a
Colm
2015-05-04T00:00:00Z
Susan was lovely and the house was beautiful! Couldn't have asked for anymore. Breakfast was beautiful and it was lovely chatting with her and her lovely hubby. Ps, the tea and cake on arrival was so very welcomed and enjoyed! Would love to stay again, and disappointed I wasn't staying for longer.
Stacie
2016-10-30T00:00:00Z
Nice and decent place to stay and very hospitable hosts. Ask the husband for the horses ;)
Paul
2016-08-17T00:00:00Z
Perfect location for a wedding in ballybeg house!
Lucy
2015-06-29T00:00:00Z
Tipo de Acomodação
Casa/apto inteiro
---
Tipo de Imóvel
Pousada
---
Acomoda
4
---
Quartos
Tinahely, Wicklow, Irlanda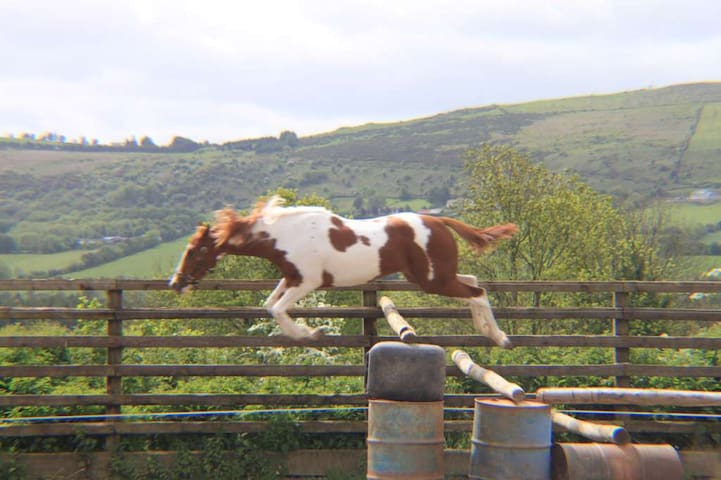 Situado en el sendero de larga distancia Wicklow Way medio de las hermosas montañas de Wicklow. Histórico pabellón de caza en las orillas del río OW impresionantes jardines y paseos por el bosque.
Consulte el sitio web (URL HIDDEN)
Consulte nuestro sitio web (URL HIDDEN)
Sean is really welcoming and helpful
Marie-Hélène
2016-10-31T00:00:00Z
Tipo de Acomodação
Quarto inteiro
---
Tipo de Imóvel
Casa
---
Acomoda
2
---
Quartos
Tinahely, Wicklow, Irlanda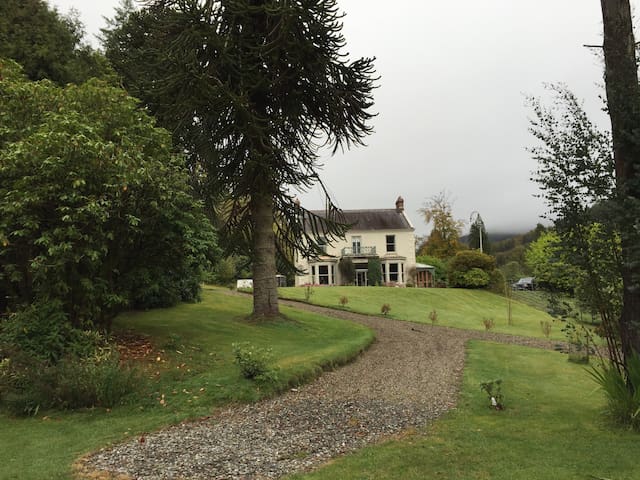 Mein Haus liegt in der Nähe der Wicklow Way und ist ein idealer Ausgangspunkt für alle, die schönen Wanderwegen suchen. Haus genießt besonders schöne Aussicht auf Wicklow Landschaft. Gleich hinter dem Haus befindet sich ein Wanderliebhaber träumen, verschiedene Wege für verschiedene Niveaus anbietet. .
We had a blissful stay in Rachel's stunning Tinahely home! All three double rooms are large, beautifully decorated and with luxurious textiles! The kitchen was very well equiped, and a lovely space to hang out in with friends. Rachel had left lots of staples, and treats (!) for us in the cupboard as well as a bottle of wine! Thanks Rachel :) It was a joy to stay here for two nights! The area is beautiful with access to stunning walks. We climbed Mangan's Loop, whic was a very enjoyable but manageable climb, with lovely views from the top.
Carol
2016-10-23T00:00:00Z
We loved our stay at Rachel's house. The house itself is beautifully decorated; it is cosy but spacious and very comfortable. the beds and linens/towels are all luxurious and all the bedrooms are done up to a very high standard. there is a lovely fireplace in the main living room and this was a lovely room to relax. unfortunately the internet was not working for the duration of our trip which also meant the smart tv was out of action. this would not bother everyone but we need access to emails etc so was a bit of a pain. the kitchen was large and a lovely space to congregate but was missing a few minor essentials such as cheese grater, veg peeler etc! not a big deal but as we cooked almost all meals at home we ended up buying from the local village. i would still highly recommend this house to families or groups of friends.
charlie
2017-02-21T00:00:00Z
Absolutely loved this airbnb it was stunning in and out of the property! We went to a wedding about 5min drive away in ballybeg house its the perfect spot! Book it now! Coming back def:)
ashling
2017-01-02T00:00:00Z
Our stay at Rachel's lovely home in Tinahely was wonderful! We were surprised to find we had the entire property to ourselves - and we had wonderful weather so really appreciated the privacy of the gorgeous garden to sit and play in enjoying the sunshine. We were a group of three couples and two dogs and the house was perfectly set up for our weekend away. The kitchen was amazing, and dining table a perfect fit for our group. We had a great time playing games in the large front receptions rooms that are beautifully decorated and comfortable. The 3 bedrooms are really large and offered plenty of space and peace. We are already planning our next trip back to the "Manor House" as we're calling it! Thanks Rachel!
Amanda
2016-08-01T00:00:00Z
We stayed for two nights in July 2016, and would thoroughly recommend the house to others. In fact, we look forward to coming back ourselves! We were two couples, but with three large double bedrooms and spacious kitchen and reception rooms, the house would comfortably accommodate six people. As advertised, the views of the Wicklow countryside are spectacular, and it's a great base for nearby walking trails as well as the wider South Wicklow hinterland - or a quiet drink in one of the hostelries in Tinahealy!
Ixchel
2016-07-28T00:00:00Z
Tipo de Acomodação
Casa/apto inteiro
---
Tipo de Imóvel
Casa
---
Acomoda
6
---
Quartos
Tinahely, Wicklow, Irlanda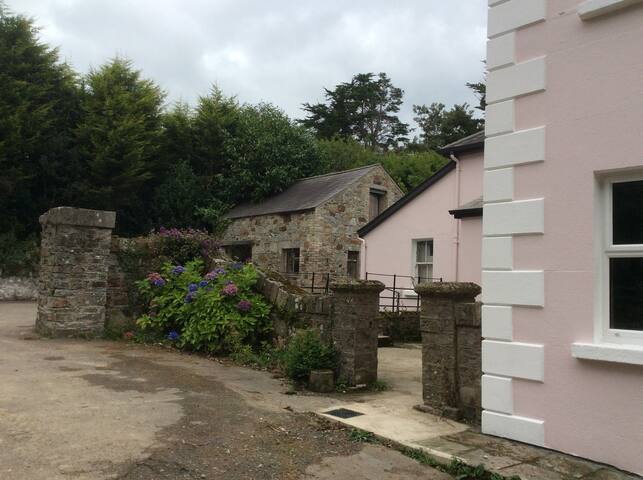 Du vil elske Clone House. Det er en fantastisk 9 BR hus i den smukke Wicklow Hills blot en times kørsel syd for Dublin. Perfekt til konfirmation, små bryllupper, fødselsdage, Corporate Affairs, høne / polterabend blandt andre aktiviteter. De høje lofter, hyggen, pejse, overdrev rundt og smukke haver fuldende billedet. Klon er velegnet godt for store grupper og pelsklædte venner (kæledyr).
Tæt på bjerge, strande, floder og søer i County Wicklow. Magnificent georgiske familie hjem behageligt placeret i Wicklow s Aughrim Hills indenfor 60 km County Dublin. Du vil elske Clone House som det sidder på ca 4 tønder velplejede haver, græsplæner, buske og er en dejlig restaureret arv hus. Fantastisk udsigt over omkringliggende landskab. Vi er bare genåbning Clone House for erhvervslivet i maj efter yderligere opgraderinger. Vi ser frem til at give en førsteklasses oplevelse. HAVER & grunde Haverne og grunde, der omgiver boligerne er særdeles velholdt og haven er blevet godt planlagt til at give farve og privatliv. Huset links problemfrit med haverne og bredere indstilling, med udsigt strækker til de omkringliggende bjerge. Vi lever i Clone House i en privat familie kvartaler, så vil være tilgængelig, når nødvendigt Clone House HISTORIE Clone House daterer sig tilbage til 1650 's og har en charmerende historie. Oprindeligt bygget af O'Byrne familie var det Manor House på en stor ejendom strækker sig på tværs Moneyteigue, Klon og Coolahullen. Desværre huset var brændt ned i 1798 Rebellion men blev smukt restaureret omkring 1805 og senere blev en populær pensionat for området. Samlet indkvartering på Clone House præsenterer en komfortabel familie hjem med fine modtagelse værelser til underholdende eller afslapning. Fastholdelse mange af sine oprindelige funktioner i huset har stor karakter og er blevet smukt og tålmodigt restaureret.
En smuk natur Clone House nyder en storslået privat indstilling, nogle 3,5 km (2 miles) fra den maleriske by Aughrim. Aughrim betyder "hest højderyg" er en lille malerisk landsby i County Wicklow og ligger i den naturskønne dal i den østlige del af Irland mellem de større byer i Arklow og Balltinglass. County Wicklow er også kendt som 'Garden of Ireland', hvor der er en skattekiste fuld af familiens aktiviteter at gøre. AKTIVITETER I OMRÅDET Clone House er inden for tæt på 4 fremragende golfbaner Woodenbridge Golf Club, The European Golf Club, Druids Glen Golf Club og Glen af Downs. Der er fremragende væddeløb i nærheden i Leopardstown, Naas, Punchestown og The Curragh, der er alle inden for kort køreafstand. Der er også et bredt udvalg af ridning faciliteter i lokalområdet, herunder Wicklow Equestrian Center og Bel-Air Equestrian Center i Ashford. Jagt i området generelt er godt sørget for med The West Wicklow Pack og de Bray Harriers. Der er også fiskeri og Vandreture omkring floder, søer og bjerge i området. Glendalough og Laragh er en kort køretur.
Tipo de Acomodação
Casa/apto inteiro
---
Tipo de Imóvel
Vila
---
Acomoda
16
---
Quartos
Tinahely, Condado de Wicklow, Irlanda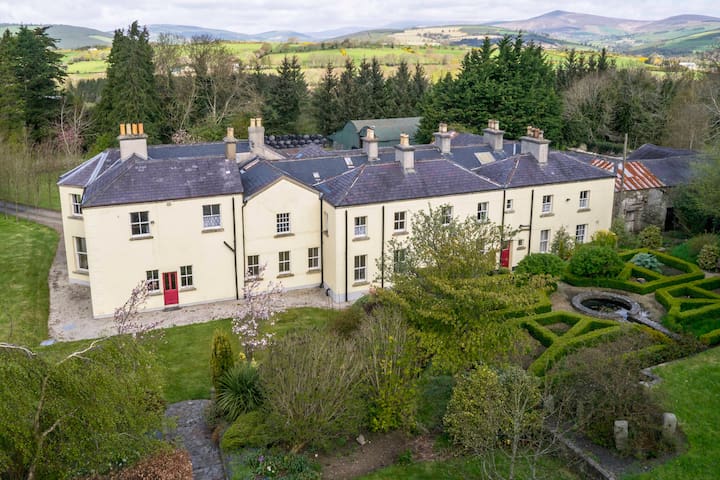 At the foot of Lugnaquilla Mountain, Aghavannagh Barracks offers a unique base for walking in the Wicklow hills or relaxing by the fire. The house has been carefully restored over the last seven years, with comforts such as log burners, wool carpets in the bedrooms and formal gardens. It is the perfect place for a weekend getaway and worth spending two nights here to fully appreciate the quietness and the space. Guests have their own bedroom, bathroom, breakfast room and sitting room.
Aghavannagh Barracks is a unique place to stay being the only Barracks on the Military Road with original layout and features. Once the shooting lodge of Charles Stuart Parnell it is now a comfortable family home.
Aghavannagh is a very peaceful location, the perfect get away from busy cities. Ideal for relaxing in front of the fire with a good book. We are 25 minutes from Glendalough and a 90 minute drive from Dublin. There are many gardens near us also, Powerscourt, Mount Usher, Kilmacurragh and Altamont to name a few.
We had an absolutely fantastic stay at the barracks, Veronica and Rory are excellent hosts and have a beautiful home. Definitely a highlight in our trip and very highly recommend for other travelers!
Anne and Derek
2016-07-08T00:00:00Z
We had a wonderful night in these beautifully renovated former barracks. Great servic as well. The surrounding is really beautiful! Thanks Veronica!
Lucas and Florence
2016-10-07T00:00:00Z
Lovely welcoming couple, wonderful location, phenomenal 'house'. Veronica and Rory made sure that we felt comfortable, while providing us with plenty of privacy. Thank you for the unforgettable experience.
Sander
2016-09-24T00:00:00Z
The Barracks is an amazing place to stay, so peaceful and exactly as described (if not better!). Garden was a joy to sit in and fantastic views. Our bedroom was lovely and had great wooden sliding sash windows and nice decor. Breakfast was really good too.
Emma
2016-05-31T00:00:00Z
We spent a too short moment in Aghvannagh Barracks. The place is truly lovely, renovated with heart and intelligence. Really a rare place, quiet and so charming. We also appreciated spending time in reading the nice books in the living room where informations on the history of the place, archeology, and ancient mansions of ireland is available. Veronica the owner of this wonderful place is also a truly interesting and absolutely nice person. We hope we'll have a chance to spend more time together one day. If you are searching for a place of quality, Barracks is definitively a must. Ludovic, Laure and Eärendil
laure
2016-09-30T00:00:00Z
This place is incredible! If you love simple, tasteful, kind, welcoming. If you love green landscape, amazing bath tub, quiet and relaxing rooms with a fire, a blanket and a tea .... Great books! We loved it so much I can not wait to return. I am traveling alone with my 18 years old son, visiting colleges in Dublin. We did an impromptu visit to the country site, climbing a mountain and exploring water falls, monasteries.... The barrack made us feel so special, out of time, back in time. It is hard to explain, big stone stair cases, fresh pressed orange juice and warm home made bread for breakfast. The host are there when you need them but very laid back to give you privacy and time to enjoy the place. I would recommend this place to all my friends and hopefully come back one day with my husband.
Regine
2016-09-13T00:00:00Z
Veronica and Rory immediately made me feel welcome and greeted me with a smile and genuine hospitality. A roaring fireplace and fresh tea and home baked scones set the scene for my stay. The whole building is steeped in history and has been lovingly renovated over the last 5 years by Rory and local craftsmen. An amazing free standing granite staircase and countless original architectural improvements . Bedrooms and bathroom have been carefully restored and provide both modern comfort and period design. The grounds of the house are carefully manicured and provide peaceful places for relaxation and reflection. You can watch the family chickens and ducks rooting around while sheep graze in the adjoining fields. This spot is isolated and shops and restaurants are a drive away. For walkers Veronica makes kitchen use available or if you are really lucky you might be asked to share her superb vegetarian cuisine. The hosts have naturally found the perfect mix of warm hospitality along with respect for privacy and peace. Only a kilometer off the Wicklow Way this is a perfect and natural spot to break your journey whether on foot or in the car.
Keith
2016-04-12T00:00:00Z
Absolutely wonderful stay. Veronica's place is extremely clean, comfortable, and inviting. The history of the barracks is very interesting and how they have restored the building is beautiful. Thank you very much for the chance to enjoy your home!
Mallory
2016-06-10T00:00:00Z
Tipo de Acomodação
Quarto inteiro
---
Tipo de Imóvel
Pousada
---
Acomoda
2
---
Quartos
Aughrim, Wicklow, Irlanda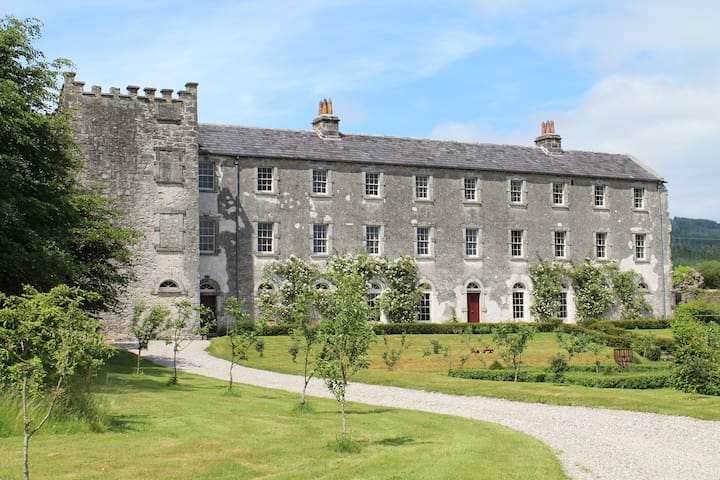 Aughrim, award winning village with country markets, close to Glendalough, Avoca, Wicklow Way, delightful walks, angling, a 70 minute drive to the Dublin. Captivating views, private entrance, car park, out door decking, peaceful garden.
A self contained appartment with private entrance. Kitchen/living area, double bedroom with ensuite. Extra single bed available on request. Beautiful outdoor seating and barbecue area. The kitchen is stocked with basics such as tea, coffee, milk , sugar etc.
Aughrim is nestled in the Wicklow hills with beautiful views. The village has a range of shops, and people are very friendly. There is a local fishing pond, golf course, coast and mountains all within easy reach. Convenient to Brooklodge Hotel and Ballybeg wedding venue. It is a perfect place to enjoy Wicklow and the east coast.
We never met Mary but John was really nice. The apartment was nice - kit, bedroom and bathroom. Thank you very much and all the best to you!
Kristy
2016-08-12T00:00:00Z
Nice apartment with amazing views . Everything as described.
Sergio
2015-07-27T00:00:00Z
I was welcomed by John, very warm and friendly. The accommodation had all I needed and more. It was warm, homely, peaceful and quiet with such beautiful views out over the hills and mountains. Thank you John and Mary.
Craig
2015-10-13T00:00:00Z
Lovely place and great hosts. Relaxed and totally accommodating. Great views of the countryside too!
Ronan
2016-07-05T00:00:00Z
We spend two nights at Mary's and everything worked very well; the bed is conformable, the kitchen very practical and fully equipped and the small details they provided such as local bread, fruits, tea, coffee... was just the icing on the cake!
Maria
2016-08-01T00:00:00Z
The apartment was great and it exceeded my expectations. Large bedroom, comfortable bed with heated blankets, everything you need in the kitchen and bathroom. No need to bring your own towels or shampoo. The kitchen was stocked with bread, tomatoes, cheese, milk, coffee and tea! The apartments has it's own entrance so it is private and everything was very clean. Mary and John are very nice people.
Sara
2016-07-06T00:00:00Z
De woning was prima. Mary was een goede host. Het ontbijt was minimaal, voor de rest een prima locatie!
Hans
2016-07-18T00:00:00Z
Un appartement confortable avec cuisine/salle à manger et une grande chambre séparée. Un lit très confortable et une belle salle de bain. Un accueil sympathique, bref un séjour très agréable
florent
2016-08-24T00:00:00Z
Tipo de Acomodação
Casa/apto inteiro
---
Tipo de Imóvel
Apartamento
---
Acomoda
2
---
Quartos
Aughrim, Wicklow, Irlanda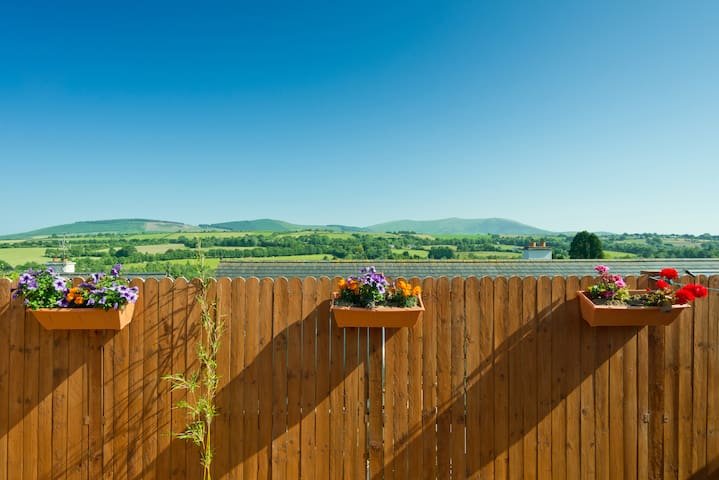 A picturesque village only an hour south of Dublin. 5 mins drive from The BrookLodge Hotel. Great for exploring Co. Wicklow & for vivid anglers. You will love the relaxed vibe & beautiful surroundings. Very comfy bed, bright spacious living room with fireplace, lovely terrace, peaceful views. Suitable for couples, solo adventurers, business travellers, families with kids & pets. Dining options within 5 minutes drive incl. Sri Lankan, Chineese, Italian, Organic fine dinning, & few Irish Pubs. :)
The bed in your rooms is king with a split mattress so can be arranged as twin or single person. Travel cot or extra single mattress on request. We live upstairs so you can enjoy full privacy downstairs.
Very safe area and friendly neighbourhood.
I actually had to abort this visit but I have given Julia 5*s for everything because she was so kind and accommodating. First class customer service
Pip
2017-03-07T00:00:00Z
The room was spacious and well lit. Very clean and warm and very appealing. Excellent host mannerly, welcoming and warming to me. Gave me great info on what I needed to know about my stay. Facilities were excellent in bathroom. Would recommend it highly as good access and parking facilities.
Declan
2016-10-09T00:00:00Z
Julia and Marek are wonderful people, extremely hospitable. We had lovely conversations and they kept serving me beer and food. The room is great and the area where they live is very beautiful.
Jeroen
2017-01-09T00:00:00Z
Tipo de Acomodação
Quarto inteiro
---
Tipo de Imóvel
Casa
---
Acomoda
2
---
Quartos
Aughrim, Condado de Wicklow, Irlanda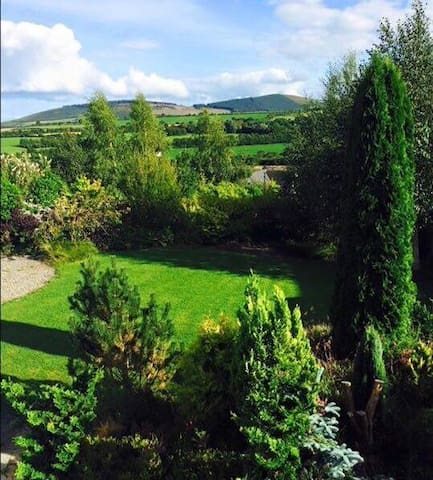 No 27 is a self catering house . All bedrooms are en-suite, hair dryers, dressing tables and full length mirrors are provided in each bedroom. Living Room with open fire, comfortable seating, TV, DVD player, radio, a selection of CDs, DVDs, books and games. Kitchen/Dining including dish washer, clothes washer, refrigerator, iron and iron board, oven , hob, microwave, kettle, coffee maker, toaster. Good to know: Non smoking, no pets and not wheelchair accessible.
John was a great host and went over and above to make sure we had everything we could possibly need. It's a great house in a super location. Great for a young family like ours as well as individuals or couples travelling alone.
Christina
2016-08-25T00:00:00Z
We had a great weekend, the house was lovley and cosy, with everything we could possibly need including dishwasher tablets and kitchen paper, not to mention the cheese left out to welcome us. We'll definitely be back!
Keith
2016-11-20T00:00:00Z
This place is lovely. Well appointed, excellent location, good value; an airbnb trifecta. John is an excellent host.
david
2016-11-27T00:00:00Z
John was a great host and easy to communicate with. He had cheese and crackers waiting for us when we arrived as well as milk, coffee and sugar available in the kitchen which to Canadians who love their coffee in the morning is very important. The dining room table was also preset for us. John gave us the rundown on where everything was located in Aughrim as well he had this information on a pamphlet. There is a great fire place in the living room which was stocked with wood and coal. All we had to do was lite the fire. The house is conveniently within minutes of good restaurants and pubs. We had a great stay.
Stedman
2016-09-10T00:00:00Z
The host canceled this reservation 262 days before arrival. This is an automated posting.
Maggie
2017-01-09T00:00:00Z
Our host made us all feel most welcome and the house and the house was every bit as impressive the photos suggested. The local area in and around Aughrim is second to none. Beautiful. John was more than happy to set us in the right direction of the perfect walk for our brief stay. A real treat.
greg
2016-06-06T00:00:00Z
We thoroughly enjoyed our stayed! The house was so inviting and homely from the minute we set foot in the door! Heating and lights on, cheese board, tea, coffee, milk etc all waiting on arrival to kick start our weekend! The house was spotless and the beds were so comfortable. We had plenty of space for 4 adults and 2 children with 3 ensuites it made getting ready for the wedding so much easier! Thanks again John for everything.
Julie
2017-03-05T00:00:00Z
What a great place- perfect for a family of 5 with 3 children!! Located mins from town centre with great pub/bistro not far. The host John was so helpful and gave us lots of information about the area and places to visit. The house was so comfortable, clean and so many extra things provided such as milk and coffee/tea to a welcome plate of cheese and biscuits. We really enjoyed our stay and highly recommend this place to anyone wanting to stay in a beautiful little village not far from Dublin! Thanks john for your hospitality and wonderful place!
Donna
2016-07-05T00:00:00Z
Tipo de Acomodação
Casa/apto inteiro
---
Tipo de Imóvel
Casa
---
Acomoda
6
---
Quartos
Aughrim, Wicklow, Irlanda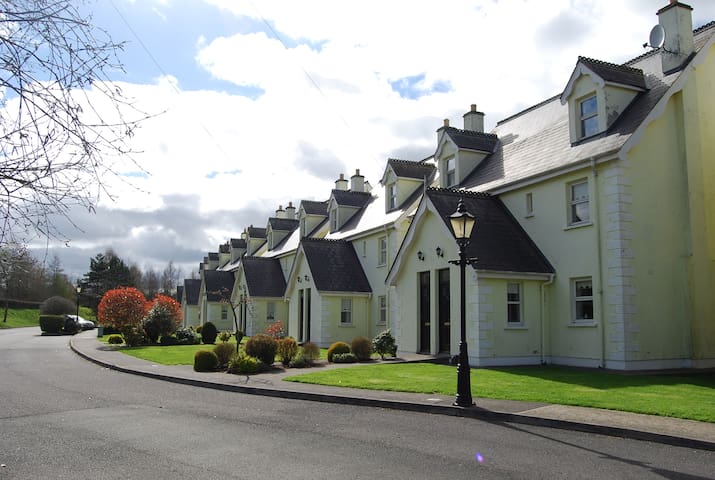 This townhouse has been recently renovated througout and is located in the picturesque village of Aughrim. It comprises master double bedroom ensuite, twin bedroom and single bedroom with a downstairs bathroom. Kitchen/sitting room with balcony also.
The accomodation comprises of: Upper floor Recently renovated kitchen with all mod cons, sitting room with open fire with logs provided for a cosy evening in. Sky TV and Broadband. Balcony with seating and stunning views of the Wicklow Mountains. Double Bedroom with en suite toilet and shower. Guest bathroom Lower Floor: Bedroom with both a double and a single bed Single Bedroom Bathroom with bath and shower There is a BBQ available for use by guests on a sunny evening also. Access to washer and dryer upon request.
Aughrim is an award winning picturesque village in Co.Wicklow about 40Km south of Dublin. The village has won the National Tidy Towns competition. Brooklodge Hotel is 5 minutes away and Ballybeg house less than 15 minutes. Glendalough National park is a 20 minute drive away.
Central location. Good communication with host who checked in with us during our stay.
Yvonne
2016-07-02T00:00:00Z
Enda's place was great. Very good location for walking around the Wicklow mountains, and in the centre of Aughrim with plenty of nice pubs and good food. Communication with Enda was easy and relaxed. Would definitely recommend.
Roisin
2017-03-19T00:00:00Z
Appartement situé dans le charmant village d'Aughrim. Toutes les commodités à portée de mains, supermarché, bon restaurants, balades en campagne. Très bon accueil par le propriétaire , disponible avant et pendant le séjour. Merci pour la cheminée allumée à notre arrivée.
marie-pierre
2016-05-16T00:00:00Z
Our stay in Edna's apartment was splendid! The place was huge and could easily accommodate 6 people in beds on 2 levels. The kitchen/living great room was newly renovated and beautifully appointed with a modern feel, fireplace and balcony. Every imaginable appliance was on hand, including several adapters which came in handy.
Nancy
2016-06-13T00:00:00Z
House was as described, clean, comfortable and in a great location - we were down for a wedding in nearby Ballybeg House. Did not have the opportunity to meet Enda, but he was very helpful via email. Would have no hesitation recommending both him and the location.
Lisa
2016-10-02T00:00:00Z
Enda was good on communication, always getting back to me in a speedy manner. The location of the house was perfect. A quick drive from everywhere needed to go for the wedding we were attending. My only issue was the cleanliness of the home. There were French friends and fried chicken all over the floor and jammed into the couch. I had to remove the couch cushions and dig out whole pieces of fried chicken. I let her know. She explained her sister went to clean and brought her kids. Must have been an accident. That's fine. I have a toddler myself so. O biggie. My bathroom in the master bedroom was so gross I refused to use it the 3 days we were there. Enda offered to refund the stay so we could go somewhere else, but we were there for a wedding and couldn't just find new lodging. The bathroom downstairs was a bit more tidy, but still it was gross. Things weren't even wipes down. Looked like a partial vomit stain behind the toilet. Water, grime, and hairs everywhere. Kitchen and the floors needed to be cleaned. And I'm pretty sure our bed sheets never got washed. Hairs everywhere under the comforter and On top of our sheet. it was disgusting.
Carla
2016-10-07T00:00:00Z
Cosy rooms in a nice village. Nice kitchen with all stuff you need. A chimney and a lot of candles to make the living room cosy and warm. Three bathrooms on 2 floors and plenty of towels. Fast internet connection (netlfix valid) Enda is a very kind and helpful host. We liked being here an can recommend it.
Uwe
2016-07-17T00:00:00Z
Edna was extremely good at communication. Such a shame that unfortunately the standard of cleanliness rendered the flat entirely inappropriate for renting. We found alternative accommodation which was such a shame as Edna is lovely.
Lou
2016-08-22T00:00:00Z
Tipo de Acomodação
Casa/apto inteiro
---
Tipo de Imóvel
Townhouse
---
Acomoda
6
---
Quartos
Aughrim, Wicklow, Irlanda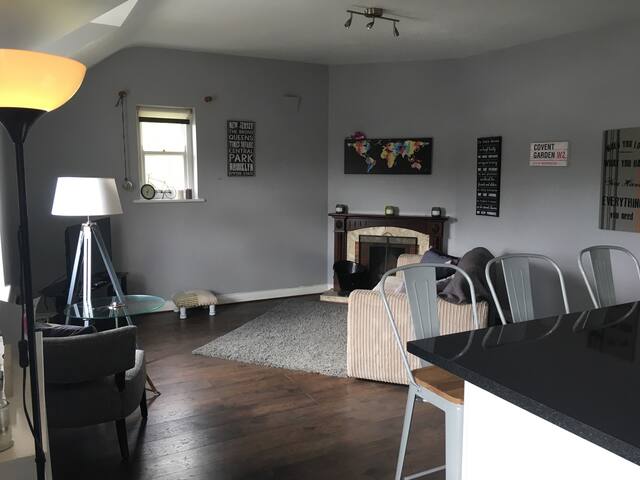 'Beautifully Restored' said The Daily Telegraph.Sleeps up to 7 in 4 bedrooms & described by The Irish Times as 'High in the Wicklow Mountains a picture perfect example of a country home. It retains the 19th century cottage feel,but with all the comforts of a good home away from home.' Old world style with modern conveniences. Telephone and TV, fully equipped kitchen,central heating, open fireideal for hiking, hill walking and relaxing!
Get away from it all ! This is the real thing - an amazing Irish holiday cottage deep in the Wicklow Mountains yet only an hour from Dublin. "Beautifully restored" said the Daily Telegraph newspaper. Located at the foot of Lugnaquilla mountain this is a perfect way of discovering the real Ireland. The Sunday Business Post said "A beautiful, traditional Irish cottage tucked away in a forested valley in the Wicklow Mountains, the 19th century Aughavannagh Cottage is lovingly restored with all mod cons. Located at the mid-way point of the Wicklow Way, it is an ideal base to explore nearby glens, old military roads, pilgrim trails and remote mountain routes - Glendalough and Brittas Bay beach are only half an hour away'. You have the whole cottage and spacious private grounds to yourself. The cottage comprises 4 bedrooms sleeping up to 7. There are 2 beautiful double bedrooms upstairs both with great views and sharing a pretty shower room and w.c. Downstairs there is a large twin room and a single bedroom both sharing a bathroom with bath, power shower and w.c. The magnificent kitchen is fully equipped with every modern convenience - electric oven and hob, fridge freezer, microwave, dishwasher and everything an enthusiastic cook would need. The cosy sitting room comes complete with open fire, TV and DVD, iPod docking station, library of books and boardgames. The entire house is tastefully decorated in cool traditional creams and off-whites and provides a haven for rest and relaxation or a base for an activity break. Tranquility and peace and yet so easily accessible - its hard to believe that the vibrant city of Dublin is only an hour away!
Aughavannagh Cottage is set in a dramatic mountain landscape with fabulous views. Perfect for hiking, mountain climbing, hill walking and enjoying the outdoors. There are pretty villages and welcoming pubs and restaurants nearby including Aughrim - our favourite. Woods and streams, deep glens and high mountains provide the perfect backdrop in which to discover the real Ireland. The beautiful valley of Glendalough is 20 minutes away and the lovely blue flag beach at Brittas Bay is half an hour down the valley. The cottage is situated in a peaceful wooded glen at the foot of Luqnaquilla, Wicklow's highest mountain, which rises to 1000 metres behind the cottage. In the local area there is golf, hill walking, mountain climbing, fishing, sailing and blue flag beaches.The cosmopolitan and vibrant city of Dublin is a little over an hour away.
Aughavannagh cottage was absolutely beautiful. And our host Dave, was brilliant. I couldn't fault one thing about this place. My friends and I had a great weekend and we will definitely be coming back. We only came from Dublin but felt we were a million miles away. The house inside and out was just perfect. And our host was really there from start to finish to help us with anything we needed. Thanks for everything David. We look forward to seeing you again.
Nieve
2015-11-08T00:00:00Z
This is a wonderful cottage set in a spectacular location, and exactly what we had hoped for. David's communication and flexibility in the lead up to our stay was well received and much appreciated. I would not hesitate to recommend this if you looking for a remote, peaceful and relaxing location. The hike up the nearby Luganquilla was also a highlight for us.
Kirsteen
2015-10-04T00:00:00Z
Dave was very helpfull in giving us information needed en made us very welcome in his beautiful house.
Roger
2016-09-01T00:00:00Z
Great house in a stunning location
Jonathan
2016-12-10T00:00:00Z
We felt very welcome at Davids Cottage and we even got a bottle of really great wine! The lane to the house is a little bit hidden at first but thanks to Davids directions we found it very easily. Ireland is a great country and all people are very warm and welcoming, including David of course who also gave us lots of tips in advance what to do in the area. We definitely and highly recommand everything. Thanks a lot!
Sandra
2015-04-26T00:00:00Z
This old farm cottage is fabulous. We stayed with our boys aged 4 & 5 and they had great fun exploring the property. It was equipped with everything you could want for a home stay and David was always accomodating and in contact to make sure we had everything we needed. We loved the peaceful valley and the remoteness of the cottage to just getaway and relax outside or inside by the fire. We will definitely come back again one day.
Stuart
2016-09-16T00:00:00Z
David was a very responsive host, his place is remarkable! A beautiful historical home in an unspoilt part of Ireland. The house is close to some small towns but it's very rural location, really the ideal place to spend time with friends or family and get away from it all.
Ashley
2016-10-13T00:00:00Z
Great house in an idyllic location. Really nicely renovated with a gorgeous kitchen and cozy lounge with a real fire. David was a great host and helped out with any questions we had before our visit. Would definitely recommend!
Matthew
2016-10-25T00:00:00Z
Tipo de Acomodação
Casa/apto inteiro
---
Tipo de Imóvel
Casa de campo
---
Acomoda
7
---
Quartos
Aughrim, Wicklow, Irlanda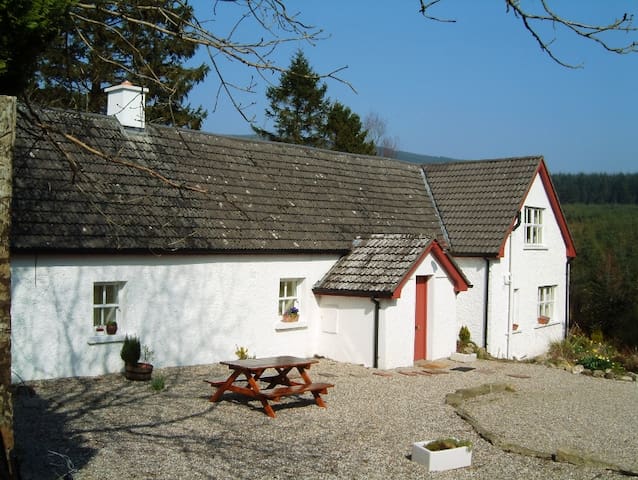 We're in a small village just over an hour south of Dublin. Our location is ideal for exploring Glendalough and the Wicklow Way. The hosts have in-depth knowledge of the area and can assist with drop-off and pick-ups for walkers and guiding services.
It's in Wicklow's most beautiful village, serial winner of the Tidy Towns Contest, Entente Florale, and perennial host of weddings, vintage car rallies and other photogenic events. We are geared for singles or couples - we can fit a camp pet at a pinch but we prefer the direct attention we can give to one or two visitors. Their room, our back garden, the main living room for breakfast and briefings, and one of Ireland's prettiest villages as a base for exploring the Garden County. For guests who just want a base in lovely Wicklow, we provide bed, breakfast and generous levels of guidance. For those who wish to explore further, we provide or arrange hill walking, pilgrimage visits to holy and powerful spots, and general guided day trips. We are there all the time - Tony is a work-from-home IT professional - when needed :) It's one of the most beautiful locations in Ireland that isn't in a tourist hot spot. Alas, we are not served with direct public transport to and from the village. But there is rail to Dublin 15 minutes away, and DART (Dublin Area Rapid Transport - regular and daytime commuter rail) 40 minutes away. There is an Aughrim Taxi service and several hackney services convenient for sites within 20 miles of Aughrim. We can provide a taxi service ourselves given some notice of the requirement. Local lake, for a morning constitutional. Two way marked trails within walking distance. One of Ireland's premier long distance walking routes within a half hour drive.
It's one of the most beautiful locations in Ireland that isn't in a tourist hot spot.
Tipo de Acomodação
Quarto inteiro
---
Tipo de Imóvel
Pousada
---
Acomoda
2
---
Quartos
Aughrim, Wicklow, Irlanda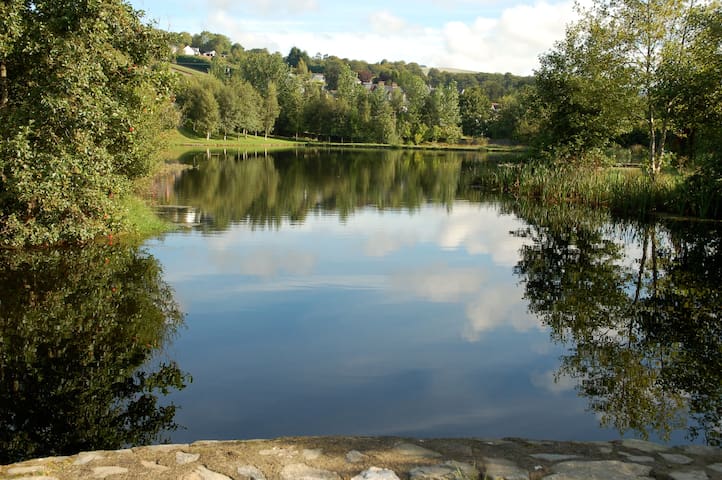 Hollow Lodge is set on its own private grounds among stunning scenery in the heart of Wicklow, otherwise known as the 'the Garden of Ireland' . The lodge is ideal families (with kids), couples or solo adventurers
Set in the heart of West Wicklow and within easy reach of the stunning Glenmalure Valley, Vale of Avoca and other such scenic spots and villages, Hollow Lodge offers rustic charm, peace and tranquility. The lodge was originally built one hundred and fifty years ago but has been renovated in the last couple of years and is deceptively spacious. Built of granite stone, accommodation includes two reception rooms, four bedrooms (one ensuite), a large kitchen (22ft x 15ft), 1 main bathroom, 1 shower/wc ensuite and a shower room downstairs with wc.. The lodge itself has an acre of gardens and is sheltered by large conifer trees and although secluded, it has views of Lugnaquilla Mountain nearby. The gardens offer great tranquility in addition to a wide variety of flowers, shrubs, trees and native birds and a beautiful patio with west facing orientation to take advantage of the evening sun. The surrounding fields and hedge rows are host to much of Irelands nature. There is also a small paddock for children to play in as well as table tennis housed in the barn. There are 12 acres of land surrounding the paddock area of the house. The lodge is located just a 10 minute walk from the local village of Knockananna which is a traditional Wicklow village consisting of one grocery shop with petrol pumps, 2 pubs, a church and a post office. Knockananna is within easy reach of several beautiful beaches (35 min drive) , golf courses, riding centre, adventure centre for outdoor activities etc) .The beautiful villages of Tinahely, Aughrim, Woodenbridge, Avoca, Shillelagh etc are all within easy reach.
Private tranquil neighborhood in a rural setting
Lovely place, great value for money. Beautiful cottage and garden and walks, to relax and unwind away from it all. Village within walking distance. Lots of attractions incl. beach within car ride. We are very grateful to hosts for making us welcome and communicating promptly etc. We had a warm welcome and a cup of tea from Aoife even though she was busy and we turned up early. Thanks so much again! We'd come and visit again.
Heart To Heart
2017-03-21T00:00:00Z
Very hard to find don't arrive in darkness, lovely big old house but only one side has double glazings, so 50% of heat goes out the doors and windows at an extra cost of 2.50€ per hour and another hidden cost of electric.19 per unite. Bad phone coverage. Definitely a place for a summer brake not Winter. Never met hosts needed to drive to village to call them.
Muriel
2016-12-08T00:00:00Z
Tipo de Acomodação
Casa/apto inteiro
---
Tipo de Imóvel
Casa
---
Acomoda
8
---
Quartos
Wicklow, Wicklow, Irlanda
Steinmauer Ferienhaus, ruhig, tolle Aussicht, ausgezeichnete Wanderwege, in der Nähe Arklow und Wicklow Städte. Eine Stunde von Dublin, Queen-Size-Bett und Doppel-Schlafcouch, separates Badezimmer, Küche / Wohn (URL HIDDEN) Lage, Wi-Fi zur Verfügung.
Absolut großartige Unterkunft abseits vom Trubel. Über einen sehr schmalen Weg gelangt man zum Haus, das sehr urig eingerichtet ist. Über 2 Etagen erstreckt sich die Unterkunft - oben der Wohn- und Essbereich , unten Bad- und Schlafbereich. Sehr lecker ist das Frühstück. Die Zutaten sind aus eigener Herstellung.
Thomas
2016-09-12T00:00:00Z
The place is amazing! It's very secluded and away from it all even though its only an hour from Dublin City! Sanchia is very welcoming and the breakfast was delicious! It's very cosy and warm for a stone building. There's lots to see and do in the wicklow area. We will be back in the future.
Ross
2017-02-18T00:00:00Z
We really enjoyed our stay at the Granary. Sanchia was very helpful, even started a fire in the stove to warm us up on a cool night. The cottage is like a small house, very clean and came with everything we needed. The location was probably the most scenic and tranquil of our entire trip, especially when the full moon came out over the landscape and the lights of Avoca twinkled in the distance. This is an amazing place to stay. We highly recommend it.
Clark
2016-09-17T00:00:00Z
Absolutely darling! The biscuits are amazing and Sanchia met us in town to lead us to her beautiful cabin! Would definitely stay again!
Stephanie
2017-03-25T00:00:00Z
A lovely cosy cottage in the beautiful countryside. The scenery from the balcony was beautiful, an authentic Irish experience! Sanchia was so friendly and welcoming. The cottage was made easy to find by sending the coordinates on (SENSITIVE CONTENTS HIDDEN) maps (and not too far from Dublin for a nice but not too far getaway). Milk, fresh scones with jam were left out for us which was a lovely touch along with coffee and tea essentials. A really enjoyably relaxed stay.
Anna
2016-06-25T00:00:00Z
Die Hütte ist ein absoluter Traum. Wer etwas sucht, um die wunderschöne Natur zu genießen, ist hier genau richtig. Der obere Bereich ist sehr wohnlich gestaltet, man fühlt sich direkt wohl, unten befindet sich das Schlafzimmer und Bad. Die Küche ist sehr gut ausgestattet. Von der großzügigen Terasse hat man den tollsten Blick. Auf dem Grundstück gibt es noch wundervolle Hunde, Gänse, Enten. Sanchia ist eine großartige Frau und Gastgeberin, die man sofort ins Herz schließt. Für uns war es der perfekte Aufenthalt.
Anna
2016-09-30T00:00:00Z
Great cottage with a lot of privacy and an amazing view. We found the place thanks to the coordinates. There were two lovely dogs who entertained us during our stay (two nights). Also two geese hanged around the cottage. It seems like they didn't like us, cause they were a little bit cranky. The WiFi worked excellent (a big plus!), the bed was comfortable, the breakfast good and Sanchia very helpfull. We recommend this stay to everyone! Regards, Jorn and Elisabeth from Leeuwarden, the Netherlands
Elisabeth
2016-07-26T00:00:00Z
Exactly what we wanted, quiet and quaint, friendly hosts and close enough to amenities if needed. Also far enough away to be a relaxing retreat, Scones went down a treat after a long day of walking as did the log burner, would definitely return
Sharon
2017-04-06T00:00:00Z
Tipo de Acomodação
Casa/apto inteiro
---
Tipo de Imóvel
Casa de campo
---
Acomoda
2
---
Quartos
Avoca, Wicklow, Irlanda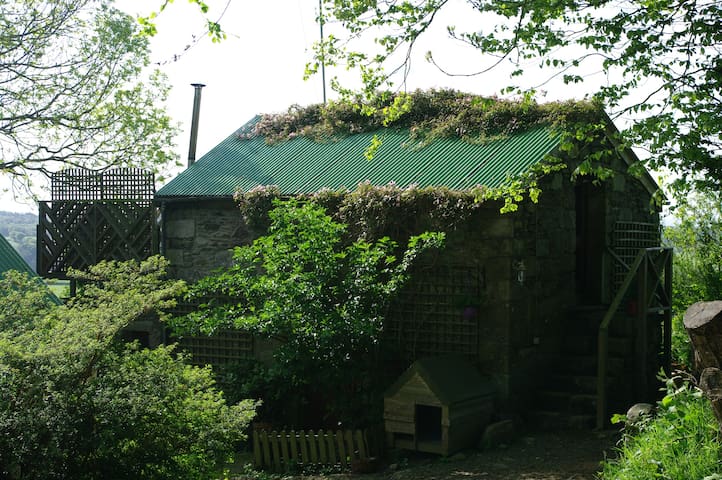 Modern comfortable double bedroom with en-suite and private entrance. Tea and coffee making facilities, and microwave. Located in the picturesque village of Aughrim. Convenient to Brooklodge and Ballybeg wedding venues. Close to many tourist attractions, beaches, golf, fishing, walks, the Dublin and Wicklow mountains. Just 70 km from Dublin centre & Rosslare ferryport.
Comfortable double room, en suite bathroom, private entrance, tea and coffee making facilities, and microwave. Ideal for guests attending weddings, visitors to the area and nature lovers.
Quiet neighbourhood setting with stunning views of the Wicklow hills. Only walking distance to local shops, cafes and restaurants. The location is very rich in nature with local walks nearby to be discovered for hiking enthusiasts. The village hosts award winning restaurants 'Strawberry Tree' and local country pubs within 5 minutes of the neighbourhood.
Tipo de Acomodação
Quarto inteiro
---
Tipo de Imóvel
Casa
---
Acomoda
2
---
Quartos
Aughrim, Co. Wicklow, Irlanda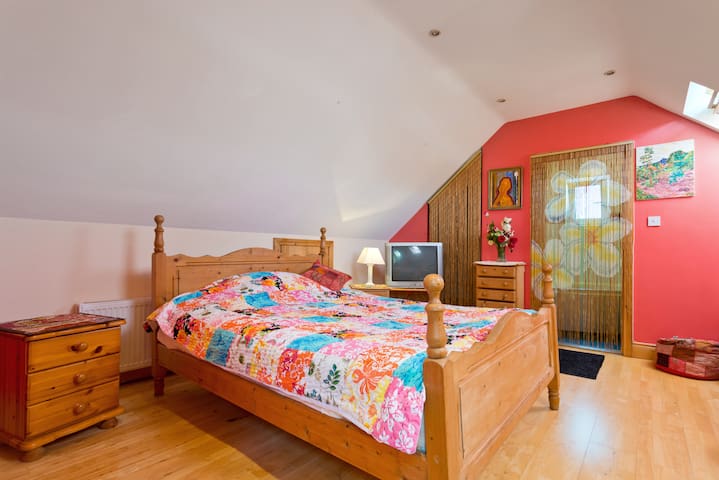 My place is close to Close to mountains, beaches, rivers & lakes of County Wicklow. Magnificent Georgian family home pleasantly positioned in Wicklow's Aughrim Hills within 60 km of County Dublin. You'll love Clone House as it sits on approx 4 acres of manicured gardens, lawns, shrubs and is a delightfully restored heritage house. Superb views of surroundingWe look forward to providing a first-rate experience..
Tipo de Acomodação
Quarto inteiro
---
Tipo de Imóvel
Pousada
---
Acomoda
2
---
Quartos
Aughrim, Condado de Wicklow, Irlanda
Close to mountains, beaches, rivers & lakes of County Wicklow. Magnificent Georgian family home pleasantly positioned in Wicklow's Aughrim Hills within 60 km of County Dublin. You'll love Clone House as it sits on approx 4 acres of manicured gardens, lawns, shrubs and is a delightfully restored heritage house. Superb views of surrounding. We look forward to providing a first-rate experience.
Close to mountains, beaches, rivers & lakes of County Wicklow. Magnificent Georgian family home pleasantly positioned in Wicklow's Aughrim Hills within 60 km of County Dublin. You'll love Clone House as it sits on approx 4 acres of manicured gardens, lawns, shrubs and is a delightfully restored heritage house. Superb views of surrounding countryside. We are just reopening Clone House for business in May after further upgrades. We look forward to providing a first-rate experience. GARDENS & GROUNDS The gardens and grounds surrounding the residences are extremely well kept and the garden has been well planned to provide color and privacy. The house links seamlessly with the gardens and wider setting, with views extending to the surrounding mountains. We live in Clone House in a private family quarters so will be available when needed CLONE HOUSE HISTORY Clone House dates back to the 1650's and has a charming history. Originally built by the O'Byrne family it was the Manor House on a large estate stretching across Moneyteigue, Clone and Coolahullen. Unfortunately the house was burnt down in the 1798 Rebellion but was beautifully restored around 1805 and later became a popular guesthouse for the area. Overall the accommodation at Clone House presents a comfortable family home with fine reception rooms for entertaining or relaxation. Retaining many of its original features the house has great character and has been beautifully and patiently restored.
BEAUTIFUL COUNTRY SETTING Clone House enjoys a magnificent private setting, some 3.5 km (2 miles) from the picturesque town of Aughrim. Aughrim meaning "horse ridge" is a small picturesque village in County Wicklow and lies in the scenic valley in the east of Ireland between the larger towns of Arklow and Balltinglass. County Wicklow is also known as the 'Garden of Ireland' where there is a treasure chest full of family activities to do.
Tipo de Acomodação
Quarto inteiro
---
Tipo de Imóvel
Hospedaria
---
Acomoda
2
---
Quartos
Aughrim, Condado de Wicklow, Irlanda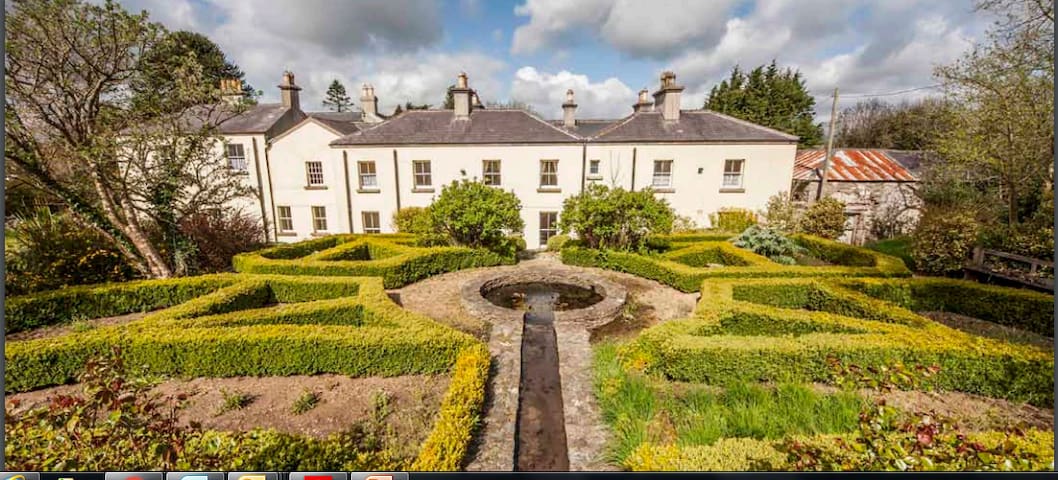 Turrock Cottage is situated along the Wicklow Way, with views over Sth Wicklow and Nth Wexford. The cottage is within a farmyard, and close to the house where we live. Ideal as a base for exploring SE Ireland or staying put and admiring the view.
Turrock is a beautiful granite stone cottage set in the foothills of the Wicklow Mountains. The views say it all and you will want to return to Turrock again and again. It is a peaceful place with local forest walks where you can see deer, red squirrels, fox, hare and many birds. The cuckoo visits in early May.
The cottage is within in a rural setting where our guests enjoy peace and tranquility.
Deirdre and her family are warm, welcoming hosts who manage the delicate balance between chattiness and allowing you to enjoy the peace and quiet. The cottage is just beautiful and filled with lovely touches like scones and jam and hot water bottles. Our little boy loved the farm animals and life won't be the same without the hee-haws. The cottage is a great base for exploring the area and Ciaran helpfully pointed out some some things of interest to us but there's so much to do and see and so much relaxing to do we couldn't fit it all in...We'll just have to come back again!!
Fiona
2015-08-11T00:00:00Z
Our favourite Airbnb so far! Stayed here for a weekend with friends visiting from London. Great communication from Deirdre and Ciaran and they were absolutely wonderful hosts. The cottage was comfortable and very well equipped with everything we could need. When we arrived, Deirdre produced two newly hatched baby goslings, which we squealed over, to add to the collection of animals already there! We took up Deirdre's recommendation and went to Sha Roe Bistro nearby for dinner one night (gorgeous!) and to the Dying Cow pub for a drink (another must!). Ciaran even dropped us at the pub and picked us up at 1am so we could all have a drink! Our two nights in Shillelagh felt like much more after such a relaxing stay in the countryside and we definitely be back to this cottage.
Natalie
2016-07-18T00:00:00Z
Perfect experience definitely! We loved the beautiful cottage and the farm! Deidre and her husband are such lovely people, we really enjoyed meeting them! We recommend this place to any Airbnb user!
Marie-Claude
2014-06-06T00:00:00Z
We had a wonderful time staying at Turrock Cottage situated on a little slice of Irish paradise. Hosts, Dierdre and Ciaran, greeted us warmly upon arrival and showed us the ins and outs of the cottage which is a very lovely cottage. They both were very approachable and gave suggestions on things to do around Co. Wicklow and I feel we would never have stumbled upon some of the local treasures unless they pointed us in the direction. All in all a great experience!
Nathan
2015-03-24T00:00:00Z
The host canceled this reservation 16 days before arrival. This is an automated posting.
Caitriona
2016-02-10T00:00:00Z
A beautiful cottage in a beautiful, quiet setting. Very welcoming and friendly hosts. The cottage was very comfortable with everything you could possibly need, including electric blankets! Lovely place.
Claire
2016-05-03T00:00:00Z
Cottage was fantastic and had everything we needed. The scenery was great - we just wish we had longer to make the most of it. Deirdre was a wonderful host and had everything prepared for our arrival.
Karol
2014-12-01T00:00:00Z
Deirdre and Ciaran are the perfect hosts and the cottage is everything you'd expect given the reviews. we spent two days here with our 7 month old recently and he loved it also! oh, Deirdre had fresh scones ready when we arrived along with a thoughtful gift (it was also our wedding anniversary). Thanks for letting us share your perfect cottage! one last thing.... Mario the cat....he's everywhere! gotta be more than just one of him
Dalton
2016-09-25T00:00:00Z
Tipo de Acomodação
Casa/apto inteiro
---
Tipo de Imóvel
Casa de campo
---
Acomoda
5
---
Quartos
Shillelagh, Wicklow, Irlanda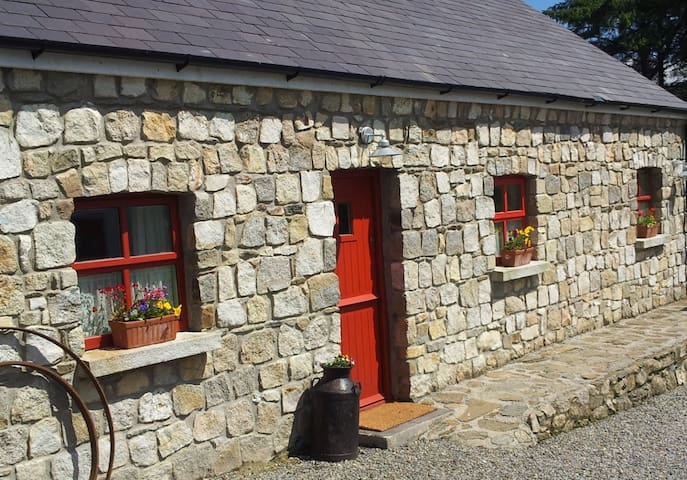 Insira as datas para ver o preço total. Taxas adicionais serão aplicadas. Impostos podem ser adicionados.