Mais de 300 Apartamentos para Alugar
A brand new studio 10 minutes walk from the center of Thessaloniki! The apartment is on the ground floor, 25-30 m2. It consists of a double bed, a sofa bed which can fit two people to sleep, a desk, dresser-wardrobe, 1 kitchen and 1 bathroom. It is fully renovated and offers all the comforts you may need! It is very cool in the summer, warm in winter and heat very quickly!
The Annunciation is located very close to all of the center points and one can go either on foot or by bus to, an area without the noise of the center, quiet and safe!
This apartment have everything! The guest was good and helpful. To the apartment was very easy the check-in and check-out! It is very cleanly room and it stay near to the center.
Szilárd
2017-04-10T00:00:00Z
Tipo de Acomodação
Casa/apto inteiro
---
Tipo de Imóvel
Apartamento
---
Acomoda
3
---
Quartos
Tessalônica, Grécia
Stylový prostorné studio v Soluni Centrálně umístěný studio se nachází v docházkové vzdálenosti od všech památek Soluně, přímo mezi starým městem a moře. Jen pár minut chůze od Aristotelova náměstí a živé scény. Na tom není nic nóbl a luxusní kolem, ale to je v blízkosti hotelu, kde Thessaloniki obyvatelé žijí jednoduchý, bezpečný a příjemný život. Tam je docela dobrý pouliční trh každý čtvrtek s čerstvou zeleninou, spousta ryb, zemědělců Tsipouro, ovoce, květiny ...
Он идеально подходит для пар на короткий срок пребывания и синглы на более длительные сроки. Пары с детьми также могут оставаться без труда, так как это просторная гостиная с двумя спальными диванами и большой ванной комнатой. Имейте в виду, что соседство может быть шумно иногда, особенно по четвергам, рыночные дни.
Thessaloniki je velmi přívětivé město a známý pro to je jídlo. Tam jsou téměř stovky dobrých restaurací, kde všichni místní obyvatelé chodí. Existuje spousta malých parků, základní obchody, malé kavárny, supermarkety kolem. Obchodě chovatelé velmi rádi, aby vám pomohl s něčím, co potřebujete.
Tipo de Acomodação
Casa/apto inteiro
---
Tipo de Imóvel
Apartamento
---
Acomoda
4
---
Quartos
Tessalônica, Grécia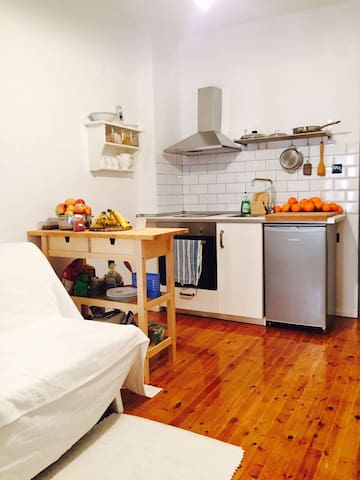 Aquest apartament molt bé renovat amb un espai a l'aire lliure acollidor al cor de Tessalònica us farà sentir com a casa! Situat a la plaça d'Aristòtil, es pot gaudir de tot el que aquesta animada ciutat té per oferir a la dreta de la seva porta. És ideal per a una visita de negocis o de plaer, per parelles o individus ...
Aquest modern apartament, de disseny arquitectònic es troba en un dels famosos edificis neo-clàssics de la plaça d'Aristòtil. La decoració i tots els electrodomèstics són nous, ja que va ser reformat el març del 2017. L'estudi és d'uns 30 m2 i una de les millors característiques és la gran espai a l'aire lliure (40m2). Amb la seva gespa artificial, crea un sentiment natural, acollidor, on podrà gaudir del seu cafè del matí ... o relaxar a la tarda amb un bon got de vi. La nova llit doble li assegura un bon descans de i l'apartament ha estat equipat amb doble vidre, per a les proves de so millor. També es proporcionen tovalloles, roba de llit, assecador i una taula de planxar. Un nou inversor A / C s'ha instal·lat tant per refrigeració i calefacció. La cuina està totalment equipada amb tots els serveis necessaris (com ara cafetera, bullidor d'aigua, màquina de torrada, mini-forn amb fogons). Té tot el necessari per preparar l'esmorzar, dinar o sopar.
Εξαιρετικός χώρος, άριστη τοποθεσία, ο οικοδεσπότης ήταν άψογος σε όλα του! Η διαμονή μας ήταν καλύτερη και από 5στερο ξενοδοχείο! Θα συνιστούσα το συγκεκριμένο διαμέρισμα με κλειστά μάτια!
Paschalis
2017-04-09T00:00:00Z
Tipo de Acomodação
Casa/apto inteiro
---
Tipo de Imóvel
Apartamento
---
Acomoda
2
---
Quartos
Tessalônica, Grécia
-Prime helyen utcájára Arisztotelész tér -Few lépésre a vízparton -Könnyű walking minden helyszínen / sites Modern letisztult forma bőséges természetes világítás -Könnyű kulcsnélküli nyitást -Szobaszervíz sötétedő árnyékolók -Inverter A / C egység hő / -Kiváló minőségű matrac és párna -Hotel stílus üveg fürdőszoba -Professionally tisztítani az üdülés -Tökéletes egy pár, magányos utazó, vezetők és a barátok -Offers minden szükséges kényelemmel egy kényelmes, pihentető tartózkodást ebben a nyüzsgő városban!
-Sleek modern stúdió lakás, kétszemélyes ágy, síkképernyős TV és szekrény -Könnyű bejárat hozzáférési kódot rendszert -A biztonsági ajtó kulcsnélküli rendszer és automatikus zár Dupla üveg hangszigetelő ablakok és árnyékolók szoba sötétedő -Inverter A / C egység mind hűtés és fűtés -Hotel stílus üveg fürdőszoba -instant meleg vizes zuhanyzó fűtőegység -Unique kettős célja mosogató tervezés -víz és energia hatékony, környezetbarát -konyha ellátott francia sajtó kávéfőző, vízforraló, mikrohullámú sütő, indukciós főzőlap, mellyel forró -Smartly található elektromos csatlakozók számára készülékek -Ample hely a szekrényben - hajszárító, fogasok, vasaló és vasalódeszka -Professionally tisztítani érkezéskor - friss ágyneműt és törölközőt (szekrényben)
Lejligheden ligger kun få skridt væk fra Thessaloniki betagende havnefront, kommercielle Tsimiski Street og den maleriske Aristoteles Plads. Cafe på 1. sal med tilgængelige roomservice. Der er en privat parkeringsplads placeret på tværs af gaden. Kvarteret er helt rolig og meget sikker, fantastisk til spadsereture blandt high-end boutique er, populære lokale caféer, barer, bagerier og smarte restauranter. Stepping udenfor, vil du finde dig selv inden for gåafstand fra nogle af de vigtigste historiske og kulturelle steder i Thessaloniki.
Lovely place. I always choose Sandy's studios when I visit Thessaloniki for work. They are central, clean, quite and cozy. Best value for money.
Themis
2017-03-11T00:00:00Z
Εξαιρετικά φιλικός και χαρούμενος χώρος.Ακόμη και η εικόνα έξω απο το παράθυρο είναι εξαιρετικά ευχάριστη.Δεν λείπει τίποτα.Πολύ εξυπηρετικό για να κινηθεί κάποιος εντός της πόλης χωρίς μέσο.
Dafni
2017-03-08T00:00:00Z
Ο χώρος είναι ακριβώς όπως φαίνεται στις φωτογραφίες... Το δωμάτιο ήταν πολύ καθαρό, άνετο και σε κεντρικό σημείο... Είναι πολύ καλή επιλογή... Η Sandy είναι ευγενική και απαντάει άμεσα... Την ευχαριστώ πολύ...
Βίκυ
2017-02-15T00:00:00Z
It was my second stay in Sandys apartment and already my favorite. The location is ideal for everything so please don't complain if it is a little noisy at Saturday night (the area hosts among of the best bars).The room is super clean and comfortable. Have in mind that bathroom "see through doors" may feel ackward if you bring your new boy/girl friend, but I will definetely suggest it for minimal decoration dwellers. Thank you Sandy!
Dimitra
2017-03-05T00:00:00Z
The place was beautiful, clean and well-equipped. Sandy was a great host and was there to help me with anything I needed. Definitely value for money!
Maria
2017-02-20T00:00:00Z
Place was great and clean! In the centre of Thessaloniki. Communication with the host was great I would recommend this host and house and will stay here again next time. Thank you
Δημήτρης
2017-03-24T00:00:00Z
The flat was perfect! Very good location, comfortable double bed, nice small kitchen and clean bathroom :)) Also Sandy was very helpful and kind, Thanks a lot
Alyssa
2017-02-03T00:00:00Z
Great place and location in the heart of the city. Clean and cozy. Very satisfied. Totally recommend it.
Anastasios
2017-02-28T00:00:00Z
Tipo de Acomodação
Casa/apto inteiro
---
Tipo de Imóvel
Apartamento
---
Acomoda
2
---
Quartos
Tessalônica, GR, Grécia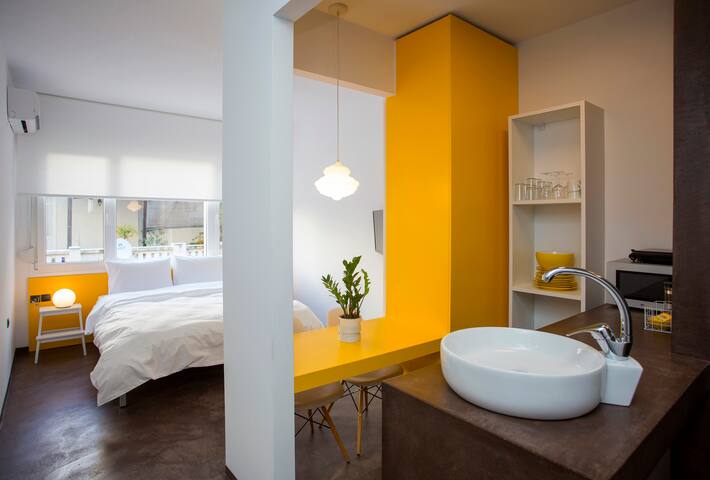 Das Hotel liegt im Herzen von Thessaloniki, Nikis Suite bietet Ihnen einen luxuriösen Aufenthalt mit Stil Innenstadt. Der Majectic Meerblick in Kombination mit dem Posh Interior Design von Nikis Suite wird Ihren Aufenthalt unvergesslich machen. Nikis Suite coinsists von 3 Schlafzimmer, 2 Bäder und bietet Platz für bis zu 5 Personen beherbergen.
Unsere Suite coinsists von 3 Schlafzimmer: 2 Schlafzimmer mit 1 Doppelbett und 1 Schlafzimmer mit 1 Einzelbett und kann bis zu 5 Personen beherbergen. Kostenloser WiFi-Service während Ihres Aufenthaltes zur Verfügung gestellt.
Die Nachbarschaft gilt als die sicherste und glamourös in Thessaloniki sein.
The flat location, quality, cleaning is perfect. Everything is perfect.
Mirhan Kivanc
2017-04-02T00:00:00Z
Magnificent hospitality , luxury apartment with all the facilities , amazing sea view and of course best price for the location of the apartment and the quality that it has . I suggest everyone who wants to visit thessaloniki to book it . The people are very friendly and they help us with a lot of information.
Giannis
2017-04-05T00:00:00Z
Tipo de Acomodação
Casa/apto inteiro
---
Tipo de Imóvel
Apartamento
---
Acomoda
5
---
Quartos
Tessalônica, Grécia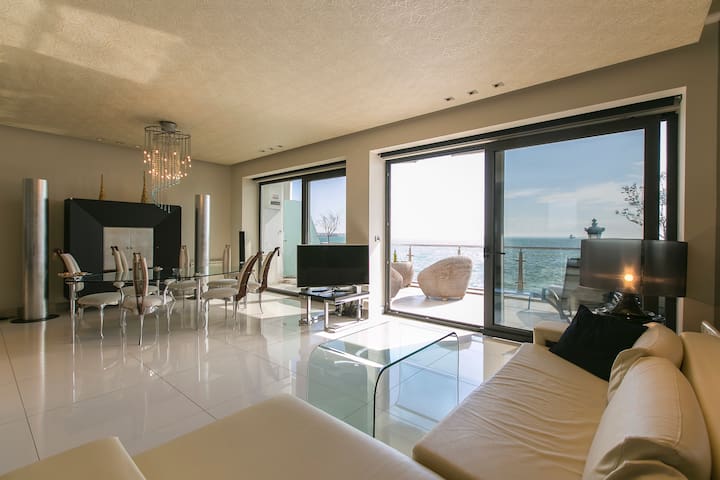 Komfortable und ruhige Wohnung neben den öffentlichen Verkehrsmitteln und 15 Minuten zu Fuß vom Stadtzentrum entfernt. Ideal für Paare oder Busines Reisende. Die Lage ist das, was Ihnen am besten gefällt werden!
L'apartament era petit però acollidor, i tenia tot el necessari. El germà de la Maria ens va tractar molt bé. Hem quedat molt contents!
Marta
2016-07-29T00:00:00Z
Appartement plus grand que sur les photos Très bien situé dans la ville, tout est à disposition. Clean et balcon ensoleillé
Benjamin
2016-07-18T00:00:00Z
Very cozy apartment, close to the city center, just as described.
Claudiu
2016-07-31T00:00:00Z
Mary was a great host. She weitet for us, even we were late and she expöained everything very well. The neighboorhood was really good and it wa Schose to the water where you can have a great walk. The flat was big und we enjoyed to sang out there. I can recommend staying there!!
Sabrina
2016-08-23T00:00:00Z
Tipo de Acomodação
Casa/apto inteiro
---
Tipo de Imóvel
Apartamento
---
Acomoda
2
---
Quartos
Tessalônica, Grécia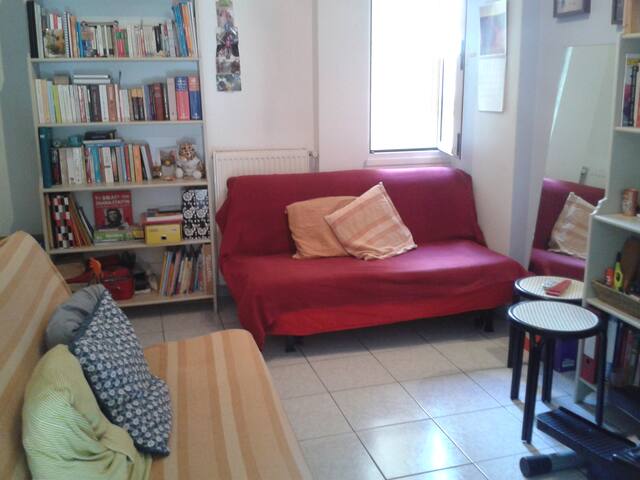 Modern comfortable space loft room with a toilet and high quality mattresses. Excellent place for a budget stay in a newly furnished apart room for three persons. Not far from the railway station and in 10 minutes walk to main tourist sights and seafront.. Building with apart rooms stands in front of the impressive Byzantine wall. Area is quite and picturesque. Just in 10 minutes by walk there is an old city Ana Polis with an impressive castle. Host will show you surroundings if needed.
Tipo de Acomodação
Quarto inteiro
---
Tipo de Imóvel
Apartamento
---
Acomoda
3
---
Quartos
Салоники, Macedônia e Trácia, Grécia
Ma place est à proximité des restaurants et des salles à manger, activités de plage pour les familles, la vie nocturne et les transports en commun. Les raisons pour lesquelles ma chambre APPRECIEREZ lit confortable, cuisine, environnement confortable et de hauts plafonds. Mon espace est adapté pour les couples, les activités pour un individu, les voyageurs d'affaires, les grands groupes et les animaux domestiques.
Φοιτητικό σπίτι με όλες τις ανέσεις για ολιγοήμερη διαμονή. Τέλεια τοποθεσία, συνεννόηση και τιμή! Ευχαριστούμε Βάγιο!
George
2017-04-10T00:00:00Z
Tipo de Acomodação
Casa/apto inteiro
---
Tipo de Imóvel
Apartamento
---
Acomoda
4
---
Quartos
Tessalônica, Grécia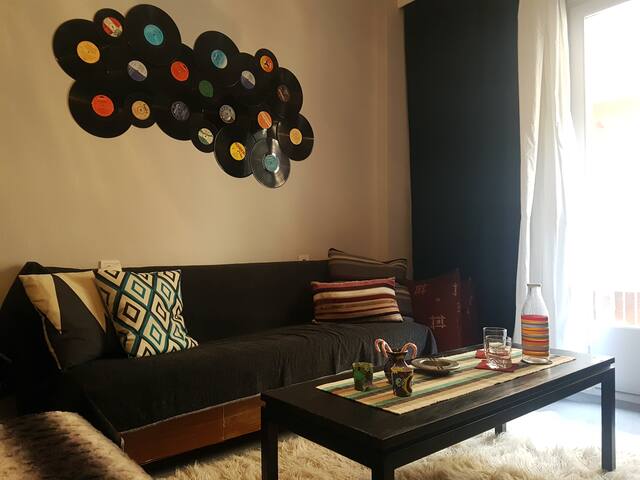 Meu apartamento é adequado para casais, atividades for1-6people, viajantes de negócios, famílias com crianças, grupos de toda pessoas.A área é Terceiro andar 71m². É perto de restaurantes, supermercados e shops.Has todos os ingredientes necessários e utensílios para cozinhar uma meal.It é de 30 minutos a pé do centro da cidade, a 15 minutos de autocarro (a cada 8 minutos de ônibus passando) a 50 metros da paragem de autocarro estacionamento Fácil livre no acesso area.Easy ao anel road.Warm no inverno fresco no apartamento summer.Clean
Meine Wohnung ist geeignet für Paare, Aktivitäten für 1-6 Personen, Business Reisende, Familien mit Kindern, Gruppen von Menschen. Es ist 30 Minuten zu Fuß vom Stadtzentrum, 15 Minuten mit dem Bus (alle 8 Minuten vorbei Bus). Vor den Haus Busse fahren in Richtung der Mitte und dem Bahnhof (No No 25 und 64). Die Bushaltestelle befindet sich 50 Meter von der Wohnung entfernt. Bei 200 Meter von der Wohnung gibt es einen Taxistand. Einfacher Zugriff auf die Ringstraße der Stadt. Einfache kostenlose Parkplätze in der Umgebung. Mein Platz ist in der Nähe von Restaurants und Restaurants, super - Märkten und Geschäften aller Art. Es ist auf der dritten Etage des Gebäudes. Verfügt über alle notwendigen Zutaten und Utensilien für das Frühstück, Geschirr für Essen und Materialien für Snack (Nudeln, Reis, Olivenöl und andere) zu kochen. 300 Meter vom Park und Sportplatz, in der Nähe der Burg - Museum von Genti - Kule (Eptapyrgio) und der Altstadt (30 Minuten zu Fuß), in der Nähe des Wald von Sheikh - Sou (35 Minuten Fußweg). Es hat einen herrlichen Blick auf urbane Räume. Ich weise darauf hin immer zu meinen Besuchern die berühmtesten Orte der Besichtigung von Thessaloniki mit vielen Alternativen Orte in der Stadt, schöne Orte zu essen und Spaß zu haben. Strände nahe Thessaloniki umfassen Peraia, Neoi Epivates, Agia Triada, Nea Michaniona und Epanomi, und sind alle in der Nähe von den lokalen Bussen (Linien (PHONE NUMBER HIDDEN) und 72). Sie können alle Buslinien online auf der Oranization of Urban Transport von Thessaloniki (ΟASTH) finden. Für zu anderen griechischen Städten reisen, suchen KTEL Griechenland. Gründe dafür, dass Sie meine Wohnung mögen: Gemütlich, hell, luftig, gut belüftet, einfache, saubere Wohnung, für die Unterkunft und Büroarbeit, komplett renoviert Platz. Moderne Einrichtung mit einfachen Linien im Wohnzimmer, Badezimmer mit handgemachten dekorativen Fliesen und Waschbecken - Bad. 2 Zimmer (12 qm je) die gesamte Fläche beträgt 71 m². Hell und sauber. Warm im Winter im Sommer kühl Während Ihres Aufenthaltes zu helfen. Informationen, Karten, Hilfe bei gesundheitlichen Problemen.
Um bairro típico grego na (URL HIDDEN) pessoas amigáveis e hospitaleiros.
Great host, provided lots of useful information (including a map and booklets), apartment was clean with necessities provided.
Tony
2016-10-18T00:00:00Z
I subscribe to what everyone else was saying, Kostas is a genuinely nice person willing to help with anything and the most important... very patient. Thank you Kostas ! all the best!
Adrian
2017-04-05T00:00:00Z
The host canceled this reservation the day before arrival. This is an automated posting.
Moe
2016-06-07T00:00:00Z
Sin ningún problema. Al llegar nos esperaban y al salir con exquisita puntualidad. Sin esperas y todo facilidades.
Albert
2016-10-28T00:00:00Z
το διημερο που χρειαστηκε να μεινουμε στη Θεσνικη στο σπιτι του Κωστα νιωσαμε ανετα πολυ ζεστα και πραγματικα σαν σπιτι μας που λενε. Τις επομενες φορες που θα επισκευτω τη Θεσνικη ξανα θα μεινω στο ιδιο.
ΓΙΑΝΝΗΣ
2016-10-09T00:00:00Z
O Κώστας ήταν ένας εξαιρετικό οικοδεσπότης.Το καταλάβαμε από την πρώτη επικοινωνία μας κι ας ήταν από τον υπολογιστή.Ήταν πολύ ευγενικός και πρόθυμος να μας βοηθήσει όπως για παράδειγμα να μας πάρει από το αεροδρόμιο.Το σπίτι ήταν μία πολύ καλή περίπτωση για 2 άτομα.Άνετοι χώροι και εξίσου καθαρό.Στα πολύ θετικά του σπιτιού ήταν το γεγονός πως ήταν αρκετά εξοπλισμένο με καφετιέρα και καφέ,μακαρόνια και άλλα είδη.Τέλος η κίνηση που μας συγκίνησε ήταν ότι μας είχε ένα μπουκάλι λευκό κρασί για να μας καλωσωρίσει.
Konstantinos
2016-06-07T00:00:00Z
Gospodarz jest bardzo sympatyczny i troskliwy. Szczerze, nie spodziewałem sie takiego zainteresowania wobec turystów. Zaopatrzył nas w proste mapy oraz przewodniki. Polecił świetne restauracje oraz wytłumaczył jak do nich dotrzeć. W mieszkaniu było wszystko czego potrzeba do normalnego funkcjonowania w domu, np: przyprawy, środki czystości, klapki... Zdjęcia oddają prawdziwy obraz wnętrza. Okolica jest spokojna i bezpieczna. Gorąco polecam!
Mateusz
2016-10-24T00:00:00Z
Great apartment, a bit far from the center but easy to get to with the bus and taxis and likewise very cheap. Highly recommended
Otti
2016-10-16T00:00:00Z
Tipo de Acomodação
Casa/apto inteiro
---
Tipo de Imóvel
Apartamento
---
Acomoda
6
---
Quartos
Tessalônica, Thessaloniki, Grécia
This stylish apartment,is in Sykies an aerea which is only 10 minutes away from the center of the city of Thessaloniki.Renovated march 2016,is a great choice for holidays!Spacious,cozy living room, comfortable bedrooms,all a decorated with attedion to detail, offer a luxurious stay.Old town is very near in 5minutes
The appartment is spacious and quite,ideal for pleasant stay and offers a beautiful balcony,where you may enjoy the ending of your day. -The kitchen is fully equipped including: cafetiere,tostiere,everything muchine about breakfast -The bathroom has hot water and a power shower. -4beds per 7persons and kind
You will find this appartment near useful shops (bakery,super market pharmacy)
It was a very nice stay in this beautiful apartment. We felt at home and Eugenia was very kind and helpful. If we come back to Thessaloniki one day, we will surely return to this stay!! :)
Eefje
2017-04-07T00:00:00Z
Very nice stay at their flat! Eugenia and Ana are very good host, very polite and kind. My next visit to Thesalloniki will be at their accomodation!
Srdjan
2017-03-27T00:00:00Z
The host canceled this reservation 56 days before arrival. This is an automated posting.
Valeria
2017-04-08T00:00:00Z
The host canceled this reservation 33 days before arrival. This is an automated posting.
Oleksandr
2017-04-08T00:00:00Z
The host canceled this reservation 57 days before arrival. This is an automated posting.
Slavoljub
2017-04-08T00:00:00Z
Το σπίτι είναι εξαιρετικό, σε ήσυχη περιοχή αλλά κοντά στο κέντρο της πόλης. Μείναμε πολύ ευχαριστημένες από τη φιλοξενία, καθώς η Ευγενία και η Άννα ήταν πολύ εξυπηρετικές και πάντα πρόθυμες να μας ενημερώσουν για το πως θα κινηθούμε στην πόλη. Ευχαριστούμε πολύ για όλα!! Είναι σίγουρο πως κάθε φορά που θα ερχόμαστε στη Θεσσαλονίκη η επιλογή μας θα είναι το σπίτι σας!
ΑΝΝΑ
2017-04-02T00:00:00Z
Tipo de Acomodação
Casa/apto inteiro
---
Tipo de Imóvel
Apartamento
---
Acomoda
9
---
Quartos
θεσσαλονικη, θεσαλλονικη, Grécia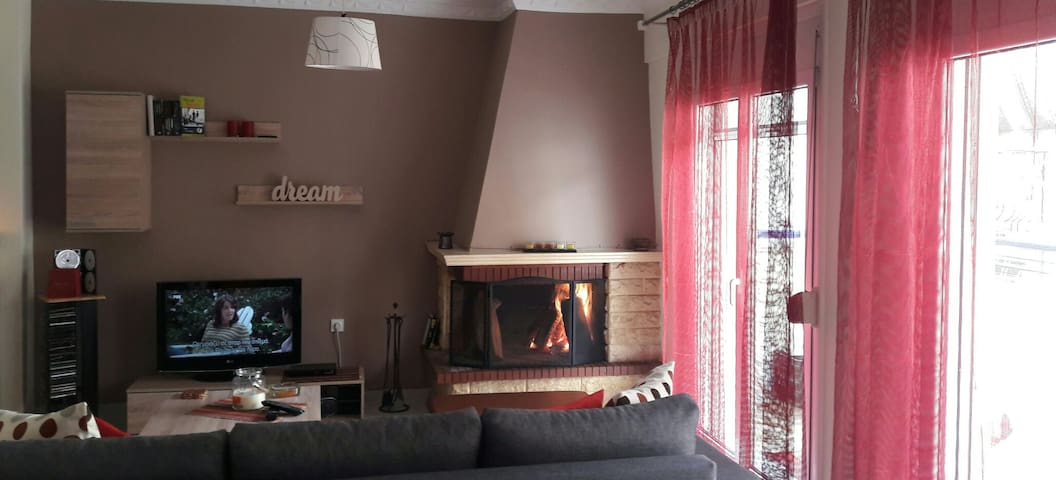 60m Belle appartement. au rez de chaussée trois étages immeuble en pleine propriété. Très sophistiqué, entièrement équipée dans un quartier calme de Thessalonique et avec son propre jardin privé. 24 / h parking en face de l'ensemble spécial de stationnement et fermé pour les motos et les bicyclettes. Profitez de l'hospitalité des propriétaires qui vous a vraiment l'impression que vous êtes à la maison.
L'espace est idéal pour les voyageurs d'affaires et les couples. La maison est dans un quartier calme très agréable avec un accès facile à la rocade de Thessalonique, à Athènes, et Skopje Bulgary, le célèbre Chalcidique et à l'aéroport qui est à seulement 20 minutes par l'autoroute. A seulement 5 minutes de l'hôpital Papageorgiou et 424 hôpital militaire. Loin du bruit de la ville et pourtant si proche du centre en seulement 15 minutes en bus ou en voiture. L'appartement est entièrement équipé avec tout ce dont vous avez besoin pour votre séjour. Grande chambre, salle de bains, cuisine et salle à manger. Le salon dispose d'un grand canapé confortable qui se transforme en un lit double. Il y a pour brancher un lit simple supplémentaire dans le salon ou dans le salon. vous pouvez également demander un lit bébé avec draps et couvertures propres. À l'arrivée, nous vous vous accueillons personnellement informé de tout sur la maison, notre région et la ville. Nous vous proposons un manuel entièrement mis à jour en deux langues (grec, anglais) et une carte de la région avec tout ce que vous devez trouver. En outre une liste des principales attractions de la ville et les heures d'ouverture des musées. À leur arrivée, fourni des fruits de saison et divers gâteaux. De plus, vous pouvez demander diverses collations et des repas complets, préparés avec des ingrédients purs, frais, locaux, du partenaire du propriétaire, entreprise professionnelle de l'hôtel. Ce que nous voulons vraiment est de se sentir comme vous êtes des citoyens de cette ville merveilleuse, apprenez à connaître nos habitudes, nos amis, l'hospitalité grecque authentique. De plus, ne vous inquiétez pas des matières premières (sucre, café et thés variés), nous avons des articles disponibles pour vous.
Notre quartier est très calme et sûr, loin du bruit du centre-ville, avec des gens chaleureux et hospitalier. Dans la région il y a beaucoup de banques, bureau de poste, pharmacie, magasins avec des produits du tabac, stations-service, supermarchés, restaurants, cafés et bars. Et bien sûr, tout cela marche. Tous les mercredis devant nous, il y a un marché en plein air avec des légumes frais, du poisson et des fruits. vêtements aussi, chaussures et accessoires. Bien sûr, il est un plaisir pour nous de marcher ensemble sur le marché et Hel [vous de choisir les produits frais pour votre déjeuner.
Evangelos and his girlfriend are truly the most kind and generous hosts you could wish for....true Greek hospitality at it's best! They are extremely helpful and considerate. When I got the flu, they would even send me warm home-cooked food everyday! And the apartment is beautiful! Its bright and spacious and incredibly clean. I felt so lucky to have found such a lovely home away from home! It was the perfect place and had everything I needed available within walking distance. Even the weekly market is just across the street! Love it!
Dina
2016-12-13T00:00:00Z
We arrived late at night to find a warm, clean, cozy apartment with wonderful welcoming hosts. Perfect! The apartment had everything we needed and then some. Parking was directly in front and there were shops and restaurants within easy walking distance. Highly recommend this place.
Amy
2017-04-04T00:00:00Z
An ultra clean apartment with very clean towels and bed sheets! The hosts were very warm and covered all our requests ! I am going to choose it again in the future !
George
2017-02-28T00:00:00Z
Я провела чудесных два дня в Салоники. Хозяева Ioanna и Evangelos невероятно теплые и радушные люди. Я почувствовала себя желанной гостью, частью семьи! Ioanna помогла мне взять машину в аренду. Квартира очень чистая и уютная. Меня ждал вкуснейший пирог. Спасибо Ioanna! Корзина фруктов и чудесная домашняя наливка! А в Рождественскую ночь ребята пригласили меня в гости. И мы провели прекрасный вечер у камина с вином и угощениями. Спасибо огромное! Обязательно вернусь к вам!!!
Татьяна
2017-01-07T00:00:00Z
Tipo de Acomodação
Casa/apto inteiro
---
Tipo de Imóvel
Apartamento
---
Acomoda
4
---
Quartos
Efkarpia, Grécia
My room is in a very central street in the historic city center. It is just 400 meters from the White Tower and 10 minutes walk from Aristotelous Square. It enjoys easy access to public transport, shops, restaurants and bars. This self-contained studio 20sq.m. which although located in the heart of your center promises a very quiet environment. I am always available for information and assistance will make your stay enjoyable.
Το διαμέρισμα ήταν πολύ όμορφο, καθαρό,σε τέλεια τοποθεσία δίπλα στο κέντρο 10 λεπτά με τα πόδια, η Κατερίνα πολύ εξυπηρετική μας περίμενε έξω από το διαμέρισμα και πρόθυμη να μας βοηθήσει σε ότι χρειαστούμε!!!Το συνιστούμε ανεπιφύλακτα σε όλους!!!
Κiki
2016-12-27T00:00:00Z
L'appartamento, seppur piccolo, è confortevole e situato in una zona centrale raggiungibile con il bus dall'aereoporto. L'accoglienza di Katerina è stata puntuale e cordiale. Ottimo rapporto qualità prezzo.
Mariagrazia
2017-02-27T00:00:00Z
Πολύ άμεση και αποτελεσματικη επικοινωνία - εξυπηρετηση ... χώρος όμορφος, καθαρός και άρτια εξοπλισμένος με μόνη εξαίρεση κάποιο χαλί στο χώρο του δωματίου για επιπλέον ζέστη.. το προτείνω ανεπιφύλακτα σαφώς και για την κεντρικότατη τοποθεσία του
Panos
2017-01-12T00:00:00Z
To spiti vrisketai se ena polu kentriko shmeio ths polhs,sxedon dipla apo ton Leuko Purgo!Exei oles tis aneseis, pamf8hno,pentaka8aro kai h Katerina polu eksuphretikh kai kalh!To sunistw anepifulakta!
CHRYSIIDA
2017-03-05T00:00:00Z
τέλεια τοποθεσία! η κατερινα πολλη καλή οικοδέσποινα, πρόθυμη να βοηθήσει. Ιδανικό το σπίτι για ολιγοήμερες διακοπές!
ΡΕΝΑ
2017-02-24T00:00:00Z
Katerina is a nice Lovely host with a nice lovely comfort little place positioned at the heart of the city, furnitured nicely well and cleaned, from where you can simply reach any place around the city center by only 5-10 min walking, especially the seaside. Will be back again and highly recommend it :)!
Genc
2017-03-14T00:00:00Z
Το δωμάτιο ήταν ακριβώς όπως περιγράφεται και φαίνεται στις φωτογραφίες. Αν και μικρό ήταν καθαρό και άνετο, ήσυχο, ασφαλές και εξοπλισμένο με όλα τα απαραίτητα για ολιγοήμερη διαμονή. Το σημείο είναι ιδανικό καθότι η πρόσβαση σε όλα τα κεντρικά σημεία της πόλης είναι εφικτή με περπάτημα ολίγων λεπτών. Η Κατερίνα ήταν πολύ φιλόξενη, εξαιρετικά εξυπηρετική και πρόθυμη να βοηθήσει σε οτιδήποτε χρειαστήκαμε! Θα συνιστούσα αυτό το χώρο ανεπιφύλακτα σε όποιον θέλει να περάσει λίγες ημέρες στη Θεσσαλονίκη.
Αλεξάνδρα
2017-01-18T00:00:00Z
The perfect place in Thessaloniki! Quiet, cozy, clean near the central city
Sylke & Hartmut
2017-03-22T00:00:00Z
Tipo de Acomodação
Casa/apto inteiro
---
Tipo de Imóvel
Apartamento
---
Acomoda
2
---
Quartos
Tessalônica, Grécia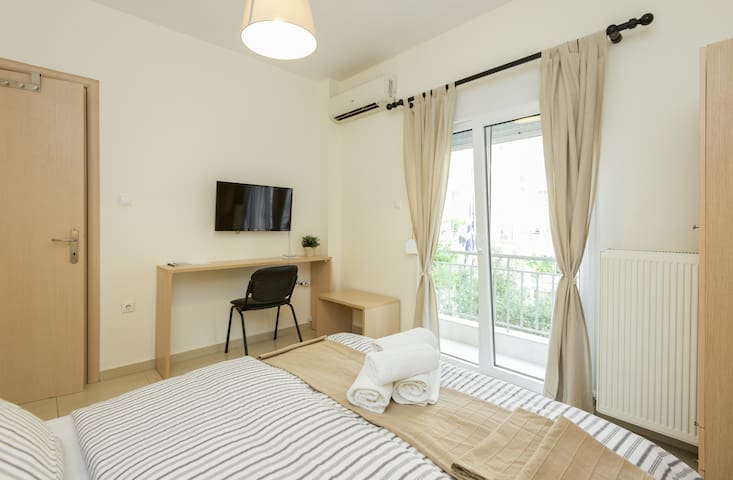 My place is near the center and the old town 15 minutes by bus, to the train station and bus station and next to park. It is suitable for couples, business travellers and families with children. Located next to cafes, supermarkets, taverns and the bus stop. I'm looking forward to welcoming you.
Nice quit place in walking distance to the city - 20 min
Niels
2017-04-05T00:00:00Z
Πολύ ευγενική οικοδέσποινα,την ευχαριστούμε. Ο χώρος πολύ άνετος και σε πολύ καλή τοποθεσία.
Κωνσταντίνα
2017-03-26T00:00:00Z
Εξαιρετικο σπιτι!! Αψογη συνεννοηση!! Ευχαριστούμε πολυ!
Σίμος
2017-04-01T00:00:00Z
Εξαιρετικοί οικοδεσπότες! Τέλεια αναλογία ποιότητας τιμής! Το προτείνω ανεπιφύλακτα!
Vasiliki
2017-02-18T00:00:00Z
itan ola poli (URL HIDDEN) mono pou tha eprepe na gnorizoun einai oti den iparxei ansaser..
emilia
2017-03-05T00:00:00Z
The host canceled this reservation 2 days before arrival. This is an automated posting.
Evangelia
2017-02-02T00:00:00Z
Πολύ όμορφος χώρος, σε καλο σημείο. Βολικό για συγκοινωνία και πολύ ζεστό. Συστήνεται ανεπιφύλακτα!
Steven
2017-03-14T00:00:00Z
The host canceled this reservation 3 days before arrival. This is an automated posting.
Anne
2017-02-07T00:00:00Z
Tipo de Acomodação
Casa/apto inteiro
---
Tipo de Imóvel
Apartamento
---
Acomoda
4
---
Quartos
Ampelokipi, Grécia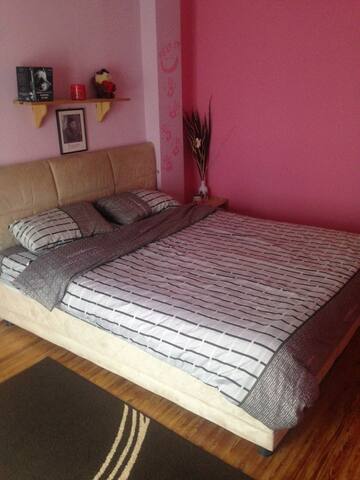 Útulný, kompletně vybavený byt v centru města centrem, které na jedné z nejkrásnějších chodníku Soluně. Tato lokalita je ideální, aby si i historické a obecní centrum, plné elegantních obchodů, restaurací, barů a traverns. Jen pár minut od nábřeží a nejvýznamnějších památek, jako jsou kostel Agia Sofia a bílé věže.
Tento apartmán je skvělou volbou pro luxusní a koncepční pobyt v centru Soluně pro každého, kdo chce vychutnat si rušný život a zároveň strávit příjemné chvíle. Otevřený obývací prostor představovat klasickou kuchyň, jednu ložnici, koupelnu, obývací pokoj s pohovkou, která se stává manželská postel a balkon s otevřeným vysílala pohledu. Perfektní i pro rodiny s dětmi nebo pracující lidi. -The kuchyňská linka je plně vybavena včetně: cafetiere (francouzský tisk), káva, cukr, těstoviny, sporák, lednice, hrnce a pánve -The ložnice má dvoulůžkovou ložnici a velký šatník -The obývací pokoj má dvě pohodlné pohovky, z nichž jeden se stává manželská postel -clean ručníky a povlečení jsou poskytovány při příjezdu.
Nachází se v nejživější části centra města Soluně, byt se nachází hned vedle doslova stovky módních kaváren, barů, restaurací, úžasných obchodů a hip butiky, jen pár minut od Agia Sofias kostela, Aristotelovo náměstí, Muzeum byzantské kultury , archeologické muzeum a starověké římské agora a méně než 2 minuty chůze od dechberoucí nábřeží. Supermarket se nachází jen pár kroků od bytu, stejně jako prádelna, drogerie, obchody s potravinami
Tipo de Acomodação
Casa/apto inteiro
---
Tipo de Imóvel
Apartamento
---
Acomoda
4
---
Quartos
Tessalônica, Grécia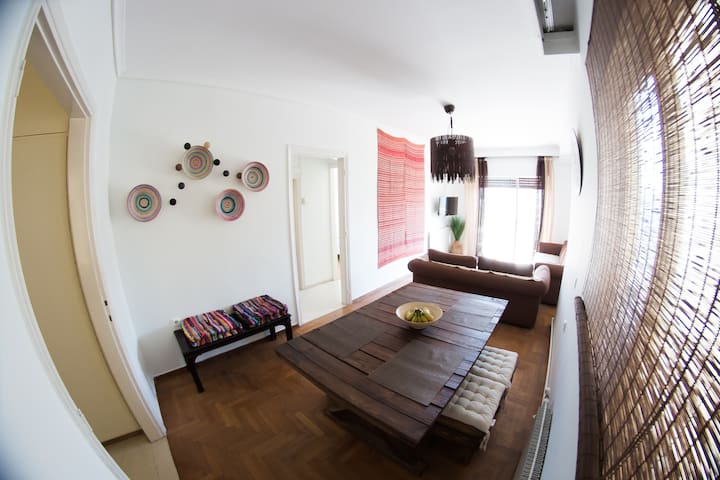 The space is recently renovated from scratch, for this purpose. The minimalist in on lines, design is intended to create the atmosphere that contribute to a comfortable and pleasant stay. It features Coco Mat mattresses and Smart TV.
The apartment building tension in a Post Modern architecture (Art Deco), which houses only foiloxenias areas. The space is recently renovated from scratch, for this purpose. The minimalist in on lines, design aims to create the atmosphere that contribute to a comfortable and pleasant stay. The construction of the approach was based on the maximum energy savings.
Within a radius of 50 meters are, kiosks, pharmacies, cafes and supermarket!
Tutto veramente ottimo. Accoglienza del proprietario gentile e disponibile. Appartamento corrispondente in tutto a quanto descritto nell'annuncio. Molto comodo e semplice anche il collegamento con il centro della città.
luigi
2016-04-04T00:00:00Z
πολύ όμορφο,πολύ μοντέρνο,πολύ κεντρικό και πολύ συμπαθής οικοδεσπότης.
Angeliki
2015-12-30T00:00:00Z
The flat was very nicely decorated and very clean. Vasilis was very welcoming and we had a great stay. Definitely recommended.
Mike
2015-11-06T00:00:00Z
The house is beautiful, like in the photos and maybe even better. Vasilis was a great host too! Will definitely return here!
Cryssa
2016-02-10T00:00:00Z
Basil's place is really really nice. it was very easy to make contact with him. His wife let us in, into a perfect and posh apartment. Crockery / Cutlery / Microwave / Smart TV / Breakfast table / A mini fridge / A lovely king size bed / Nice couch / An ensuite / A reallly really really secure apartment door with a very secure main building door as well. 5 euro's for a taxi to city centre and 100 metres to the best Mochaccino and hazelnut icecream at Plasir's - the patisserie round the corner I don't think there's any chance of going wrong with this apartment. ;-) Thanks for the very warm welcome Basil and Clarii
Ali
2017-03-13T00:00:00Z
Excellent accommodation. Super efficient host.
Onic
2015-12-25T00:00:00Z
Vasilis is a great host - he is very polite and friendly. After short briefing when he gave us the keys he don't bother us during our stay. I highly recommend him to everybody and definitely would visit him again. Thank you, Vasilis !
Tihomir
2016-02-14T00:00:00Z
Το διαμέρισμα ήταν τέλειο, άνετο, πολύ καλά εξοπλισμένο, πεντακάθαρο κι ακόμα καλύτερο από τις φωτογραφίες.Περίπου ένα τέταρτο από το κέντρο της πόλης, με πολύ καλή συγκοινωνία. Ο Βασίλης ήταν πολύ εξυπηρετικός και γλυκός, ανταποκρίθηκε άμεσα σε κάθε μας ερώτηση και μας είχε και κούνια για το μωρό μας. Σίγουρα την επόμενη φορά θα ξαναμείνουμε στο διαμέρισμά του!
Stavros
2016-02-20T00:00:00Z
Tipo de Acomodação
Casa/apto inteiro
---
Tipo de Imóvel
Apartamento
---
Acomoda
4
---
Quartos
Tessalônica, Grécia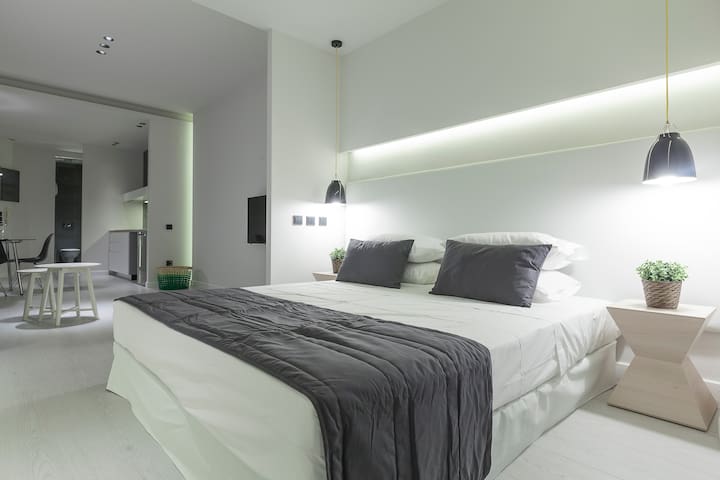 Malé moderní studio v centru Soluně - Most Centrální oblast velmi blízko k Bílá věž - Next na nábřeží a Aristotelovo náměstí
Tipo de Acomodação
Casa/apto inteiro
---
Tipo de Imóvel
Apartamento
---
Acomoda
2
---
Quartos
Tessalônica, Grécia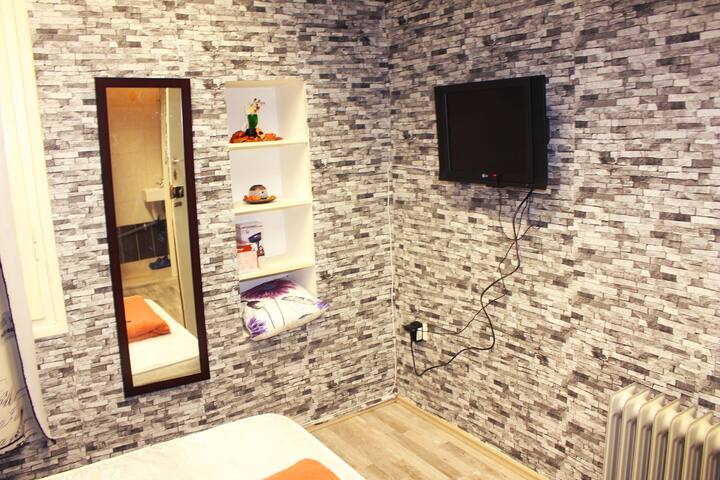 Novo e concebido com cuidado. Totalmente equipado e recentemente renovado, internet de alta velocidade, LG 49 "TV 4K Android. A apenas 1km do centro da cidade, com paragem de autocarro a apenas 50m do apartamento, a 100m do mar, fácil acesso de autocarro para o aeroporto e centro da cidade. Ideal para explorar a cidade.
É um novo apartamento arranjado com muito amor e atenção à decoração, juntamente com o conforto e funcionalidade dos espaços, um lugar ideal para casais, famílias, grupos e indivíduos. O salão é reforçada pelo sofá angular que se desdobra em uma cama de casal, uma sala de jantar confortável e TV LG 49 "4K Android. O quarto oferece uma experiência relaxante com colchão anatómico, cama de casal e belas cortinas. O banheiro tem todas as canalizações e marca louça sanitária nova. A cozinha está totalmente equipada com bancada nova e armários, preenchido com todos os aparelhos eléctricos (p. Fogão, geladeira, pia, cafeteira, chaleira elétrica) também novo que você pode usar e desfrutar. Finalmente, qualquer área da casa é forrado com mão-pinturas, oferecendo a sensação de um toque de arte da casa que vai deixá-lo satisfeito.
O bairro tem todo o tipo de lojas, de mercados de panificação e de super de restaurantes e lojas de café. Há um mercado de rua a ter lugar todas as segundas ao lado do apartamento. O que torna o nosso bairro especial é que é realmente perto do mar e da "Nea Paralia", onde você pode caminhar até o centro da cidade, tomar um café e apreciar o pôr do sol. Há também, muito poucos lugares para ir passear. Em primeiro lugar, o museu arqueológico é apenas um quadrado de distância. Em segundo lugar, de Thessaloniki Opera House é acessível a pé. Por último, em "Vasilissis Olgas" rua, você pode encontrar muitos edifícios neoclássicos.
Το διαμέρισμα ανταποκριθηκε στις προσδοκίες μας. Καλόγουστο και πεντακαθαρο, όπως φαίνεται στις φωτογραφίες! Πολύ καλή επικοινωνία με τον Γιώργο! Το συνιστουμε ανεπιφύλακτα!
Christina
2017-03-26T00:00:00Z
Πολύ όμορφα διακοσμημένο,προσεγμένο, καθαρό, μοντέρνο διαμέρισμα. Ήσυχο και ζεστό. Το σπίτι βρίσκεται πολύ κοντά στο κέντρο της πόλης και έχει όλες τις ανέσεις. 10'λεπτά με τα πόδια ως την παραλία . Η επικοινωνία με τους οικοδεσποτες, άψογη!!!! Ήταν όλα υπέροχα. Το προτείνω σε ανεπιφύλακτα. Σας ευχαριστούμε πολύ...
Efi
2017-02-28T00:00:00Z
The apartment is lovely and easy to find. All amenities are close by. Walking along the seafront to city centre is very easy or you can rent a bike just down from the apartment at the seafront. We would definitely recommend this apartment.
Anni Toft
2017-03-31T00:00:00Z
Awesome place, exactly as described
Danai
2017-03-25T00:00:00Z
Το σπιτι ειναι ήσυχο όμορφο και καθαρό κοντά σε καταστήματα και δημόσια μέσα μεταφοράς.
Marianna
2017-03-20T00:00:00Z
Very nice and clean place. Recommended.
Konstantinos
2017-03-10T00:00:00Z
Το σπίτι είναι ακόμα καλύτερο απο τις φωτογραφίες σε μια ευχάριστη και ήρεμη γειτονία,άριστα εξοπλισμένο με υπέροχη διακόσμηση και πάρα πολύ κοντά στη νέα παραλία.Είχαμε άμεση εξυπηρέτηση για οτιδήποτε κι αν χρειαζόμασταν γι'αυτό και το συστήνω ανεπιφύλακτα.
Kate
2017-03-21T00:00:00Z
M&M ballerinas home is a beautiful cosy apartment. It's clean and neat. Even if it's not in the city center you have easy connection by bus or taxi. You can even walk along the beautiful seaside promenade. Takes about 15-20 minutes to the city... there are supermarkets to reach in 1-3 minutes and a small nice bakery with incredible bread for cheap money... all in all I would definitely recommend this apartment. The host was easy to reach around the clock and replies very fast. We felt like we found a home in Thessaloniki. Efharistume para poli George!
Angelina
2017-03-07T00:00:00Z
Tipo de Acomodação
Casa/apto inteiro
---
Tipo de Imóvel
Apartamento
---
Acomoda
4
---
Quartos
Tessalônica, Macedônia e Trácia, Grécia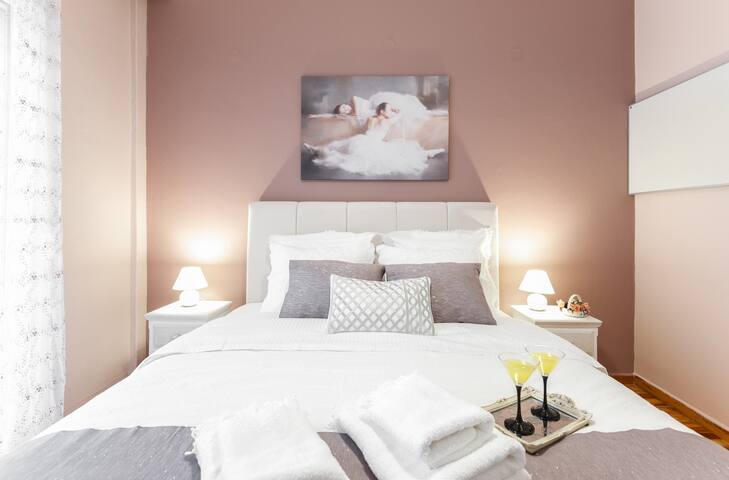 Jedná se o velmi příjemný a plně vybavená (kuchyň, koupelna, ložnice) byt v blízkosti centra v Soluni (10 min autobusem) .Everyone nyní životní zkušenost na stylový, komfortní dům a chůzi na novém moře města která začíná 100m od okolí appartment.The nabízí všechny potřebné služby (supermarkety, kaváren, restaurací, taxi, autobusové zastávky, obchody atd.)
Host was very attentive apartment was clean and close by to everything I needed very large bathroom Enjoyed my stay
Jenny
2016-10-05T00:00:00Z
My hosts Alex and Alex's father were very welcoming and warm. What you see in the pictures is what you are getting and it is a wonderful flat and cosy and very modern. For me it was manageable to clean and tidy up. It has got a decent heating and also cooling A/C. Lovely spacious shower with a power shower head and an ordinary shower head. A very decent kitchen with everything within your reach and all means and essentials for your cooking, baking and drinking. Iron board, decent steam iron, coffee machine, kettle and anything one needs in a modern sophisticate kitchen. A decent balcony where you can clearly see the sea and feel it; every morning I had my coffee at the table in the balcony and viewed pleasantly the sea and ships. The apartment and its surroundings gave me a feeling of being home. Shopping so easy and locality so reachable day and night. Many cafes and restaurants in the vicinity. I quickly and easily mixed with the locals and friendly shop owners alike. There is a lift in the building. You can also so easily walk down to the sea embankment to have a fresh walk along the sea and the famous White Tower is within your walking distance. Bedroom is spacious with decent bed and mattress as well as a big wardrobe. Alex and Alex's family are a wonderful, accommodating, reachable and warm family. It was a pleasure and privilege to have met them and be their guest. Their reachbility and communication with me was superb and one cannot ask for better. Alex was very helpful and generous in attending to my requests when needed; and will stay there if I get another opportunity. Big thank you Alex and Family for all your efforts to host me and provide me with a warm and clean apartment. Wish you all the best and I hope I would be your guest again. Success with your business and All the best of the luck. With warmest regards Dylan
DYLAN
2016-11-12T00:00:00Z
Η Θεςςαλονικη ειναι γνωστή για την φιλοξενία της και ο Αλέξανδρος και η οικογένειά του δεν αποτελούν εξαίρεση. Εξυπηρετικοί με τον καλύτερο δυνατο τρόπο, τοςο στις ώρες αναχβ´ρηςεις και προςέλευςεις, οςο και στο να κάνουν την διαμονή μου εδω οςι ευψαριςτη και άνετη γίνεται. Ο χώρος ειναι ζεστός, καθαρός, φιλόξενος χωρίς να του λείπει τιποτα που δεν θα έβρισκα και στο δικό μου σπιτι. Όμορφη περιοχή, ασφαλής και πολυ κοντά στο κέντρο της πόλης. Προσωπικά, την διαδρομή την εκανα καθημερινά με τα πόδια εκμεταλεύοντας τη διαδρομή της νέας παραλίας. Συνιστώ ανεπιφύλακτα το κατάλυμα αυτό οπως και τους οικοδεσπότες του.
Tatiana
2016-10-17T00:00:00Z
The home has amazing positive energy!!  It is spacious home as a suite. In the main road in front of the home, there is a bus stop that you can be at the center less than 15 minutes. Moreover you can find a big super market, bakeries and coffe stations in distance less than 3 minutes by walking from home. We 100% recommend to book it !!! Thank you very very much Alex, Mr Stathis and Mrs Mairy for you hospitality!!! You made our wedding days - preparation - the most beautiful days!!! P.S. Mrs Mairy's is an excellent painter!! Her paintings at home are really masterpiece!!! Thank you again !!!!
Κατερινα
2016-11-30T00:00:00Z
Tipo de Acomodação
Casa/apto inteiro
---
Tipo de Imóvel
Apartamento
---
Acomoda
3
---
Quartos
Tessalônica, Grécia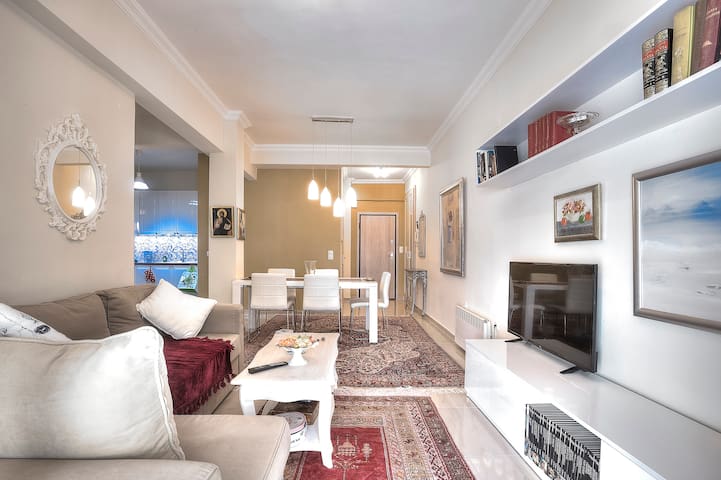 1

–

18

de

Mais de 300 Apartamentos para Alugar
Insira as datas para ver o preço total. Taxas adicionais serão aplicadas. Impostos podem ser adicionados.