Mais de 300 Apartamentos para Alugar
Para viajar com estilo, tente uma experiência palaciano do Palazzo Cattolica Art -Apartment!
PALAZZO CATTLOICA é um apartamento privado muito bem localizado no coração da cidade velha, em um magnífico e aristocrática Whit um palácio imponente dupla pátio privado: praticamente a introdução perfeita para a grandeza decrépita do centro histórico de Palermo. O magnífico palácio do 18º C, magicamente nos leva de volta ao esplendor de um outro tempo da grandeza aristocrática e uma estadia dentro de suas paredes é uma experiência única e especial Mesmo que aguardam a restauração, o maravilhoso escadaria que leva até o apartamento é muito impressionante, com uma estátua clássica sem cabeça. Existem muitas escadas para subir para o apartamento, mas eles são rasos, não cansativo, e com uma escadaria tais glamourosa de idade, você mal notar a subida. "Apesar dos 134 degraus para chegar até aqui, o segredo mais bem guardado de Palermo!" (Irene) A bela, silencioso e ensolarado apartamento está muito bem decorado com muitos toques artísticos pessoais, com plantas e flores e pinturas artísticas. "Todos os itens tem a sua história, vida e plano perfeito nele" (Elena). O apartamento é muito refúgio de paz e você pode caiu em casa! A partir da varanda ensolarada e janelas, você pode desfrutar de um ponto de vista de vista acima da animada cidade de Palermo. Ficar em Palazzo Cattolica Art Apartment é uma experiência muito aventureiro e palaciano! Descrição 2 comunicando quarto sem qualquer porta entre em um mezanino, 1 sala, 1 sala de jantar com mesa para 4 pessoas, cozinha, banheiro com chuveiro, varanda privada com uma excelente vista e uma pequena mesa, uma exterior comum galeria aberta para usar parcialmente e apenas em conformidade com os vizinhos. Superfície: 75 m2 Ano de Construção: 1700, Data de ultima renovação do apartamento: 2011
Palermo pode ser bonito, mas também corajoso e sufocante de modo que o apartamento oferecido um maravilhoso refúgio. Existem vários muito bons restaurantes muito próximos e mais atrações estão a curta distância. Sheba Remy escreveu: "Há trabalhadores de couro, tecelões, joalheiros e uma roupa e acessório loja vintage que rivaliza com alguns dos melhores que eu já visitou em Londres e NY Os proprietários de vários destes estabelecimentos teve tempo para falar para mim e para. compartilhar seus conhecimentos e experiências. Eu estava muito encantado por que "
o
Isabella
2016-12-22T00:00:00Z
We had a wonderful time in the Palazzo Cattolica Apartment. The location of this apartment in the old and majestic Palazzo right in the middle of the Kalsa quarters is probably one of the best in Palermo. The apartment itself has everything you need. Beds are hard but ok. The terrace in the picture is not a part of the apartment itself, but can partly be used and is a pleasant place to relax. The owner Antonio can and will give you all the information you need including a guide of restaurants and others places of interest that was really useful. I would certainly recommend this apartment to others.
Peter
2015-09-23T00:00:00Z
From the very first communication with Antonio when we decided we would like to stay in his apartment we knew we had a caring host. Antonio responded to all our questions of which there were lots. His quirky apartment in a magnificent and grand Pallizi was delightful and we had been warned by Antonio of the mountain of stairs to reach his "Penthouse". From his apartment we were able to explore the magic of Palermo, and it is a magical city. Our only regret was that we didn't get to meet Antonio on person. But his attentiveness was ever present. Thank you Antonio.
Valentine
2014-09-12T00:00:00Z
Antonio's apartment is located in the Kalsa district, very comfortable to walk anywhere around Palermo. We enjoyed the nereby artisan shops and the ancient focacceria. The apartment is welcoming and a great space to rest your legs after discovering the best streets of Palermo.
Myrtha
2017-01-21T00:00:00Z
Palazzo Cattolica, eine wunderbare Erfahrung, die Eröffnung einer neuen Welt ! Antonio ein Gastgeber mit Stil und Geschmack.
nicole
2015-10-28T00:00:00Z
We absolutely loved staying in Antonio's flat. Antonio was a warm, friendly and welcoming host who provided us with a lot of interesting information about Palermo. The flat was beautiful, full of quirky colourful objects. It was comfortable and a joy to go back to after our outings. Its location was perfect, very central, so we could walk everywhere. We felt spoiled to stay in such a gorgeous flat with a great host. We highly recommend it. Fantastic experience. Tutto perfetto!
Tim and Daniela
2015-10-31T00:00:00Z
This apartment is truly unique, it is not often you get to stay in a palace! My family and I were very impressed with Antonio's apartment. It is very close to some lovely restaurants and bars (there is an amazing one across the road) . The apartment comfortably sleeps 4 adults and is very nicely decorated. It is in a quite yet convenient location and Antonio was very easy to communicate with and very helpful with arranging transfers. I would definitely recommend staying here whilst in Palermo!
Rosemary
2013-07-31T00:00:00Z
Appartamento delizioso in pieno centro. Antonio e la sua famiglia sono stato amabili. Impeccabile!
nicola
2015-06-29T00:00:00Z
Tipo de Acomodação
Casa/apto inteiro
---
Tipo de Imóvel
Apartamento
---
Acomoda
4
---
Quartos
Palermo, Sicília, Itália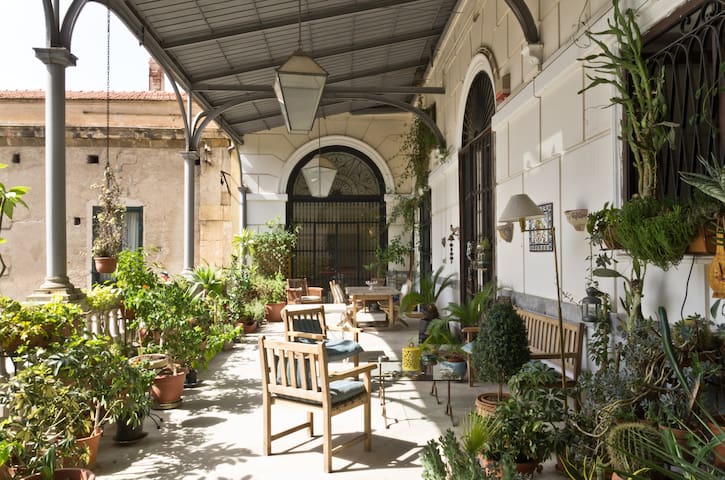 O apartamento está localizado em uma área estratégica da cidade, você pode estacionar facilmente se você chegar de carro, é 5min a pé da estação de trem / ônibus. Três quartos grandes, totalmente equipada (wi-fi, TV, microondas, cafeteira, ferro a vapor, AC, aquecedor etc.) Perfeito para uma estadia longa ou alguns dias
O apartamento está localizado no centro da cidade, na bela ilha de Ortigia, perto das lojas mais importantes e do famoso mercado de peixe por dia e os melhores restaurantes. A casa é composta de três quartos, onde 6 pessoas podem ficar confortável. Cada quarto tem aquecimento e ar condicionado, cada quarto tem uma conexão de alta velocidade à internet wi-fi. Há também um berço para os meus pequenos hóspedes. Se você não encontrar aqui uma vaga, eu possuo um outro apartamento perto de um presente, você pode procurá-lo no meu perfil.
A área é muito bem e as pessoas que vivem no edifício são habitantes muito característica do sul da Itália. Meu bairro é muito autêntico, o apartamento está localizado no centro histórico, as pessoas que vivem no edifício são velhos agradáveis pessoas que vivem aqui desde que nasceram. Eles têm sempre algo a dizer-lhe sobre a sua vida e eles têm muito livre (URL HIDDEN) manhã você pode ouvir o meu melhor vizinho, o Sr. Mazzarino, cantando e ouvindo canções italianas antigas .. Eu o amo!
Mario is the best host ever ! He showed us the city, ask us if we wanted him to bring us to the beach, and offered us the lunch the day we arrived ! His appartment is spacious, ans the fridge was full ! Great communication. We recommended this apparment and Mario for all !
Alexis
2012-08-16T00:00:00Z
We stayed at Mario's appartment for the second time. Again, everything was perfect and Mario is an excellent host. Thank you very much for the colomba and hope ti see you again.
Beate
2014-04-19T00:00:00Z
Mario's place is sensational. It's right next to Ortiga and is extremely spacious. If you're lucky you'll get taken to the markets by Mario and shown the best place to eat around. It really made a happy start to our trip to Sicily. Highly recommended.
Edward
2014-06-20T00:00:00Z
We really enjoyed our stay at Mario's apartment. From the moment he picked us up at the airport, he made us feel very welcome. The apartment itself was comfortable, clean and very spacious, especially for two people. After a few busy days in Venice and Rome, it was nice to end our Italian trip in a beautiful relaxing town, with great sights and amazing views. I would highly recommend both Mario and his apartment.
Vanessa
2016-06-04T00:00:00Z
My husdand, our little baby and i had an excellent stay at mario's. The house is very well located to explore ortigia and we felt safe walking around even late at night. The appartment was very cleaned, big and sunny. Mario was very helpful during our stay and very easy to get in touch with. Eventhought it is on the third floor it worth to stay without a doubt!
Mélissande
2016-10-08T00:00:00Z
We had a lovely stay in Mario's apartment. The apartment was well equipped and in really great location (just outside the old town). Mario is very friendly, speaks excellent English and happy to give advice and suggestions. He even left us a bottle of Prosecco and some beer in the fridge! I would definitely recommend staying here.
Craig
2014-10-03T00:00:00Z
This was my first experience with Airbnb and it was amazing, 100% positive! Mario is an excellent host, extremely helpful and with very good tips he also helped one of us with a little injury!! The place is central, very clean, well equipped and it's a shame we stayed just one night! I definitely recommend Mario!
bruno
2012-08-19T00:00:00Z
Mario's apartment is perfect. It's in a great location and had everything a traveller could need. Mario gave us some really good recommendations and we also had the pleasure of going for a drink with him! He's a great host and we would definitely stay there again!
Anita
2012-10-02T00:00:00Z
Tipo de Acomodação
Casa/apto inteiro
---
Tipo de Imóvel
Apartamento
---
Acomoda
6
---
Quartos
Siracusa, Sicília, Itália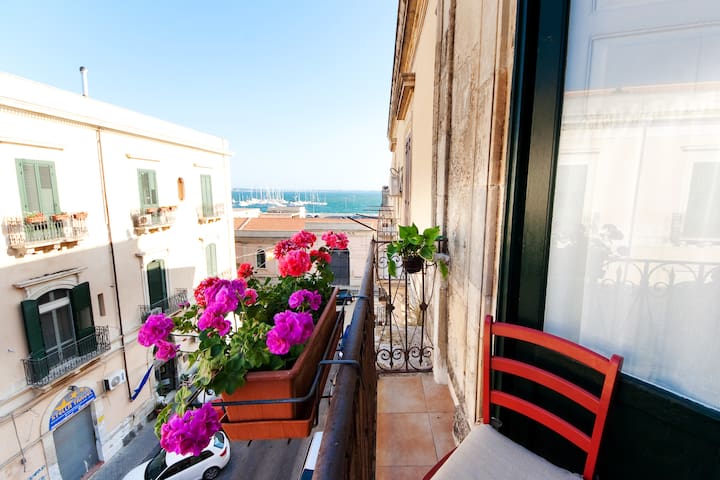 Elegante e confortevole Attico Atenea si trova nella centralissima via Atenea, cuore della città antica e moderna Il suo grande terrazzo rivolto sul mare regala una meravigliosa veduta sulla valle dei templi e sul mar mediterraneo!a due passi dalla valle dei templi e dai maggiori punti d'interesse.
Attico Atenea è in cima ad una palazzina di due piani, al principio della Via Atenea, una scalinata porta all'ingresso della palazzina che non ha ascensore, sarà all'incirca un 4' livello. L'attico è composto da due camere da letto, entrambe con letto a due piazze. può ospitare 4 persone, e un bimbo in culla che pernotterà gratuitamente. offre gratuitamente lettino e seggiolone per i vostri bambini, Un confortevole bagno con ampia doccia ed una comoda Cucina attrezzata. Ampio lo spazio soggiorno con Tv a schermo piatto 32'' e incantevole la grande terrazza attrezzata, da cui potrete godere di una vista mozzafiato su tutta la città e il mare In ogni caso, avrete l'uso esclusivo della casa, cucina attrezzata di stoviglie e condimenti base the, caffé e acqua naturale in bottiglia. Biancheria bagno e letto, set cortesia bagno, coperte, asciugacapelli, forno, frigo, freezer, tostapane, etc. La via atenea è il cuore della città, la via dello shopping e della vita notturna, tuttavia Attico Atenea si trova all'interno di un vicoletto, sopra i tetti gode di una silenziosa vista mozzafiato, ideale per chi cerca un angolo di serenità e per chi, scendendo le scalette, desidera vivere la città ad ogni ora. Attico Atenea si trova al centro della città, accanto alle fermate dei mezzi pubblici, dalla stazione dei bus e a due passi dalla stazione dei treni. Nelle immediate vicinanze troverete parcheggi gratuiti e a pagamento del costo di circa 5 euro per l'intera giornata
La via atenea è il cuore della città, la via dello shopping e della vita notturna, tuttavia Attico Atenea si trova all'interno di un vicoletto, sopra i tetti gode di una silenziosa vista mozzafiato, ideale per chi cerca un angolo di serenità e per chi, scendendo le scalette, desidera vivere la città ad ogni ora.
wonderful apartment. incredible views. fabulous host.
anne
2016-04-23T00:00:00Z
Het appartement was goed te vinden en we konden de auto ook goed kwijt. Bij aankomst Pierantonio gebeld en hij kwam snel om onze koffers naar boven te dragen, hoe attent! Soms zijn foto's van te voren al veelbelovend maar de sensatie van het aanschouwen van deze plek in het echt is overweldigend! Wat een super appatement, mooi ingericht en 2 heerlijke dakterrassen met super uitzicht. Ook de wifi was erg prettig voor onze zoon...
Charlie
2015-10-31T00:00:00Z
Ottima Esperienza, Host Gentile e disponibilissimo, locale molto ben arredato e accogliente buona posizione.
Mattia
2016-03-24T00:00:00Z
Great apartment with a breathtaking view on the sea and a beautiful terrace to enjoy summer nights! Pierantonio was really nice, available and flexible. We had a really great stay there !
Juliette
2016-08-21T00:00:00Z
Like all the other reviewers have said, Pierantonio and his apartment are fantastic! Pierantonio makes it an easy and seamless experience, telling us where to park, meeting us, and even carrying our luggage up the stairs! He is so friendly and generous. The apartment is amazing, like having your own penthouse apartment. The terrace that wraps around 3 sides is the big seller here. But since we were there in winter, I really appreciated having so many windows and so much light inside the apartment. I also liked the open plan kitchen and living room. When you exit the apartment downstairs, you are right on the main street of Agrigento, which was perfect for shopping, eating, drinking. I can't recommend this more highly. Oh, and if you have a baby, it's fantastic, because they have a crib and a high chair. Thank you!
Michele
2015-12-08T00:00:00Z
This flat was really beautiful, with an amazing wrap-around terrace, nice wooden floors etc. we stayed there on a very rainy night and yet it was probably the best AirBnb we had during our week in Sicily. It's also in a nice location, with lots of restaurants around. We didn't meet Pierantonio but his colleague, Greg, was very nice and very helpful. He helped us find parking space around.
Claire
2015-03-28T00:00:00Z
The apartment was quiet, comfortable and well stocked, and the view could not be better! Sorry we did not get to meet you, Pierantonio, but Greg was very helpful and kind. He drove our car to a place where we could leave it parked for free and told us where to find a market and places to eat. We loved staying at your apartment and highly recommend it to others. Thank you for your hospitality!
Evelyn
2014-05-26T00:00:00Z
Pierantonio was simply an amazing host. The apartment with an amazing view, perfectly clean and located to visit Agrigento, the Valley of Temples. We cannot be happy. Great place to stay.
Alix
2015-06-16T00:00:00Z
Tipo de Acomodação
Casa/apto inteiro
---
Tipo de Imóvel
Apartamento
---
Acomoda
4
---
Quartos
Agrigento, Sicilia, Itália
apartamento independente zona de 55mq no primeiro andar de um edifício, a 10 minutos a pé de distância da estação central e do centro da (URL HIDDEN) ar condicionado e Wi-Fi. Se você alugá-lo você vai ser os únicos hóspedes, ninguém mais, total privacidade. Cozinha equipada e máquina de lavar.
apartamento ideal para as suas férias em Reggio Calabria, localizado na área central. Colocado no primeiro andar tem uma varanda e uma cozinha muito brilhante, equipado com tudo que você precisa, de talheres para as várias ferramentas, uma casa de banho com duche e um "quarto grande que pode acomodar confortavelmente até três pessoas. É fornecido roupa de cama limpa para o banheiro eo quarto. Há máquina de lavar roupa, ferro e tábua de engomar. Eu e minha família vive no mesmo prédio e nós será sempre disponível para o que você precisa ou mesmo para uma conversa simples. Nas imediações existem também várias actividades, tais como géneros alimentícios, Bar, Padaria, Pizzaria, Mercado de Peixe, Gelateria, quiosque, supermercado, tabacaria etc .. É uma caminhada de 10 minutos da Estação Central, pode chegar ao centro histórico e do Lungomare Matteotti, sem a utilização de autocarros ou outros meios. De qualquer forma, o ponto de ônibus fica em frente da casa. O aeroporto fica a apenas 5 minutos de carro. A praia pode ser alcançada a pé em 5 minutos Serviços incluídos no preço: - Internet Wi-fi - Estacionamento (no pátio interior com portão automático) - Televisão digital - Autoclave - Máquina de lavar roupa (ferro e tábua de passar roupa) - Roupa de cama (cobertores, lençóis, toalhas, toalha de banho, sabonete, secador de cabelo ...) - Animais de estimação bem-vindos Nossa hospitalidade e cortesia irá acompanhá-lo durante toda a duração da estadia, para tornar ainda mais agradável!
Me and my girlfriend had a great time at Reggio di Calabria. It was very hot and we visited some nice places in Calabria (e.g. Pentidattilo, Scilla and Messina at Sicilia). The flat is large and clean, with all amenities you need and has a safe place outside to park the car. Mariella and her son Rosario are perfect hosts. Rosario speeks English very well so he explained and helped us with all our questions. Both are very friendly so we would definitly stay here again.
Theresa
2015-09-21T00:00:00Z
Our stay in Reggio Calabria was great (but apparently hottest week of summer)! Mariella was very responsive with answering all our questions, and gave us a warm welcome. Her son, Rosario, picked us up from the airport, and is very good at speaking English. The place was large with all the amenities you need. We loved having a kitchen to cook and a clothes washer since we are traveling for awhile. It's also about a 10min walk from the train station - the train makes it so easy to get around to other beautiful villages in the area. Also, the ferry to Sicily was very easy, too. Wireless was faster than other places we have stayed in Italy. During our stay they were great at being available to any questions we had. Overall, great stay, good location, and good people.
Laura
2015-07-22T00:00:00Z
Mariella and her son Rosario were wonderful hosts, from the process of booking to dropping us off at the ferry and the middle of the night medical emergency in between, they were kind, thoughtful and respectful of our privacy. We were greeted with a glass of wine and introductions by Rosario who speaks English very well with his Mom. Our accomodations were as photographed, a very clean, tidy apartment, located close to the waterfront and central station. Amenities (supermarket, bar, paticcerie) are all close. We are happy to recommend this Airbnb to anyone visiting Reggio, you will be well taken care of.
Paul
2013-06-24T00:00:00Z
The apartment is well located in the city being close to the airport and the city centre. We only stayed a night, but could have used the apartment as a base for longer. We were well looked after by the hosts and had no issues with the facilities. Next time we will stay longer.
Lynton
2014-01-22T00:00:00Z
Mariella was available whenever we rang her doorbell (adjacent apartment). She was kind and courteous and answered all our questions. And, because we were both slightly ill, she drove us to the train station rather than having us wait for a bus early in the morning. We would definitely recommend her b&b to others.
Anthony
2016-10-31T00:00:00Z
Mariella e suo figlio sono stati disponibilissimi fin dal primo momento, sempre pronti per qualsiasi esigenza. La casa è dotata di tutto il necessario, pulita e molto piacevole. Situata in zona Stadio, a circa 15 min di camminata dalla Stazione Centrale. Zona tranquilla con fermate del bus a disposizione.
Valentino
2016-01-05T00:00:00Z
Fantastic apartment, wonderful people! very nice time for us!
David
2017-03-11T00:00:00Z
Nous avons séjourné une nuit dans ce fantastique appartement de reggio. Il est très beau et grand, extrêmement propre et parfaitement équipé . Le meilleur de cette courte expérience reste la rencontre avec les hôtes, Mariella est une femme adorable que nous avons tout de suite aimé, de même pour son fils Rosario. Des personnes vraies et exceptionnelles. A notre arrivée nous avions des kiwi du jardin, des kinder et des jus . A notre départ ils nous ont offert une excellente bouteille de leur vin maison. En bref je conseille ces hôtes de tout coeur. MERCI MARIELLA ET ROSARIO ☺
Johan
2015-05-09T00:00:00Z
Tipo de Acomodação
Casa/apto inteiro
---
Tipo de Imóvel
Apartamento
---
Acomoda
3
---
Quartos
Reggio Calabria, Calábria, Itália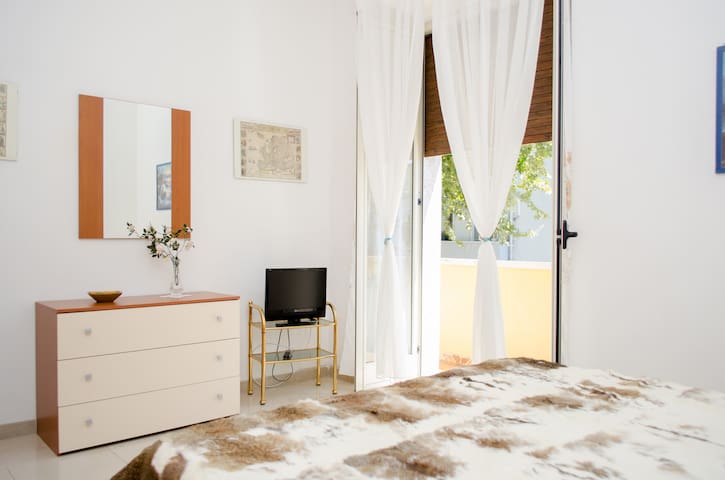 A casa branca é um apartamento de 90 metros quadrados. Foi recentemente remodelado em estilo loft moderno, é no segundo e último andar de um edifício antigo no centro histórico de Palermo. Esta casa é caracterizado por uma pesquisa estética pessoal e por uma funcionalidade planeamento especial. Além disso, é reforçada pela luz natural do sol Siciliano e por o branco de decorações e paredes. Estes elementos conferem-lhe uma atmosfera sóbria e solar. O proprietário é um artista e ele é apaixonado por design de interiores, ele derramou a sua criatividade e bom gosto no planejamento e realização. Todos mobiliário de casa é em estilo moderno e feitos na hora pelo proprietário. Alguns elementos têm um estilo clássico e outros têm estilo minimalista. A casa é dividida em 3 níveis, (zona de estar, sala e terraço dormir). A entrada leva para o primeiro nível em uma área de estar equipada com todos os confortos: sofá-cama, lareira de ferro clássico elenco (ele é fornecido para a lenha no inverno), TV LED 3D de 47 polegadas full HD, 3D Blu-Ray e DVD player, TV por satélite decodificador para canais internacionais, Dolby Surround 5.1, Wi-Fi, aquecimento a gás, inversor de ar condicionado, máquina de café / cappuccino com pod café incluídos, mosquiteiros. intensidade luminosa da casa é ajustável e recebe uma atmosfera calorosa e amigável. A zona de estar é uma área muito relaxante e tem todas (filmes, livros e CDs musicais estão incluídos). Esta zona de estar é completamente integrado com o quarto ao lado jantar. A cozinha é cuidadosamente completa de acessórios, há uma península cozinha para o café da manhã (vamos conseguir tudo o que você precisa, tais como compotas, creme de chocolate, biscoitos, cereais, chá, suco de laranja e abacaxi, café e leite.) No mesmo piso há uma confortável banheiro / lavanderia com máquina de lavar. No segundo andar, acessível por uma escada, há a área de dormir precedido por um estúdio equipado com estante e mesa. Depois, há o quarto principal com uma elegante casa de banho e um armário walk-in, que são separados por um chuveiro maravilhoso. No mesmo piso há o acesso no terceiro nível que leva a um pequeno terraço bem-acabado e íntimo. Daí você pode admirar "Palazzo dei Normanni" com o seu "Cappella Palatina", que é distante cerca de uma centena de metros da casa. A casa está localizada a cerca de cem metros da Piazza Vittoria, que está na frente do Palazzo Reale, que é um dos símbolos e destino de Palermo uma grande quantidade de turistas. As distâncias entre a casa e os monumentos são: Porta Nuova (450m), il Parco d'Orleans (400m), la Cattedrale (400m), San Giovanni degli Eremiti (350m), La Chiesa del Santissimo Salvatore (600m) ECC. O preço semanal é de 500 euros para 2 pessoas, o preço da diária é de 75 euros para 2 pessoas (a terceira e a quarta clientes pagam todos os dias 20 euros cada um). A limpeza final custa 30 euro.
Appartement idéalement situé, conforme au photos, très fonctionnel. Palerme est une ville urbaine et il est très agréable de pouvoir se reposer après les visites dans l'appartement confortable de Valentina. En revanche, il est difficile de trouver l'emplacement de l'appartement. Je conseillerai a Valentina de créer un plan pour indiquer l'emplacement exact de l'appartement. L'adresse ne serait pas visible sur les plans apparemment. Avec mon ami, nous avons mis du temps à trouver l'appartement, ce qui a retardé Valentina. N'ayant pas mangé, l'accueil a été rapide, pragmatique. L'avantage avec la location d'appartement est l'échange de précieux conseils avec l'hôte que nous n'avons ici pas retrouvé. Quel dommage ! Je recommande évidemment l'appartement en lui même.
Sarah
2014-09-18T00:00:00Z
Valentina, I had such a warm and welcome time in Palermo. Your apartment is gorgeous and so well situated for a visit. It exceeded my expectations. I highly recommend it, and will have fond memories forever. Best regards, Michael
Michael
2014-11-07T00:00:00Z
Lovely place to stay! Beautiful apartment and helpful and friendly hosts.
Michelle
2016-08-22T00:00:00Z
Splendido soggiorno nel cuore della vecchia Palermo. Location perfetta, a due passi dalla cattedrale, dal Palazzo dei Normanni (con la meravigliosa cappella Palatina) e - perchè no - dalla famosa pasticceria Cappello dove assaggiare la deliziosa setteveli. L'appartamento è esattamente come vedete nelle foto, bello, luminoso ed arredato a regola d'arte. L'accoglienza è calda ed attenta, Valentina è estremamente gentile e premurosa. Per cui un soggiorno perfetto!!! Grazie mille Valentina e alla prossima ;-)
Lisa Jane
2014-11-30T00:00:00Z
Amazing apartment! So modern and lovely roof terrace. Great base to explore too. Looked after us very well
Jack And Rachel
2014-08-03T00:00:00Z
I can not express enough how much of a delight our stay at White Home was. This was our first ever air bnb experience and our expectations were exceeded. Valentina welcomed us warmly and was an amazing host. We were provided with a map and business cards for local shops and restaurants. We were also provided with milk, juice, breakfast cakes, tea, coffee, and biscuits for breakfast. The loft is gorgeous and was very clean. We loved the layout and design. The details were much appreciated. The roof top terrace was very nice with a great view of the surroundings. The authentic feel of the location was great. Over all, our experience staying a White Home was amazing. I would definitely recommend it to anyone.
Sasha
2014-12-08T00:00:00Z
FABULOUS apartment! I can't imagine a better place to stay in Palermo, or anywhere! 5 stars. The apartment is a gorgeous place, brilliantly designed and appointed, well stocked for cooking and eating, comfortable, with a breathtaking roof terrace! And the hosts were gracious, helpful, a total pleasure. If you pass this one up, you're making a mistake! Perfectly located in Palermo to explore the historic district, and with great, inexpensive restaurants very nearby. 10 steps to Via Porta di Castro, one of the most picturesque streets in Palermo, which ends at the Gesu Cathedral. Walk 3 minutes down the Castro to the best cannoli in the world (on Via la Gumina). 2 minutes further and you're at the Gesu and its wild street market with fresh vegetables, fish, meat, restaurants, pandemonium. Walk the other direction 3 minutes and you're at the world famous Capella Palatina. On the far side of the piazza with the Capella Palatina you'll find the antiques flea market - unbelievable. A 3 minute walk in a third direction, to the main cathedral on Via Emanuele. A one mile easy walk to the Zisu palace. An easy walk in the other direction to the harbor. 2 minute walk to the train to the airport (station: Palazzo reale-Orleans). Ruins, architectural treasures, ancient alleys in every direction. The hosts, Valentina and Daniele were incredibly helpful and friendly. Thank you so much, guys! Can't wait to return.
Steve
2013-09-19T00:00:00Z
We were made to feel very welcome, Valentina came to meet us in the pouring rain when the taxi driver was unable to reach the road of the apartment. The apartment was immaculate and she showed us how everything worked and had provided a few basics for breakfast in the morning. Overall we had a good experience.
Sara
2015-10-22T00:00:00Z
Tipo de Acomodação
Casa/apto inteiro
---
Tipo de Imóvel
Apartamento
---
Acomoda
4
---
Quartos
Palermo, Sicília, Itália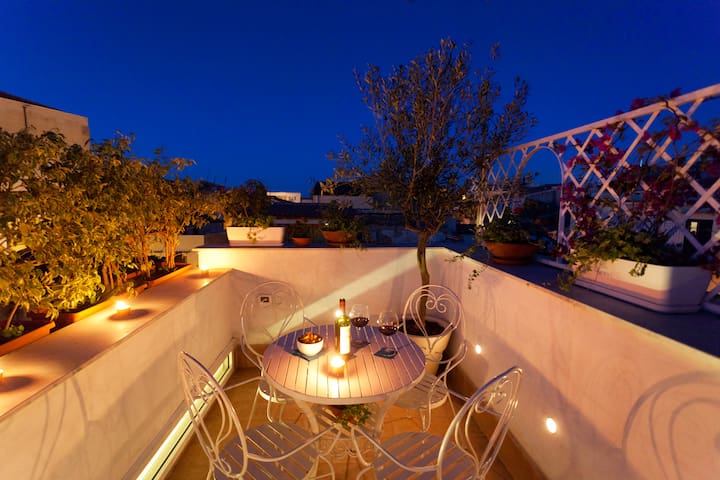 Charming studio located in Via Roma in the heart of Ortigia. A few steps you can visit the Galleria Bellomo, Castello Maniace, Piazza Duomo and all the major historical and cultural attractions of the city. And 'ideal for visiting the historic center on foot. The apartment consists of a fitted kitchen with electric oven and washing machine, double bedroom and bathroom with shower. The restaurant is air conditioned and has recently been renovated. For guests use there is a charming courtyard with many plants and equipped for outdoor dining. The dates are always updated within minutes, and we accept reservations at the last minute. We always try to make you feel at home and we are happy to guide you in our city.
The stay at Mariella's apartment was great! Located in the old city, all the main sites are quickly accessed by foot. Mariella was prompt with all communication and helped us with parking our rental car and getting us settled. The space is large, clean, and inviting with the major bonus of using the beautiful courtyard! We would recommend this apartment to anyone staying in Syracuse!
Joe
2015-09-25T00:00:00Z
Un petit appartement très charmant, où l'on se sent comme chez soi dès la première vue. la petite cour/terrasse est super agréable, on y a passé de très bons moments. Emplacement idéal au bout de l'ile d'Ortigia, dans une rue pavée, avec des commerces, des restos, des cafés, à 20 mètres d'une très belle petite plage. Milko et Mariella sont des hôtes extras, vraiment très avenants et très serviables; toujours de bonne humeur et aidants pour tout. Ils nous ont donné pleins d'indications et de bonnes adresses pour notre séjour à Syracuse. Je les conseille vivement.
Eloïse
2014-08-15T00:00:00Z
Mariella was an incredible host. I had a bit of trouble finding the place in the warren of streets on Ortygia so I parked and called her and she walked to me and directed me to the parking she had arranged for my car. One walks all over Ortygia and this apartment was perfectly located 1/2 block from the sea wall and a swimable beach. The apartment was nicely furnished, but no window in the bedroom. The cooking arrangement was fine for making meals from the famous street market. And there are many nice places to eat within a few minutes walk, including one right next door. I will be back.
Marcia
2016-04-10T00:00:00Z
La scelta perfetta per un soggiorno a Ortigia. Arredato con estremo gusto, l'appartamento è situato in una zona comodissima, ad un passo dal mare, dalla fonte Aretusa, dal Duomo e dai ristorantini dell'isola. Il fatto che sia chiuso in uno dei cortili interni lo rende anche molto silenzioso. Sicuramente un'esperienza che ripeteremo.
Benedetta
2014-09-21T00:00:00Z
Mariella and her husband were extremely helpful on our arrival and made us feel very welcome. The location was perfect, ideal for exploring the town and a stones throw from a beach. Excellent bar/street food next door.
Eugene
2016-07-09T00:00:00Z
A cozy little apartment with stunning little garden! Placed strategically in the old part of city gave us amazing experience. Our host Mariella was carrying and onset person extending hospitality beyond our expectations! We would recommend this place to our friend and family.
Krzysztof
2015-06-27T00:00:00Z
Wow what fantastic hosts!! Fell in love with Mariella and her husband Milko. They were so so lovely and accommodating. They gave us lunch on their sunny terrace when we arrived, and told us all about Syracuse. The apartment was spotless, had air con, a very comfortable bed, fully equipped kitchen, was very close to beach and centre of town. Could not recommend it more. We were sad to leave!
Katy
2013-06-07T00:00:00Z
ortigia is a magical place , really enjoyed our stay , accommodation was great value
john
2016-03-18T00:00:00Z
Tipo de Acomodação
Casa/apto inteiro
---
Tipo de Imóvel
Apartamento
---
Acomoda
2
---
Quartos
Siracusa, Sicília, Itália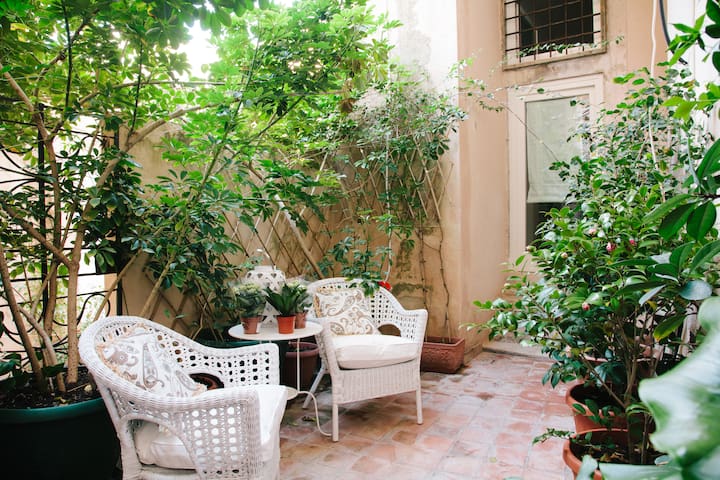 "Residences San Paolo" é uma casa típica siciliana de 1900, com telhados de clássicos em pedra, completamente reconstruída e renovado com confortos modernos para atender as necessidades dos clientes. O estilo do mobiliário é clássico e em completa harmonia com o meio ambiente. O apartamento está localizado em San Paolo, uma das áreas mais característicos e naturalistas de Ragusa Ibla, caracterizada por pequenos passos que sobem até a colina, algumas cachoeiras e uma grande pedra de pedra branca com vista para o encurtamento. Residenze San Paolo é realmente fácil de alcançar, está localizado na entrada da Ibla, perto do Parque de estacionamento comunal e do centro é facilmente acessível a pé. Descrição da casa: No piso térreo é a entrada eo primeiro quarto duplo com casa de banho e casa de banho privativa. No primeiro andar está localizado o segundo quarto, que pode atuar tanto como uma sala de estar ou 2 ° quarto, graças a um sofá-cama, com casa de banho adjacente e chuveiro. Por fim, também no primeiro andar há a sala de jantar ea cozinha, em estilo country e equipada com fogão, máquina de lavar roupa, máquina de lavar louça, forno, frigorífico e congelador. Todos os quartos têm ar condicionado com conversores e dois quartos estão equipados com tv usb.
The directions Gaetano provided were very clear and easy to follow. We parked at the car park by the bus stop near the roundabout and set off on foot to locate the house. Walked right to it, moved the car to the closer car park (there's really good, free parking here), and ascended about 40 steps to get to the home (we were warned). We tried to phone Gaetano about an hour ahead of arrival and were worried when we couldn't reach him (our phones weren't working properly), but he showed up within 15 minutes of our arrival. The location is perfect--just below the steps to the new town, an easy walk to the bus stop and tourist information area. Also just off SP25 so an easy drive to Modica, Noto, etc. The house is totally renovated and updated but retains the charm and characteristics of the past. It was exactly as pictured, very clean and orderly, had ample zoned heating (it was unseasonably cool), and good natural lighting and airflow. For the uninitiated (like us), Sicily regulates power consumption, so plan activities that consume electricity accordingly. The kitchen/dining area were separate spaces from the living room and a pocket door provided privacy for the second bedroom--great design. Gaetano was an exceptionally conscientious host. The home was stocked with all the essentials like paper products, dish & body soap, shampoo, cleaning products, etc.-- but there was also milk, coffee, tea, juice, water, breakfast items, oils/spices. Also plenty of brochures, books, & maps in several languages. More importantly, Gaetano phoned us periodically to make sure all was well. I wouldn't hesitate to recommend this home to others.
Lin
2015-04-20T00:00:00Z
The reservation was canceled 3 days before arrival. This is an automated posting.
Pavel
2014-07-31T00:00:00Z
Wow. I think this is my 14th AirBNB and this place is amazing. It's beautifully done, spacious, homely, all the amenities you could possibly need. Yes, it's a bit of a walk to Ragusa Superiore, but you won't spend your time there - you'll be wandering Ragusa Ibla, which is only a 10 minute walk away. The family are incredibly helpful! there was an amazing welcome pack on arrival, and as I was there over Christmas they even dropped off Christmas biscuits! - I cannot say enough good things :) 100% book here!
Caroline
2017-01-07T00:00:00Z
This house was beautiful and spacious with the rustic charm of old Ragusa with stone arches and lots of natural light and wonderful lighting details along the stairway, etc. The kitchen has a great design and is well apportioned for short or longer stays. It has 2 lovely bathrooms, a bedroom and the living room had a wonderful sofa bed that was very comfortable. It is located on the edge of Ragusa Ibla with easy parking in a beautiful setting. It is a 12-15 minute walk to the center of Ragusa Ibla. It is a healthy walk up stairs to get to the house. Gaetano answered many questions almost immediately and was very welcoming, coming to get us at a location to help us get to his apartment. Just a phone call got him to help us with any situation we encountered.
Laurel and Anthony
2014-11-09T00:00:00Z
Beautiful small house, clean and extremely well equipped in a very quiet part of the town,but easy walking distance of all facilities. We explored modica, noto and the beaches, but thought Ragusa was the best, a walk up to the town and interesting churches, a lovely park just to sit in and great cafes and restaurants. Gaetano was very welcoming and extremely helpful, it is a great place to stay and we would highly recommend it.
Ann
2015-10-18T00:00:00Z
One of my favorite AirBnB experiences ever - the place is really unique and you can see Gaetano takes great care to ensure you have a wonderful time (restaurant, sights, wine recommendations, map were all very helpful). The property has a great location, with ample parking, secluded mountainside steps with waterfall, and lots of good food all steps away. Through Gaetano's explanation and photos of the evolution of the space, you really feel the sense of family and history tied to this intimate space. Internet was fast and the place feels very private but safe. Gaetano is super friendly and responsive. Definitely worth staying here for a few days - I wish I had more than 2 days to enjoy!
Carrie
2016-09-22T00:00:00Z
Un endroit charmant, rénové avec goût dans l'esprit de la maison familiale d'origine. Gaetano est un hôte très attentionné (il nous avait même laissé de quoi petit déjeuner pour la durée de notre séjour). Nous sommes ravis de ce séjour à Raguse et si nous revenons un jour nous retournerions avec plaisir à la Résidence San Paolo.
Gaëlle
2015-08-08T00:00:00Z
It's difficult to add to the many superlatives already given to Gaetano. He is pleasant, helpful, patient, and gracious. The apartment is roomy, well-stocked with helpful items, and well-located to Ibla Ragusa. It's just a beautiful place to stay.
Paul
2016-10-10T00:00:00Z
Tipo de Acomodação
Casa/apto inteiro
---
Tipo de Imóvel
Apartamento
---
Acomoda
5
---
Quartos
Ragusa, Sicília, Itália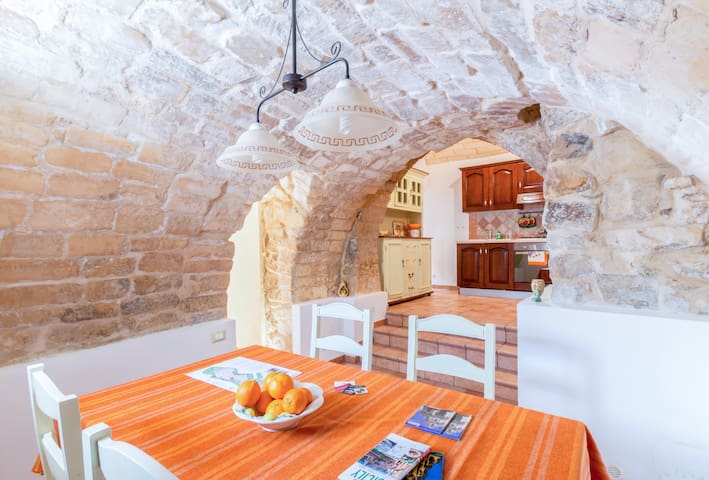 A spacious mono in the full centre of the city!! A stone's throw from the Cathedral, in the heart of Palermo, a charming studio apartment all equipped. Impossible not to fall in love.the check in start to the 11am until 10pm.Near this flat there is another flat(A CHIC STUDIO NEAR THE CATHEDRAL).
What makes it unique is the attention to detail, the choice of furnitures. It 'a nice and comfortable place.
Corso Vittorio Emanuele is one of the most important streets of the city the house is near everything; over to the Cathedral (1 minute away on foot), in front of the house and the Rice Museum is located next to Piazza Bologni, where Garibaldi stopped also.
O Mauro é uma pessoa extremamente simpática e um ótimo anfitrião. A organização, localização e condições do apartamento são impecáveis. Ele nos forneceu todos os tipos de informações necessárias para uma ótima viagem em Palermo. Aconselho sem nenhuma restrição uma estadia em seu apartamento.
Ivan
2014-07-31T00:00:00Z
Malgré un retard d'environ une heure (problème à l'aéroport), l'ami de Mauro nous a super bien accueillis . Le logement est très bien placé ; le bruit de la rue est atténué par les double volets (celui de l'intérieur semble cassé cependant)
michele
2016-04-22T00:00:00Z
Mauro's accommodation is very central, perfectly located, and - even though on a busy lane - not noisy at all. It's got an air conditioning, which saved our lives at 40 degrees Celsius in Palermo. Mauro was a perfect host! He knows so much about the city and gladly shared his knowledge of the best sights to see, markets to visit and restaurants to go to with us. He welcomed my bf and me with a map of Palermo and marked so many spots on it, that we could start right away discovering. When we got in a bit of trouble with a non working credit card, he helped us to solve the problem and made sure we had a nice stay at one of his favourite restaurants! Thank you Mauro :-)
Christina
2015-07-21T00:00:00Z
Mauro es encantador y nos dio buenos consejos de donde comer y que cosas ver en los 2 dias que estuvimos en Palermo. El apartamento está super bien ubicado para visitar a pie todo el casco antiguo, a dos pasos de Quattro Canti, y es tal como se ve en las fotos: acogedor, luminoso y confortable. Muy, muy recomendable.
Flavia
2016-06-11T00:00:00Z
Really delighted to chose Mauro's place!!! First of all the host is just wonderful, gave us fantastic tips for sights and delights. And the apartment, which is very nice and Palermo style, is on best location possible- downtown "Cento Storico" on the main road, which is mostly pedestrian zone throughout the day. From the balcony you have the view on the left to the sea and to the right to Porto Nouvo. Overlooking some of the finest architecture buildings right next to Piazza Quatro Canti. Everything on food distance. All the markets and street food heaven just seconds away. Perfect!!! Grazie Mauro!!!
Grega
2015-10-02T00:00:00Z
Joli appartement bien situé!
Aristotelis
2016-10-31T00:00:00Z
Staying at Mauro's place was like sleeping in an art museum. There are lovely paintings adorning every wall and the apartment was a respite from the busy street life of Palermo. Fantastic location in a great city. Mauro was super friendly and helpful and I highly recommend! Really comfy bed and everything you need is provided.
Tracy
2016-06-24T00:00:00Z
Great place to discover Palermo. Very convenient location, beautiful apartment, nice host who is really in love with his city :-) Mauro gave a plenty of advice of what to see and where to go both in Palermo and the whole Sicily. Highly recommend!
Oksana
2016-10-10T00:00:00Z
Tipo de Acomodação
Casa/apto inteiro
---
Tipo de Imóvel
Apartamento
---
Acomoda
2
---
Quartos
Palermo, Sicilia, Itália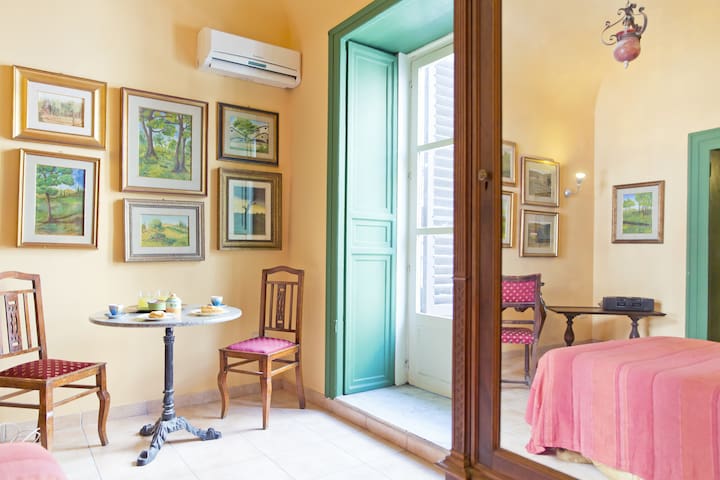 Appartamento, finemente ristrutturato in stile siciliano, tra sapore antico e confort moderno. La ristrutturazione e l'arredamento sono stati seguiti e curati personalemente dal proprietario con l'obiettivo di riprodurre la calda atmosfera che solo una casa può trasmettere e che si contrappone a quella un po fredda, di una ,anche buona, camera di albergo. Ideale per chi, anche in viaggio, voglia sentirsi come a casa. L'appartamento è un open space con una grande camera da letto con un comodo letto matrimoniale e un grande armadio in stile siciliano, tardo XIX° secolo. La sala da pranzo comprende un angolo cottura con fornello a gas , frigorifero , forno a microonde e tutto il necessario per preparare una ricca colazione o un pranzo veloce, una credenza e un tavolo da pranzo sempre in stile fine Ottocento e un divano letto matrimoniale molto comodo . La biancheria da letto e da bagno è inclusa. Con le stesse caratteristiche puoi vedere anche "CASA VACANZE 3SISTERS-PIAZZA MARINA " un altro mio appartamento che si trova sullo stesso piano. Situazione ideale per famiglie numerose o gruppi di amici ! (Lo troverai facilmente cliccando su "FABIO"). Il quartiere è in pieno centro storico, molto elegante e ben servito, nelle vicinanze si possono trovare supermercati, farmacie , bar, ristoranti per tutte le tasche da più lussuosi al cibo di strada . La posizione è strategica per visitare la città e il bellissimo centro storico, uno dei più grandi e più antichi d' Europa . La zona e ' ben servita dai mezzi pubblici e si trova a circa un chilometro dalla stazione ferroviaria ed è ben collegato con l'aeroporto di Palermo ' Falcone Borsellino ' e l'aeroporto di Trapani -Birgi . A pochi passi di distanza si trova il lungomare dove si possono fare bellissime passeggiate gustando un gelato o fare jogging .
Appartamento, finemente ristrutturato in stile siciliano, tra sapore antico e confort moderno. La ristrutturazione e l'arredamento sono stati seguiti e curati personalmente dal proprietario con l'obiettivo di riprodurre la calda atmosfera che solo una casa può trasmettere e che si contrappone a quella un po ' fredda, di una ,anche buona, camera di albergo. Ideale per chi, anche in viaggio, voglia sentirsi come a casa. L'appartamento è un open space con una grande camera da letto con un comodo letto matrimoniale e un grande armadio in stile siciliano, tardo XIX° secolo. La sala da pranzo comprende un angolo cottura con fornello a gas , frigorifero , forno a microonde e tutto il necessario per preparare una ricca colazione o un pranzo veloce, una credenza e un tavolo da pranzo sempre in stile fine Ottocento e un divano letto matrimoniale molto comodo . La biancheria da letto e da bagno è inclusa. Con le stesse caratteristiche puoi vedere anche "CASA VACANZE 3SISTERS-PIAZZA MARINA " un altro mio appartamento che si trova sullo stesso piano. Situazione ideale per famiglie numerose o gruppi di amici ! In entrambi gli appartamenti è presente, per chi lo gradisce, un piccola cantinetta di ottimi vini siciliani. (Lo troverai facilmente cliccando su "FABIO"). Il quartiere è in pieno centro storico, molto elegante e ben servito, nelle vicinanze si possono trovare supermercati, farmacie , bar, ristoranti per tutte le tasche da più lussuosi al cibo di strada . Nelle immediate vicinanze (Piazza Marina) potete trovare un supermarket Carrefour aperto 24 h. La posizione è strategica per visitare la città e il bellissimo centro storico, uno dei più grandi e più antichi d' Europa . La zona e ' ben servita dai mezzi pubblici e si trova a circa un chilometro dalla stazione ferroviaria ed è ben collegato con l'aeroporto di Palermo ' Falcone Borsellino ' e l'aeroporto di Trapani -Birgi . A pochi passi di distanza si trova il lungomare dove si possono fare bellissime passeggiate gustando un gelato o fare jogging . Sul lungomare , il 14 luglio si celebra la festa della patrona di Palermo , Santa Rosalia , che culmina con gli splendidi fuochi d'artificio sul mare . Su richiesta si effettua (a pagamento) il transfer dall'aeroporto Falcone-Borsellino.
O apartamento de Fábio é ótimo e super bem localizado! A esposa juntamente com a filha nos receberam e foram super atenciosas conosco. O apartamento é muito bem iluminado, tudo é novo e de muito bom gosto, tudo funciona muito bem. A área onde o apto está localizado é bem tranquila e próxima a um bom supermercado, onde tudo pode ser feito a pé. Durante nossa estadia pedimos uma cafeteira maior e fomos atendidos no mesmo dia. Adoramos a estadia! Muito obrigado Fábio!
Odete
2016-02-17T00:00:00Z
Die Wohnung von Fabio ist toll und super gelegen. Fabio war freundlich und hatte auch ein paar Insider auf Lager. Kommen immer wieder gerne
Laura
2016-06-21T00:00:00Z
We've been only several days at CASA VACANZE 3SISTERS-PORTA FELICE and wish to stay more. It is very good choice and very interesting design. I highly recommend the apartment to everybody, except may be people who has problems with steep staircase. For the rest - ideal place and great hosts! Мы провели несколько дней в CASA VACANZE 3SISTERS-PORTA FELICE и с удовольствием вернемся туда снова. Квартира имеет необычный дизайн и очень удачное расположение. Я с удовольствием рекомендую эту квартиру всем, за исключением, разве что, тех, кому сложно подниматься по достаточно крутой лестнице. Для остальных - всё идеально.
Maria
2014-10-16T00:00:00Z
Несколько раз спрашивали о времени нашего прибытия, встретили хорошо, все показали и рассказали. Квартира хорошо расположена, близко до центра.
Mikhail
2016-07-21T00:00:00Z
Appartamento molto carino nel centro di Palermo. La posizione è otima e il proprietario molto carino. Consigliato a tutti
Anna
2013-12-31T00:00:00Z
Our stay at Fabio's house was great. The house has been recently renovated with great taste and is perfect for a couple. It is strategically located to visit Palermo's historic city centre and to stroll on the promenade along the sea. It's convenient for the train station and very fresh in the summer. Fabio and his family were generous hosts; they picked us up at the train station upon arrival and even gave us a great book to read on Sicily's history and architecture upon departure. Recommended with no hesitation!
marcella
2013-04-29T00:00:00Z
Fabio was communicative and accomodating
Jay
2016-08-19T00:00:00Z
Fabio hat uns sehr nett und herzlich empfangen. Die Wohnung ist ein absoluter Traum. Würde ich jederzeit wieder buchen. Absolut Bombe ;-)
Sandra
2015-10-04T00:00:00Z
Tipo de Acomodação
Casa/apto inteiro
---
Tipo de Imóvel
Apartamento
---
Acomoda
4
---
Quartos
Palermo, Sicilia, Itália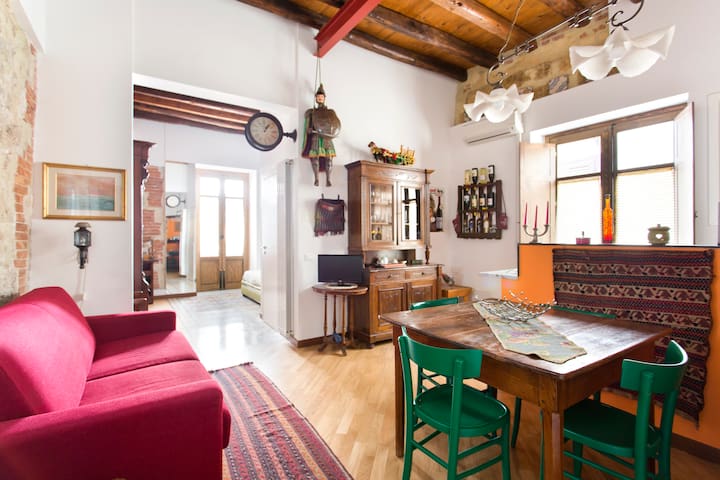 O apartamento, maravilhosamente renovado em estilo siciliano, entre conforto antigo e moderno, é o plano aberto, sala de estar com sofá-cama, quarto de casal, banheiro com (website hidden) renovação e decoração foram acompanhados e tratados pelo proprietário com o objetivo de reviver a atmosfera quente que só uma casa viveu pode transmitir e que se opõe a que um pouco de um resfriado, mesmo bom, quarto albergo.Ideale para aqueles em movimento, quer se sentir em casa. O apartamento tem uma pequena cozinha com tudo que você precisa para preparar um pequeno-almoço ou um almoço rápido. A roupa de cama e toalhas são inclusa.Nello mesmo piso há um outro apartamento do mesmo proprietário.
La situation géographique de l'appartement est parfaite ! De plus, il a été aménagé avec beaucoup de goût. Fabio à été très disponible et de précieux conseils sur les meilleurs endroits à voir. Nous recommandons vivement cet endroit !
Thibaud
2015-08-25T00:00:00Z
Fabio e sua moglie sono stati ospitali, disponibili e impeccabili. In casa c'era già tutto quello che ci occorreva e anche di più. Spero di tornare presto e lo consiglio a tutti! In più la posizione è ottima per chi ha necessità di gravitare intorno al centro o vicino alla stazione.
Stefano
2013-10-27T00:00:00Z
Un logement très bien situé, rénové avec goût, pratique et agréable. Fabio aide volontiers pour toute question et est très disponible. Nous y reviendrions avec plaisir !
Sophie
2016-04-24T00:00:00Z
L'appartement de Fabio est très agréable, à l'écart du tumulte et de l'agitation palermitains. Très bien situé pour visiter le centre historique de Palerme, on peut tout faire à pied.
Justine
2015-05-02T00:00:00Z
Fabio e' stato un host molto accogliente e disponibile. Abbiamo trovato cio descritto nell annuncio, l appartamento era carino e pieno di tutti i comfort. la casa era in un ottima posizione e pratica per noi che avevamo la macchina da parcheggiare
Luisa
2015-08-11T00:00:00Z
We really loved the flat and the little balcony. The flat is very nice decorated and with a personal and pleasant touch. The communication was easy and the city is lovely. We would stay there again anytime.
Clara
2016-07-16T00:00:00Z
La casa di fabio è molto carina, funzionale, pulita e in una posizione comoda per visitare il centro storico a piedi. Fabio è stato accogliente e ci ha indicato alcuni luoghi interessanti. Siamo stati bene!
Federica
2016-07-14T00:00:00Z
Pasamos cinco días en Palermo y disfrutamos un montón. La casa está totalmente reformada, es más bonita q en las fotos porque los techos son muy altos. El baño súper limpio. La zona también está muy bien. Nosotros tuvimos mala suerte porque en el piso de arriba estaban de obras y todos los días a las ocho empezaban a picar el suelo...así qué tuvimos que madrugar. Pero la calidad precio es genial. Os lo recomendamos!
Leticia
2013-06-25T00:00:00Z
Tipo de Acomodação
Casa/apto inteiro
---
Tipo de Imóvel
Apartamento
---
Acomoda
4
---
Quartos
Palermo, Sicília, Itália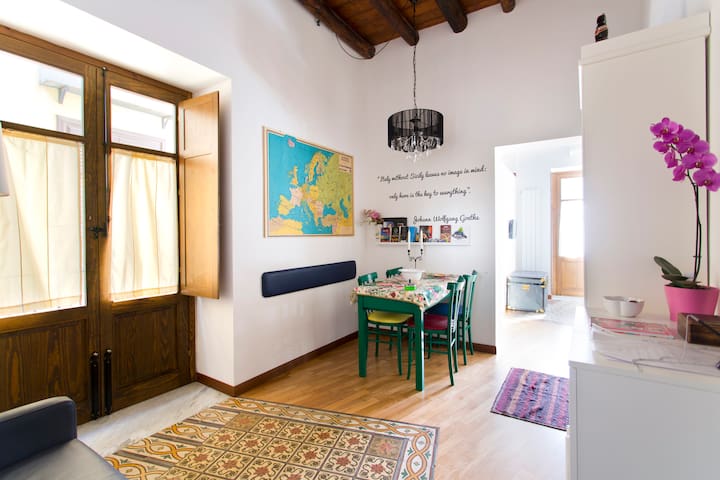 1600 edifício histórico. Grande sala privada com casa de banho privativa, varanda com vista sobre a antiga Piazza San Francesco D'Assisi e sua antiga igreja, e um terraço encantador para o seu café da manhã ou tardes / noites.
, Palácio do século 16 bonita, no coração de Palermo histórico. sala privada, banheiro privativo com banheira, varanda com vista sobre a antiga Piazza San Francesco D'Assisi e sua antiga igreja, e um terraço encantador para o seu pequeno-almoço e / ou tardes / noites. Internet wi-fi; TV a cabo. Quarto andar, sem elevador, mas escadaria encantadora e superficial, não cansativo, antiga e nobre (por favor, note:. Obras de restauração apenas começou e o centro da escadaria é ocupado atualmente com uma estrutura metálica de segurança Isso não quer dizer que a beleza da palácio não é visível). O quarto tem antigos majolicas sicilianos no chão, e um teto abobadado, equipados com ventilador. Cheio de luz. Grande, fresco e confortável. toalhas de banho e roupa de cama. Estação de comboios e do porto a uma curta distância. Perto da agitação da vida local rua e mais importantes monumentos, parques, teatros, museus, áreas de comida de rua, e as belezas da cidade. A abundância de opções no vibrante arredores: restaurantes de comida e bares de vinho, mercados ao ar livre, pequenas lojas e supermercados. Dois gatos vivem em casa com a gente.
Você estará no centro histórico da cidade. Não precisa de carro em uma das cidades mais congestionadas com o tráfego do mundo! Palermo é uma cidade de cores, sabores e gostos. As pessoas são muito amigáveis ea cidade é tão segura como qualquer grande cidade. A comida é uma grande parte da vida cotidiana. Os mercados ao ar livre (produzir muito fresco) de Il Capo, Ballaro, Via Sant 'Agostino e Via Bandiera estão todos a curta distância. pratos especiais grelhados de peixe, incrível tortas, sorvetes, os ricos, café densa, o único pão com sementes de gergelim e da vasta selecção de vinhos da Sicília estão disponíveis em quase todas as partes do centro da cidade.
Tiziana und Bruno heißen einen sehr freundlich willkommen und geben einem das Gefühl, dass man sich in der Wohnung wirklich wohlfühlen kann. Die Wohnung liegt äußerst günstig und ist leicht zu erreichen in einem traditionellen Viertel in der Innenstadt von Palermo.
Teresa
2015-01-24T00:00:00Z
Tiziana and Bruno are absolutely nice and very kind people, we felt like at home at their place! Their flat is located in a wonderful old palace from the 17th century not far away from the train station. The terrace is full of beautiful southern flowers. We would always recommend this place!
Martha
2016-04-22T00:00:00Z
Wunderfull apartment in the heart of Palermo. Tiziana was a very nice host. She - and her sweet cat - gave us many tips for going out in Palermo. We can definitely recomend this place!
Susanne
2012-10-05T00:00:00Z
Tiziana und Bruno sind super Gastgeber. Sie haben uns total herzlich aufgenommen und wir haben uns bei Ihnen sehr wohl gefühlt. Die Wohnung von Tiziana und Bruno ist im Zentrum von Palermo und ideal für das Erkunden der Stadt. Ein Auto braucht man überhaupt nicht, weil man alles bequem zu Fuß erreichen kann.
Christian
2014-06-02T00:00:00Z
Tiziana and Bruno were perfect hosts, there when I had a question and respectful of my privacy when I wanted it. Directions were perfect; she met me within a few minutes of my arrival. My Palermo interlude began with my luggage being hoisted the four flights by rope (the old way). Then I walked up to what must have been an elegant palazzo but unfortunately now is in disrepair. My room and the loggia were fine. The wifi always worked however the TV did not, fortunately I am not addicted. The street noise can be loud but It was not a problem for me. The ceiling fan kept the room comfortable. It was a delightful experience; I felt like a Sicilian. If I come this way again this is where I would stay.
Pepper
2014-07-02T00:00:00Z
en plein centre du Palerme historique, donc très bien situé. Un endroit donc idéal avec une superbe terrasse ombrée et fraiche pour se reposer. Tout est impécable. Et Tiziana est charmante, vous laisse son appart., est aux petits soins. une adresse à retenir.
Dominique
2012-08-01T00:00:00Z
Über den Dächern von Palermo - eine wunderbare, saubere Location. Tiziana und Bruno sind ein sehr gastfreundliches, interessantes Paar - ich habe mich rundum wohlgefühlt, vielen Dank!
Kathrin
2014-08-28T00:00:00Z
Tiziana e' super accogliente e al tempo stesso molto discreta. La stanza e' piacevole e il contesto in cui si trova e' splendido, molto caratteristico e di grande sapore. La vista dalla terrazza e' incredibilmente suggestiva, la casa e il palazzo godono di un'atmosfera vagamente bohémien. Il quartiere e' altrettanto bello, ricco di botteghe di artigianato, locali molto carini dove bere qualcosa e super centrale. Insomma un weekend veramente indimenticabile, Consigliatissimo!!!!
alice
2014-04-07T00:00:00Z
Tipo de Acomodação
Quarto inteiro
---
Tipo de Imóvel
Apartamento
---
Acomoda
2
---
Quartos
Palermo, Sicília, Itália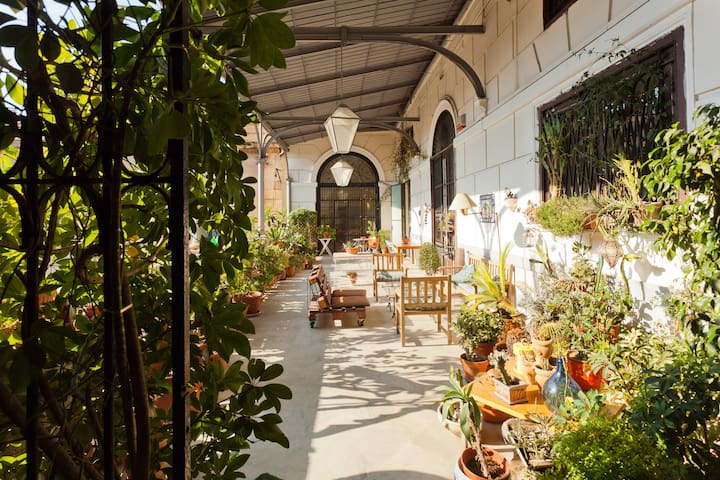 este apartamento está situado no coração da ilha chamada ortigia, a poucos passos de distância, você vai encontrar tudo que você precisa, para tornar a sua estadia um sonho de vida, restaurantes, bares, pubs, lojas, solário, é apenas após a porta, Então, o que você está esperando?
é muito fácil de alcançar, e é muito perto de tudo.
bairro muito agradável, tudo é apenas a 5 minutos a pé ....... basicamente você pode esquecer o seu carro.
We had a wonterfull time in Syracuse thanks to Giuseppe ! The location of the appartement is perfect. Guiseppe is really welcoming and gives great advice ! I strongly recommand :)
Coleen
2016-08-03T00:00:00Z
Le logement est très bien situé dans Ortigia, dans une petite rue. Le stationnement est facile, mais il faut bien compter 10 minutes de marche. L'appartement était très propre et moderne, ainsi que spacieux. La communication avec Giuseppe a toujours été très facile.
Pauline
2015-02-21T00:00:00Z
Great central location in beautiful Ortygia.
Helen
2017-02-19T00:00:00Z
Appartamento bellissimo ! Giuseppe è un ottimo host. Grazie per la sua disponibilità e il suo buonumore. On recommande !
Manon
2016-08-22T00:00:00Z
Giuseppe's and Denise's apartment is located in the heart of Ortigia. It has a very good size, is nicely furnitured, as you can see in the pictures, and is equipped with everything you would need. We found the location really great, you can walk everywhere really easily. Around the corner is one of the best Sicilian street food places, with freshly baked goods for the mornings, and delicious snacks for lunch/afternoon. There are also lots of small supermarkets around. The handing over of the keys was fast and efficient. We really liked our stay at the apartment.
Nadine
2015-09-26T00:00:00Z
Giuseppe and Denise are great hosts; they respond quickly and are very friendly and welcoming. The apartment is great - very clean and a great place to relax in. A great shower, washer/dryer and well equipped kitchen.The Guidecca area is full of bars and restaurants and you are only a short stroll from the sea. The Ortigia island itself is the best place to stay in Syracuse and the apartment is close to the duomo, museums and ocean.
Brendan
2014-11-05T00:00:00Z
The apartment is perfectly located in the heart of the old town (Ortigia), so you can easily reach all main sights by foot. The accommodation is very nice with a modern bathroom and even a washing and drier machine is available. It features a separate bedroom with a double bed and another not completely separated room with a sofa bed. Communication with the host was easy and arrival and leaving time could be handled very flexibly.
Lukas
2016-07-19T00:00:00Z
This really was the perfect place to stay in Ortygia! The apartment was clean and well decorated. The AC worked well (which was wonderful as it was still very hot in Ortygia in early September) and it was quiet at night. Peppe is genuinely one of the nicest people that we have ever met. He was so accommodating and went out of his was several times to make our trip perfect! We will definitely be staying here again!
Grace
2015-09-09T00:00:00Z
Tipo de Acomodação
Casa/apto inteiro
---
Tipo de Imóvel
Apartamento
---
Acomoda
4
---
Quartos
Siracusa, Sicília, Itália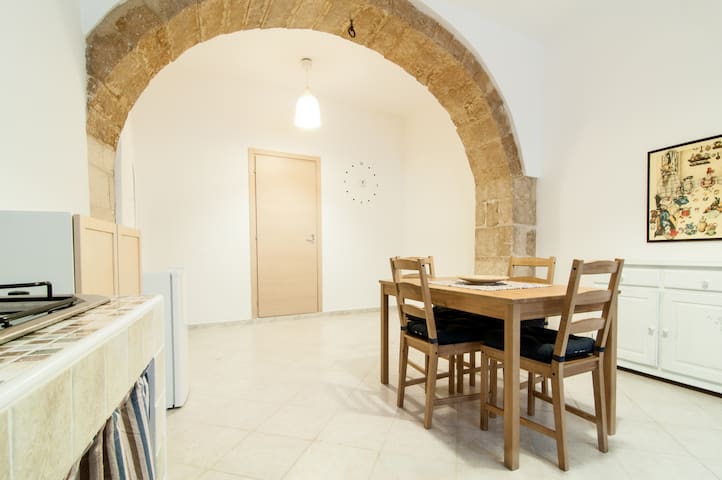 apartamento bonito e espaçoso, no primeiro andar perto do mar! Localizado no centro da cidade, perto da vida noturna e tudo o mais monumentos importantes. O quarto é enorme, cerca de 40 metros quadrados, para 1,2 ou 3 pessoas, e com uma área de estar privada, também tem uma varanda com vista para Via Alessandro Paternostro, famosa por seu raro exemplo da arte gótica em Palermo (St. Francesco de Assis) e da famosa Focacceria San Francesco, famoso pela sua cozinha tradicional! Gratuito à Internet (Wi-Fi), cozinha incluídos, são permitidos animais, possibilidade de alugar bicicletas! Perto do apartamento você pode encontrar o melhor comida de rua siciliana e típica e agradável restaurante, de qualquer maneira, você também pode usar a cozinha! O apartamento tem 4 quartos (1 é minha, a outra são duplos) sala de estar, cozinha e 2 banheiros ... Vou dar-lhe um quarto e chaves de portas, toalhas para todos os hóspedes e lençóis limpos! Por favor, contacte-me para todas as perguntas!
O distrito e central, cheio de atracções, monumentos, bares, pubs e restaurantes típicos e económicos.
Ottimo punto di partenza per visitare la città. Appartamento centrale, accogliente e di piacevole atmosfera. Stanza molto spaziosa e letto con materasso nuovo, supercomodo. Valore aggiunto è senza dubbio l'accoglienza e la disponibilità di Alberto, comunicatore eccellente e in grado di suggerirvi itinerari adatti a tutti i gusti e a tutte le tasche.
Dario
2015-05-24T00:00:00Z
Through Alberto I fell in love with Palermo. He's an amazing character, an experienced host, he will tell you anything you need to know about his beloved city. He transformed his apartment in a lovely, cozy B&B, that couldn't literally be more central! I was inspired by his care and passion about sustanaibility (he uses tree fruits for his laundry!) and environment.:D Highly recommended! Tamara & Vincenzo
Tamara
2013-08-21T00:00:00Z
Great can use kitchen to make tea & use fridge. The house is very clean. Alberto told us great places to visit & where to eat including the great street food. Unfortunately the room was incredibly dark & the electric light didn't give enough light to read a book. We had asked for 2 beds, the second we knew was a sofa bed but it was topped with an air mattress. We had one pillow each and they were so lumpy we had to put towels on top to sleep. Even so it's a great central base, quiet at night even though you are right in the centre of fab street life.
Jess
2014-08-24T00:00:00Z
We hadden dankzij een brand in rome een ontzettende vertraging opgelopen. Waardoor we het appartement van Alberto pas om 2.00 's nachts konden bereiken. Voor Alberto was dat geen probleem, hij is voor ons opgebleven en hij was meteen al ontzettend gastvrij. We hebben erg om Alberto gelachen, hij had ook ontzettend veel tips voor ons! Een compliment aan Alberto is dat hij erg zorgvuldig met afval omgaat, in tegenstelling tot de rest van het eiland Sicilië. Good Job Alberto, keep on going.
Elise
2015-08-05T00:00:00Z
Nice room! Alberto is very nice!
lu
2016-10-07T00:00:00Z
Perfecto! L'appartement est très bien située dans le centre de Palerme et à moins de 15min à pied de la gare. La chambre est très spacieuse, avec balcon et propre. Alberto est un hôte très chaleureux, il nous a renseigné sur les monuments à visiter, les bons restos...A la cuisine, il laisse toujours une petite attention : amandes, noix, gâteau maison....Le top! Je vous recommande vivement cette chambre!!!!
Bérengère
2015-10-31T00:00:00Z
The beautiful apartment is basically right in the centre of the city, yet only an easy 10 minute walk from the train/bus station. Alberto is a great host, he knows everything about Palermo and can let you in on tips to get the best out of your time there. It was great to have the opportunity to meet some of his friends an the locals and get to know the city through the eyes of someone who loves the place! The room was perfect: warm, clean, big and really cosy. It's like a home away from home. I was also glad that Alberto speaks great English so he could help me with the language barrier and help me practice my italian!
Louise
2013-12-10T00:00:00Z
Alberto was quite friendly, when we arrived he showed us what to see in the city and how to get to places (on a map he provided us). He also had nice guides about Sicily. Flat and room was clean. Alberto was always ready for help. The apartment is very well located. But on the other hand the staircase in the buiding was quite gloomy and the small road heading towards the main door was very littered (broken bottles etc.).
Jerzy
2014-09-12T00:00:00Z
Tipo de Acomodação
Quarto inteiro
---
Tipo de Imóvel
Apartamento
---
Acomoda
4
---
Quartos
Palermo, Sicília, Itália
Confortevole e silenzioso appartamento di 60 mq, in uno dei più bei palazzi antichi di Palermo, composto da ampia zona living con divano letto, 1 stanza da letto, 1 bagno, ed 1 cucina. Dotato di ogni comfort: aria condizionata, lavatrice, asciuga capelli, cucina attrezzata, corredato. A 50m dalla stazione Notarbartolo. A 15 minuti a piedi dal centro storico. Ideale per visitare Palermo per brevi o lunghi periodi!
Appartamento di 60 ubicato nella zona residenziale di Palermo, a pochi minuti a piedi dal centro. Nei pressi trattorie tipiche e la possibilità di acquistare cibi freschi.
A pochi passi gli splendidi giardini di Villa Trabia ed il Giardino Inglese. La zona è ottimamente servita da supermercati, negozi e mezzi pubblici.
Excelente apartamento, muito bem equipado e muito confortável.
Nelson Eduardo
2016-05-27T00:00:00Z
The house was perfect ! We spent a very good time and Alessio was a perfect host (welcome cookies, thinks are here to cook, ...). He has made some itinerary in Palermo very useful. Thanks !
Damien
2015-08-23T00:00:00Z
The flat was light and clean. Big enough for two people. The fountain outside with fishes was just beautiful, real Italy :) The owner was nice also. I would come back.
Nataliia
2016-09-21T00:00:00Z
Alessio's apartment was cozy and convenience. He was a very helpful and responsive host. We loved his homemade olive oil and marmalade. The local restaurants he recommended was very good. We enjoyed our stay at Alessio's. Will recommend to our friends.
Justina
2016-03-15T00:00:00Z
Alessio is a very nice and helpful host. He offered his help for everything we needed, including transfers from and to the airport, the beach or anywhere else. The apartment is beautiful and very clean. Alessio welcomed us with some homemade biscuits and a cold bottle of water in the fridge. Some coffee, oil, salt, shampoo etc was also provided. We really recommend Sofia's house!
Julia
2015-09-04T00:00:00Z
This flat is fantastic. It is big and clean, in a lovely building in nice part of the city. Bus and metro stop to the center is less than 5 minutes away. Alessio is very nice host, he provided us with useful information about the city, waited for us longer since our bags were late and we arrived much later than planed. I really appreciate his patience. Right across the building is a big supermarket, down the street is nice restaurant that is open till midnight. I highly recommend this place and this host.
Nikica
2016-08-25T00:00:00Z
Very comfortable apartment. Great up front communication before arriving. Walked everywhere from apt. Easy access from the airport too. Internet tho was spotty and slow.
david
2016-10-28T00:00:00Z
The apartment is very pleasant, close and very well placed by the historic center, all the travels can be made in feet. Alessio's welcome is very warm and its advice and its assistant were precious for our stay. To note just Extro Café in front of the apartment which serves meals of very good quality and copious.
G
2016-10-31T00:00:00Z
Tipo de Acomodação
Casa/apto inteiro
---
Tipo de Imóvel
Apartamento
---
Acomoda
3
---
Quartos
Palermo, Sicilia, Itália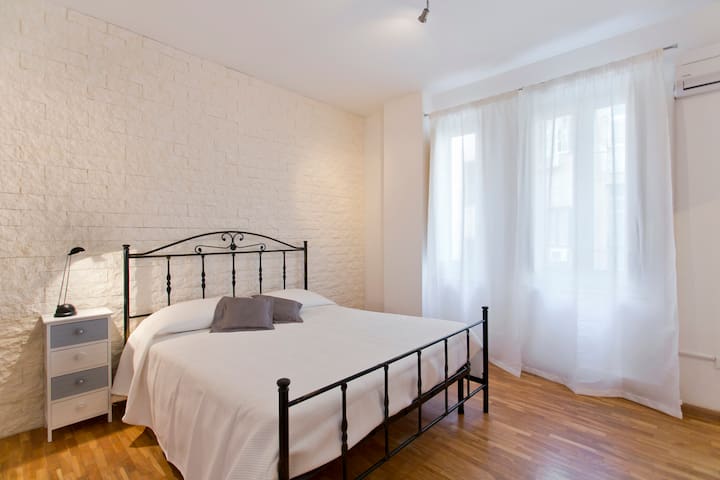 L'appartamento è situato alla "Graziella" il quartiere più antico dell'isola di Ortigia ,al primo piano di una palazzina indipendente recentemente ristrutturata che si trova in una splendida piazzetta. La terrazza privata lo rende unico!
L'appartamento è situato alla "Graziella" il quartiere più antico dell'isola di Ortigia ,al primo piano di una palazzina indipendente recentemente ristrutturata. Ha una superficie di 40 mq circa che si estende su un unico livello composto da soggiorno con zona pranzo, cucina completa di stoviglie forno e piano cottura , letto matrimoniale, un comodo grande armadio, un divano letto matrimoniale, bagno con ampia cabina doccia . Ospita comodamente quattro persone. La terrazza privata è dotata di un comodo tavolo e lettini prendi sole... Ottima posizione su una piazzetta tipica del centro storico che regala un'atmosfera silenziosa e particolarmente soleggiata, a due passi dal mercato e dal Tempio di Apollo. In pochi minuti a piedi si raggiungono le vie pricipali dei negozi, ristoranti e i solarium. Per rendere il più gradevole possibile il vostro soggiorno troverete a vostra disposizione un kit cortesia bagno e uno per la cucina,biancheria,teli bagno. Teli mare in affitto costo aggiuntivo. La casa è dotata di aria condizionata/riscaldamento, tostapane, bollitore elettrico, caffettiera, tv, aspirapolvere, asse e ferro da stiro, asciugacapelli. Per i bambini culla da campeggio completa di materasso e biancheria, sterilizzatore e scaldabiberon, vaschetta bagno, seggiolone, fasciatoio e anche qualche gioco. Il kit per bambini ha un costo aggiuntivo. Per qualsiasi richiesta e/o chiarimento in più non esitate a contattarci. casettealsud
Ortigia è (URL HIDDEN) respira sempre aria di vacanza e relax,stupendi tramonti e vicoli tipici barocchi da scoprire... Il mercato offre tutto ciò che la Terra Siciliana ci regala...frutta,verdura,carne,pesce,olive ,capperi..pomodoro di Pachino,formaggi,pistacchio di Bronte! Venite e non ve ne pentirete!!!
We had an amazing time at Casette al Sud. The appartment is 'made with love', beautifully renovated, perfectly located a stones throw from the wonderful Ortigia market and the terrace makes it just perfect. Everything you need is there. Ivan, Jenny and Lucia are very kind and helpful – we will come back!
Julia
2015-06-03T00:00:00Z
Notre hôte nous a très bien accueillis et nous a donné des informations touristiques sur Syracuse. L'appartement est en tous points conforme au descriptif.
Richard
2016-05-19T00:00:00Z
We absolutely loved our stay! Such a beautiful flat with a beautiful terrace. The location is perfect for exploring this wonderful town. The interiors and amenities were modern, clean and stylish. Exactly like it was in the photos, would definitely come here again!
Mona
2016-06-11T00:00:00Z
Jennifer was very helpful before we arrived with informing me about the ferry and how that all worked from mainland Italy. When we arrived Jennifer was there to greet us and she provided plenty of recommendations on restaurants and bars and also some beaches. The apartment is in a cute little courtyard and has a nice levitate terrace for you to enjoy. Amazing food market one street across that is open each day and one of he best things about the place and town if your a foodie
Nick
2016-10-05T00:00:00Z
Very well located. Jennifer met us at a nearby archeological site just around the corner from the apartment. She was super helpful and had a map ready to point out all of the places we needed help with and more. The accommodation was excellent. A very nicely appointed apartment. We had both the downstairs and upstairs apartments for a family and it was brilliant. When we called about a problem Jennifer resolved the situation super promptly in the most professional manner. We would highly recommend Casettealsud and are very happy that we found it. Well done Jennifer!
Paul
2016-09-26T00:00:00Z
We loved this flat! The design was so lovely with the tall ceilings and stairs up to the rooftop terrace. Really beautiful! We rented both the Loft Piazzetta and Loft Terrazza for our family of 4. It would have been a tight fit to have 2 adults and 2 teenagers in one of the apartments, although they do sleep 4. It worked great for us to rent both the upstairs and downstairs flats. The location was perfect- in a quiet courtyard yet just a short walk to everywhere on the island. We especially loved being so close to the daily farmers market, and the many wonderful cafes and restaurants. The apartment is just as pictured, modern, bright, clean and has everything you need for a self catering holiday. I appreciated the starter breakfast supplies, and the map left in the apartment with recommended sights and super markets, restaurants and bars. Jenny and her associate helped book a cooking class for us (highly recommended) and made dinner reservations for us the first night, which was so helpful. I would definitely stay at Ivan and Jenny's flats again- we loved our stay! Ortigia is charming, and our week flew by, I'd love to return someday again and explore even more.
Heather
2015-04-12T00:00:00Z
FANTASTIC! Where to start... Our stay at Jennifer's Loft Terrazza was perfect. When arriving, we found the apartment spotless and immediatly felt home. Spacious, bright, nicely decorated... And the large terrace upstairs (view on the roofs and sunny from morning to night) as the cherry on the cake! The apartment is located at the very heart of Ortigia island, which is charming and welcoming. We had a crush on the city atmosphere, its daily market, architecture, cosy restaurants. Jennifer had excellent advice on local restaurants and shops, don't miss fresh fish at Appolonion and pasta dishes at A'Putia! Lastly, communication with Jennifer was easy like a breeze before and during our stay, which is much appreciated. We will definitely be back at Loft Terrazza!
Vincent
2016-10-28T00:00:00Z
Nous avons passé un séjour formidable dans la maison de Jennifer! Tout était parfait: le logement était d'une propreté irreprochable, fonctionnel et très bien situé dans le coeur d'Ortigia! La terrasse sur le toit est très agréable. Avant et durant notre séjour, Jennifer a toujours été disponible pour répondre à nos questions et elle avait également organisé un taxi pour nous emmener de l'aéroport de Catane à Ortigia. La ville nous a enchantés et nous en garderons un excellent souvenir. A une prochaine!
Katharina
2016-08-09T00:00:00Z
Tipo de Acomodação
Casa/apto inteiro
---
Tipo de Imóvel
Apartamento
---
Acomoda
4
---
Quartos
Siracusa, Sicília, Itália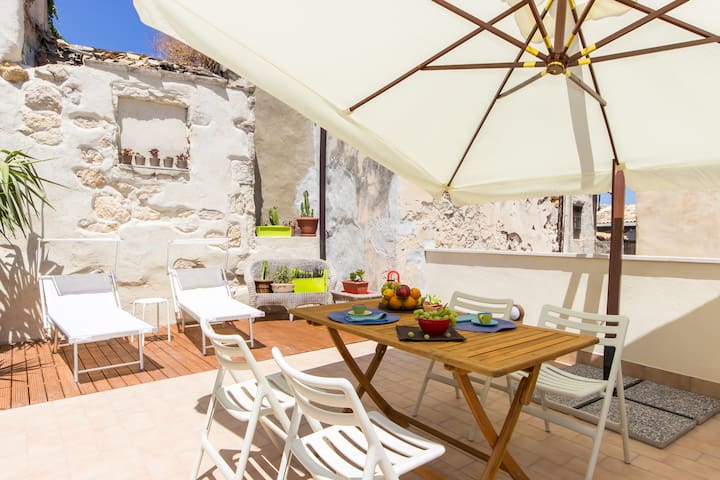 Appartamento panoramico completamente restaurato con bellissima vista della città ,tra Etna e Mare. La posizione è ideale per un soggiorno tra cultura ,mare, enogastronomia e divertimento.
Appartamento panoramico completamente restaurato con bellissima vista della città ,tra Etna e Mare. La posizione è ideale per un soggiorno tra cultura ,mare, enogastronomia e divertimento.
Il quartiere in pieno centro storico è ricco di bar e ristoranti tipici, ed è sempre vivo. In pochi minuti si possono raggiungere a piedi, Il Castello Ursino sede del museo civico, Piazza Duomo, il teatro Greco Romano, Via Crociferi (patrimonio dell'Unesco), le Terme Romane, il teatro Bellini ed i principali luoghi turistici della Città. A circa 5 minuti di auto la spiaggia sabbiosa della Plaia, oppure il litorale roccioso della Scogliera.
La casa è in ottima posizione, a 5 minuti da piazza del duomo. Ben curata e confortevole. La terrazza panoramica è meravigliosa. L'unico neo è che non ha il riscaldamento e quindi d'inverno è molto fredda.
Dimitri
2016-01-06T00:00:00Z
Loved Daniele's apartment. Super clean and modern, much more spacious than the photos can show. The two terraces are really something special, a view that you can't really find anywhere else. As a host, Daniele was extremely thoughtful and gave me a great orientation to the city. The neighborhood feels a little gritty, but the location couldn't be more convenient.
Sarah
2014-10-09T00:00:00Z
My wife and I decided to visit Catania as one of the many stops on our honeymoon and this was a great place to do that in! Katya and Daniele's place is in the heart of Catania and helped make seeing the city that much easier. Everything was within walking distance and there place had an amazing view from the top floor terrace (private to only you). Even despite our very late arrival, they were more than happy to see us arrive and show us around the apartment. I would highly recommend staying here for any trip, it's hands down one of the best values you'll find out there. Side note: Katya and Daniele happened to be travelling to our home city in Texas the week before we left to go to Italy. They were both kind enough to meet up with us and let us know all the best places to go eat, go shop and go see while we were visiting Catania. That was extremely helpful of them! Thank you for everything Katya and Daniele!
Justin
2016-05-05T00:00:00Z
Daniele hat uns hervorragend empfangen und uns viele Tipps gegeben. Die Wohnung war sehr schön - Tolle Dachterrasse! Tolle Lage, unmittelbar am Fischmarkt. Die Beschreibung der Wohnung ist korrekt.
Jakob
2015-12-01T00:00:00Z
Appartement extrêmement bien placé à 2 mn du centre ville; le summum avec sa terrasse ...!!! Il faut le voir :) L'appartement en lui même est conforme à la description, et comme dit, Daniele prend le temps de montrer/expliquer les choses à faire. Je pense qu il a participé à notre coup de cœur pour Catane :) Une dédicace au papa de Daniele qui a été adorable dans l'accueil également! En gros je recommande les yeux fermés, vraiment.
Julie
2015-09-12T00:00:00Z
Daniele si è dimostrato una persona molto disponibile, precisa e accogliente! Casa semplice, attrezzata e pulita, in posizione strategica. Buon rapporto qualità-prezzo. C'è anche una terrazza mozzafiato che d'estate deve essere un sogno! Unico dettaglio da sapere per le persone più anziane come i miei genitori: la casa è al terzo piano senza ascensore e d'inverno non è molto calda perché c'è un unico condizionatore caldo/freddo in camera da letto.
diletta
2016-01-01T00:00:00Z
Daniele is a very nice host, recommended us what to do in Catania, the appartment is sooo good because of ist terrace, the balcony and ist perfect location... Thanks for the coffee, milk and Juice in the fridge again. I would recommend it.
Julia
2015-03-07T00:00:00Z
Excellent logement : spacieux, propre, bien situé, et possédant une terrasse de rêve. Accueil irréprochable : disponibilité, conseils, souplesse.
sebastien
2016-04-15T00:00:00Z
Tipo de Acomodação
Casa/apto inteiro
---
Tipo de Imóvel
Apartamento
---
Acomoda
4
---
Quartos
Catânia, Sicilia, Itália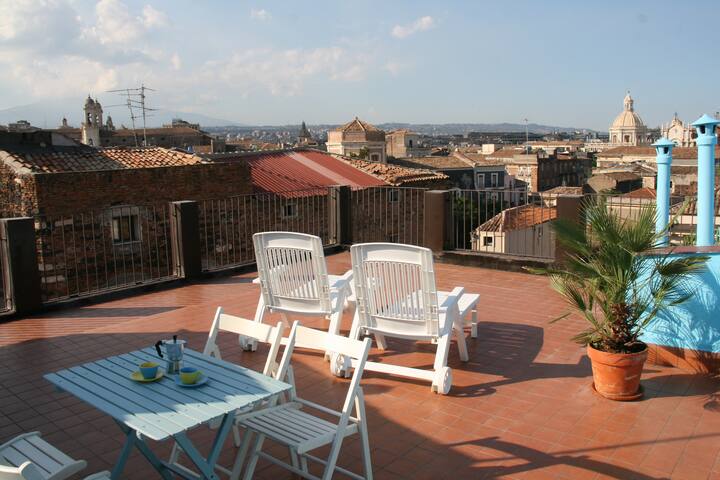 Este apartamento é o local ideal para umas férias de sonho Isso vai permitir que você descubra uma atmosfera mágica nesta cidade maravilhosa. HIS localização central permitirá que você 'para alcançar todos os destinos principais rapidamente
No coração de Ortigia a poucos passos da Piazza Duomo, um dos mais belas praças do mundo, onde uma igreja cristã é construída nas colunas de um templo grego do século V aC, é o meu apartamento, um belo apartamento, acabado para reestruturar no final de Junho de 2013, composto por uma entrada, um quarto principal grande com varanda, uma sala ampla e luminosa com sofá-cama e uma varanda com vista para a rua principal, um quarto com duas camas de solteiro, uma área de cozinha e ensolarado, com uma varanda e um sofá-cama confortável, um banheiro com chuveiro, um segundo banheiro, uma sala lavanderia.Tutte são muito elegantemente decorados e equipados com todo o conforto: porta de segurança, cofre, máquina de lavar roupa, tábua de engomar, ar condicionado, geladeira com freezer, máquina de lavar louça, aspirador de pó, todos os tipos de utensílios de cozinha, 2 TVs LCD de 32 polegadas, forno elétrico, secadores de cabelo 2, kit de banho e (URL HIDDEN) meu apartamento tem uma conexão de alta velocidade wi-fi apenas para o meu (URL HIDDEN) meu apartamento está equipado com um berço e fasciatoio.A 200m é o Arethusa com o seu famoso papiro, uma vez que só existem no Egito. De lá, você pode fazer um belo passeio e observar um dos pores do sol mais deslumbrantes do mundo. Ele será para você uma descoberta contínua e fascinante de sítios arqueológicos sempre a curta distância, como o Castello Maniace, o Museu Bellomo, Piazza Archimede, a Marina, o Templo de Apolo, e muito mais. A sua estadia no centro histórico de Ortigia, Unesco, vai viver na curta história pelas ruas medievais, palácios de excelente arquitetura barroca. Muito interessante é o mercado pitoresca de Ortigia, com barracas de peixe fresco, legumes, frutas cítricas e muitas outras iguarias da cozinha siciliana como tomates secos, orégano, a berinjela no azeite de oliva, azeitonas, mozzarella fresca Andrea e muito mais. Há muitos bolos variados, com muitos bolos típicos da Sicília, incluindo cannoli ricotta e cassata siciliana, famosa em todo o mundo. Todos os anos, no Teatro grego de Siracusa, de maio a junho, representará as tragédias gregas, um espectáculo a não perder. A poucos minutos do apartamento é um belo solário nas rochas (gratuito) onde você terá a oportunidade de tomar um banho no mar, ou mais, e poucos minutos a pé do meu apartamento é pequena e encantadora praia onde 'Cala Rossa' você pode fazer um maravilhoso nadar no mar, ou se preferir um parque aquático encontra-se o "Arethusa" apenas 10 minutos macchina.Nelle imediações do apartamento são: bares, restaurantes, pizzarias, delivery, bares, lojas, supermercados, bancas de jornal, farmácias, lojas, para ser capaz de satisfazer todas as suas esigenze.L'Appartamento fácil chegar a pé ou de transportes públicos ou apartamento .A privado está localizado em um bairro tranquilo, onde você pode relaxar na Ortigia. I estará à sua disposição para qualquer informação ou curiosidade para que sua estadia em Siracusa inesquecível. Eu colocar à sua disposição também um guarda-sol que você pode levar para a praia, toalhas de praia e um saco mare.Se chegar de avião (aeroporto de destino: Catania, Palermo ou Cosimo), a melhor maneira é usar um ônibus de 'aeroporto de Catania para a estação de trem em Siracusa (última paragem) .Consigliamo "Interbus" e "AST" empresas de ônibus, se necessário, em seu site, você pode verificar o tempo.
Meu bairro está localizado no coração de Ortigia, em uma rua típica do lugar, muito calmo, meu apartamento é um 2 -minutos pé da Piazza Duomo, no centro de Ortigia, nesta praça, pode desfrutar o melhor sorvete, lama , chá, café, ou mais.
Very good place. Nice folks.
Rahsaan
2016-12-21T00:00:00Z
OTTIMO : bella posizione, appartamento curato, pulito, ampio !
Luca
2015-02-05T00:00:00Z
Lorena is always the perfect host. Everything is so organised and smooth.
Victoria
2016-08-29T00:00:00Z
Great location near to the cathedral on piazza duomo. Torrential rain when we arrived but after a delicious pizza at Zsa we returned to a very warm house, heating good and clean. Plenty of space and comfortable beds so good night sleep. Really lovely street that we could look down onto from the balcony. Excellent communication prompt and thoughtful. Thank you
Victoria
2017-01-24T00:00:00Z
Wenn wir in Sizilien Urlaub machen dann wohnen wir eigentlich bei der Oma meiner Freundin. Dieses Jahr wollten wir aber noch Syrakus besuchen und haben auf Airbnb die Wohnung von Lorena gefunden. Eigentlich wollten wir nur eine Nacht bleiben aber schon nach den ersten paar Minuten in der Wohnung haben wir um weitere zwei Nächte verlängert. Die Wohnung ist sehr schön eingerichtet, man fühlt sich sofort wohl und heimisch. Das liegt vor allem daran dass die Wohnung mit allem ausgestattet ist was man braucht. Sogar ein Kinderbett hat uns Lorena für unsere zehn monatige Tochter aufgestellt. Die Lage der Wohnung ist super,denn man ist direkt mitten im schönen historischen Syrakus. Das Meer ist gleich um die Ecke sowie der Supermarkt wo man sich mit allem eindecken kann was man braucht. Lorena hat uns alle Sehenswürdigkeiten auf der Karte gezeigt, welche man auch gemütlich zu Fuß erreichen konnte. Auch sonst war Lorena immer da wenn wir fragen hatten. Wir hatten drei superschöne Tage in Syrakus und wenn wir wiedermal kommen werden wir auf jeden Fall wieder bei Lorena anfragen. Danke für alles.
Michael
2015-07-23T00:00:00Z
Was a great place, with great hosts, in a great location. What more can I say? It was great!
William
2016-06-09T00:00:00Z
Il signor Bruno ci ha fornito preziose informazioni sulla città e sui ristoranti. Appartamento spazioso rifornito con scorte di acqua, frutta e merendine. Situato in centro a due passi dalla bellissima piazza duomo e il mercato giornaliero!
giuliana
2013-12-17T00:00:00Z
Lorena was a great host. We weren't able to meet her personally, but her father, who showed us the apartment and gave us a small tour of Syracuse, was incredibly kind, helpful and gave us great suggestions. The apartment is beautiful and centrally located. Fantastic experience.
Marco
2014-05-23T00:00:00Z
Tipo de Acomodação
Casa/apto inteiro
---
Tipo de Imóvel
Apartamento
---
Acomoda
9
---
Quartos
Siracusa, Sicília, Itália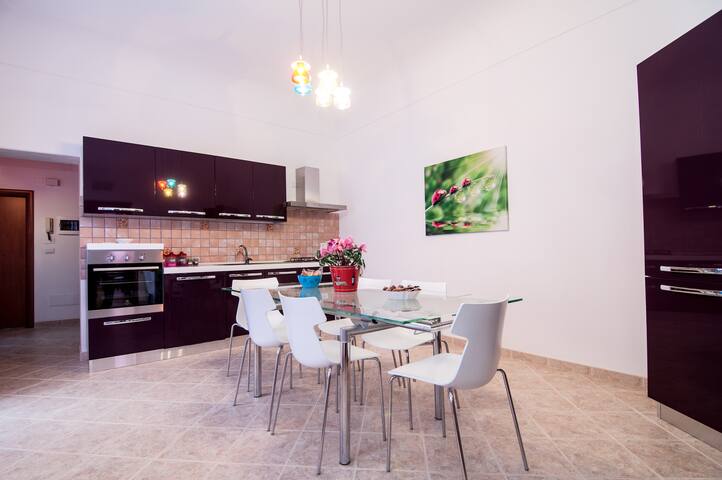 Beautiful and spacious apartment, on the first floor close to the sea! Located in the centre of town near the night-life and all the most important monuments. The room is huge, about 40 square meters, for 1,2 or 3 guests, and with a private living area, also has a balcony that overlooks Via Alessandro Paternostro, famous for its rare example of Gothic art in Palermo (St. Francesco of Assisi) and the famous Focacceria San Francesco , famous for its traditional cuisine! Free Internet (wi-fi), kitchen included, pets allowed, possibility to rent bicycles! Close to the apartment you can find the best Sicilian street food and typical and nice restaurant ,anyway you can also use the kitchen! The apartment have 4 bedroom (1 is mine, another is double and a single) living room, kitchen and 2 toilets... I will give you a room and door keys, towels for every guest and clean sheets! Contact me for any question!
O lugar é exatamente como nas fotos. Tudo é muito limpo!! O quarto é espaçoso e bem iluminado. O Alberto é muito educado e atencioso, conhece bem a cidade e te ajuda bastante com várias dicas. Ótima experiencia!
Mariana
2016-05-18T00:00:00Z
Alberto was very nice with us and the appartment is cozy and comfortable, in the city center. Highly recommended!
Lara
2016-07-31T00:00:00Z
Alberto is a very nice chap who loves to help his guests with every wish they have. We really enjoyed staying with him as he made it like being at home.Thank you again.
marie héléne
2014-05-22T00:00:00Z
Nous avons passé un incroyable moment chez Alberto ! L'endroit est super sympa, propre et chaleureux. Alberto est un garçon extrêmement gentil, accueillant et donne d'excellents conseils quant aux diverses activités, centres d'intérêts et endroits où manger et sortir. Nous le recommandons vivement !
Gautier
2014-07-18T00:00:00Z
Alberto est très chaleureux et de bons conseils. Grande chambre spacieuse et propre. Quartier animé et toutes les infos nécessaires sont chez Alberto
aldwin
2014-08-07T00:00:00Z
Alberto hat uns sehr freundlich empfangen und er hatte einige prima Tipps, was wir uns in der kurzen Zeit in Palermo ansehen und wo wir essen gehen sollten. Dazu gab es sogar einen Standtplan. Man kann sich bei Alberto zuhause fühlen. Die Unterkunft war genau so, wie im Inserat angegeben, die Gegend ist mitten in der Altstadt, es gibt viele Cafes, Bars und Restaurants in der Nähe und alle Sehenswürdigkeiten sind zu Fuß erreichbar. Preis-Leistungsverhältnis stimmt.
helga
2014-09-22T00:00:00Z
Alberto place is centrally located, and very close to everywhere you will want to visit in Palermo.
Kolade
2017-02-11T00:00:00Z
Alberto is very funny and kind, the room he gave us was clean and pretty. He gave us the best tips for a beautiful evening in town, I totally recommend him, best host in town :)
Delphine
2016-07-07T00:00:00Z
Tipo de Acomodação
Quarto inteiro
---
Tipo de Imóvel
Apartamento
---
Acomoda
5
---
Quartos
Palermo, Sicília, Itália
Sicília - Airbnb
:
Média de

4.77

de

5

estrelas, de acordo com

3235

avaliações de hóspedes