居心地の良いコテージには、森の近くに位置しています。クイーンサイズのベッドの一つの独立したベッドルーム。年少の子供たちや小さな大人に適したソファーベッド。キッチン、広いバスルーム、ラウンジエリア、テレビ、DVD。 100メートルはMarybrookeと詩人レーン受信会場に歩いてください。
Perfect for a relaxing break although on this occasion it was a work trip so will be back!! ️️️️
Dave
2016-11-10T00:00:00Z
Fantastic stay at Woods. The room is private and comfy. We stayed in their apartment option which is modern and clean. There is a awesome 2 person bath which was the highlight.
Luke
2016-12-10T00:00:00Z
I attended a wedding at Manorhouse but stayed in Woods Cottage,it was a simple 100m walk. Woods cottage is just lovely, airy , stylish and the perfect hills getaway. Fabulous huge bathroom. Very effective heating. One word of warning. In the hills my GPS did not work,so know where you are going. I recommend Woods Cottage to anyone. The experience was seamless Terry
Terry
2016-09-29T00:00:00Z
The accomodation was just how it was described. We were attending a wedding close by, and loved we were so close to the venue. Gillian continued to let us know our access instructions as we were arriving late. Would highly recommend a stay here.
Christine
2016-11-28T00:00:00Z
The Woods Sherbrooke Forest Cottage was fantastic. I was in the area for a wedding just a few doors down and the location was great for attending the event. Check-in was a breeze at the front desk of the restaurant. The cottage was large with a large living / dining area, a kitchen with all the amenities, a huge bathroom (with a huge shower) and a lovely bedroom with a very comfortable bed. Overall a great stay!
Philip
2017-01-27T00:00:00Z
My friends and I attended a wedding at nearby Marybrooke Manor, so unfortunately we didn't spend much time there. The location was absolutely perfect, only a very quick walk from the cottage to the venue, so I'd certainly recommend it to anyone else in the area for an event there. The cottage itself is very cosy with comfortable furnishings, and not too cold despite the winter chill outside. Gillian and the staff in the cafe on the main road were friendly and helpful. I wouldn't hesitate to stay again if I returned to Sherbrooke.
James
2016-09-05T00:00:00Z
The host canceled this reservation 4 days before arrival. This is an automated posting.
Sebastian
2016-06-08T00:00:00Z
Gillian made us feel very welcome, fantastic little cottage in a beautiful forest setting. Highly recommended.
Paul
2016-11-05T00:00:00Z
Tipo de Acomodação
Casa/apto inteiro
---
Tipo de Imóvel
Apartamento
---
Acomoda
4
---
Quartos
Sherbrooke, Victoria, Austrália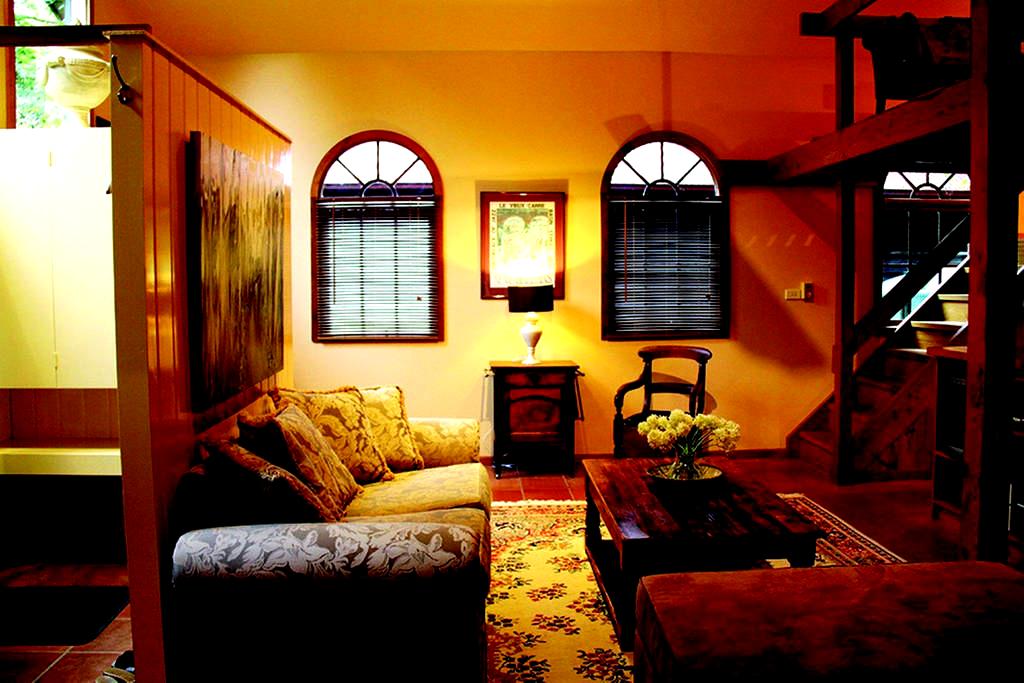 グリーンヘブンコテージは、1930年代の下見板2階建ての家です。それはデッキ、バーベキュー、ビリヤードテーブルで8人まで眠る完全に自己完結型の4ベッドルームのコテージです。朝食は自炊単位またはMarybrookeマナーで提供することができます。
美しい低木林のエーカーに位置し、居心地の良い2階建てのコテージ。ブッシュを見下ろすBBQを持つ大規模な木材デッキ。デッキエリアを見下ろす3/4サイズのビリヤードテーブル付きの広いラウンジ、ビリヤードエリア。
Great place to stay.
Tracey
2016-12-19T00:00:00Z
A lovely home in a truly beautiful location. It's very special to relax amongst a mix of wonderful exotic trees and stunning Mountain Ash Eucalypts. A very convenient spot and in good proximity to the reception centres and local towns. Check your trip planner (GPS) carefully before you leave home as you don't get a beautiful isolated garden location on the edge of a main road. But it's not hard to get to at all really if you are organised. The house is well equipped, spacious, bright and comfortable.
Lorant
2017-03-25T00:00:00Z
I wasnt able to attend this night away but my friends who did tell me that it was a fabulous stay and the breakfast was absolutely delicious. Wish I was there!
Cat
2017-01-19T00:00:00Z
What a great house! Really wonderful experience and good communication from Andrew
Julian & Sidrah
2016-10-24T00:00:00Z
Great cottage in lovely surrounds.
Micah
2016-08-01T00:00:00Z
This listing was accurate and only 10 mins from puffing billy.
Alan & Julie
2016-08-21T00:00:00Z
Green Haven Cottage is simply wonderful! We had a delightful stay. I do think we chose the perfect time as the garden was beautiful, full of Autumn colour. We will return!
Kathleen
2016-05-04T00:00:00Z
Lovely location and fantastic ambience. Close to several walking tracks
Ryan
2016-09-04T00:00:00Z
Tipo de Acomodação
Casa/apto inteiro
---
Tipo de Imóvel
Casa
---
Acomoda
8
---
Quartos
Sherbrooke, Victoria, Austrália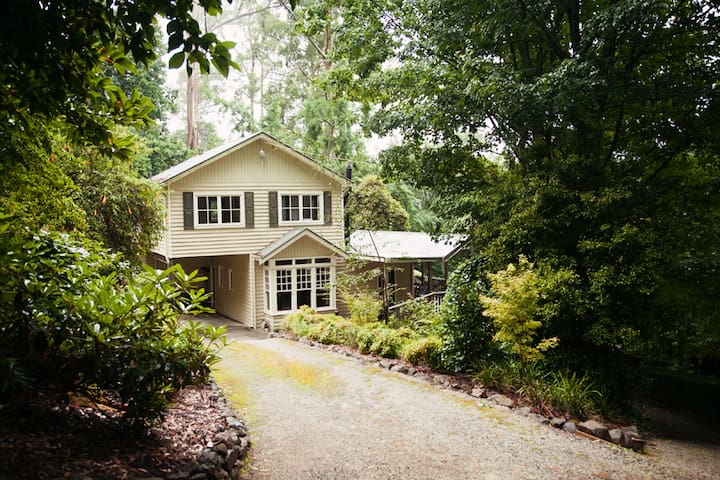 La nostra unica casa in stile medievale Bluestone è vicino a negozi, giardini, bar, trasporti pubblici e attrazioni turistiche: -5 Minuti a piedi dalla foresta Sherbrooke, Alfred Nicholas & The George Tindale Gardens. - Luoghi di nozze e caffetterie a meno di 5 minuti a piedi (Marybrooke, Poeti corsia di nozze Ricevimenti; Il Piggery Cafe & Woods Sherbrooke). -Vicino a Tulip Festival; Puffing Billy Railway; Olinda & Sassafras villaggi - I mezzi pubblici (autobus) alla fine della strada, ma una macchina rende più facile l'esplorazione
La nostra è una casa di carattere unico. Con la sua architettura medievale Bluestone durante tutto si potrebbe sentire come di essere tornati indietro nel tempo, fatta eccezione per gli apparecchi moderni per rendere il vostro soggiorno confortevole! Questa casa è un'esperienza. Questo è un bellissimo posto per una fuga romantica. Godetevi un grande fuoco di legna nel salone o il caminetto a gas in camera da letto per quei giorni d'inverno molto freddo (portare i cappotti come il nostro inverno di volte può produrre neve). La camera da letto ha un letto king size e 58 "TV con DVD e Netflix. Un giro spa persona splendida due è il modo perfetto per rilassarsi e distendersi (mentre si guarda la tv, se volete!). E 'dotata di aria condizionata, anche per sfuggire l'estate di calore. l'accesso Wi-fi in tutta la casa con gli altoparlanti wifi in ogni spazio per godere la vostra musica preferita. Grande tavolo da pranzo medievale per coloro che amano restare e creare il loro pasto perfetto. i ristoranti locali raggiungibili a piedi per coloro che preferiscono cenare fuori . Ampio soggiorno con soffitti cattedrale ha un comodo divano e 63 "TV, DVD, Netflix. Questa camera enorme confina alla terrazza esterna per quelle mattine di sole gloriosi o la sera refrigerati fuori. Completamente attrezzata cucina con TV, piano cottura a gas, forno, microonde, frigorifero pieno di dimensioni e due cassetti lavastoviglie. Grande sala da biliardo e una zona bar. Una soluzione per l'alloggio popolare per coloro che frequentano matrimoni locali a pochi passi - Marybrooke; Woods Sherbrooke; Poeti Lane, ricevimenti di nozze o Piggery Cafe. Entro breve distanza di innumerevoli altri!
Ci troviamo nel cuore della Foresta Sherbrooke e circondati da vecchi alberi giganti e parchi sorprendenti e giardini. La proprietà è molto tranquilla e la borgata Sherbrooke è una comunità ancora privato amichevole. L'avifauna gode visitando il nostro terrazzo, quindi non ci può essere alcun bisogno di recarsi in altre attrazioni locali per vedere i loro colori e le manifestazioni di battute giocoso sorprendenti!
Tipo de Acomodação
Casa/apto inteiro
---
Tipo de Imóvel
Casa
---
Acomoda
2
---
Quartos
Sherbrooke, Victoria, Austrália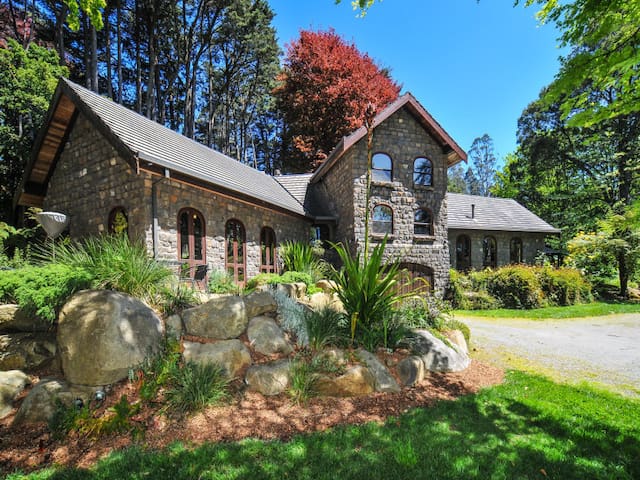 A period piece with lots of charm and character secluded but close to cute villages and not far to Melbourne. Beautiful dishes for festive meals and the breakfast room is a particular treat. Alan was responsive even on Christmas Day.
stephen
2016-12-25T00:00:00Z
What a perfect place for a private, relaxing getaway! We had such a relaxing time and thoroughly enjoyed the gorgeous house, pool and gardens. The owners were lovely! Can't wait to find time to go back.
Kristen
2017-01-19T00:00:00Z
Thoroughly enjoyed our stay. Thanks Alan and the family.
Justin
2016-10-08T00:00:00Z
We love Federation, Edwardian homes and to have the privilege to stay in a home such as Mawarra, was an experience. Alan throughout the booking procedure was so helpful and accommodating. A quick message during our stay to see that all was well , was very appreciated. Sherbrooke is one of the most beautiful places to visit, so staying at Mawarra Manor makes the experience even more beautiful. Thank you Alan
Jane and Ian
2016-11-24T00:00:00Z
We did not get what was on the Airbnb website. The ad showed 4 bedrooms, 1 with a king size bed and three 3 with queen size beds. We were given 1 with a king size bed, 1 with a queen size bed and 1 with a single bed that is all. The house was dirty and full of spiders and spider webs in nearly every corner of the house. The bathroom had mould in it. The house was in disrepair as cornice was hanging from the ceiling and we fearful that it was going to fall on us. A tree growing in the roofs gutter and the garden wasn't maintained . The house leaked when it rained. The pool was dirty. There was no gym equipment but the ad said there was a gym and this was one of the reasons we booked the house. The house wasn't properly maintained and we did not get what was advertised. Would never go back again and have a family holiday almost destroyed like this one. Luckily l have a positive family that focused on the holiday and not the house we ended up with.
danny
2017-01-05T00:00:00Z
Tipo de Acomodação
Casa/apto inteiro
---
Tipo de Imóvel
Casa
---
Acomoda
9
---
Quartos
Sherbrooke, Victoria, Austrália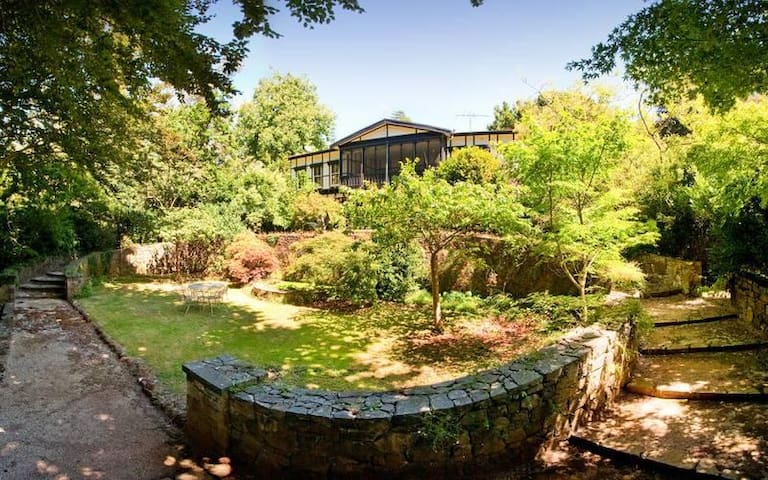 Esta casa preciosa con aire acondicionado se encuentra en 3 niveles de entrepiso y cuenta con un balcón con vistas a las vistas al jardín, el paisaje y ciudad increíble. Tiene un lugar de registro de gas chimenea, cocina totalmente equipada, 2 TV de pantalla plana y una bañera de hidromasaje con vistas al jardín. El cuarto de baño tiene suaves albornoces y artículos de aseo gratuitos. Libre de banda ancha Wi-Fi para toda su estancia. Tenga en cuenta que el precio es para 2 huéspedes. La 3ª y 4ª huéspedes serán acomodados en el sofá cama por un suplemento.
The city view cottage was fantastic! The spa with a view was our absolute favourite. We arrived in the early hours of New Year's Day so we thought it might be hard to find but it was quite easy to spot and we parked comfortably in the secluded area. As we entered the cottage we immediately felt at peace, with the lights on and soft music playing. We felt very welcome! Thankfully there was croissants and cereal to get us through the morning aswell. Overall had a wonderful time in Olinda at Annie Roe'S and would love to come back!
Taniya
2017-01-01T00:00:00Z
Really great views!!!!!
Lauren
2017-02-25T00:00:00Z
We had a wonderful stay at this gorgeous little cottage. Amazing spa bath looking out onto treetops and the city lights. The hosts also included a very generous breakfast hamper that we were able to enjoy on the outdoor balcony in the morning. Location was great perfect! Close to the nearby Olinda cafes and restaurants. Couldn't have had a better stay! Thank you.
Jenny
2017-03-11T00:00:00Z
Cosy little cottage very close to main house. Beautiful lush garden and very nice little balcony.
Kirsty
2016-12-27T00:00:00Z
Stunning place
Nicola
2017-02-13T00:00:00Z
Had a fantastic romantic weekend away with the boyfriend. All we needed was a glass of champagne and we could have sat in the spa for hours. Thank you Annie Roe!
Livia
2017-03-25T00:00:00Z
Annie Roe's is the best combination of quiet mountain retreat and proximity to Olinda restaurants. We booked here as an overnight stay for an Olinda Cellars wine dinner at Copperfields. It was an easy walk from the town hub and we fell asleep to crickets and cool mountain breezes. It was so easy to check in and out and communication was great. The place is decked out to french provincial perfection and the breakfast hamper is wonderful.
Laura
2017-03-25T00:00:00Z
Had a lovely stay!!! The Hot-tub is the best
Bryan
2017-03-31T00:00:00Z
Tipo de Acomodação
Casa/apto inteiro
---
Tipo de Imóvel
Pousada
---
Acomoda
2
---
Quartos
Olinda, Victoria, Austrália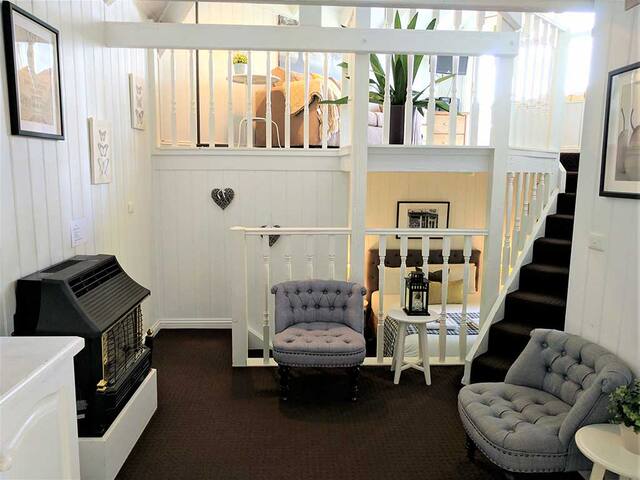 一个独特的丘陵家现代和本世纪中叶风格的触摸。我们的家欢迎你放松,在美丽的公共花园附近的复苏还是在大咖啡馆ñ店参加。辉煌散步的地段或也许尝试你的手在一些艺术作品或自制鸡尾酒。
一个大床房,一张大号室和一个国王单间可楼上。他们真的很舒适的床。额外的被子和毛毯的很多工作中依偎。大块出百叶窗但后来你怎么从你的窗户关上这么漂亮的景色百叶窗? 许多鸟类,包括笑翠鸟的。乔治笑翠鸟的下降,并定期注视着我们在厨房里。偶尔经过的鹿园在黎明ñ黄昏漫步。 厨房和用餐区的大空间,配备齐全。或许你可以尝试从书柜里的食谱收集新的配方。一侏罗咖啡机易于使用,使一个可爱的卡布奇诺。冷压榨汁机可用。 浴室尚未装修,但你会得到体验到本世纪中叶的粉红色浴室套件的欢乐和美丽! 周围的房子和花园,我们还有一些工作要做。有画的窗框和补植的后花园,我们不得不把了一些山灰牙龈。我们会安排的时候,房子没有预订出去做任何工作。
在该地区的美丽的花园负荷。世界著名的威廉·里基茨保护区是一个短的车程。从球队在Cloudhill的援助是辉煌和花园有值得一两曲折。 当地的咖啡馆和餐馆是可爱。我们强烈推荐德利拼盘奥林达。崔西和球队会照顾你用大量的奶酪,熟食和甜点每一个人,包括那些有严格的饮食需求。香农·本尼茨的猪舍是有趣所有谁享受美食,咖啡和垛。 伟大的服装和礼品店的大量,管家茶水在奥林达是老式家居用品和偶尔的新事物的最爱。 在丹德农植物园是广阔的,多样化的,非常值得慵懒的午后,在手咖啡ň报纸躺在树下的草地上。
A lovely relaxing home in a quiet setting. The perfect getaway from Melbourne.
Andrew
2017-01-02T00:00:00Z
The house and location was gorgeous with comfortable bed. They also left quite a few art supplies and other things for people to toy with. Perfect for weekend get away or a home base if you have a wedding on in the area. Also made for some excellent pre-wedding photos!
Christopher
2016-12-03T00:00:00Z
Great location in a beautiful surrounding.
Ryan
2017-01-28T00:00:00Z
Great place... plenty of space, good communication... private from the street... 5 minute drive to the shops... Every facility you could ask for...
Phillip
2016-11-02T00:00:00Z
Suzanne & Ron are terrific hosts with a gorgeous home. We loved the place as soon as we walked in, the atmosphere was warm and cozy and music was filling the air. So many cute little surprises they left for us and beautiful rooms to choose from. The time we spent here was quiet and relaxing giving us space to recharge away from the city. Walking distance to cute cafes and shops, definitely stop in at soap opera and spoil your senses! The fire and Netflix were a God send, we also used the arty stuff to get creative :) the kitchen is well equipped for any meal and big beautiful windows to gaze out of while you're waiting. Loved this home and would definitely stay again.
Samantha
2017-03-13T00:00:00Z
The house had a creative welcoming atmosphere.
Laura
2016-10-16T00:00:00Z
Such a beautiful home surrounded by the beauty of the Dandenongs. All the creature comforts of a home away from home. We were even treated to a bottle of bubbles on arrival as well as a voucher for the local deli. Very straightforward booking, would love to stay here again.
Bec
2016-11-26T00:00:00Z
We had a lovely stay at Suzanne and Rons place in Olinda. What a beautiful little town with only a short walk to get to the main street which had some lovely shops and places to eat. We took a short drive to Puffin Billy with the children which was great. The house is set up with all the amenities that you need and suzanne and Ron were very prompt with communication. Thank you guys for a great weekend.
james
2016-11-12T00:00:00Z
Tipo de Acomodação
Casa/apto inteiro
---
Tipo de Imóvel
Casa
---
Acomoda
5
---
Quartos
Olinda, Victoria, Austrália
A clean and comfortable bedroom/bathroom suite. A short stroll to Marybrook Manor for weddings and receptions. Quite a dark walk back at night, but a close distance. Good heating and parking onsite. Would recommend this Air BnB
Kathryn
2017-04-03T00:00:00Z
Fantastic place to stay beautiful room very cosy & quiet just what we needed. Very spacious and clean facilities. Highly recommend staying here.
Dave
2016-09-29T00:00:00Z
Was attending a wedding up the road as this was super convenient. It was lovely as well
Kari
2016-12-17T00:00:00Z
We stayed here for one night as we had a wedding to attend to down the road. The room was lovely and modern and very warm as the heating was turned on for us ready to go. The host was very accommodating and organised a staff member to drop us off to the wedding which was very kind. We had breakfast in the cafe the next morning which was also great. It was a lovely (albeit short) country getaway. Sherbrooke is such a beautiful part of Victoria with lots of nature walks nearby. Wish we could have stayed longer.
Julianne
2016-08-01T00:00:00Z
My husband and I had a lovely stay in a very cute country cottage here at Woods Sherbrooke. The location is so quiet which made for an amazing night sleep. Beautiful location in the Dandenongs. We were in the area for a 50th birthday and this place was a perfect overnight stop. Woods Sherbrooke would make an excellent base to explore the Dandenong ranges. Thank you for a lovely stay.
Simone
2016-10-29T00:00:00Z
My partner and I stayed here for a wedding a few doors up the road. Gill, the host, was welcoming and very accommodating. The modern suite was nicely furnished just as the photos displayed, with an extravagant two person bathtub keeping us warm and relaxed. We enjoyed it so much that we decided to come back here to stay for another wedding the following week. Gill offered for us to stay in her other lovely wooden timber cottage as a change in scenery to the suite we stayed in the previous week. Great accommodation amongst the Sherbrooke forest.
Linda
2016-08-14T00:00:00Z
The unit was lovely - comfortable and clean and well set up
Siobhan
2016-09-05T00:00:00Z
This accommodation was just perfect for wedding guests attending an event at either of the two venues close by. Comfy bed, enormous bath/shower and lovely food in the adjoining cafe. You won't be disappointed!
Tania & Brad
2016-11-07T00:00:00Z
Tipo de Acomodação
Casa/apto inteiro
---
Tipo de Imóvel
Apartamento
---
Acomoda
2
---
Quartos
Sherbrooke, Victoria, Austrália
Poppy ist ein 1966 Vintage-Caravan, die liebevoll restauriert wurde ihre schönen und ursprünglichen Charakter unter Beibehaltung. Wir sind in der Nähe der National Rhododendron Gardens und zu Fuß zu allen Geschäften und Restaurants von Olinda & Mt Dandenong gelegen
Die Karawane für 2 Erwachsene beherbergen. Im Inneren finden Sie eine kleine Küchenzeile, gemütliche Kingsize-Bett (mit Heizdecke) Kaffeemaschine, Internet-TV, Kühlschrank und Essbereich finden. Die Außenterrasse verfügt über einen Grill und Spa nur für die Gäste. Der Wohnwagen ist nicht mit einer Toilette ausgestattet, sondern Meter entfernt finden Sie Ihr eigenes Bad und Dusche.
Amazing location, such a peaceful stay - Audrey made us feel right at home, great way to escape the city for a weekend away.
Sam
2017-02-11T00:00:00Z
We were honoured to be Poppy's first guests. Audrey and George were great hosts and went out of their way to make sure we had everything we needed. We loved the uniqueness of this stay, the caravan is cute; all the details were lovely; the fridge was generously stocked; the spa was amazing and we had a relaxing and comfortable stay.
Georgiana
2016-12-30T00:00:00Z
Perfect for a weekend getaway! Audrey was very welcoming. The place was lovely and clean in a quiet location, close to restaurants and cafes. Would definitely recommend! :)
Nina
2017-01-12T00:00:00Z
The initial reaction upon viewing Poppy's vintage getaway through the advertised images was that it was spectacular yet it was actually breathtaking in person. The accommodation itself was spacious, comfortable and cosy. The hosts, Audrey and George, were easy to communicate with and always a phone call away if any assistance was required. Definitely the best accommodation the guest and I have stayed at thus far and would highly recommend it to those whom are interested without doubt. Thank you Audrey and George for allowing us to indulge in your little slice of heaven!
Ash
2017-01-18T00:00:00Z
We had our 5th wedding anniversary night here and couldn't have wished for a better place, it was clean, cosy, private, romantic and special. I highly recommend this little gem to anyone who would like a getaway that offers something a little different! Poppy is adorable. We will be back x
Mel
2017-01-29T00:00:00Z
Such a beautiful little place to get away! We arrived to a lit fire on the deck, fairy lights, music and so many more little extras! The van was absolutely gorgeous and had everything we could possibly need. Wifi, Apple movies, Netflix, Spotify, iPad and tv. Not to mention the amazing decking area with multiple sitting areas, comfy day bed and fire. Head down to the jacuzzi which was so amazing after a big day and the bathroom is decked out with everything you need. So many little extras and Audrey was so lovely! Will be recommending this to all of our family and friends!
Jessie
2017-04-08T00:00:00Z
This place is an absolute gem. Poppy is a delightful caravan lovingly restored, and the surrounds are gorgeous! A nice big deck with a daybed, lots of sitting areas and cushions, fairy lights, candles (the place smelled divine) and that spa was heavenly. Every detail has been thought of to create this magical space. We loved staying there and highly recommend it. Thanks guys! :)
Rachael
2017-02-19T00:00:00Z
This caravan is beautiful and such a great experience to stay in. Audrey is a great host and has set up the space wonderfully. We arrived on a really warm summers day and it was so nice to cool off in the spa and be surrounded by the beautiful Forrest. It was quite magical at night with the fairy lights, and the caravan was super comfortable, clean and luxurious. We absolutely loved our stay and will definitely be back and will recommend the place to all our friends. The town of Olinda is great to spend time in, and there are some great things to see in the area during the day. Highly rate this place, its amazing. We love poppy the caravan. Ash and marjolein.
Ashlee
2017-01-07T00:00:00Z
Tipo de Acomodação
Casa/apto inteiro
---
Tipo de Imóvel
Trailer
---
Acomoda
2
---
Quartos
Olinda, Victoria, Austrália
美丽的丛林环境,自然和周围附近提供,散步,瀑布,神奇的餐馆和咖啡馆。完美的周末度假的情侣和朋友。请注意:电视设置了(敏感内容已隐藏)的铬。所以,你要么需要的Net-笔触或YouTube应用程序或类似的流电视。
僻静布什设置。 1500平方米花园/土地/灌木。 这所房子并不大,基本和典型的50年代的时代放假回家。一间浴室/厕所。无套房。 厨房,餐厅,活的开放式空间。 最近经过重新装修以简约的风格。 两间双人卧室,其中一个比另一个稍大。 一个舒适的度假的地方,绝对不是富丽堂皇! 乒乓球桌/棋盘游戏。 为客人提供基本食品供应。 请享用
光荣的环境和世界著名的旅游景点。
Pristine, modern and magical. Set in the lush forest and close to shops and local attractions. Can't wait to return.
Jack
2017-03-21T00:00:00Z
Great house with plenty of staples, comfortable beds and a large shower. Jennifer was a gantastic host
Eleanor
2017-02-11T00:00:00Z
We had a lovely time. The house is very clean and comfortable. We had 2 couples staying together & found it perfect for an overnight stay. The day we arrived was quite cold and the only thing we didn't enjoy was how long it took to heat the house up. Once it was heated though it was warm & cosy. And the shower is amazing! Great little kitchen set up too.
Zoe
2017-04-01T00:00:00Z
Jennifer was an amazing host and the house was exactly as described; bright, very well presented and in a beautiful location. It was very quiet but is not far from many cafes and restaurants which we enjoyed. I would highly recommend this to others if you are after a quiet getaway!
Andrea
2016-12-31T00:00:00Z
I took my mum here as a surprise on Christmas Day and it was absolutely perfect! Jen was a fantastic host and the place is just so beautiful - even better than the photos! It was perfectly clean, beautifully decorated, had all the necessary amenities and the location is stunning. You don't even need to leave the house because it's so peaceful and enjoyable to stay in, but if you do, there are so many wonderful places to walk and picnic. There is even an incredible exotic trees park just a minute walk down the road! We loved it so much we stayed an extra night. Jen also left us a gorgeous bottle of champagne which was the perfect compliment to our Christmas dinner. Thank you Jen for the perfect getaway!
Lara
2016-12-26T00:00:00Z
Fantastic getaway space. The whitewash look adds a great atmosphere to an already amazing space.
colin
2017-02-03T00:00:00Z
A cute little house in a really beautiful location. Gets a bit chilly in the evening but once the heaters warm the place up it's perfect. Jen was great to communicate with and we had a lovely overnight stay. Exactly what we needed.
Katie
2017-02-24T00:00:00Z
A beautiful secluded home; Peaceful environment, surrounded by nature: gum trees; rosellas; tree ferns. Very comfortable place to stay. Tasteful and comfortable decoration and furnishings. Very easy to get to National parks and the Rhododendron Gardens. Wish we could have stayed longer. and will definitely come again
shelley
2017-01-31T00:00:00Z
Tipo de Acomodação
Casa/apto inteiro
---
Tipo de Imóvel
Casa
---
Acomoda
4
---
Quartos
Olinda, Victoria, Austrália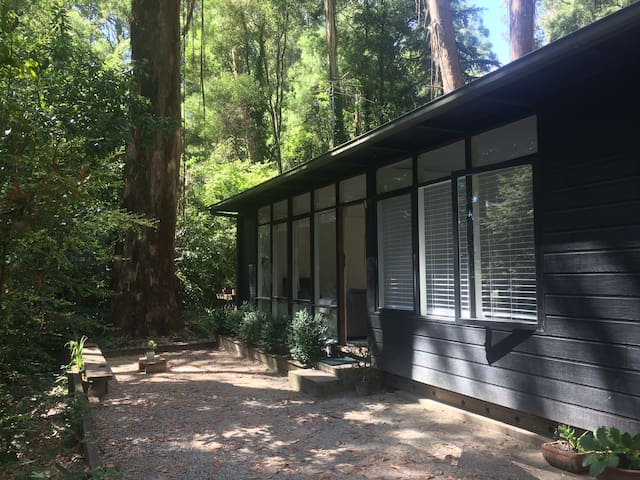 オリンダはカフェ、レストラン、ギフトショップでの素敵な街であり、世界はすべて徒歩圏内にナショナルロードデンドロンガーデンズ有名。オリンダに滞在しながら行うには他のもの:夏の間にローカルオリンダプールを訪れ、Cloudehill保育園は、ショップやレストランの周りに蛇行する美しい庭園を併設しています。 Pirianda園も訪問する素晴らしい庭園です。おそらく、あなたはオリンダワイルドオーク料理教室の一部に出席したいと思いますか? あなたは料理のように感じるいけない場合食事のための多くの素晴らしいオプション。オリンダではコッパー、Dudleys、カッコウで食事、ザは、少数を示すためにカフェやオリンダカフェを範囲。 Coonaraスプリングスのレストランでは、余分な特別な機会のために食事をするための素晴らしい場所です。道はほとんどの方法は、(ミスマープルズ含む)カフェのたくさんの専門店でサッサフラスです。シャーブルックとアルフレッド・ニコルズガーデンズ・ウッズカフェも必見の訪問です。 Kallistaにグランツピクニックグラウンドで地元の鳥を養うか、シャーブルックの滝を見にシャーブルックの森での散歩をします。 オリンダのセントマシューズ英国国教会 - 日曜日の朝に私たちの趣のある小さな教会を訪問すること自由に感じなさい。 (STマシューズはまた、あなたが行うことができるものですオリンダ歴史散歩です!)サービスは、午前9時30分開始します。いくつかの地元のフレンドリーな顔を満たして来ます。杯の紅茶のための私達に参加して、ホールでその後チャット。ヤウドは、後でサービスを好む場合や聖ミカエルカロラマで午前11時に開始するをご覧ください。 ファイブウェイズギャラリーは、多くの地元のアーティストのアートワークをホストし、あなたには、いくつかの素晴らしい写真を得るでしょう見張りの反対側にあるKaloromaで道を車ですぐです。また、距離のメルボルンのスカイラインの素晴らしい景色だけでなく、いくつかの美しい夕日を見るために、高い空をご覧ください。訪問する別の場所には、ウィリアム・リケッツサンクチュアリです。 車ですぐにはビリーにエメラルドとGembrookにいくつかの豪華な黒人居住区を通過する美しい観光蒸気機関車を吹かしためのベルグレイブは-famousです。全体の家族のために偉大な外出。 近くのチェリーやイチゴ農場を訪問し、自分自身にいくつかの新鮮な果物を選びます。ヤラ谷やhealsvilleへ車を話しています。 - あなたを行うにはたくさんのことを退屈されることはありません。包括的なリストと小冊子はあなたが毎日何をすべきかを決定するために利用できることになります。
This is a great place to visit to get away from the hustle of daily life. Wildflower cottage is located near so many great points of interest - we wish we could have stayed longer. The cottage is immaculate and yet so cosy and welcoming. The gardens are a delight. We had some phone reception issues at times, though phones with Telstra as a provider had no problems and internet access was great. Sue and Dave are wonderful hosts. We would highly recommend a visit.
Sallie-Anne
2017-02-01T00:00:00Z
Perfectly cosy, with all the necessary amenities. Within walking distance to shops, cafes and restaurants in Olinda. Our stay was hassle-free and relaxing...just what we needed! Highly recommended!
Silvana
2017-03-11T00:00:00Z
The house is lovely and cosy, impeccably clean and welcoming. We were in town for a funeral and Sue made us feel extremely welcome, she was very kind and made sure we were comfortable. The house is a gorgeous weatherboard renovated with all the comforts you need, comfortable beds, heating, bathtub, full kitchen and a stunning yard to relax in. It is very quiet yet a nice stroll to the local cafes, restaurants & shops. We will definitely stay again!
cheryle
2017-03-17T00:00:00Z
Beautiful home. Thoughtfully set up and in immaculate condition. Wonderfully helpful hosts. Would definitely recommend.
Rachel
2017-02-25T00:00:00Z
What gorgeous stay , was very sweet my family had a lovely time.
Colleen
2017-03-05T00:00:00Z
Tipo de Acomodação
Casa/apto inteiro
---
Tipo de Imóvel
Casa
---
Acomoda
7
---
Quartos
Olinda, Victoria, Austrália
Venha relaxar no nosso retiro floresta localizado nas colinas com muitas caminhadas pela floresta à nossa porta incluindo 1000 passos.
Nossa casa está situado entre a floresta com um retiro sensação mágica. Anexado ao lado da nossa casa principal é uma unidade totalmente auto-contido com a sua própria entrada. O quarto inclui uma cama de casal, cozinha com todas as comodidades, aquecimento e banheiro privativo com sabão e toalhas. oferecemos café da manhã gratuito e qualquer informação que você pode precisar de saber sobre os Ranges Dandenong. Nós fornecemos uma ventoinha para os meses de verão, mas o quarto é muito fresco e sombreado pela floresta. É em torno de 7 graus mais frio nas montanhas para que o ar condicionado não é necessário. Há muitos passeios, molas e nossos cafés favoritos que estamos felizes em compartilhar com você. estamos a pé para 1000 passos e outra floresta belos passeios, a poucos minutos de muitos jardins mágicos, 5 minutos de carro para cafés boutiques e lojas em Sassafras e Olinda, 8 minutos para Sky High vigia, 7 minutos para Belgrave lojas, estação ferroviária e Billy de sopro. Temos uma sala comum com lareira que são bem-vindas para desfrutar. Temos também uma sala de cura com massagem de relaxamento e cura de som em oferta. Oferecemos também serviços de táxi se necessário.
vivemos em um dos mais belos bairros nas colinas como é muito tranquila e rodeada por floresta.
Sweet little secluded place in the hills, perfect spot for one or two to getaway.
George
2016-09-21T00:00:00Z
Very welcoming and friendly. A lovely setting which was quiet and secluded. The apartment was well provisioned with tea, coffee, bread, and eggs. The kitchen had everything I needed and more.
Libby
2016-10-09T00:00:00Z
Matthew
2016-11-26T00:00:00Z
My sister and I were looking for a nice room for our weekend away alone together, which we haven't had since before she had children. Bella and Tomas were very welcoming and provided everything they promised. There was plenty of tea and coffee and some eggs, bread and muesli was provided for breakfast. The property is amazing and sits amongst plenty of beautiful trees. Everything is close by as described. We probably were after something a little more private. For some reason I thought that the unit was detached from the house. But this was purely me misreading the description! Everything was as described and we were certainly left to ourselves without interruption from the hosts. A few recommendations of where we went and what we loved during our short stay: - Belgrave Tree Adventure. Our trip started here and it was realllllyy fun, challenging and totally beautiful (URL HIDDEN) - Earthly Pleasures cafe. We went here for lunch and the setting was beautiful. A fountain out the front, an amazing courtyard and yummy food and coffee. (URL HIDDEN) - Sooki Lounge in Belgrave. We went here for a tapas dinner and it was so delicious! (URL HIDDEN) - We also went to the Rhododendron Gardens and the 1000 steps. Both lovely.
Julia
2016-05-02T00:00:00Z
Had the most relaxing time away for my best friends birthday. Thomas and Bella were greats hosts and made us feel so welcomed. Breaky was yummy and healthy. Our Bowen massage was my high light. Bella it was so relaxing and I felt like I was in cloud 9 afterwards. Thankyou for everything.
vicky
2016-05-22T00:00:00Z
A lovely AB&B tucked away in quiet and very beautiful location. It is close to walking tracks in the adjacent National Park, including the famed '1,000 Steps'. Also handy to all the restaurants and country markets that abound in the Dandenongs. Bella welcomed us on our arrival and introduced us to her companions, who shared some great tips on where to eat, how to reach the walking tracks in the National Park, and also the great little market in Kallista on Sat morning. Thoroughly recommend staying with Bella and her friends; particularly if you want a quiet getaway.
Greg
2016-12-05T00:00:00Z
Bella's place is a lovely peaceful leafy place. We felt very welcome.
Glennis
2016-08-09T00:00:00Z
A great little getaway from the city! Unfortunately we dint get to meet the hosts during our short stay, but we felt very accommodated. Bella went an extra mile and left some yogurt and homemade muesli for us to enjoy in the morning and it was delicious! The room was at the very end of the house with a private entry and gorgeous back yard. The place is just around the corner from popular Dandenong hiking trails and forest ranges - perfect for a quick nature retreat without travelling too far from metro area.
Aurelia
2017-03-19T00:00:00Z
Tipo de Acomodação
Casa/apto inteiro
---
Tipo de Imóvel
Apartamento
---
Acomoda
2
---
Quartos
Olinda, Victoria, Austrália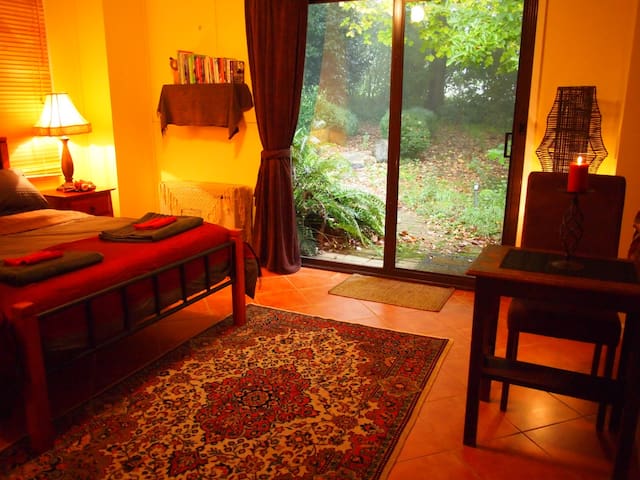 欢迎来到我们在天空中的房子。随着3.5英亩的私人花园和画面完美的欣赏到丹德农山脉,这是家庭度假或情侣撤退完美的地方。也非常适合观看星星的丹德农山脉上方闪烁。 我们是仅有5分钟车程华丽的咖啡馆和古董店一个下午奇迹或短短的10分钟车程,所有美丽的散步和野餐场地。 所提供的豪华谢里登床单和毛巾睡不好觉。
私人住宅。燃木壁炉,温泉浴。 酒店也非常适合与室外空间和美丽的花园亲密的婚礼。我们咨询了价格!
Cissy was very prompt in her replies before and during the stay. She is very friendly and helpful and did everything for us to get comfortable in her house. The house is on top of a hill, the view is amazing. The pictures reflect well the house and surroundings. There was wood for us to make a fire which was very nice with the cold weather! The bedrooms are very spacious and the beds are very comfy, we slept really well. Every bedroom has a small portable heater. The kitchen is huge, 6-burner stove, oven, microwave, toaster but it lacks kitchen utensils to prepare the food. Cissy had left some eggs in the fridge for us which was nice. Overall the whole house is very comfortable and we would love to go back for another weekend!
Amandine
2016-08-29T00:00:00Z
Firstly, have to say this house was just amazing - in such a fantastic location, luxurious and the views were to die for. We unfortunately had an issue where there was no hot water for spa or shower - due to way heating system worked we would need to wait until following morning before there was any. The host was kind enough to refund our stay due to this - and we used the money to visit local spa retreat before staying the night. Hopefully the host will update their ad to disclose this problem (putting it in welcome email isn't really acceptable) - or even better sort this out so there is actually hot water 24 hrs a day (like everywhere else we stay).
Niall
2017-03-20T00:00:00Z
A lovely stay. Cosy and warm inside while the winter weather rolled in outside. Spectacular views and a quiet and serene escape.
Cait
2016-09-12T00:00:00Z
超级赞
yan
2016-11-03T00:00:00Z
We had a lovely (EMAIL HIDDEN)munication prior to arriving was excellent. Her home is nestled up high, with stunning views through the tree tops of the ranges and valley below. The home was clean, tidy and overall well presented. We had a great time with a couple glasses of wine on a cold night in front of the fireplace. Highly recommend.
Sean
2016-07-04T00:00:00Z
This was an absolutely magical place to stay - a real retreat, true to its word and certainly up in the clouds! The house was lovely and cosy and the view was magnificent! We had 2 nights and organised a yoga instructor (Lyn - Symmetry and Balance Yoga) to host a session with us in the morning sun on the decked outdoor area, followed by massages overlooking the valley (Gae - Valley and Ranges Mobile Day Spa). This property was the perfect setting for relaxing and retreating! The beds are extremely comfortable and the amenities enable self-sufficiency without having to leave the property (if you stock up on groceries before you get there)! We look forward to returning again in the new year!
CLAIRE
2016-10-29T00:00:00Z
Beautiful place.
martin
2017-03-19T00:00:00Z
This is a magical setting and a spacious house.
Elissa
2016-12-27T00:00:00Z
Tipo de Acomodação
Casa/apto inteiro
---
Tipo de Imóvel
Casa
---
Acomoda
8
---
Quartos
Olinda, Victoria, Austrália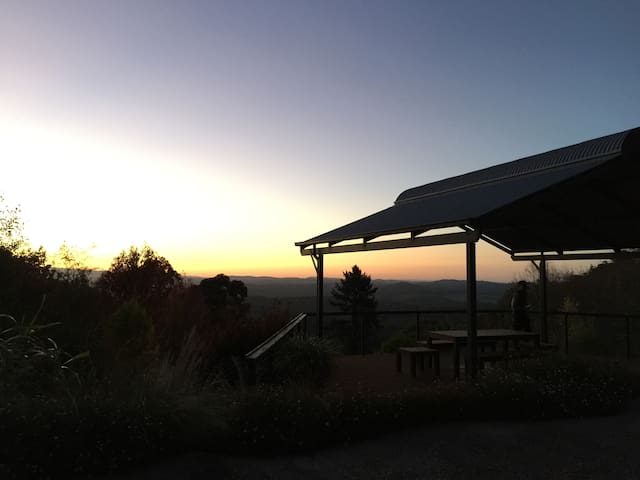 Natasha and Jake were as welcoming and as accommodating as close friends. From the moment we started communicating, they were helpful and considerate and tailored our stay to our unique needs. As a family with young kids, we couldn't have been more happy, it was like stepping out of our home into a replica. Everything and more we could have asked for was available to us and we were so grateful for our first Airbnb experience to have been so fantastic. Thank you Natasha and Jake for everything.
Katherine
2016-07-05T00:00:00Z
Upon arriving at Jake and Natasha's home we instantly felt relaxed and at home. The house is one of the most gorgeous and picturesque Airbnb homes we have stayed. Perfect for our little son who loved the variety of toys and books and wondering the garden that is straight out of a Beatrix Potter book! The location is perfect, a few minutes walk to shops and cafes!
Kathryn
2017-01-22T00:00:00Z
We loved staying here! Perfect place for a getaway from melbourne and get cozy in the Dandenongs! Highly recommended to anyone thinking of doing the same. ..
Luke
2016-08-20T00:00:00Z
Such a lovely cottage and fantastic garden complete with trampoline, slide, swings- an absolute delight for little ones, particularly those that are from the city and don't have a backyard. Highly recommend.
Sarah
2016-09-28T00:00:00Z
We had a lovely family weekend. Short stroll to dinner every night, glorious deck for relaxing on with a cuppa or a Pinot and plenty of toys and garden for the 8 year old. Very comfy sleeps and very lazy mornings. Much needed. The fire looked terrific though the heating was so good we didn't get around to lighting it! Natasha and Jake were great to communicate with too. All round good stay. Lovely
Francesca
2016-09-25T00:00:00Z
The house and garden is just lovely. It's walking distance to lots of places and such a beautiful area. The house was very clean and so comfortable.
Narelle
2017-01-14T00:00:00Z
Fantastic friendly house
Richard
2017-04-08T00:00:00Z
Tipo de Acomodação
Casa/apto inteiro
---
Tipo de Imóvel
Casa
---
Acomoda
5
---
Quartos
Olinda, Victoria, Austrália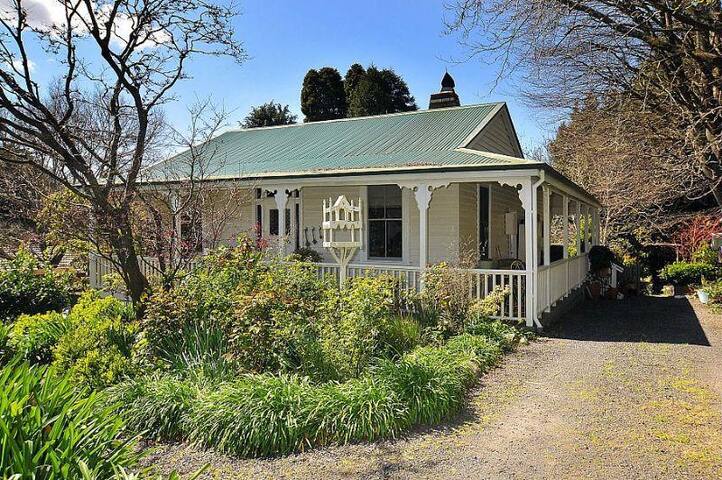 霍利小屋是餐厅和餐饮,巨大的花园中央,步行距离和丛林散步,一路上的美景一起。 你一定会喜欢,因为密封道路上的位置,方便地访问我的地方。 霍利小屋是一个宽敞的客厅,双砖住宅以及具体的车道,通过前,也是在房子的后面和侧面您自己的条目。街边停车位。 在这个属性我们还生产奥林达生蜂蜜,始终是游客的一大景观。
宽敞的房子,教堂天花板,天花板辐射光束,独特的住宅,有很多的选择加热,因此非常接近奥林达一切。品质的床上用品和毛巾,洗漱用品和充足的早餐,一天的时间小吃供应。鲜花从花园里的季节。 适合家庭,婚礼派对和夫妇。
安静和放松。由原始的花园,灌木林地所环绕,仍接近一切。 IGA就是从这里500吨,为的是佩莱格里诺的新鲜食品杂货店和有机食品狂热商店。 咖啡馆,餐馆众多,檫冰棒店和Geppeto的玩具店距离Holly山寨所有的步行距离。
Jasna did a wonderful job of making a cold and wet Olinda weekend warm and cosy for my groomsmen and I. Holly Cottage was everything it was advertised as and more, we had a ball playing pool, put the big screen TV to good use, and relaxed on the large leather couches. Staying at Holly Cottage was the perfect start to an amazing wedding weekend, one which i will remember fondly for a long time. And after Jasna allowed our photographer to come by and take pictures of us in our suits, we have the pictures to prove it. Thanks so much Jasna, i cant wait to show you the photos.
Dale
2016-10-21T00:00:00Z
Our host greeted us and provided the key. Everything we needed was supplied. Comfortable accommodation. Great cook yourself breakfasts
Wendy
2016-10-15T00:00:00Z
Fantastic room with big clean bed.Fresh daily food,shampoo,body wash are provided,24 hour heater is available, big house with perfect entertainment( books, big cue ball table, television,entertainment for children like wooden horse),good service really deserves enjoying!
Zhou
2016-08-26T00:00:00Z
We were really impressed by the cleanliness and attention to detail that Jasna had obviously worked hard on. She was a lovely and generous host. The gardens are beautiful and it's an easy walk to Olinda. We really enjoyed our stay and would happily recommend it. Thanks Jasna
Megan
2017-03-18T00:00:00Z
Jasnas house was fabulous. A great place to relax. Comfy beds..roaring fire and fantastic breakfast supplies. We loved it! Would recommend to anyone.
Sally
2016-10-22T00:00:00Z
Jasna was a great hostess she made us feel welcome from the moment we arrived. We all enjoyed a tour around there lovely garden and enjoyed meeting Jim and the two fur babies. The cupboard and fridge had quality local produce for us to use. The beds were sooooo comfortable we didn't want to get up this morning. Jasna also went out of her way to take us to the Cuckoo where we were celebrating my twins 21st. I would recommend this accommodation to anyone staying in Olinda. Kaye, Diane, Leonie and Karen
Kaye
2017-02-13T00:00:00Z
This is one of the most comfortable AirBnB stays I've ever had and Jasna is one of the best hosts. As previous reviews have mentioned, the house is exceedingly well equipped and very comfortable. Every time we thought of something we needed, we found it! (hairdryer, yummy things to eat, chocolates, TV, wifi). As gardeners, we really enjoyed walking around the garden, admiring the new and established plantings as well as seeing the hens and bees. The beds are ultra comfortable with luxurious white linens. The house is just a few minutes easy walk from the shops at Olinda. This was a perfect stay and I think Jasna should start training future AirBnB hosts on exactly how to do it!
Christine
2016-12-29T00:00:00Z
We love the stay over at Jasna's place. As I'm traveling with an infant, Jasna even offered a cot which is hard to come by for an air bnb. My mum was impressed with the varieties of food provide in the lounge.. we had a wonderful breakfast. Definitely will book this place if I ever come again. The house is just perfect!
Adeline
2017-03-17T00:00:00Z
Tipo de Acomodação
Casa/apto inteiro
---
Tipo de Imóvel
Casa
---
Acomoda
5
---
Quartos
Olinda, Victoria, Austrália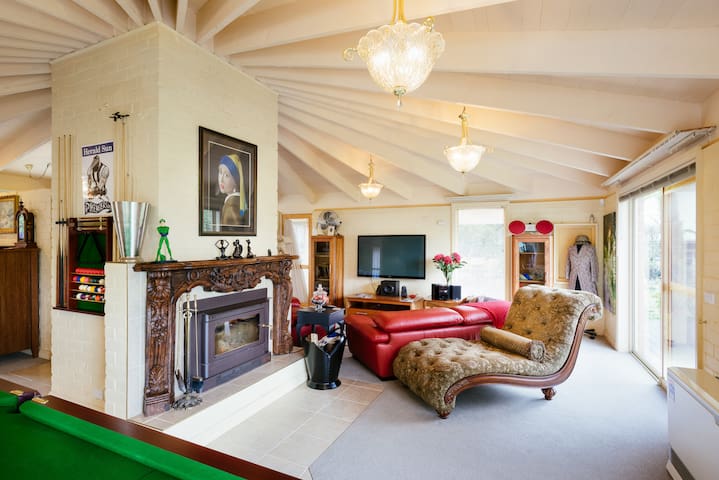 复古的维多利亚风格的双卧室平房坐落在奥林达村两个人的角落温泉,开大火,阳台,平草区和阳光。
如果你能想象一个姜饼小屋,但与出所有的棒棒糖和姜饼墙,这就是薰衣草平房。这是一个2层楼高的平房,一间阁楼风格的楼上,其中卧室和浴室。厨房配有标准尺寸的冰箱和下沉式休息和用餐区是在地面上水平。价格包括早餐是规定,茶水和咖啡。
奥林达是一个村庄的气氛和商店和咖啡馆的精品风格。下村1公里下来的旅游公路有IGA超市,邮局,酒吧和新鲜食品市场以及更多的商店和咖啡馆。它可以在白天忙碌而安静的夜晚。
Tipo de Acomodação
Casa/apto inteiro
---
Tipo de Imóvel
Casa
---
Acomoda
4
---
Quartos
Olinda, Victoria, Austrália
Auf einem privaten grünen Straße The Cupcake Caravan verfügt über einen privaten, Spaß Aufenthalt direkt im Herzen der Dandenong Ranges.
It was an absolutely gorgeous place and Jilly added some gorgeous touches to make our stay comfortable and memorable. LOVE the fairy lights xoxo
Nance
2016-10-09T00:00:00Z
We had a wonderful stay in Jilly's caravan. Although we didn't get the pleasure of meeting her, Jilly made sure we had everything for a comfortable stay. The caravan was well supplied with all the essentials, such as cutlery, microwave, toaster, fridge, dvds and much more. It was very clean and we'll maintained. Could not have asked for anything more. Have already recommended it to friends!
Ashlyn
2016-05-02T00:00:00Z
Jilly was so helpful and great and gave us heaps of fantastic tips. Was fun to spend a cosy evening in her little caravan with all the mod cons. Warm and inviting place and host. Definitely will be back :)
Angelique
2016-07-11T00:00:00Z
The cupcake caravan was exactly What we were expecting and more.... To top it off we also had some amazing weather in the Dandenongs that day which made it even better! Everything was neat and clean, the caravan has such a cosy feel and the gardens surrounding are magnificent.
Sam
2016-03-23T00:00:00Z
We had a great stay in Jilly's caravan. It was filled with lovely cute touches that made us feel welcome and at home. The bed was firm, warm and comfy, and plenty big enough for two. The ideal alternative to a late-night drive back to Melbourne after a day in the hills! Thanks for having us.
Fiona
2015-11-30T00:00:00Z
We really enjoyed our stay - such a cute caravan and right up in the heart of the Ranges. Very convient and we loved the beautiful teacups Jilly had left out.
Jane
2016-11-05T00:00:00Z
One night in Olinda was not enough! Two or three in the cupcake caravan would be amazing, spending the days exploring and the nights relaxing. The views from Mt Dandenong (10 mins or so away) beautiful at night and there is so much to see, eat and do. The Caravan was perfect! The brekkie essentials were provided as well as linen and towels. We entered the air conditioned caravan and instantly felt at home! We can't wait to return for a longer visit!
Sinéad
2016-01-02T00:00:00Z
Our second time staying in the Cupcake Caravan, it was lovely as ever. Very relaxing and plenty to see and do it Olinda and surrounds. I would recommend this place to anyone and are already planning our return
Sarah
2016-02-29T00:00:00Z
Tipo de Acomodação
Casa/apto inteiro
---
Tipo de Imóvel
Outros
---
Acomoda
2
---
Quartos
Olinda, Victoria, Austrália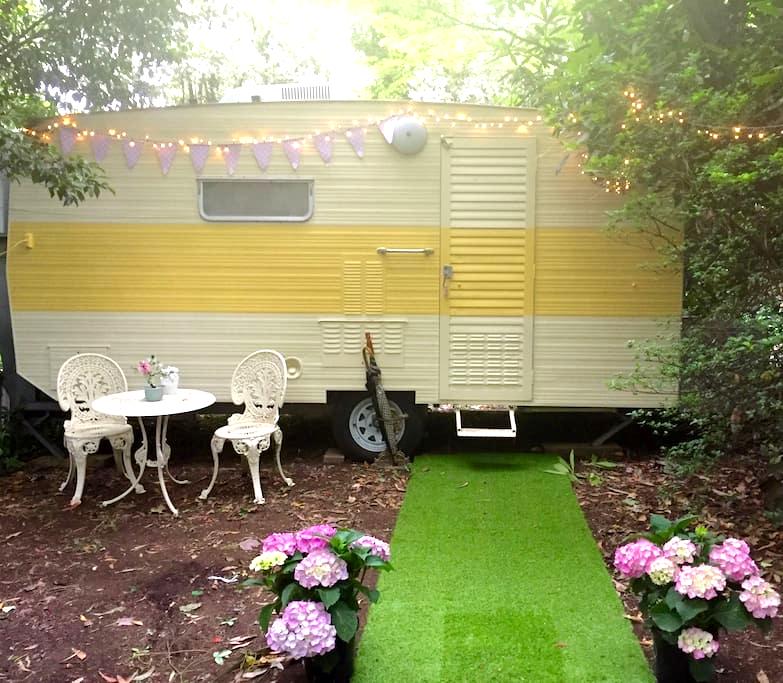 Beautiful surrounds, magnificent views and amazing house. Looks like an architect designed home with many notable features and lovely lookout vantage points. Rob was hospitable, welcoming and friendly. The pool was a totally welcome reprieve on the 36 and 33 Degrees days we had there. Can't wait for a return trip there.
peterine
2017-01-08T00:00:00Z
Rob saved us last minute from an accommodation disaster. He was very welcoming and the place is cool...like a step back in time. Comfy bed and great shower. Great views over the pool. Thank you for the walking and cafe tips :)
Katie
2016-10-22T00:00:00Z
The host canceled this reservation 3 days before arrival. This is an automated posting.
Leslie
2016-12-27T00:00:00Z
Rob is a lovely host. I was expecting one bedroom accomdatom. But he arranged two separate bedrooms for my mum and myself. Rob's house has the best view on the top of the mountain. The mountain and Victoria view look even better than the photo u can see here. Rob has a wonderful personality and he s very considerable. Due to person family reason, we couldnt stay longer than few hours. I will definiately come back and stay again. Good host good house. Thanks Rob.
andrea
2017-01-01T00:00:00Z
Rob is a much caring and helpful host with an outstanding house. We enjoyed the tour of this unique house and its original features very much. Rob gives his guests as much privacy or company as they wish. Everything is perfectly clean and amazingly furbished and decorated. For us, it was the perfect getaway - just a pity that we couldn't stay for longer!
Melanie
2017-02-26T00:00:00Z
Rob's place is amazing, such a great property with so many interesting features and Rob is great at giving the tour and very helpful in providing travel advice. The grounds are incredible with a lovely pool and stunning views. Very clean and well kept. Would definitely come back again. Thanks Rob, legend! Jason & Kyung
Jason
2016-12-28T00:00:00Z
Beautiful and quiet secluded property - unfortunately we didn't have much time to enjoy all the facilities as we were attending a wedding. Rob is a great host. Recommended.
Steve
2017-02-12T00:00:00Z
Rob was an excellent host. When we arrived, he gave us a grand tour of his amazing home. Loved the mid century decor. Excellent outdoor view and pool. We had full access to the house including a very well equipped kitchen. Enjoyed a barbecue dinner on our second evening here. And spent that delightful evening chatting with our host.
Hwee Seng
2017-01-15T00:00:00Z
Tipo de Acomodação
Quarto inteiro
---
Tipo de Imóvel
Casa
---
Acomoda
2
---
Quartos
Olinda, Victoria, Austrália
Dies ist einer der ensuited Räume im Haus, die ein einzelnes oder ein paar passen würde. In der Beschreibung ist, sagt Platz für 6 Personen - auch nicht in diesem einen Raum - gibt es andere ensuited Räume, die separat über Airbnb gebucht werden müssen. Wenn Sie Probleme haben, wenden Sie sich bitte Anfragen an mich für größere Gruppen machen lenken. Jubel, Mike
Dies ist ein sehr schönes, großes Haus mit insgesamt 4 Gästezimmer mit dem Host auf dem Gelände leben. Dieses ensuited Zimmer ist für ein Paar oder ein Einzelzimmer. Wenn Sie mehr Menschen brauchen wahrscheinlich ich es tun kann, schicken Sie mir bitte eine Nachricht. Ich bin seit mehr als 20 Jahren in Betrieb und hatte tausende zufriedener Gäste bleiben über. Es ist gar nicht in einem Hotel wie ein Aufenthalt, es ist mein Privathaus ist. Drei- / Vier ensuited Zimmer mit Queen und Einzelbetten und einem schönen Wohnbereich wird Singles, Paare oder kleine Gruppen entsprechen. Olinda ist eine Stunde von der Stadt Melbourne in einer bergigen regen Waldgebiet voller Natur und Schönheit. Es ist meine Küche, wenn Sie wollen Ihr eigenes Essen zu machen oder ich tun, auch gesunde Abendessen für eine Gebühr. Es gibt auch etwa ein Dutzend Restaurants und zu Fuß Cafe mir in diesem beliebten touristischen Bereich. Hoffentlich werden Sie in unseren Wäldern gefällt und Gärten, die spektakulär sind und es gibt eine Fülle von touristischen Geschäfte und Attraktionen. Ich bin auch ein qualifizierter Masseur, wenn Sie wie eine Massage fühlen. Die Stadt Zug bringt Sie an den Fuß des Berges und es gibt einen Bus, der Sie aus 100 Meter von diesem Haus fällt. Ich bin freundlich und gastfreundlich und gern gesehene Gäste aller Couleur. Allerdings, wenn Sie homophob sind, können Sie hier nicht kommen wollen. Namaste.
Michael was very welcoming to us and his place is lovely. Fantastic location right in the centre of Olinda, close to restaurants and the tourist drive. It was a very cold weekend but the house was lovely and warm and our room was very clean and spacious. Michael was very helpful with information about the local area and took the time to chat with us and give us some recommendations. It felt just like staying with a friend - I would definitely come back!
Julietta
2016-07-23T00:00:00Z
Nice location and great host...
Serge
2017-02-11T00:00:00Z
What a great location!, so close to Olinda that you can easily walk over to the shops and dinner. Michael's house is clean, warm and spacious. He is a welcoming and accommodating and cooks a fabulous breakfast too.
stephanie and nick
2017-04-02T00:00:00Z
Beautiful garden, cosy room, really friendly host and delicious breakfast. Definitely recommendation for natural lover.
Lee
2016-10-01T00:00:00Z
Michael was a wonderful host, we really enjoyed our stay. Highly recommended!
Karen
2014-08-18T00:00:00Z
I booked a room at Mike's place for one night only as a easy and comfortable base for being in Olinda. As I was in and out from check in time, I didn't get to really spend time in the house until evening for sleep. The room was adequate for my one night, bed comfortable with an electric blanket should you need, my own shower and toilet. The house is surrounded by beautiful trees which rustled throughput the night, lulling me into peaceful sleep. The shared living place was huge, clean, comfortable, well equipped for self serve beverages, great selection of non caffeine teas, a microwave and kettle. Had I had more time I would have happily relaxed there leaving through the quality magazines and tinkling on the fantastic Yamaha grand piano. I did enjoy looking at the lovely collection of mini piano collectibles in the glass cabinet and numerous paintings and photos on the walls. I also liked what I'd describe as the eclectic vintage with a small touch of kitsch accents around the home, all of which I'm sure has some interesting stories behind their possession. My only negative is that I didn't have enough time to enjoy this environment and get to know Mike. My interaction with Mike was brief, however he was a polite and prompt communicator via email and phone before my arrival, accommodating and understanding of the fact I could give only a rough and relatively last minute estimate of my arrival. He is respectful and mindful of ones needs and space towards me as a guest, yet friendly, honest and approachable. In the little time I spent with him, I could sense he is a warm and caring person, authentic with integrity (characteristics that I hold high and value in people), that was displayed even in the smallest acts such as keeping to his word of giving me his recipe for a quinoa chocolate cake before I left. The cake will serve as a lovely personal reminder of Mikes hospitality in his peaceful home. Thank you Mike!
Noodle
2017-04-08T00:00:00Z
We had an incredible stay over two nights with Michael whilst we undertook the Oxfam Trailwalker. He was extremely pleasant and accommodating to our unusual group of walkers and support crew, especially as we were coming and going at odd hours. The freshly baked bread that we enjoyed on arrival and for breakfast the next day certainly helped us to get over the line. The rooms are well priced, particularly given the private bathrooms and large sitting/dining area for guests. Towels, linen and even robes were all provided. Unfortunately we didn't have time to experience it but the Olinda shops were within a couple of minutes stroll and the house is perfectly located for exploring the area.
Travis
2016-04-10T00:00:00Z
Mike is so so great host. Mike asked me our whole family name and how to pronounce them before our arrival. This made my parents-in law feel good, just like visit friends. Mike knew us we will have the Puffing Billy steam train tour next day and will directly head to MEL. So he volunteered to be our guide for the sky high look out that afternoon. He even took his Nikko camera to take our whole family pic. Mike house has great location in Olinda, near the sight-seeing place and canteens. Mike recommend us a very great restaurant, with live music, we had a nice Friday night. We resevered 2 bedrooms, but Mike offer us 3 and his big big living room. Beds are comfortable and cozy. My boys had lots of fun with Dolly, Mike's cute dog. As breakfast, Mike offered us home-made bread, fried, punched eggs etc. He even bought our boys kids' cereal of chocolate flavor the day before our arrival. Before our departure, Mike shew us his amazing yard. We really appreciated what Mike had done for us, we had a great time and left memory to our family.
Hongyi
2015-09-27T00:00:00Z
Tipo de Acomodação
Quarto inteiro
---
Tipo de Imóvel
Pousada
---
Acomoda
6
---
Quartos
Olinda, Victoria, Austrália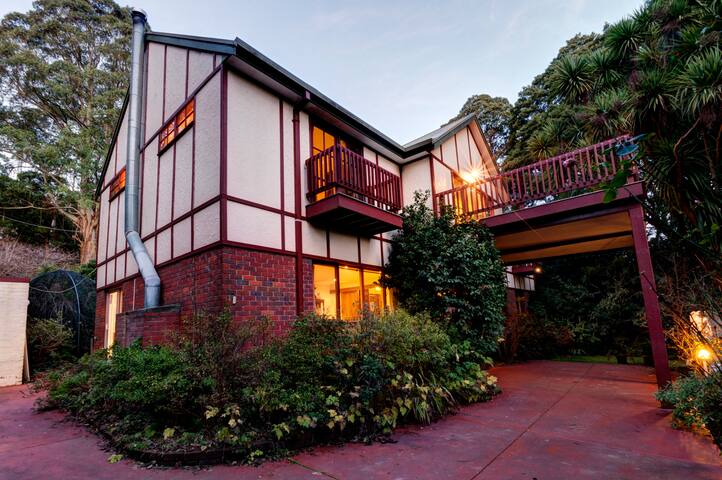 Insira as datas para ver o preço total. Taxas adicionais serão aplicadas. Impostos podem ser adicionados.