Updated large 2 bedroom,2 bath home. Located in the center of St. Augustine beach! Walk or bike to all restaurants and beach attractions, or even take a trolley to downtown. Pet friendly, with fenced yard with deck, you can hear the ocean at night along with a cozy chiminea. All amenities provided, towel,sheets, dishes, beach chairs, umbrella, you just bring your bathing suit! Cable T.V, wi-fi with Netfix. Quiet neighborhood mixed with residents, students, and vacationers. Ample parking for 2 cars. So comfy you'll feel right at home.
Dog friendly, great location and peaceful surroundings ! The space sleeps ONLY 4.
One thing I enjoy about this location is you have the best of both worlds. Close to restaurants and entertainment, a short drive to downtown but also the soft sounds of the waves and sand at your toes.
Our stay at Raina's home was great!We loved everything about it: location, quite neighborhood, coziness and all provided amenities.Raina was very friendly and helpful with everything we needed.Thank you again, Raina and Freida!
Ausrine
2017-04-01T00:00:00Z
If you are lucky enough to rent Raina's place, you will not be disappointed. Her home is very close to the beach and a short drive into historic St. Augustine. Raina went above and beyond to make our stay wonderful. She recommended a fantastic restaurant for my mom's 80th birthday celebration and it was absolutely perfect. Raina also left us a bottle of wine and a "memory jar" to remember our wonderful weekend. She also texted me to make sure that we had everything we needed. She is such a terrific host and I hope I see her again!
Theresa
2017-03-27T00:00:00Z
Raina's place is great and she's very responsive and eager to help make your stay easy and fun. She left us bikes, a boogie board, and all the other things listed in her ad. The house is completely as described - very clean, cute backyard, easy walk to the beach (just a couple blocks on the other side of A-1-A on a cute, quiet street). My only complaint is that the living room is small - great for 2 people, but not really big enough to have three or four people hang out and watch a movie or something. Otherwise, this is a super comfortable, clean house with all the amenities and a great host.
Sonya
2017-03-23T00:00:00Z
Tipo de Acomodação
Casa/apto inteiro
---
Tipo de Imóvel
Casa
---
Acomoda
4
---
Quartos
St. Augustine, Flórida, Estados Unidos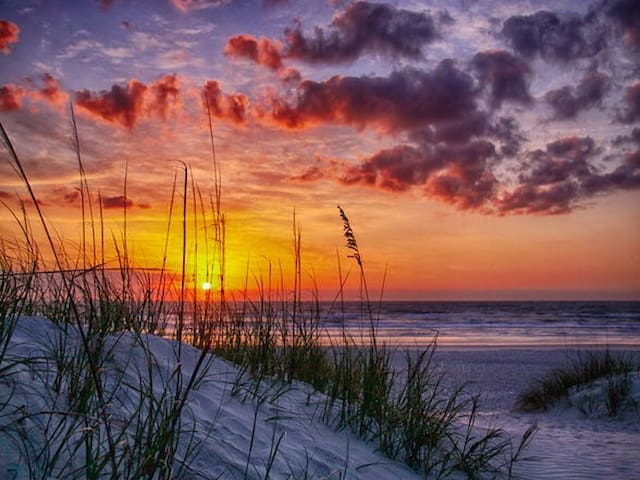 BEACH is only 2 short blocks away. Walk to the beach! Minutes to everything St Augustine has to offer. We are right on a bus line or short drive (8 minutes) to Ancient City and the Castillo San Marco. Lots of great restaurants and bars in walking distance! Fresh and tastefully furnished, this gem is lovely. Fully furnished and complete cooking sets in kitchen. Washer and dryer in the apartment. Beach chairs and towels for your fun at the beach. Quiet beach neighborhood.
Second level of duplex with full kitchen and Wifi. Comfortable with wood accent floors and central AC. Freshly painted with comfortable furniture and washer and dryer in the unit.Full kitchen if you like to cook. Ocean breezes and charming neighborhood.
Cozy beach town, super fun and excellent restaurants in walking distance. Very easy walk to lots of places. Short drive to grocery store. Our guests absolutely love the location. Near beach and Castillo San Marco.
Great location! Close to the beach and restaurants and just a short UBER ride over the bridge to downtown St. Augustine!
sarah
2017-03-19T00:00:00Z
great location. Nice and clean
Valeria
2017-03-17T00:00:00Z
I loved the place, it was right across the street from the beach and walking distance from Taco Shop, Rita's, and many other shops. Tracy responded quickly to any questions which was helpful and also respected our privacy. The place itself was just the right amount of space for myself and 3 other guests!
Grace
2017-03-22T00:00:00Z
Great location!
Megan
2017-03-26T00:00:00Z
Great place. Close to the beach and to many historical sights. Recommend this spot to anyone. Had everything you would need.
Nathaniel
2017-02-21T00:00:00Z
This home was a good find! All of the necessities were provided and the location was great. A quick walk to the beach and only a short driving distance to shops and food!
Emily
2017-03-09T00:00:00Z
Tracey is a very helpful host. This apt is located in a nice neighborhood with lots to do near by. I love this location because it's close to the beach, downtown, and the St. Augustine amphitheater. I would definitely recommend Traceys place.
Cassidy
2017-04-02T00:00:00Z
Great place for us (4 adults) to stay while we visited St. Augustine. Tracy's place is very convenient - a 10-15 minute drive from downtown St. Augustine and a very short walk to the beach which is absolutely is beautiful.
Susan
2017-02-24T00:00:00Z
Tipo de Acomodação
Casa inteira/apto
---
Tipo de Imóvel
Apartamento
---
Acomoda
4
---
Quartos
St. Augustine, Flórida, Estados Unidos
Steps away from restaurants, library spa and bakery, 10 minute walk to the beach and 10 minute drive to historic downtown saint Augustine!
I had a nice stay at Claudine's. She was really nice and was quick to respond to my questions before I arrived. Her place was spacious, clean and close to the beach. A great location and nice neighborhood.
Pamela
2017-03-21T00:00:00Z
Claudine was a great hostess, very nice and gracious. Her home was very clean and inviting. She knows the area very well and gave us great tips. Downtown St Augustine is a 10 min drive max and her home is maybe 2 minutes from the beach. would highly recommend.
Heerali
2017-03-13T00:00:00Z
quiet and cozy room, we had a nice breakfast. Claudine is very friendly.
Anny
2017-03-16T00:00:00Z
Great place to stay! Had a great time. Claudine was amazing.
Rag
2017-03-15T00:00:00Z
Tipo de Acomodação
Quarto inteiro
---
Tipo de Imóvel
Condomínio
---
Acomoda
1
---
Quartos
Saint Augustine Beach, Flórida, Estados Unidos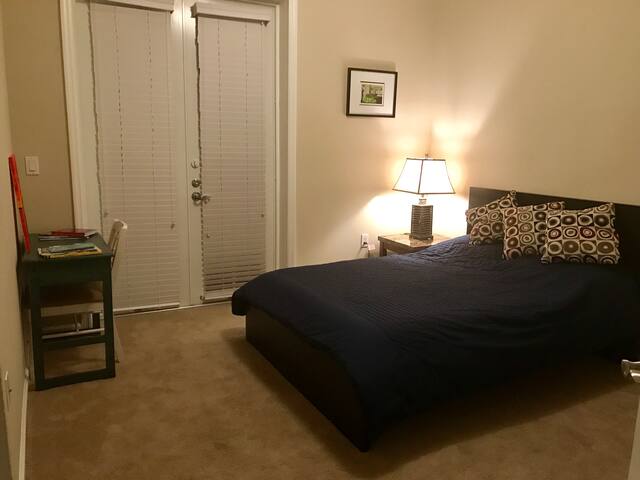 Beach life awaits for you at this cozy retreat in the heart of Anastasia Island. Steps to the beach, fishing pier and local restaurants. Come home and relax in our private courtyard under the gazebo with a bonfire on chilly nights.
The close proximity to the beach and nightlife yet private secluded getaway. Enjoy one private bedroom with en suite bathroom next to a nice living room the other private bedroom has two twin beds and private bathroom is available at a discounted rate.
this was a very clean comfortable accommadtion. Dinah and Alex were amazing and gracious. They made our stay so comfortable we could not have asked for anything better. we highly recommend Dinah's place
Cindy
2017-03-31T00:00:00Z
Dinah and Alex are attentive, warm, and compassion hosts. The room was spacious and immaculately clean. Just a easy drive to downtown St.Augustine. wonderful inexspencive breakfast place right next door. One block from the beach and you'll love the back patio. What more could you ask for? Highly recommend
Robin
2017-02-03T00:00:00Z
We had a such a great time at Dinah's place. Her and her husband were most helpful in guiding us around town. This was our first time staying in a private room and it went about as well as I could hope. We would definitely stay again if were back in St.Augustine.
David
2017-04-02T00:00:00Z
Dinah is an absolutely amazing hostess. The room was quiet, private and perfect and the location can't really be beat for St Augustine beach front.
Tara
2017-02-26T00:00:00Z
Dinah and her family were great hosts. The location is right on the beach, and within a short drive/Uber to downtown. My partner and I loved our stay, and we'd definitely come again!
Benny
2017-02-12T00:00:00Z
Alex & Dinah went out of their way to make us comfortable in their home. From homemade fennel sausage to bacon & egg wrap the next morning. Comfy bed, fab outdoor patio, across the street from the beach & next to several local eateries. If you are going to the Anastasia Park, this is the perfect location to stay.
Tina
2017-03-18T00:00:00Z
Dinah and Alex are really great hosts who will go out of their way to make sure you have everything you need, and the room/house is absolutely lovely. Also, the beach is just across the street!
Michael
2017-03-13T00:00:00Z
Dinah and Alex were very welcoming and kind. Great location! Little Margie's FA cafe next door is great!
Barbara
2017-02-25T00:00:00Z
Tipo de Acomodação
Quarto inteiro
---
Tipo de Imóvel
Casa
---
Acomoda
2
---
Quartos
St. Augustine, Flórida, Estados Unidos
Welcome to 1st Street Retreat a newly updated open concept dog friendly apartment, 1 block to beach and withing walking or bike riding distance to all the local restaurants.Keurig coffee machine & coffee. Free WIFI & Premium Cable TV, fresh linens, towels, kitchen & bathroom amenities. Outside retreat consists of a private entrance, fenced in yard with grass area for your dog, outside shower, BBQ, table & chairs, propane fire pit with chairs. We also provide beach chairs, etc
Also good for seniors, ground floor no steps.
Great neighborhood, close to everything
Centrally located. Walking distance to many restaurants and easy jaunt to beach. Clean, spacious apartment with everything you need from kitchen supplies (most importantly coffee!), to extra bedding, and bathroom towels and toiletries. She even has beach towels. Nice outdoor space to have coffee in the morning or cocktails in the evening.
Chris
2017-04-02T00:00:00Z
Great location, cute place, super stay!!
David
2017-03-26T00:00:00Z
Tipo de Acomodação
Casa/apto inteiro
---
Tipo de Imóvel
Apartamento
---
Acomoda
2
---
Quartos
St. Augustine, Flórida, Estados Unidos
Relax in this cozy inlaw apt with private entrance & private parking NEXT door. It boasts new appliances & features a Japanese soaking tub (& walk in shower). Conveniently located 1 mile from the beach and 4.5 miles from historic downtown. Welcome!
The apartment is on the first floor at the back of a two-story home. There are occupants upstairs and some sound is transmitted. If you are a very light sleeper, this may not be the place for you. Or bring earplugs just in case. We recently installed carpet on the hardwood floors upstairs which seems to be softening the footsteps. You have your own private parking next door that leads to your private entrance at the back of the house. Although cozy, the apartment is actually quite spacious with over 600 square feet. What it lacks in panaramic views (only woods and a trampoline), it makes up for with convenient location. You should be comfy in the king-sized bed and there is a collection of paperback novels to read or swap.
Quiet single family home-type neighborhood with lots of trees. Walking distance to library, post office, Italian restaurant, wine shop (free wine tasting Fridays from 5-7), coffee/cupcake shop & smoothie shop in Seagrove Town Center. One mile to the beach, 2 miles to grocery stores and the St Augustine Amphitheater, 4.5 miles to historic downtown. Island Life is about a half mile away and rents bikes.
Heather was very attentive, helpful, and quick to respond to any of our questions. The place was super clean, cute and relaxing. Very modern and updated, yet cozy. It was about 10 minutes away from downtown Saint Augustine and 5 minutes away to the beach. Location was very central to everything, yet tucked away from the crowds. We would most definitely stay here again.
Cindy
2015-11-01T00:00:00Z
Our stay here was great! Extremely cute apartment, exactly as pictured. It was super clean and the location is amazing! Heather is extremely accommodating and we felt right at home. I would definitely recommend staying here if you're planning a trip to the oldest city!
Leah
2016-06-21T00:00:00Z
Very nice apartment, great bathroom. Heather and Dan were very communicative and made for an easy stay at the beach. We highly recommend!
Mike
2015-10-04T00:00:00Z
Because I used to live in St. A, I knew that this was a great location at an excellent price. Upon arrival, we were impressed that the apartment was very clean and well maintained. It looked brand new and was more open and spacious than we'd imagined from the pictures. We had an excellent 9 day stay. Heather and Dan were excellent hosts. You could never find a place nearly as nice near this price range. What an excellent deal.
Laura
2016-01-01T00:00:00Z
Great place to stay in a good location. Very cute little condo with all of the amenities.
Alexandra
2015-09-24T00:00:00Z
I had booked this for my future in laws. They said Heather & Dan were very sweet and accommodating and had a very enjoyable stay. I know this is a second hand review, but they said they had a great time.
James
2015-09-21T00:00:00Z
We returned to Heather and Dan's cottage as we awaited the final closing on our new condo in St. Augustine, Florida. We came back because we were so well treated there in our previous week. Consistency is a virtue and the second week there was just as perfect as the first. Heather and Dan are the perfect hosts, and the cottage is wonderfully well appointed. We believe it is the best bargain in the area. Thanks again, Heather and Dan! From Dennis and Betty
Dennis
2015-10-24T00:00:00Z
Apartment as described. Very nice and clean. Bathroom first rate! Burhnells very nice people. Location a couple of quick miles from everything
Ellen
2016-01-29T00:00:00Z
Tipo de Acomodação
Casa inteira/apto
---
Tipo de Imóvel
Apartamento
---
Acomoda
3
---
Quartos
Saint Augustine, Flórida, Estados Unidos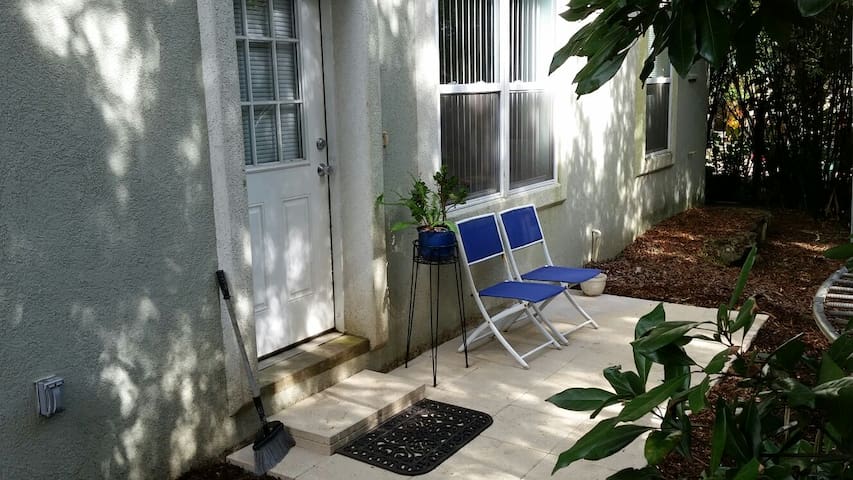 The apartment is one side of our duplex, all on the ground floor, in a pleasant residential neighborhood. It's a 6 block walk to the beautiful Anastasia Island white sandy beaches and fun A1A Beach Blvd. where you'll find a variety of restaurants, coffee shops, surf shop/bicycle rental, bars, and grocery store. There's also a library and post office nearby and the Saint Augustine Beach Pier/Farmer's Market . Within 5 miles are the Alligator Farm, Lighthouse, and historic downtown St.Augustine. . You'll love my place because it's fresh and tidy and right in the heart of one of the most beautiful and best loved towns in our nation. .
It's newly remodeled, bright and cheery. The perfect home-away-from-home after a family outing at the beach or downtown.
It's a friendly walkable/bike rideable neighborhood. Lively during the day and quiet at night.
We had a really great time at that lovely condo. Both bedrooms were very big with comfortable beds, the kitchen was excellent equiped as well and the living room was very big and nice to stay even with 4 people. The bathroom could have been a little bit more bigger, but it was sufficient. Hilly is a very nice person who tries to fulfill every wish you have. We will definetly try to return to that wonderful place with the tremedous beaches.
Ina
2017-04-03T00:00:00Z
I had a wonderful stay in St Augustine at Hilly's place. Hilly was very accommodating. She and her daughter could not have been more helpful. The house is open and airy and it is decorated very tastefully. I thoroughly enjoyed my stay in St Augustine and at Hilly's place. The house is located on Anastasia Island and it is close to the beach, the pier, many good restaurants, and a grocery store. It is also just a short drive to the historic part of the city. Thanks, Hilly
Janice
2017-02-28T00:00:00Z
We visited St. Augustine for the first time with our 7 year old daughter and almost 2 year old son. Staying at Hilly's place made it that much more awesome. The house is clean. She had coffee, tea, sugar and creamer for us to use. Hilly, even checked in if we'd like milk or half n half ahead of our arrival. She provided us with two beach cruisers, one with a two child trailer. Access to the beach from the house is within walking distance. And she let us know when to watch for the full moon rise. We really enjoyed watching the moon rise on the ocean.
Sharif
2017-01-15T00:00:00Z
Hilly and her daughter were wonderful. Walking distance to a beautiful beach, the place was clean, the beds and pillows were SO comfortable. Hilly provided coffee and tea. It also had a cool a/c and cable tv which was nice for our little one. We had a wonderful stay!
Faith
2017-03-12T00:00:00Z
Great location to walk or bike to the beach and drive to see the sights. Very clean with a great layout inside.
Rory
2017-03-17T00:00:00Z
Hilly's place is beautiful and comfortable! She offers many amenities we rarely see at other BnB's. hilly is friendly and helpful. It is an easy walk to the beach and an easy drive to the historic district. We will stay here again!
Kay
2017-03-26T00:00:00Z
Excellent location, spacious home for us to spread out for the week. All the things we needed for our stay, grocery store real close, beaches and beaches to chose from. Clean, friendly, private, quiet, well worth the money!! We will definitely be back!
Dani
2017-03-05T00:00:00Z
Good value
Donovan
2017-01-08T00:00:00Z
Tipo de Acomodação
Casa inteira/apto
---
Tipo de Imóvel
Casa
---
Acomoda
4
---
Quartos
St. Augustine, Flórida, Estados Unidos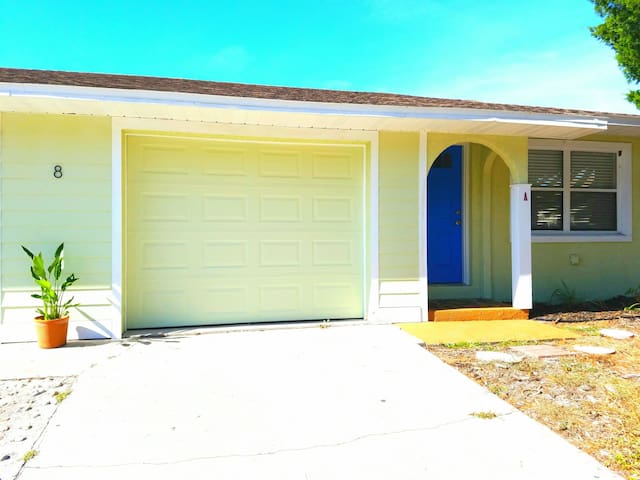 Our place is 30 yards to the gorgeous St Augustine Beach, restaurants and dining, great views. You'll love our place because of the coziness. My place is good for couples, solo adventurers, and business travelers. Beach life awaits for you at this cozy retreat in the heart of Anastasia Island. Steps to the beach, fishing pier and local restaurants. Come home and relax in our private courtyard, have a few cocktails under the palm tree and relax.
You will be 30 yards to the gorgeous beach and the famous BeachCombers restaurant. Many restaurants all walking distance. Opposite you can go to Mango Mango's and next door to Stir It Up Cafe.
So many great restaurants all walking distance. Coffee shops and Icecream all nearby. Library and post office in Seagrove - 5 mins by car.
The perfect balance of accommodation and privacy. We were warmly welcomed into the beautifully appointed room provided with all the amenities you could need and more. The location could not be more perfect: a short stroll to the ocean, restaurants, and beach bars. But with such a beautiful courtyard, we found ourselves chatting for hours just outside the room with the sound of the waves in the distance and a cool breeze blowing off the water. We are very much looking forward to another visit to explore more of what St. Augustine and Paradise Found have to offer. Even with great tips from Kiran of where to go and which sites to prioritize, there is just too much to take in on a short holiday. Simply fabulous.
Heather
2017-03-26T00:00:00Z
Paradise Found is a wonderful stay in the middle of St Augustine Beach. The accommodations are very clean and comfortable with a private entrance and parking. The owners are absolutely wonderful people. There are private areas for personal use as well as a Widows Walk with a beach view. There are restaurants within walking distance as well as the beach. You will not be disappointed.
John
2017-03-19T00:00:00Z
It is clean and comfortable and the location is perfect! The hosts are very sweet and friendly and I would recommend this to anyone.
Gabrielle
2017-04-06T00:00:00Z
Greatest People to have as a Host...Will we be going back again.
On Point Farms
2017-04-03T00:00:00Z
This is a great beach house located just steps away from the beach, restaurants and even a little night life. Kiran and Marion were wonderful hosts. As I told them, we felt as though we were staying with family because they are so warm and generous. But unlike family, once you're checked in and they're sure all is right, they leave you alone! If you're looking for a cozy place to stay close to the beach with a laid back attitude, then this is your place!
Suzie
2017-03-12T00:00:00Z
The location is wonderful as you're near shops and better yet the beach! I had a great time during my stay and the room was just as described.
Andy
2017-04-01T00:00:00Z
Staying at this location was way better than we ever expected. Our hosts were the kindest people willing to offer suggestions and advice. Our room was prepared with anything we could ever need, including cereal and milk in the fridge! The beach and restaurants within walking distance were amazing and I am wishing I was there in this spectacular town again. I highly recommend this room.
Anna
2017-03-24T00:00:00Z
Tipo de Acomodação
Quarto inteiro
---
Tipo de Imóvel
Casa
---
Acomoda
2
---
Quartos
Saint Augustine Beach, Flórida, Estados Unidos
Walk out onto the beach, to the bars, the pier, and even to great breakfast locations. Fully loaded with everything for a beach vacation, even beach totes, chairs, canopies, kayaks, surf boards, kites and yes even a metal detector. This is a ground floor completely separated apartment (converted home). Clean! Beach ready, family friendly, pet friendly, and especially "walking friendly". Responsible parties or large groups are easily accommodated, just communicate your needs=0) -Trailers/RVs OK
This apartment home is designed for the beach and being able to just walk around. The master and second bedroom have queen beds, with Bedroom 3 a full size and Bedroom 4 a pair of twin beds. The sofa in the main living room has a pull out bed for 2 people. There are 2 full baths. We have washer/dry & dishwasher + supplies, plenty of towels, dishes, microwave, toaster oven and other typical kitchen supplies (fridge/freezer of course). Extra linens are also supplied. Flatscreen, Wifi, Chromecast w/Sling & HBO Now, Hair Dryer, Iron + Ironing board, rolling cooler and mesh bags for toting beach things. You'll find a key to the outside shed with bikes, folding beach chairs, surfboards, kayaks, kites, boogie boards and nerf balls. The home is pet friendly contingent upon being housebroken, and up to date with all vaccinations and flea/tick prevention. The county also has a leash law. We have an available dog sitting and dog walking service available on request for a small fee. There is a small grill outside, but it is up to you if you want to refill the propane or use charcoal to grill (although it may have gas or charcoal already there.). Instructions for propane swap will be there (easy).
Extremely friendly neighbors. You'll find walking down the sidewalk or the beach equally charming and visitor friendly. This house is on its own lot, with a vacant lot buffering the public parking lot along A1A and the rental. This puts a little distance between you and the nearest neighbor, although we've found the neighborhood to be very receptive to visitors and overall a great vibe.
Tipo de Acomodação
Casa/apto inteiro
---
Tipo de Imóvel
Apartamento
---
Acomoda
10
---
Quartos
St. Augustine Beach, Flórida, Estados Unidos
Pool access included in a spacious, clean, modern home right on Anastasia Island in St Augustine! Wifi, basic cable, coffee/tea, bottled water, fridge and kitchen access are all standard accommodations for my guests.
Nate was very welcoming. He offered a cold beverage and we sat and chatted for a while upon arrival. He was a gracious host and he keeps a meticulous home. Very convenient location for the beach, shopping, or just relaxing.
Michael
2016-08-05T00:00:00Z
Very nice place. Very kind host. Nathan gave good info about the area and help us out with a lost key issue we had.
Chance
2016-09-25T00:00:00Z
awesome place, awesome guy, rockstar.. thx brother..
Matt
2016-09-08T00:00:00Z
Nathan was there when we showed up. He made us feel at home and showed where everything was. The back porch is a nice area to sit and relax.
Walter
2016-10-02T00:00:00Z
We had the best time staying at Nathan's house! The property is beautiful and right near the beach. It was perfect for the relaxing weekend that we needed. Very gracious and helpful host. Thank you!
Katie
2016-07-23T00:00:00Z
This was AWSOME Nathan was a great host! The place was neat, just like on the pic's. Nathan was really kind and showed some things to do in St. Augustine also a great recommendation were to have dinner. Uber drive to the center about $8
Daphne &
2016-09-23T00:00:00Z
Nathan was a great host! His place is even better in person that what you see on the pics, simply amazing! Super well located at walking distance from the beautiful beach, the house is beautiful and Nate treats you as a VIP. Everything was super clean and nice, he even had new soap bars for us, made us feel as a five star hotel. His local food and drink recommendations where all great as well, definitely a great (if not the best) option when visiting St. Agustine.
David
2016-06-18T00:00:00Z
Nathan was a gracious host and we enjoyed our stay. The bed that we slept in was rickety (the headboard and frame). The mattress has seen it's better days. We woke up and both were in "v" of the mattress. The mattress needs replacing.
Christine
2016-07-30T00:00:00Z
Tipo de Acomodação
Quarto inteiro
---
Tipo de Imóvel
Casa
---
Acomoda
2
---
Quartos
St. Augustine, Flórida, Estados Unidos
The Beachside Bungalow is a 3 minute walk to the beach. It's a minute walk to Beach Blvd which has numerous restaurants, bars and shops along it. Historic downtown St Augustine 10 minutes away by car. On the way you will pass the famous Conch House Marina. The neighborhood is an eclectic group of young professionals, families and retirees. It's a place people seek to live. You will love the location which can't be beat as it is close to everything you'll need for a fantastic holiday getaway.
Great place! Very clean, neat and comfortable. Very convenient, quiet location. Close to the beach!
Marc
2016-09-15T00:00:00Z
The beach bungalow was great! Easy walk to the beach and all the restaurants along the A1A stretch and an easy 15 minute ride to charming downtown. Rented an umbrella at The Pit, posted up on the sand and relaxed the week away.
Dave
2016-07-16T00:00:00Z
Chris was extremely responsive anytime we needed him. He told me the procedure to check in once I arrived as well as sent me a list of things to do in town. On our second day there was a minor plumbing concern in the shower and he responded immediately and called a plumber to come out that very day! He required very little from us in the way of checking out and insisted he was happy as long as we were happy! Which we were! We will definitely stay here again in the future! It was a very short walk to the beach, the home was extremely comfortable and because there is a washer and dryer we arrived home with all of our laundry clean!! There is pretty much everything you would need in the kitchen for cooking and the bed and couches are comfortable. Thanks Chris for a great place to stay on our vacation!
Kimberly
2016-11-13T00:00:00Z
Nice apartment nearby the beach, clean. Enough space for two. Chris responded immediately.
Petra
2016-08-18T00:00:00Z
Just as described. Short walk to the beach.
brian
2017-01-20T00:00:00Z
Our stay here was great. It was clean and comfortable and had everything we needed to have a relaxing weekend at the beach.
Teresa
2017-03-20T00:00:00Z
The pictures do not accurately describe the place. It is even nicer than expected! Small but cozy. Perfect for a couples getaway. Right next to the beach and a quick Uber to downtown. Chris was very helpful with suggestions for places to eat and hang out. And very quick and responsive to any questions I had. Overall a five-star experience.
Anthony
2016-08-28T00:00:00Z
Chris was great. The bungalow was great, just as described. Neighborhood was good. Felt safe. Very close to the beach and close to historic St . Augustine.
Judy
2016-11-06T00:00:00Z
Tipo de Acomodação
Casa/apto inteiro
---
Tipo de Imóvel
Condomínio
---
Acomoda
2
---
Quartos
St. Augustine, Flórida, Estados Unidos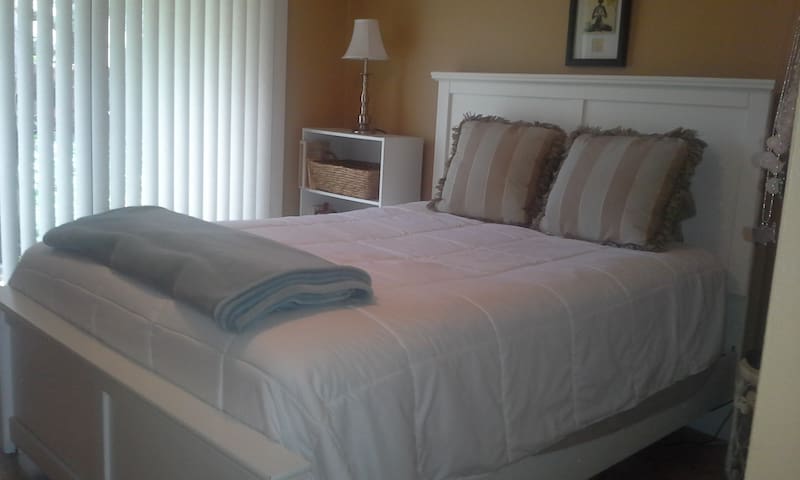 Coastal chic Queen bedroom en suite. For the more mature vacationer, who is looking for that something 'special' in a stay by the beach. Old Oaks with Spanish moss will greet you, so coastal yet oh so peaceful! Crisp linens; Fluffy towels; Toiletries supplied; Cable television; Coffee/Tea maker, Fridge; Wifi; Parking; Pool; Patios; Guest lounge. European breakfast; Welcome aperitif. A 'quiet interlude' or a 'romantic escape' is what we offer. Beach, restaurants but a stroll away.
Brand New, Elegant & Charming - Coastal Chic Décor - Queen room en suite. Including European style breakfast. Charming bathroom with overhead shower. Cable television & WiFi. Ceiling fan. Private outlook onto old oak tree with hanging moss. The Queen room is located on the second floor, and only suitable for people who are able to climb stairs easily. We also have a King bedroom with private bathroom available, located on the first floor, which is also advertised on the Airbnb site. The Queen is $125 a night, the King is $145 a night from April 1st. Both rooms include a European style breakfast, Fresh cut flowers in the room, a 'Welcome Cocktail' on the day of arrival, and Beach/Pool towels are provided.
Situated in a charming, quiet and peaceful setting, old Oak trees with Spanish moss draped over their branches. And yet just a few minutes walk to the wide sandy beaches and wonderful restaurants of St. Augustine Beach. While only a 5/10 minute drive away is the excitement of the attractions and shops of historic St. Augustine. Whatever you feel like doing, be it relaxing by the pool or visiting the Alligator Farm. Or if you are feeling energetic, climbing to the top of the St. Augustine Lighthouse.....or a quick game of tennis at the public tennis courts just a few minutes walk away. Perhaps a stroll down to the beach and indulge in an ice cream from Rita's is more your style.....! A few minutes away is the Anastasia State Park where abundant wild life can be seen as you clamber over the ancient sand dunes. Maybe surfing is your sport of choice or deep sea fishing.....possibly a round of golf or two!! No matter what your interests or passions are, you will find them here in St. Augustine Beach. The location couldn't be more perfect, with everything at your fingertips..... Less than a two hour drive to Orlando or the Kennedy Space Center. An hour's drive to Daytona Beach.... All the shopping you could want and more at the St.Augustine Outlet Mall or a short drive into Jacksonville to St. John's Town Center for the designer boutiques. If you wish to venture further afield, less than three hours away is Savannah, Georgia with all of its southern charm.
Heather's home was beautiful, clean, and comfortable. She provided a beautiful breakfast spread every morning, and was even kind enough to pack us a care package when we had to leave for the airport early in the morning. We will definitely stay here again the next time we visit St. Augustine and would happily recommend this Airbnb to friends and family.
Molly
2017-03-13T00:00:00Z
We can not begin to express just how wonderful this place is. A beautiful new home with less than a 10 minute walk to the beach and a 10 minute drive to downtown St Augustine, couldn't be a better location. And Heather goes above and beyond to welcome you into her beautiful home, from a welcome cocktail hour, to the beautiful coastal decor, to the wonderful breakfast, it was really more than we could've ever imagined. Beautiful rooms, comfortable beds, plenty of privacy but Heather is so warm and kind you want to include her in your trip! The most amazing place for anyone looking to spend a birthday, anniversary, or just a little relaxing getaway!!
Michelle
2017-02-12T00:00:00Z
Lovely home with a restful beach environment. The home was within walking distance of the ocean. We felt so relaxed and well take care of. Would highly recommend this home.
Bruce
2017-01-15T00:00:00Z
Wonderful home, charming and witty host (Heather) who pays impeccable attention to the details. The room was very comfortable, clean and quiet. Breakfast was fabulous. This was an amazing jewel of an experience in the Air BnB world!
Jamie
2017-03-28T00:00:00Z
Staying at Heather's elegant, upscale home was like being enveloped in a warm bubble of gracious hospitality. Looking back, I can't believe how I originally struggled with my decision of whether to stay in town or just a bit farther out and near the beach. I am so glad that I decided to stay in Heather's lovely home. Her place is just a short drive from downtown St. Augustine and a mere 6 minute walk to the wide expanse of soft white sand beach on Anastasia Island. The experience that Heather provided was such a perfect complement to the beautiful natural surroundings. She is a consummate hostess who has thought of your every possible creature comfort: amazing, fluffy towels- check; soft throw rugs to sink your toes into-check; comfy bed with piles of beautiful pillows-check; delicious gourmet breakfast along with a daily cocktail hour- check and check. I really can't imagine anything that could have made this stay better. I was able to relax in a welcoming, inviting environment by the sea and I can't thank Heather enough for that.
Alicia
2017-02-06T00:00:00Z
When we arrived she greeted us and immediately made us take off our shoes. Made me feel like I couldn't touch anything or really be in the house because she's so particular . Her home is beautiful clean and very close to the beach. But made us be home by midnight and told us breakfast is mandatory. So if you really don't mind having a curfew or don't mind waking up every day by 8 than that's great for you. But me and my boyfriend worked for months to have great vacation away. The first night we had tickets to a concert at the local amphitheater. I informed her that we would be home past midnight and she said it was unacceptable. I was really nice and said if it would be a problem we can get our stuff and go. And she said "okay". So she didn't go above An behond to make us feel welcomed or at home. I felt like I was in my grandmothers house and had to be on my best behavior. She then Packed our bags touched and went through all our stuff. Had it out the door when we got there. Never once tried to make things right. Just kicked us out at 12 at night and we had to sleep in our car. Would not recommend this place if you remotely like to live life.
Macie
2017-04-02T00:00:00Z
Heathers place was the BEST! Our stay was exquisite! Heather makes you feel right at home. The house was very clean and beautifully decorated. Breakfast each morning was fresh and delicious and served with a smile. Our room each day was cleaned up when we arrived, towels washed and floors vacumed. Definitely a wonderful place to stay when visiting Saint Augustine! We will be coming back to stay again with Heather!
David
2017-03-19T00:00:00Z
Heather is amazing! if you are looking for a nice place to relax, this is the place to stay. She had a beautiful table set for us to have breakfast every moning, would give us recommendations on dinning and sightseeing and even had dom tourist magazines for us to browse through. Everytbing was very clean and tidy.
JOrge
2017-04-08T00:00:00Z
Tipo de Acomodação
Quarto inteiro
---
Tipo de Imóvel
Casa
---
Acomoda
2
---
Quartos
Saint Augustine Beach, Flórida, Estados Unidos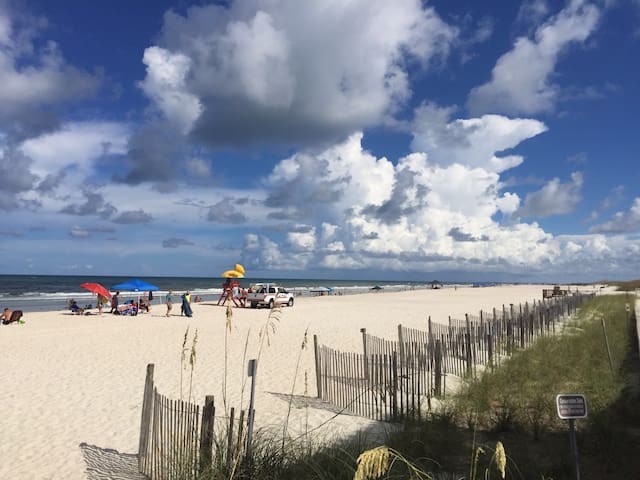 Our newly renovated studio is on a quiet cup-de-sac, one block from the beach! It is one side of a duplex and perfectly located walking distance to restaurants and dining, family-friendly activities, nightlife, and public transport. It is a short drive to historic downtown St Augustine. The neighborhood is quiet and safe. My place is good for couples, solo adventurers and business travelers.
A studio setup with all the amenities! Queen Bed, couch, kitchen with stove top, oven, microwave and fridge.
We are so close to the beach, across the street from the pier, restaurants, the state park and more!
We had a great time at Nicole's place! What an amazing location...only 1 block from the beach and a 10 minutes drive to Historic St George St In Downtown St Augustine! There are so many restaurants that are so close that you can walk to them! (Definitely try Salt Life 1 block over) Nicole is very easy to reach and always available to her renters!
Peter
2016-12-26T00:00:00Z
My husband & I stayed 6 nights at Sea La Vie Beach Studio. It was perfect for us. We were able to cook & grill our meals when we wanted to. The place is exactly as described. It's one block from beach & pier. Great places to eat out close by. It had everything thing you need. Great places to walk. Nicole was right on, with any questions we had.
Dianne
2017-01-01T00:00:00Z
We enjoyed our stay at the Sea la Vie studio. Everything was accurate to the description per AIRBNB. I would recommend it to friends or family for a place to stay in St. Augustine.
Macaulay
2016-12-19T00:00:00Z
Nicole's spot was very clean, simple, and in a great location. It was amazing being a block from the ocean. Lots of cute shops and restaurants within walking distance. It was perfect for me. Thank you!
Linseed
2016-12-22T00:00:00Z
Tipo de Acomodação
Casa/apto inteiro
---
Tipo de Imóvel
Casa
---
Acomoda
2
---
Quartos
St. Augustine, Flórida, Estados Unidos
Rainbow's End Beach House is close very close to the beach, restaurants and dining, great views, family-friendly activities, and art and culture. My place is good for couples, solo adventurers, and business travelers. There is a desk and a printer. There's a very nice deck off the master bedroom. Have your coffee, read (there's lots of books) or just have cocktails and relax.
My place has the living space upstairs which is wonderful in the morning bathed by the morning sun. The deck upstairs is great to bird watch or people watch or just relax. The grill is for your convenience and enjoyment. There's lots of books, board games like Scrabble, Trivia, Dominoes and Monopoly. The dining room table sits 6-8 people. The downstairs is very cool and relaxing with brand new beds very inviting to a great night sleep.
The best Airbnb, it felt like our home ! Hope to return
Doreen
2017-01-10T00:00:00Z
Rainbow'sEnd house is a beautifully appointed home. It is off the main road A1A in a quiet secluded neighborhood. Despite this you are within walking or biking distance of many restaurants. If you choose to cook in there is a Publix nearby. The beach is truly 2 blocks away with beautiful dunes containing wild grasses and flowers. The beach itself is wide and great for walking or jogging, since it was early March it was too cold to venture into the water. There was a hardy young man surfing. The house is pet and child friendly so it is a good choice for families. Come and enjoy St Augustine and have a great place to come back to at the end of the day.
Carol
2017-03-08T00:00:00Z
Super clean, close to beach, really homey and had everything you could ever need.
Holly
2017-03-16T00:00:00Z
Great place just a quick walk to the beach
Brett
2017-01-03T00:00:00Z
Great location, by the beach. Kitchen was equipped generously.
Iftach
2017-02-05T00:00:00Z
The host canceled this reservation 48 days before arrival. This is an automated posting.
Tyler
2017-01-29T00:00:00Z
Myra's place is quaint and in a perfect location. It's walking distance from the beach and from mini golf. However, my husband has a very bad allergy to mold and it flared up big time soon after arriving so if you have a bad allergy to mold you may want to be cautious. The kids and I had no adverse reactions though. Obviously, we have no guarantee that mold was the culprit for my husband's allergic reaction. So if you have never had problems with mold then you should have no issues at all :)
Mindy
2017-02-13T00:00:00Z
Myra was such an awesome host! We had our children with us and she had beverages in the fridge not to mention all amenities provided. The house was located so close to grocery stores, dinning and downtown St. Augustine. Will definitely book again!
Carrie
2016-07-26T00:00:00Z
Tipo de Acomodação
Casa inteira/apto
---
Tipo de Imóvel
Casa
---
Acomoda
4
---
Quartos
Saint Augustine, Flórida, Estados Unidos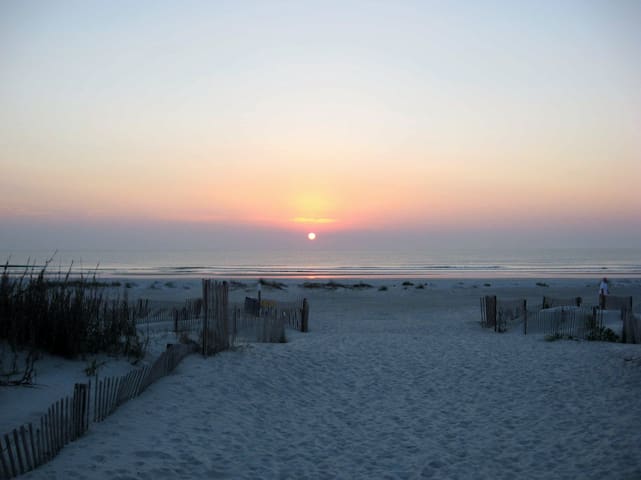 Space is light, open, with new kitchen. Upstairs apartment over a hair salon. Just steps to the beach and in walking distance to many fine restaurants. Shuttle available just across the street to go into downtown St. Augustine no need to fight the traffic. Peaceful & quiet at night.
Location, beach access, very clean, new kitchen & you can get your hair done downstairs! Great restaurant just across the street!
Friendly, busy but quiet neighborhood.
Jayne was a wonderful host. Her apartment was clean, bright, updated, and perfectly homey. It was located in short walking distance to the beach. Jayne made checking-in easy and was very communicative prior to my visit. She was patient with answering all of my questions, especially considering I was an Airbnb novice! I would happily stay at Jayne's apartment again.
Rebecca
2016-08-28T00:00:00Z
Check in and out was very easy. Nice large space. Just across the street from the beach. Chairs and umbrellas for guests to use. Host had wine as a welcome gift. Close to a few great coffee shops and a great taco stand that's open late.
Chris
2016-09-26T00:00:00Z
My wife and I had such a great time! We were celebrating our honeymoon and stayed at the apartment. Jayne was such a gracious host-she had a bottle of wine waiting for us! Thank you! This was my first time using this site and I loved it! Jayne responded to our questions right away. The apartment is very pretty and well kept! Definitely loved it and recommend it to anyone!
Noe
2016-07-17T00:00:00Z
We really enjoyed staying at Jayne's apartment! It was a very short (less than five minutes) walk across the street to the beach, and was also located in walking distance to restaurants, a gas station, ice cream, etc. The pier was about a ten minute walk and we got very lucky to happen upon it during a beautiful full moon which was a highlight of our trip! The apartment is only about 15 minutes from downtown St. Augustine. We spent two days in town and then two days at Jayne's apartment on the beach. If I were to do it again I might consider just staying all four days at the beach and traveling into town when desired, but we hadn't rented a car so it worked out fine for us. Because we were coming from a hotel downtown and didn't want to carry our suitcases around, we asked if we could drop our bags off or check in early. Jayne was super accommodating and we were very grateful! She responded quickly to our texts. Jayne provided a bottle of wine, towels, beach chairs, and a beach umbrella. The apartment was very clean and well taken care of. There were only two of us, but the apartment could definitely work for a family or group of friends as well. It's plenty big and has a nice kitchen if you want to cook meals while you're there. One note if you're a light sleeper- this is on a main road with somewhat heavy traffic. The windows from the bedroom face the street and there were cars that had really loud music and drove back and forth on A1A as we were going to bed. (I think they were pick up trucks with speakers in the bed of their trucks. No idea why.) This wasn't a problem for us because we're not light sleepers and we were so tired from the beach! I don't think there's anything Jayne could do to fix it, but just something to keep in mind if it might be an issue for you. Overall, we were glad we found this listing and would come back if we were in St. Augustine again! Thanks, Jayne!
Leah
2016-05-23T00:00:00Z
We had a wonderful time at Jayne's beach apartment! Jayne was very kind and accommodating, provided quick responses to all of our questions, and made sure that we were able to reach her if needed. The apartment was perfect! -Loved the space- adorable apartment, updated appliances/new carpet, parking was wonderful. Above the salon (wished we would have utilized this detail!), but very quiet. Areas to walk in the neighborhood. -Right across from the beach on A1A. Note: Jayne's place is in a perfect beach spot- further down are larger hotels and it looked more crowded as you go down the beach. -Jayne has beach chairs, a beach umbrella, and beach towels available -Within walking distance to restaurants/bars and grocery store down the street -Loved the complementary bottle of St. Augustine wine -Short drive to downtown St. Augustine -Trolly stop right outside if you should choose to do the historic tour -Also, we noticed a bike rental place just a few blocks down. We will probably do this next time! We could not have asked for anything else in an airbnb, and we would absolutely return to Jayne's!
Leslie
2016-06-06T00:00:00Z
My family really enjoyed our stay at Jayne's apartment. Very nice and clean. The apartment has a spacious living room and kitchen area. Bedrooms nice size. It was very private, and quiet. We did a lot of sightseeing around the St. Augustine area, and were just a short drive (10 minutes) to most things. So we were very pleased with our location. We didn't spend any time on beach other than a few short walks along the water, but, the apartment is literally across the street from the beach. the apartment is with supplied beach chairs, sunscreen and beach towels. Jayne was very helpful making our stay comfortable, and was just a phone call away if we needed anything. We had to cut our trip short by a day, and Jayne was wonderful in handling our cancellation. She is a great host, and welcomed us with a bottle of wine. If we ever get back to the St. Augustine area, I would definitely rent this apartment again.
Mary
2016-04-13T00:00:00Z
Great experience with convenient location and excellent apartment.
Bradley
2016-07-13T00:00:00Z
This was our first AirBnB and we are now hooked. Jayne set everything up so we could enjoy our stay at the beach. She left a bottle of wine for us, as we were celebrating our anniversary. There are beach chairs, umbrellas, and the designated parking space was great. We had no problems at all and were able to compeletly relax. The apartment is over a salon but it was quiet and we heard nothing. The two bedrooms were very nicely decorated and clean. The bathroom and kitchen were also beautiful. We did not spent too much time inside (the beach is right outside) but the time we did was very nice. Jayne answered all questions we had before we arrived and quickly answered every little question we came up with. She also left out a guide to the city with multiple packets of information for anyone not familiar with the area, which was nice. Overall a 10 out of 10. We can't wait to come stay again
Thomas
2016-06-01T00:00:00Z
Tipo de Acomodação
Casa/apto inteiro
---
Tipo de Imóvel
Apartamento
---
Acomoda
4
---
Quartos
St. Augustine, Flórida, Estados Unidos
It's an end unit all on one level that has just been updated
What I Love about the neighborhood is that it is active and is in the heart of st augustine beach and oceanside and has an awesome vibe and variety of people. From families that live here full time, to Flagler College kids, to retired couples, and to a variety of visitors from all over the world. There are great spots to eat and entertain that are within walking distance.
Tipo de Acomodação
Casa/apto inteiro
---
Tipo de Imóvel
Apartamento
---
Acomoda
4
---
Quartos
St. Augustine, Flórida, Estados Unidos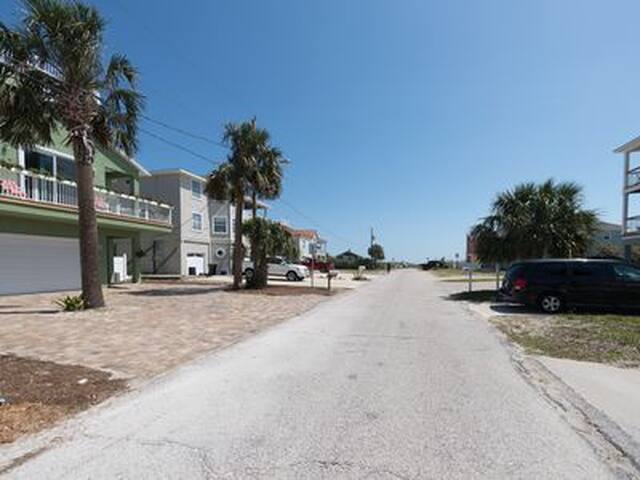 Ground floor condo is a few minutes walk to Anastasia Island State Park Beach, restaurants, and family-friendly activities & only a few min. drive to historic downtown. Perfectly located, clean & comfortable, our place is good for couples, solo adventurers, business travelers, families (with older kids) & furry friends (pets - if clean & well traveled, please contact prior to booking. - considered on case by case basis). TV is internet Apple TV & Fire TV with Hulu & Netflix & Basic Cable.
This is a nice residential community near the beach with a mixture of live oak trees as well as palm trees. It is quiet and friendly with a YMCA right across the street that sells visitor memberships for a nominal fee. Come live the island life!
I have a family with two boys ages 5 and 7. We loved the location! The pool was right there, and the beach and a park was a short walk away. The size was just rigt for our family. Would stay here again. Place was very clean.
Maggie
2017-03-14T00:00:00Z
Just stayed at Catherine's condo and it was exactly what we needed. It is a 7 minute walk to the beach, right around the corner from awesome restaurants and a short drive to downtown. The condo was well equipped with everything you need, the beds were very comfortable and the neighborhood was quiet. Loved staying here and would love to stay again!
Jamie
2017-03-25T00:00:00Z
Tipo de Acomodação
Casa/apto inteiro
---
Tipo de Imóvel
Condomínio
---
Acomoda
4
---
Quartos
Saint Augustine Beach, Flórida, Estados Unidos
Our guesthouse is a separate space in the back of the detached garage. We have a great location, blocks from Anastasia State Park with a great beach and 2 miles from historic downtown. You'll love our place because of the location and amenities. Our home is good for couples, solo adventurers, and business travelers. We have 1 rambunctious dog in the large backyard. We also have an outdoor cat, you will not likely see her as she is very private.
The space is about 400 square feet with a living room, bedroom and bath. Although a full-sized shower, the shower head is pretty low due to ceiling height. The kitchen offers a coffeemaker, full size fridge a microwave and a toaster oven.
We are 4 blocks from the back gate to Anastasia State Park. The beach there prohibits pets and does not allow cars on the beach. It is about 5 miles of pristine, undeveloped beach. We have a great restaurant for breakfast and lunch across the street. The best Italian restaurant in town is 2 blocks away.
Laurie's place is cozy and well located for a great time in St. Augustine. She provides the back-door code for getting into Anastasia Park which is reachable via the bikes she provides. If you stay on a Saturday don't miss the Farmer's Market, just down the road at the amphitheater. With a roomy shower, comfortable bed and great location, what more do you need?
Sandy
2017-01-22T00:00:00Z
Laurie and her family are lovely hosts. She is an excellent source of information on the area. My wife and I thoroughly enjoyed our weekend getaway, and when we St. Augustine in the future, we will be using there space again. Cheers!
Adam
2017-03-26T00:00:00Z
Laurie was so nice and helpful. She has a folder filled with good restaurants and directions to help guests out. Would definitely stay there again!
Lindsey
2017-03-24T00:00:00Z
This is a great location just 4 scenic blocks to the Anastasia state park where we biked to the beach daily. Laurie is friendly and always available to assist while also being unobtrusive, giving us plenty of privacy. This is a perfect place for a couple's beach get away.
Laurie
2017-03-02T00:00:00Z
This was an excellent experience. We were there to see a Bonnie Raitt concert at the sold out Amphitheater and ride bikes. The excellent location allowed us to walk to the concert, avoiding the big traffic tie-up and shortage of parking. We had a glass of wine poolside and then just walked over! Exactly 1 mile walk to where they took our tickets at entrance gate of Amphitheater. We were also able to ride our bikes right out the driveway of Laurie's place and a short distance into the back gate of Anastasia State Park. If you ride out the driveway through the gate, and ride every inch of the paved roads in the park, it is about a 7 mile ride. Wonderful! The place is lovingly immaculate and cute. It seems very new. It had everything we wanted. It is as described in the pictures. Laurie very welcoming and warm and pleasant. There was no issue with Hurricane damge in Laurie's neighborhood. We really enjoyed the hospitality and our stay.
William
2016-10-30T00:00:00Z
Great living space, 15 minute walk to the beach, 5-10 minute drive to St. Augustine historical area, very close to the Amphitheater. Cozy, quiet, and comfortable. The owners were warming and welcoming. Would suggest to friends and family.
Tom
2016-09-25T00:00:00Z
Great little cottage. Very close to the beach, and accessible to downtown. And using the bikes was amazing!
elizabeth
2016-09-09T00:00:00Z
We had a great trip at Laurie's. The accommodations were as described., we felt safe and secure. It was great to have a private entrance so it didn't feel like we were intruding on them. The location was very close to A1A, a short drive to old town. Parking is insane and crazy expensive downtown, so I would take advantage of the bicycles. Laurie supplies some unexpected things such as a Keurig, a couple waters, and small snacks. One thing to note is the shower is short so if you are tall you will be bending over to wash your hair. The unit feels like a mountains cabin with coastal touches. If we were to go back, we would definitely stay there again!
Jennifer
2017-01-02T00:00:00Z
Tipo de Acomodação
Quarto inteiro
---
Tipo de Imóvel
Hospedaria
---
Acomoda
2
---
Quartos
St. Augustine, Flórida, Estados Unidos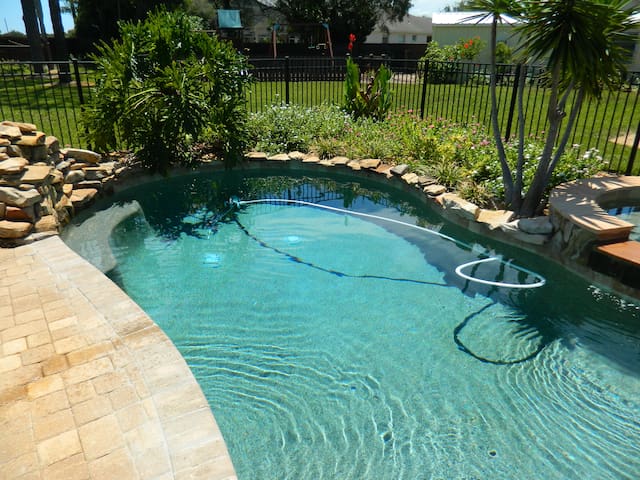 1

–

18

de

Mais de 300 Espaços para Alugar
Insira as datas para ver o preço total. Taxas adicionais serão aplicadas. Impostos podem ser adicionados.