We are located in the heart of Killington. Home to great nightlife in the winter and breathtaking views in the summer. You'll love our lodge because of the location, the people, and the views.
Nice and easy for our quick ski trip!
Joanna
2017-01-25T00:00:00Z
Good location close to the mountain. Would recommend.
David
2017-03-09T00:00:00Z
Great place in between mountains. Super affordable.
Nicolas
2017-01-27T00:00:00Z
Outdoor heated pool is the highlight.
Domenick
2017-02-17T00:00:00Z
It is a good place. A bit pricey but worth staying.
Vsevolod
2017-04-04T00:00:00Z
Perfect for a place to stay for skiing! The large hot tub was a life saver!
Eddie
2017-01-06T00:00:00Z
Amazing place, it was simply perfect for our ski season opener. Can't wait to be back!
Rafal
2016-12-04T00:00:00Z
Our room was exactly as described. We had plenty of pillows and blankets. We were offered extra towels so we could swim in the nice heated pool. Our host even had several recommendations of places to eat within walking distance. This was very welcomed, after a long day in the car.
Ben
2016-11-06T00:00:00Z
Tipo de Acomodação
Quarto inteiro
---
Tipo de Imóvel
Outros
---
Acomoda
4
---
Quartos
Killington, Vermont, Estados Unidos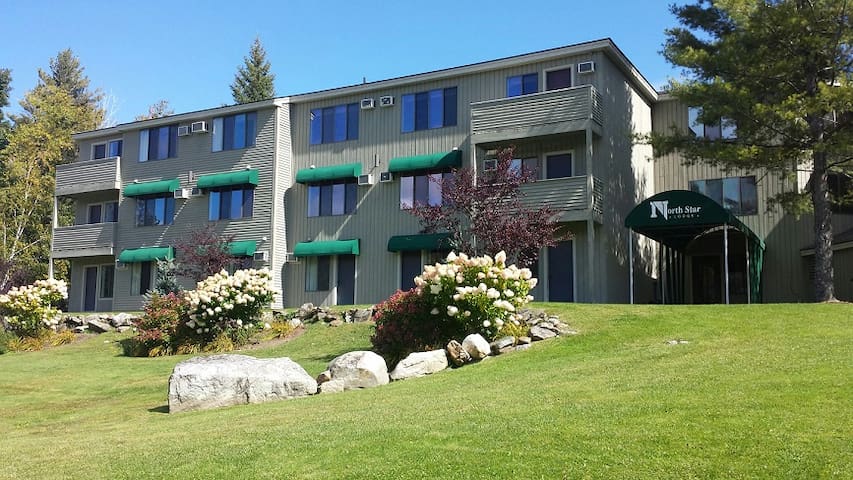 This newly renovated 2 bedroom second floor apartment is conveniently located just a few miles from Killington and is on the VAST trail for easy access to get on your snowmobile and go, right from your front door! This cozy space is also just steps away from Pittsfield's famous tavern, the Clear River Tavern. This space is also located within a mile from Riverside Farm, one of Vermont's top wedding venues and the Original General Store of Pittsfield with The Backroom located just behind.
Heather is indeed the hostess with the mostess! She was very responsive, and there for us if we needed anything. Even bought our party a round at the bar, she's too kind! Great personal check-in procedure, stayed on top o everything. Provided us with great amendities, the apartemnet was extremelly clean and stil smelled brand new!
Gui
2017-02-26T00:00:00Z
Heather's apartment met all of our needs and then some! It has fun decor, room to spread out, and was only a 20 min drive to Killington. Heather was easy to get in touch with and made sure we were comfortable during out stay. The tavern on the property had great food and entertainment too. Would definitely come back again!
Kaley
2017-02-05T00:00:00Z
I rented this space with a few buddies for a ski trip to Killington and everything was perfect. A short 10 min drive to the mountain and a clean, comfortable stay as expected. The beds were nice and big with plenty of space in the rooms for all of our gear. She was easy to communicate with and helped us with all of our questions. She even bought us a round at the Tavern right near the room. If you stay you must stop by the food was great.
Brian
2017-03-26T00:00:00Z
Heather's place was great for our group. It was close to the ski resort, clean, comfortable, and spacious. She was very flexible with our arrival time and ensured that we were all set. She was also available anytime we needed her. If we were skiing in Killington we would def. stay again! Thanks!
Ryan
2017-03-12T00:00:00Z
Amazing place for a ski weekend! Highly recommend.
Rick
2017-04-02T00:00:00Z
Heather was the best host by far. The apartment is clean and comfortable and has everything you could need for a nice stay in Vermont skiing area!
Anya Marissa
2017-03-19T00:00:00Z
Great apartment, everything was new, beds were very comfy, well-appointed, 20 minute drive from Killington ski resort, free parking, walk-in closet, would highly recommend.
Tudor
2017-02-12T00:00:00Z
Heather's place exceeded all our expectations! The location was fantastic along with the place and Heather herself was a great host! She made sure all our needs were taken care of and ensured our stay was comfortable. Great communication. We can't wait to book her place again!
Adrian
2017-03-05T00:00:00Z
Tipo de Acomodação
Casa/apto inteiro
---
Tipo de Imóvel
Apartamento
---
Acomoda
6
---
Quartos
Pittsfield, Vermont, Estados Unidos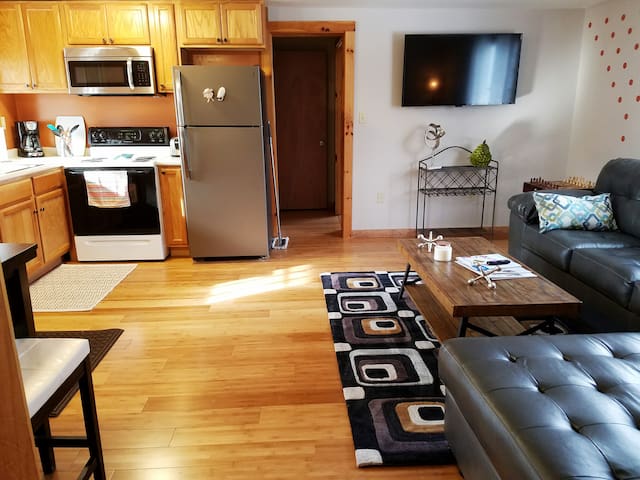 A spacious & comfy studio apartment overlooking the activity on a working Vermont dairy farm. Visit the barn during milking or relax with an album on the record player! Check out our hundreds of photos on Instagram or (SENSITIVE CONTENTS HIDDEN) at Wayward Goose Farm!
Come spend time in southwestern Vermont! We live on a beautiful dairy farm and we love to welcome guests to our home. We have a newly finished studio apartment above our attached 3 car garage waiting just for you! It is furnished with a comfy new queen sized bed and 2 new twin sized beds. A recently installed kitchenette and mini spice pantry enables you to prepare simple meals. Choose to dine inside at the cute little table or make it al fresco and take your meal out to the patio when the weather permits. We are happy to stock your fridge with a complimentary jar of our own fresh, raw milk, upon request and we'll also provide fresh eggs when the hens are laying! A full bath with stall shower is spacious, well appointed, and clean. Wireless internet is available but we suggest you relax with some good old board games. Little ones will have fun swinging and sliding on the newly installed wooden play set in the yard. We are definitely kid friendly! Guests have a private entrance but are welcome to enjoy our lovely backyard patio and porch. If you have ever wanted to experience life on a dairy farm, this is the place for you! Guests can partake of milking chores in the morning or sleep in and just enjoy the peace and quiet. Either way, you are sure to be charmed by your surroundings. We milk 25 registered Jersey cows twice a day, every day, and sell their rich creamy milk raw here on the farm. The bulk of it goes next door to Consider Bardwell Farm where it is made into their award winning aged raw milk cheese. We have a little farm store on sight from which you can also view our morning or evening milkings. Everything from our fresh, raw milk to our own beef and free range chicken, local jams and pickles, and Laurie's own hand printed T shirts and note cards are for sale in this self serve store. The surrounding area holds plenty of opportunity for adventure. The D&H Rail Trail runs literally through our backyard and is a perfect venue for birders and hikers alike. It is 22.3 miles long and is very popular among bicyclists, cross country skiers, horseback riders, walkers and joggers. Bring your binoculars, because we've spotted everything from bald eagles to scarlet tanagers on the trail, not to mention snapping turtles! Nature lovers can also partake of nearby Merck Forest, Haystack Mountain, and the Hebron Nature Preserve. Manchester, a mere 25 minutes away, is a very popular destination, home to numerous designer outlets, the Orvis fly fishing school and store, and the best book store in Vermont, the Northshire Bookstore. Weston, sight of the Vermont Country Store, is about an hour's drive away through some gorgeous mountain scenery. Glens Falls, and Lake George, NY are about 45 minutes and an hour away, respectively, to the west, while Saratoga Springs is just under an hour. The delightful Lake St. Catherine state park in Wells is about 15 minutes away and Emerald Lake state park in Dorset is nearby as well. World class fly fishing abounds in the Battenkill River and the Mettowee River. Burlington and all its enchantments is just under 2 hours north and the drive through Addison County, with the Adirondacks to the west across Lake Champlain and the Green Mountains to the east is absolutely breathtaking! If you are into great beer, we highly recommend Fiddlehead brewery when you visit, especially their Hodad stout! There are great farmers markets in nearby towns as well as unique shops, eating establishments and brew pubs throughout this beautiful state. There are too many attractions to do justice to here and we are centrally located to many nearby cities from Albany, to Saratoga, to Rutland and Bennington. Since it's only an hour away, we are frequent visitors to Williamstown, MA and its treasure, The Clark Art Institute and Mass MoCa is just a short hop away in Adams. Winter time provides numerous opportunities for top notch skiing with Bromley only 40 minutes away and Killington about an hour, to name a few. But the cross country skiing out back on the rail trail is what we are most enthusiastic about! No place is perfect, however, and we feel we must mention that our location here in Vermont's Slate Valley is home to unique geological features such as abundant slate formations. Because of this, as is common to many homeowners here, our well water does contain sulphur and while it has been adequately tested and is safe to drink, there can be an aroma that some people notice while others do not. We have installed a filtration system under the kitchen sink so its cold water is perfect for drinking with no sulphuric taste or smell at all. However, the water from the shower can, at times, still have a bit of a hard boiled egg aroma. If you are extremely sensitive to smells this might be something to consider. Most guests have no issue with the water but occasionally someone mentions it. We are happy to answer any questions you may have and look forward to hosting you. We do not discriminate and happily welcome all genders, ethnicities, colors, shapes, sizes, etc!
Ours is a quintessential rural Vermont neighborhood... our nearest neighbors are at Consider Bardwell Farm, whose silos are visible from our yard. It's an easy and enjoyable walk down the road, along the rail trail or even through our pasture. Once their you can take a tour or sample some of their award winning cheese. The road on which we are situated is very popular with bicyclists, joggers and walkers alike in good weather and the scenery is delightful all year round!
Great visit! Clean, welcoming, cool feeling. Laurie and Dan were friendly and made sure we were comfortable. Delicious, homemade breakfast (of course, fantastic, fresh dairy provided). Kids loved the games and record player music selection. I LOVED running on the 'rails-to-trails' path, which borders on their property and nicely shaded. We did notice the sulfur smell of the water, but it didn't bother us, and hosts provided plenty of bottled water. Would definitely stay there again.
Jody
2015-08-13T00:00:00Z
We really enjoyed our 4-day stay, and didn't want to leave :) Just being there, in this vast amount of open space, breathing fresh crisp air, gazing at the stars, going for walks, etc. felt rejuvenating. The apartment was very comfortable for the four of us (2 adults and 2 kids under 5), with plenty of board games to choose from, a nice collection of books and records, a small well-equipped kitchenette, clean bathroom, comfortable beds. The fresh cow milk was absolutely delicious! Our kids could not get enough of it. Dan and Lauire are kind and accommodating. We have learned so much from both of them about the intricacies of running a farm, and life in the region in general. All in all, it was a great change of pace from our stressful lives in the city. We hope to be back soon.
Julie
2016-06-15T00:00:00Z
Where do I even start?! Lori and Dan were very welcoming and were great hosts. Their place is exactly like the pictures and we were able to cook a few times using their kitchenette. We got to play with their three friendly dogs and watch the cows up close. Even though it thundered and rain one of the nights of our stay, it was very tranquil sitting on the porch and listening to the rain. We got a taste of their fresh cow milk and even got to milk one of the cows! One suggestion, if you're planning on booking this place in the summer and looking for a way to cool down, go to the Dorset Marble Quarry, the oldest in the USA! There's also a farmers market every Sunday along the way. I can't rave about this place enough. You just gotta book it! And hopefully we'll be back some day!
Jennifer
2016-05-31T00:00:00Z
Dan and Laurie are the perfect hosts. The room is huge above the garage. The fresh bread, granola, raw milk, yogurt and jam were perfect for breakfast. It was a great location for us taking our daughter to Green Mountain college which is about 20 min. away. I only wish we could have stayed longer. If you are in the area I would highly recommend staying here.
Jeff
2015-08-22T00:00:00Z
We had a wonderful stay at the farm! When we realized we would arrive quite late, Laurie was very accommodating. We arrived at the studio to find freshly baked bread, jam, yogurt, granola and orange juice. In the morning, Dan gave us a large bottle of fresh milk. We felt very welcome on the farm and really enjoyed exploring the property and seeing the animals. Looking forward to our next visit!!
Lily
2015-07-06T00:00:00Z
We had an excellent stay on Laurie and Dan's dairy farm! The property was beautiful and the space where we stayed was comfortable. Laurie and Dan were warm, friendly people who made us feel right at home.
Lisa
2016-06-09T00:00:00Z
We had a great time staying with Laurie and Dan on their farm in rural Vermont. The apartment is clean and charming, and the home-cooked breakfast was a highlight of our trip. We also enjoyed seeing how the cows are milked and meeting the day-old calf. Laurie and Dan were also very flexible with us having to arrive much later than arranged. Highly recommend!
Emma
2014-03-16T00:00:00Z
I had my elderly parents staying here, and Laurie an Dan greeted them warmly, showed them where everything was, and generally made them feel welcome and comfortable.
Jane
2014-08-09T00:00:00Z
Tipo de Acomodação
Casa/apto inteiro
---
Tipo de Imóvel
Casa
---
Acomoda
4
---
Quartos
West Pawlet, Vermont, Estados Unidos
A furnished efficiency apartment located on the second floor of a free standing garage. The property is on 8.5 acres with a river, two stocked ponds and boarders the Moosalamoo National Park.
A furnished efficiency apartment located on the second floor or a free standing garage. The property is on 8.5 acres with a river, two stocked ponds and boarders the Moosalamoo National Park.
Five miles from the Middlebury Snow Bowl Ski area. Nineteen miles to Killington. Great fishing on the property and even better hiking and cross country skiing right out back.
We had a wonderful time at Philip's. The area is beautiful , the bed comfortable , and the atmosphere was warm.
Mary
2016-09-17T00:00:00Z
Lovely area of Vermont.
Barbara
2016-08-09T00:00:00Z
We had a fine 7-day stay in this little apartment over a garage. It is nicely located near numerous walking trails on the west side of the main ridge of the Green Mtns, very near the pleasant town of Brandon and very near to Lake Dunmore. We particularly enjoyed the use of the nicely-landscaped grounds (we ate a lot of meals outdoors), the very comfortable bed, and the Dish TV and Wifi (which worked in the yard). Our five-star rating is reinforced by the very reasonable price.
Gayle
2016-07-09T00:00:00Z
This place is great if you're looking to day trip to Burlington, Stowe, Middlebury, or Montpelier! The apartment is secluded and up-to-date. Would definitely stay again.
Gina
2017-01-16T00:00:00Z
Le logement de Philip est très charmant et situé dans une belle forêt. Le coin cuisine est très petit mais fonctionnel et la pièce principale est grande et bien décorée. Philip a été accessible par textos durant mon séjour et a bien répondu à mes questions. Mon conjoint et moi avons beaucoup apprécié notre séjour et le coût de la location!!!
Amélie
2016-08-23T00:00:00Z
I found the loft to be as advertised: clean, cozy, and private. Phillip was on the whole communicative and had stocked the apartment with basic supplies and an excellent library. The kitchen is small but functional; basic cookware is provided but if you plan to get fancy bring your own. As noted by others the water is tinged with sulphur, but a filter is provided and this is hardly noticable. Consider this an excellent option!
Mike
2016-12-30T00:00:00Z
Our stay at Philip's was absolutely perfect. The apartment was warm and cozy, ideal for those cold VT nights! Everything was very clean, the bed was comfortable, and the location (surrounded by nature) was superb, so absolutely no complaints! The check-in and check-out were very easy, great for travelers coming in late or leaving early. We'd stay at Philip's place again in a heartbeat... !
Kalyn & Joël
2017-02-11T00:00:00Z
Clean, quite affordable retreat. Nice location for outdoor activities (hiking, biking skiing etc.). The local area gives you that Vermont feel. May not have cell service on the property for communication. I would recommend AWD or 4WD for winter stays.
David
2017-02-06T00:00:00Z
Tipo de Acomodação
Casa/apto inteiro
---
Tipo de Imóvel
Apartamento
---
Acomoda
2
---
Quartos
Goshen, Vermont, Estados Unidos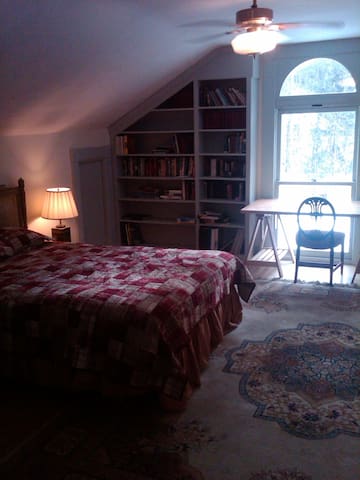 Butternut Hill Condo is located near Lake St. Catherine and sits on 20 acres. This two bedroom one bath condo has an open flood plan that will accommodate up to 4 people very comfortably. With a full kitchen, open dining room/living room area with wood stove, Dish TV and internet access. Bedrooms #1 has a queen bed and bedroom #2 with two twin beds, and one full bath. Why not enjoy the beautiful view while sitting on the back deck enjoying you morning or evening coffee, or sit by out by the community fire pit and roast marshmallows…You have access to a private scenic walking trail that leads down to the dock to enjoy the beautiful Lake Saint Catherine only a 5 minute walk. In the summer months you can soak up the sun at the outdoor pool. ****Please note the pool is only open during the summer season****. Marina, store with food, drink and boat rentals with in minutes of the Lake St. Catherine's golf course and the VT. State Park or 40 minutes to Great Escape Amusement Park and/or the shopping outlet's in Glens Falls, New York. In the winter you are 40 minutes to Killington Ski Area. Pets are considered and if approved a pet fee of $50 per pet will be applied to the reservation.
Tipo de Acomodação
Casa/apto inteiro
---
Tipo de Imóvel
Condomínio
---
Acomoda
4
---
Quartos
Wells, Vermont, Estados Unidos
Beautiful rustic log home situated only 1/2 hour to either Killington or Sugarbush Ski Resorts and is nestled in the Green Mountain National Forest with VAST and hiking trails nearby. Centrally located to many popular areas of Vermont, yet secluded for a quiet, relaxing getaway. Just 3 miles from town with wonderful cafes, a grocery and State Liquor store. The Great Escape is ideal for everyone. No cell signal/WiFi but nationwide calling on landline. Price does not include 9% Vt Room tax.
Friendly community.
The house was much more spacious than it appears in the pictures. The bedrooms, bathrooms and kitchen were supplied with everything you need! Tons of high quality cookware, which made it super easy to prepare all our meals from "home". The den with all the games, movies and wood burning stove was most definitely the highlight. Perfect house for a big group and a winter retreat. Make sure if you're driving up in winter you have all wheel drive. The backroads and streets up to the house can get steep. Thanks again to the hosts! It was an excellent stay.
Christiana
2017-02-12T00:00:00Z
The house is big and well equipped. Christine and Michael are very friendly, nice host. We had everything what we need. No network, but it was a plus for us:) Very relaxing.
Victoria
2017-02-26T00:00:00Z
Great cabin, very spacious and well equipped. Great access to multiple ski areas and hiking. Perfect for family get aways and outdoor enthusiasts.
William
2017-01-02T00:00:00Z
We had a wonderful stay at The Great Escape. It is a beautiful, well equipped house with scenic views all around. Christine is very friendly and a wonderful host. Also, the caretaker John is extremely helpful.
Viraj
2016-12-26T00:00:00Z
Johnna
2017-01-16T00:00:00Z
Christine's place was fantastic. Awesome location, close to top notch skiing and hiking. Can't think of a much better place in the North East to ski and hike.
Jennifer
2017-02-20T00:00:00Z
Tipo de Acomodação
Casa/apto inteiro
---
Tipo de Imóvel
Casa de campo
---
Acomoda
10
---
Quartos
Rochester, Vermont, Estados Unidos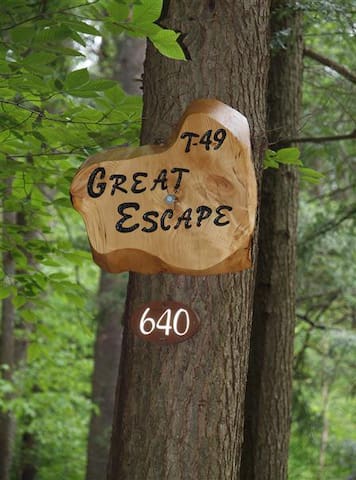 This turn of the century cabin just underwent a major renovation! Overlooking the mill pond with firepit and located in the middle of our maple sugaring operation on our private road, you'll enjoy hundreds of acres of private woods fields and trails for all types of winter recreation. Located less than 10 minutes for the Pico/Killington area, and just down the hill from Mtn. Top Inn. Our place is good for couples, solo adventurers, families (with kids), and furry friends (pets).
This cabin was originally located on our dairy farm near the edge of Chittenden pond as a summer guest cabin. In the 60's it was winterized and moved to the edge of our sugar woods as a ski rental for the exploding Killington Pico area. Demand shrunk, due to on mountain condos. It languished as a long term rental until last fall, when we revitalized and renovated the whole cabin's interior. New warm wide pine floors, exposed beams, log staircase, ceramic tile shower and a gas fireplace make this cabin cozy and comfortable. High speed internet, cable TV a new modern kitchen with Keurig machine, and hundreds of acres of forest and fields make this cabin unique.
Just 2 miles down to road from the wooden barrel country store, a great place for sandwiches and breakfast goodies! very near the Chittenden reservoir recreation area, close to major snowmobile trail access points. 10.5 miles from Killington Road, 8.5 miles from Pico ski area
Just got home for our three nights at this cozy cabin. It was warm, quiet, easy to find, clean, and just what we needed to relax/recover from our days on the slows at Killington (about 15 minute drive). It's a new property, at least as a rental, and some of the "staples" (salt, pepper, baking sheet/dish) weren't there to make cooking easier. However, after a short convo, the owner said he would buy them for future renters. The kitchen has a full oven and electric stove top, microwave, and basic pot, pans, and utensils. I would highly recommend this place and stay here again if the opportunity presented itself.
Sarah
2017-01-15T00:00:00Z
Great spot if you're looking for some peace and quiet. The updates to the cabin are really impressive and make for a comfortable stay with a rustic feel. We loved it!
Kelly
2017-04-04T00:00:00Z
My wife and I had an awesome stay at Jay's cabin in Chittenden with the kids! The cabin has a quaint rustic feel that leaves you feeling cozy! We had warmer than expected weather but still made it to Killington for some spring like snowboarding! I enjoyed watching the truck come to pick up the Syrup from the trees right on site one morning from the cabin down the hill. We also were lucky to get a small dusting the morning we left which i enjoyed my coffee by the fire and watched it fall. Was a nice treat! We had breakfast at Sugar & Spice on Rt. 4 on the way out and it was amazing! Love coming to Vermont and will defintely be looking to stay at Jay's again! Thanks!
Dominic
2017-03-02T00:00:00Z
The cabin was awesome, really loved the feeling of being inside a "log cabin". The cabin smelled like fresh wood, it was an awesome feeling. My only complaints were with the owner(URL HIDDEN)arrived 2 1/2 hours early to the cabin due to me traveling for 8 hours with a newborn and 2 dogs. I did not want to hit traffic so I left a little early to get to the cabin. When I arrived, I saw a bunch of sheets pilled up in the living room sonI thought someone was still there. After being there for about 10 mimutes the cleaning person arrived. After he was done, we began brining all of our items into the house. A little after he left i received a text message from the owner stating that he smoke with tge cleaning person and he advised him that i arrived early. I explained to him the reason for me arriving early and he continued by stating, this will effect your account(URL HIDDEN) Some other things I was not happy with was, the towels provided to us smelled moldy, we could only use 1 type of toilet paper due to the country pipes and they only provided us with 3 rolls. Mostly we were not happy with the experience we got from the owner. Besides that the cabin was great, had an awesome time, but I will not be renting this again due to the owner.
tinos
2017-02-26T00:00:00Z
Perfect little cabin for the four of us, very quiet and private. We had a great time and the recent renovations were very well done. I would absolutely stay here again if I'm ever in the area.
David
2017-01-02T00:00:00Z
I loved jay's little cabin on sugar house lane! It's newly redone and you can smell the new wood. We came in on a stormy cold night and felt right at home when we turned the fire stove on and put the blankets on us. The vibe is super mountain cabin and it's very nicely decorated. The bathroom has a heater too! We even walked the grounds a little and there's a cute little pond and you can see the blue tubes for their maple syrup operation. We went snowmobiling nearby and stopped at long trail brewery (25 min away). I would highly recommend!
Carly
2017-01-04T00:00:00Z
We had a great stay at the cabin with our dog. It was very secluded and nice to be alone but also accessible to snowboarding at Killington. Looking forward to staying again soon!
Bryn
2017-03-26T00:00:00Z
A comfortable little cottage in a really beautiful area. The gas fireplace adds a charming touch. Immaculately clean and well-appointed with cooking equipment, towels, etc. An easy drive to a number of restaurants as well as Killington and Pico. The stars were spectacular. I hope to stay here again!
Gregory
2017-01-18T00:00:00Z
Tipo de Acomodação
Casa/apto inteiro
---
Tipo de Imóvel
Casa de campo
---
Acomoda
4
---
Quartos
Chittenden, Vermont, Estados Unidos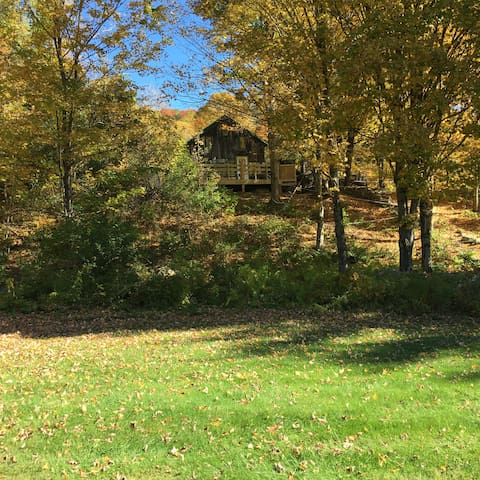 My place is nestled on a private road on Lake Bomoseen in the the Lakes Region of beautiful Vermont. We are within 40 minutes from Killington, Pico, and Okemo mountains. Close to Castleton State University, you'll love the cozy, private, one room guest cottage that awaits you. Use my kayaks or bring your own; dock space available for small boats. Boat rental is an option at a local marina.
Pet friendly.
Wonderful rental for 1-3 people. You can see the lake from the front windows. Dena thought of everything.. coffee, tons of towels, plenty of good soaps, drinks in the fridge, popcorn.. what a great place.
Jim
2017-02-26T00:00:00Z
Perfect for a weekend getaway , beautiful location .
Nicole
2017-03-12T00:00:00Z
The space was so warm, cozy, and the little homely touches added were incredibly welcoming for both us & any furbabies in tow...you can really see Dena cares for her guests. We're already planning a trip back!
Lauren
2017-03-19T00:00:00Z
Short drive to Rutland/Whitehall where the restaurants and shops are. About 45-55 minute drive to killington and Pico, worth the drive to save on pricey hotels closer to the mountains.
Dylan
2017-02-05T00:00:00Z
Exactly what we needed for a weekend visit in Vermont. Cozy, comfortable and well equipped!
Alison
2017-04-02T00:00:00Z
This is such a beautiful place. Very comfortable bed, coffee, some fruit and Water were there. Anything you need really.
Nathalie
2017-03-25T00:00:00Z
It was just what we needed for a weekend ski trip. Would recommend it's a great value, host has put in a lot of thought into her place.
David
2017-02-20T00:00:00Z
Tipo de Acomodação
Casa/apto inteiro
---
Tipo de Imóvel
Bangalô
---
Acomoda
3
---
Quartos
Castleton, Vermont, Estados Unidos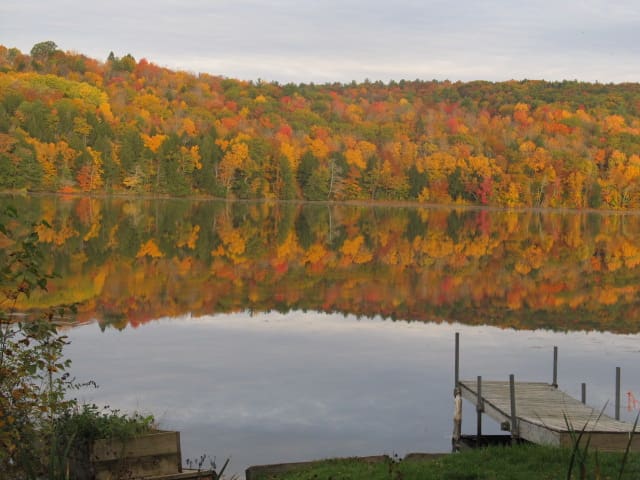 Spring is a great time to visit Vermont! Our house is close to mountains, the Long Trail, the Appalachian Trail, lakes and streams, restaurants and dining, downtown, art and culture, shopping, and medical facilities. You'll love our space because of its central location and home-like atmosphere. The apartment is good for couples, solo adventurers, and business travelers.
Our apartment has one bedroom with a queen size bed, but also a futon couch in the living room that opens into a double bed; perfect for a third guest or two small children.
George and Cheryl's place was perfect for my trip. I was in town to handle multiple projects and needed some place I could set up my laptop and work without feeling confined but also be able to get around town easily. It was remarkably clean and tidy (my wife the germophobe would have been in heaven) and the bed was very comfortable. Everything I needed was there (the coffee in the tin was quite good!), the iron worked great and there was plenty of hot water - what more could you ask for! Close enough to the center of town to make stopping out for a bite to eat very easy but not so close as to make noise an issue. Cheryl knew I was in town for a memorial service and took the time to print out an article about it in the local paper and leave it on the door for me - very thoughtful.
Todd
2016-12-14T00:00:00Z
Cheryl and George's place was great. It was one of the cleanest Airbnbs I have ever stayed in. I couldn't find one spec of dust.
Nikki
2017-01-22T00:00:00Z
I highly recommend George and Cheryl's place for others. It has everything in place, very clean, organized and spacious. The cookies that George and Cheryl prepared for guests are amazing.
Jake
2016-11-06T00:00:00Z
Cheryl and George's is everything that's great about AirBNB. Spacious, comfortable, welcoming and meticulously clean, this is a great location for Rutland County. You'll be so glad you stayed here!
J.B.
2017-02-22T00:00:00Z
This was my first time using Airbnb ever and I will definitely use it again. George and Cheryl's was perfect! From arrival to departure, my companions and I spent less than 6 hours total at their place but I think it was well worth it regardless. We reached the Airbnb at around 9:30pm, and despite the late arrival, they could not have been more accommodating. When we got into the apartment there were fresh muffins and a basket of apples left on the table for us and Cheryl came out to greet us and let us know where everything was. The apartment itself was fantastic with a kitchen, bathroom, bedroom, living area (with fold out bed) and a lot of space. The next morning my group left at 415 and simply locked the door and took off, could not have been easier. Highly recommend!
James
2016-09-17T00:00:00Z
My boyfriend and I had such a nice, relaxing stay at Cheryl & George's. The apartment has everything you need and it was a very comfy place to stay. I wish we had stayed longer! Rutland is a lovely town to visit and we hope to come back again soon. This was my first time booking through AirBnB and it was a great experience.
Kimberly
2016-10-09T00:00:00Z
Many thanks to George and Cheryl for making us feel so at home! We wished we could have stayed longer and hope to be back again soon.
Julia
2016-10-08T00:00:00Z
Everything about our experience was smooth and comfortable. My brother and I arrived at George and Cheryl's after driving through the night and then skiing all day. The trip down the mountain to the apartment was easy, and I was grateful for the easy parking. We promptly fell asleep and were perfectly happy with the bed and futon respectively. All the amenities enhanced our stay: cookies, coffee, bottled water, and Vermont guidebooks. Thanks for a great stay!
Graceann
2016-12-11T00:00:00Z
Tipo de Acomodação
Casa/apto inteiro
---
Tipo de Imóvel
Apartamento
---
Acomoda
3
---
Quartos
Rutland, Vermont, Estados Unidos
My place is 4+ acres close to great views, Okemo, Killington, Pico, and Stratton ski areas. Less than 1/2 a mile from the Long trail and Appalachian trail system and Clarendon gorge swinging bridge. Situated 100 ft from one of our beautiful covered bridges in a quaint little private settlement of homes. My place is good for couples, solo adventurers, business travelers, families (with kids), and furry friends.
Beth welcomed us on our arrival and showed around the house. The home is cozy and somewhat secluded which was perfect for a relaxing get away. It was clean and tidy and well equipped.
Jennifer
2016-11-20T00:00:00Z
Loved the place and Beth was a peach! Our family of 4 (two teen daughters and my husband) stayed one night on our trip from Burlington to Bennington. Beth was super about accommodating our ever-changing arrival time. The place was spotless. Everything worked. Best Wifi reception of our whole trip in VT. Extensive and heartwarming DVD collection. But what really makes this place stand out is the care with which Beth has cultivated her property - sweet terraced garden with bird feeders that attracted lots of squirrels, chipmunks and hummingbirds plus a very clean pool and groomed seating area with cafe lights and firepit. As well as the proximity to an AT swinging bridge (less than a mile) over one of the best watering holes we've ever experienced. Magical! Beth is also hooked into the hang gliding scene. And her daughter is an instructor. We were so bummed that we did not have more time to do this. (The hg location is east in NH, so it's a good idea to discuss this with her in advance so you can take advantage!) Would definitely stay there again!
Ivana
2016-07-29T00:00:00Z
Très agreable petite maison, niché dans la verdure, dans un superbe endroit (le pont et la rivière) Beth nous a accueilli avec bienveillance et tout un tas de petites attentions. La maison est ancienne mais bien tenue, avec pleins de petites décorations extérieures. On a adoré le passage des oiseaux le matin, des colibris, geaie bleu... merci pour cette belle prestation
Stephane
2016-08-13T00:00:00Z
Such a cozy cottage! Located right near Pico/Killington. Highly recommend!
Emily
2017-02-05T00:00:00Z
A basic, dated old house that smelled a bit musty. Everything worked and was clean, just old. Host was very responsive and kindly refunded a night when I needed to leave because of a family emergency. The place would be good if you need an affordable place for a small group of people to stay, but wouldn't be a top choice if you want a place for a picturesque writing retreat in Vermont or something!
Jenn
2017-04-03T00:00:00Z
What a great weekend getaway location! Beth's home is located right along a creek and is in a very quiet, residential neighborhood. It is also very close to three different mountain resorts/towns to drive into. A group of 4 of us went together (2 couples) and it was perfect - although it should be noted that the 4 of us have practically all lived together already over the years so we are very comfortable sharing spaces!
Miyabe
2017-02-21T00:00:00Z
Close to okemo and good restaurants in ludlow about 25 min away. Also right next to the Appalachian trail!
Katharine Ann
2017-03-26T00:00:00Z
everything was great, much better than at the hotel we stayed the night before. it was our first time using AirBnb and we are hooked now :-)
Denys
2017-01-14T00:00:00Z
Tipo de Acomodação
Casa/apto inteiro
---
Tipo de Imóvel
Casa
---
Acomoda
4
---
Quartos
Clarendon, Vermont, Estados Unidos
Cozy small bedroom in a 4 bedroom 1850's house. All the amenities at a really great price. 30 minutes from Killington Ski area as well as hiking on the Long Trail and hometown trail network right from the back yard.
I arrived around dinner and just caught David as he was leaving. This was my first time using AirBnB. I needed a place close to the VT police academy which was 5 minutes away. I would happily stay at David's again to access Killington (Ski Mt.) which is about 30 min away. The house is off a quiet bend of route 7 and about 10 min North of Rutland. There's also a nice country store a minute walk down the road. David was very friendly and accommodating. I was pleasantly surprised to have David's cat as company while he was away. I recommend it overall!
Alec
2016-02-18T00:00:00Z
David left clear instructions for our arrival in case he wasn't home to greet us. We were only staying for a quick overnight trip but he made sure to show us around and point out out all the things we had available to us. Everything was really clean and there was a heater in the room so we were able to stay warm throughout the night.
Ciru
2016-02-06T00:00:00Z
David was very easygoing. I explained that my friend and I would probably be getting in around midnight, and that was no problem for him. Clear instructions were left on the front door. The house was indeed cozy, clean, and warm. He even let us pick the larger room because we were the only guests. There were a variety of snacks in the kitchenette, and we were encouraged to help ourselves. He is a musician and our room was full of cool memorabilia from bands and concerts. We were very comfortable, and hopefully can return on a future trip. A great experience!
Ben
2016-03-25T00:00:00Z
David was very nice and the whole experience was very laid back. Check in was as easy as it gets and the room met our needs.
Tony
2015-09-05T00:00:00Z
We stayed with David for two nights while we were exploring the area. He was very welcoming and easy going. We had no problem with the bathroom situation, we were the only ones staying there. If you were staying there when its busier (I think ski season is the busy time), and wanted more privacy, I would recommend staying in the room with the private entrance. It still shares a bathroom/shower with the rest of the house, but you enter from the other side, so you don't have to walk through the other bedroom or be in the bedroom that gets walked through. It doesn't really seem like a big deal though and there is a downstairs bathroom with no shower.
Anna
2015-07-12T00:00:00Z
David and his place restored my faith in Airbnb - it's everything it was supposed to be and more. He was laid back, trusting (the door was left unlocked), and made us feel welcome (my name was on the door!). We were pleasantly surprised by how nice the place was and it really helped make our trip enjoyable and something special. We enjoyed a great breakfast and coffee on the house. Thanks David! Hope to see you again. Also, Bernie 2016!
Jackson
2016-01-17T00:00:00Z
Generally this is a comfortable listing at a good value, and the arrival process is very easy and straightforward. The location is very good. There is a cat on the listing, and a lot of the space does smell like cat - generally speaking, it could be a little cleaner. Other than that, very good.
Jonathan
2015-08-30T00:00:00Z
i liked the easy access and the fact that we had the run of the house.
Erin
2015-08-03T00:00:00Z
Tipo de Acomodação
Quarto inteiro
---
Tipo de Imóvel
Casa
---
Acomoda
2
---
Quartos
Pittsford, Vermont, Estados Unidos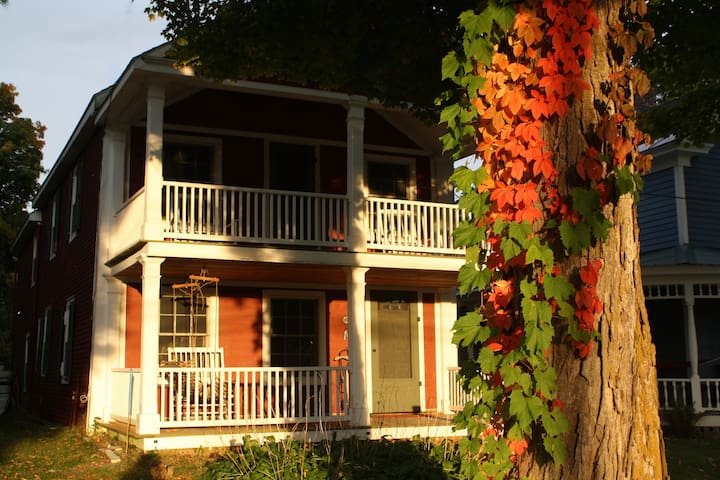 Great rustic living four bedroom home about two miles from Killington access road (access road is 5 miles long) Spacious living with bathroom and kitchen access. This second floor addition is quiet and spacious. One bedroom available that can sleep additional people with sleeping bags etc. Pets are accepted if they are well behaved.
Small yet comfortable room with south facing views of pines. Heated and plenty of storage in the closets.
Excellent home. Ample parking. Easy commute to the mountain. Romantic feel to the room and house
Stephen
2017-02-12T00:00:00Z
Matt was very communicative and quick to accommodate our changing travel plans. Space was comfortable and was great for our quick skiing trip.
Michelle
2017-02-24T00:00:00Z
Location is fantastic, price is unbeatable, and Gerry and Matt are two great hosts who not only went out of their way to make us feel welcome, but also let us raid their fridge and shoveled us out when we got snowed in (twice!). As a first-time airbnb'er I had some reservations about staying in a stranger's home, but Gerry did a fantastic job of making us feel like we were part of the family.
Zachary
2017-03-16T00:00:00Z
A place shared by Matt and 2 other room mates that work at the Killington Ski Resort. They gave us great tips about the skiing area. All very welcoming and a great pleasure to interact with. Great living room / kitchen but beware this is college type kitchen, use at your own risk! ;-) One bedroom with one double bed so well adapted for a couple. Any extra person will have to either squeeze inside the bedroom or sleep in the main living area where the other occupants will walk by at some point (heating not working but one wood stove). One main bathroom shared.
Joao
2017-03-05T00:00:00Z
Very nice place, cozy home and has a cool dog, Matt was very helpful with everything and checked in on you to make sure you're stay was going good.
Richard
2017-02-16T00:00:00Z
Didn't meet Matt but met Jerry his roommate I think. Had an amazing time, amazing space, we will definitely be back here again. Our car got stuck on the ice twice, once early in the morning and the other late at night, and both times with no problem jerry was out there helping us push it out.
Vlad
2017-02-21T00:00:00Z
Matt is an excellent host and his place is perfect for skiing at Killington or Pico! He made us feel at home and was extremely accommodating of our ever changing plans. I highly recommend his place to anyone looking to visit Killington area! We definitely plan to stay there again on our next trip!
Sudha
2017-01-29T00:00:00Z
Five minutes from shops, slopes and restaurants. But as close as it is to everything, it remains a tidy and spacious (cool even) cabin in the woods. Very clean and accommodating. Easy to find. I was there to ski at Killington. My decision to stay here turned out perfect.
Andy
2017-04-05T00:00:00Z
Tipo de Acomodação
Quarto inteiro
---
Tipo de Imóvel
Casa
---
Acomoda
4
---
Quartos
Killington, Vermont, Estados Unidos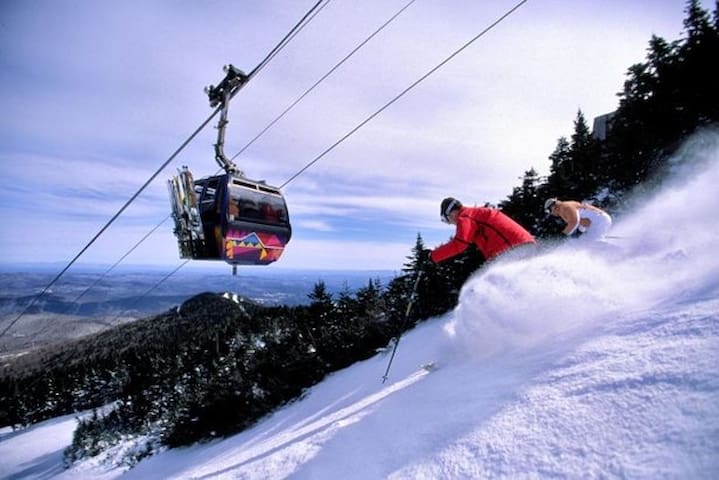 Located at the junction of the Green Mountains and the Champlain Valley, this quiet space sits on 70 forested acres. Just minutes from Brandon, Middlebury College, Lake Dunmore, and the Green Mountain National Forest, this is the perfect home base. Enjoy nature in this secluded space and discover what Addison County has to offer from an easy to access location. Our kayaks are available to explore nearby lakes and plenty of trails, events and culture are just down the road.
Spring in Vermont is one of the best times of the year. Spring peepers, bluebirds, and flowers return to the woods as the hills here wake up. Vermont really is as pretty as the postcards and calendars show, and this is a great place to enjoy it. The cabin was built as a hunting camp in 1997 by a logging firm that harvested timber here. We have built our home on the property and updated the cabin with plenty of amenities - sometimes we wish we still lived there! The cabin is a nice balance of rustic, cozy, and comfortable, and we take pride in the beauty of this place.
Plenty to do nearby! Rutland and Middlebury Farmers' Markets, Wood's Garden Market, Champlain and Douglas Orchards, Falls of Lana, Silver Lake, Branbury State Park, Goshen Dam, shops and restaurants in Middlebury and Brandon, Rutland's Paramount Theater, Cattails Restaurant, Texas Falls, Route 100 Scenic Highway, Mount Independence Historic Site and Fort Ticonderoga, rivers and mountains galore! Still a working forest, the property is home to a plethora of wildlife, hosting two beaver dams and a designated deer wintering area. There are some trails here on the property, and plenty of outdoor space for you to enjoy. Enjoy colorful sunsets as herons, ducks, and geese fly in for the evening, or spend the evening out in the cultural centers of Brandon or Middlebury. Bring, rent or borrow a boat and spend the day at nearby Lake Dunmore, Fern Lake, or Sugar Hill Reservoir; make the stunning 1 hour drive up to Burlington for the day for cool shops and great restaurants; or pick fresh Vermont fruits and berries with views of Lake Champlain. The Moosalamoo Recreation area is right in our backyard. There is so much to do around here, you may not want to leave!
We had a great experience at Mark's Log Cabin. We were warmply welcomed and the cabin was exactly what we expected: a small, cozy, quiet wooden room with a fireplace and beautiful decorations. We also left a few personal items at the cabin and Mark was so kind to mail them back to us at no cost. I definely recommend staying there if you need a place in the area!
Iacopo
2015-11-29T00:00:00Z
We JUST left and I already wish we were back at Mark's cabin right now! What an awesome weekend getaway. If you love checking out breweries and vintage book stores this is the place for you. Thank you Mark, Catie, family and Otter for the relaxing getaway. We can wait to visit again!
Danielle
2015-11-22T00:00:00Z
Our night at Mark's place was absolutly perfect. The place is so charming and warmful. Mark gave us a lot of information about the area which was very helpful when you just have one day there. The area is gorgeous.
Patricia
2016-07-29T00:00:00Z
This location was recommended by a friend who stayed here weeks prior, and was quite possibly the most serene and peaceful place we've ever stayed through Airbnb. Mark and his family were very accommodating and welcoming for our short trip, and we definitely plan to visit again in the future.
David
2016-09-25T00:00:00Z
The cabin was even better than we imagined. It was the perfect place to stay for our family's vacation, centrally located in the state. Mark and his family were incredibly welcoming and made sure the cabin was perfectly appointed for our stay, complete with fresh eggs for breakfast each morning! It was clean, cozy and included everything we needed for a perfect weekend. We will definitely be back. I'd highly recommend it to anyone looking for the perfect Vermont experience.
Jennifer
2016-11-14T00:00:00Z
I was toying on a random last minute two day, one night trip to Vermont for some hiking and sightseeing with my wife at the end of June. My wife mentioned offhand that she always wanted to spend a night in a log cabin. I put in a search and Mark's place came up. The outside looked awesome and the inside was even better. It is perfect for two people for a random getaway during any season. Everything is supplied for refrigeration to cooking (bring your own food) to heating. Mark was quick to respond and was very helpful from start to finish. Although we didn't get to meet in person, we really wanted to meet Mark and his family. I would definitely book again, although I would like to see the winter scenery one of these days. Thank you, Mark, for having us.
Dave
2016-07-01T00:00:00Z
We were traveling with a baby. Mark was kind enough to set up mini crib before our arrival. Though we didn't do lot of cooking, we can tell the place has everything needed. The stars are bonus. Mark's family are nice and sweet. Wish we spent little more time with them.
Uthay
2015-10-13T00:00:00Z
We went for a last minute weekend getaway to the cabin, it was awesome. Mark was very quick to respond to my queries and checked on us in advance the day we were supposed to visit. Loved the wood burning fireplace! Mark taught us how to light it, it worked like a charm and kept the cabin warm during the night. The guidebook was very comprehensive(Thanks Mark for compiling it), we used it to pick up restaurant for dinner and breakfast. I would love to visit back in summer.
Avinash
2016-04-06T00:00:00Z
Tipo de Acomodação
Casa/apto inteiro
---
Tipo de Imóvel
Casa de campo
---
Acomoda
4
---
Quartos
Leicester, Vermont, Estados Unidos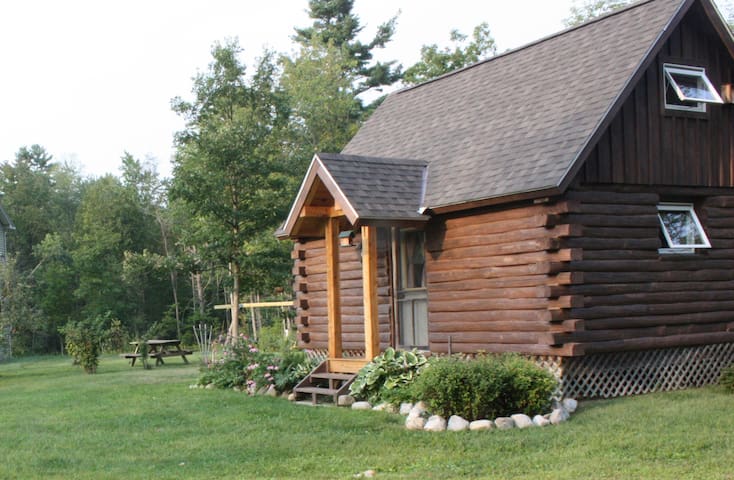 Located in Chittenden, VT, we are in the heart of the Green Mountains. We are just down the road from the Mountain Top Inn wedding venue and Cross Country Skiing Center. The apartment is an easy 15-20 minute drive to Pico and Killington ski areas. The suite is perfect for winter and summer adventuring or just a quiet get away in Vermont.
This cozy suite is attached to our 1850s farmhouse. You have your own entrance off of your private patio. The space includes 1 bedroom with a queen bed, a walk-in closet and a large bathroom with tiled shower. The sitting area is filled with sun and overlooks your patio. The kitchen area has a small refrigerator, microwave, toaster and coffee pot. We supply flatware and dinnerware for your use. Continental breakfast is provided in the suite.
We are just a short drive to Killington and Pico. Mountain Top Inn and Resort is just up the road from our home. In the summer, you may enjoy the beauty of Chittenden reservoir - a great place for swimming, fishing and boating (small motors only). In the winter, there is skiing, snowboarding, snowshoeing, cross country skiing, and tubing.
We stayed at Doug & Cindy's home while attending a wedding at the Mountain Top Inn. The location was perfectly located for getting to Rutland and MTI. The house was very cozy with a great setup. The kitchen area stocked snacks and beverages was perfect. Everything was clean and well kept making it a comfortable stay. I would highly recommend staying at here. So glad we stayed here!
Michael
2017-02-05T00:00:00Z
Doug and Cindy have a wonderful home! It's a great location if you're looking to ski Killington or Pico for the weekend. The apartment is beautiful! Perfect for two people looking for somewhere to get away and relax. Cindy stocked up the mini fridge with breakfast essentials and even made homemade poppy seed bread for us (so delicious!). I highly recommend this as a place to stay!
Erica
2017-01-29T00:00:00Z
This is a lovely guest suite in a beautiful setting near Mountain Top Inn. It was the perfect place for us to stay while watching races at Mountain Top. Cindy and Doug are gracious hosts and provided many little extras that made our stay memorable, such as the yummy poppy seed bread and all of the breakfast goodies. We would certainly stay again!
Christina
2017-03-19T00:00:00Z
My boyfriend and I came to Vermont to have a ski weekend. Cindy and Doug's private suite was the perfect place to stay and relax when we weren't at the mountain. We skied Killington and it was only 15-20 minute drive to the mountain. Cindy and Doug were fabulous! They provided us with everything we could have needed, especially breakfast food like yogurt, homemade poppyseed bread, coffee and tea. The suite was very clean and looked brand new! I would recommend this to any couple going for a long weekend! It was such a great experience and we will definitely be back if we return to Vermont!
Elyse
2017-02-27T00:00:00Z
Cindy and Doug were very hospitable and the accommodations were very comfortable. The house was located close to Killington and Green Mountain National Park.
Elizabeth
2017-01-16T00:00:00Z
Wow! Really nice stay. Quaint, small, extremely clean and modern. Exactly what we needed for a weekend away skiing at Killington and Pico. Check in process was very easy. They also left us a number of snacks and a delicious, homeband banana nut bread that we polished off!!! Thank you.
Alana
2017-02-12T00:00:00Z
We spent a sunny November weekend in Cindy & Doug's "Cozy Vermont Suite" in Chittenden VT. The Hosts have a stunning suite, with separate entrance, attached to the rear of their country home. "Classy, Quiet, Private, Modern" are words that best describes this suite. The Suite's entryway connects to the sitting room ( one wall is a butlers prep kitchen for light use, with under-counter fridge/ w freezer, a sink, a microwave, coffee and tea pots, and a toaster). Cindy had baked a delicious cranberry nut bread, and also provided apples, bananas, yogurt, oatmeal, homemade granola, and in the fridge --yogurt, milk, and juice. The sitting room has an English roll-arm sofa and side chair for relaxing, a flat screen TV, internet and wifi, bookcase, and puzzles. The Master Bedroom is spacious, and has its very own large walk-in closet. The queen sized bed was very comfortable and we both slept well. Every room was Light and Bright, with deep set windows in super insulated exterior walls for energy efficiency. The heat source throughout is by radiant floor heating, so you have warmth on bare feet, which was a real treat in the beautiful tile bathroom. The Master bath has a large walk in tile surround shower and once the hot water arrives (just a short 60 seconds) from the main house, you can soak up the heat! We were charmed by the clean design and architecture of this addition to the main house, with its absence of clutter, the welcoming feeling, and the pure sense of airy space. Though it hints at a Danish or Scandinavian space, it is accented with oriental lamps, rugs, and art pieces. If you are visiting in the local area, or planning a trip for skiing, summer hikes, or just enjoying some local Vermont day trips, I would highly recommend making this Airbnb Country Suite a "go to" for your next trip. Chittenden VT is close to Mendon for skiing, as well as shopping in Rutland, or a jaunt up Rte 7 to visit Middlebury VT.
Mr & Mrs; Roger & Miriam (Shared 5
2016-11-13T00:00:00Z
The place was great. Very clean. Only a short drive to Killington and Pico mountain skiing (the reason for our trip). Doug and Cindy were excellent about communicating all necessary information in advance. There is a separate entrance with door code to allow for a more private experience and stay. Doug stopped by to say hello as we returned home one day and we got to know each other a bit. Very nice individual. It was obvious that Doug and Cindy take pride in their guests having a good experience staying there. Upon check-in we found a freshly baked loaf of banana bread on the kitchen table, cereal, granola, yogurt, oatmeal, fresh ground coffee, etc. They asked how we take our coffee in advance of our arrival, and provided almond milk as well. It was just a very pleasant stay and we would absolutely book with them again for our next ski trip to the area.
Thomas
2017-02-20T00:00:00Z
Tipo de Acomodação
Casa/apto inteiro
---
Tipo de Imóvel
Apartamento
---
Acomoda
2
---
Quartos
Chittenden, Vermont, Estados Unidos
The Blue bedroom offer a queen size bed with shared bathroom and steam room
Charming comfortable bedroom in a private home set on a beautiful property, which is located only minutes from Killington, the northeast's premier ski and golf resort. The residence is situated close to hiking trails, bicycling, fishing, kayaking, skiing, golfing, and Mendon Bikram Yoga. The Blue bedroom offers a queen size bed with a shared bathroom and steam room...
My wife and I had a wonderful time at this cottage which is perfectly located between Rutland and Pico/Killington mountains. The room was a perfect size and right next to the bathroom and everything was super clean. FYI, they have a cat and a dog that are kept separate from the rooms for guests but they are in the kitchen. Just something to keep in mind if you are very allergic; thankfully we didn't spend enough time in the kitchen for my wife and I to be affected by them. Plus their pets are terribly cute.
Noah
2014-03-24T00:00:00Z
Josiane was a very responsive, flexible and friendly host. The breakfast she provided for us was delicious and above and beyond the call of duty. The room and bathroom were perfect too. This is a GREAT value in the Killington, VT, area. Highly recommended!
Pete
2015-02-23T00:00:00Z
My partner and I had a wonderful stay at Josiane's place. We arrived to a beautiful cosy lit fireplace and Josiane made me a lovely cup of tea. We also had a large private sitting area to ourselves with fireplace as well as our room. Everything was clean and homely. In the morning Josiane and her partner made us an incredible breakfast - coffee, tea and an unforgettable stack of blueberry pancakes! They are very friendly and easy to talk with. Would highly recommend staying here and I hope we can return one day.
Sophie
2015-11-10T00:00:00Z
We arrived late on a Friday night but Josiane was more than welcoming. We were greeted in the driveway and shown to our room. The room itself was perfectly sized for two people (one night). Bathroom was very large and had a nice modern shower. We brought our own soap/shampoo but it was provided. Josiane was available late in the night and early in the morning. Unfortunately we had to leave early so we couldn't stay for breakfast but we were offered coffee or fruit as well. I would definitely come back if we were in the area again.
Thomas
2016-09-18T00:00:00Z
The room was extremely clean and prepared for our stay. Clean sheets, clean towels, EXCELLENT bathroom. Overall just a perfect experience. Todd and Josiane could not have been more hospitable!
Mitchell
2015-03-16T00:00:00Z
Josiane has been a gracious and welcoming host. Her house is beautiful, clean, and very comfortable. I would highly recommend staying with Josiane if you happen to be looking for lodging in central VT.
Jonathan
2014-03-19T00:00:00Z
I had a wonderful time staying at Josiane's place. She and her husband were really nice and friendly, and made me feel comfortable right away. I would definitely stay there again the next time I'm in the area. They have a lovely home. The bedroom was extremely clean and beautifully decorated, and the bathroom was great too. It's only about a 15 minute drive to Killington so the location is convenient. I highly recommend staying here!
Julie
2014-07-28T00:00:00Z
Home was comfortable, and amenities were top-notch. Breakfast was off the charts!!!
Mac
2016-09-19T00:00:00Z
Tipo de Acomodação
Quarto inteiro
---
Tipo de Imóvel
Casa
---
Acomoda
2
---
Quartos
Mendon, Vermont, Estados Unidos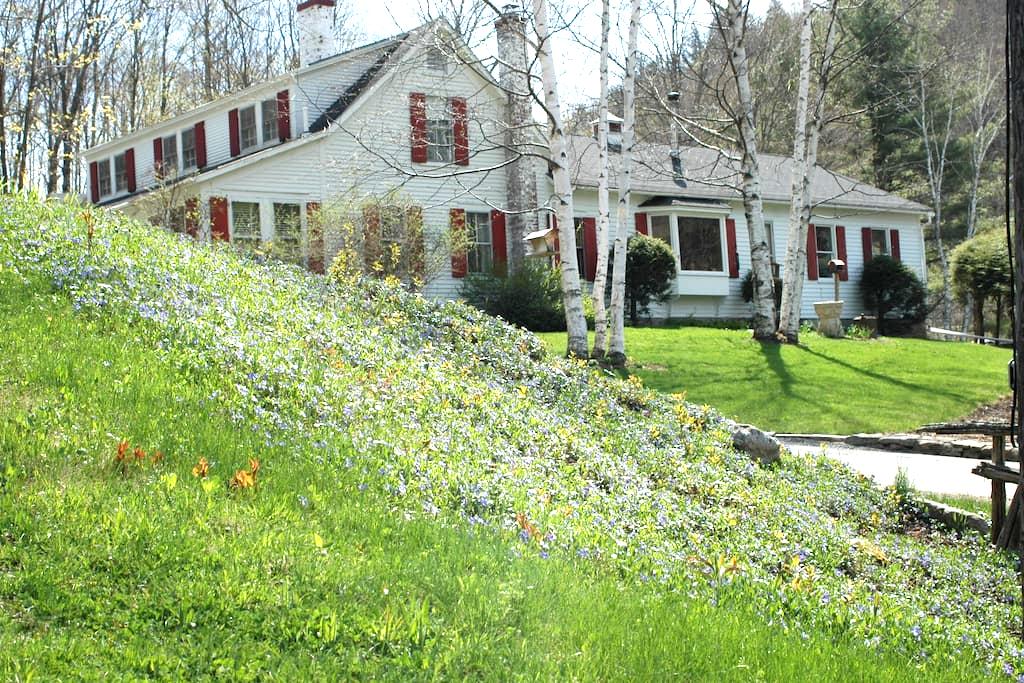 You have officially arrived at your peaceful mountain retreat! This custom-built 2BR, 1BA home is nestled in the foothills of the green mountains of VT and is ready to welcome you! The home sits on a 48 acre lot and is close to skiing, hiking, and town (10 mins). You will love the woodwork, floor-to-ceiling windows, massive sunny deck, and peace and quiet. There is plenty of space for family memory making. Welcome to your new Vermont escape!
We are currently running deeper discounts than normal because we are a brand new listing and need heads in beds so we can get reviews. Come take advantage of these temporary pricing deals, they will not last! When you walk into the home from the road side of the lot, you will first walk into a large mud room where you will have space to hang your hat/coat and also to store any ski gear, bikes, or other recreational toys you decide to bring up with you. You will then enter the home near the kitchen where you will be greeted with an open floor plan, vaulted ceilings, real pine everything, a fully equipped kitchen, and floor to ceiling windows. The "breakfast nook" serves as a sunny place to dine in the morning and a beautiful family gathering space in the evening. There are two equal sized bedrooms with one queen bed in each room that share a common bath. It is heated by gas and always warm and cozy (to your liking of course). When you walk through to the back of the home (away from the road), you are greeted with beautiful vaulted ceilings and floor to ceiling windows that overlook farmland to the left, mountains straight ahead, and to the right... our solar field! I hope you can embrace our go-green efforts. Yes, we are also connected to the grid. No, you will not run out of power if it snows for 10 days :-)
North Clarendon is a small town located 20 minutes from Okemo, 25 minutes from Pico, and 30 minutes from Killington Ski Resorts. There are plenty of hiking and biking trails nearby and the town of Rutland is only a 10 minute drive. If you are flying in, the closes airports are Burlington, VT (1.5 hours) Albany, NY (just under 2 hours) and Boston (3 hours).
Tipo de Acomodação
Casa/apto inteiro
---
Tipo de Imóvel
Casa
---
Acomoda
4
---
Quartos
Clarendon, Vermont, Estados Unidos
My place is close to restaurants and dining and family-friendly activities. You'll love my place because of the outdoors space, the neighborhood, the comfy bed, and the kitchen. My place is good for couples, solo adventurers, business travelers, and families (with kids).
Check in was easy and the home was very well kept, comfortable, and clean. It's undergoing renovations outside, but this did not affect our stay at all. The lake was great for swimming and canoeing. We came with four kids and they had a lot of fun.
Michael
2016-07-31T00:00:00Z
Great Lake house. Convenient to all our activities. Andrea was an excellent and communicative host. Next time thru, we'll be back!
Daniel
2016-09-18T00:00:00Z
Chalet Felicite is welcoming, nicely appointed and perfectly situated. It is charming, clean and well laid out. Andrea provided lots of information and was easy to contact. We loved the screened porch. The homes around it are not too close and so one feels way far away in the country.
(EMAIL HIDDEN)
2016-07-11T00:00:00Z
Very good communication from Andrea, she reminded us to bring linens, and advised us of the well situation. We had a great time, lovely cottage, beautiful quiet lake great for kayaking, osprey and blue heron on lake, good Wifi, nice screened porch, and close to good restaurants in Castleton and Rutland. It's well set back from the main road, but when you are outside or on the porch there is a good bit of traffic noise from Rt. 30 - the rock face of the hill behind tends to send it across the lake. Host is working on fixing the well - very limited water use required while we were there. Good hiking in the area, fascinating slate quarry history all around, very nice relaxing place overall, would definitely stay there again!
Liz
2016-08-24T00:00:00Z
We had a lovely four-day weekend at this lake house in August. The pictures didn't do the space justice- it was comfortable and super clean and the lake was just lovely with easy access and enough of a "beach" that kids had an easy time getting into/out of the water. One of the better places that we have stayed with lake access and plenty of bedrooms.
Anna
2016-08-15T00:00:00Z
Andrea's place is gorgeous and so comfortable. Lake views unbeatable. A bit far from town (Rutland is approx 30 min) but that's a big plus for those looking for a secluded getaway.
Elizabeth
2017-02-26T00:00:00Z
Chalet Felicite was absolutely amazing! Sitting on the porch watching the sunrise and the sunset was perfect. The views, peacefulness and overall beauty will make you want to return. This house is great for a lake vacation with family and/or friends. It is off of a main road, but tucked away far enough where you can enjoy listening to the birds while staring out on the lake. We all took turns taking the canoe out which is a must-do! Planning our trip with Andrea was easy and fast. She was incredibly responsive and helpful with all of our questions. I am already looking at my calendar to see when we can return.
Hillary
2016-07-18T00:00:00Z
Everything was as described and a very enjoyable experience for my fiance's birthday. House was as described and all handy items were at our disposal ( paper plates, napkins, tt, cooking items, grill, ice maker, coffee pot, etc). Only items not available was a TV and radio- luckily we had an I -pod radio with us. Plenty of games, puzzles and books for your enjoyment. Canoe and dock were great on the crystal clear lake. We were warned about a possible lack of water problem- but we were conservative and had NO problem which is being fixed as we write this feedback. Would recommend this property without hesitation.
Tom
2016-09-29T00:00:00Z
Tipo de Acomodação
Casa/apto inteiro
---
Tipo de Imóvel
Casa
---
Acomoda
4
---
Quartos
Hubbardton, Vermont, Estados Unidos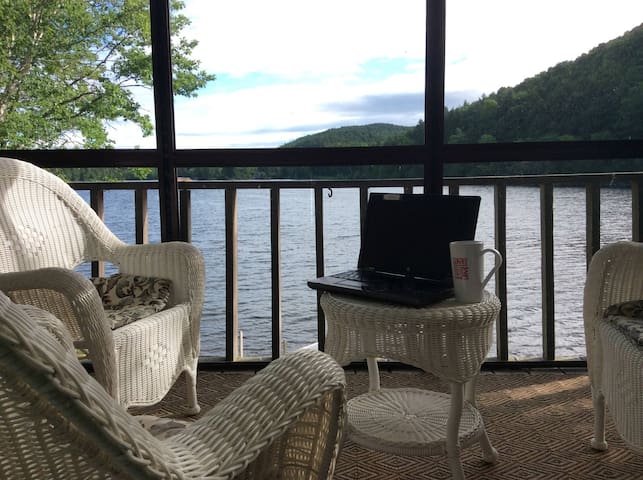 Ski in Ski out 1 bedroom/1bathroom Condo located at the base of Pico Mountain Ski Area
Our condo is a 1 bedroom 1 bathroom right at the base of Pico Ski Resort in beautiful Killington Vermont! Walk to the slopes of Pico or jump on the free shuttle out front to get to Killington Ski Resort. This unit is located on the second floor of an elevator building, complete with a full kitchen, 1 queen size bedroom, 1 bathroom, and a queen and twin size sleeper sofa. Sleeps 4 - 5 comfortably. There is a gym with a 75-foot indoor pool located on the property. The pool and gym are available for you to use at any time for an additional fee you can pay daily or weekly. There is also a ski locker for the unit that is located on the first floor rear of building.
Loved the condo. Clean well furnished and convenient location. Will definitely stay again.
Joe
2017-04-09T00:00:00Z
A+. Amazing location at the base of Pico, 10m from Killington. Easy, Clean, very professional host. I strongly recommend this rental to anyone.
KYLE
2017-03-12T00:00:00Z
Tipo de Acomodação
Casa/apto inteiro
---
Tipo de Imóvel
Casa
---
Acomoda
5
---
Quartos
Killington, Vermont, Estados Unidos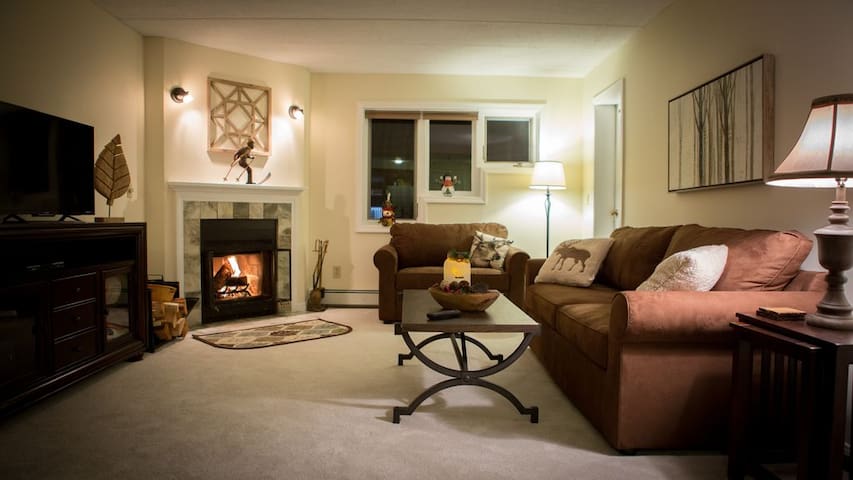 1

–

18

de

Mais de 300 Espaços para Alugar
Insira as datas para ver o preço total. Taxas adicionais serão aplicadas. Impostos podem ser adicionados.