My place is close to The Cannock Chase Museum and Cannock Chase Area of Outstanding Natural Beauty, local golf courses, Lichfield, several National Trust properties, The National Memorial Arboretum and Rugeley. Train service from Rugeley to Birmingham.
Our bedrooms are very much "home from home" and all have stunning views of the surrounding farmyard and countryside views. Each bedroom has ensuite facilities comprising a shower, toilet and washbasin. There are televisions in each room and tea making facilities and coffee making trays.
Lovely farm setting, with traditional farmhouse furnishings, warm welcome and super breakfast.
Kevin
2017-02-05T00:00:00Z
Mavis was lovely and welcoming. She replied to all emails really quickly. We were touched when Mavis gave us some farm eggs to take home with us, a lovely goodbye. :-)
Helen
2017-03-08T00:00:00Z
It's a little disturbing when you see the man of the house walking around in his underpants on more than one occasion. The kitchen is not fit for catering to guests.
Claire
2016-11-24T00:00:00Z
I would pay the extra and stay elsewhere, a working farm it is , but dog poo on the kitchen floor for 3 days (I didn't check the other days ) is unforgivable , they even put news paper down for the dog , as if this is a normal occurrence , my room cold, bed not changed as far as I could tell in the lengthy duration I was there
Ian
2016-12-09T00:00:00Z
Lovely place to stay. Very nice
Sam
2017-03-25T00:00:00Z
Tipo de Acomodação
Quarto inteiro
---
Tipo de Imóvel
Pousada
---
Acomoda
2
---
Quartos
Rugeley, Inglaterra, Reino Unido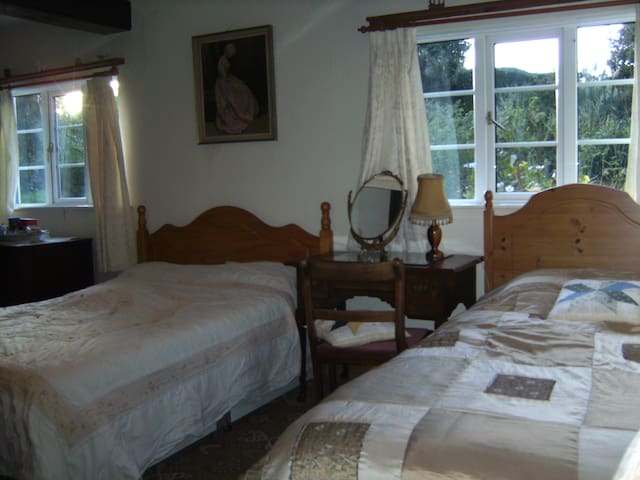 My place is close to an area of natural beauty and easy transport links to Birmingham city. You'll love my place because of the location to cannock chase, a well renowned area of natural beauty, famous for cycle routes and beauty. All within a 10 minute walk. My place is good for couples, solo adventurers, business travellers, and furry friends (pets).
Tipo de Acomodação
Quarto inteiro
---
Tipo de Imóvel
Casa
---
Acomoda
2
---
Quartos
Rugeley, Inglaterra, Reino Unido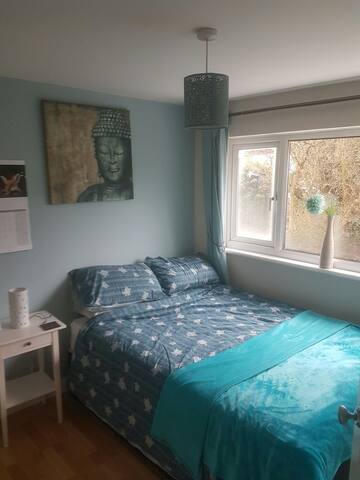 Lovely new barn conversion double room, set on the edge of Cannock Chase and an area of outstanding natural beauty. Complete with wet room bathroom and full kitchen, this lovely bright and airy room is perfect for walkers, mountain bikers or ramblers. Easy access to Cannock Chase and the local area, a warm welcome awaits you. We also have a second room available Luxury Self Contained Double Room No. 2.
Located in the area of outstanding natural beauty of Cannock Chase, Gatwood Barns has direct walking access to Cannock Chase and 5 minutes drive to the M6, Acton Trussell, Bednall and Penkridge.
We were greeted by Eirwen and Mike on our arrival they were very friendly and helpful,great hosts.The accommodation was beautiful 5star,great comfortable bed,nice big shower you could not ask for more.The continental breakfast was more than you could eat.Eirwen had presented everything so well.We would recommend to all to visit and would love to return one day. Thank you Eirwen and Mike for a great stay. Gill and Rob
Gill
2016-08-29T00:00:00Z
We arrived and were put at ease instantly by the extremely friendly hosts. The place could be difficult to find but we managed to find it fairly hassle free, as good directions and description were provided. The property turns out onto a fairly busy road, but it is not overly difficult and traffic noise was not a problem at all. The whole property is well maintained and beautifully equipped. We used the kitchen to prepare a home cooked meal both nights and found ourselves with ample equipment to do so. We were able to pop over to the main house where Eirwen lives and borrow some cooking oil, she was very accommodating and approachable. The breakfast items provided were of high quality and ample quantity. Nice big shower and clean bathroom. The property is in a lovely area, within Cannock Chase with plenty of attractions nearby. We chose to visit Shugborough Hall and would recommend spending a day there. Overall, a lovely property, fairly priced and exactly as advertised.
Sara
2016-08-16T00:00:00Z
This is a lovely, comfortable, clean and modern place to stay on the edge of Cannock Chase. It is great for exploring the local area or, because it is close to the M6, as a base for travelling further afield. Highly recommended!
Martin
2016-11-20T00:00:00Z
Lovely place- really smartly finished, like a top hotel, but homely and welcoming. Breakfast ingredients provided in the kitchen were fresh and delicious, and our hosts cheerful and welcoming. Great stay, thanks!
Zack
2016-08-08T00:00:00Z
I felt very welcome on arrival. The studio was really nice. Well equiped , nicely designed and very comfortable. Eirwen prepared a great breakfast - couldn't eat it all ! One of the nice things about Airbnb is the possibility to meet really fabulous people and this was really the case here. I hope to have the opportunity to go back - hopefully not working so I have a bit of time to explore the beautiful surrounging countryside.
Tonia
2016-09-14T00:00:00Z
Perfect! A lovely place that is clean and comfortable and really lovely hosts. Eirwen was very helpful and such a great place to stay with a yummy breakfast. Everything you need and in a lovely setting. Just perfect. We will be back!
Victoria
2016-10-28T00:00:00Z
Eirwen was amazing. She picked me up from the bus and showed me the local attractions. The room is really a studio and fixtures and fittings are top hotel quality. Because of a local problem with internet - they were digging up the road - she organised a dongle so I got service. Highly recommended.
Ann
2016-09-21T00:00:00Z
One of the very best accomodations out there and extremely good value for money
mark
2016-10-05T00:00:00Z
Tipo de Acomodação
Casa/apto inteiro
---
Tipo de Imóvel
Pousada
---
Acomoda
2
---
Quartos
Staffordshire, Reino Unido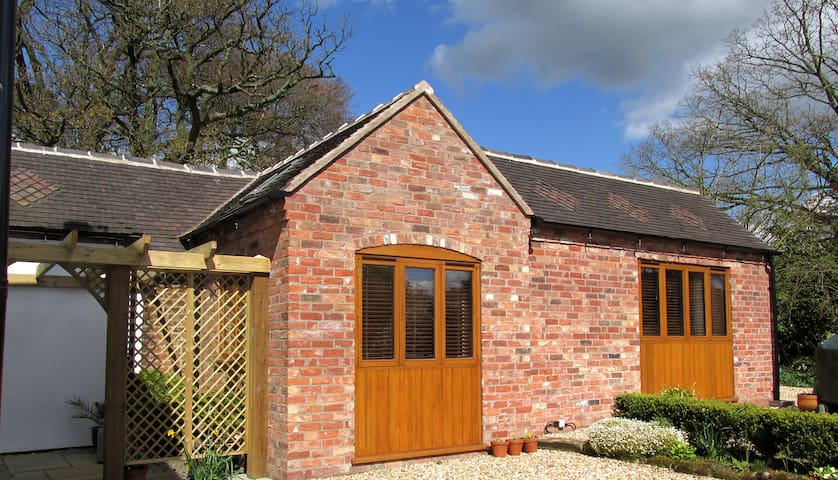 Newly converted spacious Barn with beautiful features, situated on a small working farm within one mile walking distance from the picturesque traditional village of Abbots Bromley.
Large kitchen with seating for six people, dishwasher, fridge freezer, cooker with hob, washing machine, microwave, ironing board and iron. Spacious lounge with large TV on wall and separate DVD player. Fold out leather sofa bed and two seat settee. Fireside chair with table and cosy lamps. Bedroom with two velux windows with newly fitted blinds, comfy double bed, bedside tables with lamps, storage cupboard/wardrobe, chest of drawers complete with hairdryer. Quirky shaped bathroom with roll top bath and shower, toilet and wash basin.
Beautiful countryside with long distance views over Cannock Chase and beyond!
As the title says we found our stay at Carol's barn conversion delightful. Beautiful views, Considerate host, charming home. We enjoyed our stay here and would recommend it to others.
Karen
2016-10-25T00:00:00Z
We had a lovely time and enjoyed the spacious and comfortable modern barn conversion. Loved the gorgeous views over the country side. The kitchen was equipped with all the basics as well as a dishwasher which made tidying up even quicker. The bath tub was a treat. The only thing I'd say is bring your sleeping masks as the bedroom doesn't have any blinds. Check in was very smooth, we arrived very late but Carol made sure we knew where we were going. Checking out was great too - we were told not to rush and take as much time as we needed which was just perfect. Will definitely be back when in the area!
Doro
2016-07-19T00:00:00Z
Property was exactly as listing. The barn is finished to a very high standard and was beautfully clean on arrival. Carol was very helpful and left milk in the fridge etc.
Jon
2016-04-05T00:00:00Z
Fabulous place to stay, spotlessly clean, everything you need. Carol was so helpful and we loved our stay.
Fiona
2016-06-19T00:00:00Z
This accommodation is fantastic. Very high spec, warm and comfortable. A real home from home. Carol was very friendly and accommodating. I would stay here again.
Janet
2016-10-14T00:00:00Z
The Barn is absolutely beautiful with a high class finish. A peaceful place to stay with a warm and wonderful feel. It exceeded our expectations and we would highly recommend it.
Helen
2017-04-08T00:00:00Z
Absolutely fantastic place for a weekend break, although we could have stayed longer! The barn was beautiful and really well equipt! Carol was a fab host and was really helpful! Surrounding villages are so pretty! 100% recommended!
Laura
2016-08-22T00:00:00Z
Carol was a lovely host and left us to it for the weekend. The property is finished to a very high standard and is absolutely perfect for a little break. Would highly recommend.
Ben
2016-05-31T00:00:00Z
Tipo de Acomodação
Casa/apto inteiro
---
Tipo de Imóvel
Casa
---
Acomoda
4
---
Quartos
Abbots Bromley, Nr Rugeley, Staffs, Reino Unido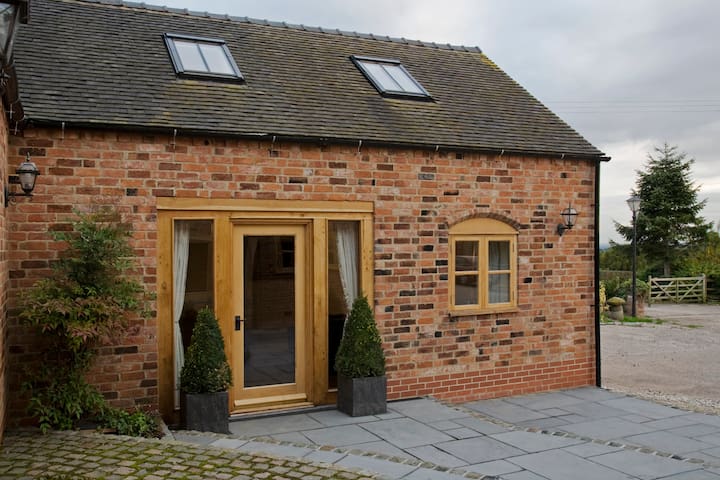 Exceptional Coach House conversion (4 bed, 3 baths; sleeps 7) in a countryside setting. Disabled-friendly (including wet room), walled garden & outside dining space. Close to Birmingham, Lichfield, Peak District, Cannock Chase, Alton Towers & the NEC
We supply tea, coffee, and a couple of pints of milk - there's a village store down the road and a chinese restaurant in the village for take away/eating in. The coach house is very private and secluded
Ridware Hall and the coach house are situated up a single track road, at the end of the village, with great views across the fields towards Cannock Chase. There is a lovely church dating back to the 1100's which still holds regular worships, and a couple of pubs within walking distance, and some great restaurants a cab drive away
The Coach House is a beautiful and well appointed house that was a pleasure to be in. It had a lovely atmosphere and was very relaxing. Roy's recommendations for restaurants were great and spot on.
Anna
2016-10-25T00:00:00Z
Roy is an excellent host and the house is lovely. It was perfect for our family and we thoroughly enjoyed our stay. Hopefully we'll have cause to stay there again soon.
Rupert
2016-12-23T00:00:00Z
Fantastic stay with children
paul
2017-02-18T00:00:00Z
We had a successful weekend away at Roy's house. No surprises - everything was as described. Perfect for a family get together; clean, warm and stylish accommodation.
Julie
2017-03-05T00:00:00Z
Fantastic stay, amazing home, the perfect way to start Christmas. Thank you for your excellent hospitality Roy! All the best, Sven and family
Sven
2016-12-19T00:00:00Z
Roy's cottage is exceptional. Beautifully decorated, finished to the highest standard. The location is lovely with plenty of walks in the area. This property accepts pets which was a much for us, with our dog. All the bedrooms and bathrooms are exactly as shown, very comfortable with generous beds, bath sheets(!) and wonderful showers. The kitchen has everything you could possibly require and Roy even went out of his way to pick us some biscuits for us. There is a disabled access bedroom and shower which is a great addition although we didn't make use of it. The cottage has its own private walled orchard with a Lilly pond. The garden is fully enclosed which meant we didn't need to worry about the dog escaping. Communication with Roy was great, he kept in touch with us regarding check in and was able to meet us on arrival. I would absolutely recommend this place, and would even go back there and spend longer myself!
Jill
2017-03-26T00:00:00Z
The Coach House is a beautiful place, incredibly clean and beautifully maintained. Roy is a gracious host, friendly and helpful. Our one (small) problem was dealt with promptly without any fuss.
Janet
2017-02-24T00:00:00Z
We had a fantastic stay in his beautifully renovated coach house. Everything we needed for our annual Christmas get together, even cooked a whole Christmas dinner for 7!! The hosts were brilliant and on hand to help. Beds were incredibly comfy and the house very clean and well looked after. Perfect downstairs room and wet room for one of our group in a wheelchair. Would definitely go back if back in the area. We visited the national war memorial before we set off back home, which is a must visit if you stay here!
Meg
2016-12-12T00:00:00Z
Tipo de Acomodação
Casa/apto inteiro
---
Tipo de Imóvel
Casa
---
Acomoda
7
---
Quartos
Hill Ridware, Reino Unido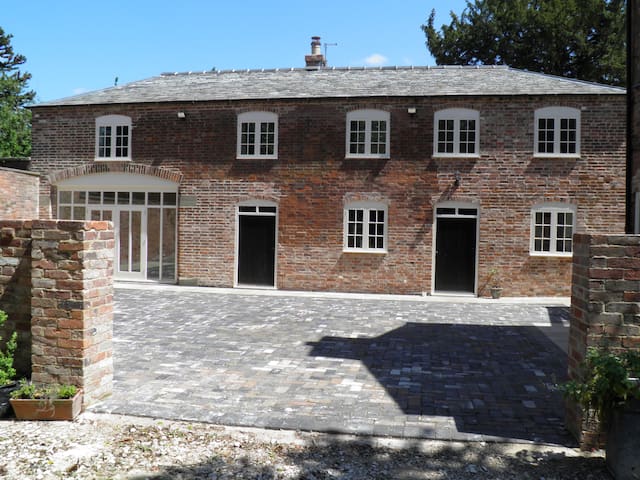 One High Street is bursting with character, comfort and history, the cottage is steeped in host Erica's sunny style of hospitality, bringing a touch of eccentric charm to the picturesque and historic village of Abbots Bromley.
The property was just as described; a beautifully presented property in a lovely village. Erica was very welcoming and a great host. She was very friendly and helpful - just next door and made us feel extremely welcome. The only shame was that we couldn't stay longer and take advantage of her great suggestions of nearby things to do with our 2 children. Will hopefully be back.
Kate
2016-10-30T00:00:00Z
Erica was a great host. She called and checked about our arrival time. She lives right next door which was quite handy. She was very helpful and offered advice on local restaurants. The accommodation itself was very cosy, comfortable, quiet and peaceful. Erica was nice enough to leave some milk, cereals and juice for us which came quite handy in the morning ! All in all, a wonderful stay. Highly recommended. We'd love to come back when in the area :-)
Gautam
2016-11-24T00:00:00Z
Great location to explore the area. Beautiful cottage which was immaculate. Will definitely stay here again . Erica was great fun and very happy to share lots of local information. Don't hesitate book it now!
Tracey
2016-08-29T00:00:00Z
We had a great stay at this lovely cottage- perfect for a get together with friends and entertaining my 8 month old daughter. Erica was so welcoming and gave great tips on what to do locally. Would definitely recommend to others- thanks for a fab stay!
Sarah
2015-10-04T00:00:00Z
We were given a warm welcome by lovely Erica and were even provided with G&Ts to start our evening! Her stylish cottage is very comfortable, well equipped and perfectly appointed for pubs and restaurants in the village. She was helpful in giving good recommendations for dinner - we had an excellent meal in The Crown - and was on hand to help if we needed it. Thanks Erica for a great stay!
Sheila
2017-04-09T00:00:00Z
The cottage was easy to find and in a lovely, quaint village. Erica was extremely friendly and accomodating, making us feel at home. The cottage itself was beautiful, an old cottage with traditional beams with a modern twist. The log fire was lovely after a day walking in the nearby forest. The beds were extremely comfortable and we had a great nights sleep. We'll most certainly be back again. Thanks Erica
Jodie
2015-11-08T00:00:00Z
Beautifully maintained and cosy cottage in a pretty little village. Lots of nice touches including breakfast provisions, toiletries and very comfy beds. Erica was very helpful and gave us lots of recommendations. Wish we could have stayed longer!
Simon
2015-10-25T00:00:00Z
The host made us feel very welcome and was helpful and considerate. The cottage was in a lovely village.
Hannah
2015-11-29T00:00:00Z
Tipo de Acomodação
Casa/apto inteiro
---
Tipo de Imóvel
Casa
---
Acomoda
4
---
Quartos
Abbots Bromley, Staffordshire, Reino Unido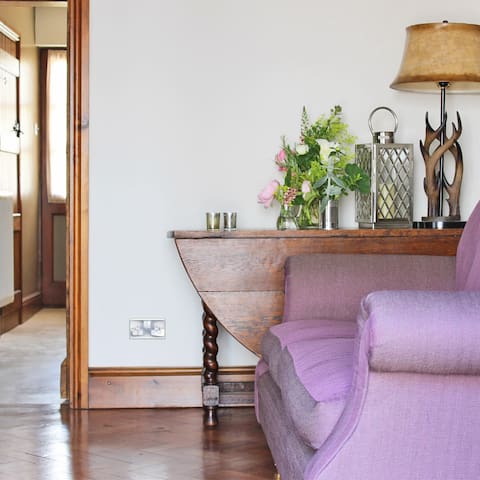 My place is close to Cannock Chase, Lichfield, Shugborough Rugeley and Stafford.
Great host:) really nice breakfast and made to (EMAIL HIDDEN)fortable bed and nice spacious room.
Christian
2017-02-15T00:00:00Z
If you want peaceful rural location and a real farm feel this place is great. Cosy and comfortable. I will be going back.
Rosemary
2017-03-12T00:00:00Z
This lovely cottage, with lovely open fires and cost sitting rooms.
Simon
2016-11-23T00:00:00Z
Working farm, quiet location, pub walking distance. Comfortable and clean, this is a working farm, open fire, good breakfast, bed comfortable, room dark and quiet for a good nights sleep. Host busy in lambing season up all night and still cooked a great breakfast. Stayed whilst working in area, made to feel very welcome.
Louise
2017-02-10T00:00:00Z
Tipo de Acomodação
Quarto inteiro
---
Tipo de Imóvel
Pousada
---
Acomoda
2
---
Quartos
Rugeley, Inglaterra, Reino Unido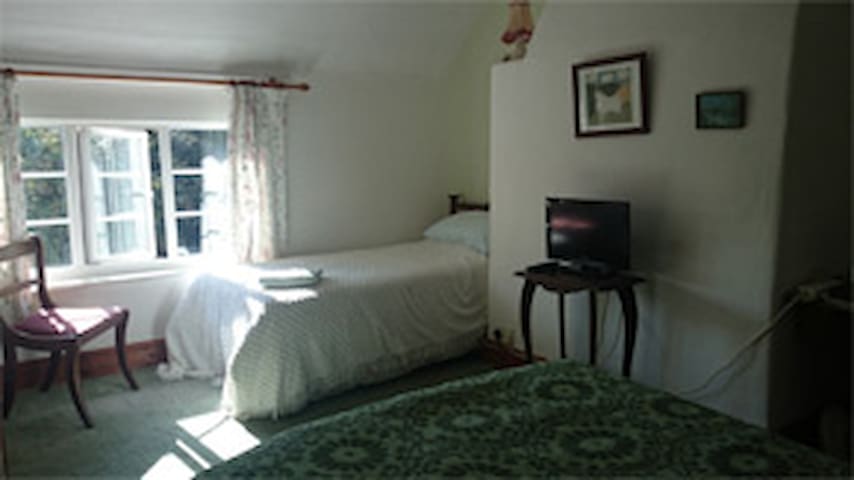 A comfortable single room with lakeside views. Access to bath/power shower, free Wi-Fi and coffee-making facilities. Breakfasts to suit every taste. A mere 10 minute walk to the city centre with Cathedral, theatre, bars, restaurants and shops.
The Cottage is located in a very quiet and scenic part of the historical town of Lichfield, only yards from historic Stowe Pool. It is situated behind locked security gates and therefore it is very important that times of arrival are made very clear with no guests arriving for the first time after 10pm. The Cottage is also within easy, level, walking distance from the City Centre boasting the Cathedral, shops, restaurants, bars, theatres and the renowned Beacon Park. PLEASE NOTE: This Room may be booked in conjunction with the Double Room to accommodate 3 people. Separate bookings will be required.
All very good Great bed , breakfast and host , lovely 10 minute walk into Lichfield along Stow Pool
John
2016-10-15T00:00:00Z
Daphne is such a welcoming host. The home is gorgeous and quiet. I would love to stay again. Daphne offered me directions to town and told me where I could park. She offered me a lovely breakfast but sadly I wasn't there long enough to enjoy it. There was tea, coffee, a fridge and secure parking. I had a brief but lovely stay, highly recommended!
Charlotte
2015-11-28T00:00:00Z
Daphne is a very good host. The accomodation was perfect for my needs and the traditional English breakfast was yummy. Located next to the Stowe Pool and close to the town made it easy getting around. Very homely place to stay.
Peter
2016-07-21T00:00:00Z
A clean pleasant cottage in a very nice city. My host was very generous as I arrived late, her dog is friendly, bed room is very comfy and bed soft. Breakfast in the morning was also superb. Thank you for having me!
Edward
2016-05-22T00:00:00Z
Thanks for a very pleasant stay in Lichfield during my course last week.
Geoff
2015-09-24T00:00:00Z
A really enjoyable stay at a charming cottage, with a perfect host.
Gregory
2016-04-10T00:00:00Z
The Cottage was easy to find in a quiet location with a parking space right outside. Daphne and Jimi were very welcoming. The bed in the single room was very comfortable and I slept well. Wifi good and easy walk into Lichfield centre along side of lake. Ideal.
Iain
2015-05-15T00:00:00Z
A lovely welcome from Daphne who very kindly even picked me up from the station. The room was spotless as was the bathroom and both were well appointed and comfortable. Breakfast was a deliciously cooked full English and everything one would expect. The location is perfect for the city centre with a pleasant waterside stroll into town taking about 10 minutes. This was my first Airbnb experience and a good way to start. I hope to have an opportunity to return another time.
Hugh
2016-07-06T00:00:00Z
Tipo de Acomodação
Quarto inteiro
---
Tipo de Imóvel
Pousada
---
Acomoda
1
---
Quartos
Lichfield, Staffordshire, Reino Unido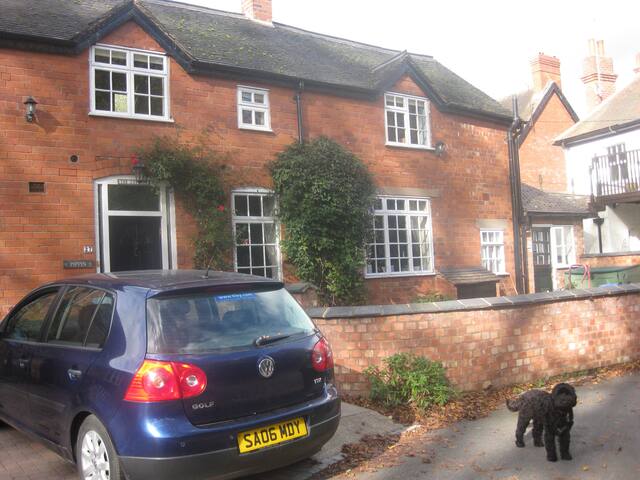 Simply lovely! Close to town, cosy and attractive. Welcoming with huge private bathroom. Light breakfast provided. 8 minute walk to the town centre. Closest pub is 3 minutes away. Town centre features a magnificent Cathedral. Also several museums and places of interest. Re eating & drinking you will be spoiled. There is a pub that is more than 500 years old and countless great restaurants featuring British, Indian, Thai & other cuisines. The town itself is so quaint with many old buildings.
My apartment is in a beautiful development in a sought after location surrounded by trees. There is ample parking, it has security gates and we have lifts although I am on the first floor. I live alone so my property is very quiet - you get the peace you need.
Lichfield is a very quiet, safe and pleasant city. The neighbourhood I live in is superb. Parks, an abundance of flowers, wonderful trees, some wildlife too.
Mike is a brilliant host, he's very easy going and really friendly. I really enjoyed staying with Mike, he is a fascinating guy. I hope to stay with him again in the future and I wouldn't hesitate in recommending anyone is looking to stay with him. Hopefully next time we will be able to get out for a curry and a beer.
Wes
2016-12-11T00:00:00Z
Mikes place is exactly as advertised, private safe parking, an immaculate luxury flat with all the trimmings and Mike himself is a lovely fascinating bloke. Genuine pleasure to stay there. Highly recommended!
Marcus
2016-12-04T00:00:00Z
Mike has a bright, clean and comfortable flat. He communicated very well with me regarding my stay and went out of his way to accommodate me for my particular needs. I would recommend him highly.
Flavia
2016-12-10T00:00:00Z
Mike was a great host and went out of his way to make me feel welcome. Would definitely recommend to others.
Peter
2016-10-08T00:00:00Z
Tipo de Acomodação
Quarto inteiro
---
Tipo de Imóvel
Apartamento
---
Acomoda
2
---
Quartos
Lichfield, Inglaterra, Reino Unido
A newly refurbished self contained one bedroomed apartment but will sleep four, continental breakfast goods are included. It has its own separate entrance at the rear of Toad Hall situated in the main street of Abbots Bromley which has four good pubs and a renowned Indian Restaurant, just 7 miles from Rugeley or Uttoxeter within 20 minutes easy driving distance to Alton Towers and The National Arboretum, 15 minutes from Shugborough Hall and Cannock Chase.
A self contained one bedroomed apartment newly refurbished. Comprising of a mezzanine first floor bedroom with a new double bed and sleep easy mattress and fitted wardrobes. On the ground floor there is a comfortable living area with a sofa and two large easy chairs that convert into two comfortable single beds if needed.Flat screen tv,radio-cd player, dining table and chairs, a fully fitted kitchen area with hob, oven, microwave,toaster, kettle,fridge/freezer and all the cutlery, plates, bowls and pots and pans for up to five people. A large wet room/bathroom leads off the main living area. There is also a large patio area leading off the living area ideal for al fresco dining, weather permitting. Breakfast is provided daily on a serve yourself basis with fresh bread, croissants,fresh milk, orange juice,eggs, yoghurts, cereals, granola, butter, cheese and preserves.tea and coffee etc. Free WI FI is available code on request.
Abbots Bromley is a lovely village with four good pubs all of which serve food and a good Indian restaurant. There is a local village shop that sells pretty much everything including newspapers and there is also a butchers shop. There are lots of lovely walks including The Staffordshire Way and Blithfield reservoir where you can also sail or obtain day tickets for trout fishing also Cannock Chase forest for walking or mountain biking is only a stones throw away. The National Memorial Arboretum and Alton Towers are close by. There are several good golf courses nearby, Beau Desert where i am a member, Brocton Hall, Ingestre Park, Whittington Heath and Uttoxeter are thr nearest
My family had an excellent experience staying in the house for 3 days and 2 nights. The place we lived in is spacious, clean, tidy and with all necessities. We have been well served by Chris and Maggie, both of them are so kind and helpful in all respects , whom we owe them a great thank. With their help and advice , my daughter Natalie was able to settle down in a nearby school before we left the village. All the best to Chris and Maggie.
Linda
2015-09-06T00:00:00Z
We thoroughly enjoyed our 2 week stay at Toad Hall in June. The Annex was spotlless and well appointed with plenty of space for our group of 3 adults. There was plenty of fresh fruit and the fridge was stocked daily with lots to eat for breakfast, or even a late night light supper. It quickly became our home way from home... after a busy day of sightseeing, it was truly a pleasure to return each day to enjoy cocktails on the lovely terrace overlooking their beautiful garden. The hosts Chris and Maggie are incredible - never hesitating to offer help with directions to sightseeing, or to suggest a good restaurant or pub to visit. Abbots Bromley is a wonderfully quaint village, complete with pubs,shops,walking trails, and a coffee house with unique coffees and really nice home baked treats. There is also a beautiful church - we spent a good hour there, looking at artifacts, reading about the history of Abbots Bromley and admiring the architecture. Although there is no dedicated parking spot out front, we never had any trouble finding a spot on the street, or in the restaurant lot across the road. Speaking of restaurants, we had an excellent Indian meal at the Ruchi,, and had a fabulous steak dinner at The Bagot Arms Pub. We did a lot of sightseeing from this home base - it was a short drive to Burton Upon Trent, and all of our other sightseeing destinations varied from 30 minutes to about 2 hours (URL HIDDEN) didn't bother us at all, once we got used to driving the roundabouts! We covered a lot of ground, about 1400 miles, and found Abbots Bromley to be a good central location. We would highly recommend The Annex at Toad Hall to other travelers, and truly hope we can return one day. Thanks again Chris, Maggie and Nikki for your amazing hospitality and wonderful friendship - we will never forget you! Heather, Dave and Thomas Denton
Ineke
2015-06-28T00:00:00Z
Lovely welcome and a relaxing stay. Would definitely recommend
Jodi
2016-08-31T00:00:00Z
Chris was an amazing host, with a beautiful place, well stocked fridge and a very spacious bathroom.
Rich
2016-06-19T00:00:00Z
Chris and his wife were so lovely. Communication was great, Chris met us, helped us to park our car in a spare spot etc. The annex is adorable, even nicer than expected. We sat on the deck in the sunshine and enjoyed the beautiful gardens and peace and quiet. It was nice and clean and we had a delicious breakfast to start our day. A really enjoyable stay - thank you!
Alicia
2016-07-19T00:00:00Z
Absolutely fantastic stay. Place was beautiful and had everything you could need. Chris and Maggie were great hosts. Simply put, we couldn't have asked for better.
Eamonn
2016-06-13T00:00:00Z
A great location in the heart of the beautiful Abbots Bromley. Chris couldn't have been any more helpful and made our stay very comfortable. The annex was perfect for our short stop over but could work for a week long break and we will be sure to return. Thanks both for your hospitality! Nat & Tom
Natalie
2016-06-27T00:00:00Z
My friends and I stayed with Chris for a weekend of golf and ales. Perfect location for us with 4 golf clubs nearby, 3 pubs and a Indian Restaurant all within a short walking distance. Chris recommended the best places for us to visit for both the food and the golf, Accommodation high standard, immaculate and a great breakfast with croissants, coffee, loaves of bread, fruit, juice, yoghurt, cereal, eggs, etc. All in all, fantastic experience and would happily recommend and revisit.
Peter
2016-09-25T00:00:00Z
Tipo de Acomodação
Casa/apto inteiro
---
Tipo de Imóvel
Pousada
---
Acomoda
4
---
Quartos
Abbots Bromley, Reino Unido
Two large bedrooms sleep six people. Free Parking. Near M6 J11. Quiet and convenient town centre location. Within walking distance to Cannock train station, bus station, shops, restaurants & cinema. Short drive away to AONB Cannock Chase. 18 miles to Birmingham centre. Train connection to London Euston. Secure Wifi.
The apartment is very spacious with two large bedrooms, dining room, and a large kitchen with breakfast table &chairs. There is plenty of storage space in each room. There is wardrobe in the hallway for coats. Bedroom one has a double bed and a sofa bed. Each person has own wardrobe and drawers for use. Bedroom two has a bunk bed sleeping three (top single bottom double) ideal for a family. There is a built in wardrobe with hangers. The lounge/dining room has a fireplace and eight people dining table and chairs. There is a built in wardrobe. The apartment has new gas central heating, electric shower over bath tub, and a separate toilet. The kitchen is fully equipped with gas hob, oven, grill , toaster, microwave, fridge freezer, dinnerware and all cooking utensils.
The apartment is located in Cannock town centre within few minutes walking distance to large supermarket s like ALDI, ASDA, Morrisons & Iceland. Short walk to Cannock train station (near Morrisons). Bus stop outside the block. There is a small cinema nearby. Within reach are some fast food places like McDonald's, KFC, Pizzahut and Burgerking. You can find cafes in town centre along with Greggs and Costa. Cannock is a lively market town with Cannock Chase forest being recognised as an area of outstanding natural beauty. The forest is just a short drive away. There is a visitor centre and Cannock Chase Museum with free entry.
Would e better with living room and own internet
Stephen
2017-02-12T00:00:00Z
Friendly & patient host. I was late for an hour but she still waited by the road for me.
Boon Kiang
2016-12-11T00:00:00Z
Tidy Clean flat with all fundamentals available
Andrew
2017-03-14T00:00:00Z
It was a very nice clean place. Fabulous location to walk downtown to a wonderful small town atmosphere. Third room needs a place to sit and relax not a large dining table. Bedroom with twin is actually a cot. I would definitely recommend and possibly go back but not with 6 adults
Karen
2017-01-01T00:00:00Z
位置不错,可能因为定的比较匆忙床之类的没整。房东很热心位置描述很准确
Piggy
2016-12-24T00:00:00Z
Convenient location, easily found. Basic accomodation, but adequate and in line with the pricing. 24 hour easy access fitted in well with our schedule. I was glad I had brought my hot water bottle though..... we were chilly when we first got there, before the heating kicked in. The shower did the job, eventually. Everything was adequate.
Bonni
2017-01-22T00:00:00Z
perfect location for our conference in Walsall and jade put heating on for us so the flat was warm for when we arrived
claire
2017-01-26T00:00:00Z
The apartment was just as expected. Our operatives had a comfortable stay. Communication with Jade was very good!
Luka
2017-03-25T00:00:00Z
Tipo de Acomodação
Casa/apto inteiro
---
Tipo de Imóvel
Apartamento
---
Acomoda
6
---
Quartos
Cannock, Inglaterra, Reino Unido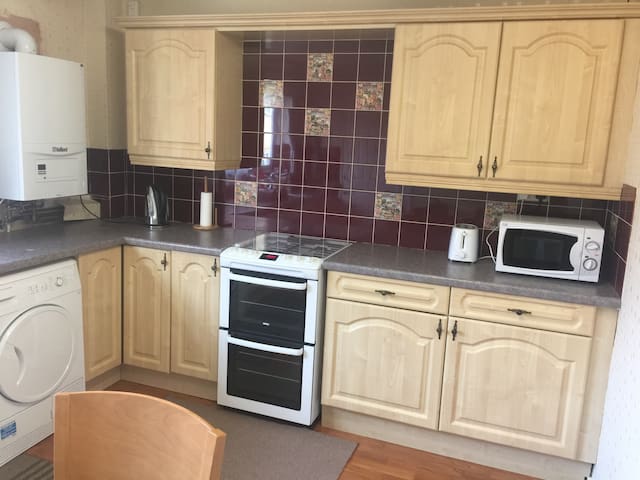 Situated in a quiet residential street ten minutes walk from the city centre. Ideal for couples, solo adventurers, and business travellers. Lichfield is a great place to visit, lots of cafe culture a beautiful cathedral and the birth place of Samual Johnson.
Had a lovely stay with Deb whilst visiting family in Lichfield, she made us feel very welcome. The room was perfect for us, nice and spacious and very clean. The bathroom is just opposite and is newly done up and a good size. Will definitely be back next time we are visiting, great value for money!
Emmy
2016-09-09T00:00:00Z
Deb was very welcoming & made sure I was familiar with everything & then left me to it which was great. The bedroom & bathroom were really nice & had a feel of privacy about them. The neighbourhood was nice to walk in and just a short walk from the city centre. I'd definitely recommend this place. Thanks Deb
Matt
2016-10-07T00:00:00Z
The room is lovely and spacious with lovely bedding. The bathroom is beautiful and has a great power shower. Off road parking is great and the location of this place was great. Will definitely stay again
Nelly
2017-03-02T00:00:00Z
We really enjoyed our stay in Deb's lovely house. It has a brand new high quality modern bathroom just opposite the large double room. Access to the kitchen for drinks and everything provided, even a sweet on the towels! Comfy, a bargain price, and just a short walk into the city center, highly recommend it.
Rob
2017-02-19T00:00:00Z
Deb was a great hostess. Very welcoming. Room is large and comfortable and bathroom is spotlessly clean and modern. Restaurants short 5-10 min walk up the road.
Kat
2017-03-28T00:00:00Z
Lovely quiet comfortable room
Jenny
2017-04-06T00:00:00Z
It was a lovely simple and cozy room. Communication was prompt and clear. Quiet area and about 17 min walk from train station.
kathy
2017-03-26T00:00:00Z
Deb's place was clean & comfortable. It was a short walk from Lichfield city centre & excellent value for money. Deb was super helpful & friendly during my stay & I'd highly recommend her place.
Barbara
2016-09-04T00:00:00Z
Tipo de Acomodação
Quarto inteiro
---
Tipo de Imóvel
Bangalô
---
Acomoda
2
---
Quartos
Lichfield, Inglaterra, Reino Unido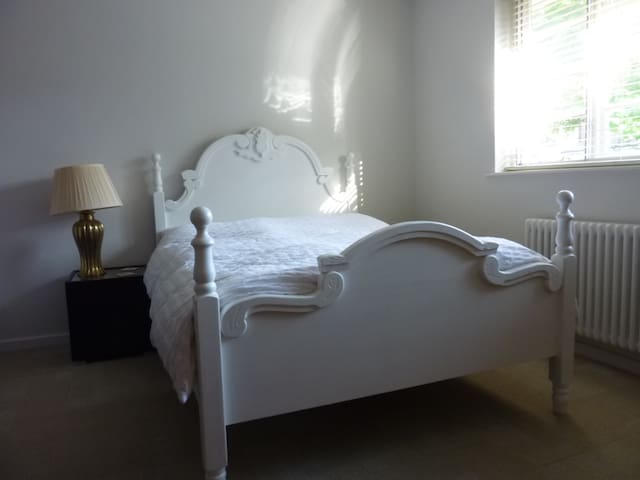 Stables Court Apartments are contemporary two bedroom, ground floor apartments offering a complete ideal alternative to hotel accommodation. Each apartment is fully furnished complete with all essential items including complementary broadband Wi-Fi and car parking. Stables court is located in the village of Handsacre, situated between the historic city of Lichfield and Rugeley Town.
Tipo de Acomodação
Casa/apto inteiro
---
Tipo de Imóvel
Apartamento
---
Acomoda
4
---
Quartos
Handsacre, Inglaterra, Reino Unido
Wren's Retreat at Marsh Farm is located near to many great family attractions including Alton Towers, Drayton Manor Park, Shugborough Hall, Sudbury Hall, The National Arboretum, Lichfield city and Cannock Chase. The room is located on the ground floor of the barn conversion and features two single beds. The room has level access and facilities for less able guests. We are also able to take dogs in this room due to its ground floor location. Price inclusive of full English Breakfast.
Wren's Retreat is located on the ground floor so is suitable for less able guests. There is also a large wet room ensuring that it is easily accessible. This room is also perfect for guests with a dog(s) at it has direct access to outside for exercise.
Cosy,peaceful place to escape to,fabulous breakfast and lovely village nearby with choice of places to grab a beer and a takeaway.10/10.
Phil
2017-01-01T00:00:00Z
Sarah and her Mum were very helpful and kind the breakfast was superb I really rate our stay 6 stars the room and the overhaul experience was brilliant and We looking forward to staying there again
Anthony
2016-09-06T00:00:00Z
This is great place to stay and Sarah was friendly and accommodating. From the large wet room to having access to a kitchen area, a guest is thoughtfully catered for at an affordable price. The farm itself is just before the village, which is easy to walk in to, and provides a lovely, quiet place, with plenty of parking. If it wasn't for other commitments, I'd have liked to have stayed longer. Highly recommended.
Matthew
2017-02-25T00:00:00Z
Tipo de Acomodação
Quarto inteiro
---
Tipo de Imóvel
Apartamento
---
Acomoda
2
---
Quartos
Abbots Bromley, Inglaterra, Reino Unido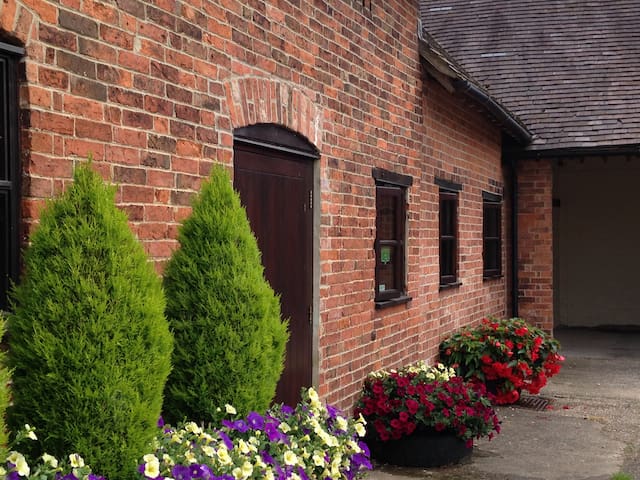 Lovely newly decorated room with patio doors looking out onto the garden. The room is on the ground floor of our new 2 storey family house. It has its own shower room next door and is quite private as you have this area to yourself (other rooms are on the floors above). There is a tv with freeview in the room. Also a combination oven/microwave/grill for guest use, and kettle with tea and coffee making facilities in the adjoining utility room. There is a fridge and freezer on the same floor and of course, wi fi. The double bed is brand new and from John Lewis. Fantastic, safe, central location in this beautiful historic cathedral city. Walking distance to shops, theatre, restaurants, Cathedral and other attractions. Bus and City train station within 10 minutes walk for trains/bus to Birmingham. 40 minutes walk to Lichfield Trent Valley Station for direct trains to London (or taxi £4). Parking is limited but there are some visitor parking spaces. Tea and coffee provided at no extra cost. We can provide breakfast at extra cost and by arrangement.
Safe, quiet, friendly but within 10 minutes walk of the city centre.
I felt very welcome in their home and Chris and her husband were very friendly and helpful. It was pretty much perfect for what i wanted for the weekend. Thanks for the great hospitality and apologies for the late arrival ;) James
James
2015-07-19T00:00:00Z
Chris make me feel very welcome and presented me with a lovely clean room. Just what I needed for my short stay. I hope to be able to use them again
Simon
2014-11-11T00:00:00Z
I had a lovely stay with Chris and a great night's sleep in the comfortable bedroom. The room and bathroom were exactly as shown in photos; bright, clean and stylish. I only stayed for a night but I found Chris to be very hospitable- we had a nice chat, she provided clean towels, showed me where extra blankets could be found and showed me the kitchen where I could have tea/coffee if wanted. I really enjoyed my stay and would highly recommend Chris' listing to anyone wanting to visit beautiful Lichfield.
Elizabeth
2014-06-30T00:00:00Z
Just an absolutely perfect stay! Can't recommend more highly!
Stephanie
2016-09-25T00:00:00Z
Just as pleasant as in the photo. A very clean room and bathroom. Chris was a very nice host. I'll return.
Henry
2014-04-20T00:00:00Z
We enjoyed our stay at Chris's house! Recommend
Peter
2014-04-30T00:00:00Z
Had a great stay, very comfortable and the set-up is perfect to give it a home away from home feel. Chris was very welcoming, would definitely stay again if I'm in the area.
Stuart
2015-10-02T00:00:00Z
Very comfortable stay once again, very accommodating and easy going hosts.
Stuart
2016-03-24T00:00:00Z
Tipo de Acomodação
Quarto inteiro
---
Tipo de Imóvel
Casa
---
Acomoda
2
---
Quartos
Lichfield, Staffs, Reino Unido
Lovely 1930's semi in a quiet, leafy street. 9 mins J13 M6, 10 mins walk to the town centre, 2mins walk to Alstom. Shops, cafés are 5mins walk away, and river walk and canal nearby. Garden, patio, firepit, hottub, tabletennis, treehouse, arcade machine, lounges and kitchen for use.
Spacious garden with a hammock and firepit for you to enjoy. I've just added a hot tub on the patio.
The neighbours are lovely, tree-lined street, everything is nearby including our very own castle.
Sam was the perfect host, he made me very welcome and was extremely helpful with my stay. A very comfortable place and was just what I needed to get my head down for the night. The room with en-suite was just what I needed. And was great to sit down and have breakfast before I got on my way. Thank you Sam!
Jason
2016-05-30T00:00:00Z
Well this was my first Airbnb booking. I should I am very happy probably it was because Sam was a great host. He helped me when I was stuck in Stafford and did not know where to go. He came down and picked me up. I thank him so much for this help. As per description the room was great and a really nice house. He also spent time talking about various things and cooking as well, I should say I learnt a lot from him haha. If I am going back to Stafford I will surely stay at Sam's place.
Deep
2016-01-26T00:00:00Z
As soon as he opened the door, Sam welcomed me with "Welcome home." And that's Sam all the way through. Excellent host. Very kind and thoughtful. The room is comfortable. I feel at home there. I recommend Sam very much.
Quentin
2016-04-15T00:00:00Z
Sam was away when I checked in, but his mother greeted me with a sandwich after a long journey and oodles of good advice! Tricia was so kind to me and I felt immediately welcomed and relaxed ahead of a job interview the next day. It felt so nice to be looked after again. The room and on-suite was perfect for my overnight stay and I was spoiled with plenty of choice at breakfast. Thank you for being so wonderful!
Lucy
2016-05-19T00:00:00Z
Sam's place is great, I will be back.
Ian
2017-03-11T00:00:00Z
Small village. Big welcome
Bradly
2016-05-02T00:00:00Z
From the warm greeting at the door to our farewell conversation, I was made to feel so welcome! It was unexpected as a comp!ete stranger, who was staying for only one night. The accommodation is a wonderful haven with a comfortable bed and an en suite bathroom, which included lovely fluffy towels. I was travelling to see my granddaughter on her 1st birthday or would have stayed longer. Thank you
Susan
2016-05-16T00:00:00Z
Once again, only praise for Sam. I forgot to mention in the previous review that he's kindly thought of the little things, so there are spare toothbrushes and toothpaste and soap and all that in the little bathroom cupboard. So easy to stay with Sam, and he's such an interesting person.
Quentin
2016-04-23T00:00:00Z
Tipo de Acomodação
Quarto inteiro
---
Tipo de Imóvel
Casa
---
Acomoda
1
---
Quartos
Stafford, Staffs, Reino Unido
Suite of rooms accessed from main house which is a Grade 2 listed farmhouse forming part of the historic site of an ancient Priory. Single and/or double downstairs bedrooms, with a wetroom and kitchen. Breakfast food provided. Plenty of off street parking, secure accommodation for bikes. Beautiful rural location by River Sow and Two Saints way, just 2 miles from town centre and train station and a few minutes from the Staffordshire showground.
The light and airy rooms consist of a double bedroom with king size bed overlooking the front garden, a wet room and a bed sitting room with a single bed and small table and chairs for eating or working at. The rooms are downstairs and connected via a small hallway which is also private. The suite of rooms is accessed through the main house. They were beautifully converted in 2007 from the old dairy rooms and decorated and re-equipped in 2013. They have a filtered air feed which ensures that the air is always fresh. All rooms are for sole use of guests and are accessed from a small internal hallway that runs between the rooms. Breakfast items are provided at the start of your stay for you to make your own breakfast. These include bread, butter, milk, cereal as well as basics such as tea and coffee. The kitchen has a 2 ring ceramic hob, full size fan oven, microwave, fridge freezer and dishwasher. The accommodation is within the walls of what was originally a 13th Century barn which forms part of the Mill farmhouse which was extended in the 18th Century. The main house is characterful with exposed beams and a log burner in the entrance room. It is situated in the scheduled grounds of an ancient Priory.
The property is situated in over 4 acres in an idyllic spot overlooking the River Sow. Many birds may be seen in the grounds, and sometimes a pair of swans nest in an adjacent pool. The grounds consist of a large garden with a riverside field which is a hay meadow with mown paths. The Two Saints Way runs behind the property, and the Staffordshire Way is nearby. This is a quiet place, in a peaceful heritage site, yet close to all amenities and in range of delivery services from town restaurants if required!
I had a very comfortable stay here. Marie and her husband were very welcoming and really couldn't do enough to ensure that I had everything I needed. Communication prior to the stay was excellent, especially the detailed instructions on how to find their place. Besides the welcoming atmosphere, the other highlights of the property were the exceptionally comfortable bed and great shower. I would highly recommend staying here!!
Iain
2016-07-03T00:00:00Z
This was a lovely apartment within the main house. All neat, clean, tidy and very comfortable. Marie was very welcoming and had provided "essentials" like milk, bread, tea, coffee and some special treats. The location was beautiful, the garden is gorgeous and it all made for a very peaceful, albeit brief stay for us. Would recommend and will use again if we're in the area.
Richard
2016-06-13T00:00:00Z
This was ideally situated for my job and had everything including a small kitchen which was excellent! Marie and her husband were welcoming hosts and made my stay really comfortable - nice choice of food to make your own breakfast. Will definitely go again.
Fiona
2017-03-16T00:00:00Z
A1 all round
Iain
2017-04-06T00:00:00Z
We had a lovely stay for 3 nights with Marie. Marie and Tony were welcoming, helpful and considerate and the accommodation was extremely comfortable. Marie kindly provided basic groceries for breakfasts. The beds were comfortable and the rooms very well prepared. Having a nicely fitted kitchen and a dining space in the second room meant that we could self-cater as well as eat out if we wished. Good wifi was helpful for planning our days, along with the local information provided for our use. Thank you Marie for making our stay so easy and pleasant.
Vikki
2016-04-11T00:00:00Z
Perfect hosts Perfect accommodation Perfect location
Iain
2017-03-09T00:00:00Z
Staying with Marie was brilliant, she made us feel welcome from the moment of booking and bent over back wards to accommodate us. Could not ask for better service.
Hannah
2016-08-23T00:00:00Z
Marie and Tony are amazing hosts, so welcoming. The accommodation was lovely, clean and very comfortable and had everything we needed. They were really helpful in providing a cot and sheets and even a baby bath. Breakfast and extra bits provided were very much appreciated as well. We had a wonderful time with them and I would highly recommend them.
Rachel
2016-07-27T00:00:00Z
Tipo de Acomodação
Casa/apto inteiro
---
Tipo de Imóvel
Apartamento
---
Acomoda
3
---
Quartos
Stafford, Staffordshire, Reino Unido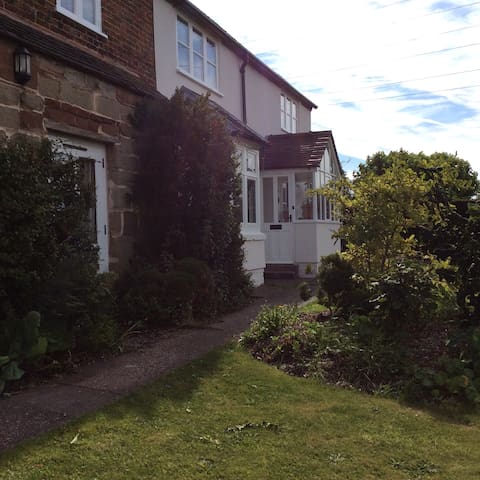 This is a Comfortable room in a 1930's house in Stafford. Stafford is in the West Midlands, close to Stoke on Trent. ½hour from Birmingham and approx one hour to Manchester or Liverpool on the train. Good base for exploring or as a stop off on your travels. We are vegetarians and have two cats - non smoking. We have an additional single bedroom. Total cost of visit will depend on numbers.
The main bedroom is a double bed with some closet and drawer space. There is also a single bedroom listed separately and we can agree a discounted price if booking both rooms - be sure to check calendars for availability. Our road is a cul de sac, we are near the University and County Hospital. The town centre is in walking distance (about 20 Minutes) trains go to Birmingham, Liverpool, Manchester, Oxford and other well know Cities.
Stafford is a relatively quiet and safe town. There is a nightclub and several restaurants. Several Pubs also have restaurant facilities. If you fancy fish and chips one of the best chip shops in Stafford is a short walk away. There is a decent park (Victoria Park) in the town centre, which is also close to the train station, which has a skate board park, young childrens area, close to the river. We are close to the County Hospital and Alstom site.
Great stay, no hassle at all, easy time and massive help from Liz getting around the area.
Zak
2017-02-08T00:00:00Z
Tipo de Acomodação
Quarto inteiro
---
Tipo de Imóvel
Casa
---
Acomoda
2
---
Quartos
Stafford, Reino Unido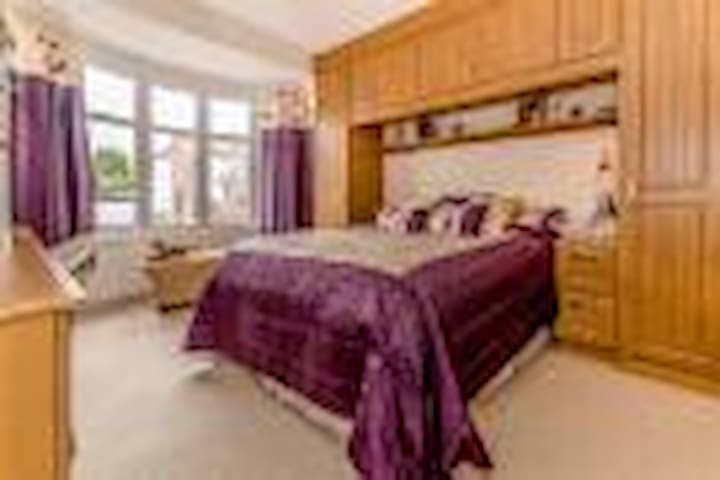 Insira as datas para ver o preço total. Taxas adicionais serão aplicadas. Impostos podem ser adicionados.