236 Apartamentos para Alugar
Spacious 2 Bedroom Apartment, situated on a beautiful horse farm with breathtaking views in Rowley, MA. Located near local attractions, including the Topsfield Fair, Antiques of Essex, the outlets of Kittery, ME, Salem, MA, the beaches of Gloucester, and fine restaurants of Portsmouth, NH. Near Boston too!
2 bedrooms, full kitchen and living room, with spacious bathroom. coffee maker, toaster, oven, stove, fridge, microwave. sheets, blankets, towels included. Apartment is located on the second floor.
Apartment is located on a lovely horse farm. The neighborhood is quiet and comfortable.
We were welcomed by a friendly and helpful host. She offered and did carry some of my bags. There were flowers in the rooms and delightful pumpkin sugar cookies waiting in the very clean kitchen. This place is a find. It is clean, beautiful on an amazing horse farm location. It is close to Rt 95 and everything we needed. I highly recommend this airbnb and plan on staying there again.
Christine
2015-10-20T00:00:00Z
Beth was 1st Class and our stay was magical.
Phil
2016-11-03T00:00:00Z
Apartment was clean and comfortable. Beth was helpful, welcoming, and flexible when our arrival got delayed. Good experience!
Jordan
2016-10-23T00:00:00Z
The tone for my visit was set upon my arrival. I heard the first whinny from the paddock behind the apartment before I even saw the first horse. In the moonlight, I could make out shapes of a few of them. Come morning I could see them all, about a dozen, clad in their blankets and munching hay. Sweet magical polo ponies...all there to entertain me. Early-morning walks introduced me to 21 wild turkeys who strolled up a dead end street toward me, some of them showing off their tailfeathers. The neighborhood was quiet, but people waved and smiled when they saw me out walking. I am a Massachusetts native and was raised about 20 miles away from Billie Bo farm. However, I had no idea about how wonderful the area is. I met Kathy, who walks her polo pony rather than ride him. Betty offered me a pitchfork when I reminisced about how I missed the quiet pleasure of mucking out stalls and grooming a horse. Beth planted coffee and a bag of crispy chocolate chip cookies for my arrival. Betty's pup Joey showed up at my door clad in his own mini horse blanket. The thought of it still makes me laugh. He and his buddies Hank, curly and Bella comprise the dog posse. The apartment has everything you need to cook for yourself but nearby diners are known for sumptuous meals. The location is an easy commute to Boston to the south and the New Hampshire border to the north. You are about equidistant between the two. Beth has taken pains to put together booklets outlining day trips to both places. For those who choode to stay nearby, there are restaurants, beaches, galleries and antique shops a short drive away. The seacoast is a stones throw from Rowley. There is no shortage of things to do if one decides to leave the refuge of the farm. I look forward to my next visit.
Karen A
2016-04-12T00:00:00Z
We had such a nice stay at BillieBo Farm. The apartment was light-filled and super clean. Beth had placed a vase of fresh flowers in each room and there were chocolate chip cookies to greet us. My son enjoyed feeding the horsed each morning and Betty generously took the time to chat with him about the horses. BillieBo is conveniently located and we were able to visit historical sites in Maine and New Hampshire as well as Boston and Salem. The apartment is well appointed and in such a picturesque setting. Beth was so helpful and responded immediately when I had a question mid-trip. I plan on staying at BillieBo again in February and for all future trips to the area.
Marcia
2015-11-23T00:00:00Z
Very pleasant location in a horse farm. Really fun to be out of the city. Quiet and out of the way with all amenities. Large apartment and well heated. Great value .
George
2015-10-24T00:00:00Z
We enjoyed our stay in Rowley on the beautiful horse farm.Beth was a wonderful host,she met us upon arrival and showed us around. The location was great for relaxing after sightseeing in the big city of Boston.
Lisa
2016-05-15T00:00:00Z
We went on our Halloween weekend. Beth received us and showed us the apartment and it was great. There is guest information book in which you can find all you need to know about the neighborhood. She was very Informative and very easy to communicate. My friends are looking forward to stay at Beth's again :)
Kalsang
2015-11-02T00:00:00Z
Tipo de Acomodação
Casa/apto inteiro
---
Tipo de Imóvel
Apartamento
---
Acomoda
4
---
Quartos
Rowley, Massachusetts, Estados Unidos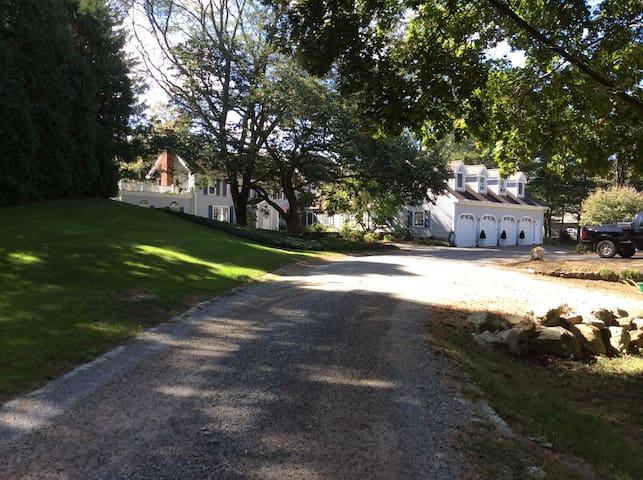 "HomePort" is a nautical themed apartment suite, nestled in a small coastal village of Beverly Farms. The village and has several cafes, restaurants and boutique shops. With its own private entrance, den, two bedrooms each with queen beds, 1.5 baths & essential amenities. The region famous for beaches, museums, galleries, eateries, antiques, many historic attractions. Explore the "Essex Scenic Coastal Biway" or take a commuter train to explore Boston, saving time and expense of driving.
HomePort is a nautical themed private apartment suite, which consists of a den and two comfortable bedrooms and 1.5 private bathrooms. Amenities include WiFi, TV, coffee/tea "galley" station with microwave, mini fridge stocked with beverages and fruit. Nearby are small boutique sandwich cafes, a pizzeria, Dunkin Donuts. For pub/grill dining we suggest Hale Street Tavern (a local favorite). Other nearby great dining options are in Salem & Beverly. We also suggest spending time at nearby Beaches (like Singing or West Beaches) or a day trip along the Essex County Coastal Bi-way to explore Salem, Manchester by the Sea, Gloucester, Essex and Rockport. If Boston is of interest, we suggest taking MBTA commuter train (45 min ) saving travel time and parking expenses. Base on guest reviews, we earned the designation of "Super Host" and would be pleased to suggest "day trips" or to suggest local attractions and events.
Beverly Farms is mostly made up of large summer homes and estates some built during the Golden Age at the turn of the 20th Century. Neighborhood is green, clean and very safe. Dix Park is a large open field with baseball, tennis and basket ball courts. The Library is historically classic and worth a visit. Beverly Farms Book Store is wonderful too. Because our village is safe we generally leave the doors open at all times.
Capt Thad was great. He was very friendly and helpful, assuring us that he would always be on-hand if we needed him. As it turned out we rarely wanted for anything in his very comfortable and well situated home. Located just 5 mins walk from the village rail stop, the house provided us with the perfect base to explore the beautiful Cape Ann coastline while only being forty minutes from the centre of Boston. We would certainly recommend the Captain and his traditional home to everybody.
John
2016-11-14T00:00:00Z
The Captain was very responsive and answered all of our questions. The apartment was nice and clean and the neighborhood is really beautiful. With the train it's easy and fast to get to Boston. Thank for nice stay!
Matthias
2016-08-30T00:00:00Z
Capt. Thad's place was great and he was a very helpful and friendly host. I traveled with my wife, in-laws, and our 18-month old and outside of the typical moving a few items off the tables, the place was perfectly safe for the little guy. The beds were comfortable and the place was clean and tastefully decorated. The grounds were great as well and the location being right next to downtown was very convenient. Though there is no kitchen, the coffee machine, microwave, and mini fridge were useful. Keep in mind, there is no TV, but wifi was reliable and fast.
Bing
2016-10-11T00:00:00Z
I would highly recommend this Airbnb!! It's such a great location. Far enough away from the city but only a short train ride to Boston. The town of Beverly farms is very nice and you are in walking distance of everything. Capt. Thad is very helpful and responsive!
stacy
2016-11-06T00:00:00Z
Had a very nice stay, while visiting the area to see family. It's located right in the middle of a very peaceful town. The bed was comfortable, and the Captain was a good host - even cleared the snow off our car one morning! Would recommend!
Stephanie
2017-02-13T00:00:00Z
What a beautiful home and the surrounding property was stunning. Capt. Thad greeted us upon our arrival welcoming us to HomePort. He was very engaging and provided us with the history of the property. The description of the home and the location were 100% accurate. We will definitely stay at HomePort when visiting Marblehead in the future.
Jerry
2016-11-07T00:00:00Z
This was the first time we used air bnb. We would like to thank Capt. Thad for his kind and generous hospitality as our host. His knowledge of and stories about the local and not so local areas were fantastic and the fact that we could chat about anything at anytime was great. Our apartment was beautiful. I don't have enough adjectives to describe it. Beautifully decorated, spotless, everything worked and the wifi and TV were great. 10 out of 10. Wayne and Leonie.
Wayne
2016-11-03T00:00:00Z
We had a great time here. Thad was Pleasant and very accommodating.
Sara
2016-09-10T00:00:00Z
Tipo de Acomodação
Casa inteira/apto
---
Tipo de Imóvel
Apartamento
---
Acomoda
4
---
Quartos
Beverly, Massachusetts, Estados Unidos
22 mi north of Boston, 10 min walk West Beach. 1 min walk Beverly Farms Train Station, nice restaurants, bakeries & cafes, 32West offers perfect sanctuary w/ HotCore Yoga Studio & Massage Therapist on premise. Midway btwn Salem & Gloucester/Rockport. Full-sized Loft bed + 2nd matching full-sized bed maximizes foot space in our cozy Studio Apt to sleep up to 4 guests in our lil' slice of paradise!
Studio Apt: Ikea full-size loft bed + 2nd matching full-size bed underneath the loft makes a cozy option for up to 4 guests. Flatscreen TV, Wifi, hip-height frig, smallish 4-burner gas stove, Keurig (choose from sample coffee pack) + basic cooking equipment. Large windows. High ceilings. Air Conditioning + Forced Hot-Water Heat (best quality heat ... NOT dry stuffy air). Clean hardwood floors & lovely linens. In center of Beverly Farms, our Bedroom Suite is located inside a charming 1901 home with 2 separate apartments + Schafer Fertility & Massage + HotCore Yoga Studio. Guests are getting their own private 1-room studio apartment. The Bathroom has a brand new white Delta tub and matching sparkling white Delta acrylic surround! Kitchen sink, countertop and island are also brand new! We've outfitted the space with a cozy reading nook for rainy days or after a long day of shopping for our dear Air Bnb guests! Plus, Jen has stashed to 2 big beach towels in your closet (so you don't have to pack as much stuff). Basement laundry + detergent for our guests + 1 off-street parking spot.
In addition to quaint local amenities, the aroma of the Atlantic Ocean wafts through this peaceful old New England neighborhood. Close proximity to Manchester-by-the-Sea, Endicott, Monserrat and Gordon Colleges. 15-20 minute drive to Gloucester, Rockport and Salem.
Peter and Jen were both extremely courteous and friendly, informing us of where everything in the room is, offering to help us find things to do in the area -- but we were visiting an ol college friend of mine so our itinerary was set. Lovely accommodations, loved the food across the street!! Quiet, quaint and would definitely return!!!
Patti
2016-07-30T00:00:00Z
We enjoyed our stay here very much. Cute little studio very clean, great location close to the beach and restaurants. Peter and Jen were great hosts. Would definitely stay there again!
Abby
2016-05-17T00:00:00Z
The cute studio was cozy and comfortable. Close to public transport. Quiet and a really beautiful neighbourhood. There are some local cafes that serve great coffees too:)
Roxy
2016-11-03T00:00:00Z
Everything perfect! I recommend staying at this place.
Marcos
2016-11-20T00:00:00Z
Logement agréable, fonctionnel et idéalement placé pour visiter Cape Ann. Calme et tranquillité sont au rendez-vous. Je recommande. Nadège
Nadège
2016-08-19T00:00:00Z
We had an incredible time staying at Peter and Jen's! The entire studio was in clean and very cute, and fit the four of us perfectly! Peter and Jen gave us great recommendations, and were incredibly gracious and accommodating! If you are in the Beverly area I highly recommend you stay at 32 west!
Anna
2016-05-27T00:00:00Z
My family enjoyed a perfect long weekend away. Peter's place was exactly as described, the perfect size, and the location was amazing.
Trina
2016-07-05T00:00:00Z
This was a great little place close to the train to take u into Boston. Everything was clean and up-to-date. I would stay here again if I travel back to the area.
Keely
2016-07-07T00:00:00Z
Tipo de Acomodação
Casa/apto inteiro
---
Tipo de Imóvel
Apartamento
---
Acomoda
4
---
Quartos
Beverly, Massachusetts, Estados Unidos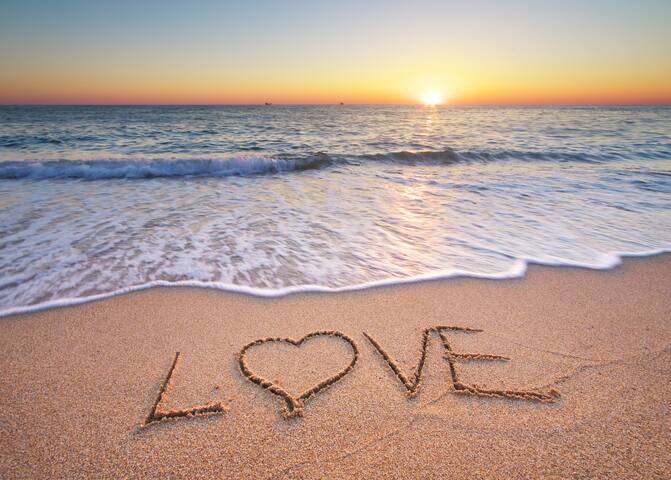 charming and luxucy
Tipo de Acomodação
Quarto compartilhado
---
Tipo de Imóvel
Apartamento
---
Acomoda
2
---
Quartos
Rowley, Massachusetts, Estados Unidos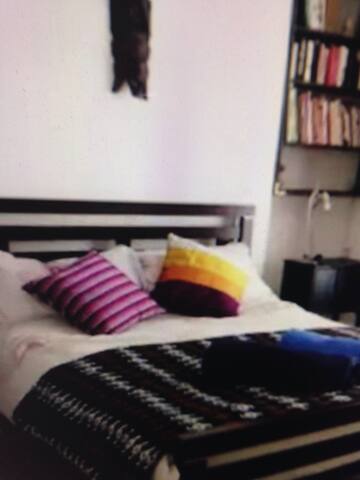 All May bookings will be at 100$ per night (min of 3 nights) Available for mothers day and Memorial day wknd. Perfect for graduations, weddings or any family visit. Comfy with a private patio and everything you need. A charming neighborhood. Close to town, beaches and public T, awesome restaurants, entertainment, music, theater, great museums and more. We are in a very walkable location just a 10 minute walk to the trains to Boston, Salem or Cape Ann
Now about my barn: In Beverly's historic district just steps from Salem bridge. The "Barn by the harbor" is just up the hill from Beverly harbor. A renovated and beautifully decorated attached barn with water views, french doors onto private patio, full kitchen and sitting area on fl 1. Sunny and bright 2nd floor bedroom with a new queen sized bed, TV and full bath. Walk to trains taking you to Boston, Cape Ann, Newburyport, Salem. Walk to beaches, downtown,great restaurants or walk to the lobster pound and create your own clambake (we supply the equipment and instructions) - you can stay here without a car. The barn is attached to an old house (1720) that we've been renovating for a long time. Enjoy all of Salem activities without the hassle! But there is so much more to the area! We can help with anything you may need. We have received five star reviews from guests. The entire North Shore of Massachusetts is a gem. Known for years as the Gold Coast, this area from Cape Ann to Boston boasts glorious coast line, architecture, art- from galleries to world class museums, whale watching, schooner trips, booze cruises and some of the best food ever! The beaches are outstanding - from what we call the pocket beach on the harbor (just down the street) to Gloucester's fabulous Wingarsheek ( we can tell you a backway to get there with outstanding vistas) And there is something fun at every time of year! I'm looking forward to your stay! Please feel free to contact me with any questions.
The area is funky with a lot of history. It is also a working neighborhood with friendly people. It is walking distance to downtown Beverly, the waterfront and Salem as well as the train depot. It's easy to live and do things without a car. If you need one there is an enterprise car rental that is much cheaper than the airport. I advise people to grab a cab from the airport and rent from enterprise. We are also near a zip car station. The music scene right here in Beverly is really amazing and growing. There is a renown jazz room (Chianti), two concert venues within walking distance, a world class theater in the round (north shore music theater) and live performance going on all over the north shore.
I stayed in 'Barn by the harbor' in February and March 2014 for two weeks, it is a very good location and close to the ocean and downtown. It was only about 10 minute walk from my family's condo, so worked out very well.
Daina
2014-03-15T00:00:00Z
Aurelia was a fantastic host, and the location was perfect for a quiet weekend getaway. There are great views, parks, and eateries close by, and walking around Beverly was fun and easy. Highly recommended for anyone seeking a hidden gem in a lovely part of New England.
Rick
2016-10-03T00:00:00Z
A great place to stay - very much as advertised. Convenient, walkable location. Comfortable accommodations inside & out. Aurelia is what we hope for in a host - willing to offer suggestions and happy to be "hands off" as well. Thanks!
Ben
2016-07-23T00:00:00Z
Aurelia and Bob are wonderful people and great hosts. Their 'Barn by the Harbor' is a charming gem of paradise, built on the history of seafaring builders who came before. We loved our stay there. The location is magnificent for quiet walks by the water or into town for a taste of New England history. It was nice and fun and comfortable, a great place to stay, and Aurelia and Bob are the kind of people you wish could be lifelong friends.
Margaret
2013-10-19T00:00:00Z
We had a good stay at the blue barn. It was easy for us to access the unit and check out was smooth too. Aurelia was available to help us when we needed supplies and I'd recommend the barn to other guests :)
Kim
2014-06-07T00:00:00Z
Aurelia was an excellent host, extremely hospitable, kind, and friendly. I would gladly book with her again. The space was also great, very open, clean, and nicely appointed. It was a really great find!
Jeff & Angie
2012-08-24T00:00:00Z
Sweet spot. Gracious host.
Mary
2016-05-10T00:00:00Z
The location and place was great for our stay. Train station was close to go to Boston and Salem was just minutes away. Parking was easy and there was enough space in the place to spread out. Our hostess was ver accommodating and would definitely stay again!
Renee
2016-10-30T00:00:00Z
Tipo de Acomodação
Casa/apto inteiro
---
Tipo de Imóvel
Apartamento
---
Acomoda
2
---
Quartos
Beverly, Massachusetts, Estados Unidos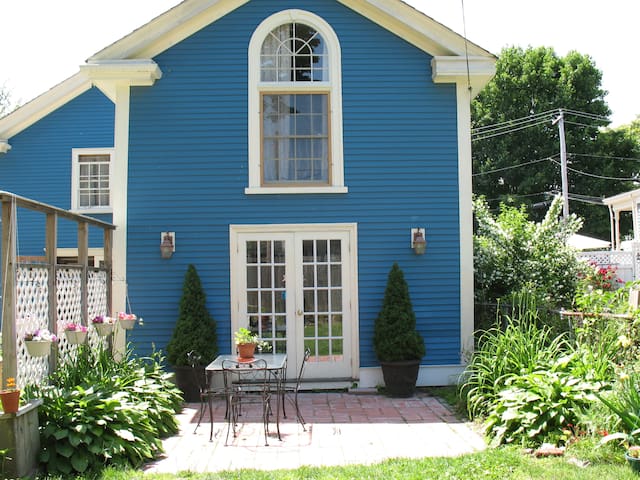 Come with a mini fridge.
The host canceled this reservation 21 days before arrival. This is an automated posting.
elke
2016-12-06T00:00:00Z
The host canceled this reservation the day before arrival. This is an automated posting.
Janell
2017-01-05T00:00:00Z
Tipo de Acomodação
Quarto inteiro
---
Tipo de Imóvel
Apartamento
---
Acomoda
2
---
Quartos
Beverly, Massachusetts, Estados Unidos
Clean modern apartment facing the ocean. You have the choice of two large and comfortable couches to sleep on. Access high speed internet and watch Netflix on a large ultrahd TV Great for short stays (Cheap daily rate but comfortable apartment)
Rant was very instructional and helped me out on setting up routine to stay at his place. Definitely a good place to look at the waterfront.
Thinh
2016-04-16T00:00:00Z
Ramy's place overall experience was good. Good location at river front. Ramy was interactive and has lived up to the expectation of overall requirement.
Prasad
2016-06-12T00:00:00Z
Ramy and his girlfriend were friendly, accommodating and nice.
Niora
2016-08-24T00:00:00Z
Ramy was very welcoming and hospitable. I stayed on the couch as a rest stop on my way home from a long trip, and Ramy's friendly nature and cozy apartment were just what I needed.
Sean
2016-07-19T00:00:00Z
Ramy est super sympa, j'ai pu choisir l'heure d'arrivée et de départ. L'appartement est un peu loin de Salem mais la vue sur l'océan depuis Beverly est superbe. Le canapé est très confortable, je n'y suis resté que 2 nuits mais j'aurai pu rester plus longtemps sans problème.
Anthony
2016-10-24T00:00:00Z
This apartment is very clean and well maintained. Ramy is an awesome guy to have as a host; he is very friendly and welcoming.
Schuyler
2016-08-21T00:00:00Z
Another great stay here. I will definitely continue to use Ramy's place while working in town.
Jason
2016-11-02T00:00:00Z
The host canceled this reservation 4 days before arrival. This is an automated posting.
Roger
2016-10-26T00:00:00Z
Tipo de Acomodação
Quarto compartilhado
---
Tipo de Imóvel
Apartamento
---
Acomoda
1
---
Quartos
Beverly, Massachusetts, Estados Unidos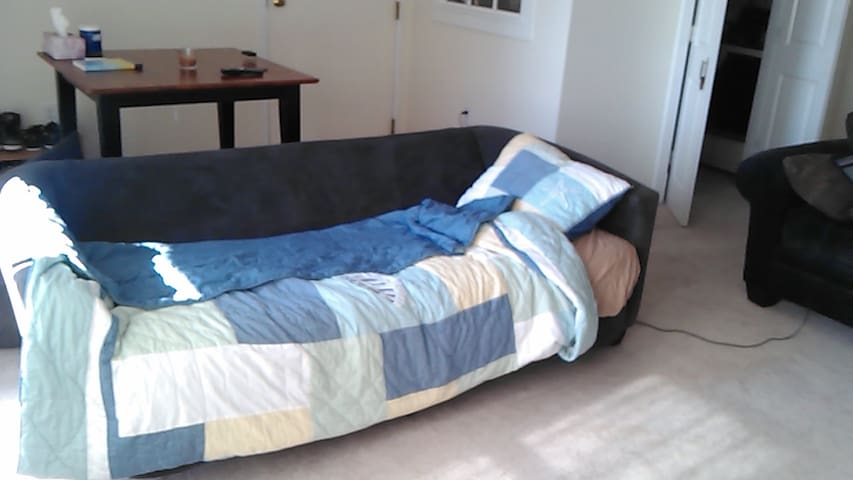 22 mi north of Boston, Midway btwn Salem & Gloucester/Rockport. Eat-in furnished kitchen w/ gas stove, new frig, microwave & dishwasher. Huge living room w/ fireplace, gorgeous furniture + 4 Large bedrooms in spacious 2 floor Apt sleeps 4-8 guests in our lil' slice of paradise! 1 min walk Beverly Farms Train Station, restaurants, health food/produce/wine stores, bakeries/cafes, 32West offers perfect sanctuary w/ HotCore Yoga Studio & Massage Therapist + outside deck, balcony & yard.
Entire apartment has just been redecorated specifically for our AirBnb guests. My mother Constantina Sklivas devoted many years to painting canvases with her beloved group of Rockport artists. In her honor we have hung many of her colorful seascapes and variety of watercolors on the walls. Built in 1901 our home has traditional New England character w/ large rooms, high ceilings + lots of indirect sunlight in Beverly Farms which is a uniquely charming seaside village. If you have a small group or wish to add to your party, you may also additionally book our 1st floor AirBnb Studio Apartment.
In 1630 Beverly Farms was settled by 5 planters: Conant, Balch, Trask, Woodberry, and Palfrey harvesting crops of hay, indian corn, oats, barley, rye and potatoes. In the late 18th & early 19th century its proximity to the Atlantic Ocean lead wealthy Bostonians and New Yorkers to build enormous estates ("summer cottages"). In 1907 Beverly Hills, CA was named after Beverly Farms which was then a fav vacation spot for US President William Howard Taft. Today our AirBnb home is located smack in the heart of this quaint seaside village.
Tipo de Acomodação
Casa/apto inteiro
---
Tipo de Imóvel
Apartamento
---
Acomoda
9
---
Quartos
Beverly, Massachusetts, Estados Unidos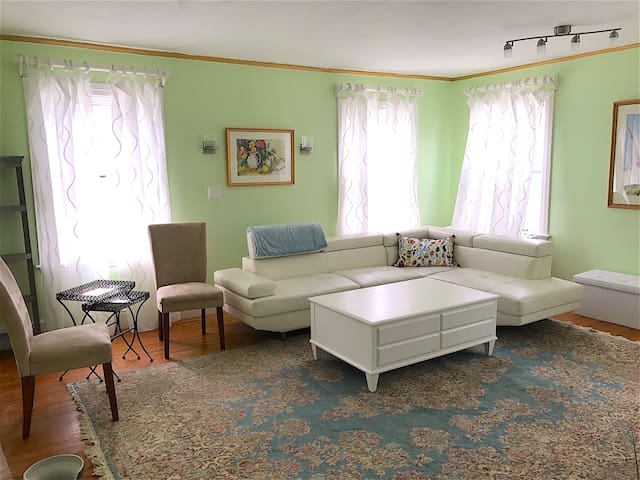 Malt Hill oceanside estate is on the Gold Coast of Cape Ann and sits on 25 acres with its own private beach and award-winning gardens. Stay in the historic carriage house's two-bedroom apartment and enjoy a private patio and grill, while also getting access to the property's pool, hot tub, and tennis courts. A quick 10 minute walk brings you to West Beach, and Gloucester, Salem, and Boston are a short train ride away.
Built in the 1800s, Malt Hill, perched on 25 acres of oceanfront land, is one of the last great Cape Ann Gold Coast estates. The Shell Grotto is one of three apartments in Malt Hill's carriage house, which was completely updated and renovated by my family. It's called the Shell Grotto because when we redid the walls, we created mosaics in the plaster using local shells. You can see some of our work in the photos.
Malt Hill is right on the town line dividing Beverly from Manchester-by-the-Sea. Beverly Farms has some lovely restaurants and bakeries, including Half Baked (best doughnuts, cupcakes and coffee), Vidalia's (epic sandwiches), Cygnet (fancier lunch and dinner spot), and Hale Street Tavern (Wednesday Wing Night and great sushi). Of course, there's a Dunkin' Donuts as well. Manchester-by-the-Sea's town center and Crosby's, our local market, is about three miles away, an easy bike ride or quick trip in the car. Manchester also has excellent dining opportunities: Foreign Affairs (amazing raw oysters, fancy cocktails), Cala's (casual dining and yet another wing night), Beach Street Cafe (delicious, simple diner food), and Christo's Coffee Cup. Beverly Farms has a stop on the MBTA Commuter Rail, so if you want to take a jaunt into Boston and not worry about parking, it's a 35 minute trip to North Station.
Our family had a fantastic experience at Malt Hill! We needed a last minute place to stay for five days and Julianna was able to pleasantly and immediately accommodate all our needs. Our family of four (2 adults and two teens) enjoyed the peaceful beauty of the whimsical and well thought out landscaping. Upon our arrival we were greeted with smiles and given a tour of the grounds and all the hidden nooks and crannies. What a delightful botanical location! The apartment was prefect for our family of four and we enjoyed cooking and grilling nightly. We had a few fires in the fire pit that was surrounded with comfortable rocking chairs and a huge slab of stone that can double as a dining table. The teens enjoyed the walk to the private beach and returned many times to enjoy the sun/sand/water. Daily dips in the grotto pool were magical as were our nightly soaks in the redwood hot-tub with fabulous views of the ocean from both. The proximity to the center of Beverly Farms made it easy to pick up supplies as needed. An added plus was the ability to do our laundry! We had complete privacy and never felt help was more than a quick call away and all our questions were immediately answered. We are looking forward to planning another stay at Malt Hill. Thank you for sharing your beautiful historic home with us. It was far superior to staying in a hotel.
Judith
2016-07-03T00:00:00Z
Tipo de Acomodação
Casa/apto inteiro
---
Tipo de Imóvel
Apartamento
---
Acomoda
5
---
Quartos
Beverly, Massachusetts, Estados Unidos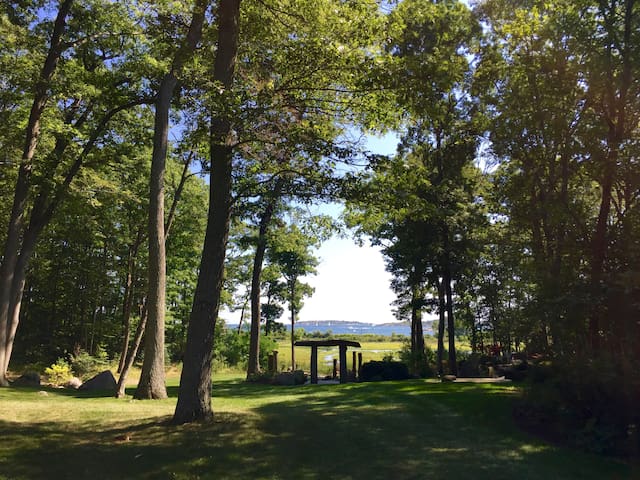 My place has great views, nearby to parks, the beach, restaurants and dining, and art and culture. the outdoors space is endless, This accommodation would be great for couples, solo adventurers, business travelers, and families (with kids)......q
Tipo de Acomodação
Casa/apto inteiro
---
Tipo de Imóvel
Apartamento
---
Acomoda
4
---
Quartos
Beverly, Massachusetts, Estados Unidos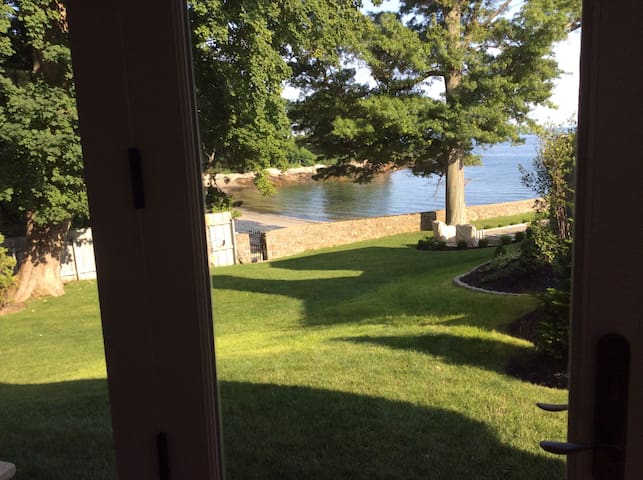 My place is close to great views, restaurants and dining, the beach, family-friendly activities, and nightlife. You'll love my place because of the location, the ambiance, the neighborhood, and the outdoors space. My place is good for couples, solo adventurers, and business travelers.
This place is perfect for anyone that wants to be close to the action, but not inside it. Kelly's place is comfortable and clean. As a hostess, she was easy to get in touch with and available to chat, but at the same time, gave us our privacy. Just a short drive from the cute beach town of Beverly, this is a great place for anyone looking for a quiet, relaxed get-away or cozy place while on business.
Rachel
2016-08-20T00:00:00Z
Kelly and Missy are extremely sweet and welcoming. Definitely my new favorite way to vacation. I would stay with them again in a heartbeat- great location and maximally great experience.
Heather
2016-10-17T00:00:00Z
Kelly's place is clean, well-furnished, and cozy. Her dog Missy is adorable. Kelly is a great host, both friendly and hospitable. I recommended staying with her.
Nam
2017-03-06T00:00:00Z
Kelly has a comfortable place and a very sweet pup. I had a nice stay.
Avery
2017-04-07T00:00:00Z
Kelly and her loveable pup Missy are the best hosts my friend and I could have asked for! If we're ever in Massachusetts again we'll definitely stop by to say hello or to visit/stay again!
Azlyn
2017-03-12T00:00:00Z
It was an overnight stay and we found Kelly to be very welcoming. It was a positive experience.
Gail
2017-02-28T00:00:00Z
Nicole and I had an amazing stay at Kelly's! She was a such a warm and wonderful host and her accommodations were extremely comfortable and peaceful. Nicole and I spent most of our days in Salem enjoying the tourists atmosphere so Kelly's home was a perfect place to end the night and get some good rest. Kelly and her friend had some great food and attractions suggestions. Her friend was so wonderful and drove us into town as our uber driver on our night out! So convenient and was great to have someone that new the area so well. Though out of the of the town of Salem, it was not far and not hard to get to. We had a perfect stay at Kelly's and we will always remember her warm hospitality! And her sweet dog Missy too! Thank you again!
Kelly
2016-10-03T00:00:00Z
We had a great stay. A quiet place to rest, a comfortable bed. Coffee and tea in the morning before heading on our way.
Mike
2016-12-04T00:00:00Z
Tipo de Acomodação
Quarto inteiro
---
Tipo de Imóvel
Apartamento
---
Acomoda
2
---
Quartos
Beverly, Massachusetts, Estados Unidos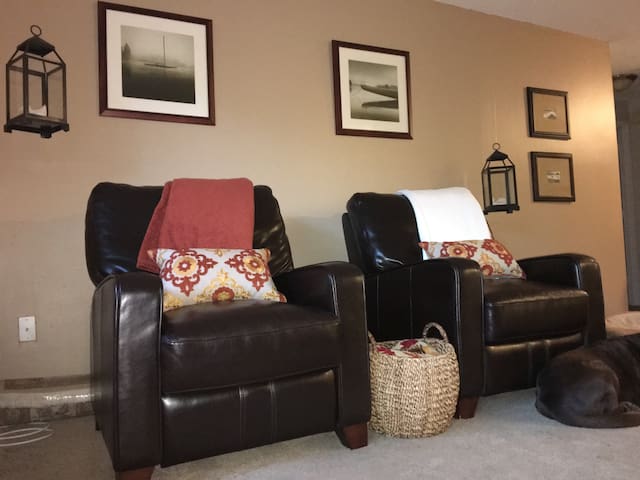 April/May special pricing. Mothers day and Memorial day wkend available. In Beverly just over the bridge from Salem. Comfy, roomy, apartment is on a quiet side street makes an excellent home base for exploring the north shore. A five minute walk to train, waterfront and downtown. Perfect for visiting family for events or vacation, weddings, graduations or business- enjoy a vibrant music scene, great restaurants, museums and events without the crowds! Area college parents love this place!
This spacious apartment is perfect for family activities. There is plenty of room to stash your bike, cook a great meal, park your car- you can walk to some of the best restaurants on the north shore or to the train depot less than five minutes from the door and head to Boston, or take your bike Newburyport or Cape Ann. This first floor, three bedroom apartment (1 queen, 1 full, 1 twin) has everything you need for a great stay. Fully furnished, large kitchen, cable, wifi, washer and dryer in basement- off street parking. Not fancy but clean and comfortable. Just off downtown Beverly on a quiet side street, walk to restaurants, beaches, museums, funky coffee shops and galleries and just a stones throw to Salem. With all the events happening around the north shore and Salem area- it's almost impossible to find an affordable room let alone a place for a family! With this affordable apartment the whole family will have room to relax and privacy. Once you check out the north of Boston and our "Gold Coast" you will be enchanted! History, art, music, maritime activities, beaches, boats, architecture, ethnic foods from Italian to Indian, Thai, Mexican and more, Unbelievably delicious seafood! Great hiking areas to walk it all off! We are also becoming quite a bicycle hub. My place will be an excellent home port for your stay! College parents love this place. Endicott, Gordon, Montserratt, Merrimac, Salem State and Landmark school too. They like it because the kids can stay with them if they want. You can have a family dinner. You also can have some space. Please consider staying here- you'll love it. I have received five star reviews and I like five star guests!
Walking distance to everything. A quiet neighborhood near a downtown area with great food, music and activities. Walk to the waterfront and beaches, library, town green even venture over the bridge to Salem!
The appartment was more spacious than we anticipated. Aurelia was very easy to deal with and we felt right at home once we arrived. I would defintely book the appartment again on our next trip back.
Josemaria
2015-11-23T00:00:00Z
Aurelia was very nice and accommodating. Her apartment is very close to Salem or Boston. Very useful. We enjoyed our stay over there.
Sandra
2011-10-11T00:00:00Z
The host was great with responding to my questions and concerns prior to my trip.She was very informative about the area. She welcomed us and made us feel at home. The location was great for seeing most of Massachusetts.
Daneen
2015-07-27T00:00:00Z
The listing was accurate. Not shown in the photos are two small bedrooms with twin beds. The apartment is on the bottom floor of a two-story house (the upstairs neighbor is very nice). When driving to the house from the highway, the neighborhood looks uninteresting, but one block beyond the house is a lovely street with good restaurants and shops. We didn't need the commuter train, but it is very convenient to the house too. Aurelia was very helpful, even answering questions when she was out of town.
Mary
2016-01-11T00:00:00Z
Wir haben uns sehr über einen Willkommens-Blumenstrauß gefreut. Aurelia hat für einen unkomplizierten Zugang in die Wohnung gesorgt. Es war sehr sauber und wir konnten die Waschmaschine, Trockner und den Garten nutzen.
Bernd
2016-07-29T00:00:00Z
Aurelia was a great host and the area was an interesting suburb of Boston.
mark & cathy
2016-08-05T00:00:00Z
Aurelia was always very responsive to email communication, texting or phone call. She made sure we could contact her for anything. The apartment was overall clean except the bathroom tub and shower curtain. It was adequate in space but lacked space to put up your toiletry. So it was not very convenient or easy for four of us to spend time in the bathroom. Aurelia was very apologetic and would have rectified the situation had I let her know. We liked the location as it was within walking distance to shops, restaurants and laundry mat. The apartment was spacious but just outdated. Overall it was a pleasant experience as we enjoyed the quiet neighborhood, convenience to shops and a very nice host.
Nancy
2015-08-09T00:00:00Z
This cozy apartment is only a few blocks from the beach and a couple blocks from downtown. We didn't have any problems and enjoyed our stay. The beds were comfortable and we slept well.
Daniel
2014-09-29T00:00:00Z
Tipo de Acomodação
Casa/apto inteiro
---
Tipo de Imóvel
Apartamento
---
Acomoda
6
---
Quartos
Beverly, Massachusetts, Estados Unidos
A charming 1 bedroom tucked up on Prospect Hill a short walk to downtown Beverly. Enjoy a quiet comfortable home with plenty of natural light and ample parking. Apt is on the first floor. 10 minute walk to Commuter rail and Dane Street Beach.
Clean and comfy 1 bedroom apartment. The living room has high ceilings and large restored windows that maximize natural light. 40' inch TV with cable and 2 couches. The bedroom is good sized with 3 south facing windows. Kitchen is large with farm style table perfect for group meals or doing work. Wifi is fast and reliable. Clean sheets and Towels will be prepared for guests.
Prospect Hill is a lovely neighborhood set right up the hill from Historical Cabot Street. Easy access to restaurants, live music at the Cabot Theatre or Chianti's wine bar. Dane Street beach is a short walk down the road.
Great 1 bedroom space very close to a bustling downtown.
Elspeth
2016-06-05T00:00:00Z
It felt like the location was a stones throw to Salem. The neighborhood was very cute and quiet. There were a few places to get some breakfast and coffee that were just delectable and within walking distance. The apartment was well lit (artificially and because of all the large windows), nicely decorated, had fast wifi, a smart TV with access to movie streaming apps, the space is quite large and definitely doesn't feel cramped. I highly recommend it to anyone looking to explore the areas north of Boston.
Gerard
2016-08-16T00:00:00Z
This was a great stay for the one night I was in town. The kitchen was large, the bedroom was spacious, and everything was in great order. Thanks again for the experience.
Doug
2016-09-05T00:00:00Z
Our stay was a quick one, but it was comfortable and welcoming. We got in pretty late from a Red Sox game and had no issues getting the key and settling in. The place was clean and we felt right at home. The neighborhood was quiet and easy to navigate. This apartment is also super close to all the necessities; grocery stores, restuarants, Dunkin Donuts. Tyson even has a book full of recommended places to eat. Overall, a nice stay and we'd stay again.
Adam
2016-08-12T00:00:00Z
Tyson's home was a nice place to stay & he was friendly and available by text if needed. His home was spacious enough, had comfortable furniture, good layout, quite & historic neighborhood, convenient to restaurants/bars/the Cabot Theater and a short stroll to the beach. I would though recommend being mindful of the weather forecast as one room has a/c. I happen to have stayed during the hottest days of the year so you'll probably be ok if temperatures are below 90 degrees which I think they usually are.
Lauren
2016-07-26T00:00:00Z
Great location with everything being in walking distance that you really need. Overall we had a lot of fun with the festivities in Salem.
Nathan
2016-10-24T00:00:00Z
Nice place to stay but neighbors were loud at night. Would recommend though.
Stephane
2016-09-06T00:00:00Z
My first Airbnb experience was smooth sailing, thanks to Tyson! Very helpful and responsive. Clean apartment as well as beautiful. He also left suggestions for restaurants As well (great suggestions!!)
Kayla
2016-06-06T00:00:00Z
Tipo de Acomodação
Casa/apto inteiro
---
Tipo de Imóvel
Apartamento
---
Acomoda
2
---
Quartos
Beverly, Massachusetts, Estados Unidos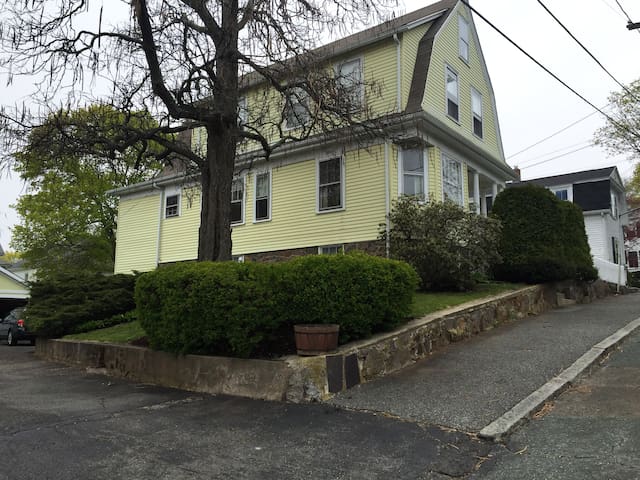 The Harborfront at Independence Beach & Park is known for spectacular views, location and amenities.Steps to beaches, waterfront activities, town, restaurants, nightlife, train, Salem and Boston ferry. Fully equipped, modern, 2 Bedroom, PRIVATE apt with A/C and ocean balcony.
This newly renovated and fully equipped, PRIVATE 2 bedroom, third floor loft apartment has an oceanfront balcony, private, rear deck and entrances, fully equipped kitchen, linens, toiletries and central air for your comfort and enjoyment. Also included are complimentary WIFI, cable TV and coffee/tea, beach towels and beach umbrella. The balcony is the perfect place to start your day off with a day with a cup of coffee as you watch the sunrise, and the fishermen and lobster boats head out to sea. When you are finished exploring the treasures of Boston's 'Gold Coast', return home for a quick dip in the ocean or a leisurely stroll along the harbor and coastline and perhaps a cocktail as you enjoy a relaxing evening and the top amenities of this seaside, cottage apartment.
Waterfront location with beaches, parks, marinas and various waterfront activities on the Beverly/Salem line. 2 blocks to town amenities featuring an eclectic mix of restaurants, cafes, galleries, local artisans and shops. A 10 minute walk to the Beverly Train Depot connecting you with popular tourist destinations of Gloucester, Rockport, Newburyport and Boston.
After a hectic week in New York, Kathy's apartment was a haven of peace and prettiness. The beautiful views were complemented by a beautifully appointed apartment, with many small details that added to the comfort and enjoyment of being there. Kathy herself is friendly without being intrusive. Beverly, too, is a lovely destination, with much of historical interest, good restaurants, convenient stores (and a very helpful woman at the laundromat), and is perfectly situated for travelling to Salem and Boston (ferry being the best option for the latter), and to driving up the coast to Rockport, or inland. We spent 5 days there and were sorry to leave. Highly recommended.
Ann
2013-09-27T00:00:00Z
OMG!!! We stayed at Kathy's place at the end of our vacation to unwind and relax after a very hectic schedule. Her place was amazing!! Fantastic views of the waterfront right across the road, beautifully decorated with a comfortable feel, and the most gracious host! Kathy went all out by supplying breakfast staples and coffee!! We hated to leave!!!
Reed
2012-06-24T00:00:00Z
Our stay in Beverly was great. The apartment was lovely and Kathleen was a great host. Day tripping to Boston was easy by either car or train (we tried both), but would also recommend taking the time to see Beverly. The Barrel House American bar was good for dinner. Highly recommend Kathleen's property.
Jonathan
2014-05-20T00:00:00Z
Very nice appartament and lovely owner
erika
2012-08-06T00:00:00Z
Kathleen's cottage was a perfect architectural space for Massachusetts style and culture. Rarely does a home combine the beauty of the place it occupies on the inside. Cozy, fully functional, gorgeous views and extremely charming, I'd give Kathleen's place my highest recommendation in all seasons. Thank you Kathleen for a lovely stay!
Derek
2016-10-30T00:00:00Z
This apartment was simply perfect! The view from the porch and balcony was beautiful! Loved the convenient location and lovely neighborhood. The beach is just across the street and lots of shops and restaurants are within walking distance. Very clean and nicely decorated. You'll find all the comforts of home in a picturesque setting!
Janice
2016-06-15T00:00:00Z
Kathy's third floor apartment is comfortable in every way...right on the water on the famous Lothrop Street. It was well-stocked with everything, including first morning breakfast. She was helpful in advising us on local restaurants and places of interest. We would definitely stay there again!
Dan
2012-05-12T00:00:00Z
We had a wonderful time at Kathy's house. The apartment was very clean and well equipped. We where there for a three night stay. Two of the nights we ate out, one causal and one a little higher end, both were delightful experiences. The third night we cooked in and ate on the back porch which was a beautiful. After dinner we went to the local theater on Cabot St. Kathy was very available with answers we might have about the area or local stops. If you have the chance stay with Kathy you won't be disappointed.
George
2012-08-30T00:00:00Z
Tipo de Acomodação
Casa/apto inteiro
---
Tipo de Imóvel
Apartamento
---
Acomoda
4
---
Quartos
Beverly, Massachusetts, Estados Unidos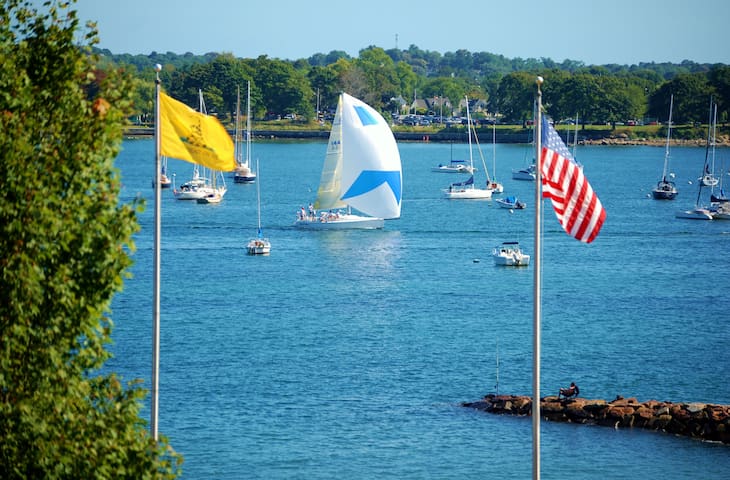 Plenty of room- great price! This spacious, 3 BR second floor apartment is located on a quiet side street just off downtown. Perfect for families visiting the area on vacation, college tours, weddings etc. or business stays instead of a hotel. Grandparent love this place, they can hang with the kids but they have their own space! Steps from train, downtown with great food and entertainment and waterfront. Includes off street parking -but everything is walking distance! Coin op laundry.
This place is a second floor 3 bedroom apartment just off of downtown. it offers plenty of room for family to visit and for people to have their own space. Walking distance to train, great restaurants and a happening downtown with a lot to do. It is located just about a mile from Salem and all that it offers. Fully furnished with off street parking for two cars, coin op. washer and dryer in basement, hardwood floors, dishwasher. Beverly is a fun foodie town with a lot of interesting restaurants, coffee shops, etc. from Italian to Indian, Thai and more all within a walk of the apartment. The train depot is just down the street- go to Boston or Salem or travel north to Gloucester, Rockport or Newburyport. We can clue you into some great spots off the beaten path. Whatever your interest, you will find something here, art, architecture, boats, beaches, history and more. (did I mention food?) There is a movie theater, beach, a bowling alley, a beautiful public library, ymca, playgound and museum all within a ten minute walk so there is something for the whole family. We are always willing to offer suggestions and tips to help you have a wonderful stay. I'm very proud of my reviews! One thing we try not to do though is get in your way. You're here for a vacation, not to make a new best friend. We try to respect your vibe! I hope you will consider staying here. Thanks!
Location, location, location. Walk everywhere, access to public T, Close to the water. There is a rich and interesting food scene downtown. A theater, bowling, gyms, library - plenty to do.
This was our first experience with Airbnb and it was fabulous! We chose this airbnb because it was close to our daughter and son-in-law. Coinsidently, it is also a few blocks from the beach! Auriela's place sits on a dead end street in a very quiet neighborhood. The apartment has three bedrooms, an office along with a living area and a spacious kitchen supplied with any appliance and tool one could need or hope for. Our effervecent host was working at the property the next day and checked in to ask if there was anything we needed. How could we? We felt right at home! We were so impressed with this lovely nest that we hope to stay there again in the future. This is truly a gem! Aurelia was prompt with a response each time I contacted her before arriving.
Christine
2016-07-06T00:00:00Z
Aurelia went out of her way to accommodate my needs. Everything was perfect and the neighborhood was conveniently located. We had a great time and would return
Lisa
2014-09-01T00:00:00Z
We had a very nice time here. When we arrived, we were pleased to find the second floor apartment was quite spacious. Everything was clean and quite accomodating. The apartment was equipped with virtually anything we needed - including a kitchen we could have cooked every meal in. We would absolutely stay again. Thank you for your hospitality, Aurelia!
Damon
2014-10-20T00:00:00Z
We had everything we needed and the place was nice and clean. When we first arrived there was only one AC for the whole place which would have been fine except that it was an unusually hot day and we had a baby with us but Aurelia's husband brought us an extra AC and everything was great.
Crystal
2013-07-22T00:00:00Z
Aurelia provided me with her cell phone number, and promptly responded to the only question I had during our stay. She was welcoming, but did not hover, and allowed us to enjoy our time without worry.
Jennifer
2016-06-20T00:00:00Z
Everything was clearly set out and communication was great. The rooms were perfect for our family to give us the space we needed. The train station was excessible and the beach a short walk as well. The town was charming and people were friendly . We enjoyed the location north of Boston close to whale watching but excessible to the train into the city
martin
2016-07-22T00:00:00Z
The house and the location were both great! We had lots of space and comfortable sleeping arrangements. The new stove was a plus, too!
Anna
2014-07-29T00:00:00Z
This is a lovely and spacious apt. Very attentive host with good area info, she even supplied all the gear to make a lobster dinner. Really good location to explore Rockport/Gloucester, Boston even south to Plymouth is not far. Would stay again without hesitation.
Sean
2014-08-11T00:00:00Z
Tipo de Acomodação
Casa/apto inteiro
---
Tipo de Imóvel
Apartamento
---
Acomoda
5
---
Quartos
Beverly, Massachusetts, Estados Unidos
Spacious, quiet two bedroom condo with in-unit laundry and off-street parking. A short walk to the beach, minutes from Rt. 128, easy commuter rail access to Salem, the North Shore, and Boston. An ideal spot for any season or occasion!
Sunny, updated, and inviting second floor unit in a three-unit building. Quiet and friendly neighbors in the building. A full kitchen, off-street parking, and a spacious, sensible layout all will allow you to relax, enjoy, and make this your home away from home!
Located in a quiet urban neighborhood, you'll have access to everything you'd expect from a city and none of the drawbacks. Just a ten minute drive from downtown Salem and a five minute walk to the Beverly Depot MBTA station, this is a perfect, cost-effective option for all of the Boston area's attractions! Not going far? No problem. Downtown Beverly has a charm all its own, and it's all within walking distance. Enjoy cafes, shops, beaches, bars, and amazing restaurants. Beverly is also super accessible by car and you'll be only a five minute drive to Route 128. Boston, Cape Ann, and the rest of the North Shore are yours to explore!
Max was extremely friendly and helpful. His apartment was clean, spacious and he left a list of helpful instructions and things to do. Beverly was a super cute town and close to many attractions. Thanks again for letting us stay! Had a great time :)
Rachel
2015-03-29T00:00:00Z
Max was super friendly and I loved the apartment!
Juliette
2015-01-17T00:00:00Z
Max's place is just as described and pictured. We greatly enjoyed our time there. It has a lot of natural light, and during our July trip, we enjoyed leaving the windows open. The apartment also has central air and heat. You can be at either water front within a 15 minutes walk, and the walk to the train deport is only five minutes. Several great restaurants are two blocks away. The beds are comfortable.
Elizabeth
2015-07-26T00:00:00Z
Max made the entire process completely seamless and lovely. The apartment gorgeous and exactly as it looks on the site. Everything was clean and comfortable and very inviting. We were visiting family in Beverly and are familiar with the area. The apartment is walking distance from several restaurants and bars. We didn't take public transportation but you could also easily catch the T with just a short walk. There aren't a lot hotels in Beverly and this is a great alternative.
Jen
2015-03-08T00:00:00Z
Max confirmed our stay right away and was very responsive in all his communications; getting there and settling in was a breeze. The neighborhood is very nice and friendly, so the location is fantastic. Max's place is well decorated; we had a good laugh at the fridge magnets and the living room is warm and inviting. Thanks Max!
Brian
2015-05-31T00:00:00Z
Max was quick to respond and very informative. He made arrangements simple and communication easy! The place is exactly like the pictures posted with each room being spotless and clean. I spent the weekend with my boyfriend and the apartment easily accommodated us both. Overall, this was a fun and cozy experience. Would definitely recommend.
Diana
2015-07-13T00:00:00Z
Nice unit, as described. Max communicated quickly and effectively throughout our stay, when necessary.
Jose
2015-04-05T00:00:00Z
Tipo de Acomodação
Casa/apto inteiro
---
Tipo de Imóvel
Apartamento
---
Acomoda
2
---
Quartos
Beverly, Massachusetts, Estados Unidos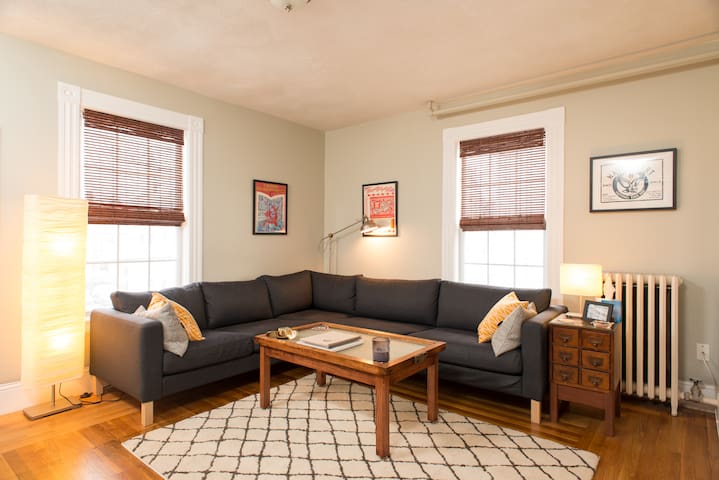 Summer is happening in Marblehead! Our extremely comfortable, cool,funky, and quaint one bedroom apt. is in the center of old town. The house built in 1731, has a beautiful garden and is steps away from a beautiful harbor, restaurants, shopping, nightlife, and groceries. It comfortably sleeps two with a deck, kitchen and WD!
Linda!
We loved the apartment, it was very homey. Norman communicated how to find it, park, and get in precisely, and made it a breeze. This was our first air b&b experience and it was truly wonderful. Although we never met Norman or saw him, he communicated clearly. Entering the kitchen we were met with beautiful, fresh apples. He also provided coffee which was greatly appreciated! We also enjoyed his tips sheets on local sights and eats. The location couldn't be more perfect, and we wish we had been able to stay much longer. Beautifully kept, spotless, property. We highly recommend this stay over!
Tammy
2014-12-11T00:00:00Z
Incredibly cozy apartment in a superb location. Marblehead's old town is as picturesque a place as one can imagine, and the apartment provides walking access to all of it. Close proximity to restaurants, bars, shopping, and glorious views. The apartment's amenities were ideal, and reserved parking is a life-saver in Marblehead. Norm was always accessible and made everything easy. Incredible value for incredible comfort in an incredible place. Highly recommend!
Steve
2015-04-22T00:00:00Z
Fantastic short break in Marblehead. Norm was really welcoming. There was a note showing us where to park and in the apartment helping us orientate ourselves. They recommended 3 places to eat all within a few mins walk- we tried them all and would certainly recommend to others. Lovely apartment exactly as described. Would definitely recommend to others.
Jo
2016-05-16T00:00:00Z
We felt very welcomed. Norm was very friendly and helpful. We loved the neighborhood. It is very close to the water and shops. Quite street and neighbors. We loved sitting on the deck. The back yard and deck is peaceful and quite. If we returned to Marblehead we would definitely stay there again. Once a fuse blew in the front of the house and he re-set it promptly.
Jane
2015-08-17T00:00:00Z
Norman left everything perfectly as he had described in his messages prior to arriving. The neighborhood was perfect, central walking distance to everything in beautiful Marblehead.
Robin
2015-12-13T00:00:00Z
A friend and I stayed at this lovely apt recently. The true bed and trundle bed were very comfortable and the apt is true to description. Mablehead is gorgeous and very walkable. Upon arrival, there is a list of restaurants and things to do in the area. We went into Boston one day, which is a short drive to the commuter train and approx 20 min ride into the city. Norm replied quickly to any questions we had. I would recommend his place to anyone!
Jessica
2016-11-19T00:00:00Z
Not only did Norman give detailed instructions on how to get to the apartment, but we really appreciated that he had signs out for us--showing us where to park and a sign on the apt. door saying "Welcome to Marblehead Nancy and Richard." Inside he had a note (often humorous) detailing some of the local restaurants. The apartment was quirky as only an apartment in a 1731 building can be, but outfitted with all necessary conveniences. Great water pressure! Comfy albeit fairly soft bed, even a trundle bed underneath. The apartment features a deck, but we were too busy walking around historic, beautiful Marblehead, which was right out our front door or--when the sun came out--exploring the picturesque towns and sandy beaches of Cape Ann. Things to note: you can swim at the dock in Crocker Park. Maddie's Sail Loft has decent food, and a small Vietnamese restaurant, Soall Bistro, is also worth trying. Of course, Driftwood is a must for fish shack food or breakfast.
Nancy
2016-07-13T00:00:00Z
Fantastic apartment ideally located in the beautiful historic part of Marblehead. Lots of places to eat and drink within a few minutes walk and bus to Wonderland leaves from top of the road- although we found it best to drive to wonderland station and park there ($5 for the day) it's then a quick blue line subway into the centre of Boston. Perfect end to our USA adventure!
Sophie and Al
2016-10-09T00:00:00Z
Tipo de Acomodação
Casa inteira/apto
---
Tipo de Imóvel
Apartamento
---
Acomoda
2
---
Quartos
Marblehead, Massachusetts, Estados Unidos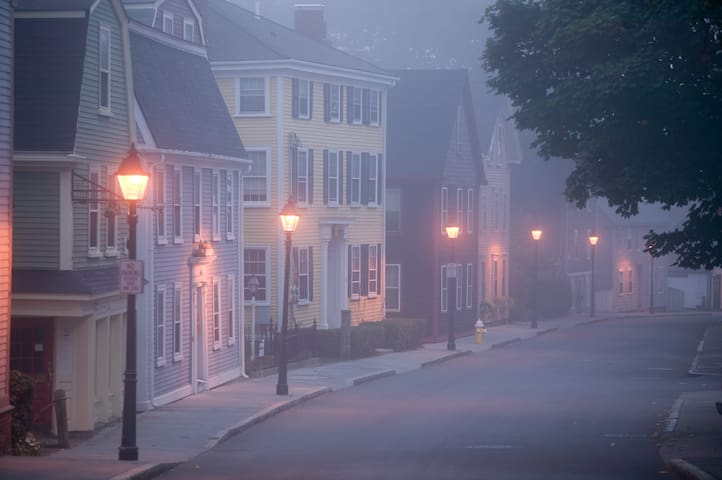 "Tween Coves Cottage" lies nestled next to breathtaking Halibut Pt. State Park. A short walk along wooded paths will lead to the ocean where you can picnic by the water, explore tidal pools, and enjoy a variety of wildlife and vegetation.
A private ground floor suite which is connected to the main house, and is comfortably suited for one or two people. The suite is air conditioned with a sitting area which opens out on to a vine covered deck. For your convenience there is a small refrigerator, and sink, an electric kettle, with the necessary supplies for making brewed coffee, tea or hot chocolate, and a microwave, and toaster. There is a queen size bed in the sleeping area and a large closet. The full bath has both a tub and shower. All linens, and towels are included. Complimentary high speed internet is available in the room. Breakfast is included. For one to two night stays* (* winter special january through march, two night stays will also include home cooked breakfast of choice) a variety of breakfast items will be available in the suite for self service. Guests staying three or more nights may opt for self service in the suite, or have their choice of the breakfast special of the day ( example: eggs/french toast/pancakes, and seasonal fruit) delivered to the room. Guests are welcome to bring food, and beverages into the room with the understanding that any leftovers, or trash will be put in the proper receptacle provided for that purpose.
The neighborhood is quiet with easy access to the state park, and to town which is only about 8 minutes away by car. Rockport has two public beaches situated in its midst...or one may browse through the many galleries and shops. summer evenings offer live theater, concerts, and star gazing. a variety of dining experiences is available from "lobster-in-the-ruff" to creative, fine cuisine.
My wife and I stayed with Emily for our honeymoon and thoroughly enjoyed our visit. She is an excellent cook, an attentive host and a superb person. We highly, highly recommend Emily if you're looking for a quiet, private, unique stay. You'll enjoy the dozens of turkeys outside your door in the morning and make sure you take a walk through Halibut State Park and Bearskin Neck.
Mandy
2016-11-06T00:00:00Z
My daughter and I stayed two nights with Emily. She is the perfect host -- kind and helpful and welcoming but also completely respectful of privacy. I honestly can't think of anything she could do to make the suite more luxurious -- she has thought of everything, from an assortment of interesting teas to a sewing kit. Breakfast was delicious -- veggie omelettes with fresh fruit in our case. Her property is gorgeous, even before the leaves are out -- with magnificent wild turkeys strutting around the lawn, the occasional chipmunk zipping in and out from underneath the porch, and a pondful of ducks at the bottom of the garden. The area is beautiful. We will return as often as we can! Thank you thank you Emily for such a wonderful little holiday.
Tahani
2016-03-30T00:00:00Z
My fiance and I booked a night at Emily's beautiful place over Valentine's Day weekend, and it was just perfect! Emily is a fantastic hostess who even treated us to a delicious french toast and sausage breakfast the next morning. The room is very warm and welcoming and is beautifully furnished. We brought our own food and Emily had everything we needed for an indoor picnic, right down to the cutting board! Emily's place also backs up to a gorgeous wilderness of birds (of all feathers), wild turkeys(!), an old quarry, trails, and the Atlantic ocean. She is also a five minute drive into downtown Rockport, which is super cute and worth exploring. We absolutely loved our time at Emily's place (and with her!) this weekend and already can't wait to come back. Thank you, Emily, for the perfect getaway!
Jessica
2016-02-16T00:00:00Z
We really enjoyed our stay in the little cozy appartement and loved to observe the wildlife just in front! It was really nice to meet Emily who gave us a warm welcome! We wished to stay longer and hope to come back one day!
Mira
2016-10-14T00:00:00Z
Super endroit! Emily a été très accueillante. L'endroit est superbe avec une splendide décoration. Situé à deux pas de la nature. Je recommande vivement. En plus, le petit déjeuner était fantastique.
Alexandre
2015-11-29T00:00:00Z
My husband & I had the most wonderful & relaxing stay at Emily's Nature Lovers Retreat. The room was absolutely beautiful with a cozy feel complete with kitchenette and a full bath. Emily has thought of everything to make your stay as relaxing as possible. The bed was so comfortable! There is a beautiful deck attached to your room to eat Emily's gourmet breakfasts! They not only were the best tasting breakfasts we ever had, but were almost to pretty to eat! Her backyard is truly amazing with squirrels, chipmunks, wild turkeys, bunnies & all sorts of birds. We could have spent our entire vacation just in her backyard! Her home is connected to Halibut Pointe State Park with pathways right to the ocean which makes her place even more special, but the best thing about Emily's place is Emily herself! She is one of the most genuine, & wonderful people we have ever met & goes out of her way to make your stay the best that she can. We will definitely be back! Thank you so much Emily, it was such a pleasure being a guest in your home & now we have an awesome new friend on the East Coast as well! Jesse & Christie Johns
Christie
2016-07-16T00:00:00Z
The Nature Lovers' host Emily is a wonderful host and true gem! She gave us a warm welcome that included unexpected refreshments upon our evening arrival and a delicious and thoughtfully prepared breakfast the next two mornings. The property is beautiful and full of flora and fauna abutting Halibut Point. The room and accomadations were excellent, Emily has created a lovely guest sleeping space that includes a wonderful bed and comfortable couch and reading chairs along with a fully supplied efficiency set-up for morning coffee and beverages ( small fridge, coffee makers, tea, gourmet coffee and lovely tableware). The pictures of her AirB&S listing are accurate with furnishings and decorations comfortable and well appointed. Loved her color scheme and antique quilts and sideboard. My husband and I especially loved the charming vine covered porch outside of our room with a rod iron table and wicker chairs and ottoman to read the morning paper and enjoy her scrumptious breakfasts. Emily is a longtime member of the Rockopt community and her hospitality and genuine enthusiasm in hosting us for two days was so appreciated, and our mutual love of Cape Ann made us kindred spirits. We look forward to visiting Emily and this special place soon again. A true respite and Nature Lovers' spot. .
Liz and Vin
2015-08-07T00:00:00Z
Emily's place is truly surrounded by nature with many birds chirping in the trees. Emily is very friendly and welcoming. The space was very comfortable (including the bed) and quiet at night. We had a wonderful walk to the state park next door. We'd highly recommend this place to others.
Dianne
2016-10-17T00:00:00Z
Tipo de Acomodação
Casa inteira/apto
---
Tipo de Imóvel
Apartamento
---
Acomoda
2
---
Quartos
Rockport, Massachusetts, Estados Unidos
1

–

18

de

236 Apartamentos para Alugar
Insira as datas para ver o preço total. Taxas adicionais serão aplicadas. Impostos podem ser adicionados.