Mais de 300 Apartamentos para Alugar
This private one bedroom apartment is located a few steps from Carytown and all its amenities... restaurants, boutiques, bars, and shops. The recently renovated space is cozy yet ample and also less than a ten minute drive from University of Richmond, VCU, and downtown Richmond. Please, FOR YOUR BENEFIT, read the entire listing description and ask any questions you might have :-)
This 800sqft apartment is the private downstairs floor of a historic brick home built in 1916, my wife and I live on the upstairs floor. You enter the house through a shared front door to access a foyer and then there's a separate private door to enter the downstairs apartment. The bedroom has a queen size bed and the couch is an additional sleeping accommodation for one person. (It is not a pullout sofa) You'll find the kitchen equipped with stainless steel appliances, coffee maker and french press, some basic food staples (coffee, flour, salt/pepper, olive oil, etc.) and cookware essentials. The bathroom is what you could politely call 'snug' so if you're a tall/big person you might feel squeezed for space. The finishes include pine and tile flooring, high ceilings, neutral color tones, stone counters, and stainless steel appliances.
Located in the vibrant and charming Museum District less than a block away from Cary Street (aka Carytown). Within a few steps there are restaurants, bars, local coffee shops, boutiques, four grocery stores (Fresh Market, Ellwood Thompson's, Kroger, Martin's), a post office, brewery, two dry cleaners, and even vintage $4 movie theater.
This is a great apartment, and you really can't beat the location. It's an easy walk to shopping and restaurants, and convenient to the museums and downtown, but just far enough away to be quiet. Lots of thoughtful touches in the apartment and very easy check-in/out. We will definitely be back- it's the perfect home-base for visiting Richmond.
Allen
2017-03-19T00:00:00Z
We loved Justin's home. Came over the long holiday to visit with our daughter and cook a nice home style Thanksgiving dinner. What a wonderful surprise to have a beautiful, freshly made pumpkin pie on the counter and a bowl of whipped cream in the frig waiting for us! We managed to roast a great turkey, 3 side dishes and enjoy a yummy dessert!! Was lots of fun! Justin was super easy to contact. His home was very clean, cozy, spacious and quite nicely decorated. Yes the bathroom is small but worked just fine. A medicine cabinet would be helpful perhaps. Extra amenities were very thoughtful. The location is great. So easy to walk to anything in Carytown. Super easy to get to the Broadberry or downtown. Close to our daughter was the best! Would love to stay here again!
Carol
2016-11-27T00:00:00Z
Very beautiful home that is close to many restaurants.
Johan
2016-11-06T00:00:00Z
Lovely place to stay and visit the city for the day as we came through!
Alyssa
2016-12-31T00:00:00Z
Justin provided great communication and a very welcoming home! The location was great- within walking distance of everything!
Amy
2016-11-13T00:00:00Z
This apartment was lovely and in just the perfection location out of town visitors. Our hosts were so hospitable and even had a few snacks and drinks waiting for us in the living room and kitchen when we arrived. Would have loved to stay longer if we could have. Thanks so much!
Gem
2016-11-04T00:00:00Z
We had a great time and really loved the location. Justin was efficient and helpful. Would definitely stay here again.
Eric
2017-03-17T00:00:00Z
This property is located in a great neighborhood where you can easily walk to restaurants for all meals, grocery stores, and any kind of shop you can think of! The street is quiet and neighbors are friendly. The apartment was very clean. Check-in was simple. We enjoyed sitting on the spacious front porch. The bathroom was quite small and may not be suitable for larger guests.
Valerie
2017-02-20T00:00:00Z
Tipo de Acomodação
Casa/apto inteiro
---
Tipo de Imóvel
Apartamento
---
Acomoda
3
---
Quartos
Richmond, Virgínia, Estados Unidos
Recently renovated 1400-sq ft. apartment in the VCU/Fan area.
Private upstairs apartment. Recently renovated and spacious (1400 sq ft). Includes full kitchen, 2 full bathrooms, back porch, enclosed backyard, and free street parking. Wi-fi, cable, stereo, 65" TV in living room and 50" TV in bedroom. Both TVs are Roku-enabled. Washer/dryer and dishwasher in unit. Only 1 BR, but living room and back study have couches for extra guests.
Beautiful block in the Fan right by VCU. A stone's throw from Lamplighter Coffee, restaurants, bars, and Monroe Park.
My husband and I had a great weekend in Dane's apartment. It is spacious, has great natural light and a lovely back patio. It is well equipped and as a bonus has great music! It is also very convenient to VCU. I look forward to visiting again.
Rebecca
2016-05-16T00:00:00Z
Dane's apartment was perfectly located in the Fan. We loved the convenience, not to mention the charm, of his place! We enjoyed Dane's awesome music collection when relaxing around the home. While we didn't have meals there, the kitchen was stocked with all one might need to make a meal (though no coffee pot for this coffee lover). The apartment is well-appointed and full of light. I especially appreciated the hair dryer, iron and ironing board. There is a second bedroom which is an office, and two full bathrooms great for accommodating multiple people getting ready. Overall, we'd come back to Dane's place when visiting Richmond. For the value, you can't get more space in an ideal location!
Katie
2016-05-31T00:00:00Z
This is a great airbnb! It was well maintained, perfectly located and Dane was super helpful. We thoroughly enjoyed our stay!
alexis
2016-04-25T00:00:00Z
The open loft layout of this place is great. I really enjoyed staying here. Everything was very clean. Mix of old and new. Good location in the Fan; walking distance to a number of places. Dane provides a thorough list of instructions on the place, how things work, and nearby places to check out. My only suggestion (a minor one) is the blinds in the bedroom and master bath are transparent, so not the most privacy and they let in light at night from the street lights. While it would have been nice to have darker blinds, it was not a big deal. Street parking is most common in the Fan--not hard to find a parking spot, but I did have someone back into my car while they were parking damaging the front end of my car. Stuff like this happens and clearly nothing of Dane's doing. I would definitely stay here again.
Richard
2016-04-07T00:00:00Z
This apartment is beautiful, charming and in a completely lovely neighborhood! Soooo spacious for the cost! And Dane did a great job providing all the information we needed during our reservation. Highly recommend it to anyone looking to stay in Richmond!
Kristy
2016-09-19T00:00:00Z
Amazing! This was our second time staying at Dane's place. We loved it so much the first time and we were so glad it was available this time around. The loft was exactly how we remembered it. Everything was perfect and we're excited for more trips to come!
Brie
2017-02-19T00:00:00Z
Dane was a great host - even though we never met, he was easy to communicate with and made the check-in process really easy. The apartment is beautiful, spacious and has pretty much anything you would need. He also provided a comprehensive list of information about the apartment and the surrounding area that was very helpful. The parking permit was particularly useful! I would definitely stay again.
Sarah
2016-08-15T00:00:00Z
Great place to stay. Excellent location.
Craig
2017-01-03T00:00:00Z
Tipo de Acomodação
Casa/apto inteiro
---
Tipo de Imóvel
Apartamento
---
Acomoda
3
---
Quartos
Richmond, Virgínia, Estados Unidos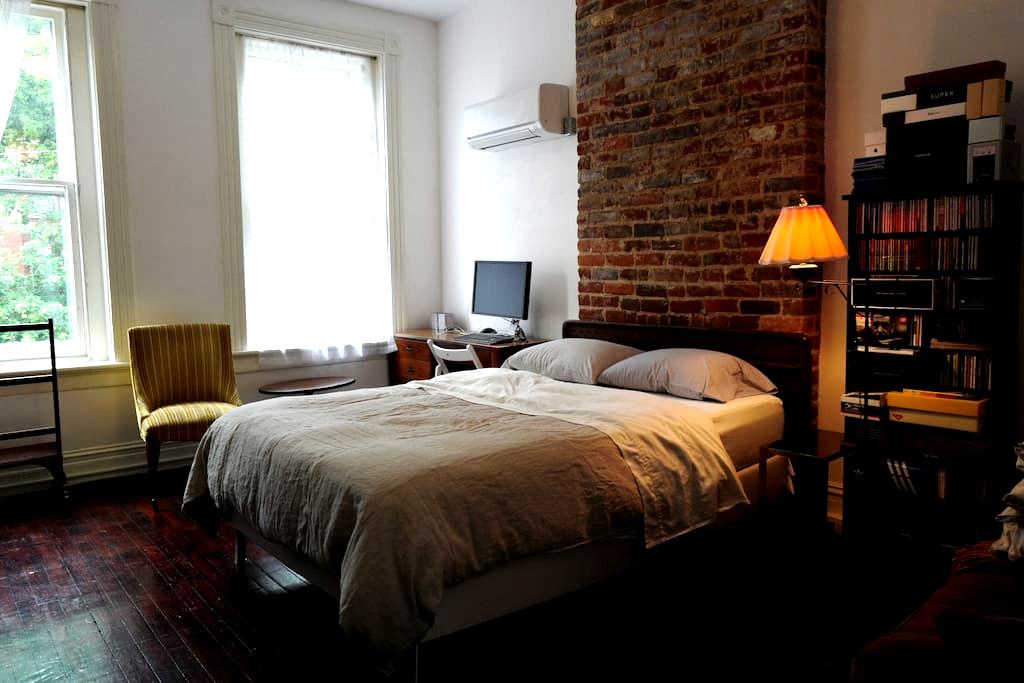 Welcome to Richmond! You will find my apartment in the heart of downtown Richmond in the beautifully restored Shockoe Slip neighborhood. Great restaurants, nightlife, historic, cultural, and outdoor adventure are just a stones throw away. Whether you are here for leisure, a business trip, festival, or college interview, you've come to the perfect place!
The apartment is a 2 bed 2 bath and each bedroom has its own connected bathroom so you have your privacy. The living room and kitchen are shared between me and my guests so I welcome you to get comfy, use the television, read my books, or use the kitchen facilities. All I ask is that if you cook to please clean up after yourself.
The Shockoe Slip neighborhood was restored back in the late 70s early 80s and represents some of the best historical buildings in the city. Beautiful cobble streets, Colonial brick warehouse style buildings, the Slip was the hub of colonial commercial shipping of flour, coffee, tobacco, and other important commodities. The canal nearby has been restored in beautiful fashion and sports a wonderful boat tour. There are neat Segway tours available as well. DO go see the James River and walk the canal North to Tregdar Ironworks and then up to Belle Isle. Restaurants here are great but a bit upscale. Walk towards the train station on Main St for other options in more affordable pricing.
Borden was an excellent host! Great recommendations on where to eat, awesome location with many fun things to walk to and the accommodations were clean, welcoming and private. Would absolutely stay again.
VANESSA
2016-12-03T00:00:00Z
Borden was an awesome host!! He went above and beyond to make my friend and I feel right at home. He is very friendly and very easy to talk to, and to get a hold of when needed. He provided everything, including a user-friendly map of places to eat, things to do/see, etc.; coffee and tea; water; snacks; free WiFi; all toiletries you may need; and even things to read/look at, to make our weekend visit to Richmond one for the books! He even left the light on for us after a late night out! Borden is the man.
Kirby
2016-11-06T00:00:00Z
Borden is a great host! He has the place set up to be so friendly for guests. He loves to chat and get to know you personally. The place was exactly what we needed for the weekend and I never felt like I didn't have privacy even in a shared place. Another great feature is that Borden is right on top of a coffeeshop - be sure to check it out for breakfast!
Siena
2016-11-20T00:00:00Z
Great space and welcoming host!
Helen
2016-11-15T00:00:00Z
Very clean, as described. Nice location if you are attending an event at the National. Within walking distance of several restaurants and shops. Borden was very welcoming.
Megan
2017-02-27T00:00:00Z
Host was very flexible about arrival/check-in time. Property was spotless. Had a lot of linens and towels available for us. He clearly has the cleaning part of running an airbnb down to a science. Host was friendly and gave us sightseeing advice. Allowed us to use kitchen and living room too.
Bruce
2016-08-21T00:00:00Z
Great place! Right downtown but surprisingly quiet. Beautiful building with high ceilings. Thanks for a great Richmond visit!
Joely
2017-01-01T00:00:00Z
Awesome place perfect for going out!
Mithunan
2017-01-14T00:00:00Z
Tipo de Acomodação
Quarto inteiro
---
Tipo de Imóvel
Apartamento
---
Acomoda
2
---
Quartos
Richmond, Virgínia, Estados Unidos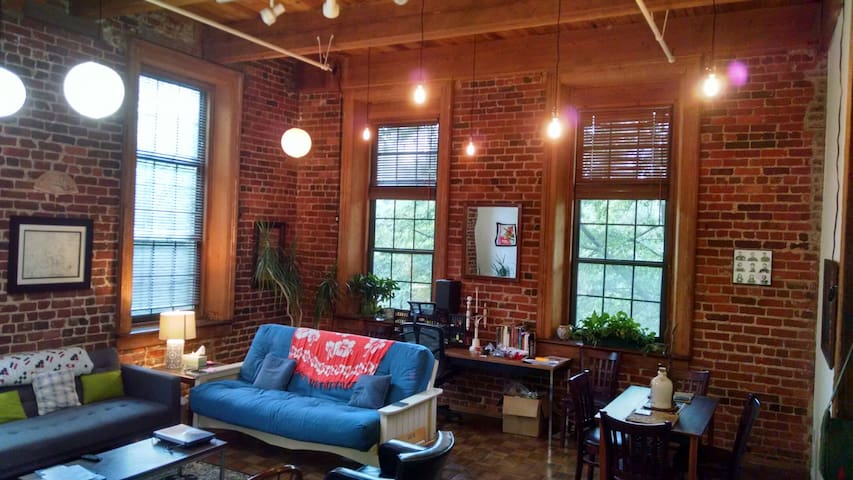 Come stay at my place.A stones throw from vcu, the camel, & Skins training camp.Less than a mile to the national and carytown.Cute & comfortable with ample parking for the fan.Monument ave is outside my door and so conveinent to all RIC has to offer!
Old renovated Cadillac dealership. It has history but everything is new!
I love it! It's urban but has the convenience and zest of life I thrive on!
Jill was fantastic. Excellent communication, very accommodating, helpful, responsive, everything we could have wanted. This was our first time getting to know Richmond, and her place was the perfect place to do it. We had a lot of fun just looking around at how her apartment was converted from a auto shop into a fun place to live. We really enjoyed the short drive down Monument Ave past all the beautiful homes to Carytown where we walked around and then caught a movie at the Byrd Theatre. We thought it was fun to hear the sounds of the city, and it was raining the night we stayed, but the rooftop access looks like it could be a lot of fun. I will note that Richmond appears to have a problem with homelessness. We saw a lot of it on Broad St. Would definitely stay at Jill's place again.
Danny
2015-12-29T00:00:00Z
Very nice apartment on the west end of Richmond. An easy walk to the Virginia Museum of Fine Arts, Carytown, and brew and cider houses. Comfortable place to stay.
Emil
2016-10-24T00:00:00Z
This was our first Airbnb experience and Jill made it super easy and provided us with a beautiful and charming loft in the perfect location to see all of the sights in Richmond. Her place is just as pictured and well maintained. We can't wait to go back. She was also super accommodating when our arrival time did not go as planned. Thanks again for everything!
Jaclyn
2016-03-17T00:00:00Z
This is such a lovely place that looks exactly like the pictures. The host was very responsive to messages and the apt has all the amenities you need. The bed was unbelievably comfortable, better than anything you'll get at a hotel. My boyfriend kept saying how he would love to own a place like this one, and he is usually the first to mention if something is wrong with where we're staying so it was a huge compliment coming from him. This definitely set the bar high for our first Airbnb stay. I hope they're all as lovely as Jill and her place!
Sarah
2017-04-05T00:00:00Z
Jill's apartment was a perfect base for our 2 day stay in Richmond. She was available to acclimate us upon arrival providing great information about the neighborhood and local dinning spots. Our 8 year old was most impressed with her welcome box of gourmet donuts:) The bed was amazing and we loved being able to walk through the charming neighborhoods around the Fan. We caught an incredible sunset on the rooftop deck. Highly recommend the pour-over coffee at Lamplighter Cafe and the Cuban sandwich at Kuba Kuba (both within a 5-10 minute walk) however, the apartment is abundantly stocked for cooking and eating in. Our only regret was not having more time to explore the museums and neighborhoods...Thanks Jill for a wonderful stay!
Mary
2015-08-15T00:00:00Z
We absolutely adored Jill's place! It felt spacious and was very comfortable (especially the bed!), was a great place to start our RVA adventures from, and just was a great place in general. She was quick in responding and had a great setup for check-in/check-out. One of my favorite AirBnB experiences!
Willie
2016-10-09T00:00:00Z
Jill was so great and quick to respond. The home is so comfortable and close to everything. Thanks so much Jill for making our last minute plans work out.
Norma
2015-12-31T00:00:00Z
We really enjoyed our stay at Jill's property! The bed is amazing! She left us donuts which was a very sweet touch! The location is fantastic, and we walked to the fan, Cary town, and down Monument Ave. Couldn't ask for a more centrally located spot!
Morgan
2015-12-30T00:00:00Z
Tipo de Acomodação
Casa/apto inteiro
---
Tipo de Imóvel
Apartamento
---
Acomoda
2
---
Quartos
Richmond, Virgínia, Estados Unidos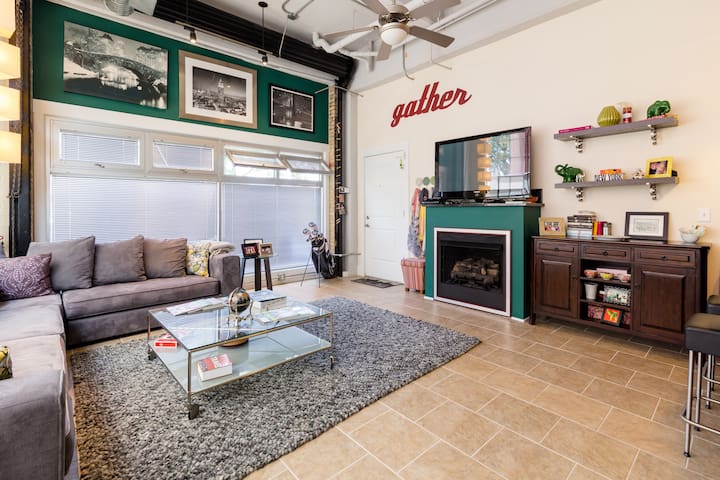 My place is close to VMFA, Carytown, Byrd Park, Tons of Bars and Restaurants, VCU, Monument Ave, Science Museum, The National, The Broadberry, The Camel, Cary St Cafe..
The space is a classic Fan style apartment. The bedroom has a queen size bed and the living room has a queen size sleep sofa making it comfortable for up to 4 guests. The living room also has sliding doors allowing you to separate it into a private 2nd sleeping space. The living room has a 40" TV with fios cable and the bedroom has a 22" TV with fios cable. The entire apartment has extremely fast wi-fi. The kitchen has all of the plates, pots and pans, silverware, and utensils you might need. Microwave, washer and dryer, towels and soap provided. Lots of great lighting and off street parking.
I love how close you are to everything. 4 blocks from VMFA, 2 blocks from Carytown, 3 blocks from Byrd Park, within 5 blocks of 15+ bars and restaurants. Within 3 miles of The National, 1 mile from The Broadberry, 3 miles of The Camel, 2 miles of Altria Theater, same block as Cary St Cafe. 2 miles from VCU, 5 miles from UofR.
I had a great experience. Perfect location, great place and very easy to communicate with the host!
Jenelle
2016-10-30T00:00:00Z
Very comfortable apartment, quiet and close to restaurants. We used this as our base to explore Richmond.
Elena
2017-02-24T00:00:00Z
Great place! Couldn't have asked for a better experience. David was communicative and kept in touch and check in was extremely easy. Great area, could walk to bookstores, shops, restaurants, coffee shops, museums, it was really amazing. Just a great experience and I would absolutely recommend to someone who wants to stay in Richmond and really feel like a local.
Amanda
2017-03-14T00:00:00Z
My husband and I traveled to Richmond for his Marine Corp Birthday ball and had the pleasure of staying at David's lovely apartment. The place is so cozy and close to everything! I was amazed at how gorgeous the apartment was, absolutely stunning. David was very accommodating and such a joy as a host. I would recommend anyone who is going to be in Richmond to book his place!!!!
Lucy
2016-11-11T00:00:00Z
David was very prompt and helpful in his replies on check-in, WiFi, and house amenities. His home has everything one would want! It was just a short walk away from a bookstore, coffeeshop, and Carytown. I would recommend his place over a hotel any time.
Matthew
2017-01-08T00:00:00Z
Our family is from Richmond and this location was ideal! The place was very quaint and modern in its decoration. Missing a few hotel like amenities, but certainly gave you the feeling of "home away from home", which is the point of airbnb. We will certainly stay here again.
Hope
2017-03-16T00:00:00Z
Great place! We had everything we needed and the location was close enough to all the buzz of Carytown but far enough away that it was quiet and relaxing. I would recommend David's place to anyone looking for a great place to stay in RVA.
Bree
2017-01-30T00:00:00Z
We loved David's place perfect for our girls overnight celebrating our good friends 60th birthday. Wonderful restaurant three doors down and a sweet shop around the corner too. Walking distance from other shops and restaurants too. New shops will soon open across the street. Off street parking. Very nicely decorated and very clean!! We will stay again.
Terri
2017-02-10T00:00:00Z
Tipo de Acomodação
Casa/apto inteiro
---
Tipo de Imóvel
Apartamento
---
Acomoda
4
---
Quartos
Richmond, Virgínia, Estados Unidos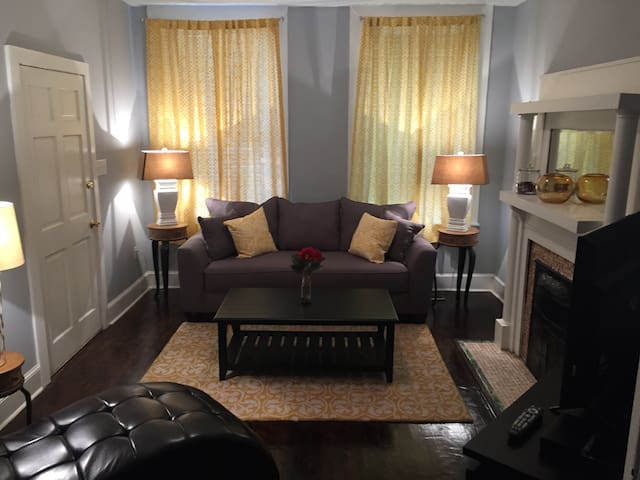 Renovated Old Tobacco Facility - Rooftop Pool Modern studio apartment with historical charm. Enjoy staying in the heart of Shockoe Bottom. Less than a mile off of Interstate 95, this apartment is surrounded by restaurants and things to do. 10 Minute walk to downtown Richmond. The apartment has traditional brick walls and high ceilings as well as updated lighting, and granite countertops. Beautiful sunset every night over the Richmond skyline from the rooftop pool/sitting area.
This is a studio apartment. Unlike traditional studios however, there is a wall behind the kitchen that visually separates the living area from the bedroom area. Although there is no door separating these areas, the kitchen provides the feel that the bedroom is a separate space. King bed is in the bedroom space behind the kitchen. There is a full mattress that can be place on the floor in the bedroom or living area and the couch and loveseat are also sleeping options. The building itself is secured and private. It is only accessible with a fab swipe.
Richard's apartment was great -- a cool industrial building with an awesome view from the rooftop (I was sad to be there in the winter when the pool wasn't open) and the apartment was well decorated and comfortable. A very positive first airbnb experience! The only downside for us was that it wasn't very close to the breweries that we were eager to visit, but there seemed to be other cool spots in the neighborhood if you aren't so singleminded.
Eileen
2017-03-16T00:00:00Z
Richard's studio was just what we needed for a couple of nights to relax and enjoy a little bit of Richmond. Since we brought our own food, we were able to cook since everything we needed was there to prepare dinner one night and breakfast both mornings. It was an easy drive to the Virginia Fine Arts Museum, which we thoroughly enjoyed. Even though we never met, Richard was an excellent communicator. We had purchased an 19' RV in Philadelphia so we had a car plus it, so happy to be able to park it in the lot with the parking permit, and luckily find a place on the street for the car. As mentioned, a little inconvenient in getting the keys at a different location, and returning them, however, as long as you are aware of this it is a great place to stay. Don't miss the view from the rooftop. Spectacular!
Carol
2017-04-07T00:00:00Z
Richard's place was an awesome find for a great price! It was just as described but I felt better than I expected it to be. The pickup and drop off for the key was a bit of a pain but that was the only thing negative and it certainly wouldn't prevent me from staying there again.
Matthew
2017-03-08T00:00:00Z
Clean, quiet. Close to some great restaurants.
Brad
2017-02-09T00:00:00Z
Very cozy apartment! Richard was a great host and communication couldn't have been better. Would definitely stay here again on another visit!
Christine
2017-04-04T00:00:00Z
Richard's Shockoe Loft was very cool. Great location! We walked to many of the places we visited. the rooftop views should not be missed. The bed was especially comfortable & big.
Shawn
2017-01-12T00:00:00Z
It was a beautiful little space. The perfect size for us. It was actually a lot bigger than I thought it was from the pictures. The place was very clean and ready for incoming guests with plenty of room for more people. The bed and couches were really cozy and the place has lots of natural light when we woke up. Everything was labeled so we didn't have a hard time finding anything. We were able to be at our event fairly quickly with an uber for around five dollars and walk to a nearby restaurant that was also fantastic. There were many that were within a couple of blocks. He gave us plenty of instructions to check in without him using a lockbox. The parking was OK, but I found one close by. There's a parking pass, but we didn't find a need for it. The complex itself seems nice but we didn't get to explore much of it. Overall, great stay for the price. I would definitely come back and highly recommend.
Shane
2017-01-19T00:00:00Z
Beautiful studio in a great location! The rooftop deck is serene and beautiful. Easing walking distance to some great restaurants. We found it easiest to park using the pass provided by Richard. Would love to stay again!
Lydia
2017-03-22T00:00:00Z
Tipo de Acomodação
Casa/apto inteiro
---
Tipo de Imóvel
Apartamento
---
Acomoda
4
---
Quartos
Richmond, Virgínia, Estados Unidos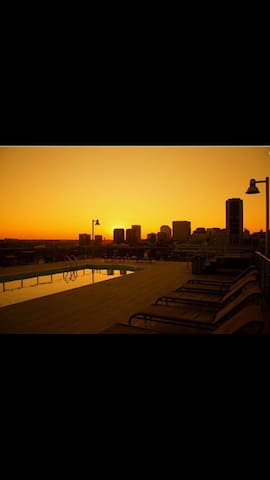 Comfortable and clean room with private bathroom in a nice apartment. There are fast internet, iron, dish washer, dryer and washing machine, 5 mins walk from BROAD St. and in very safe neighborhood. We have gym, serenity room & game room. Affordable option for travelers who want to stay for couple days. FREE STREET PARKING!
Ele está localizado em um bairro muito seguro a apenas uma quadra de distância do escritório postal, e seus 3 minutos de distância do centro da cidade. O complexo do edifício é super novo desde que foi construído no final de 2015. O apartamento está completamente mobilado e espaçoso. Realmente um grande sala privada com seu próprio banheiro. Vou oferecer-lhe utilizar as máquinas de lavar e secar roupa gratuitamente também.
O complexo de apartamentos é muito novo e moderno. Temos agentes de segurança e câmera de tudo sobre a entrada, e é 2 quarteirões de distância do escritório postal. Está a 4 minutos de carro do centro de Richmond, e localizado perto da maioria dos bares, restaurantes e vida noturna da cidade. As pessoas que vivem aqui e ao redor são muito agradável e acessível!
A hospedagem de Ahmed tem máquina de lavar roupa e secadora que pude usar gratuitamente, cozinha grande, sala e um quarto (suite) com um banheiro. Ahmed foi super atencioso, e nos levou gratuitamente de carro para a estação de ônibus do Greyhound quando deixamos a hospedagem.
fernando
2017-03-23T00:00:00Z
Very nice guy. comfortable bed, felt at home
Halima
2017-02-14T00:00:00Z
Really modest and economic
Ervin
2017-02-19T00:00:00Z
Everything was fine. Generous host.
Joshua
2017-02-16T00:00:00Z
Generous accommodations. Everything was great.
Joshua
2017-02-09T00:00:00Z
Ahmed is a great host who is very accommodating and polite. He will answer almost every question you may have before you even ask them. He is an incredibly hospitable and kind person. The apartment is very spacious as well.
Kaung
2017-02-11T00:00:00Z
I had a great stay here. Super affordable, nice apartment. Perfect for a weekend trip. Ahmed is very nice and accommodating. He left us towels and toiletries to use in case we forgot. Located about a 5 minute drive from down town and has no problem with free on street parking. This place has all the basic things you will need and was comfortable. Thanks Ahmed.
James
2017-02-26T00:00:00Z
Ahmed was really nice and his place, although quaintly furnished, was nice and very safe feeling. I would stay again if it came down to it.
Andrew
2017-04-03T00:00:00Z
Tipo de Acomodação
Quarto inteiro
---
Tipo de Imóvel
Apartamento
---
Acomoda
2
---
Quartos
Richmond, Virgínia, Estados Unidos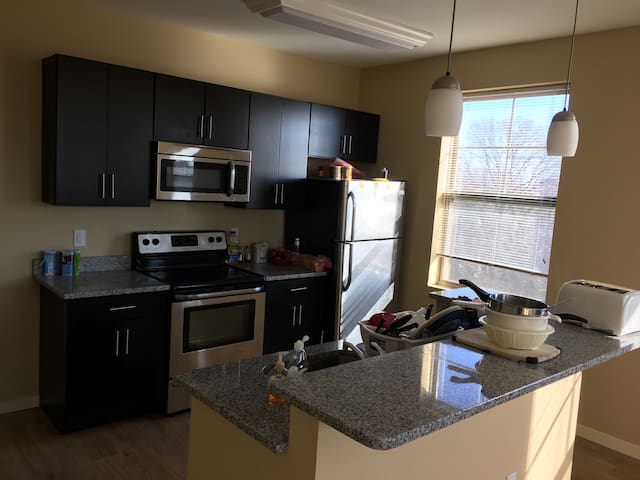 LOCATION, LOCATION, LOCATION! Large yet cozy English basement apartment in the heart of the Fan! 1000 Sq ft., safe location with a private entrance. Close to the Siegel Center, VCU, Richmond Coliseum, museums, art galleries, Training Camp, the James river, and so many restaurants and shops. Fantastic neighborhood with tons to do, see our guidebook for recommendations. Walk Score 93/100: Walker's Paradise.
This is an English basement apartment in our historic townhome, and has been renovated within the last 10 years. We are excited to begin sharing this space and our wonderful neighborhood with Richmond's many visitors!
Richmond locals know that the Fan is the place to be. An eclectic mix of residential and commercial spaces, this is where RVA natives come for their favorite shops, bars, and restaurants. Additionally, if you are a fan of historic architecture spanning over 2 centuries, the Fan is the place to visit. Walking around neighboring streets, you will find a variety of architectural styles such as Italianate, Richardsonian Romanesque, Queen Anne, Colonial Revival, Bungalow, American Foursquare, Tudor Revival, Spanish Colonial, and Art Deco. (Not to mention some impressive front yard gardens!) We live right where the residential neighborhoods become mixed use, so there are plenty of shops to pop into or restaurants to try as you explore the beauty and culture of the area.
Had a great time! Hosts were helpful, and provided us with a ton of amenities and suggested to-do's. accommodations were spacious and comfortable. The living room area and breakfast nook were great for early morning breakfast or a late-morning scramble out. parking was easy to find and there was a ton to do in the area.
Elizabeth
2016-11-11T00:00:00Z
My husband and I stayed at Christy's place over a weekend. It was perfect for the two of us. The location was very centrally located and we could walk to many things. The space itself was well decorated and the bed was super comfy. We would definitely book this space again!
Kait
2017-02-05T00:00:00Z
Just as described, Christy offers a comfortable and convenient place to stay while visiting the Fan in Richmond. We stayed here over Christmas weekend while visiting family. The unit worked so well for our needs. It is very clean and supplied with a good assortment of breakfast foods and beverages. Christy was very helpful, kind and readily available from reservation to departure. We'd loved to stay here again when visiting Richmond. Loved it!
Andi
2016-12-26T00:00:00Z
Great, cozy, clean apartment in a fantastic neighborhood. Comfortable bed. Very thoughtful bonus amenities like sodas, yogurt and toiletries.
Brooke
2016-11-18T00:00:00Z
Great place to relax and have fun. Would definitely come back!
Danazia
2016-10-23T00:00:00Z
Christy was incredibly helpful and made the check in process pretty seamless. The apartment was clean, had all of the necessities, and was in a great location. We will definitely be back!
Tara
2017-02-12T00:00:00Z
This was my first time in Downtown RVA and my stay was absolutely amazing. Our host well we couldnt ask for a better host. i was greeted with care and treated well. Also during my stay our host checked in on us frequently and was readily avliable which was amazing. I reccomend anyone traveling to RVA to stay here you wont regret it. I look foward to my return trip!
Henri
2016-11-06T00:00:00Z
For the price point and location you cant beat this stay
Henri
2016-11-27T00:00:00Z
Tipo de Acomodação
Casa/apto inteiro
---
Tipo de Imóvel
Apartamento
---
Acomoda
3
---
Quartos
Richmond, Virgínia, Estados Unidos
Self-contained basement apt IN Carytown 90 ft/30 m to Cary St. Close to the Fan, VCU, MCV, VMFA, downtown, General Assembly. Separate entrance, full kitchen, full bathroom. You must confirm you have read & shared, as necessary, the listing details.
About to skip reading the listing details, the house rules, or your confirmed reservation (contains our address, contact information & directions)? I've put in many hours and considerable thought and effort into writing, editing, re-writing, re-editing, revisiting, re-working, updating, and revising the details. It takes but a few minutes to read them. Make sure you share the listing details with your traveling companion(s) so everyone knows what to expect. [REQUIRED READING: Guest Access.] Many thanks to those travelers who take the time to read the listing details and who, along with other gracious guests and hosts, make the Airbnb experience AWESOME, AFFORDABLE and FUN: THANK YOU!! We have made some of the most amazing connections though our Airbnb experiences (both as hosts and guests) and now have lifelong friends from all over the US, and around the world! Please note: We have been in our 90-year-old home just under 4 years: It is an in-progress work-of-art lovingly being restored or improved and upgraded for your comfort and enjoyment (new bathroom with heated floor & towel warmer, for example). Please pardon the dust/signs of upgrade projects (tools, paint, landscaping material). Thanks for taking the time to read the listing details: This BASEMENT studio APARTMENT is WITHIN 90 FT/30 M of Carytown. It has it's own separate entrance, a full kitchen, and a full bathroom. You will hear us upstairs (we researched sound isolation options and have begun implementing a solution). If you are a light sleeper or require absolute silence, this listing is not a good fit for you. If you like to know your hosts are nearby, appreciate our listing & location, and like our reviews, we'd be happy to host you; we'll be right upstairs to help you with any questions, concerns, or if you've forgotten something (we usually have spares of everything). For interesting, historical, or fun things to see and do in RVA, be sure to check out our guidebook at the link below. Once on the site, scroll all the way down to the map at the bottom of the listing. https://www.airbnb.com/rooms/856885 (scroll all the way to the map at the bottom)
Free, unrestricted on-street parking on our block, quite often right out front. During the busiest evenings/weekends, there's usually a spot within a block or two at most although sometimes you may have to circle the block a couple of times--something usually comes available because the turnover is high. We love our location in Carytown with its eclectic mix of locally owned shops, restaurants, the historical and MAGNIFICENT Byrd Theatre (movie theater from the silent-movie era), coffee shops, book stores, and street entertainers. Mostly within walking distance or minutes by car or bus you'll find museums, parks, the James River and its hiking/biking trail system, historic sites, Hollywood Cemetery, VCU, The Fan, Richmond Convention Center, downtown Richmond, MCV, Brown's Island, Belle Isle, the Manchester district, Church Hill ... too many to mention. We are smack dab in the heart of the most vibrant part of the city! For interesting, historical, or fun things to see and do in Carytown and RVA, be sure to check out our guidebook at the link below. Once on the site, scroll all the way down to the map at the bottom of the listing. https://www.airbnb.com/rooms/856885 (scroll down to the map to see our pins and comments)
Nice and clean apt. Fiona is a great host, she prepared fresh orange juice and milk in the fridge. We had a great time.
Delong
2015-07-21T00:00:00Z
We had a short, but very pleasant stay. Fiona and Keith were very accommodating. They responded very quickly to our inquiry and had the studio ready at short notice. Definitely recommended.
Elsmarieke
2014-11-24T00:00:00Z
Fiona's place was great! Fiona and her family were friendly, helpful (and she has a Richmond guide with great recommendations), and hospitable, but also gave us our space. We had access to a private bathroom (the shower and the heated floors were awesome!) and a full kitchen-- Fiona had breakfast stuffs (bagels, oatmeal, OJ) available, which was a really nice touch. Great location, too!
Rafayna
2014-01-27T00:00:00Z
The apartment was charming, impeccably clean, and in such a wonderful location. We enjoyed walking around the Fan, eating/shopping in Carytown, and it was a short drive over to the South of the James farmers market. We couldn't have been more pleased with the apartment. It was very nicely laid out, and it was so nice to have some breakfast foods in the kitchen and the ability to cook some simple meals. Fiona was so incredibly thoughtful in how she organized and designed the apartment, and she had all the "extras" you could think of available as well. We look forward to staying here again!
Kiley
2015-06-28T00:00:00Z
Lovely!
Cee
2014-06-25T00:00:00Z
I have to say that I have stayed in many private places in the country for over 10 years and this is by far the best place I have stayed. Despite the little and I mean little noise in the morning from shoes, which the family is working on to fix, Fiona and family have a clean and safe place to stay near the hub of Carytown. Please honor her request to bring your own towels and cloths for the awesome heated bathroom if you are planning on dying your hair, like I did, or getting grime on things. On a scale of 1 to 10, I give this place a 9.9. Thank you so much for the quiet place and the great bed too...stay here and you will not be disappointed!
Tarnee'
2015-04-06T00:00:00Z
Best lodging in Richmond! 3rd stay and we will be back.
Elaine
2016-05-14T00:00:00Z
After staying with Fiona, I wrote down 1) a wishlist for my own place and 2) a checklist of ideas to replicate for when I host guests. On that wishlist I've included: heated towel warmer, heated bathroom floor, everything in her shower, bed sheets, and pillows. On my checklist you'll find: 2 types of toiletry baskets, robes & slippers, more towel sizes than offered by your average hotel, and cinnamon french toast sticks. All this is to say, the hospitality industry has a lot to learn from Fiona. Thank you for a relaxing experience in Richmond -- and for the extra OJ!
Dorothy
2016-01-04T00:00:00Z
Tipo de Acomodação
Casa/apto inteiro
---
Tipo de Imóvel
Apartamento
---
Acomoda
3
---
Quartos
Richmond, Virgínia, Estados Unidos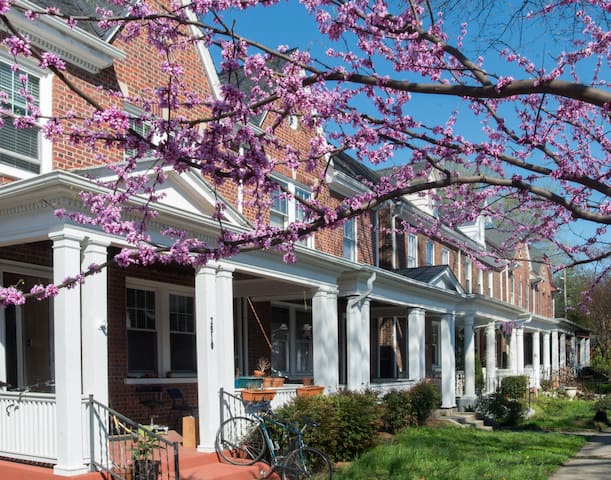 Only a few minute Uber away from everything like, Shockoe Bottom / Slip, and you can also walk to nearby Belle Isle Outdoor River Park, Legend's Brewery, neighborhood cafes, and perfect for a short stay or a long business trip. You'll love my place because you'll have everything you need for a comfortable stay including washer and dryer in unit, printer, cable, smart TV, bluetooth audio, and drinks in the fridge. Perfect for business travelers nearby to UPS and Suntrust! Extended Stay OK
This is a highly energy efficient new construction apartment with private code access (no keys), kitchen, laundry, and extremely comfortable sofa bed. The space can also be just as comfortable with a couch for hosting guests or friends, as needed. Perfect for a short stay or a long business trip / furnished rental. If you would prefer the sofa version of the bed upon your arrival, please let me know and it will be waiting for you instead of the bed.
The Manchester Residential and Commercial Historic District is located in the city of Richmond, Virginia, on the south side of the James River. It is connected to the financial district in Richmond by the Lee, Mayo and Manchester bridges. In the 1800s, Manchester along with Richmond, had become a major port and commercial center serving the eastern seaboard and beyond. Manchester was granted city status in 1874 and became the seat of Chesterfield County. In 1910, the city of Richmond annexed Manchester.
Thomas's place was great!
Peter
2016-10-18T00:00:00Z
Thomas's place was amazing and just as advertised! Perfect for a couple or 1 person looking to be in Richmond. Thomas provided lots of amenities including wine, cereal, and even advil! Everything you needed was there. Very central location and accessible to everything. The bed is the most comfortable bed I've ever slept in!
Ahad
2016-12-24T00:00:00Z
Thomas's flat has everything you need for a comfortably living.
Pille
2017-03-13T00:00:00Z
Loved my stay here, this place was very modern and clean
Farma
2017-02-06T00:00:00Z
Excellent place! Very well kept and stocked with an abundance of amenities. Very spacious even as an efficiency apartment! Instant response to any question. You will love it!
Louis
2017-01-23T00:00:00Z
I've stayed in several places in Richmond. This, by far, is the most accommodating in terms of communication, concern & amenities provided by the owner. Erin and Thomas are amazing. Their attention to detail is impressive. Nothing is lacking for an enjoyable, comfortable stay. Place is adorable, well maintained, perfect location, etc. Bed is very comfortable. Can't say enough positive things about this gem of a place!
Deborah
2017-03-01T00:00:00Z
Amazing stay. Very Clean and accurate from the descriptions. I would highly recommend.
Justin
2017-03-19T00:00:00Z
Very nice place to stay with many thoughtful amenities.
Charlie
2017-02-17T00:00:00Z
Tipo de Acomodação
Casa/apto inteiro
---
Tipo de Imóvel
Apartamento
---
Acomoda
2
---
Quartos
Richmond, Virgínia, Estados Unidos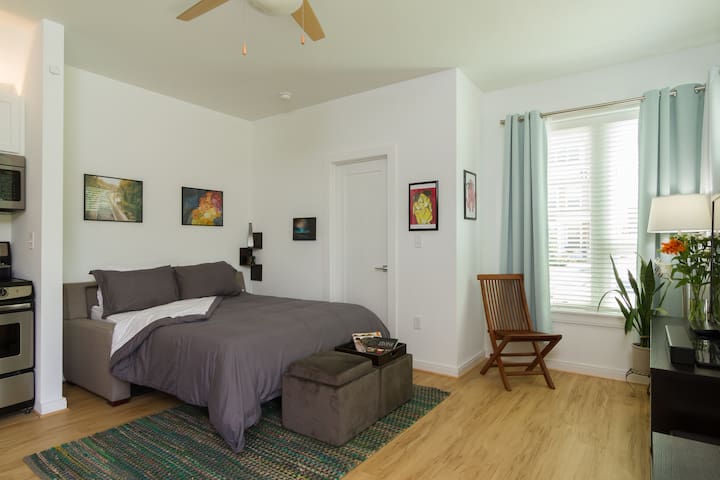 Husband & wife own and operate, Lucy's Restaurant. We purchased our building in 2013, doing a total remodel. We are very excited to have finished the upstairs apartment for our future airbnb guest. The apartment is solely dedicated to hosting guests. Hospitality is what we do.
Brand new apartment, thoughtful furnished with our guest in mind. Coffee, hot tea, full kitchen, dishwasher, washer/dryer, blow drier, shower shaving mirror, soap ect, first aid kit, iron, high quality sheets, towels, blankets, king size bed, queen plus ( really nice pull out couch) cable, wifi
Located in historic Jackson Ward we are close to, great restaurants, theaters, galleries, museums and much more.
Amanda's place was amazing! The apartment was beautiful, clean, and in a great location. Amanda was very nice and easy to communicate with. I would definitely recommend this place for anyone who is visiting Richmond!
Emily
2017-01-22T00:00:00Z
We absolutely loved Amanda's place! Is was close to everything downtown and we felt right at home
Lauren
2017-01-19T00:00:00Z
Me and a friend stayed at this apartment for one night and it was wonderful. Extremely clean and beautifully designed. It is very spacious and even though it is located in central Jackson Ward it was super quite and homely. Amanda's restaurant downstairs was beautiful as well and very convenient for communication. Totally recommended
Rodolfo
2017-02-03T00:00:00Z
The place is above the owner's restaurant and is quiet, comfortable, and beautifully decorated. It provides a feel of comfort but is very modern. The bed is comfortable and the bathroom is large. The living room is cozy to snuggle up and watch tv if you want an evening in. The location is convenient to great food, museums, and craft beer breweries. It is quiet upstairs and you barely notice the activity below at the street level. Our dogs felt at home as well. We would definitely stay here again.
Erica
2017-02-05T00:00:00Z
This is an awesome place to stay. Safe, comfy and within walking distance to just about anything you would want to do downtown. Super nice host and a super nice place to stay!
James
2017-03-12T00:00:00Z
Great apartment in downtown Richmond. The apartment was beautifully renovated and the bed was very comfortable. Loved the location and being able to park the car and walk around downtown.
Karen
2017-03-29T00:00:00Z
Cute apartment located in a fun area of the city, great restaurants all within walking distance.
Emily
2017-04-02T00:00:00Z
Great host and beautiful space!
Latosha
2016-12-17T00:00:00Z
Tipo de Acomodação
Casa/apto inteiro
---
Tipo de Imóvel
Apartamento
---
Acomoda
5
---
Quartos
Richmond, Virgínia, Estados Unidos
Sweet spot in heart of the Museum District! One of the prettiest corners of Richmond! In Devil's Triangle neighborhood, 2 min to Virginia Museum of Fine Arts, 8 min walk to Carytown, 10 min walk to ALL the breweries in Scott's Addition (or, 2 minute drive). 2 blocks off Monument Ave. Centrally located to all the best restaurants, bars, shopping. 5 min drive to VCU. Large vinyl collection. NY Times weekdays. Porch and private entrance. Private gym. Perfect for a couple; all are welcome!
Small but very homey! If you like to read and just kick it, this is the place for you. Walking distance to most anything, or a short drive to everything else. A few minutes to most of the best spots on the river as well. Will leave a list of must see places...all close by!
Lots of restaurants close by
Matt's apartment is great. The location is perfect for walking to breweries, coffee shops, etc. Perfect amount of space for a couple and Matt left great recommendations.
Laura
2017-04-09T00:00:00Z
Tipo de Acomodação
Casa/apto inteiro
---
Tipo de Imóvel
Apartamento
---
Acomoda
2
---
Quartos
Richmond, Virgínia, Estados Unidos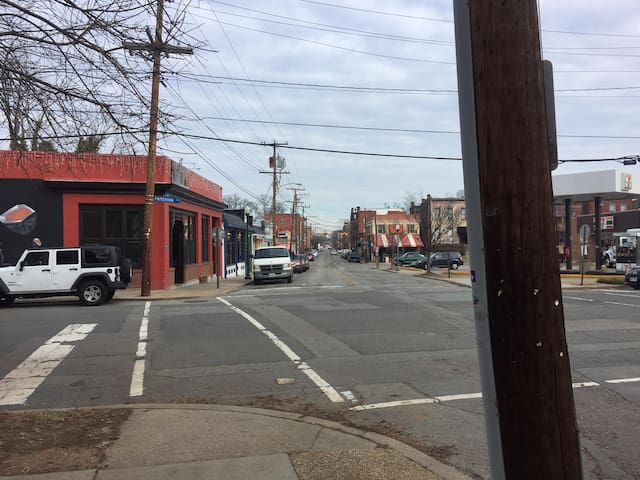 My place is close to Carytown, the VMFA, Scott's Addition, restaurants and dining, art and culture, parks.. You'll love my place because of light airy feel of the apartment, the balcony over looking the backyard and the firm comfortable bedroom..
Sarah's place was perfect for a weekend trip to Richmond! The location was perfect for walking anywhere in the Museum District or Carytown and parking on the street was a breeze!
Casey
2017-01-22T00:00:00Z
Absolutely wonderful!!! Sarah is an amazing host. The apartment is spotless, light and airy. Can't say enough good things about this place. Short walk to tons of fantastic bars and restaurants and museums. Quick drive to the highway to get in and out of the city. Absolutely adorable home. in a word- fantastic.
Phoebe
2017-02-20T00:00:00Z
Sarah's place was just as described. Located in a nice, quiet, and friendly neighborhood. Very walkable and close to a lot of options. Communication was great and seamless. For the price and location it was all that was needed and fit our needs. Would recommend to anyone looking for a nice place in a eclectic, friendly neighborhood.
Quentin
2017-02-26T00:00:00Z
Accurate description and simple, easy to follow instructions.
Briah
2016-10-25T00:00:00Z
Great location, well appointed. Overall we really liked the apartment. The location in the fan is great. Cary Street is just a couple blocks away. Downtown is a short uber ride away. The only downside to the place was that noise was easily transmitted from the apartment below, which one expects in a historic building.
Aaron
2017-03-26T00:00:00Z
The host was very hospitable. Checked up on us to make sure we got in on. Was available for any questions we had. The bnb was very neat and updated, very comfy and cozy and clean! Excellent locations. We enjoyed our experience very much!
Olga
2016-10-17T00:00:00Z
Just as described & pictured! Great location & very cozy place for a weekend away!
Megan
2016-09-26T00:00:00Z
We stayed in this apartment over the Thanksgiving weekend. The apartment is located on the top floor of a townhouse in a lovely and residential area. Great location--just a few minute walk to the Virginia Museum of Fine Arts. Everything was ready for our arrival. The central heating system allowed us to maintain a comfortable temperature throughout our stay.
Lucyna
2016-11-27T00:00:00Z
Tipo de Acomodação
Casa/apto inteiro
---
Tipo de Imóvel
Apartamento
---
Acomoda
2
---
Quartos
Richmond, Virgínia, Estados Unidos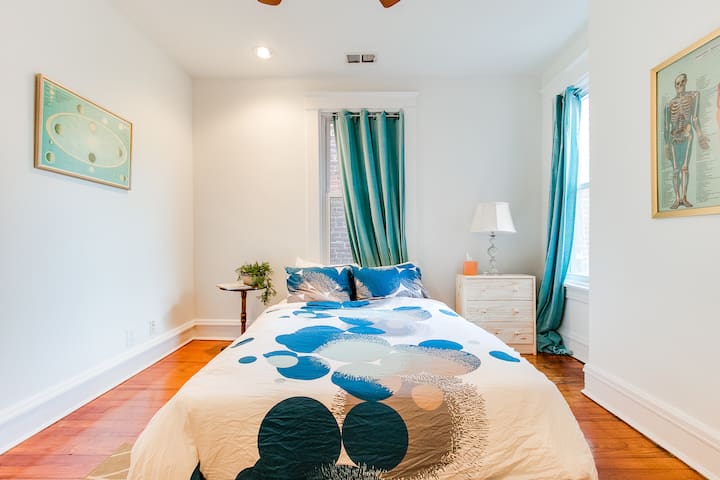 This newly renovated 19th century apartment delivers all the comfort and convenience expected of an upscale boutique Hotel. Located in the heart of Richmond's historic Fan District, this location is surrounded by inspiring architectures and an explosive culinary scene. Experience Richmond's rapidly expanding cultural hub in style!
Modern convenience meets Historic charm in this Italianate style home. This ground level apartment features two en suite bedrooms with full size beds, private parking and an additional private entrance to one of the bedrooms. The rooms are nicely equipped with Wi-Fi, computer desks and office chairs if a work area is needed. Each room includes its own high definition television for that much needed moment of leisure. The apartment is in the heart of the historic Fan District within walking distance of many renowned bars and restaurants.
Said to be the largest intact Victorian Neighborhood in the U.S. with approximately 2,000 townhouses in the diverse architectural styles of that period. The Fan Area Historic District is a large late 19th and early 20th-century residential neighborhood west of Richmond's downtown commercial district. The neighborhood is unquestionably one of the city's greatest cultural and architectural assets. Most buildings in the district are brick row houses and semidetached or detached town houses, usually 2½ stories in height with a porch or stoop fronting the sidewalk. The historic density averages 12 houses per block, creating a rhythmic streets cape that is rarely broken by modern intrusions. The playful irregularity of roof lines, turrets, dormers, bay windows, cornices, projecting porches, and recessed entrances of the houses adds to the Fan's unique visual interest and charm. Guided by a deliberate plan of development with many buildings designed by the same architects or built by the same contractors, the Fan is remarkably cohesive.
While there were issues w Thiago's place and I wasn't able to stay at his location, he did a great job finding a comparable place and did everything he could help with my stay in Richmond. So while I can't speak on the space itself, I can speak for his proactive, considerate & genrally "good business like" approach to our situation. Thanks for all the help Thiago!
Haley
2017-01-04T00:00:00Z
Thiago anticipated my every need. It was really nice to have the ability to check-in at any time through a secure code that unlocked the front door. Having a parking spot in the back of the house was also very much appreciated because parking in the neighborhood can be challenging in the evening. There was plenty of space and the bedrooms were quite comfortable.
Kendall
2016-10-21T00:00:00Z
Thiago was a great host and responded immediately to any queries no matter how small (our first Airbnb so still novices). We took every opportunity to try out his recommended resturants and points of interest in Richmond. The apartment has everything you need, exceptionally clean and modern.
Kalien
2016-12-20T00:00:00Z
Nice place. It is easy to stay here; Thiago is a good host. I would stay here again.
Donna
2016-12-05T00:00:00Z
Look no further. Thiago's place has all you need. Business, getaway, pleasure. What ever you're in Richmond for, this place will accommodate you very nicely. Two spacious bedrooms, each with an ensuite, wardrobe, Cable TV, table & chair work station, super comfortable beds, extra linen and towels a plenty. A great modern and fully equipped kitchen for all your cooking desires. A sweet sitting room. Central heating or cooling. Loads of natural light. Lovely floor boards through out. Parking out the back. Its private, secure, cosy, clean as clean can be. A beautiful home to start and end each day. The location is spot on, too. Smack bang in the middle of the beautiful, historic, quaint and quiet, Fan. (we love it there). Minutes walk or drive, from restaurants, bars, shops, Carytown, VCU, downtown, the Museum district, Byrd Park, the James River and Belle Isle, and easy access to all the Interstate Hwy's. Lastly, Thiago is a generous, prompt and professional host, accommodating to our requests and incredibly friendly. For e.g, When we checked in, the fridge was full of food, ready for breakfast the next day, and also stack with snacks and beer for a late night after a long journey. And as we had booked the place long term, he took it upon himself to add some furniture to the apartment (before our arrival) making it more homely and comfortable for our stay. As you can tell, my wife and I can not recommend this place enough. STAY HERE.
Daniel
2017-01-02T00:00:00Z
Thiago is a truly fantastic host and his apartment is everything described in the listing and then some. I especially appreciated the level of cleanliness of the apartment and Thiago's kindness in checking-in with me about my experience as a guest. He even sent along a helpful PDF outlining local restaurants and other helpful points of interest. I was in Richmond for a busy few days and appreciated Thiago's apartment's proximity to VCU and its private parking spot.
Amber
2016-09-02T00:00:00Z
Great location in the Fan. Just a few blocks from VCU and Carytown. Good find for a family of 3-4. Thiago was responsive and very flexible in working with us on some last minute changes to our travel plans.
Michael
2016-10-29T00:00:00Z
Amazing doesn't even begin to describe this location. Two rooms, great kitchen, even better location! Thiago was an excellent host too! The pamphlet he gives to show places in the area was actually very helpful for my boyfriend and I as we explored the city. I look forward to coming back and staying again!
Zyeshia
2016-12-01T00:00:00Z
Tipo de Acomodação
Casa/apto inteiro
---
Tipo de Imóvel
Apartamento
---
Acomoda
4
---
Quartos
Richmond, Virgínia, Estados Unidos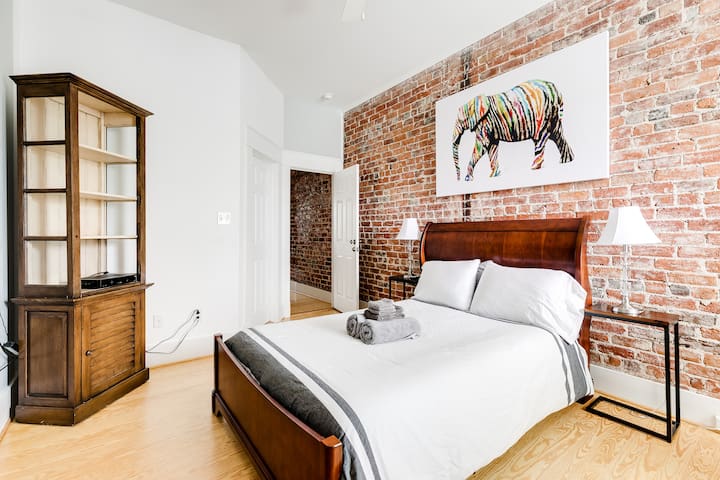 Ranked 9th Coolest Street in North America by Cushman & Wakefield's 2016 Cool Streets Report. Projection screen. Step out onto the sidewalk for hip bars, boutiques, sushi, wine, parks... everything. I offer an expert restaurant and nightlife recommendations-round-up.
The space feature a full projection screen which plays Netflix and DVDs and accepts all inputs. This is a very flexible space, and I can most likely accommodate anything you need. I want you to have a perfect visit. I will be nearby and available by cell and text 24/7. If there's any advice you need on your stay or if there's anything you need before you arrive, I can have it here for you.
Oh, you don't know about Carytown? It is THE most walkable spot in RVA. This diverse retail strip accommodates the posh and hipsters alike. Carytown is right next to other cool stuff. Walk a couple blocks north to the most international venue in RVA, the VMFA (Virginia Museum of Fine Arts). Walk a couple blocks south for tennis courts and a 1-mile vita course. Walk a little farther south to visit the gorgeous gardens of Maymont park. All free. Here's a sampling of what you will find on Cary Street: The Fancy Bars/Restaurants: Secco Wine Bar, Amor Bistro, Can Can Restaurant, The Daily The Hipster Bars/Restaurants: Don't Look Back tacos, Portrait House For All Breeds: Weezies, Ginger Thai MUST VISIT: Mongrel Gift Shop, The Byrd Theatre, For The Love of Chocolate
Bruce was a great host. He was very easy going and flexible about check in and check out times, which was awesome. He left a fully stocked fridge for us to eat whatever we wanted, including a bottle of good wine. After we got there he sent us a very detailed and extensive list of places to go, restaurants to eat at, bars to drink at, etc. Bruce is definitely a pro at Airbnb. One of the best Airbnb experiences I've ever had, I highly recommend this place to others.
Kyle
2016-06-28T00:00:00Z
Bruce made me feel completely accommodated right off the bat. Very friendly; showed me around the apartment and made sure to go over specifics. The place itself is absolutely ideal from the standpoint of getting anyplace on foot. Was able to walk to numerous quality eateries, bookshops, etc. It was also right around the corner from Byrd Park and the WW1 memorial Carillon. The interior is inviting and hip. Down to earth decor and some great reads on the bookshelf! Everything worked/performed as advertised. A beautiful place to spend a rainy, windy long weekend. Very pleased, will love to come again!
Caleb
2015-10-06T00:00:00Z
This was my first experience with Airbnb, and I couldn't have asked for anything better. The location is perfect; right on Cary St, walking distance to endless enjoyment. The apartment is beyond comfortable, clean, and fully stocked with anything you may need. And the host, Bruce, was fantastic; friendly, helpful, and very accommodating with check in/out times. It was the perfect stay for my weekend trip to Richmond. I highly recommend this spot for your next trip to the city!
Samantha
2016-03-13T00:00:00Z
Bruce was incredibly accommodating and apartment was in a fantastic spot downtown. We had such a great weekend here.
Alison
2015-12-28T00:00:00Z
Our stay at Bruce's place couldn't have been better. Four of us stayed there the weekend of the Richmond marathon. The location was perfect for what we needed--a straight shot to downtown for the race. The apartment was cozy and the beds were very comfortable. We didn't explore the neighborhood too much but there seemed to be a lot going on. Bruce was very welcoming and was quick to respond to any questions that I had. I would definitely stay here again.
Maddie
2015-11-15T00:00:00Z
I absolutely loved this place. It's got a really chill feel to it and fits in well with the Carytown vibe. There was food in the fridge and the projector screen was phenomenal. This place is in a great location for checking out Richmond but is also the sort of place that would make a relaxing weekend getaway. Bruce was a great host and made us feel welcome. I am hoping to come visit again soon.
Emil
2015-10-25T00:00:00Z
B was a super helpful and accommodating host! His apartment was as described and comfortable. Very generous with his time and treats left in kitchen. We enjoyed the neighborhood - great shops and restaurants. Street parking was easy, and we mostly walked or took Uber. It is an older building, as expected in that neighborhood, but I like that.
Melissa
2016-07-24T00:00:00Z
This was my second time staying at the apartment when visiting Richmond. The place is absolutely beautiful and Bruce was just as nice as the last time. This is my favorite place to stay when I come. The bed is very comfy and the location is perfect. I can't wait to return to RVA again.
Sarah
2016-08-22T00:00:00Z
Tipo de Acomodação
Casa/apto inteiro
---
Tipo de Imóvel
Apartamento
---
Acomoda
2
---
Quartos
Richmond, Virgínia, Estados Unidos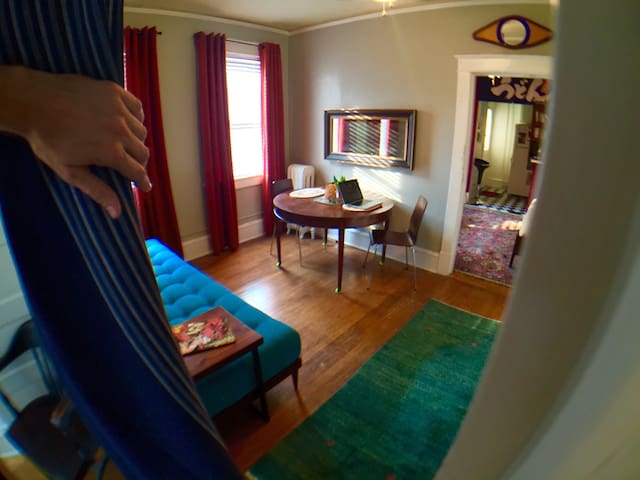 Beautiful, modern, newly renovated apartment with the historic charm that the Fan District is famous for. Cozy, clean, and convenient. Features include king size bed, full size sofa bed, two full bathrooms, and off-street parking. The location is a short distance to great restaurants, shopping, museums, and nightlife. Convenient to I-64, I-95, and I-195. Close to VCU and University of Richmond.
Beautiful, newly renovated apartment in the Historic Fan District 2nd floor walk-up Two entrances available: The back entrance is private; the front entrance is shared with other apartments. Accommodates up to 2 guests Features: One king size bed Two full bathrooms Fully equipped kitchen Washer and dryer Balcony sitting area Verizon FIOS wi-fi 40" flat screen TV with premium cable channels One private parking space (free street parking also available) I don't allow any parties, social gatherings, or events.
Great place, loved the free parking, hair dryer, sheets, beds, shower, and host was very communicative. For the price wished it provided wet wipes to remove make-up (host requests no make-up on towels/ sheets understandably), shampoo, conditioner, tooth brush and tooth paste (they did have bath soap)-even though the place description does say it doesn't provide all those things. Also felt uneasy as no deadbolt on main door and felt anyone with a key could walk in at anytime. Location was a quick drive to downtown and the water. Loved the instructions and things to do pamphlet in the place. Recommend overall!
Marlene
2017-03-30T00:00:00Z
Great place! Charming, just as described, clean, great location. Couldn't be better!
Tyler
2017-03-19T00:00:00Z
Great location - near plenty of bars/restaurants/monuments/etc. Plentiful parking and Lea was very helpful.
Taylor
2017-03-26T00:00:00Z
Everything was exactly as described, and the apartment was beautiful & clean. The apartment is in a quiet neighborhood but very walkable to everything. I will definitely book again when staying in Richmond!
Sara
2017-04-09T00:00:00Z
Lea's home is clean, well-equipped and in a great location! We would definitely stay here again!
Morgan
2017-03-24T00:00:00Z
Lea was very helpful! The apartment is in a great location and very clean.
Austin
2017-04-02T00:00:00Z
Lea is a great host and extremely accommodating. This is our second property rental and I only have great things to say about her and her properties.
Gerald
2017-03-17T00:00:00Z
Great place! My wife and I, along with our two young daughters stayed here and had a wonderful time. Very clean, well appointed and great spot!
Mike
2017-03-13T00:00:00Z
Tipo de Acomodação
Casa/apto inteiro
---
Tipo de Imóvel
Apartamento
---
Acomoda
2
---
Quartos
Richmond, Virgínia, Estados Unidos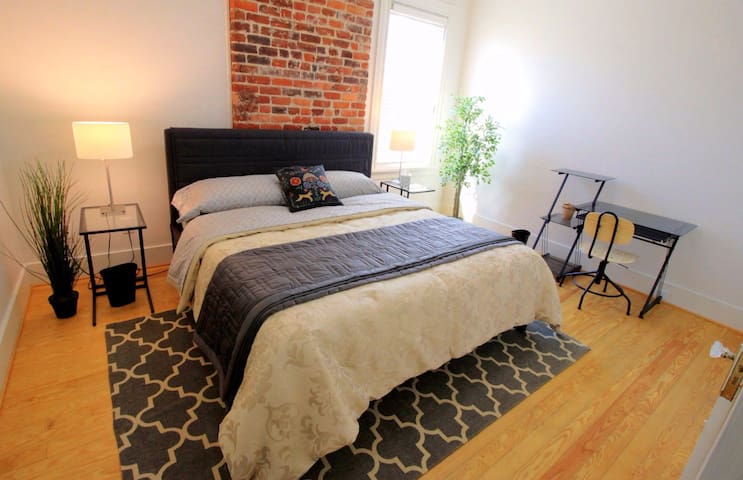 Welcome to Carytown! Right across the street from Richmond's iconic Byrd Theatre and sharing the block with 9 Restaurants, this second floor apartment has both charm & comfort. New kitchen, bath & furnishings, decorated with a contemporary & "earthy" flair. Carytown--Eight blocks of unique shopping and a Richmond foodie destination......only a short walk To Byrd Park, Maymont Park, The Virginia Museum of Fine Arts and the Fan District.
Built in 1919 and recently renovated (new listing this October) this gem in the heart of Carytown provides comfortable lodging for any trip to RVA. While Carytown can be quite "active", all new windows create a very quiet space inside. Brand new kitchen, bath & furnishings.
For close by dining, the hardest part in my block is which one to choose tonight....The Daily? Citizens Burger?? The New York Deli?? Copollas (Italian) Deli??. Keep on walking West (or East ) and you will pass the cuisine of many nations in our fun food scene.
The space is wonderful and the location can't be beat. Plenty to do around the area both during the day and night. The space feels very inviting and is a nice quiet getaway if you need a break from the bustle of Richmond during your visit. Would definitely book again.
Josh
2017-03-08T00:00:00Z
This was our first time using Airbnb and Bri's place was awesome. It was a great location, close to restaurants, shops, and bars. Bri was easy to communicate with and the apartment had everything we needed. We can't wait to come back!
Sean
2016-10-28T00:00:00Z
Brianna's place was great, perfect location in Carytown, just steps away from plenty of great restaurants and bars and within minutes of everything Richmond has to offer. Would highly recommend to anyone visiting Richmond
Matthew
2016-11-20T00:00:00Z
This was a really great place - we could not have asked for a better location. The apartment was very nice, clean, and exactly what we were looking for.
Nicholas
2017-02-02T00:00:00Z
Brianna was an amazing host, easily accessible and made our stay comforting. The house was very clean, and the location was perfect. I have lived in Richmond for 4 year while going to VCU and know how loud and noisy Carytown can be during late nights, but you could not hear a sound once inside the apartment! As a VCU alumni I will be taking multiple trips back to Richmond for Homecoming ect. and will definitely be staying here again!
Bethlehem
2016-11-13T00:00:00Z
Brianne was great. Very accommodating and kind. We loved her home and the neighbourhood was very cool, full of create restaurants and shops. We would definitely stay here again.
Sabrina
2016-11-04T00:00:00Z
Brianna's place was really wonderful. The location is right in the middle of everything. Vintage shopping galore, good coffee and pastries, restaurants of every type, and bars that stay open late. The beds were comfortable, everything is clean and brand new. We hope to return as Richmond is a place with too many attractions for one weekend. Can't recommend highly enough!
Shelley
2016-10-25T00:00:00Z
Awesome location with an awesome host. Definitely stay here
Trey
2016-11-11T00:00:00Z
Tipo de Acomodação
Casa/apto inteiro
---
Tipo de Imóvel
Apartamento
---
Acomoda
4
---
Quartos
Richmond, Virgínia, Estados Unidos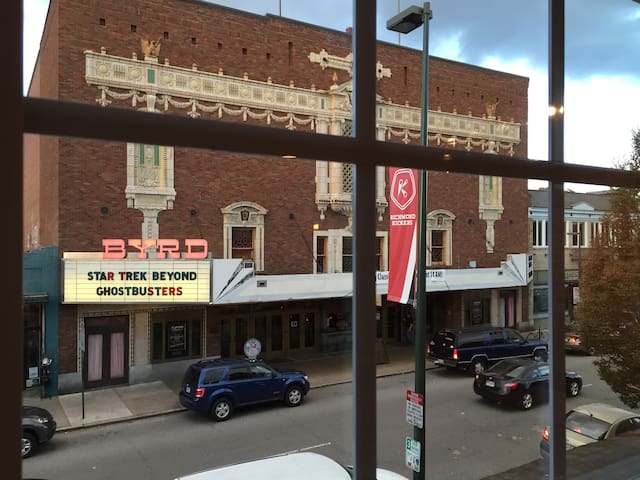 My renovated townhouse is located in the historic Fan District; within walking distance of dozens of restaurants and VCU's Monroe Campus. The guest room has a private entrance through the garden and off-street parking.
Come and explore the heart of Richmond's historic Fan District. My house on Floyd, is blocks away from VCU, hailing distance from the James River, and a brisk walk to Downtown or Carytown. Built in 1889, the modest frame house is set back slightly from its neighbors. It nestles behind an iron fence and arched gate, in an established garden. It was the first house built on the block and has a fenced garden at the rear of the house. Guests will stay in my first-floor apartment. I live here, as well. There is one shared bathroom, two steps away from your room. Your room has a private entrance to the garden and a reserved off-street parking spot. The recently completed garden screen house is a pleasant place to enjoy a drink. The guest room has a new full-size bed and mattress with a memory foam. An iBed cot, with foam mattress, is available for child or restless sleeper. There are down and feather pillows and soft cotton sheets and fluffy towels. Should you like, I will make a carafe of coffee; there is an assortment of teas. There is bread for toast; the refrigerator will be stocked with yogurt and fruit; you are welcome to help yourself. The 26" monitor is equipped with Chromecast. You can cast your Netflix, Amazon, Hulu and other accounts for viewing. Wifi is available. The house is within walking distance of thirty restaurants, coffee shops and bars. There are museums, galleries, parks and the James River, all within a short walk or drive. Carytown, a dynamic shopping and entertainment district is a mile away.
The Fan is filled with wonderful architecture and interesting, creative people. My favorite Cuban restaurant is two blocks away, Foo Dog, a half block, and the James River and Hollywood Cemetery are a bike ride or short drive away.
Catherine's space was clean, comfortable, and perfect for my stay. The room has a great view of the back garden area and her home comes with the sweetest pets! I walked around the neighborhood and to my meetings at VCU; the surrounding area is vibrant and has great restaurants, lovely homes, and her place is a skip and a jump to the Carytown shopping district. If you love pets and want to hoof it in a pretty neighborhood, this is the place to stay!
Lauren
2015-11-06T00:00:00Z
Catherine was exceedingly accommodating. Morning coffee as welcomed before our trip home. Her dog (Jacob) was very sweet and got along great with our 7 year old Vizsla. The back yard was very spacious for them to roam around. Location was great - easy access to multiple things within the city limits.
Adam
2015-05-11T00:00:00Z
We had a wonderful stay at Catherine's beautiful home. Our room was cozy and full of natural light. We were in easy walking distance from great sites, shopping, restaurants and bars. Catherine was a warm and accessible host. We would definitely stay there again.
Emily
2016-11-20T00:00:00Z
Catherine was a wonderful host! I got to Richmond quite early in the morning with a lot of baggage and even though her other guests had not checked out yet, she was happy to let me drop off my bags in her living room so I didn't have to drag them around during the day. She is centrally located - the Fan district is a great jumping off point for anywhere you could want to go in Richmond and has a lot in the immediate area that is great. When I did finally check in Catherine made sure I had everything I needed. She is also great to talk to - I am sad I didn't get to stay longer and hang out more. Her pets are really lovely as well. The room is very charming and clean, and the bed is super comfy. I'd definitely recommend this place to anyone staying in Richmond.
Kate
2015-09-14T00:00:00Z
Catherine is a fantastic host, and her house is wonderfully cozy and welcoming. She provided so much information about the surrounding area and even made us coffee and came to cheer us on at our race! (We were in town for the marathon.) She is truly a wonderful, welcoming person and we would absolutely recommend her place to anyone staying in Richmond.
Kendall
2016-11-13T00:00:00Z
I have spent a couple amazing weeks at Catherine's house. She is lovely and very kind. As well as her dog Jacob, and her friend Lily - who was in the house spending some days. The place is very nice. The bedroom is exactly as the picture, clean and well organized. Also, it is very close to VCU campus and different kinds of restaurants. It couldn't choose a better place. For sure, I would come back if I had chance. Best wishes, Isa
Isabella
2016-10-20T00:00:00Z
Catherine is a star! She is such a kind and welcoming person. I stayed with her for 65 nights total, and it was so nice to come home to her bright personality at the end of a long day at my internship. The room is very nice; the bed is amazing. It's a clean house with great pets, and is in a fantastic location in the Fan. Catherine is very genuine and kindhearted. I miss her already. If you stay in Richmond, stay with her.
Matt
2016-08-01T00:00:00Z
Catherine always makes us feel welcome. Convenient of-street parking. The Fan is a great neighborhood to stay and explore.
Darryl
2016-10-24T00:00:00Z
Tipo de Acomodação
Quarto inteiro
---
Tipo de Imóvel
Apartamento
---
Acomoda
2
---
Quartos
Richmond, Virgínia, Estados Unidos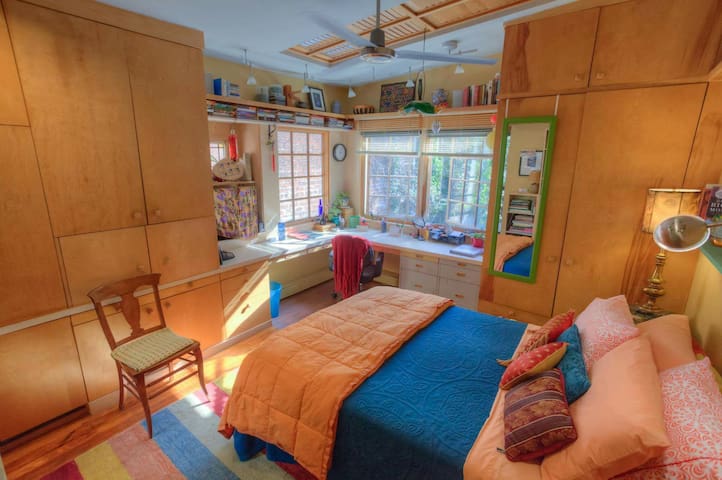 Richmond - Airbnb
:
Média de

5

de

5

estrelas, de acordo com

1377

avaliações de hóspedes
1

–

18

de

Mais de 300 Apartamentos para Alugar
Insira as datas para ver o preço total. Taxas adicionais serão aplicadas. Impostos podem ser adicionados.