Mais de 300 Apartamentos para Alugar
Casa familiar con jardín común para jugar y tomar el sol. Perfecto para familias con niños. Céntrico en el pueblo, cerca de los servicios y de la naturaleza. Suelo de madera y calefacción por el suelo. Todo el piso tiene materiales de calidad, silencioso, luminoso y muy cómodo.
Cristina's apartment is very well located, it is 5 minutes away (by foot) to two different train stations, in 30 minutes we were there from Luzern. The apartment is very bright, in the mornings the sleeping-room have the sun and in the afternoon the kitchen, living-room, dinner-room and terrace! Another thing is that the living-room is very spacious. The apartment is very quite and in one side has the city with shops and everything and in the other the country side with cows :) We will definitely come back with our kids, they will love it too :)
Hagen
2017-04-05T00:00:00Z
Tipo de Acomodação
Casa/apto inteiro
---
Tipo de Imóvel
Apartamento
---
Acomoda
5
---
Quartos
Hochdorf, Luzern, Suíça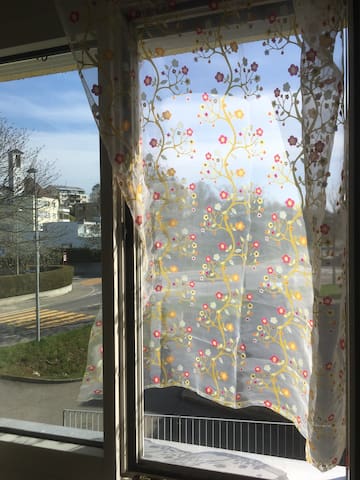 Be our guest, we look forward to seeing you.
Du wohnst im renovierten Dachgeschoss, eingerichtet mit viel Liebe zum Detail. Es ist komfortabel und gemütlich. Die Unterkunft ist ideal für 2 Personen. Wir bieten dir: Wohnbereich mit Eck-Sofa, TV, Radio, CD-Player, Plattenspieler, WiFi Kaminofen Essbereich Teeküche (KEINE Kochplatte), Mikrowelle, Kaffeemaschine, Wasserkocher, Mini-Kühlschrank Schlafzimmer mit teilbarem Doppelbett (180x200cm) Badezimmer, Dusche mit Regenbrause/Massagedüsen
Das Seetal ist wunderbar gelegen, zwischen Seen und Bergen. Der Baldeggersee (Naturschutzgebiet) ist in ein paar Minuten zu Fuss erreichbar. Pro Natura hat dort Wander-und Naturpfade eingerichtet. Vieles ist mit dem Auto in kurzer Zeit erreichbar. Die Berge laden zum Wandern. Die Stadt Luzern ist mit dem Auto in 25 Minuten erreichbar, die Stadt Zürich in 45 Minuten.
Wat een fijne plek om te overnachten! Een hartelijk welkom, een mooie omgeving en een prachtige 'loft', ontbijt met zorg bereid. Kortom, een aanrader!
Annemart
2014-09-10T00:00:00Z
Wat een mooie en prettige plek! Susanne en Maarten zijn zeer gastvrij en behulpzaam, en hebben leuke en goede tips om de omgeving te verkennen. Het appartement is stijlvol ingericht en heel schoon, hele aangename plek om te verblijven, was een superstart voor onze motorvakantie naar Toscane!
Helma
2016-07-29T00:00:00Z
Great! The appartment is really cosy, all details has been taken into account. Moreover is very confortable and the location in the middle of meadows is fantastic just half an hour far away from Luzern. Susanne and Marteen have been the perfect host! Thank you for your kind ness and hep.
Sara
2016-08-11T00:00:00Z
Great! It was a perfect place to stay. The Appartement was very clean and nice. Susanne and Maarten were very nice, friendly and helpful. It was a perfect stay and I can recommend this accommodation to everybody!
Karolin
2014-09-07T00:00:00Z
Nous avons passé un séjour absolument parfait chez Susanne et Marteen. Tout d'abord, nous avons trouvé facilement grâce à leurs indications. Puis notre découverte du logement a été absolument parfaite. Les photos traduisent parfaitement le logement. C'est un vrai petit nid d'amour décoré avec beaucoup de goût. C'est grand, la chambre est grande et tout est vraiment bien agencé pour un séjour parfait. Le lit est très confortable, la salle de bain est moderne et vraiment fonctionnelle (jamais de buée grâce à l'ingéniosité de sa construction). Toutes les fenêtres disposent de moustiquaires et de stores. La vue de chaque fenêtre est vraiment magnifique. L'accueil de Susanne et Marteen a vraiment été chaleureux. Des plateaux de fruits nous attendaient et Susanne nous a expliqué le fonctionnement de cet appartement si adorable et si confortable. Notre poubelle a été vidée pendant le milieu du séjour et nos serviettes de toilette ont également été changées, le tout avec une élégance et un charme indescriptible out est là pour que l'on se sente bien : la gentillesse et le sourire de nos hôtes, la proximité avec la ville de Lucerne, la tranquillité et le calme du lieu, la proximité de certains commerces. Tout a été parfait pour nous. Merci Susanne et Martenne. Nous avons adoré.
Georgina
2016-07-22T00:00:00Z
Highly recommended! Really warm welcome and the accommodation was superb. Mini bar and lots of wines and snacks to choose from. The breakfast in the conservatory was delicious and perfect start to our long drive home. 5 star hosts and accommodation!
Dave
2015-04-14T00:00:00Z
I am so thankful we stayed with Susanne and Maarten! Susanne provided great instructions to get to their house and texted back promptly when we were going to be an hour late. I pre-made our dinners every night and Susanne was kind enough to allow me to heat them up on her stove with her cookware.
Jessica
2014-11-10T00:00:00Z
Susanne and Maarten's wonderful hospitality and their lovely guest apartment completely exceeded my expectations and made me feel very much at home in Switzerland. The apartment has been very thoughtfully designed, furnished and decorated, and was absolutely clean, quiet, and comfortable. There are windows on three sides, affording nice views of the beautiful countryside, the lake, and the Alps. The free parking and WiFi were very much appreciated, as was the nice selection of snacks, teas and beverages. Best of all were the hosts' kindness, advice, and hospitality!
Eric
2014-12-23T00:00:00Z
Tipo de Acomodação
Casa/apto inteiro
---
Tipo de Imóvel
Apartamento
---
Acomoda
2
---
Quartos
Baldegg, Luzern, Suíça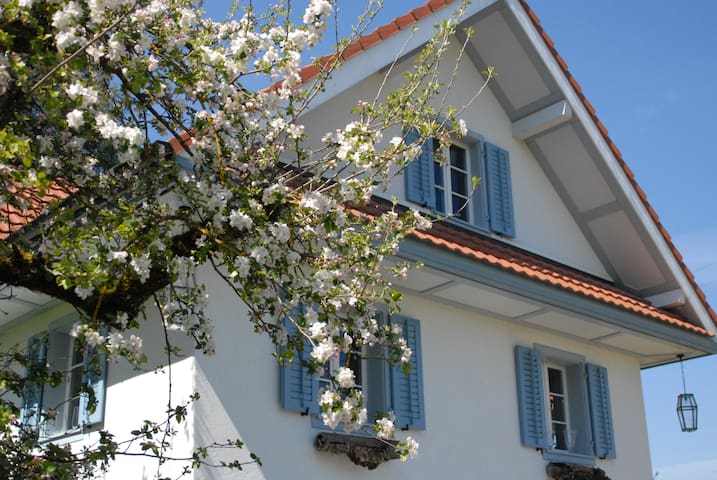 Das Appartement mit einem seperatem Eingang, Schlafzimmer, Bad, Wohnküche und Terrasse liegt an unserem Einfamilienhaus. Im Wohnbereich (Ausziehbetten) kann eine 3./4. Person übernachten. Zusätzliche Kosten für Frühstücks/Tag und Pers. 12,50 CHF. Babys und Kleinkinder bis 2 J. zahlen pro Nacht 15,- CHF, Babybett wird zur Verfügung gestellt. Im Wohnzimmer befindet sich ein TV und ein Radio/CDplayer. Die Sitzgelegenheit auf der Terrasse ist mit einer Glasüberdachung geschützt.
Die liebevoll und vollständig eingerichtete Ferienwohnung ist optimal für 2-3 Personen, kann jedoch bis max. 4 (+2) Personen genutzt werden. Babybett auf Anfrage. Bei kurzfristiger Appartementüberbuchung oder mehr als 4 Personen, ist ein grosses Zimmer für 2 Pers. (airbnb bei Linda) im Haupthaus buchbar. Alle Gäste, egal welchen Alters, sind zahlende Gäste.
Der ländliche Charakter, sowie das Bergpanorama unweit unseres Hauses verzaubert alle Gäste. Die Unterkunft selbst liegt im Neubaugebiet Chappelhof, umgeben von kleinen Gärten und Einfamilienhäusern. Keine 3 Min. vom Haus und man ist in der Natur...(Joggen, Velo fahren, Wandern oder nur die Ruhe geniessen...)
Linda is very nice ,the house is very beautiful,very nice place ,and all people around so nice
Vikk
2016-08-26T00:00:00Z
The house is beautiful, and the kitchen is great and very convenient. The host is a very nice lady. Next time if it is possible, I will choose this house again.
Qisheng
2016-03-27T00:00:00Z
+: prachtig en zeer proper (alles gloednieuw), WIFI werkte goed, zeer warme en attente verwelkoming, zelfs voor uitgebreid ontbijt de volgende ochtend was gezorgd, babybed was voorzien zoals afgesproken, alle comfort, parking voor de deur, de ideale tussenstop op weg naar het zuiden! -: zeer compacte ruimte (maar bij een korter verblijf stoort dat zeker niet)
Catherine
2015-08-09T00:00:00Z
My boyfriend and I had a lovely stay in Sieglinde place, it is a very comfortable, clean, welcoming apartment, with all the necessities you require. Also Sieglinde and her family are close by if you have and questions about what to do in the area. Thanks for a very nice stay. Angela and Steve
Angela
2015-09-06T00:00:00Z
First all, the host Linda is very kind. She is always smile and has positive personal. And I had enjoyed this lovely house for 5days with resting my vacation. I really recommend this house eventhough any house in Luzern becouse of beatiful scenery near the Linda`s house. This is perfect to feel that I am in Switzerland.
Chan Hee
2016-06-10T00:00:00Z
Eine schöne ruhige Unterkunft, mit allem Komfort. Die Gastgeberin ist sehr umsichtig und kann bei Problemen unkonventionell schnell helfen. Ich habe mich sehr wohl gefühlt und komme gerne wieder. Der Standort ist gut geeignet per Rad oder Auto diesen Teil der Schweiz zu erkunden.
Mathias
2015-08-07T00:00:00Z
Wir haben uns bei linda sofort wie zuhause gefühlt. Der empfang war super herzlich und auch das kleine aber feine appartment überzeugt völlig. Modern, gemütlich sauber und praktisch - was will man mehr? Auch ein parkplatz steht zur verfügung. Bei der checkin und checkout zeit ist linda sehr flexibel, was wir sehr schätzten. Und auch die region beromünster ist sehr sehenswert - nicht nur vom fallschirm aus. Wir werden auf jeden fall wieder kommen, vielen dank!
Barbara
2015-07-05T00:00:00Z
I booked this place for my parents and they really loved it! The breakfast is great, so much choose, Sieglinde is very friendly, she is a great host.
Sigrid
2015-08-02T00:00:00Z
Tipo de Acomodação
Casa/apto inteiro
---
Tipo de Imóvel
Apartamento
---
Acomoda
4
---
Quartos
Beromünster, Lucerne, Suíça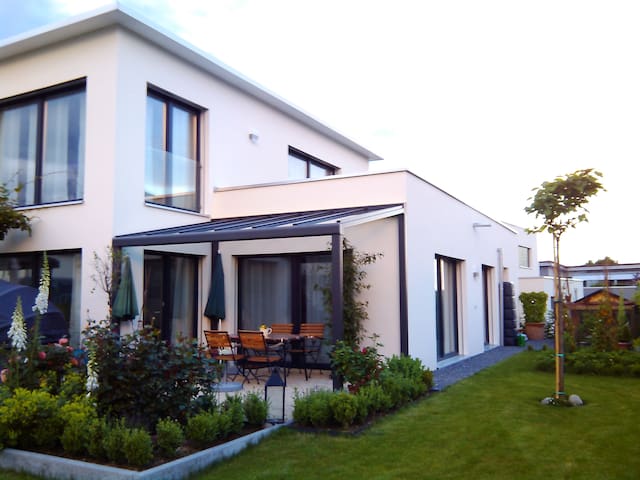 At the foot of Castle Heidegg in Gelfingen on the shores of Lake Baldegg ,two modern studios are available. It´s near Hitzkirch Hochdorf and even Lucerne, Lenzburg or Zurich can be easily reached by train.
The studios are furnished each with a small kitchen with 2 hotplates and microwave oven , shower / toilet , TV and internet .
At the foot of Castle Heidegg in Gelfingen on the shores of Lake Baldegg ,two modern studios are available. It´s near Hitzkirch Hochdorf and even Lucerne, Lenzburg or Zurich can be easily reached by train.
Very clean quaint place. Brigitte was an excellent host. We had a mix up with the reservation and she was very accommodating in getting things straightened out. Her place is in a beautiful area of Switzerland centrally located in the northern area. It's about 1 hr drive to Zurich and Basel. Lucerne is only a 30 minute drive. Great value.
Benjamin
2016-10-03T00:00:00Z
Hallo Brigitte Danke für den herzlichen Empfang, das schöne Zimmer, die hilfreichen Tips, deine Reisegeschichten, das luxuriöse Frühstück. Alles top. Vielen Dank für alles. Cinque stelle*****
Adrian
2016-05-07T00:00:00Z
It was a very beautiful stay Mrs. Gelfigen s place .. She was a very nice host and very helpful and helped us plan our trip better and have a wonderful stay in Switzerland. The house was very clean and my baby enjoyed it as well. Very convient if you have a car to visit places and get back. Thanks a lot for your hospitality and we wish we could stay in your place again next tjme when we visit Switzerland.
Shane
2016-09-12T00:00:00Z
When I arrived earlier than planned and with visiting friends, Brigitte offered coffee and recommended a local playground for the kids. She was a wonderful first host. The room was perfect and had everything I could need: a lovely view, snacks, coffeemaker, small fridge, internet, sink, and dishes.
Julie
2016-09-20T00:00:00Z
Herzlichen Dank Mein Aufenthalt war wunderbar. Das Appartement sehr schön und modern eingerichtet. Alles vorhanden was einen den Aufenthalt angenehm macht. Sehr sauber und alles ist liebevoll für den Gast bereitgestellt. Die Gastgeberin ist sehr nett, angenehm und zuvorkommend. Die Gespräche sehr interessant und die Kommunikation Top. Ich kann in allen Belangen nur Bestnote geben. Von A - Z ein gelungener schöner Aufenthalt, den ich genossen habe. Sehr zu empfehlen.
Patrik
2017-01-01T00:00:00Z
Alles war gut!
Tanja
2016-12-09T00:00:00Z
Das Zimmer war groß, sehr schön und sauber. der Vermieter ist sehr nett und sehr zu vorkommen. Ich habe mich sehr wohl gefühlt und komme gerne wieder. Einfach super, kann ich nur sagen. Sie hält das was die Beschreibung verspricht.
Chris
2016-06-10T00:00:00Z
It was great to stay. Comfortable clean friendly host.
Juo
2017-01-26T00:00:00Z
Tipo de Acomodação
Casa/apto inteiro
---
Tipo de Imóvel
Apartamento
---
Acomoda
3
---
Quartos
Gelfingen, Luzern, Suíça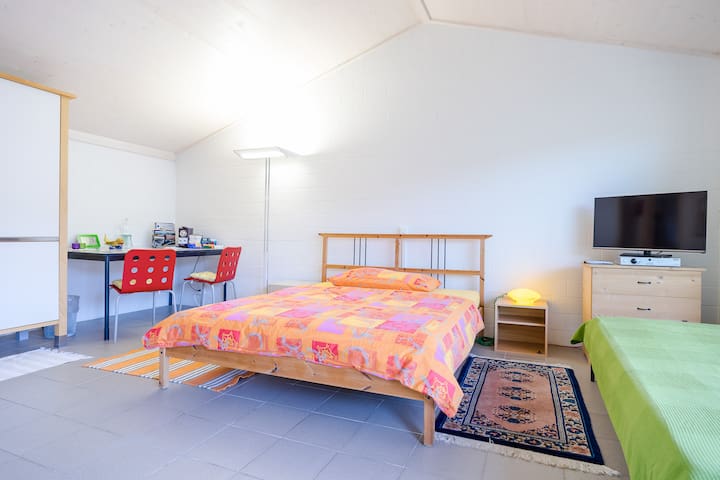 Unsere kleine 3 1/2 Zimmerwohnung liegt mitten im idyllischen Dorf. Gemütliche Spaziergänge oder Velotouren bringen Erholung in der schönen Landschaft. Mit dem Auto ist die schönste Stadt Europs LUZERN zu erreichen. Von dort aus können Ausflüge auf den Pilatus sowie die Rigi geplant werden.
Große Terasse welche einlädt zum verweilen. Die Wohnung befindet sich im zweiten Stock und ist einfach eingerichtet.
Wir haben sehr freundliche und hilfsbereite Nachbarn. Zu Fuß erreicht man in 20 Minuten erreicht man ein schönes Naturschutzgebiet. Mit dem ÖV ist man in 40 Minuten in der Stadt Luzern. An den Arbeitstagen fährt der Bus alle 30 Minuten.
Die Ortschaft, in welche Susanne lebt, mag ein wenig abseits/ländlich liegen, falls man nicht gerade was Grösseres sucht. Aber es ist vom Preis-Leistungsverhältnis absolut top. Sehr schöner bzw. modern gestalteter Neubau und es mag vielleicht "nur" ein Sofa sein, aber der Komfort dieses Sofas kann locker mit einem Bett mithalten. Susanne und Urs sind zudem überaus freundlich und sehr aufgeschlossene Menschen.
Andreas
2017-02-13T00:00:00Z
eine nette gastgeberin
Mohamed
2017-03-14T00:00:00Z
Susanne war super net und sehr hilfsbereit. Habe auch die ganze Familie kennen gelernt. Ich würde sofort wieder kommen.
Rainer
2017-01-15T00:00:00Z
호스트가 너무너무너무 착해서 참 좋아요! 집도 엄청크고 지내기도 편해요!!근데 딱 하나 아쉬움점은 시내하고 30분거리애 30분 마다 버스가 한대있어서...ㅡ 와따리가따리가 조금 귀찮고 힘들어요 ㅠ ㅠ 하지만 호스트가 최강으로 착해서 뭐~ :)
용준
2017-03-02T00:00:00Z
Tipo de Acomodação
Quarto compartilhado
---
Tipo de Imóvel
Apartamento
---
Acomoda
1
---
Quartos
Neudorf, LU, Suíça
Laundry is basically not included, yet we will find a solution to accommodate you the best, which does not guarantee the possibility, though.
Our place is located in a peaceful neighbourhood, just in front of a primary school. In the back yard of our apartment is a nature-frinedly part, Vita Parcours. There you can have a relaxing walking, simple exercise, or going jogging.
Nice host, comfy, clean room. Everything is good enough for short stay except the location, if you have a car that's not a problem.
Lance
2016-10-07T00:00:00Z
Alles Perfekt. Ich habe meinen Aufenthalt sehr genossen! It was all just perfekt. And I enjoyed staying there! Danke Jayoung
Henri
2016-10-28T00:00:00Z
Beautiful place with incredible people. Jayoung was very friendly and made this a pleasant, comfortable place to stay. I would recommend this spot to everybody.
Austin
2016-09-26T00:00:00Z
Everything was perfect. clean&cozy room, good location and kind host!!♡ I wanna to stay one more again in her house : )
길송
2016-07-07T00:00:00Z
A great location, not far from public transport and close to a very lovely lake. Jayoung and Patrik was most kind and informative regarding the area, things to do etc.. Room was pleasant, a cosy place for a traveller.
Lewis
2016-06-05T00:00:00Z
Jayoung was a nice host. And the room was cosy. I went the lake where she told me near her house. It's a wonderful place!! Thanks for telling me a nice place.
용재(YONGJAE)
2016-12-28T00:00:00Z
Man sorry for the late review, was super tied up with things in Korea... But jayoung and patrick are awesome hosts and really make you feel welcomed! Also the house is located near a train station that you can walk to. Also close to the beautiful lake! Which I was able to make alot of new friends there. Deff recommend anyone looking for a place to airbnb it up in switzerland!
Daniel
2016-03-01T00:00:00Z
The host canceled this reservation the day before arrival. This is an automated posting.
Jean
2016-02-28T00:00:00Z
Tipo de Acomodação
Quarto inteiro
---
Tipo de Imóvel
Apartamento
---
Acomoda
1
---
Quartos
Hochdorf, Luzern, Suíça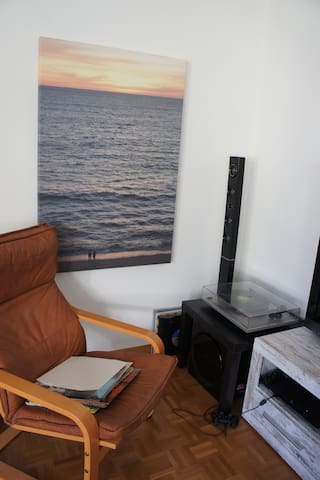 Anteriormente um celeiro, com um monte de amor que foi convertido em um apartamento espaçoso e confortável, localizado no coração da Suíça. Ser cercado pela bela paisagem rural Seetal em Ermensee, e viver entre os animais incluídos cavalos, ovelhas, coelhos, galinhas e patos. Este alojamento serve perfeitamente um casal, viajante individual, ou uma família com crianças.
O apartamento está mobilado com uma cama de casal, um sofá-cama, uma mesa de jantar com 4 cadeiras, aparelho de som com CD player e acesso à Internet. A cozinha moderna e separada está bem equipado com geladeira, fogão de indução, forno, máquina de café expresso, pia e mesa de jantar. taxa de limpeza adicional de CHF 50.- será aplicada para o uso das instalações da cozinha.
Ermensee está localizado bem no coração da Suíça, e está situado entre uma vegetação luxuriante, paisagem montanhosa, e dois lagos (Hallwilersee & Baldeggersee). Você vai encontrar muitas trilhas para caminhadas e corridas, bem como passeios a cavalo. A área que circunda o Lago de Baldegg é uma área de conservação da natureza, e é apenas uma curta distância do apartamento. Outros destaques naturais, culturais e históricos da Suíça pode ser facilmente alcançado de bicicleta, carro ou trem.
Tipo de Acomodação
Casa/apto inteiro
---
Tipo de Imóvel
Apartamento
---
Acomoda
4
---
Quartos
Ermensee, Lucerne, Suíça
The apartment has two bedrooms, a living room, a kitchen and a bathroom and is on the top floor of our three story house. Our house lies in the centre of Rothenburg in a very quiet area. It is surrounded by a 1000 square meter garden.
The apartment has two bedrooms, a living room, a kitchen and a bathroom and is on the top floor of our three story house. Our house lies in the centre of Rothenburg in a very quiet area. It is surrounded by a 1000 square meter garden, which reaches down to a small river on one side. You will reach the bus stop in 2 minutes walking distance and a train stop in 6 minutes walking distance from the house. A 15 minutes bus ride will take you to the centre of Lucerne. You will find many shopping facilities which are in 2 minutes walking distance away. There is free Wi-Fi Internet access. Free parking in front of the house is also possible. You are welcome to use the playground and toys for small kids in our garden (except on Thursday morning when it is in use by our play group). We look forward to welcoming you!
quiet but close to all shops, bank, postoffice, bus and train, restaurants and playgrounds for the kids
Very nice place, great host. Good location if you have car rental. Nice walking hike/park not far from the place. Clean and safe place. We enjoyed our stay here. You must drive to interlaken, a lot to do and not far drive.
Denise
2016-08-08T00:00:00Z
Beautiful house in a nice, safe neighborhood close to Lucerne. Home was very clean. Is was easy to communicate with Silvia and Rico and they made us feel very welcome. Washer and dryer were great! :)
Julia
2014-09-21T00:00:00Z
Silvia and Rico are absolutely incredible hosts! My two friends and I stayed with them for 5 nights, and the appartment was perfect - heaps of pots and pans for cooking, great water pressure in the shower, plenty of space for the 3 of us and just a 10 minute walk from the train station. They always responded quickly to messages! We arrived earlier than expected and Silvia and Rico were more than happy to let us leave our heavy backpacking packs inside while they finished preparing the appartment, and even carried them inside for us when they were done! Silvia helped me do our washing and was more than happy to chat about things to see and do in the area. I was actually really disappointed to have to leave and I couldn't rate them more highly!
Danielle
2016-09-15T00:00:00Z
We really had a good time in Silvia and Rosa's apartment. The apartment is on the second floor. It's spacious and cosy. There is a big kitchen with very nice furniture and the tools for cook are all ready. We like their living room very much. We drink tee and coffee there. Rosa is also very nice. She gave us very detailed direction about supermarket and parking. We sincerely recommend you to choose their apartment
Haifeng
2014-02-02T00:00:00Z
My wife and I had an amazing time staying at Silvia and Rico's house last week during our honeymoon! The house is 3 stories (+basement) and guests get the whole top floor while Silvia and Rico live in the bottom and their daughters in the middle. The top floor has every appliance you could hope for and they will let you use their washing machine downstairs if needed. It has plenty of room and is very cute and family friendly. Silvia and Rico themselves are very kind people and we would definitely suggest staying with them. We would stay with them again if we return to Luzern without a doubt!
James
2014-05-30T00:00:00Z
Silvia and Rico are the best host! Everything is perfect! Love to stay with your family and your house. Sincerely desire to stay with you again.
Maggie
2015-04-04T00:00:00Z
Great hosts! They welcomed us with wide grin. There was a welcoming message on the blackboard and a bowl of chocolate on the table. They have a wonderful trampoline on their garden. We enjoyed every minute of being there.
Chanhwi
2015-07-25T00:00:00Z
Our hosts Silvia and Rico could not have been more accomodating on our arrival. They welcomed us personally and explained everything.
David
2016-08-20T00:00:00Z
Tipo de Acomodação
Casa/apto inteiro
---
Tipo de Imóvel
Apartamento
---
Acomoda
4
---
Quartos
Rothenburg, Luzern, Suíça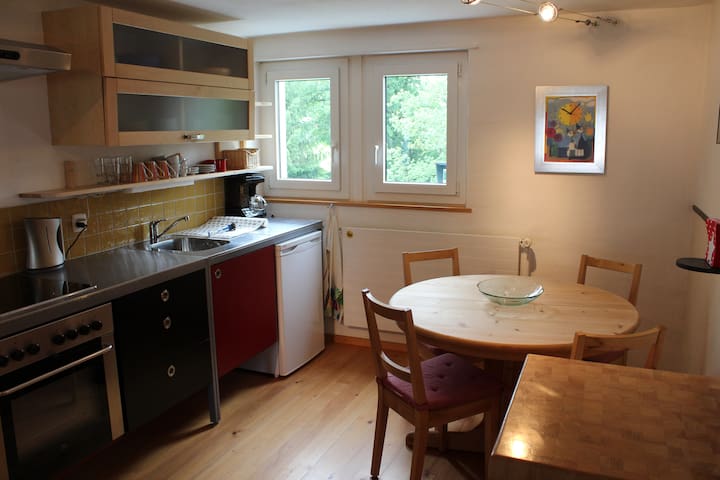 Charming 1-room-apartment with private entrance, kitchen, bathroom. Located on the ground floor of our new house. Very quiet place, a perfect hub for a great holiday with short connection to Lucerne, Zug, Zurich, Central Switzerland. 7 mins walking distance to train station, closest motorway access 10 mins ( Buchrain / Rothenburg).
You will sleep in a double bed (2x 90/190), have a seperated small but fully equipped kitchen with coffee machine, fridge and ceramic stove. Enjoy the bright bathroom with shower and relax in the morning sun at your private little terrace equipped with two outdoor chairs. The apartment features a beautiful oiled oak floor and minergie comfort ventilation. You can darken the room with electric shutters. Color TV with a wide range of channels. Internet available via WiFi. Free parking. Non smoking flat.
A perfect hub for a great holiday on the countryside with short connection to Lucerne. Numerous places of excursions and a wonderful environment invite you to experience Central Switzerland. If you fancy jogging or walking: beautiful forests will welcome you within short distance. Eschenbach has about 3500 inhabitants and features several supermarkets, a bakery and a pizzeria-restaurant.
Die Beschreibung entspricht genau dem was es ist. Es ist einfach wunderbar. Super sauber und echt gemütlich. Zum Bahnhof sind es nur 500 Meter und mit dem Tellpass spart man unglaublich viel Geld. Flott ist man in luzern und kann den Tag ausgiebig genießen.
jacqueline
2016-05-30T00:00:00Z
We had a lovely stay in Eschenbach. The apartment is big enough for 2 people & is really well equiped, so you can cook your own meal if wanted. The location is perfect: away from the busy center of Luzern & great views of Rigi and Pilatus.
Nele
2016-08-05T00:00:00Z
A very nice place to stay and is near to public transport and the house is great and cosy!! Irene is a very nice host.
Sandhyasree
2016-09-26T00:00:00Z
Irene and her family were extremely friendly and helpful. I couldn't have wished for better hosts. They went above and beyond my expectations and it's this kind of experience which makes it nicer than staying in a hotel. The apartment was fully catered, had everything you could need, with modern fittings and with the added bonus of a great view when the sun came out. It was completely private and even though it was a section of a bigger house, I was never disturbed. Transport links were as described. A little over 5 minutes walk to the train station which was perfect. Overall a great place to stay, with great hosts. Thanks.
Andrew
2016-12-09T00:00:00Z
Tipo de Acomodação
Casa/apto inteiro
---
Tipo de Imóvel
Apartamento
---
Acomoda
2
---
Quartos
Eschenbach, Luzern, Suíça
A nossa casa é tranquila e idílica para a floresta no sopé do Monte Linde. Os dois quartos com duas camas cada, duche / WC, sala de estar, varanda no novo edifício, e, portanto, têm a sua própria entrada. Hohenrain está localizado entre Lucerna e Lenzburg e entre Sursee e Cham / trem.
Os dois quartos são no novo edifício, e, portanto, têm a sua própria entrada. A pedido, eu posso lhe fornecer camas adicionais disponíveis. Você pode desfrutar da paz por si só, não há outros convidados. Hohenrain é uma vila pequena e tranquila, no cantão de Lucerna. Em Hochdorf tem lojas. A propriedade é muito adequado para crianças. A pedido de redução Crianças. Por favor, indique a idade. No piso superior tem uma sala de jogos, que podem ser de uso comum com a consulta. A pedido terei prazer em um berço ou uma cama extra (apenas para crianças) estão disponíveis.
Em meio da natureza, com muitas oportunidades para caminhadas, passeios pedestres, de bicicleta. Perto está o Baldegg com piscina.
Отличный выбор. До Люцерна 20 минут на машине. Места много, все абсолютно новое, по-немецки чисто и аккуратно, но при этом по-французски душевная хозяйка:) Все продумано, разве что ложки для надевания обуви мне на хватило:) Огромная терраса, там столик, кресла, пледы, уют. Чай, кофе. А завтрак - это просто шедевр. Я при бронировании не заметил, что это место с завтраком. Был очень рад, когда Мари-Тереза мне его предложила. Завтраком я и обедал сразу:) Молоко, домашние джемы (хозяин - фермер), ветчины, сыры, сок, молочные продукты, фрукты... Очень приятно, что это именно домашний завтрак, каждый день по-разному, а не что-то стандартное. С интернетом все хорошо. С теплом тоже. Огромная ванная комната с нормальной высоты потолком и высоким (наконец-то) душем, а то вечно нагибаться приходится:) Детская площадка. 2 спальни - семья с 2-мя детьмя запросто там может жить. Стол в салоне большой, можно и порисовать и пообедать рядом. Наверное, летом есть и еще какие-то прелести, я был в феврале, туманно, прохладно, да и ездил по делам, так что уезжал на весь день.
Alexander
2017-02-18T00:00:00Z
房东非常好 给了我们很多帮助 提供的早餐也比较丰盛 房间很亮堂 干净整洁 只是地理位置如果没有车的话 会比较不方便
Shouyiyuan
2016-12-23T00:00:00Z
Marie's apartment is located in a farm where is quite and lovely, about 30 mins drive to Lucern and 1h20mins drive tk Interlaken. The apartment is very clear and private, and Marie is also super nice, especially the full breakfast she offered is just amazing, thanks for you host Marie, wish see you soon!
Jingyu
2017-03-26T00:00:00Z
公寓位置在比较偏的农村,离琉森二三十公里。房间很干净,厨具齐全。早餐很丰盛,房东还特意做了煎土豆饼,美味。 Marie沟通很及时,英语加手语,一切顺利。只是瑞士物价太高是我们这次整个中欧旅行中最贵的,因此性价比就显得不高了。 行程匆忙,房前屋后的田园风情没能好好欣赏。
junping
2016-08-24T00:00:00Z
眼前一望无边的绿草地,美的觉得置身仙境。房子很温馨,家人都很满意。房东很热情,早餐让我们幸福感爆棚。很赞!力荐!
Hao
2016-08-02T00:00:00Z
Marie-Therese is very helpful and accommodating. The apartment is new and clean and quiet. Short drive to Luzern.
Karin
2016-08-19T00:00:00Z
Marie-Therese's BNB was an amazing experience and we are so glad we found such a gem in the Swiss countryside. Marie-Therese was a wonderful host was very helpful in finding the location. She also provided a booklet of information on nearby attractions and hiking trails. She also provided breakfast/lunch of cold cuts, cheeses, and fresh produce grown on the farm! The accommodations were new and very clean, and the location was spectacularly peaceful. We wished we could have spent more time there.
ThuHang
2016-09-09T00:00:00Z
Marie-Therese is a wonderful host and made every attempt to make our stay comfortable. When we had some initial trouble finding the place, she drove down in her car to find us and that was very nice. Once we were in, she explained all the facilities very nicely and also helped us with "what to see and do" information including maps. And yes, the place is exactly as described in the site. Beautiful house in the middle of the valley. Great view from the balcony, just like shown in airbnb. Rooms were very clean, with clean bed and bath linen. We all had a nice sleep. Next morning, Marie-Therese brought a great lunch with a great mix of dishes and a warm home-cooked swiss speciality. It was evident that she took the extra effort to make us feel at home and that we enjoyed our breakfast. She even included lot of stuff directly from the gardens in our breakfast which was great. All in all, we left happy and satisfied. Hoping to be back again someday. Thanks Marie-Therese for everything!
Pradyut
2016-09-04T00:00:00Z
Tipo de Acomodação
Casa/apto inteiro
---
Tipo de Imóvel
Apartamento
---
Acomoda
4
---
Quartos
Hohenrain, Luzern, Suíça
Very modern apartment, great view on the Alps, 20' to Lucerne, Zurich and Zug. Room is 20m2, with free ensuite HiFi, TV and WiFi. Private bathroom with shower and separate Jacuzzi-bathtub. Decent guests are invited to share the apartment: kitchen, two 'living rooms', balconey. A separate room for kids can be arranged.
Quiet spot, car a necessity (especially on weekends)
Quiet village with one shop, one butcher and two restaurants
Tipo de Acomodação
Quarto inteiro
---
Tipo de Imóvel
Apartamento
---
Acomoda
2
---
Quartos
Abtwil, Aargau, Suíça
Hello, A typical Swiss Apartment ! You have to be here :-) Just in front of the Train Station "Hochdorf" The Mezzanine (Maisonette) is yours !! Possibility for 4 people to sleep on the Mezzanine.
The Mezzanine is yours ! Sleeping for 4 people is ok, but if you want to make food, under in the Kitchen, it's possible, but the "living space" is really small !! Also - I allow 4, but there is only 1 bathroom !
You are in the MIDDLE of Hochdorf ! In front of the Train-station ! Easier, you can not find ! But yes, if you leave the window open, it can be some noisy in the morning or the evening under the week because of the traffic.
Sonja you are gem of person. You are very helpfull during our stay. Your home is very neat and clean and very cozy in winter season. She wait for us till midnight and made dinner for us
Thakur
2015-11-13T00:00:00Z
The apartment is a good choice to be a pass by station, convenient to be found. The host is very nice.
Bo
2015-12-05T00:00:00Z
Sonja is very nice and the apartment is cosy and comfortable. I like the interior design of the apartment, especially the lights and the beds. Maybe the stairs is a bit dangerous and difficult to climb. And Sonja boil the coffee for us in the early morning and it tastes good. Sonja is of patience and wait for us because it is so late when we get to her place. We enjoy talking and living with the charming lady and she knows four languages, so cool!
Xing
2016-03-12T00:00:00Z
We took lot of time to find sonja's house because we don't know her name to ring the bell. She's response was late. But the room was good. And sonja was very kind to us. And the home is very close to station.
se eun
2016-01-09T00:00:00Z
Very kind. She could keep us in her house even when we booked the same day. The apartment is near to Lucerne (20 minutes by car) and very clean. The only thing is that train and bus station is next to the apartment, and for my it was a little bit noisy during the early morning.
MOISES
2015-08-14T00:00:00Z
Nous avons été très bien accueillis, Sonja parle plusieurs langues et parle très bien le français. L'appartement n'est pas très grand, il vaut mieux prévoir de juste y passer la nuit car il n'y a pas "d'espace de vie" pour 4 personnes, mais la mezzanine est assez spacieuse et les matelas sont confortables donc c'est bien pour y dormir. Sonja a tout fait pour que nous nous sentions à l'aise chez elle. La région est très jolie, calme, verte, c'est la campagne suisse comme on l'imagine.
Perrine
2015-08-30T00:00:00Z
Great location...situated right infront of hochdorf station.Sonja was really helpful and friendly, although since it's the mezzanine floor...privacy was little less.
Sonamika
2015-09-13T00:00:00Z
Ich wurde sehr herzlich empfangen und habe mich sehr wohl und willkommen gefühlt. Das Bett war sehr bequem und bescherte mir einen langen und tiefen Schlaf.
Patrick
2016-01-15T00:00:00Z
Tipo de Acomodação
Quarto inteiro
---
Tipo de Imóvel
Apartamento
---
Acomoda
4
---
Quartos
Hochdorf, Luzern, Suíça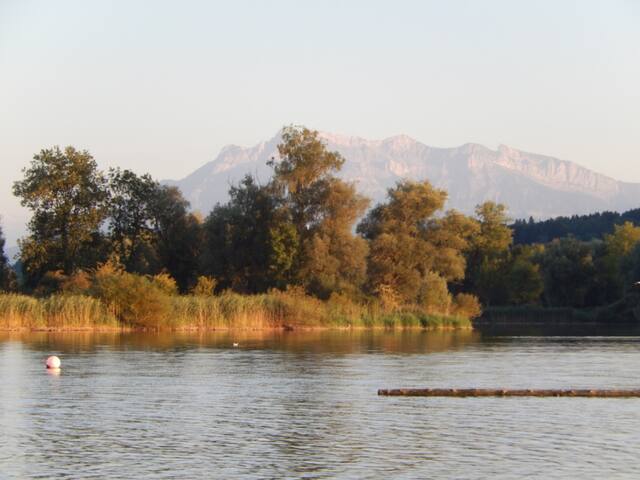 Kleines Zimmer mit Kajütenbett in einer grosszügigen Wohnung mit herrlichem Blick auf die Zentralschweizer Berge. Kleines Wohnzimmer und eigene Wohnstube zur Mitbenutzung. W-LAN gratis zur Verfügung. 15 Minuten per Bus ab Bahnhof Luzern erreichbar.
Das Auto kann beim Haus geparkt werden. Die Unterkunft ist zu Fuss in 8 Minuten von der Bushaltestelle Eschenbachstrasse, Rothenburg erreichbar.
Naherholungsgebiet ist gleich um die Ecke (Wald und Wiese). Einkaufsmöglichkeiten und Restaurants in 10 Minuten zu Fuss zu erreichen.
Eugen is very gentle and friendly. His place is very warm, nice and clean.
Ying
2016-04-23T00:00:00Z
Great stay in Lucerne! I really recommend this place, room is perfect and even the view from the window is magnificent. Only 15 mins away from Lucerne's Central Station. Wouldn't hesitate staying here again.
Daniel
2016-09-10T00:00:00Z
Perfect
旻樺
2016-07-22T00:00:00Z
We met Cristina and Janosch. They are super nice. Very beautiful house. They have also wonderful kitchen. So regretful we arrived very late that night. But the breakfast was the best, most of Bio. Strongly recommend it and we would like to come back in the future.
Huifang Elizabeth
2016-08-13T00:00:00Z
We had such a wonderful stay with this family!! We were very warmly welcomed into their home, they invited us to be a part of their family for the time we were there. We had a wonderful time chatting about travel, and would definitely stay here again. The room was very clean, and the bunk beds were very comfortable. Thanks for having us!!
Ashleigh
2016-08-18T00:00:00Z
ホストの家に無事につけるか心配していたのですが、メールで予定を前もって送っていたのですが、駅に着くとすでに迎えに来てくれていました。大変感激しました。また、彼の家に着くと、私の歓迎会を開催していただきました。家族の皆様と夕食を食べながら歓談し、家族の一人一人と会話でき、良い人間関係を作る機会を設定していただいたと思います。2泊でしたが、大変思い出に残る滞在となりました。ありがとうございました。
Jokai
2016-04-10T00:00:00Z
Beautiful apartment with a warm welcome from a very nice family. Ideal after a long day of travel. Thank you!
Bruno
2016-04-15T00:00:00Z
The MINGS! what a family! Simply amazing. They have a beautiful house conveniently approachable to luzern by bus and by train. Amenties we would say were more than as promised.
Rishikesh
2016-05-17T00:00:00Z
Tipo de Acomodação
Quarto inteiro
---
Tipo de Imóvel
Apartamento
---
Acomoda
2
---
Quartos
Rothenburg, Luzern, Suíça
Meu Appartement está localizado junto a uma paragem de (URL HIDDEN) o ônibus, você vai chegar à cidade velha de Sursee, em cerca de 15 minutos. Em Sursee, há uma abundância de restaurantes, bares, locais de interesse e acesso ao lago. Não importa se você estiver viajando através da terra ou ter negócio do trabalho, você está em uma boa área de infra-estrutura bem. Você está viajando de carro? Muito bem, o acesso à rodovia fica a poucos minutos à frente. De lá você vai chegar Lucerne City.
A sala de hase uma cama, armário embutido, mesa e máquina de café
Meus vizinhos são simpáticos, por favor, tratá-los muito bem.
It was more confortable than a 5stars room! Cosy, clean and clame, this place is perfect to rest! Very kind host who loves chips ;)
Anaïs
2017-04-01T00:00:00Z
Nettes gut eingerichtetes Zimmer an guter Ausgangslage.
David
2017-03-13T00:00:00Z
Alles super!!
Felicitas
2017-04-09T00:00:00Z
Gregor ist ein sympatischer freundlicher Gastgeber, er hat für alles gesorgt. Das Zimmer ok, das Bett sehr bequem. Die Kommunikation funktioniert. Sehr zu empfehlen.
Claudia
2017-04-03T00:00:00Z
Gregor as a Host is very friendly. The room was perfect as shown in the picture.The best thing i liked was his Kitchen we made a good use of it.Also the Parking was added advantage as we traveled with Car.I would recommend his room for travelers on Airbnb.
Girish
2017-03-20T00:00:00Z
OK
Lintong
2017-03-26T00:00:00Z
The room is comfortable You have also a kettle for preparig coffe. And You have your own car park
Anna
2017-03-07T00:00:00Z
Hôte très gentil et l endroit est très chaleureux
Arnaud
2017-02-23T00:00:00Z
Tipo de Acomodação
Quarto inteiro
---
Tipo de Imóvel
Apartamento
---
Acomoda
2
---
Quartos
Schenkon, Luzern, Suíça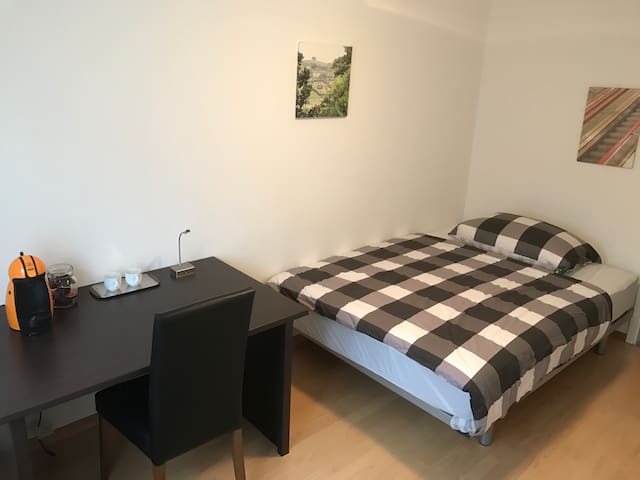 Die Unterkunft hst einen privaten Garten und ist in einem sehr ruhigen Quartier. In die City hast du ca. 15min.
Tipo de Acomodação
Quarto inteiro
---
Tipo de Imóvel
Apartamento
---
Acomoda
2
---
Quartos
Eschenbach, Luzern, Suíça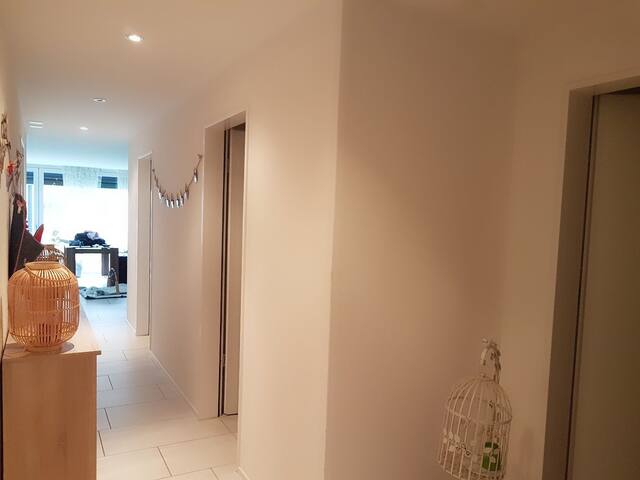 Our new 1-room appartement is located our house and has a separate entrance and a separate bathroom/shower. The neighbourhood is newly being built. There's a forest and lake nearby. Lucerne is 20min away by car or public transportation.
You get the key to your own new appartement in the basement of our house. The room is about 30m2 with a 160cm doublebed, TV, wifi and a separate bathroom with shower. The wifi is fast with 100 MB/sec download and 20 MB/sec upload.
The neighbourhood is newly being built with many 1-family-houses. It's a quiet, very family-friendly place close to the lake, forest, grocery stores and public transportation.
Nous avons passé un séjour très agréable. L'appartement est moderne et très fonctionnel. Un grand merci à Cornelia pour le prêt des jouets pour notre fille de 18 mois. Je recommande cette location.
Thomas
2016-08-27T00:00:00Z
Sono stato un mese da Cornelia e mi sono trovato benissimo, l'alloggio e come da descrizione pulito e perfetto per due persone. Vicino a Lucerna. Cornelia e la sua famiglia sono persone molto speciali.
Marco
2016-12-18T00:00:00Z
Cornelia is a great host, helpful and always with a smile! Her place is exactly as described and shown in the pictures. I spent a lovely 12 days in Notwil. Thank you Cornelia!
Lucy
2017-02-21T00:00:00Z
Alles war für unsere Zwecke hervorragend. Das Zimmer ist sauber, es ist sehr ruhig gelegen und wir haben dort sehr gut geschlafen. Nottwil ist schön am See gelegen und man ist schnell in Sursee und Luzern. Sehr empfehlenswert!
Clemens
2017-04-03T00:00:00Z
Mein Aufenthalt war perfekt! Alles wie erwartet, die Gastgeber sehr nett und die Lage super! Vielen Dank!
Tine
2016-10-01T00:00:00Z
Die Unterkunft war sehr schön, ruhig und sauber. Ganz nette und unkomplizierte Gastfamilie. Sehr zu empfehlen. Gerne wieder.
Samuel
2017-01-26T00:00:00Z
Cornelia's place is so clean and comfortable. The instructions given to reach the appartement are clear and exact, as well as the communication with host is prompt. Great value for the price paid!
Bayan
2017-01-01T00:00:00Z
Lia is very enthusiastic and provided everything we need. It was a wonderful experience.
Zhe
2016-08-13T00:00:00Z
Tipo de Acomodação
Casa/apto inteiro
---
Tipo de Imóvel
Apartamento
---
Acomoda
2
---
Quartos
Nottwil, Luzern, Suíça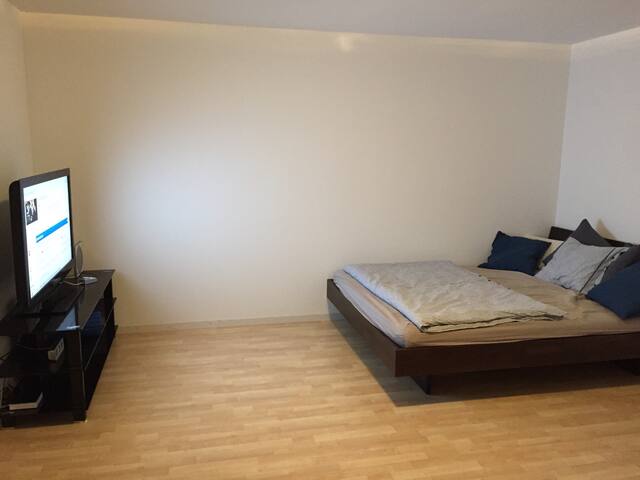 Sehr grosser Wohn/schlafraum (54 m2), 2 Doppelbetten, Tisch ausziehbar (16Pers.), neu gebaut, wunderbare Bergsicht, mit eigenem Bad, gut eingerichtete eigene Küche, Chemineofen, Wohnung: Total 80 m2, Schwimmteich und Park, gr. Trampolin,Tischtennis, Garten , genügend Parkplätze, (Sauna /Aufpreis)
Sehr ruhig gelegen , mit schöner Aussicht auf See und Berge. Ttrampolin und Schwimmteich zur freien Benützung
Ist ruhig und feundlich
Nice house fine people, great for the kids they could swimm
Dieter
2016-07-23T00:00:00Z
Nous avons été chaleureusement accueillis et Urs a tout mis en oeuvre pour que notre séjour se déroule au mieux. Nos enfants ont particulièrement apprécié jouer sur le trampoline dans le jardin. La cuisine complètement équipée fût est un plus bien utile. Je recommande cet hébergement pour un séjour dans la région de Lucerne dont le centre-ville n'est qu'à 30 minutes en voiture. Admirer le Pilate depuis la terrasse pendant le coucher de soleil était la cerise sur le gâteau.
Xavier
2016-05-09T00:00:00Z
Nous avons été très bien accueilli par Urs. L'appartement est nouvellement refait, joliment décoré, calme et confortable. Le propriétaire est toujours prêt à rendre service ou conseiller une activité.
Quentin
2015-09-21T00:00:00Z
Urs' flat is very clean and quiet. He is pleasant and helpful.
zhe
2015-09-30T00:00:00Z
Ottimo soggiorno e grande ospitalità!! Appartamento molto bello, nuovo e con una vista meravigliosa...da tornare!!! Grazie Urs
sonia
2015-08-22T00:00:00Z
The place is awesome. The view is good too. Affordable and worth the rent we paid. Calm place. Everything near by if you have your own car. I would recommend this place to every passenger passing by this place. :-)
Vineet
2015-09-14T00:00:00Z
Stayed for 2 nights. Overall good experience. Pros: Place is relatively big. Can easily fit 4 peeps. Breath taking views from the place. Hosts were nice. Cons: It's little far from Zurich and the drive to the place is tricky as its on the mountain. Almost took an hour to get here from Zurich and Interlakenhoheweg is also 1.5 hrs. One of the beds is not very comfy and Internet was very lousy as we could barely connect.
Amit
2016-05-20T00:00:00Z
We felt very welcomed. The offer was better than described.
Hilda
2015-08-19T00:00:00Z
Tipo de Acomodação
Quarto inteiro
---
Tipo de Imóvel
Apartamento
---
Acomoda
4
---
Quartos
Aesch, Luzern, Suíça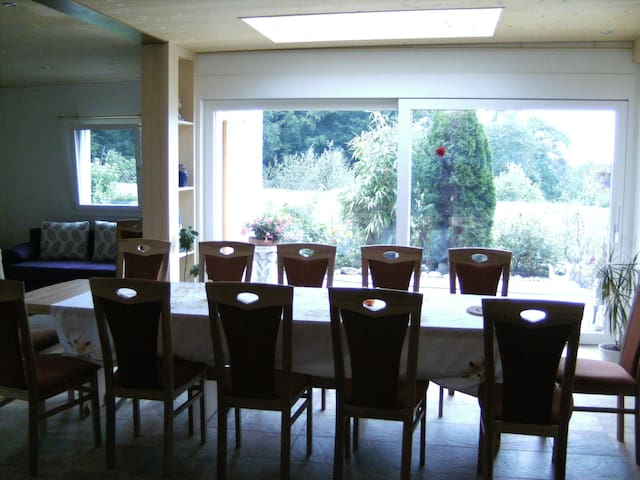 My house is near a great view. Suitable for couples, solo travelers, adventurers Funny, sportsmen and business travelers. From the bus stop the apartment is 2 minutes walk away. We are on the 3rd floor without a lift. The property is located within minutes of connecting highway (all direction). Lucerne can be reached in a few minutes. Very good public traffic means, bus or train station at Gersag
Simple and fine, with Still and warmth.
Normal citizens. Multicultural district.
Chambre d'hôte parfait, un accueil chaleureux avec Caroll, La chambre est belle et bien décorée, un lit plus que douillet. Vraiment j'ai bien dormi et surtout dans le calme après une journée de travail. Le matin un bon petit déjeuner avec vraiment la déco qui va avec comme tout le reste de l'appartement. Je vous le conseille et Merci à CAROLL et à bientôt.
sylviane
2017-01-28T00:00:00Z
It's an amazing experience living here!! Caroll.J is so kind and patient and made perfect breakfast for us every morning. The apartment is 3min walk from bus station and it's convenient to go to Luzern train station within 20min. We are very grateful to meet Caroll.J, she's really the most kind landlord we've ever met!!!
Yuxuan
2017-03-12T00:00:00Z
It was my joy to have her in my journey in Europe not only just a host but also a new friend. I and my boyfriend had a best airbndb experience in Caroll's house. We had been visited 5-6 houses during our travel in Europe and we can definitely say that it was our best staying ever we had so far. We checked-in late time and she was fine with it. After we had a greeting for long time and we talked until early morning about a lots of things and it was pleasant time for us. The room was very clean and comfortable and the breakfast that she made us for was very nice as well. I strongly recommend you to stay here!
Katie
2017-01-27T00:00:00Z
The host canceled this reservation 60 days before arrival. This is an automated posting.
Riddhi
2017-04-04T00:00:00Z
Caroll is really fun and nice! The house is decorated beautifully and very clean. Everything you need is provided. The location is a bit hard to find because one cannot see the number of the house, it is basically the big yellow house down the road from the roundabout, which is near the bus station. For us who arrived at night, it was difficult to notice the color, just walk down the road until it curves, the first house is Caroll's. Anyways, we had a blast staying and definitely bookable the next time around! =)
Ruskin
2017-03-25T00:00:00Z
Frau Caroll ist ganz nett und freundlich!! Bevor ich kam, bekam ich ausführliche Informationen und Hinweise von ihr. Die Wohnung ist ganz nah von Bahnhof und nach Luzern Hbf. nur 2 Stationen mit 8-10 min. Das saubere und geschmückte Zimmer gefällt mir sehr und alles sind in Ordnung. Dank Frau Caroll haben wir leckeres Frühstück genießen. Wir unterhalten uns wie eine Familie. Alles sind ganz perfekt! Das Zimmer kann ich sehr empfehlen! 房东人真心特别棒,住的地方离车站很近,去卢塞恩坐火车只有两站八分钟,非常方便。房间卫生间厨房都很干净,客厅还有钢琴,早餐热牛奶吃饭都很方便。房东非常热情和贴心,经常拿自己做的甜点配蜂蜜,泡茶,还有自己做的果酱招待我们,晚上一起聊家庭日常生活,运动,饮食文化,弹钢琴,像家人一样的存在。欣赏房东健康的生活方式,无论是饮食上还是运动,心态非常年轻,根本不像五十岁的人啊~总之非常惬意的旅程,下次再来瑞士还想拜访她
KAITE
2017-04-06T00:00:00Z
Io e il mio ragazzo abbiamo fatto tappa a casa di Caroll durante un viaggio verso Zurigo. A causa di rallentamenti in autostrada siamo arrivati a destinazione molto tardi, nonostante l' orario Caroll ha gentilmente aspettato da sveglia il nostro arrivo per accoglierci con gentilezza e calore mettendoci fin da subito a nostro agio. La casa è molto curata, estremamente pulita ed ordinata. La camera da letto è deliziosa, calda e comfortevole e il letto matrimoniale è ampio e comodo. Abbiamo fatto quattro chiacchiere per conoscerci meglio prima di andare a dormire e ci è stata fornita la password della wifi. Il mattino seguente ci è stata offerta un' ottima e abbondante colazione servita e presentata con molta cura. Caroll è una persona molto gentile, creativa ed energica, la raccomando senz' altro come host! My boyfriend and I went to Zurich few days ago and we stopped at Caroll's to sleep. We did run into a lot of traffic so we arrived really late but Caroll was so kind to wait for us to welcome us. She made us feel very comfortable in her apartment since the firs moment. The house is very very tidy and clear and the bedroom is delightful with a huge double bed. We had a little chat before sleeping to know each other and Caroll also gave us the wifi key. The following morning she offered us a tasty and generous breakfast. Caroll is a very kind, creative and energic person and I definitely recommend her as a host!
Camilla
2017-01-26T00:00:00Z
Caroll J. is a very nice person, she is very hospitable and concern about anything you want. I enjoyed every moment staying in her house. She also prepared breakfast for me, I think her house is a very good choice when you travel to Lucerne.
dongxin
2017-03-30T00:00:00Z
Tipo de Acomodação
Quarto inteiro
---
Tipo de Imóvel
Apartamento
---
Acomoda
2
---
Quartos
Emmen, Luzern, Suíça
Römerswil - Airbnb
:
Média de

4.92

de

5

estrelas, de acordo com

547

avaliações de hóspedes