3 Apartamentos para Alugar
Studio apartment detached from house. Minutes from trails, beaches, and Bainbridge Island. A short drive to ferries. Fully equipped kitchen, dining area, bathroom (with shower) and Queen sized bed. Private patio. This is a working farm. In season we have fresh produce available. We always provide farm fresh eggs if you wish to make your own breakfast.
Enjoy this newly remodeled apartment on a working organic farm. Everything is clean, new and ready for your relaxation and pleasure. There is a fully equipped kitchen, including microwave, stove, oven and refrigerator if you're a "cook at home" sort, and we're only about 10 minutes drive from town if you prefer to sample the local night life. We are located on the Kitsap Peninsula about 20 minutes drive from scenic Bainbridge Island where there are several excellent restaurants and fun shopping. Bainbridge Island also features 7 local wineries, and both Bainbridge and Poulsbo have a multitude of brew pubs to explore. Poulsbo also has a nice main street (Front Street) with many local specialty shops as well as a beautiful waterfront boardwalk for a romantic stroll. Acres of trails are just minutes away. The Stottlemeyer Trail system is about a 5 minute drive from us, and offers several hundred acres of trails for walking, biking or horseback riding. Nearby Port Gamble has businesses where you can rent kayaks/canoes and explore the beauty of the Puget Sound. A trip to Seattle from here is as quick as a drive to the Bainbridge Island ferry terminal. A scenic 35 minute ferry ride puts you in the center of downtown, and a short walk to Pike Place Market, Pioneer Square and other local attractions. You can also take the monorail to Seattle Center to see the Space Needle, Chihuly Glass Museum and the Seattle Science Center. There is no shortage of great things to do in this very walkable city!
The neighborhood is quiet and off the beaten path, but not too far from local attractions. If you're headed to the area to attend a wedding, this is a very convenient location. We are just a short drive from the following popular wedding venues: Farm Kitchen Kingston House Red Cedar Farm Kiana Lodge Llama Rose Farm & Gardens Port Gamble Wedding & Events Center Hood Canal Vista & Pavillion
This apartment, attached to the garage, was perfect. It is modern, spacious, and clean. We really appreciated the fresh eggs and baked goods in the morning.
Shannon
2016-09-19T00:00:00Z
My girlfriend and I were looking for a cute quiet airbnb within driving distance of Olympia for a valentine's staycation. We were instantly drawn to Lisa & Linda's farm – it looked secluded, cozy, warm and relaxing. Lisa was very communicative and hospitable in communicating with us beforehand, and she & Linda met us when we arrived, showed us the space, and provided us with a map of some local hikes. We were also furnished with homemade zucchini lemon muffins and farm fresh eggs! We had a wonderful time both staying in the place and exploring the area. The kitchen is very well equipped and the bathroom/shower were clean and great. It was rainy while we were there, but we still managed to hike around Port Gamble and on Bainbridge Island. There is a lovely alpaca farm right down the road from the airbnb. When we weren't cooking, we had some great food at local restaurants. There was plenty of shopping and sightseeing in town. When we were ready to go, it was an easy ferry ride from Bainbridge Island to Seattle. Would love to stay here again!
Sophia
2017-02-20T00:00:00Z
Comfortable, quiet, and everything we needed! Lisa's place was incredibly cozy. I loved that I had the opportunity to cook in the fully-equipped kitchen. She even left the most delicious scones I've ever had and farm-fresh eggs for us to try. She communicated well the entire time and made sure we had everything we needed. If I stay again, I hope to tour the entire property!
Sarah
2017-02-11T00:00:00Z
We had an amazing stay at Lisa's place while in town for a wedding in Port Gamble. Lisa and Linda were flexible about our arrival time and welcomed us with incredible homemade plum tart and eggs from their chickens. The studio is thoughtfully designed with a full-service kitchen and comfortable bed, and everything was clean and well cared for. We would love to stay here again if we make it back for another visit!
Claire
2017-03-19T00:00:00Z
Everything was perfect! I highly recommend to anyone looking for a quiet, lovely and peaceful place to get away! Lisa and Linda are great! My husband and I will be back!!!!
Cyndi
2017-04-09T00:00:00Z
Lisa was a great host and the place was great as well. Very comfortable, nice bathroom. We picked it for the location (girlfriend has always wanted to stay on a farm). Lisa baked us lots delicious goods (pumpkin cake, cinnamon rolls) and gave us farm fresh eggs. She also gave us a tour of her farm where we also picked our own eggs. I'd highly recommend it to anyone!
Peter
2016-12-25T00:00:00Z
My husband and I loved everything about our stay at Lisa and Linda's farm. It was so wonderfully quiet and peaceful -- a perfect place for just the two of us to be away together. The fresh eggs, home-baked blueberry/blackberry crumble and zucchini lemon muffins were absolutely incredible. We're already looking forward to visiting again. We couldn't have hoped for a better experience as first time Airbnb users.
Laurie
2016-08-08T00:00:00Z
Lisa's marvelous farm cottage was my family's first AirB&B experience -- and it set the bar quite high! The cottage is charming and comfortable -- well designed, expertly built, and beautifully appointed -- we had everything we needed. Adjacent to the main house, the guest cottage feels both private and connected. Our hosts Lisa and Linda were welcoming and responsive -- they gave us a personal tour of the farm, stocked the kitchen with fresh, organic produce and home-baked bread, and even added a children's book to their library to appeal to our 7 year old son. The location was ideal -- we enjoyed the pastoral feel yet were never more than 15-20 minutes from our destinations.
Tam
2016-08-21T00:00:00Z
Tipo de Acomodação
Casa/apto inteiro
---
Tipo de Imóvel
Apartamento
---
Acomoda
2
---
Quartos
Poulsbo, Washington, Estados Unidos
Welcome to Kingston, "the Gateway to the Olympic Peninsula"! Separate split level apartment in the Dogwood Estates sleeps 4 comfortably. Full kitchen. Two full bathrooms. Just minutes from the Kingston Ferry and a short drive to the historic town of Port Gamble and Poulsbo with its famous Viking Fest. A short ferry ride takes you to Edmonds for dining and entertainment and on to Seattle. Olympic National Park is a peaceful drive away.
Come and enjoy our cozy, quiet apartment featuring all the amenities of home. Snuggle up in front of the fire in the wood burning stove and read a good book, play one of the board games, put together a puzzle or just watch a good movie. Have fun at the Point Casino just a short drive away or play a round of golf at the world famous White Horse Golf Course in nearby Suquamish. There is a great public walking trail at the end of the road. Be sure to visit the downtown area for its little shops, restaurants and movie theatre. Kayaks and stand-up paddle boards can be rented there as well. Day hikes and other outings can be arranged , we have included a book with all the attractions and things to do in Kitsap County, come and visit us soon.
This is a beautiful home in a beautiful area. Very secluded, yet close to everything we felt we needed. The furnishings and finishes are lovely. We felt comfortable just hanging out, and TRULY did not want to leave! We only hesitate to give all five stars because we want to keep it to ourselves :). Hope to return in the future.
Rozanne
2016-09-06T00:00:00Z
My husband and I truly loved our stay here. We loved the secluded feeling of being surrounded by the woods. The apartment was spacious, clean and met all of our needs. We stayed nearly two weeks while waiting to move into our new home and I was so grateful for the full kitchen, full bath, two living rooms. I admit I missed television but it gave us a chance to catch up on some movies and play some games. Angel was a great hostess and sincerely wanted to help us have a pleasant stay. Thanks Angel!
Deborah
2017-03-20T00:00:00Z
My family had an enjoyable 2-day stay. The apartment is essentially a large garage apartment which has been recently renovated/refreshed. It is comfortably, although sparsely, furnished -- particularly the kitchen supplies. Still, we had everything we needed and when I mentioned a "nice to have" item, Angel brought it right over. The property feels remote, but is less than 10 minutes from the Kingston ferry terminal, and about 30 minutes to the northern Olympic Peninsula, so we had many options for exploring. In the evenings, we took advantage of an eclectic selection of DVD/blueray movies. The only potential concern someone might have with the property, in our opinion, is the quantity of stairs into and within the apartment. Just something to keep in mind.
Janice
2016-07-19T00:00:00Z
We had a fantastic stay here. We were welcomed upon our arrival with a tour of everything available to us and a kind "welcome gift". The hosts were very friendly and made themselves available if needed. The apartment itself was great. It was very clean, adequately stocked with cooking supplies, and well furnished. The bed was extremely comfortable and the fold out couch was comfortable for what it was. There were a lot of fun board games, movies, and it was furnished with a smart tv. The location was very quiet and beautiful. It was an extremely relaxing and comforting location for a vacation. It is located near restaurants and a grocery store as well as other activities and historical towns. We would definitely stay here again and recommend it to others.
Renee
2016-08-08T00:00:00Z
The Dogwood Hollow Hideaway was lovely, super clean, and very quiet. Angel was very welcoming and looked in on us from time to time to make sure that everything ok while we were there. We felt comfortable and enjoyed our stay. A few notes: If you plan to cook, you should bring all your ingredients as there were no spices or other items (like cooking oil) that we often find at other listings. (They did provide coffee and creamer and popcorn, though!) The TV is not connected to cable or dish which wasn't a problem for us but if you're expecting to watch sports you might be out of luck as the wifi signal was weak and erratic.
Tara
2016-10-24T00:00:00Z
Great stay! The space is clean, spacious, and charming. We really enjoyed our stay!
Leah
2016-12-11T00:00:00Z
Tipo de Acomodação
Casa/apto inteiro
---
Tipo de Imóvel
Apartamento
---
Acomoda
4
---
Quartos
Kingston, Washington, Estados Unidos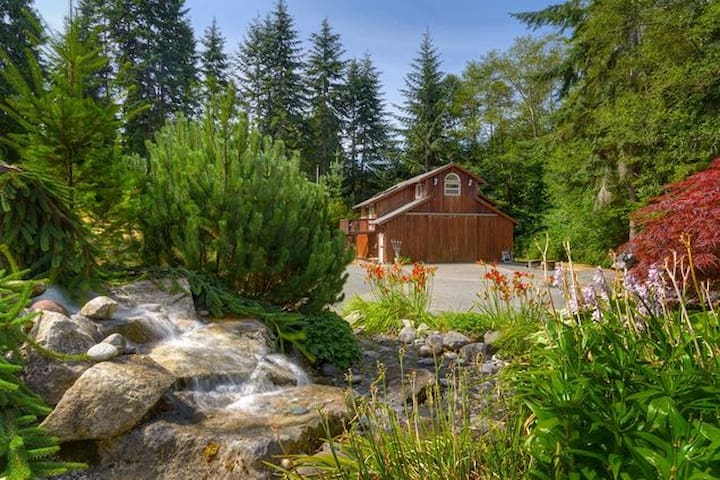 Surrounded by magnificent cedars, Turtle Lodge is a great location for exploring the Puget Sound and the Kitsap Peninsula, with day trip distances to Seattle, Everett, Bellingham and the Olympic Peninsula. 4 miles to Kingston Ferry 3 miles to Heronswood 4 miles to The Point Casino 5 miles to Port Gamble 6 miles to Hood Canal Bridge 7 miles to White Horse Golf Club 8 miles to Poulsbo 9 miles to Clearwater Casino 14 miles to Bainbridge Island Ferry/Winslow 31 miles to Port Townsend 42 miles to Sequim 82 miles to Hurricane Ridge 56 miles to Port Angeles/Ferry to Victoria 115 miles to Forks Studio has: 1 queen sofa bed - new Air Dream mattress (linens provided) 1 queen airbed (linnes provided) 3/4 bath (towels provided) Dining table Refrigerator Countertop convention/toaster oven Microwave Coffee maker Electric tea kettle Countertop burners Dishes/Pots & Pans/Cutlery Far Infrared Sauna WiFi
It's quiet, secluded. There are horses across the road and next door.
We had a lovely time at Turtle Lodge in north Kitsap County near Kingston. We were wanting to explore the area, and feel what it would be like to someday live over there. The ferry to Edmonds was less than a10 minutes drive. The place was warm and dry, and I made a nice fire in the wood burning stove most nights. (SENSITIVE CONTENTS HIDDEN) maps doesn't give good directions to this little corner of the woods/town, so make sure you follow Sara's directions. Though we didn't really use them, Sara made laundry facilities available to us. She was always quick and willing to respond to our questions. I would stay here again, and would recommend it to others.
Scott
2015-03-12T00:00:00Z
The lodge was very nice, met all of our needs perfectly. It wasn't anything terribly fancy, but perfect for a quick week end get away with some fun things to do in the area. It was a great lodge if the price point. It's in a very secluded area, which is exactly what we where looking for. But there are some general stores with in a few minutes I'd the house, Kingston is only 15 minutes away with some excellent restaurants. Point-no-point is a beautiful beach and port Townsend is definitely worth the visit. Very vibrant and lively town with plenty of shops and fun things to keep you busy.
David
2014-09-02T00:00:00Z
Staying at Sara's studio was a delight! It's tucked away from the busy road, but still pretty easy to find with her directions. The studio is clean and comfortable with a goat who greets you each morning! Thanks for having us Sara!
Mariah
2016-07-18T00:00:00Z
My family and I recently stayed in Sara's Turtle Lodge studio in the Kingston area. We found the studio to be comfortable, clean and very convenient for us as we visited family in the area. The studio was quiet and secluded but still close enough to grocery stores and the ferry to visit Seattle. Sara was a very gracious host and communicated with us prior and during our stay to ensure we were well informed about the studio. I would recommend this unit to couples or small families who are looking for a quiet place to stay,
Stephen
2016-07-27T00:00:00Z
This listing has a wonderful open ceiling with skylights and beautiful exposed beams. The seclusion and privacy of this place are excellent for a weekend getaway, and the neighbors right outside the door have horses! Sara is so nice, and so welcoming! Be sure to try the local fare: the Mexican restaurant, Puerto Vallarta, right down the street, and Hood Canal Brewery within walking distance.
Noa
2016-06-16T00:00:00Z
Sara the host was very helpful with directions, etc. The place was in excellent order and is very cute. The pullout couch was not comfortable to sleep on, but we put the mattress on the floor and it worked great. This place is a great value.
Patrick
2014-08-04T00:00:00Z
Lovely secluded spot! Nice big studio. Sara was very helpful with directions!
Lucy
2015-06-28T00:00:00Z
The space is wonderful. If tucked away (but not too tucked) under the trees with great light and a clean, healthy environment is what you're looking for, this is it. Wanted to stay longer.
Lauren
2015-08-05T00:00:00Z
Tipo de Acomodação
Casa/apto inteiro
---
Tipo de Imóvel
Apartamento
---
Acomoda
4
---
Quartos
Kingston, Washington, Estados Unidos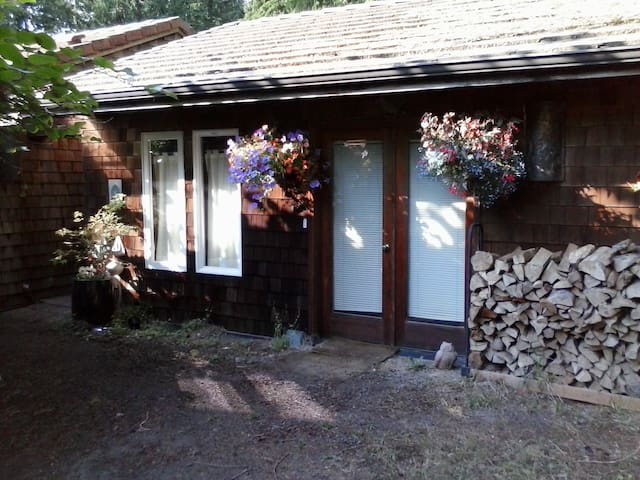 Port Gamble - Airbnb
:
Média de

4.83

de

5

estrelas, de acordo com

59

avaliações de hóspedes
1

–

3

de

3 Apartamentos para Alugar
Insira as datas para ver o preço total. Taxas adicionais serão aplicadas. Impostos podem ser adicionados.