Localizado no coração da nossa bonita aldeia localizada, o estúdio está com visão honesta das montanhas e da aldeia ...
Auf unsere Motorrad Rundreise hat es und ins Olympias Studio verschlagen, selbst bei später Anreise in der Nacht, wurden wir super freundlich Empfangen und noch mit einem Raki & Tee verwöhnt. Unser Motorrad durften wir sogar in der Privatgarage von Mike abstellen. Danke auch nochmals fürs Kette schmieren. Das Studio ist super sauber und Liebevoll eingerichtet. Selbst bei dem Preis gab es auf dem Zimmer frische Orangen, eine Flasche Wasser und Olympias eigenen Rotwein…Nette Inhaber mit guten Tipps für Rundreisen und Sehenswürdigkeiten. Der Aufpreis für die Zentral Heizung sehr zu Empfehlen. Mit 5€ extra Gebühr hatten wir es selbst im Winter kuschelig warm in der Nacht. Freuen uns schon jetzt Irgendwann mal wieder hier zu Übernachten. Kleiner Tipp unbedingt Olympias Oliven Öl kaufen unglaublich gute Qualität. Im Ganzen: Absolut zu empfehlen!
Gynsch
2017-02-27T00:00:00Z
Wir haben uns bei Euch sehr wohl gefühlt! Von der Kontaktaufnahme bis zur Begegnung vor Ort war alles echt klasse! - war leider viel zu kurz, aber wir kommen wieder. Ihr habt uns super-freundlich aufgenommen, Zimmer, Ort und Lage sind toll; auch wenn man im Sommer hier sicherlich noch viel mehr unternehmen kann - und das tolle Meer... Froh waren wir, zu dieser Jahreszeit den Aufpreis für die Heizung gezahlt zu haben - wir wußten gar nicht, dass es auf Kreta auch recht frisch werden kann... P.S.: Das Olivenöl, das wir von euch bezogen haben ist aller erste Klasse!
Nicola
2017-02-14T00:00:00Z
Olympia & Mike waren ganz großartige Gastgeber! Vom Abholen am Ortseingang über den Begrüßungskaffe bis hin zum Wein und Raki auf dem Zimmer: super freundlich und perfekt! Das Studio war noch besser als im Inserat beschrieben und hat entsprechend alle unsere Erwartungen übertroffen - sogar die Heizung hat funktioniert (was auf Kreta leider nicht immer der Fall ist...). Schade, dass wir nur einen Tag bleiben konnten! Auf unserer nächsten Kreta-Tour werden wir sicherlich mindestens eine Woche in Pitsidia bei Olympia & Mike einplanen - und dann hoffentlich auch alle guten Tips umsetzen können, die wir für Wanderungen, Touren und Restaurants bekommen haben. Gastgeber, Studio und Ort können wir nur empfehlen! Vielen Dank! - und bis hoffentlich ganz bald wieder! Peter & Nicola
Peter
2016-12-06T00:00:00Z
Accueil précis et chaleureux, explications de la contrée, les restos, les visites, appartement nickel, chauffé (nous sommes en février!). Tout est parfait. À recommander chaudement
Marie
2017-02-21T00:00:00Z
Tipo de Acomodação
Casa/apto inteiro
---
Tipo de Imóvel
Vila
---
Acomoda
2
---
Quartos
Pitsidia, Crete Region, Grécia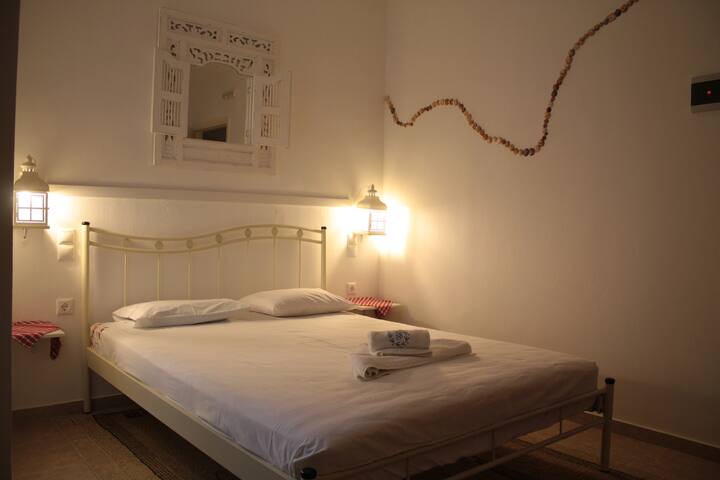 Mein Platz hat einen gemeinsamen kleinen Hof mit dem Nachbarhaus. Vorteile: Voll funktionsfähige Küche und Kühlschrank. Gemütliche Erdgeschoss, Wetter geschützt, da ein großer Teil des nördlichen Teils in den Hügel eingetaucht. Nachteile: Die interne Treppe ist ein bisschen gefährlich für kleine Kinder noch nicht vollständig abgeschlossen keine Klimaanlage
Ursprünglich im Jahre 1911 gebaut wurde dieses Haus meiner Großmutter und das Haus, das mein Vater geboren wurde und aufwuchs. Ich und mein Bruder renoviert das zerstörte Haus wieder am späten 2000er Jahren für eine persönliche Residenz während unseres Aufenthaltes im Dorf.
Tipo de Acomodação
Casa/apto inteiro
---
Tipo de Imóvel
Casa
---
Acomoda
4
---
Quartos
Kamilari, Crete Region, Grécia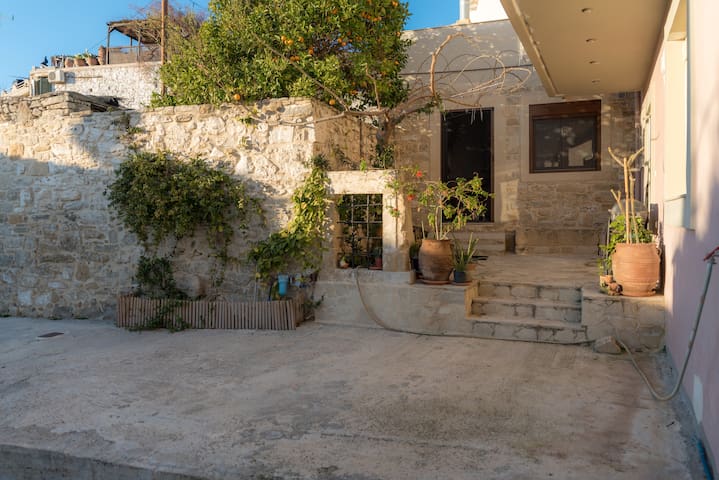 Σε μια αναπαλαιωμένη γειτονιά στο παραδοσιακό χωριό των Πιτσιδίων που υπήρξε το αγαπημένο μέρος των παιδιών των λουλουδιών δίπλα απο τα φημισμένα Μάταλα και τους αρχαιολογικούς χώρους της Φαιστού απολαύστε ήσυχες διακοπές συνδυάζοντας τη παραδοσιακη διακόσμηση με την πολυτέλεια. Η παραλία του Κομού απέχει μόλις 5 λεπτά με το αυτοκίνητο.
Στην καρδιά του χωριού Πιτσίδια βρίσκεται το Συγκρότημα Κατοικιών ΄΄Κρήτη Οικίες΄΄. Η παραδοσιακή πετρόχτιστη κατοικία ''Λατώ'' θα σας προσφέρει μια άνετη και ευχάριστη διαμονή. Το σπιτι είναι διώροφη μεζονέτα με εσωτερική σκάλα και η διακόσμηση του σπιτιού αποτελείται απο παραδοσιακά έπιπλα και αντίκες.
It is an authentic traditional and quiet neighborhood full of flowers and waiting for you to discover.
Tipo de Acomodação
Casa/apto inteiro
---
Tipo de Imóvel
Casa de férias
---
Acomoda
4
---
Quartos
Pitsidia, Crete Region, Grécia
Im südlichsten Punkt der Insel Kreta auf den Strand Kalamaki, nur 10 Minuten von Matalla posess wir eine Etage Land Wohnung 65 qm mit einem 50 qm Veranta geeignet für ganz Urlaub vor dem Meer
Die geräumige Veranda bietet Ihnen die weite Sicht auf das blaue Meer, eine magische und bunte Sonnenuntergang und die moonlight.You können die Sonnenbaden auf den Liegen dort genießen entspannen, Ihr Frühstück oder Essen im Speisebereich im Freien zu genießen. Die Wohnung verfügt über zwei große Schlafzimmer, ein Badezimmer, ein kleiner Abstellraum-Waschküche und ein Esszimmer mit Einbau kitcen komplett ausgestattet. Auch ist klimatisiert verfügt über TV und kostenlosen Internetzugang in jedem Zimmer.
Im vilage gibt es mehrere traditionelle Tavernen mit Qualität food.Also Bäckerei, Supermarkt und Zeitschriften zuzuteilen. Sie können die ältesten Südhafen von Comos Vizit. Eine wunderschöne Strecke von etwa 1 km entlang der sprudelnden (URL HIDDEN) nur 5 km zu Fuß ist das älteste Theater in Europa, die in der Festos Palace.Also befindet sich die beliebtesten Strände der '' roten Strand '' und Matalla Strand
We had an amazing stay in Adonis and Zabias appartement. The location right on the beach is perfect, the flat is super equipped and in perfect condition! Very clean! The restaurant below, Delfinia, was great too! Very good food, super friendly staff. Zabia was there to meet us when we arrived and took lots of time to answer all our questions! Thank you Zabia and Adonis for an amazing stay! We can only recommend the flat and would return any time!
Stefanie
2016-07-20T00:00:00Z
As other reviews have said, Zabia is a very kind and generous host who will do anything she can to make your stay enjoyable. The apartment is very comfortable, in the best location and with the best view. A perfect place for a beach holiday. There are also many very easy drives to cute villages and archeological sites. Highly recommended.
Deirdre
2016-09-27T00:00:00Z
We had the honor to be the third guests. this place is a true gem. Zabia and her entire family are amazing people. From the first to the last minute they made our stay an unforgettable experience. the apartment has the best location in Kalamaki. it is spacious, it is very quiet (despite the numerous taverna's close by), very clean and the kitchen provides everything and more one can expect. last but definitely not least, the terrace is what makes this place so exceptional. the view of the sea and sound of the waves at any given time of the day is breath taking. the morning walks along the beach and swimming in the spotless clean water is a true battery recharger. In my opinion this place is a 10/10 and the value for money was more than I have expected. I highly recommend this jewel and would go back in a heart beat. many thanks for your hospitality Zabia. thanks to you and your wonderful place, our vacation became what a perfect vacation should be.
Martin & Kelly
2014-09-07T00:00:00Z
Wir können uns den bisherigen, sehr positiven Bewertungen nur anschließen. Unsere Gastgeberin Zabia und ihre Familie sind sehr nett, hilfsbereit und stets bemüht, dem Gast alle Wünsche zu erfüllen. Das ganze mit griechischer Herzlichkeit, aber dezent und unauffällig. Die Wohnung ist sehr komfortabel und zweckmäßig eingerichtet. Die Terrasse mit ihrem großartigen Ausblick (wirkt noch größer als auf den Bildern) war super. Der kleine Ort mit seinen Tavernen und dem schönen Sandstrand haben uns gut gefallen. Fazit: Wir können die Wohnung nur empfehlen und freuen uns auf das nächste Mal. September 2015 Petra & Christoph
Christoph
2015-09-10T00:00:00Z
We should like to agree with everything that has been said before. The apartment is wonderful, Zabia is an absolutely wonderful host. The location is spot on peacefully perfect. The choice of places to eat and drink is ample but not overbearing. Kalamaki is such a nice place it's not over run by tourism but it has enough life to.....well to give it life. Zabias apartment is just above a fine place to eat called Delfinia the hosts, food and wine perfect!!! The beach is great and the sea is delightful to swim in and at dusk for watching the beautiful sunsets. Zabia & Adonis are both very nice people and we enjoyed and thank them for their time and hospitality. (We are always shamed when we visit Crete that we haven't made a better effort to learn more Greek, thankfully Zabia covered it nicely with her great English.) Zabia was brilliant with highlighting places to see and things to do, we only managed a few mainly because we are a couple of brimblers and often just bimble off the beaten track looking for those simple things in life. With all things being well we sincerely hope Zabia will allow us to visit Kalamaki again next year. The apartment is as good as it looks.....ok it's better than that. I could see myself happily retired on a balcony such as this one in Kalamaki..... Big glass of red wine, big fat cigar and a good book.......perfect (except I don't smoke). I think we should keep the north as the party place and the sleepy agricultural south as our perfect place. Thank you one and all in Kalamaki hope to see you next year. (PHONE NUMBER HIDDEN) ps the only thing the apartment lacks is........a name????? ;-)
K
2015-09-23T00:00:00Z
Zabia heeft ons meer dan verrast door een goede gastvrouw te zijn! Haar huis was keurig netjes en heeft een bijzonder mooi terras aan zee! Op 30 meter afstand loop je zo de zee in.... De koelkast was gevuld met allerlei lekkere streekproducten. De eerste dagen dus geen boodschappen doen. De grote keuken heb je eigenlijk niet (URL HIDDEN) kunt bij Dolphina, voor het appartement, heerlijk en goed eten voor weinig geld en vriendelijke bediening! Er is voldoende te zien in de omgeving, wel een auto huren! Zabia verteld graag waar de mooie plaatsjes zijn. Ze geeft graag een rondleiding bij de Romeinse opgravingen,waar ze werkt.
Hanny
2015-05-30T00:00:00Z
We had the honour to be the very first guests of Zabia in her appartment in front the sea. It was a super experience! The appartment is located in the middle of Kalamaki, wich is a small scale touristic place; peaceful, friendly and very cosy. The view from the balcony is spectacular. Right below the appartment is a boulevard with loads of restaurants and places to drink. But the place is not noisy and there is no loud music playing. The appartment is very suited for a family or two couples. The kitchen has all you may want. The place is new and very clean. It is fully aircondtioned, but the seabreeze helps to keep it cool. Zabia and her family are the most hospitable we have ever met. We had a very warm welcome with a traditional glass of Raki. The fridge was stored with the basic food, fruit and drinks. They love to receive and connect with people from around the world; to share information about the culture and local habits from Kreta. They will inform you about anything you want to know, and you can ask at all times. Zabia and her family are good company to be with, to drink with them or to share a meal. Their personal attention really gave extra value to our stay.
Edwin
2014-08-09T00:00:00Z
We loved our stay at Zabia's flat. We spent countless hours on the balcony soaking in the view, and many days we never left the beach right in front of the flat. We ate dinner at Dimitri's restaurant below the flat almost every night - it was amazingly good. Finally, we have to mention what a great host Zabia was. She looked after our every need and provided recommendations for us; she stocked the flat with breakfast and lunch for our first day as we had arrived late and didn't have time to stop and get groceries - she even had coffee there for the whole week! We hope to return some day and highly recommend staying there.
Amanda
2016-04-05T00:00:00Z
Tipo de Acomodação
Casa/apto inteiro
---
Tipo de Imóvel
Casa
---
Acomoda
4
---
Quartos
kalamaki, iraklio kriti, Grécia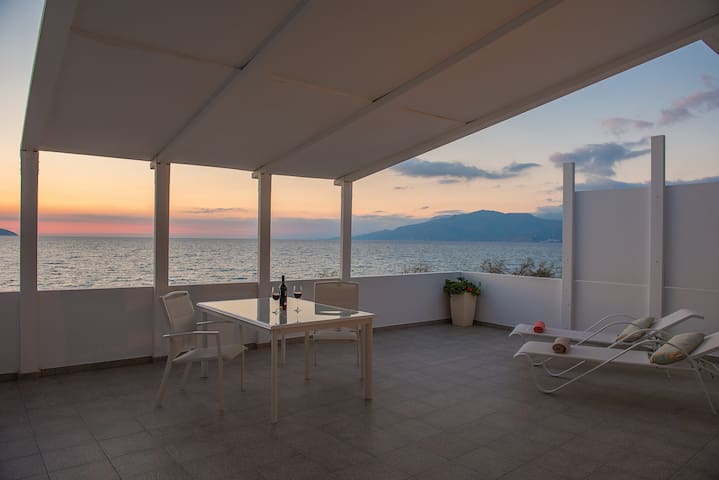 Vintage House είναι ένα σπίτι με δύο ξεχωριστά κλιματιζόμενα Διαμερίσματα (studios), συμπεριλαμβανομένων μπάνια και κουζίνες, γραφείο ταράτσα, μπαλκόνι βρίσκεται 100 μέτρα (90 γιάρδες) από το κέντρο του χωριού. Είναι ένα μοναδικό μέρος στο Creta Island.On η στέγη του κτιρίου υπάρχει χώρος για ηλιοθεραπεία με yhe όμορφη θέα στη θάλασσα και το νησί Παξιμάδια. Μπορείτε να καθίσετε εκεί και να απολαύσετε υπέροχα ηλιοβασιλέματα.
Περιγραφή: VintagThe σπίτι βρίσκεται σε ήσυχο δρόμο κοντά στην κεντρική πλατεία γεμάτη από υπέροχες ταβέρνες και cafees σερβίρουν νόστιμα λιχουδιές της ελληνικής κουζίνας. Pitsida είναι ένα θαυμάσιο παλιό ελληνικό χωριό που ενώνει την παράδοση, θρυλική φιλοξενία, την ιστορία και το παρόν. Υπάρχουν πολλά καταστήματα mini-market με μεγάλη γκάμα προϊόντων, αρτοποιεία με εξαιρετική ψημένα αγαθά και πολλές άλλες τοπικές σπεσιαλιτέ. Μπορεί να έχετε ένα υπόλοιπο στις ταβέρνες, πίνοντας ένα ποτήρι (ή δύο) από εξαιρετικό ντόπιο κρασί. Το καλοκαίρι γίνονται όλα τα μέρη νύχτα (γλέντι), που συνδυάζουν την παραδοσιακή μουσική κρητικό στιλ, εξαιρετικό φαγητό και χορούς. e House είναι ένα ανακαινισμένο σπίτι που χρονολογείται από το 1906, συνδυάζοντας τα στοιχεία από την αρχαιότητα έως τη σύγχρονη εποχή. Και τα δύο Διαμερίσματα (studios) είναι κατάλληλα για 4 άτομα.
Ειρηνική και ήσυχη, γραφική θέα, καντάδες τζιτζίκι, εντύπωση ότι ο χρόνος σταμάτησε πριν από εκατό χρόνια. Οι ντόπιοι είναι φανταστική, ευγενικοί και φιλόξενοι. Το χωριό Πιτσίδια είναι ένα εξαιρετικό μέρος για να εξερευνήσετε τις παραλίες των Ματάλων, Καλαμάκι, Κομό, Πύργος, Λέντας, Αγία Γαλήνη και πολλά άλλα γοητευτικά μέρη, π.χ. Φαιστού. Κάθε Ιουνίου στα Μάταλα Beach Festival πραγματοποιείται, η 3-ημέρα κόμμα, είναι μια απίστευτη εμπειρία, δεν μπορείτε να το χάσετε !!
Hôte charmant, accueillant et très patient (après quelques déboires pour notre arrivée). Studio idealement situé, très fonctionnel et possédant une très grande douche ! Terrasse bien sympa pour les petits déjeuners au soleil avec une belle vue. Merci pour tout !
Mailys
2016-06-10T00:00:00Z
Wir waren sehr zufrieden mit dem Studio von Agniezka in Pitsidia. Alles neu, ein großzügiges Duschbad, schöne Natursteinwände, ein schöner Freisitz. Und das alles mitten in Pitsidia. Andreas war sehr freundlich und zuvorkommend und alles war sehr unkompliziert. Wir können Vintage Studio uneingeschränkt weiter empfehlen und kommen gerne wieder.
Heiner
2016-06-25T00:00:00Z
nous avons passé un agréable séjour dans ce studio. le logement est bien placé pour sillonner les alentours du sud. Nous avions le studio de l'étage. l'appartement est refait avec gout, il est trop propre et bénéficie d'une petite terrasse très agréable. le village de Pitsidia est très mignon et sa place principale permet de rencontrer les coutumes locales. petit bémol pour le bruit de 17 à 23h avec les motos et scooters! Nous avons été très bien accueilli par le père d'Agieszka.
pierre olivier
2015-09-29T00:00:00Z
The host was a very nice and friendly person. He gave us a lot of information what to do and where to go. Pitsidia is a very nice and quiet village. The apartment was very clean and exactly like on pictures. I recommend to stay there!
Henn
2016-08-09T00:00:00Z
Tipo de Acomodação
Casa/apto inteiro
---
Tipo de Imóvel
Casa
---
Acomoda
2
---
Quartos
Pitsidia, Kreta, Grécia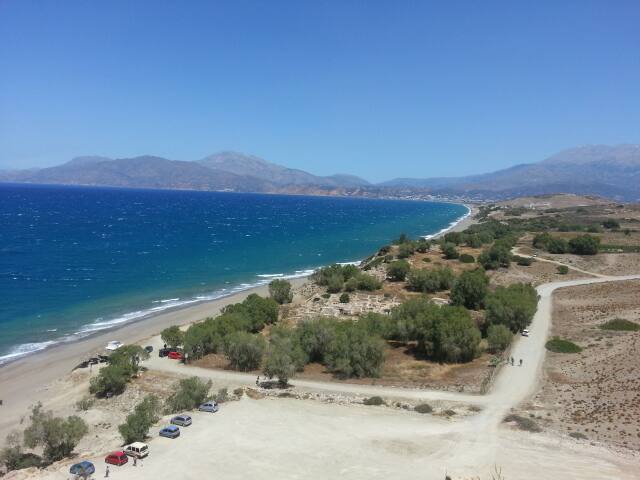 Mit Blick von der gemütlichen und geräumigen Terrasse über »Pitsidia können Sie schöne verbringen und Ferien in der Villa Charula entspannen. Das freistehende Haus mit eigenem Garten liegt auf einem kleinen Hügel. Es ist am besten geeignet für Paare und Familien mit hohen Ansprüchen. Aufgrund seiner zentralen und dennoch ruhigen Lage und wegen seiner kompletten Ausrüstung Heizung, SAT-TV, kostenloser WLAN-Villa Charula eignet sich auch für Langzeitmieten im Winter ...
Tipo de Acomodação
Casa/apto inteiro
---
Tipo de Imóvel
Vila
---
Acomoda
6
---
Quartos
Pitsidia, Creta, Grécia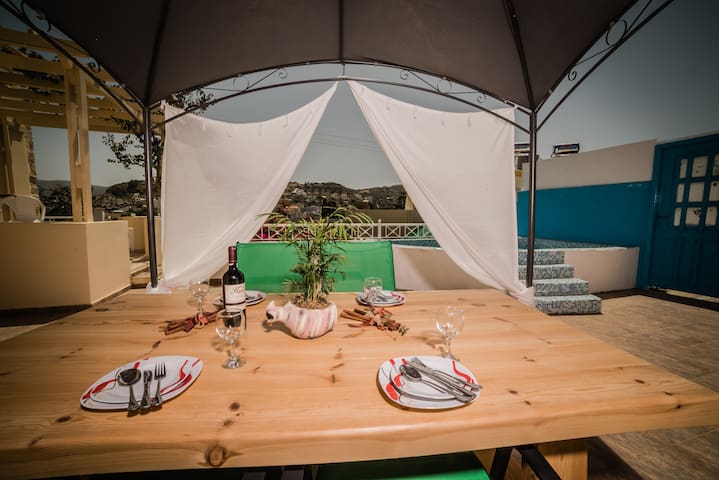 Jen asi 100 metrů od moře na krásné zátoky v Kalamaki, na jižním pobřeží Kréty, daleko od rušné turistické zóně, "Galini Apt" je postaven, které nabízejí návštěvník klid a tradiční krétské pohostinnosti.
"Galini Apt" je pěkný byt v nejvyšším patře nabízí vřelé a přátelské atmosféře. Je úzkostlivě čisté prostorné pokoje, 4 lůžka. Byt nabízí vzduch - codition (teplá / studená), bezdrátové připojení k internetu, sprcha / WC, velké terasy s výhledem na moře a hory. Je navržen a zařízeným tak, aby bylo útulné a pohodlné pro naše hosty. Prosím, dejte mi vědět, jestli tento typ ubytování vám vyhovuje. Pokud ne budu se snažit, aby vám pomohl mít tento typ, který vám vyhovuje nejvíce!
klidná atmosféra Tak, hned za rohem je Pool Bar nabízí příjemné koktejly a speciální okamžiky u bazénu!
Jolie pension un peu en retrait de la mer, à 3 minutes à pieds. C'est très calme et propre. La famille est vraiment très accueillante. Nous y avons passé un agréable séjour. J'y retourne volontiers sans hésiter!
Julie
2015-07-27T00:00:00Z
Les parents d'Eirini qui tiennent les lieux ont été très gentils, très communicatifs et ouverts. Ils nous ont offert des petites choses à boire et à manger, un vrai accueil. L'appartement que nous avons eu était simple mais avec les équipements nécessaires. Juste un bémol sur la plomberie : quasiment pas de pression dans la douche et il n'est normalement pas autorisé de jeter le papier toilette dans les toilettes mais dans une poubelle à côté. C'est très courant en Crète car les canalisations sont très fines mais ce n'est pas systématique non plus. Comme cela me posait problème, notre hôte a bien voulu nous y autoriser avec quelques précautions. Nous ne connaissions pas du tout la région, nous avions prévu de rester à Matala qui est à 10 min en voiture et nous avons donc découvert "par hasard" Kalamaki. La plage qui est à 5 minutes à pieds de l'appartement est belle et vaste, la vue sur la baie est magnifique. A proximité (5 min en voiture) il y a le mignon village de Kamalari où il y a quelques taverna très sympathiques comme "Loggia". Nous avons passé trois jours vraiment agréables.
Lucie
2015-11-07T00:00:00Z
A really lovely Pension with clean rooms and easy access to the village and beaches within a 2 minutes walk. Hospitality of host family was wonderful, we were made to feel like part of the family and loved every minute of our stay.
Robert
2016-07-15T00:00:00Z
Really lovely hosts, so welcoming and hospitable, provided us with coffee and Raki :-) The place was simpel but nice, beautiful beach close by. The food at Aristodimos is highly recommended, too.
Katharina
2016-03-06T00:00:00Z
I found the place fantastic as it was what I really wanted. The family was very friendly and helping. They made my vacation unforgettable and for the first time in my life I didn't want to leave after staying in the place for 21 days. Kalamaki is very good for family rest and for those who don't like crowds of tourists everywhere and prefer privacy. The room was nice, clean and comfortable. It takes about 3 min to get to the beach where one can choose either to take a sunbed and umbrella near a number of resraurants (which are free for their customers) or find another less populated place. 4 km beach gives such an opportunity. In local shops one can buy the most necessary goods. The only negative thought was that the range of goods could be wider, but after visiting shops in two towns I understood that it was the local standard. My e-mail is: (EMAIL HIDDEN) and if someone wants to know more details I will answer with pleasure.
Marina
2015-08-21T00:00:00Z
Our stay in Eirini's house was really nice. She was very helpfull and welcoming. The location is very good to visit the area and mix it with beach activities. We had very good time there.
Peggy
2016-08-23T00:00:00Z
A good location within easy walking distance of the beach. Very friendly and helpful people. I was meet at the bus and dropped off again which was very helpful.
John
2017-04-05T00:00:00Z
Eirini and her family made me feel like a favorite relative returning home after a long absence. They were welcoming, hospitable, and open -- and had a sense of humor. No matter what the problem, they were there to make my stay pleasant. My upstairs studio had a welcoming gift -- a breakfast of fruit, bread, cheese and butter. And there were other small gifts -- coffee and incredible wild onions. But most of all the family was there when I ran into trouble. Sometimes Internet information is inexact and the schedule I read in NY had vanished, ruining my travel planning. But Eirini and husband Theo came to my aid, and my trip was not only on schedule, it's many times better for having stayed at Galini Studios.
GLENDA
2016-07-06T00:00:00Z
Tipo de Acomodação
Quarto inteiro
---
Tipo de Imóvel
Apartamento
---
Acomoda
4
---
Quartos
Kalamaki, Creta, Grécia
Privathaus in pitsidia im Wege Strand mit großen Gärten für Kinder und großen Pool an Comos
großes Haus sehr komfortabel für 8 Personen mit Garten mit Rasen und großen privaten Swimmingpool ruhigen Ort für Ihren Urlaub
Die Nachbarschaft hat Medizin, Bäckerei, Supermarkt und Restaurants
Very nice house. Everything was perfect. And the swimming-pool is really fantastic. George is a very nice host This is definitely a cool place to stay.
Jérome
2016-10-17T00:00:00Z
Tipo de Acomodação
Casa/apto inteiro
---
Tipo de Imóvel
Casa
---
Acomoda
8
---
Quartos
Pitsidia, Creta, Grécia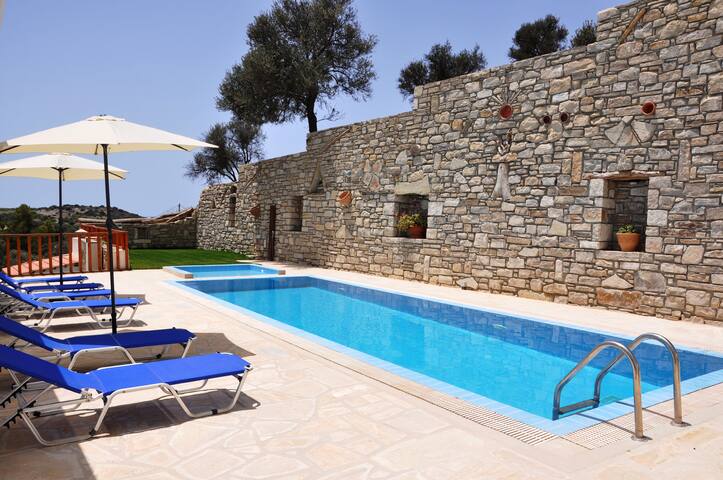 Der Stein gebaute Villa Ploumi ist eine Unterkunft für Selbstversorger befindet sich in Kamilari Dorf im Süden Kretas. Es verfügt über Holzbalkendecken und genießt das Meer und die Berge von seinem Balkon und Terrasse. Kostenloser WLAN-Zugang zur Verfügung steht. Nahe minoische Palast Festos und legendären Strand Matala. Geeignet für Paare und Familien. Unterkunft wird Sie mit einer Klimaanlage und eine voll ausgestattete Küche mit Essbereich. Das Bad verfügt über eine Duschkabine und einen Haartrockner.
Das Haus von Nikos ist neu renoviert und sehr modern eingerichtet. Nikos hat mit kleinen Aufmerksamkeiten (Früchte, Milch und Mineralwasser im Kühlschrank, Kekse, etc.) dafür gesorgt, dass wir uns von Anfang an wohl fühlten. Die Kommunikation mit Nikos war einfach und alle Absprachen funktionierten sehr gut. Für unsere 8-jährige Tochter hat Nikos extra ein Zusatzbett ins Schlafzimmer gestellt. Das Haus liegt mitten im Dorf von Kamilari, zum nächsten Einkaufsladen und zu den Restaurants sind es nur etwa 100 Meter. Das Haus verfügt über 2 Terassen (vorne mit Blick zum entfernten mehr und hinten mit einem neu angelegten Garten. Sehr schöne Strände sind von Kamilari aus mit dem Auto in wenigen Minuten erreichbar. Wir haben uns im Haus von Nikos sehr wohl gefühlt. Herzlichen Dank an Nikos für die vorzügliche Gastfreundschaft.
Rolf
2016-10-13T00:00:00Z
Nikos was an outstanding host who went above and beyond to ensure our first trip to Crete was enjoyable, memorable, and above all relaxing. The home included all possible amenities to include fresh linens/towels, an iron/washer, local delicacies (including Nikos' organic olive oil), and new appliances. The location of Kamilari is perfectly situated for day trips to wonderful beaches, interesting archeological sites, and small, charming villages. We can't wait to visit again -- Thanks Nikos!
Zack
2016-09-06T00:00:00Z
We had a wonderful time at Nikos' house. It has everything you might need, is very spacious and in a great location - around the corner from a small supermarket, close to lots of restaurants and the beach is a short car ride away. Nikos was very welcoming and provided us with some fruit, bread and olive oil (thank you again!) and was very responsive when we needed help. A great experience overall, highly recommended!
Katharina
2016-10-29T00:00:00Z
We absolutely loved staying at Niko's villa. It's really clean and modern but also nice and cozy with the fireplace to burn olive wood logs from Nikos's orchard. Great views to the sea and down over the village from the different terraces. The villagers were friendly, though we were there during January, so went to Sivas the next village over to find an open taverna. Just a little walk down the street to a well stocked grocery store. Nikos was great with communication and really helpful in making us welcome and giving us advice on places to see in the area. And a gift of his own organic olive oil to boot! Highest recommendations for Villa Plouma.
Matthew
2017-02-05T00:00:00Z
Nikos was a fabulous host. We arrived in this lovely village to a very warm welcome. Nikos has a very beautiful house and he kept everything ready to welcome Us incuding oranges, water, bread and raki. As he is an organic olive farmer he is really trying to introduce new technologies in farming which was wonderful to hear about. We got superb olive oil to take back home. Thanks very much Nikos.
Dinesh
2016-12-29T00:00:00Z
Really great location, beautiful views, very handy for local supermarket and several restaurants. Kamilari is one of the most picturesque villages in Crete and is surrounded by great Tavernas, beaches and beautiful scenery. if you are looking for a clean, well appointed one bedroom stone cottage in the centre of the village with parking, you've found it. We would definitely stay again.
Mark
2017-04-07T00:00:00Z
The stay we had at Villa Ploumi, was simply magnificent! It is the ideal place to spend ones holidays. The villa is situated in a nice small traditional village (no touristic place) sorrounded by a beautiful landscape with three archeological places and nice beaches nearby. Inside the villa you find everything you need even a cosy fireplace. But the definitely three best arguments of the house are the three terraces. From the western and southern terraces you have a wonderful view on the ocean whereas on the eastern terrace you can take your meal at a leafy bower. The host Nikos is very kind and helpful, he even gave us a can of his self-made olive oil on our departure. Seriously, I strongly recommend Villa Ploumi!!
Börge
2017-01-06T00:00:00Z
Tipo de Acomodação
Casa/apto inteiro
---
Tipo de Imóvel
Vila
---
Acomoda
4
---
Quartos
Kamilari, Creta, Grécia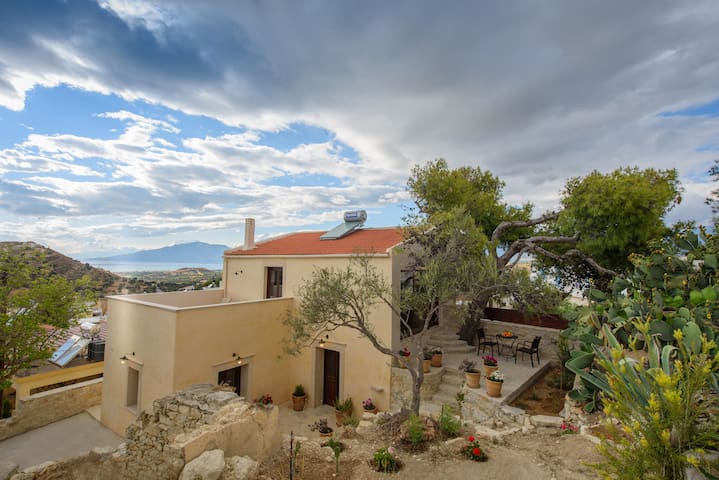 Ο χώρος μας είναι κοντά στο κέντρο του xωριου, σε γνωστες παραλίες και αρχαιολογικούς χώρους με τέχνη και πολιτισμό, και σε δημόσιες συγκοινωνίες. Λόγοι που θα σας αρέσει ο χώρος μας: άνετο περιβάλλον, η θέα, η τοποθεσία και οι άνθρωποι . Ο χώρος μου είναι κατάλληλος για ζευγάρια, επαγγελματίες ταξιδιώτες και οικογένειες (με παιδιά).
Η Villa liljana προσφέρει εξωτερική πισίνα και υπέροχη θέα στη γύρω περιοχή Το καταλύμα είναι εξοπλισμένο με τηλεόραση επίπεδης οθόνης, τραπεζαρία, κουζίνα με πλυντήριο πιάτων, φούρνο, φούρνο μικροκυμάτων,καφετιέρα και βραστήρα και ιδιωτικό μπάνιο με μπανιέρα ή ντους και στεγνωτήρα μαλλιών και σαουνα. Διατίθενται ακόμη πετσέτες και κλινοσκεπάσματα. Στις εγκαταστάσεις λειτουργεί δωρεάν ιδιωτικός χώρος στάθμευσης.
Στην καρδιά του χωριού μπορείτε να ψωνίσετε, να επισκεφθείτε το εργαστήριο κεραμικής,να φάτε σε μια από τις πολλές ταβέρνες ή απλά να απολαύσετε ένα φλιτζάνι καφέ, ενώ τα παιδιά σας παίζουν στην παιδική χαρά.Επίσης υπάρχει κρεοπωλείο το οποίο παράγει ντόπιο κρεας και βιολογικής ποιότητας μέλι. Λίγα βήματα από την πλατεία του χωριού είναι και η εκκλησία του Αγίου Ιωάννη.
Dhimitra hat uns herzlich in Empfang genommen, alles war sehr sauber und wie beschrieben. Das Haus ist wohl ziemlich neu und einem sehr guten Zustand. Wir haben uns auch in der Umgebung (kleines Örtchen mit einigen Tavernen) sehr wohl gefühlt. Der Strand ist nur 10min entfernt. Wir können diese Unterkunft wärmstens weiter empfehlen!
Niklas
2016-10-24T00:00:00Z
The host canceled this reservation 296 days before arrival. This is an automated posting.
Ursula
2016-09-14T00:00:00Z
The house is a dream, it has an amazing panoramic view and it is excellent to relax and forget about the stress of the city. The house is very big and confortable. Dhimitra has been a wonderful host, very friendly, polite and helpful. The houseis in a small village where all the people are so friendly and you can find few restaurants, stores o cafes. I truly recommend to visit villa lilijana, i would love to come back soon.
Leida
2016-07-19T00:00:00Z
This was one of the most beautiful places we ever stayed in. Lots of space, beautiful views, very friendly welcome… Beaches and shops are not more than 10/15 minutes away. The house has two floors, and all the rooms are quite big – with three bedrooms and two outdoor seating areas, there is more than enough space for everybody to unwind and relax. Like somebody in another review already wrote: I would go back tomorrow if I could – and I hopefully will.
Michael
2016-09-30T00:00:00Z
Maison tres jolie, reposante et agréable! Il ne manque rien, juste à poser les valises et admirer la vie de la piscine. Nous avons passé un séjour magique en famille... Les propriétaires sont très très gentils et disponibles! À recommander les yeux fermés. Encore merci pour votre accueil, et votre villa. Arnaud, Aurèle et Titouan
Arnaud
2016-08-05T00:00:00Z
Nous avons séjourné en famille (2 adultes 2 enfants 1 bebe) à la villa liljana. La villa est absolument magnifique: très belle maison, très spacieuse, une vue extraordinaire, un calme total, belle piscine... Tout est bien pensé, et des très bonne qualité. Absolument aucun point négatif. Le ménage est fait tous les 3 jours... Les prestations sont vraiment haut de gamme. Nous avons changé de plage quasiment tous les jours, le tout à moins de 30mn de voiture. Le village est tout proche et accessible à pied (même avec le bébé): tavernes et supérettes... L'endroit est vraiment somptueux. Dhimitria liljana et yanis sont extrêmement accueillants, généreux, des hôtes bienveillants et disponibles. Nous y retournerions avec plaisir.
Christophe
2016-08-17T00:00:00Z
Amazing hosts! Nothing was a problem. Gifts for the children. The house was nothing short of incredible. Clean, quiet and a view to die for! Internet was stable and fast. The pool is perfect. HIGHLY RECOMMENDED. I would go back tomorrow if I could. If you are looking for a place to unwind this is it.
George
2016-07-15T00:00:00Z
Wir haben uns sehr wohlgefühlt. Sehr schöne Unterkunft, beste Aussattung. Sehr gute Lage. Sehr ruhig. Wunderbarer Blick. Die Gastgeber sind sehr bemüht und reizend. Wir wurden am Dorfplatz abgeholt und zum Haus geleitet, vielen Dank dafür. Da es bei unserer Ankunft schon Dunkel war, war das sehr hilfreich!!! Wir kommen sehr gerne wieder!
Stephanie
2016-10-03T00:00:00Z
Tipo de Acomodação
Casa/apto inteiro
---
Tipo de Imóvel
Vila
---
Acomoda
6
---
Quartos
Sivas, Creta, Grécia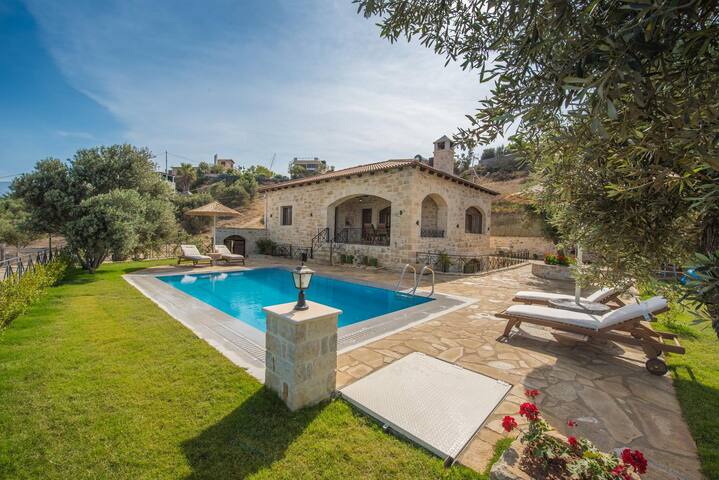 Villa Emmanouela auf Melanouri Hügel, am Rande des traditionellen Dorfes Pitsidia. Von der oberen Etage Terrasse finden Sie die spektakulärsten Panoramablick auf die Umgebung genießen. Von der Ebene von Messara bis hin zu den kleinen Dörfern und von den Asterousia Mountains bis zum weiten blauen Meer und den Strand von Kommos, die nur ein paar hundert Meter entfernt ist. Villa Emmanouela bietet alle Annehmlichkeiten, die Sie von einem voll ausgestattete Villa erwarten würde.
Tipo de Acomodação
Casa/apto inteiro
---
Tipo de Imóvel
Casa
---
Acomoda
8
---
Quartos
Pitsidia, Crete Region, Grécia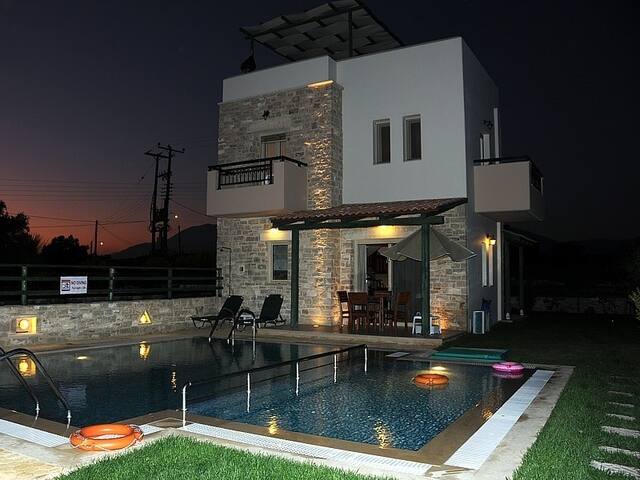 Tipo de Acomodação
Casa/apto inteiro
---
Tipo de Imóvel
Outros
---
Acomoda
7
---
Quartos
Pitsidia, Crete Region, Grécia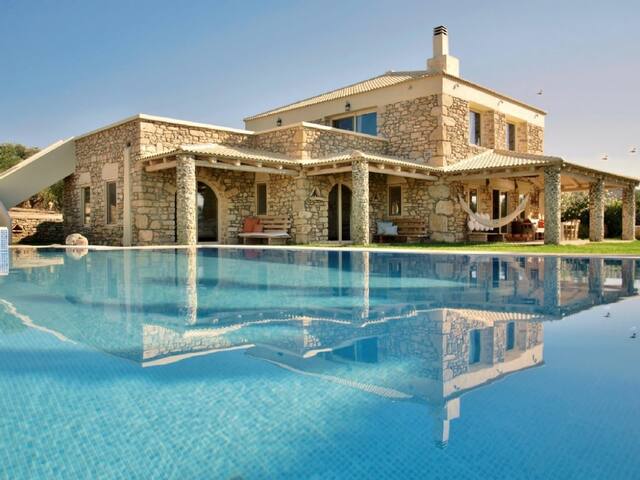 Villa Warka! El vaixell per a 2 persones amb Wi-Fi, TV per satèl·lit, bella, tranquil.
La casa està construïda com un vaixell i es pot trobar molts elements marítims a la casa. El propietari i artista de Vila Warka creen tots els mobles per si mateix com també les pintures. Fer una ullada a les increïbles fotos d'aquesta casa. El saló - cuina està equipada amb totes les comoditats: frigorífic congelador, fogons, aigüera doble, forn, cafetera, tetera, taula i cadires. El saló està disponible amb un sofà llit i elegants mobles fet a si mateix, ofereix comoditat i la relaxació Una escala de modelatge com penya-segats, condueix al dormitori, aquí és el llit doble amb vistes a la muntanya i Psiloritis-Pitsidia. Des d'aquí es pot arribar a la terrassa i pot prendre la seva prendre el sol. Molts bons detalls es troben en aquesta habitació, deixeu-vos sorprendre! El bany de sota té un lavabo i un vàter en blanc, també la dutxa blau / especials a terra 1.st et porta a un món de fantasia submarina amb peixos feta a mà del mosaic de ceràmica. Al costat de la casa que dona el seu 20m ². gran lloc amb dutxa a l'aire lliure.
Pitsidia es troba a la costa central sud de Creta i es tracta de 65 km, és a dir al voltant d'una hora en cotxe de l'aeroport de Heraklion. El poble està idealment situat per explorar les atraccions famoses de la zona, com l'antic palau de Festos i el lloc arqueològic de Gortina i Agia Triada, el Monestir "Moni Odigitria" i per descomptat les platges de Matala, Platja vermella Komos, kalamaki, Kaloi Limenes, Agiofarago, lentes, Ag.Pavlos, Tripiti, Preveli, etc. també, el museu en Vori s'assoleix ràpidament. La vida nocturna es troba a Matala, a 5 km de Pitsidia.
We had a great time staying in the boat! We were met by our hosts who are really lovely and the building is breath taking. It's like staying in a work of art, it has loads of charm and everything you need. The house is in a beautiful village with shops only a few moments walks away, the beach if only 20 min walk away. We're were lucky enough to get invited to join in the Easter celebrations and were made to feel very welcome by the host and his family, he couldn't do enough for us. Will defiantly be going back some time soon
Louise
2016-03-30T00:00:00Z
Tipo de Acomodação
Casa/apto inteiro
---
Tipo de Imóvel
Casa
---
Acomoda
3
---
Quartos
Pitsidia, Creta, Grécia
House Ouranos is a traditionel stonehouse from 1883 with two modern and comfortable apartments. (ouranos kokkinos and ouranos blé). It has several outside terasses with wonderful views and relaxing atmosphere. You an use the apartments separate but its also perfect for example for two groups of friends or families. The house is situated in the old center of the village Pitsidia in the South of Crete. You can reach the wonderful Komobeach (2km) in 5 minutes by car.
Tipo de Acomodação
Casa/apto inteiro
---
Tipo de Imóvel
Apartamento
---
Acomoda
4
---
Quartos
Pitsidia, Crete Region, Grécia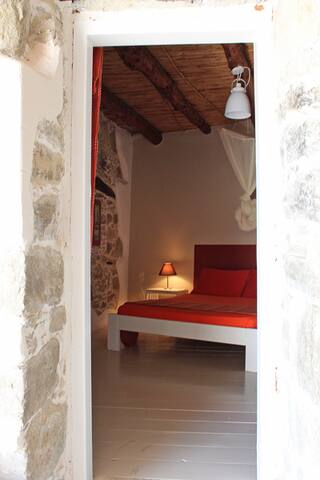 Den enestående udsigt med farverne på solnedgangen spejlet på overfladen af Libyske Hav, Komo stranden og den vilde skønhed Rethymno bjerge giver dig et behageligt miljø og den atmosfæriske ædruelighed af kretensiske tradition.
Grabella Huset ligger i udkanten af Pitsidia landsby, kun 2 km væk fra den berømte Matala hippie strand og huler. Den storslåede minoiske palads Phaistos er omkring 10 km away.The strand Komos er omkring en kilometer fra vores house.Red stranden i Matala er blevet kåret som en af de øverste Naturisme venlige strande i verden.
Da huset ligger inden for 1 km af Komo stranden. I nærheden af huset er der et bageri og et apotek.
We had a wonderful time in your villa! Your mother welcomed us in such a nice way. Please thank her again from us. We were two families with many small children and your villa was perfect for us. The location is also great- Matala beach was amazing, Komos beach as well. And the town of Pitsidia was nice and had everything we needed. We really enjoyed our stay and hope to come back again one of these days...
Talia
2016-10-11T00:00:00Z
Maison parfaitement adaptée pour les familles nombreuses . 6 chambres ayant chacune une salle de bains et une terrasse . Nous n'étions que 5 personnes , donc nous étions très à l'aise . Si vous devez venir , faites vous bien préciser où la maison se trouve , car personne ne connait la maison dans le village . Maison très propre , bien située car se trouve à proximité de la belle plage de Komos et du village de Pitsidia , où se trouve épiceries et restaurants très sympas .
Monique et Jean-Marc
2016-09-18T00:00:00Z
Everything was as described, and the pictures show quite accurately the house and garden. We were a big family, 9 in all staying in the house and there was plenty of room, even for a family member or two more if needed. We were also pleasant surprised to find out the free internet worked very well, and there was a washing machine and dryer as well. The owners Lia & Antonis were not there at the time we stayed there, but they were very responsive to any questions, within hours and very helpful. The house is in the cosy village of Pitsidia, plenty of fine tavernas and close to the lovely Matala beach as well. Only drawback is that you need to rent a car, public transportation is non exciting, and taxis are rare. It is not a luxurious mansion, but a perfectly equipped holiday home.
Thomas Nixon
2016-08-03T00:00:00Z
The house was amazing and very clean. The villa is spacious and the garden is very pleasant.
Alessandro
2016-08-06T00:00:00Z
Grande maison munie de 7 chambres indépendantes, très agréable à vivre, à la sortie d'un village (Pitsidia) qui est resté, au moins partiellement, au rythme crétois. Proximité (2 km) d'une plage vraiment calme, meme au 15 aout. Proximité (15-20min) d'un patrimoine culturel (faistos, Gortyne, agia triada) riche et varié. L'accueil et un frigo garni nous a bien fait comprendre ce qu'était la convivialité crétoise. MERCI
Catherine
2016-08-16T00:00:00Z
We had a fantastic vacation in the Villa! First, the house is located in one of the most beautiful spot on the wonderful village of Pistidia. The view is just magnificent from every balcony, and every angle. We were 7 ladies, and the house provides privacy, and a private bathroom to each guest. The hospitality was warm and kind, and we fell in love with the area and the generous people around - We strongly recommending to book Villa Grabella !!
Meital
2016-10-25T00:00:00Z
We have traveled as a fasmilly of 6 adults and 4 kids in the midle of July. Our stay at Pesidia was perfect, the house is house is fantastic! it has 6 bad rooms each with a small kitchen, rest room and a pictures balcony, downstairs we found kitchen fully equiped with everything we needed for cooking towels sheets laundry machine and other utensils. The house also has a very nice garden perfect for dinners! The house provided the perfect balance for privacy and the family time together. The location was also very convenient for us, the village is very nice and has few nice tavernas and basic food shops, we could take the car and drive 5 minutes to the beach or to Matala or walk 20 mins throw the vine yards and fig trees to a more secluded beach. The host were very nice and attentive, they met us and gave explanation about the house an later on answered all our questions and helped us with all the problems (we had a problem with a car and the owners directed us to a good car repair shop). In conclusion i can say that we had a perfect vacation and i really hope to come back to this fantastic place many more times. Great thanks to Antonis and Apostolia
Tanya
2016-07-22T00:00:00Z
Tipo de Acomodação
Casa/apto inteiro
---
Tipo de Imóvel
Casa
---
Acomoda
14
---
Quartos
Pitsidia, Creta, Grécia
dovolená a relaxace v jižní Kréty - sen pro celou rodinu. Nachází se přímo na pláži, s hřištěm pro nejmenší, naše apartmány a studia mají, že typický krétský dotek, klidné a útulné stejně jako centrálně umístěný.
Good, Michalis was pleased to meet us. The room was clean (even if the decoration remains to be desired...). We can have a breakfast in Michalis's restaurant, with a good quality and a good price. One negative point : the balcoon is just over the roof of the restaurant, so for the smell and for the view, this is not what we expected through the pictures.
Léa
2016-06-18T00:00:00Z
Nous avons vraiment passé un excellent moment dans cet hotel meme si ce fut bref ! Super accueil de tous, une serveuse adorable et des gens qui ont le sens du service..... il ne manquait rien !
veronique
2015-06-28T00:00:00Z
Really nice location, right on the beach, with access to beach chairs & umbrellas, as well as bar service. We enjoyed our stay, and although we only had one night, we wished we could have stayed longer.
Ibukun
2015-06-27T00:00:00Z
Warning: It is imperative to request a "sea view" if not to give your home on a narrow street with no charm and very near opposite. (it is a hotel) Otherwise, the hotel bar is pleasant and the beach right in front.
Alain
2015-08-12T00:00:00Z
Très bon logement dans cet appartement/chambre hotel avec petit espace cuisine. Très beau balcon avec store. Climatisation ok et indispensable. Accueil à tout heure. A 20 minutes de MATALA en voiture !
matthieu
2016-07-04T00:00:00Z
The Apartment was very nice and clean and we enjoyed our stay. Thank you
Bianca
2016-08-25T00:00:00Z
Michalis was a great host, nice and always willing in communicating in real time. Kalamaki is a perfect location to visit Matala, Festo and ... Kalamaki !!!! Yes, because this location is great for the sea, but even in the evening when you have a great choice of places to go to dinner (Michalis is perfect for aperitifs!). I surely recommend it to everyone
Mariarosaria
2015-09-12T00:00:00Z
Great stay and very close to the sea, really enjoyed it.
Niek
2016-09-08T00:00:00Z
Tipo de Acomodação
Casa/apto inteiro
---
Tipo de Imóvel
Apartamento
---
Acomoda
4
---
Quartos
Kalamaki, Creta, Grécia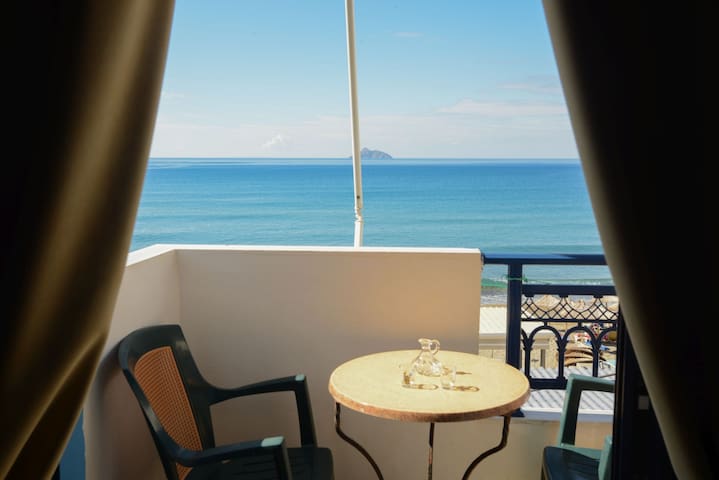 Aelia in Kamilari, einem kleinen und traditionellen Dorf in Messara von Heraklion. Es ist ein traditionelles, neu Häuschen mit einem herrlichen Blick die Ebene von Messara. Es ist ein ruhiger und entspannender Ort, ideal für Paare und Familien. Außerdem ist es in der Nähe der berühmten Strände von Matala, Komos, Kalamaki und Kokkinos Pirgos sowie zu den archäologischen Stätten von Festos, Gortis und Ag. Triada. Es gibt viele Aktivitäten, die Sie genießen können, wie Radfahren, Wandern, Reiten usw.
We hebben het heel goed gehad in Aelia Villa. Kamilari is een leuk dorp, vanuit het huis een prachtig uitzicht, dicht bij prachtige stranden. Het is ook maar 5 km naar de archeologische site van Phaistos. Het dorp Kamilari is op loopafstand (nog geen 10 minuten) en we hebben 'savonds heerlijk gegeten en raki gedronken bij Lo Steki, het restaurantje naast de kerk op het centrale pleintje van Kamilari. De eigenaar/kok heeft ook nog prachtige Griekse liederen gezongen en gespeeld op zijn luit (of zo?) samen met een gitarist.
Josje
2016-08-03T00:00:00Z
La casa è meravigliosa su una collina che guarda la piana di messara. Tutto è nuovissimo e pulito. Vicino a varie spiagge a matala e festo. Ci ha accolti la mamma di Johanna con un grande sorriso e disponibilità. Consigliatissimo.
Maria
2016-07-21T00:00:00Z
The host canceled this reservation 40 days before arrival. This is an automated posting.
Jeremie
2016-08-04T00:00:00Z
A wonderful stay, although very short, in a lovely location. Joanna was quick in communicating with us and her mom's welcome made us feel almost part of the family. Thank you!
Lauret
2016-09-09T00:00:00Z
Ioanna and her mother are friendly people who gave us a warm welcome to their apartment on the Sivas - Kamilari road. The stone construction is pretty, the apartment is clean, and the furniture is attractive. There are very beautiful views facing east over the olive trees to the Mesarra valley. It's possibly just a language issue, but the rental was unfortunately not quite what we were led to expect. First, "Aelia villa" is not a villa or maisonette, it's a studio apartment in an unfinished building that will one day contain several apartments. Second, there are not "two bedrooms". This is a one-room apartment with a double bed located in an alcove near to the refrigerator; and two single beds located overhead on a wooden platform. Third, the site is not truly "quiet", the building is situated on the Sivas - Kamilari road and one hears all the traffic coming up the long hill towards the apartment. However, the location is excellent with easy access by car to Phaistos, beautiful beaches, and lovely villages. Please note that the apartment is not directly in Kamilari, but on a road south of Kamilari ... so best to have a car.
Norbert
2016-11-01T00:00:00Z
Great brand new house with wonderful view, great and very warm hosts (Ioanna and her parents - they even brought us raki, grapes and watermelon), convenient area to visit the nearby attractions (Matala, Agiofarango beach, Komos beach etc). I wish we could stay more days in the house.
Evangelos
2016-08-19T00:00:00Z
Ioanna est une charmante personne accueillante et sympathique,elle s'est rendue disponible aussitot malgré l'heure tardive de notre arrivée.Elle se préoccupe de savoir si tout va bien et si nous avons besoin de quelque chose,Ioanna s'est mise à notre portée en parlant anglais distinctement et en choisissant des mots simples.
pascal
2016-08-18T00:00:00Z
Ioanna has disposed our check in perfectly; shehas been a flexible and helpful host. The villa was beautiful and tastefully decorated, in a lovely spot, ideal to visit Faistos and the beatiful village of Kamilari. We have just loved the place and the kindness of our host!
Francesca
2016-08-05T00:00:00Z
Tipo de Acomodação
Casa/apto inteiro
---
Tipo de Imóvel
Apartamento
---
Acomoda
4
---
Quartos
Kamilari, Creta, Grécia
الحق فيلا رائعة أمام الشاطئ
يقدم لنا رائعة فيلا مصمم مجالا واسعا لمدة تصل إلى 6 أشخاص في 135 متر مربع (حوالي 1453 قدم مربع)، وكذلك حديقة جميلة حق أمام البحر لتجربة عطلة لا تنسى! الفيلا: التصميم المعماري الحديث الجمع بين المواد من العناصر المحلية مع الألوان بحر ايجه التقليدية الأبيض والأزرق. 2 WC / حمام، غرفة نوم رئيسية مع سرير مزدوج، غرفة نوم ثانية مع 2 من أسرة واحدة. على حد سواء مع شرفات واسعة للاستمتاع بمنظر البحر الافراج فقط في أمامك. غرفة كبيرة المعيشة، مطبخ مجهز بالكامل، والكثير من غرفة تخزين، غرفة المرافق الإضافية مع غسالة والنوافذ في جميع الجوانب الأربعة. تماما مكيفة، تلفزيون، انترنت لاسلكي الخ الحديقة: أكثر من 200 حديقة الواجهة البحرية متر مربع بما في ذلك الشواء والصالات.
Maniolis Place is a very nice location direct in front of the sea. It is the ideal place for a vacation in crete. Maniolis is a very friendly and reliabel person and the arrangements did work at a 100%. The description of Maniolis´ house matches with the reality, it is spacious and you can find everything you need. Our family had a relaxed time at Kalamaki and would really appreciate to come again since you have this faboulus sight at the mediteranean sea right in front of you. All the best to Maniolis and best regards Hermann
Hermann
2016-07-11T00:00:00Z
Hello everyone! I can only say that I had an absolutely amazing time in kalamaki! not only is it a beautiful little village but the family owning this houses was incredible nice and really made me enjoy every second of my stay... about the house itself: it was exactly what I wished for - modern, very clean and most of all directly on the beach (which btw was excellent as well: clean, not crowded, soft sand, great clear water). I fell asleep every night with the sound of the waves! it was perfect! so all in all I can more than recommend the stay here and will definitely come back! Greetings! claus
Claus
2016-07-21T00:00:00Z
It was a wonderful holiday! Manolis is very nice and helpful, everything was perfect and nothing was missing . The house is very very beautiful and functional , the proximity to the sea is a wonderful thing .Within walking distance there are taverns , bars, market , beach chairs and umbrellas available and around beautiful places to visit. Hugs to Manolis and his family , already with a bit of nostalgia for Kalamaki :-)
Irma
2016-09-03T00:00:00Z
This is simply the best villa in Kalamaki. The location is superb -- just cross the small parking road, and you're on the beach that lasts kilometers in both directions. The sunset views are spectacular. 20 meters right or left are good taverns. 3 minutes walk to the local supermarket. The villa is very well designed and maintained. The small outside terrace with dining table and a hammock help to enjoy it even more. Probably the only missing thing is microwave oven, if one needs it. Manolis is the great host, helps with everything and more. Overall, it is fantastic place for an excellent vacation.
Alexander
2016-10-08T00:00:00Z
Tipo de Acomodação
Casa/apto inteiro
---
Tipo de Imóvel
Vila
---
Acomoda
6
---
Quartos
Kalamaki, Creta, Grécia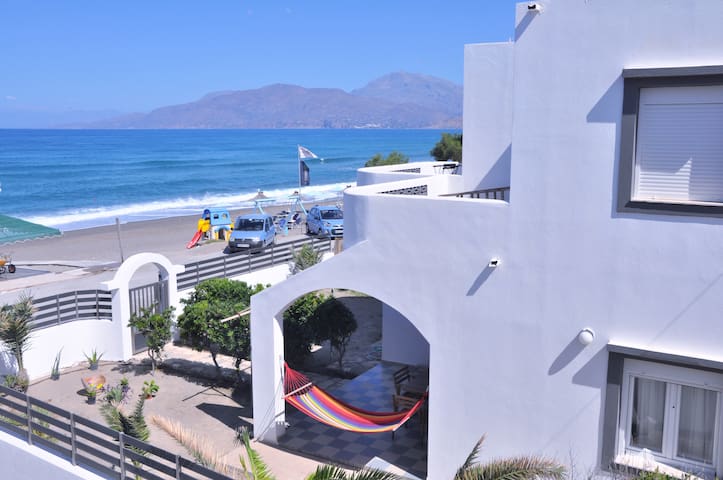 Insira as datas para ver o preço total. Taxas adicionais serão aplicadas. Impostos podem ser adicionados.