Insira as datas para ver o preço total. Taxas adicionais aplicáveis. Impostos podem ser adicionados.
Room dayghting is very good.
Tipo de acomodação
Casa/apto inteiro
---
Tipo de Imóvel
---
Acomoda
4
---
Quartos
1
Spalding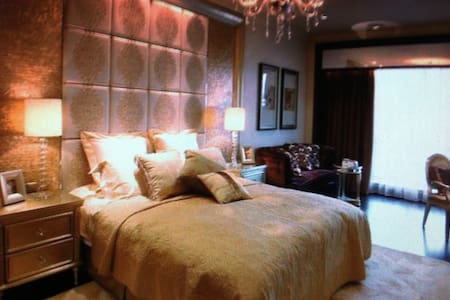 Enjoy all the comforts of home while staying at our newly constructed barn. This spacious guesthouse is the perfect place to slow down and get away from it all. Sleeps 2-6. Includes full kitchen, exercise room, and miles of country roads to explore.
Our space is unusual in that it is so quiet and peaceful. It is a perfect place for a personal retreat or a quiet get away from the city.
Bob and Shelley are as good as they come! My friends and I had an awesome time at the barn. Beautiful place, we would definitely recommend.
Amber
July 2016
We were headed out to Nebraska for a 90th birthday celebration and were battling whether to stay on the family farms in Lindsey or get a hotel so we had our own space. Airbnb and The Noble Barn House was brought to my attention. I immediately called to see if it was available and THANK GOD it was! This was so AWESOME because we were able to be close to Lindsay and all the family, have our own space, but also have the "staying on the farm" experience. During the booking process I met Shelley, who was an ANGEL right from the start. Once we arrived Shelley was readily available to us and made sure we had everything we needed. The minute their was an opportunity Bob came over to introduce himself and the same of Shelley. They could not have been any nicer. Since we are from California and don't have the beautiful farming landscape where we are at, I thought it would be great to take family portraits while we were staying out at their farm. So I proceeded to find a photographer in town, Pfeifer Photography, to come out and take our photos. Bob and Shelley not only gave their blessing and thought it was a great idea but they also let us use whatever we needed on the property for props. Furthermore, they checked in on us throughout our stay and also gave us our space. They left bikes for us to ride and also had the grill as well as, the fire pit ready to go for us to enjoy. They could not have been anymore gracious and generous. We were thrilled to find their place on Airbnb and are even more excited to return. Thank you for all the goodies you left, for the beautiful home you shared with us and for helping to make unforgettable memories for years to come. God's Blessings on you Always! Michael, April, Joshua, and Jordyn AKA: FAB FOUR
April
August 2016
Shelley and Bob where amazing! They had everything set up and ready for us. The property was clean and beautiful. We throughly enjoyed our stay and would highly recommend anyone stay here.
Kimberly
June 2016
The hosts stocked refrigerator-bagels, cream cheese, juice and water. They recommended "unique exploring" locations. The barn was notable and unparalleled.
merrily
October 2016
I must thank Shelley on this review as it was a stellar experience for our entire family in a time of need. Firstly, the place was immaculate, clean, spacious, and supremely welcoming. It was everything in the pictures (except the snow haha). Though I did not have the chance to personally meet Shelley, I heard from my family how wonderful and gracious she was upon arriving. Without going into further superlatives, it's just a great oasis in farm country Nebraska, great people, and great experience all around. Thank you and hope you have a wonderful time hosting more guests in the future.
Jerome
February 2016
This was a cozy place for my son and his family. They needed a nice place to relax as a family while visiting over Thanksgiving. It was hard to relax, not because of the location, just the other family obligations. Saturday they were able to really enjoy this quaint little spot. Thank you.
Kim
November 2016
Absolutely perfect! THE best hosts. A quiet, lovely getaway. We will certainly book here again!
Tifany
July 2016
This place is like home away from home. From the moment you arrive you feel very comfortable and at ease, and then you meet Shelley and Bob, and it only gets better. The place is beautiful both inside and out! Everything you need for a relaxing stay is included, Shelly even provided water , bagels, tea and coffee! Sleeping accommodations were amazing as well! If your in the area or plan to be please check in at the Noonan Farm!
Mary
July 2016
Tipo de acomodação
Casa/apto inteiro
---
Tipo de Imóvel
---
Acomoda
6
---
Quartos
2
Humphrey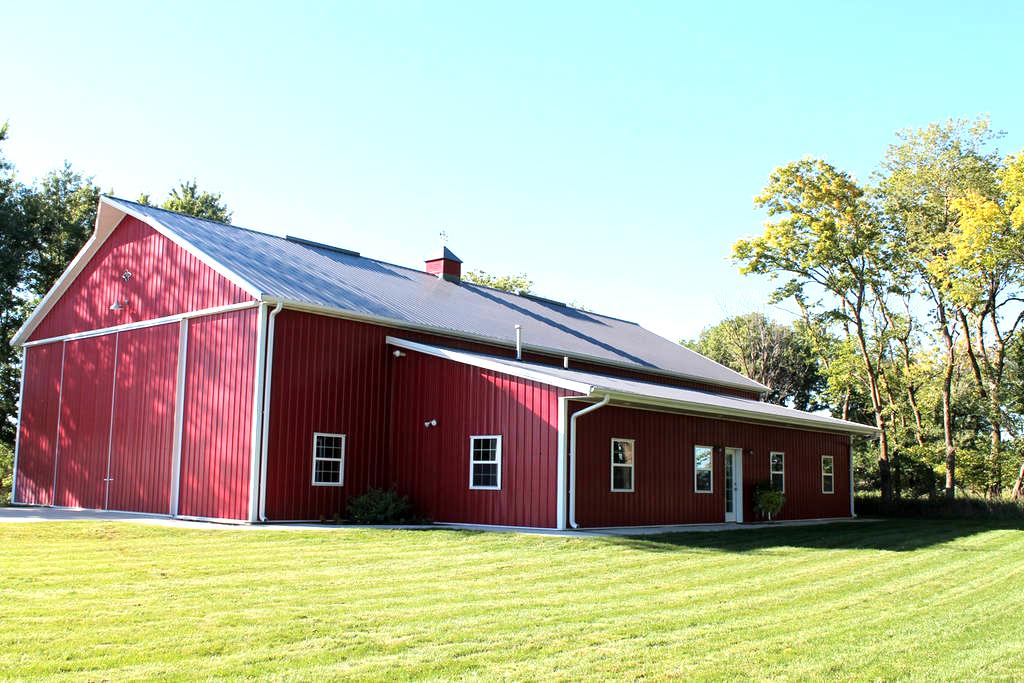 Private room in a modern home. Shared bathroom. Access to whole house including living room, kitchen, and laundry. I want you to feel at home here. Norfolk is great community with everything you need.
The room is great for two people. Queen bed. Television with DirecTV in your room. Guests will have access to the whole house. Full use of kitchen and living area. Feel free to use the laundry. Bathroom is a shared bathroom. Interaction with guests will be as much or as little as you are comfortable. I am gone a lot so may not be at the house while you are there. I am a school teacher so during the school year I am many times tired up until 4pm.
My neighborhood is on two quiet streets with great people. Very low traffic. Great area if you like to walk or run. There is a taxi service in Norfolk. I am also an Uber driver and would be willing to drive you if needed. I have a crib available if needed. I have dogs on the property but not inside.
It was my 1st time to us Airbnb for renting a room. I had a great experience. Ken is really welcoming host. Everything was prepared and room was nice and clean. Would stay there again :)
Liisi
July 2016
Tipo de acomodação
Quarto inteiro
---
Tipo de Imóvel
---
Acomoda
2
---
Quartos
1
Norfolk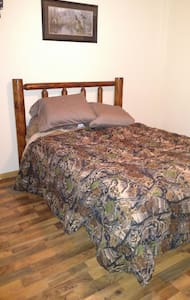 Large room with new queen bed frame and mattress.
The house was build within the last 10 years. Located on the corner of two quiet streets. Guests have full access of the house with the exception of the other bedroom. I am gone often but will interact as much or as little as you like.
I have excellent neighbors in a quiet neighborhood. At this time the other room in the house is occupied by a traveling nurse. This room would be great for another nurse needing an extended stay.
Tipo de acomodação
Quarto inteiro
---
Tipo de Imóvel
---
Acomoda
2
---
Quartos
1
Norfolk
This house is a new build within 10 years. It is fairly open design with a large kitchen - living room combination. Two nice rooms with queen beds. Easily sleeps 4 with room for air mattresses for more. A crib is also available if needed.
Ken was a great host. This was the first time we used AirBnB and it was perfect. We were a bit later than we expected but he saw us coming down the road and greeted us at the door. We felt very much at home. I would highly recommend Ken's listing to anyone needing a place to stay in Norfolk.
Aimee
August 2016
Big and great house
Liu
August 2016
The host was good. The house was not in the best shape but it was ok. Fewer personal things would make the house more comfortable for the guests. The neighborhood was safe, nothing ver happened to me but it wasn't a very nice neighborhood. It was ok and got the job done.
Mahsa
September 2016
Ken was there and ready with all smiles when the dogs and I arrived for our stay - was super friendly and available if I needed anything. Felt like an old friend from the start :)
Sarah
October 2016
The house was great. Ken was great had the house ready for our arrive, he worked around our schedule.
Esther
September 2016
We enjoyed our visit to Ken's home and appreciated the several personal amenities that he provided. The neighborhood was as he described and we felt very safe and "at home."
Don
October 2016
Tipo de acomodação
Casa/apto inteiro
---
Tipo de Imóvel
---
Acomoda
4
---
Quartos
2
Norfolk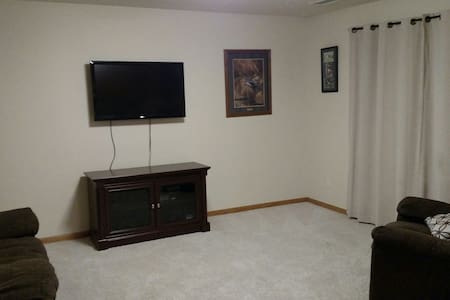 This walk-in basement rental had a whirlwind of renovations including new flooring and paint throughout in August of 2015.
My wife and I are empty nesters who raised 7 children in our large home in the country. We now have a lot of empty space on a beautiful acreage in rural Nebraska. The living space is the walk-in basement of our home which has a small kitchen and a bathroom with a shower. There are two bedrooms with queen size beds and the living room area has a couch with a fold-out queen size bed. The property is located on our family farm which has been used as an outdoor portrait photography studio for years. There is a pond with ducks, prairies, trees, paths, lots of room to run, hammocks, docks, etc. Guests are also welcome to use the large deck for relaxing, grilling, and outdoor dining. If needed, there is a washer and dryer available upon request. Also, on special request, there is a large exercise room available. Most times, my wife and I are there and available if any questions or problems may arise. It's away from everything. We are literally in the middle of a cornfield. There are small towns in the area which have small town grocery stores, gas stations, and activities. There is no public transportation. This property is located at our home in Rural Nebraska. We are 6 miles from the small town of Monroe and 20 miles from the City of Columbus, NE. Full access to the grounds which are very much like a park. There is a pond, prairies, trees, etc. It has been used as a portrait studio for 20 years. There is also a large deck and smoker grill available for use. There is full access to the outdoor grounds near and around the pond, prairie, and wooded areas. There are is also a washer and dryer available on special request as well as a large exercise area on special request. The owners are available most times if the need arises and can almost always be contacted by phone.
Cell phone coverage is not great. By stepping outdoors, most carriers do have access and are able to make calls.
We wanted a secluded, country setting for a girlfriend getaway and thoroughly enjoyed our stay. We had planned to cook our meals and were pleasantly surprised at the cooking supplies available. There were also a few food items to get us started--bread, eggs, fruit, etc. The hosts were very accommodating and wanted us to feel comfortable and enjoy our stay but honored our privacy as well. The apartment had recently been renovated and I encouraged the hosts to put the updated photos on the site! The furnishings were nice and the beds comfortable. We did a movie marathon and the equipment worked well. The grounds were beautiful and we enjoyed walking the property. One of our guests could not walk and the hosts let us use their utility vehicle to ride the grounds so she could enjoy the grounds, too. Thanks Marv and Kim for providing a fun "getaway" spot! We all agreed that it would be fun to return for another experience! The Getaway Gals!
Carla
August 2015
Tipo de acomodação
Casa/apto inteiro
---
Tipo de Imóvel
---
Acomoda
6
---
Quartos
2
Monroe