18 Apartamentos para Alugar
Absolute beach-front in Paekakariki, a Kapiti coast village 40km from Wellington - only 50 minutes by train. Te One is a classic 1970's bach with open plan kitchen/living, stunning deck, vintage furniture and contemporary art. Only 3 minutes walk to train station, cafe, deli, and an excellent pub/restaurant with craft beer and movie theatre. Enjoy swimming, beach walks, hiking, mountain biking (use our 2) or just relax on the deck. WiFi limited to mobile phone hotspot only (phone provided).
Te One is one in a group of of eight beachfront apartments in Paekakariki, and is a stone's throw away from cafes, the local pub/bistro/movie theatre and the train. We've owned it for many years and love spending time there. We hope you will too. Enjoy the outdoors while you are there - walking, hiking, mountain biking - or enjoy the hospitality of our lovely, friendly village. Lots to do if you like to get out and about.
Paekakariki is the creative hub of the Kapiti Coast and home to many musicians, and artists, with lots to see and do. Check out our guide book for more details
Wonderful location with fantastic view of the sea and easy walk to the village.
Mairead
2016-09-24T00:00:00Z
This is an amazing relaxing spot to relax in the quiet, or enjoy all the outdoor activities close at hand. Well equipped, great communication and the deck is special.
Rachel
2017-02-18T00:00:00Z
Fantastic location. Went to sleep listening to the waves. Wonderful sunroom to the front with folding doors. The hosts provided so many extras, made our stay very pleasant. Well worth a visit.
Ally
2017-03-27T00:00:00Z
Great house, well equipped with lovely feel and views
Ezza
2016-12-25T00:00:00Z
Beautiful quiet and private, love,y stay and fully equipped for every need! Wished we lived there!!! Don't hesitate to book! It's a beautiful home in a beautiful spot! It's hosts second to none. Thanks heaps Josie and Grant.
Wendy
2016-11-27T00:00:00Z
A great place to stay, very comfortable and clean. Everything you might need was there. A good spot for visiting Kapiti Island and it was relaxing to travel by train into Wellington for the day. (Station 5 mins away) Highly recommended(URL HIDDEN)
Julie
2017-03-01T00:00:00Z
Grant and Josie could not have been anymore accomodating. They went way above and beyond their duties as Airbnb hosts and I couldn't be more grateful for having the opportunity to stay in their beautiful home. They are kind, generous and their communication is fast and reliable. The proximity to the beach is incredible. Relaxing in the bean bag on the deck watching the waves in the sun with my daughter has been just what we needed. Daily walks on the beach and the amazing sunsets have been a big hit too! Grant and Josie have ensured the house is geared up well so that it is easy to feel right at home having everything you might need from a NutriBullet to hair straighteners and everything in between. It made our stay here so easy having everything we needed when we hadn't packed a whole lot! Thank you both so much, we are so truly grateful for this experience and for the time we were able to stay in your home. If you are looking for a place in Paekakariki or on the coast...This is the one, without a doubt. We guarantee it will make your heart sing and will tick all of your beach holiday boxes and more!
Danielle
2016-12-15T00:00:00Z
Very remote location. Train station is close. A car is recommendable. I had some difficulties finding the house when I arrived during the night but Grant guided me perfectly via phone and with his instructions I got everything working (is a little bit tricky). Spacious place (especially for just one person), well equipped, perfect for relaxing. Beautiful drive from Wellington to the house.
Gerhard
2016-11-17T00:00:00Z
Tipo de Acomodação
Casa inteira/apto
---
Tipo de Imóvel
Apartamento
---
Acomoda
4
---
Quartos
Paekakariki, Wellington, Nova Zelândia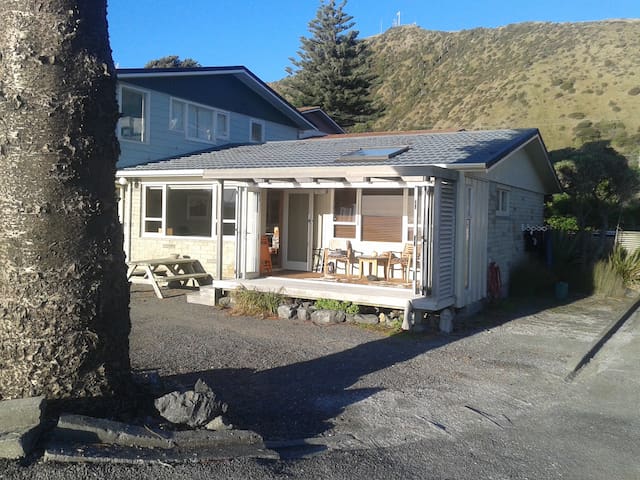 Studio apartment in garden setting near beach. 15-20min walk to Paekakariki train station (approx 45min by train to Wellington city and Westpac Stadium) Sleeps 2-3 guests comfortably. Queensized bed plus private alcove with single bed. Living area also has 3 couches (a 3 seater and 2x 2 seaters). Double air mattress also available. Laundry facilities shared with hosts.
The studio apartment is situated in the back garden of our home.
Paekakariki is a small seaside village north of Wellington easily accessible by train or State Highway 1. Our home is very close to the beach and Queen Elizabeth park.
Tipo de Acomodação
Casa inteira/apto
---
Tipo de Imóvel
Apartamento
---
Acomoda
6
---
Quartos
Paekakariki, Wellington, Nova Zelândia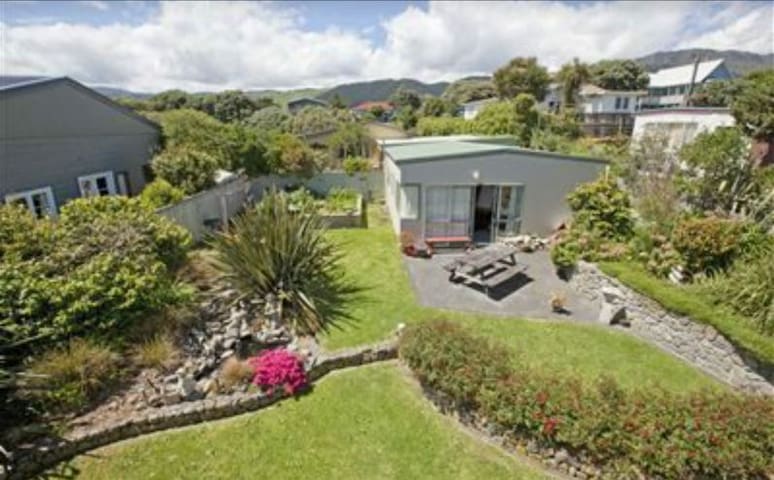 Venha relaxar e desfrutar Paekakariki ou se você quiser mais excitar se juntar a mim para uma missão de kitesurf. Seus 2 minutos a pé de tudo, praia, trem, bar, café, loja e galeria de arte. Temos algumas bicicletas que você está convidado a usar para explorar ☺
Paekakariki é uma pequena vila à beira-mar na costa de Kapiti. Estamos localizados a apenas 40 minutos de carro de Wellington. Ela nos o local perfeito para escapar da confusão e agitação de Wellington para uma escapadela de fim de semana rápido faz. Rodeado pelas ar livre, temos praias maravilhosas, parques e de tirar o fôlego paisagem que estou mais do que feliz em mostrar-lhe! Se você estiver em seus desportos aquáticos, Paekakariki é perfeito para o kite surf e embarque Paddle. Localizado a apenas 20 minutos de carro há várias praias perfeitas para kite, incluindo 2 grandes manchas onda de kite. Certifique-se de que você vê-los. Meu lugar está localizado a apenas 1 minuto a pé da praia e apenas a 2 minutos a pé do Café, local Pub e da Estação Ferroviária. Paekakariki é também um grande centro do artista bem. Se você está querendo pegar o trem de Wellington, seus apenas 45 minutos ao centro da cidade. Se você está interessado, envie-me uma mensagem, seria ótimo ter você vir e ficar!
Eu amo sua proximidade com o mar, as colinas circundantes. O fato de que eu posso sair da minha porta e dentro de 2 minutos, estar em um café, pub ou cinema. Acima de tudo eu amo as pessoas, se você vier você saberá o que quero dizer
I stayed three nights at Jaz´s home. He and his girlfriend are lovely people and great hosts. They helped me with everything i needed and made my stay uncomplicated and relaxing. My room was cosy and warm when i arrived. The House is modern, comfy and clean. It is conveniently situated next to the train station and still quiet as I couldn´t hear any bothering noises. Nice wood-fired pizza and a great café next door. Thanks heaps for the excellent stay at your place! Anna
Anna
2015-07-13T00:00:00Z
We had a great time staying with Jaz. His place is really modern, clean and comfortable. It's in a beautiful location by the beach and really close to the train into the city. He and his flat mates are all friendly and fun to chat to and made us feel very welcome. We recommend this place wholeheartedly.
alicia
2015-02-22T00:00:00Z
I had a great short stay with Jaz and his girlfriend. They were very welcoming in sharing their home with me. Room and house all nice, clean and comfortable. Really close to the beach and the town is lovely for a relaxing stay.
Jenny
2015-11-08T00:00:00Z
Jaz and Zoe are great hosts and we had a really chilled time in their lovely home. Paekakariki is a really cute place to stop off on your journey! If you stay, would recommend keeping your stuff in the room as we managed to lose a pair of boots downstairs.
Ashlie
2015-12-24T00:00:00Z
Lovely place to stay. Jaz and Zoe are very welcoming and super nice people. We felt relaxed, had a nice bed and bathroom. The beach is beautiful and just around the corner! Thank you for the great time !
Leah
2016-03-02T00:00:00Z
Had a pleasant stay at Jaz place, which is perfectly located to explore the beaches along Kapiti Coast.
Sebastian
2016-02-11T00:00:00Z
Me and my husband really enjoyed our stay in Jaz' place, it was great! His house is very convenient near to the train station, cool cafes, and other food shops. Jaz is one of the coolest guy in Paekakariki. We enjoyed chatting with him. Cheers! ~Janeth & Roy
Janeth
2016-10-02T00:00:00Z
We enjoyed our stay in Wellington. Jaz is a relaxed and friendly host. Thanks for having us!
Jenny
2016-05-30T00:00:00Z
Tipo de Acomodação
Quarto privado
---
Tipo de Imóvel
Apartamento
---
Acomoda
2
---
Quartos
Paekakariki, Wellington, Nova Zelândia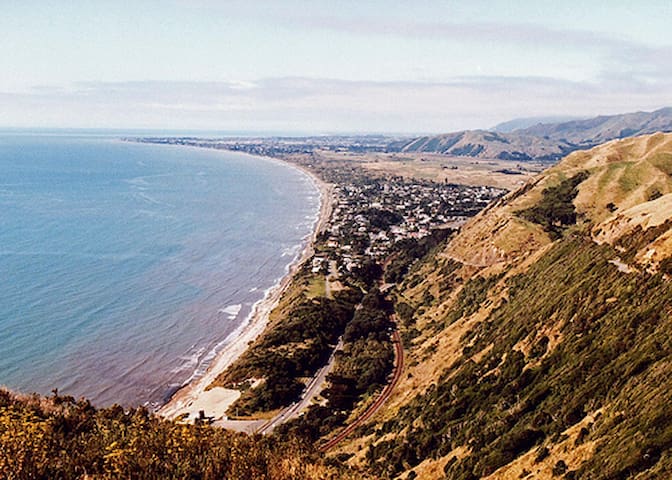 Modern upstairs Apartment - separate bedroom, fully equipped kitchen and large lounge. Sea views. Close to Queen Elizabeth Park, cycle path, beach and small village shops and cafe's. Train connection to Paraparaumu and Wellington City. Quiet. Walk the stunning escarpment track pictures on site. Use the cycle path to Parapraumu and by December through to PekaPeka.
Paekakariki is a small contained village with free access to a very long stretch of beach overlooking the beautiful Kapiti Island.
Tipo de Acomodação
Casa inteira/apto
---
Tipo de Imóvel
Apartamento
---
Acomoda
3
---
Quartos
Paekakariki, Wellington, Nova Zelândia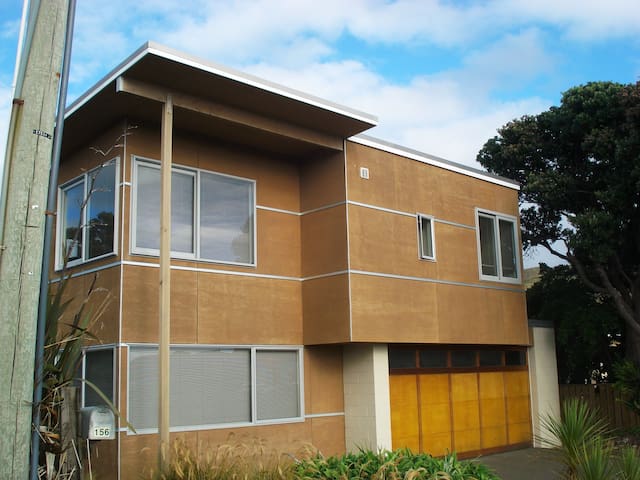 Two self serviced apartments. Each apartment sleeps four. Apartment A two bedroom, Apartment B one bedroom with facility for another two in lounge. Full kitchens, laundries. 4 minute walk to train which delivers you to Westpac Stadium for all events
Tipo de Acomodação
Casa/apto inteiro
---
Tipo de Imóvel
Apartamento
---
Acomoda
4
---
Quartos
Porirua, Wellington, Nova Zelândia
Beachfront - only a single lane servicing one other property separates bach from the beach. Breath-taking views of the breaking waves, and from the Kaikouras to Kapiti Island. Wellington is 48kms away (an approximately 50 minute drive). Two fantastic cafes/licensed restaurants, plus a takeaway shop and dairy/convenience store 300m away. A great bach for a romantic escape, a family holiday, or to spend time with friends. Go to sleep snuggled in luxury linen to the murmur of the waves.
Comfy bach all year round - fully insulated, double glazed, heat pump, electric blankets. Kitchenette contains limited bench space, a small sink, bench-top oven, microwave oven, single hot plate. There is a gas barbecue on the deck.
Beach is safe for swimming - also popular for paddle boarding, surf-casting, and when conditions are right - surfing and kite-surfing. Also a great walking beach, being part of 40kms of beaches sheltered from prevailing westerly winds by Kapiti Island. When the tide is in, a walkway/cycleway links Raumati South to Queen Elizabeth Park (which contains lots of walking and cycling tracks) and sandy beaches. Two fantastic cafes/licensed restaurants 300m away - Gatsby Tapas and The Raumati Social Club. Live music often at one, or both venues. Children's play area and tennis courts nearby. Raumati Village is 2kms away - for more cafes, restaurants, bars, pharmacy, boutique shops, Marine Gardens.
Tipo de Acomodação
Casa inteira/apto
---
Tipo de Imóvel
Apartamento
---
Acomoda
4
---
Quartos
Paraparaumu, Wellington, Nova Zelândia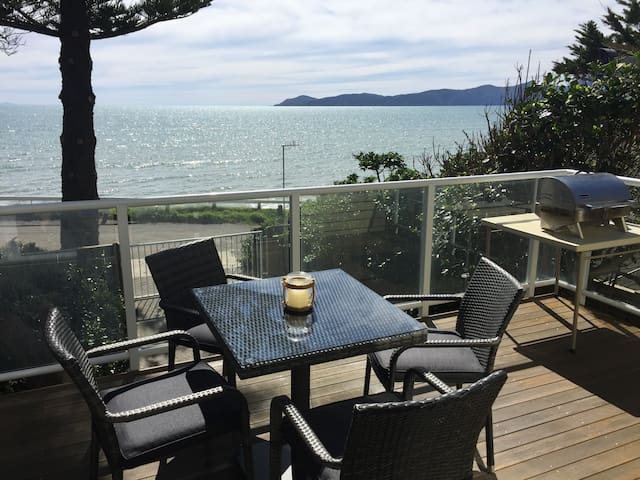 Quiet & tidy well-appointed flat near the beach and amenities In the heart of Paraparaumu beach - boating club, beach,shops and golf club all just a stroll away Home of long time Kapiti Island families who still operate on and around the island
In the heart of Paraparaumu beach near the boating club, shops, park and golf club. A quiet and tidy well-appointed hideaway near the amenities. Great value for a gracious self-contained flat and beach experience
Lovely beach community atmosphere
The place was well located, well stocked and clean. We didn't get to meet Chris but were able to communicate via message. It was a little unusual to have the upstairs entrance off the lounge but we only saw them once so still very private. Excellent value for money accommodation.
Haley
2016-11-05T00:00:00Z
Warm and comfortable. Good beds. The central location made our stay easy.
Julie
2016-05-26T00:00:00Z
lovely and very close to shops, Chris was really accommodating
Nicci
2017-03-11T00:00:00Z
Comfy, tidy and clean place. Well located.
Steven
2015-09-27T00:00:00Z
The house is clean, tidy and warm, fully equipped kitchen, really big flat tv, private access, walk distance to cafe and beach, I don't know what can be more attractive than this, Pam is very friendly but also gives you much privacy, my wife and I stay for 2 weeks there, we feel just like home.
Yakun
2016-02-06T00:00:00Z
We had a great time staying here. The place was huge, clean and very well located, just 5 mins (or less) walk to the beach. Thanks for having us!
Jodi
2016-09-24T00:00:00Z
Basic accommodation in style but everything you need
Delyth
2017-03-19T00:00:00Z
A big thank you to Pam and Chris for a lovely home-away-from-home experience. Pam went out of her way to make us feel comfortable, and there were useful bits and pieces all through the apartment - tea and coffee, laundry powder, board games, etc. Very family friendly. Thank you!
Emily
2015-12-28T00:00:00Z
Tipo de Acomodação
Casa inteira/apto
---
Tipo de Imóvel
Apartamento
---
Acomoda
6
---
Quartos
Paraparaumu, Wellington, Nova Zelândia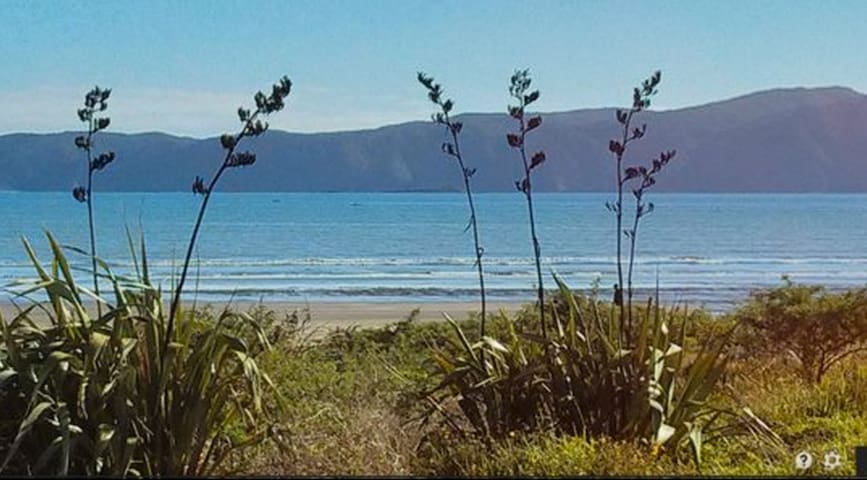 This is special for female friends and lovers, the couple tailor-made homes do not receive separate male tenant. For elegant women to provide a comfortable, warm family life experience
If you need help, ask the landlord, on your side; usually the landlord on the house in a small room in the north in reading, watching TV, you can enjoy alone the living room, dining room,... Without being disturbed. I'd be happy to talk to the landlord. The landlord is a refined and cultured, rich experience, good aunt, quiet, enthusiastic care, not much. Try to have good taste, the pursuit of quality of life to provide a real home leisurely and carefree. My listings are suitable for couples, travel alone, family outings, travel and wedding business travelers.
Tipo de Acomodação
Quarto inteiro
---
Tipo de Imóvel
Apartamento
---
Acomoda
2
---
Quartos
NZ, Nova Zelândia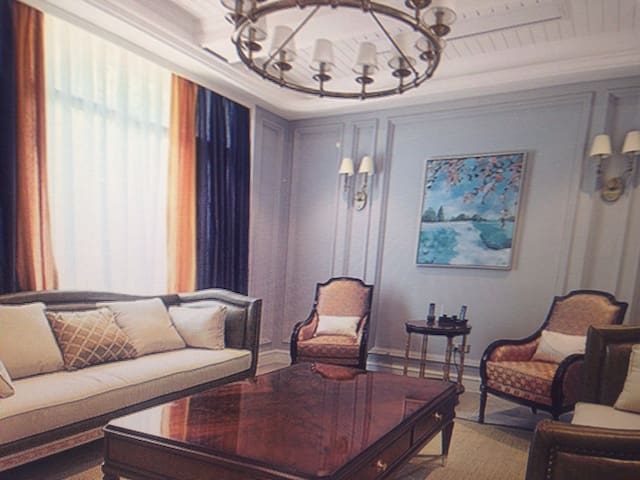 Large downstairs apartment on the popular Kapiti coast, lies close proximity to local airport, golf course, the iconic Southwards Car Museum and a short ferry ride to the Kapiti Island bird sanctuary.
A light and modern self contained holiday let on the beach front. A lovely quiet neighbourhood, and only a 10 minute stroll along the parade and you are enjoying trendy beachfront cafes, quirky shops and galleries. Enjoy a spacious main bedroom with a wonderfully comfortable King size bed and additional TV. Off the main bedroom there is a cosy bedroom with two single beds. Relax and unwind in the lounge with Sky TV, magazines, books etc. Create delicious meals in the well equipped kitchenette or wander along the beach to a choose from the many great cafes,restaurants etc
Fantastic location.The high speed WiFi and relaxing location makes it an Ideal base to work from. As well as enjoying the great beach across the road this location is ideal also for families as there are so many indoor and outdoor ativities to choose from. These include: Skateboard park by the beach Great indoor pool complex Indoor bowls Many lovely walks to choose from Deer Museum, Farm and cafe Loco Miniature Railway and Gardens Nga Manu Nature Reserve
Liz & Johns place is as described if not better. Their location is spectacular looking out to Kapiti Island and we can't thank them enough for making our stay as comfortable and pleasant as possible. Liz organised a porta-cot for our lil Augie and made sure we had some groceries for the next morning after arriving there after a long days travel. The accommodation is clean and modern with the nice added extras of Sky TV and Wifi. We had plenty to do while there with activities and toys for the kids and even though we were in and out a lot Liz made sure we had everything we needed for the duration of our stay and was a very kind and thoughtful host. We will definitely be visiting and staying again when we are over next. Julius, Antonia, Maraea, Leilani & Augustus :)
Julius
2015-10-04T00:00:00Z
I had an excellent experience being John and Liz's inaugural guest. Liz was happy to pick me up and drop me off from the Paraparaumu rail station, which is not close to their place right on the beach. I was particularly appreciative of Liz's offer to take me to the nearest super-market to purchase enough goodies for my stay, concerned at she was at the price of purchasing items at the 4-Square at the beach. She was even happy to wait in the car while I did that shopping, saying "no need to rush, I know what it is like to try to find your way around a strange supermarket". Not only was John and Liz very welcoming the entire time I was with them, but the place itself is immaculate. Large and pleasant rooms, with a comfortable bed and nice decor, there is also an excellent shower with good pressure, large refrigerator with well stocked kitchen in terms of utensils and so on, and a lovely spa on the back decking, which is a treat. Also appreciated the fresh towels every morning as well. The photo in the room listing also does not lie, when you walk to the front of the property or walk upstairs to where John and Liz are, that beautiful view of Paraparaumu and Kapiti Island is what you see. One final thing I appreciated, was that enjoying excellent wifi was the majority of my trip, John and Liz were more than happy to immediately call into their internet provider as soon as it did go down, and John gave me access to his own personal internet hotspot, in order for me to make a (SENSITIVE CONTENTS HIDDEN) call I really needed to make. Also turned out it was not their wifi, but the whole region that temporarily lost internet with that provider, so appreciated the effort they went to, to accommodate my situation. All in all, a very lovely stay with nice people, and I heartily recommend it to anyone.
Anthony
2015-02-11T00:00:00Z
Liz's home was way over our expectations! We were greeted with a warm welcome, had access to a wonderful beach and the flat was spotless, spacious and comfortable. Liz responded promply to all our small inquiries and we really enjoyed our time in the spa pool in our little private backyard. One of the best air bnb we had so far! Thank you Liz! Hope our paths will cross again.
Marie
2016-01-27T00:00:00Z
Just what we needed!! Fantastic location across the road from the beach and walking distance to shops/cafes, great set up. The spa pool was lovely. Hosts were perfect. Could not recommend highly enough.
Vicky
2015-09-27T00:00:00Z
We had a fab time, the house us in a great location. Plenty to do with families on fine or not so fine days. We also made great use of the spa. Great place, highly recommended!
Julene
2016-01-10T00:00:00Z
Liz welcomed me in the afternoon along with two friendly cats which were a hit with friends as they did the rounds during the evening. Fantastic setup with everything we needed to entertain and cook. Hopefully we didn't leave anything in disarray. Was a perfect getaway from the city for the weekend.
Joel
2015-10-18T00:00:00Z
Liz was a lovely host, the accommodation was perfect, and all the essentials and more were there. Also a stunning location and lovely cafes and a weekly market 10 minutes walk away.
Julia
2015-12-22T00:00:00Z
Tipo de Acomodação
Casa inteira/apto
---
Tipo de Imóvel
Apartamento
---
Acomoda
4
---
Quartos
Paraparaumu, Wellington, Nova Zelândia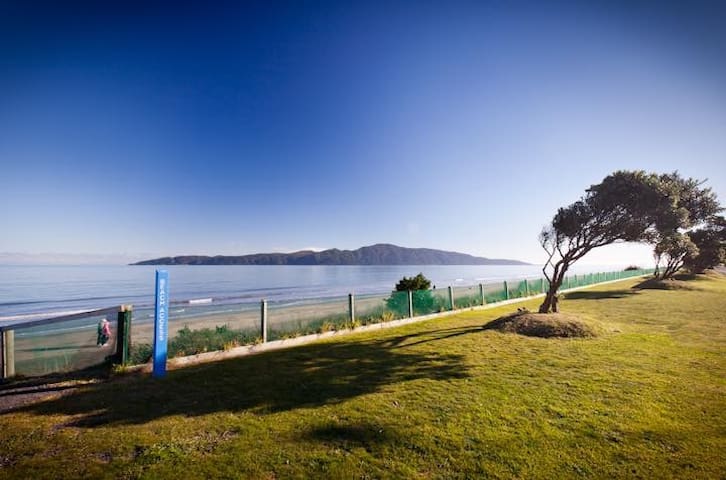 My place is close to Railway station , beach, restaurants and dining and SH1. 30 minutes by train to Westpac Stadium for all major events . You'll love my place because of This property is very quiet and peaceful. Secure parking and top quality apartments at reasonable rates., the ambiance, the outdoors space, the comfy beds with top quality linen are loved by many. Full laundry facilities in both apartments. . My place is good for couples, solo adventurers, business travellers, and families.
Tipo de Acomodação
Casa/apto inteiro
---
Tipo de Imóvel
Apartamento
---
Acomoda
4
---
Quartos
Porirua, Wellington, Nova Zelândia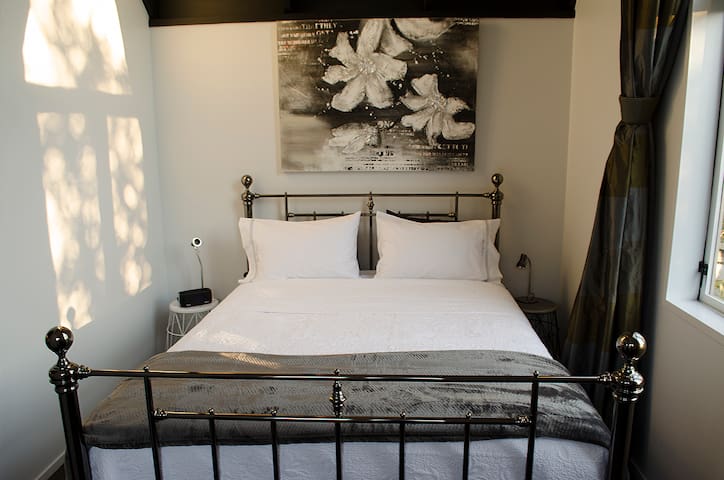 Boutique accommodation adjacent to QE Park and the beach. Separate studio on 2 levels built in 2011. Main floor has living and bathroom. Mezzanine bedroom and sitting area has views of Kapiti Island and sunsets. Luxury stay at the beach.
There is nothing else like it - pacific architecture. Fully furnished, beach towels and picnic backpack provided. Suitable for a couple but living space also has a hotel sofa bed. Level access, car parking at bridge to front door. Tea, coffee provisions provided.
Friendly relaxed neighbourhood. House in quiet cul-de-sac with no footpaths. Supermarkets a short drive away, 10 minutes walk to 2 cafes, a takeaway food cafe and a well stocked dairy which is open every day and also sells wine and beer. 5 minute drive to interesting shops, cafes, pub at Raumati Beach. 10 minutes drive to more restaurants and shopping mall at Paraparaumu.
We loved our stay at the Gatehouse! It's very clean, great set up, had everything we needed. Excellent location, close to the beach - great place to unwind. Bernadette was very helpful and answered all questions promptly. We would stay and again, and recommend to our friends.
Ian
2015-10-04T00:00:00Z
The apartment was excellent and had everything that we needed. it was beautifully furnished and was very open with large windows capturing the views and the beautiful garden below. The location in Raumati South was perfect with only a short stroll to the beach. The hosts were extremely helpful. We will definitely be back on a future visit and thoroughly recommend the apartment.
Mark
2016-02-16T00:00:00Z
The Gatehouse was the perfect environment for us to unwind at the end of our exciting NZ trip. The house is extremely well appointed, private and comfortable, and an easy walk to shops & lovely cafe. Bernadette was a great hot.
Sue & Dave
2015-02-20T00:00:00Z
Beautiful property - airy, light and modern, and well equipped e.g. the kitchen had all the pans, knives etc required to do cook properly. Location is great, very close to the beach.
Nick
2015-03-01T00:00:00Z
Gorgeous spot. Loved staying here. Very tastefully decorated. Great bed. Fantastic communication from the hosts. Looking forward to returning.
Christian
2015-03-08T00:00:00Z
We had a great relaxing stay. Super clean "show home" experience. Bernadette kept us informed and made our arrival and departure easy. Close by to beach and great walks. Wish I had bought my mountain bike. Thank you.
Daryl
2015-08-17T00:00:00Z
What an amazing place to stay. Immaculately neat and beautiful views. Loved every minute of our stay.
Carel
2015-02-07T00:00:00Z
We had a great break at the gatehouse. It was well appointed and stylish, with most things you would want on a beach break. Nice and close to the beach.
Rebecca
2015-07-12T00:00:00Z
Tipo de Acomodação
Casa inteira/apto
---
Tipo de Imóvel
Apartamento
---
Acomoda
2
---
Quartos
Paraparaumu, Wellington, Nova Zelândia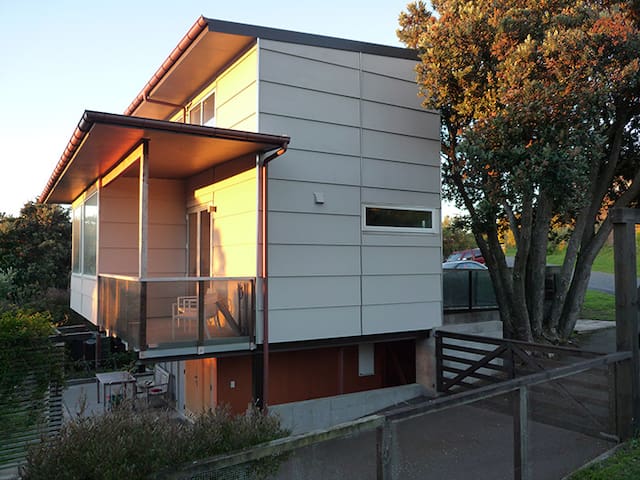 My place is close to restaurants and dining, the beach, family-friendly activities, nightlife, and public transport. You'll love my place because of the ambiance, the outdoors space, and the neighbourhood. My place is good for couples, solo adventurers, and business travellers.
We had a wonderful and relaxing stay at this house, lots of sun lounging in the backyard, and the spa was fantastic after a day climbing Kapiti island, and with Lyn as a magnanimous and laid-back host making everything very easy.
(we're!) Jamie & Belu
2016-10-22T00:00:00Z
Great location near the golf course and beach. Very clean and tidy. Quiet and comfortable. Spa is in a shared space.
Kellie
2017-01-28T00:00:00Z
매우깔끔해요 아침은 미리 물어보고 선택하면 갖다줬어요~ 전반적으로 만족합니다
Jin Young
2017-01-08T00:00:00Z
Nice cosy unit on quiet street. Lovely clean bathroom.
Sarah and Tim
2017-01-02T00:00:00Z
Great location near to beach and amenities. Host bent over backwards to meet our needs. Accommodation was great, and very well located.
Phil
2017-01-22T00:00:00Z
Immaculate cosy unit. Lyn was very accommodating with our late check in and we love the 11am check out. It is an easy stroll to the beach for a walk. Enough shops and eateries/resterants close by. Bus stop a stones throw from the house. We stayed in a hot March so the multitude of windows heated up the unit greatly. Wifi was pretty good. Shower was hot and great pressure. Did not use other amenities so can not comment. Garden was well kepted with plenty of rosemary growing which was great with a local cheese.
Claire
2017-03-19T00:00:00Z
Close to the airport and a short walk to the beach, shops & restaurants. A homely 1 bedroom flat with all you might need including functional kitchen. Owners next door but not intrusive, a home away from home.
Richard
2017-01-16T00:00:00Z
Tipo de Acomodação
Casa inteira/apto
---
Tipo de Imóvel
Apartamento
---
Acomoda
3
---
Quartos
Paraparaumu, Wellington, Nova Zelândia
My place is close to parks, restaurants and dining, and the beach. You'll love my place because of the comfy bed and the cosines. Lovely one bedroom self contained flat super quiet sunny and private. Mint location being a two minute walk to the beach and Paraparaumu Beach Shops
Hi we are a lovely one bedroom flat on Golf Road which is a two minute walk to the Paraparaumu Beach shops, beach and transport hub. Quiet peaceful warm sunny flat with king bed and full amenities. Unlimited wi fi an added bonus
Paraparaumu Beach best location in town
Great spacious place to relax and recharge. Beautiful walks by the beach and Marine Parade Cafe/Restaurant was a highlight. Thanks!
Chris
2017-02-14T00:00:00Z
Wonderful cosy home and great value....very handy to beach
Shaaron
2016-12-30T00:00:00Z
We had a lovely weekend stay the place was very comfortable and well equipped. It was also private and quiet and close to the beach and shops. Great bed too. Glen was very accommodating and everything was very easy. Would highly recommend.
Jenna
2017-03-04T00:00:00Z
We really enjoyed it here! Super located, two big and nice decorated rooms with own kitchen, bath and entrance door and super friendly "neighbors" right next
Oliver
2017-02-05T00:00:00Z
Tipo de Acomodação
Casa inteira/apto
---
Tipo de Imóvel
Apartamento
---
Acomoda
2
---
Quartos
Paraparaumu, Wellington, Nova Zelândia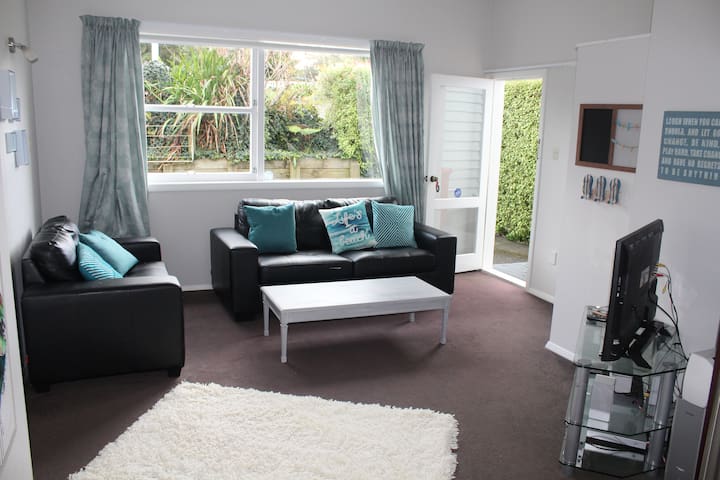 Situated at Raumati South Beach with amazing views of Kapiti Island & Marlborough Sounds, South Island NZ. All day sun. Walk across to beach for a swim or relax with a book. 10 min walk to 600 ha dune & farm park with mountain bike tracks; walks; horse riding. Cafes, groceries 5min walk.
Brand new with your own entrance and privacy. Fully sound insulated and double glazed. Sea views from most windows. My place is on a separate level and has its own space. You have a fully furnished and fitted out apartment with all quality bed linen, towels, beach towels, picnic set; a brand new BBQ; all outdoor furniture for the deck and patio.
Raumati South has a mix of old seaside holiday homes, permanent residents and a few luxury holiday places. There are only 1300 households in our smaller corner of Kapiti Coast. There is a Rudolph Steiner School that brings many parents to our area. We have a mix of visual artists; film creatives; wood cravers and many others as well lots of local musicans who play every Friday and Sunday at our local cafes.
We loved Jayne's house and her hospitality. The house was warm and quiet, the location was perfect.
Jaime
2016-05-23T00:00:00Z
Absolutely lovely place, it has everything you need to feel like home. Jayne is a lovely host and a great communicator! It was great waking up to a gorgeous view.
Gayan
2017-02-03T00:00:00Z
Beautiful location and brilliant appartment. Jayne is also very thoughtful in many ways. A very happy stay.
Julie
2016-12-21T00:00:00Z
From the first communication with Jayne I felt at ease knowing that we had made the right choice. Everything about Seaside Haven was perfect for us! Extremely comfortable beds and all the facilities ( and more) that you could want. We stayed for just over two weeks and the time simply flew by. Jayne was the perfect host and we hope that we will be able to return again in the future.
Colin
2016-08-30T00:00:00Z
This is a cosy, beautiful beach getaway. The kitchen is amazing in both the set up and equipment. There is even a zester. It is stocked The bathroom was top notch. Beds were super comfy. We visited in a cold snap of winter and the heating was perfect, especially the timer so you can have the room heated on your return. Absolutely made the trip as it dropped to 2c with a dusting of snow on the Ranges behind. Beach right our front with Queen Elizabeth Park a short walk away. Stunning views and the Raumati South shops are handy. The garden is being done up as we stayed and have a feeling it will be fabulous when we return in the summer. The welcoming butter, milk and basic spices are really helpful.
Claire
2016-08-08T00:00:00Z
We were at Seaside Haven for several weeks and enjoyed several meals, and much conversation, with Jayne. The accommodations were wonderful and the kitchen was extremely well stocked. Jayne could not have been more helpful.
Terry
2016-12-06T00:00:00Z
Jayne's place is new...a modern, beachy two-bedroom up high over the road, just across the beach and down from Queen Elizabeth Park. Great ocean views and fresh sea breezes...and great sounds of the waves. Apple TV came in handy. Fully-equipped deluxe kitchen w/ essential foodstuffs, gas BBQ on deck, comfy easy chairs and back sun patio out of the back. Nice cafe, restaurant and Four Square mini-super five minutes walk. As Wellington locals we'll be back!
jim
2016-03-04T00:00:00Z
Beautiful location. Great home. Excellent communication. Fast wifi. Very very clean with lovely linen and a great hot shower! We would definitely stay here again and would recommend it to others.
Richard
2016-10-11T00:00:00Z
Tipo de Acomodação
Casa inteira/apto
---
Tipo de Imóvel
Apartamento
---
Acomoda
4
---
Quartos
Paraparaumu, Wellington, Nova Zelândia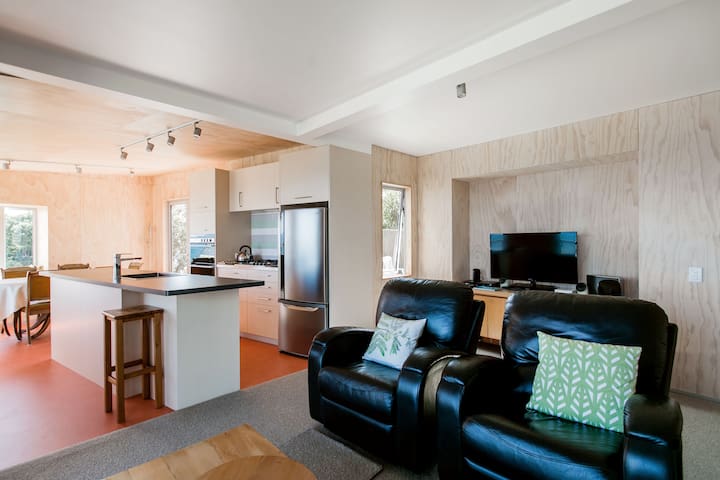 Modern apartment in secure block Heated pool for use
Tipo de Acomodação
Quarto privado
---
Tipo de Imóvel
Apartamento
---
Acomoda
2
---
Quartos
Paraparaumu, Wellington, Nova Zelândia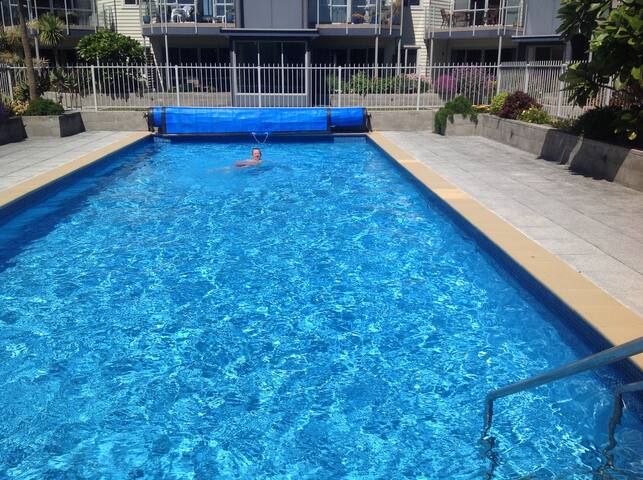 This is a nice quiet 2 bedroom semi detached apartment on ground level. Comfortable Queen size bed. Ensuite Bathroom/toilet off main bedroom (2 entries - and share with owner). Owner only person to share with. Continental breakfast supplied. Can provide evening meal ($15.00 pp) when pre arranged. Carport available for parking.
Tipo de Acomodação
Quarto privado
---
Tipo de Imóvel
Apartamento
---
Acomoda
2
---
Quartos
Paraparaumu, Wellington, Nova Zelândia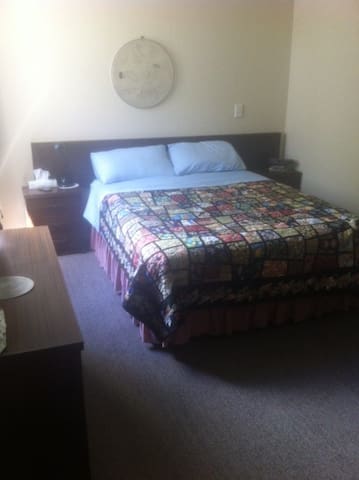 This is a modern 2 bedroom apartment right opposite the beach. it faces out to sea & over looks Kapiti Island... It has amazing views has plenty of cafes and restaurants right down stairs... It is on the second floor..
The sunsets are amazing. This is a second floor apartment and is not really appropriate for young children.
The Neighborhood has many cafes and restaurants and lots of friendly people around... there is a great walking beach right across the road..
We had a great time staying at Rhys's apartment. It boasts an amazing view which is hard to find in Paraparaumu properties, being 2 floors up. The living area is very spacious and comfortable.
Richard
2017-01-13T00:00:00Z
We were met by Rys's wife Debbie, who drove up from Wellington to give us a warm welcome & show us round. We were their first guests. Debbie is a real foodie & had great tips on local eateries, that we enjoyed over our 3 night stay. That apartment is spacious and very comfortable with an unsurpassed view Kapati Island. We'd love to stay here again & definitely recommend it!
Héloïse
2016-02-22T00:00:00Z
We loved staying at Rhys and Debbie's place. Debbie was kind enough to drop the keys to our hotel in Wellington and was very lovely and had lots of great suggestions about local eateries. The place was clean and perfect for what we were after. The views were spectacular. Debbie and Rhys were helpful and genorous hosts. Highly recommended!
Mia
2016-12-19T00:00:00Z
Tipo de Acomodação
Casa inteira/apto
---
Tipo de Imóvel
Apartamento
---
Acomoda
4
---
Quartos
Paraparaumu, Wellington, Nova Zelândia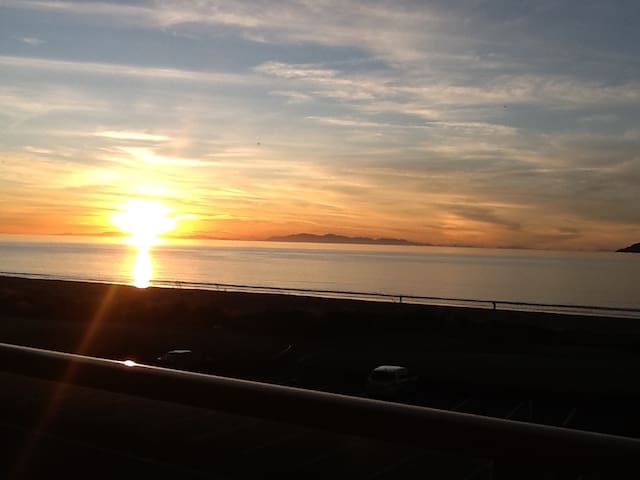 My place is close to Kapiti Golf Club. You'll love my place because of Rural Location. My place is good for couples, solo adventurers, and families (with kids).
It was a cute little bach in a lovely part of Kapiti Coast. Loved the retro feel and decor.
Shanon
2016-06-27T00:00:00Z
This place was perfect close enough to town, beautiful scenery and semi rural! LOVED IT! Quails on the deck Tuis in the trees nearby, so peaceful, very cute and funky! perfect little retreat!
Hayley
2017-02-02T00:00:00Z
Tipo de Acomodação
Casa inteira/apto
---
Tipo de Imóvel
Apartamento
---
Acomoda
3
---
Quartos
Paraparaumu, Wellington, Nova Zelândia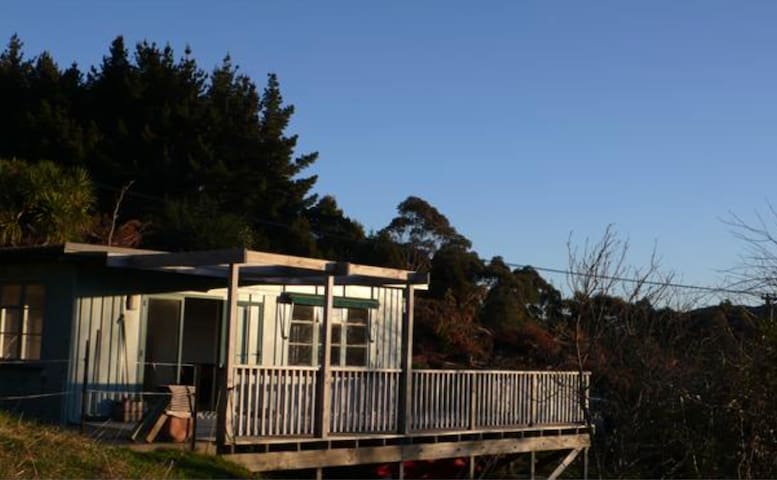 1

–

18

de

18 Apartamentos para Alugar
Insira as datas para ver o preço total. Taxas adicionais serão aplicadas. Impostos podem ser adicionados.