Mais de 300 Apartamentos para Alugar
Ο χώρος μου είναι κοντά σε υπέροχη θέα.
Suite CANAVA est l'un des 5 suites de complexe Santorini Traditional Suites, conçu et décoré selon l'architecture traditionnelle des Cyclades. Il est situé dans le centre de l'île de Santorin à côté du village traditionnel de Vothonas. Debout sur le sommet d'une colline, il offre une vue unobstracted à l'Est, avec une vue le bleu infini de la mer Égée et l'île d'Anafi. Il est construit sur une superficie de 4.000 mètres carrés, loin de tout bruit, entouré de vignes et la nature pure de Santorin, il est baigné de lumière grecques offrant des moments de calme et de détente pour vous et votre famille.
La maison est harmonieusement intégrée dans la nature, exsudant le calme et la détente, avec vue sur le bleu infini de la mer d'un côté et le village traditionnel de Vothonas de l'autre côté.
We spent a wonderful five days and six nights at Anastasia's place. Anastasia's warmth, her availability and excellent recommendations on things to do made us feel so welcome and at home. The accommodations were excellent and exceeded our expectations. The rooms were spacious, well-appointed and immaculate. The bed was very comfortable. The pool was an added treat. While we did not take advantage of the outside grill for our room, we did enjoy savoring our morning coffee while looking out over the countryside to the sea from our terrace. The location was perfect for us–it is away from the crowds, in a quiet area with a beautiful view of the sea, yet accessible to everywhere we wanted to go. (We opted to rent a car and Anastasia facilitated a rental of one, which was delivered to us and picked up at the end of the rental.) The high point of our stay was a sunset sailboat ride of several hours that Anastasia arranged for my husband and me and a family of three who were also staying at her place. The ride included two stops for swimming–one in the hot springs and one off a small island; an informative water-based tour along Santorini's cliffs and small islands; and a delicious dinner prepared on-board that we savored along with the sunset. When the time came for us to leave, Anastasia graced us with a bottle of local wine. She also drove us to the port at a very reasonable cost for us to catch our ferry. It was a wonderful way to end a perfect stay and our first venture to Greece and the Airbnb community. Thank you Anastasia!
J
2016-10-23T00:00:00Z
We have rented the house Santorini Traditional Suite at Vothonas for 2 nights. Anastasia is a very good host, she gave us a lot of advise for our trip. Our stay was perfect and very peaceful. The house is exactly like the pictures with a swimming pool and a beautiful view on the sunrise. However a vehicle is recommended. The closest bus station is at 5-10 min away. Thanks again Anastasia. We really enjoyed our stay in Santorini :)
Pascal
2016-07-27T00:00:00Z
The accommodation is spacious, stylish and very comfortable. A little away from Fira but it really doesn't matter because you'll likely get a car/ATV and it's maybe 10 min to Fira- definitely worth it for all the extra space. Anastasia is a wonderful host, she helped us organise a rental car and transfer to the port when we left. Our plane was delayed and then for some strange reason no taxi drivers wanted to take our fare (maybe because it was too close?? Anyway it cost €15 for the two of us in the end when I asked Anastasia to speak to them) and we arrived passed midnight but Anastasia was super nice and not fussed about it. We did find two pieces of glass (looked like it could have been shattered shower glass?) in the bathroom but Anastasia was profusely apologetic and immediately asked someone to vacuum the bathroom again when we told her in the morning. We had a very comfortable stay, would recommend and would book again.
Carrie
2016-09-14T00:00:00Z
We had a very good time here. Anastasia is super nice and the house was better than we spected. The pool was correct and every apartment has its own table outside so we could enjoy our meals outside. She offered transfer from the airport even if we arrived late at night, and then put us in contact with car rental. Definitely would come back if we are ever in Santorini again. Thank you Anastasia!
leire
2016-10-10T00:00:00Z
If you are looking for a quiet, relaxing place to stay, here will be there best! But my suggestion would be having your own transport since the transportation in the island is not that convenience as in mainland. Overall, wonderful experience with Anastasia and the daughter! Perfect stay!
Melvin
2016-09-01T00:00:00Z
Très bel accueil dans ce superbe endroit. Tout était parfait, logement très agréable à vivre et idéalement situé au milieu de l'île. Anasthasia nous a proposé une prestation parfaite !! Logements à recommander aux prochains visiteurs de l'île !!
frederique
2016-10-04T00:00:00Z
Tipo de Acomodação
Casa/apto inteiro
---
Tipo de Imóvel
Apartamento
---
Acomoda
3
---
Quartos
Vothonas, Egeu, Grécia
Conocer a la verdadera Santorini, tradicional ya la vez confortable. Siéntase como en casa en nuestra casa cueva
Kalitsi es una casa de huéspedes en la pintoresca villa de Vothonas que se encuentra en el centro de la isla en la posición geográfica ventajosa con el rápido y directo acceso a Fira, el aeropuerto y la mayoría de las playas. El asentamiento tradicional de Vothona se caracteriza por la preservación de las características culturales y arquitectura técnica. -Su estancia; Kalitsi es una posición ideal para aquellos que están interesados en explorar en profundidad esta hermosa isla. Kalitsi una casa-cueva de construcción tradicional, se hundió en la montaña que proporciona las condiciones adecuadas para una estancia fantástica. Consiste en 60m2, con un dormitorio doble, cocina totalmente equipada y cuarto de baño y puede fácilmente hospitalizar a 3 personas. Ha sido completamente renovado para ofrecer el mejor servicio para su estancia, invierno o verano. La casa cueva tiene todo lo necesario para una estancia confortable, incluyendo una cocina, secador de pelo, etc. La mayoría de los muebles son tradicionales y hecho a mano por los locales. La vista de las casas está en el pueblo. Justo fuera es un hermoso jardín donde podrá (URL HIDDEN) Incluye plaza de aparcamiento privado. El pueblo Vothonas tiene calles estrechas y callejones que cruzan un viejo río hacia el cañón que comienza desde el pie del profeta Elías, ideal para paseos. La tradición marítima de los isleños creado una relación especial con la Iglesia ortodoxa cristiana, y por esta razón el pueblo aparece 17 iglesias pequeñas y grandes. En la parte alta del pueblo es la iglesia de la Virgen María del agujero construido en la montaña desde 1700, cada año el 2 de febrero se convierte en una fiesta religiosa local. Muchos otros festivales pequeños y grandes se llevan a cabo antes del día festivo de cada iglesia, que expresa la cultura con música y comida local.
I am still thinking about how much I enjoyed my stay here! My review is mostly for Mrs. Irini, the woman who owns the property. (Jackie & Nikos simply handle the reservations.) She was unbelievably helpful; when we realized that we wanted to rent a car, she made a call to have a car brought right to the listing. Every morning when we saw her (she lives right next door), she asked how everything was in case we needed anything. The listing itself is beautiful; the cave house appearance is so striking, with all the white stone walls. This one in particular felt incredibly spacious as well. We were nervous about reaching the listing, as Santorini has no addresses, but we were able to find a cab driver at the airport that was familiar with the location that we described.
Vivian
2015-06-29T00:00:00Z
Absolutely love everything here. The room, the ambiance, the host. Irini (the actual owner of this house) is very kind and nice person and she showed us around Santorini and charged a very fair price. You can also ask her for transfer from and to the airport (no more than 15 euros per way). Funny things is the real place is far better than its photos showcasing here. Recommend!
Paang
2015-05-09T00:00:00Z
Mrs. Irini was a wonderful host and her home in Vothonas was beautiful. We were welcomed with homemade wine and cold water to drink, and she made us feel very comfortable and relaxed. She also helped to call taxi service for us when we needed to get to the airport and the port. Getting to and from her house was a little tricky at first but once you get the hang of the route it feels second nature.
Marisa
2015-09-08T00:00:00Z
The apartment offers the chance to stay in a unique village and is a great spot if you plan to explore the east and southern parts of the island. Our host was very helpful and the accommodation was very good.
Alan
2016-07-28T00:00:00Z
The apartment is beautiful, traditional, very quite, cozy, and in the middle of a very nice town! Moreover, despite the hot outside, the house is so fresh that you don't even have to use a.c.! Irina, who welcomed us, has been more than kind to us, explaining everything about the apt and suggesting also some places to go for dinner/to visit. She has been very available and helpful! They also helped us arranging a transfer from the port, and renting the scooter directly at their place! Overall, a very great experience, and I would definitively recommend this place!!
Francesco
2016-06-27T00:00:00Z
Super accommodation. Pleasant host. Quiet and pleasant village. It was a pleasure to spend a week in this place.
Olivia
2014-06-22T00:00:00Z
It's a beautiful place, really original, calm and lovely. We would love to come back one day!
Lydia Eva-Maria
2013-07-30T00:00:00Z
We absolutely LOVED our stay at Jackie's cave house in Vothonas!!! It is centrally located on the island and a distance away from the more populated areas so it is relatively quiet. The apartment itself is true to the listing- Calm, clean, fully equipped and so serene! We felt well taken care of during our trip and really enjoyed it. I'd highly recommend staying here if you want to be slightly off the beaten path but close enough to the beautiful seaside of Santorini.
Emily
2014-09-07T00:00:00Z
Tipo de Acomodação
Casa/apto inteiro
---
Tipo de Imóvel
Apartamento
---
Acomoda
3
---
Quartos
Vothonas, Egeu, Grécia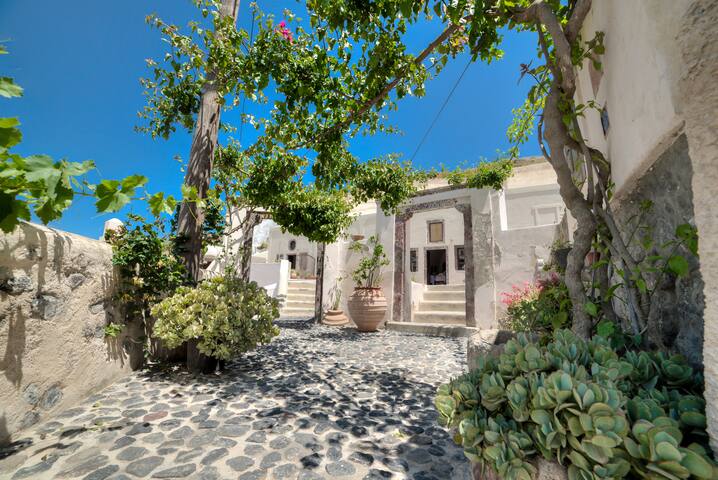 Pithos Apartments Santorini, are located in the centre of the island at the traditional village of Vothonas.
Tipo de Acomodação
Casa/apto inteiro
---
Tipo de Imóvel
Apartamento
---
Acomoda
3
---
Quartos
Vothonas, Egeu, Grécia
Calma, lussuoso casa vacanza con piscina in comune e spa, costruito secondo gli standard ecologici
The unique topography of Santorini has contributed decisively to the evolution of its special indigenous architecture. This, together with the beauty of the natural volcano, its unique historical monuments and geological characteristics, makes the island of Santorini very special and thus a popular tourist destination for thousands of visitors who come every year to enjoy this beautiful Cycladic island. The aura of the Archipelagos (Aegean), the wild colourful rock faces and cliffs, the small picturesque houses chizzled into and on top of the cliffs, the amazing spectrum of colours reflected on the sea at sunrise and sun set, are bound to stir up your emotions giving you an experience of a life time. From the first moment you cross the threshold, you will feel almost immediately the relaxing effect of this unique enclosed sanctuary. With modern design that integrates harmoniously with local traditional architecture and aesthetics. With an exercise in simple decoration and sophisticated luxury, the studio "Maia" invites you to experience, through your senses, the precious and rare opportunity of "putting your feet up" and unwinding……the ideal holiday. Experience the feeling of the feather queen size bed and relax in the beautiful outdoor heated jacuzzi. In the mornings and afternoons allow your eyes to travel across the impressive sea horizon from the private courtyard of our complex and let your heart beat in sink with the ancient heart of the volcano … The studio Maia accommodates up to 4 people. Comfortable and elegant furniture is only an example of quality of this luxurious house. The swimming pool, and the outdoor heating jacuzzi gives our guests the possibility of enjoying tranquillity in this particular area. However, only by driving 5 minutes, you will be in the Kamari beach, with all its attractions (many shops, bars and clubs, fine restaurants, etc). The living room, equiped with the satelite plasma tv will make you feel like at home. A dining table for 4 commensals will enable you to have some meal together, surrounded by this special atmosphere. An exclusive kitchen, situated next to the living room, is fitted to the highest standards and contains all the necessary electrical appliances: Electric oven,ceramic hob, kettle, microwave, fridge/freezer, crockery and cutlery , etc. There is one bedrooms with cork insulated beds, ecological mattresses and feather-pillows. The studio have one bathroom equipped with bath towels, ecological shampoo and a hairdryer. Rooms Bedrooms: This property sleeps a maximum of 4 people. •Double bedroom (bedroom 1): Double. •2 single sofabeds. Bathrooms •Full bathroom (Bathroom 1) : Toilet, Bath with shower and Bathtube . Other rooms •Kitchen, Dining room, Living room. Indoor facilities: Eco heating/cooling system. Outdoor facilities: BBQ Facilities, Outdoor heated jacuzzi, Outdoor Swimming Pool (Seasonal). Parking: Free private parking is available on site (reservation is not needed). Equipment: Kitchen equipment: Electric oven,ceramic hob, kettle, microwave, fridge/freezer, crockery and cutlery. Services: Free daily breakfast basket, Babysitting/Child Services, Dry Cleaning, Bicycle Rental, Car Rental, Fax/Photocopying, Airport Shuttle (Free), Wi-Fi is available in all areas and is free of charge. Entertainment: Satellite channels, LCD TV. General: Grounds, Terrace, Family Rooms, Baggage Storage, Sun Deck.
Tipo de Acomodação
Casa/apto inteiro
---
Tipo de Imóvel
Apartamento
---
Acomoda
4
---
Quartos
Vothonas, Egeu, Grécia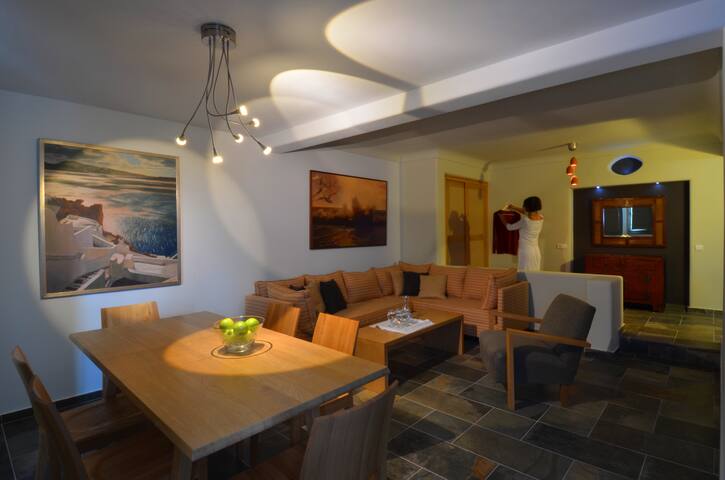 The "Old River Mansion 1897" is a authentic -90 square meter- House of Santorini, originally built in 1897 and it was inhabited by a well known local family of wine makers. We started to rebuild and restore the old House and today it hosts many guests who want to discover Santorini and greek traditions.
The "Old River Mansion 1897" is a authentic -90 square meter- House of Santorini, originally built in 1897 and it was inhabited by a well known local family of wine makers. We started to rebuild and restore the old House and today it hosts many guests who want to discover Santorini and greek traditions. The Old River Mansion have a private entrance and parking for guests, a fully equipped kitchen, a living room with cozy sofas and a large dining table, two bedrooms (one with king size double bed and one with a double), two bathrooms, library and reading area, bedroom balcony, a fireplace in the master bedroom and a large balcony with sun beds with umbrellas and a dining table outdoors.
It is situated in Vothonas village which is a farming village, characterized by the amazing complexes of rock-hewn houses. It is 3.3 km far from Fira, next to Messaria. It was built on both sides of a gorge, which is about 5 km long.
Tipo de Acomodação
Casa/apto inteiro
---
Tipo de Imóvel
Apartamento
---
Acomoda
6
---
Quartos
Vothonas, Egeu, Grécia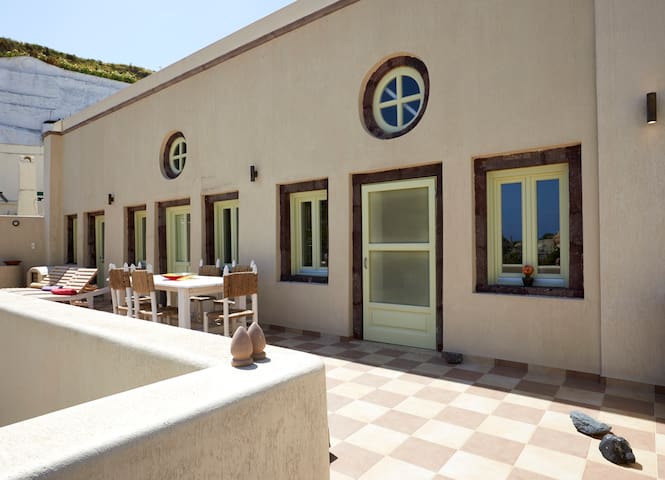 Terraço com vista para o mar Aldera, piscina privada e pátio totalmente mobiliados. Sala de estar / jantar com sofá-cama, TV, decodificador, DVD e kitchenette totalmente equipada. No mesmo nível, cama de casal com cama queen-size e vista para o mar. Loft com cama queen-size e uma ampla varanda privada com vista para o mar. Na cave, quarto ampla e clara com 2 camas individuais e sair em um pequeno pátio. 2 casas de banho. A taxa para este apartamento é de euros para toda a estadia. Aura Marina Apartments é um complexo de nove auto-suficientes apartamento de casas, construído no estilo arquitectónico tradicional distinto de Santorini. Estamos situados perto da aldeia de Akrotiri, no lado sudoeste da ilha, com vista para a caldeira vulcânica e com vistas para a cidade de Fira, e as aldeias de Pyrgos, Imerovigli e Oia. Nossa localização é em uma área rural semi, com um par de bares com comida caseira e vistas para a caldeira a uma curta distância, e um par de supermercados, banca de souvlaki e alguns restaurantes, no centro da vila de Akrotiri em um distância de 800 metros. A praia mais próxima, Kabia é de 2 km de distância. As praias de Mesa Pigadia ea famosa Praia Vermelha é um passeio de nós cinco minutos tempo para chegar às praias de Perissa, Perivolos, Vlychada a viagem de carro dura no máximo 10 minutos. A partir daqui para a capital, Fira, a distância é de 12 km (a 15 minutos de viagem), 15 km de Imerovigli, a 25km de Oia (a 35 minutos de viagem), e 28 km de Kamari (a 25 minutos de viagem). Alguns meios de transporte como um carro ou uma scooter seria recomendado.
De modo geral gostei muito da estadia. Era numa boa localização, num lugar tranquilo e com uma vista fantástica. Apesar de não ficar muito perto das principais atrações (Fira e Oia), uma vez que alugamos carro ficava tudo muito perto. Fomos bem recebidos com muita simpatia e atenciosidade! A casa tinha todas as comodidades necessárias.
Carolina
2016-09-27T00:00:00Z
This house had a beautiful view, it was very clean, and Silvia had lots of good advice about the island, car rental, restaurants and just about anything we asked about. We had a wonderful stay and would highly recommend this rental to anyone looking to stay on the island.
Margo
2016-10-22T00:00:00Z
Bon séjour, belle vue, soleil le matin et il faut bouger pour le coucher de soleil, très bon accueil
Delphine
2016-07-14T00:00:00Z
We arrived as a party of two adults and 2 teenagers with another couple joining us during our one week stay. We booked the apartment Meltemi (6+1) and it was exactly as depicted in the photos. There was plenty of space for everyone and the view was to die for. Located in the quiet end of Santorini you will definitely need your own transportation or use taxis. There is plenty of parking at the top of the driveway where it is only meters away from the apartments or there are about 6 spots at the bottom on the road. We really appreciated the area as other parts of the island are quite frenetic and you are very close to all the best beaches in Santorini. The kitchen had everything you need to do basic cooking. 3 bedrooms and two bathrooms, well appointed, we became quite fond of our holiday home. But I think the best part of our stay was meeting Nike. Nike is the manager of the property and is the perfect person for this job. We probably visited Nike at least once a day to get advice on where to go, where to get specific things, for 'how to' information, etc. Nike was always happy to help and went to the trouble of googling things for us, booking ferry tickets to Athens, communicating with guides when we wanted to do something and taking phone messages when our boat charter wanted to confirm our reservation. We will definitely be recommending this property to our friends and family and we would definitely stay here should be return to Santorini. Thanks Nike for a great stay!
Nicole
2016-07-31T00:00:00Z
Nike was a great Host! She was very helpful answering all my questions before booking with her. She arranged a shuttle for us from the port in Santorini to the home, and helped us book a rental car. When we arrived she printed out maps for us and explained everything we needed to know about the island, suggesting several restaurants for different budgets, told us where the night life was, and showed us where all the important site seeing was. The listing was just like the pictures. It was contemporary, very clean and nice furniture. Plenty of towels and linens for everyone. She offers a laundry service as well. There was free wifi. The kitchen has as much as you need: one stove burner to cook on, a tinier one for the coffee maker, a microwave, a mini fridge and a panini press.
Jeffrey
2015-04-12T00:00:00Z
Nike Was very kind and give us lot of Nice place to eat.. The place Was wery clean and Nice... We had à gréât time
Grégory
2015-09-14T00:00:00Z
The host is very nice and provided a lot of usful information about santorini wheb we arrived. The apartment is as good as it was deacribed
Jade
2015-10-21T00:00:00Z
Very friendly, lovely host who gave us great information and made our stay fantastic.
Jade
2016-09-13T00:00:00Z
Tipo de Acomodação
Casa/apto inteiro
---
Tipo de Imóvel
Apartamento
---
Acomoda
8
---
Quartos
Akrotiri, Egeu, Grécia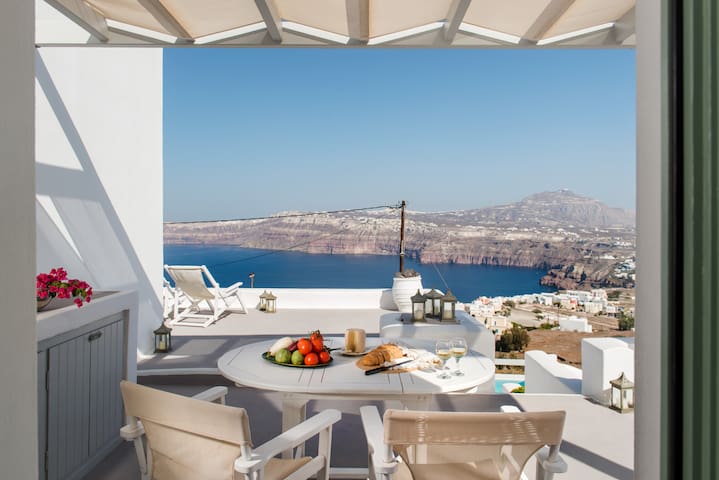 AKROTIRI APARTMENTS is built with respect to traditional local architecture and combines the features of the Cycladic style, with neoclassical elements, offering all modern amenities with a personal style that charms every guest.
Stella and Dimitra are two of the nicest people! Staying at this Airbnb was an amazing experience! I would highly recommend it to anyone if you want an amazing vacation in Santorini!
Matthew
2017-03-22T00:00:00Z
This is a quiet and wonderful location with beautiful view of the caldera. Stella and Demetra are great hosts, very kind and helpful. The accommodations are spacious, bright, clean and inviting and Stella cleans everyday.
cynthia
2017-01-01T00:00:00Z
Nous avons passé un très bon moment. L'appartement est très agréable et la vue magnifique. Dimitri est une hôte accueillante et très sympathique.
Adeline
2016-08-12T00:00:00Z
We couldn't have asked for a better experience with Stella and her family. Stella's daughter, Demetri, offered to pick us up from the bus stop near their house and escorted us to their beautiful apartment. We were amazed… huge main balcony with incredible view, and also had another smaller balcony in the master bedroom with another beautiful view. Everything worked perfectly in the apartment and beds were comfortable as well. They provided a lot of kitchen supplies for cooking, which we took full advantage of each day. The very first night we enjoyed our home-cooked meal and some good wine as we watched the amazing sunset from our balcony. A wonderful breakfast was delivered to our apartment each morning at the time we requested. We highly recommend staying on this end of the island. They even gave us a bottle of wine as we left that their family makes. Great stay in Santorini with Stella and her family.
Mike
2016-07-15T00:00:00Z
Tipo de Acomodação
Casa/apto inteiro
---
Tipo de Imóvel
Apartamento
---
Acomoda
4
---
Quartos
Akrotiri, Egeu, Grécia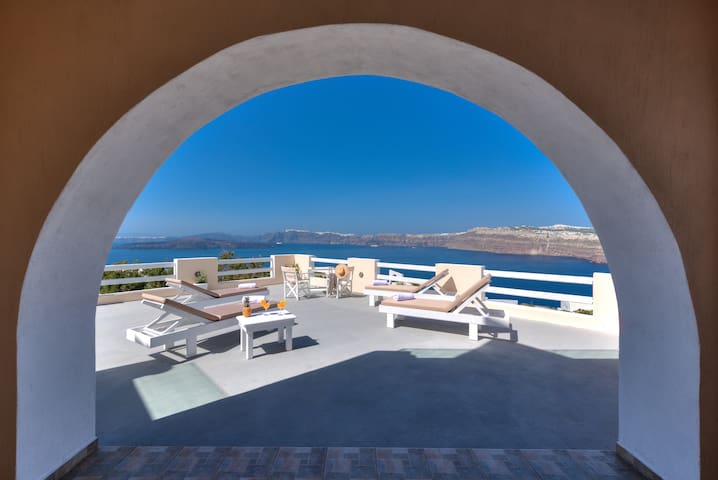 La casa è situata di fronte alle famose scogliere della Caldera. Costruita su un terreno circondato da vigne e vista sul mare. Si trova sulla strada per Akrotiri nel mezzo di un atmosfera tranquilla e un paesaggio con tramonti unici.
L'alloggio si trova immerso nel caratteristico paesaggio dell'isola vulcanica di Santorini, tra mare, vigne e scogliere. La casa giova di un ambiente sereno e tranquillo, lontano dalla confusione dei turisti, grazie alla sua posizione fuori dai centri abitati. Nonostante ciò, si trova a metà strada tra i due paesini di Akrotiri e di Megalochori, facili e comodi da raggiungere. Inoltre vi è un fermata dei bus a 300m che vi permette di raggiungere qualunque centro abitato dell'isola. A proposito del luogo in cui si trova la casa, non bisogna dimenticare lo spettacolare tramonto e lo splendore dell'alba che bacia le vostre finestre tutti i giorni. L'appartamento ha un balcone e un terrazzo ( con vista sul mare) su cui vi è la possibilità di mangiare un buon pasto o una cena tranquilla, godendo del rasserenante paesaggio che vi circonda. L'arredamento dell'appartamento oltre al necessario (cucina completamente arredata, letti e armadi) è composto da foto, quadri e suppellettili realizzati dal proprietario per lasciare un'impronta personale. Il mio consiglio durante la vostra permanenza a "casa di Irene" è di approfittare al massimo della quiete e pace che vi circonda.
Ciò che caratterizza la casa è la zona in cui si trova: una bellissima vista mare e Caldera con magnifici tramonti, il tutto avvolto in una pace rasserenante, fuori dal caos turistico.
Interessante soggiorno in posizione tranquilla e strategica nella parte meridionale dell'isola. Trovare una spiaggia praticamente deserta a Santorini a fine luglio è certamente una preziosa rarità. Peccato per la rumorosità della strada vicina alla casa specie la notte. Gentilissimi e sempre disponibili i padroni di casa,Claudio e Daniela, che abitano al piano inferiore. Spazioso l'appartamento e con un'ottima vista. Un'auto o mezzo si rende abbastanza necessario anche se non proprio indispensabile.
Anna
2016-07-26T00:00:00Z
Très joli appartement, très bien équipé. Accueil très chaleureux de Claudio qui n'est pas avare de conseils et (URL HIDDEN) sur l'ile de Santorin. A recommander sans hésiter !
Christophe
2016-08-01T00:00:00Z
Claudio and his wife were great hosts ! Extremely friendly. They welcome us very well and Claudio went in the airport to take us ! The flat is absolutely beautiful very well equipped and decorated and very clean. The flat is well located close to a beautiful village. He gave us very good advices for typicals restaurants and others great places. We definitively recommended him and his flat !
Pierre
2016-08-05T00:00:00Z
Claudio è un host davvero appassionato. Si vede che è contento di accogliere e mettere a proprio agio le persone.....venirci a prendere al porto per accompagnarci dal car rental e poi a casa (e viceversa alla ripartenza!) ci ha risolto un gran problema logistico e appena arrivati si è presentato con dei libbricini adatti alle nostre bimbe (che li hanno divorati, come noi grandi abbiamo divorato la sua biblioteca di romanzi brevi, davvero ben scelti). Ogni consiglio è stato azzeccato per risparmiare passi a vuoto e vivere 7 giorni (NON FATENE DI MENO, servono tutti!!) in modo davvero equilibrato, scoprendo dell'isola solo bellezza e atteggiamenti di accoglienza ecologica. La casa è in una posizione di forza: da lì si è vicini a tutto quello che conta visitare.........solo Oia è a 35 minuti di distanza, ma laggiù basta una sola visita partendo a metà pomeriggio per far serata......per il resto conviene davvero essere a 10-15 minuti rispettivamente da Fira, il porto, le spiagge più belle dentro e fuori caldera, i tramonti più solitari (Claudio conosce una cappellina a picco sul mare, proprio da non perdere), i punti archeologici...e l'enoteca Santo Wines con la sua vista romantica mozzafiato.....insomma, Claudio ha messo su casa in un punto davvero furbo......baciato anche climaticamente, dato che è sempre raffrescato dai vari venticelli isolani e dell'aria condizionata non si sente proprio la mancanza. Buona linea anche per il Wi-Fi, per chi deve lavoricchiare un (URL HIDDEN) giro spesso trovi wi-fi più di nome che di fatto. Inutile dire che con Claudio ci rivedremo, sperando di assistere anche a uno dei concerti d'arpa che sua figlia Irene organizza sull'isola, quando non è in giro per l'Europa per studio. Allora a presto, Claudio!! Simone, Irene, Anita e Chiara
Simone
2016-07-17T00:00:00Z
This is Airbnb and hosting at its best! No commercial establishment could match our experience at Claudio's: an unique home-away-from home stay. No lengthy manuals on how to operate appliances, etc, no tricky arrangements to collect the key or find the place... Claudio took care of all that by collecting us from the ferry and airport (the same on departure), provided basic rations such as milk, bottled water, tea and coffee. The apartment is comfortable and tastefully decorated, resonating with the hosts' personality. On our first night Claudio dropped us off at a local taverna - the best on the island and away from the tourist throng, and picked us up at the end. A bus stop nearby makes up for the location, and taxis are readily available for anyone having a big night at one of the hotspots. However, own transport is an advantage. Excellent value for money meant more Euros for eating out and sightseeing. Please consider House Irene if you're heading to Santorini, this truly is the magic formula for Airbnb: a great host, excellent accommodation, and value for Claudio should be voted as Airbnb's Best Host.
Jane
2016-09-11T00:00:00Z
Claudio e Daniela ci hanno accolto nel loro splendido appartamento in maniera impeccabile, con cordialità e gentilezza, fornendoci tutte le informazioni utili per muoverci sull'isola. La casa si trova in una posizione fantastica in grado di raggiungere ogni punto in poco tempo. La tranquillità è stata di casa per tutto il soggiorno in quanto la casa è circondata da vigneti e non dal caos cittadino, di fronte casa è possibile assistere ad uno dei tramonti più belli con la caldera che fa da cornice a questo splendido paesaggio. è stato stupendo trascorrere questi giorni nel vostro appartamento ricco di particolari.
Clara
2016-08-26T00:00:00Z
Nuestra estancia en la casa fue muy agradable. Destacaría la amabilidad y atención por todos los detalles de Claudio y también de Daniela. El hecho de que Claudio se ofreciera a recogernos en el aeropuerto fue muy buen comienzo, así como su ofrecimiento a llevarnos de vuelta también al aeropuerto, a pesar de que nuestro vuelo salía a las 5:45 de la madrugada. Él se levantó antes de las 4 para acercarnos. A destacar como puntos más fuertes de la casa: - Es espaciosa y cuida los detalles. Está decorada con cuadros, fotos y detalles personales que te envuelven en un hogar. Todo está muy cuidado. - Dispone de una terraza con mesas y sillas para desayunar y disfrutar de la vista al aire libre - La cocina es amplia y además nos dejó agua mineral abundante, leche y café para nuestro primer desayuno. - El gran armario como estanterías que disponen y un montón de enchufes hace muy cómodo el sacar las cosas de la maleta, sobre todo si somos cuatro personas viajando. - El baño es muy funcional para el uso habitual por su accesibilidad y tamaño. La casa está formada por dos estancias, la planta de abajo es donde residen los anfitriones y la planta de arriba es este apartamento donde nos alojamos, accediendo por unas escaleras con acceso independiente. Tiene una parcela adosada que sirve de aparcamiento, además de un jardín. Desde la ubicación es necesario e imprescindible moverse en coche como medio de transporte. Gracias también a Claudio, contacté con una compañía de rent a car local que me ofreció un vehículo en unas condiciones económicas muy competitivas. Existe también la posibilidad de desplazarse en Bus, hay una parada cercana pero es una opción menos recomendable por la poca frecuencia de paso. El acceso a pie desde la casa a las poblaciones cercanas: Megalochori y Akrotiri es incómodo, ya que, las carreteras de Santorini no disponen de arcenes para transitar y tampoco de pasos de peatones. Estas pequeñas incomodidades fueron sobradamente compensadas por la maravillosa atención y servicio que nos ofrecieron. Sin duda es un gran lugar para visitar la isla y recomendaremos House Irene a cualquiera de nuestros amigos cuando deseen disfrutar de Santorini. Raúl y María José
Raúl
2016-08-17T00:00:00Z
Ravis de notre séjour chez Claudio. Claudio s'est chargé lui même de nous récupérer au port et de nous y reconduire. Très appréciable en particulier qd on arrive tard. Le grand appartement était d'une propreté irréprochable avec de quoi prendre le petit déjeuner. Claudio et sa femme nous ont apporté le pain frais tous les matins et sont aux petits soins de leurs hôtes. La station de bus est proche. Seul petit bémol: la maison est sur le bord d'une route assez fréquentée donc un peu de bruit qd les fenêtre sont ouvertes. Bref on recommande sans reserve!
Valerie
2016-07-29T00:00:00Z
Tipo de Acomodação
Casa/apto inteiro
---
Tipo de Imóvel
Apartamento
---
Acomoda
4
---
Quartos
Akrotiri, Egeu, Grécia
Estamos sempre mais do que feliz em recebê-lo para a bela ilha de Santorini. O estúdio oferece uma kitchennete, caldeira vista linda, uma piscina comum com banheira de hidromassagem e estacionamento privado. Preços a partir de maio 2017 incluem pequeno-almoço, buffet servido
estúdio brilhante tem geladeira, kitchenette (todos os talheres e utensílios necessários), AC, secador de cabelo, TV LCD, acesso à Internet gratuito, varanda privada com uma excelente vista do lado Caldera e água quente (24h). É fuly equipados com mobiliário tradicional. Há serviço de limpeza todos os dias e está incluído no preço. os preços de maio 2017 incluem pequeno-almoço grego. As áreas ao ar livre do hotel oferecem uma bela piscina com jacuzzi ideal para pessoas (aberta de Easter- 10 de novembro) que desejam aproveitar o seu dia, relaxar, tomar banhos de sol e observar a bela vista! Há também uma área de churrasco onde todos os hóspedes têm acesso gratuito ao grill e relaxar na área de estar ao lado da piscina. Estamos localizados em uma área tranquila e agradável, bonito para aqueles que amam a natureza e a visão romântica da caldeira .. A uma curta distância, pode chegar ao histórico farol para tirar fotos maravilhosas de caldeira e pôr do sol e para as tradicionais tavernas de peixe fresco. estamos sempre à sua disposição para ajudá-lo a alugar um carro / moto para a sua estadia para a ilha porque a estação de autocarros mais próxima fica a cerca de 5km ou podemos ajudá-lo a alugar um serviço de transporte a partir do porto / aeroporto para os quartos. Nós gostaríamos de dar-lhe informações e recomendações sobre a ilha, e sugerir algumas agradáveis passeios e passeios de barco. A piscina e jacuzzi estão abertas desde a Páscoa até a 10 de Novembro
a estação de autocarro mais próxima fica a 5 km sowe pode ajudá-lo a alugar um carro, scooter, quad
Un séjour au calme ou les balades en quad sont faisable pour la journée.
Pierre
2016-04-26T00:00:00Z
Martha的房子在santorini的最西南端,离灯塔只有二百米左右,景色很美。最重要的是,非常安静,少游人,因此,价格也更合理。房间很干净,每天都有人给铺床,现在院子里正在修游泳池,明年就可以使用了。不过,你来这里居住的话,必须得有一辆车,这样才才方便你出行。
guowei
2014-11-11T00:00:00Z
Nice and lovely room complete with kitchen and balcony facing the caldera. Too cold to swim. Very near the lighthouse to watch sunset. Near a dive station in caldera beach. They provide rental for quads too. A bit far from the main town of fira and 25mins from airport.
Sheila
2016-05-01T00:00:00Z
This is a fantastic place for people who love walking and exploring the less well known parts of this beautiful island. There are different hiking paths that can be followed as well as fun walk towards Akrotiri archeological side and Venice Castle ruins. It takes around 1.5 hours walking through the car route at 2.5 hours through the beaches pad. It is walking distance to the lighthouse and to some of the vineyards. For us as traveling in shoulder season the weather was perfect for walking. If you want to go to Fira and Oía it is a long Distance walking so then is when you need a car. 25 euros is the regular cost of a cab to Fira square. Another highlight of this spot was Irine, Martha's mother. Irine was like a mother for us while we stay there, who was so welcoming and happy to help wherever she could. Her breakfasts were something we looked forward too, her omelette's fantastic and generous. Set us up for each day perfectly! Thanks Irene for making our stay in your family place unforgettable!
Claudia
2016-11-27T00:00:00Z
I cannot conjure up enough kind words to say how our stay was at Martha's. We met her mom and she showed us our room. (One of the friendliest people I have ever encountered). Nico helped us with our scooter rental and was also unbelievably friendly. Martha responded to all of our mesaages within the hour and hlped us every way she could. I will never forget this family's hospitality and beautiful resort The resort is perfect. Distanced from the hectic city, surrounded by beautiful views all around. The rooms are basic but very clean, include the wifi and have beautiful views. We loved our stay.
Angie
2015-06-16T00:00:00Z
Cannot recommend this place enough. The photos actually don't do it justice! This family run place is just awesome and everybody involved makes it so special. Everything went smoothly. From the arrival, to the renting of a quad to move around the island, to the fabulous breakfast served by lovely Irene every morning. Everybody is so welcoming and friendly, they make you feel like one more family member! If you are planning on coming to stunning Santorini, book this place, you won't regret it!
Marta
2016-08-02T00:00:00Z
Martha's mom was the most wonderful hostess! She greeted us with cookies and orange juice and was always there to help us if we needed anything. She was even patient with my poor Greek. If you are looking for an alternative trip to Santorini away from the tour buses and overpriced mousaka go to Pharos.
Shannon
2014-07-14T00:00:00Z
We are two seniors from Australia who had an absolutely wonderful time at Alisaxni resort at Akortiri. We hired a quad bike for two from Martha's brother Nikos and had a blast exploring all over the island. We walked to the lighthouse where we watched the sunset away from the madding crowds of Oia and the expensive restaurants thereof. We also visited the amazing ancient ruins located at Akortiri. We thought them very well preserved, easy to interpret, completely covered from the blazing sun and only 12 euros entry fee. The pool was beautiful and crystal clear, everything was spotless and in working order and so quiet. As for my dear friend Ierinie (Martha's mother) tell her you're not hungry at your peril! She serves a HUGE and varied breakfast, cooked us pastitsio (like a Greek version of lasagne) and Greek salad with sagnaki (grilled cheese) plus a dessert one night for dinner for 15 euros pax. I would not hesitate for a nano second to recommend this place for any age group ... extremely family friendly too.
Joy
2016-06-21T00:00:00Z
Tipo de Acomodação
Casa/apto inteiro
---
Tipo de Imóvel
Apartamento
---
Acomoda
2
---
Quartos
Akrotiri, Egeu, Grécia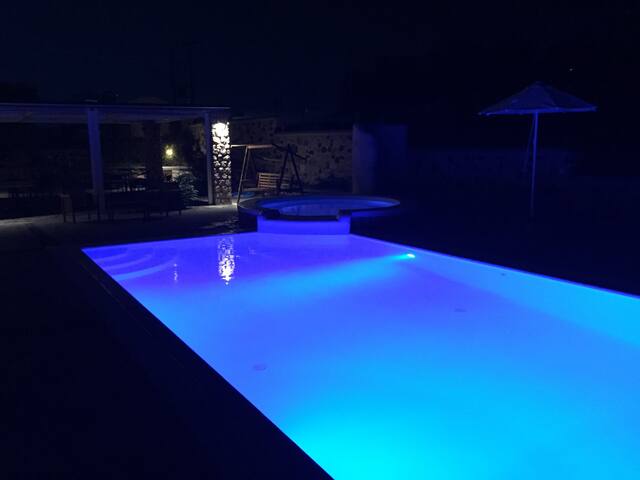 Loukas and Emma Family Houses is a new built complex located at the South part of the island which offers spacious apartments with fully a equipped kitchen and a balcony or terrace, only 500 meters away from the famous black beach of Perissa. All houses are fully equipped with free Wi-Fi and daily breakfast. Our sister hotel next door is open for all our guests if they wish to use the swimming pool and the pool bar.
Loukas & Emma new built house is just opening for guests in July 2016. A lovely maizonette of 60 sq.meters constructed with traditional local style and combines minimal and modern style. A spacious two storey house offer a ground floor with a living room and a fully equipped kitchen and a large bathroom with shower and washing mashine. The upper floor provides a bedroom with a double bed, a sofa and a spacious balcony. The house can accommodate from 2-4 guests. It provides daily house keeping service and breakfast. The property is open all year around
We are located in a quiet area at the South part of the island. Within waling distance there are restaurants, bars/cafes, bakery, supermarket and ATM mashine. The beach is 7 minutes walk.
We had a wonderful time! Emma was amazing. Fantastic energy, always smiling and helpful, answered our questions with patience, and made us feel at home. The apartment was clean, modern and recently renovated. It is a duplex with a small balcony off of the bedroom. While the balcony doesn't have a "view," we loved spending time relaxing on it. The apartment is actually in the village of Perissa (not Akrotiri as the listing implies). We loved Perissa and it was our favorite village in all of Santorni - just the right mix between slightly-off-the-beaten-path / less touristy to easy access to the beach, cafes, public transport, supermarkets, ATMs, etc. The WiFi wasn't great - we could only access it on the balcony or in the common courtyard where breakfast is served. The kitchen was fully-equipped - fridge, stove, oven, microwave, the works! It was great for folks like us who have special dietary restrictions and wanted to do a bunch of the cooking ourselves. The bathroom is on the ground floor, while the bedroom is on the second floor, which is a bit inconvenient. Overall, we had a wonderful time and would definitely come back again!
Dyonna
2016-09-02T00:00:00Z
Family were lovely, and very attentive to anything we requested. Room very clean & maintained throughout our stay.
Siobhan
2016-09-26T00:00:00Z
Tipo de Acomodação
Casa/apto inteiro
---
Tipo de Imóvel
Apartamento
---
Acomoda
4
---
Quartos
Akrotiri, Egeu, Grécia
Η σουίτα VOLCANO είναι μία απο τις 4 μεγάλες σουίτες του συγκροτήματος SANTORINI TRADITIONAL SUITES στον Βόθωνα Σαντορίνης με βεράντα και κοινόχρηστη πισίνα. Φιλοξενεί 4 επισκέπτες. Στο κέντρο του νησιού ,3,5χιλ απο παραλία Καμάρι,4χιλ απο Φηρά.
Σουίτα 60τμ με οντά, κτισμένη στον πρώτο όροφο με την παραδοσιακή κυκλαδίτικη αρχιτεκτονική. Διαθέτει ενιαίο καθιστικό με τραπεζαρία και πλήρως εξοπλισμένη κουζίνα, μπάνιο και ξεxωριστό υπνοδωμάτιο με διπλό κρεβάτι. Στον υπερυψωμένο οντά υπάρχουν 2 μονά κρεβάτια με τα κομοδίνα τους. Η βεράντα είναι μπροστά στην πισίνα και διαθέτει τραπέζι με καρέκλες και εξοπλισμό μπάρμπεκιου. Βρίσκεται στο κέντρο του νησιού της Σαντορίνης, δίπλα στον παραδοσιακό οικισμό του Βόθωνα. Προσανατολισμένο ανατολικά, δεσπόζει σ΄ένα λόφο με ανεμπόδιστη θέα, ατενίζοντας το γαλάζιο της αιγαιοπελαγίτικης θάλασσας και το νησί της Ανάφης. Κτισμένο σε ιδιόκτητο οικόπεδο 4.000τμ , μακριά από κάθε θόρυβο,περιτριγυρισμένο από αμπελώνες και την αγνή Σαντορινιά φύση, λουσμένο στο εκτυφλωτικό ελληνικό φως, προσφέρει στιγμές ηρεμίας και χαλάρωσης σε σας και την οικογένειά σας. Η θέση των εγκαταστάσεων προσφέρει προσβασιμότητα σε όλες τις τοποθεσίες του νησιού.
Ο χώρος είναι ενταγμένος αρμονικά στην ελληνική φύση , αποπνέοντας ηρεμία, χαλάρωση, ψυχική ανάταση , λουσμένος στο αγαιοπελαγίτικο φως και με θέα το απέραντο γαλάζιο της θάλασσας απο την μία πλευρά και τον παραδοσιακό οικισμό του Βόθωνα απο την άλλη.
Great place to stay.
Mark
2016-10-24T00:00:00Z
Tipo de Acomodação
Casa/apto inteiro
---
Tipo de Imóvel
Apartamento
---
Acomoda
4
---
Quartos
Vothonas, Egeu, Grécia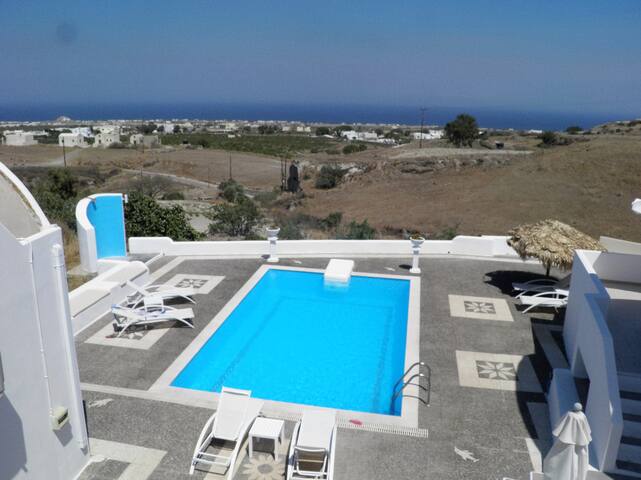 Pithos Apartments Santorini, are located in the centre of the island at the traditional village of Vothonas.
Tipo de Acomodação
Quarto inteiro
---
Tipo de Imóvel
Apartamento
---
Acomoda
4
---
Quartos
Vothonas, Egeu, Grécia
A Suite Deluxe com Banheira de hidromassagem Vista Caldera pode acomodar até 6 pessoas. É espaçoso, 50 m² e distingue por sua chique mobiliário contemporâneo, as alternâncias de pastel a cores intensas e as comodidades que oferece.
From the moment I booked this magnificent spot Penelope was in communication with me and answered all of my questions promptly and to the best of her knowledge. When we arrived Penelope kindly arranged transfer to the hotel and car hire. She was a superb host and made us feel welcome immediately. The place itself is breathtaking and the pics don't do it justice. If you are looking for a quiet spot nestled within the hillside in Santorini then look no further. It's far enough away from the hustle and bustle of Thira and Ouia to ensure you have serious R&R but only 40 mins drive to that spectacular sunset in Ouia that everyone raves about. Locally there is plenty to see and do - Penelope kindly arranged a yacht excursion which was fantastic and brought a different dimension to sightseeing on the island. She has great local knowledge she recommended endless museums and tavernas for us whilst we were in certain areas. Housekeeping was toposted notch Pati was attentive and brought delicious breakfasts every morning and the rooms were thoughtfully presented in terms of decor. All in all we had a wonderful stay on the island creating life long memories all thanks to Penelope and the team.
Shariffa
2016-04-23T00:00:00Z
Unbelievable villa on the southside of santorini equipped with breathtaking views and a private pool. Penelope was extremely communicative and accommodating - she arranged port pickup and went above and beyond to ensure we had a wonderful stay. I highly recommend this place and look forward to staying again in the future!
Camille
2016-10-08T00:00:00Z
Amazing host and excellent service! Beautiful apartment and lovely breakfast
Alexander
2016-10-13T00:00:00Z
Tipo de Acomodação
Casa/apto inteiro
---
Tipo de Imóvel
Apartamento
---
Acomoda
6
---
Quartos
Akrotiri, Egeu, Grécia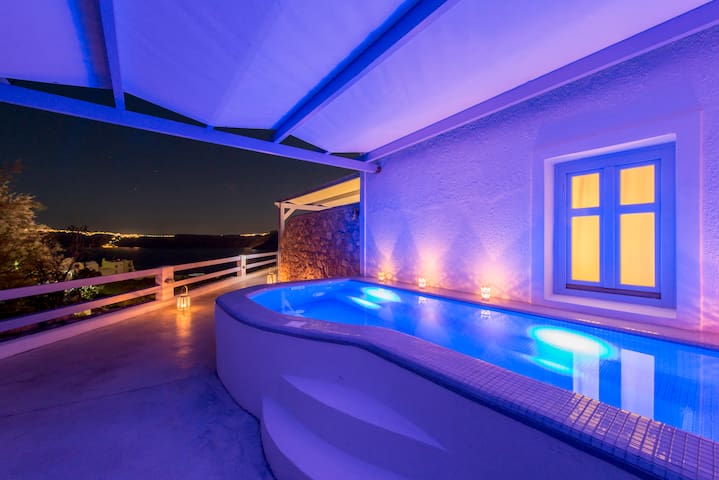 Studio είναι κατάλληλο για τρία άτομα, είναι πλήρως εξοπλισμένο με ξύλινο πατάρι, 1 διπλό κρεβάτι, 1 μονό κρεβάτι, μαγειρικά σκεύη, τραπεζαρία, καθιστικό και ιδιωτικό μπαλκόνι με θέα το απέραντο γαλάζιο της θάλασσας. Αυτό το δωμάτιο βρίσκεται στο ισόγειο. το μέγεθος του διαμερίσματος: 4
Tipo de Acomodação
Quarto inteiro
---
Tipo de Imóvel
Apartamento
---
Acomoda
3
---
Quartos
Akrotiri, Grécia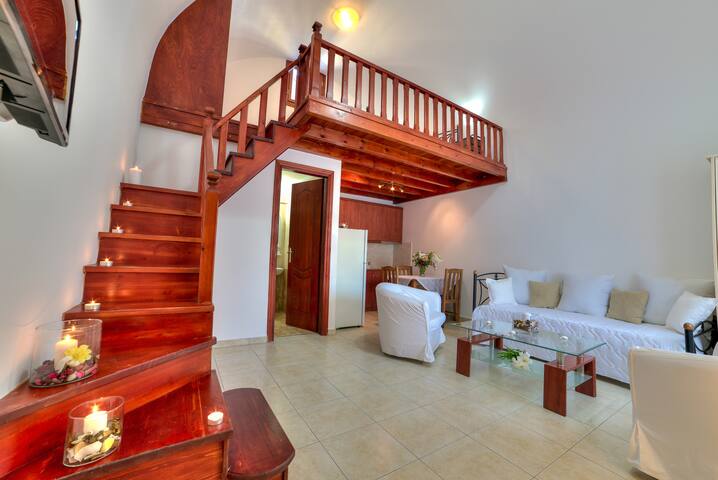 Akrotiri Apartments είναι χτισμένο με σεβασμό στην παραδοσιακή τοπική αρχιτεκτονική και συνδυάζει τα χαρακτηριστικά κυκλαδίτικο στιλ, με νεοκλασικά στοιχεία, προσφέροντας όλες τις σύγχρονες ανέσεις με ένα προσωπικό στυλ που γοητεύει κάθε επισκέπτη.
O melhor atendimento do planeta!!! Stella e sua família são incríveis!!! Pessoas realmente do bem!!! Lugar incrível Vista incrível Tudo super limpo e bem conservado!! Nota 1000!
Felipe
2016-06-13T00:00:00Z
Never be easy to be a super host,but stella is superb.
YIXIN
2017-01-14T00:00:00Z
Very nice apartment, amazing views and very friendly hosts. Short walk (10 min) to bus stop and supermarket. Akrotiri excavation site and red beach also within walking distance (or 5 min by bus). Recommended if you like to stay outside Fira, but still want caldera view.
Dag
2016-09-26T00:00:00Z
Staying with Stella and her family was lovely. It was a Beautiful clean apartment and would definitely stay at this apartment again. Stella and her family all went out of the way to help with everything needed and made transfer's to and from accommodation a breeze. Thank you for having us. :-)
Mari
2016-07-31T00:00:00Z
Staying at Stella's in Santorini was absolutely amazing, the view from the apartment was breathtaking. The apartment was clean and spacious. The kitchen was fully stocked with what you would need to cook. We received such a warm welcome with a nice glass of oj and delicious breakfast each morning. I highly recommend staying at Stella's.
Justine
2016-06-10T00:00:00Z
Great time at Stella's. Stella and Dimitra made everything possible to make us feel home, they are very warm and personable. The place is great, beautiful view, quiet, spacy enough, secure, and away from the touristic district. We had a car so commuting was not an issue to retire into this peaceful place.
Rita
2016-08-11T00:00:00Z
Stella and her family were very lovely and friendly and went out of their way to ensure we had a wonderful experience. The apartment was good with great views but you need a car. It is a long way to Oia and FERA .
Karen
2016-07-07T00:00:00Z
The apartment is wonderful!Very clean and tidy with a fantastic view on the caldera. Stella and Dimitra made an excellent service, they helped us with the car rental, tour booking and transfer from and to the airport, they cleaned the rooms and provided us the breakfast every morning. They made our stay in Santorini really perfect!I recommend this accommodation for sure!
Alice
2016-08-23T00:00:00Z
Tipo de Acomodação
Casa inteira/apto
---
Tipo de Imóvel
Apartamento
---
Acomoda
4
---
Quartos
Akrotiri, Egeo, Grécia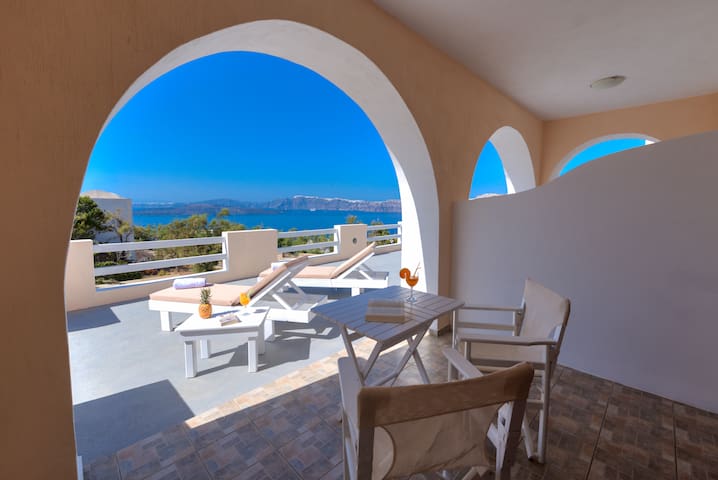 In Akrotiri, next to the Venetian Castle and very close to the pre-historic settlement, lies our hotel. The traditional settlement is less than a mile from the famous Red Beach.
Th hotel was renovated in 2006. We are sure that the friendly, family-like environment and our hospitality will offer you unforgettable holidays. The traditional Cycladic complex has 15 simply furnished rooms and studios enjoying balconies with views of the Santorini caldera. All units are air conditioned and offer a fridge and TV. Guests can relax and enjoy a drink at the outdoor bar by the big swimming pool which is surrounded by lounge chairs and sun umbrellas. There is spacious parking available. The village of Akrotiri is 10 miles from Fira. The bus stop with services with Fira and the beaches is located only 300 ft from the hotel. The hotel disposes: A large swimming pool An open bar where you can enjoy your drink or soda A big and spacious parking place
The hotel is built with the traditional architectural style of the island and it is located in the magically beautiful island of Santorini, at the picturesque village Akrotiri, next to the Venetian Castle (Kastelli) and near the homonymous prehistoric settlement.
Dominica and her uncle (they own & run the hotel) were very kind, welcoming and helpful! They arranged for our transfer to & from the airport. They recommended an ATV/scooter rental place (Diamonti's Team) which was a better deal than the one we found. I strongly suggest that you rent an ATV for at least one day, you can see the whole island that way. The hotel was very clean, located in a lovely setting on a hill above the Venitian Castle and you have a view of both sides of the island from the pool area. The sunrise was beautiful from this location. The breakfast was great, served pool side every morning. Some restaurants within walking distance, as well as the bus stop and also very close to Red Beach. Nice quiet neighborhood. I would absolutely stay here again! Thank you Dominica!!
Cristina
2016-09-11T00:00:00Z
Endroit agréable, isolé et calme. Magnifique vue sur la caldeira. Hôte discrète. Village authentique et endroit privilégié lorsqu'on veut s'isoler du tourisme ambiant de Firah.
Myriam
2015-09-03T00:00:00Z
Tipo de Acomodação
Casa inteira/apto
---
Tipo de Imóvel
Apartamento
---
Acomoda
3
---
Quartos
Akrotiri, Egeo, Grécia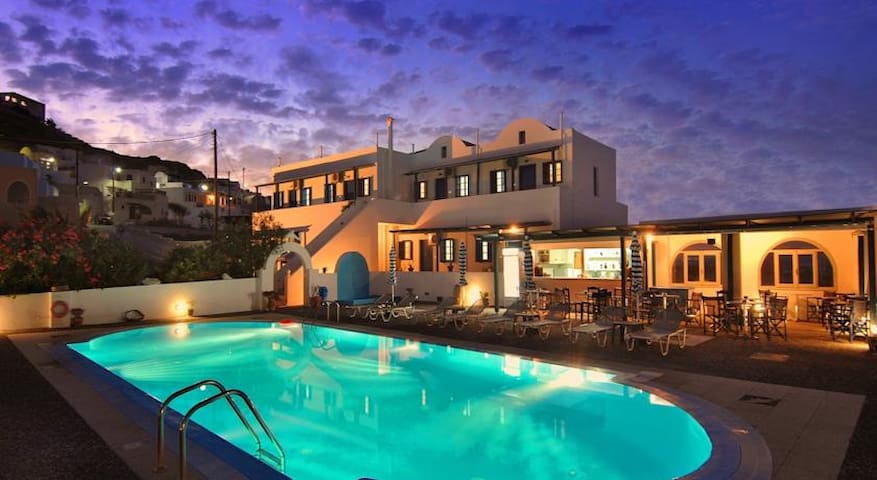 We are always morethan happy to welcome you to the beautiful island of Santorini. Our studio is fully equipped, it offers caldera view, a shared outdoor swimming pool with Jacuzzi and a private parking. prices include daily Greek breakfast.
Shiny Studio with a sofa -bed offers kitchenette (all necessary cutlery and utensil),a refrigerator, AC, hairdryer, LCD TV , free WIFI internet, private balcony with a great Caldera side view and hot water (24h). It is fully equipped with traditional furniture. There is housekeeping service every day and is included in the price. The outdoor areas of the hotel offer a beautiful swimming pool with a Jacuzzi ideal for 6 people (april - 10 november) who wish to seize their day sunbathing and watching the beautiful view! There is also a barbeque area where all guests have free access to grill and relax at the sitting area next to the swimming pool. We are located in a nice and quiet area, beautiful for those who love the nature and the romantic view of caldera.. Within walking distance you can reach the historic lighthouse to take wonderful photos of caldera and sunset and to traditional fresh fish taverns. we are always at your disposal to help you renting a car/moto for your stay to the island because the nearest bus station is about 5km or we can help you rent a shuttle from the port/airport to the rooms . We would love to give you information and recommendation about the island, and suggest some nice tours and boat tours. The small village of Akrotiri lies at the southwestern side of Santorini. The ancient settlement of Akrotiri was discovered in 1967 by the famous archaeologist Spyros Marinatos, who brought into light a whole city hidden under lava and ashes. The prehistoric Akrotiri flourished in 3000 BC, but it was later ruined by the 1500 BC volcano eruption. Today, many objects and important artifacts, are displayed at the Museum of Prehistoric Thera in Fira Town. A few minutes walk from Akrotiri, you will find the Red Beach, one of the most famous and extraordinary beaches in Santorini island. Gigantic red rocks and reddish pebbles create a unique scenery you won't find anyplace else. If you have any questions do not hesitate to contact me.
Everything was correct!!!
Iñaki
2015-09-10T00:00:00Z
bon accueil de la part de la soeur de Martha, toujours souriante et disponible. nous avons passé une agréable séjour, la description du logement est conforme
laurence
2015-09-17T00:00:00Z
The apartment is just as shown in the pictures. The view is lovely and Martha and her mother were very polite and helpful.
La Meva Llar
2013-09-03T00:00:00Z
With a rental car, the drive to Fira, Kamari or anywhere is a comfortable 20mins, and you get privacy. Clean, and the heating keeps the place warm even in the winter. Good value.
Mikko
2017-01-01T00:00:00Z
This rental apartment is located on the southwest end of crescent shaped Santorini Island. Parking here beats overcrowded city locations. Roosters crowing will awaken you at this remote, a generally quiet rental. Martha and her mother are extremely attentive to your every need, while still ensuring your privacy. No car, need something, book a tour, no problem, Martha will do it for you! Martha's mother who makes your bed daily is one of the most loving people I have ever met!!! Just remember if you drive on Santorini's narrow roads, some cliff hanging, you will be driving with every mode of travel, each one going who knows where, at different speeds and very little patience. The three and four person rooms are your best choice, the two person room is quite small. Don't miss Santorini's best kept secret, Ancient Akrotiri, a 3700 year old city decimated first by earth quakes and then finally by the volcano hiding it from view until volcanic rock was needed for the Suez canal exposing the buried city's remains. Just 5 Euros admission admits you to a 50 million dollar restoration of the remaining ruble and artifacts not sent to Athens or the Thira museums, a short drive from this rental. Martha's mother will provide you with a breakfast daily if you choose. There are many super markets on Santorini, if you choose to cook, otherwise tons of restaurants and bars everywhere advertising Caldera views to watch the overhyped sunsets. Bob
Robert
2014-10-13T00:00:00Z
We are sure happy that we did book this apartment we stayed there for 3 nights whit our 2 1/2 year old son. The apartment is nice and clean. Swimming pool is great and this is a perfect place whit great caldera view. But if you stay there you need to have a car coz is to far from puplic transport . But Martha helped us out whit rent a car. When we came ther late in evenig her mother was there and welcome us se is sure a nice lady, every morning see brought to us breakfast that we paid for small amount. If you are planing a trip to Santorini this is the perfect place out of the ower crowded areas. And you have to open for trying the tavernas there around. I would book this apartment if I have plan to come again
Arnar
2015-08-01T00:00:00Z
Couldn't have enjoyed the stay anymore. Everything was just as we hoped. The place was beautiful and the people were friendly. I highly recommend this stay.
Tal
2016-06-02T00:00:00Z
Martha et sa mère sont de bons hôtes et on répondu a toutes nos attentes. Le logement est grand et propre et a toutes les installations nécessaires. Il faut dire que le logement est quand même loin des activités à faire, heureusement il est possible de louer un quad/scooter directement sur place. Nous recommandons ce logement.
Nicolas
2015-09-21T00:00:00Z
Tipo de Acomodação
Casa/apto inteiro
---
Tipo de Imóvel
Apartamento
---
Acomoda
3
---
Quartos
Akrotiri, Egeu, Grécia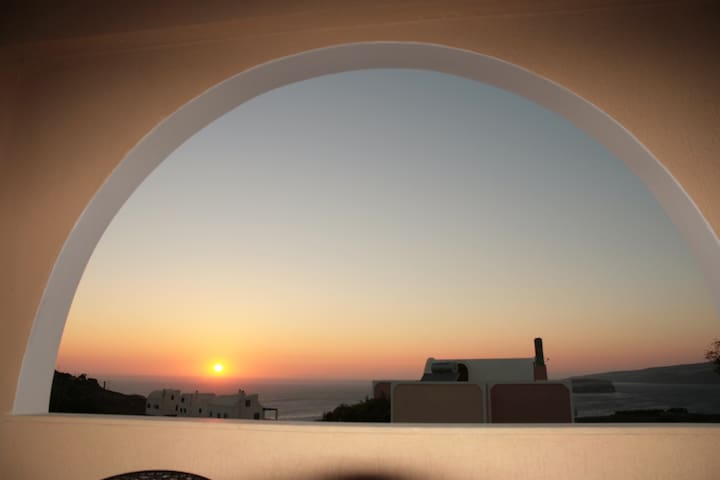 Η Σουίτα Premium με τζακούζι με θέα στην Καλντέρα μπορούν να φιλοξενήσουν μέχρι 4 άτομα. Είναι ευρύχωρα, 50 τ.μ. και διακρίνεται για την κομψή σύγχρονη επίπλωση της, οι εναλλαγές των παστέλ με τα έντονα χρώματα και τις ανέσεις που προσφέρει.
We felt so welcomed by Penelope! The suite was exactly as pictured, but even more beautiful in person. Communication with Penelope was fast and helpful and the daily breakfasts delivered to our suite was such an amazing touch. Though not close to restaurants, Penelope recommended several who pick up and drop off guests for meals. Overall an amazing stay and I can easily recommend this place to friends.
LACI
2016-10-17T00:00:00Z
It was perfect, same as described. The hot tub, the view, the apartment, every thing was very clean and beautiful. Penelope, Eftichis' assistant, was very thoughtful and kind. It was not possible to cook in the apartment, but there is absolutely no problem to find restaurants around or even to get the food delivered. There is no official parking near the hotel, but we managed to park anyway. We were there in April, and it was the perfect quiet note to finish our trip to Santorini.
Thomas
2016-04-14T00:00:00Z
Amazing Rental! Private pool and view were worth every dime. Penelope woke us up to breakfast each morning and gave us all the best tips for the island and even booked our dinner reservations. Best airbnb host hands down!
Dan
2016-09-14T00:00:00Z
Penelope é stata disponibile fin dalla prenotazione e per tutta la durata del nostro soggiorno, sempre pronta a darci consigli ed ad esserci di aiuto per prenotazioni di transfer o escursioni. La casa era meravigliosa sia per gli spazi, per i servizi che per la posizione e la splendida vista.
Isabella
2016-08-09T00:00:00Z
We had a fantastic stay at this hotel. Located in a quieter part of Santorini, about 20 minutes away from the airport by car, our room had a clear view of the caldera, with the villages of Fira and Oia in the distance. The property is very well-maintained, the room is clean and spacious. But what made our stay special was our host, Penelope. What sets her apart is her personal touch. Even though we were only there for a few days, she treats you like a good friend, is easily the best hotel manager I have encountered anywhere in the world. She is always enthusiastic, friendly and kind, always making sure we had everything we need and give us the best recommendations for activities and restaurants. And she also makes the best frappe on the island!
Keith
2016-08-01T00:00:00Z
Ios is an amazing place and this apartment is perfectly situated between the most beautiful beaches and exciting night clubs and bars. Our host was great helping to transport us from the ferry and recommending scooter and quad hire. The apartment has a relaxed feel. Great views. Comfortable lodgings perfect to pop back to on your way from the beach before heading out to party. Great place!!
Jacinda
2016-07-01T00:00:00Z
Penelope was so fabulous with everything! Communicating with her was almost too easy. She helped us with everything we needed from connecting and setting up shuttle services to and from the port to calling a rental ATV to come to the villa. Our honeymoon trip in Greece was amazingly concluded with staying at Onar villa. We started in Athens with another BnB provider then a hotel stay in Mykonos and with all those combined the stay in Thira was the best of the 3! Her partner Pat was also equally dependable! She'd come by everyday to tidy up with anything we'd missed. I'd message Penelope that we left for the beaches for the day and Pat can come by if she wanted to come earlier. They also kept offering to stock the fridge with deli meats, fruits, milk, juices, coffees and anything you want and need with basic everyday breakfasts. My husband cooked us fresh eggs in the morning that we bought at the local market which was just a walk away. The ladies would leave a fresh loaf of bread every morning. She'd also give us a list of bread choices. She was beyond generous. In the mornings she'd occasionally come by and check in on us, see what we thought about the recommendations she gave and see if she could set up any tourist events for us. We'd chat and laugh at anything that came up in our fun conversations. Once I'd mentioned I loved cherries. The next morning she left a bag of cherries with some fresh figs from her neighbors trees and some Greek plums. Wow! You'd be doing yourself a solid if you choose to stay with Penelope and the Eftichis crew! My husband and I were both thoroughly impressed.
Joe
2016-06-17T00:00:00Z
This was our best AirBnB for our Greece trip! If you are thinking about staying on Santorini, this is one of the better places to look at. The views are amazing and away from all the crowds in the main towns. The place is very spacious, clean, and modern. It is the perfect quiet romantic getaway. The host, Penelope went above and beyond to make sure our stay was the best. She offers breakfast to the door every morning whenever you want, will book you a car or ATV for rent (highly recommended to see the full island), and even helped us figure out our flights back to Athens! She is the epitome of Greek hospitality. If we ever got the chance to come back, we would only want to stay here!
Taylor
2016-10-15T00:00:00Z
Tipo de Acomodação
Casa/apto inteiro
---
Tipo de Imóvel
Apartamento
---
Acomoda
4
---
Quartos
Akrotiri, Egeu, Grécia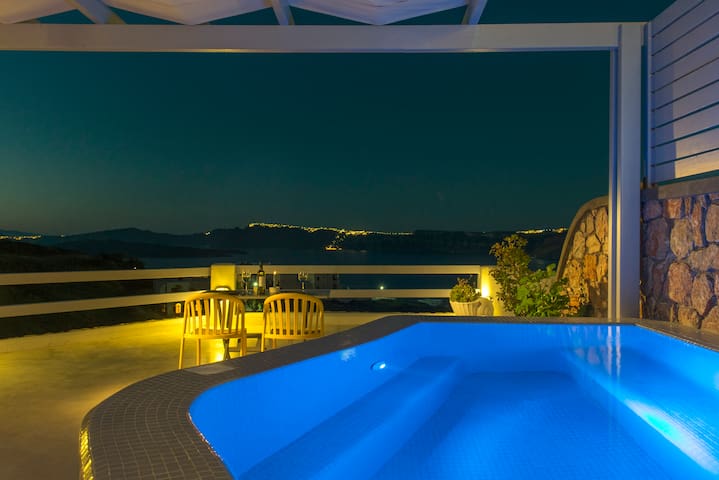 1

–

18

de

Mais de 300 Apartamentos para Alugar
Insira as datas para ver o preço total. Taxas adicionais serão aplicadas. Impostos podem ser adicionados.