Enjoy the convenience of a great location in a clean and quiet apartment located in the beautiful bay of Vinišće. You are only step away from the nearest beach and the center of Vinišće, where you can find restaurants and shops.
The apartment is spacious and bright, has one bedroom with a large bed and wardrobe, living-room area with a kitchen and a sofa that converts in a bed. The bathroom is new, modern, equipped with washing machine. From our terrace you can enjoy on beautiful summer sunrise and sunsets. Child's bed are also possible on your request.
Apartments Kupinica are located near center of Vinisce, and in neighbourhood are few restaurants, market and beautiful beach.
To były cudowne wakacje :) Vinisce - urocze, apartament Kupinica - bardzo przytulny, widok z tarasu niezapomniany a restauracja pod nim - smacznie i blisko. Ivan to bardzo miły i i dbający o swoich gości gospodarz. Polecam w 100% !!!
Marta
2016-08-11T00:00:00Z
Ivan was a great host. I've booked the apartment for my parents and my brother and they were very pleased with it..they said they would definetly go back
Milka
2016-07-30T00:00:00Z
The host canceled this reservation 25 days before arrival. This is an automated posting.
John
2016-06-01T00:00:00Z
Nous ne sommes restés qu'une nuit mais Ivan nous a accueilli très chaleureusement et s'est montré très disponible. L'appartement est conforme aux photos, très joliment décoré, avec une magnifique vue sur la mer. Nous avons dégusté un excellent poisson grillé au restaurant d'Ivan, situé sous l'appartement. Visnisce est un joli village de pêcheurs avec de petites plages tout le long. (Voiture obligatoire). Nous recommandons cet appartement.
Armelle
2016-08-12T00:00:00Z
We spend three days to yvan's flat. Yvan has been a great and very carefuly hote with us. His restaurant si just near the flat and the food is awesome. Thanks for your hospitality
audrey
2016-05-23T00:00:00Z
Tipo de Acomodação
Casa/apto inteiro
---
Tipo de Imóvel
Apartamento
---
Acomoda
3
---
Quartos
Vinišće, Condado de Split-Dalmácia, Croácia
Set by the beach in the small fishing village of Vinišće, Apartments Selina has airconditioned accommodation units with free Wi-Fi and a balcony offering panoramic sea views. Free parking is available on site,and you can shop for groceries just 50m.
Das Apartment ist wirklich super gelegen und vom Balkon hat man eine wunderschöne Aussicht. Auch die Vermieter sind sehr nett und hilfsbereit. Direkt vor dem Apartment gibt es Liegen, die nur für die Apartmentgäste zur Verfügung stehen und auf einen Bootstrip wurden wir auch eingeladen. Das Apartment war sehr sauber und alles Wichtige war vorhanden. Ich kann das Apartment mit gutem Gewissen weiter empfehlen!
Iris
2015-08-03T00:00:00Z
Le logement était moderne, très propre et très bien équipé. Il y a des transats réservés devant l'appartement ce qui permet de pouvoir se baigner très facilement. Vera nous a très bien accueillis et nous a invités à faire un tour de bateau avec son père pour découvrir la côte. Ce fut un moment très agréable. Vinišće est une petite ville bien sympathique pour des vacances en famille.
Marc
2016-07-27T00:00:00Z
We had a very pleasant stay at Vinisce. It is a great place to enjoy a stress-free vacation. Vera, the host, is a very friendly and helpful person, who was very concerned about our welfare. We felt very welcome when we were invited to a little boat trip along the shore, on the second day of our stay. Another day Vera and her father prepared a nice meal for us, with fresh fish and a bottle of homemade wine. The apartment is very nice, clean and well equipped. We got fresh towels after some days. We also found salt, pepper, olive oil and vinegar in the kitchen. The bathroom is very small, but nice and clean. From the balcony we had a great view at the sea. We enjoyed our time in Vinisce and highly recommend this accommodation.
Barbara
2015-07-28T00:00:00Z
The host canceled this reservation 2 days before arrival. This is an automated posting.
Christoph
2016-08-09T00:00:00Z
Tipo de Acomodação
Casa/apto inteiro
---
Tipo de Imóvel
Apartamento
---
Acomoda
2
---
Quartos
Vinišće , Splitsko-dalmatinska županija, Croácia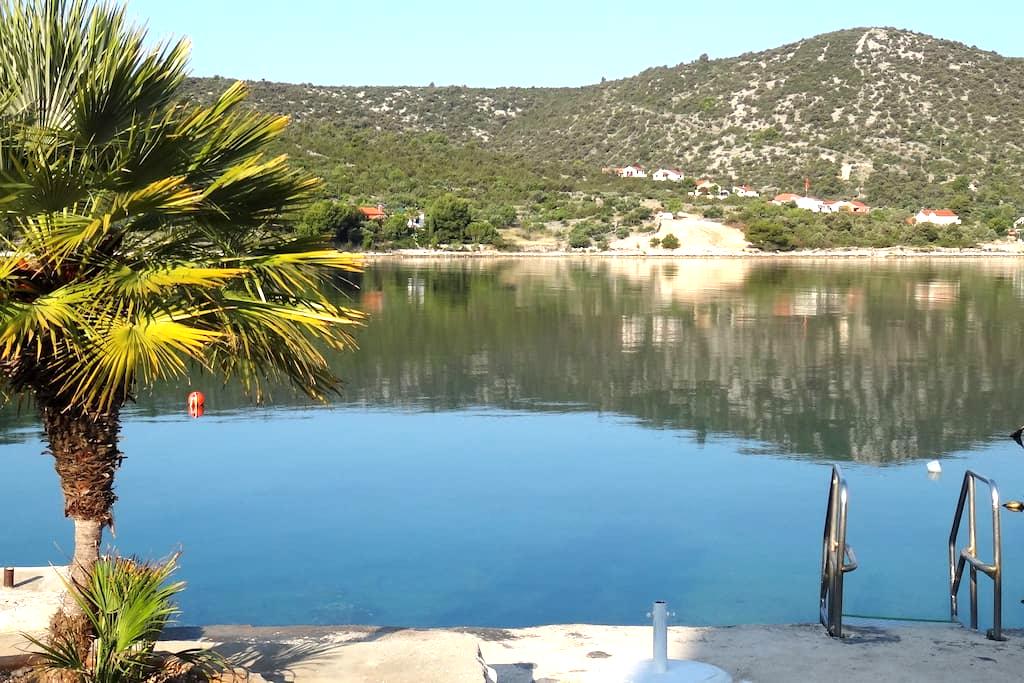 The villa is located in the seaside village of Vinisce. It lies just 22 kms from the UNESCO protected town of Trogir. The coastal town of Primosten is 25 kms away. Split airport is also within an easy reach. The villa is ideal for familes with children or small group of friends. If you are looking for a peaceful and quite vacation this is the right place to be. The village harbour featuring crystal clear water is only a five minutes walk from the villa. There is a gravel road leading to the villa. Three parking spots are located to the rear of the property. There is a large terrace overlooking the pool and BBQ area with a spectacular village and sea view. The entrance is accessed from the terrace and leads into a large lounge area with kitchen and indoor seating. The lounge area features a panoramic window with a view of the pool area and village harbour. Additionally, the villa consists of two double bedrooms, one overlooking the pool area. There are two bathrooms, both with shower. The pool area consists of BBQ/summer kitchen with dining tables and chairs as well as sun recliners. The house provides an ideal starting point to explore the entire region of Northern and Central Dalmatia. The national parks of Kornati and Krka are only an hours drive away. The cities of Sibenik and Split are only 45 mins drive from the house.
The house is very nice, clean and quiet. It is very well equipped. The caretaker is a very nice lady. She has given us plenty of vegetables from her garden as well as fresh fish. The swimming pool is small but it is an asset and the house is 10 minute walking distance from the sea. We highly recommend this place for people looking for a relaxing holiday that can easily be combined with sightseeing.
Eve
2014-08-10T00:00:00Z
Tonko was really helpful from the start, being exceptionally punctual with his email responses and offering excellent local knowledge. The villa was as described and pictured and was well equipped. The pool is not too small; it is ideal for a couple staying or even a small family. The perfect location for a quiet sleepy getaway. We would happily stay again!
Charles
2014-09-07T00:00:00Z
This villa was fab. Fantastic location and the pictures do not do it justice. Tonko was really informative about the local area and very friendly. We felt really welcome on our first visit to croatia......will definately be going back!!!
rebecca
2014-06-13T00:00:00Z
The house was well appointed and in a good location for the village. Short walk to shop and couple of restaurant bars. Pool is small but all that's really needed. Outdoor BBQ area is excellent. Excellent place for peace and quiet though does seem that more places are being developed in surrounding area. Really do need to hire a car though to make most of area.
Claire
2015-06-07T00:00:00Z
Tonko's communication was excellent which really helps. The villa was as described and enjoys superb views in a very peaceful location. The village itself is very quiet. The pool is small but welcome in the heat, we really enjoyed the outside kitchen but would have preferred a dishwasher and oven in the main kitchen, Bed 2 and the shower room are quite small but as 4 adults we managed fine.
Paul
2015-09-24T00:00:00Z
My Family and me had a great time at Tonkos House. We really enjoyed the time. It is a great place to stay and to relax. Thank you very much Tonko for having us. We can absolutely recommend this nice place.
Ivana
2015-10-17T00:00:00Z
The location is great, but very quiet. We would have enjoyed the area more if we,d had a car.
Jo
2015-09-03T00:00:00Z
Tipo de Acomodação
Casa/apto inteiro
---
Tipo de Imóvel
Vila
---
Acomoda
4
---
Quartos
Vinišće, Condado de Split-Dalmácia, Croácia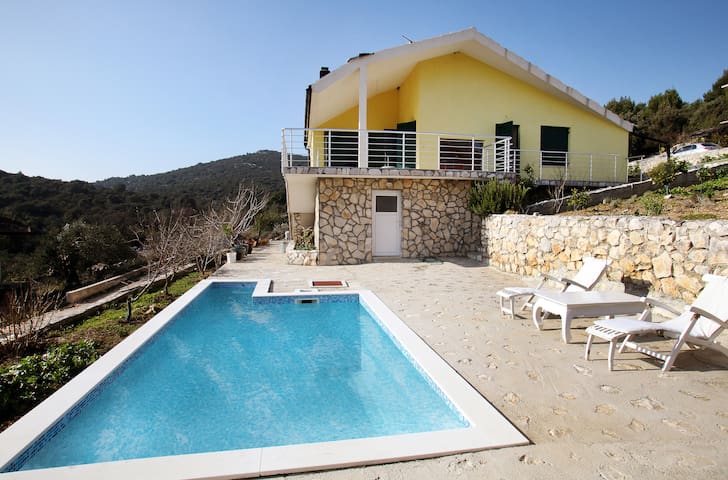 Our 1 room apartment is situated in quite area. The bay beach is just 5 minutes within walking distance. It is very clean and provides full comfort with a kitchen, bath and balcony. We are glad to recommend you trips, fish and beaches - just ask us.
The holiday feeling starts directly with entering the room. Our apartments have a warm and mediterranian atmospehere. More over it offers all required amenities. With a well equipped kitchen unit, a bath, a balcony and satellite TV on demand you can start a relaxed holiday.
I like the proper overview of the beach, the calm water, that guarantees untroubled and save holidays for families with children. I also like the silence that starts from September and offers a great contrast to the stresful everyday business life, the moderate temperature (30 C° ;-) / 86 °F), that offers relexation to the singles and couples far away from the crowdy mega cities of this world. I like the great location: situated central between the beatiful little towns Trogir and Primosten as well as Split and Sibenik - that are besides part of the UNESCO world hertitage. I like the surounded hills and the islands (Hvar and Brac) - in a word the versatility - which allows to decide spontaneously if you want to make a scouting expedition or just lay on the beach. Not least I am proud that this is just a small extract of the opportunities offered in and by Middle Dalmatia.
Good communication with Ivana and her mother, who speaks German. The place is clean, and spacious. Parking spot just next to it. 5 minute walk to the beach. We didn´t try the bus to Split, as we took our car. Modern place. Good beds. Watch out for sunlight and mosquitos. Great terrace!
Paul
2016-08-03T00:00:00Z
Ivana was a great host and her apartment is great well furnished and very clean. The apartment location is perfect just a few minutes walk to the port and sea. Ivana gave us good recommendations for restaurant and beaches, shopping places. Her outdoor fireplace was really good and well-equipped. We reccomend Ivana's apartment.
Béla
2014-08-24T00:00:00Z
The apartment was nice and clean. It was quite little but there was all the necessary for our stay. The position is perfect to visit Trogir and Split. Ivana is very nice and helped us giving advices and information for our holiday.
serena
2015-08-03T00:00:00Z
Great! We spent a couple of days in Ivana's apartment in this small village close to the ocean. balcony with a nice view and a quiet room. We really enjoyed out stay and would definitely come back again. Ivana is friendly and helpful.
Lino
2015-08-29T00:00:00Z
C est la maman d Irvana qui nous a accueilli, elle parle surtout l allemand. Le logement est bien situé pour visiter Trogir et Split. Nous avons apprécié les plages et surtout le petit village voisin de Vinisce (une petite perle). Logement très propre et fonctionnel, nous avons passe un très bon séjour
Pierre-Marie
2016-08-07T00:00:00Z
I stayed at Ivana's home for 2 nights and the experience was ok. A normal room with king bed, a small bathroom with shower, a very small kitchenette with dishes. No toaster in the room, only a mug for hot water. Also Ivana was not home, only her mother, and she doesn't speak english, but we understand each other with a little germain. Also the path to the house to park the car was a little bit heavy. Otherwise it was fine to stay there. I recommend for the price.
Gabi
2016-07-19T00:00:00Z
The apartment is clean and cosy in a quiet area. Balkony with a nice view. Ivana and the family is very friendly and helpful. Overall a nice apartment which we can recommend
Soenke
2015-07-23T00:00:00Z
c'était génial
Héloïse
2016-07-31T00:00:00Z
Tipo de Acomodação
Casa/apto inteiro
---
Tipo de Imóvel
Casa
---
Acomoda
2
---
Quartos
Marina, Splitsko-dalmatinska županija, Croácia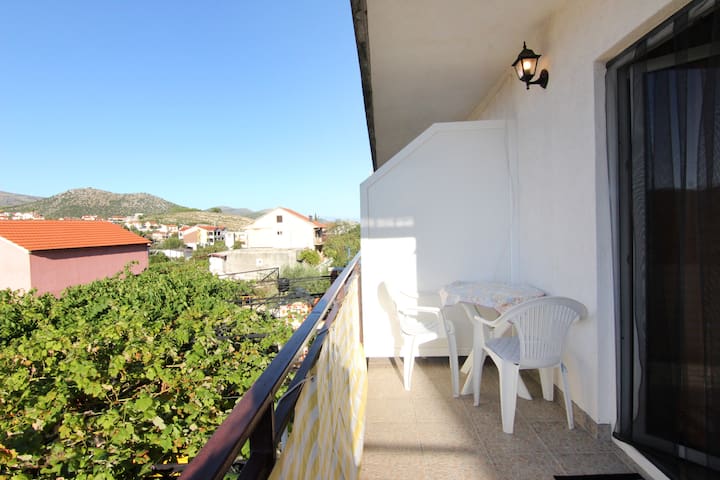 Perfect location, isolated bay Vinišće is about 25 kilometers from Split airport. Ideal for those who travel by car and want to take a break for a bit of peace and quiet. Halfway between Split and Sibenik, in the heart of Trogir Riviera, the perfect choice as a base for excursions to the Krka waterfalls, Plitvice... Great place to get away from the crowds. A small fishing village Vinišće offers several good restaurants and the possibility to rent a boat and sail out to some hidden beaches.
The apartment offers 1 sleeping room with real bed and extra bed (couch) in living/dining room in comfortable apartment (40 sq meters) on the first floor of the family house. It has one bedroom, kitchen, living/dining room, toilet and small balcony. Perfect for two guests or family with small child. There are parking spaces in front. Once You arrive here everything is within walking distance. Nearest bars, restaurants and grocery stores are 100 meters away. It's possible to swim right in front of the house or couple of hundred meters away at the pebble beach. The property is equipped with air conditioning, SAT TV and wireless Internet. Outside barbecue on ground level and summer kitchen are perfect for dining fresh fish from local market. The guests are offered breakfast at extra charge. There is an additional studio apartment at the ground level which is rented out separately. The motorboat in front of the house is also available for rent. Enjoy Your pleasant stay in Vinišće - quiet fisherman village 20 km from the town of Trogir and 25 km from Split airport.
The lovely fishing village of Vinisce is perfect for your vacation. It offers a range of cafés, restaurants, konobas, and a local farmer market. Enjoy a good cup of coffee while watching sailing boats entering or leaving its beautiful bay. It is a real pleasure. Come and join us in September and October. Croatia's most beautiful months. Enjoy gorgeous temperatures, dive into clear sea water heated by the hot summer. It's nice to stroll through the town along the waterfront in the evenings mixing with locals and enjoying traditional local fare. A few grocery stores provide for anything you would need to prepare a complete meal, a lunch or a snack. Bakery goods are tasty and plentiful in the mornings, but get there early for the best selections. Don't miss the chance to charter a boat and take in the breath-taking coastal views of the Adriatic. Be sure to visit the famous harbor town of Trogir, about 20 minutes from Vinisce. It's well worth a trip to see this historic gem. It a UNESCO World Heritage Site, with beautiful Romanesque churches and Renaissance and Baroque buildings from the Venetian period. There are many shops and restaurants to choose from as you wind your way through the passageways of this ancient town. Don't visit the region without spending a day in Split. What's not to love about a city center contained within the walls of a 1700 year old palace? It's an amazing experience and a step back in time. Bring your camera with wherever you go; the scenery is stunning! Be sure to walk the "Riva" and enjoy the ambiance and flavors of Split.
Alen is the best Airbnb host we have ever had. He reserved a table at a restaurant for us so we could watch the European championships with a great view, gave us tips on private places for swimming, and had his parents waiting to let us in. Great communication and the apartment is absolutely wonderful. Gorgeous decoration and incredible value for the money. This little town was my favorite place in Croatia.
Christine
2016-07-08T00:00:00Z
Tipo de Acomodação
Casa/apto inteiro
---
Tipo de Imóvel
Apartamento
---
Acomoda
2
---
Quartos
Vinišće, Splitsko-dalmatinska županija, Croácia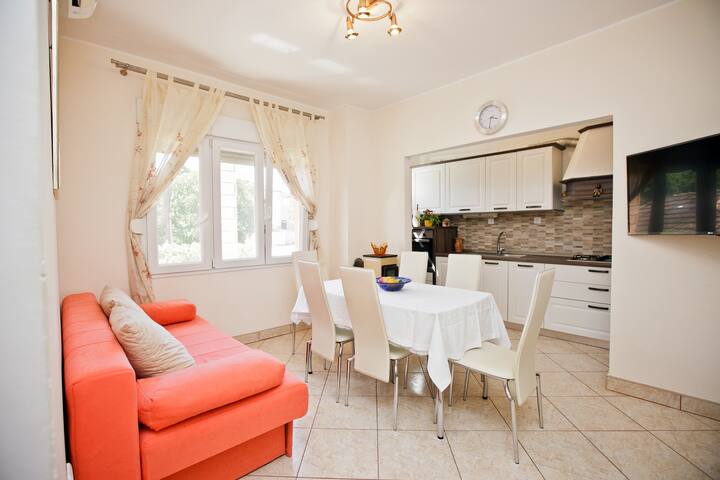 Our apartment is located in a small mediterranean village called Seget Vranjica. It is strategically located because it offers the comfort and privacy of a small mediterranean village and also the accessibility of famous Dalmatian towns.
Our dear guests. We offer good quality at an affordable price. Our apartment is located in a small mediterranean village called Seget Vranjica. It is strategically located because it offers the comfort and privacy of a small mediterranean village and also the accessibility of famous Dalmatian old towns such as Trogir, Split, Sibenik and the Krka National Park. The beach is 30 meters from the apartment and the main gravel beach is located in the village center. In the center of Seget Vranjica you can find several local restaurants offering local dishes. The apartment is located 5 minutes drive from the beautiful and well-preserved medieval mediterranean town called Trogir, which is under the protection of UNESCO. The world famous and largest Dalmatian city of Split is 30 minutes drive by car . In Split you can enjoy the world famous Diocletian palace, ancient architecture, numerous museums, restaurants, and clubs. Nearby is the old town of Sibenik and the Krka National Park, both within an hour's drive from the apartment. The excursion to the beutiful Blue Lagoon can easily be accessed with boat from nearby Trogir. Parking for your vehicle is located in the house. Another benefit is the airport which is 10 minutes drive from the apartment. Also you can choose from one of our other apartments ( 4 and 2+1 person apartments). See you this summer! Family Morpurgo
Myself and my partner stayed at this apartment for a week and quite simply we absolutely loved it! The apartment itself has everything that you need and opens up onto a balcony with a breathtaking view. Leave the apartment and walk roughly 30 metres and you are at the sea front where the views and sea are even more spectacular. The village itself is everything anybody looking for a relaxing holiday will enjoy. There are 4 restaurants which offer superb fresh food and drinks at really good prices as well as 2 small market shops nearby where you can buy anything else that you need. Natan was a brilliant host, regularly contacting me prior to our arrival and meeting us at the apartment as soon as we arrived. He is very friendly and always available either in person or by phone / email to give information or advice, even providing us with a map of the area when we arrived so that we could find our way around. This was our first time visiting Croatia and most certainly won't be our last. We had a fantastic time and I hope in the future to be able to stay in Seget Vranjica and this apartment again.
Lewis
2015-09-16T00:00:00Z
Das mit Abstand beste Appartement, dass ich je in Kroatien hatte und der Ort ist auch wunderschön.
oliver
2016-08-10T00:00:00Z
We stayed in the appartment for four nights with 2 persons. We had a very good stay. The appartment was spacious with a stunning view (best of the complex we were told). Starting the day with breakfast on the balcony was amazing! The beach is only 50m away. It is not crowded and you have, again, that beautiful view. Natan was a very nice and relaxed host. He guided us to the appartment when we had a difficult time finding it. He also made a map with usefull places in the neighborhood. When we needed him, he was always available. We would totally recommend this appartment, even though it is a bit expensive.
Gerdien
2015-08-24T00:00:00Z
We had a fantastic stay at Natan's apartment. It is clean & tidy, spacious, fully equipped with everything you may need. And the sea view is really stunning! You can enjoy your meals (or a glass of local wine) with the best view ever from the balcony, which we did every day :) Natan was very helpful, he gave us some brochures & tips for our stay. The location is perfect, just a few steps away from the sea. It's a wonderful place to relax. Would definitely stay again. Thanks for a lovely few days!
Alicja
2015-07-23T00:00:00Z
I stayed at Natan's place and it was great. The view from the apartment was amazing, especially the moonlight. The host, Natan was considerate and kind. Great for relaxation and peaceful environment.
Jin
2015-10-01T00:00:00Z
thank you for a beautiful and very quiet holiday... we enjoyed the apartment and it´s location very much. natan was helpful with info! if you need some quiet days next to the sea, it´s a great spot to go!
Magdalena
2015-09-08T00:00:00Z
Natan and Jelena welcomed us very friendly at our arrival and showed us the apartment, which is as on the pictures: very nice, very clean and with a breathtaking sea view from the balcony and from the sleeping room window. The village Seget Vranjica is a calm and peaceful place and we enjoyed the beach, which is just about 50 meters away, every day. We can simply just recommend the apartment and the hosts and we would stay there any time again!
Sascha
2015-08-12T00:00:00Z
Our stay was amaizing! We in love with Seget Vranjica. Apartment was great, all that you need. Natan was very wellcoming and helped us with anything. Looking forward to come back there! :-)
Aleksandra
2015-09-21T00:00:00Z
Tipo de Acomodação
Casa/apto inteiro
---
Tipo de Imóvel
Apartamento
---
Acomoda
3
---
Quartos
Seget Vranjica, Splitsko-dalmatinska županija, Croácia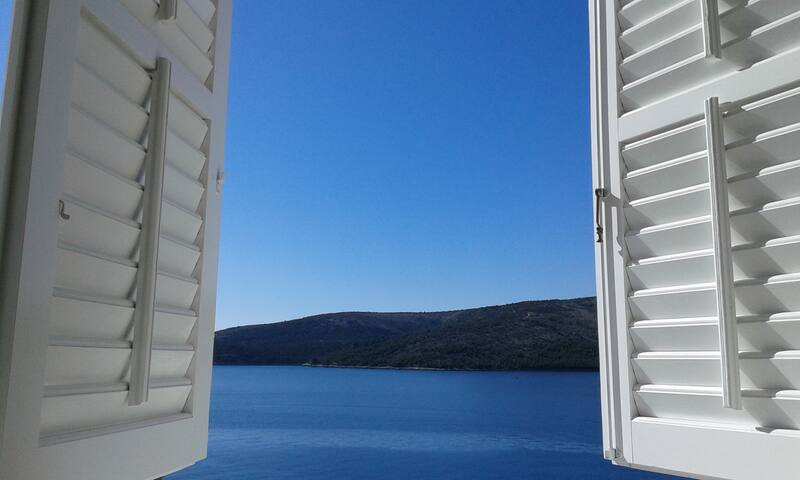 The whole interior is beautifully decorated incorporated with large amount of sunlight entering during day. Outside the entrance door, there is large yard with roofed fireplace for grill with dining place, garden and balcony (sea view) for sunbathing
Vacation House Mico will offer you everything you need for your ideal holidays. Air-conditioned living room and 2 bedrooms are beautifully decorated by interior designer, incorporated with large amount of sunlight entering through windows and balcony doors. Outside the entrance door, there is large yard with roofed fireplace for grill with dining place, garden and balcony for sunbathing. The interier and open terrace are about 100m2 large. The whole property has free Wi-Fi connection for guests. Besides the shower in the bathroom, additional shower is available at the stairways entrance. This lovely house is located on the south-east side of the bay, about 100 meters from the sea and beaches. just 150 meters from a grocery shop, restaurants, bars and a bus stop. UNESCO-protected Old Town of Trogir is 20 km away. Split can be reached within 45 km.
Vinisce is a small fishing place, situated only 12km from Trogir, in a beautiful cove with crystal clear water. Most of the beaches are with pebble or they are concrete beaches. There is a small port in the place and its inhabitants traditionally live of fishing and agriculture. Several bays in the surroundings of Vinisce (Voluja, Ricevo Vrelo, Stari Trogir and Sicenica) are known for their magnificent sandy and pebble beaches, as well as for their splendid underwater world, ideal for sports fishing and scuba diving. Vinisce is great for a quiet holiday for families with children and people who want to rest. During summer, Vinisce organizes countless festivities which offer homemade specialties, wine and pleasant music in the evening hours. Sports and active vacation fans can enjoy football, basketball, sailing, jet-ski and numerous other activities
La maison est située dans un petit village de pêcheurs, calme et ambiance familiale. La mer est toute proche et la vue depuis la terrasse est superbe. La maison était propre et spacieuse, avec une belle terrasse. Nous avons été très bien accueilli par les parents de Goran. Le wifi fonctionne correctement, la clim aussi.
Yves
2016-08-02T00:00:00Z
The House is very nice and the view from the House on the sea and the little harbour is wonderful. From the veranda you can enjoy every evening the beautiful sunset on the veranda is also a fireplace for barbecue. Goran an his parents are very nice and friendly people, they life in the ground floor of the house and are present if you need something. They grilled and cooked for use two times an the food was very good and the fish was just catch in the morning. In the little village are three little markets where you get everything you need. There are also some restaurants and coffee-bars with very good food and most of them have also free WiFi internet access you can use. There is also a post office and some ice-bars. An ATM is in the next village. The house is only about 80 meters from the beach, and there is every few meters a other little beach with flat water perfect for children or deep water for swimming an diving, the water is very clear. The only think we missed was a air conditioner, but they told use there will be one next year. We enjoyed our stay, it was a very nice vacation. Greetings from Germany.
Marinko
2013-08-12T00:00:00Z
We had a very pleasant time. The owners are very friendly, they made a great dinner for us. The host's son speaks english and german. He replied to emails very fast. The balcony and terace are great, there is also a barbecue. The living and dining area in the apartment are also nice. I would totally recommend staying there :)
Felix
2015-09-02T00:00:00Z
Goran jest cudownym,sympatycznym i taktownym człowiekiem bardzo troskliwym,życzliwym i pomocnym we wszystkich sprawach.Jego oferta jest doskonała.Funkcjonalny dom wyposażony we wszystkie niezbędne sprzęty sprawiał że czuliśmy się tam przez cały czas jak u siebie.Mieszkanie tam było czystą przyjemnością.Ogromny taras i balkon były genialne.Widok na zatokę,port,jachty bezcenne.Okolica cicha,spokojna a jednocześnie blisko do sklepu,restauracji i na plażę.Dyskretna obecność rodziców Gorana w pobliżu sprawiała że czuliśmy się bezpiecznie wiedząc że w razie potrzeby zawsze możemy liczyć na ich pomoc.Krystaliczna, ciepła woda.Krajobraz.Niedalekie cele wycieczek:Split, Trogir , (URL HIDDEN) były nieprawdopodobne wakacje.Wciąż je przeżywamy.Dziękujemy Goran !
Mirek
2016-07-31T00:00:00Z
We had nice time in Vinisce. We spent one we week at the end of September, when the weather was still perfect, but there were only few tourists which is exactly what we like. We had everything we needed in the house of Goran's family - we are family with three children and the size was completely ok for us. Bedrooms and bathroom (together with toilet) are rather small, but it was fine for us. The house is very nice and clean and it's just 5 minutes to the nearest beach. We also appreciated a lot that Goran's father drove us from the airport and back. The only thing we didn't like was the fact there is no sandy beach and majority of beaches here have small sharp stones + you cannot buy fresh meat and fish. Goran's family is lovely and we enjoyed a lot our common lunch and sweeties from Goran's mom!
Barbora
2016-09-26T00:00:00Z
Wunderschöne Unterkunft und die Gastgeber waren sehr hilfsbereit und gastfreundlich :-) Danke für den schönen Urlaub!!!!!
Christian
2016-08-28T00:00:00Z
We had a great break and the flat is lovely with great outdoor space. Vinisce is a small unspoilt village about 7km from the main road and so it is very peaceful with no traffic noise or light pollution. Although it is small it has several restaurants and so has everything that you need. Goran and his parents were very friendly and helpful. Although there was no washing machine Goran arranged for me to use his parents machine (they live underneath and the machine is situated under the stairs you use to access the flat and so I didnt feel awkward about it). We had a lovely meal with Goran and his girlfriend (cooked on the barbeque by his father, who doesnt speak English). We enjoyed talking to them and learning about Croatia and some of its history. I recommend this flat to anyone who is looking for a peaceful place to stay - but you will need a car so that you can get out to explore. (We recommend Krka National Park - which is beautiful)
Vivienne
2015-06-06T00:00:00Z
My family and I had the best time in Goran and his parents apartment. The apartment is fine, there is everything you need, including aircon, great during heatwave! Gorans parents are so nice, made us feel very welcome. The best feature is the vast patio, especially the shaded area with build-in grill, we spent most of our time here. We rented a boat twice, it was a great way to see the surroundings, fantastic water:). The ancient town Trogir, 30 minutes away, is beautiful and worth a few visits. We will definitely return to Vinisce! Sendt fra min iPad
Mette
2015-07-23T00:00:00Z
Tipo de Acomodação
Casa/apto inteiro
---
Tipo de Imóvel
Casa
---
Acomoda
5
---
Quartos
Vinišće, Splitsko-dalmatinska županija, Croácia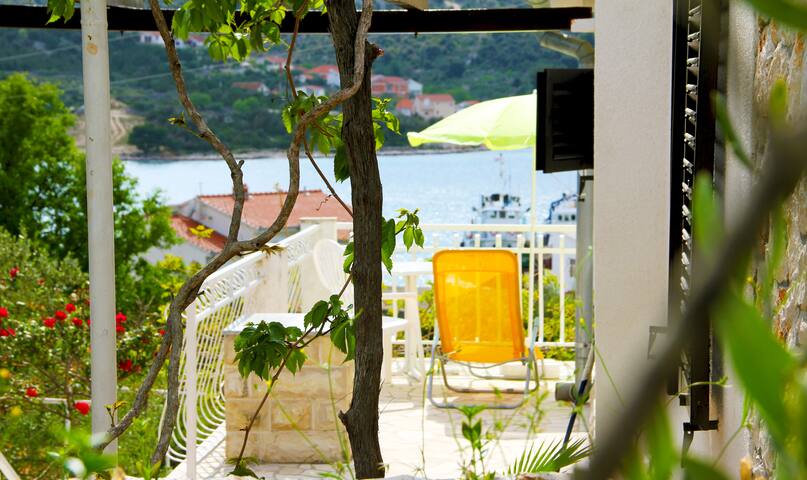 My place is close to nightlife, the airport, and family-friendly activities. You'll love my place because of the comfy bed, the kitchen, and the light. My place is good for couples, families (with kids), and furry friends (pets).
Dawn and I have just come back from 3 nights at Villa Antea 1 in Vinisce. The accommodation is exactly as advertised and it is the most amazingly beautiful place to stay. Antea and her family made us feel incredibly welcome, even picking us up and dropping us back to the airport in Split. They are lovely people and we're already looking at our diaries to work out when we can go back. The villa is very well equipped with air conditioning (which we needed as it was so warm) and a fantastic terrace with the amazing views in the pictures. The only reason we did not make more use of the lovely pool was that the sea was so close - literally down some steps, across the very quiet road and then jump in! The village is within easy walking distance and has a selection of restaurants and a couple of small shops. One thing that really struck us was that the absence of lights made the night sky views absolutely stunning. We had a brillaint and relaxing break.
Adrian
2016-07-05T00:00:00Z
Absolutely fabulous apartment, view were stunning, really nice welcome with the owner, generally a nice little gem
James
2016-09-22T00:00:00Z
Tipo de Acomodação
Casa/apto inteiro
---
Tipo de Imóvel
Apartamento
---
Acomoda
4
---
Quartos
Vinisce, Splitsko-dalmatinska županija, Croácia
The Poolhouse Mornarevi Mlini Stone house with pool is part of Agroutourism Mornarevi Mlini. By the house is our eco-garden where you can pick fresh fruits and vegetables. Our Restaurant is also nearby and offers traditional dishes with unique experience.
Pool house has 40 m2, and it is suitable for 2-4 persons. It has bedroom, living room with spare bed, kitchen, bathroom, terrace. Apartment has air-condition, washing machine, coffee machine, SAT/TV, swimming pool (just for stonehouse guests) and parking space.
Mornarevi Mlini is situated in Dalmatia, in small village called Vrsine. Here in Vrsine you can find typical village life. Surrounded by olive and vineyards you can explore a wonderful idyllic mountain village Nature hikes offers superb scenic views. This is ideal place for vacation, for every person who enjoys fresh air and nature, or just want to relax and get away from city and every day routine. Location of Vrsine is ideal place for visit another two UNESCO protected cities, Šibenik and Split. Šibenik is just 45km and Split is 35 km away. National park Krka is also near, just 55km away and it is ideal for one day trip. There are also a lot of islands near which can be visited by ferry from Split. Shops, restaurants, bars, travel agencies, gas stations and ATMs can be found in Trogir.
Gorana is a wonderful host and made our stay and experience of Croatia very special! It means a lot to her that her guests enjoy their holiday and she welcomes you with an open heart, along with her family who were also very friendly and welcoming. The villa itself is cosy and practical and we were furnished with towels, fresh linen, cleaning items which was so helpful. It's not far from Split airport, we picked a hire car up at the airport and got to the villa in less than 20 minutes. We ate in Gorana's restaurant every second night and had delicious food and wine – Gorana was very thoughtful as we don't eat meat and the food was very fresh and wholesome. It was hot when we went so the villa pool was fantastic, although you are in the countryside so there will be insects to contend with! The garden and surrounding views were so inspiring and peaceful. I definitely plan to return one day and re-acquaint myself with Vrsine and of course visit Gorana and her family...
Riffat
2016-07-18T00:00:00Z
Wir hatten vier wunderbare Tage in dem Süßen Steinhaus von gorana. Der Pool war super. Der garten richtig hübsch. Der Empfang war sehr herzlich. Wir bekamen Brot, Schinken, Oliven und selbstgemachten Wein. Zwischendurch erkundigten sich gorana und ihr Mann immer ob wir irgendwas brauchen und boten uns an uns im garten (Salat, Kirschen) zu bedienen. Alles in allem sehr zu empfehlen. Gute Lage zu Split, trogir, primosten, Marina.
Janine
2016-05-16T00:00:00Z
Wonderful! A hidden gem!! We stayed in Gorana's pool house with our 3 boys (ages 5-8) and it was simply the perfect vacation for us. The pool was fun for them, relaxing for us. Gorana, her husband and son-in-law are the nicest, most welcoming, generous people you can imagine. They made our stay even better. For us, the garden was another huge plus…lettuce, potatoes, onions, carrots, cherries, strawberries. Also make sure to eat at their restaurant while you are there. We enjoyed the poolhouse so much that we did less exploring than expected, but did enjoy our visits to the Marina beach (10 minutes away). The Krka waterfalls are also an easy day excursion -- one hour away. And then of course you can check out Trogir and Split. The accommodation is simple and clean and well organized. The photos are 100% accurate -- if it appeals to you via the computer, you will absolutely love it in person. We will definitely return!!
Nicole
2015-06-02T00:00:00Z
The house was perfect, clean and spacious enough for a family of four. We absolutely loved the cooling, fresh pool and the vegetables from the garden. The restaurant owned by the hosts serves great grill and offers a really unique atmosphere. The house is situated close to Split and the Krka waterfalls. Absolutely recommended!
suzanne
2016-07-22T00:00:00Z
Nous avons passé un excellent séjour dans la maison de Gorana. La maison est bien conçue, il y a tout ce qu'il faut pour y passer de bonnes vacances, terrasse avec vigne, chaise longue, barbecue, machine à laver le linge ont été appréciés. La plage est à 5 mn en voiture. Très appréciable également le jardin potager à côté de la maison où on peut se servir de légumes frais. Le restaurant de Gorana est à 50 m et vous pouvez y déguster des plats traditionnels excellents, donc absolument à recommander. Je tiens à remercier particulièrement Gorana et toute sa famille pour sa grande disponibilité et sa très grande générosité, envers nous et envers nos enfants, particulièrement notre fils de 9 ans qui gardera un souvenir extraordinaire de son séjour. Encore un grand merci.
Rosalie
2016-08-20T00:00:00Z
Wir waren im Juni 2015 dort und es war ein traumhafter Urlaub, den wir in sehr sehr guter Erinnerung behalten werden. Das Haus war echt klasse. Wir konnten neben dem Haus "selbst" sofort für ein leckeres Abendessen sorgen, indem wir Kartoffeln und Salat ernten konnten oder wir haben uns von unseren Gastgebern von der kroatischen Küche überraschen und verwöhnen lassen. An diesem Urlaub gab es nichts auszusetzen. Wundervolle Buchten (eine schöner als die andere) waren nicht weit mit dem Auto entfernt. Bei 32 Grad hat der Pool für die entsprechende Abkühlung gesorgt. Das gesamte Haus inklusive Garten ist sehr ordentlich, sauber und die Küche ist gut ausgestattet. Wir werden nicht das letzte Mal dort gewesen sein. Die Gastgeber haben unseren Urlaub mit ihrer sehr herzlichen Art zu einem unvergesslich gemacht. Sonnige Grüsse aus dem schönen Mönchengladbach
Jan
2015-06-20T00:00:00Z
Gorana and her family are the loveliest people we have had the pleasure to meet! They were all incredibly friendly and welcoming, and nothing was too much trouble for them. We ate at their stunning restaurant every night and truly experienced the real Croatian traditional home cooked food! It was all delicious, not to mention the wine! The poolhouse is a little piece of heaven! It's set in a very quiet little village, with a delightful pool just for our use! We picked fresh fruit and veg from the garden, the strawberries were our favourite! The house is equipped with everything we needed and the washing machine was a treat as we were travelling for 2 weeks! There is a little store 20m away which sells all the essentials. This is truly the best place we have visited in Croatia! In fact, it may be the best place ever! It's situated a short drive to beaches, villages, etc, and in our opinion a much better option than staying in a hotel in a main town. Thank you again to Gorana and her family for the best 5 nights ever!
Ali
2016-05-30T00:00:00Z
Un merveilleux séjour, Vous êtes dans un petit coin de paradis, La petite maison en pierre est très charmante, la piscine est très suffisante pour nager, se détendre, Vous avez à disposition le potager et le verger, un régal!!!! Les propriétaires dintvaforables et serviables, la fille Antonia parle très bien français!!! Profitez de leur restaurant typique c est délicieux, De plus vous avez la petite épicerie de village juste en face, très pratique, Vous êtes à 5 min de la première plage, La situation est excellente pour visiter le centre de la Dalmatie, Un grand merci pour ces 15 jours de belles vacances, car vous y avez contribué!!!! Delphine, Emile et Stephane
Delph
2016-08-14T00:00:00Z
Tipo de Acomodação
Casa/apto inteiro
---
Tipo de Imóvel
Casa
---
Acomoda
4
---
Quartos
Vrsine, Splitsko-dalmatinska županija, Croácia
This new apartment can accommodate 4 people in 2 bedrooms, one with double bed and one with 2 single beds. It is fully furbished with full size kitchen with dishwasher and everything else you need to enjoy your vacation. Nice terrace with bay view, garage with remotely operated door to keep your car safe and in shade, grill, nice garden, outdoor shower and beach is only 30 meters away. TOURIST TAX is INCLUDED in price (7 kn, approx. 0.9 € per person per day, no charge for children under 12).
FREE OF CHARGE: - WIFI INTERNET - USE OF SUP BOARD - BICYCLE - CLOSED GARAGE - WASHING MACHINE (ONCE PER WEEK) - BARBECUE Discounts from our partners on excursions, rentals and activities.
Seget Vranjica is located on a small peninsula, 5 km west from the Trogir in the direction of Šibenik. 8 km from the airport and 30 km from the town of Split. Ancient fishing town developed into a peaceful tourist destination. Leisure small peninsula has many beautiful gravel and rocky beaches, offers a breathtaking view of the Adriatic islands of Solta and Drvenik. Seget Vranjica is a suitable destination for those who want a quiet holiday, away from the hustle of major tourist cities, although close enough to visit those cities within an hour distance. The countryside is characterized by lush Mediterranean vegetation, old vineyards and olive groves, suitable for walking and cycling. Nearby there are many islands and islets, ideal for excursions by boat or yacht.
Tipo de Acomodação
Casa/apto inteiro
---
Tipo de Imóvel
Suíte de hóspedes
---
Acomoda
4
---
Quartos
Seget Vranjica, Splitsko-dalmatinska županija, Croácia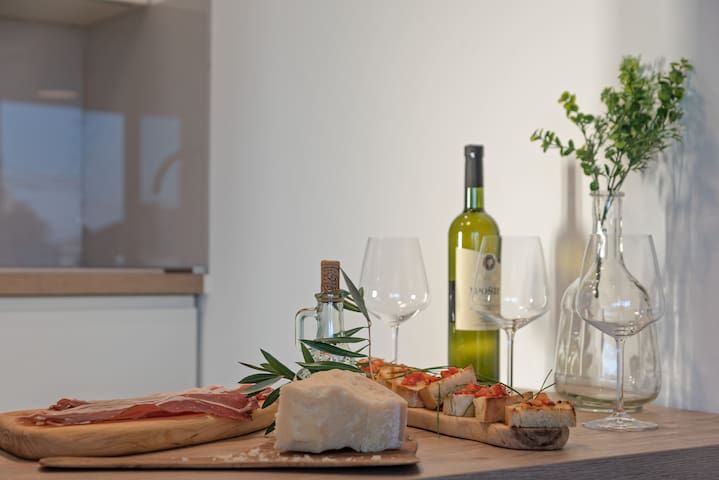 Budget
Tipo de Acomodação
Casa/apto inteiro
---
Tipo de Imóvel
Apartamento
---
Acomoda
2
---
Quartos
Marina, Splitsko-dalmatinska županija, Croácia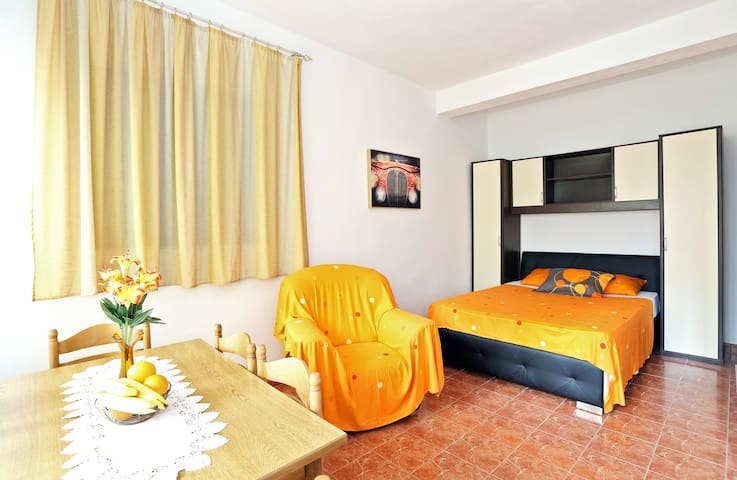 Looking to spend your time off far away from the fast tempo, on some idyllic but not isolated place? In that case, our amazing house with jacuzzi in small Dalmatian village is the place you are looking for.
A holiday house is located in the village Vinisce. Place is ideal for families with children or small group of friends. If you are looking for a peaceful and quite vacation this is the right place to be. The village harbor featuring crystal clear water is only a five minutes walk from the house. Private parking is available for our guests. There is a large terrace overlooking the pool and BBQ area with a spectacular village and sea view. Additionally, the property consists of two bedrooms with theirs own bathrooms, spacious living room and fully equipped kitchen. In front of the house, on the large terrace is jacuzzi and dining area. Also, there is a summer kitchen with BBQ inside.
Vinisce is a small fishing place in a beautiful cove with crystal clear water. Most of the beaches are with pebble or they are concrete beaches. Vinišće is great for a quiet holiday for families with children and people who want to rest and relax. During summer time, we organizes countless festivities which offer homemade specialties, wine and pleasant music in the evening hours. Sports and active vacation fans can enjoy football, basketball, sailing, jet-ski and numerous other activities. It lies just 22 km from the UNESCO protected town of Trogir. Split airport is also within an easy reach.
Haus war toll! Yakuzzi ein Traum! Ofen Mitte Oktober auch notwendig! Tonka war sehr hilfreich! Nur schade: ab Anfang Oktober alle Restaurants im Dorf geschlossen!
Iris
2016-10-14T00:00:00Z
Magnifiques vacances en famille passées à Vinisce. L'hébergement est conforme à la description. La maison est très propre, bien équipée. La literie est de très bonne qualité. Une cuisine d'été avec un barbecue à disposition est très appréciable. La vue est magnifique depuis la terrasse et profiter du jacuzzi au retour de la plage fut un réel bonheur. L'environnement est agréable et calme. L'accès à la plage du village est facile (10mn de marche) et 3 restaurants et superettes ou vous pouvez facilement acheter de quoi vous restaurer. La boulangerie est très bonne ainsi qu'un primeur local présent tous les jours, vous y trouverez de très bons produits ainsi que de l'huile d'olive. Tonka et sa soeur Dragana sont des hôtes exceptionnelles. Elles sont disponibles à tous moments et très réactives aux diverses demandes. Elles donnent de nombreux conseils sur les activités à faire dans la région. Un portable est mis à disposition pour les contacter. Un grand merci à Tonka et Dragana pour avoir contribué à ces superbes vacances. Vous rêvez de tranquillité dans un lieu sympathique et accueillant, n'hésitez plus, contactez Tonka. Hvala lijepo :-)
lydie
2016-08-30T00:00:00Z
We spent two weeks at Tonka's villa and it was perfect, one of best places we've seen in Croatia. Tonka and her family were most helpful and kind for us, always available for help or guidance. The villa itself is great, with beautifull terrace with sea views, there is also garden full of vegetables and plants. The area is very calm and good for families, many nice beaches nearby, some restaurants in Vinisce as well (try pizza at Kaktus, it's the best). We'll definitely be back !
Paul
2016-07-12T00:00:00Z
Very nice appartement in a small fisher village. All new and a perfect place to be for a relaxed time near the sea.
Pirmin
2016-06-24T00:00:00Z
Tonka and her family are incredible friendly people i meet long time ago. If you need some special things or you need local tips, beautiful places, she give you allways her secrets. The House is also amazing, new interior Design, open kitchen and the 2 stylish bathrooms. Everything is perfect clean and comfortable. The refrigerator is filled with fresh fruits and vegetables from the garden. The special surprise is the jacuzzi at the terrace outside. Im very proud and happy to meet all this amazing lovely people..that's the reason i book at airbnb. Hotels can't give you this warm welcome and amazing holiday stay. This experiance i give definitly 5*****.
Dana
2016-06-19T00:00:00Z
This house is fabulous: recently renovated with good taste, 10 min walk from the beach, in a quiet area and with a unique sea view. Our hosts, Tonka and her sister Dragana made every effort to make us feel at home and were always available to assist us and give recommendations.
Marisa
2016-09-03T00:00:00Z
Our experience was fantastic from start to finish. Tonka is super friendly and helpful and her responses to all our questions were quick and accurate. The property is amazing, superclean and tidy with everything you need for a comfortable stay, so much that we hardly left the place in 4 days. Views are beautiful and watching all the night stars from the jacuzzi is an unforgettable experience. The BBQ allowed us to cook gorgeous food which can be purchased locally in many markets and shops, including local stalls in the village. We also enjoyed the table-tennis at sunset and listening to music from the radio in the terrace whilst enjoying the sun. The whole experience was simply 10/10, thank you to Tonka and her sister for making us feel so welcome. Some advice for travelers in this region: do bring a car and insect repellent in the hot summer months if your blood is particularly sweet! In any case, Tonka can also sort out your excursions and car rental, and provides plug-in mosquitto tablets at the house. In summary, we loved every minute so book with confidence and enjoy beautiful Croatia, we'll be back!
Isa & Tobi
2016-07-31T00:00:00Z
We stayed here for 3 days after sailing around the Croatian Islands and a short stay in the mountains. The host Tonka, her sister and family were very warm, friendly and welcoming, easily contactable and gave good directions to the house. We unfortunately needed a doctor quite urgently during our stay and Tonka really helped with this, she speaks fluent English and was just a call away, on a mobile left especially in the apartment, this was really appreciated. The listing was accurate and the house was absolutely beautiful. It was recently renovated to a really high standard with every luxury thought of. It really is as beautiful as the photographs in the listing and we were over the moon with our choice, We wished we could have stayed longer. The house is in a very peaceful area, the village is a 5-10 minute walk away, it was as described; Vinisce is a sleepy fishing village, with 3 grocery shops and a couple of good restaurants and a little beach, the locals were all very friendly, to be honest the house was so lovely we spent most of our time there as having done a lot of travelling before our arrival we were happy to chill in the tub and on the patio with a lovely glass of local wine. If you need more life the busy town of Marina is just a 5 minute drive away. The transfer time to Split airport is only 20 minutes which is great, there is no aircraft noise at the house. The apartment was immaculately clean, it has brilliant wifi, the kitchen had everything you would need in terms of utensils/pots and pans and there was even another complete kitchen outside if needed including an amazing bbq!! It was great to have a washing machine and parking is easy as the house has it's own driveway. All furniture and linen were to a real 5 Star standard and the bathrooms were beautiful and the shower powerful. The bed was big and really comfortable. The outside space was outstanding! There was lovely outside lighting for the evening, a comfortable seating area. The hot tub was an amazing bonus, I am a new convert to these! the view from the tub over the sea was beautiful. The table tennis was also great fun ;-) We have rented a lot of apartments over the years and this apartment had to be of the highest standard we have ever stayed it is a real 5 star experience! Thank you Tonka and Family, we hope to return soon!!
Bernadette
2016-06-12T00:00:00Z
Tipo de Acomodação
Casa/apto inteiro
---
Tipo de Imóvel
Casa
---
Acomoda
6
---
Quartos
Marina, Splitsko-dalmatinska županija, Croácia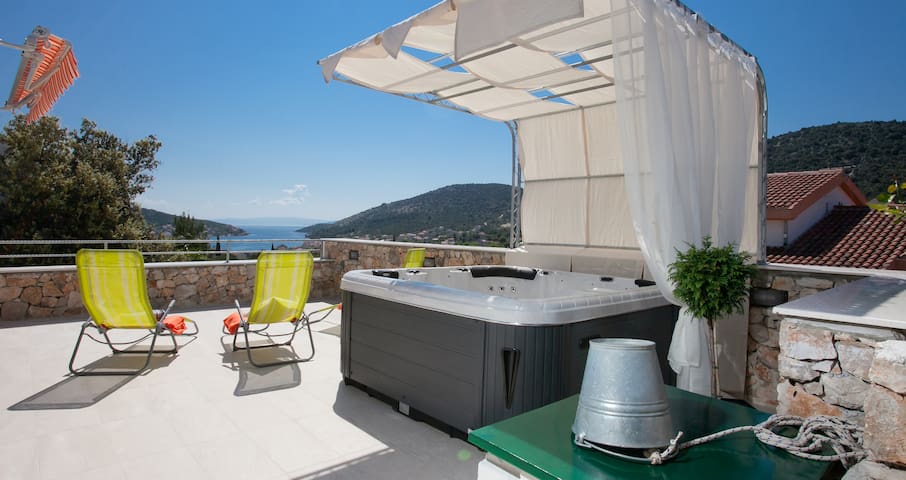 Welcome to Poljica, to cozy fishermen's Dalmatian village. This fully equipped apartment is perfect for families with children or group of friends. There is also spacioius terrace, where you can enjoy your meal in the sunset.
Highlight of this apartment is definitely private spacious terrace (20 sqm!) which is perfect during hot summer days! Also, there is a grill behind the house, all guests are welcome to use it, as well as outdoor shower with warm water. One of the interesting facts is that ALL FURNITURE (except sofabed) is handmade (kitchen, wardrobes, beds...). The appartment can accommodate 5 people comfortably (and 6 less comfortably :) )
Poljica is small village with very little tourist facilities. There are only two caffe bars, 1 restaurant, beaches and children's playground. However, it's geographic position in Central Dalmatia is very convenient for visiting many extraordinary places (national park Krka, islands, UNESCO sites (Šibenik, Trogir, Split, Plitvice lakes).
Marijana and her parents are very welcoming and friendly . the apartment is comfortable, functional and well located. We spend very good holidays in Dalmatia.
Baptiste
2016-09-06T00:00:00Z
Marijana is a lovely host. We loved the apartment itself and the location is great. Marijana and the apartment offered everything expected and more. Recommended!
Andrija
2015-01-03T00:00:00Z
Fantastyczny wypoczynek, super miejsce. Apartament bardzo czysty i jest w nim wszystko czego potrzeba - czuliśmy się jak u siebie w domu. Dom położony w zacisznym miejscu, jednak w miejscu z którego łatwo dojechać do wielu pięknych okolicznych miasteczek. 5min. spacerkiem do małej plaży. Duży murowany grill uprzyjemnił wieczorne posiłki - można kupić pyszne świeże ryby na targu rybnym w Trogirze. Polecamy wieczorną kolację przy lampce pysznego białego lokalnego wina ;)
Piotr
2015-07-12T00:00:00Z
Marijana and her family were great hosts! We had late arrival and Marijana's family welcomed us with an amazing dinner! The apartment was very clean with lots of clean linens and towels. It is on a very nice location, in the quiet neighborhood and not too far from the beach.
Barbara
2016-07-16T00:00:00Z
Perfect! This is a great place to stay if you are looking for a quiet, relaxing place to stay. The appartment sleeps 4 very easily and is very clean and comfortable, close to the beach (5 minutes walk) and very quiet with a great view towards the sea of hills and fruit trees. The figs treees and terrace made for a very relaxing stay. And the Internet works very well (if you need that on holiday!). We were made to feel very welcome by Marijana's family and all contacts were efficient and easy. Marijana made several practical suggestions that made our stay very enjoyable and we appreciated this very much (meeting points, towels etc). Poljica is a nice place to stay but a car is very useful as there are few shops in the town. The sea is great and the beaches were not overcrowded in August. Split, Krka, Trogir are great places to see and the appartment is very well placed to visit them. I hope we will be back again soon! Thanks for a great stay Marijana!
John
2015-08-28T00:00:00Z
We are all very glad, that we been in Poljica at Marijana and her's family. The appartmen is very nice, clean. with air conditioning and has everything that you need on the vacation. And the Marijana's family is really great, they offer all the support that we need. Mr. Anto also make us some great Dalmatian dinner...:). Place is just like on the pictures, even better.. :)...Poljica is nice, small village, with some restaurant's, market, bakery. I highly recommended this appartment, everything is really great, and Marijana and her's family are so nice and friendly. Thank's for everything, we will come back.. :)
Boštjan
2015-07-22T00:00:00Z
Tipo de Acomodação
Casa/apto inteiro
---
Tipo de Imóvel
Apartamento
---
Acomoda
6
---
Quartos
Poljica, Condado de Primorje-Gorski Kotar, Croácia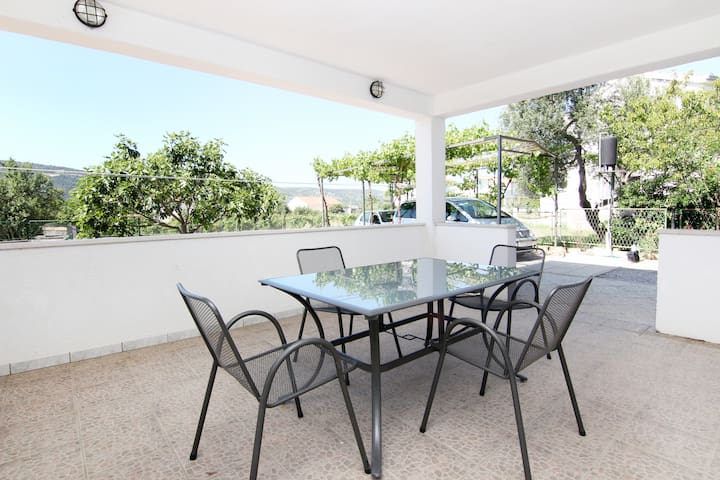 Summer for familly and frends.
Apartments Granda located in Vinisce, 19 km away from Trogir and 48 km from Split. Have two identical units,the apartments are on the first floor, separate entrance , each of which has 65 m2. Each unit is placed at 4-6 peoples . Consist of a fully equipped kitchen, dining room, living room with sofa bed, LCD TV, satellite TV, DVD, wi-fi internet ,2 bedrooms, storage for luggage and machine for washing clothes ,and a bathroom with shower. Each apartment has two terraces (14 m2 and 8 m2). Pets are allowed. Proximity to the sea and beautiful beaches on the one hand, and on the other green forest.Very mild climate throughout year . Nearness restaurants, pizzerias, shops, pastry shops , promenade, perfect for cycling, near football field, well connected with Split and Trogir (both cities have monuments under UNESCO). Ideal for children , parking, grill ... Vinišće is an ideal place for accommodation with family or friends, as well as young people because of the proximity of Split and Trogir. If the free both apartments available for rent both and accommodate 10-12 peoples (eg. 2 families at the same time) .
Tajana was a burst of energy that awaited us late at night upon our arrival. She excitedly showed us around the apartment and we were impressed by the fastidious attention to detail from the sheets and towels, the fully equipped kitchen and the much needed washing machine. She has two newly renovated apartments in Vinisce, upstairs from her mother's house. Ours faced away from the sea – I guess it is worth asking for the one with a sea view if possible. The perks continued with two bottles of beer and a bottle of wine waiting in the fridge. The wi-fi is in the apartment itself so the signal was strong. The cottage garden around the house was a pleasure and when we were cooking on our last night, Tajana's father showed up with a bowl of freshly picked tomatoes and cucumbers. Her mother treated us with a cup of garden strawberries. We are five people and there were two bedrooms for four so the kids rotated on the lounge room sofa – not suited to everyone but we coped. Our only comments include the curtains not being thick enough to block out the morning sun and the lack of fly screens on the doors which is problematic for the mosquitoes. The a\c worked well when needed. The apartment is only a few minutes' walk from the beach, shops and restaurants. Vinisce is a quiet town, 7 km from the main coast road. Around the town are walks, bike tracks and I even hired a paddle boat in the serene bay with my younger son. Krka park is only an hour away. In short, we loved everything about Tajana and her family, the apartment and Vinisce.
Richard
2014-08-05T00:00:00Z
Tajana is an amazing host! Bottle of wine and chocolate was waiting for us in a fridge :) We also got fresh tomatoes from the garden and amazing grilled fish for dinner!!! The apartment is very nice and clean..close to everything. We really enjoyed it and we will definitely come back! :)
Ivana
2016-07-11T00:00:00Z
Perfect stay, perfect holidays in Tajana´s Granda apartement..We were welcomed from the first minute..Tajana and his husband helped us with /a lot of/ baggage /upstairs/. The appartement was absolutely clean. Very nice bed clothes, new towels at the disposition, washing machine,very good equiped kitchen - we found everything we needed. Welcome drink- bottle of wine and juice,buscuits. All the appartement was sensitively arranged.Nice terrace with table and chairs,no cheap and terrible plastic "arm-chairs" which you see very often on the balcony.All the family was very kind, communicative. We also recieved several times tomatos from Tajana´s mother garden. Beach and shops very close. If you are looking for perfect holidays, appartment Granda is the right place for you :o)
Petra
2015-07-25T00:00:00Z
Tajana's place is absolutely perfect for a stay in Croatia! The apartment is exactly as described, having beautiful views of the surrounding hills and the sea, it is the ideal size for a party of 4. The sea, lovely restaurants and bars are within 5-15 minute walk all along the sea front, and 3 small supermarkets are available around the cove. Having no car, my friends and I used the local bus services which are very easy, and Tajana was always quick to reply if we needed help. Would seriously recommend visiting Krka National Park and Split, both provide excellent days out! Word of advice: river shoes would be handy when going to the beach as the stones both on the beach and sea floor can be uncomfortable underfoot. Overall, would recommend this place to anyone, and will definitely return. Thank you Tajana!
Frankie
2016-09-10T00:00:00Z
Tajana is an absolutely awesome hostess. The apartment was ready and waiting for us even though we arrived much too early. Cool wine and beer in a fridge made our day after a long journey from England. We fell in love with Vinisce - a quiet village within 20 minute drive to a beautiful historical town of Trogir - which makes it an ideal place for a family holiday. A short walk takes you straight to the beaches, shops and restaurants. We especially enjoyed clear water perfect for snorkeling. As someone mentioned in another review, there are 2 apartments and we had the one without see view but it truly did not matter as a view towards hills surrounding Vinisce is equally enchanting. Apartment itself is comfortable, very clean and tastefully furnished. There were six of us and we all comfortably fitted in. All appliances were in a very good working order. Tajana mentioned prior to our arrival that it is fully equipped - and she really meant it. There is everything you may need - even a hair dryer or a beach umbrella! And Tajana herself is a very warm and easy-going person. She especially proved to be very helpful when my mother urgently needed to see a dentist. There are no words to express our gratitude for all her help. During our stay in Croatia I started perceiving her more as a friend then our hostess. All in all - booking apartment with Tajana in Vinisce was the best choice we could have made. We (I mean all of us including my teenage daughters) had the best time ever. Thank you Tajana!
Joanna
2014-08-29T00:00:00Z
Tajana and Milan were wonderful hosts. They waited for us to pick us up and guide us to their place - even in he middle of the night. They welcomed us with bottle of Merlot and some sweets for the kids. The house is located in a quiet area in the middle of the village surrounded by lots of gardens and other small houses - great mixture of locals and tourists. Tajana was excited when she showed us our appartment which was perfectly fitted with everything that is needed for great holidays. The appartment is large and has enough space for all family (3 adults, 2 kids). It is fully equipped with everything required and has a very modern style. Air condition was working excellent and was welcommed to cool down in night hours. Kitchen is modern, fully equipped and very functional. The terrace is huge and surrounds the whole appartment with a delightful view accros the bay and Vinisce. Beach, Shops, Supermarkets, Bakery and Restaurants are in 5-10 mins walking distance. Tajana gave a lot of recommendation for activities and direction where to go. She was always available for any questions at any time. Moreover, she was so open and friendly as you could ever immagine - both Tajana and Milan are great hosts and great people at the same time - we very much enjoyed! 10/10 for this great place - perfect for families that are after comfort and relaxation. Happy to come back next time and see Tajana and Milan again :-) Completely relaxed, The Schikora Family :-)
Robert
2015-08-07T00:00:00Z
Very nice and clean new apartment. Fridge was filled with drinks and cookies and Tajana gave us fresh vegetables from the garden. 5-10 min to beach, restaurants, shop and bakery.
Markus
2014-08-17T00:00:00Z
Tipo de Acomodação
Casa/apto inteiro
---
Tipo de Imóvel
Apartamento
---
Acomoda
6
---
Quartos
Vinišće, Condado de Split-Dalmácia, Croácia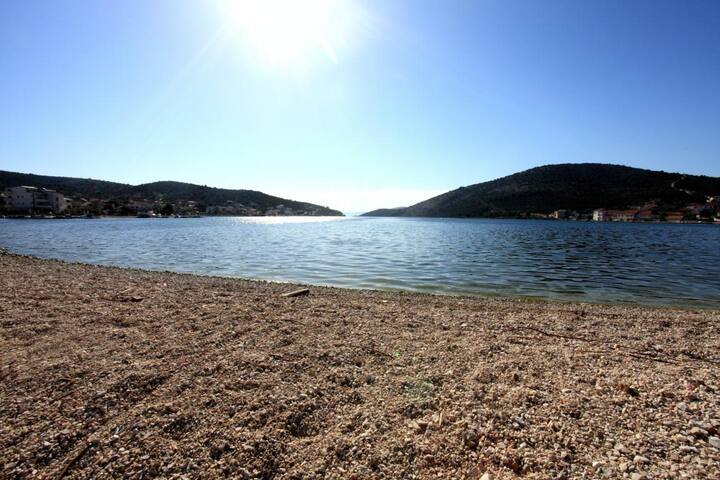 BASIC FEATURES: Apartment type: A1. 2 bed/s for adults. Number of extra beds 1.
BASIC FEATURES: Apartment type: A1. 2 bed/s for adults. Number of extra beds 1. Apartment capacity (adults): (2+1). Category of apartment is 3 stars. Apartment size is 30 m2. The apartment is on the first floor. Number of bedrooms in the apartment: 1. Number of bathrooms in the apartment: 1. Number of balconies in the apartment: 1. BEDROOM (1): Flooring: tiles. In the bedroom is double bed. Extra bed/s in the bedroom is/are: one foldable bed for one adult. Bedding is available to guests., The room has an exit to the balcony. LIVING ROOMS: kitchen, dining room and living room in the same room, the living room has an exit to the balcony/teracce. Flooring in the apartment: tiles. EQUIPMENT: TV set, SAT-TV, work table, couch/sofa, smoking allowed inside the apartment , air conditioning in one bedroom with surcharge, heating (air conditioning) with surcharge. KITCHEN EQUIPMENT: table and chairs, kitchen sink, hob with four cookers, electric hob, oven, refrigerator, tee/coffee machine (filter or espresso), toaster. INTERNET: WIFI gratis. VIEW FROM THE APARTMENT: partly sea view, apartment's orientation is sea side. BATHROOM (1): Bathroom size is: 6 m2. Equipment in the bathroom: shower, toilet, tiles, bath towels. PETS: There is a possibility of accepting pets only upon previous notice and agreement. BALCONY/TERRACE (1): Size of balcony/teracce of the apartment is 8 m2. Features and equipment of the balcony/terrace seating set, partly covered, orientation sea side, partly sea view. BASIC INFORMATION: Type of property: apartments. FACILITIES AND EQUIPMENT: free parking within the property, garage with surcharge, common terrace for all guest in the property, courtyard, garden. ADDITIONAL SERVICES: outdoor shower, free use of barbecue. BEACHES CLOSE TO THE PROPERTY: pebble beach, rocky beach, concrete beach. DISTANCES: The distance to the closest beach is 300 meter. The distance to the sea is 300 metar. The distance to the town center is 300 metar. Grocery store - 250 m. Closest restaurant - 250 m. Closest infirmary/hospital - 8000 m. Closest public transport (bus etc) - 300 m. Airport - 25 km. Train station - 50 km. Ship / ferry port - 50 km. NON OBLIGATORY SURCHARGE: air conditioning use (if specified as optional equipment of the apartment/room) (5.00 EUR per day, per unit, payed at arrival) NON OBLIGATORY SURCHARGE: pets (5.00 EUR per day, per unit, payed at arrival) NON OBLIGATORY SURCHARGE: laundry (5.00 EUR per unit, payed at arrival) NON OBLIGATORY SURCHARGE: garage (4.00 EUR per day, per unit, payed at arrival) Size: 30 m2. Amenities: Bed Linen Towels, Toiletries, TV, Balcony, satellite TV, internet connection, air conditioning, garden, Free Wireless Internet, Towels, BBQ grill, Bed Linen, Restaurant, Beach, Free Parking, Parking, Smoking allowed, Ask for pets, Ask for accessibility, Sports - swimming, Local groceries, Family/kids friendly; Bathroom: toilet, shower; Bedroom: double bed, sofabed; Kitchen in the living / dining room: Cookware Kitchen Utensils, oven, toaster, fridge / freezer, coffee maker;
Airport - 25 km Beach - 300 m Ferry - 50 km Main Railway Station - 50 km Restaurant - 250 m
Tipo de Acomodação
Casa/apto inteiro
---
Tipo de Imóvel
Apartamento
---
Acomoda
3
---
Quartos
Vinisce, Croácia
Accommodation Jakov is located 100 m from the sea, 1200 m from the center in the town Marina. This accommodation offers a view of the Sea. Type of beach pebble beach. Private accommodation Jakov is ideal for 3 persons and has 1 rooms in the accommodation. Accommodation is equipped with: Air conditioning, Iron. To make the hot summer days more bearable in the accommodation there is an Air conditioning.
Tipo de Acomodação
Casa/apto inteiro
---
Tipo de Imóvel
Apartamento
---
Acomoda
3
---
Quartos
Marina, HR, Croácia
Our 2+2 apartment with double bedroom, living room, bathroom, balcony will assure you pleasant holiday. It is located on a quiet street but only 20 m far from beach and a center of village with coffee bars and restaurant. Free wireless, AC, parking
Apartments Katarina are situated in small and picturesque village Poljica. Apartment nr. 2 is on the first floor with full sea view, 20 m far from beach and 50 m far from coffee bar, bakery, small market, restaurant, children playground. It is equipped with iron, hair dryer and all other stuff needed for pleasant holiday. The apartment can accommodate 4 people. Beach is pebbled, especially suitable for small children. On the beach you can rent boat, jet ski and organize fishing or fish picnic on the closest islands. We offer 3 modern and fully equipped apartments and can accommodate 16 persons.
House is 2 km far from Marina where is post office, doctor, dentist, pharmacy, large shopping center, market, fish market, restaurants... 10 km far from town of Trogir, 15 km far from Split airport, 40 km far from town of Split.
Katarina est une hôte sympathique et disponible. L'appartement, très propre et agréable, offre une belle vue sur la mer et se situe à environ 15 mn en voiture de Trogir. Nous avons passé une nuit dans ce logement que nous recommandons.
Julie
2016-08-07T00:00:00Z
This was our first time in Croatia and we can say that Katarina's apartment was great choice. Apartment is nice, modern and clean. It is really great that it is approx. 30 meters from the beach and sea. From the balcony you can enjoy nice view. Beach is nice and clean. Our son enjoyed Croatian ice cream ;) There is one small shop nearby where you can buy everything you need. Poljica is nice, small town and everyone will enjoy the stay there. Many thanks Katarina. We have really enjoyed our stay and it was really nice vacation. We will definitely recommend you apartments.
Martin
2016-08-12T00:00:00Z
Poljica was a good place to stay few days. We have not seen such many stars on the sky for years :) Katrina's place was also very nice,clean and modern.There was everything you might need.The sea is really close ( 20-30 m ) and from the balcony you can enjoy the view in the morning or even in the evening. Many thanks for everything Katarina...we will go back for sure.
Szaszkó
2016-07-03T00:00:00Z
Tipo de Acomodação
Casa/apto inteiro
---
Tipo de Imóvel
Apartamento
---
Acomoda
4
---
Quartos
Poljica, Marina, Trogir, Splitsko-dalmatinska županija, Croácia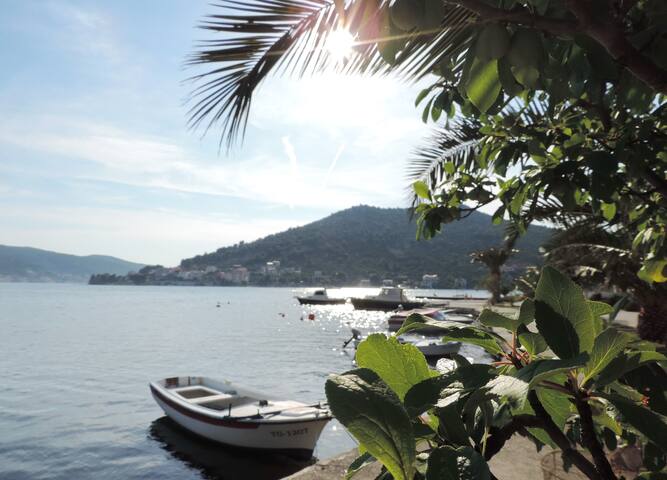 Za koga je moj smještaj: parovi, solo avanturisti, poslovni putnici, and obitelji (s djecom).
Tipo de Acomodação
Casa/apto inteiro
---
Tipo de Imóvel
Outros
---
Acomoda
3
---
Quartos
Marina, Splitsko-dalmatinska županija, Croácia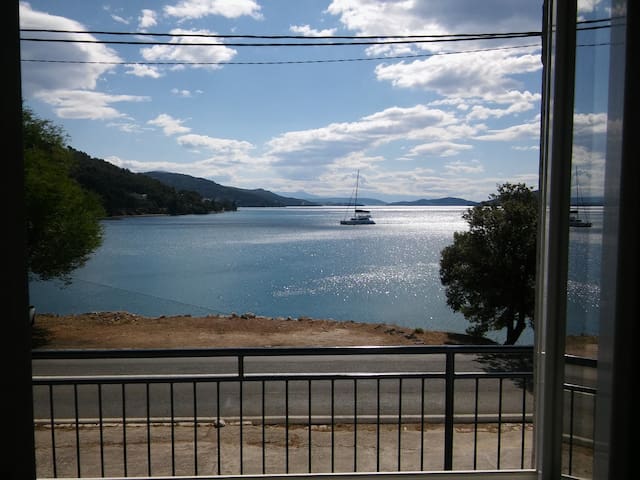 1

–

18

de

Mais de 300 Espaços para Alugar
Insira as datas para ver o preço total. Taxas adicionais serão aplicadas. Impostos podem ser adicionados.