Mais de 300 Apartamentos para Alugar
Beautiful and comfortable apartment at the Grand Marina in Nuevo Vallarta. Perfect fit for families and friends. Pools, jacuzzis, grill for gatherings, and more! You'll have an incredible time in and around the area.
This apartment is a perfect fit for families and a small group of friends! You'll have lots to do inside the Grand Marina. Inside the apartment you'll find two bedrooms, one with king size bed and another with two individual beds, and two restrooms. You'll be able to use the kitchen to cook your own meals as it has everything you need. There is also a living room with a TV for when you want to watch something together. However, you'll want to go outside and take advantage of what Grand Marina and Riviera Nayarit have for you. When you get back to the apartment from your visit around town or after a long day at the pool or the nearby mall you'll find it very comfortable and relaxing.
You can find a great mall just outside of the apartment. There you can find a supermarket, good restaurants, delicious ice cream, jewelries and more! As you'll see, this area is pretty safe for everyone to just walk around to restaurants and other nearby places. All of Nuevo Vallarta is pretty safe but as you would in any other place even back home, you must take precautions. Here we'll make that a little easier for you since you'll have 24hr security for the building. Also, if you're going out and don't want to take your passport with you, you can leave it in a safe inside the apartment. However, don't leave your camera there... there's lots to see here in Riviera Nayarit and you'll want to take lots of pictures!
Excelente lugar limpio elegante muy buen gusto en el interior excelente alberca y jAcuzzi así como la ubicación
Mickey
2016-07-20T00:00:00Z
Marian was very kind and responsive to our questions. The apartment is exactly wha we expected and more. It was our first experience with an Airbnb listing and we were very pleased.
Michel
2016-07-27T00:00:00Z
Mariana was a great host. She kept in contact all the time and responded to all of our questions and concern. The property is in a great location and the security guard was very friendly and very helpful. The administration was eager to help and answer any questions. The unit needs a bit of work but I am sure the owners will fix some of these issues. The accommodation was certainly a good value.
Marc
2016-02-10T00:00:00Z
I had a great stay at Mariana's! It's conveniently located and the pictures are accurate. The club office isn't open on Sunday's so if you want to sign up make sure to go during the week or Saturday. Mariana wasn't aware of this but she let us have an extra night in return!
Gabriel
2016-06-22T00:00:00Z
Great location if you visit PV looking to relax. The pool and jacuzzi are beautiful. Stores, super and casino in a walking distance.
Ruben
2015-09-14T00:00:00Z
Mariana fue muy buena anfitriona. Estuvo pendiente todo el tiempo y se aseguró que no nos faltara nada. El departamento es muy bonito, limpio y bien ubicado.
Álvaro
2016-01-04T00:00:00Z
El departamento está muy bien ubicado, cerca de todo. Las habitaciones son cómodas y las camas muy limpias. La cocina está muy bien equipada...en fin, un lugar perfecto para pasar unos días en familia!
Pablo
2016-07-09T00:00:00Z
Mariana was really helpful with all of our questions. Condo was clean and well kept. Great location, nice and quiet.
Kari
2016-01-18T00:00:00Z
Tipo de Acomodação
Casa/apto inteiro
---
Tipo de Imóvel
Apartamento
---
Acomoda
4
---
Quartos
Nuevo Vallarta, Nayarit, México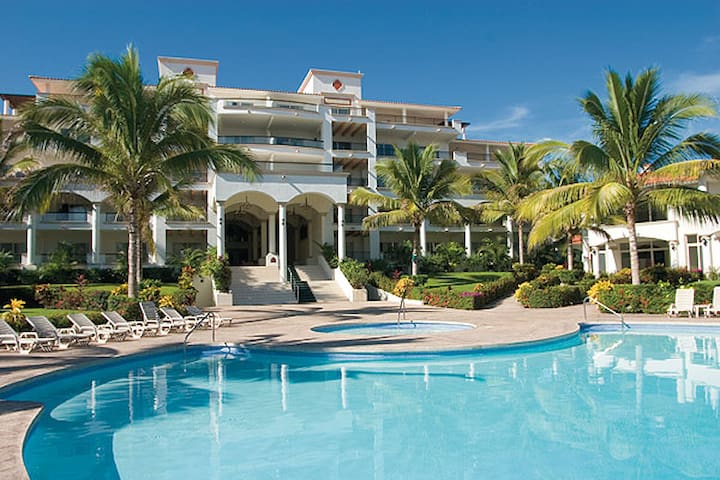 The best option at the beach; oceanfront, private beach, infinity pool, terrace and cute apartment...only waiting for you!!
Tipo de Acomodação
Casa/apto inteiro
---
Tipo de Imóvel
Apartamento
---
Acomoda
4
---
Quartos
Nuevo Vallarta, Nayarit, México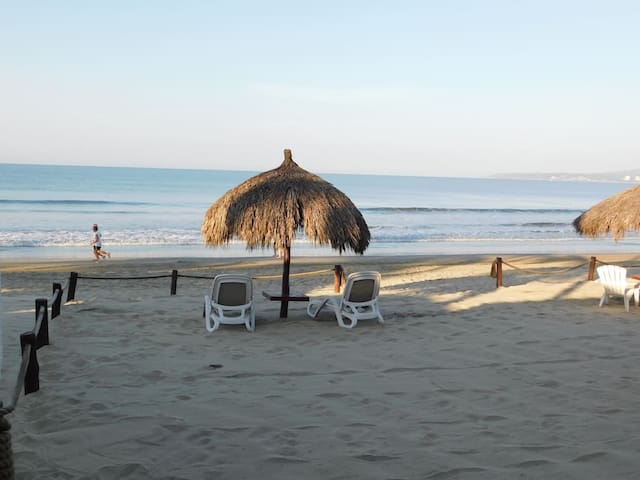 Departamento en el quinto piso, hermosas áreas verdes, alberca, playa, vista al mar, no dejes pasar esta oportunidad y hospedate en un excelente lugar al mejor precio, en la zona de Flamingos Nuevo Vallarta.
Para quem deseja um pouco mais de estrutura como restaurantes, é um pouco distante! Mas o condomínio é ótimo, o apartamento é grande e possui comodidades básicas suficientes para uma estadia agradável! O anfitrião é extremamente disponível e solícito!
Juliana
2017-03-06T00:00:00Z
Este departamento está increíble la ubicación es la mejor zona de nuevo vallarta y la playa está está muy padre, las instalaciones de las áreas comunes (alberca, baños y sillones en las albercas y playa) están en excelente condiciones !! Definitivamente volveremos !! Ampliamente recomendable!!!
Ana
2017-02-23T00:00:00Z
Manuel is a perfect gentleman and a great host. His place is one big room, perfect size for one or two people. The views are 5 star and so is the location as far as being on the beach and the grounds and pool srea❤️. His kitchen area is not equipped too well but Manuel was willing to bring me anything I needed. I will definitely be back.
Joan
2017-01-19T00:00:00Z
Muy buena opción para descansar en pareja
Mario
2017-04-02T00:00:00Z
Nice apartment in a quiet and beautiful part of town, featuring a great beach and big pools. Manuel was always available upon any requests we had. Great stay overall.
Andres
2017-03-21T00:00:00Z
Excelente lugar, muy amable y muy atento, sin duda volvería.
oscar raymundo
2017-01-26T00:00:00Z
Great value! The bed is super comfortable and the unit is light and bright with one big slider wall on the ocean side. The small kitchen is very usable, with hotplate, coffee maker, and dishes. There is also a dedicated laundry room just outside the unit and the bathroom has ample light and space. The views from balcony of both sunrise and sunset are a delight and the pools are peaceful and lovely, with beach views. Ample chairs and lounging shelters around pools and on beach. And the beach right in front of the complex is wonderful for swimming and playing in the waves. The staff are kind and helpful, as well as vigilant. And the host was kind and understanding when we accidentally locked ourselves out and he came at 10:30pm from half hour away to let us in. The only issues we had were with the drainage in the shower, which Manuel came promptly to assess and fix, and with the general cleanliness of the unit. It wasn't terrible, but after shower overflowed, I gave bathroom a thorough scrub down. There is also some nasty odors at night around the complex and it comes up through drains, but we have found that common on this trip throughout Nayarit coast. The easy solution is to place wet rags over each drain and burn candles in the bathroom at night. Definitely not a reason to miss out on this fabulous spot. I'm grateful for the 3 days we had there.
Shannon
2017-03-26T00:00:00Z
Excelentes
Alejandra
2016-12-18T00:00:00Z
Tipo de Acomodação
Casa/apto inteiro
---
Tipo de Imóvel
Apartamento
---
Acomoda
3
---
Quartos
Nuevo Vallarta , Nay., México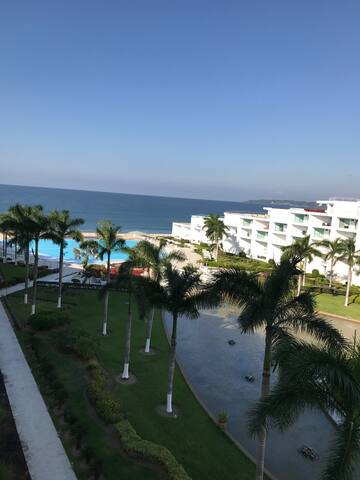 Full equipped apartment 50 meters from the beach! Low level, on the best beach of Nuevo Vallarta. Ideal for families and relaxed holidays, with 24/7 security, WiFi and everyday cleaning service. Two swimming pools and easy access to private palapas at the beachfront. Access to the open-air gym, restaurant, kids playground, beach bar, convenience store, barbecue grills and SPA services available.
Very quiet, clean and safe condo!
30 minutes drive to Puerto Vallarta and 5 minutes ride to Golf courses, shopping mall and marina.
Denna lägenhet var trevlig med välutrustat kök. Läget var bra eftersom den låg nära hav och pool. uppskattade också att det fanns lakan. Vi uppskattade att det fanns luftkonditionering i varje rum, poolhandukar att byta samt att den städades varje dag. Det enda lite negativa var att det fanns en svag mögellukt, troligen på grund av fuktskada som syntesen vägg i stora sovrummet och i ena badrummet.
Ann-Kristin
2017-03-28T00:00:00Z
Alejandro, what a beautiful spot you have! The condo is spacious, clean and comfortable. Being on the ground floor was a plus. The grounds are lovely and the beach was perfect.
Julie
2017-03-06T00:00:00Z
muy recomendado
teresita
2017-03-15T00:00:00Z
Tipo de Acomodação
Casa/apto inteiro
---
Tipo de Imóvel
Apartamento
---
Acomoda
6
---
Quartos
Nuevo Vallarta, Nayarit, México
Apartamento totalmente equipado con playa privada en Nuevo Vallarta. Cuenta con servicio de limpieza y seguridad 24/7. Disponibilidad a servicios de SPA, gym al aire libre, restaurante, juegos para niños y asadores. Maximo 6 personas.
Condominio ideal para unos dias de relax
A 20min en carro de Puerto Vallarta y a 5min de la plaza y marina.
Excelente ubicación. El condominio es muy limpio y Organizado.
Sandra
2017-03-05T00:00:00Z
Es una suite muy cómoda y bien ubicada el aérea social está muy bien mantenida hay que hacer check in y check out como en un hotel y te hacen limpieza a diario ,,,, volvería al sitio de rodolfo !!!
Eliana
2017-03-27T00:00:00Z
Excelente anfitrión y lugar. El departamento es muy amplio, muy limpio. Muy buena ubicación y la playa es insuperable. La pase increíble !!!!
Dra. Annel
2017-03-11T00:00:00Z
Una muy buena ubicación el depa muy bien con dos baños y todo en buen estado!! Los depas con una buena playa y muy buena zona de alberca y mini súper lo recomiendo Rodolfo muy buena comunicación
Sara
2017-02-12T00:00:00Z
Great place to stay! Right at the beach with great service!
Ana
2017-03-13T00:00:00Z
Excelente lugar. Padrisima ubicación.
Carlos German
2017-02-10T00:00:00Z
Great condo! Rodolfo was very accommodating and quick to respond to every question we had. We booked the day of and he was able to arrange everything last minute. I would stay here again!
Erin
2017-01-28T00:00:00Z
Muy bien todo pero no quedo muy claro el pago, ya que llegando alla nos cobraron $50 por persona por noche
Paulina
2017-03-21T00:00:00Z
Tipo de Acomodação
Casa/apto inteiro
---
Tipo de Imóvel
Apartamento
---
Acomoda
6
---
Quartos
Nuevo Vallarta, Nayarit, México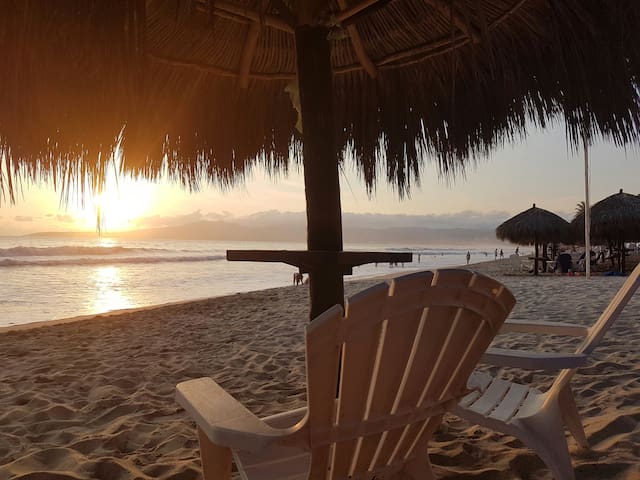 Lugar con seguridad y las áreas más limpias y ordenadas , alberca climatizada a tan solo 15 min del aeropuerto , todos los servicios para una estadía sin preocupaciones , departamento completo de 70 mts con entrada privada inmediata a la playa más bonita , tiendas comerciales y restaurantes a pocos minutos
La seguridad y tranquilidad de la mejor playa del estado , con acceso privado
Una zona tranquila y segura en la mejor zona de nuevo Vallarta
Perfect beach!
Emily
2017-03-20T00:00:00Z
El departamento esta muy bien ubicado, esta muy limpio, las áreas comunes están excelentes! Lo recomiendo ampliamente, Omar se fue muy amable y atento en todo el tiempo!
Juan Pablo
2017-03-12T00:00:00Z
Muy comodo. Bien ubicado. El personal muy amable. El departamento esta muy bien
Marcelo
2017-02-24T00:00:00Z
Awesome place for couples, gorgeous beach just a few steps from the clean and new apartment with all the amenities you can imagine. We'll definitely come back to this beautiful place. Thank you Omar.
Jacqueline
2017-03-16T00:00:00Z
Excelente ubicación e instalaciones, sin duda regresaría
Roberto
2017-02-26T00:00:00Z
Departamente muy bien ubicado y con acceso a playa, ideal para descanso
Gabo
2017-03-05T00:00:00Z
La playa es muy agradable y está a unos pasos de un restaurante diurno bastante bueno. Hay que traer auto para moverse con facilidad en el area.
Renat
2017-03-25T00:00:00Z
Tipo de Acomodação
Casa/apto inteiro
---
Tipo de Imóvel
Apartamento
---
Acomoda
4
---
Quartos
Nuevo Vallarta, Nayarit, México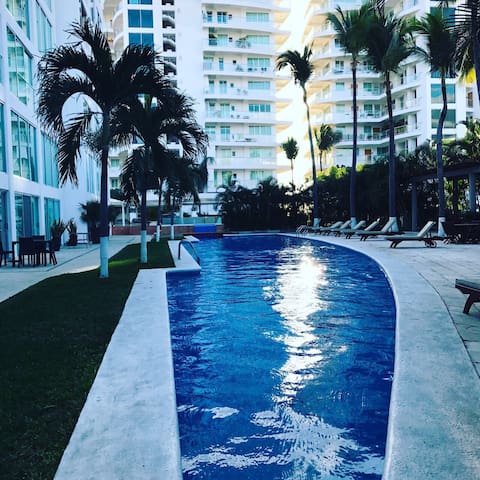 Luxury 1 bedroom condo at Riviera Nayarit, one of the best beaches destinations in Mexico, enjoy an amazing complex in the hert of Nuevo Vallarta whit all the amenities
excelente!
Fer
2017-04-02T00:00:00Z
Great Place! Clean and modern.
Enrico
2016-11-09T00:00:00Z
Oscars place is truly amazing and he is very nice. The residence is right near the beach but in walking distance of restaurants and other bars. A very peaceful stay.
Samantha
2016-11-20T00:00:00Z
.
Asim
2017-03-05T00:00:00Z
Óscar fue muy atento desde que hicimos la reservación hasta que nos fuimos, el departamento muy limpio muy bien puesto muy bien arreglado.
Sergio
2016-04-10T00:00:00Z
Everything was great. Oscar was quick to respond to messages which I really appreciate. We showed up early but they still had the place ready within a couple of hours. The place was clean, well taken care of and fully as displayed. Getting in and set up was very easy and everyone was very helpful. I'd stay here again!
Chad
2016-04-11T00:00:00Z
Muy buena ubicación, limpio, con la playa muy limpia y tranquila. Muy recomendable
LUIS
2017-03-25T00:00:00Z
Walking distance to several restaurants and located in a safe and upscale neighborhood, makes for a comfortable and relaxing stay.
Philip
2017-03-08T00:00:00Z
Tipo de Acomodação
Casa/apto inteiro
---
Tipo de Imóvel
Apartamento
---
Acomoda
4
---
Quartos
Nuevo Vallarta, Nayarit, México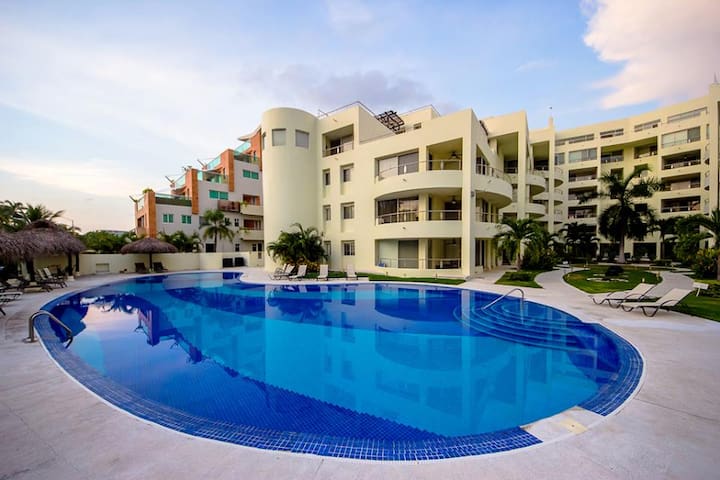 Awesome Studio recently renovated. It has king size bed, and a sofa bed Foutton style in which 2 more can sleep. The kitchen is really cute and the views are amazing. The terrace has a table. The bathroom is large and with a lot of space to keep your belongings. It has Air Conditioner, Ceiling Fan, Satelite Tv, and Free Wifi. You have a free parking spot included. The Condominum has green areas and two of the greatest pools on it. A big one and the other is actually on the beach!
Tipo de Acomodação
Casa/apto inteiro
---
Tipo de Imóvel
Apartamento
---
Acomoda
4
---
Quartos
Nuevo Vallarta, Nayarit, México
Highly sought after Peninsula - Nuevo Vallarta, is perfectly situated in the middle of the Bay of Banderas. Close to all things, but also secluded enough to give you your very own peace of tranquility. Watch the whales breach, save a baby turtle, bike to Bucerias or enjoy the famous Vallarta sunsets from your oversized front terrace.
The stay of your dreams - fully equipped beachfront condo. High end linens, maximum comfort beds and couches, kitchen stocked with all you will need, Nespresso Coffee machine, washer and dryer, can include two bicycles and a scooter*!
Nuevo Vallarta is a modern and luxurious part of Mexico. It is close enough to the action of Puerto Vallarta, but quiet and tucked away with the softest sand beaches of the bay. The building is centrally located in Nuevo Vallarta, within walking distance to bars/restaurants, and a $5 US taxi ride can take you everywhere else you may need to go.
Tipo de Acomodação
Casa/apto inteiro
---
Tipo de Imóvel
Apartamento
---
Acomoda
4
---
Quartos
Nuevo Vallarta, Nay., México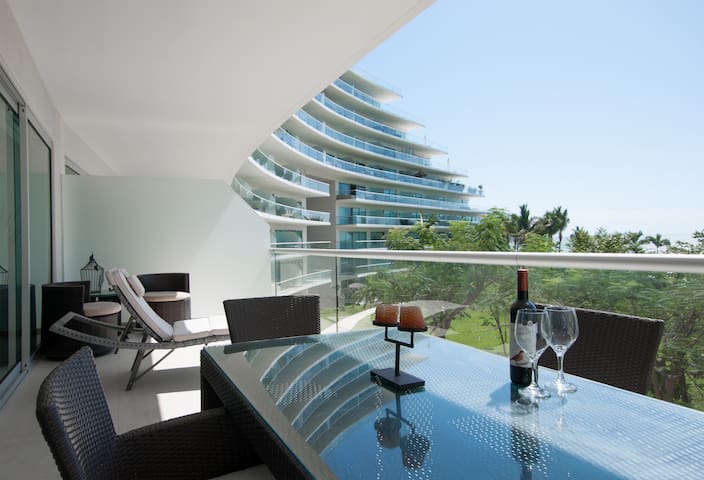 3.14 Living Plaza. Nuevo Vallarta. Great location, main restaurants and amenities downstairs, bike rental in the Plaza. Located 10 minute walking distance from the beach. Pets are welcome! Plaza 3.14 LIVING. Nuevo Vallarta, Nay. A 10 minutos caminando de la playa, cercano a restaurantes y amenidades. Renta de bicicletas accesible dentro de la misma plaza. Bienvenidas Mascotas!
Rosa Alma provided us with such a wonderful place to stay! It was close to several restaurants and was very clean and spacious. Rosa Alma responses to any questions we had in a very timely manner. I would recommend this condo to family, friends and even strangers. We couldn't be happier with our decision to stay here!
Kayte
2016-09-10T00:00:00Z
A pesar de que el tiempo para reservar fue mínimo tuvimos una respuesta rápida de Alma lo cual se agradece. En cuanto al lugar, tiene todo lo que necesitas para pasar unos buenos días de descanso. Muy buena ubicación con acceso y salida rápida hacia Puerto Vallarta y Playas cercanas. Todas las comodidades que uno espera en un lugar diferente a su casa.
Alejandro
2016-12-04T00:00:00Z
La tranquilidad del lugar ni tiene comparación. Muy recomendable. Gracias Rosa Alma por ser nuestra anfitrión.
Carlos
2016-06-01T00:00:00Z
Muy recomendable, lugar residencial cerca de buenos restaurantes y de la playa. el condominio muy tranquilo, ideal para relajarse en pareja y en familia los niños lo disfrutan mucho, el departamento esta completa y comodamente equipado.
Agustin
2016-11-27T00:00:00Z
Rosa was extremely attentive and accommodating. The place is very nice. It has several restaurants in the complex including a Lebanese restaurant which is spectacular. It is about a 10 minute scenic walk to the beach. Overall an A++ experience. Highly recommended.
Mark
2015-12-14T00:00:00Z
Todo muy bien nos la pasamos de lo mejor
Armando
2016-07-09T00:00:00Z
Rosa Alma was in contact with me though messaging, also she gave me a cellphone number to contact her for just in case something happend. The apartament is very nice as it looked in the website, all was in order and its place. The neighbourhood is very quiet.
Victor
2016-06-17T00:00:00Z
Beautiful location not far from the beach. The condo was very nice with everything we needed to feel like we're at home. Rosa was really quick to communicate with us any time we had questions.
Gary
2016-08-12T00:00:00Z
Tipo de Acomodação
Casa/apto inteiro
---
Tipo de Imóvel
Apartamento
---
Acomoda
4
---
Quartos
Nuevo Vallarta, Nayarit, México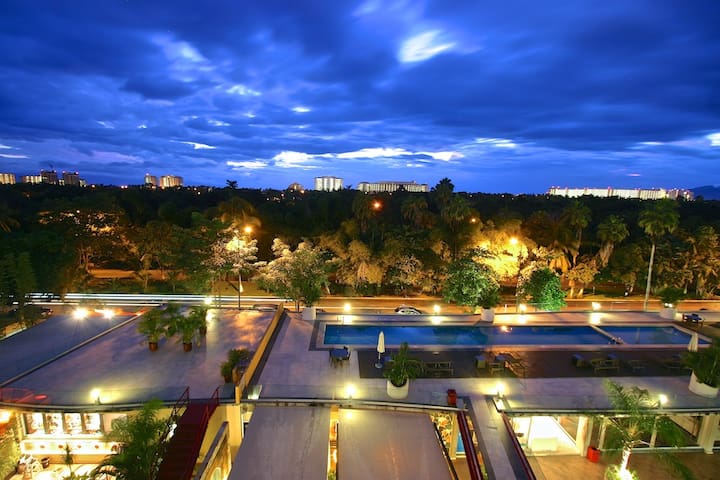 Perfect for romance! Appartment located in the most exclusive and trendy building of Nuevo Vallarta. Private pool is located on top of restaurants and bars. Only 10 minutes walk from the beach and 15 minutes away from the Airport. Escape and enjoy tranquility, great food and wine. Enjoy your partner´s company and relax. This is the perfect place to have time for yourself: go for a walk, read a book, enjoy the beach, ride a bicycle, sleep, breathe!!!
The feeling of being free and relaxed. Perfect for love and joy.
Trendy, quiet and exclusive.
Tipo de Acomodação
Casa/apto inteiro
---
Tipo de Imóvel
Apartamento
---
Acomoda
4
---
Quartos
Nuevo Vallarta, Nay., México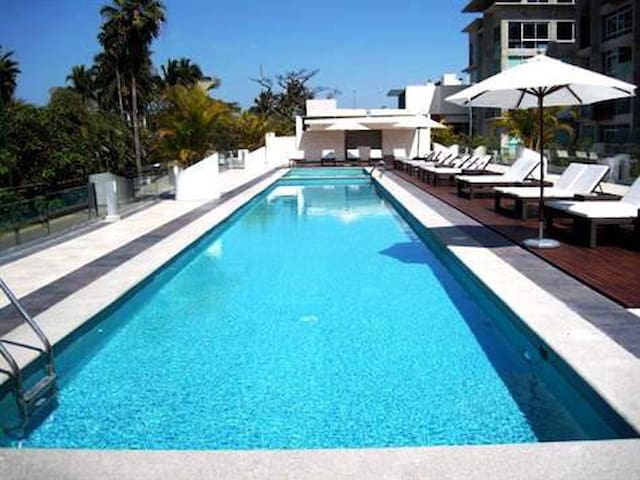 Nice one room condo with spacious balcony and beautiful views. SPECIAL PRICE BECAUSE THERE WILL BE CONSTRUCTION BESIDE APARTMENT
There will be a construction next door to the apartment starting May!!
We stayed at Nicole's place for the month of February. The complex is right on a beautiful sandy beach with the most amazing sunset. There is a huge pool, and second lap pool directly on the beach. Mu husband and I kitesurf directly from the beach outside the complex. A really wonderful place. The studio apartment is basic, nothing fancy, but good value. Nice view of the ocean. We wished the bed was bigger (we are used to sleep in a king size bed, so a we felt cramped in a double mattress) but Nicole is thinking of getting a larger one. I recommend this place to anyone who love to watch a beautiful sunset on the beach :)
Nadia
2017-03-01T00:00:00Z
We had a wonderful stay at Acqua. Nicole was so easy to communicate with before our arrival. She was there to greet us, even though we arrived quite late. The studio apartment now has a very comfortable king sized bed, and is more than adequately equipped with all we needed. The property is well maintained, pool and beach are very clean, with security keeping us safe! An easy walk to both Mega and Bucerias. We had a wonderful, relaxing 2 weeks there. Beautiful views from our balcony. We will definitely be back! Gracias, Nicole!!
Shirley
2017-03-17T00:00:00Z
Nicole was awesome! While she couldn't be there in person she had someone waiting for me when I arrived. There was fresh water, and coffee mix. Nicole was super responsive to all my questions & gave me great tips on where to go eat & drink. The pool area was clean & nice. And the beach was great. Had a great view from the deck. Overall great experience & I can not say enough good things about Nicole & her place! It was my 1st experience with Airbnb & it was definitly a positive one!
Greg
2016-12-28T00:00:00Z
Nice quiet place but easy access to many restaurants and shopping. Mega store very close and has most anything youneed.Also atm in Mega shopping enter. Explore Bucerious. many great restaurants
Sandy
2017-02-01T00:00:00Z
Está excelente el lugar; la alberca muy tranquila y la zona de playa también. Ideal para un plan relax.
Cynthia
2017-03-20T00:00:00Z
Excelente lugar la playa está preciosa sin piedras ni olor a diésel. Fabulosa para meterse a nadar. Camastros muy cómodos, muy seguro. Alberca enorme. Excelente lugar
Beatriz
2017-01-07T00:00:00Z
Great location, awesome pool area right on the beach i would come back anytime!
paulina
2017-01-16T00:00:00Z
Very Tranquille setting with a beautifull view of Banderas Bay. Nicole my Host was very accommodating and polite. This is a great value studio with a Superbe setting .
Sherwin
2017-01-14T00:00:00Z
Tipo de Acomodação
Casa/apto inteiro
---
Tipo de Imóvel
Apartamento
---
Acomoda
3
---
Quartos
Nuevo Vallarta, Nayarit, México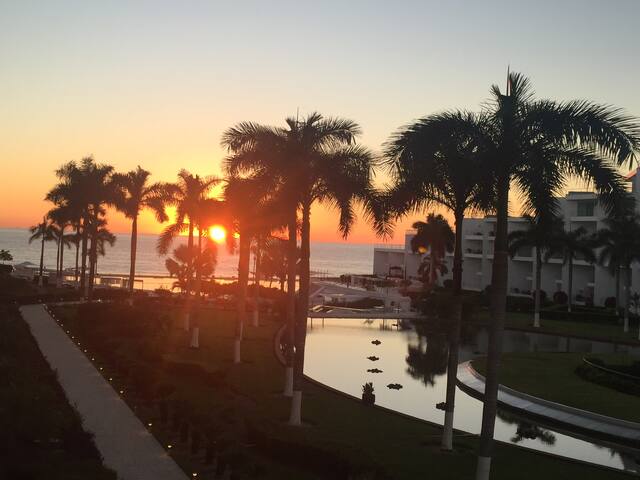 This beautiful Beachfront property is located in the area of Nuevo Vallarta-Flamingos. With its great lobby, great Gym with showers, sauna and jacuzzi, play room, WIFI and movie theater, oversized swimming pool, the most manicured gardens it is also located on the bes beaches of Puerto Vallarta with seven continuous miles of walking. This unit comes fully furnished with warm wood furnishings. One parking space included. This property has great vacation location.
The apartnemnt is located in one of the best condos in Nuevo Vallarta.
We loved our stay at the Peninsula! The condo was very comfortable and clean and had a nice view of the sunset every night. The pool is fantastic facing the sea and there were never lots of people so very easy to get chairs and umbrellas. We really appreciated that it was calm. For restaurants you need to take a taxi to Bucerias (only 10 minutes away) or walk to the Marival (10 minutes) where there were a few restaurants. Overall we loved the place and wouldn't hesitate to go back.
Nathalie
2017-03-11T00:00:00Z
Tipo de Acomodação
Casa/apto inteiro
---
Tipo de Imóvel
Apartamento
---
Acomoda
4
---
Quartos
Nuevo Vallarta, Nayarit, México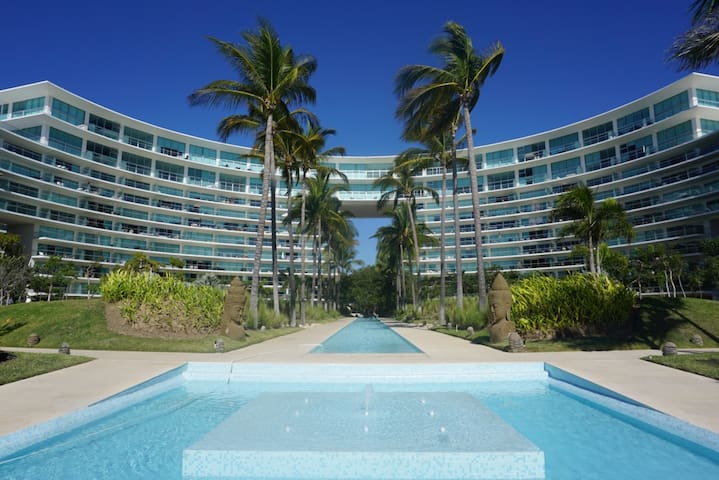 Apartamento tipo estudio ubicado en el complejo residencial "Acqua" flamingos. Acceso a playa y alberca infinita! -- Studio apartment located in "Acqua" residential development. Features infinity pool and is beachfront!
El estudio tiene con una cama doble y la opción de colocar una cama plegable individual. Tiene terraza con vista al mar y mesa exterior, cocineta equipada, aire acondicionado, centro de lavado, mesa comedor para 4, refri, horno eléctrico, cafetera y utensilios básicos de cocina. También hay toallas y blancos. -- The studio has a double bed and the option of placing a single folding bed for a 3rd person. It has a terrace with sea view and an outdoor table, equipped kitchenette, air conditioning, en suite laundry, dining table for 4, fridge, electric oven, coffee maker and basic kitchen utensils. There are also towels and linens.
Nuevo Vallarta es una comunidad túristico-residencial ubicada en el estado mexicano de Nayarit. En automóvil, se encuentra a unos 15 minutos al norte del aeropuerto internacional de Puerto Vallarta. Nuevo Vallarta recibe a muchos turistas de Estados Unidos y Canadá y tiene muchos centros comerciales y tiendas. -- Nuevo Vallarta is a planned residential-resort community located in the Mexican state of Nayarit. By automobile, it is about fifteen minutes north of Puerto Vallarta's Airport. Nuevo Vallarta receives many tourists from both the United States and Canada and has many malls and stores.
The host canceled this reservation 61 days before arrival. This is an automated posting.
Shelly
2016-11-14T00:00:00Z
Xochitl y Susa son excelentes anfitrionas con un espíritu enorme de servicio, el lugar es impecable en toda la extensión de la palabra, es decir, cómodo, súper bien ubicado y limpio. Simplemente, un extraordinario lugar para ir a descansar y disfrutar de la playa.
Carlos
2016-08-30T00:00:00Z
Muy bonito el estudio pequeño pero Acogedor la alberca y las zonas comunes muy bonitas y excelente atención por parte del anfitrión
Esther
2016-11-21T00:00:00Z
Excelente atención y comunicación por parte de Xochitl y su hermana Susa! El lugar está increíble con una alberca preciosa y es excelente opción para descansar
Mariana
2016-10-31T00:00:00Z
departamiento chiquito pero con todo el necesario y bonita vista sobre el mar, la alberca esta enorme y muy bonita, con poca gente eso es bueno esta muy padre la alberca, nadamos que no hay servicio de bar o snack en la alberca no venden nada de comida o bebidas eso falta la verdad: Xochtil es mu buena gente, todo muy bien y buena atención
Antoine
2015-10-20T00:00:00Z
La alberca es realmente linda, increible lugar para descansar. La atención muy buena y oportuna. Gracias
Marylu
2017-04-02T00:00:00Z
The condo was extremely clean and in a beautiful location. Check in and out was very easy. The views from the unit are breathtaking and the 2 pools are very nice and clean. The beach is steps away and very nice as well. Taxis are always available and never cost more than $18 US dollars to get to the more happening spots. This place is worth every dollar.
Santese
2017-04-07T00:00:00Z
El departamento está ubicado en una zona súper relajada! Está bien equipada y tiene una vista hermosa!!! Susa,la hermana de Xotchil fue súper amable y nos ayuda a rentar un auto para pasear por la zona. El único comentario es que en l z Ma no hay absolutamente nada cerca y ara hacer compras y tampoco pasa nadie por la playa vendiendo cosas!
agostina
2016-10-09T00:00:00Z
Tipo de Acomodação
Casa/apto inteiro
---
Tipo de Imóvel
Apartamento
---
Acomoda
3
---
Quartos
Nuevo Vallarta, Nayarit, México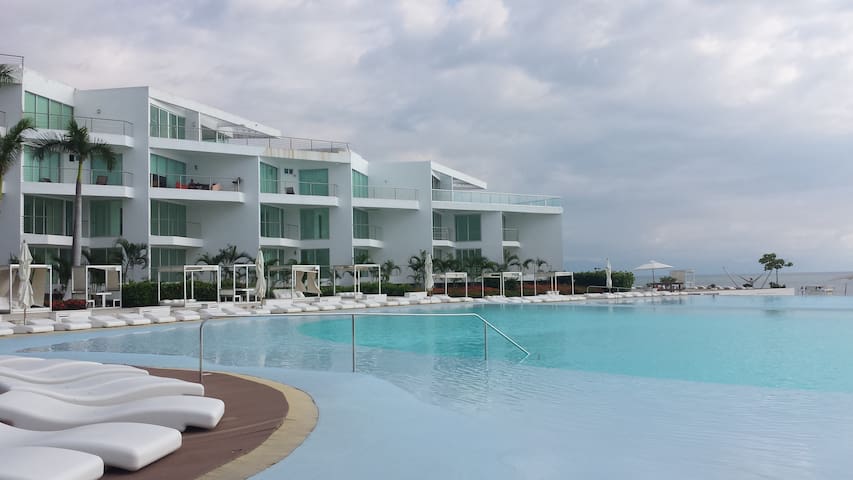 Lindo departamento frente a la playa, perfecto para relajarse y disfrutar del mar. Decoración mexicana, cuenta con dos habitaciones amplias y dos baños completos, cocina totalmente equipada, sala y comedor para 6 personas con vista al mar y dos balcones con vista a jardines del condominio. El condominio Quinta Pacifica cuenta areas comunes con alberca templada, palapa, hamacas, jardines y asoleaderos.
Servicio de limpieza y lavandería pueden ser solicitados a la administración con costo extra.
Nuevo Vallarta se caracteriza por ser un lugar hermoso y lleno de vida, la zona es tranquila y tiene todo lo necesario para pasarla bien. El condo se encuentra cerca de restaurantes, tiendas, la marina, un hospital y boulevares.
Tipo de Acomodação
Casa/apto inteiro
---
Tipo de Imóvel
Apartamento
---
Acomoda
6
---
Quartos
Nuevo Vallarta, Nayarit, México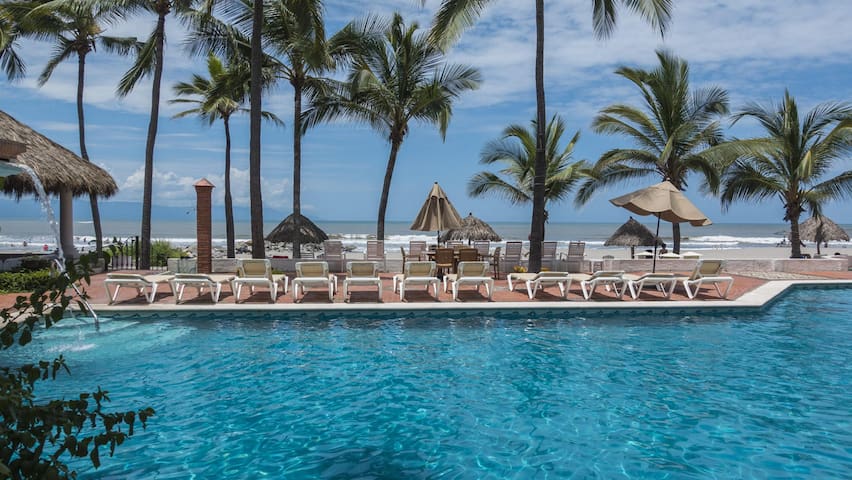 PENTHOUSE in Grand Venetian Condominiums, restaurants, You'll love my space for views and location. My accommodation is good for couples, families (with children) and large groups. ELECTRICITY NOT INCLUDED.! incredible views, restaurants, the beach and nightlife. You will love my space for the views and location. My accommodation is good for couples, business travelers, families (with childrens) and big groups. ELECTRICITY NOT INCLUDED.!
we have the best sunsets, excellent location, close to supermarkets, plazas, restaurants, beach and much more. We Have the best sunsets, near to super-markets, plazas, shopping areas, restaurants, beach, and more.
the best area of Puerto Vallarta: Zona Hotelera Norte, has a variety of restaurants, supermarkets, squares and more. the best zone of Puerto Vallarta: North Hotel Zone, have a variety of restaurants, super markets like (Walmart, Soriana, costco, sam's club), shopping areas and more
The host canceled this reservation 9 days before arrival. This is an automated posting.
Dan
2016-12-17T00:00:00Z
Tipo de Acomodação
Quarto inteiro
---
Tipo de Imóvel
Apartamento
---
Acomoda
10
---
Quartos
Puerto Vallarta, Jalisco, México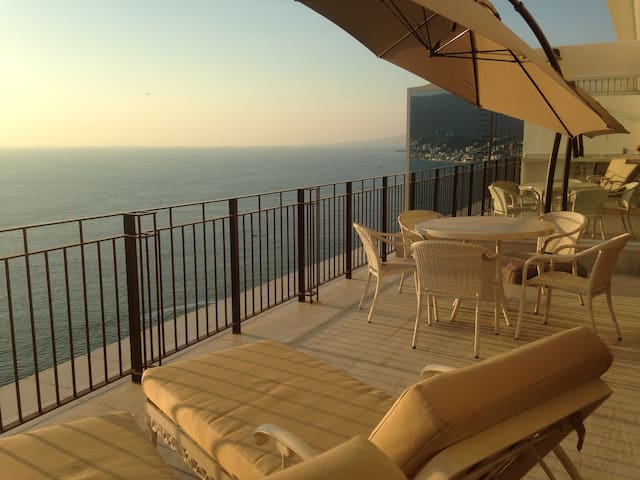 This large apartment well located in the hotel zone of Puerto Vallarta lets you enjoy a great holiday in one of the most luxurious and esxclusivos of this city departments, with excellent views of the beach and public areas
It is a very exclusive and private place very well located
The host canceled this reservation 15 days before arrival. This is an automated posting.
Fidel
2017-03-30T00:00:00Z
Tipo de Acomodação
Casa/apto inteiro
---
Tipo de Imóvel
Apartamento
---
Acomoda
6
---
Quartos
Puerto Vallarta, Jal., México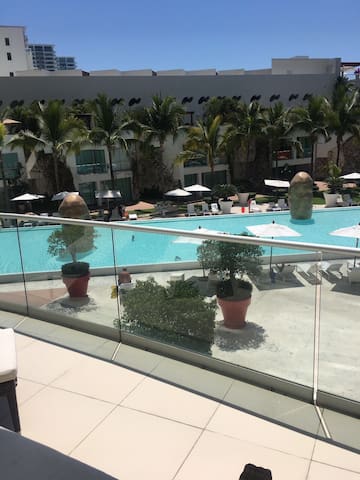 Tendrás placer y descanso en nuestro acogedor y cómodo apartamento. Disfruta de un ambiente de tranquilidad con fabulosas alternativas para disfrutar del mar, deporte y diversión, dentro del más prestigioso condo en Nuevo Vallarta. Refrescate en su alberca privada con vista al hoyo 9 de El Tigre Club de Golf. Quieres mar?, quieres deporte?, puedes tener acceso al club de playa y club deportivo de El Tigre con una membresía temporal.
Taheima es el lugar ideal para descansar, desconectarse de la rutina y disfrutar de un espacio pacífico. Estoy seguro que querrás regresar!
Tahima está muy bien ubicado y en la zona puedes encontrar varios restaurantes muy ricos; italianos, carnes, japonés, pizza, etc. El club de playa está muy cerca, a distancia caminable de 10 min. Un centro comercial con tiendas, restaurantes y supermercado, y hospital está a 15 min caminando.
Me gusto mucho, Leo me atendio muy bien las instalaciones estan muy padres regresaria feliz
santiago
2016-06-02T00:00:00Z
La ubicacion cercana a la playa, clun deportivo y club de playa padrisimo!!! El depa cuenta con todo lo necesario, leonardo siempre estubo al pdte que no faltara nada, la piscina del condominio padrisima!
Karen
2016-08-11T00:00:00Z
Muy agradable estancia, la descripcion es tal cual el lugar, mucha seguridad, muy confortable, cercano y de facil acceso para disfrutar Nuevo Vallarta. Leonardo siempre estuvo al pendiente de nosotros para que disfrutaramos al maximo, trato muy cordial. El lugar cuenta con todo lo que necesitas para disfrutar!! Tu carro se queda seguro, estacionamiento techado. Gracias por su apoyo y por hacernos una estancia agradable!! Totalmente recomendable!
Ruth
2016-05-01T00:00:00Z
La casa club muy linda , muy recomendable desayunar en el club del tigre ... y muy amables los del personal...
Alejandro
2016-12-23T00:00:00Z
Leonardo es una excelente persona, asertivo y abierto para atenderte en lo que necesites en todo momento. Recomiendo el alojamiento para un matrimonio con hijo, como lo hizo mi familia.
Ivette
2016-09-29T00:00:00Z
This is an excellent location. Anything you need is walking distance of 15-20 minutes and taxis are readily available for a couple of dollars. 35-50 pesos most of the time. The onsite people are very nice and willing to help with your needs. We enjoyed it very much. I wouldn't put more than 2 people in it as it is a one bedroom and the kitchen is very compact. The bathroom is excellent. We really enjoyed our stay.
Davie
2017-01-06T00:00:00Z
El lugar es de excelente calidad, nos encanto la alberca privada y la tranquilidad del área, nos gustó mucho toda la seguridad. El anfitrión Leonardo siempre muy atento y preocupado por nuestro bienestar, estuvimos en constante comunicación con él y todo perfecto. El lugar cuenta con un restaurante donde atienden muy amablemente y los desayunos estan deliciosos. Totalmente recomendado.
Fabiola
2016-07-31T00:00:00Z
Leo's apartment was just as described. Getting the key with the front desk staff was very easy and Leo was a wonderful communicator and wad very very accommodating to your needs! Definitely reccomend his spot the pool is very nice and beach us waking distance.
Andrea
2016-07-04T00:00:00Z
Tipo de Acomodação
Casa/apto inteiro
---
Tipo de Imóvel
Apartamento
---
Acomoda
4
---
Quartos
Nuevo Vallarta, Nayarit, México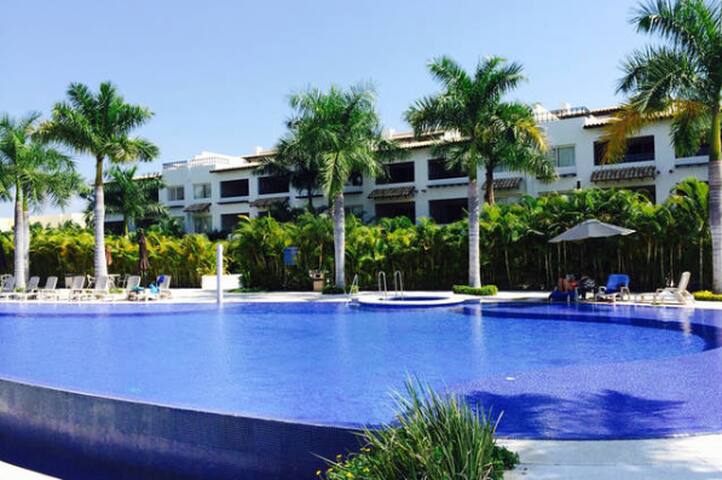 Nuevo Vallarta - Airbnb
:
Média de

4.85

de

5

estrelas, de acordo com

171

avaliações de hóspedes
1

–

18

de

Mais de 300 Apartamentos para Alugar
Insira as datas para ver o preço total. Taxas adicionais serão aplicadas. Impostos podem ser adicionados.