Make yourself right at home in the heart of Clinton Township! This immaculate home will leave you wanting for more. The apartment is unfurnished and no beds will be provided. The pictures shown are furnitures that were brought in by the previous owners and will not be included. This place is perfect for the casual backpacker, or the penny pincher like myself. Free private laundry included in the apartment.
This cozy apartment is by no means a hotel, but the price will be generously adjusted to make up for the lack of furniture. You will not find a place to live for any cheaper! Put on a sleeping bag or an air mattress and you get hotel-styled living for less than a tenth of the price.
This is a GREAT neighborhood, this condo is within walking distance (shouting distance) to local popular watering holes, restaurants, shops, and more. It's a 5 mins drive (or less) to world class shopping and dining (Partridge Creek, and also Lakeside Mall). Very convenient to expressways, and also very near health care centers/hospitals.
Bryce's place in nice just as advertised .
William
2017-04-02T00:00:00Z
all good.
William
2017-04-07T00:00:00Z
good deal
William
2017-04-06T00:00:00Z
Just as described.
William
2017-03-31T00:00:00Z
Tipo de Acomodação
Casa/apto inteiro
---
Tipo de Imóvel
Apartamento
---
Acomoda
5
---
Quartos
Charter Township of Clinton, Michigan, Estados Unidos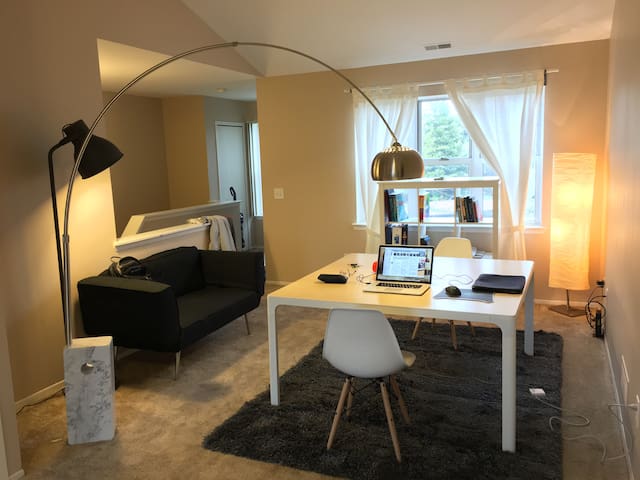 Spacious, sunny, stylish remodel. Perfect for biz travel, medical, students. Birdseye Beech plank floor, carport, free private laundry, luxury memory foam bed & duvet, dishwasher, garbage disposal. Next to Henry Ford Hospital & Macomb Comm College.
Beautiful, open, sunny HUGE newly remodeled fully furnished condo! Great taste and style, luxury plank flooring (super clean, no dingy carpet!), and every amenity you could want. Wifi & Roku. Brand new kitchen. Covered carport, private balcony, private free laundry, new efficient furnace, central air, garbage disposal and every other amenity you could think of. Towels, hairdryer, iron/ironing board, Keurig one cup on demand coffemaker (takes K Cups), toaster, and more all included... Brand new everything, including new flooring, new appliances, new furniture - clean and bright and modern throughout. Queen bed in bedroom (sleeps 2). An additional pull out queen bed (pull out sofa - brand new, high quality!) with Feather Bed quality down topper (kept in the walk-in closet, ready for your use) for additional comfort. Right around the corner from Henry Ford Hospital and Macomb Community College. Comes equipped with everything you need - from towels, to shampoo, to dishes. Cable TV is 50" flatscreen with access to Netflix, HBO Go, and more (Please note that there is *not* traditional "cable TV," please be sure this is OK with you). YES we offer huge discounts for long term stays! We love students, business travelers, and those who are relocating. We offer 25-30% or more off our nightly rate if you are requesting a long term booking. This discount will automatically be applied when you enter your search dates if it is a long term request (no additional discounts apply). Don't worry, we also have other discounts and great rates all year long, and we also love people who stay for just a few nights or a few weeks, too. Just enter your dates to see the best possible rate.
This is a GREAT neighborhood, this condo is within walking distance (shouting distance) to local popular watering holes, restaurants, shops, and more. It's a 5 mins drive (or less) to world class shopping and dining (Partridge Creek, and also Lakeside Mall). Very convenient to expressways, and also very near health care centers/hospitals.
Our stay at Nicole's Private Mod Condo was most pleasant. The condo is conveniently located near MCCC and the lovely Partridge Creek Mall with Nordstrom as it's anchor store. Lots of additional shopping such as COSTCO, Marshalls, Italian Produce/Meat/Fruit markets and a variety of restaurants to serve anyone's desire. Our gracious hosts provided us with coffee, tea, granola bars and other breakfast treats. Cannot express how very pleased we were with the quality of the bedding, pillows, and other furnishings. The condo was spotless and we are pretty fussy guests. So glad we tried airbnb, our first time. It won't be our last.
cheryl
2015-06-22T00:00:00Z
Nicole did a good job clearly explaining what was expected while staying at her place. It was easy to follow her instructions to find the apartment as well as get inside. She also made a last minute change for us to allow another guest. Overall I was happy with my stay. The free coffee and oatmeal is a nice touch. Some points to keep in mind; Clinton Township is about 40 minutes from Detroit. We stayed here for Movement (music festival in Detroit) and thank god we had someone who could drive or else it would have been a HUGE cost. Uber is about $40 to get to Detroit. The pictures make the place look a little bigger than it is. We had 5 people though and it was still a comfortable stay. The hot water tank runs out quickly. The master bed is awesome. The pull out bed is not. There is no smoking at this location, even on the porch which was excessive in my opinion. I believe this is a rule as it seems to be a retirement location and people smoking late at night on the balcony is going to potentially anger the other residents. If you want to smoke you have to go for a bit of a walk away from the apartments. The door to the building will lock automatically. However you have to let it swing close with a little force for it to lock.
Connor
2016-06-02T00:00:00Z
Hosting and communication were excellent. The apartment was clean, and fit the description. Easy access and coordination all around. If I needed to be in the area again I'd certainly consider staying here.
Adam
2016-05-08T00:00:00Z
We have no complaints regarding our stay. Nicole was very thorough and extremely quick replying to any questions. The apartment is beautiful and very tastefully decorating. We will definitely book again, if the need arises. Thank you Nicole!!!
Dawn
2015-11-27T00:00:00Z
The Condo is very lovely and perfect for a longer stay. I lived here for 30 days and really enjoyed all the space and the functionalities that Nicole makes available in her condo. Furthermore Nicole is a very perfect host and provides one with a lot of stuff from food to little presents of the Detroit area. If I'm coming back I would definitely choose this one.
Bastian
2016-04-21T00:00:00Z
Nicole and Greg were awesome! The apartment was fantastic too, the couches are comfortable, the bed is amazing, the kitchen has everything you need. Also if there's ever any problem, Nicole responds very quickly and finds a solution. The listing description was very accurate I'd say and the area around this apartment is very nice. The covered parking that this apartment comes with is such a nice amenity to have, especially in the winter time. Overall it's a great place to stay with great hosts and you should definitely stay here, you won't regret it!
Sunny
2015-03-29T00:00:00Z
Our stay was truly wonderful! Nicole was a great host. She was always available when we had questions and made us feel very comfortable during our stay. Thank you for all the care baskets. The house was very clean and bright. The description was accurate and therefore we felt at peace during our stay. Lots of places were walking distance so it made things very convenient. I would definitely go out of my way to stay here again because I know i'll be happy with my booking. Thanks again Nicole and hope to stay with you again.
Shuaib
2015-09-21T00:00:00Z
The apartment was great and so was dealing with Nicole! 5 stars!
Tory
2015-07-18T00:00:00Z
Tipo de Acomodação
Casa/apto inteiro
---
Tipo de Imóvel
Apartamento
---
Acomoda
4
---
Quartos
Charter Township of Clinton, Michigan, Estados Unidos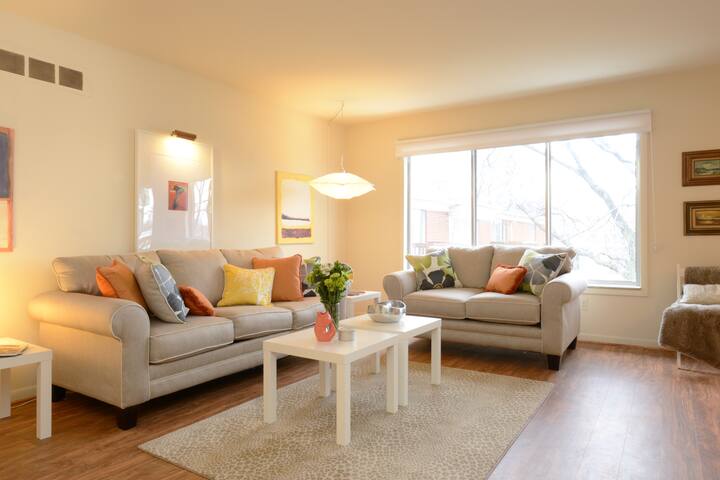 Quiet private fully furnished home on cul de sac! Vaulted ceilings, hardwood, spacious open kitchen & dining room, 2 Bedrooms, 2 baths. Includes private den/office with printer , huge open finished basement, deck, and more. Beautiful and welcoming.
This is a beautiful family home! Cheryl is an interior decorator, and everything in the home is welcoming -- as well as clean, neat, and enjoyable. We are looking for folks who need a very nice place to call home for a little while, and will respect our home while staying here. Perfect for business travel, visiting family in the Metro Detroit area, and more. 2 Bedrooms. 2 baths, plus an office, a finished open basement space, a deck and a yard make this a very enjoyable home. You have an in-garage parking space, a driveway, and plenty of FREE street parking as well.
Quiet family neighborhood, ideally located in Metro Detroit! Easy access to world class shopping and dining (try Partridge Creek outdoor family friendly complex, or Somerset Mall upscale shopping!), corporate areas like Troy, and also easy access to downtown Detroit. Birmingham, Rochester, Royal Oak, Ferndale, Romeo and other areas are just a short 10-20 minute drive away as well.
Great experience using Airbnb! The house was exactly as described. Cute & clean in a nice quiet neighborhood. Cheryl was very responsive & helpful throughout the process. I would definitely stay again. Thanks!
Richard
2016-04-02T00:00:00Z
Cheryl was so accommodating during our stay and so easy to communicate with! The house is bright and roomy and perfect for my new family :) It is located close to grocery stores, restaurants and Target/WalMart.
Kristene
2017-02-10T00:00:00Z
Cheryl's place was exactly what we were looking for on our business trip. It was a quick drive into the city. Had all the amenities. And was around the corner from a great resto/bar and a 24 hour Meijer. Plus, Cheryl was very responsive and even paid us a visit at our booth at the Auto Show!
Craig
2017-01-22T00:00:00Z
We spent 6 weeks in Chery's wonderful condo. It was exceptionally clean and very comfortable. We loved the layout. Cheryl was very responsive as a host and readily available if we needed her. The condo is very close to shopping, restaurants and other attractions. It was a great home away from home.
Kathy
2017-01-01T00:00:00Z
Great stay, would highly recommend!
Maria
2016-10-31T00:00:00Z
My husband and I stayed at Cheryl's wonderful home for two weeks while he was working downtown. We loved the house and were extremely comfortable there. Cheryl is a phenomenal host. She has thought of everything and stocked the house with every amenity you could possibly need. The neighborhood is lovely, quiet, surrounded by trees, and very safe. This was the perfect place for our stay in the Detroit area.
Sandra
2016-11-14T00:00:00Z
Cheryl answered my E-mails very quickly with good information on check in. She also provided hotel like amenities for the bathroom and a welcome basket in the kitchen (along with a Kurig which was very useful). It was a very nice added touch. The house was spacious and clean and was perfect for our needs.
Kelly
2016-09-05T00:00:00Z
I loved my stay! The house is spacious, open, light and airy. I loved the hardwood floors and flow of the house, as well as the decor and furniture. Everything was super super clean, and this was very important to me. Booking was simple and easy, straightforward; what a great experience as my first Airbnb booking. I appreciated how smoothly everything went, and all the little extra touches in the house that made it very convenient and feel like "home away from home." The location is great as well, easy access to Big Beaver Road and surrounding areas, as well as an easy shot to expressways like 696 and 94 - great to get to shopping and corporate areas. The house was exactly as pictured, and I couldn't be happier with my relaxing stay!
Christine
2016-01-24T00:00:00Z
Tipo de Acomodação
Casa/apto inteiro
---
Tipo de Imóvel
Casa
---
Acomoda
4
---
Quartos
Charter Township of Clinton, Michigan, Estados Unidos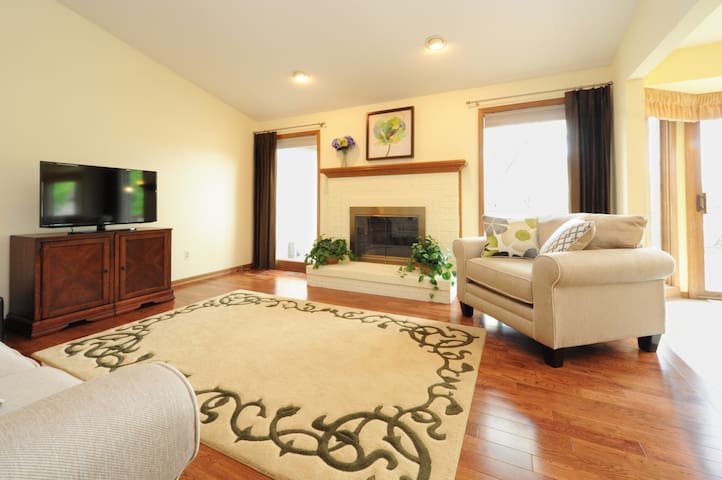 2 Bedrooms, 1.5 Bathroom, Kitchen, Large Back Yard. Large Living Room & Den or a office space. You will live with the hosts which comprises of only 2 people. They are completely in a different area of the house having their own bedroom and bathroom.
Guests will have access to all the living space that is shown in the images. You will live with the hosts. The hosts have their separate living quarters which include their own bathroom and bedroom. The hosts comprises of only 2 people, a husband and wife team, taking care of the guests. Breakfast is provided which includes cereals, fruits, boiled eggs, juices and varieties of snacks. Fresh coffee is available 24/7. In addition the entire kitchen is at the guest's disposal to cook. But they must use their own groceries and must thoroughly clean after they are done.
Our neighborhood is surrounded by High-End homes. It is s luxurious environment. It's a quiet neighborhood. Free parking is also available.
Very nice set of rooms in a large, spacious and modern house in a smart development. I was made extremely comfortable and the host was extremely kind, responsive (he replied to my last minute request to book within minutes), flexible (my arrival time changed several times over), hospitable and solicitous - without ever being invasive. Everything was done to make one feel comfortable - including a large supply of snacks, toiletries, etc. I would definitely be happy to stay here again.
rachel
2016-01-10T00:00:00Z
Denis and his wife made this such an enjoyable experience. Their house was beautiful and the neighborhood is secluded and quiet. The entire upstairs is dedicated to the guest. There is a large assortment of snacks, cereals, and toiletries to use if you happen to forget anything. I was given a garage door opener so I could come and go as I wanted and Denis was always telling me to make myself at home. I will definitely be staying here in the future if I am in the area again.
Craig & Shaina
2016-03-23T00:00:00Z
I travel a lot and have stayed in many different places, and this by far was the best house I have stayed at. The house is gorgeous, spacious, comfortable and clean. The neighbourhood is very safe and close to a lot of restaurants and shopping. Dolly and Denis made me feel like I was in my home away from home for the entire two weeks I stayed there. They are very friendly and welcoming. I will definitely book another stay here if I'm in the area again :)
Neha
2016-02-12T00:00:00Z
such a beautiful home. everything is decorated so nicely & the host has everything u need from lotion to hairspray & he also was very nice and friendly i loved my stay here
Lucci
2016-01-01T00:00:00Z
From the moment we arrived Dolly and Denis were extremely welcoming and made us feel at home. They are very open and warm people. One important factor for us was being able to use the kitchen, this was no problem at all. Dolly showed were everything was int he kitchen and even welcomed us to use whatever ingredients and food they had on hand. On top of that, Dolly is an incredible cook and was constantly sharing and letting us taste delicious food. We also truly enjoyed our conversations with them and upon leaving it felt we were saying goodbye to family.
Sanae
2016-04-02T00:00:00Z
Dennis was a wonderful host. He made sure that we were comfortable and had everything we needed. The entire house was beautiful. Everything was just as it was described in the listing. :)
Jordan
2016-04-05T00:00:00Z
Super clean house and has everything you need and more.
Alijana
2016-04-09T00:00:00Z
Truly lovely accommodations in the home of a truly lovely, welcoming and friendly couple. We were welcomed at the door and immediately felt comfortable in Denis' home. Beautifully appointed rooms and bathroom, and a very generous spread of food for breakfast. They made us feel like we were at home, which was particularly lovely as we spent Christmas Eve there. We would absolutely stay again!
Melinda
2015-12-25T00:00:00Z
Tipo de Acomodação
Casa/apto inteiro
---
Tipo de Imóvel
Casa
---
Acomoda
4
---
Quartos
Charter Township of Clinton, Michigan, Estados Unidos
Spacious and safe, private entrance, private in-unit laundry room, cathedral ceilings, balcony and free parking and large gym. Unit is in 30 min north of Detroit in a nice suburban area. It is great for professionals, residents/medical students, business travelers for short or long term stays. Females preferred.
Lots of restaurants and shops nearby Safe community Free parking
I rented Radha's place for a month while doing my clinical rotations. Her place was beautiful, very spacious and fully furnished in a quite and safe neighborhood, just as listed. Loved having access to the community gym just a 30s walk away. There are plenty of grocery stores, restaurants and couple of shopping malls nearby. I did not think this place was public transportation friendly but it is perfect for someone with a car. Radha was an awesome host! She made me feel right at home. She was super friendly, checked frequently to see if I needed anything during my stay and even gave me a mini tour of Michigan. I would definitely stay here again if I ever came back to Michigan.
Sweta
2016-05-01T00:00:00Z
Tipo de Acomodação
Casa/apto inteiro
---
Tipo de Imóvel
Apartamento
---
Acomoda
1
---
Quartos
Charter Township of Clinton, Michigan, Estados Unidos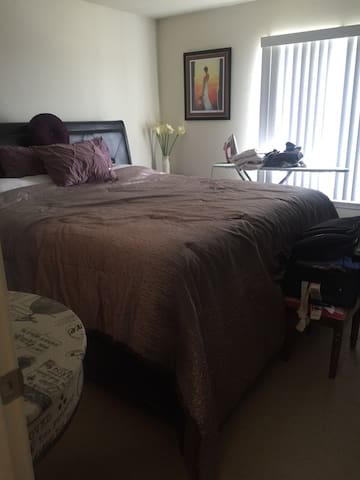 One Private Room available at our house for a min. of 3 nights up to one year. Free Wifi and parking. Host has been a Michigan resident for more than 10 years.
We love people and we have found a great way to share our beautiful home which is ideally located in the shopping district in Macomb, appx. 20 miles north of Detroit. You will enjoy every thing around here. Welcome! Welcome, we offer our guest bedroom with Queen size bed. Clean sheets n towels, wi-fi access, cable etc., in a quiet neighborhood. Access to our fully furnished basement with home theater and gym ! Just in case you want to indulge yourself! You are more than welcome to use the living room & kitchen! We live in a quiet neighborhood a mile away from the busy shopping districts! You name it - you will be able to get it around here. We live 45 min away from the Airport, 30 min from downtown Detroit & 20 min from the largest Mall in MI, apart from that we have great restaurants, entertainment & shopping right down the street. Detroit suburbs are not that connected with Public transport - we recommend having your own car. We love to entertain. We would really like you to be verified by airbnb before you book your dates.. Things you need to know: - no pets, no smoking - on street parking We would love to host you and your friends! We love to entertain! Since we live here, you will be our house guests and we look forward to hosting you! Guests have access to the entire home! We are present most of the time to receive you, if not we would make arrangements for you to receive the keys. We would love to get to know you, and we respect your space and privacy while you stay with us. Its a quiet suburb north of Detroit. Detroit is the Auto Capital and the public transport system sucks.
Its a quiet suburb north of Detroit.
Sheba Kumar was such a Beautiful Host and so caring and loving I enjoyed my stay 100% i would reccommend this Beautiful home to anyone. Such a Beautiful loving family and atmosphere words really cant describe you would really have to experience it just amazing Thank you so much again Sheba and Bhuvan Kumar.
Antoinette
2012-09-24T00:00:00Z
It was our first month in this country, and the very first airbnb experience. This house was nothing less than a home. The Kumars are the sweetest people we've met. Not only do they have a beautiful house, they have warm and welcoming hearts. Also Sheba is a totally amazing and organised cook. It was always nice to watch her cook up delicious things all the time. The room was cozy, clean and comfortable. Location is very peaceful, yet anything an everything you need will be available within a couple of miles. Their basement is a fun place to hangout in. Throughout the entire stay we met a lot of lovely people during our stay here. Certainly helped a lot since we were way from home, but it never felt like that. What we got here is more than we could have ever expected and then some more. If and when we go back to Michigan, we are definitely seeing this family since they made us feel like family. Happiness to them.
Pritam
2016-04-14T00:00:00Z
Bhuvan & Sheba welcomed us with special hospitality. They made us part of their family. We had great time with them and their lovely children. They took us for shopping, dinner... It's such great experience for us. Next time when I go to Michigan their place will be our first choice. Thank you agian Kumar and Sheba!
Lilly
2015-03-31T00:00:00Z
Home-Away-Home. If you are looking for a peaceful, clean and decent home to stay, please do not hesitate to BOOK with them. I enjoyed every second at their house and very respectful family.
E.T
2016-05-26T00:00:00Z
Bhuvan and Sheba are very generous and caring. They have a very neat and clean house. They respect their guests' privacy. Everything was as described.
Sukaina Z
2016-08-27T00:00:00Z
What a lovely week (June 8 - 15) with marvellous hosts in spacious, comfortable, pristine accommodations. We felt completely at home. And, for a special treat Sheba shared some of her extraordinary dishes with us - heavenly. Highly, highly recommended.
Pala (Beverley)
2014-06-16T00:00:00Z
Excellent experience! Beautiful home, beautiful family - what more can I say! They were extremely hospitable and kind. Would definitely love to stay there again!
Annette
2012-08-30T00:00:00Z
It's a very special hospitality at Sheba and her family. The minute you enter the beautiful house you are a part of the family. The house was great and the kitchen was well equipped. There is a fantastic Mall in the nabourhood, especially the supermarket Nino and there are good restaurants. The surrounding is very quiet. It's a great place from which you can visit Detroit(URL HIDDEN)
Thilde
2014-09-15T00:00:00Z
Tipo de Acomodação
Quarto inteiro
---
Tipo de Imóvel
Casa
---
Acomoda
2
---
Quartos
Macomb, Michigan, Estados Unidos
Charter Township of Clinton - Airbnb
:
Média de

4.91

de

5

estrelas, de acordo com

85

avaliações de hóspedes
Insira as datas para ver o preço total. Taxas adicionais serão aplicadas. Impostos podem ser adicionados.