Our home is in the quiet community of Morton Grove, conveniently located just outside of Chicago and close to O'Hare. Your private finished basement is comfortable and spacious. Easy access to everything including Metra, CTA, many Universities.
Our home is on a tree-lined street with a front porch complete with rockers and front porch swing to relax and watch the world go by. Our open floor plan on the main floor is the common area, and the backyard has a patio with gazebo and grill for outdoor enjoyment to relax and unwind. The 850 square foot basement is your own private area. It is listed as an entire house because you have access to your basement as well as the first floor, but again, the first floor is shared with our family and the second floor is our family's private space.
Both CVS and Walgreens are at the end of our street, several neighborhood bars are within walking distance, and the famous Pequods Pizza and Burts Place (featured on Anthony Bourdain's TV show "No Reservations" as well as on the TV show Check, Please!) are blocks away. There is no shortage of gyms (Planet Fitness, the Park District, LA Fitness) within a two mile radius. There is plenty to do with kids including many beautiful parks and Harrer Park pool just blocks away. The forest preserve bike trail is beautiful and is perfect for a bike ride, jog or stroll. Westfield Old Orchard Shopping Mall is 2.3 miles away and the Chicago Botanic Gardens and The Ravinia Festival are a 13 minute drive right up the the Edens Express way. Oakton Community College, NorthPark University, Northestern Illinois University, Northwestern University, Loyola University, National-Louis University are all a short drive away. The Illinois Medical District (Northwestern Memorial Hospital, UIC, Rush University Medical Center, Hines VA, Stroger, RIC, etc.) is 25 minutes without traffic, Lutheran General Hospital is 3.9 miles away and Northshore University Health System Hospitals are in the neighboring towns. Everything you could want or need is close.
The house is so beautiful. It makes you feel like in the movies. The family is so charming and cool. A lot of privacy but they are so cool yo u just keep crossing your fingers to have a spot to chat with them. The neighbourhood is wonderful, 10 to 15 minutes walk to the Morton Grove Metra station which will take you to Chicago in 30 minutes. The space in the basement is so big, clean and with all you expect and more. The bed is wonderful!!!! So quiet and with a lot of technology. You will see why when you get there :D I really recommend this beautiful, wonderful house and family.
Santiago
2015-10-19T00:00:00Z
Hedy's house is great! The downstairs space was cozy and comfortable, perfect for our weekend stay with our two little guys, who loved exploring the space. The kitchen upstairs was perfect for preparing meals, and we really enjoyed the patio and front porch. Hedy was extremely communicative and helpful with our check-in, especially when I arrived with my hands full with the two little guys while waiting for my husband to arrive. The location is also perfect for exploring the north side of the city (especially insofar as it is not hard to jump on Interstate 95 from the house): the beaches at Evanston are just a short drive away, the Botanic Gardens just north. My husband also had no trouble getting from downtown to the house by taking the Red and Yellow lines up to the Dempster-Stokie station, which is only a very short drive away. All amenities as described: you should stay here!
Cara
2016-09-19T00:00:00Z
Hedy and her family were very welcoming. Her home was welcoming, warm, clean and had an at home feeling. Hedy was very prompt in getting back with me and very informative. Her husband Marcus gave us a warm welcome with good tourist tips. The train into Chicago was about a mile away and made travel back and forth to the city cheap and convenient. They are close to the highway and made that convenient for our travels. I will definitely look to book with them when my husband and I return to Chicago.
Angie
2016-11-06T00:00:00Z
Beautiful home, beautiful neighborhood which was conveniently located! Hedy and her family made us feel welcome from the moment we booked. We were in town for the NU graduation and to help our graduate move out, and staying here worked out perfectly. Hedy and family were helpful and friendly; if we had had more time in our schedule, we would have loved to have spent more time getting to know them! We would stay there again if we were to return to the area!
Joyce
2016-06-22T00:00:00Z
Our host was the best that you could ask for. the listing was very accurate. A lovely clean private and comfortable place with all of the amenities of home that one could ask for. It was a great experience staying at this beautiful place filled with wonderful people who made you feel so welcome and included and yet respected your privacy.
Margaret
2015-09-22T00:00:00Z
Hedy and her family made all efforts to make our stay comfortable. The house is clean, nicely decorated, and hosts provided a variety of small things (i.e. toiletries) to make the travelers feel home. The neighborhood is green and quiet. A small patio is an extra bonus. It was my first booking through airbnb. I rate it as a positive experience. It was also a learning experience not to make assumptions on what is not disclosed but ask the host directly.
Inna
2015-08-31T00:00:00Z
This is a lovely family whom we very much enjoyed getting to know. They made us feel most welcome and were helpful in every way. We feel lucky to have met them and want to say a big THANK YOU for sharing their lovely home. The large space was helpful for us as we are in the process of a move from the East Coast to the Chicago area.
Karen
2015-03-01T00:00:00Z
I stayed here with my 3 friends for two nights. The place is very nice, clean and cosy! There was enough space for us. Not so far to Chicago, but if you miss the train, you will have to wait an hour. We didn't communicated with the host because of our schedule, and it's sad, they are really good family!
Viktor
2014-08-28T00:00:00Z
Tipo de Acomodação
Casa/apto inteiro
---
Tipo de Imóvel
Casa
---
Acomoda
5
---
Quartos
Morton Grove, Illinois, Estados Unidos
Beautiful, clean and 3 minutes from the Train and a 15 minute drive to Downtown Chicago! It's a beautiful 3 bedroom house in the North Suburbs of Chicago! The private room and full interior of the house are designed by an interior decorator. Breakfast is served by an actual chef daily. Wine and Gourmet Cheese offered each evening at 5:00pm on the back patio! This is comfort at its best and you'll feel at home the second you arrive. Privacy is key and so is location. This space offers both!
Tipo de Acomodação
Quarto inteiro
---
Tipo de Imóvel
Casa
---
Acomoda
2
---
Quartos
Morton Grove, Illinois, Estados Unidos
Hello! My home is a raised ranch brick home in Edison Park on Chicago's northwest side! There are 3 bedrooms and 2 baths, as well as a full, finished basement with a newly remodeled wet bar. There is a great brand-new outdoor seating area, lounge area in the basement, and plenty of living space!
There is a bedroom with a king sized bed, and two more bedrooms with queen sized beds. There are 2 full bathrooms with bath/showers. There is a queen sized inflatable mattress with full bedding available as well. This is a single family raised ranch home located in Edison Park, the safest and one of the nicest neighborhoods in Chicago. The neighborhood is almost exclusively families, with many being Police/Fire and other city workers. There is a great "downtown" area in Edison Park 1 mile away with some incredible restaurants and nightlife- Firewater Saloon, Zia's Trattoria, Elliot's Steakhouse, Don Juan's, Nonno Pino's, The Curragh. The Metra runs from there right into downtown Chicago.
Edison Park is the safest and one of the nicest neighborhoods in Chicago. The neighborhood is almost exclusively families, with many being Police/Fire and other city workers. There is a great "downtown" area in Edison Park 1 mile away with some incredible restaurants and nightlife- Firewater Saloon, Zia's Trattoria, Elliot's Steakhouse, Don Juan's, Nonno Pino's, and The Curragh are all fantastic choices, and there are several others within a few blocks. The Metra train also runs from there right into downtown Chicago.
Maison bien placée et bien équipée, bien chauffée, pas de bruit, possibilité de regarder des films avec une très bonne sono et accessoires. Très bon Wi-Fi. Pas de problème de stationnement. Très bonne expérience. Brendan a été très sympathique et très compréhensif.
Thierry
2017-02-20T00:00:00Z
We were very pleased with our experience. Brendan was great to work with. The house was great for us.
Ann
2017-03-06T00:00:00Z
Tipo de Acomodação
Casa/apto inteiro
---
Tipo de Imóvel
Casa
---
Acomoda
10
---
Quartos
Chicago, Illinois, Estados Unidos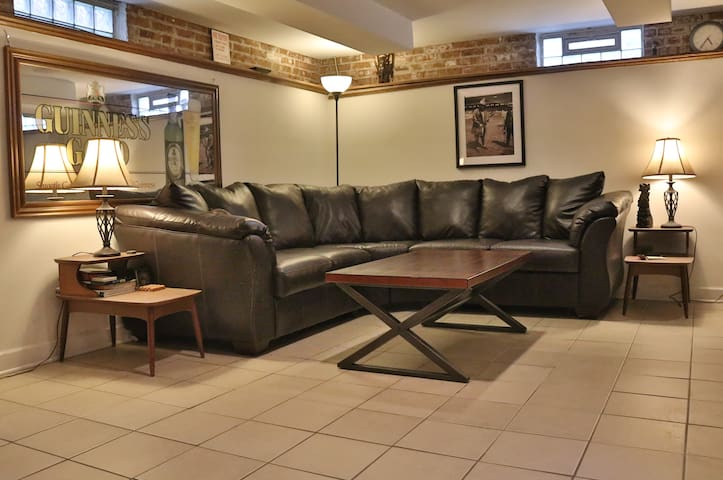 Beautiful hardwood floors throughout this bright 2 nd floor apartment on the northwest side of Chicago. Updated modern kitchen and bath with all conveniences including laundry. Easy access to airport and highways. Parking on quiet tree lined street.
This space has a bright and open floor plan and has recently been completely remodeled! Stocked with all the kitchen gadgets you may need including a Keurig coffee maker, spices and olive oil.
We are conveniently located near the main highways that access the downtown and the suburbs. We are close to the airport as well. There are several parks nearby and a wonderful forest preserve path for walking or biking within walking distance (Caldwell Woods). If traveling in the summer months, there is also Whelan Aquatic Park within walking distance. A great day of fun for kids!
We stayed in Stephanie's appartment for a 12 days and absolutely liked it. The place is very nice, clean and comfortable. There is everything you need and we felt like at home. I would definitely will back next time to this appartment. Stephanie is very nice person, she provided everything we asked and was always available if we had some questions.
Aisuluu
2016-07-08T00:00:00Z
La casa hermosa, mas linda que las fotos! Muy amplia, luminosa, la ubicación ideal para movernos en auto a 20 minutos de la ciudad, ambientes muy amplios, todo funcionaba perfecto! stephanie muy amable dejo una licuadora de mano que necesitaba para mi bebe, todo muy limpio. Una lista con información del lugar! Muchas gracias stephanie sin duda volvería a tu casa! Un hermoso jardín, me sentía como en casa. todo espectacular! Y por sobre todo tenia una muy linda energía.! Namastei
florencia
2015-06-07T00:00:00Z
Stephanie was a communicative, strong host. Accurate photos, charming home. Traveled with a business partner who really enjoyed the space as well.
Gabe
2016-08-22T00:00:00Z
I stayed for 30 days in this house. I remain the detail review for next new guest who must be the good friend with Stephanie and Tad. Also This house is located in beatiful village. 1. House : Enough space, 2nd floor, separate entrance, Nice and wide living room, TV, VOD, WIFI, Laundry and Dry, etc... Just enjoy. 2. Place : 10 minute to Jefferson CTA, Within 1 hour access to downton. Safe in Night time. 3. Parking : Free Street Parking. 4. Grocery : Shop & save, walgreen(24 hours) in 10 min by walking Above all, stephanie & Tad is the most friendly host. They will take care of your concerning and request with good manner. If you want to stay in chicago, If you want to feel like your home, I strongly recommend this house. From KT
Kyoung Tae
2015-09-06T00:00:00Z
This was a great city apartment! It is much more spacious than the pictures show. Everything is provided and very organized. The unit has been totally remodeled and has many windows for light and breezes. Also there is air conditioning which is very necessary in the hot summer months. The closets are large and we could put our clothes on hangers and our suitcases away, thus making it seem more like home. The bathroom remodel was nicely done and the shower worked well. Having a washer/dryer is important to us and Stephanie even provided some laundry detergent. We loved the neighborhood and the walk along the golf course down the street. Even though it is a city street for parking we never had difficulty finding a place to park and felt very safe at night. Grocery shopping and restaurants are close by and easy to access. We will definitely return to this apartment many times when visiting family in Chicago.
Neal
2015-05-30T00:00:00Z
Stephanie is the perfect host! The apartment was ideal for our family and convenient to the airport. Thank you! Thank you!
Greg
2016-09-28T00:00:00Z
The house was the perfect size for our family of five. Stephanie was very welcoming and had a binder with information about the house along with information about the area. The neighbor was adorable and there was a large park walking distance from the house which was perfect for my son!
Kristina
2016-06-06T00:00:00Z
Nous avons grandement apprécié notre séjour. L'appartement est parfait: propre, décoré avec soin, chaleureux, bien équipé et bien situé. Bref, on s'y sent comme chez soi. Nous avons été très bien reçus!
Stephane
2016-08-14T00:00:00Z
Tipo de Acomodação
Casa inteira/apto
---
Tipo de Imóvel
Apartamento
---
Acomoda
5
---
Quartos
Chicago, Illinois, Estados Unidos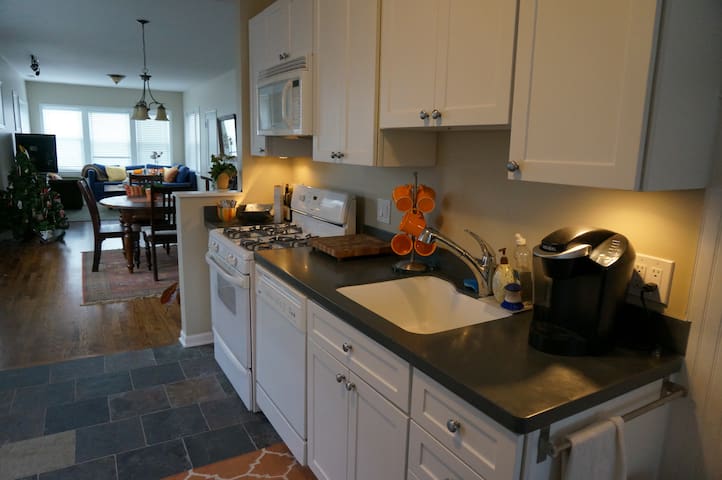 My place is good for couples, solo adventurers, and business travelers. Near major expressways and public transportation for easy access to Downtown Chicago and O'Hare airport. The apartment is located above a popular sports bar/restaurant, so music can be heard from downstairs on Thursdays, Friday, and Saturday nights.
The place was nice however it was very loud from the (URL HIDDEN) was hard to sleep at night and we wete in town on business..However it was very nice and worth the price.If your coming in town to see the city (not for work) its probably a find!! If your a Cubs fan you would love the bar and grill downstairs called Jets..The owner of this air bnb owns the bar and the food special are dynamite.I spent 50 bucks and ate good meals and drinks for four days..If your in town on a budget you cant go wrong
Jonathan
2016-10-09T00:00:00Z
The place was great! He was very patient with us and answered all my questions right away. Everything was nice & clean. You can hear the noise from the bar downstairs but that was mentioned in the description; didn't bother us at all considering we were in town for a concert, so we were up late anyways. Also bar downstairs was great!
Izzy
2016-10-30T00:00:00Z
First time in Chicago with a few friends and it was a great time. Patrick was very accommodating with anything we needed.
Aleigh
2016-11-07T00:00:00Z
The house itself is entirely perfect. All the furniture are very new and great. The owner is easy to reach. The owners bar/restaurant is downstairs. From Thursday to Saturday, the music is very loud and it is hard to fall asleep before 2am. We appreciated that Patrick turned the music down a notch for us. But if you usually sleep late and just want to have some fun at night, it would be a good choice for you.
Jingxian
2016-10-16T00:00:00Z
The stay was excellent. Patrick allowed us a early check in because we were getting into town a bit earlier. The place was super clean and neat, I will definitely be keeping this place in mind when I come back to Chicago again. It exceeeded our expeditions and the accommodations were through the roof. He offered an extra air matress for are stay and even set it up for us. The furniture and linen were new and very clean. Definitely a must stay !!
Brittney
2016-10-23T00:00:00Z
Patrick's place was beautiful and he made my friends and I feel comfortable. He was quick with communicating with us and location and parking were easy to find. We ate at his bar below the apartment our first night and we had good customer service and good food. We brought 3 fans to sleep with because we knew the music would be loud, so be prepared for that and you should be fine!
Alice
2017-03-20T00:00:00Z
Patrick was fantastic, I have no complaints whatsoever. Patrick was very flexible with our stay due to inclement weather. Also the bar downstairs was very entertaining. The staff was beyond friendly. I also loved the apartment as well. Very modern.
Myla
2017-03-14T00:00:00Z
A+++ Great place! Perfect for our needs. Would recommend to anybody looking for a good priced room.
Greg
2017-02-28T00:00:00Z
Tipo de Acomodação
Casa inteira/apto
---
Tipo de Imóvel
Apartamento
---
Acomoda
6
---
Quartos
Chicago, Illinois, Estados Unidos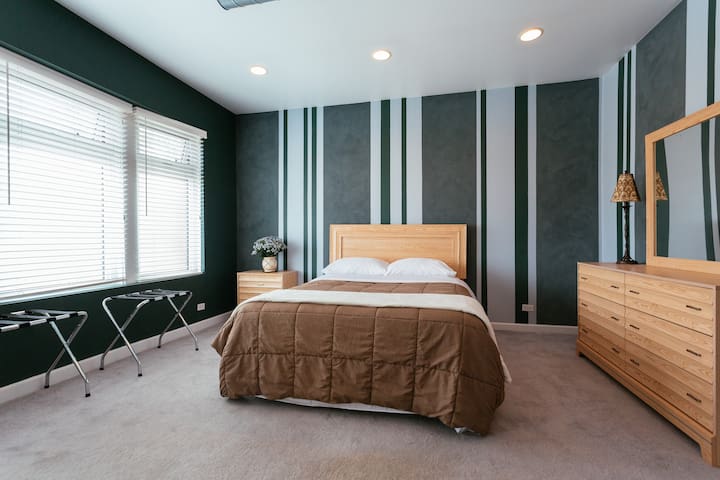 Family home with extravagant Master bed/bathroom, well-lit back yard replete with fire pit and fireflies, one block from park/playground, three blocks from train to downtown, excellent restaurants in the area, piano. Fun and romantic. We have a dog.
The Master bedroom includes a California King bed, a two-person shower, a jacuzzi tub and treadmill and weights. There are two additional bedrooms available, one with two full-size beds, and the other (kid-friendly) with twin bunk beds and a third twin bed. Two full baths (including the one in the master bedroom) are available for guests. The third full bath is in the basement apartment and can be made available on request and/or if there are overflow guests. During the school year, host family will be in residence in the basement apartment, which is also the bar/party space. If you are booking specifically to use that space, please make note of it in your reservation inquiry. It can be made available on weekends, but requires a little notice. There are currently no railings in the stairwells, the house was built this way. May be unsuitable for those who need assistance walking. Guests have access to everything except the basement apartment/bar, which is my living space. Edison Park is the safest neighborhood in Chicago, most of our neighbors are police or firefighters. We have fabulous restaurants in the area, Zia's Trattoria, Elliot's Steakhouse, Firewater Saloon, Don Juan's, Nonno Pino's. Great food and beverage options. Metra station is only three blocks away and the ride downtown is 20 minutes. Lovely backyard area with nice herb garden, private patio, and large dining area.
Edison Park is the safest neighborhood in Chicago, most of our neighbors are police or firefighters. We have fabulous restaurants in the area, Zia's Trattoria, Elliot's Steakhouse, Firewater Saloon, Don Juan's, Nonno Pino's. Great food and beverage options.
Really enjoyed our stay, lots of space for our crew to spread out and a nice setup overall. Plenty of parking along a nearby street, too!
Atgeraci
2016-12-18T00:00:00Z
Kate's house was a a nice size for our group. We had four adults and three children staying there for 5 days. The kids loved the toys and Kate even brought us some children's books to read and found us a babysitter for a night out. It was nice to have a full kitchen to use, and Kate left us wine and her home-brewed beer to enjoy. The back yard was lovely. We ate dinner outside and had a fire once. My only complaints are that the house could have been cleaner, and the beds were very hard. Noise does carry well in the house and sometimes we could hear Kate and her family very easily in the basement. If you are planning to stay here and use the trains for transportation, be sure to use Metra. CTA will take nearly two hours.
Jilliann
2015-07-02T00:00:00Z
The house was very nice and the master bedroom was gorgeous. Kate was very welcoming and accommodating! She generously offered us access to her personal bar (whiskey, beer, etc.), as well as her home grown cherries! She was really flexible in allowing us to stay another night unexpectedly. The only problem we had were the kids at night and in the morning before they went to school. They were very loud which made it hard to fall asleep and gave my sister (who stayed on the main floor) an unexpected early start. Would definitely stay again if in Chicago!
Gerald
2016-06-11T00:00:00Z
The house is located at a very calm and nice neighborhood. It's very easy to locate and the parking is on the road nearby. The house is really beautiful and spacious. The master bath has a nice jacuzzi and shower cubicle. The shower cubicle on the main floor is small for adults. The house is few miles from Devon Ave, so we did have good number of options for Indian food.We had a pleasant stay at this place and would look forward to staying there again in future.
Arvind
2016-07-03T00:00:00Z
It was a wonderful place to stay for group of 6 people and a baby boy. Kate was very welcoming and always available for anything we needed. I'm glad that we got a chance to meet Kate's 3 kids and 2 dogs while our stay and it was adorable. Home was beautiful and very spacious. Everyone loved to see master bedroom as it was very huge and had Jacuzzi and restroom with it. Place was fully equipped with everything we needed. We didn't have a chance to sit in backyard and enjoy the fireplace because it was closed and wasn't very clean. It might very well be due to the rain but couldn't access it. It is 15-20 minutes drive from lots of good eating places and downtown. We enjoyed our 3 day stay and would definitely come back again!
Bharat
2016-05-04T00:00:00Z
Kate is an amazing host. We had a great time with Kate, her children, and dogs. This is the best filming experience in Airbnb house.
Brenda
2016-04-18T00:00:00Z
Kate was a lovely host. Her house was exactly as pictured and huge! We had much more space than we could possibly fill with the four of us. She made some great recommendations about dinner, and left us cookies and chocolate upon arrival. She was gracious to show off the house and yard personally, and introduced us to her sweet kids and puppy. She offered us full access to her home's amenities, even offering the use of family bikes. We had such a busy visit planned that we didn't get to spend much time with Kate, but she was available if needed. Her house is a short walk to a Metra station (five minutes) in a beautiful, safe neighborhood with free parking. This was our first Airbnb experience and I couldn't have been more thrilled. Thanks for everything.
Shannon
2015-06-07T00:00:00Z
everything fine, as expected.
Frederic
2016-09-20T00:00:00Z
Tipo de Acomodação
Casa/apto inteiro
---
Tipo de Imóvel
Casa
---
Acomoda
8
---
Quartos
Chicago, Illinois, Estados Unidos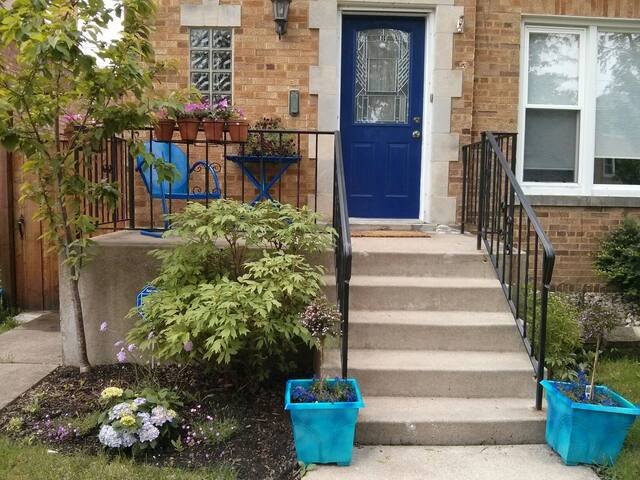 Chicago is fun! The magnificent Mile is Magnificent and our big buildings will leave you breathless. But at the end of the day, many want to get away while still being close. With its hardwood floors, this gem is close to the cta so you can relax.
Hardwood floors add an elegance to your stay. I've been told that my apartment has a very homey and fun feel :). If you have folks who want to crash on the comfy two couches, I can handle up to four adults and a child in a pack and play. That said our lovely air bed is a queen and has been complimented by many a guest. We'd love to have you feel at home!
This is the safest neighborhood in the whole city statistically. It's close enough to downtown and is super close to ORD airport. I additionally love the access we have to the suburbs. It's a really easy place to live with many police and firefighters as neighbors.
I was tasked with looking for a place to stay in Chicago for my friends and I during the week of a busy convention. Dave was amazing and hospitable, and his place had a bunch of modern tech and as much personality as him. He even went out of his way to pick us up from the airport, which saved us a lot of trouble. The place was clean and spotless, and we could tell a lot of attention and care was given to preparing the place for our stay. Instead of just my two cents on the experience, though, my friends also had a lot of good things to say, which I've included below! "Prior to arriving to Chicago, I was very skeptical since this was my first airbnb experience. To my surprise, David far exceeds my expectations. The room was clean, hip, and comfortable. David was a very accommodating host and provides great tips if you are not familiar with Chicago. He even help us with using lyft and saved us a lot of money on transportation. All in all, I would not hesitate to use David's services if I visit Chicago again. Thank you for the amazing experience." - Janet "My first time to Chicago was an interesting experience. David was the best host I can have through my first Airbnb. The room he had for us was clean and spacious. There is a king size bed that can fit at least 3 people. The living room has a couch that fits at least 4 people and is very comfortable. A Television that has chrome cast installed in so we can watch movies or shows whenever we want. Overall the experience of staying in my first Airbnb was amazing." - Andy "Staying here was great! The host was super friendly and offered lots of advice for how to get around and where to go for site seeing. The apartment was was also very clean and a lot of space in the bedrooms. The best part was his cat that was just as friendly and welcoming as him." - Emily Thank you again, Dave, for helping to make the trip a smooth and enjoyable one! We wish we could've hung out with you more, you're one of the coolest people we've ever had the honor of meeting. :)
Hyde
2016-05-25T00:00:00Z
The host canceled this reservation 9 days before arrival. This is an automated posting.
Dominika
2016-02-25T00:00:00Z
Tipo de Acomodação
Quarto inteiro
---
Tipo de Imóvel
Condomínio
---
Acomoda
7
---
Quartos
Chicago, Illinois, Estados Unidos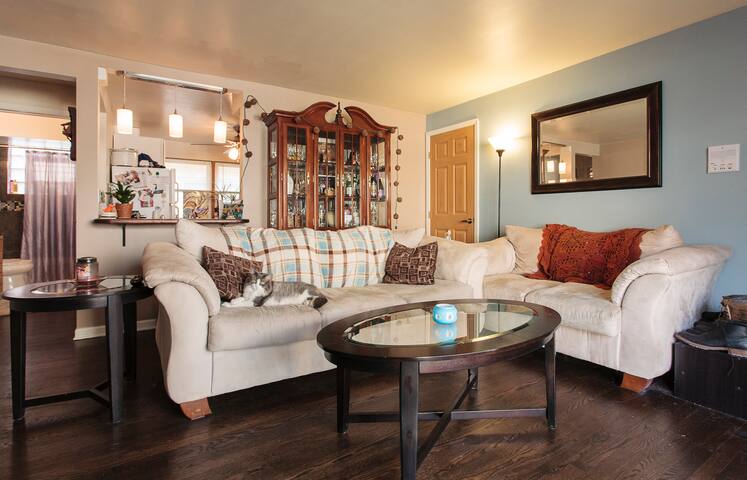 Our comfortable family home is in one of the best neighborhoods in Chicago. It is also 5 minutes from the Metra train station (which gets into Chicago Loop in 20 minutes). There are a few cute and fun restaurants and bars nearby. It is it is child friendly (with lots of toys), and dog friendly.
3 floors, beautiful kitchen, two dining spaces, family room in bright finished basement with television, laundry, treadmill, and toys. Temperpedic king size bed in master room, bunk beds in child's room, queen bed in basement bedroom. Huge backyard.
It's very beautiful and safe.
Tipo de Acomodação
Casa/apto inteiro
---
Tipo de Imóvel
Casa
---
Acomoda
6
---
Quartos
Chicago, Illinois, Estados Unidos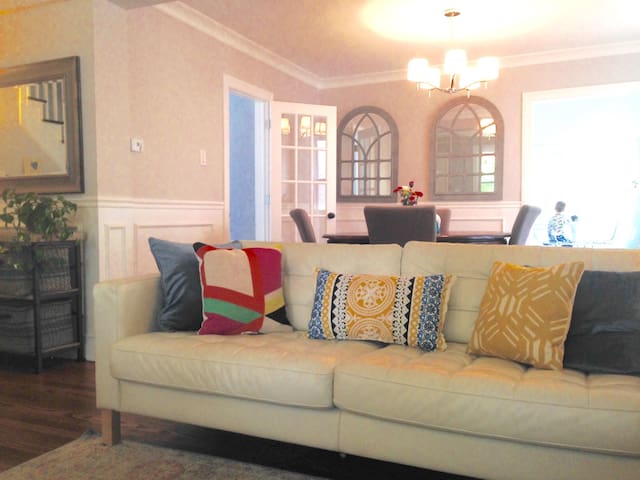 My place is close to the O'Hare Airport, Rosemont Convention Center, and Resurrection Hospital. You'll love my place because of the neighborhood. My place is good for couples, solo adventurers, and business travelers.
We have flowers and plants growing year round. From the hottest summers to the chilliest winters flowers are always growing around us indoors and outdoors. The garden is main focus and a place to relax as there are many areas to sit down. The house is spacious area that is very welcoming and comfortable.
We live in a very quiet neighborhood near the Norwood circle. The circle is a beautiful place for a morning jog or nighttime stroll as it is very safe and seasonally scenic.
Durby and Dereck were very kind and hospitable. They really try to get to know you and make you feel as comfortable as possible. They are very interesting people that give good suggestions of things to do in Chicago and where to go. Their house is beautiful and in a very safe neighborhood. It was a very enjoyable stay.
Cody
2016-11-06T00:00:00Z
Durby and Dirk's backyard is a breathtaking escape from the city haze. Pictures sure don't do it justice. Although my husband and I only stayed for a short night, we got treated to a lovely brunch with fresh herbal tea from their garden the next morning. The room is just as the pictures show with a private bathroom, located in a nice and quiet neighborhood. Great conversations with the most thoughtful hosts! My only regret is not being able to spend more time conversing with them in their relaxing garden. I would definitely try and stay with them again if ever in the area. I recommend them 100%!
Victoria
2016-09-19T00:00:00Z
Durby was perfect host. Durby, her husband Dereck and their daughter Jessica are so nice and kind people. Their house is amazing, like from fairy tale. They were so helpful for me and my boyfriend and we were really enjoying stay in their house. Room, bathroom and everything was clean and the same like on the pictures. We are so thankful for everything, what they did for us. When we will come back to the Chicago, we will definitely visit and use their house. They are awesome!
Eva
2016-09-26T00:00:00Z
We had really great experience. Durby, Derek and Jessica all are so sweet and friendly. They made us feel like home. we talked , laughed and had tea until late night. Durby is amazing lady and knows how to take care of their guest. Derek is funny and spend very good time with us. Jessica is a cute girl.. The apartment is clean and so organized. Bathroom is very clean and has moon-roof. Finally.. We would say the experience would be in our memory forever. Accessibility : We used norwood park metra train to travel Downtown and mostly used Uber/Lyft to commute and it is 20-30 mins drive from her place. Food: there are plenty of restaurant near the place all in walking distance.
Miftahur
2016-09-06T00:00:00Z
Durby is really hospital, her house is out of town which is quiet and convenient to airport. Recommend it~
Nan
2016-10-16T00:00:00Z
Durby and Dereck were very hospitable and caring hosts. They made sure every detail was taken care of despite getting to their house late at night. The house is in a great neighborhood and feels very safe. I was lucky to have the chance to sit and chat with them a while, and they both have tons of travel/life experience.. would highly recommend spending some time getting to know them! Thanks for the great stay!
Matthew
2016-11-03T00:00:00Z
Great host for our short overnight to catch a plane early. Tea, cake, and conversation were enjoyed upon our arrival. Thanks again for being such a great host on the first leg of our journey!
Mike
2017-03-12T00:00:00Z
Durby and Derek are super friendly people who are always ready to help you. The room is clean, cosy and 100% fits the description. The neighborhood is very calm. A very good choise for it's price.
Serge
2017-04-04T00:00:00Z
Tipo de Acomodação
Quarto inteiro
---
Tipo de Imóvel
Casa
---
Acomoda
2
---
Quartos
Chicago, Illinois, Estados Unidos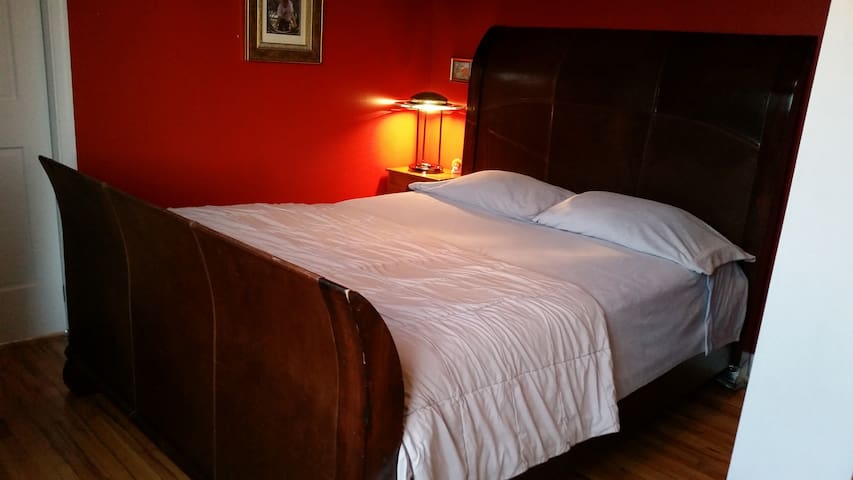 Jefferson Park is known for being a family-friendly community and a popular residential area for Chicago's fire fighters, police officers and school teachers. With vast wooded areas, nearby golf courses and an abundance of families, Jefferson Park mixes a suburban feel with a city touch. Layered in Eastern European influence, this neighborhood is shrouded in authentic Polish flavor. Andy's Deli and Smak-Tak are a pair of area staples that reflect Jefferson Park's Polish roots
David is very good and helpful to me during my staying in the apartment
Xiaoxia
2016-08-06T00:00:00Z
It's a great house.We only live there 1 day.But Mr.Barrios helped us a lot before we check in .I feel sorry to bother them and leave there a huge paper box.
瑜婧
2016-09-15T00:00:00Z
The only complaint we had was that the TV sound was loud like around 10:30pm and we were tired and had a little difficulty sleeping. Other than that, everything was fine.
Shahab
2016-09-12T00:00:00Z
Everything was great! Nice and quiet area in this big city.
Viktorie
2016-09-12T00:00:00Z
Nice place the good host
Stanislav
2016-09-05T00:00:00Z
It was a good stay, i would definitely come back.
emily
2016-09-04T00:00:00Z
We had a great stay at David's. His house is conveniently located in Jefferson park, with plenty of street parking. Chicago is easy to get to on the metro, and David's house had everything we needed!
Ping
2016-08-25T00:00:00Z
I spent nearly two weeks staying at Davids place and I have to say David was the perfect host. The place is just outside of the city and close to the airport. I was a day late yet David was still there to greet me and show me everything. His place is around 10-15 minutes walk to the CTA rail system which is easy to use and brings you all over the system (at night when we got home from the city we'd jump in a cab, 7 dollars). The area is friendly, safe and has a few decent restaurants and bars, do check out Harry's Bar, Mom's Old Recipe and Café Marbella (an excellent Spanish tapas bar) all a few minutes walk from Davids place. The apartment is clean, has everything you need and a very cute and friendly cat. When I come back to Chicago I would easily try stay here again.
Stephen
2016-11-14T00:00:00Z
Tipo de Acomodação
Quarto privado
---
Tipo de Imóvel
Bungalow
---
Acomoda
2
---
Quartos
Chicago, Illinois, Estados Unidos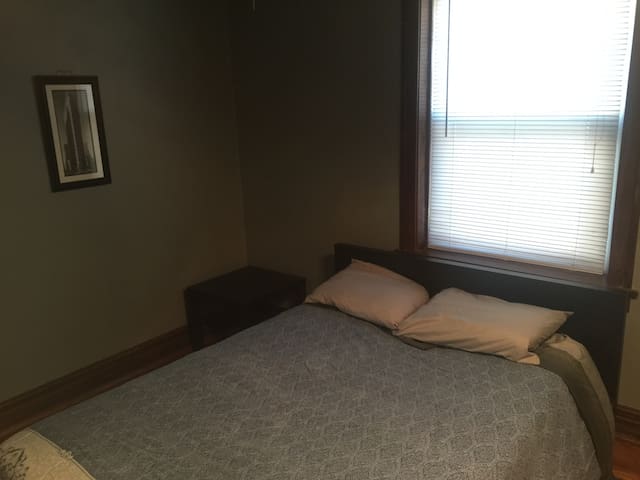 This bedroom includes 1 queen-sized bed, closet, drawer, table, light and a distant view of the Chicago skyline. Conveniently placed close to the Blue-Line and bus stop, it is very friendly neighborhood. Kitchen, dryer, parking & bathroom included!
The listing description was a perfect description of the place. I only was there for about 5 hours, so I did not have a chance to become well acquainted with the neighborhood. Bart picked me up from the Harlem Blue line stop in his car, and brought me to his apartment. This was incredibly nice, and I got to see some of the neighborhood that way. Nice homes. Bart also brought me to the airport, which was a fantastic gesture! If we had more time, I would have liked to converse with him more. Such a generous fellow.
Matthew
2016-03-13T00:00:00Z
I stayed at Bartosz on last minute reservation. He kindly accommodated the end of his work day to meet me and make sure I could enter his place. Room was clean and had all the essentials for a pleasant stay. I enjoyed the location as it was right next to a bus stop and a 20 min walk (5 min uber) to the Blue line train.
Andrew
2016-07-01T00:00:00Z
Cool guy! Helpful!! :)
Vinn
2016-08-05T00:00:00Z
Bart was a helpful host,I glad stayed in his apartment!
Jiaxiong "Wade"
2016-08-10T00:00:00Z
Bartosz was very clear when we communicated before my stay, and he was very nice upon arrival. The room was clean and comfortable, and I would for sure stay again
Emmalyn
2016-07-10T00:00:00Z
Great place; very comfortable bed. Bart was very easy to work with & I had a terrific time.
Thomas
2016-07-12T00:00:00Z
Bart is a very nice guy! He made me feel very welcome and his place is very nice. Super comfy bed! Thanks again Bart!!
Thomas
2016-03-02T00:00:00Z
房主是一位细心仔细到位的宅男型东欧后裔,到访过中国,屋内布置中国元素,就在机场20分钟车程以内,非常适合芝加哥过夜赶飞机,或者高性价比逛芝加哥的游客。
Bo
2016-06-21T00:00:00Z
Tipo de Acomodação
Quarto privado
---
Tipo de Imóvel
Apartamento
---
Acomoda
2
---
Quartos
Chicago, Illinois, Estados Unidos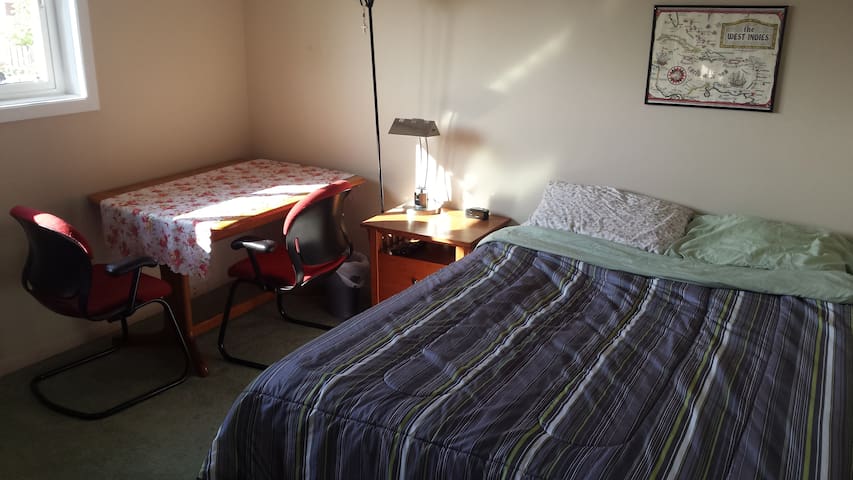 Charming single-family home on northwest side of Chicago. Bathroom next to bedroom. Central heat & air conditioning. Within 1 block of a huge park with basketball courts. This house also has a 2 car garage, and pull-through driveway for free parking.
The house is brick with brand new windows and hardwood floors that I refinished myself. It has a full height basement with a washer and dryer (as well as another living room that I use to host game nights sometimes).
Norwood Park is one of 77 Chicago community areas. It encompasses the smaller neighborhoods of Big Oaks, Norwood Park East, Norwood Park West, Old Norwood Park, Oriole Park, and Union Ridge. Originally organized in 1872 from adjacent townships (Jefferson, Leyden and Niles) as a village, and named after Henry Ward Beecher's novel Norwood, or Village Life in New England (1868), Norwood Park was annexed to the City of Chicago in 1893. The community is now home to many of the city's firefighters, police officers, teachers, construction workers, labor union workers, engineers and other blue collar workers. Norwood Park is known especially for its abundance of green: lawns, parks, churchyards, and trees are its visual hallmarks. Every Memorial Day there is a parade that runs through Norwood Park. The parade has been a local tradition for more than 90 years, starting in 1922. The community area also boasts the oldest extant building in Chicago, the Noble-Seymour-Crippen House, and Taft High School.
Laura is an excellent host and very welcoming. It is evident that Laura takes pride in her home and in preparing the room for new guests. I truly enjoyed my stay. The cats are also nice, friendly, and cute. :-)
Anthony
2015-12-21T00:00:00Z
She made me feel at home and the house was in a nice neighborhood. She told me many things about where to go in chicago to see places. It was a nice stay and i liked very much. Her kittens are very nice and welcomed me in a nice way.
MANISH
2016-05-05T00:00:00Z
Solid house with amenities in a nice neighbourhood for walking. Close to public transport, a few diners and the famous Superdawg. The Red Apple buffet also has unlimited delicious Polish food (choice of over 40 dishes) for $15 just down the road. Room is comfortable. Host was extremely unobtrusive. Kittens are adorable. They both climbed inside my bags the night before I left - I think they wanted a free trip to Australia!
Luke
2016-10-15T00:00:00Z
the room is clean and comfortable, and Laura is a nice host, and I feel comfortable and relax during my stay, a good host and recommend to others!!
Sheng Chung
2016-04-19T00:00:00Z
Laura is a nice host. She is extremely friendly. I love her cats so much. The room is nice and cozy. The location is near bus stop and train station where you can either take bus or train to go to downtown Chicago. I highly recommend people to stay at her house. I'd love to stay at her house again if I have chance to come back Chicago!
le
2016-01-05T00:00:00Z
Really comfortable and chill stay. Close to the blue line all you have to do is take the 68 bus which is like a 5 min walk from the house and the bus will take you to the blue line which literally takes you to all the awesome places such as Logan Square and Whicker Park. The cats were also so sweet and social(the black cat was my fave). Overall, I would definitely stay again or recommend this place for someone thinking of visiting Chicago.
lydia
2016-09-18T00:00:00Z
sweet room, sweet cats and Laura is very nice and helpful :) I hope we'll meet again ! I felt very well. Thanks for the time !
Janine
2015-12-02T00:00:00Z
FRIENDLY, HELPFUL, SWEET LITTLE HOUSE,
Klaus
2016-09-10T00:00:00Z
Tipo de Acomodação
Quarto privado
---
Tipo de Imóvel
Casa
---
Acomoda
1
---
Quartos
Chicago, Illinois, Estados Unidos
Enjoy your stay in an authentic Chicago bungalow in the walkable family-friendly Jefferson Park neighborhood. Minutes from O'Hare and a short train ride from downtown Chicago! Plenty of street parking and easy access to public transportation.
Apartamento privado con tres recamaras, sala, comedor, cocina completamente equipada y con maquinas para lavar y secar ropa. Disfrute de servicio the WiFi y television con cable.
Jefferson Park is in the northwest side of the city. While quiet and family friendly you are able to walk to area restaurants and shops..
Maggie was an excellent host! The house was perfect for what we needed and we would definitely stay here again. If you're thinking about booking with Maggie don't hesitate!
Jonathan
2016-06-27T00:00:00Z
Everything was fantastic. Maggie was very responsive, showed above and beyond hospitality, and had everything in great working order despite her own travel arrangements. The place was very homey and cute. Maggie was also flexible with check in not being by me as I wasn't first to arrive. Can't think of a thing to complain about.
Grant
2015-12-01T00:00:00Z
Maggie is very friendly, reminds me how to into the house, where is the trash can and the matters needing attention, is there any help and so on. This is a very good experience.
静
2016-09-17T00:00:00Z
Maggie was an amazing host! She provided detailed instructions for checking-in before our arrival. The checking-in process was very smooth and convenient. The place was clean, orderly, and a perfect size for the 5 of us. There was some fruit, coffee and english muffins which she provided for breakfast. The place is in a great, quiet neighborhood with easy access to freeway for getting into the city. Little things like the note wishing me "good luck" on my exams make this host stand out from others. It is very clear that she cares about making your stay as enjoyable and memorable as possible. Highly recommend!
Alex
2016-11-09T00:00:00Z
Our stay at Maggie's was awesome!! We were warmly welcomed and showed around and provided everything we needed and more. Maggie was an awesome host and was always there to answer any questions. The listing was exactly the same as it looked online, if not bigger than we expected. Everything was very nice and we would definitely choose to stay here again. The neighborhood was nice, safe, and relatively close to the city. Transportation was easier than expected. 10/10.
Presley
2015-10-19T00:00:00Z
For our first time in Chicago, Maggie was an awesome airbnb host. She made contact leading up to the stay...during and right before check-out. The place was really homy and comfortable. We had a group of 5 (two couples and a 5th wheel lol) - but there was more than enough room for another couple(to sleep on a pull out couch). Place was clean and smelled really nice. Couches are comfortable and the tv was easy to work. Def recommended.
Airion
2017-01-01T00:00:00Z
Maggie and all her family were awesome, warm and friendly. And the house was quite wonderful.
Ángel Luis
2016-05-02T00:00:00Z
We had a wonderful experience staying in Maggie's home. Even parking was easy--something which not all Chicago neighborhoods can claim.
Lisa
2016-09-05T00:00:00Z
Tipo de Acomodação
Casa/apto inteiro
---
Tipo de Imóvel
Apartamento
---
Acomoda
8
---
Quartos
Chicago, Illinois, Estados Unidos
If you're looking for a cozy space to settle in after a day of travel or exploring Chicago, look no further. Located in a quiet neighborhood, this studio offers easy access to O'Hare Airport, the fashion outlets, downtown, Logan Square, and local treasures in just minutes.
It's the cottage in the city... We created this space to be cool, comfortable, and cozy. It's perfect for staying up late reading, writing, or catching up on work after a long day traveling or hanging out in the city. It's quiet and has been rumored to cure many a guest of insomnia. There's a place to perk up with your morning coffee or tea. We provide local Chicago coffee (it's kind of a thing here, you know), a selection of teas, breakfast treats, and organic creamer of your choice (half and half, soy, almond, rice…) to start your day off right. The side private entrance leads to a full private suite: -Area w/mini-fridge, electric kettle, french press, breakfast and candy treats (NOTE: not a full kitchen) -Bedroom with two twin premium beds -En suite bath We aren't a property management company and don't own multiple units, so our service is heartfelt and personalized, keeping with the spirit of Airbnb.
We love the nearby Oriole Park for morning runs and walks!
The host canceled this reservation 22 days before arrival. This is an automated posting.
Jimmy
2017-02-23T00:00:00Z
Chris was fantastic, what a cool family! So convenient to Rosemont Convention Center and the airport. Thank you!!
Caroline
2015-11-17T00:00:00Z
Perfect location for our 2 weeks in Chicago! Train a block away & the home is in a lovely & safe neighborhood. The little things made the difference with fresh flowers, tea, coffee & lovely toiletries offered! Amazing complimentary wifi & parking & we wouldn't have survived with the great washer & dryer! Generous, kind & lovely host family! Thank you!!
Elizabeth
2016-06-27T00:00:00Z
Chris and Erin were great hosts! They were very responsive, provided suggestions in the area, and Erin even let me borrow her hairdryer. The location was close to O'Hare and the blue line, which made it easy for us to navigate to Logan Square and downtown. It's definitely a family vibe, which made it nice and comfy. I would recommend to anyone looking for a convenient and nice place to stay while in Chicago!
Meagan
2016-07-18T00:00:00Z
Cool spot just outside the city!
Paige
2016-11-05T00:00:00Z
The place was great. It was a cute studio in a fantastic location, and decorated so tastefully. I was also pleasantly surprised to find that it was equipped with every amenity I found a need for. Would definitely recommend!
Amritha
2017-03-26T00:00:00Z
Great spot if you're going to a convention in Rosemont. Also a great place to stay if you want to do some shopping at the Fashion Outlets or leave on the flight from O'Hare.
Rick
2017-01-22T00:00:00Z
The host canceled this reservation 18 days before arrival. This is an automated posting.
Jason
2016-05-15T00:00:00Z
Tipo de Acomodação
Casa/apto inteiro
---
Tipo de Imóvel
Outros
---
Acomoda
2
---
Quartos
Chicago, Illinois, Estados Unidos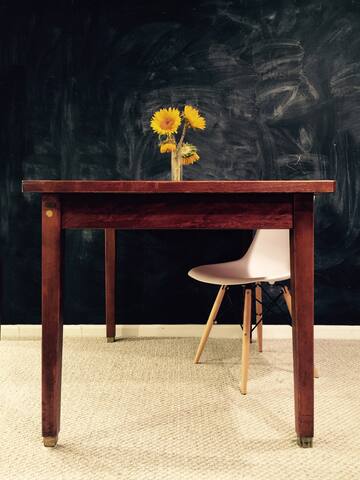 This apartiment is a 2 bedroom 1 bathroom fully furnished, private unit. I put three queen size beds, so it can sleep 6 people comfortably. This is a nice apartment, in a safe neighborhood. Close to public transportation. Provides a coin operated washer and dryer and a old school arcade machine. Internet and cable is provided. Parking is provided up to one car in the garage.
My place is not far from the Jefferson park blue line stop. Its very clean and cozy. I do not allow smoking or pets inside.
my place is in a good neighborhood in the city. There is plenty of restaurants and grocers in the area. Its also in a great location for Uber I have never had to wait more than 7 minutes.
Tipo de Acomodação
Casa/apto inteiro
---
Tipo de Imóvel
Apartamento
---
Acomoda
6
---
Quartos
Chicago, Illinois, Estados Unidos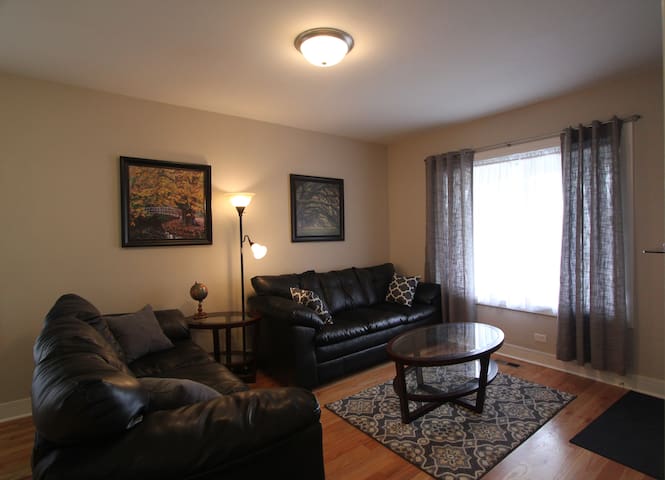 Spare bedroom in a quiet 3 bedroom apartment. We can also make available a 2nd, smaller bedroom with twin size bed. Conveniently in between downtown and O'Hare, and a short walk to the El and Metra.
You'll have access to the entire apartment, except the host's bedroom. There's a nice, large living room, and dining room you are welcome to enjoy the food you cook in the kitchen. WIFI available throughout the apartment. Some additions since the pictures were taken: I now have a large TV and a big glass coffee table in the living room. I've upgraded the dining room table with a much nicer one. The bedrooms now have dressers. Towels are provided for guests.
Old Irving Park is a historic, family neighborhood with quiet, tree-lined streets and friendly neighbors. There are a number of local establishments within walking distance, as well as the obligatory Starbucks and Chipotle. The neighborhood is really ideal for anyone flying in from O'Hare airport wanting quick access to downtown.
Adam is an amazing host who saved our night! our previous host cancelled on us only a couple oh hours before our arrival. Andrew was in constant contact with me, always answering my questions and letting us book his rooms on a very short notice. the appartment is in a nice neighbourhood with an amazing diner (golden nugget) close by. the beds are supercomfy, the bathroom very clean and all in all the perfect stay. Adam is very easy going and always helpful and reachable! If you need accomodation we highly recommend him!! you wont regret it
Eve
2015-10-11T00:00:00Z
The apartment was just as described. The bed was very comfortable and the room was big. Adam was very nice, he was communicative when we wanted to chat and left us alone when we were tired. Overall, we enjoyed our stay there.
Dainius
2016-05-04T00:00:00Z
Adam is a nice man to chat with and who helped us a lot to check out special things in the Chicago area. His home is clean and offers easy access. The train station is not far away and his neighbourhood offers some restaurants and coffee shops. Its only 25 min to get the loop by train. Convinient and good pricing.
Munir
2015-06-25T00:00:00Z
Adam is a great guy, he gave us some good ideas about where to go in Chicago and helped us with whatever we needed. He even drove us to the store. His place is very clean and comfortable and he has everything provided for you, towels, toiletries, whatever you need. It's easy to find and has parking, though you may have to search down the street a bit to find it. It wasn't too far from downtown but took about 20 minutes to get there driving, we didn't use the train but it was close. There are also some good restaurants close by. Overall it was a great place to stay.
Xavi
2015-05-10T00:00:00Z
Adam's place is in a great location convenient to public transportation and plenty of restaurant. I used his place as a quiet working environment for a week. I would definitely recommend staying at his place.
Amar
2016-06-11T00:00:00Z
Adam was a great host. Nice place in a quiet neighborhood. Ample amount of parking on the street if you decide to rent a car with good proximity to the city.
Ehrlic
2015-06-19T00:00:00Z
The bed was awesome! Adam was very accommodating as we had a 16mth old and he was able to let us check in early due to our red eye flight! His place was was clean and tidy. The area was great with lots of places to go eat/drink, it was a short walk to the blue line train, very easy to get to and from airport and downtown. We enjoyed our stay and thanks Adam for our first Airbnb experience!
Teddy
2016-05-14T00:00:00Z
Adam is friendly and helpfull, the appartment big, simple and comfortable. We have had a good time here. Easy connection to down town with public transport.
Christina Hee
2015-05-19T00:00:00Z
Tipo de Acomodação
Quarto inteiro
---
Tipo de Imóvel
Apartamento
---
Acomoda
3
---
Quartos
Chicago, Illinois, Estados Unidos
Hello! The place is located in downtown Skokie. Within a two block radius are great restaurants, grocery stores (Aldi included), library and the Yellow train line. Train ride to the city (Millenium Park) is about 40 mins
Jaili was a wonderful host. I stayed with her for 6 weeks and she immediately made me feel welcome. She took me to the market, around town and to some fantastic eateries in Chicago. Her apartment is clean and conveniently has a washer and dryer in the basement. The location is great because it's near public transit, a market, a yoga studio and some fantastic restaurants. I would definitely stay there again. :)
Jessica
2015-07-30T00:00:00Z
Jaili is an excellent host! Very cool and easy to get along with. Her place is relaxing and comfortable. The neighborhood is great for walking around and there are plenty of places nearby to eat or grocery shop. The yellow line is close by, so it is easy to get anywhere in the city using CTA. I would absolutely stay with Jaili again!
Matt
2016-09-09T00:00:00Z
Thank you Jaili for making my stay a pleasant and comfortable experience. You have been very helpful and kind, making me feel at home for the whole duration, I much appreciate, Bruno.
Bruno
2016-07-05T00:00:00Z
This was so nice! I saved a bunch of money instead of staying at the Skokie Holiday Inn on 5300 W. Touhy. This is a quiet and safe neighborhood and the hostess was very nice and friendly! I was even able to do my laundry for free and she was thoughtful enough to include complimentary detergent.
Nathan
2015-04-19T00:00:00Z
I wish I was able to give more stars, but alas. She was fantastic, had near everything I wanted, and some stuff I hadnt thought I needed available. Couple that with a good location........ I would totally stay again.
Dustin
2016-08-02T00:00:00Z
Jaili is a wonderful, thoughtful host and her home was warm and cozy. Thank you for having me and I hope I can stay with you next time I come into town. I loved that her place is located downtown Skokie!
Christine
2015-03-21T00:00:00Z
Jail is a wonderful, caring hostess who will go out of her way to make sure your stay is comfortable & your trip is a complete success.
dustin
2015-10-28T00:00:00Z
Tipo de Acomodação
Quarto inteiro
---
Tipo de Imóvel
Apartamento
---
Acomoda
1
---
Quartos
Skokie, Illinois, Estados Unidos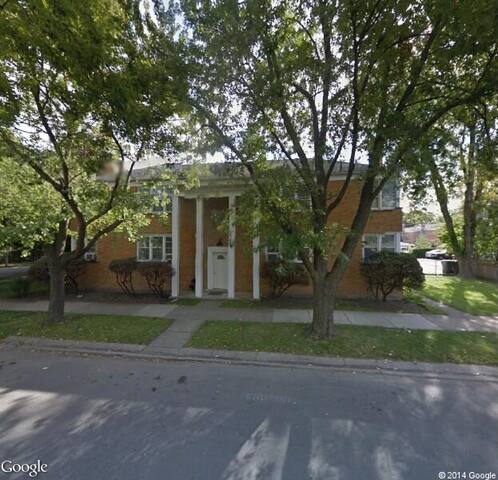 Rent this 2 bedroom space with your own bathroom, dining, living room and kitchen. I live upstairs and be available to help you with suggestions of what to do in Chicago and how to get around. Experience Chicago in a cozy, homey, safe place. There's a Mac computer, fast Wifi and a large TV with netflix/amazon video. There are many books and comforts of home. There's plenty of free parking right in front. CTA trains and buses make getting around easy.
Built in 1922, local Chicago builders designed a historical Dutch barn shaped building with local materials. I transformed this existing building into an oasis of environmentally friendly lifestyle. Modern renovations include: Triple pane windows, all electric hot water heating system for maximum hot showers, electricity is sourced from wind, bookshelves and comfy amenities make staying at the Lovejoy an exceptional experience. I live in the house and am ready to assist you with recommendations on enjoying your stay in Chicago. You'll also get peaceful urban ambiance on this quiet neighborhood street. The Jefferson Park transit center is a 12 minute walk (or 4 minute bus ride) and can get you around Chicago fast! There is a garden with white roses, peonies, rhubarb, tomatoes and more in season. You may hear birds singing in the morning. Lila the cat lives upstairs but your apartment is pet-free unless your small dog or cat is a traveling companion.
I love the history of the Jefferson Park community and how close it is to the Forest Preserves of Cook County and the transportation that makes it a breeze to move around the city. This neighborhood is home to many Chicago cops and firefighters. This is a safe place, close to the urban forests and connected to public transit. The Lovejoy Dojo Floor 1 is your home for centering and grounding.
What a gem hidden in a safe accessible neighborhood! Mark was very responsive, accommodating and helpful. Parking was a complete JOY as there miraculously was ALWAYS spaces just out front his door! His 2 bedroom 1 bath with full kitchen unit was warm, functional and charming. We had 2 bikes with us, which was easily able to be parked in the basement or garage. Walking distance to restaurants (chinese, Tapas, Subway@, a 24 hour 7/11 (with ATM), great pancake/deli/dinner called Elly's, laundramat, and more. Great little porch with swing chair for afternoon/early evening chats! No TV, no worries- we easily accessed our on demand cable and could have netflix. We didn't use rail system, but this location would have been easy. It WAS truly an urban oasis minutes away from 1-94/Foster Ave and 1-90 yet the neighborhood was quiet, and charming and we felt very safe walking over to Milwaukee and Center Aves! Thanks Mark! Look for us to come back next time we are in Chicago!
Joy
2014-08-09T00:00:00Z
This really is an urban oasis. What are the chances of staying in Chicago in a place with an outdoor firepit? It's so homey and right by the blue line. Chicago was freezing cold but everything about staying at Mark's was warm. Thank you!
Meg
2014-12-02T00:00:00Z
Great space, perfect for our weekend trip to Chicago. Location was perfect for us being between the burbs and downtown. We will return.
Adam
2015-09-27T00:00:00Z
Mark was an amazing host from the moment we arrived. Mind you this wasn't a normal stay, as we were there for three months. Mark was able to work with us even before we moved on length of stay and worked with us in order to conveniently pay each month. He is very down to earth and is someone who will not try to deceive you in any way in order to make a buck. He was always easy to get ahold of via text, email, or call. If he ever needed to come into the apartment where we were staying, he made sure to ask us days ahead of time. The place was exactly as described, inside and out, and had an enclosed backyard which was perfect for our dog. He was always willing to give us ideas of what to do in the area or surrounding areas as we were new to Chicago. The kitchen was fully equipped with cookware, appliances, dishes and everything you would need to cook. The fridge is perfect for a week or so stay, but is not average size for a normal household. After staying for three months, we are more than likely to return. We would definitely recommend The Lovejoy Urban Farm to anybody looking to get away, yet be so close to the city.
Sandra
2016-05-01T00:00:00Z
Mark was a great host, he responded to my reservation request and questions promptly and clearly. The space has a great energy and it is just as it appears in the photos. Nice quiet neighborhood. I hope to rent here again!
Dan
2014-11-09T00:00:00Z
Mark was a great host, we really enjoyed our time at the Lovejoy apartment. I would highly recommend him as a host. He was flexible before the stay and good at communicating and providing all of the information that would be needed. The space was clean and inviting, with plenty of room. It was close to the blue line and bus stops, allowing for transportation and finding a place to park on the street was quite easy. The neighborhood was also pleasant, as was Mark's book collection!
Shannon
2014-10-19T00:00:00Z
A nice place in a quiet neighbourhood. A bit out of downtown Chicago, but with the blue line there's a good connection. We stayed here for four nights with the four of us. And if it we wanted or needed anything, we just needed to ask.
Linda
2015-10-22T00:00:00Z
Gracious host,nice neighborhood, free parking easily available on the street. Mark was willing to work with us with any problems we had.
Kathy
2014-06-04T00:00:00Z
Tipo de Acomodação
Casa/apto inteiro
---
Tipo de Imóvel
Casa
---
Acomoda
5
---
Quartos
Chicago, Illinois, Estados Unidos
1

–

18

de

Mais de 300 Espaços para Alugar
Insira as datas para ver o preço total. Taxas adicionais serão aplicadas. Impostos podem ser adicionados.