ensolarado apartamento bonito, familiar, com varanda. 10 minutos a pé (ou 5 minutos de transportes públicos) distância da cidade. O Reno é de 1 minuto a pé e há duas lojas que abrem até às 22:00.
Acolhedor e limpo
Soggiorno molto piacevole trascorso in famiglia, in una posizione veramente strategica per muoversi anche semplicemente a piedi nel cuore della città. Appartamento comodo per tre/quattro persone, fornito di tutto il necessario (come descritto nell'annuncio) e molto luminoso e accogliente! Situato in una zona tranquilla ma abbastanza vicino sia al centro congressi che al centro della città; una zona pedonale nella via parallela permette di fare delle gradevoli passeggiata in riva al fiume. La padrona di casa è stata molto gentile e pronta nelle risposte via mail sia prima che durante il viaggio. Tutto è andato nel migliore dei modi per vivere un bel week end a Basilea.
Valeria
2016-06-20T00:00:00Z
Our experience with the apartment was really excellent, they were really nice to us. The apartment its really centrical and nice. Recommended 100%
Anil
2017-03-28T00:00:00Z
Tipo de Acomodação
Casa/apto inteiro
---
Tipo de Imóvel
Apartamento
---
Acomoda
4
---
Quartos
Basileia, Basileia-Cidade, Suíça
Apenas um tiro de pedra a partir do oeste de frente ribeirinha sul, este apartamento retro situado no Reno é uma base perfeita para explorar a cidade ou visitar para o trabalho. O apartamento dispõe de um quarto separado e uma sala de estar e de jantar espaçosa, com grandes janelas de sacada.
I had a pleasant stay in Rebeccas flat which matches its description. She is a kind host providing much in detail to make one's stay comfortable and worthwile.
Robin
2016-06-20T00:00:00Z
Rebecca is a nice person but the room is unsuitable for rent. I paid for two nights and I stayed only one after I went to a Hotel. The room isn`t like the photo in a website. . Totally disapointment.
Zubair
2017-02-08T00:00:00Z
L appartamento e molto carino confortevole e pulitissimo. Rebecca è stata estremamente gentile e disponibile. Lo consigliamo vivamente!
carmela
2017-02-13T00:00:00Z
Le logement correspond bien à la description sur le site. Dans un style neutre et moderne, la chambre offre tout le confort nécessaire. Le linge de bain est à mis à disposition. Le quartier est résidentiel et tranquille. L'appartement est idéalement situé. En quelques minutes de marche on se retrouve dans les lieux plus animés, comme les abords du Rhin lorsque le beau temps est au rendez-vous, ou bien dans le centre-ville. Rebecca m'a laissé toute latitude pour décider de mon heure d'arrivée. Nous nous sommes très facilement coordonnés en amont et la première rencontre a été parfaite – ponctualité et simplicité. Rebecca accorde à ses hôtes une entière autonomie, ce qui est très appréciable, tout en restant disponible pour les aiguiller. Petit plus : des guides sur la ville sont proposés sur la table de nuit de la chambre, dont un sur l'architecture, qui demeure l'un des aspects les plus remarquables de Bâle.
Yves
2016-05-06T00:00:00Z
Rebeccas Wohnung ist sehr schön, geschmackvoll eingerichtet und toll gelegen. Alles war sehr sauber und aufgeräumt. Rebecca ist eine sehr nette und angenehme Gastgeberin. Ich habe mich sehr wohl gefühlt und würde sie uneingeschränkt weiter empfehlen.
Annika
2016-05-28T00:00:00Z
Die Wohnung war sehr schön, sauber und in guter zentraler Lage- genau so wie beschrieben. Die Absprachen haben reibungslos funktioniert. Insgesamt war alles super, gerne jederzeit wieder.
Tom
2016-06-06T00:00:00Z
Rebecca was very quick to reply to inquiries right from the start. She was very warm and friendly in person. The room was very clean and the bed was very comfortable. The neighborhood location is great - right by the Rhine. Close to the bus stop and supermarket. Also a nice walk to the Alstadt/ Old Town. I highly recommend staying at her flat when in Basel.
Joyette
2016-06-24T00:00:00Z
Rebecca was a great host. She met us at her apartment when she said she would be there and greeted us with a smile. She was very respectful and generous in her hospitality. Her place was exactly as described; very organized and clean. She provided clean towels, breakfast with coffee and tea, an extremely comfortable bed with fluffy pillows and comforter, and maps for touring Basel. We highly recommend Rebecca's airbnb for your next trip to Basel.
Matt
2017-02-22T00:00:00Z
Tipo de Acomodação
Quarto inteiro
---
Tipo de Imóvel
Apartamento
---
Acomoda
2
---
Quartos
Basileia, BS, Suíça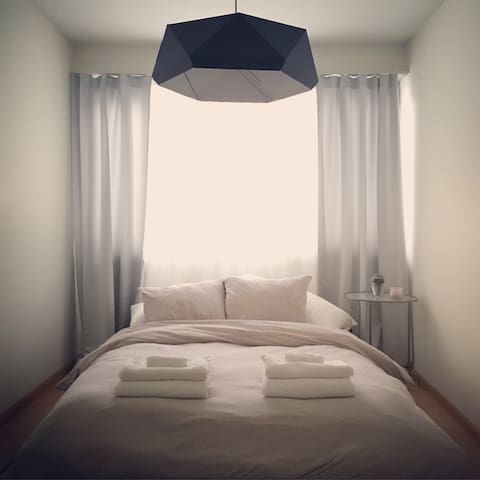 Geräumige Unterkunft ganz in der Nähe der Messe Basel, Musical Theater, Rhein und der Altstadt, Museen, Karneval. Sie können alles innerhalb von 15 Minuten zu Fuss oder mit öffentlichen Verkehrsmitteln erreichen. Sie werden eine überraschend ruhige Atmosphäre in einem modernen Gebäude aus Holz, viel Platz und Licht finden ... nach einem anstrengenden Tag zu entspannen. Der Ort ist sehr geeignet für Paare oder Singles, fair-Besucher, kulturell interessierte Personen, Geschäftsreisen, bleibt auch während der kontinuierlichen Bildung oder Ausbildung.
Beatrice est adorable et la chambre qu'elle prête est très confortable. Je me suis sentie à l'aise et je n'hésiterai pas à y retourner.
Rachel
2017-03-12T00:00:00Z
Beatrice's place is very clean, bright, beautiful and excellently located! Beatrice is a very friendly host and provided us with everything we needed. I definitely recommend this place to anyone!
Manuel
2017-02-27T00:00:00Z
Sehr schönes Haus und tolles Zimmer. Alles was man braucht. Tolle Einrichtung, unkomplizierte Umsetzung! Jederzeit wieder!
Alan
2017-03-07T00:00:00Z
Sehr schöne Wohnung mit allem was man braucht. Tolles, modernes, gemütliches und gut ausgestattetes Zimmer. Jederzeit wieder!
Alan
2017-03-14T00:00:00Z
The House of Beatrice is comfortable. It is perfect located to the Basel fair!! I did not know that I only hired one room of the house. (Did not read the advertisement so good) but it was no problem to meet the owner Beatrice; she is a very calm and friendly host. Thanks for your hospitality!! Maybe until next year;) Grtz A
Adriaan
2017-03-29T00:00:00Z
T'es bien accueilli et très confortable.
Djoko
2017-02-19T00:00:00Z
Ein wunderschönes, großzügiges Appartement in bester Lage mit allem, was man braucht, um sich wohl zu fühlen.
Ragnhild
2017-03-22T00:00:00Z
Tipo de Acomodação
Quarto inteiro
---
Tipo de Imóvel
Apartamento
---
Acomoda
2
---
Quartos
Basileia, Basileia-Cidade, Suíça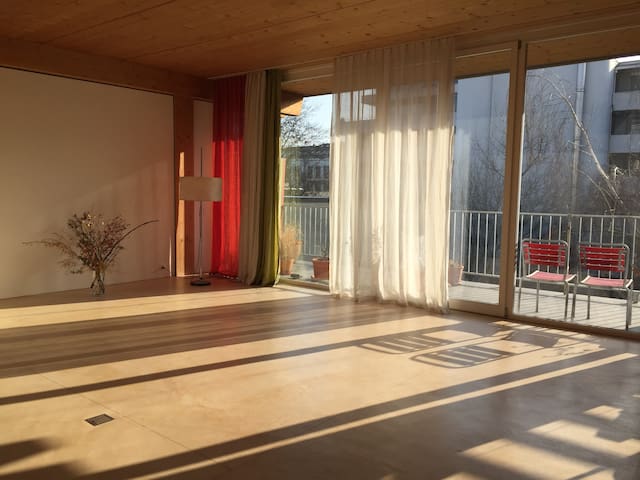 O apartamento recém-renovado está localizado a 50 m do Reno, ao lado de um bar ribeirinha popular e grill.
Apartamento é muito perto do Reno ao lado de um bar ribeirinha ou "buvette" que caracteriza uma grade pública. Há uma varanda tranquila ao lado do quarto. O quarto tem uma cama de casal e sala de estar um sofá-cama.
A vizinhança tem uma boa selecção de suíça, italiana, indiana, tailandesa, restaurantes turcos. Uma pequena loja fica a 50 m, os maiores dentro de 100-200m. A ribeira é um popular ponto de encontro para os jovens, especialmente no verão. Você pode nadar em casa para o seu apartamento no verão.
Martin and his young daughter Jenny greeted us at the ground level entrance to his 4th floor flat. Everything was clean, neat and prepared for our arrival. They oriented us to most of the things we needed to know about the kitchen appliances. They were overall very friendly and accommodating. We were very pleased with the property and its location about 1/2 block from the Reine River and would highly recommend it to anyone.
Kathryn
2016-05-08T00:00:00Z
Martins Wohnung entspricht genau der Beschreibung und den Fotos, ist sehr sauber und es ist alles vorhanden, was man braucht. Martin hat uns persönlich empfangen und war sehr sympathisch. Er hat auch angeboten, dass wir ihn jederzeit kontaktieren können, was aber nicht nötig war, da es keinerlei Probleme mit der Wohnung gab. :-)
Melanie
2016-01-03T00:00:00Z
Martins place was great! We only stayed a weekend but it was a perfect location. We were able to see and do everything we wanted with ease. He has fantastic communication and willing to help with all that he can.
Danielle
2016-11-27T00:00:00Z
good location, nice apartment and very comfortable.
Sand
2016-03-24T00:00:00Z
Vielen Dank Martin. Das ist eine schöne Wohnung, sehr bequemt. Die Lage ist total geil, nur 1 Minute von dem Rhein. Martin ist super nett, und sehr hilfsreich.
Xiaoman
2015-07-26T00:00:00Z
One of the best apartment and stay. Very well located- near to the offices, tram station, shops and scenic river. Modern apartment with all amenities- well equipped kitchen, internet, tv, etc... Thx a lot.
Pallav
2016-04-29T00:00:00Z
My family has stayed at Martin's place multiple times for long periods of time. It is always excellent -- great location, clean, and well equipped. Martin is responsive and helpful.
Peter
2016-12-15T00:00:00Z
Perfekte Wohnung, alles was es braucht :-).
Jörg
2017-03-29T00:00:00Z
Tipo de Acomodação
Casa/apto inteiro
---
Tipo de Imóvel
Apartamento
---
Acomoda
3
---
Quartos
Basileia, Basileia-Cidade, Suíça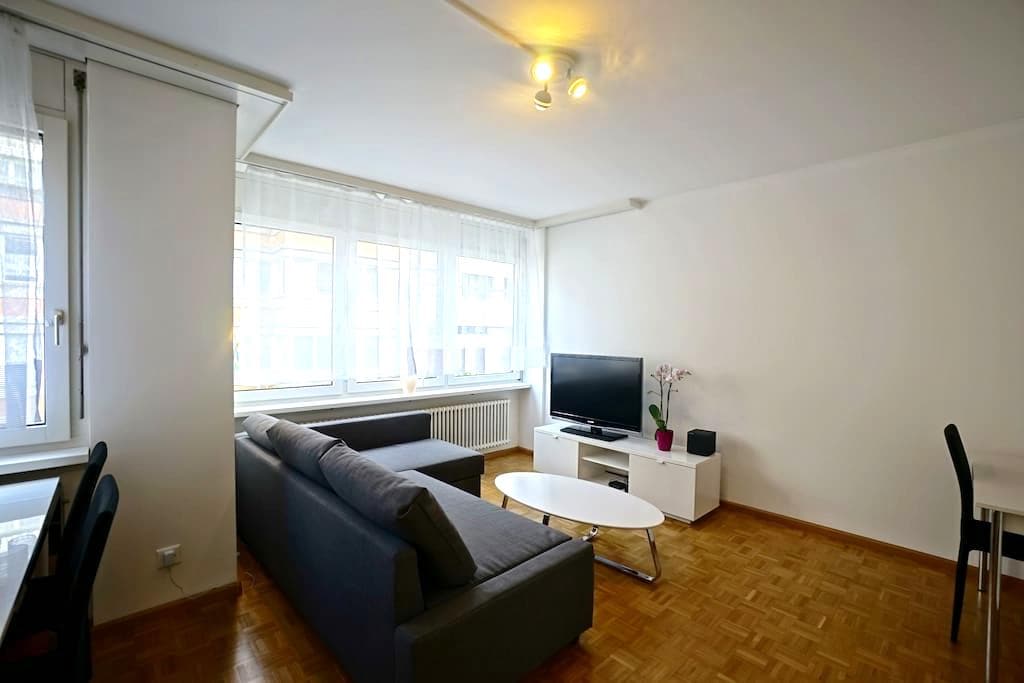 Eine schöne private Schlafzimmer mit eigenem Wohnzimmer direkt neben dem Fluss (wo man grillen und schwimmen können). Nahe vielen netten Cafés und Restaurants. Bietet Platz für 2 Personen. -Close Zum Flughafen Transport -weniger Als 10 Minuten zu Fuß zum historischen Zentrum -Sehr Schließen die Stadt zu allen Straßenbahnnetz von -Sehr Zu Vitra schließen
Oké room, idealy located to go to the congrescentre or city. Several tramstops closeby. Kitchen is oddly located at the end of corridor. Bathroom was clean, just not very modern so you might think otherwise.
Marloes
2016-11-04T00:00:00Z
Perfect host. Perfect apartment. Perfect stay. Strongly recommended!
Amir
2016-08-22T00:00:00Z
The host canceled this reservation 27 days before arrival. This is an automated posting.
Neil
2016-08-10T00:00:00Z
We had a great stay in Basel with Dan. The communication was pleasant and easy, the room stylish, comfortable and clean. The kitchen offered everything, we needed for cooking. The flat is situated near the Rhine, and we could reach the center of Basel comfortably on foot. Shopping opportunities are quite near and I did like the neighbourhood. I fully recommend the place (and host) and would love to come back!
Sascha
2016-08-25T00:00:00Z
Le quartier est tranquille et la chambre agréable, à proximité du centre. Les indications de Dan nous ont permis d'entrer dans les lieux sans problème. Notre séjour était très rapide, pour visiter Vitra et le musée Tinguely et c'est une adresse tout à fait correcte dans Bâle.
Sylvie
2016-10-27T00:00:00Z
Der Charme eines älteren Hauses und einer älteren Wohnung haben uns überzeugt. Ebenso die sehr ruhige Lage in einem typisch baslerischen Quartier. Zudem sehr nahe zum Rhein und zum Musical Theater gelegen.
Peter
2017-02-22T00:00:00Z
The arrival was well organized, Nice neighbourhood and cosy place. It is fine to have a living room next to the bedroom. We liked the neighbourhood and the cosy place. We didn't meet Sophie, later there was Dan. The bathroom was not very clean.
Tina
2016-10-21T00:00:00Z
The place was exactly as described, and exactly what we wanted for our time in Basel. It is right on the Rhine and perfect for walks along the river towards the Old Town. Dan (Sophie's partner) was friendly and made sure that we had everything we needed. I would stay here again, thank you for the hospitality.
Andrea
2016-10-21T00:00:00Z
Tipo de Acomodação
Quarto inteiro
---
Tipo de Imóvel
Apartamento
---
Acomoda
2
---
Quartos
Basileia, Basileia-Cidade, Suíça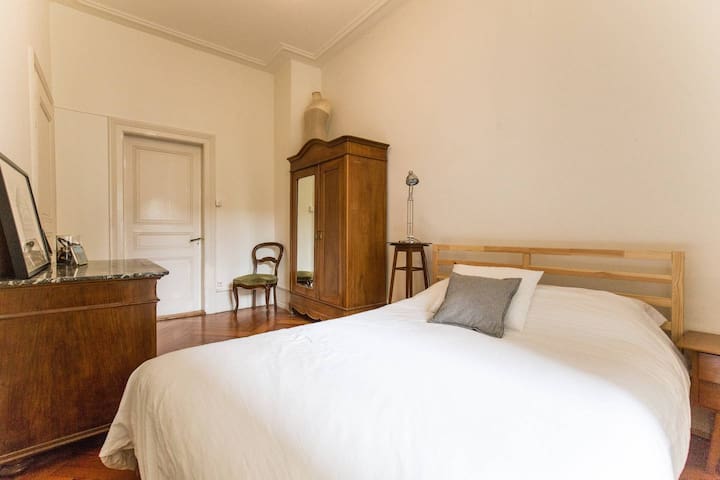 My accommodation is close to Mass, Musical Theater, "Fasnacht", Rhine, Restaurants, Public transport. Enjoy my accommodation for the location in the heart of the biggest events of the city, the alternative ambience of the area with lots of places to go out, the functionality of the apartment. My accommodation is perfect for couples, solo travelers and business travelers.
je recommande cet appartement pour la proximité avec le lieu de la foire de Bâle.
Beat
2017-03-24T00:00:00Z
Great place and the host Giselle!
Mila
2017-03-26T00:00:00Z
Séjour très agréable, appartement tout mignon, parfaitement propre, tout rénové. Localisation pratique, à proximité de la Messeplatz et des différents transports publics. Service et accueil impeccable. Gisèle est très serviable et parle très bien français.
Christel
2017-03-06T00:00:00Z
The appartment is definetly really nice ! As well as on the pictures. The location is great because it is close to tramways and even if you can reach pretty quickly the center, you're still in a quiet and lovely place ! (Even close to the Volkhaus, that is definetly a great place to be!) It is also super clean and a perfect "home sweet home" for few days in Basel ! I hightly recommand Gisèle and her charming appartment because even if we hadn't the chance to meet, everything was perfectly organized, even I asked pretty spontaneously for staying at her place ! Thank you again for everything !
Aline
2017-04-09T00:00:00Z
Es war total schön bei Gisèle zu Hause! Sie hat mich sogar vom Bahnhof abgeholt und war super freundlich, unkompliziert und hilfsbereit. Immer wieder gerne!
Nicola
2017-03-15T00:00:00Z
Alles hat sehr gut geklappt. Gisèle ist eine sehr gute Gastgeberin... Danke!
Herbert
2017-03-29T00:00:00Z
Tipo de Acomodação
Casa/apto inteiro
---
Tipo de Imóvel
Apartamento
---
Acomoda
2
---
Quartos
Basileia, Basileia-Cidade, Suíça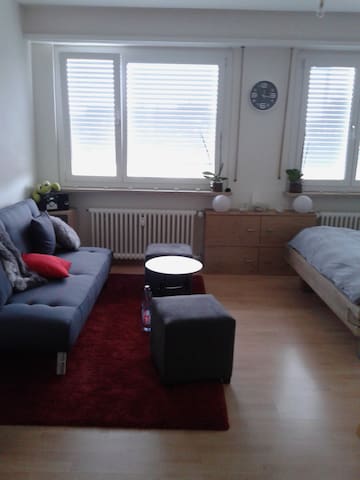 Dieses private Zimmer mit separatem Eingang und eigenem Bad ist ideal für Geschäftsreisende und Backpacker. Es ist mein Arbeitsraum, aber manchmal für ich verwende es nicht mehrere Wochen, so hatte ich die Idee, es hier zu setzen. Es kommt mit einem Einzelbett, Schreibtisch, Kleidung bar und Wasserkocher für Tee und Kaffee. Auch seine mögliche zu verwenden, um die Bügelstation und eine Waschmaschine / Tumbler.
I liked Jessica's place a lot, it is in a very nice neighborhood and the room was nice and clean.
Virry
2017-04-08T00:00:00Z
Jessica es una buena anfitriona, en todo momento se preocupó de que estuviese bien. Recomendable 100%!!
Pablo
2017-04-05T00:00:00Z
Tipo de Acomodação
Quarto inteiro
---
Tipo de Imóvel
Apartamento
---
Acomoda
1
---
Quartos
Basileia, Basileia-Cidade, Suíça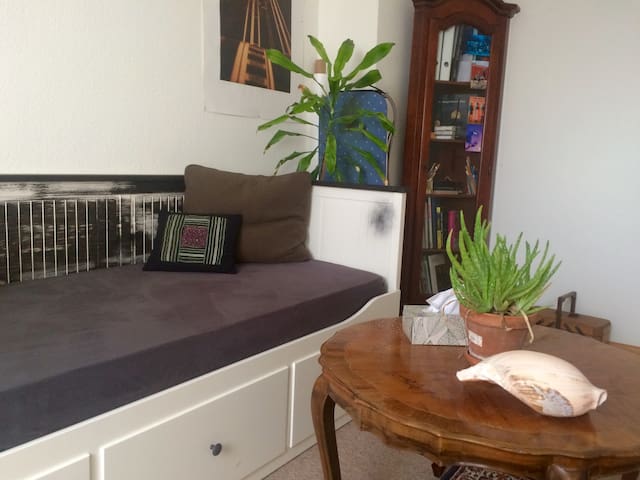 Perto do centro de exposições de Basileia (10 minutos a pé ou 2 minutos de eléctrico). Aprox. A 200 metros do Rio Reno. Muito perto do centro da cidade (5 minutos de eléctrico). Linda vista para o Dreirosenbrücke. Ligação directa de eléctrico. Aprox. 30 minutos. Do aeroporto por transportes públicos. Minha acomodação é bom para casais, viajantes aventureiros solo e viajantes de negócios.
Philipp's apartment has all you need if you want to stay in Basel for a couple of nights. It is located close to the center of town and suitable for two people. I also appreciated how flexible Philipp was with the check-in time and how easy-going the communication went. I would definitely recommend staying there!
Marcel
2016-12-22T00:00:00Z
Nice, convenient and quite spacious apartment. Would definitely recommend it.
Mario
2016-12-02T00:00:00Z
The host canceled this reservation 37 days before arrival. This is an automated posting.
Ariana
2016-12-20T00:00:00Z
Flexible Check-in und Check-out Zeiten. Gut erreichbar mit den öffentl. Verkehrsmitteln und die auch die Innenstadt war gut zu Fuss erreichbar. Die Wohnung ist gemütlich und sauber. Die Kommunikation lief gut und unkompliziert. Hat alles geklappt :)
Patricia
2017-01-15T00:00:00Z
Très bon accueil, les photos correspondent tout à fait au logement.
Florence
2016-12-15T00:00:00Z
Tipo de Acomodação
Casa/apto inteiro
---
Tipo de Imóvel
Apartamento
---
Acomoda
2
---
Quartos
Basileia, Basileia-Cidade, Suíça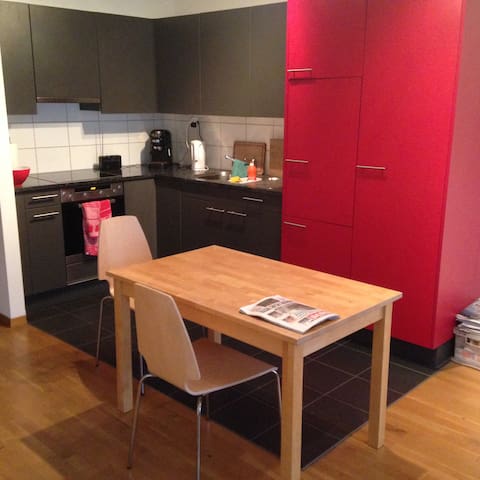 Nabízíme k pronájmu pokoj (samostatný vchod!) V našem sdíleném bytě. Společné využívání kuchyň, koupelna, obývací pokoj, střešní terasa (s sauně!) Byt se nachází v blízkosti veletrhu centra, nádraží, Rýn, bary, restaurace, supermarkety ...
Είμαστε μια τρελή "οικογένεια επίπεδη συντρόφους" μικρό (μια γυναίκα και τρία άνδρα) που μοιράζονται ένα διαμέρισμα μαζί. Έχουμε νοικιάσετε ένα μεγάλο ιδιωτικό δωμάτιο (περίπου. 20 τμ), η οποία έχει ξεχωριστή είσοδο. Το δωμάτιο διαθέτει ένα μεγάλο κρεβάτι (1,40 x 2m) ένα γραφείο, ένα ράφι και ένα ντουλάπι. Εάν χρειαστεί μπορούμε να παρέχουμε ένα άλλο στρώμα να βάλει στο πάτωμα. Τα σεντόνια και πετσέτες συμπεριλαμβάνονται. Η επίπεδη σοφίτα είναι στον επάνω όροφο και χρησιμοποιείται για να είναι ένα εργοστάσιο. Το διαμέρισμα είναι ευρύχωρο και φωτεινό. Έχει ένα μπάνιο με μπανιέρα ελεύθερη μόνιμη (όχι ντους). Η τουαλέτα είναι ξεχωριστή. Εάν πρέπει να πλύνετε τα ρούχα σας, έχουμε επίσης ένα πλυντήριο ρούχων που μπορείτε να χρησιμοποιήσετε. Η καρδιά της επίπεδης είναι το μεγάλο σαλόνι. Εκεί έχουμε ένα μεγάλο καναπέ, ένα video projector, οθόνη λινό και ποδοσφαίρου επιτραπέζια. Η κουζίνα (με φούρνο αερίου και φούρνο αερίου) είναι ανοικτή για το σαλόνι και έχει ένα μεγάλο τραπέζι φαγητού. Έχουμε επίσης ένα πλυντήριο πιάτων. Πιθανώς το πιο εντυπωσιακό πράγμα είναι η μεγάλη βεράντα στον τελευταίο όροφο, όπου βρίσκεται αυτοσχέδιες σάουνα μας. Έχουμε δύο γάτες. Είναι μόνο στην κύρια επίπεδη και δεν εισέρχονται στο δωμάτιο. Το σπίτι βρίσκεται στην όμορφη, πολυπολιτισμική και σαλόνι της Kleinbasel και είναι πραγματικά κεντρικό (εξ ου και μερικές φορές μπορεί να είναι λίγο θορυβώδες έξω) Είναι πέντε λεπτά με τα πόδια από τον Ρήνο όχθη του ποταμού. Στάσεις τραμ και λεωφορείων, σούπερ μάρκετ, αρτοποιείο, Ταχυδρομείο, ΑΤΜ, εστιατόρια, καφέ, μπαρ ... είναι όλα στο κατώφλι σας. Στο ισόγειο του σπιτιού υπάρχει ένα τουρκικό παντοπωλείο. Έτσι, δεν χρειάζεται καν να φύγει από το σπίτι για να αγοράσει φρέσκα τρόφιμα! Το ιστορικό κέντρο της πόλης, καθώς και η εύλογη Basler μπορείτε να φτάσετε μέσα σε 10 λεπτά ή με μια σύντομη διαδρομή με το τραμ. Μπορείτε επίσης να δανειστείτε δύο από τα ποδήλατα μας, αν θέλετε. Έχουμε ένα ζωντανό επίπεδη και περισσότερο χρόνο υπάρχει κάποιος στο σπίτι, έχουμε επίσης πολλούς φίλους που μας επισκέπτονται. Η κουζίνα χρησιμοποιείται συχνά, είναι περιττό να πω ότι δεν είναι πάντα πεντακάθαρα. Το δωμάτιο έχει ξεχωριστή είσοδο. Μπάνιο, τουαλέτα, κουζίνα, καθιστικό και βεράντα είναι για κοινή χρήση. Εάν αυτός ο τύπος διαμονή σας ταιριάζει, είστε ευπρόσδεκτοι να μοιραστούν επίπεδη μας μαζί μας και να έχουν μια καλή στιγμή σε αυτό το ιδιαίτερο και όμορφο σπίτι!
Alissa est une hôtesse discrète et attentive. L'appartement est adapté à des personnes qui ont l'habitude d'une vie plutôt communautaire. J'étais là pour des raisons professionnelles et l'appartement correspond à une alternative agréable à un hôtel dont l'ambiance est généralement plus austère et impersonnelle.
Jean-Michel
2016-09-02T00:00:00Z
Beautiful People Beautiful Place
Maria
2016-09-09T00:00:00Z
war toll bei euch, vielen dank! sehr nette, interessierte und unkomplizierte mitbewohner, ich hab mich sehr wohl gefühlt.
Marco + Rosa
2016-05-02T00:00:00Z
We had a great stay! Thanks for being so kind and generous with the house and the great terrace!!
Tere
2017-03-28T00:00:00Z
The flat is exactly as described. The room is clean and tidy, there is a desk to work if needed to like me. Alissa was very friendly and made sure I was comfortable. I met Armin who lives in the flat and is very nice. The flat is close to the river and there are bars, cafés around. I really recommend!
Clem
2016-05-27T00:00:00Z
Alissa was not in the appartment during our stay, but it was very easy to communicate with her and arrange our arrival. Her flatmate, Armin helped us on site. The flat is very unique, definately worth to try it. We had our separate room, exactly as described, really relaxing. The appartement is close to the city center and Basel Badischer Bahnhof.
Ivanszky
2016-08-22T00:00:00Z
Wir wurden ganz herzlich und ehrlich empfangen. Das Zimmer war sauber. Gemütlich und minimal eingerichtet, wie im Profil angekündigt. Der Rest der Wohnung war etwas chaotisch, aber um so spannender! Die Gastgeberin und die Mitbewohner waren äusserst nett zu uns und wir hatten spannende Gespräche, im besonderen mit Armin!...Eine sehr interessante Person! (Liebs Grüessli an Armin) Ich würde jederzeit wieder bei der Alissa buchen! Meeeeeeerci viel Mau für die zweckmässige Übernachtungsmöglichkeit .
Stephan & Andrea
2016-05-19T00:00:00Z
Sehr sehr nette Menschen wohnen dort! Wir haben uns sehr wohl gefühlt. Die Kommunikation war super und es hat alles perfekt geklappt! Immer wieder gerne.
Katrin
2016-09-18T00:00:00Z
Tipo de Acomodação
Quarto inteiro
---
Tipo de Imóvel
Loft
---
Acomoda
2
---
Quartos
Basileia, Basileia-Cidade, Suíça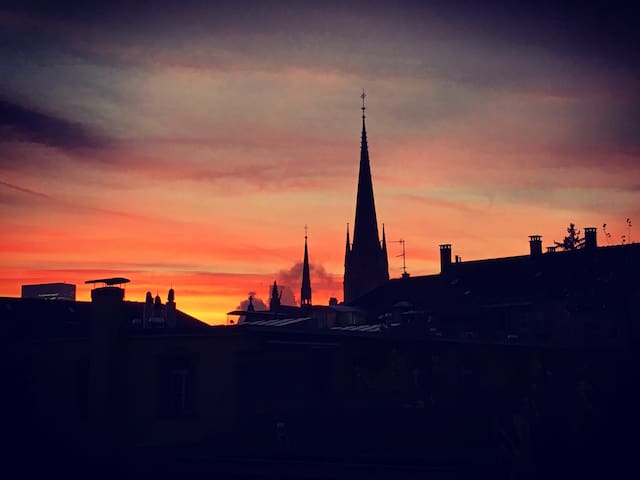 querido invitado la bienvenida a la Pequeña Basilea ... una zona próxima .. se encuentra el arte, cafés, la moda y la escena alternativa .. y gente muy amable .. que van a dormir en una tienda .. usted tiene su propia entrada, pero comparten baño y cocina conmigo.
lugar acogedor, mamá grande que tendrá lugar, gran entrada a la cultura suiza e italiana, si mamá grande deseada cocinará para usted, wifi, tiendas y entrenar muy cercano .. 10 minutos a pie del centro de basel..if necesaria mamá grande haría también será su guía para ir de compras, cultura, diseño, subculturas y la política
la kleinbasel es muy multicultural .. todo lo que necesita está en las inmediaciones .. farmacia, panadería, supermercados, pequeñas tiendas, bares y cafeterías, restaurantes, oficina de correos ...
Sonja ist sehr gastfreundlich und nett. Die Wohnung ist o.k. Ich würde sie weiter empfehlen.
Herbert
2015-11-16T00:00:00Z
Whenever I go to Basel, I stay with Sonia. That's just about the best feedback I can give.
Nick
2016-11-18T00:00:00Z
I stayed with my girlfriend at Sonia's place and we really recommend it! Warm welcome by our host,good communication in beforehand and lovely room in the centre of Basel. The room has a separate entrance, bathroom and kitchen are shared. Sonia had always helpful advices when we needed. Thanks for hosting us!
Samuel
2016-08-14T00:00:00Z
As advertised. Great value, super location on the Kleinbasel side. Easy access to trams and Coop across the street. Fantastic host. Sonia has a nack of making people feel very welcome. Highly recommended and will definitely return on my next visit to Basel.
Nick
2016-10-25T00:00:00Z
Very unusual, convenient and reasonably priced spot in Basel. Close to the fair, the Rhine etc. Everything is clean, Sonia is caring and helpful. I would recommend it for a short stay.
Xaver
2015-06-18T00:00:00Z
Everything was cool and nice, Sonia is a sweetheart!
Sofia
2016-10-30T00:00:00Z
Super Lage und eine mega freundliche Sonja Ich werde wieder dort buchen
Ruedi
2017-02-05T00:00:00Z
This is a room obviously built to be a shop (so it has its own private entrance from the street, which is nice - BTW it is a fairly quiet side street) but is down out as a story of bed sitting room. You can go into the flat to use the kitchen and bathroom so all domestic amenities are available. There is a radio / CD player and a few CDs, but not many do bring your favourite. The location is very convenient for shops bars and restaurants. I enjoyed my stay and will definitely return.
Garret
2016-11-13T00:00:00Z
Tipo de Acomodação
Quarto inteiro
---
Tipo de Imóvel
Apartamento
---
Acomoda
2
---
Quartos
Basileia, Basileia-Cidade, Suíça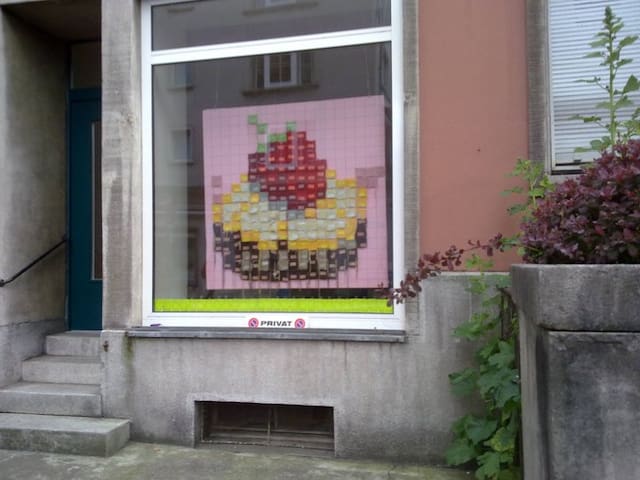 Melhor situado junto Fair (Basel Mundial) e Novartis Campus. Todos os novos mobilados. Internet grátis
Equipado com tudo que você precisa para uma estadia confortável.
Próxima Rhein, Novaritis massa e cerca de 5 minutos do centro da cidade
Great to stay with Andre. The apartment was in a great location a very short team ride from the Basel congress centre. Clean and nicely furnished. Andre was super organised and we had no trouble finding the place and 'checking in' and out. great to stay with you.
andrew
2016-06-12T00:00:00Z
We stayed one more week after trip from London from Andre apartment. We decide for last moment and he help us to inter his apartment quick. Happy to stay there.
Jan
2015-03-01T00:00:00Z
Andre's place was great! Well equipped, clean, and a fabulous space.
Laurel
2016-12-07T00:00:00Z
Nice apartment , great location only 200metres from tram stop. Quick ansswers from host. Flat is clean and you can enjoy well your stay.
Jan
2015-02-08T00:00:00Z
Jais pas vu Andre en personne mais jais passer un super séjour appartement bien située transport et supermarché à proximité très proche du centre ville j'y retournerai sûrement merci Andre
savannah
2016-03-21T00:00:00Z
숙소 설명을 정확하게 해주어서 공항에서 숙소까지 쉽게 갈수 있었다. 문의사항에 대한 답변이 바로 와서 좋았다.
Art
2015-06-22T00:00:00Z
Lieber André, die Wohnung ist zentral gelegen und ist gemütlich eingerichtet. Das Foto vom Balkon ist nicht von dieser Wohnung, es waren weder Tisch noch Stühle auf dem Balkon. Wir hatten einen tollen Aufenthalt und kommen gerne wieder.
Hanspeter
2017-01-05T00:00:00Z
Die Lage der Wohnung ist gut: Tram und Geschäft in der Nähe, auch der Rhein schnell erreicht. Die Wohnung ist sehr ruhig und entspricht den Angaben. André hab ich nicht kennengelernt. Vom Balkon (das ich als Raucher sehr geschätzt habe) kann man das Siedlungsgeschehen beobachten. Alle Geräte (Gasherd, Dusche, Fön) haben funktioniert.
Danielle
2016-05-30T00:00:00Z
Tipo de Acomodação
Casa/apto inteiro
---
Tipo de Imóvel
Apartamento
---
Acomoda
3
---
Quartos
Basileia, Basileia-Cidade, Suíça
Tipo de Acomodação
Casa/apto inteiro
---
Tipo de Imóvel
Apartamento
---
Acomoda
1
---
Quartos
Basileia, Basileia-Cidade, Suíça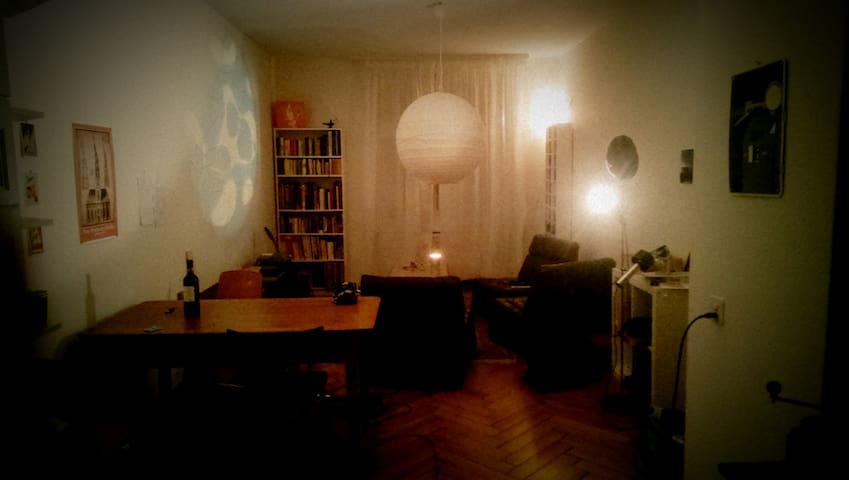 Tipo de Acomodação
Casa/apto inteiro
---
Tipo de Imóvel
Apartamento
---
Acomoda
2
---
Quartos
Basileia, Basileia-Cidade, Suíça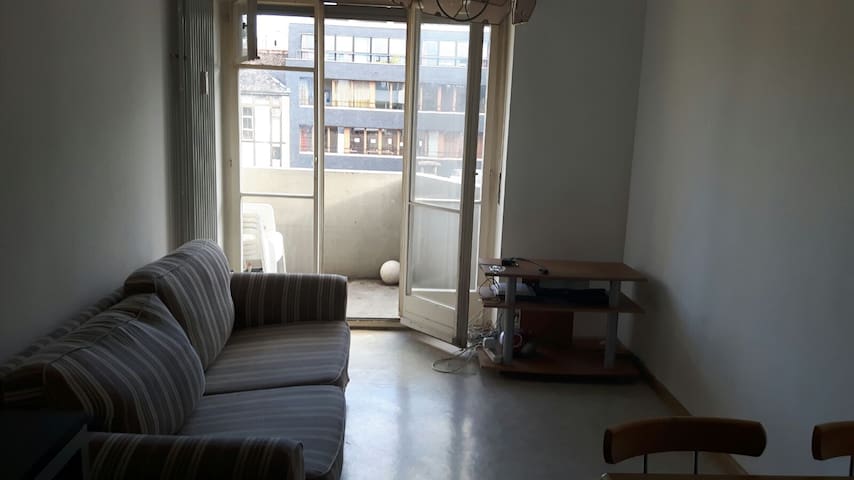 My house is near the Messe Basel, cafes, restaurants, Rhine promenade, nightlife and is very centrally located. Shops and public transport on the doorstep. A staircase leads you to the top floor (fourth floor) of beautiful bright apartment, Jonas and nice neighbors in the house plus the proximity to city life here are really wonderful.
Great location, warm welcome, and perfect hosting. A highly recommendable place to stay
Philippe
2017-03-30T00:00:00Z
Roman's place was cosy and in a great location. Roman was a great host, very friendly and welcoming, and suggested some really nice things to do during my time in Basel. In all, a wonderful stay.
vanda
2016-12-16T00:00:00Z
Very accommodating and willing to host us even at the last minute. Thank you!
Rebecca
2016-06-20T00:00:00Z
Alles prima! Hat sich auf meine Ankuntszeit eingestellt. Eineckleibe Hilfe beim Koffer tragen, nebst auf den letzten 5 Stufen wäre schön gewesen ;) Ansonsten alles super! Dankeschön
Heike
2016-11-06T00:00:00Z
Hermoso departamento con un barrio muy tranquilo y con muchas cosas cerca. El tener el tram número 8 en la esquina nos ayudó para ir a la estación SBB y hasta para visitar Weil am Rhein. Super recomendable
Nacho
2016-11-22T00:00:00Z
Excellent and friendly host, and great apartment in a central location, just 15-20 minute walk to the Messe. Good local cafes and conveniences. Comfortable and clean. Quiet. Long walk up the stairs, but spacious and artistic character, with leafy view from sizeable balcony. Would certainly repeat.
Robert
2016-06-17T00:00:00Z
Tipo de Acomodação
Quarto inteiro
---
Tipo de Imóvel
Apartamento
---
Acomoda
2
---
Quartos
Basileia, Basileia-Cidade, Suíça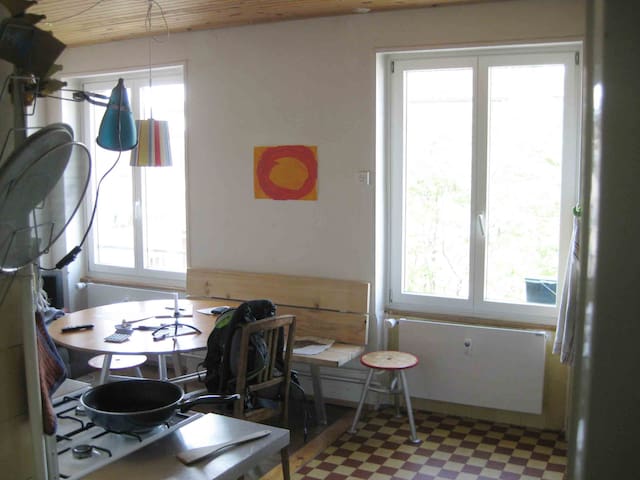 O exhibiton Basel eo centro da cidade fica a apenas 10 minuts a pé. Você pode chegar ao apartamento de 3 andares dentro de poucos minutos de ônibus de carro do Basel SBB, Basel Bad Bahnhof e do aeroporto Basel-Mulhouse. O apartamento está muito perto de um monte de estações (eléctrico e autocarro). Você obtém acesso W-LAN e W-Lan código livre para os Hotspots em Basileia (fa no centro de exposições) e um bilhete de mobilidade para usar o transporte público gratuitamente. Excelente para negócios, casais ou amigos!
No lado oposto é uma igreja. Por favor note que os sinos da igreja soam a cada quarto de hora (as janelas são bem isolado, mas você vai ouvi-los de qualquer maneira, se você estiver muito ruído sensível Eu também pode fornecer tampões para você). Há uma grande quantidade de clientes em torno da área (turco, pizza ou Thai), 2 bares muito bonito café onde você pode ter pão caseiro, quiches, bolos e bom café (também agradável para um brunch) e algumas lojas que estão abertas 7 dias até ca. 9:00 (também no domingo, não é usual para a Suíça) para mantimentos urgentes.
Alles Super. Besten Dank, Eva...
Salah
2017-02-21T00:00:00Z
Eva was really hospitable and helpful throughout our stay at her place. The apartament is very clean, cosy and equipped with all necessary stuff. The location is quite close to the old town and has good connection to main parts of the city. I highly recommend this place :)
Martyna
2017-03-09T00:00:00Z
I had a very good time in her house. She is ver worried about the guest. I recommend this place a lot!
Andrea
2017-02-16T00:00:00Z
Eva's apartment is lovely and very well placed for all the sights and public transport. Eva is very welcoming and the mobility tickets came in really handy. Thank you. Wish we could have stayed for longer
Natalie
2017-03-30T00:00:00Z
We felt great staying at Eva's place. I highly reccomend it! Thanks
Ion-Mihai
2017-02-19T00:00:00Z
Eva is a great host, communicative, and makes sure her guests have everything they need. The apartment is in a great area, right by the bus/ streetcar, close to downtown. Clean, bright, convenient. Eva even provides her guests with a free pass for public transport and a map of Basel. Would definitely stay there again.
annesley
2017-04-05T00:00:00Z
Eva hat mich sehr herzlich empfangen. Die Untetkunft ist sehr empfehlenswert, alles sehr sauber und schön eingerichtet. Besten Dank, Eva!
Andreas & Ruth
2017-03-31T00:00:00Z
Eva is a really nice person, pleasant and helpful. I arrived around 11 pm, and she met me and showed me around the flat. My room was rather spacious with a big bed (rather firm) and a big pillow. I slept super well! There was space in the closet as well, to hang up my clothes. The desk and wall- mirror were great to have in the room too. The central heating was on, so it was nice and warm which I like! I could open the windows though and still get some fresh air. Eva had prepared the bathroom very nicely: all the amenities were topped up! Bathroom was fresh and clean, which is important to me. A plus for the Nespresso machine! I could make my tea and coffee in the morning, so that was good. The flat is located just opposite a church, which is a nice sight. The church bells ring rather frequently though. Personally, I like to hear the sound from the city (I am a city- person), so it was fine for me. It was a nice apartment. Eva was very pleasant and kind, we had good conversations! Thanks Eva for a great stay and for being a good host!
Madeleine
2017-03-17T00:00:00Z
Tipo de Acomodação
Quarto inteiro
---
Tipo de Imóvel
Apartamento
---
Acomoda
2
---
Quartos
Basileia, Basileia-Cidade, Suíça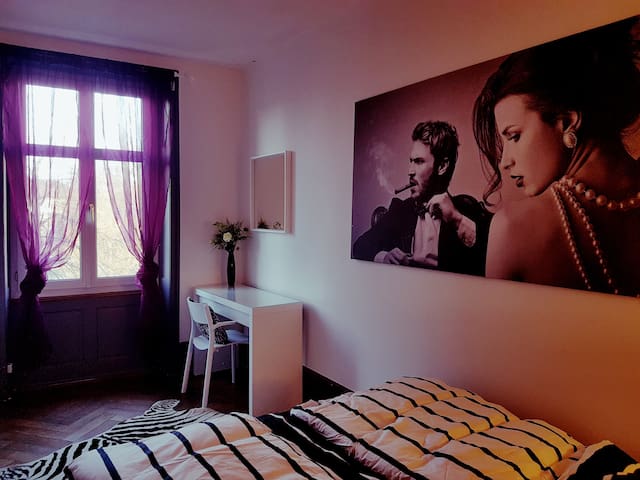 바로 바젤의 도시 중심에 밝고 아늑한 방입니다. 10 분은 메세 바젤 도보.
The location is very central - Rahel is sweet and responsive, the room is private and clean and has a patio which is helpful. The shower bathroom was upstairs which made it a bit odd as you need to time your showers with the 2 people living in the flat. But overall it was a great deal.
Doron
2017-03-29T00:00:00Z
Basic room in central area to some hip eateries & bars. Rahel was great! She offered tips on places & check-in & out was easy. Although there are some sketchy street people in the area, was safe by apartment & i think that is just a part of basel as I encountered it in a few areas which is bizzarre because it's an overpriced city. Also a rather nondescript industrial place.
Camille
2017-03-26T00:00:00Z
Tipo de Acomodação
Quarto inteiro
---
Tipo de Imóvel
Casa
---
Acomoda
1
---
Quartos
Basileia, Basileia-Cidade, Suíça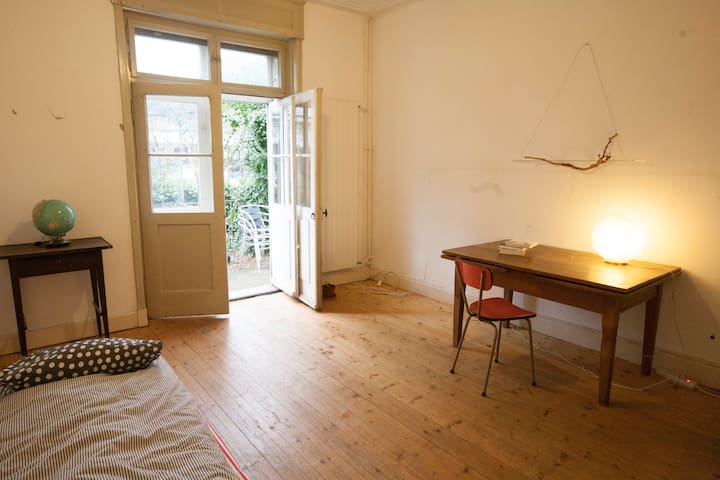 ¡Bienvenido! Disfrutar de un apartamento todo a sí mismo, en una vieja casa con un ambiente especial, amueblado y equipado especialmente para las necesidades de los clientes, a 100 metros del Rin en un emergente, floreciente y multicultural barrio del centro de la ciudad.
Dominic war sehr nett und hilfsbereit, hat uns ( 2 Frauen mit Baby und Kinderwagen + Gepäck) in die Wohnung gebracht, die vom Badischen Bahnhof in 5 Minuten per Bus erreichbar ist. Er hat uns mit allen nötigen Informationen und Insidertipps versorgt, die Beschreibung der Wohnung war sehr genau. Wir haben uns wie zuhause gefühlt und unseren Aufenthalt in Basel genossen. Der Stadtteil ist ideal für Ausflüge in alle schönen Stadtteile- zu Fuß oder mit der Strassenbahn, auch zum Einkaufen für Selbstversorger gut geeignet. Der Rhein ist um die Ecke für schöne Spaziergänge. Laura, Sylviane und Bela
Christian
2016-02-08T00:00:00Z
My wife and I had a fantastic one night stay in Basel. Dominic was extremely welcoming at every stage of our visit, from helping with arrival directions, to suggestions on how we might make the most of our brief stay. Dominic's place was spotlessly clean, tidy, warm and comfortable. Clearly a lot of thought had gone into ensuring his guests had pleasant and relaxing stay. I would not hesitate to recommend Dominic as great airbnb host.
Rob
2016-02-18T00:00:00Z
Dominic has been a wonderful host. Me and my friend were very well welcomed and we felt at home all the time we spent in the apartment. The apartment is very cosy and looks like new. We would definitely come back in Bale and we fully recommend Dominic's place!
Mateo
2015-11-30T00:00:00Z
Amazing apartment in a nice and quiet area. All I could need was there including breakfast with bread croissant jam and honey. Perfect solution also for people who travel to Basel for work: privacy, comfort and space. Dominc was very helpful, suggesting me also nice places where I could eat , replying within minutes to all my questions. It was definitely a good choice!
Benedetta
2016-01-14T00:00:00Z
Es war meine erste Buchung über AirBnB und Dominic war wirklich von Anfang bis Ende sehr bemüht mir dabei zu helfen. Da die Wohnung im dritten Stock liegt fragte er sogar ob er mir dabei helfen soll mein Gepäck auszuladen. Ich wurde sehr herzlich mit einem Apero begrüsst und währenddessen hat Dominic mir die grosszügig geschnittene Wohnung gezeigt. Er schwärmte von den Sonnenaufgängen auf dem Balkon oder im Wohnzimmer, wo man auch am Abend sehr gemütlich eines der Bücher lesen kann die dort im Regal stehen. Die Küche ist eingerichtet mit allem was man braucht. Kleinigkeiten zum kochen und trinken hat Dominic immer auf Vorrat im Schrank und gibt diese gerne zum Selbstkostenpreis ab also wirklich sehr fair. Das Bett ist gross und gemütlich und im Schlafzimmer steht auch ein grosser TV mit allen möglichen Kanälen. Die Wohnung liegt sehr zentral aber in einer kleinen Strasse. Strassenlärm habe ich keinen bemerkt. Fazit: Jederzeit wieder. Dominic war ein sehr netter und bemühter Gastgeber, die Wohnung war sauber und hatte alles was man braucht. Ich werde sicherlich wieder bei Dominic buchen.
Steffen
2015-12-03T00:00:00Z
Listing: The apartment in person was splendid beyond belief, much surpassing the photos. everything was clean, organized, but also extremely relaxed and comfortable. The bedroom and the patio were highlights for me. The bed was extremely soft, clean, comfortable with no strong fragrances or anything, facing a very nice TV with a variety of options and surround stereosystem available for my personal music as well. The patio was so relaxing, with growing plants, warm sheep skin covers on the lounge chairs and a beautiful view, really the best adaption as typically I wouldn't use such in the winter but he created a really welcoming environment. Bathrooms and kitchen were immaculately clean, and he left a stocked option for EVERYTHING you could have possibly forgotten on your trip, from toiletries to perfumes to breakfast, alcohol etc (some free, some you had to pay for---but extremely reasonable and convenient). He even had teas, breads, jams, waters, juices available with the whole range of cooking tools at our disposal as well. Towels, more blankets, everything was clean, stored and readily available in excess. Also the rooms had different light and temperature settings, very adaptable and accommodating and Dominic set up those upon my arrival to my perfect liking. I didn't use the study or other free room much, but they similarly had comforting amenities such as comic books, travel books and other references. It was an ideal place to stay, I couldn't recommend another Airbnb experience more. Every aspect was comforting, perfectly set up, very convenient with all the internal amenities and the external proximity to various aspects of the city, and Dominic was a beyond belief host. Dominic met me very promptly near the closest bus station and made very sure to give me exact directions. He took me to a local farmer's market and got me acquainted with the neighborhood while pleasantly keeping me company as I awaited my companion. Once we got to the house he already had a list of possible events for me to go to in my short stay, where they were approximate to the apartment, at what times and what was in English. He also showed me around the apartment detailing all the extras he had available (really prepared for even a week long snow-in), where I could find everything I needed and he had printed instructions on how to use the wi-fi, sound system and everything with iPhone, Android platforms, which I didn't even need since he showed me personally. He even was flexible with my checkout time and my entire experience there. The entire experience was above and beyond any of my expectations, and worth double its listed value. I could not express my sincere gratitude and sincerity towards Dominic, especially since I was an interim traveler of only 24 hours or so. It was and remains the best experience I have had, and I plan on it being my go-to for every future Basel experience I plan in the future.
Gabriella Bria
2015-12-06T00:00:00Z
Dominic was a wonderful host, really helpful and polite, even printing out the parking passes I'd left behind on my arrival at 10.30pm, even though my partner had checked in earlier in the day. The apartment is everything you need, comfy bed, great blackout curtains to keep the bedroom dark, and kitchen with everything you would need. Breakfast supplies were perfect for us, and having the option to pay for additional basic supplies is a great idea.
Heather
2016-02-15T00:00:00Z
We have received a very warm welcome from Dominic who took the time to explain us all the good tips for museums, bars, restaurants and nice spots. Just what we wanted and we were then able to find everything we wanted. The apartment is very neat and clean, with a comfy balcony 1as well as comforable bedroom, the kitchen and two other rooms. The breakfast included was very appreciated and there is everything you need if you want to cook for the price that you would find it in the store (to pay when you check out). And the kitchen is really well organized that is a pleasure.p You can listen to your music on a cool sound system in the bedroom (very comfortable bed by the way). All in all the apartment is spacious and light, has all the commodities and details that make you feel at home. The neighbourhood is also great: quiet but also multicultural and with a good atmosphere: you are five minutes away from the Rhine River, where you can have a very nice walk and view. You are 20 to 30 minutes away to the major museums, 15 minutes to the Nordstern (great club if you are into electronic music) and there are also some very cosy bars that Dominic will know to recommand :) So thanks again for this great stay, we only wish we could have stayed a week more !
Alban
2015-12-13T00:00:00Z
Tipo de Acomodação
Casa/apto inteiro
---
Tipo de Imóvel
Apartamento
---
Acomoda
2
---
Quartos
Basileia, Basileia-Cidade, Suíça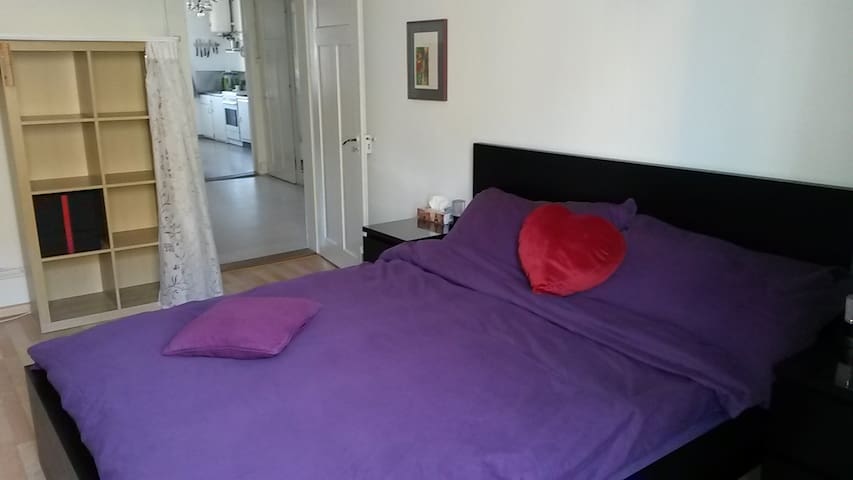 My house is near Exhibition Place, Downtown, Arts and Culture, parks, restaurants and food. My accommodation is good for couples, solo adventurer, business traveler and furry friends (pets).
Tipo de Acomodação
Casa/apto inteiro
---
Tipo de Imóvel
Apartamento
---
Acomoda
2
---
Quartos
Basileia, Basileia-Cidade, Suíça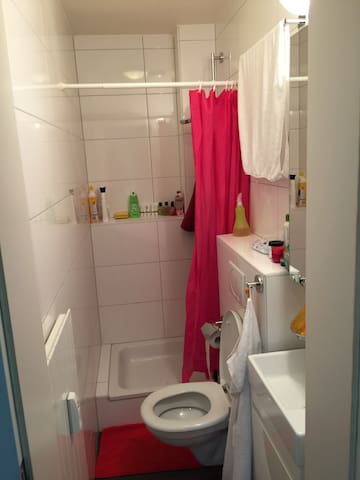 1

–

18

de

Mais de 300 Espaços para Alugar
Insira as datas para ver o preço total. Taxas adicionais serão aplicadas. Impostos podem ser adicionados.