Great apartment to stay over for some nights.
It will be available a room with bathroom included.
A estadia foi super, fui muito bem recebido pela Vera que estava sempre pronta a ajudar , uma jovem com muitos conhecimentos da zona em várias areas e pronta a partilhar o que conhece. A casa esta bem situada entre a M.Grande e varias praias. Limpa, espaçosa, e de facil acesso. Recomendo vivamente.
luis
2017-01-15T00:00:00Z
Très bon contact avec Véra. Accueil très chaleureux et très confortable chambre avec salle de bain individuelle.
VIRGINIE
2017-03-02T00:00:00Z
Vera is a very welcoming host. Lovely family. The room was spacious and clean. Thank you for welcoming us!
Gabriel
2016-12-18T00:00:00Z
We recommand this place because Vera is a super host ! She was disponible for visit the cost with us when we arived. We shared the diner and played with her daughter... They are very friendly... Pataias is next to Nazare, it's easy and peacefull... Thanks you again for hosting us with your generosity !
Elodie
2016-12-22T00:00:00Z
Vera was the perfect host, she communicated well with us at every stage, made us feel welcome and at home and we really felt like she wanted us to be there. The room was amazing with great facilities and we would love to have stayed longer if we could. We will need to make another trip to stay at this listing.
Stuart
2016-11-25T00:00:00Z
Tipo de Acomodação
Quarto inteiro
---
Tipo de Imóvel
Apartamento
---
Acomoda
2
---
Quartos
Pataias, Leiria, Portugal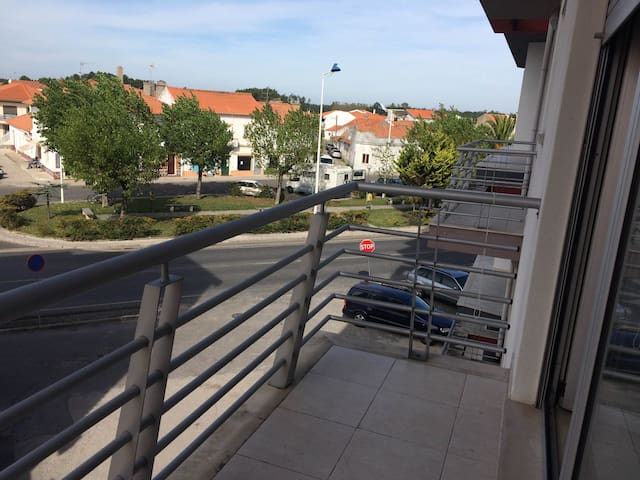 House 10km from the ocean,a place for those who whant to escape from the city.ideal for ppeople traveling by car.
Restaurants and shops are 2 minutes away by car, but still the place is a bit outside Pataias and really quiet. Mornings are noisier, normal they've a cute 2 years old kid. So if you need to over sleep, don't really think about it ;) I arrived a bit late for a Sunday, didn't have food and everything was closed. Anton's wife cooked me dinner for my first night stay, it was good and I felt welcome ! Thanks to Anton & Co, I had a pleasant stay !
Ben
2016-12-20T00:00:00Z
Ok for budget
rob
2017-02-12T00:00:00Z
Accueil très chaleureux des hôtes. Ils ont toujours été disponibles si on avait des questions / besoin d'information. La chambre est spacieuse et agréable. Nous avons passé un excellent séjour (de 14 jours). Nous nous sommes sentis indépendants dans leur logement. Nous recommandons ces hôtes. Very warm welcoming from the hosts. They have always been available if we had any question / need any information. The room is quite big and pleasant. We have spent a great stay (14 days). We felt independant and free in their house. We recommand these hosts.
thierry
2016-09-21T00:00:00Z
Really nice Family!! And the little boy is so cute :)) They were very helpful at any time and we would definitely stay there again. It's not too far from Nazare and other tourist places (when you have a car)!
Julia
2017-02-13T00:00:00Z
Tipo de Acomodação
Quarto inteiro
---
Tipo de Imóvel
Casa
---
Acomoda
4
---
Quartos
Патайаш, Лейрия, Portugal
BEAUTIFUL APARTMENT SEA VIEW, BETWEEN THE BEACH IN NAZARE FUNICULAIRE AND NORTH BEACH WALK CLOSE WALK TO SHOPS AND RESTAURANTS IN SEA FROND POOL ON THE ROOF WITH STUNNING VIEWS WILL SURPRISE CLOSED GARAGE
Nice pool on the roof exceptional sea view Secure Garage French tv channel 10 minutes walk from the north beach 10 minutes walk from the funicular to Nazare and its beach 10 minutes walk from the water park in Nazare
peaceful A 5mm walk to restaurants and bars All shops nearby
Séjour super agréable appartement magnifique avec une vue imprenable depuis la piscine sur le toit. Accès à la mer par le funiculaire
Catarina
2016-08-13T00:00:00Z
Tipo de Acomodação
Casa/apto inteiro
---
Tipo de Imóvel
Condomínio
---
Acomoda
6
---
Quartos
Nazaré, Distrito de Leiria, Portugal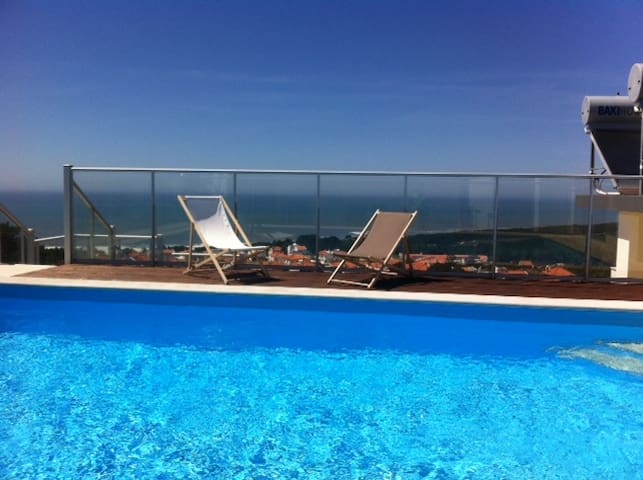 Recentemente remodelada, a solarenga casa que habito encontra-se no centro da histórica capital portuguesa do vidro. Da varanda da sala e do quarto avistamos o belíssimo Pinhal do Rei, a mata que os reis da primeira dinastia nos deixaram. Uma imensa manta verde que separa a cidade de praias como São Pedro de Moel, Nazaré, Vieira de Leiria, ... que podemos admirar no silêncio do habitáculo bem isolado e caprichosamente decorado.
Casa recentemente remodelada. - quarto com cama de casal, TV, roupeiro, varanda -cozinha totalmente equipada -casa de banho com banheira - máquina de lavar roupa e loiça - garagem Internet
Appartement très très propre très bien tenu calme tranquille un vrai lit + écran plat dans la chambre avec chaînes internationales et excellent rapport qualité-prix. Cuisine impeccable.
MENOUAR
2017-02-17T00:00:00Z
A good holiday for the family! Thanks!) I advise!)
Павел
2017-03-29T00:00:00Z
David is a great host. He was very friendly and helpful. He is very respectful and makes a person feel very comfortable. He also helped me with plenty of tips about the city. The apartment is very big and cosy, very tidy too, with great views over the city. Really at the centre of Marinha Grande. It is a highly recommendable place and person to live with.
Nuno
2017-03-05T00:00:00Z
Great place near highlights like Batalha Alcobaca Nazare!!!
Mieke
2017-04-01T00:00:00Z
We needed a place to stay the night while on the road from Lisbon to Porto and David was the first who answered us even though it was pretty late in the evening! We were very grateful that he stayed up just to direct us to the right place and welcome us to his home which by the way has a fantastic view from the balcony :) The room was clean and cosy. We slept very well and neither was it too cold nor too warm. Bathroom was super clean. Kitchen was fully equipped and the living room was seemed very nice but we regret that we couldn't spend a lot of time there as we had to drive out early in the morning. It was a pretty big apartment but we felt super private too. We would definitely come back to stay again if ever we find ourselves stuck in Marinha Grande. — Quaint little town with all your amenities within walking distance.
Fitriah
2017-04-07T00:00:00Z
Tipo de Acomodação
Quarto inteiro
---
Tipo de Imóvel
Apartamento
---
Acomoda
2
---
Quartos
Marinha Grande, Leiria, Portugal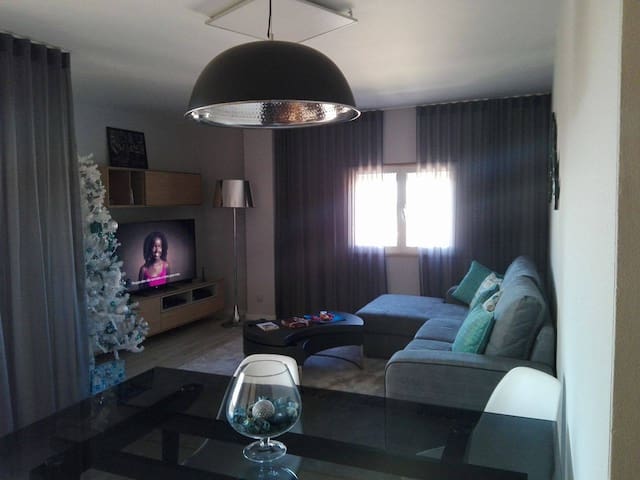 Pretende um local sossegado para descansar e ter por perto bela e vasta zona florestal e belíssimas praias encontrando em redor enorme património histórico e religioso encontrou aqui o espaço ideal. A 10Km da Nazare e de S. Pedro de Moel e a 4Km de outras praias (Paredes da Vitoria, Polvoeira, Falca, Légua, Água de Medeiros A 10 Km dos Mosteiros de Alcobaça e Batalha Composta por cozinha, dispensa e sala de jantar, dois quartos e casa de banho churrasqueira, jardim e amplo quintal
Situado em zona rural. Quintal completamente vedado. Máxima segurança para viajantes e viaturas.
Local muito (URL HIDDEN) proximidade a lojas, cafes, restaurantes e supermercados. Maioritariamente habitada por estrangeiros (franceses, belgas, ingleses e holandeses
Très bon séjour, agréable, dans une maison bien spacieuse, lumineuse, propre et paisible. L'endroit est calme et reculé, il faut donc connaître un minimum. Les propriétaires sont accueillants et accessibles quasiment H24. La maison dispose d'un grand jardin. Manque que la piscine ;) Je conseille et recommande vivement !
Alexandre
2016-08-21T00:00:00Z
Tipo de Acomodação
Casa/apto inteiro
---
Tipo de Imóvel
Casa
---
Acomoda
6
---
Quartos
Pataias, Leiria, Portugal
Em pleno pulmão do Pinhal de Leiria e a poucos km da Nazaré, Alcobaça e S. Pedro de Moel, localiza-se LAND'S HAUSE, um espaço amplo, muito verde, onde o lazer em harmonia com a calma do local deixa-nos escapar para um lugar mágico.
Estes 100 bungalows climatizados, em Pataias, possuem um terraço ou varanda mobilada. Os hóspedes podem relaxar na piscina, desfrutar de uma sessão de banheira de hidromassagem ou visitar as praias da Nazaré, a 11 km. Todos os bungalows do Land's Hause Bungalows possuem televisão por satélite e uma kitchenette. Cada um tem um WC privativo e chuveiro. Um pequeno-almoço continental é servido diariamente no restaurante do Land's Hause. Especialidades de peixe e pratos portugueses são servidos à noite. Além de jogar bilhar ou matraquilhos, os hóspedes podem divertir-se durante as regulares noites de karaoke e de churrascos. Outras actividades na área incluem equitação e windsurf. Os bungalows estão localizados a cerca de 10 minutos de carro de São Pedro de Moel. O estacionamento gratuito está disponível.
Supermercados: Minipreço, Pataias (3 km) Continente, Marinha Grande (8 km) Intermarche, Pataias (6 km) Praias: Praia das Paredes (5 km) Praia da Nazaré (15 km) Praia de São Pedro de Moel (8 km) Café/bar: Pataias (5 km) Praia de São Pedro de Moel (8 km) Praia da Nazaré (15 km) Visitar Património da Humanidade: Mosteiro da Batalha (15 km) Mosteiro de Alcobaça (12 km) Lago: Foz do Arelho (25 km)
Tipo de Acomodação
Casa/apto inteiro
---
Tipo de Imóvel
Bangalô
---
Acomoda
4
---
Quartos
Pataias, Leiria, Portugal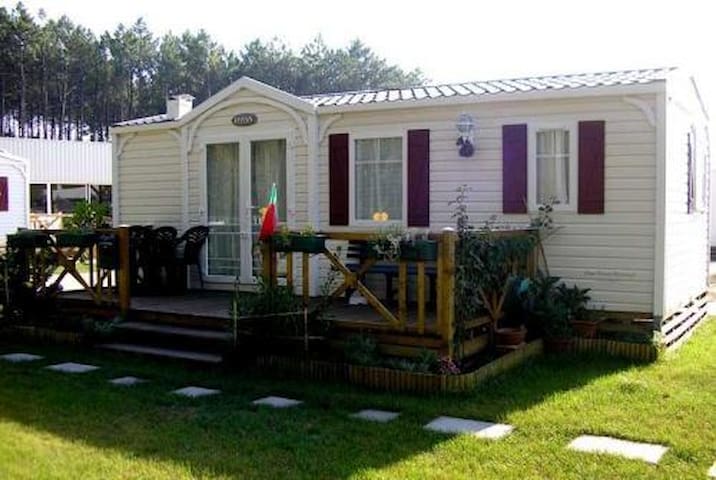 Our house stays in Pataias, near Nazaré (5 min car), Alcobaça (15 min car), Leiria (20 min car) and Fátima (30 min car). The house is newly remodeled, confortable and cozy. There're 2 big rooms, 2 WC, 1 kitchen and living room and a big terrace.
Tipo de Acomodação
Casa/apto inteiro
---
Tipo de Imóvel
Casa
---
Acomoda
5
---
Quartos
Pataias, Leiria, Portugal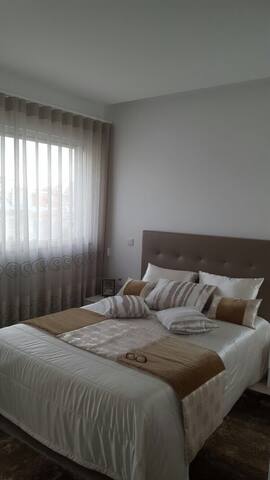 Quarto disponível para época festiva da Aparição de Nossa Senhora de Fátima e Visita do Papa (de 12 a 14 de Maio 2017)! Casa familiar localizada a 5 minutos do centro da Marinha Grande muita luz e em ambiente tranquilo e sossegado! Situa-se a 30 minutos de Fátima e a 5 minutos de rede de transportes (autocarro e comboio). - Opção de aluguer diário: 600€ (sem pequeno-almoço)/Cama extra diário: 75€/dia - Opção de fim-de-semana: 1050€ com pequeno-almoço incluído/Cama extra fim-de-semana 100€
Tipo de Acomodação
Quarto inteiro
---
Tipo de Imóvel
Casa
---
Acomoda
3
---
Quartos
Marinha Grande, Leiria, Portugal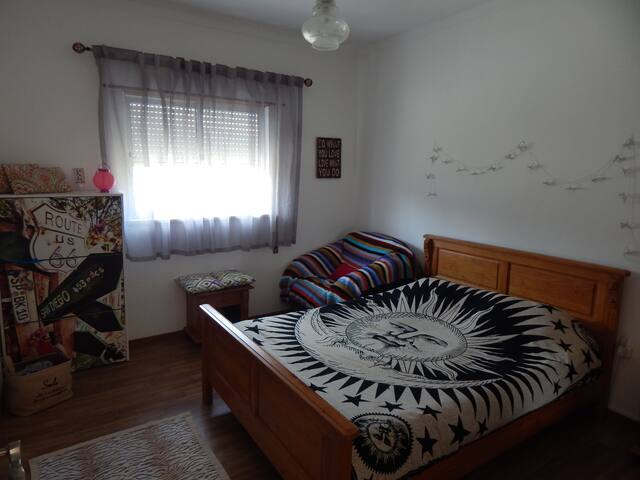 Dois quartos em excelente estado disponíveis para a semana da visita Papal, na Marinha Grande, Leiria, a 30 minutos do Santuario de Fatima. Ideal para familias (2 adultos e uma crianca, por exemplo) Possibilidade de transporte para o Santuario: 45 EUR - ida 80 EUR - ida e volta
Situado numa zona sossegada na cidade da Marinha Grande em Leiria. A 5 minutos a pe da zona de transportes urbanos e a 3km da rodoviaria intercidades. Os dois quartos e a casa de banho sao isolados da zona dos anfitrioes, o que proporciona muita privacidade.
Tipo de Acomodação
Quarto inteiro
---
Tipo de Imóvel
Casa
---
Acomoda
3
---
Quartos
Marinha Grande, Leiria, Portugal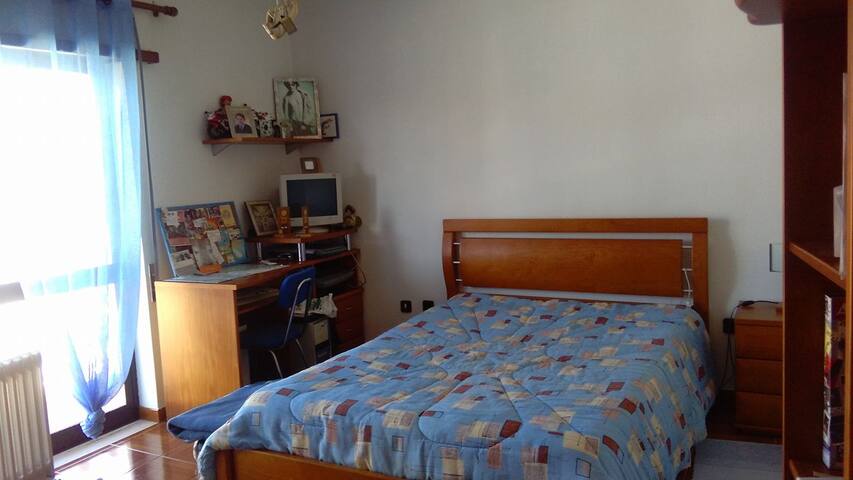 A beutiful studio located in a small village in front of a supermarket and a gas station in the center coast of Portugal.
The studio is equiped with one single bed (high bed with desk) and one sofa bed for one. Whit a new kitchenette, a spacious bathroom, a nice table and everything to enjoy your stay Located in a small village in the coast of Portugal, 20 min. from Nazaré, 15 min. from Batalha known for its beautiful monastery, 15 min. from Leiria, 30 min. from Fátima and 1h from Lisbon (120km)
Petit plus pour moi qui suit Français Georges parle couramment Français. Il est très gentil vous met à l'aise immédiatement et se fait un plaisir de vous offrir un petit-déjeuner. Il nous a également laissé des capsules de café. Je recommande vraiment Georges pour lui-même autant que pour son studio très bien isolé avec double-vitrage, très bien chauffé et très lumineux. Les photos reflètent parfaitement la réalité.
MENOUAR
2017-02-26T00:00:00Z
The room we lived in (not the one on the photos) is situated just over the gas station. We had some problems with the chemical smell, problems with hydraulics and TV. Georges is a really nice and helpful person. We wish him all the best. I hope he will solve all the problems.
Joanna
2017-03-07T00:00:00Z
Tipo de Acomodação
Quarto inteiro
---
Tipo de Imóvel
Apartamento
---
Acomoda
2
---
Quartos
Maceira, Distrito de Leiria, Portugal
house in the village limit following the nature. Five minutes from several beaches and many sights around him. Center of Portugal, highway Access, supermarket! Keywords to check "Vale Furado" "Alcobaça" "Nazaré" "Mata Nacional"
Home made
Chill
Mauro was not there but his friend did his best to help us. Guests are invited in self made Mauro house in the midle of portugese village. Realy quiet and authentic place. By car you can reach beautfiul beaches and interesting monuments. I do recomande.
Agnieszka
2015-07-29T00:00:00Z
A very quiet, rustic place to chill down, get back to yourself and enjoy the region. We stayed 3 weeks, to experience the area at least 2 weeks stay is advisable; of course you need a car to get around. There's so much to see/do: many very different beaches (15 min by car to the closest), the nature (i.e. the Grutas/Caves nearby), places like Batalha, Alcobaca, Tomar, Leiria, Nazaré and much more. Mauro is a very nice guy who dropped by two times during our stay; his friend Nelson gave us the keys and picked us up from the highway exit to guide us to the place! Even the neighbouring old lady Dona Alda helped us with many things (i.e. wood for the fire place). For us, the fire place was a very big plus - we used it almost every night and even grilled fish and meat on it! However, this is not the place for glossy neatness and you have to cope with things like mice and street dogs at night - if you're 'strong enough' (both didn't neither bite nor kill us ;-). So, if you're like Ikea people and looking for an Ikea experience, stay away and spare the nerves of host and neighbours! Besides, who wants Ikea when you can get real wood for less money?! For those looking for a place to recover and recharge your energy (like us), Mauro's place is definitely a recommendation!
Alice
2016-08-26T00:00:00Z
Mauro's place is a little difficult to find at first. His home is rustic and very charming. Has all necessary amenities. Don't expect luxury and you will enjoy this home :)
Anthony and Celia
2015-08-27T00:00:00Z
it truely is a quiet house and area. no trafic on the road outside. a nice view and almost no neighbours. it was very easy to find, the communication with Mauro was smooth and great to be able to park right infront of the house. i like the selfmade furnishings and deco. and great to have a washing machine. I was happy for the fireplace because it does get a bit chilly in november. i felt very much at home there and hope to come back for longer another time.
sylvia
2016-11-03T00:00:00Z
As the title says, it is a very quiet place. You will find several places for bathing at 15 minutes of driving. We had a good time during the 3 nights we spent there. We were welcomed by Mauro's mother who is a very nice person and helped us for installation (finding the way to open water, cleaning things that the guy before us left in a mess). I'll recommend it for roots peole. Don't expect a place that's look like an IKEA picture.
julien
2015-07-23T00:00:00Z
La casa se encuentra en un lugar tranquilo, es sencilla y hemos estado bien en ella, era lo que esperábamos. La comunicación con Mauro es un poco complicada.
ofelia
2016-07-10T00:00:00Z
Très bon séjour chez Mauro, on a pas eu la chance de le connaître, c'est une amie qui nous a remis les clés. La maison est située à moins de 10 minutes des plages! Top!
Sue
2015-08-22T00:00:00Z
Tipo de Acomodação
Casa/apto inteiro
---
Tipo de Imóvel
Casa
---
Acomoda
2
---
Quartos
Pataias, Leiria, Portugal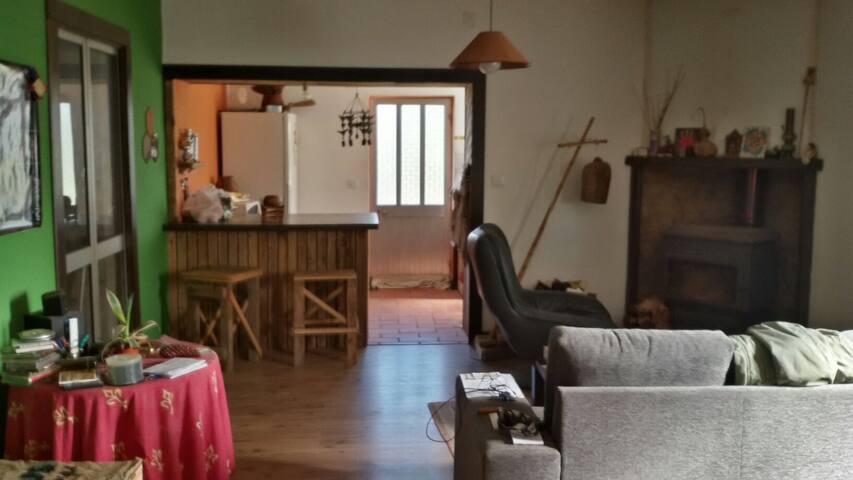 Renovated house, quiet, and relaxing base for exploring the west coast of Portugal in a small village called Burinhosa. Surrounded by beautiful pine forests only 10min driving to the closest beach - Paredes da Vitória and 20min from Nazaré beach.
Two private double beds, fully fitted kitchen, bathroom, garage for two and a small backyard with a shared BBQ area.
It is a small and completely safe village. The neighborhood is very nice and helpful.
ANGLAIS mariana 's house is really as described . it is really very beautiful, located in a quiet village. it is also very close to the beaches . Unfortunately , during our stay, stray dogs and dogs of neighbors spoil the tranquility of the place. mariana has done what it could to resolve it for this inconvenience. thank you for all mariana .
frederic
2016-08-10T00:00:00Z
We had an amazing time at Mariana's house. We were there first guest in the part reserved to us. Happy to be it. Burinhosa is a small and nice place. About 20 minutes by car to Sao pedro do Moel, the closest beach next. The pine forest around is vast and unique, and has nothing to envy the Landes. Its quiet and very clean. 2 real bedrooms, one bathroom and nice café really close. We thank Mariana for its hospitality and kindness. She gave us good advice. Nice place to stay if you do à round trip in Portugal, from Lisboa to South. Emilie & Fabrice
Emilie et Fabrice
2015-08-02T00:00:00Z
Una casa muy acogedora en la que los cuatro hemos estado de maravilla. Tiene todo lo necesario para disfrutar varios días de sus maravillosas playas y patrimonio de los alrededores. Se encuentra en una zona espectacular rodeada de inteminables bosques de pino y ecucaliptus que hacen muy llevable el calor estival e invitan a numerosos paseos (que pena no haber traido bicis). Incluso tiene una sencilla terraza trasera que no contabamos con ella para que nuestras hijas jugaran tranquilamente. Si eres de los que te gusta descubrir una playa distinta cada día, tienes un montón para elegir a menos de 10 minutos.
Victor
2016-08-18T00:00:00Z
Very nice house with all equipment. It was a real pleasure to meet Mariana and her mother. Nothing special to do in the village, nevertheless it is a very good start point to visit the area; Batalha, Nazaré, and the beautiful beaches around.
Jean-Pierre
2015-08-19T00:00:00Z
Accueil chaleureux et attentionné, cadre reposant et calme pas loin des plages dont l' une des plus belles Praia de Paredes logement propre et jolie déco pas déçu à recommander.
christian
2016-08-13T00:00:00Z
La casa perfecta y Mariana nos recibió muy bien. La recomiendo
Federico
2015-08-23T00:00:00Z
We enjoyed very much our stay in Mariana's house in Burinhosa. She greeted us with a lot of warmth. The house was exactly what we expected to find : a typical old portuguese house with a lot of charm. It contained everything you possibly needed to spend a holiday and was very clean. The patio was a delight to take your meal or relax. Burinhosa is a quiet village but so handy to get to so many places of interest. There is a nice little café nearby (80 meters from the house) where you can have the wifi. We certainly are looking forward to come again sometime. Thank you Mariana, to make available to the rest of us your lovely house.
Nadia
2016-08-29T00:00:00Z
Mariana fue una persona muy amable y atenta. Nos dio todas las informaciones que necesitamos. La casa es tal como en las fotos, bonita, practica y acogedora. Super limpia y bien situada.
Maria Jose
2015-08-21T00:00:00Z
Tipo de Acomodação
Casa/apto inteiro
---
Tipo de Imóvel
Vila
---
Acomoda
4
---
Quartos
Burinhosa, Distrito de Leiria, Portugal
Modern house very near from the beach and the village of Paredes with a private field in front of the house and located at the bottom of the old village.
Welcome to Paredes, in a lovely wooden & modern house ! Welcome to my lovely wooden & modern house, in Paredes (Portugal). The wild beach is 3 minutes walk. The house is very comfortable: - a large living room / open kitchen with garden view - a double room with bathroom - separated toilets - a nice rooftop - a private garden To sleep: - a room with a double bed - a comfortable sofa bed in the living room - A cosy living room with double sofa bed very comfortable, fully equipped kitchen (oven, microwave, dishwasher...), - Bathroom with shower and sink - Internet wifi - Television - aircon The white sand beach of Paredes is 3 minutes walk from the house. Many visits around: Nazaré city 13km, Obidos village, surf spots, Alcobaça & Batalha monasteries... And of course Lisbon with 1h15 distance. Lisbon is 1h15 distance with A8
L'immense plage de Paredes et le village sont à 3 minutes à pied. Nombreuses balades et excursions dans les environs: la ville de Nazaré à 13km, des spots de surf, le village d'Obidos, les monastères d'Alcobaça et Batalha classés à l'Unesco... Et bien sûr Lisbonne située à 1h15 de route.
Foi um prazer usufruir desta casinha especial, com qualidade e bom gosto e que dispõe de todo o equipamento necessário a umas férias confortáveis. A região é muito bonita, oferecendo praias e lugares aprazíveis.
Teresa
2016-08-31T00:00:00Z
Very nice place to stay if you want to enjoy the serenity of Vale de Paredes. Only a few hundred meters to its lovely beach. The wooden house, although small, has all the conveniences that you need. Our 2y old son also enjoyed the place and felt home already soon after our arrival.
Eka
2016-06-19T00:00:00Z
Thanks Gina for the stay in your lovely house in Paredes, Me and my family stayed here for 6 weeks, my Children are 4 and 3. We had a lovely time here with the childfriendly beach at 5 min. Walking. The house had a big garden, so the kids played there while we were preparing the bbq. If you want a Total relaxed holiday, stay in Gina's house, it Has everything for a comfortable holiday!
Linsey
2015-07-09T00:00:00Z
nous recommandons ce logement.conforme aux photos,avec tout le nécessaire à disposition. Proche de la plage et se situant dans une petite ville très calme. Ps:bon spot de surf à proximité. Gina est accessible et de confiance.
beaumont
2016-07-22T00:00:00Z
The woodes house is a great place for a trip to the beach. Fully equipped and with a fabulous rooftop terrace. We'd love to come back sometimes.
Nicole
2014-08-12T00:00:00Z
Thank you Gina & Marco - we loved our stay in the wooden house, a beautiful, quiet spot & just perfect for the beach - hopefully we can stay longer next time x
Karen
2016-08-25T00:00:00Z
Maison en bois très agréable pour 2-3 personnes (ou 4 avec 2 jeunes enfants - 1 lit double dont 1 canapé lit de très bonne qualité dans le salon), très bien équipée, située aux abords de jardins partagés, et à 300 m de la plage, endroit très calme avec une plage idéale pour le surf (école de surf sur place) et de nombreuses pistes cyclables qui longent la côte au milieu des pins et des eucalyptus pour aller vers Nazaré ou vers le nord. Parades est un petit coin de paradis avec en plus 3 bons restaurants de cuisine portugaise (Tonico, Brisa do mar et somar sur la plage). Idéal aussi pour aller voir à moins d'une heure de route Alcobaca, bathalha, Odidos.
Jean-Hugues
2016-08-12T00:00:00Z
Excelente opción para desconectarte de la ciudad y disfrutar de la playa!! Casa completamente equipada y muy atentos anfitriones!! Excellent choice to desconect from the city and enjoy the beach! Nice place with everything that you need and increibles owners!!
Magda
2014-08-18T00:00:00Z
Tipo de Acomodação
Casa/apto inteiro
---
Tipo de Imóvel
Casa
---
Acomoda
4
---
Quartos
Paredes da Vitória, Leiria, Portugal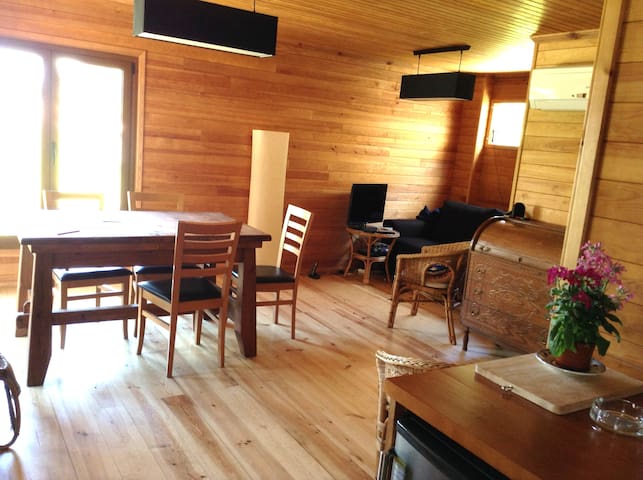 Apartment located in Pataias, a calm and relaxing village, right in the central region of Portugal and near the Portuguese coast. The visitor can easily reach some of the most famous Portuguese destinations.
The apartment is constituted by: - 1 living room; - 1 kitchen; - 1 bathroom; - 2 bedroom (one room with 2 single beds and another with a big bed, ideal for a couple); - 1 terrace, ideal to make barbecues and enjoy the Portuguese weather. The kitchen is equipped with all the necessary utensils to prepare meals. The apartment is in perfect conditions and it is ideal for families and groups of friends who are looking to visit and explore the central region of Portugal.
The host canceled this reservation 24 days before arrival. This is an automated posting.
Joao
2016-12-05T00:00:00Z
Appartement très propre. Exactement comme décrit dans la présentation. Hôte très sympathique. L'endroit qu'il nous fallait pour avoir le temps de visiter les environs
Christophe
2016-09-01T00:00:00Z
The host canceled this reservation 102 days before arrival. This is an automated posting.
Romaric
2017-01-30T00:00:00Z
Tipo de Acomodação
Casa/apto inteiro
---
Tipo de Imóvel
Apartamento
---
Acomoda
4
---
Quartos
Pataias, Leiria, Portugal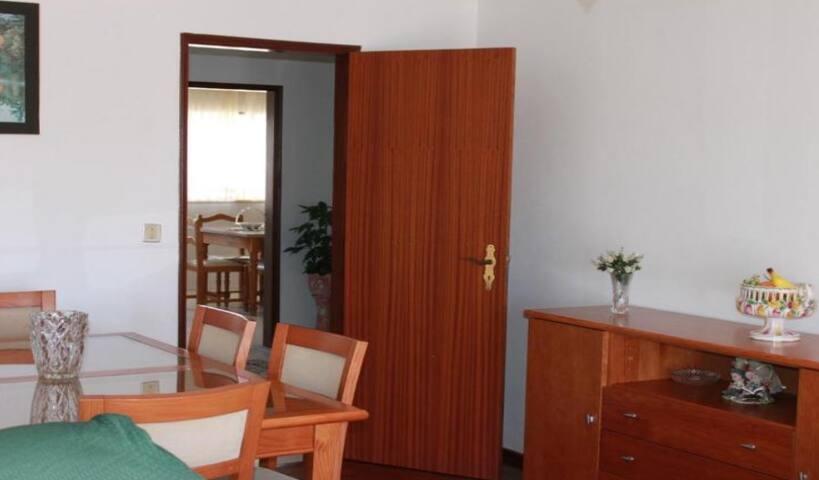 Apartamento moderno, acolhedor mesmo em frente ao mar. Têm um pequeno terraço no quarto com uma magnífica vista sobre a praia- Está equipado com as mais variadas comodidades,; ar condicionado, tv, leitor de dvd, máquina louça, roupa entre outros.
un appartement super, bien situé, fonctionnel, une propriétaire très gentille, je recommande vivement!
Edouard
2016-02-08T00:00:00Z
We have spend a great time at Ana and Marco. The apparemment is really nice and 2 min walk to the beach. It's according to the pictures. Beautiful. Thanks!
Delphine
2015-10-24T00:00:00Z
Das Appartement war sauber und wie auf den Fotos angegeben. Die Ausstattung ist hervorragend. Der Blick von der Terasse ist wunderschön, ebenso die Strände in der Region. Die Schlüsselübergabe war unkompliziert und auch am späten Abend noch problemlos möglich. Wir würden auf jeden Fall wiederkommen!
Henry
2015-09-23T00:00:00Z
Ana was not able to meet us to give us the key, but she sent her husband and he was really friendly, helpful and made us laugh. He gave us information about the area and what to expect. We were not disappointed! It is a nice place to have some quiet time and relax and listen to the ocean.
Souluong
2016-10-13T00:00:00Z
Jaw breaking views, very well equipped apartment, easy to park a car. Close to restaurants and most important, to beach. Ana and Marco were really good in communication. Easy check in. thx for gift :).
Do
2016-05-29T00:00:00Z
Marco, el marido de Ana, fue muy amable y atento y nos aconsejó qué ver por la zona y cómo aprovechar nuestros días en Paredes de Vitoria. La casa estupenda, muy confortable y con todas las comodidades y más bonita incluso que en las fotos. Está situada frente al mar con unas vistas increíbles del océano desde la terraza en la que da el sol hasta la tarde. El pueblo es muy pequeño y tranquilo, al menos en estos días de Semana Santa (Marco nos comentó que en verano hay más turismo), justo lo necesario para pasar unos días relajados lejos de barullos. Tiene varios restaurante en los que se come riquísimo aunque los precios son algo más caros de lo que estábamos acostumbradas de otros viajes a Portugal. La zona es preciosa con numerosas playas cerca sin construcciones a la vista. Sin duda recomiendo la estancia en casa de Marco y Ana, nosotras seguro que volveremos!
María José
2016-03-28T00:00:00Z
Tipo de Acomodação
Casa/apto inteiro
---
Tipo de Imóvel
Apartamento
---
Acomoda
3
---
Quartos
Pataias, Leiria, Portugal
Espaço ideal para casais e famílias (com crianças). Línguas: Inglês, Português, Francês. Acessibilidade para pessoas com deficiência. Todos os quartos com varanda. Um quarto com cama articulada. Possibilidade de juntar divã e/ou berço de viagem para bebé. Pequeno almoço incluído. Possibilidade de transporte para Fátima (ida e volta) nos dias da Procissão das Velas (12 de Maio) e Missa (13 de Maio). 25 km da praia da Nazaré e de Fátima, 10km Vila de Batalha e a 13 km de Leiria (PHONE NUMBER HIDDEN)
Tipo de Acomodação
Casa/apto inteiro
---
Tipo de Imóvel
Casa
---
Acomoda
7
---
Quartos
Leiria, Leiria, Portugal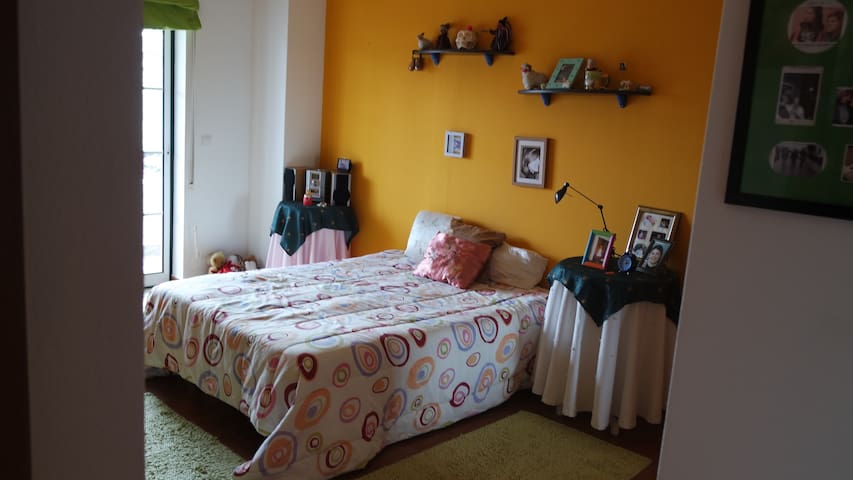 Vivenda acolhedora em zona calma e bem localizada, perto de supermercados, restaurantes e transportes. Fica situada a 20min de Fátima e a 15 min da praia da Nazaré. Cozy villa in quiet and well located area, close to supermarkets, restaurants and transports. It is located 20min from Fátima and 15min from Nazaré beach.
Tipo de Acomodação
Casa/apto inteiro
---
Tipo de Imóvel
Casa
---
Acomoda
5
---
Quartos
Marinha Grande, Leiria, Portugal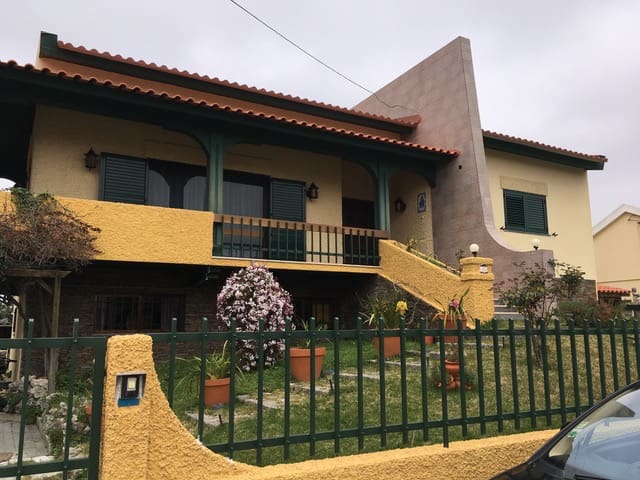 A casa tem muita luz, o sitio é muito calmo. Perto do Pinhal do Rei, das praias excelentes cheias de ondas e de iodo, de Fátima. Temos piscina. Playground infantil. Um jardim lindo. Barbeque.
Foi uma experiência muito boa. A Vera foi um Host fantástico, e juntamente com a sua família foram uma excelente companhia. Esteve sempre presente quando foi necessário e fomos sempre bem assistidos e informados. A casa e o jardim são realmente uma mais valia para quem procura sossego e um lugar para usufruir juntamente com a família. É um espaço espetacular onde uma criança pode divertir-se com os imensos brinquedos presentes, escorrega aquático, baloiço e uma grande piscina para todos. É de facto um local para repetir e recomendado, claro, a futuros hóspedes.
Emanuel
2016-08-22T00:00:00Z
A casa é muito confortável, espaçosa, limpa e bonita, a cozinha também está bem equipada, com muita luz natural e um jardim com piscina que penso de verão pode ser excelente para quem quer levar a família ou para um casal relaxar. A localização perto de Nazaré e Leiria também é boa pois perto de pontos interessantes para visitar. Os proprietários são educados, simpáticos e muito disponíveis. Recomendo!
Patricia
2017-01-02T00:00:00Z
Vera foi muito receptiva e gentil oferecendo em nossa chegada um lanche bem gostoso com frutas, sanduiches e doces. A localização é muito boa, com muito silencio e bosque, próximo a belas praias e o espaço excelente. Quanto aos ítens oferecidos quase tudo funcionou bem com exceção do wi fi e do café da manhã, que entendo como não acontecido. Vera ofereceu um envelope com torradas e sachês de café e açucar, deve ser melhor esclarecido esse ítem nas ofertas da página, ou retirado. São poucos os que o oferecem no site do air bnb e é melhor não criar expectativa no hóspede. Outra coisa que recomendo é uma melhor limpeza, havia um pouco de poeira por causa de obras de reforma que aconteceram. Para quem estiver de carro, moto ou bicicleta é uma ótima opção, também para os andarilhos. Agradecemos a Vera pela simpatia.
antonio josé
2016-06-28T00:00:00Z
Vera a été très agréable. Toujours disponible et nous a laissé notre intimité durant notre séjour. L'environnement est parfait pour se reposer. Vera est une personne à l'écoute. Nous y retournerons avec plaisir !!!!
Alexandra
2016-08-10T00:00:00Z
Vera nous a bien accueilli, c'est quelqu'un de très disponible. Le quartier était tranquille avec plein de commerce pas très loin . La maison est très lumineuse .
Amandine
2016-09-26T00:00:00Z
Nous avons passé un très agréable séjour dans ce petit logement charmant, très clair, et moderne avec tous les équipements nécessaires et décoré avec soin. Vera est une hotesse prévenante et aux petits soins. Ses petites attentions nous ont beaucoup touché. En plus nous avons pu échanger quelques mots en français ! Le quartier est très calme et le jardin de Vera est très joli avec plein de fleurs et d'arbres fruitiers. C'est sans hésiter que nous y reviendrons lors de nos prochaines vacances au Portugal !
Fanie
2016-08-18T00:00:00Z
La anfitriona Vera nos atendió muy bien en todo momento, muy servicial. Nos solucionó las dudas que teníamos. La casa muy luminosa, limpia y sencilla. Aparcamiento en la puerta de casa. Hay un supermercado que se puede ir caminando. Nos gustó perdernos en los pinares y descubrir sitios cercanos. El apartamento comparte las zonas del jardín y la piscina con la casa de la familia de Vera. Si repetiría.
Sergio
2016-09-03T00:00:00Z
We stayed at Vera's place for five days. Vera offered to pick us from the bus station and served us a nice lunch. She also gave us a lift to the supermarket. Located in a quiet residential area the apartment is 12 minutes walk from bus station from where you can get buses to nearby towns like nazare. The nearest supermarket Intermarche is 10 minutes walk. The apartment is bright and airy has separate entrance and has access to the garden. The kitchen is well-equipped with fridge, washing machine, oven, microwave, coffee maker and other utensils. There is a wash room with hand sink, toilet and shower. Hot water was available. The double bed was comfortable to sleep. Vera's hosting skills were very good, she made sure we were ok with everything. We certainly recommend this place for a comfortable stay.
Liam
2016-05-13T00:00:00Z
Tipo de Acomodação
Casa/apto inteiro
---
Tipo de Imóvel
Loft
---
Acomoda
2
---
Quartos
Marinha Grande, Distrito de Leiria, Portugal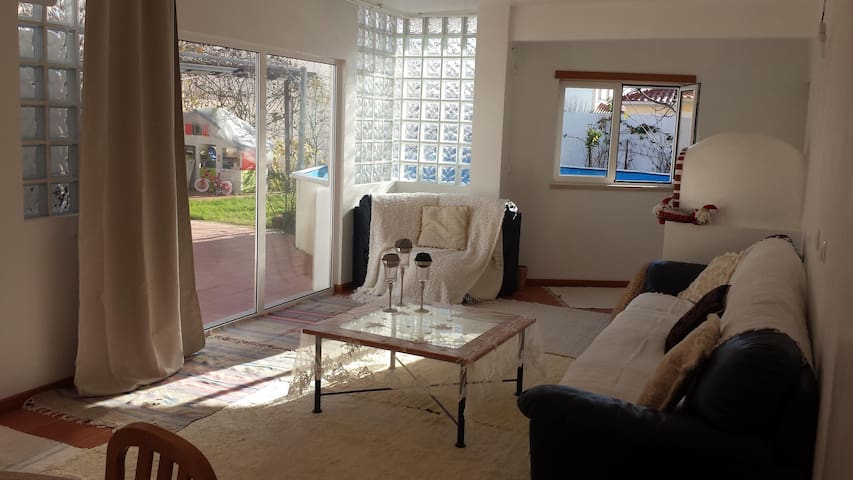 1

–

18

de

Mais de 300 Espaços para Alugar
Insira as datas para ver o preço total. Taxas adicionais serão aplicadas. Impostos podem ser adicionados.