-Tempat kami berdekatan Dengan Pantai Natsepa. Anda akan sangat menyukai tempat kami dikarenakan Aksesnya ke tempat perbelanjaan cukup dekat. baik ke pasar maupun ke Mall. yang paling di rekomendasikan adalah ke pantai... -Untuk Fasilitas kamar, kami tidak menawarkan kemewahan... hunian kami hanya hunian yang sederhana... ( gaya hidup kami gaya hidup orang lokal ) -Jadi apabila anda tidak bermasalah dengan kemewahan, anda cocok menginap di tempat kami...
tempat kami dekat dengan akses keramaian tetangga dan orang-orang dilingkungan kami sangat ramah Mungkin akan sedikit berisik kendaraan karena tempat kami di depan jalan...
Great hosts in this budget accom, they were always happy to hear a story in exchange for a home-cooked meal! Bryan has a lot of free time and drove me around on his scooter every day shopping, sightseeing, eating and ticket booking. Bryan's wife is an English teacher so communication is easy for the most part and her food is very tasty :)
Mitch
2017-02-19T00:00:00Z
A most wonderful host. I was picked up at the airport taken to a very friendly home and community. The home stay is close to a swimming beach as well as traditional street food outlets on the promenade. The food is great Ambon queasine . I was again taken back to the airport at local rates. Loved my stay
Sveti
2017-01-26T00:00:00Z
This is a real Indonesian home-stay. If you need air condition, mini bar and a hot shower you will be probably disappointed. If you want to experience how local people in Ambon live this is probably the best way to do it. You will have a lovely family hosting you, helping to make all your wishes come true, I even had an internet connection thanks to a mobile hot-spot. We had a lot of fun with the family, we visited the beautiful beaches around (Natsepa is only in 5 minutes away), traditional markets, Ambon city, they even took me to the grandparents where they organized a party for me. The hosts will help you around mobility (OJEK / local buses / etc.) and pick you up at the airport (with OJEK) everything for reasonable local prices. Both hosts speak English, the communication was no problem. I would and will definitely stay here again.
Viktor
2017-01-07T00:00:00Z
Really nice homestay! Facilities are simple but decent and it's a very good experience to live with a Ambon family! Christ and his wife will help with everything, like transport, visa and much more. You can have dinner with the family, I recommend spending time with them! Its really nice!
Jolan
2017-02-26T00:00:00Z
Tipo de Acomodação
Quarto inteiro
---
Tipo de Imóvel
Casa
---
Acomoda
1
---
Quartos
Baguala, Molucas, Indonésia
nämlich in Kampung Ambon Manise Diponegoro mit günstigen Preis Versuchen Sie bleiben und die Atmosphäre der städtischen fühlen. Der Zugang kulinarische Morgen, mittags und abends nahe genug aus dem Haus zu gehen (keine KFC 24 Stunden). Ambon wollen Sightseeing zu gehen, gibt es Basen Motorrad-Taxis, die gemietet werden können. Und ich kann in Ambon (erster Kontakt) abholen / Shuttle Pattimura Flughafen helfen. Kontakt über Airbnb Kurs oder sehen Sie die gleiche Anzeige auf (SENSITIVE CONTENTS HIDDEN) Anwendung
Tipo de Acomodação
Quarto inteiro
---
Tipo de Imóvel
Casa
---
Acomoda
3
---
Quartos
Sirimau, Molucas, Indonésia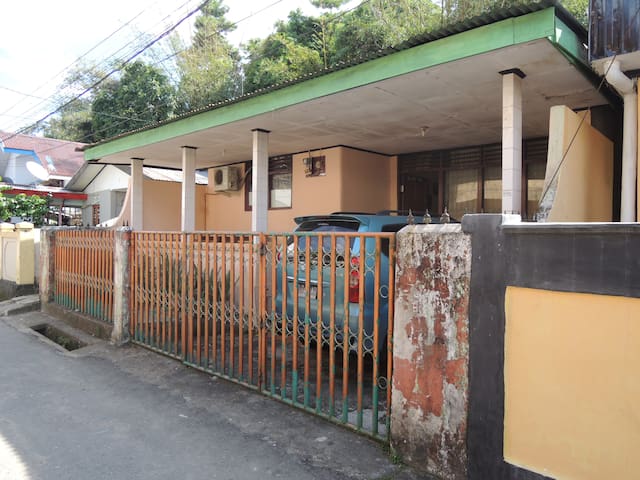 Patra close to Pattimura Internationa Airport, Ambon, 5 minutes from Airport, close to the beach with famous spot for snorkeling/diving (muck diving). Have very nice view behind Lodge, You can see on our Photo Gallery here. (www_penginapanpatra_com)
Located in Laha village (Regional Airport Ambon Pattimura), Laha is a tourist village, especially for snorkeling / scuba diving (Muck Diving), is one of the tourist sites with the habitat of marine life that is very unique and special, many fish species that are not found The rest of the world is here. Approximately thousands of foreign tourists visiting each year to Laha, for snorkeling / scuba diving. Most of them just enjoy the holiday, and others are also doing research on the marine life, or just take a picture published in a magazine for diving, as well as other professional purposes. In Laha we also can enjoy a panoramic view of the bay of Ambon in the day or night, which passed by vessels of various types and sizes that come from outside or heading out to the island of Ambon.
Patra base in Laha village, whic is the famous spot in the world for scuba diving (muck diving) and that make the village unique. And location in area of Airport.
I used this place only for its convenient proximity to the airport (5 minutes by ojek) and Ambon island in general only as a transfer hub. As with the entire rest of Ambon island and as opposed to many other places in Indonesia, prices are way too steep for what you get but for me it was still a better option to stay here than staying in Ambon City. So if you have a 1 day stopover on the island, I can recommend staying here.
Cem
2015-11-27T00:00:00Z
Tipo de Acomodação
Casa/apto inteiro
---
Tipo de Imóvel
Casa
---
Acomoda
16
---
Quartos
Teluk Ambon, Molucas, Indonésia