entrada separada, varanda privada, luxo tranquila, com acabamentos de grife. deslumbrantes vistas para o mar varrer de Santa Monica para Catalina.
A vista do mar é incomparável, mas a casa é uma obra de arte arquitectónica com tecidos requintados de design de luxo, obras de arte, antiguidades modernas e acessórios.
Calmo, sereno, tranquilo, calmo, calma, segura ... isto é uma verdadeira comunidade, onde os vizinhos olhar para o outro. Eu sou um membro da Arson Watch, e oficiais da lei e socorristas vivem no bloco, de modo que você vai se sentir seguro.
My wife and I decided to have a little "staycation" here in SoCal. We were looking at the usual spots for locals: Santa Barbara, Solvang, Ojai, etc., and then we stumbled across this beautiful home here in Malibu! Since we have a lot of traveling coming up we figured Malibu would be the spot; but only if we could stay at Jennifer's stunning home. We were extremely lucky as there was availability! Since we have never used Airbnb, Jennifer went out of her way to make sure our stay was top notch. As we got to talking we realized that Jennifer is a smart and savvy woman whose philosophical beliefs align with our own! We were excited to say the least. About 2 days prior to our stay my wife and I decided that we wanted to be hermits and not talk to anyone, it had been a long week for the both of us. I emailed Jennifer and asked her if there was anyway that we could just kind of "come and go" without much hosting. She was on the same page as she had just got done with some traveling. She was able to set up her residence so that we could just show up and relax. We had also asked if it were okay to truly relax, meaning, could we enjoy the sun where the sun typically doesn't shine. Her response was priceless: "Scorpiesse is a totally No-Shame-Zone!" Even though she had been traveling, and was just getting back in town, we arrived to a beautifully hand written note welcoming us to her luxurious house along with a basket of goodies! The views from the room and multiple decks are stunning to say the least. The decks in back give you amazing views of Winding Trail, a new perspective that we had never seen. The decks and patios in front give you sweeping views of the Pacific and Solstice Canyon. There was a nice ocean breeze that travels up the canyon to make the temperature absolutely perfect! The house itself is nothing short of an architectural masterpiece. It reminded me of the homes you would see on the Bird Streets, above Sunset Blvd in WeHo, but with nature and silence as the backdrop. The interior of Scorpiesse is smartly appointed with high end decor and a plethora of books - think Design Within Reach meeting Herman Miller and having a baby that loves to read. :) The shower floors were made of smoothed rock and the linens were fluffy and clean. There were soft robes along with a bed that you just want to hangout in all day while reading a book in peace. Upon arrival we immediately put the robes on and got comfy for the night. The next morning we woke up to stunning views, as well as a message from Jennifer, letting us know that she was leaving to workout until 3pm-ish, and that we could use all the decks at our leisure. We...
Chris
2016-06-27T00:00:00Z
Loved being back in Malibu! Jennifer has the most beautiful home with stunning views! She is a great hostess and always makes our time with her memorable!
Carlos
2016-11-22T00:00:00Z
Jennifer's place is top notch! I am out of words. All the other reviews were on point! We stayed for two days and we didn't want to leave! : ) Even though the weather didn't cooperate, this is still by far one of the best Airbnb experience ever! Thank you so much Jennifer!
Jes Camille
2017-01-05T00:00:00Z
We had a great weekend in this beautiful home! Jennifer was a great host and super organized. She was very helpful in informing us about the neighborhood and restaurants / places to check out. We stayed in the guest bedroom and it was exactly what you see in the photos - just gorgeous! The listing description of the rest of the house was accurate as well and we got to enjoy the sunny decks on a nice warm weekend. The neighborhood is really quite so you can really feel exclusive and have a relaxing stay. We would definitely recommend Jennifer as a host and her house for stay.
Ravinder
2015-01-04T00:00:00Z
The experience of Malibu was certainly enhanced by this Airbnb stay. Spectacular view in an exquisite house. Jennifer is the superhost, considerate and communicative through your experience. She earnestly wants you to have a wonderful time. Her handbook was very helpful to area restaurants and hangouts. Everything was luxurious, from the bedding to the linens. I'm an experienced Airbnb host and guest and this was one of the best!
Hao
2015-07-28T00:00:00Z
This was our most favorite of all Airbnb stays ever. Jennifer was exceptional in communicating prior to our arrival and very available to make us feel welcomed and quickly get familiar with the location. Everything is high-end and fabulous. The place has the most wonderful view ever...really out-of-this-world. The bedroom and bath are somewhat small, but opens up to the killer view and private balcony. You will want to book another stay every time you visit Malibu or even go out of your way to stay here. Pay attention to her directions. The driveway is steep, but easy to get up with a little momentum as long as you use Lookout road and approach from the North. Jennifer's place is better than described, close to beach, shopping, and everything you'll need. My wife and I had a wonderful, peaceful, restful stay. The bed was very comfortable and the kitchen was made available to us with most everything you'll need to prepare any meal. We were very careful to clean up and leave everything as perfect as it was when we found it. This glowing review is well deserved...thanks Jennifer.
Eugene & Pam
2015-02-02T00:00:00Z
Wonderful apartment with a great view!
Christine
2015-09-25T00:00:00Z
Everything was wonderful.
Beth
2016-11-06T00:00:00Z
Tipo de Acomodação
Quarto inteiro
---
Tipo de Imóvel
Casa
---
Acomoda
2
---
Quartos
Malibu, Califórnia, Estados Unidos
Uma experiência única para a pessoa que ama a natureza e ícones americanos do vintage. Um pouco rústico, mas muito gratificante. Por favor, leia a lista inteira e exibir uma extensa biblioteca de fotos para determinar se este local encontra o seu quociente de conforto criatura.
Cimo de uma colina com uma magnífica vista de 360 graus do Oceano Pacífico, Catalina, Santa Barbara Island e as montanhas de Santa Monica, passar a noite assistindo ao pôr do sol sobre Montanha óssea, uma vez que fica preta. As estrelas saem pela millions- e você prestar atenção para cometas e satélites que passam por cima das cadeiras de Adirondack confortável. Você retirar-se para o interior confortável semi-restaurada de 'THE ALUMILODGE'- 1957. AIRSTREAM 22 pés Flying Cloud, e conecte o iPod no sistema de som Bose Acoustimas ao abrir uma garrafa de vinho local que você adquiriu em um passeio pelas vinhas. A pequena sala de jantar está definido para um jantar romântico, que você preparar na cozinha a bordo e fogão a gás. Após um outro olhar para a Via Láctea, se aposentar para a cama traseira queen size com lençóis de qualidade e pena duvet- a brisa do Pacífico fresco sossego sono no silêncio quebrado apenas pelo coruja 'buzina' ocasional ou uivo do chacal à distância. Você acorda para experimentar o nascer do sol com o nosso café francês da imprensa e outro dia em um paraíso que você não pode imaginar é tão perto, mas tão longe de Los Angeles. A área também oferece passeios pelas vinhas, salas de degustação de vinhos, excelentes restaurantes, caminhada / ciclismo do Backbone Trail, trilha passeios todos dentro de minutos. Piscina (sazonal) e internet ponto quente disponível para os hóspedes. Somos animais de estimação. Cobramos uma taxa de $ 15 limpeza plano adicional por reserva a pagar em dinheiro durante a sua estadia para animais de estimação. **** Para Film & Foto Shoots Entre em contato Hosts antes de reservar **** ESTÁ AQUI!! Devido à popularidade do "nuvem vôo", nós preparamos um outro local, um presente um 1971 AIRSTREAM 31 FT. SOBERANO que está localizado em um prado arborizado. Veja a lista: "AIRSTREAM VINTAGE AVENTURA PT.2". https://www.airbnb.com/rooms/1077343 serviços adicionais de concierge disponível - Informe-se: - Los Angeles Times croissants de chocolate cozidos frescos, café e domingo de manhã entregue. - Reservas em restaurantes locais, Golf Course. - Andar a passeios da fuga. - Bicicletas de montanha
Muito rural com lotes de incríveis oportunidades de viagem de estrada cênica!
I surprised my husband by renting the Airstream for his birthday. When we arrived we were in awe of the location of the trailer and the magnificent views. The Airstream is fully stocked with all we needed for our time there. We sat outside way past sunset, admiring the view for as long as we can. Then went inside to make dinner and play scrabble. Cooking on the stove top really warmed up the trailer so we didn't even need to use the heater during the night. We made sure to look up sun rise time and got up in time to see it peek over the mountains. We will definitely be back here! Thanks Murray and Kay for a wonderful experience and sharing your treasures!
Debbie
2015-02-01T00:00:00Z
My girlfriend and I had an amazing getaway at the Murray and Kay's Airstream Trailer!!! It's a no brainer to book this airbnb. You're secluded in the mountains of malibu and and beaches are just a 15-20 min drive away. We cooked every morning, afternoon and night. Probably one of the best vacations I've been on in awhile.
Maddison
2015-11-23T00:00:00Z
Had an incredible time up in the mountains. Murray was nice and friendly and let us be. A definite recommend.
Jonathan
2015-04-13T00:00:00Z
My wife and I had a wonderful experience on our 5 day stay in the Air stream on top of the hill. Trailer was comfy with incredible views and sunsets looking out over the ocean and Malibu hills (along one night of awesome stargazing on one of the warmer nights). We did plenty of hiking in the hills and on the nearby beaches. Murray was a great host and we hope to be back sometime in the coming years.
Tim
2016-01-02T00:00:00Z
My partner and I had a very relaxing time--wish we had had a few more days to enjoy the solitude. Murray was an excellent host--relaxed but attentive and easy to talk to. Even though we arrived pretty late in the evening, he made sure we how to find the hiking trails which we took advantage of early the next morning. We also managed to get in a little surfing at Zuma Beach. Thankfully, as advertised, the airstream has a very comfortable bed! Very clean, very cozy and would recommend this to anyone.
Eleanor
2014-03-10T00:00:00Z
Amazing, one of a kind experience. Murray is a great host. He helped us find great spots around the area and was highly accommodating. Very clean, very cool place to stay. Incredible views. Thanks so much Murray!
Tyson
2015-09-12T00:00:00Z
We could not have had a better weekend! This airstream and location is truly an incredible experience... the views were stunning, the airstream was packed with everything we could possibly need, and Murray was the nicest and most accommodating person ever! We will DEFINITELY be back!
Jenna
2014-12-22T00:00:00Z
The airstream is inside of the owner's yard and not far away from the house which owners living in. The airstream is clean and Fully equipped. Really nice view there, gorgeous night sky!!!!! Don't miss!
Chloe
2016-10-03T00:00:00Z
Tipo de Acomodação
Casa/apto inteiro
---
Tipo de Imóvel
Trailer
---
Acomoda
2
---
Quartos
Malibu, Califórnia, Estados Unidos
Our lovely vintage airstream is a tiny home placed on a hilltop on 10 acres of land overlooking the Malibu coast line. We are just finishing first phase of a remodel with a zen, bohemian chic, rustic style. Booking through 2017.
A vintage trailer off grid on a peaceful Malibu mountain top with an ocean view. This unique experience is for nature lovers, zen seekers and romantics with a sense of adventure. We have had multiple writers and creatives looking for some peace quiet and to focus away from the city. Our listing has the earliest check in and latest check out that we've seen. (2pm check in noon check out). The perfect staycation spot that's just 25 minutes north of Santa Monica. Full futon mattress with memory foam with fresh clean sheets (cotton or microfiber), blankets/comforters (down w/duvet), pillows, electric space heater (heats it up in 15-20 minutes) fan, electric water heater/tea kettle, kitchenware, snacks, drinks, spring water, ice box and towels, paper towels, candles, and a bottle of local wine are all included. Two burner stovetop, pots & pans, cutting boards, knives/utensils inside as well as two burner propane cook stove outside and mini propane BBQ. Full outdoor kitchen and separate spa style bathroom with claw foot tub coming soon. Bring your personal belongings and food to cook and your Bluetooth boombox. There is electricity and electrical outlets to plug in your laptops or charge your phones or other devices. Wifi works on a Verizon hotspot with unlimited data so feel free to stream some great tunes while relaxing on the lounge chairs outside. This trailer is off grid so there is not a full bathroom. There's a composting toilet inside and always the "water the trees" nature option. No shower at this point. There will be a solar shower by beginning of the busy season in May. A composting toilet is a regular toilet. It's not flushable but works just like a regular toilet and you don't have to do anything to it other than use it like a regular toilet. It's thoroughly cleaned and wiped down with cleanser every time and have had no complaints. Now accepting photo shoots productions events etc! please see House rules section for details and pricing Unless there's a bad rainstorm/thunderstorm during your dates you'll be able to pull up and park right next to the airstream. We do live on a dirt road though so if there's s bad rainstorm there's a good chance your reservation will be cancelled for safety and liability issues. If you're looking to book Easter, Memorial Day, 4th of July, Labor Day or any other major Holiday weekend the rates will be booked at a flat rate of $200 per night. LOCAL ATTRACTIONS Restaurants: At the beach:Sunset Restaurant – elegant beachside dining in Point Dume. Neptune's Net – seafood and snacks – surfers' and bikers 'hangout. Spruzo's Café – pizza and Italian dining with beach view. Kristy's Café – oven roasted dinners with panorama sea view Malibu Seafood – world famous Malibu outdoor fish dining with sea view Paradise Cove – beach-side dining and take-out on the beach More Local Cafes: Sunlife Organics - organic smoothies and health food Lily's Café – Mexican breakfast and lunch. A local hangout. Zuma Sushi – Delicious and reasonable – a Zuma favorite Mexican Café – Margarita happy hours In the Canyons: Calamigos Ranch – Romantic indoor/outdoor canyon dining The Old Place – Wild West dining – good for brunchSaddle Peak Lodge – elk, bison, ostrich – great atmosphere Rock Store – local hangout – good for beer and burger Malibu Golf Club – quiet place to mingle with Malibu locals In Malibu/Pier area: Nobu - Sushi with the stars! Malibu Farm Cafe - all organic at the end of the Malibu Pier Down the beach towards Santa Monica 15-20 minutes away: Reel Inn (fish) (our favorite), The Chart House, Gladstone's, Cholada's Thai Beach Cafe Farmers' Market in Topanga Canyon– Friday mornings Famous beaches: El Matador Beach - gorgeous beach with natural arches Leo Carrillo – another beautiful beach with natural nooks and crannies City of Malibu – check out local shopping mall - great kids playground – fancy shops – Cuban restaurant. LA Westside (15-20 minutes drive)Santa Monica Pier3rd St. Promenade – walking street – flagship stores – movie theaters - restaurants Venice Beach "Boardwalk" - fun street vendors, funky, great shopping.
Malibu Canyon is one of the most secluded and prestigious regions of Southern California home to local wineries and celebrities alike. Our property has an amazing mountain and ocean view of the Malibu coastline with Santa Monica to the South and the Channel Islands off the coast.
Beau was a great host; very was easy to make arrangements with and the air-stream is a fun alternative to the busy hustle and bustle of L.A. It's quiet and secluded and the basic amenities were easy to use. As long a you're prepared for more of a camping-like experience you won't be disappointed. The views are amazing. I would definitely recommend staying here!
Brooke
2017-01-27T00:00:00Z
Terrific location. Very remote and tucked away with some really cool views of the Santa Monica Mountains. Bed was very comfy too...definitely recommend getting there during daylight hours if possible though. Can be a little tricky for some to find.
Billy
2017-04-01T00:00:00Z
Due to unexpected changes in my traveling schedule I had to cancel my stay at Beau's place last second and was really bummed I didn't get to stay at his amazing AirStream in Malibu. Hope to be back in the next few months...Despite missing out on staying there, Beau was very friendly throughout all communications and very respectful. Hope to meet someday in person.
Michael
2017-03-18T00:00:00Z
This place offers a wonderful, back-to-nature experience for anyone visiting the LA area. The communication from Beau was great from start to finish. Highly recommended!
Chris
2017-02-25T00:00:00Z
Beau is a great host, very responsible and friendly! Everybody loves his place because it's like no other. The neighborhood was quiet and safe. You'll love the view up there the sunset was just stunning. Give it a try!
Leila
2017-02-16T00:00:00Z
It was beautiful!
Jack
2017-03-13T00:00:00Z
Absolutely such a unique place. This is a true getaway spot. Beau was super helpful, great directions, and has everything you could think of. I've stayed in other Airbnb properties that did not even have all of the amenities that he offered in this simple yet beautiful airstream trailer. If you want mountains, breathtaking views, seclusion, and a stay you won't forget, give it a go.
Derek
2017-03-09T00:00:00Z
The place to go to talk with your soul. Right in the middle of naure. LA in far distance. Don´t expect ordinary comfort. This place offers you the kind of comfort one really needs.
stefan
2017-02-03T00:00:00Z
Tipo de Acomodação
Casa/apto inteiro
---
Tipo de Imóvel
Trailer
---
Acomoda
2
---
Quartos
Malibu, Califórnia, Estados Unidos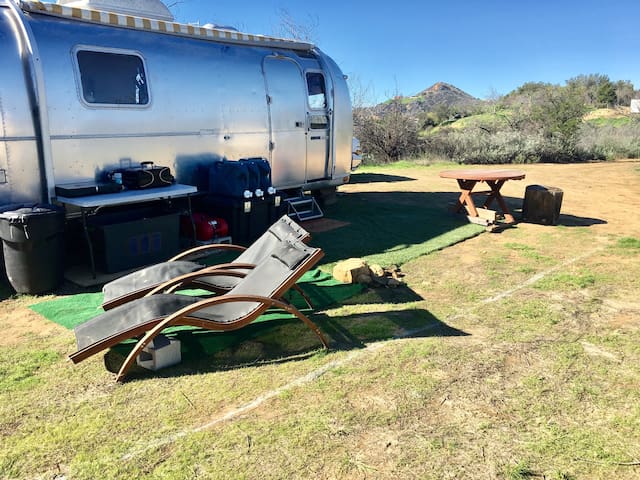 A cabine é uma cabine de um quarto isolada e romântica, com vistas sobre o oceano. O fogão a lenha e banheira quente torná-lo o perfeito acolhedor refúgio de fim de semana. Perto o suficiente para a cidade, mas se sente um milhão de milhas de distância!
Privado, isolado vista para o mar cabine no cavalo fazenda / vinhedo. Cercado por National Parkland esta cabine romântica é espaçoso, mas acolhedor. Ele tem uma casa de banho completa com banheira, uma cozinha bem equipada, cama queen size e sofá-cama. A cabine é simples, mas confortavelmente mobilados Há um fogão a lenha e uma banheira de hidromassagem com vista para Catalina. Após a chegada você vai encontrar uma garrafa de nosso próprio vinho - Syrah ou Sauvignon Blanc, queijo, biscoitos e frutas. Haverá também ovos das galinhas rancho, muffins etc para café da manhã. Oferecemos aulas de surf, yoga, massagem e, claro, degustação de vinhos! Podemos organizar passeios a aulas ou passeios de trilha localmente. Há trilhas para a direita fora da porta da cabine que acessam o Backbone Trail & Malibu Creek State Park. Mountain bikes podem ser alugadas no local. Nós normalmente têm uma estadia de 2 noites, mas durante as férias de Ação de Graças e Natal, temos um 4 noites de estadia mínima.
Privacidade, tranquilidade, espaço aberto, parque, vista para o mar, paz e sossego!
A beautiful place - we really enjoyed the quiet and the hikes near the property. Hope to go back one day.
Kenley
2016-08-08T00:00:00Z
The listing was referred to me by a friend who already has stayed twice and I quickly learning why. Gabrielle and the neighbors were all delightful. The cabin itself is totally private, so you can feel alone in the canyon total tucked away, but then you're a short walk to a pool and neighbors to meet and chat with really kind people. Gabrielle was an absolute pleasure to deal with. I was planning a nice getaway at her cabin after surprising my gf with a proposal in malibu (now fiance--she said yes!). Gabrielle went above and beyond to help set up flowers and get the right wine and make sure we had champagne and more. It was tremendous. All I needed to do was show up and a beautiful set-up was waiting for us. While at the cabin, Gabrielle was helpful throughout. We needed advil one night, and she responded quickly and gave us a small travel pack. She even invited us to have massages in the nice air conditioning of her home (just a FYI for hot months the cabin currently has no AC). There is a nice pool to use and cool off w/ if it's hot outside. The list of positives goes on and on--I give the cabin and Gabrielle my strongest endorsement.
Zach
2014-09-15T00:00:00Z
Unglaubliche Ruhe, der Natur zuhören, dem Wind, den Vögeln lauschen, Sonnenaufgang und Sonnenuntergang bestaunen. Dann die hübsche cabin bewohnen, alles gut eìngerichtet. Gabrielle so hilfsbereit, mit einem warmen welcome. Unvergessliches Erlebnis. Aus Zürich, Switzerland, Doris und Jürg.
Jurg
2016-11-12T00:00:00Z
Gabrielle's cabin was the absolute perfect getaway. The cabin sits high up in the mountains with a beautiful view of the ocean. The garden in front is filled with lavender and lovely little places to sit and relax in the sun. The cabin itself is adorable - there's an antique wood-burning stove to keep you toasty, the decor is beautiful and the bed is super comfy. Lots of candles for ambiance. Also loved the very special touches -- a vase with lavender and rose, the fresh eggs from the property's chickens, etc. I really loved meeting the beautiful chickens and horses too. We went on a hike -- the views were insane. I could go on and on. Definitely coming back!
Moni
2017-01-09T00:00:00Z
Wow! Gabrielle's place is enchanted, secluded, quiet beautiful cabin in Malibu mountains, a fairy tale spot. Perfect for a couple romantic gate away or a small family, (Gabrielle has another guest house for six). Image waking up to a beautiful morning, birds singing, bees and butterflies busy with the gorgeous Lavender and Jasmine flower. You and your loved one cozying us in the private hot tub under the skies, moving back into the house infront of the fire place.... You get my point. Awesome for writers or anyone who wishes to get away, and be somewhere where it is quiet, full of beauty and peace. You will recharge and return with a peace of mind and body. Try Gabrielle's wine and fresh eggs, they are excellent. Gabrielle is a wonderful and thoughtful host. She prepared wine, cheese and crackers and us as well as fruits and eggs. She communicates clearly and timely, attentive to your needs, yet leaves you undisturbed. We loved the place and will be back !
hagai
2017-04-04T00:00:00Z
Fantastic place and extremely comfortable. I would definitely stay again! Only thing is that it's about a 15-20 minute ride up the mountain and the streets could be a little scary!! Very peaceful and Gabrielle is so sweet and helpful! Absolutely wonderful stay!
Taylor
2017-03-29T00:00:00Z
Lovely, quiet, peaceful retreat - we had a great time relaxing and getting away from it all at Gabrielle's place.
Rich
2017-03-20T00:00:00Z
We stayed in the cabin the first two nights of our honeymoon and loved it!! Very clean and uncluttered. Small and quaint, perfect for a weekend getaway or a few nights. The view is beautiful!! We found the jacuzzi to be in working order and clean. All appliances working and everything in order. The cabin is nicely secluded on the property for privacy. This place gets highs recommendation for anyone looking for a cozy get away!!! Cory & Tatum
Gina
2017-03-13T00:00:00Z
Tipo de Acomodação
Casa/apto inteiro
---
Tipo de Imóvel
Casa de campo
---
Acomoda
3
---
Quartos
Malibu, Califórnia, Estados Unidos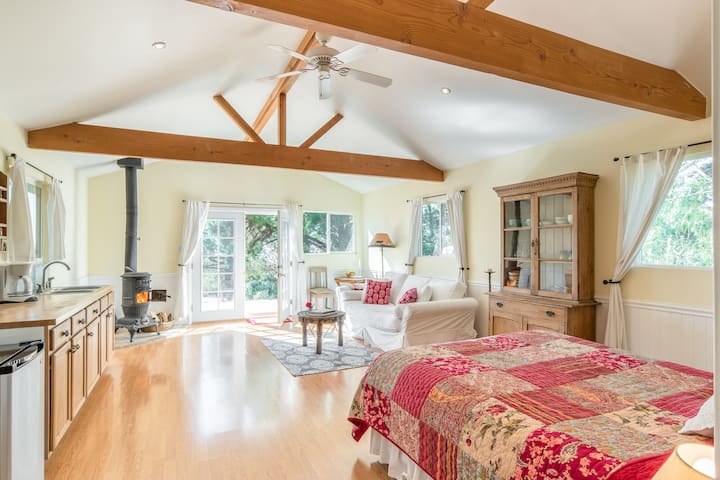 Deslumbrantes do oceano e montanha vistas a partir deste espumante limpa, brilhante, Quieto, moderno, privado 2 BR, 1 BA apartamento de hóspedes localizada no 1 ° andar de 3 andares mediterrâneo casa em Malibu. Recentemente remodelado w grandes áreas vedada quintal e lugares ao ar livre / privadas. Ideal clima durante todo o ano. 6 min. da praia. Melhores caminhadas no mundo para a direita fora da porta da frente. Totalmente abastecido w / frigorífico, fogão cooktop, churrasqueira ao ar livre, pratos, panelas, cadeiras de praia, toalhas de praia, e cada detalhe para tornar a sua estadia confortável
Nossos comentários falam por si. O mais tranqüila, a bela e amigável lugar que você pode imaginar. Nosso clima é excelente - cerca de 70 graus médios no verão e 60 graus média no inverno. Raramente chove aqui. Cada detalhe foi bem pensado até ao vestes de luxo, produtos de higiene pessoal, toalhas de praia, cadeiras de praia, cafeteira com café Starbucks, e muitas comodidades para a lista. Nós realmente ir acima e além para garantir que nossos clientes têm a experiência mais agradável possível.
Este é um dos lugares mais belos da terra. Nós fronteira uma milha quadrada de espaço aberto. Nós sentar-se no coração das áreas mais belas caminhadas e ciclismo no mundo e são apenas cerca de 6 minutos de distância da praia. Estamos a cerca de 10 minutos de distância da Universidade Pepperdine e a maioria dos restaurantes e lojas em Malibu.
Jerri is a consummate host. One does not know where to begin with the amenities that go so far above and beyond what one usually finds in an Airbnd: the fact that Jerri stocks the pantry with cereals, oatmeal, bagels, English muffins, sparkling waters, iced tea, assortments of sodas, cream cheese, eggs, butter, coffee, tea, and milk is amazing in itself -- but then she appears periodically (but always with appropriately discrete notice) with freshly cooked appetizers, freshly picked limes and flowers, and even a plate of bacon in the morning. Moreover, Jerri knew that my mother was making the trip for a visit to the closed set of Days of Our Lives and purchased her a coffee-table book commemorating the show as a gift! This is an extraordinary property with an exemplary host!
Eric
2017-03-22T00:00:00Z
Jerri was very kind and welcoming and had many "extras" available to us like snacks and cookies and a fully stocked fridge with waters and sodas. She told us all about the apartment and very thorough. We very much enjoyed being up in the Malibu Hills with beautiful ocean views from across the street - great for sunrise and star gazing in the evenings.
Susan
2015-10-09T00:00:00Z
Jerri's home is a beautiful, quiet and scenic retreat, and the perfect place to get away while also having wonderful shops and restaurants close by. It has a beautiful view of both the mountains and the ocean. And Jerri couldn't have been a more welcoming and accommodating host. Her home will feel like your home while you are there.
Lisa
2017-03-08T00:00:00Z
Staying at Jerri and Frank's was an utterly unforgettable experience. Every inch of their guest apartment was put together with thought and love. When you're there, you feel an abundant sense of comfort and home. Jerri and Frank have provided their guests with all amenities you could ever need, and two steps out the door and you can drink in the most spectacular views of the coast and mountains. The property is just five minutes from the PCH (we had delicious meals at Malibu Farm, Topanga Table, Ollie's, and V's), yet you are still so removed and set back from the bustle of Malibu. The highlight of our trip was sitting on the secluded bench at the edge of mountain and watching the sunset and moonrise. Jerri and Frank are undoubtedly the most kind, warm, and welcoming hosts I have ever encountered. I am excited to come back for years to come and share this slice of heaven with my loved ones!
Steph
2016-11-14T00:00:00Z
Another great stay with Malibu's best host! This is our second time staying with Jerri but this time we rented the 2bd and brought along my niece and her boyfriend. The apartment comes fully stocked and all you need to bring is yourself! Jerri gives great recommendations for places to visit during your stay. She checks on you everyday to make sure you don't need anything and truly cares that her guests have a memorable and relaxing experience. Jerri's home is truly paradise! We got to explore some great hiking trails just a short ride up the hill from the house and it was truly breathtaking. It's the perfect getaway and trust us that if you stay here you will not be disappointed. We were even lucky enough that Jerri offered to do our laundry for us the night before we left! If you want the perfect Airbnb experience, stay at Jerri's. Wonderful accommodations with an even better host! Trust us, you will want to come back again for a return visit!
Amanda
2016-06-19T00:00:00Z
If you are looking for a truly wonderful hostess, you will find it in Jerri. Even before I booked our stay, she answered all my questions and made sure we were comfortable with our decision. Her attention to details is impeccable! Before arrival, she made sure we had everything that we needed plus asked if there were other things to our liking that she could provide. Upon arrival, she made sure we felt welcomed and, to be honest, somewhat pampered. : ) There was not a day that went by during our stay when she did not make sure we were completely comfortable and enjoying ourselves. Her knowledge of Malibu and what it has to offer is a plus! There are quite a lot of nice things to do and experience in Malibu and she is more than happy to share her knowledge of them (book with biking/hike trails in the property, a list of restaurant recommendations, not to mention the detailed amenities). We really had a spectacular experience and would definitely go back. Thank you Jerri!
Ines
2016-08-01T00:00:00Z
AMAZING!!!! I absolutely loved this Air B&B, it was truly the best experience! Jerri is awesome and immediately made me feel welcomed from the moment I messaged her! She was very quick to respond to my messages. The day before our trip she called me and gave me great suggestions on what to do in the area, where to eat, and provided me with information about the local weather. She was there to greet my husband and I as soon as we arrived and she even took us on a tour of Malibu so we can get familiar with the area during our stay. The house was beautiful, clean, and literally has everything you could ever need in it! Jerri stocks the kitchen with food and drinks for you to enjoy during your stay. If you forgot something at home Jerri has you covered with a drawer full of necessities to use in case you forgot including a hair dryer, make up remover, deoderant, soap, etc. She also has beach towels, beach chairs, wet suits, and paddle boards to use if you would like. I'm telling you this place has it all. But best of all is the view! It's Breathtaking!! Spectacular view of the ocean, I could spend all day just sitting there enjoying the view! My husband and I feel lucky to have found this place and we will definitely be coming back!! Thank you Jerri for your hospitality!! Victoria
Victoria
2016-10-08T00:00:00Z
Jerri truly goes above and beyond to make sure you are happy and comfortable during your stay. The amenities she provides are unparalleled, the apt is great, and the views are beautiful! I would stay here again in a heartbeat.
Helena
2016-10-23T00:00:00Z
Tipo de Acomodação
Casa/apto inteiro
---
Tipo de Imóvel
Casa
---
Acomoda
4
---
Quartos
Malibu, Califórnia, Estados Unidos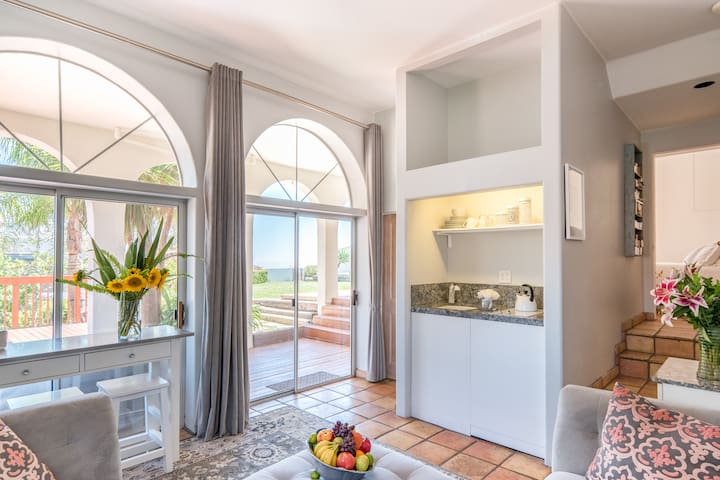 We have a special spot overlooking Solstice Canyon Park with ocean and mountain views. We are in a rural, quiet area close to Pepperdine University, Point Dume, Zuma Beach, City Center, Restaurants and Dining. You can surf, hike, visit local wineries, or just chill and enjoy the ambiance and natural landscape. You can inquire about your furry friends (pets). As the crow flies, we are one mile from PCH and it takes about 8 minutes to get here from there.
This is a Master Bathroom/Bedroom Guesthouse. We supply a Microwave, Small Refrigerator, Coffee Maker, Plus Essentials. We also supply Beach Chairs and Towels for your use.
We sit atop a mountain and we are the last home at the end of the road. There are only a few homes in our area so we are very private. The guesthouse is in a gated property.
Tucked away into the beautiful hills, but a close enough drive down to amenities and beach, this home was exactly what we were looking for in a Malibu escape. We fully enjoyed the breathtaking views, hikes around the home, and star- gazing from the hot tub. Deborah and Peter could not have been more welcoming (yet respectful of our privacy). The guest home was very clean and has the comforts of home, plus some extra treats. Hope to be back!
Elizabeth
2017-01-31T00:00:00Z
Exactly what my wife and I were looking for in a Malibu getaway - beautiful, quiet, central to everything we needed, a very comfortable space and Debbie and Peter were gracious hosts. At first I was hesitant to be further from PCH but the location turned out to be so much more peaceful than that would've been, and the winding drive up was actually one of my favorite parts of the adventure. The location and views are breathtaking, true to the pics if not better. The space was larger than I was expecting, the bed felt bigger than a king, and waking up to distant water views was wonderful. Exploring/hiking directly from the cottage, watching the sun set as a full moon rose over the canyons, and a nice complementary bottle of wine were all added bonuses. A great overall experience for us, highly recommend it!
paul
2017-01-14T00:00:00Z
The place was absolutely beautiful inside and out. It was truly a unique find and it was a luxury experience at a completely reasonable cost. Deborah was extremely helpful and made sure I had everything I needed. Highly recommended stay for anyone looking for a quiet place with amazing scenery. Thanks again Deborah and Peter!
Jeremy
2017-02-05T00:00:00Z
Look no further- this place is perfect! Deborah and Peter are exceptionally hospitable and kind! The view is beyond beautiful! It was a perfect getaway for me and my wife! 5 stars all around!
Preston
2016-12-18T00:00:00Z
The pictures hardly do the place justice! The location is secluded, peaceful and beautiful. The guest house is extremely nice and has all the amenities you could need for a get-away. Deb is also incredibly kind and helpful. She gave great, clear instructions on getting to the place and was responsive to any needs we had throughout the stay. Cannot recommend this place highly enough! We enjoyed our stay there so much!
Luke
2017-01-06T00:00:00Z
Debbie and Peter's Malibu Escape was absolutely FANTASTIC! Truly a special spot as described. My friend and I stayed this past week and had an absolute blast. Debbie and Peter were amazing hosts that were readily available and extremely accomodating if we needed anything. The drive up takes about 15-20 minutes and is a fun adventure. Once you arrive you feel like you are in another world. Its peaceful, quiet and exquisite. The guesthouse was extremely clean and there are many details (the fridge is stocked with some nice essentials, great coffee and tea selection) that will make you feel right at home. Debbie even provided us with a delicious bottle of wine. Its these subtle touches that makes the Sinding's wonderful hosts. We had a great time chatting with them both and they are very respectful of one's privacy. The outdoor hot tub was fantastic and clean, providing a great way to unwind at the end of the day. As other's have written, I would recommend checking in during the day so that you can get a feel for the canyon. We also loved sweet Maisy (their super friendly dog)! Thank you both so much for sharing your little piece of heaven with us!
Sarita
2016-12-13T00:00:00Z
This secluded guesthouse is everything that it is presented to be and more. The view of the hills and Pacific Ocean (with Catalina Island also in the backdrop) is nothing short of spectacular. This guesthouse is perfect for those that want to spend their time hanging out on the property in seclusion, but is also close enough to access the amenities & attractions that Malibu and the PCH have to offer. The guesthouse provides all the essentials that you would need or want (short of having a full kitchen, though there is a fridge, microwave, etc.) and Debbie & Peter are very responsive to requests or questions. The king bed, the walk in shower, the hot tub (and so on!) we're all lovely. There's even cable television (with many movie channels) for watching a movie after a long day exploring. The winding drive up to the property from the PCH is reminiscent of parts of Italy and is very pretty, though those afraid of heights ought not look down (the road is safe and paved, but at times cuts through steep cliffs). There also are many hiking trails nearby with excellent sunrise/sunset views. This place gave my wife and I the perfect balance of lazy seclusion and relaxation while also enjoying Malibu's excellent and varied culinary offerings. We highly recommend and would consider coming here again!
Darin
2017-03-13T00:00:00Z
Very comfortable with super views..everything was great .Thank you Deborah and Peter
Victor
2017-03-02T00:00:00Z
Tipo de Acomodação
Casa/apto inteiro
---
Tipo de Imóvel
Hospedaria
---
Acomoda
2
---
Quartos
Malibu, Califórnia, Estados Unidos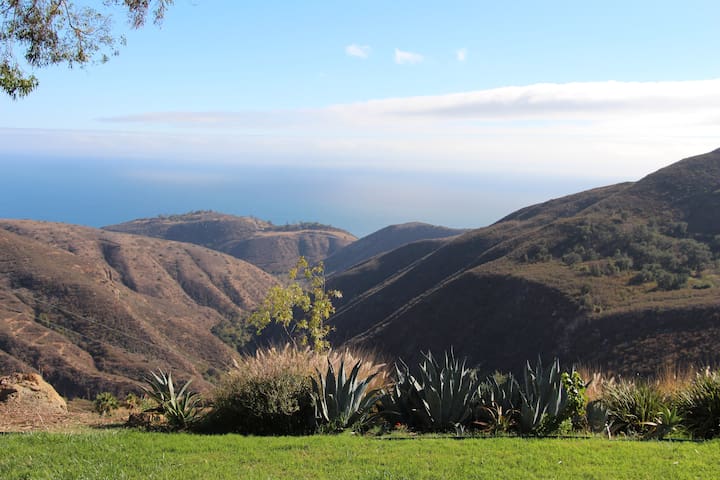 Bela casa Malibu na montanha tranquilo bairro de topo, a 8 minutos do Pacific Coast Highway e praias, vista de 360 graus, quarto w / varanda, banheiro privativo, estacionamento, acesso à cozinha, sala de estar, lavandaria e cercado no quintal, casa treinados animais de estimação bem vinda
Pacífica e tranquila casa perfeita para voltar depois de um dia na cidade ou na praia, ou apenas para sair e não fazer nada. Muitas janelas e acesso à varanda com vista para as árvores, montanhas e da linha de costa. Lotes de animais selvagens, incluindo o rebanho ocasional de papagaios selvagens nas árvores frutíferas na primavera e no verão.
Not happy right now
Nick
2017-02-25T00:00:00Z
Great hospitality, amazing place, fantastic view and very relaxing trip! Thank you Eddy and Nate you guys are the best of the best, we really appreciate your kindness and friendliness. We are definitely coming back!
Jr
2017-03-08T00:00:00Z
Eddy's home is up in the mountain and has gorgeous views! She and Nate were great hosts. Would definitely come back.
Anisah
2017-03-06T00:00:00Z
This place is a great shared space. Even if the homeowners are there, the bedroom, bathroom, and balcony are very private. And if you do bump into the owners, they are very cool! So welcoming and make you feel like it is your home, too. They allow you to use anything in the house - kitchen if you want to cook, shared living room if you want to chill and watch TV (there is one in your private bedroom, as well). My girlfriend and I loved hanging out all weekend with the balcony doors open. Our dog had so much room to frolic around the house and loved it - especially the three layer backyard. Would definitely recommend to our friends and anyone, and would book it again.
Marlee
2017-03-12T00:00:00Z
The hosts was very kind and friendly. I loved the house location feels like you in other country. The house is very neat, and had amazing view. I will recommend to friend and come again
כנרת
2017-02-26T00:00:00Z
Tipo de Acomodação
Quarto inteiro
---
Tipo de Imóvel
Casa
---
Acomoda
2
---
Quartos
Malibu, Califórnia, Estados Unidos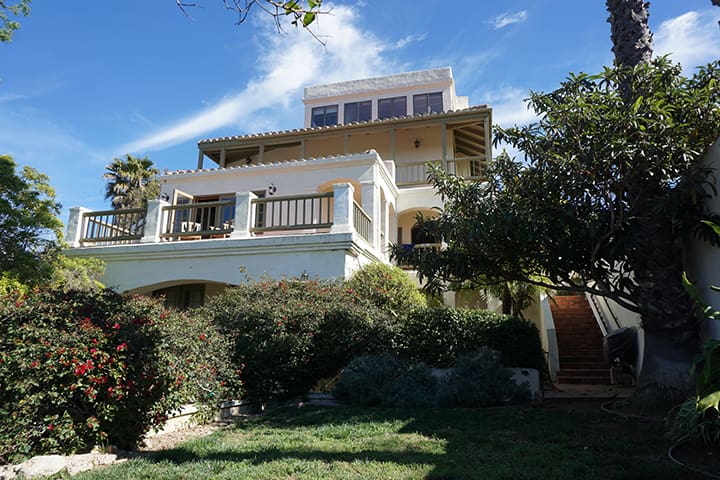 Tudo o que Malibu tem para oferecer, incluindo praia, shopping, Universidade Pepperdine, e, claro, Los Angeles - esta villa da Toscana tem vista panorâmica para o Oceano Pacífico e as montanhas de Santa Monica. Praias estão a poucos minutos da casa fazer esta casa um refúgio perfeito para as atividades da família-friendy. Os restaurantes locais incluem Nobu Malibu e Geoffries na praia. Meu lugar é bom para casais, aventureiros individuais, viajantes a negócios e famílias (com crianças).
Carmelo's house above Malibu is a beautiful work of art. Carmelo's warmth and generosity made our stay memorable. Highly recommend for a relaxing stay in the Malibu area.
Paul
2016-10-14T00:00:00Z
I just cannot say enough good things about this home, Carmelo and the area. Everything perfect start to finish. We love it here.
Gloriane
2017-01-25T00:00:00Z
This home is stunning, I don't think the pictures do it justice. Everything from the sweeping views of the ocean, to the gorgeous mosaic artwork makes this home a Malibu treasure. Our family loved spending mornings & evenings on the patio, taking in the spectacular scenery. The house is a short drive (just minutes) from the beach, restaurants, and any nearby activity. The decor and attention to detail in Carmelo'a home is impressive. The kitchen and layout allowed for great conversation and entertaining. We will definitely be back!
Rachelle
2016-11-14T00:00:00Z
Wow! One word is all that's needed here . . . but let me elaborate. First of all, this place is beyond description really . . . Magnificent is an understatement. Carmelo, the host, personally built this home and you can tell the guy is a master artist. The mosaic work is like something out of an Italian dream. The house is spacious and open with high ceilings and a VIEWS for days! I spent most of my time OUTSIDE on the terrace under the pergola sipping wine while taking in the clean air and ocean view. I woke up in the morning and jumped in the hot tub (very clean and nice) in the back of the house and looked out over the Santa Monica mountains. The Master Bedroom is spacious and welcoming, as is the Master Bathroom. The kitchen is obviously the kitchen of a chef. Carmelo offered to cook for me and I took him up on his offer. LET THIS GUY COOK FOR YOU! I have eaten in some of the best restaurants in the world but this meal was done by a true master . . . absolutely makes me want to book the house and the owner AGAIN! In summary: Amazing Home . . . spacious and private Artistic details abound through out the house Beautiful views of both the Pacific Ocean and Mountains Close to EVERYTHING in Malibu . . . especially Cross Creek and Nobu Close to the famous beaches Close to incredible mountain hikes Great HOST! (Thanks again Carmelo!) One of the best AirBnB experiences I've had.
Jon
2016-06-03T00:00:00Z
Everything about this home, location and your host, Carmelo, is just amazing. This is our second time to stay here, and we will be back again. Views, fresh air, beautiful home, great wifi. It's all wonderful.
Gloriane
2017-01-03T00:00:00Z
As you can see, we love Carmelo's home. Besides the stunning views, the home itself is built with love and that quality is seen throughout. There are so many unique design features, created by Carmelo himself. If you love to cook, you have everything you need in his wonderful kitchen. The tile work is magnificent and everything is laid out to be easy to use. Having now stayed in multiple Airbnb homes, Carmelo's place is by far the very best. It's amazing to find a place that has it all: beauty, location, views, comfort, quality and ease. We'll be back!
Gloriane
2017-02-06T00:00:00Z
Nice house wonderful owner. Carmelo is a great host.
Brian
2017-02-26T00:00:00Z
Carmelo's home is incredible. Built with love and care. You feel it in every corner from his exceptional tile work to his amazing artwork. We had amazing memories with our kids and we hope to be back year after year! The majestic views of the ocean will sweep you away. Thanks for your special space!
monica
2017-02-20T00:00:00Z
Tipo de Acomodação
Casa/apto inteiro
---
Tipo de Imóvel
Casa
---
Acomoda
6
---
Quartos
Malibu, Califórnia, Estados Unidos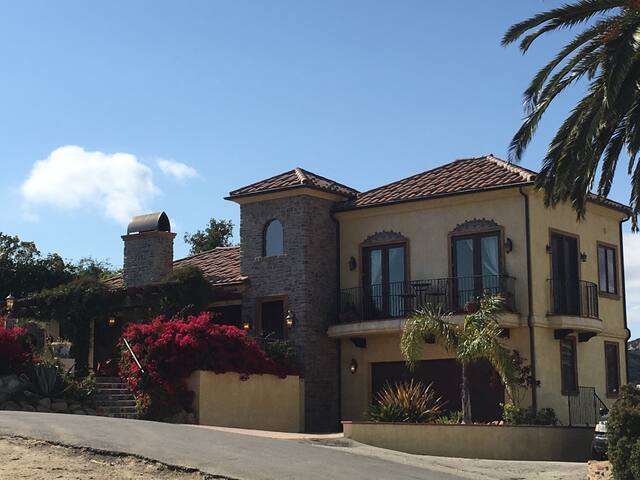 Isolada Octagon House ~ aninhado Decker Canyon nas colinas acima Malibu! Um espaço retiro privado pacífica com um grande deck de visualização de montanha. Cercado pela natureza, e as aves ~ luz dourada da tarde, mais estrelas, olhando & lua tarde assistindo à noite!
Pacífica, boêmio privado - espaço rústico chic! Um ambiente mágico projetado para desfrutar da natureza, meditar, yoga no convés, caminhadas, surf, provas de vinho, relaxar ou simplesmente "ser" .. você será abraçado pelas montanhas e coberta pelas estrelas! No entanto, se você está procurando atividade ~ há muitos grandes salas de degustação de vinhos e frios, hip restaurantes próximos ~ The Sunset Restaurant, Malibu Wines, The M Cafe, The Old Place e The Cornell Winery são alguns dos nossos favoritos! Para um super acessível "Happy Hour" você pode dirigir até Westward praia e confira o Restaurante Sunset ~ A Malibu locais favoritos :) Vintage Market, Zuma Sushi, tigelas Restaurant ~ Sunlife ~ Açaí do Spruzzo, sopas frescas etc .. Pato e Dive para boa comida e música são todos localizados nas proximidades entre Zuma Beach e Point Dume ~ a cerca de 15 minue. PS ~ O segundo quarto é um "Sleeping Loft" com uma cama queen-size ~ é como dormir em uma casa na árvore :)
Praias de Malibu, Malibu Wine Region, trilhas para caminhadas, andar de bicicleta (há uma ciclovia ao longo da Pacific Coast Highway, Grocers Vintage, lojas e restaurantes em frente a praia de Zuma ..about a 15 minutos de carro .. Restaurantes na área. Pato do -Ollie e Dive- boas vibrações, música ao vivo em alguns fins de semana. -O Farm em delícias Malibu Pier-orgânica localizada na extremidade de Malibu Pier, na água. Deve ir, ver, comer e beber. -O Sunset- impressionante happy hour e ambiente de praia bonita. Certifique-se de ir a tempo de pegar o Sunset. Ou multa de jantar no andar de cima. -O Velho Place- rústico, vaqueiro, Hipster, frieza. Artistas, músicos, modelos, atores e um danado multidão excêntrico amo este tesouro escondido. Localizado a cerca de 20 minutos no meio das montanhas de Malibu / Wine Country. Fazer reservas. Livros-se rapidamente e é muito pequeno e íntimo. -O Malibu Cafe-,, cenário ao ar livre enorme bela rústico. Localizado nas montanhas de Malibu / Wine Country. Lago, patos, pedalar barcos, surpreendentes para brunch, bebidas e relaxando no sol. Dê a si mesmo um par de horas lá. A propriedade é tão bonita! hora de ouro antes de pôr do sol ~ dramáticas luzes penduradas cintilação à noite :) -Neptunes NET-Este é um marco. Tem sido aqui para sempre !! Motocicleta, Surfista sair. marisco fresco, sopa de mariscos, peixe e batatas fritas etc ... Localizado na PCH em frente à praia. Andar para cima e ordem. -Ollo- acabou de abrir. Quadril, nervosa e fria. Menu incrível. bebidas incríveis. -Spruzzo Pizzaria- família italiana. Fogueiras. Comer ao ar livre na plataforma superior vista para o mar. -Nobu- É preciso dizer mais. É Nobu. Mais delicioso sushi, quadril, A-lista multidão quente, localizado na praia. cenário deslumbrante. -Tradinoi- Propriedade familiar italiano. Localizado no Cross Creek. As crianças podem brincar no parque, enquanto você sentar e comer. -Zuma Locals Sushi- ponto de encontro. Sushi delícia. -Coral Praia Cantina- local comida mexicana. -Taverna Tonys- Incredible grega delicia !! ambiente ao ar livre lindo sob as luzes brilhantes. -Café Habana- propriedade de um Vips locais, Cindy Crawford e Rande Gerber. retrocesso total a Cuba na década de 50. comida incrível. Karaoke em algumas noites. -Johns Garden- frescas, sanduíches, saladas, smoothies etc. Esta não é uma sentar. Você chamar ou ir em uma ordem, pegar e comer no parque exterior. -Bui Sushi- Gostoso Sushi, boas bebidas, hip multidão. -Cholada- comida tailandesa para baixo por Topanga. Entrega de pizza- D'amores Spruzzo Sunlife- Sucos orgânicos frescos, tigelas de açaí, Smoothies, bem-estar, Drip Coffee etc ... Lilys Café- Malibu buraco local na parede para obter um muito bom pequeno-almoço burrito. Pesado, mas oh tão gooood. E certifique-se de obter um lado de seu molho de pimenta amarela !! Não é um grande ajuste interno. Comer fora ou levar. -Se você tornar a unidade para Veneza ... estes são alguns dos nossos favs: -Gjelina -Tasting Kitchen -sal Air -Superba mercados-local Loja de conveniência -vintage -Pavillions -Ralphs Os agricultores Market- Localizado para baixo perto do meio do Malibu no Civic Center Way, todos os domingos de 10-3 Adegas locais E Tours- VINHO Olhe em linha para passeios de vinho locais em nossa Malibu Wine Country. É grande e bonita e uma ótima maneira de passar uma tarde. -Malibu Family Wines -Cornell Winery etc ...
The Octagon was such a fun mountain retreat for my girlfriends who were visiting for a wedding weekend. The twinkle lights on the patio were a welcoming touch when we drove in and made a perfect ambience to bundle up and hang out at night. Kathleen's decorative touches and little extras made this a nice experience- fully stocked kitchen, cozy blankets, movies etc. The giant stone shower was a once-in-a-lifetime experience...Take me back! I would definitely recommend this place. Kathleen was a gracious host and helpful communicator!
Hannah
2015-11-07T00:00:00Z
Kathleen was great. Called us while we were on our way to make sure we were all good. The Dolphin Octagon was more than what we were expecting. As peaceful a place as you could ever imagine. The fresh eucalyptus on the deck was a nice touch.
Bill
2016-02-11T00:00:00Z
This is such a wonderful place to stay. It is cozy, well-decorated, and unique. The location is great with easy access to the beach and hiking, as well as access to LA which is a short drive. Kathleen is so easy to work with and is very friendly. Highly recommend!
Geneva
2016-11-26T00:00:00Z
The space is great - just be prepared to be in the middle of nowhere - Kathleen was a great host however and the trip was wonderful!
Kasey
2017-02-26T00:00:00Z
We loved our experience at the Dolphin Octagon - such a unique and charming space. We loved having all the breathing room in the canyon and yet being able to drive down to the beach easily in ten minutes. Beds were very comfortable, kitchen well-stocked, and all the art! I read all the Gagosian and Malibu magazines. Plus the bathroom/tiled shower is a treat. Great outdoor decks and garden. We would love to return to stay here again. Highly recommended. Had a minor glitch with the hot water and the owner's son came down immediately to fix it. Thanks for a wonderful experience in Malibu! We'll be back.
Sarah
2016-10-17T00:00:00Z
The Dolphin Octagon was exactly what we needed for our girls weekend. It was quiet and secluded, with easy access to restaurants and anything we wanted to do!
Vonnie
2016-06-06T00:00:00Z
Staying at The Dolphin was a great experience in every way possible. Zero complaints here and I'm looking forward to our next visit.
Lionel
2016-05-16T00:00:00Z
Great place! Everything was just perfect and we had everything we needed. Easy to communicate with the host and there were no problems. A peaceful and beautiful place.
Laura
2016-11-13T00:00:00Z
Tipo de Acomodação
Casa/apto inteiro
---
Tipo de Imóvel
Casa
---
Acomoda
4
---
Quartos
Malibu, Califórnia, Estados Unidos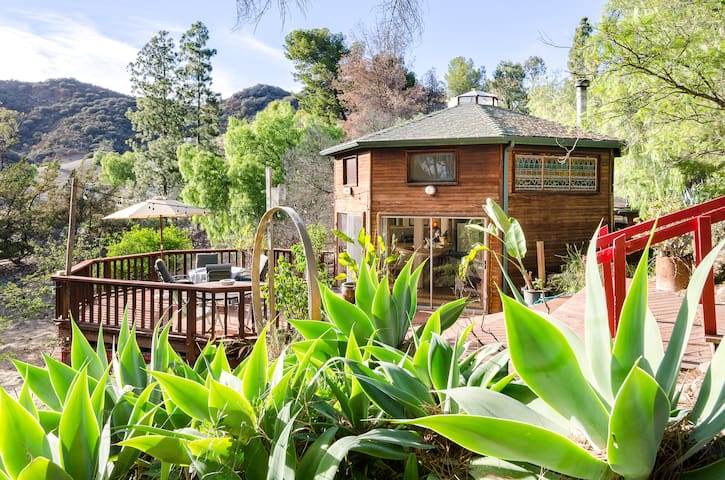 SPECIAL SPOT OVERLOOKING CHARMLEE NATURE PARK WITH OCEAN and BONEY RIDGE MOUNTAINS VIEWS. RURAL, QUIET, CLOSE TO PT DUME, AGOURA, OXNARD, WESTLAKE , YOU CAN BIKE RIDE, SURF, HIKE, VISIT WINERIES OR JUST CHILL, EAT GREAT FOOD AND GO TO BEACHES.
I have two different places, Animals are allowed in this one only, it has a private fenced yard with a doggie door. There is a washing machine with cold water only and a small dryer. It has a place to BBQ. The bed is extra long twin in living room for third guest. It has a complete kitchen.
This is a rural area. Decker Canyon has a history of largest deer in California. (Lots of owls, and wildlife) Great beaches on this end of Malibu. Cool places to go here live music at night.
Awesome experience staying at Dana's place. It is the perfect place for a weekend getaway and we loved that we could bring our dog! The place is nestled back in the hills but still only 10-15 minutes from the beach. Great location, great price, great host-- highly recommend staying here.
Rachel
2016-03-09T00:00:00Z
Staying here was such a wonderful experience. The house was a great place and very comfortable. The kitchen was very easy to use and the bed was so comfortable. We are city people and we were looking for a relaxing escape... We sure found it here. Everywhere you looked was a beautiful view. Dana was great and made everything super easy on us. The kitchen has been updated since the pictures were taken, as well as the TV and the living room a bit. I would stay here again in a second! We miss it already!
Susan
2016-04-09T00:00:00Z
Dana's place was a really nice retreat in the mountains above Malibu. Very quick and easy to get to from the PCH. Quiet private and relaxing. Close to lots of great beaches and trails. We had a great time.
Elaine
2016-03-16T00:00:00Z
Beautiful setting! Fabulous host!
Laura
2016-11-13T00:00:00Z
This was the perfect getaway! Beautiful scenery, clean home, quiet, and relaxing. The beach is a just a quick drive away, and it is very easy to get to other towns nearby. Perfect place to stay if you are looking to hike, bike, or just getaway from city life.
Elizabeth
2016-05-31T00:00:00Z
What a cute little place! We thoroughly enjoyed our stay, the surroundings and the quiet hills! Thank you Dana for sharing this special place with the AirBnB community
Stefanie
2016-08-01T00:00:00Z
The host was very communicative and welcoming. We really appreciated how much she went out of her way to accommodate us when we were trying to figure out what to do with our dog. Dana was very thoughtful and helpful. We LOVE that she allows dogs, that's usually what makes or breaks a stay for us. The apartment was clean and well located in a beautiful quiet area in the mountains. Everything was provided as noted and getting the key was easy. Dana was helpful with her directions too. We had a wonderful time here!
Katie
2015-11-15T00:00:00Z
Great space, has everything you need! I enjoyed my time in Malibu. Thank you!
Colleen
2016-09-12T00:00:00Z
Tipo de Acomodação
Casa inteira/apto
---
Tipo de Imóvel
Casa
---
Acomoda
3
---
Quartos
Malibu, Califórnia, Estados Unidos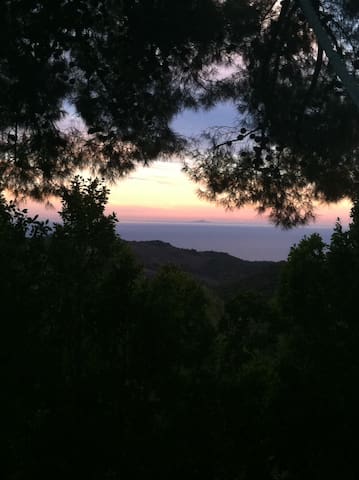 Charm and Peace in the Malibu Hills! Older home, wonderful place to rest your head after a busy day in the surrounding areas of Los Angeles and Malibu. Explore vineyards, beaches and our very nearby state parks (3!)
We are offering a room in a nice 3-level home in the unincorporated area of Agoura Hills/Malibu Hills. The room is on the third level and offers privacy from the rest of the house. There is a large TV room on the third floor as well, shared by everyone, with a huge couch and 55" LED Samsung TV. The room itself contains a small dresser, desk and 2 beds- one bed is a Full, the other is a twin. Perfect for a couple with a child. You will have your own private bathroom with tub and shower on the first floor as well as access to a shared bathroom on the third floor. The kitchen is located on the first floor and is newly remodeled with marble counter tops and new appliances. We offer breakfast foods, coffee and various teas for our guests. Shampoos, lotions and soaps are provided, as well as a hair dryer, in your private bathroom. The house is located in the Santa Monica Mountains, 6 minutes from the 101 freeway and 14 minutes from Pacific Coast Highway and the Malibu beaches. Pepperdine University is only 15 minutes away. Within walking distance are two new wineries called "Sip" and "Cornell" as well as a great restaurant known as "The Old Place." There are also beautiful places to hike near by. Three major state parks are close, one located just down the street. Although there is much to do, the area and neighborhood is very peaceful and quiet. We have a large, beautiful deck which is open to all for relaxing and visiting. Smoking is allowed outside, but not within the house. We are an accommodating and nice family of three (Mom, daughter-27, son-29) and will gladly talk with you about places and sites to check out. We also have two dogs named Ihop and Mason, both very old but very friendly. The house has a pool that you are free to use, however it's not heated other than a warming cover. In the summertime the pool is very refreshing with lounge chairs and floats to relax in. In winter, you'd have to be very brave and very hardy to swim in it! We hope you stay with us and look forward to meeting you!
We live in a quiet, peaceful neighborhood in the Santa Monica Mountains - walking distance to wineries and 10-15 minutes from many good restaurants, live entertainment and shopping. Our area is known for weddings and we have many staying with us that are attending events in the local area. Parking: Parking is on the street or in front of our gate/house. Please do not park in front of our neighbors house or block their driveway.
Karen was an excellent host. She is a very kind and caring human being. She does her best to make your stay a comfortable one and she is great at doing it. This was my first time using Airbnb and it has been an incredibly positive experience thanks to Karen. The location is a 15-20 minute drive from nearby beaches and hikes and very close to charming restaurants and cafes. I would absolutely recommend this listing to anyone of my friends or family. And breakfast was amazing too! 5 stars!
Lane
2016-08-02T00:00:00Z
Thank you Karen & Chase for easing the pain of sending our youngest to college. Your warmth as a hostess was radiating from the moment we arrived (early) with 12 bags full. Andy & I really feel like we have friends in the Santa Monica mountains. We loved the room and the comfort of your home. You knowledge of the area was invaluable and I wished Andy had checked with you before we hit Decker Canyon Road, at night, after a long day. We look forward to another stay in the not to distant future. Stay safe and we will see you soonest. Warm regards The Q's
Debbie
2015-08-27T00:00:00Z
Only stay at Karen and Chase's place if you want a wonderful experience. I would go so far as to say this was the ideal Airbnb experience. This is a family home, using Airbnb to help pay the bills, and doing so with a warm and friendly experience. In all my Airbnb stays, I have never seen such an agreeable array of breakfast items made available. They had excellent communication beforehand, met us when we arrived, and recommended two terrific local places to eat. We could not have felt more welcomed. Understand that this is a bit out-of-the-way if you are trying to explore Los Angeles. You can get into Los Angeles from here (45+ minute drive), but I would recommend using it as a base to see the countryside north of LA. There is some fantastic nature nearby (take a drive or bicycle on Mulholland Highway), but you are near enough to "civilization" if you would like. Karen in particular has lived in the area for years, so she is a fount of information. My best recommendation is that many of her guests are repeat visitors.
Chip
2016-04-08T00:00:00Z
Chase and Karen have a lovely home. They are fantastic hosts and I recommend their place to anyone. Thank you Chase and Karen.
James
2013-08-03T00:00:00Z
Don't get me wrong. I love staying at an Airbnb that has good reviews, but there were so many great reviews for Karen and Chase that I thought it might be too good to be true! But after staying with them I can honestly say that all the positive reviews barely do them justice. My stay was amazing! I was in Malibu on business and needed a place to stay for a few days and Karen and Chase's place was perfect! The house was beautiful, clean, and she had more toiletries available and at my disposal than if I would have stayed at a 5 star resort. Every morning I left, there were fruit, bagels, hard boiled eggs, croissants, coffee, tea, and more left for me for breakfast. And they were beyond helpful with sharing with me how to get around and everything I could possibly need nearby. I think they are by far the friendliest and most helpful AirBNB hosts I have had to date and that says a lot because I use the site often. My bed was so soft and comfortable and I slept like a baby every night. Towards the end of my stay on the second to last night, I found out I had to leave a day early and wouldn't be able to stay the last day. Which to be honest would've been half a day, because it would've been my checkout day. But Karen, being such a sweetheart tried relentlessly to get the site to give me my money back (even after I told her it was completely fine since it was so last minute) and promised that if the site didn't end up giving it back to me if I ever come back that she would give me a free night! I have never had someone work so tirelessly to make certain I was happy, taken care of, and had everything I need. Karen and Chase should run a hospitality workshop for other hosts, because I have never been so well looked after in my life. I had such an incredible stay with them, that I've already started looking at vacation days so I can go back! Well done Karen and Chase! I'm thoroughly impressed and I will definitely be back!
Tiffany
2014-09-08T00:00:00Z
Karen était géniale ! Sa grande maison magnifique avec la piscine était belle et accueillante. Elle nous a fait se sentir comme chez nous, j'y retournerai volontiers si je retourne à Thousand Oaks
Amélie
2015-09-04T00:00:00Z
This is an ideal location if you want to visit the Santa Monica Mountains and the Malibu beaches. It is only about an hour away from LAX. We could have stayed another week because there is so much to see in this part of California. We took Karen up on her suggestions of some places for sight seeing like the Paramount Ranch, where many old westerns were filmed, and Malibu Creek State Park. Pack your bathing suit because there are swimming holes there. Karen was approachable, friendly, and accommodating. We felt very welcome by Karen and Chase and would definitely visit here again.
Katie
2015-02-21T00:00:00Z
Our second visit so far... Staying at Karen and Chase's is the same as 'coming home'. If you're looking for comfortable, safe and the reassurance you're being taken care of... then this is the pillow you want to place your head. The kitchen alone becomes a hotspot for conversation (great breakfast options with little snacks to accommodate). Plenty of 'comfy' seating options throughout (in and out of) the house. The grounds are very private. A nice place to relax!
Gary
2016-02-26T00:00:00Z
Tipo de Acomodação
Quarto inteiro
---
Tipo de Imóvel
Casa
---
Acomoda
3
---
Quartos
Malibu, Califórnia, Estados Unidos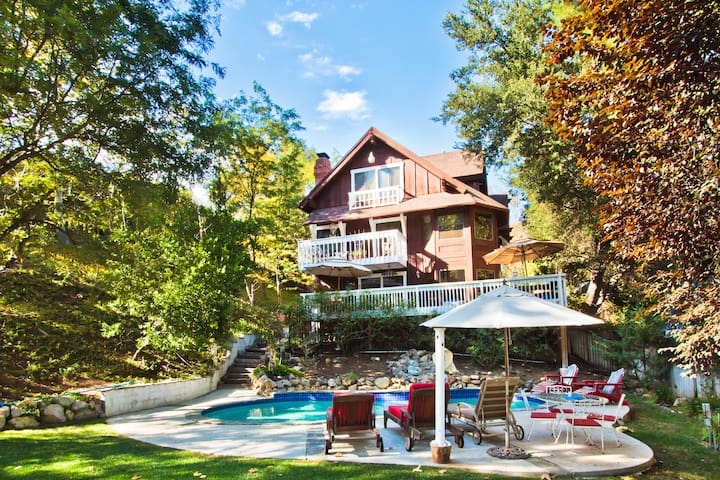 Perched atop a stunning Malibu Canyon Home is a unique studio ideal for a elusive, healing or very romantic getaway. Those seeking a special environment with open vistas, fresh clean air, expansive & elevated ocean views, and access to the Coast & Wine District in less then 3 miles will appreciate the turn-key commodities this space offers. You can "escape" and turn if all "off" OR you can elect Uber and WiFi phone if you need to be "on." (NOTE: Driving directions are required reading.)
The suite is approximately 780 square feet. It includes a walk out patio veranda that is the perfect place for either an evening barbecue or to connect with the sun in the eastern horizon as it comes up in the morning. It has a Mediterranean aesthetic and a broad vista architecture. Truly a unique space that reminds me of a tree-house because of its elevation and seclusion to the main house. The property is a working Ranchitta with goats, chickens, and horses. A generous private bath with a jet bath tub & walk-in tiled shower is what sets this space a part from the rest. This space is perfect for the environmentally conscious and those looking for healing. If you are interested in serenity and opportunities to go hiking, ride horses, relax, and enjoy your own space, this is the perfect spot for you. I'm equestrian and enjoy several horses, goat and chickens on my property and private trail access in the Santa Monica Mountains. Mountain & street biking opportunities abound. The infamous Latigo Canyon biking loop a 360 degree vista as well as a secluded creek oak covered moderate hike are out your back-door. The neighborhood is incredibly quiet and watchful -thus Malibu Escapes. However, the "Bu" scene, Zuma & Surfrider Beach, spectacular coastal drives and 365 degree views of the ocean, islands, and Santa Monica mountain range are out your back-door. In addition to all the amenities listed, the suite also is equipped with WiFi cell phone & date capabilities, Uber access, bubble bath for the jet bath tub in your Suite. If you wish, a local wine is made available upon your arrival and fresh ground coffee and authentic free range fertilized organic eggs you may gather in the morning. If you have horses and wish you bring them, please contact me about arranging extra corral space. Additionally, there is an exterior Jacuzzi hot tub - available upon request by special arrangement only. Additional fees apply. (I will need Use is at your own risk, and please you need to notify me 24 hours ahead of time if you want to use it.) The sofa easily accommodates an extra person. Drought conditions in California require me to assess extra fees for excessive water usage. (Brief daily showers and/or Jacuzzi use every three (3) days is considered acceptable.)
Este bairro oferece uma história do nativo americano original que suporta espiritualidade e uma conexão com a natureza. Há uma abundância de ar fresco e luz natural. Você vai encontrar paz e inspiração de todos os tipos. Ele está perfeitamente situado entre a Pacific Coast Highway e Interstate 101, dando-lhe amplo acesso à área da Grande Los Angeles. Você pode caminhar, bicicleta, ressaca, nadada, body board, degustação de vinhos e visitar a Universidade Pepperdine tudo dentro de 10-15 minutos. Há também um belo passeio riacho ao longo da propriedade.
Amazing place!
Hess
2017-03-01T00:00:00Z
Susan was very helpful in getting us setup with directions, meeting our car to guide us among the winding roads after dark, and showing us the spacious studio's features. The bathroom is excellent with 2 sinks, huge tiled shower, and a large bath/spa. Bed was comfortable, large closet space, and a large corner work desk with office chair that came in very handy. The succulent gardens on the property hillside are quite beautiful and make the front balcony a great place to sit, relax and enjoy the silence. Highly recommended.
Conrad
2016-06-12T00:00:00Z
Amazing neighborhood. I loved our stay here!
Elijah
2016-02-15T00:00:00Z
We absolutely LOVED our stay at the Cloud Suite! Susan went above and beyond as a hostess! We talked the day before our arrival and she gave me directions to grocery stores and ideas about what to bring up to the Suite. She had fresh cut flowers, a bottle of wine and a bouquet of roses for us (for our anniversary) when we arrived and coffee for the next morning. We were coming from the East and were a bit nervous about navigating the Latigo canyon Rd...but it was s(PHONE NUMBER HIDDEN) easy and VERY close to PCH yet nicely tucked in the canyon so you felt like you were a world away from everything. The views from the Suite were phenomenal..you can see throughout the canyon all the way to the ocean. This place was awesome and we would definitely stay again!
Meagan
2016-11-04T00:00:00Z
Truly wonderful experience. Falling asleep in the mountains and waking up with those views is a very relaxing experience. Couldn't have been happier. Susan is a wonderful host and made us very welcome.
Heath
2016-09-19T00:00:00Z
Susan's place is beyond beautiful, it's a lovely place to get away. She was very welcoming upon arrival and tried to make our stay exactly what we wanted. I can't say enough about the (URL HIDDEN) really a special secret place.
joni
2015-11-15T00:00:00Z
Great location in the hills of Malibu!
Johnathan
2016-06-06T00:00:00Z
Susan is lovely.. She is so communicative and made the whole trip easy for us. Her kindness and care shine through in every conversation. she really wants us to have a lovely and peaceful time.
justine
2016-08-20T00:00:00Z
Tipo de Acomodação
Casa/apto inteiro
---
Tipo de Imóvel
Casa
---
Acomoda
3
---
Quartos
Malibu, Califórnia, Estados Unidos
This lovely spacious suite with private entrance & private bathroom is the ground floor level of the main house on 10 acres on a rural property in the Santa Monica mountains with it's own waterfall & canyon views. Close to horseback riding, the famous backbone trail, hiking & biking, Malibu wine safari, Saddle Rock Garden Dinners, Malibu wines & tasting. Short drive to beaches and Malibu restaurants. A beautiful drive to Pepperdine University activities, Malibu Pier and famous Surfrider beach.
Esta espaçosa suite com entrada privativa e casa de banho privada, é mais como um estúdio com uma cama de casal e uma king size extremamente confortável sofá-cama. O quarto tem uma máquina de café Keurig, com café Starbucks, torradeira, microondas, cafeteira e uma pequena geladeira e pia. No entanto, o espaço não tem uma cozinha, ou equipamentos de cozinha. É o nível do solo no piso térreo em uma casa de costume, projetado e construído pelo proprietário. Desfrutar da sensação de estar rodeado de madeira personalizada artesanal. Você está convidado a fazer uma caminhada em torno da propriedade e usar a rede e áreas de estar sob as árvores. Há uma área de estar privada ao lado do lago fora da sua porta da frente, que é apenas para os nossos hóspedes privada. local perfeito para um café da manhã ou uma bebida à noite. Este é o refúgio ideal para quem quer fugir e relaxar, perfeito para escritores, rodeado pela beleza e natureza. Temos um spa cottage, aqui na propriedade. Reserve um tratamento facial ou massagem e mergulhar na paz e tranquilidade. Grande estacionamento fácil acesso. Nota * Se a reserva é para duas pessoas, mas você requerem a segunda cama (sofá-cama) que você precisa para solicitar que no momento da reserva, para que possamos tê-lo feito até antes da sua chegada. Nota * há um custo extra para 3 e 4 pessoas * Nota: conexão do telefone celular é muito precária nas gargantas. Você pode usar nossa linha de terra como um número de emergência. conexão Wi-Fi gratuito está disponível. somente para adultos, sem filhos menores de 12 anos, não animais de estimação.
Nossa casa "comitiva deste Falls Rancho" está localizado dentro da área de montanhas de Santa Monica de recreação nacional (SMMNRA). Há muitas trilhas bela caminhada / ciclismo, incluindo o famoso Backbone mundo Trail, somos uma paragem de uma noite conveniente. Estamos localizados no meio das rotas de formação para ciclistas internacionais, incluindo treinamento para o Tour de France e outros grandes eventos de ciclismo. (URL HIDDEN) Estamos também perto de "Vinhos de Malibu" vinhedos, degustação de localização e Wine Safari. Malibu tem alguns ótimos restaurantes e lojas e das praias mundialmente famosas, claro, um belo carro canyon 6 milhas para Leo Carillo praia e State Park e Pacific Coast Highway. Somos aproximadamente. 1 hora da Universal Studios, Venice Beach e Santa Barbara e aprox. 1 1/2 horas da Disneyland e Knotts Berry Farm. Somos aproximadamente. 21/2 horas de San Diego e do Sea World. aeroporto internacional de Los Angeles é de aprox. 1 h 15 min, com um lindo passeio ao longo Pacific Coast Highway.
Please come here. It's amazing.
Jake
2017-03-24T00:00:00Z
This is a brilliant country house. Clean and beautiful. The hosts are really nice. If you like country life, this is the perfect place for you. But you'd better arrive the place in daytime. It's hard to find during the night and there's no signal around.
Cissie
2016-12-27T00:00:00Z
We had a great stay here. The suite is beautiful and very spacious. Gary and Ali were very welcoming and kind. The local area is great too.
Nicole
2016-09-19T00:00:00Z
My girlfriend and I came here for our two year anniversary and couldn't be more happy about our choice. I can't say enough good things about this place. The property was awesome with an amazing waterfall, and lots of little trails to explore. The suite was spacious and comfortable. Gary and Ali are extremely friendly, warm and hospitable hosts. They make you feel at home, while giving you all the privacy you could ask for. I highly recommend staying here, and I can't wait to come back.
Michael
2016-05-23T00:00:00Z
Gary and Ali were super sweet and great hosts. They even left some fresh squeeze organic orange juice that was the best I have ever had! They also left some snacks which was very nice of them. Their property is beyond beautiful and they make you feel comfortable wandering around. I would highly recommend this luxury suite! I know we will be back!
Brittany
2017-01-29T00:00:00Z
Very pleasant stay. Comfortable and clean. You can tell the owners take pride in their home. They were also very kind to lead us to their property when we were slightly lost.
Kent
2016-09-17T00:00:00Z
This was a perfect getaway for us. The hosts were very friendly, personable, and informative. They provided us suggestions for places to see. I never visited Calamigos Ranch even though I grew up near this area, so that was a great suggestion from the hosts. One of my favorite places is Paradise Cove, so it only took about 15 minutes or so to get there. The room was perfect after a long day of hiking. There was an option for the queen bed or a couch bed, which looked larger. We decided to sleep on the sofa-bed because it felt more comfortable for us. I probably had the best sleep there then I have had in a long time. I loved the organic juice, little treats, and "welcome" food basket in the room. It made our entrance into the room feel very cozy. The testers of lotions, soap, etc. were an exciting treat. I love the smell of lavender, so that lotion was my favorite. Location and room are very private. The grounds were perfect for us because we like to explore and go hiking. We enjoyed our stay immensely. I showed my friends photos of the area and hiking spots and now they all want to stay there too. I hope you're ready for a lot more bookings. :-) This place is on the list of locations to return to again and again.
Jenna
2016-05-31T00:00:00Z
They reached out to us in advance and helped suggest locations for local hikes. The day of they reached out to ensure they could be home when we arrived. In the room they had a welcome basket filled with snacks and her hand-made soaps along with fresh fruit cups and organic orange juice.
Kirsten
2016-05-29T00:00:00Z
Tipo de Acomodação
Quarto inteiro
---
Tipo de Imóvel
Casa
---
Acomoda
4
---
Quartos
Malibu, Califórnia, Estados Unidos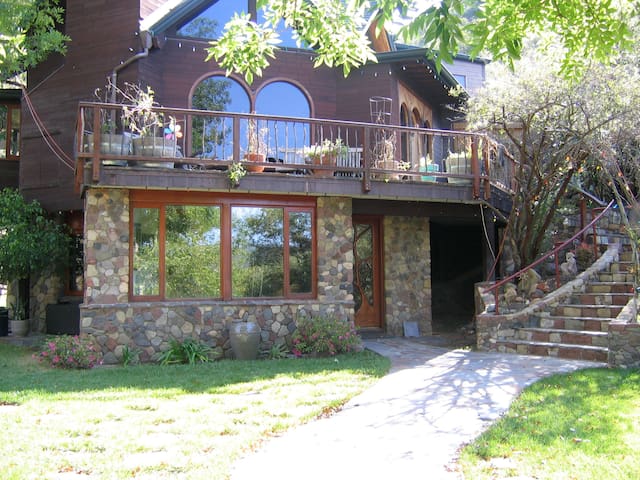 Rustic & Historic one-room House detailed with modern amenities to make your stay comfortable, tranquil park-like setting in our garden that epitomizes "Old Malibu" charm, beautifully wild and expansive canyon environment minutes from sandy beaches, hiking and biking trails, sophisticated restaurants, bars, shopping, classes and spa opportunities. Incredibly peaceful and very quiet, your privacy and comfort is of utmost importance to us, we welcome you with open, friendly care and service.
We invite you to go off-grid for a few days, chill, revitalize and restore yourself. A spacious large one room cabin features a California King Bed with designer linens. A small but cozy table with chairs to the side of a sink area with cappuccino/coffee maker, electric teapot and modern toaster oven. Real dishes, glasses and silverware provided. Small refrigerator, high speed wireless internet and Free Netflix on streaming television or bring your own CD's to use on the TV's player. A real fireplace with an electric heater that you can turn on for ambiance alone or for heat. An attached alcove space has a large built-in writing desk, an air conditioning unit that keeps the entire space cool, and plenty of plugs for all your personal devices. Windows look out into the garden with mature trees and bird feeders that attract an incredible and diverse array of aviary visitors, we consider our location a bird sanctuary. You may get lucky to see various wildlife as they also sometimes reveal themselves in our rural environment. Ocean and garden views from the doors, windows and patios. A fully accented large tiled bathroom that contains a claw-foot tub/shower, pedestal sink and toilet. Plenty of fresh towel sets . Large floor to ceiling mirrored closet with shelving, long and short hanging areas, an ironing board with iron and place to store your travel bags out of the way. Front and back patios will lead into the garden, with several sitting and viewing areas.
Driving up to the property is exciting and beautiful as you wind your way up our 2.7 mile two-lane (very safe and well-paved) road in Corral Canyon. The views are spectacular and you will become familiar with the wild nature of Malibu. Up above the glitterati of the city you will experience the real appeal of our famous location. Pull over in a turn-out and watch listen, smell and breathe. Our small, tight knit neighborhood of single family homes is quiet, peaceful and very safe. Go for a walk in any direction and be greeted by friendly faces and open attitudes.
Jackie is an absolute sweetheart, and the Robbins Nest is just as it's pictured and more. Peaceful, well appointed, and private. And the location is fantastic. The ride up to the place from PCH was a treat on the motorcycle every time. Highly recommended.
warren
2016-05-04T00:00:00Z
First thing you notice is the drive up the mountain overlooking the ocean. Just stunning and it feels like you are escaping and driving into the otherworldly. Jackie met me as I drove up and showed me around. It truly feels like a haven, a bird's nest, surrounded by lush greens and secluded from the owner's main home. Inside, it's very charming and a nice cabin feel. She had the fireplace going and welcome goodies. She also had binders of hiking trails, shopping, you name it to help with some local attractions. The claw foot tub was a great escape and the bed super comfy. We enjoyed driving further up the mountain and enjoyed a pretty epic hike. Overall, definitely plan to make this a home away from home.
Amy
2017-02-20T00:00:00Z
Lovely little spot in the canyon for a weekend getaway. Jackie was a sweet host.
Ari
2015-09-28T00:00:00Z
I'll write a longer review when my road trip is over. All I can say for now is it's as close to perfection as a person could find on earth. No hyperbole. Whether you are from down the mountain or the other side of the planet, you will NOT be disappointed. Jackie is a wonderful host and the house is spotless and very well kept, in every way. I'm enjoying the last few hours here and really don't want to leave.
Patrick
2017-02-02T00:00:00Z
Very peaceful hideaway in the hills above the Malibu coastline. Spectacular views and easy access to walls both at coast level and in the hills. Very comfortable bed, clean and with great wifi Communication with Jackie was very easy from start to finish.
Pip
2017-01-03T00:00:00Z
I had a wonderful stay in Jackie's cabin. The property is just magical and Jackie has considered every detail for how to make her guests feel welcome, from the beautiful furnishings to the clear instructions to the thorough recommendations on the local scene. She is a flexible, knowledgeable and very considerate host. I felt lucky to have the chance to stay here, high in the Malibu hills. The Robbins Nest is a unique getaway and gives you a whole new way to experience the California coast.
Erica
2015-09-22T00:00:00Z
I stayed at the Robbins Nest for Valentine's/President's Day weekend and I cannot say enough amazing things about this location, the host, and overall experience. When we arrived, a little turned around as our GPS took us an odd way into the property, Jackie was there with a huge smile and welcoming wave, letting us know we were in the right place. She gave us a great tour of the space, thought of EVERYTHING you could possibly need, including instructional manuals for everything from how the coffee machine works to insider tips on local beaches and hikes. Jackie describes the Nest as an opportunity to "reconnect with nature," which I found a totally accurate description. The cabin itself is very secluded, private, quiet, surrounded by trees (some with grapefruit that Jackie provides a simple juicer for fresh juice in the morning!) and birds as well as beautiful views of the canyon and all the way to the water. My boyfriend and I were able to go hiking, go to the beach, and also retreat to our quiet nest in the canyons of Malibu when we wanted to be alone and in love. If you're looking for a quiet, secluded, private, get away location, with a great host who is responsive to every need, but also gives you complete privacy and is just as hands off as hands on, then the Robbins Nest is for you. It was Valentine's Day so Jackie even provided cute little heart shaped candies, flowers, candles, and a nice bottle of red wine for our arrival--truly going above and beyond what was already an impressive hosting experience. I've already thanked Jackie on several occasions but I cannot thank her enough for such a wonderful weekend! We would definitely return.
Carly
2016-02-16T00:00:00Z
Jackie is a fantastic host. Her guest house is just next to her house but it does have privacy. Photos are very accurate. What more could you want? Thanks Jackie!
Ben
2016-09-05T00:00:00Z
Tipo de Acomodação
Casa/apto inteiro
---
Tipo de Imóvel
Casa
---
Acomoda
2
---
Quartos
Malibu, Califórnia, Estados Unidos
Um estúdio acolhedor, convidado apt. num carvalho alinhado Malibu Canyon. entrada privativa, cozinha pequena com geladeira de tamanho completo, o sistema Keurig, torradeira, microondas e grill. banho de travertino. otorrinolaringológico completo. sistema com 55 "tela plana, Direct TV e internet.
Este apartamento é basicamente um espaço de home theater muito grande, que tem de estar confortável e uma cama de casal. Temos espaço de trabalho disponível, internet, e é próprio sistema de aquecimento e AC. É um espaço maravilhoso para um casal.
Nosso bairro está situado nas montanhas de Santa Monica, cercado por milhares de acres de espaço aberto. fogo estradas, trilhas para caminhadas e passeios de bicicleta fabulosa estrada esperam por você. Existem várias possibilidades de escalada nas proximidades. Claro, se você escolher, famosas praias de surfe de Malibu estão a poucos minutos. Esta é também uma grande área vitícola, e vinho de turismo está disponível, a poucos minutos de distância! Nós podemos direcioná-lo para todos os destinos melhor escondidas!
Bruce and his wife, Mary, are lovely, warm people. The guesthouse is beside their home in spectacular Latigo Canyon. The spotlessly maintained guesthouse is beautiful, with top line finishes and gorgeous grounds. And fruit bearing orange and lemon trees! We were greeted by this lovely couple, their 2 charming and calm Whippets, fresh blooms in the house, and a kitchen stocked with coffee, cream, fruit, and yogurt. The kitchen is very nicely equipped. The stunning bathroom is stocked with toiletries. This was a terrific find. I only wish we had stayed longer.
Linda
2015-03-24T00:00:00Z
My wife and I were in LA caring for our son who broke his ankle climbing. After 11 days, it was definitely time for Chay and I to get away. I wanted to try the Malibu area and wanted to try a airbnb property. I found Bruce and Mary's guest room and immediately liked what I saw. An email to Bruce was returned promptly and Chay and I were off. We arrived later than expected but communication was smooth and we arrived to our property a little tired but ready to relax in the hills of Malibu. The room is really closer to a small apartment and serves as Bruce ' s theater room and film editing office. The beautifully finished space includes a nice 5.1 surround system with a 55" LCD screen, a really comfortable bed (Mary takes pride in creating a sumptuous sleep experience for their guests), a nicely stocked small kitchen complete with snacks, breakfast scones and fruit, yogurt, granola, etc. I really got the sense Bruce and Mary had stocked the property as if they were the guests. We only had 1 night but both Chay and I quipped that we will need to come back after another week and a half taking care of our son. In all sincerity, if you want a quality property near Malibu, hosts that are warm, helpful, and friendly, look no further. Highly recommended.
Jim
2014-09-07T00:00:00Z
We loved staying at Bruce's studo! So relaxing and the space is awesome. He is a great host and made sure we had everything we needed. We wish we could stay longer!
Jennifer
2015-10-29T00:00:00Z
After driving through the Malibu canyons a couple weeks earlier, I wondered what it was like to live there. I saw Bruce's guest studio apartment, and I couldn't resist the opportunity. From the photos, the place looked amazing. And it lived up to the pictures! The place provided 100% privacy, was impeccably clean, and incredibly comfortable. Bruce was an amazing host. He was very responsive throughout my stay. I couldn't have asked for anything more. It was a great experience. I give Bruce and his studio highest marks.
James
2016-02-17T00:00:00Z
Amazing place!! Bruce and Mary are fantastic hosts and made our weekend getaway absolutely perfect, they exceeded all of our expectations. The bed was comfortable and everything you needed was on hand. Downtown Malibu is a short Uber or Lyft away. We ate at The Sunset Restaurant and had an amazing dinner. The next day we drove into town and bought steak and salmon at the vintage grocers and used the grill to make a very nice meal. Bruce and Mary made us feel like family and can't wait to come back again!
Douglas
2017-03-13T00:00:00Z
The apartment was very comfortable and the bathroom luxurious. We loved the Malibu canyon location. Mary and Bruce were so welcoming we felt like relatives - little treats like smoked salmon, coffee and pastries were warmly appreciated. We were sorry to leave so soon. We will be back!
Peter
2015-07-12T00:00:00Z
Our stay at Bruce's apartment tucked away in Malibu was a highlight of our trip. The location provided a quiet, tranquil haven. The bed was very comfortable and the kitchen well-equipped. We shopped in Santa Monica on the way from the airport but there are food stores along the Pacific Coast Highway if that works better for you. Bruce supplied great coffee for the provided Rolls Royce of coffee-makers, along with OJ, eggs and chocolate! The freshly picked roses were a lovely touch. Bruce was very accommodating with both our check-in and check-out times. We wouldn't hesitate to recommend this hideaway retreat. Thanks Bruce!
Sarah (Sally)
2015-09-28T00:00:00Z
Bruce was a fantastic host who was very welcoming and accommodating. The amenities of the room were all top notch (TV, internet, AC) and the room was extremely clean upon arrival. The surrounding areas were very quiet, peaceful, and the views were especially impressive. I couldn't have asked for a better place to stay in Malibu!
Kris
2016-09-06T00:00:00Z
Tipo de Acomodação
Casa/apto inteiro
---
Tipo de Imóvel
Apartamento
---
Acomoda
2
---
Quartos
Malibu, Califórnia, Estados Unidos
casa de arquitetura deslumbrante com paredes de vidro retrátil aberto a vista deslumbrante para o mar e para a montanha, coberta sensação ao ar livre. suite principal (em cima), fl principal. w / cozinha elegante, casa de banho, pavimentos envoltório, fl fundo. Quarto w / banheiro, lavanderia.
casa de três andares com a parede da fachada frontal de vidro, olhando para uma vista inesquecível para o mar. A casa é uma obra de arte arquitectónica, a localização é muito calma e pacífica.
Calmo, sereno, tranquilo, calmo, calma, segura ... isto é uma verdadeira comunidade, onde os vizinhos olhar para o outro. Eu sou um membro da Arson Watch, e oficiais da lei e socorristas vivem no bloco, de modo que você vai se sentir seguro.
Amazing place to stay, high in the Malibu hills. Spectacular views, once in a lifetime location. Is every bit as good as the pictures and descriptions.
Jimmy
2015-06-20T00:00:00Z
To be in the actual house is an entirely elevated experience then looking at the gorgeous photos. From the drive up to the estate to the moment we set foot in the house we knew we've arrived at an enchanted special place. The natural lighting interacts with the architectural brilliance perfectly, which made our filming experience a pleasure. You can't have a more graceful, elegant and attentive host than Jennifer. Our film crew and client had a wonderful time at the luxurious Scorpiesse.
Toby
2016-02-10T00:00:00Z
The Scorpiesse is perfect for a relaxing weekend getaway!!! Jennifer, the owner, is so nice and always willingly to help. Jerri, the housekeeper, is so kind and thorough. Astonishing view, cozy rooms, modern interior and great location, everything here is EXTRAORDINARY! We've already planned on coming back in the near future because we can't keep thinking of this pleasant stay since we left. Overall, highly recommend. Please don't hesitate and enjoy! Every penny you spent on will worth! And again, merci Jennifer and Jerri for everything! Amy Fu
Xiaoge
2015-03-29T00:00:00Z
Place is off the chart amazing!
Greg
2017-04-02T00:00:00Z
Unbeatable views of the canyon and Pacific Ocean! This is the perfect spot if you want to be away from the crowds and highway, but close enough to town to enjoy the restaurants and beach. Great hiking in the area. Sunrise and sunset from the home are outstanding. Jennifer and Xavier were gracious hosts and their communication was outstanding.
Anne
2016-12-06T00:00:00Z
Scorpiesse is a wonderful home that has amazing views that allow you to enjoy the true beauty of Malibu and Southern California. The home was just as we had envisioned in the photos and video. We were not able to meet Jennifer but Xavier was able to assist us in accessing the home as well as being available at all times if we had questions or just needed a recommendation. We will be back to Scorpiesse soon as we loved the stay.
Robert
2016-06-25T00:00:00Z
It was GREAT! Most beautiful house I have ever stayed in! View is just not describable!!!! Jennifer was very helpful in any questions we had even though I did not get a chance to meet her this time. Full privacy!!! Thank you Jennifer it was amazing!!!
Arsen
2014-09-30T00:00:00Z
I set up a plan to propose to my girlfriend in Malibu and one of the elements was to have a beautiful house to bring her afterwords. This place was PERFECT. I secretly arranged for her best friends from the east coast to be in the home when we arrived. They were able to check in easily with Jennifer while I was proposing nearby. She is a great host, very accommodating. The plan went off without a hitch and we all enjoyed the amazing house all weekend. The views are incredible. The inside is clean, spacious and beautifully decorated. We took advantage of the grill and ate outside, taking in the views. Would recommend this place to anyone who needs a relaxing luxury getaway or backdrop for a very special occasion.
aaron
2016-10-23T00:00:00Z
Tipo de Acomodação
Casa/apto inteiro
---
Tipo de Imóvel
Casa
---
Acomoda
4
---
Quartos
Malibu, Califórnia, Estados Unidos
Malibu funky-delic, converted bedroom canyon apartment underneath family home. Private entrance, bathroom, bedroom, fridge, microwave, patio and hot tub. Private mountain views, 2 miles from PCH and beaches, Pepperdine, shopping. State park land and hikes 5 minutes away without having to go down hill.
Private in every way yet part of a family home, this space allows for kick back privacy, while not worrying about tip-toeing around.
Crickets, frogs, coyotes and deer are your neighbors in this canyon community, yet you are only 2 miles from the PCH and Malibu's beaches and shopping. We are also only 45 minutes from LAX, 25 minutes from Santa Monica, Venice, and any number of local famous stops on your list. Our neighborhood is tight and friendly--you can step out your door and likely find the kindly neighbor walking their dog, willing to offer any number of recommendations for your day. State park hiking and biking is literally a 5-minute car ride outside your door, with numerous trails, rocks to climb, and caves to explore in the Santa Monica mountains--some of the most exquisite outdoor experiences for the beginning or advanced hiker/explorer. Waterfalls and famous hiking trails greet you at the bottom of the canyon at PCH as well, along with some of the most exquisite views in the world as you drive up.
We really enjoyed our stay! The room was very clean and it was like your own little apartment with your own bathroom and kitchen supplies. The bed was also very comfortable and the hot tub was great! Thank you for hosting us!
Clark
2016-11-05T00:00:00Z
She made us feel very welcome with her note. Also, greeted us at the gate, but didn't bother us during our stay. Perfect hosts for Air BnB!
Seth
2014-09-22T00:00:00Z
Amazing location! Cindy was an excellent host and even left breakfast and snacks in the fridge for us. Perfect location if you want to hike and experience Malibu. There was three of us during our stay and we felt that we had enough room.
Patricia
2016-02-22T00:00:00Z
Cindy went above and beyond. The place was clean, private, and she even had wine for us the the fridge! It was easy to find thanks to her detailed instructions, and, despite a warning of possible noise from teenage boys, was peaceful and quiet. We have a lovely stay.
Irina
2016-08-22T00:00:00Z
I very much enjoyed staying in Cindy's very comfortable, private guest apartment. All the comforts of home are provided including a toaster oven feature under the microwave, a coffee maker and coffee. I went to Malibu for rest and rejuvenation and that was accomplished in spades. The privacy, beautiful views, and the hot tub really aided in that mission! Cindy was a very hospitable and considerate host. It was a wonderful stay and I highly recommend it for any traveler.
Angelique
2015-04-25T00:00:00Z
This place is incredible! Cindy's place is nestled in the mountains--a very scenic, if windy, drive up from the coast. There's unbelievable hiking only a short drive from the house, and if you're more of a homebody, the view from the hottub's not half bad either. The bed was comfortable, and I felt very at home.
Megan
2017-03-04T00:00:00Z
First time using airnb and I absolutely had the BEST experience. Cindy was an amazing host I unfortunately didn't get to meet her but the communication was very clear and so were the instructions on how the place works. If needing a place in Malibu for a nice romantic getaway definitely this is your place.
Susie
2017-02-06T00:00:00Z
There aren't enough stars on here for Cindy and Seth and their wonderful place. I have stayed with them numerous times for lengthy stays and the experience is always top notch. I cannot recommend the place more highly!
Chris
2017-04-06T00:00:00Z
Tipo de Acomodação
Quarto privado
---
Tipo de Imóvel
Casa
---
Acomoda
3
---
Quartos
Malibu, Califórnia, Estados Unidos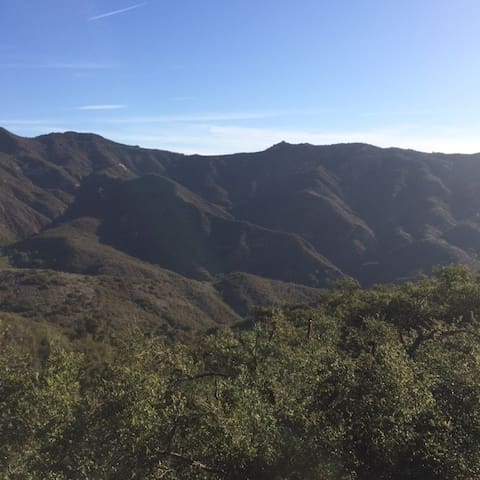 Charming pequena casa de hóspedes de um quarto w / loft no estabelecimento de cavalo no Malibu Mtns. Fugir do tráfego e da loucura da cidade e passar algum tempo a beber vinho e ver o pôr do sol no belo Malibu Mtns. O Cottage é um destino ideal para degustação de vinhos, caminhadas, mtn bike, ciclismo de rua, praia indo ou apenas relaxar em reclusão pacífica. Experimente a magia da Monica Faixa de Santa montanha durante todo o ano. Estamos a 10 milhas de Malibu e 5 milhas da rodovia 101.
Nota: Eu fiz algumas atualizações desde 2017/02/10. Existe agora uma porta no banheiro e há um fogão a gás. :-) A parte principal da casa é constituída por uma cozinha com mini-frigorífico (FYI mini-frigorífico é pequeno e tem um congelador ainda menor), um fogão a gás 4 queimadores, forno, torradeira, microondas, cafeteira, etc. Há uma área de jantar e uma pequena sala de estar com tV e uma pequena coleção de filmes (desculpe não há tV a cabo). Há um loft e uma casa de banho elegante com um chuveiro. Separado da sala principal há um pequeno quarto que tem a sua própria entrada (ver fotos dos quartos). Há uma cama de casal no quarto e uma cama de casal no loft. Infelizmente, não há wifi para trazer um livro e desfrutar de desconectar o cabo da :-) matriz.
A propriedade aqui são belos e a magia de montanhas de Santa Monica é suave e inspirador. Apesar de estar a 10 minutos para a civilização, ela se sente como um outro mundo. Todo mundo gosta de a beleza de ter café ou chá da manhã no deck na paz e serenidade do rancho. Este é um ótimo lugar para escrever, usar como um acampamento base para aventuras de recreação, fazer ioga, planejar aventuras de vinho locais, ou simplesmente relaxar. As noites são glorioso, um céu repleto de estrelas, uma lua grande e natureza ao redor. O bairro, se você poderia chamá-lo de um bairro é composto por casas espalhadas pelas montanhas. Existem algumas casas em propriedades adjacentes relativamente perto, mas você vai sentir como se estivesse em paz isolado e escondido privada afastado em seu próprio mundo de montanha.
This was the perfect place for a quiet mom and daughter weekend. Rafael made sure to give us good directions and we had no trouble getting there. The setting is picturesque and we loved the sounds of the horses munching and moving around. We had everything we needed and really felt at home in the cottage.
Gigi
2016-10-17T00:00:00Z
A beautiful location not far from the coast made for a great girls' weekend retreat. Waking up to a gorgeous sunrise, having breakfast on the deck just yards away from horses having theirs - for a city girl, that was just way too exciting, but our host was patient with the horse questions. A great spot to explore the beach, the Getty Villa, and local restaurants and vineyards!
Teresa
2016-10-03T00:00:00Z
Great spot if you want to get away from the city. The cottage feels like home, the host provided with everything you need. Definitely will come back in the future
Kevin
2017-02-20T00:00:00Z
This place is absolutely amazing. It is so quiet and peaceful and exactly what we were looking for. Rafael was easy to contact and answered any questions we needed. He had juice, coffee and bagels provided for breakfast which definitely came in handy the next morning as we arrived late the previous night. It was easy to find using our GPS and Rafael's directions also helped when we arrived. The views are breath taking. This place does not disappoint. Highly recommended!
Luke
2016-11-03T00:00:00Z
Three of us stayed here for one night girls getaway. The place is just as described, very clean and comfy. It is located right next to horse pastures and sitting outside in the morning to enjoy the scenery was lovely. It was close to where we wanted to go (Malibu Wines and Malibu Cafe) and we really enjoyed our stay. Rafael was great with communication and left us some breakfast foods and coffee supplies, which was so nice to have. Would highly recommend!
Ashley
2016-11-20T00:00:00Z
Could not have been happier with my stay at Rafael's place. Perfect location, great view, and lovely home. Communicating w Rafael was easy, and being there was incredibly relaxed. Definitely a place I hope to stay at again.
Azazel
2016-10-23T00:00:00Z
This was a fantastic getaway for the long weekend & Raphael was a wonderful host! He kept in touch during our stay to ensure that we were happy and went out of his way to assist us with check-in when our plans changed (we had to check-in later than originally scheduled). The breakfast items in the fridge were a very thoughtful touch as well (bagels, orange juice, milk etc). The cottage is really lovely and caters to everything you could want (it is quiet, secluded, very clean and has a great little kitchen for cooking). The location was perfect for us as we did a tour at the Saddlerock Ranch/Vineyard, which is only a couple of miles down the road. A+ all round – would love to stay here again in the future!
Genevieve
2016-09-07T00:00:00Z
We had a really nice stay, our beds were comfortable, the cottage was very nice, the location perfect. Our host, Rafael was friendly, although we did not meet while we were (just a night), he provided us with all the essential information and made himself available for further questions. Wish we could stay longer! I totally recommend staying here.
Daniel
2016-10-22T00:00:00Z
Tipo de Acomodação
Casa/apto inteiro
---
Tipo de Imóvel
Hospedaria
---
Acomoda
4
---
Quartos
Malibu, Califórnia, Estados Unidos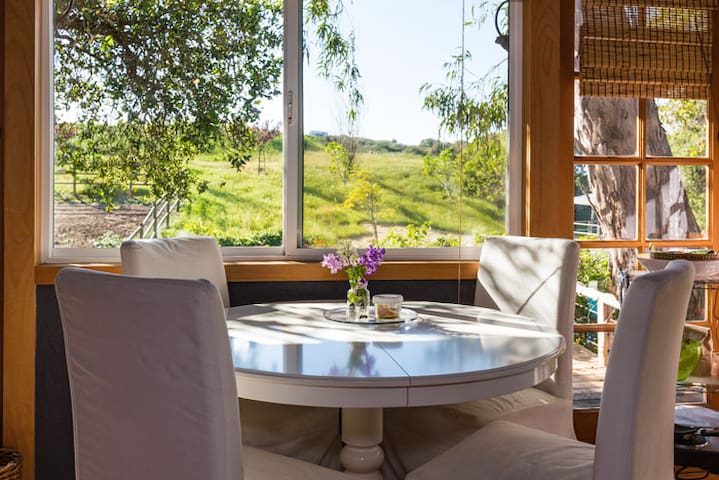 Malibu - Airbnb
:
Média de

5

de

5

estrelas, de acordo com

1912

avaliações de hóspedes
1

–

18

de

Mais de 300 Espaços para Alugar
Insira as datas para ver o preço total. Taxas adicionais serão aplicadas. Impostos podem ser adicionados.