We had such a lovely time in Nova Scotia, we didn't want to go home! Maxine and cob are wonderful hosts and really made us feel safe and welcome. They gave us lots of local tips and suggestions which made our holiday experience that much better. I wouldn't hesitate to recommend their place to anyone visiting Halifax. (They even have cable and we were able to catch up on game of thrones!!) Thanks again for having us
Rhys
2016-07-12T00:00:00Z
This place is awesome... great to sleep... great to stay... very tidy... have your own coffee even... and: great hosts! Love you... recommend you! John
Johannes
2016-03-23T00:00:00Z
As soon as we arrived at the doorstep and the door was opened we felt right at home! The hospitality was incredible! The first day we arrived we needed to make our dinner and Maxine & Cob stopped eating their dinner to get us familiar with the kitchen. There is no question that we would stay there again. And beside we loved the pool! Considering our room was on a different level with a room with TV we had a great amount of privacy when we weren't upstairs in the kitchen. The listing was exactly as described and very very clean. The community was nice and quite and very easy to access from downtown Halifax. They provided us with information as we needed it and they were very approachable. We're glad we made the right choice.
caroline
2015-09-07T00:00:00Z
Staying with Maxine & Cob with my first experience with Airbnb, so I don't really have a frame of reference. That being said, when I arrived I was greeted as a life long friend and things only got better. Basically I had a huge bedroom, bathroom, exercise room, and family room to myself. Amazing value for the money. Thank you Maxine & Cob!
Joda
2015-08-24T00:00:00Z
This was my first experience using the AirBnB service. I was in the Halifax area for business and decided to try it out. Maxine and Cob were very welcoming and as friendly as only Nova Scotians can be. Nothing was too much trouble, the accommodations were way beyond my expectations, a true 'home away from home'. I will probably be returning to the area in the New Year and I know where I will be staying !
Alan
2015-12-17T00:00:00Z
We both enjoyed our stay very much. We enjoyed some down time in their spacious living area. Bed was very comfortable. Thanks for having us. Bob & Ellen
Ellen
2016-09-19T00:00:00Z
Easiest review I've ever written - charming hosts, very comfortable bed, very private and generous living area. I would recomment Maxine and cod's home to anyone.
Graeme
2016-10-13T00:00:00Z
Maxine and Cob go so far above what a reasonable person would expect to receive, it's incredible. This was my second time staying with them and I couldn't rate my experience any higher! THANK YOU again
Joda
2015-10-31T00:00:00Z
Tipo de Acomodação
Quarto inteiro
---
Tipo de Imóvel
Casa
---
Acomoda
2
---
Quartos
Lower Sackville, Nova Escócia, Canadá
Wake up to beautiful sunrises in this bright airy room in a modern home located in a country setting but seconds to all amenities. Located 20 minutes outside the city and 28 km from Peggy's Cove. A perfect location to stay on your way to Chester, Mahone Bay or Lunenburg.
Enjoy sunrises and wonderful lake views in this bright airy second floor private room. The room boasts a cozy queen bed, television with Netflix access, closet and chest of drawers to help you settle in and feel organized and at home. Private bathroom with shower. You will also have access to a half bath/laundry room, kitchen and dining room on the main level.
The neighbourhood is tucked away on a one kilometre quiet, charming old country road. It is minutes from your choice of grocery stores, a liquor store, library, arena, fitness centre, restaurants, coffee shops, drug stores, gas stations, medical clinics. A wilderness trail and multi-use trail are close by. It is also close to the High School and Elementary School.
Very well located for our trip to Peggy's Cove, beautiful view of the lake from our large bedroom, private bathroom, very comfortable queen bed, beautiful spacious home. Vanda is exceptionally friendly and welcoming, with tea and snack upon our arrival and coffee in the morning. TV and iPad in our room. Two very cute little hypo-allergenic dogs. Loved our stay!
Brenda
2016-11-19T00:00:00Z
Tipo de Acomodação
Quarto inteiro
---
Tipo de Imóvel
Casa
---
Acomoda
2
---
Quartos
Upper Tantallon, Nova Escócia, Canadá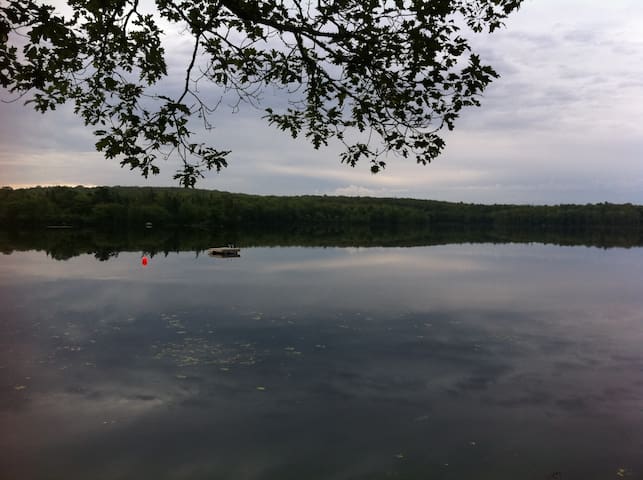 Une chambre meublée dans un grand appartement de 2 chambres. Au coeur de la famille remplie du centre-ville de Dartmouth, à distance de marche à la fois le transport terminal de bus et du terminal ferry (6 minutes de marche dans des directions opposées). Près de la belle Dartmouth Commons, la belle café Deux si par mer, gourmet en sandwich étonnante boutique la cantine et bar à bière Battery Park. Cet appartement est également à la maison à un étudiant diplômé Dal et tabby mâle très, très sympathique.
Mon appartement est à l'étage principal d'une histoire 2.5 converti à la maison avec beaucoup de caractère. Votre chambre confortable dispose d'un lit double, très grand placard (avec et organisateur suspendu), bureau et chaise et une étagère. Les serviettes et débarbouillettes sont fournies, et il y a le shampooing et le lavage du corps pour une utilisation dans la douche.
Downtown Dartmouth connaît un peu d'un rajeunissement. Mon quartier est rempli de jeunes professionnels, avec de grands cafés, restaurants, pubs et à une courte distance à pied. La proximité Dartmouth Commons fournit un excellent endroit pour se détendre et prendre dans le paysage urbain du centre-ville de Halifax.
Very clean, big place, extremely close to shops, and the ferry. Elizabeth is very helpful and friendly. Would definitely stay again if I'm in the area.
Robert
2016-12-04T00:00:00Z
Excellent place , very clean and tidy, own space but host there if we needed, nice friendly cat too! Excellent facility's , kitchen bathroom and sitting room all immaculate and welcoming, only stayed two days but would stay again :)
Charlie
2017-02-22T00:00:00Z
I was in Hali for a short film project. Great place to stay, clean and cozy. Nice neighbourhood with a pretty park nearby(which offered me a nice cinematic look at sunrise for the drone shots). Elizabeth was a great host (&cute) thanks for everything.
Jing
2016-12-07T00:00:00Z
My husband and I really enjoyed our stay at her place. Liz really made us feel at home. She is a very easy going person you can always ask if you have any question about the area and the house. She is also someone fun to talk to. Her house is clean and she has a cute and cuddly cat in the house, you will enjoy having him around as well. We shared a bathroom with her, but we never felt crowded. We were able to use it any time we wanted to, and we were able to use the kitchen at any time we wanted to as well. The house is kind of old and the room itself is a bit small but considering Liz's easy going personality as a host makes the stay worth way more than the price. Location is also good, it takes about 10 minutes to get to the city center of Halifax. I would definitely stay there again :)
Grace
2017-04-10T00:00:00Z
This was my first Air BnB experience, and it was excellent. I moved to Halifax and needed a place to stay for my first month. Elizabeth is a fantastic host! She's very upbeat, organized, had great recommendations for things to see/do/eat in Dartmouth, and she's both friendly and respectful of privacy. She is very easy to live with, which made my stay, and the transition of moving to the east coast, really great. The location is fantastic. It's a short walk to buses and the ferry, as well as some great pubs and restaurants. I really enjoyed Dartmouth and the small town feel it has. Everything was clean, the linens were fresh, and she has all the cooking supplies a person could need. We definitely bonded over cooking :) Word to the wise, Liz is a particularly good baker. All in all, this was a great first Air BnB experience and I wouldn't hesitate to recommend a stay with Elizabeth!
Kristina
2017-03-31T00:00:00Z
Elizabeth is a fantastic hostess. I really like that the guest room is located next to the bathroom at the front of the house on its own. I had such a nice peaceful sleep.
Toni
2017-01-26T00:00:00Z
Great neighborhood, convenient location, friendly and generous hostess, sweet kitty, indoor parking, all very much appreciated.
Amy
2016-12-21T00:00:00Z
Host was lovely and helpful. Very friendly. Kitchen , well equipped. Location was very near the ferry and it was very convenient. The place is great for economy for the price. Perfect for travelers who need a place to rest. Had a great time --would recommend.
Jake
2017-02-19T00:00:00Z
Tipo de Acomodação
Quarto inteiro
---
Tipo de Imóvel
Apartamento
---
Acomoda
2
---
Quartos
Dartmouth, Nova Escócia, Canadá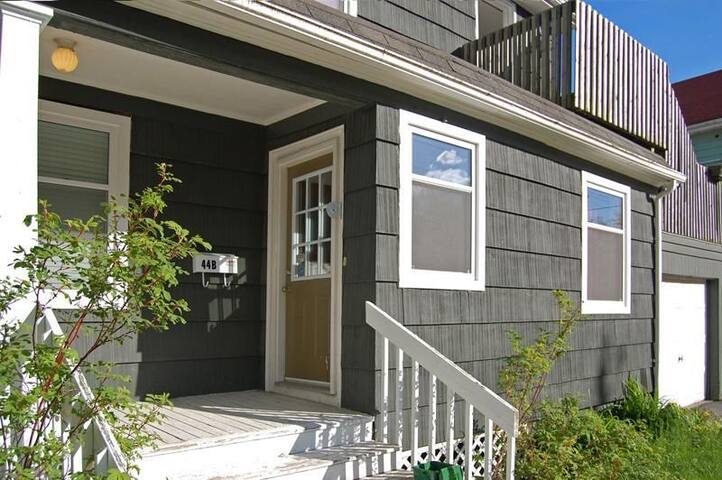 NEUE AUFLISTUNG! Herrliche freie Sicht auf ikonische See Banook! Frisch lackiert im gesamten Innenraum, brandneue Bettwäsche und Matratzen. Dieses Haus verfügt über einen großen Esstisch und eine Küche mit allem, was Sie brauchen. Tonnen von natürlichem Licht und Charme. Fantastische zentrale Lage. Restaurants, Pubs, Live-Musik, Wanderwege, Einkaufsmöglichkeiten und die Fähre nach Downtown Halifax zu Fuß erreichbar.
Eine große zwei-Schlafzimmer-Haus mit den besten Aussichten, die Dartmouth zu bieten hat. Zwei separate Liegebereiche im Wohnzimmer, Esszimmer Tisch, sechs und eine geräumige Küche mit allen Notwendigkeiten Platz finden. Die 2 Betten und Bad befinden sich im Obergeschoss.
Nah an Pubs, Live-Musik, Märkte, große Einkaufszentren, Wanderwege, Seen, Spielplätze und der Innenstadt. Wenn Sie sich für die Bequemlichkeit und Ruhe suchen, können Sie nicht für einen besseren Ort zu fragen.
The place was bright, beautiful and spacious. Richard and Jenny were very easy to get in touch and the location was amazing! We even wanted to try and stay a couple extra days. Would definitely return in the future!
Nic
2016-08-29T00:00:00Z
Everything was ready for our arrival, the house is in an awesome location, great view of the lake.
Gilbert
2016-08-28T00:00:00Z
We enjoyed our accommodation very much. Our host provided some basic food items and offered as well to have other items we might require available on request. The view was quite stunning esp when conditions allowed viewing from the front porch chairs. Any of the busier roads were distant enough that the location was quiet. Each bedroom had a window mounted air conditioner which both worked very well in providing cool rooms for sleeping. The beds were comfortable.
Douglas
2016-08-14T00:00:00Z
This home is priceless. A great location over looking the lake! Stunning! Richard and Jenny were quick to report to a minor ant attack! All fixed now! Thanks guys for a wonderful stay. Would definately stay again!
Dana
2016-08-02T00:00:00Z
Everything about our stay was fantastic! Jenny was super helpful and made our arrival easy and carefree. The house is wounderful! Quiet neighborhood with a fantastic view. I will miss watching the rowers while relaxing on the couch by the big bay window enjoying morning coffee. We had a great time, a super comfortable stay, and felt most welcome. We would certainly stay at Jenny and Richard's place again! - Maarten.
Maarten
2016-10-16T00:00:00Z
My colleagues are repeat users of Richard & Jenny's place. They are great to deal with, the space is lovely and very convenient for our needs.
Angela
2017-03-24T00:00:00Z
Richard and Jenny were fantastic host's right from the start. The house is immaculately clean and has a fantastic view of the lake, along with a great location for all your local amenities. Would happily stay here again.
mike
2016-11-04T00:00:00Z
We were thrilled with our stay! The house was in a great location overlooking the lake - a beautiful sight to start each morning! Kids loved the twin beds and all the beds were extremely comfortable. Kids also loved the soft, fur throws! Jenny was an excellent host! She had fresh flowers in the rooms when we arrived and thought of many little extras that made our stay feel like home! The kitchen was big and stocked with everything we needed. The laundry facilities were so handy and much appreciated. The house is very spacious and open yet felt so cozy. It has that fresh at the beach feel. Our family did not want to leave. It was such a great place - we know we will be back!
Carmen
2016-08-10T00:00:00Z
Tipo de Acomodação
Casa/apto inteiro
---
Tipo de Imóvel
Casa
---
Acomoda
5
---
Quartos
Dartmouth, Nova Escócia, Canadá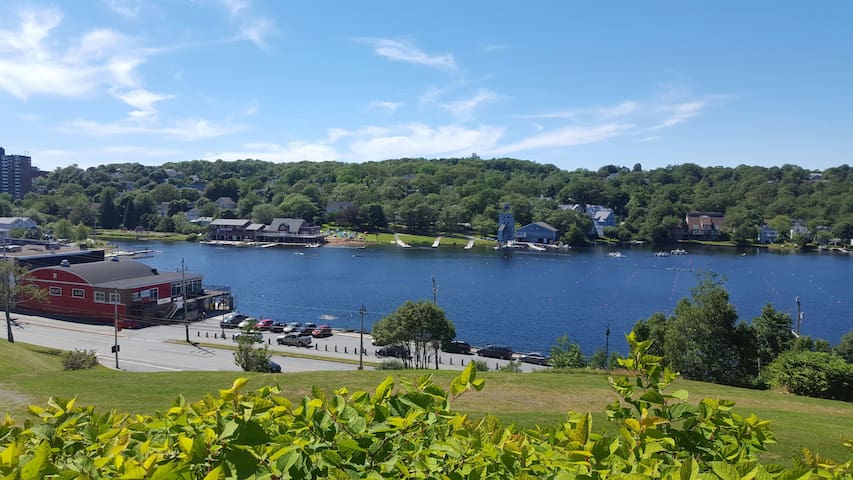 Vous ne pouvez pas battre l'emplacement! Ce studio de détente est un 3ème étage sans ascenseur situé dans une rue calme de côté au cœur du centre-ville branché Dartmouth. A 5 minutes à pied du ferry Halifax! Avec ses plafonds à pignons et de charmantes vues de chaque fenêtre, ceci est un espace de détente à fond pour se reposer après une journée en Nouvelle-Écosse. Bon pour les couples, les aventuriers solo et les voyageurs d'affaires.
Ceci est une propriété du patrimoine qui a été magnifiquement restauré et mis à jour pour convaincre moderne. L'appartement comprend une cuisine et salle de bains des espaces séparés. Passé la cuisine, vous trouverez un espace de vie spacieux avec lit queen. Avec ses plafonds à pignons et de charmantes vues de chaque fenêtre, ceci est un espace de détente à fond pour se reposer après une journée en Nouvelle-Écosse.
Downtown Dartmouth se développe rapidement dans l'un des domaines les plus passionnants et branchés de la région. Avec des points chauds comme deux si par mer café et le bar de la bière artisanale Battery Park juste en face de la rue; en plus d'une collection florissante de boutiques, de lieux artistiques et bien sûr ne manque pas d'options de restauration incroyables, à seulement quelques pâtés de maisons, vous pouvez vous trouver la réservation d'un voyage de retour juste pour profiter de tout ce que ce quartier a à offrir (et nous serions heureux de Bienvenue à toi). Pluie ou soleil, vous découvrirez rapidement pourquoi il en est le meilleur côté du pont pour être sur (ne dites pas Halifax je disais que si ..)!
5 stars for sure. Thank you Stefano
Haider
2017-03-16T00:00:00Z
Great place! Great location!
Elyse
2016-08-24T00:00:00Z
The space is small but it was exactly what we needed to stay one night right outside of Halifax. Stefano was a lovely host, easy to communicate with and offered some great suggestions on where to go for dinner. He provided us with a very informative welcome packet as well. The apartment was a three story walkup but the staircase was outside the building, which if you have a lot of bags might not be ideal for lugging them up the stairs, so we opted to leave most of our bags in the car parked downstairs. The parking space by the house was great, and we didn't have to worry about street parking. Dartmouth is a charming town with some delicious food options. The apartment was a short walk to the ferry to Halifax, so easy access if that's where you want to end up. I would recommend staying here for a short visit to the area.
Daniela
2016-08-26T00:00:00Z
We really like the studio of Stephano! He is a good host. His answer are very fast and i reserves at last minute because i was doing roadtrip with my boyfriend and dauther. The studio was very clean and like on the picture. Its quiet and close to the water and kid's park. Close to Halifax downtown. Its sur you are not in the studio to make a big dinner. :) we find a lot restaurants! I recommande that studio!
Audrey
2016-08-11T00:00:00Z
Stefano was an attentive and respectful host. The place is charming and conveniently located a short walk from the ferry. Thanks again!
Bronwyn
2016-07-24T00:00:00Z
The place was very clean and cozy . Stefano was available if I needed anything. I would return anytime.
Marie-Josee
2016-10-23T00:00:00Z
We really enjoyed our stay! Thank you Stefano for all your help and your willingness to accommodate our schedule with arrival times! The apartment was really lovely.
Erin
2016-08-14T00:00:00Z
Everything was as described and perfect for my two days stay. Stefano was very responsive on messages and even checked on me if everything went well. I would stay here again.
Anna-Lena
2016-11-18T00:00:00Z
Tipo de Acomodação
Casa/apto inteiro
---
Tipo de Imóvel
Loft
---
Acomoda
3
---
Quartos
Dartmouth, Nova Escócia, Canadá
Located in Halifax on the Dartmouth side of the Harbour. Just 5 minutes from the waterfront and ferry to downtown Halifax, this apartment offers the advantages of an urban location, but with green space that allows for a full appreciation of summer on the East Coast - your own backyard space, grilling on the barbecue, a chance to relax in the sun or shade with your favorite magazine. The unit is the first-floor of a unique modern home (constructed 2008) in a historic neighborhood of cute 1900-era wooden houses, parks, and tree-lined streets. It is offset 100ft from the main street, and surrounded by well-kept yards and gardens - truly an urban oasis. Our family (Carl, Jean, and Mary Louise live on the second and third floor. The unit is fully furnished and equipped. It would most comfortably accommodate two guests. Internet, TV, and parking are included. There is also a barbecue and outdoor eating area, and a claw-foot cast iron tub perfect for deep relaxation. Several great restaurants in the neighborhood include Nectar (excellent cocktail menu), the Wooden Monkey (organic / vegetarian options), and Celtic Corner (sometimes featuring live celtic music). We also recommend the croissants at the award-winning Two If By the Sea Cafe, just a four minute walk from our place. For those looking to workout, day-passes are available at the the nearby Dartmouth Sportsplex, and we are also in the process of setting up a small gym on-site. The main public bus terminal in Dartmouth is just a 10-minute walk across the Dartmouth Commons (park overlooking Halifax Harbor), providing easy access to most destinations in the Halifax metro area for those who prefer to avoid the hassle of driving and parking in an unfamiliar city (given the geography, Halifax's roads are anything but grid-like!). Also a 10 minute walk to the Dartmouth Ferry which frequently crosses the Harbour and docks in the heart of Halifax's downtown.
The unit was the perfect size for two people. It's location was ideal for visiting Halifax as it was very close to the ferry. However was very quiet and easy to get to sleep
Nick
2016-06-09T00:00:00Z
Jean met us early which was nice and we got settled in. Place was clean and spacious. Bed was comfy. They also had some little snacks available which was awesome. The backyard was scenic and relaxing. Walking distance to the ferry to halifax. Only thing that was a bummer was the smoke alarm went off while we were sleeping and we jumped out of bed. It woke us up for the day. Other than that, it was a great place. I'd definitely stay again.
Serena
2016-08-24T00:00:00Z
We had a lovely stay in Carl & Jean's immaculate apartment in Halifax. Great hosts and we highly recommend this apartment.
Gail
2014-04-18T00:00:00Z
Hosts were wonderful. We kept in contact and had a great experience. Everything we needed, clean, and attractive. The flowers at the entrance were beautiful. Bed was comfortable and the kitchen well equipped. This was one of the better ones we have stayed in.
Jon & Ava
2016-08-20T00:00:00Z
Carl and Jean were very accommodating and welcoming. We arrived a little later than anticipated but were able to let them know far enough ahead of time not to make an issue of it. The room is secluded, quiet, and very spacious! We were only a 5 minute walk from the ferry to Halifax, which made it a very convenient location!
Jarrad
2016-10-20T00:00:00Z
Carl and Jeans place was exceptional. It was everything that was listed. Warm and cozy and the cast iron bathtub is 5 stars. It was within walking distance of the library and the ferry terminal and a few great coffee shops. We also took in a craft brewery also within walking distance. We asked Carl about a good fish and chip place and he directed us to a place called Fish Wrap that was at the fisherman s Wharf. It was great. Lots to do and see. Really enjoyed Dartmouth. Thank you Jean and Carl!
Jan
2016-11-07T00:00:00Z
Jean accommodated my late arrival with no issue. Place was exactly as described. Would definitely stay here again and am recommending this place to friends and family. Thanks Jean and Carl
Tina
2016-09-27T00:00:00Z
Great location, great apartment and good hosts. Would highly recommend!
Shane
2015-09-24T00:00:00Z
Tipo de Acomodação
Casa/apto inteiro
---
Tipo de Imóvel
Apartamento
---
Acomoda
2
---
Quartos
Dartmouth, Nova Escócia, Canadá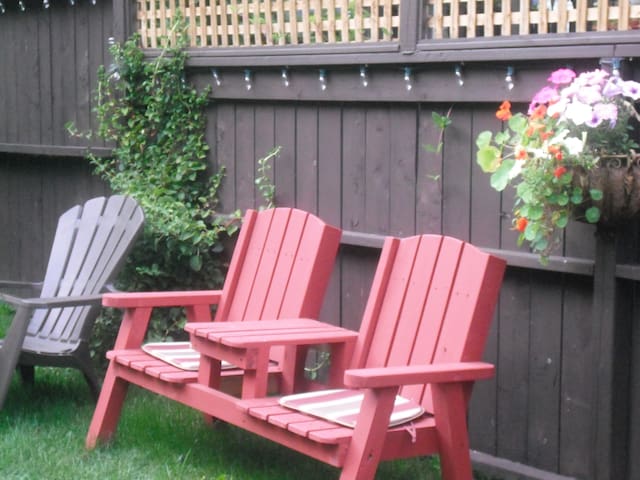 غرفة صغيرة في منزل قديم نظيفة في شارع مسدود هادئ. عرض عظيم. شخص واحد فقط. مشترك حمام كامل الطابق العلوي والطابق السفلي المرحاض. الاستفادة الكاملة من مطبخ كبير في تناول الطعام. في الوقت الحاضر في الطابق الأول لا يزال قيد الترميم، ولكن مساحة مفروشة غرفة المعيشة في الطابق السفلي تصبح متاحة قريبا. وقوف السيارات خارج الشارع، على سطح السفينة في الخلف. محمية محطة للحافلات دقيقة واحدة بعيدا، عن مسافة عشر دقائق إلى محطة جسر دارتموث. غرفة هي واحدة من 3 غرف نوم في الطابق 2ND.
هذه الغرفة هي مثالية للطلاب أو المسافرين واحد.
Urs, you are so kind gentleman , your house is a nice house in excellent location, only 2 minutes walking from 51 to bridge terminal bus. I stayed there for one month , was totally satisfied I appreciate your help and your accuracy Hope to stay there again See you
AMR
2017-02-23T00:00:00Z
The host canceled this reservation the day before arrival. This is an automated posting.
Jack
2017-04-03T00:00:00Z
Tipo de Acomodação
Quarto inteiro
---
Tipo de Imóvel
Casa
---
Acomoda
1
---
Quartos
Dartmouth, Nova Escócia, Canadá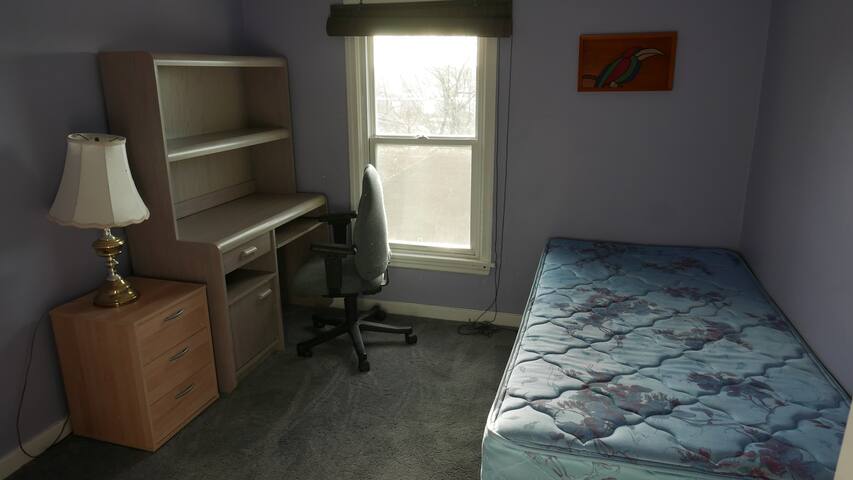 Neuer Eintrag, ganz neu, alles! Voll ausgestattete, 2. Ebene, 2 Schlafzimmer, 1 Badezimmer, 850 qm Luxus-Wohnung. für 4 Personen französisches Bett, Dbl-Bett, Ledersofa. Eigenschaften; Roteiche Holzfußböden, Quarzplatten, KitchenAide Edelstahl-Kühlschrank (Wasser und Eismaschine), Herd und Geschirrspüler, Bosch Waschmaschine und Trockner, Designer geflieste Badezimmer, Marmor Eitelkeit, große Terrasse, Kabel-TV und Netflix. Nahe den beliebten See Banook, Sullivan Pond & Downtown Dartmouth Annehmlichkeiten.
Helle offene komfortablen Raum
Beliebte Wohngegend, in der Nähe Sulivan Teich und Banook See Wegen. Kurzer Spaziergang in die Innenstadt Dartmouth Ausstattung
房东Tony和他的妻子非常热情好客,房子内部各种设施齐全。尤其是厨房,你要用到的东西厨房都有。我们在这里做饭,比在自己家做饭还方便。洗衣机洗完的衣服可以用烘干机烘干,烘干后就可以穿上。房子内温度可以根据我们自己的需要随意调节。感觉在这里住着非常舒适。特别值得一提的是,房子内很干净,到处一尘不染(URL HIDDEN) 最后向Tony一家表示衷心的感谢。让我们一家人在这里度过了10多天的美好时光。这将成为我一辈子的美好记忆。
meiyi
2016-12-09T00:00:00Z
Wonderful location and the images certainly reflect the character and cleanliness of this location. Really enjoyed the relaxing/comfortable stay. I look forward to staying here on future visits to Dartmouth/Halifax.
Richard
2017-03-31T00:00:00Z
Highly recommend. It is beautiful. Very Clean.
Sandy
2017-04-09T00:00:00Z
Nous avons eu un fantastique séjour chez Tony et Christina. Nous nous sommes sentis comme à la maison et avons été très bien accueilli. L'appartement est magnifique, décoré avec beaucoup de goût, situé près de tout...mais avec toute la tranquillité souhaitée pour se reposer. Nous avons été surpris de constater qu'ils avaient pensé à tout, spécialement dans la cuisine. Nous vous recommandons fortement cet endroit pour des vacances sympathiques.
Marie-Josée
2016-11-26T00:00:00Z
Just the best little piece of home out there immaculate spacious, quiet, if you travel a lot and need a change this is an awesome choice Tony met me promptly at my arrival was there for all questions and even texted me today to see if I required help with my bags nice touch The decorating in this loft apt is amazing
Donna
2016-11-18T00:00:00Z
Tony and Christina's space is lovely; well set up and in a perfect location for our needs. Communication with Tony and Christina is always fast and easy. Great hosts.
Angela
2017-03-24T00:00:00Z
Tony is really friendly and his house is very clear~we really like it.
Tony
2016-11-19T00:00:00Z
Everything absolutely perfect. Good location, extremely clean, very beautiful and very well equipped appartement. Very kind and available host. The "plus" is in my opinion the excellent decoration and a fast 35Mbps WiFi. You need only 5 minutes to transform this unknown appartement in your home, and I like it. For sure I will come back here for my next business trips in Dartmouth.
Guy
2017-03-17T00:00:00Z
Tipo de Acomodação
Casa/apto inteiro
---
Tipo de Imóvel
Outros
---
Acomoda
4
---
Quartos
Dartmouth, Nova Escócia, Canadá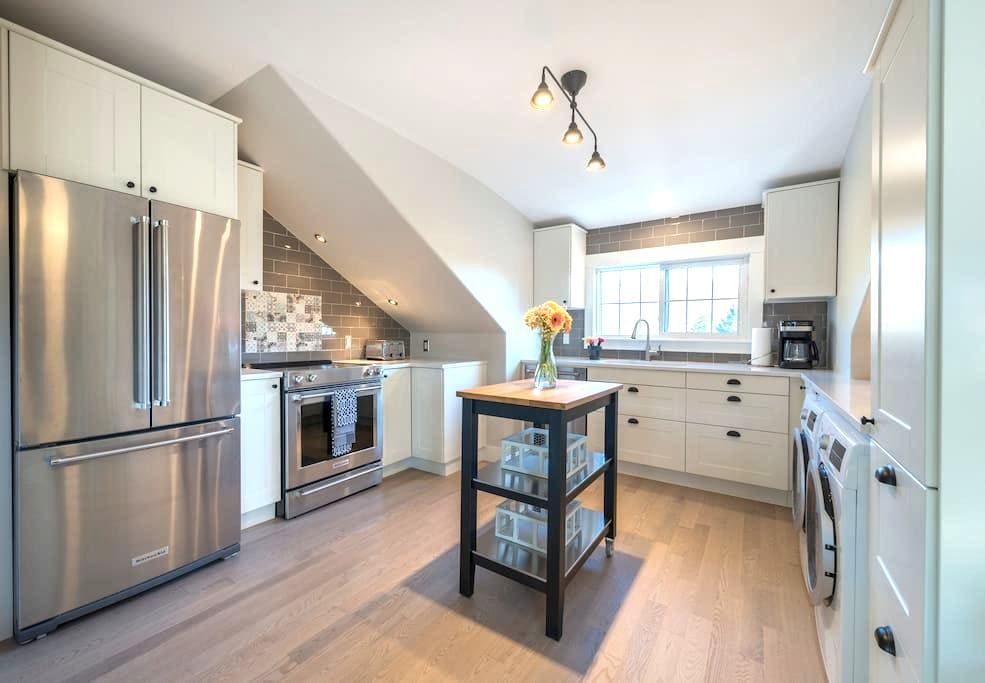 Spacious three bedroom second floor unit with private entrance. Trendy & scenic downtown location. Walking distance to shops, groceries, beach, dining, theatre & mall. Nicely furnished. Fully stocked. Surrounded by parkland. Overlooking beautiful Sullivan's Pond. Toiletries provided. Sleeps 6. The home is very large. Excellent wifi. Laundry and dishwasher. Air conditioning.
The house is very large and contains separate downstairs and upstairs units. Guests are thrilled with the location and the size of the rental. It is very spacious and roomy. Sullivan's Pond Park is located directly in front of the property. A very pretty setting year round. The home is in a trendy neighbourhood which is close to everything. Guests can walk to restaurants, parks, playgrounds, stores, groceries, liquor store, pubs, mic mac mall, lake banook beaches, and the ferry to downtown Halifax. The unit is on the second floor and is only used as a vacation rental. It has three bedrooms: one large bedroom with a queen bed and two bedrooms each with a single bed, all with new linens. There is cable television in the living room plus a DVD player. It has air conditioning. There are two portable single cots and extra linens to accomodate a 5th and 6th guest. There is also a play pen available for a baby. The home is fully supplied with everything that you will need to enjoy your stay. The kitchen is fully equipped with a full size fridge, stove, dishwasher and mictowave. There is a clothes washer and dryer. A large private back deck with both a gas and an electric barbecue has lots of outdoor seating for guests. Parks with trails, beaches and playgrounds surround the house. Beach swimming is a five minute walk away. A grocery store, a gym, a shopping mall, and restaurants are all within walking distance. It is an ideal location for both beauty and convenience. There are walking and biking trails in front of the house along the Canada Trail. It is a year round rental.
Friendly, popular, and safe neighbourhood. Great vacation spot for runners or families as there are lots of parks nearby for children to play. Located adjacent to a large pond and lake. View of water fountain from the front window. Picturesque setting. A lovely setting for a city vacation. Free summer concerts in the park across the street at the outdoor bandstand every Sunday from 2 to 4 pm. Within walking distance of Mic Mac Mall, Superstore, Alderney Theatre, the Sportsplex, Tim Horton's and restaurants such as Two If By Sea, The Canteen, 73 and The Wooden Monkey. Pizza available at the Hungry Hut just five minutes down the street. There is a playhouse across the street that provides nightly live theatre. Near the Epic Triathalon, Canada Day and Natal Day festivities. There is a gym located in Findlay Community Centre behind the home.
Angela was very understanding about the date confusion we had. She went out of her way to welcome us and make the necessary change. We felt comfotable about connecting with Angela throughout our stay. It is a ideal location for travel throughout Halifax and the environs. Everything one would need for a stay of any length is provided.
Susan
2015-09-08T00:00:00Z
Nice apartment
Ekaterina
2016-11-15T00:00:00Z
The place was very nice, comfortable, and as advertised. The place is about 10 minutes from the heart of downtown and there's a petrol station a block away to get fuel. She left us a folder with all the house details and responded promptly to all of my inquiries. I highly recommend this listing.
Zachariah
2015-08-16T00:00:00Z
the place is at a great location. It's a old house with a great vibe.
Roy
2015-08-30T00:00:00Z
Good location.
Linda
2016-09-28T00:00:00Z
Angela is an awesome host. Communication was always quick and helpful. The place was very tidy and amenities were great for our larger group. The apartment has lots of character and was interesting to look at the workmanship of its construction. Thanks for the great stay!
Cassi
2017-03-18T00:00:00Z
I enjoyed the time I spent at this place. The house is spacious and clean. The traffic is convenient.
Zhengtao
2015-12-23T00:00:00Z
不是在哈利法克斯的市中心 没有车的话出行不是特别方便。房东人很好 有问题也都及时解决。这是第一次住民宿 下次出行还会选择民宿。
如玉
2016-10-24T00:00:00Z
Tipo de Acomodação
Casa/apto inteiro
---
Tipo de Imóvel
Casa
---
Acomoda
6
---
Quartos
Dartmouth, Nova Escócia, Canadá
Nur ein paar Schritte zum Hafen von Halifax, dieses neu renovierte 2-Zimmer-Wohnung befindet sich nur wenige Minuten von allen Annehmlichkeiten einschließlich des öffentlichen Nahverkehrs und Spirituosen / Lebensmittelgeschäfte. Wireless-LAN, HD-TV, W / D, in privaten Hinterhof eingezäunt so Haustiere sind willkommen.
geräumige Wohnung in der Küche mit essen, 2 Schlafzimmer ....... 1 König, 1 Königin. Gehen Sie in der Dusche. in Hinterhof eingezäunt. Waschmaschine und Trockner sind im Erdgeschoss
Das Hotel liegt in einer der begehrtesten Viertel der Stadt mit herrlichem Blick auf den Hafen von Halifax.
Shelly and David are one of the most gracious hosts I have met through AirBnb. Thay have a beautifully renovated house that is close to everything. My parents and I impressed to see how well equipped the house and the kitchen were. The bedrooms are tastefully designed and decorated and the bathroom is simply beautiful- fast internet and dedicated washer-dryer are a bonus. The hosts are very responsive and ensured all our needs were met. I recommend this place to anyone who wants to live in a quiet and safe neighbourhood in Dartmouth/Halifax and enjoy the beautiful city. Since the ferry terminal is a quick 5 minutes downhill walk, getting to Halifax downtown is a breeze (with breathtaking views of the Halifax skyline). Overall, we were very pleased we chose to stay at David and Shelly's place and will probably be back next time we head to the maritimes.
Shivam
2016-05-22T00:00:00Z
Great experience staying at Shelley's place in Dartmouth for our first Airbnb! Comfortable, clean and stylish and very handy to both the ferry and bus terminals for getting around Dartmouth and Halifax, about 8 and 5 minutes walk away. Shelley & David were great hosts, available and friendly for any questions we had but everything went smoothly anyway! Thanks both, would very happily stay here again if visiting the area!
Nuala
2016-09-27T00:00:00Z
Apartment very well suited for a Family or 2 couples. Kitchen very well equipped and the Dartmouth location had good accessibility to the area. Short walk to the ferry that takes you to Halifax downtown. We had bikes and loved the location ! Shelly was very quick and helpful hostess. Thank you for making this a pleasant stay !
Linn
2016-08-21T00:00:00Z
I was immediately welcomed by Shelley's husband, who made sure I had everything necessary for my stay. The house is sweet, newly renovated and very clean. Location couldn't have been better, and I got to discover downtown Dartmouth, within just a short distance of the house. Shelley checked in again at the end of my stay, making me feel welcome to return anytime--which I will! Double thumbs up for these hosts.
Jennifer
2016-05-31T00:00:00Z
The location was excellent for us - an easy walk to Lake Banook for canoe competitions and for an event at the Sportsplex across the road. Also easy to walk to downtown Dartmouth and the ferry terminal to Halifax. The kitchen was extremely well stocked, including dishes and cooking utensils, spices and coffee filters. Having laundry on-site with a clothesline was also good.
Jennifer
2016-09-05T00:00:00Z
The group loved the spacious home to themselves.
Lynnea & Ken
2016-10-08T00:00:00Z
We have stayed in a lot of AirBnB places in our travels and Shelley's apartment is definitely one of the nicest. It is tastefully decorated, comfortable, and has all the amenities you need. We like to cook and often find many places lacking in dishes, pans, and other items and we were happy to find Shelley's kitchen well stocked. The location is perfect! It is just a 10 minute walk down to the ferry terminal that will take you across to downtown Halifax (tickets are only $2.25). It's also just a 10 minute walk to the nearest supermarket and restaurants. We found the Syrian restaurant really good! The apartment has one off-street parking space in the driveway which was nice, although a little tight. There is also on-street parking nearby. There is an indoor swimming pool at the Dartmouth Sportplex which was just a short walk away that looked really nice, but we didn't have the time to go swimming. And just next to the Sportplex is Leighton Park which was great to walk through and has great views of Halifax. The next time we come to Halifax, we will definitely stay here again.
Jason
2016-04-23T00:00:00Z
Shelley's place was gorgeous. We loved it and would definitely look into booking here again.
Martina
2016-09-13T00:00:00Z
Tipo de Acomodação
Casa/apto inteiro
---
Tipo de Imóvel
Apartamento
---
Acomoda
4
---
Quartos
Dartmouth, Nova Escócia, Canadá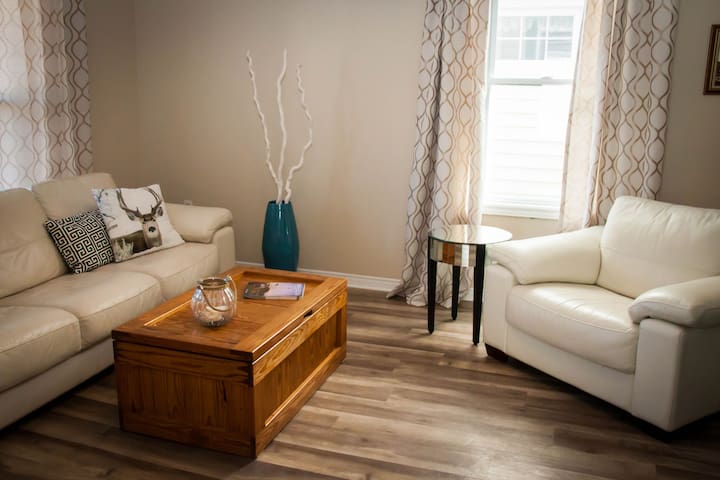 Wir lieben unsere Heimat! Eine eingetragene Erbestätte, sein die perfekte Mischung aus alten und neuen, mit den schönsten Hafen / Meerblick von sowohl Haupt- und Oberdeck. Ich habe einen Garten im Hinterhof, wo meine drei Katzen lieben, Zeit zu verbringen, wenn sie müde von der von den Decks sind. Die Nachbarschaft ist charmant und freundlich und ideal für Ruhe von der Hektik der Stadt Halifax geht weg nur über den Hafen. Ein 15-minütiger Spaziergang entlang malerischen Shore Drive nur eine Straße hinunter, kommt man zum Harbour Ferry. Die Außenterrasse Fahrt ist ein Muss und führt Sie in die Innenstadt von Halifax in nur 7 Minuten. Zusammen mit dem spektakulären Blick auf das Meer, ist unser Haus ein ruhiges Wochenende doch nur nahe genug an der belebten Innenstadt von Vibe von Halifax. Ein Reisender mich, ich genieße Menschen aus vielen Kulturen zu treffen. Ich weiß, wie wichtig es ist, einen schönen Ort, um zu bleiben und jemanden zu haben, der die Gegend kennt und Sie zu interessanten Orten und / oder Ereignisse zeigen. Ich weiß, dass meine Gäste bequem sein wird und wie zu Hause fühlen. Die Aussicht, die man von der privaten Oberdeck haben nur aus der Loft Zimmer ist spektakulär und präsentiert die immer großen Himmel und Halifax Skyline über den Hafen zu ändern.
Downtown Dartmouth ist in Bewegung; mit schönen Parks, Samstag Markt, Restaurants, Amphitheater im Freien, Golfplatz und "Two If By Sea", der beste Kaffee / Konditorei in der Umgebung! Interlude Spa ist auch sehr nah und bekannt für seine hervorragenden Leistungen in einer schönen Umgebung. Seit dem Umzug von Halifax nach Dartmouth vor einem Jahr etwas mehr als, Ich habe meine Liebe zum Radsport wiederentdeckt. Zahlreiche Radwege sind in unmittelbarer Nähe und variieren von einem einfachen Rand Trail 10K Hafen zum anstrengender 40K, die Sie über die Salinen zu Lawrence Beach, auch bekannt bei Surfern nimmt. Diese schöne Wanderwege wurden, indem sie über die alten Überlandbahnen entwickelt. See Banook, zu Fuß, ist ein weiteres Highlight des zentralen Dartmouth. Diese Weltklasse-Paddeln See hat sich die Ausbildungsstätte für viele kanadische Olympioniken gewesen. Sie können Training täglich beobachten oder schwimmen an den kleinen Stränden auf dem See.
Marilyn was very kind and easy-going, and her place is fantastically located. My wife and I stayed for three nights and we felt right at home the whole time. Would definitely highly recommend staying here!
Michael
2014-06-12T00:00:00Z
Marilyn was very receptive and easy going for our arrival and stay. She showed us around the property, and went above and beyond to make sure we had everything we needed! The house was beautiful and the view is gorgeous, with plenty of room to take a time out. With only a 10 minute walk to the ferry terminal, the harbour view loft offers a great opportunity to walk the downtown Halifax area. Whether you're looking for a more social stay or a private getaway, rest assured that this is the place you want to stay at!
Marouan
2016-06-06T00:00:00Z
Marilyn was a great host with an amazing loft to vacation in. Marilyn and her husband were very friendly and informative. Her place was in close proximity to the ferry and bridges to Halifax. The view from the balcony was amazing, both out to the harbour and as well down to her gardens. This definitely is a place I would like to come back to in the future.
Charles
2016-06-21T00:00:00Z
without a doubt AMAZING !!! Location, location, location!!! and a fabulous host as well!!......imagine sitting on the upper deck, a lovely brewed cup of tea, good conversation and the most amazing view of the harbor....sailboats going by with full spinnacer/a tug boat/a freighter, an ever changing water landscape. And when natures lights go out, the city behind comes to life with its own dazzling sparkles, a back drop to the freighter who is sneaking into the harbor without its own lights on. And of course the cats!! Yeah for awesome cats! Did i mention the bed was comfortable.......VERY!! Enjoyed meeting you Marylin, and hope to meet again. If by chance we do not (and we would be foolish not to stay again), good fortune for you. Cheers, Maureen and Ken p.s. once i get reorientated to homelife, i will send that information back to you
maureen
2013-07-30T00:00:00Z
The Stay: You will stay in a bright and beautiful heritage home filled with art, light and featuring a spectacular view of the ocean and the Halifax harbour. The bedroom in Marilyn's house is cozy, comfortable and private. Each morning we were provided with fresh fruit, coffee and bagels, as well as pamphlets for sights and attractions of Halifax. The Host: Marilyn is more than an amazing host - she is an incredible human being! She made us feel more than welcome in her beautiful home and after our week-long visit we felt as if we had known her for many years! Having lived in the Halifax/Dartmouth area for decades, Marilyn was extremely knowledgeable about restaurants, art galleries (being a talented artist herself) and other sights in the area, which helped us get the most out of our trip. She was inviting and personable, making sure all of our needs were met. Her cats were super adorable and were a memorable part of our trip as well! Some of our highlights included: sharing great conversations with Marilyn over food and drinks on her upper deck looking out onto the ocean. Going on a hiking tour to the Bay of Fundy and Cape Split and kayaking around the Halifax harbour. Marilyn graciously offered to drive us outside of Halifax to see Peggy's Cove and Lunenburg; stopping along the way to introduce us to her close friends (who were equally as friendly)! We highly recommend Marilyn as a host and would definitely stay in her home again!
Amber
2013-08-21T00:00:00Z
This is an older house that has been totally remodeled. There are two rooms. Each is clean and furnished tastefully with original art on most of the walls. There are also two decks and three delightful cats (one of which does tricks that could be done by a dog, but only after much training. The upper deck has a too die for view of Halifax harbor. There is also a very nice back yard. When we were there, the full moon lit the city, a photographers delight from the back porch. Marilyn is talented artist and art professor. She was very helpful in pointing out places to see in Halifax and fruit, cereal, coffee and other goodies for our pleasure in the morning. We stayed here for four days and would have stayed longer if our itinerary permitted. We will be back
Ruth
2014-07-14T00:00:00Z
Marilyn's place is amazing! Her home is vintage, beautiful and artistic. And the view of Halifax from her back decks is outstanding. Everything about our stay was comfortable...the bed, the shower, the kitchen. And a real plus was time conversing with Marilyn in the evening. She felt like a friend!
Anna
2014-05-26T00:00:00Z
After two nights at Marilyn's fabulous house, I felt so at home that I really couldn't imagine leaving, so I extended an extra night. I was lucky the room was available. I easily got to Halifax each day to do the sites and enjoy the restaurants. What I loved about Marilyn's place was not just the incredible view of Halifax across the water from her outdoor deck/balcony, and the close proximity to the ferry to the City, but was how everything at the house was so comfortable and easy. It was like the host had anticipated everything a guest would need. Example: I always want a glass of water by my bed at night and I thought I'd bring one back from the kitchen, but then I wondered what I'd use as a coaster. Well, before I had even gone to get my water from the kitchen, I noticed a tray on the dresser in my room, with a flagon of water and a glass, plus some very classy porcelain coasters. That's just one example. Marilyn is so perfect as a host. Congenial, uncomplicated, not "perky" like some hosts who really want you to feel at home. She does her own thing, but easily blends into what you might want to do, such as sit on her view deck, sip some wine and shoot the breeze. From looking at that location on (SENSITIVE CONTENTS HIDDEN) maps, I was afraid that its proximity to the MacDonald bridge might mean noise, but I never heard anything from traffic on the bridge. The place is a gem.
Faith
2014-07-31T00:00:00Z
Tipo de Acomodação
Quarto inteiro
---
Tipo de Imóvel
Casa
---
Acomoda
4
---
Quartos
Dartmouth, Nova Escócia, Canadá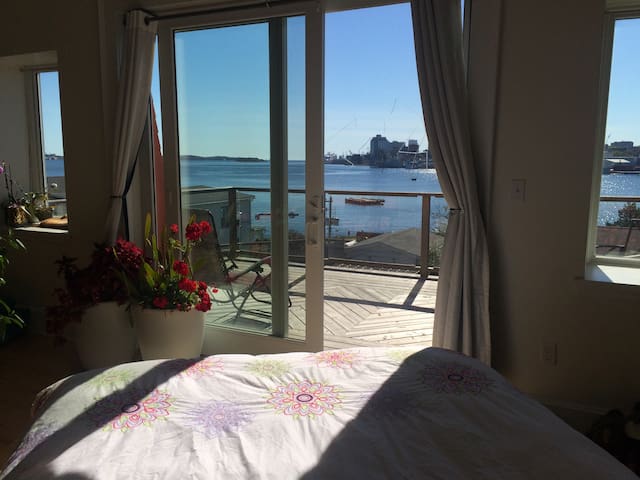 Welcome to the heart of Halifax! We're just a block from the Citadel, and all the great features of our city - the waterfront, the Gardens, Spring Garden Road, Scotiabank Centre, downtown restaurants and pubs, as well as the burgeoning arts and dining scenes on Gottingen and Agricola are all in easy walking distance. 700 sq. feet! This suite offers walkout entrance, a living room, fireplace, a bedroom and bathroom. Hardwood and ceramic flooring throughout. Mini-fridge and coffee machine too!
In one of Halifax's trendiest neighbourhoods, this suite has two big windows and a door that open up into an attractive backyard garden. You're welcome to have a cup of coffee or a glass of wine sitting on the chairs on the stone patio outside.
Our house predates Confederation and so would many of our neighbours'. With classic Halifax box houses painted colourfully, the streets are full of charm. Just a half block down the street is Dee Dees, a bustling eatery where you can get their much loved home made ice-cream, or get this, equally loved burritos! Nearby are some of the city's trendiest restaurants, Field Guide and Edna on Gottingen, and Lion and Bright and The Brasserie on Agricola.
Awesome accommodation in a great location and Mark is very helpful host. I totally recommend it.
Paolo
2017-01-30T00:00:00Z
This suite was the perfect, cozy retreat during my weekend stay. Mark was very easy to coordinate with. I had everything I needed, and everything was clean and inviting.
Jane
2016-11-21T00:00:00Z
Our stay with Mark and his wife was perfect! Perfect price..perfect location. We did get a parking pass for the three days there. The rooms were very clean and inviting. Nice bottle of wine waiting for us. Mark helped with all our questions. Didn't take us long to get the lay out of the city, we were very close to all the places we wanted to see. I did family research at the Archives (close by) and Wayne saw the waterfront and Maritime Museum. We had an awesome dinner (I had the fish and chips) at The Triangle Irish Pub and we stayed for the music. Next day I did a morning at the Archives and some more sightseeing in the afternoon, including a stop at The Old Burying Ground to leave flowers for my 5 x Great Grandparents buried there. Dinner was at Dee Dee's up the street from the house. Excellent place for homemade soup, grilled cheese and the homemade ice cream!! Wednesday morning we checked out the Citadel..make sure you have plenty of time for it. We then headed out of town to find another grave site and memorial for a 4 x Great Grandfather. We then started back for home...a much longer time frame then mapquest had said :) I would stay here again in a heartbeat...who knows, we might be back but this time do a ferry from Maine over! I would highly recommend Mark's home to Anyone and Everyone visiting Halifax.
Karen
2016-10-05T00:00:00Z
Kind and welcoming host, lovely, clean apartment in a convenient and interesting part of town. We highly recommend this Air bnb. Great value!!
Andrea
2016-10-01T00:00:00Z
Mark was a wonderful host, considerate and thoughtful, providing very useful info about the neighbourhood and respectful of our privacy. This garden apartment is a gem, just a block from the Citadel and wonderfully quiet and peaceful. Very clean and comfortable and a great selection of fiction and DVDs! Highly recommended!
John
2016-12-06T00:00:00Z
The unit was so lovely, and in a great location. The parking on the street was easy and we were very happy with this place. It was great value... no frills but just perfect for a nice few days in Halifax. I wish the bed had been more comfortable, but that would be our only complaint. Mark and Adrienne were very accommodating and super nice.
Madeleine
2016-10-30T00:00:00Z
The suite is even more spacious and cozy than it appears in the pictures. When we arrived, Mark and his wife were both very welcoming and accomodating. They gave us maps, suggestions and everything we needed to enjoy our stay in Halifax. The location is about a 15 minute walk from downtown which did not bother us at all. We had no trouble parking our car outside on the street. We would definitely recommend this place to others. Mark remained available for us all day should we have needed anything at all. Lovely couple and we are happy to have met them.
Rachel
2016-09-17T00:00:00Z
Mark's place was a great stay for our weekend in the city. We were able to walk downtown and cabs were fast and cheap. His suite was clean, cozy and very comfortable.
Maggie
2017-03-19T00:00:00Z
Tipo de Acomodação
Casa/apto inteiro
---
Tipo de Imóvel
Outros
---
Acomoda
2
---
Quartos
Halifax, Nova Escócia, Canadá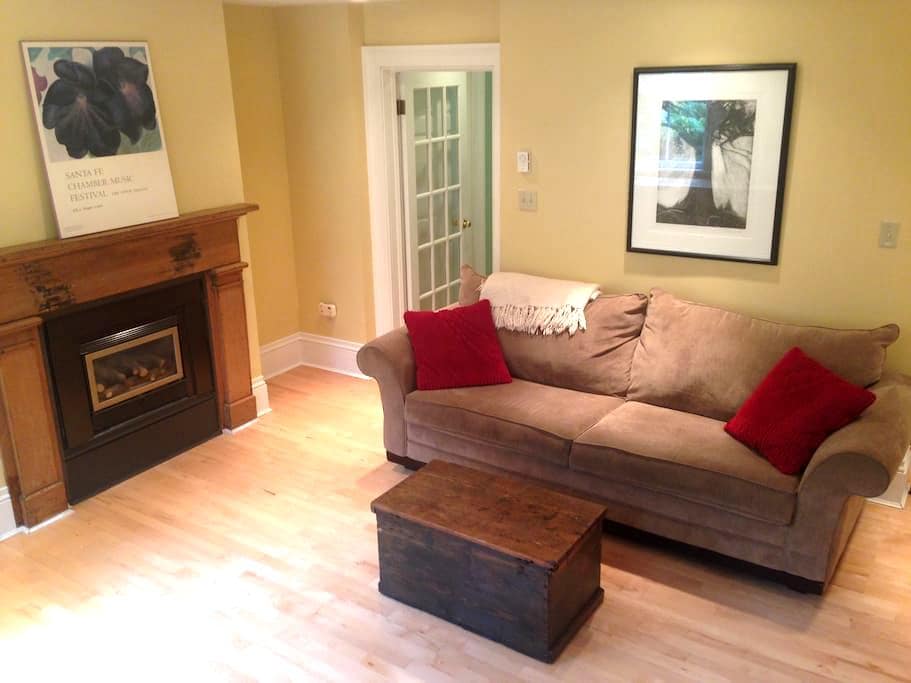 Mi lugar está cerca de restaurantes y de comedor, actividades para la familia, y el transporte público. Te va a encantar mi lugar debido a la cómoda cama, la cocina, y la intimidad. Mi lugar es bueno para familias (con niños) y grupos grandes.
Hay un montón de aparcamiento (incluso para vehículos de tamaño RV) y patio grande. La casa tiene sólo dos unidades en una calle tranquila.
Este apartamento recientemente renovado se encuentra en una tranquila familia capó amigable vecino. Con gran patio y un montón de aparcamiento. Sólo 20 minutos del centro de Halifax, 10 min a Dartmouth Crossing o Mic Mac Mall. A poca distancia de infame Shubie Parque de Dartmouth que tiene un hermoso caminar / andar en bicicleta y una zona de playa preciosa que es ideal para familias.
This is a great place to stay; especially if you have 2 or more people. The hosts are super gracious and hospitable.
Kirby
2017-02-15T00:00:00Z
We really enjoyed our stay at Cyndi's home. She was very friendly and nice to deal with. I would definetly recommend this place to others.
Jane
2017-02-20T00:00:00Z
Short stay, but the place was fantastic
Raymond
2016-12-21T00:00:00Z
Great host
Derek
2016-12-16T00:00:00Z
I loved this place. Cyndi was friendly and very accommodating.
Alicia
2016-12-31T00:00:00Z
Lovely home with a great lay out and lots of space. Beautiful dishes and mugs- what a nice treat! We had a great time at Cyndis place!
Chelsey
2017-03-24T00:00:00Z
Great location, very quiet and the host was very friendly and approachable. The comfort level there was amazing, and I will gladly stat there again the next time I visit.
Kellie
2017-03-12T00:00:00Z
We really enjoyed our stay. It was really comfortable and was in a great location!
Joey
2017-03-26T00:00:00Z
Tipo de Acomodação
Casa/apto inteiro
---
Tipo de Imóvel
Apartamento
---
Acomoda
8
---
Quartos
Dartmouth, Nova Escócia, Canadá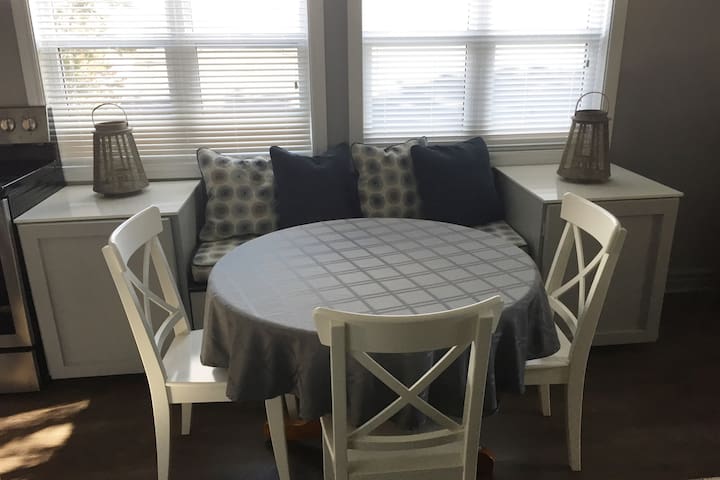 Cet appartement entièrement équipé est une unité privée et autonome dans notre maison. Situé dans un quartier calme avec restaurants, restauration rapide, épiceries, pharmacies, magasins d'alcool, les parcs, le transport en commun, pont à Halifax, terminal de ferry, installation sportive. Vous pouvez facilement rejoindre à pied tout ce dont vous avez besoin ou autoroutes rapidement pick-up qui vous connecter à d'autres régions de la province. Notre place est bon pour les couples, les aventuriers en solo, les voyageurs d'affaires et les familles (avec enfants).
Vous allez adorer notre place becsuse de l'emplacement idéal et quartier calme - il est idéal pour une promenade. Toutes les commodités sont accessibles à pied - restaurants, établissements de restauration rapide, pizzerias, épiceries, pharmacie, magasin d'alcools, les banques, les parcs, les transports en commun, installations sportives, etc.
Dawn place was excellent, perfect host, helpful,accommodating, great location. Everything you need is there. Highly recommended.
Chad
2017-04-07T00:00:00Z
Dawn's place was great, she and her partner were very welcoming to me.
Songnian
2017-02-26T00:00:00Z
Neighborhood quiet. Awkward entry. A longish path alongside the house then 11 steps up to the door a small entry and 12 steps down to the basement. Not easy with a heavy case. But once in comfortable with all amenities as described. Needs an independent heat source as you rely on the thermostat upstairs to control the heat. Hostess was accommodating. Neither our late arrival ( 1.00am) nor the request for a delayed check out were a problem. The parking on the premises actually involved parking in the next door neighbour's drive way. Not a problem but slightly inaccurate description.
Vincent
2016-12-22T00:00:00Z
Everything was great. Definitely would recommend
Tyrell
2016-11-19T00:00:00Z
Dawn met us as we arrived and showed us around the unit. She and her partner were very friendly. We enjoyed the visit from their cats. Overall a very pleasant place to stay.
Shauna
2016-09-24T00:00:00Z
We found a home! Dawn's and Gail's place is not a five star hotel, it is MUCH MORE than that which no hotel will ever be able to offer. We found a HOME there for the first month when moving to Nova Scotia. It is the people who make a home and Dawn and Gail are the best hosts you could ever imagine. Without their assistance moving to Nova Scotia would have been tough, the friendly welcome made us smile although we were exhausted after a nightmare of a 24 hour trip with an 11 months old baby. We can only recommend this home to everyone. Thank you to our lovely hosts for everything!
Klaus
2017-02-13T00:00:00Z
A great place to stay! Dawn's place is clean, very comfortable and was perfect for us. Dawn is friendly, helpful and accommodating and we will definitely be back. :)
Shelby
2017-04-02T00:00:00Z
dawn was a great host to my family and i as first time air bnb users she guided us trough the whole process and made our stay very comfrtable she cheked in regularly with us and was very comprehensive due tou our son having collics our stay was great a perfect place to stay in darmouth
Kevin
2016-11-11T00:00:00Z
Tipo de Acomodação
Casa/apto inteiro
---
Tipo de Imóvel
Apartamento
---
Acomoda
3
---
Quartos
Dartmouth, Nova Escócia, Canadá
Profitez d'une vue imprenable sur le port de Halifax du 5ème étage de l'Aqua Vista à Kings Wharf. Profitez de la piscine, un bain à remous, salle de gym et de yoga. Tout cela est à seulement 5 minutes du traversier Halifax ou utiliser le taxi d'eau de la propriété (mai à octobre) pour obtenir le centre-ville de Halifax. Achevé en Juin 2015, le Vista Aqua est l'un des nouveaux bâtiments de condos sur le front de mer d'Halifax. Une vue imprenable, balades et animations à votre porte. Il n'y a pas de meilleur endroit pour voir les grands voiliers cet été.
Le condo a deux chambres à coucher, le maître a une salle de bains.
Tipo de Acomodação
Casa/apto inteiro
---
Tipo de Imóvel
Condomínio
---
Acomoda
4
---
Quartos
Dartmouth, Nova Escócia, Canadá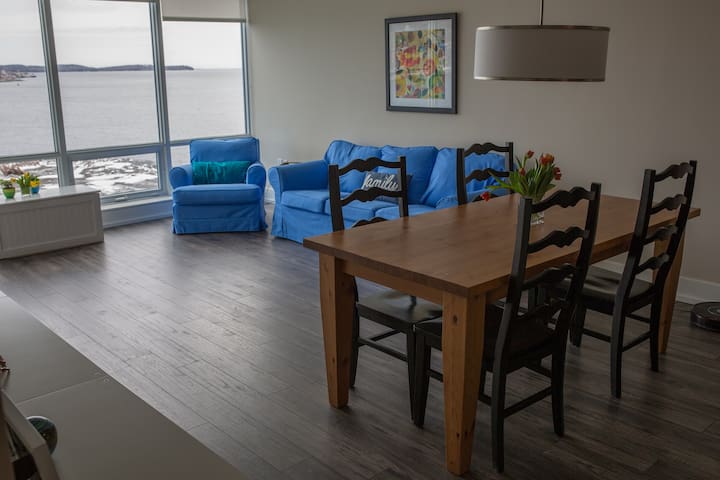 Welcome to serenity in the city. A newly renovated and furnished home set in the heart of the West End. A charming home and private backyard complete with flowering bushes in summer and a wonderful Wisteria covered Pergola to sit and enjoy your morning coffee. A place to unwind. Enjoy
Relaxing, private, own driveway, private backyard with gate. Guests are expected to leave the house the way they found it. Garbage should be bagged and placed in the shed. Compost(foodstuffs, paper towel) should be placed in the green bin in the backyard.
The west end of the city is a great spot to walk. It is close to Quinpool Rd where there are a number of restaurants. Also, the Halifax Shopping Centre is within walking distance. There is a playground within a 2 min walk as well as a larger splash playground in the Westmount subdivision.
Mary juggled her schedule to accommodate our requested arrival time to meet at the Urban Cottage and spent an hour welcoming us to Halifax. The cottage is much larger than the pic of the front would cause you to think. The kitchen is roomy with a large island, plenty of cupboard space, and very well-outfitted. The master BR is large with an office area and very bright. The house has everything you would need for a vacation stay; it is a full 3BR, 1-1/2 bath house. But the best feature is Mary - her friendliness and willingness to give you her time and share her knowledge about Halifax.
Terry
2015-08-26T00:00:00Z
every time again ,verry great place , Mary is a great host, absolut great place to stay, bathroom with tub, great backyard ,close to the mall...busstation... highway walkdistance to downtown 20 min. (3 km) highspeed wlan,whasher and dryer and and and and and we love it hope we can book next year again
Frank
2015-09-30T00:00:00Z
I can't say which was nicer, the house or the host. It is a beautiful place just minutes from downtown so you're right in the middle of everything. The house is very comfortable and all the extras Mary provided helped make this weekend one to remember for my wife and I. As a person who is in the city often on business, I will be staying here again for sure. Thanks to Mary for a wonderful first experience with airbnb.
James
2014-02-16T00:00:00Z
Mary's place was immaculate. Well organized and filled with amenities. We felt at home, that's for sure. The house is very spacious, huge kitchen, and a great location.
Gordie
2016-01-09T00:00:00Z
Wonderful house in central location. Although it it described as a cottage, it is much bigger than it looks in the picture. The front shows the original charm of the house but extensive renovations have resulted in a tasteful modern interior. Beautiful back yard, I would love to return in the summer.
Patricia
2015-04-01T00:00:00Z
Our Experience renting Mary's place couldn't be more amazing! Her "urban cottage" is perfect: the right size, wonderful location at a fair price. The "essentials" listed in the description is so much more. The house has everything we needed, even toys for our daughters' entertainment! Regarding Mary, so much more than a "superhost". She is so kind and worried about doing everything possible to allow us the best time at her place. Thank you so much Mary. Our next time in Halifax definitely will be at your place.
Cacio
2016-02-19T00:00:00Z
I had a great stay here. It was just perfect for what I wanted. Living downstairs and sleeping upstairs. Nice backyard and private parking space.
Douglas
2016-12-30T00:00:00Z
Staying at Mary's house was really an amazing experience. We rent a house 3-4 times a year for vacation, and this house is probably one of the best rental deals we made in the past few years. In case we need again a home for few days at Halifax, we will not hesitate to book it.
Julien
2015-02-21T00:00:00Z
Tipo de Acomodação
Casa/apto inteiro
---
Tipo de Imóvel
Casa
---
Acomoda
4
---
Quartos
Halifax, Nova Escócia, Canadá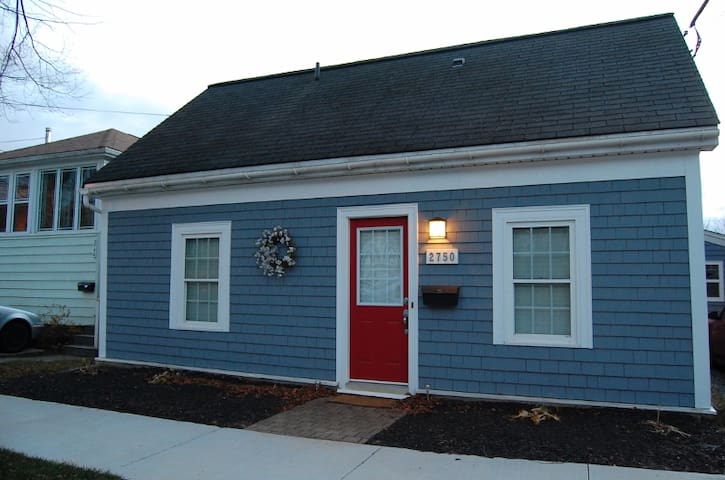 personagem incrível! Este estúdio está em uma casa histórica vitoriana 1896 com pisos de madeira, tectos de 9 pés e shellacked acentos de madeira por todo o lugar. É lindo! O estúdio tem a sua própria casa de banho privativa e kitchenette. Ele está perfeitamente localizado, literalmente, no campus da Universidade Dalhousie, a poucos quarteirões de distância do coração da baixa e os hospitais. Há outras 3 unidades independentes em casa. Veja a descrição detalhada (abaixo) para suas ligações Airbnb.
Viver em uma casa histórica de 1896, com pisos originais de madeira, tetos de 9 pés, vitrais antigos, e escadas de madeira shellacked, portas e acentos. Uma verdadeira atmosfera vitoriana! A casa tem 4 unidades independentes. Todas as unidades compartilham uma entrada foyer comum, mas cada unidade tem seu próprio banheiro (s) e cozinha. Embora nenhuma das unidades têm uma sala de estar, há uma área de estar partilhada no foyer no segundo andar. Veja os links abaixo para ver cada unidade: https://www.airbnb.ca/rooms/13727309 https://www.airbnb.ca/rooms/13742986 https://www.airbnb.ca/rooms/13743657 https://www.airbnb.ca/rooms/13721952 ESTACIONAMENTO: Há amplo espaço para estacionamento na parte de trás da casa.
Nossa casa está localizada no chamado bairro "South End". É simplesmente lindo! É uma área residencial feito principalmente de "estilo vitoriano" casas antigas. O bairro também é lar para a Universidade de Dalhousie, e nossa casa está literalmente na Campus. O bairro é seguro, limpo e cheio de árvores. É habitado principalmente por famílias de classe média e média-alta (várias escolas ao redor). Durante o dia, você vai ver um monte de estudantes universitários que andam de uma classe para outra. Este bairro é procurado devido à sua localização estratégica central, a pouca distância do centro e todas as atracções de Halifax.
The location is a close walk to downtown and it is quiet at night. The unit was exactly as advertised and it was great to have a mini kitchen in the room.
Kaveh
2016-07-13T00:00:00Z
Cinthia was a fantastic host. I would recommend her apartment to anyone. It was clean, cute and perfect for a couple or single person. I couldn't be happier with our stay.
Taryn
2016-11-14T00:00:00Z
Cinthia was accommodating and made the process very streamlined and our stay in Halifax that much nicer. Thanks for having us!
Bill
2016-08-08T00:00:00Z
It was super easy to check in and out and the room was exactly like the pictures shown. Overall it was exactly what we expected except it would have been nice to have a couple face cloths and extra toilet paper.
JoAnn
2016-11-22T00:00:00Z
Cinthia's place is the perfect spot to stay one Halifax. It's pretty centrally located with everything within walking distance. The room was clean and comfortable! Cinthia is a wonderful and kind host!
Elizabeth
2017-03-19T00:00:00Z
Communication with Cinthia was excellent. Apartment is located in the imidiate area of the University and about a 30 min walk from the waterfront
Herman
2016-08-16T00:00:00Z
We didn't have the opportunity to meet Cinthia, but the room in the historic home she provided was outstanding! Beautiful historic features, gorgeous neighbourhood within walking distance of all the major central attractions, and seamless check-in procedures. We loved this place and highly recommend it.
Don & Steve
2016-10-07T00:00:00Z
Our stay in Halifax was nice and this listing is as described. Request for additional towels was satisfied readily. The bed was a bit smaller then expected and not very comfortable. Other then that the listing provided a good place for a couple or single person to stay while wanting to be close to the university.
Joey
2016-08-25T00:00:00Z
Tipo de Acomodação
Casa/apto inteiro
---
Tipo de Imóvel
Casa
---
Acomoda
2
---
Quartos
Halifax, Nova Escócia, Canadá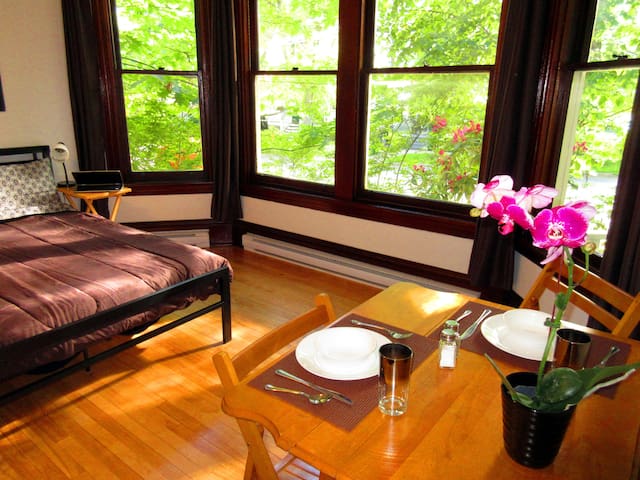 The ultimate suite of all, this 800+ sq ft suite with super large 3 pump Jacuzzi, walk in shower with 7 sprays, lights, music and steam!!! Suite comes with private access to the balcony, beautiful views of the gardens, quick access to the hot tub, fitness room, 3D cinema, pool table and much more. This suite is perfect for a luxury get away and to make memories that will stay with you for life.
Very Large room (838 square feet), large window overlooking the garden out back, with a large en-suite bath with a costume stand up steam and music/light therapy shower, modern double vanity and a private toilet, a spa bath big enough for 2 people, super large walk in closet with a window, room is equipped with sound system, intercom, a mini fridge, safe, rugs, sofa and a large seating area, flat screen TV, Cable, free internet, all amenities like soaps, shampoo, body wash, towels, robes, and more. Also a separate access to the rear balcony and outside and an easy and quick access to the designated smoking area.
Come and enjoy our 5 star getaway mansion in the quiet neighbourhood of the Shaughnessy in the Ravines of Bedford, located in the picturesque Bedford of Nova Scotia. Worthington Place Bed and Breakfast is the ideal location from which you can tour Nova Scotia for work or pleasure.
Perfect experience. My girlfriend and myself had a fantastic time and Samuel was a perfect host, making sure we knew everything that was available to us at the home and always making sure we were comfortable. The room itself is beautiful, the steam shower and jacuzzi were great. I'd definitely recommend it to anyone looking for a luxury getaway.
Jeremy
2016-10-19T00:00:00Z
My partner and I stayed here for a long weekend as a much-needed mini-getaway from our stressful work lives. This accommodation was Exactly What We Wanted. The jaccuzzi/steam shower was fantastic, and was the perfect way to wind down after running around and exploring all day. The bed was quite comfortable. Edrick was very friendly and helpful with any requests we had. We had a rental car during our stay, and it's only a quick 15 minute drive to downtown Halifax, an hour to Peggy's Cove. We would stay here again. It's a really good deal.
Ashley
2017-01-30T00:00:00Z
Would definitely recommend!
Phoebe
2017-01-21T00:00:00Z
Beautiful location! Stunning!
Samantha
2017-02-12T00:00:00Z
The night I stayed in this luxurious room was wonderful. The pictures don't demonstrate how large and expansive the space is. It provides with such a serene and calming place to rest during your travels. I have booked to stay at other rooms in the home as it is one of the nicer accommodations as a whole. The hosts are very respectful, helpful and will do whatever they can to ensure you have an outstanding experience. As I did!
Toby J
2016-04-02T00:00:00Z
We stayed here for two nights in the Shah Suite. It was beautiful and huge. Was exactly as advertised. The house was lovely and Sam and Rebecca were great hosts. Sam responded to my text questions right away before we arrived and when we were staying there. We would definately stay here again if we were going to be in the area.
Allison
2016-11-13T00:00:00Z
Whether you're seeking a city getaway or travelling from out of town, this is a beautiful home with lovely quiet rooms. The service and amenities are top notch.
Nicole
2017-02-20T00:00:00Z
Amazing Place! Highly recommended:)
Jesse
2016-12-04T00:00:00Z
Tipo de Acomodação
Casa/apto inteiro
---
Tipo de Imóvel
Pousada
---
Acomoda
2
---
Quartos
Bedford, Nova Escócia, Canadá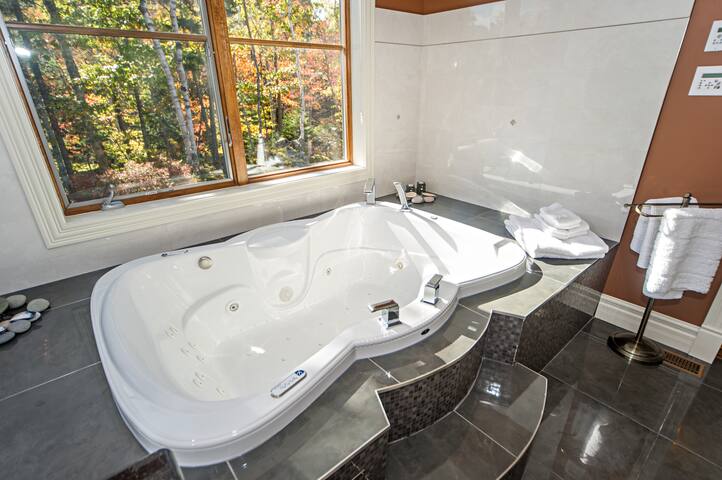 1

–

18

de

Mais de 300 Espaços para Alugar
Insira as datas para ver o preço total. Taxas adicionais serão aplicadas. Impostos podem ser adicionados.