108 Apartamentos para Alugar
Enjoy de countryside! But with all the city convenience of Den Bosch just 5 km away. This modern spacious ground-floor apartment is great for working events as well for leisure; for 1 night, a weekend or even long-stay. It has a fully equipped kitchen, a large living room, a separate bedroom and a private bathroom with bath and shower. Bed and bath linen is featured as well free WiFi. But the best is your private terrace with an overview at the green fields as far as it's gets!
My space for maximum 6 people is a formal stable and fully renovated in 2017 like you can see on the images with all facilities you need! There is a connecting bedroom with 4 beds and a extra private bathroom with shower and toilet, however this one is not renovated yet. There is also a sauna and fitness space.
The apartment is situated in the middle of the green country side, only 5 km from city Den Bosch. Den Dungen is famous for it's green surroundings to cycle and hike, visit the Dutch Windmill and restaurant Boer Goossens; a 6 generations family run business from 1822. Have lunch, dinner or a just a drink at De Dungense Brug; they serve French cuisine from local farmers 7 days a week. Have you Barista made coffee also there! As Den Bosch is so close by, you can enjoy everything the city provides; visit the Diezen canals with a boat, the St.-Jans Cathedral and the Stedelijk and Noordbrabant Museum. Den Bosch is well visited because of the many good (Michelin Star) restaurants, urban shops and lovely terraces. The big market every Saturday and many events like Indoor Brabant International Horse event and the Parade, an outdoor theatre event.
Stilte, ruimte, comfort, privacy...een topadres !
Helga
2017-04-04T00:00:00Z
Tipo de Acomodação
Casa/apto inteiro
---
Tipo de Imóvel
Apartamento
---
Acomoda
6
---
Quartos
Den Dungen, Noord-Brabant, Holanda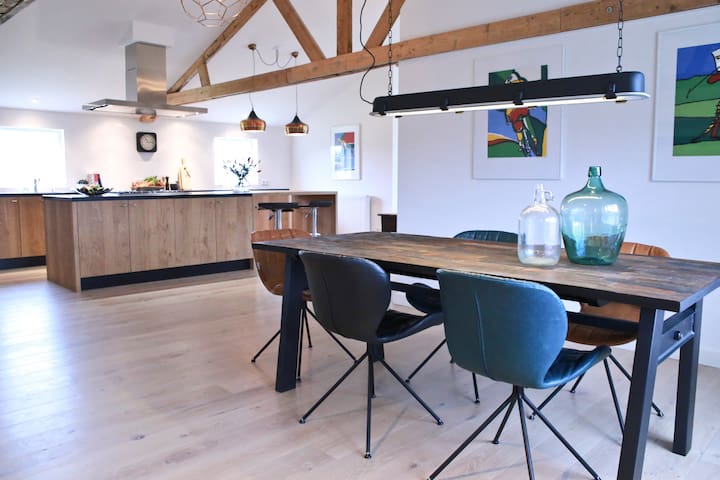 My room is nearby restaurants and dining options, family-friendly activities and nightlife. My room is suitable for couples, business travelers and families. Centrally located within 20-25 minutes drive from Den Bosch, Eindhoven and Nijmegen, 200m main bus station ude The apartment lies in the center of Uden. There are a lot of restaurants, bars and supermarkets on walking distance. The central bus station at 200 meters! Den Bosch, Eindhoven and Nijmegen on 20-25 min. Drive!
Beautiful and well maintained apartment in the center of Uden. Located second verdiepnig. Elevator present. Located directly on the shopping and nightlife of Uden Free WIFI. SmartTV in one of the bedrooms. 2 bedrooms, kitchen with all utensils and large living room. Garage with parking. The apartment is fully equipped with kettle, coffee maker, dishes, etc. Very nice apartment on the second floor in the middle of the center of Uden. Two bedrooms. One bedroom with SmartTV. Kitchen complete with all the things you need. Parking garage with own private parking place.
The apartment is located in the center of Uden, there are directly at the apartment restaurants shops and nightlife. There are supermarkets within walking distance. 300 meters is a park. The apartment is in the middle of the center of Uden. Directly near restaurants and bars and shops. Supermarkets on walking distance. At 300 meters there is a park where you can take a walk or relax
Good central place in Uden with own parking place. Very central to shops and Restaurants.
Rolf
2017-03-07T00:00:00Z
Mooi en ruim appartement in het midden van Uden, precies zoals de foto's. Het appartement was schoon en de parkeergarage was ideaal. Ook de wifi is snel en werkt goed! Zeer fijn plekje, bedankt!! :)
Linda
2016-11-30T00:00:00Z
Very beautiful and centric apartment with own parking space, close to Uden bus Station (5 minutes' walk), lots of options to eat, supermarkets are nearby, parks for the children and bars, since it is in the city center. Public transportation is great; Eindhoven is only 45 minutes by bus. There are a WW2 cemetery and a Dutch windmill that still works in the vicinity (you can walk to those places). Totally recommended if you are visiting Uden.
Roberto
2017-03-31T00:00:00Z
Fijn en mooi appartement met parkeerplaats in parkeergarage in centrum Uden. Prettige gastheer.
Paul en Ardi
2016-10-20T00:00:00Z
Het is inderdaad een leuk apartement midden in het centrum van Uden. Het apartement is ruim opgezet en ingericht, met een mooi klein balkon. De parkeer garage was erg handig en de locatie in de stad erg mooi maar toch ook erg rustig 's nachts. We hebben met plezier hier 5 dagen doorgebracht en zullen ook weer terug keren.
Hubertina
2016-09-22T00:00:00Z
the host was helpful and polite, and location is great near to the market and shops.
Adnan
2017-02-26T00:00:00Z
Always a pleasure to stay here
N
2016-11-13T00:00:00Z
The host is very warm and the welkom was fantastic. I like his Flexibility. it does not matter what time you want to arrive, he will be there. Thats amajor plus.
N
2016-10-29T00:00:00Z
Tipo de Acomodação
Casa/apto inteiro
---
Tipo de Imóvel
Apartamento
---
Acomoda
4
---
Quartos
Uden, Noord-Brabant, Holanda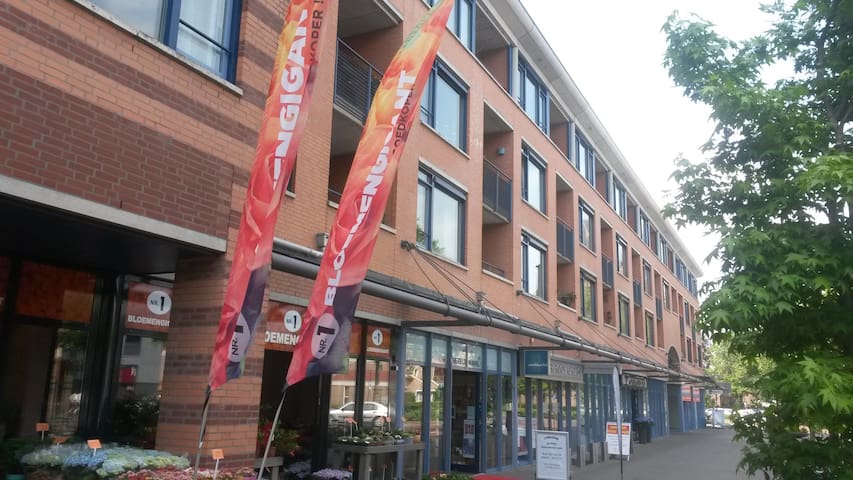 In een mooie omgeving aan de rand van het Brabantse Heeswijk Dinther staat het vrijstaand, luxe appartement Herkenhoek. Het centrum met leuke restaurants en cafe's ligt op loopafstand. Uw verblijf is op basis van logies en ontbijt. Alle ruimtes zijn rookvrij.
Uw verblijft in een sfeervol, luxe appartement. De keuken is volledig voorzien van alle faciliteiten, zodat u elke morgen kunt ontbijten, hoe, waar en wanneer u dat wilt. De keuken is zo voorzien dat u ook uw eigen diner kunt klaar maken. Je beschikt over een eigen buitenterras en parkeerplaats.
In de directe omgeving van Herkenhoek bevinden zich de Heeswijkse bossen, agrarische landerijen en de kabbelende riviertjes De Aa en De Leijgraaf. Er is volop vermaak voor jong en oud. Dit alles kan op loopafstand, per fiets of met je auto. Een bezoek aan kasteel Heeswijk en de Kilsdonkse molen mag je zeker ook niet vergeten. Je waant je in de Middeleeuwen.
We had a wonderful time and will come back in future. Thank you for everything!
René
2017-01-01T00:00:00Z
The host canceled this reservation the day before arrival. This is an automated posting.
monique
2017-01-27T00:00:00Z
Tipo de Acomodação
Casa/apto inteiro
---
Tipo de Imóvel
Apartamento
---
Acomoda
6
---
Quartos
Heeswijk-Dinther, Brabante do Norte, Holanda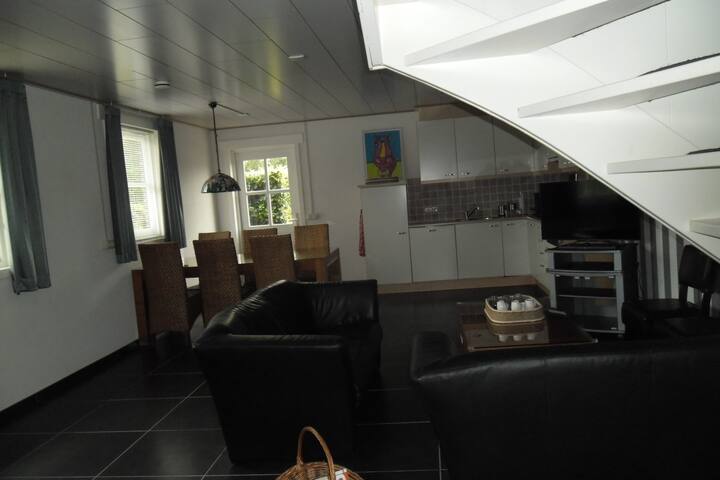 We hebben ons huis in 2007 gekocht en het verbouwd met ecologische uitgangspunten. Planten op het dak, leem tegen de muur enz. Dat geeft een fijne leefomgeving. Tuin sluit ook aan bij het huis en is ook heerlijk om te verblijven.
Een paar jaar geleden kochten we een bestaande woning en de afgelopen jaren hebben we de wederopbouw van het in een ecologisch huis. Naast het huis is een schuur, dat we omgezet in een woonruimte. We gebruikten het onszelf terwijl we het huis werd reconstrueren, en nu zijn we klaar, we willen het voor de gasten te maken. De "actorium ', zoals wij dat noemen, heeft voldoende ruimte, een tv-hoek, internet, tafeltennis en een toilet. Het heeft ook een eenvoudige keuken, die je vrij bent om te gebruiken. Upstares in deze Actorium is er een eigen kamer waar u kunt slapen en er is een ruimte waar je kunt zitten, lezen of rondhangen. Badkamer met douche en bad zijn in ons huis, en tot uw beschikking. Moeten dDe is een grote tuin (permacultuur) met een natuurlijk zwembad. U kunt rondlopen, zitten aan het water en wach de vogels. Er is ook een moestuin en kunt u verse vegetabels plukken. De kip eet al de restjes en geven ons eieren. We zijn erg blij met onze prachtige huis en alles eromheen, en we willen om het te delen. Ons huis ligt 1,5 km buiten van een klein dorpje. Er is een eenvoudige supermarkt. Wij zijn te bereiken met het openbaar vervoer met een 20 minuten met de bus en een 30 minuten lopen. Of we kunnen halen u op van het station. De luchthaven van Eindhoven ligt op 45 minuten met de auto en meer dan 2 uur met het openbaar vervoer De luchthaven Schiphol (Amsterdam) is 1 uur met de auto en meer dan 3 uur met het openbaar trasnport. Je kunt zelf controleren op www.9292. We kunnen halen u op van het station Rosmalen en dat bespaart u 1 uur. De plaats is in de buurt Autotron voor als u een evenement te bezoeken. Het is ook dicht bij een bos waar u kunt wandelen, fietsen of een picknick.
Very welcome in this home. Very very friendly and pleasant family. Nice chat with every one. A nice place to stay. 10min drive for the train station. Supermarket/cash machine/restaurant present in the village.
Stephane
2015-01-19T00:00:00Z
We had a very nice stay at monique's house. Very friendly,very relaxed. However, room and house is very farm like, so not perfectly hygenic and clean, so if your looking for more comfort than this probably not the right thing. For us it was perfect and very cosy. A bit like camping on a farm...
Gerald
2014-06-20T00:00:00Z
Al eerder geslapen, prima geslapen wederom.
Mark
2015-10-28T00:00:00Z
We werden vriendelijk ontvangen. Wij moesten er alleen een nachtje slapen. We vonden het er wel rommelig. Om naar je bed toe te komen moet je erg bukken. Ik heb mijn hoofd een paar keer flink gestoten. Het bed was goed en het was er rustig.
josje
2016-04-17T00:00:00Z
Adequate accomodation. Monique and her family were very welcoming and explained how everything worked and where to find it. Location is very nice, quiet and nice rural area to wake up in.
Dennis
2016-03-28T00:00:00Z
Als je een plek nodig hebt om te slapen, is dit een prima lokatie. Basic maar prima te doen! Communicatie en contact ging snel en eerlijk.
Simon
2017-03-28T00:00:00Z
Werd netjes door Monique welkom geheten en kreeg een korte uitleg. Het bed / kamer staat in grote "schuur" aan via een overdekte serre verbonden aan het huis. Het bed is goed, de faciliteiten zijn goed. Er was koffie en het ontbijt 's morgens was prima en voldoende. De privacy was goed en ik kon zelfs de magnetron gebruiken van Monique.
Mark
2015-07-21T00:00:00Z
Monique and her family were very welcoming and friendly. Although their place might be quite far from the city centre of Den Bosch, you can acquire the experience of living life on the country side - therapeutic in my opinion. Only drawback I had was in locating the place, can be very complicated for a tourist when you are not familiar with Den Bosch or Netherlands. Apart from that I enjoyed my stay nonetheless! Thank you Monique!
Ernest
2013-04-09T00:00:00Z
Tipo de Acomodação
Quarto inteiro
---
Tipo de Imóvel
Apartamento
---
Acomoda
3
---
Quartos
Vinkel, Noord-Brabant, Holanda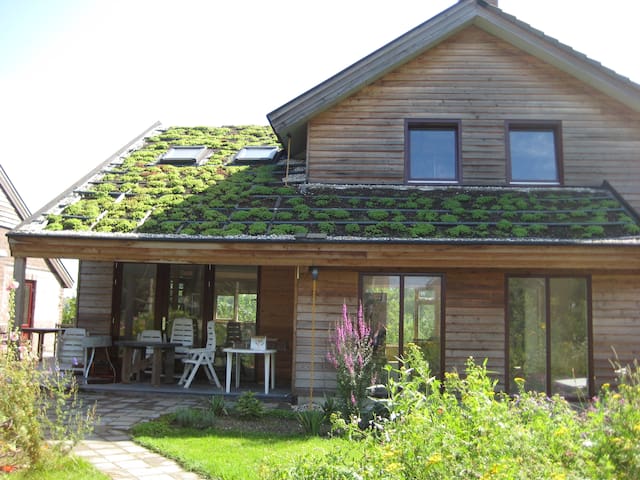 The apartment have a beautiful living kitchen and a entresol. There's a nice living room. Downstairs are two bedroom, a comfortable bathroom with a bath and a shower. The apartment is nearby the cosy center surround many restaurants.
Dorothe, Wat was het een fijn weekend in een leuke stad en een geweldjg appartement! Wat was het mooi, dit hadden we echt nooit verwacht! Een mooie locatie, op een perfecte afstand van alle activiteiten en dergelijke, in een rustige omgeving. Bedankt dat je je appartement voor dit soort reizen en anderen open stelt! Ga zo door, dat er nog veel boekingen mogen volgen!
Nicole
2017-02-05T00:00:00Z
Wauw! Wat een gaaf appartement in een schitterend pand. Heerlijk om een parkeerplek voor de deur te hebben, alles in huis stond klaar en was geregeld. Leuke omgeving.
Marianne
2016-11-07T00:00:00Z
My friends and I (group of 5) stayed in Dorethes beautiful and spacious apartment for two days and we couldn't have been happier with our choice. Dorethe is a very friendly and helpful host and the pictures don't do the flat justice. The apartment is located just a brief walk of 5 minutes away from the center of the town with lots of restaurants and shops. All in all, I can wholeheartedly recommend staying at this beautifully decorated and perfectly equiped apartment!
Maximilian
2017-01-01T00:00:00Z
Hele complete woning van alle gemakken voorzien! Leuke buurt met winkels en restaurants. Alles goed verzorgd en schoon. De electrische piano en de Wii werden door de kinderen gewaardeerd. We hebben ons prima vermaakt!
Mariette
2016-10-17T00:00:00Z
Great Apertment, everything was clean ! In a Perfect Location in Uden ! Everytime again !
Marius
2016-03-16T00:00:00Z
Great stay, clean and well equiped appartement at a comfortable location in Uden. Dorethé was such a great host, very friendly and flexible in her adaptation to our timing making our stay convenient and comfortable.
Martijn
2016-05-17T00:00:00Z
Very lovely apartment, tastefully decorated, very clean and very quiet. Love the view of the church. Bed was so comfortable. We loved our stay.
Astrid
2016-09-27T00:00:00Z
Very comfortable, beatifull, fully equipped and clean host. My children and we very loved the apartment. Though now is vacation period and Dorethe was not at home we got detail explanation about apartment and equipment from here daughter Elles. Our trip was oriented to our children and we looked for place allowing visit Efteling park and Open Air Museum and Hoge Veluwe park area. Uden is placed between these places and apartment has easy access to high ways.
Michael
2016-08-11T00:00:00Z
Tipo de Acomodação
Casa/apto inteiro
---
Tipo de Imóvel
Apartamento
---
Acomoda
6
---
Quartos
Uden, Noord-Brabant, Holanda
Our room has underfloor heating and our luxury bed 160x210 The total area is approximately 26m2 with private modern bathrooms. Our typical house was formerly owned by Castle Heeswijk and completely rebuilt about 5 years ago.
The apartment (26 m2) is part of an old farmhouse and is located in the old barn that has been converted into a lovely place to stay after a thorough renovation. You have a beautiful bedroom, private bathroom with shower, sink and toilet and a separate dining area where you can grab coffee and tea. The apartment is equipped with TV (cable) and WiFi.
The host canceled this reservation 11 days before arrival. This is an automated posting.
Marjon
2016-04-26T00:00:00Z
We waren op doortocht en zijn één nacht bij Edwin en Judith gebleven. We hebben genoten van een goed bed, hele mooie badkamer en een nog voortreffelijker en uitgebreid ontbijt. Echt enorm verwend met warme broodjes en alles wat je maar kunt wensen bij een ontbijt. De materialen gebruikt in de B&B zijn heel mooi, degelijk en eigentijds. Een aanrader dus. Foto's zijn precies als de werkelijkheid. De ingang is aan de zijkant van het huis, langs de stoep.
Christa
2016-08-07T00:00:00Z
Tipo de Acomodação
Quarto inteiro
---
Tipo de Imóvel
Apartamento
---
Acomoda
2
---
Quartos
Heeswijk Dinther, Noord-Brabant, Holanda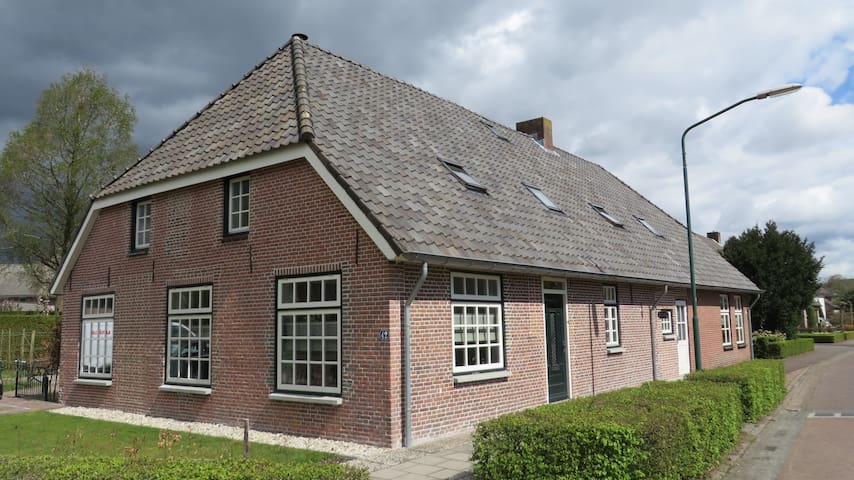 This apartment is spacious and has a good share in the living room and kitchen. In addition, the bedroom connected to the bathroom where even a bathtub is provided! Natural light through the large windows. From the lounge you directly to the terrace which belongs to the apartment. The apartment is located on the ground floor.
Right in the center of Uden! That means everything at your fingertips, right in the coziness of Uden. Cinema, theater, cafes, terraces, restaurants and parks to relax, gyms, swimming pools, shops, all within walking distance
at restaurants and cafes on the market
Tipo de Acomodação
Casa/apto inteiro
---
Tipo de Imóvel
Apartamento
---
Acomoda
2
---
Quartos
Uden, Noord-Brabant, Holanda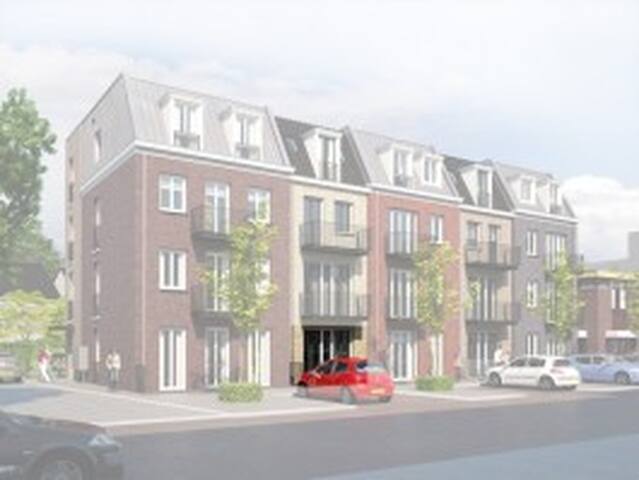 Landelijke Cottage, volledig gemeubileerd en gestoffeerd, terras+zitje, parking, wifi, rust. Ligt precies tussen Den bosch & Eindhoven. Snelle toegang A50 en A2. Openbaarvervoer loopafstand. Eindhoven airport 20 min.
t appartement bevind zich op t terrein van Stal Vermulst (dus paarden kom je hier wel eens tegen...) is van alle gemakken voorzien en gezellig ingericht!!! Het is echt een mini huisje. Een eigen badkamer met douche,toillet, 1 aparte 2 persoons slaapkamer + mogelijkheid/aanwezigheid voor 1 bijzetbed. Stoere living/ keuken met allerlei apparatuur, terrasje+zitje met stroom en verlichting, overkapping voor bv fiets of gewoon lekker zitten. U kunt zo binnen 'rollen' met uw reis tas!! De koelkast kan gevuld zijn voor een lekker ontbijtje, graag eve aangeven in de reservering.
Het is een landelijke omgeving, weides en groen. Het zeer gezellige centrum van Schijndel is op fiets afstand. Aanrader: Veel lekkere eetgelegenheden!! Onze Favorieten, Le Verre, Jansen&Jansen en avond vullend Hosteria( echte Italiaan) in Sint-oedenrode!!!! Sportvelden en grote supermarkt op loopafstand. Grote steden (zoals Den bosch, Eindhoven, Uden, ) ongeveer een 15/20min reistijd en snelweg is binnen vijf minuten bereikt. Er is een bushalte op loopafstand waar u na twintig minuten zo midden in de stad Den Bosch uitstapt, of Eindhoven of Uden!! Dus een gezellige city trip en daarna lekker uitrusten op t' Hooghekke!! U kunt er ook met de fiets op uit, er zijn verschillende mooie routes en dorpjes om vanuit hier naartoe te fietsen!! Genoeg te doen!!! Maar zakelijk u voorbereiden op een vergadering of werken vanuit t appartement behoort natuurlijk ook tot de opties, er is gratis wifi en een fijne werkplek met veel licht en alles binnen handbereik voor een comfortabel zakelijk verblijf!!! Snelle toegang tot uitvalswegen zoals A50, A2. Openbaar vervoer in meerdere richtingen op loopafstand. Eindhoven airport is binnen 20min bereikt met auto!!
Comfortabel en prettig verblijf. Veel privacy en rustige omgeving. Huisje voorzien van alle gemakken zoals vaatwasser, oven, wasmachine en droger. Supermarkt is vlakbij.
Nicole
2017-01-30T00:00:00Z
Heerlijk genoten van het mooie huisje op het platteland!
Lincy-Verona
2017-04-08T00:00:00Z
Everything was perfect. The house is very cute, clean and confortable. Leonthien provided all ingredients for an awesome breakfast, and the communication was perfect. I highly recommend this place. Thanks
julia
2016-06-23T00:00:00Z
A perfect stay ! I beautiful little house, very functional and quiet!! Leonthien was always listening and still available. everything was perfect ! I recommend this accommodation !!
Julien
2016-10-02T00:00:00Z
Cottage has all luxury you can ask for. Nice countryside surroundings but also well located for supermarkets and shops, and well connected to by car or bus to bigger cities nearby. Great good caring host on top
Nathalie
2016-12-09T00:00:00Z
We hebben een heerlijke tijd gehad in het huisje dat van alle gemakken was voorzien. Voor het eerst dat wij met onze dochter een tripje gingen maken. Maar we hebben ons met z'n drietjes goed vermaakt.
Tim
2016-10-25T00:00:00Z
Beautiful place. Very quiet and peaceful beautiful scenery lovely house great internet and cozy. Leonthien was brilliant very helpful and flexible loved it highly recommend ❤️
Jhadten
2016-12-01T00:00:00Z
Prima gastvrijheid, zeer flexibel aangezien ik wat later op locatie aan kwam dan gepland. De accommodatie is zeer modern en alles is aanwezig.
Sebastiaan
2017-02-15T00:00:00Z
Tipo de Acomodação
Casa/apto inteiro
---
Tipo de Imóvel
Apartamento
---
Acomoda
3
---
Quartos
Schijndel, Noord-Brabant, Holanda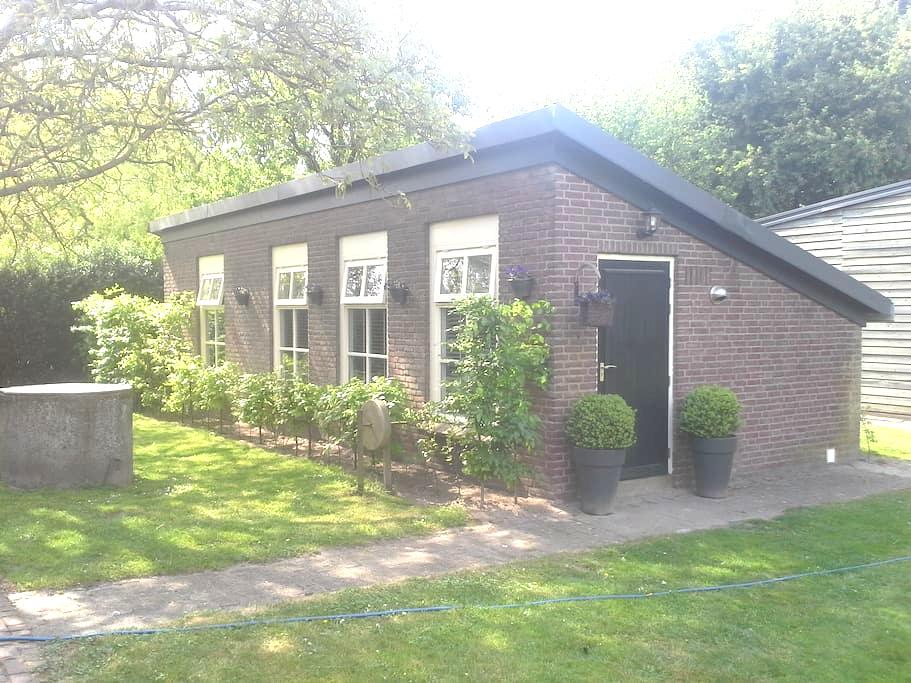 A cosey light apartment near by the railway station which you can travel to Amsterdam. There is one bedroom with a double bed and in the livingroom there is also a double sleeping coutch. There is a tv,piano,washing machine, a kitchen I am away during your visit, so you will have the place to yourself:)
Tipo de Acomodação
Casa/apto inteiro
---
Tipo de Imóvel
Apartamento
---
Acomoda
2
---
Quartos
Oss, NB, Holanda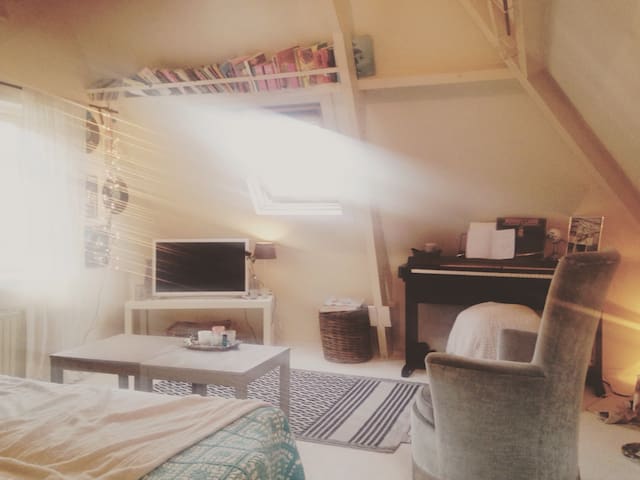 Of het nu gaat om en kort of lang verblijf, toeristisch of zakelijk... Het BAS Trucks Hotel heet u graag van harte welkom!
De kamers zijn luxe uitgerust met o.a.: - Ruime badkamer - Zitgedeelte - Televisie met internationale zenders - Gratis WIFI * Tegen extra kosten van €30,00 is het mogelijk om een kamer met keuken te reserveren
In de omgeving zijn verschillende restaurants, daarnaast is er een goede busverbinding naar Veghel en Eindhoven.
Tipo de Acomodação
Quarto inteiro
---
Tipo de Imóvel
Apartamento
---
Acomoda
2
---
Quartos
Veghel, Noord-Brabant, Holanda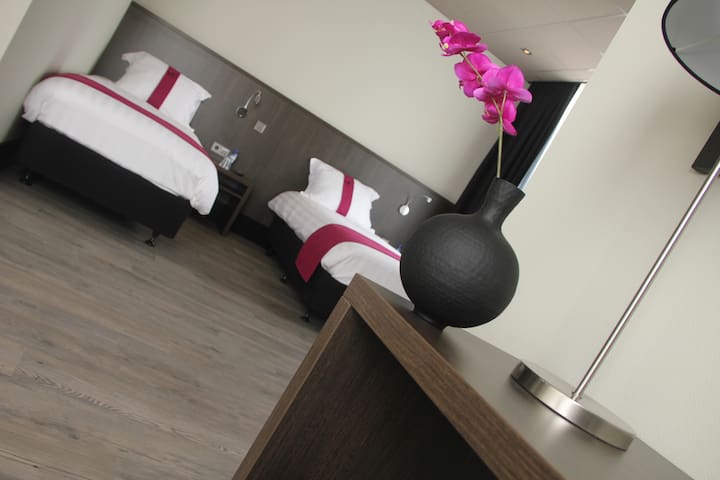 In een rustige straat gelegen woonstudio voor de zakelijke reiziger. Parkeerplaats voor de deur en voorzien van alle gemakken. Eventueel dagelijks een lekker ontbijt geserveerd.
Tipo de Acomodação
Casa/apto inteiro
---
Tipo de Imóvel
Apartamento
---
Acomoda
1
---
Quartos
Uden, NB, Holanda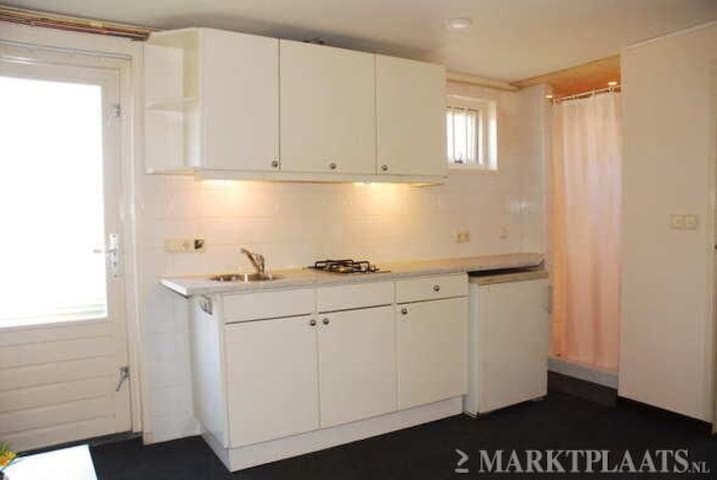 This luxury apartment is located in a park. Close to supermarket, bakery and bus station. Nearby cities as Nijmegen, Eindhoven and 's-Hertogenbosch. The apartment is on the second floor and there is a lift available. All facilities such as TV and washing machine are for use. The apartment is fully equipped with service, coffee maker, towels etc.
Das Apartment ist wunderbar. Alles vorhanden. Bequemes Bett und in einer ruhigen Lage mit Balkon und großem Parkplatz. Gerne wieder. Ich habe Carlijn leider nicht kennengelernt, aber der Kontakt per Messenger war immer freundlich, schnell und korrekt.
Alexander
2017-04-07T00:00:00Z
The host canceled this reservation 2 days before arrival. This is an automated posting.
Nathalie
2017-02-12T00:00:00Z
This apartment was very nice and the location is great. Very quiet and a very short drive to what I needed. When I need to come back to Uden I will visit here again.
Nicholas
2017-03-21T00:00:00Z
If you want to be "close to the action" (cafe's, shopping, people on the street", don't go to Carlijns apartment. If you want to be in a quiet, clean, modern and cosy place with great wifi, this is the place to be. Great place to work. On walkable distance to the city centre. Best when you own a bike or car.
Harold
2016-12-14T00:00:00Z
Goed verblijf op een rustige locatie. Van alle gemakken voorzien.
Ted
2017-02-25T00:00:00Z
Eine sehr schöne und moderne Wohnung! Ruhig gelegen, in einer neuen Wohnsiedlung. Bis zum nächsten Supermarkt kann man in gemütlichen 10 Minuten laufen. Die Gastgeberin ist sehr freundlich. Diese Unterkunft kann ich zu 100% weiterempfehlen.
Jenny
2016-09-17T00:00:00Z
The host canceled this reservation 2 days before arrival. This is an automated posting.
Boudewijn
2016-11-19T00:00:00Z
The location is in accordance with the description. Quiet and clean apartement in a quiet area, everything you need is provided. The communication was very good with Carlijn who speaks very well english. A supermarket and burger restaurant are very close, around 10 minutes by foot and the area is surrounded by a park. I enjoyed my stay and recomend it as well, thank you for everything Carlijn!!!
Mathieu
2016-11-12T00:00:00Z
Tipo de Acomodação
Casa/apto inteiro
---
Tipo de Imóvel
Apartamento
---
Acomoda
2
---
Quartos
Uden, Noord-Brabant, Holanda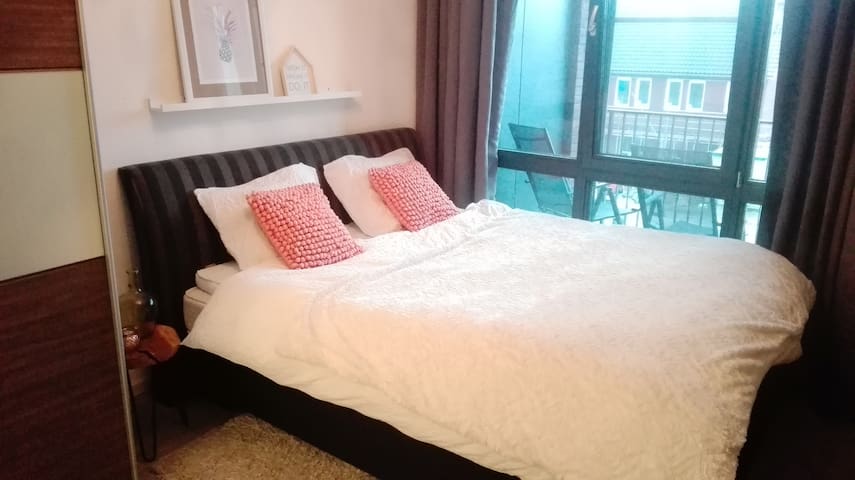 Our charming guesthouse is in the centre of Oss, the appartment is suitable for two people.
Stylish, sunshower, kitchen, terras and garden
Centre, next to school with playground where the kids can play
Tipo de Acomodação
Casa/apto inteiro
---
Tipo de Imóvel
Apartamento
---
Acomoda
2
---
Quartos
Oss, Noord-Brabant, Holanda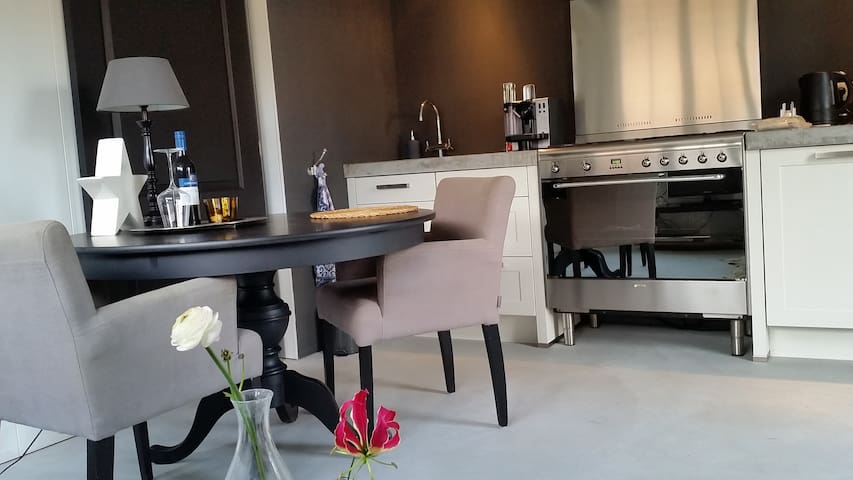 De ruimte is super centraal gelegen in Den Bosch. Ongeveer 5 minuten lopen naar het bourgonische centrum waar alle gezellige restaurantjes en uitgaansgelegenheden te vinden zijn. De Vughterstaat is een straat met gezellige winkeltjes dat u leidt naar de markt waarnaar u vanuit daar naar de Sint-Janskathedraal en de parade kunt lopen. De Studio is voorzien van alle gemakken, zoals een mooie badkamer, eigen keukentje en een groot dakterras.
De ruimte is ongeveer 35m2 en gesitueerd op de 2de verdieping van het pand. De studio geeft een ruimtelijk gevoel door het hoge plafond en een knusse uitstraling door de authentieke details en de vloerbedekking. Het beste aan deze studio is het bed. Dit gloednieuwe elektrisch verstelbaar queensize bed zal u een heerlijke nachtrust bieden. Aan de achterzijde van de studio heeft u de beschikking over een privé dakterras van 20 m2, waar u heerlijk kunt genieten van een goed glas wijn met uitzicht op de Sint-Catharienkerk of van de ochtend zon met een heerlijk kopje koffie. Verder heeft de studio een nieuwe badkamer met massage douche en genoeg opbergruimte.
Afgelopen tijd heb ik in een aantal airbnbs geslapen, dit was toch wel een van de aller beste. Super centraal, een heerlijke douche en het bed is zalig!
Sander
2017-02-28T00:00:00Z
Klein, maar comfortabel verblijf midden in het centrum. Ideaal voor een stedentripje. De communicatie met Lizzy verliep heel soepel. Vooral in de zomer is dit appartement echt een aanrader, want er zit een heerlijk terrasje bij
Laura
2016-10-25T00:00:00Z
We spend a good time in Lizzy's place. It is a nice studio near the heart of the city, very easy to walk from here to the sightseeings. Careful if you have a car ! All the parking areas in the neighbourhood are charged until midnight.
Charlotte
2016-09-11T00:00:00Z
The apartment is very central in the centre of s' Hertogenbosch and we could walk easily to the locations where we wanted to go. The room is really cozy and beautiful, so we felt very well in there and had a good stay. Lizzy was friendly and had good advices for us.
Nadja
2016-09-17T00:00:00Z
Gezellig appartement op loopafstand van alle beste plekken! Heel geschikt voor een of twee nachtjes en super stijlvol ingericht! Lizzy was heel behulpzaam en vriendelijk.
Anna
2017-01-05T00:00:00Z
We hebben het prima naar ons zin gehad in Lizzy's appartement. Mooie centrale locatie en netjes ingericht. Als we ooit nog eens een nachtje in Den Bosch verblijven zullen we zeker kijken of we hier weer terecht kunnen.
Arjan
2016-09-16T00:00:00Z
Prachtige sfeervolle locatie met prima voorziening. Ideaal gelegen dicht bij het centrum, supermarkt en het station.
Wouter
2016-11-23T00:00:00Z
Prachtig appartement! Ik moest uiteindelijk door omstandigheden vroeger dan gedacht weg, maar dat lag zeker niet aan de plek!
Sinsia
2017-02-11T00:00:00Z
Tipo de Acomodação
Casa/apto inteiro
---
Tipo de Imóvel
Apartamento
---
Acomoda
2
---
Quartos
's-Hertogenbosch (Den Bosch, A Floresta do Duque), Noord-Brabant, Holanda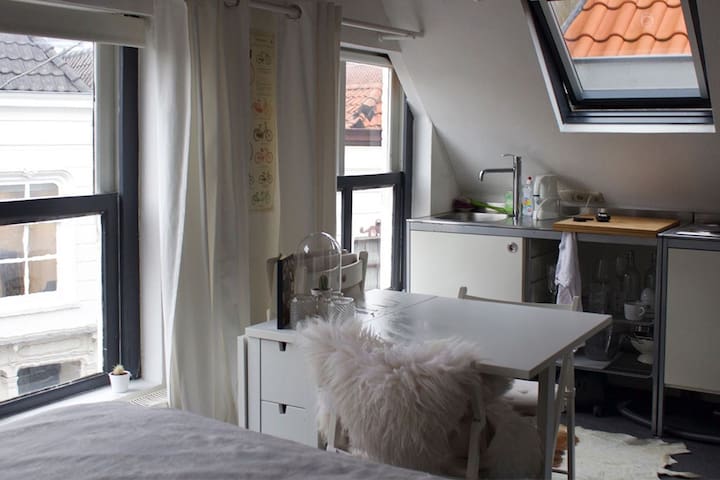 Next to the Arena shoppingcenter and 200 meters from the central market, you can find a modern apartment that is ideal for a break or temporary assignment in the beautiful old city of Den Bosch. With everything conveniently at hand you are at walking distance of all nice, tasty and historic places in Den Bosch. The many restaurants, bars, shops, museums , the underground river and other landmarks make Den Bosch the place to be. From this appartement everything can be reached within minutes.
Couple or singles that want to discover Den Bosch or need to be here on a temporary assignment.
The appartement is situated in the heart of the city, next to the Arena shopping center and 200 meters from the Grand Market Place.
Het was een heerlijk verblijf in dit lichte en vooral ruime appartement! Binnen 2 tellen in het centrum van Den Bosch. Met een zonnig balkon waar je prima een wijntje kunt drinken. Voor herhaling vatbaar!
Elvira
2017-04-01T00:00:00Z
.
Fardou
2017-02-05T00:00:00Z
Ik was in Den Bosch voor het werk en dit was echt een super verblijfplaats. Vlakbij het appartement is een parking waar ik tussen 6u 's avonds en 9u 's ochtends gratis kon parkeren dankzij een kaartje dat aangeboden werd door Cees, wat echt super was. Ook waren er veel eet gelegenheden in de buurt. Ook waren er veel leuke winkeltjes op wandelafstand van het appartement. Mocht ik nog eens naar Den Bosch moeten (voor werk of privé), is de kans zéér groot dat ik weer hier zou verblijven.
Dorien
2017-03-16T00:00:00Z
Zeer leuk appartement! Leuk dat er een ontbijt was voorzien.
Sarah
2017-02-12T00:00:00Z
We zijn er erg leuk ontvangen, alles schoon, netjes, ruim, lekker ontbijtje, goede uitleg over hoe alles werkt in het appartement. 2 minuten lopen van een kleine leuke winkelcentrum en het centrum. Dit was onze eerste ervaring met Airbnb, zeker voor herhalingvatbaar.
Debbie
2017-03-19T00:00:00Z
Mooi, ruim en schoon appartement, centraal gelegen. Aanrader.
Arno
2017-01-28T00:00:00Z
Voor de tweede keer in dit gerieflijke appartement en wederom beviel het uitstekend. Goede communicatie met Cees en zijn zoon. Als ik weer in Den Bosch ben boek ik hier zeker weer.
José
2017-02-03T00:00:00Z
Alles zag er netjes en verzorgd uit. De woning was voorzien van alle gemaak.
Roberto
2017-01-10T00:00:00Z
Tipo de Acomodação
Casa/apto inteiro
---
Tipo de Imóvel
Apartamento
---
Acomoda
2
---
Quartos
's-Hertogenbosch (Den Bosch, A Floresta do Duque), Noord-Brabant, Holanda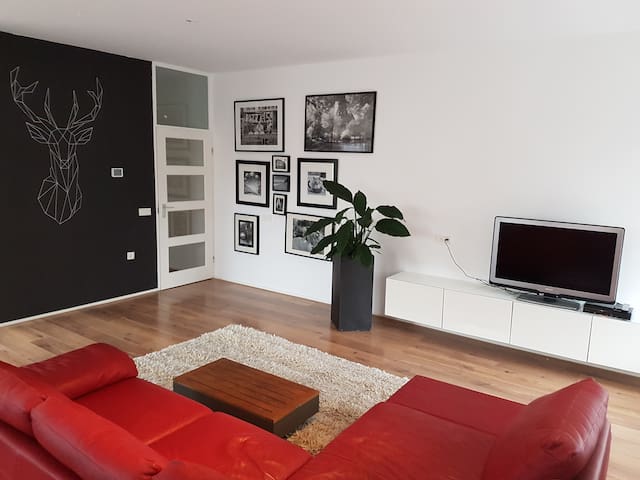 Privet room (within my own apartment). Facilities are to be shared with one more person. Den Bosch City center within 25 min walk and/or 5 minutes by car. Bus stop right in front of the building. Free parking available. Nice opportunity to see a beautiful city with nice museums and lots of history. You'll love my place because of the ambiance, cleanness & the neighbourhood... My place is good for couples, solo adventurers, and business travelers.
bevestiging gekregen over tijd aankomst, was de verhuurder er niet. Heb erachteraan gebeld en toen was deze er na 10 minuten.
Johan
2016-12-06T00:00:00Z
Raiza and her daughter are great and friendly. Bed is heavenly soft haha , clean and nice!
Asiia
2017-03-30T00:00:00Z
Nice room in quiet neighbourhood. Everything was just perfect. Thank you.
Martin
2017-03-27T00:00:00Z
Had an awesome time. The apartment is easily reached with public transport and has a comfortable bed .
Anthony
2016-12-09T00:00:00Z
Good acess, very supportive Raiza was. I had a good time. Wonderful place
Rahul
2017-02-05T00:00:00Z
Gezellige en nette kamer.
Abdolvahed
2017-03-09T00:00:00Z
Simpele slaapkamer in flat op ca 25 min lopen van centrum. Douche is behelpen zonder deur/gordijn naar keuken. Maar voor de prijs goed te doen.
Saskia
2016-12-11T00:00:00Z
Het was een prima verblijf op 25minuten lopen van het centrum. Het is goed verzorgd. De verhuurder wilde wel graag een paar dagen van te voren een precieze aankomsttijd weten, omdat zij ook andere plannen had. Wij konden dit toen helaas nog niet geven, waardoor het begin wat stroef verliep. Toen we er eenmaal waren was het contact prima!
Roos
2017-01-22T00:00:00Z
Tipo de Acomodação
Quarto inteiro
---
Tipo de Imóvel
Apartamento
---
Acomoda
2
---
Quartos
's-Hertogenbosch (Den Bosch, A Floresta do Duque), Noord-Brabant, Holanda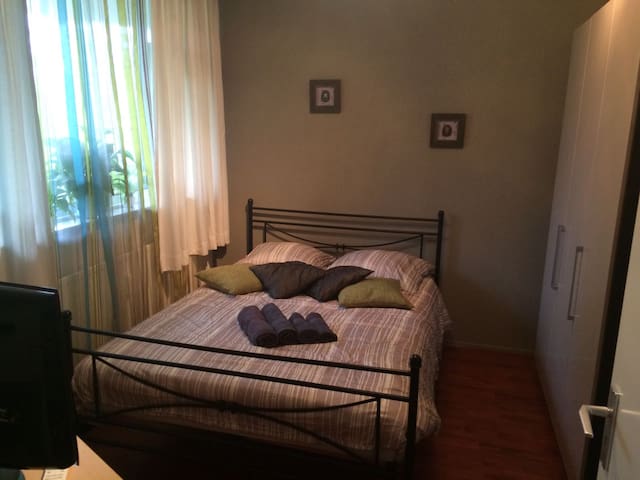 Sfeervol appartement (ca 60 m2) op de 2de verdieping in het winkelhart van Oss. Gezellige woonkamer met open keuken die is voorzien van alle apparatuur en keukengerei, 1 slaapkamer, 1 kleine kamer (geschikt voor mogelijkheid voor extra bed), badkamer met wastafel, douche en toilet.
In het appartement is een wasmachine aanwezig. Er is een mogelijk voor een extra bed.
Oss is een echte Brabantse stad met een bruisend centrum, bioscoop, gezellige bars, café's, restaurants en lunchrooms.
Tipo de Acomodação
Casa/apto inteiro
---
Tipo de Imóvel
Apartamento
---
Acomoda
2
---
Quartos
Oss, Noord-Brabant, Holanda
Our House is situated in Schaijk a village nearby 's Hertogenbosch and Nijmegen. National Park De Maashorst where you can go for a walk or where you can bike very well. You can visit Ravenstein and Grave two idyllic old citys.
Het huis is licht en ruim. Voorkamer met tv. De achterkamer met eethoek, openhaard en een apart zitje. Spullen aanwezig voor peuters zoals babybedje en kinderstoel.
Tipo de Acomodação
Casa/apto inteiro
---
Tipo de Imóvel
Apartamento
---
Acomoda
7
---
Quartos
Schaijk, Noord-Brabant, Holanda
1

–

18

de

108 Apartamentos para Alugar
Insira as datas para ver o preço total. Taxas adicionais serão aplicadas. Impostos podem ser adicionados.