My place is close to Forest. You'll love my place because of Peace, Nature, Silence, clean air, the view, the locaton. My place is good for couples, solo adventurers, business travelers, families (with kids), and furry friends (pets). Other facilities at holiday cottage Kašta include a barbecue. (URL HIDDEN) Ljubljana is 33 km from cottage Kašta, while Bled is 46 km from the property. The area is popular for fishing and hiking.
This house is located on a hill within the farm Selišnik. If you stay more than three nights, you can spend a day in a chalet under mountain Velika planina.
The cottage Kašta in located on a hill, so you have a beautiful view!
The place is amazing. The cottage is located above the village and the view is amazing. The cottage is huge and can easily fit for a famliy of 5-7. The hosts did evry thing to make us feel wellcome and comfortable. Thank you for an amazing weekend.
bar
2016-09-18T00:00:00Z
Neza greeted us kindly and there was a garden outside for the host. The cottage was adorable! Her garden was organic and didn't have any chemicals added to it, so I thought it was very natural and green. she also gave us homemade salami, bread and cheese, and the cheese wasn't salty at all and they made it wonderfully. we loved the garden, because the tomatoes were ripe and red than any other tomato I'd seen. delicious too! the raspberries were very ripe, too. Thank you so much! This cottage was better than ever in my opinion. I wish I can come back again. :D
Andy
2016-10-10T00:00:00Z
Tipo de Acomodação
Casa/apto inteiro
---
Tipo de Imóvel
Casa
---
Acomoda
6
---
Quartos
Luče, Mozirje, Eslovênia
We are renovating old wooden buildings that are tipicall for this area. We include modern and vintage furniture. And its all about wood. The area is very peaceful and green, its in the middle of the nature. Properly for a family or a couple.
Renovated furniture makes a space more warm and friendly. There are two floors. Downstairs is a well equiped kitchen and a living room and a bathroom with a shower. Upstairs are two bedroom. One is smaller that's why is more proper for two children. Afcorse also for 2 grownups but its a small one, so they should like each other;)
Tipo de Acomodação
Casa/apto inteiro
---
Tipo de Imóvel
Casa
---
Acomoda
1
---
Quartos
Podveža, Luče, Eslovênia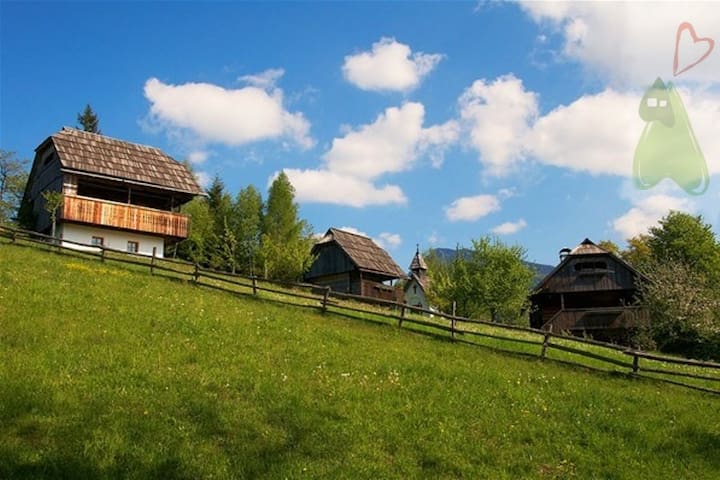 Stay in a nicely decorated Vintage House located centrally between the valley of Robanov kot (1,5 km) and Logarska valley (10 km). Explore the region or spend your time in the spacious house and a throw on a barbeque to enjoy the green surrounding of the property.
The house has its history waay back being burnt down in the second the world war. Family love to this place was so big, that my grandparents rebuilt it both times.
Solčava District or Solčavsko is an area of three unspoiled valleys: Logar, Robanov Kot and Matkov Kot. All of them were formed by glaciers and streams; needless to say the area is interlaced with legends of wild men, witches, dragons, and other creatures with fantastic powers. Each tree, mountain, stream, and cave has its own spirit. Logarska Valley Country Park is one of the most beautiful 'hidden' spots of Slovenia and a paradise for those seeking adventure and outdoor activities. Tradition and nature have found harmony here. Set amongst towering peaks, over 2,000m in height, the valley is stunning in all seasons. The sunny meadows and pastures, charcoal makers and foresters cottages, wooden flumes for transporting logs speak of a time gone by, of the isolated living of the valleys circa 35 residents. A popular destination for visitors, the valley offers many activities all year round, from hiking, cycling, climbing, skiing, sledding, ice climbing to snowshoeing or just a quiet walk in the forest.
Our holiday was really a dream. The house is very easy to find just located on a low traffic road. With a beautiful garden the inside of the house is breathtaking. Spacious rooms with everything you need: a cozy sofa, a fully equipped kitchen, a nice dining room with a splendid view on the forest. The upper floor has two rooms and an amazing bathroom and comfortable sitting room. Marko is a perfect host. Always ready for any request. House is warm and comfortable even during cold rainy days. Very nice patio with bbq and wooden table. Very clean house with everything you need. surrounding area is very very calm relaxing and full of activities to transform your stay in a wonderful holiday. Hvala Marko
ALESSANDRA
2016-08-13T00:00:00Z
Perfect house far out in quiet part of Slovenia.great host. Lovely experience!
Malkie
2016-09-12T00:00:00Z
It was very nice. Thank you. I recommend you this place:) 5/5 stars.
Ajda
2016-08-05T00:00:00Z
Tipo de Acomodação
Casa/apto inteiro
---
Tipo de Imóvel
Casa
---
Acomoda
5
---
Quartos
Robanov Kot, Mozirje, Eslovênia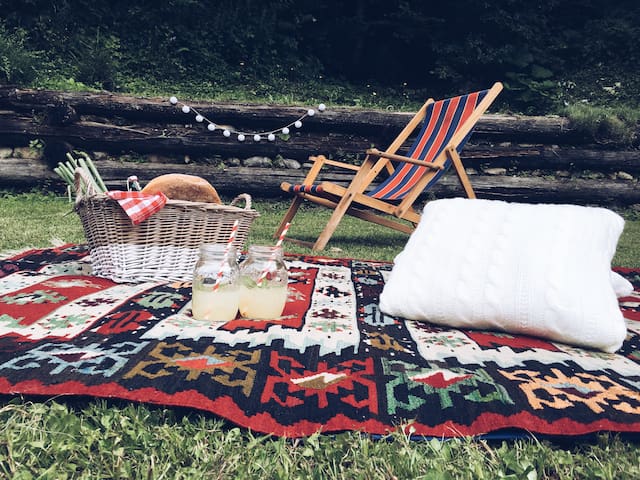 You are invited to experience a special holiday in our spacious house amidst the stunning Slovene mountains, rivers and valleys. Our house is in the picturesque village of Luče and offers a warm welcome to guests seeking a relaxing holiday.
Our beautiful and spacious Slovenian home is in the stunning village of Luče, nestled within the European Destination of Excellence of the Logarska Dolina National Park. The house has several traditional features, including an ornate Slovene burner, log fire and original wood panelling features throughout. The kitchen is newly fitted and has a Smeg fridge-freezer, dishwasher and ample cooking utensils and tableware. We also have a washing machine and tumble dryer. There are three large double bedrooms, one double bunk bed room and the Snug Room on the ground floor has a very comfortable double sofa bed for extra guests. The lounge is 12m long and provides ample room for guests to relax, play one of the many games and puzzles or enjoy a game of pool on our full-size table. There are three large sofas and the front doors open out onto the fabulous river and church steeple with the peak of Raduha mountain in the distance. There is a large breakfast table in the kitchen which seats 10 comfortably and the pool table also doubles as a table seating 12-14 people. In the summer months, guests can enjoy sunbathing in the meadow at the front of the house on our loungers and in the winter, the log fire and traditional Slovene burner make for tranquil and cosy evenings. The house is self-catering, but our neighbour and housekeeper, Tonika, prepares and delivers fabulous dishes including beef gouaslh with dumplings and schnitzel to order. The village has several bars, coffee shops (with wifi), a grocery shop, doctor surgery, tourist information office and the restaurants of Gostilna Kmet and award-winning Penzion Raduha. Guests can enjoy walking over the footbridge draped in pretty flowers to the village centre for great food and wine. From the village and through other companies in the local area, you can arrange paragliding, pot holing, cave-walking and cycling. There are also two wonderful wellness spas of Topolsica and Kamnik which have excellent indoor and outdoor pools, steam rooms, hot tubs and top quality treatments. In the winter months, guests can ski at Golte and Kravavec ski resorts or even learn to ski jump on the world class site in Ljubno, host to the Ski Jumping World Cup event every February. There is also a ski run in the village and a large wooden sledge and numerous bucket sledges in the house. For guests interested in culture and scenic history, these renowned spots are perfect for a day out from Luče: Ljubljana – 70 minutes Lake Bled – 90 minutes Maribor – 80 minutes Ptuj – 90 minutes Lake Worthersëe, Austria – 80 minutes We are proud of the wonderful area and opportunities that the region offers for a truly memorable holiday for families and groups of friends. Please do get in touch with us and we will be delighted to answer your questions.
The village of Luce has 1000 residents and is situated high in the picturesque Slovene mountains. The village itself has a small supermarket, bars and restaurants and neighbours are very friendly.
The host canceled this reservation 67 days before arrival. This is an automated posting.
Jure
2015-10-23T00:00:00Z
We had an excellent stay in Luce, the house is big, well located and the neighbourhood is very kind. The house was perfect for us, we were a group of french mining engineers students in a school trip. Close to mines/museums and Lubjana we could not have found better. Thank you very much and we hope to see you again. Kind regards, Antoine, Emmanuelle, Céline, Alix, Yohan, Priscille, Valentin, Matthias, Pierre
Antoine
2015-03-15T00:00:00Z
Nôtre hôte a été à notre écoute. Elle répond très rapidement aux difficultés qui peuvent surgir. La maison est agréable et le paysage merveilleux. La cuisine est très pratique et très complète. Je recommande cette maison pour des vacances tranquilles.
Philippe
2016-05-06T00:00:00Z
Although Francoise could not be there personally the caretakers and their neighbors ensured we had everything we needed. The whole village is friendly and welcoming. The house has everything you need and even as a party of 9 there was plenty of hot water for showers. The house is amazing, the village is amazing I thoroughly recommend this place. Francoise is an awesome host and responded to communication very quickly and efficiently.
Melanie
2016-10-05T00:00:00Z
Nice home, lovely place! Very friendly people around the house. Pleasure to be in Luce.
judith
2016-08-08T00:00:00Z
Lovely place to stay, great big warm house, with great facilities.
Annie
2017-01-04T00:00:00Z
Tipo de Acomodação
Casa/apto inteiro
---
Tipo de Imóvel
Casa
---
Acomoda
12
---
Quartos
Krnica, Luče, Eslovênia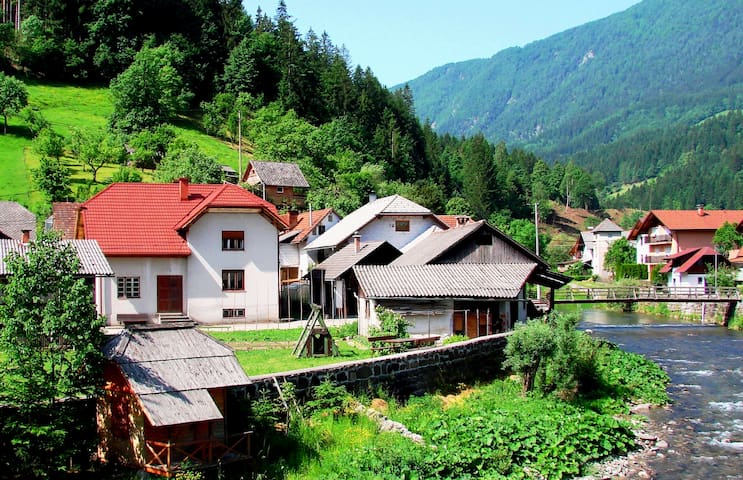 this is a pure cosy little organic farm. we have 2 guestrooms for 6 people. there is one bathroom, we use it together. you can book a big organic breakfast, the most products are selfmade, price is 8 euro.
there are 2 guestrooms with together 6 beds. 1 bathroom and 1 toilette to share. furniture is simple and selfmade, very comfortable and complete organic.
wir wohnen mitten im südkärntner seengebiet. 5 badeseen sind auf schönen radwegen erreichbar. über 2000 m hohe berge sind ebenfalls sehr nahe. die obir-tropfsteinhöhlen, die trögenerklamm und viele weitere natur- und kultursehenswürdigkeiten sind sehr empfehlenswert. durchaus ist ein ausflug ins wunderschöne slowenien möglich.
自給自足生活を営むエヴァ。糸を紡ぎ、野菜を育て、足りない乳製品などは地元の農家から買います。必要なものは時間をかけて丁寧に自分で作る。日本人が忘れてしまった豊かな時間と、生活を味わい、楽しむことを思い出させてくれました。彼女の生活からオーストリア人の環境に対する真摯な向き合い方が見えてきます。農業や畜産を出来る限り地産地消することで安心できる高品質な食生活を持続していく術を学べると思います。車はできるだけ使わず自転車で。機械に頼りすぎないことで継続する知恵。お金は大切に本当に必要か吟味して。きっと学ぶことが多いと思います。おすすめです。 Highly recommended host in Austria. Eva spins yarn, grows vegetables, fruits and herbs, feeds chickens. Buys some milk products and vegetable she doesn't have from local farmer. She makes many things by herself that is most important thing now we forget to do. I realized how meaningful spending such rich time, tasting life carefully, and enjoying create things by ourself are. I learned a lot of things about how the people in Austria face to environment from her sustainable lifestyle. You will definitely have exclusive experiences in her calm house.
Isao
2015-09-27T00:00:00Z
We had great time there! The very nice host makes probably the best homemade (!!) cottage cheese with herbs In the world :-) Our room was upstairs and toilette downstairs but it was not a problem because from the bedroom we had an amazing view at the garden thorough the big window. Almost everything was made of wood and it looked very cosy. Big plus was the green space around the house and the animals - the cow and the chicken - my little daughter was delighted as she saw those animals for the first time. Definitely would recommend!
Maciej
2016-07-22T00:00:00Z
Wir waren für 3 Nächte auf Eva's Hof. Er liegt in einer sehr ruhigen Gegend und dass einzige von dem man geweckt wird ist der Hahn. Wir wurden sehr freundlich Empfangen und hatten gutes Frühstück, sowie Abendessen mit Zutaten aus dem hauseigenen Garten. Eva kann gute Tipps geben um die umliegende Region zu Erkunden und alles in Allem war es eine sehr nette Unterkunft für unseren Trip.
Christopher
2015-08-21T00:00:00Z
Just stayed for one night and didn't spend much time there because I just needed a room to sleep while at a festival. However, Eva's place is really nice! Very quiet, in the middle of just nature and the room is big.
Jasmin
2015-07-26T00:00:00Z
Eva hat auf all meine vorab über airbnb gestellten Fragen geduldig und schnell geantwortet.sie ist auf das Bedürfnis eines familienbetts meiner vierköpfigen Familie eingegangen u hat zwei recht schwere betten zusammengeschoben. die Herberge ist liebevoll, ressourcenschonend und simpel eingerichtet.Wer nachts häufig auf die Toilette muss, sollte sich allerdings darauf einstellen, dass das WC nicht im selben Stockwerk ist.
helga
2016-07-10T00:00:00Z
Netter romantischer Hof. Empfang von EVA sehr freundlich. Danke
Stefanie
2015-08-01T00:00:00Z
Very cool place were almost everything is made by Eva. Unique accomodation!
Marijn
2016-07-13T00:00:00Z
Eva is a warm, open and very very interesting person. We enjoyed being there and getting to know her. It's a special place and a special experience in living in balance with nature. Cow-milking, butter-churning, egg-collecting and a peaceful relaxed atmosphere made our stay with Eva a memory to cherish.
Beverley
2016-08-03T00:00:00Z
Tipo de Acomodação
Quarto inteiro
---
Tipo de Imóvel
Casa
---
Acomoda
6
---
Quartos
Eberndorf, Caríntia, Áustria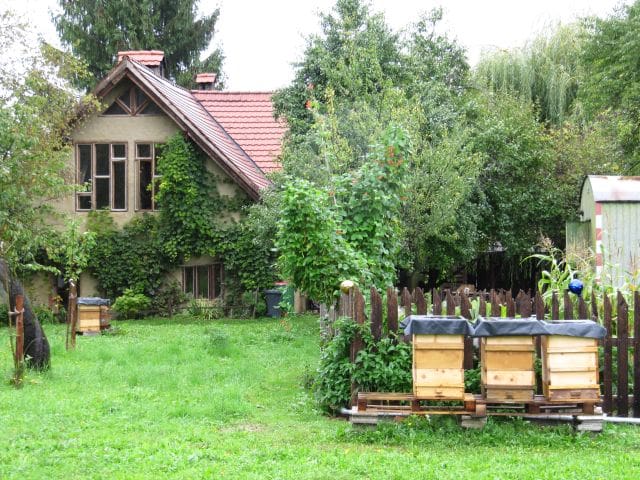 It's a house with 2 floors. In the first floo living room, dinner, kitchen, fire place and a bathroom. In the second floor 3 bedrooms both floors have a balcony with an amazing view. House has a private parking space wich is right next to the house. Near the house there is a swimming pool, grill and a playground for kids. We also have a restorant where we serve breakfast, lunch and dinner with many of the traditional Slovenian dishes
It's a three bedroom hause. There are 3 bedrooms with all of 8 beds. In the living room theres a couch on wich can sleep 2 people.
It's a child friendly neighborhood not a lot of traffic, mostly farms.
Odlicni domacini!! svaka preporuka.
Gox
2017-01-14T00:00:00Z
This was a great place to stay. It was in the country, with a beautiful view but close enough to the city. We easily visited lake Bled and Ljubljiana. The host family was excellent, cooking us dinner and breakfast at very reasonable prices.
Brian
2016-05-04T00:00:00Z
Nice house with a perfect vieuw. The family is very friendly and helpfull! There is always the possibility to have breakfast and diner, good food!
judith
2016-08-02T00:00:00Z
Great, like usual. Very hospitable family. This was our second time and we brought extended family. Beautiful, rural location but close to so much.
Brian
2016-06-13T00:00:00Z
Miha was the best host we have ever met. Érkezéskor frissen sült kenyérrel, házi kolbásszal várt bennünket, mindenben segített, folyamatosan a rendelkezésünkre állt.
Rita
2016-05-24T00:00:00Z
Die Kommunikation lief ausgezeichnet.Die Unterkunft war sehr sauber, geräumig und wir haben uns sehr wohl gefühlt. Die Familie Pavlin war immer erreichbar und das geführte Restaurant und das Essen dort ist wirklich zu empfehlen. Insgesamt hatten wir ein tolles Erlebnis und würden wieder kommen!
Vaia
2016-12-29T00:00:00Z
Miha et sa famille nous ont accueilli comme des rois. L'emplacement est magique! Avec une vue à couper le souffle et à proximité de plusieurs points d'intérêts. Les habitations sont grandes, confortables et bien équipés. L'auberge sert d'excellents plats. Notre seule déception: ne pas être resté plus longtemps.
Nicolas
2016-07-22T00:00:00Z
We had a great experience at this beautiful chalet in Slovenia. The place is basic, but has everything you might need. Views are stunning and the host family was very helpful. The outdoor area is fantastic too, perfect for a nice bbq with friends. Would definitely recommend this place.
louise
2015-09-28T00:00:00Z
Tipo de Acomodação
Casa/apto inteiro
---
Tipo de Imóvel
Casa
---
Acomoda
8
---
Quartos
Šenturška Gora, Kranj, Eslovênia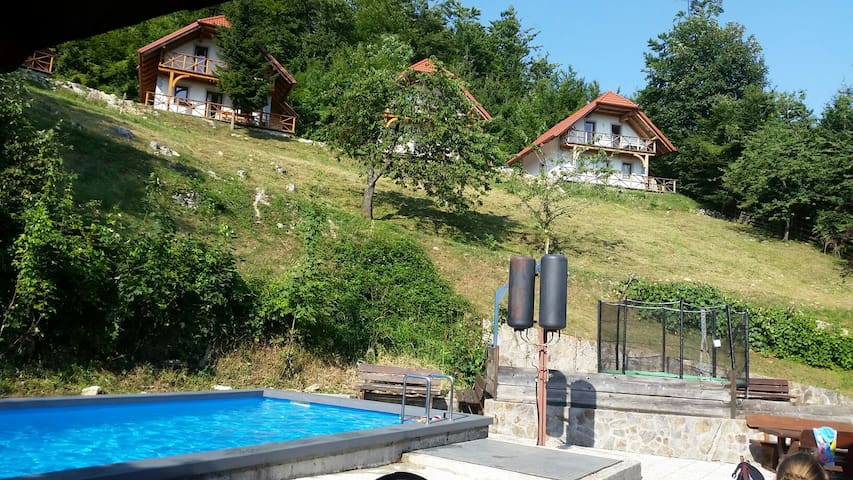 Unser liebevoll renoviertes und traumhaft gelegenes Haus bietet platz für maximal sechs Personen. Im Gartenbereich laden zahlreiche Möglichkeiten zum verweilen ein. Zusätzlich gibt es eine große Feuerstelle und einen Griller.
We had a excellent stay in Pogerschitzen, the accomodation and it's surroundings exceeded all our expectations, which were already pretty high after seeing the photo's. The house was perfectly suited for our little children and the owner was more than helpful at any moment. We will definitely consider going back in the near future. Thanks for eveything Sven!
Roy
2015-08-05T00:00:00Z
Wij hadden een heerlijke week in het geweldige huis van Sven. De vloerverwarming en sfeervolle inrichting was erg fijn en Sven's vader heette ons welkom met een gastvrije rondleiding en een kofferbak vol haardhout voor de vuurplaats. Hij kwam gedurende de week checken of we nog iets nodig hadden, erg aardig en welgemeend. De ligging van het huis is formidabel en de kleine details zoals de geurende lavendel die lag te drogen in de schuur en de pot met walnoten (uit de tuin) bij de achterdeur maken het idyllisch. We zouden hier zo weer naartoe gaan. Sven is een uitstekende gastheer. Dank!
bianca
2015-10-24T00:00:00Z
We had a wonderful time at Sven's home. It was perfectly private and beautiful. The home was very clean and well supplied. The second bedroom is a loft with a steep staircase and no door, which wasn't clear to us from the listing. Sven gave us many tips on activities in the area, although unfortunately several things were closed for the winter. Sven's father was very helpful with getting us settled and kindly let our children visit his horses. We highly recommend Sven's home!
Annie
2016-02-02T00:00:00Z
Lieber Sven, wir hatten eine tolle und erholsame Zeit in Pogerschitzen. Das Haus ist super schön und die Kinder hat viel Spass beim herumtoben vor dem Haus. Wir wurden sehr gut versorgt durch Sven und seinen Vater, Schlüsselübergabe und alles Organisatiorische war unkompliziert und verlässlich. Liebe Grüße Sandra mit Anhang
Sandra
2016-04-01T00:00:00Z
Was soll ich noch sagen, was hier noch nicht geschrieben wurde??? Es war einfach ein wunderschöner 3. wöchiger Urlaub, den uns Sven mit seiner Unterkunft nochmals versüßt hat!!! Alles war wie beschrieben und es gibt wirklich nichts auszusetzen. Sven und auch sein Vater sind sehr nette und herzliche Menschen denen wir auf diesem Wege nochmals ein "Danke" sagen möchten. Viele liebe Grüße, Ralf und Familie
Ralf
2016-08-20T00:00:00Z
Wir haben ein schönes gelegene Anwesen auf Ankunft in Pogenschitzen gefunden. Ein Herzlich willkommen und durch ein sehr sauberes haus gezeigt. Das Haus war sehr geräumig und hübsch dekoriert. Fur unsere Kinder im Garten viel Platz und eine Feuerstelle. Und sicher für Wert, wiederholt. Grüße aus den Niederlanden.
Berber & Richard van
2014-08-17T00:00:00Z
Leider mit Verspätung, da wir noch unterwegs waren und keinen Zugang zum Internet hatten. Mehr als in Svens Beschreibung des Hauses kann man eigentlich nicht mehr hinzufügen: Es ist ein traumhaftes Haus in idyllischer Lage und die Fotos sind eher eine Untertreibung. In und um das Haus herum kann man bei jedem Wetter entspannen und sich bestens erholen. Viele schöne Ideen sind in Einrichtung und Außenanlage eingeflossen. Der Kontakt zu Sven und einer Person vor Ort verlief völlig entspannt und wir konnten unsere Zeit wirklich genießen. Herzlichen Dank! Jörg und Annette
Annette
2015-08-17T00:00:00Z
Das Haus ist genau so wie auf den Fotos. Wir haben uns sehr wohlgefühlt und können es nur weiterempfehlen. Auch Sven war sehr hilfsbereit und zuvorkommend.
Daniela
2016-07-24T00:00:00Z
Tipo de Acomodação
Casa/apto inteiro
---
Tipo de Imóvel
Casa
---
Acomoda
6
---
Quartos
Pogerschitzen, Caríntia, Áustria
My place is close to great views and parks. You'll love my place because of the outdoors space. My place is good for families (with kids) and big groups.
Tipo de Acomodação
Casa/apto inteiro
---
Tipo de Imóvel
Casa
---
Acomoda
9
---
Quartos
Ambrož pod Krvavcem, Kranj, Eslovênia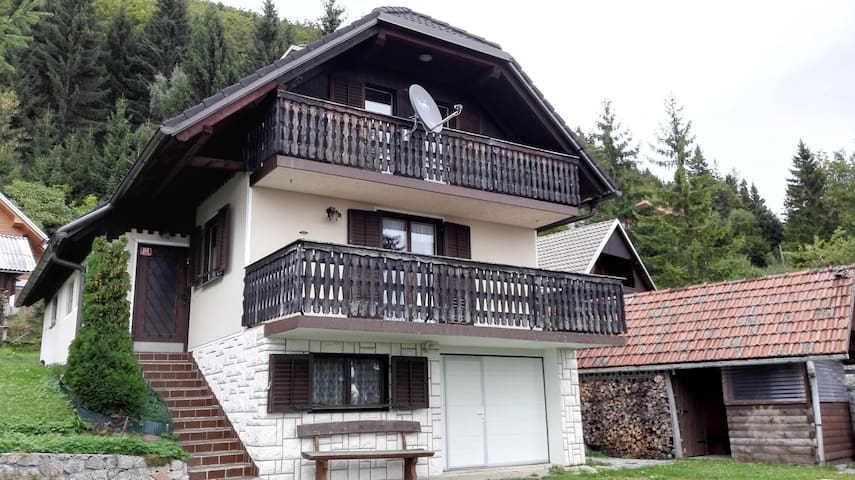 Gemütliches Appartement inmitten eines großen Gartens mit Zugang zum Swimmingpool. Radfahren in wunderschöner Gegend, Baden am Klopeiner See, Wandern und Mountainbiken auf der Petzen (Slow Country Trail). Machen Sie Ferien im sonnigen Süden Kärntens.
Eigenes Haus, Garten
Gasthaus gegenüber Geschäft in der Nähe Badesee in der Nähe Einzigartige Mountainbike-Strecke Mountson Flow Tolle Randstrecken
Beste Elisabeth en Franz, Wat hebben wij genoten van jullie mooi vakantiehuis en omgeving, de ontvangst was zeer vriendelijk en alles is goed uitgelegd, de tips voor er op uit te trekken waren erg goed en natuurlijk de aanbevolen restaurants SUPER ! nogmaals dank en de Beeren jam was heerlijk ! Groetjes Mark, Mireille, Tijn & Veerle
Mark
2016-08-04T00:00:00Z
They were two fantastic weeks. The apartment is very nice, comfortable, and cool. There is everything you need for your home. The garden and pool make it even more beautiful home. In addition the hosts, Franz and Elisabeth, are nice, very helpful and serious in their work. They gave us a lot of information about places to visit. Excursions, lakes, enchanting landscapes. A dream vacation. We will certainly return.
alessandro
2016-08-21T00:00:00Z
Netter Gastgeber, schöne Wohnung und schöne Umgebung! Top Ausstattung, gerne wieder.
Markus
2016-09-20T00:00:00Z
Tipo de Acomodação
Casa/apto inteiro
---
Tipo de Imóvel
Casa
---
Acomoda
4
---
Quartos
Sankt Michael, Kärnten, Áustria
..lassen Sie sich verzaubern vom besonderen Flair des Appartements Classic. Hier finden Sie die Leidenschaft zum Wohnen, edle und stilvolle Kombination aus Classic und Moderne……
Das "Ferienhaus MELITA", liegt inmitten des Ski-, Wander- und Bike-Gebietes Petzenland. Vergessen Sie den Alltag tauchen Sie ein in eine neue Welt, in eine Welt enormer Großzügigkeit, grenzenloser Freiheit und was dabei wichtig ist: "bewusst genießen", denn der wahre Luxus ist die Zeit für sich selbst! Ein ganz besonderes Highlight: in unmittelbarer Nähe der 10 km lange Flow Country Trail auf der Petzen
Die Region bietet Ihnen zahlreiche Möglichkeiten Ihre Freizeit abwechslungsreich zu gestalten
Tipo de Acomodação
Casa/apto inteiro
---
Tipo de Imóvel
Casa
---
Acomoda
4
---
Quartos
Feistritz ob Bleiburg, Caríntia, Áustria
3 newly renovated apartments for each max. 4 people on beautiful, old estate in a dreamlike landscape. Surrounded by lakes and mountains with use of pool and tennis court can be enjoyed from their private balcony, the tranquility of this place.
The property has such a unique landscape and atmosphere and guarantees total privacy. Hiking, cycling, the nearby lakes, the house own pool and tennis court allow a versatile program. Please ask, we have 3 apartments, but if one is booked, all the accommodation in the calendar appear as occupied and there are possibly still 2 free !!!
Nearby dreamlike lakes and unique hiking and cycling opportunities - longest in summer Europe Mountainbikestrecke "Country Flow Trail" (15min) away and in the winter skiing and cross-country skiing right outside the front door. Peace and nature!
Das Arrangieren ging vollkommen unkompliziert und zuvorkommend von Monikas Seite vor sich. Wir kamen mit dem Zug und fuhren den Weg zum Haus mit dem Taxi (ca. 25 Euro zu viert). Während des Aufenthalts war ein Herr, der auf dem Gut arbeitet, so nett, uns in die Stadt zu chauffieren. Die Familie Rosenberg lernten wir leider nicht kennen, aber das Telefonat sowie ein Brief und selbstgemachte Köstlichkeiten ließen keine Fragen offen und hießen uns freundlich und zuvorkommend im Gut willkommen. Die Wohnung ist sehr schön, sauber und hat alles, was man braucht. Auch die Küche ist super ausgestattet und wir haben uns insgesamt sehr wohl und wie in einem gemütlichen Puppenhaus gefühlt. Der Garten ist ein Paradies! Abgesehen von Pool, Trampolin, Schaukel, Federball und Tennis, bietet er verwachsene Wege und viele Obstbäume. Das Gut liegt ruhig und schön abgelegen und rundherum kann man im Wald, auf Wegen, bei Feldern super spazieren gehen und die wunderschöne Natur genießen. Wir wollen nächstes Jahr auf jeden Fall wieder kommen um die Natur und die Ruhe auszukosten!
Johanna
2015-09-07T00:00:00Z
Monika's flat was really great : clean, well organized, with a balcony where we could have break fast or dinner for a family of 4... The garden is huge and beautiful, a real paradise for children. We swimed in a lot of lakes around and really enjoyed our stay. Monika was in holidays elsewhere but she answered very quickly by (SENSITIVE CONTENTS HIDDEN). I recommend this place!
juliette
2016-08-21T00:00:00Z
Klasse proaktive Kommunikation vor der Reise bis zur Bestätigung der Bettwäsche und Handtücher. Kurz vor Reiseantritt erhielten wir sogar noch ein Hinweis auf das Wetter und die zusätzliche Möglichkeit in der nahen Umgebung, Schlittschuh laufen zu können. (wir haben dieses TÄGLICH genutzt) Sehr genaue Anfahrtsbeschreibung und kurzer Anruf wann wir genau ankommen, damit wir persönlich begrüßt, von Monika, werden konnten. Ständige, proaktive Vorschläge und Ideen für Sehenswürdigkeiten und Ausflüge. Top Wintersportmöglichkeiten in naher Umgebung (Skigebiet Petzen). Es wurden sogar Taschenlampen für eine Nachtwanderung zu einer nahegelegenen Ruine im Wald zur Verfügung gestellt. In der Beschreibung der Wohnung fehlt leider der Hinweis auf das ebenfalls neu renovierte Badezimmer und auf das separate WC, welche genauso geschmackvoll eingerichtet worden sind, wie die sehr schöne geräumige Wohnung. Im Wohnzimmer stehen zwei sehr schöne Schlafsofas, die nicht nur für Kinder geeignet sind, zur Verfügung. Zusammengefasst ein SUPER Geheimtipp mit 5 von 5 Sternen ! Wir freuen uns auf ein Wiedersehen und sagen vielen, vielen, lieben Dank !
Andreas
2016-01-03T00:00:00Z
Monika und Hubertus sind tolle Gastgeber: herzlich und hilfsbereit, aber nicht aufdringlich. Wir haben uns rundum wohlgefühlt. Das Apartment ist geräumig, die Küche gut sortiert, Bad mit Wanne, bequeme Betten und W-LAN. Das Haus liegt idyllisch etwas im Abseits, Einkaufsmöglichkeiten sind gut mit dem Fahrrad erreichbar. Die Gastgeber haben uns selbstgekochte Marmelade und Holunder-Sirup geschenkt. Außerdem haben sie uns mit Kartenmaterial versorgt und allerlei gute Tipps für Restaurants und Ausflugsziele in der Umgebung gegeben. Sogar ein Mountainbike durften wir leihen. Man kann wunderbar im Garten liegen und lesen, im Pool baden, Federball und sogar Tennis spielen. In nächster und entfernterer Umgebung kann man schöne Fahrradtouren und ausgiebige Wanderungen in der berg- und seenreichen Landschaft machen. Einziger Wehrmutstropfen waren die vielen Wespen beim Frühstücken auf der Terrasse. Insgesamt jedoch sehr zu empfehlen für erholsame Ferien in Kärnten.
Helene
2015-08-10T00:00:00Z
De ontvangst was hartelijk en we werden wegwijs gemaakt in het appartement. Monika nam alle tijd om ons te voorzien van informatie over restaurAnts en tips over dingen die we konden zien doen of beleven. Emmer is een heleboel voor ieder wat wils! Wijngaan zeker terug naar Karinthië. Sowieso is Oostenrijk ons als vakantieland goed bevallen. Mooi land, veel te doen, vriendelijke mensen en goed georganiseerd. Aan die Bahn kan de NS een voorbeeld nemen!
Fabienne
2016-08-14T00:00:00Z
Very welcoming host, perfectly clean and charming apartment with balcony and all necessities. Instructions were very clear to arrive. All green and peaceful around, beautiful surroundings for walk, hike and run. Lakes (Klopeinersee and others) are easy to reach by car or bikes for the closest ones. Monika made sure we had all we needed and left for us homemade delicious jam and syrup. We highly recommend this little piece of paradise! Just be informed that there was no wifi when we were there - in case that is important to you.
Faye
2015-07-13T00:00:00Z
Communication with Monika was superb. We liked the place a lot. Not only the appartment but the whole courtyard, tennis court en swimming pool are outstanding. It is a quiet place with a beautifull view from the balcony. The garden is very big with enough place for sun and shadow. In the surroundings of Sonnegg there is a lot to do. Ljublana (Slovenie) is not far away and there are a lot of swimming lakes near Sittersdorf with their own characteristics. There are also a lot of restaurants in the nabourhood. Some with local food and a lot of pizzeria's. Most lakes are quiet, not touristic and not crowdy. But if you like a lot of tourists and touristshops close together, you can go tot the Klopeiner See or Worther See. We can recommend the walk in the SchleppenSchluchte, it is beautifull! So if you like swimming, hiking, cycling or driving through beautiful nature? This is the perfect place to be. The climate in summer is very good (25-30 degrees with sometimes a thuderstorm in the evening). We had a wonderfull vacation and can recommend this place with all our heart. Monika was very open and helpful and she had a lot of good tips for us. Her husband was also very nice and helpfull (We had a little problem with our car and he helped us to solve it. Thanx!)
Wilfred
2016-08-07T00:00:00Z
We had a wonderful stay at Monika's place. The appartment is very well equipped, nicely furnished, with a beautiful view from the balcony and huge garden with pool. The location is fantastic: quiet and peaceful and very close to several beautiful lakes. Perfect for relaxing holidays!
Emmanuelle
2016-08-29T00:00:00Z
Tipo de Acomodação
Casa/apto inteiro
---
Tipo de Imóvel
Casa
---
Acomoda
4
---
Quartos
Sittersdorf, Kärnten, Áustria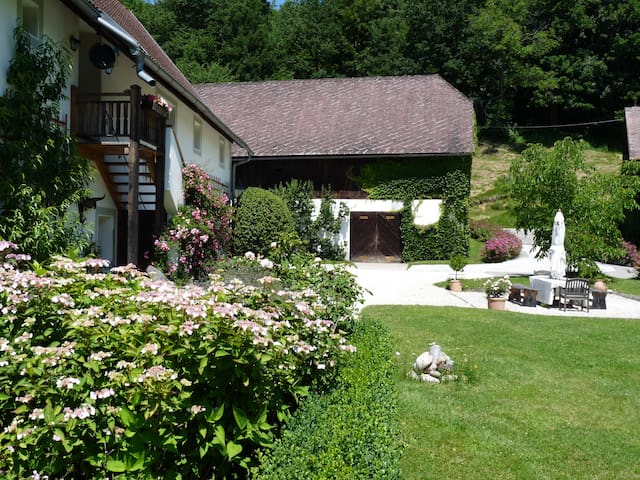 Our house is located in the heart of Upper Savinja Valley in a little village named Sentjanz, which was one of the first Celtic villages in Slovenia. The village is a great starting point to explore the Valley. It takes you only few minutes to visit Golte with alpine botanical garden or maybe go to Logar Valley and climb the peaks of the Alps. If you like to swim no problem, there is also Savinja river few steps away from the house, where you can swim and enjoy the summer time.
As our guest, you are renting the entire floor of our 2-floor house with a private entrance. There is a fully equipped kitchen with a dining area, indoor fireplace, living room, bedroom and a private bathroom. Flat screen TV, WiFi and private covered parking lot also available. We offer free bike rental. House is located on a hill which is a great starting point for hikes around Upper Savinja Valley. There is an organic vegetable garden just outside the house, where you may serve yourself with all kinds of vegetables. Outside terrace with tree shadows and birds singing sounds makes a perfect backdrop for morning coffee drinking or meditation.
Our neighborhood is... let's say international :). There are neighbours from United Kingdom and Slovenia.
Tipo de Acomodação
Casa/apto inteiro
---
Tipo de Imóvel
Casa
---
Acomoda
2
---
Quartos
Šentjanž, Mozirje, Eslovênia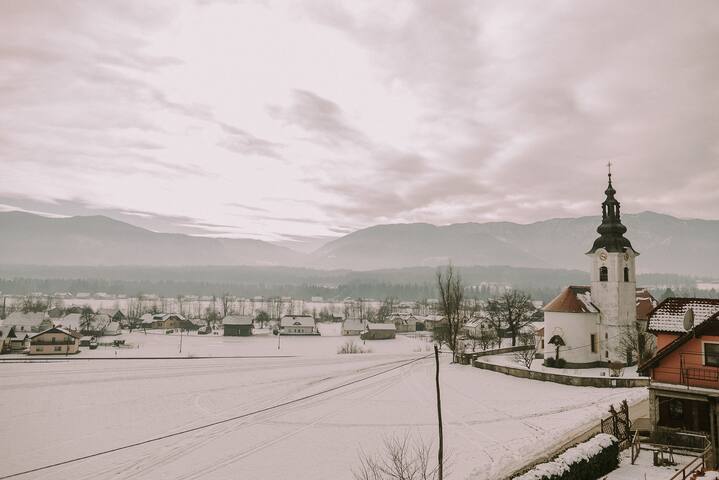 Herons Place is a beautiful, spacious villa with astounding mountain scenes viewable from under the roof of its large, south facing patio. It is based in the spectacular heart of Slovenia, ideally situated for great day trips throughout the Country.
The house has a pleasantly furnished lounge, a good sized kitchen diner and a large dining room. Because it is such a sun-trap and has spectular views, from May to September guests usually prefer to spend most of their time relaxing on the covered terrace around the big table or in one of the two gardens. Two sunloungers are available for sunbathing. There are hundreds of dvds and cds and various family oriented games and books available if you wish to stay inside during the evening. Two old bikes should be in the garage. Guests are encouraged to give the bikes some basic maintenance if they want to use them, such as pumping up their tyres. The washing machine and portable bar b q are also in the garage.
Thank you for visiting Heron's Place! The area is well known in Slovenia for is spectacular alpine scenery and is very popular amongst local people, however, it still relatively 'undiscovered' by foreign travel companies. The villa is in a beautiful natural valley ideal for either relaxing or exploring: there is a wide variety of great walks in the valley and adjacent mountains. It is a great base for a Slovenia walking holiday. There are three taverns and a small supermarket, that serves fresh bread, within 1.5km walking distance. At 3km away, Gornji Grad is the nearest town to the house. It is small but has a variety of restaurants, including an excellent pizzeria, shops and a bank; and is on the intersection of many famous hiking trails. Mozirje is a larger town with many shops and supermarkets and is an easy 14km drive away. Towering over Mozirje is Golte, a wonderful mountain plateau that offers excellent skiing and walking. The mountain is drivable but is also served by frequent gondolas throughout July and August and the ski season, making the villa a good base for a winter family holiday. The two larger ski resorts of Krvavec and Rogla are only an hours drive away. For first time skiers, we recommend Pohorje ski resort near Maribor about 80 minutes drive away. Nearby attractions include the famous and spectacular valley of Logarska Dolina and the high plateaus of Velika Planina and Golte. The Dreta river flows only 200 meters from the house with good trout fishing (you need to buy a local licence). A number of museums, spas and restaruants are a short drive away. Also nearby is rafting, kayaking, horse riding, skiing (15km), archery and some cycle hire. The central location and ease of getting to the main A1 motorway makes it a great base for day trips to the capital of Ljubljana, Bled, Bohinj, the famous Postjona caves;the smaller cities of Celje, Maribor and Ptuj; the eastern wine trail and, for a longer day, the coast. The following websites give more details about activities and attractions in the immediate area, all at a maximum of 30 minutes away. (URL HIDDEN) (skiing and walking) (URL HIDDEN) (skiing and walking) (URL HIDDEN) (walking) (URL HIDDEN) (fishing) (URL HIDDEN) (rafting and canoeing) (URL HIDDEN) (spa) (URL HIDDEN) (spa) (URL HIDDEN) (coal mining museum) (URL HIDDEN) (national garden) (URL HIDDEN) (forestry museum) (URL HIDDEN) (mountain biking) (URL HIDDEN) General information about Slovenia can be found on this web link. (URL HIDDEN)
Tipo de Acomodação
Casa/apto inteiro
---
Tipo de Imóvel
Casa
---
Acomoda
8
---
Quartos
Bočna, Mozirje, Eslovênia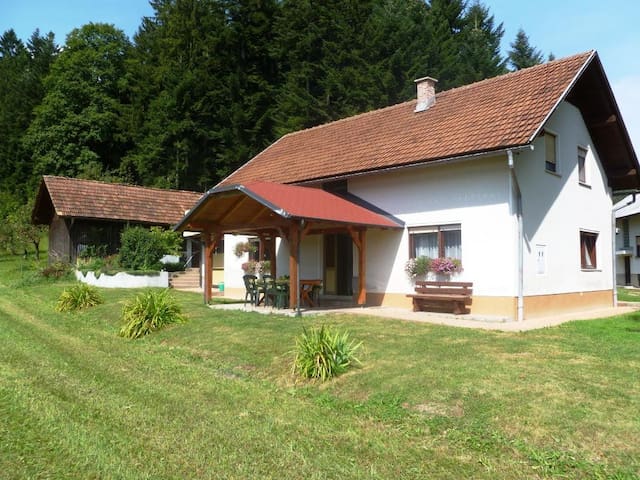 Incastonata in uno scenario naturalistico da favola, a pochi chilometri da Klagenfurt, dal confine sloveno e dal Lago Klopeiner il più caldo dell'Austria con i suoi 28° in agosto, la casa si presta per un soggiorno in una atmosfera unica e autentica.
The house is comfortable and cozy, here you can spend relaxing holidays but with the possibility to do also interesting things: nature is beautiful and almost "untouched", villages and cities welcoming, people friendly and nice. Near the house, the Lake Klopeiner the hottest Austria and also the most famous of the country, with its 28° in August. Without taking your car, you can walk to reach enchanting fir and beech woods, where relaxing walks on marked trails are easy to do. Carinthia is an oasis of well-being not only for adults but also a paradise for children, who are everywhere particular welcome. The house has two double bedrooms with large comfortable beds, a living room with a possibility of two comfortable single beds, a dining room and a fully equipped kitchen, a hall, a bathroom, a balcony. In the garden there is a barbecue and you can relax to the sound of the brook flowing nearby. In the house there is also a small cabin infrared sauna. Parking for two cars. It is available on request bed linen and towels. Final cleaning 50 euro extra . Persons 10 euro per person per day extra . La casa, in stile tradizionale della Bassa Austria, è veramente un rifugio accogliente, con la sua atmosfera rustica e intima. Il villaggio che la ospita è a ridosso di un piccolo paese. La gente è spontanea e cordiale, ci si saluta sempre se ci si incontra per strada! Nelle immediate vicinanze, se si è troppo stanchi per cucinarsi da soli, in una tipica "Gasthaus" è possibile gustare ottimi piatti della cucina austriaca a prezzi veramente contenuti. A 10 chilometri di distanza, il meraviglioso lago Klopeiner, con i suoi 21° già in maggio e i 28° in agosto, è rinomato per essere il più caldo dell'Austria. Senza prendere l'auto, si può già a piedi raggiungere boschi suggestivi di faggio e peccio, dove effettuare rilassanti passeggiate su sentieri segnati e sicuri e raccogliere funghi, nel rispetto delle norme locali e del buon senso naturalmente. La Carinzia è non solo un'oasi di benessere per gli adulti ma anche un paradiso per i bambini, che ovunque godono di attenzione particolare.
Roberta ist eine ganz freundliches, herzliches, gastgeberin. Nach 12 Stunden Fahren erwartet uns ein Wilkommes Paket. Mann fuhlt ganz gleich wohl und zu Hause. Die Umgebung is schon und Ferien angenehm. Roberta Dank fur dieser 2 Herrliche Wochen. Ciao familien Spoelman
Richard
2016-08-21T00:00:00Z
Roberta was a great host! We felt really welcome an had a great time in her lovely house. The house itself is equipped in a simple manner with erverything you need for a pleasant holiday. Totally recommendable - especially for people who love a quiet surrounding in the middle of a beautiful nature.
René
2015-08-09T00:00:00Z
Wer die Ruhe sucht und ein gemütliches zu Hause schätzt, wird sich in Robertas Haus pudelwohl fühlen. Die Ausstattung bietet alles was man zum täglichen Wohnen benötigt. Der Garten vorm Haus lädt bei schönem Wetter zum ausgiebigen Frühstück unter dem Sonnenschirm ein. Das Auto kann direkt vor dem Haus abgestellt werden. Roberta ist eine liebe, herzliche Gastgeberin, mit der wir uns sehr gut verstanden haben. Wer Freude am Pilzesammeln hat, den lässt Sie gerne an Ihrem umfangreichen Wissen teilhaben. Das Haus ist ein perfekter Ausgangspunkt für zahlreiche Ausflüge in die nähere Umgebung. Wanderbegeisterte kommen voll auf Ihre Kosten. Eine umfangreiche Sammlung an Touristeninformationen hat Roberta zusammengetragen und erleichtert die Planung. Wir können den Aufenthalt nur wärmstens empfehlen.
Michael
2016-09-03T00:00:00Z
Heerlijke plek om tot rust te komen en toch veel bezienswaardigheden niet al te ver weg. Wij hebben ons hier 2 weken prima vermaakt en zijn helemaal tot rust gekomen.
Bart
2016-08-07T00:00:00Z
We had a lovely time in Roberta's house. The house is idyllically situated in a small village and has a beautiful garden where we grilled and had most of our meals. We are a group of two adults and three kids and there were plenty of room for all of us. We visited plenty of beautiful places during our stay including Wildenstein wasserfal, Turner See and Trögerer Klamm. We dined at Jauntaler Bier (great Jausen and home brewed bear) and Nepomuk (great food and beautiful location) Roberts was a great host; very helpful and generous. Thank you Roberta!
Anne
2015-08-01T00:00:00Z
I spent a week in this house with my children and friends. The house is very nice and comfortable, it looks small in the picture, but in fact it is big enough for 6 people. The location is great in case you have a car. We tried swimming in a new lake each day and rarely drove more than 20 minutes. There is an extremely beautiful waterfall and wonderful caves not far from the house. Food is not a problem, the nearest shop (not to big) is reachable by foot, and it takes 10 minutes to drive to a bigger one. Roberta is a wonderful host, very friendly and helpful. We had great time at her place. Roberta, thank you very much!
Tatiana
2014-07-27T00:00:00Z
Schöner idyllischer/ruhiger Platz - danke für die Gastfreundschaft ;-)
Konstantin
2014-08-05T00:00:00Z
Séjour très agréable dans le jolie chalet de Roberta. Accueil chaleureux et nombreuses explications pour découvrir la région. Le chalet est très cosy et il est situé dans un endroit extrêmement calme et reposant. Merci à Roberta pour ses petites attentions...
Julien
2014-08-08T00:00:00Z
Tipo de Acomodação
Casa/apto inteiro
---
Tipo de Imóvel
Casa
---
Acomoda
6
---
Quartos
Gallizien, Caríntia, Áustria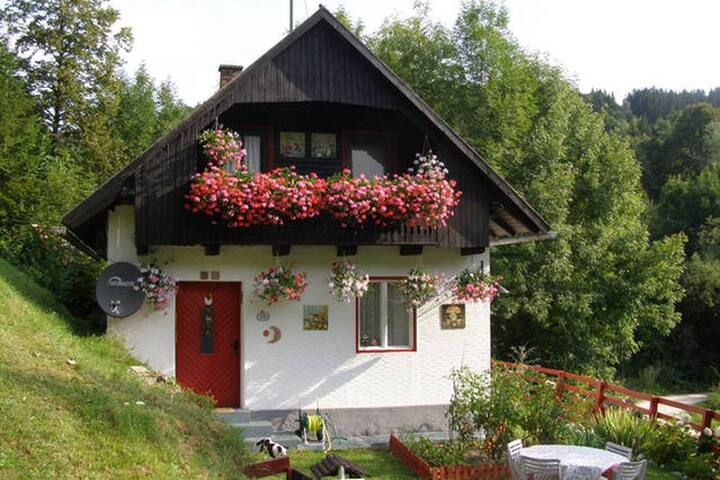 Featuring a hot tub and sauna facilities, Cottage House Jakob is surrounded by a forest and offers elegantly furnished interior. Krvavec Mountain and Kriška Planina skilift are 9 km away.
Featuring a hot tub and sauna facilities, Cottage House Jakob is surrounded by a forest and offers elegantly furnished interior. Krvavec Mountain and Kriška Planina skilift are 9 km away. Decorated with wooden elements and sloped ceilings, this house features a living room with a fireplace, a fully equipped kitchen and a small kitchenette. It has a balcony overlooking the mountain and 2 bathrooms with a shower. Cerklje na Gorenjskem is 8 km away, and there you can find some dining options, shops and a bus station with lines to Ljubljana. Many hiking and cycling trails pass nearby. The historic town Ljubljana is 35 km away. Ljubljana Jože Pučnik Airport is at a distance of 18 km.
During winter, Krvavec is an amazing place to ski and have fun at nearby après-ski cottages. Our house has an amazing view to the valley of town Cerklje and you might be lucky to see our greatest mount Triglav from the balcony. In summertime, I strongly recommend to experience the unforgettable paragliding. Hiking paths are also extremely popular and give you an insight of local people living in the mountains. I have provided all information on things to do in our house, therefore you are more than welcome to ask me for further information. I will gladly arrange a reservation for you.
Tipo de Acomodação
Casa/apto inteiro
---
Tipo de Imóvel
Casa
---
Acomoda
6
---
Quartos
Ambrož pod Krvavcem, Kranj, Eslovênia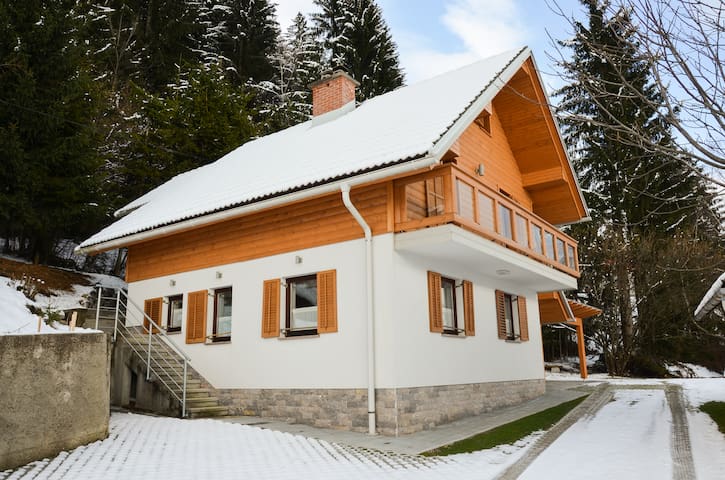 Our comfortable 3 bedroom house is located in the heart of great forest (730m), where you can enjoy the nature,peace and fresh air. Wellness and fitness. 10 km from airport Brnik, 20km from the main city Ljubljana. 2 min to ski center Krvavec (1650m).
3 bedroom/ 6 people + 2 people can stay in the living room. Cosy attic directly below the wooden roof. 2 bathroom with toilets. 1 big kitchen & 1 small kitchen. 2 big terrace. Great view on the nature and mountains. TV, Wireless connection. Eco house.
1 neighbor, which is separate. You can get eco milch, eggs and other goods from the neighbor.
Gabrijel and Annika fueron muy amables con nosotros. La casa es grande y espaciosa, y el paisaje muy bonito en verano. Altamente recomendable.
Jose
2016-08-06T00:00:00Z
Great house in the country, gorgeous views of the mountains. Quiet and lovely location, but close to shops and motorway.
Mónica
2016-07-03T00:00:00Z
Tipo de Acomodação
Casa/apto inteiro
---
Tipo de Imóvel
Casa
---
Acomoda
8
---
Quartos
Stiška Vas, Eslovênia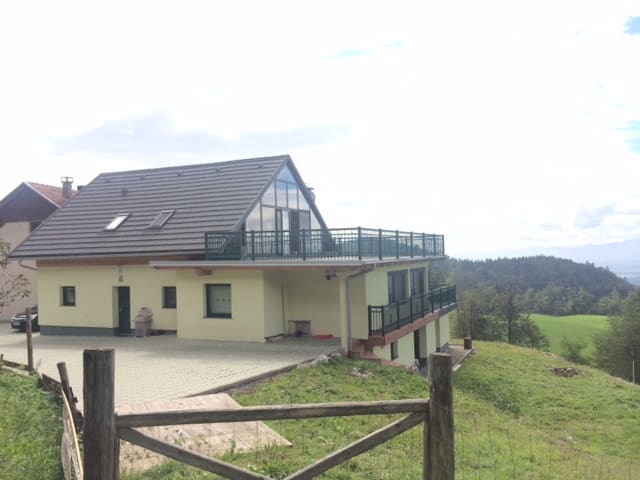 Das "Ferienhaus Feistritz", liegt inmitten des Wander- und Bike-Gebietes Petzenland. Vergessen Sie den Alltag tauchen Sie ein in eine neue Welt, in eine Welt enormer Großzügigkeit, grenzenloser Freiheit und was dabei wichtig ist: "bewusst gen
Das "Ferienhaus Feistritz", liegt inmitten des Wander- und Bike-Gebietes Petzenland. Vergessen Sie den Alltag tauchen Sie ein in eine neue Welt, in eine Welt enormer Großzügigkeit, grenzenloser Freiheit und was dabei wichtig ist: "bewusst gen Ein ganz besonderes Highlight: in unmittelbarer Nähe der 10 km lange Flow Country Trail auf der Petzen
Die Region bietet Ihnen zahlreiche Möglichkeiten Ihre Freizeit abwechslungsreich zu gestalten
Es ist eine absolute Traumunterkunft mit einer absoluten Traumgastgeberin! Es ist alles noch schöner als auf den Fotos dargestellt und Melita hat uns zudem noch eine komplette Babyausstattung bereitgestellt! Wir hatten einen wundervollen Aufenthalt und können Melita und ihr "schöner Wohnen" -Traumhaus wärmstens weiterempfehlen. Vielen lieben Dank und bis zum nächsten mal!
Lena
2015-06-18T00:00:00Z
Tipo de Acomodação
Casa/apto inteiro
---
Tipo de Imóvel
Casa
---
Acomoda
4
---
Quartos
Feistritz ob Bleiburg, Caríntia, Áustria
Machen sie Urlaub am Fuße des Erlebnisberges Petzen (herrliche Wanderungen und Mountainbike-Trail). Nur wenige Kilometer vom warmen Klopeinersee entfernt. Entspannen und Grillen im Garten. Großzügige, voll eingerichtete Wohnung mit Pool-Zugang. Ausflüge ins nahe Slowenien.
Spacious apartment in a beautiful holiday region. Pool and large garden
Inn opposite, Bleiburg near, great possibilities for excursions, Klopeinersee near
Beautifull house in more beautifull country! Franz and his family are really nice and friendly. They' re everything describe to me about our joliday there very well! We are so exited and we want to recomment this apartment for all;-) Just great...
Sabina
2016-07-27T00:00:00Z
Tipo de Acomodação
Casa/apto inteiro
---
Tipo de Imóvel
Casa
---
Acomoda
4
---
Quartos
Sankt Michael ob Bleiburg, Kärnten, Áustria
Logarska Dolina - Airbnb
:
Média de

4.61

de

5

estrelas, de acordo com

103

avaliações de hóspedes
1

–

18

de

26 Casas para Alugar
Insira as datas para ver o preço total. Taxas adicionais serão aplicadas. Impostos podem ser adicionados.