269 Apartamentos para Alugar
Es un Loft de diseño en el Casco Antiguo de Toledo, con espacios abiertos y con una increíble reforma integral; respetando elementos como los ladrillos de época islámica o la vigas del S. XVIII. A unos pasos de "El Museo de El Greco" y con vistas al "Valle de Toledo"
The apartment has all the facilities included, such as linen, washing machine, tv, internet and also, you will have a free coffe, some drinks on the house and a little surprise that I hope you enjoy. To complement the coffees, I will bring you a fresh pastreries made on my family bakery. You will be sleeping in a modern luxury apartment with all the latest, but, before that, the apartment was an farmyard dated from 1870 owned by my grangranfather. A great group of arquitects specialist in this kind of rehabilitation, has been working on bringing this gem up to 21st century keeping all those fabulous features, like the beam, dated from S.XVIII or the bricks from Islamic times.
The flat is really well located as you are steps away from the Jewish part of Toledo. A few distance you can see Museo El Greco, Sinagoga del Transito or San Juan de los Reyes
Experiencia única en Toledo. El apartamento es perfecto, tal como se ve en las fotos. Todo nuevo, bien equipado y con una situación magnífica cerca del centro, pero fuera de la zona de bullicio. (15min a paso lento de la plaza Zocodover, pero solo a 3 min de la judería, jardines del Tránsito, Santo Tomé...). Diego es un anfitrión de primera: nos fue a buscar y nos llevó a la estación, nos trajo el desayuno con productos de la pastelería familiar (mmmm..) y nos ayudó en todo lo que se nos ocurrió, hasta en las cuestiones más insospechadas ( gracias por el hilo y la aguja ). Siempre dispuesto y disponible, no se puede pedir nada más de un anfitrión. En la misma calle del apartamento hay una panadería y una tienda de comida que nos arregló mucho para salir del paso en alguna cena. Al final todo fue tan perfecto que decidimos quedarnos una noche más. Para todos aquellos que quieran visitar Toledo con tranquilidad, este es su lugar. Volveremos.
Maria A
2016-12-21T00:00:00Z
Zona tranquila, preciosa y en pleno centro. El apartamento tal como se ve en las fotos, precioso, limpio y muy iluminado. En cuanto a Diego, un trato insuperable, muy atento, se ha preocupado en todo momento. Una estancia de 10, volveremos!!
BEATRIZ
2017-03-20T00:00:00Z
El loft es ideal! Igual que en las fotos! Diego un anfitrión diez! Nos ayudó mucho al llegar llevándonos a un parking y luego al loft, con un detalle precioso dejándonos desayuno! Una estancia muy cómoda!!!
Mariana
2017-02-05T00:00:00Z
Inmejorable!!! Apartamento de diseño moderno y muy acogedor con todo tipo de detalle, muebles nuevos, cocina y baño bien equipados y sin dejar de lado la buena y cuidada estética (iluminación, sillas,muebles,menaje,azulejos...). Limpieza excelente. Apartamento muy luminoso con vistas al Valle del Tajo. Ubicación perfecta con muy fácil acceso en coche,barrio tranquilo por la noche y a 3 minutos del centro (Judería, Sinagoga, Casa del Greco...). Ubicado en una antigua casa con patio toledano de madera. El anfitrión, Diego, es muy atento y simpático, vino a recogernos para guiarnos con el coche, nos explicó donde ir y donde comer, muy pendiente de nosotros en nuestra estancia, incluso nos obsequió con detalles de su panadería-pastelería. Entre el apartamento y Diego la estancia ha sido inolvidable y siempre recordaremos nuestra visita a Toledo. Muy recomendable, nosotros repetiremos!!!
Elena
2016-10-09T00:00:00Z
¡¡Excelente la estancia en este maravilloso apartamento!! Diego muy servicial en todo momento, ubicación perfecta, y el apartamento muy muy acogedor Un beso de los dos Diego!
Isabel
2017-04-02T00:00:00Z
El alojamiento es nuevo, luminoso y con un diseño único. Muy acogedor y bien ubicado. No es necesario coger el coche para visitar la ciudad, está cerca de todos los monumentos importantes y lugares de ocio. La limpieza merece un diez. En cuanto a Diego, es el mejor anfitrión. Fue a recogernos al llegar, por lo que no tuvimos que buscar el apartamento. Muy atento y amable, nos recomendó algunas visitas interesantes y lugares para comer. Hemos comido en El Trébol, Maruxiña y Tornerías y nos han gustado todos. Entre la ciudad y el alojamiento, la visita ha sido inolvidable. Se lo recomiendo a todos. A los niños les encantó las galletas de Halloween con las que nos obsequió a la llegada. Muy agradecidos por el trato recibido. Gracias, Diego.
Jose
2016-10-31T00:00:00Z
El apartamento es tal cual como se describe en el anuncio, hemos pasado todo un fin de semana como si estuviéramos en casa. La situación del loft es muy buena, en el centro de Toledo y accesible a cualquier sitio que desees visitar. En la misma calle hay tanto una tienda pequeñita y panadería que te cubre tus posibles necesidades. El apartamento es muy acogedor, con mucha luz y unas vistas estupendas. En cuanto a Diego es un anfitrión de 10. Es un chico muy atento. Vino tanto a buscarnos como a llevarnos a la estación con un detalle de bienvenida y despedida; su contacto con el durante la estancia ha sido muy bueno, nos recomendó tanto lugares para visitar como diferentes sitios donde poder comer; y dispuesto a sacarnos de dudas en cualquier momento de nuestra estancia. Sin duda recomendamos este apartamento para cualquier persona que quiera visitar Toledo; al igual que nosotros, se vendrá a casa encantado. Muchas gracias Diego por todo!!
Fátima
2016-11-14T00:00:00Z
Diego es un gran anfitrión muy pendiente de sus huéspedes. La casa es tan tranquila como bonita y muy bien situada. Justo en la puerta y enfrente hay una panadería y un pequeño supermercado para surtirte de todo lo que necesitas. No se puede pedir más. Ah, y tanto como la cama como el sofa son comodísimos para dormir.
Maria
2016-10-16T00:00:00Z
Tipo de Acomodação
Casa/apto inteiro
---
Tipo de Imóvel
Apartamento
---
Acomoda
4
---
Quartos
Toledo, CM, Espanha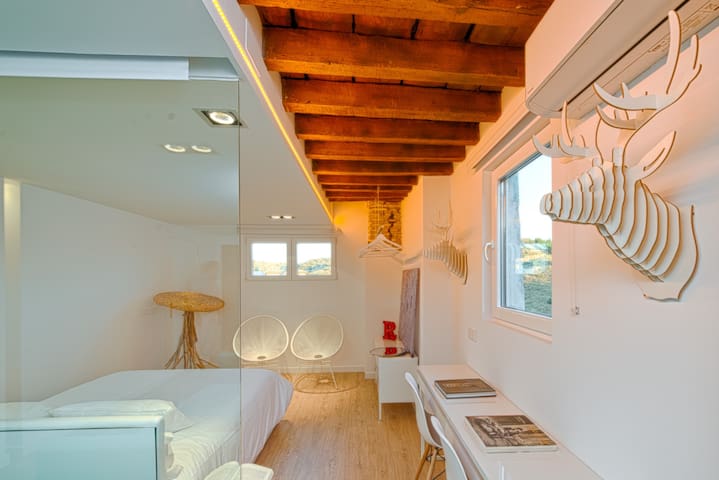 1 bedroom, 1 bathroom apartment in the historic center of Toledo. Located in the Jewish Quarter, there are numerous shops, restaurants and cultural attractions nearby. It is only a short walk to the Cathedral, the Monastery of San Juan de los Reyes, and the El Greco Museum. The apartment has everything you need to enjoy a few days in Toledo. Private parking is available under demand. (Check-in to the parking must be from 20:00h, ASK FOR AVAILABILITY BEFORE BOOKING. Cost 10€/day) .
Beautiful 40 m2 apartment located in the Jewish Quarter in the historic center of Toledo. It has a bedroom with a large bed and a spacious wardrobe. The apartment also has a living room with a TV, a fully stocked kitchen, and an updated bathroom.
The apartment is located in the historic Jewish Quarter of Toledo. You can wander through the narrow streets and enjoy the architecture and history. The Monastery of San Juan de los Reyes, the El Greco Museum, Santo Tomé, and multiple synagogues are located nearby. There are also a variety of restaurants and shops within walking distance. To enjoy good views, I recommend going to the Parque del Tránsito, which is a 5 minute walk from the apartment.
Apartamento acogedor y céntrico, al ser una ciudad no muy extensa tienes todo al lado. Genial el aparcamiento, ya que por Toledo es bastante enrevesado andar con el coche. No se necesita el coche en absoluto para visitar la ciudad. Cocina, baño y habitación equipado y limpio. Por poner una pega, que no hay ascensor y es un tercer piso. El trato con Francisco genial y muy atento dando facilidades de sitios que visitar, comer y disfrutar de Toledo. Recomendable 100% para un viaje de pocos días y en pareja.
Silvia
2017-01-16T00:00:00Z
El apartamento esta muy limpio y Francisco es un anfitrión muy amable. Me dio recomendaciones fantásticos y fue muy servicial. Español es mi segundo idioma, así me gusta mucho que Francisco habla muy bien español e ingles. Recomiendo este apartamento a todos que quieren visitar a Toledo! The apartment is very clean and Francisco is a nice host. He gave me great recommendations and was very helpful. Spanish is my second language, so I appreciated that he speaks both English and Spanish very well. I would definitely recommend this apartment to anyone who wants to visit Toledo!
Alyssha
2017-03-05T00:00:00Z
El piso es ideal para hacer turismo por el centro de Toledo, muy bien situado, tranquilo, limpio y con todos las cosas necesarias para pasar unos días! Francisco es un gran anfitrión! Estuvo en todo momento atento de cualquier necesidad que pudiera surgir, nos informo de que se hacía en la ciudad y hasta nos hizo una pequeña ruta turístico! Lo recomiendo 100%!
Eva
2016-05-29T00:00:00Z
We spent two nights in this comfortable efficiency apartment in the heart of the Jewish Quarter. The apartment was conveniently located so we were able to explore, shop, and eat within minutes of the front door. Our host was very helpful and provided us with ample suggestions on where to go and what to do. It truly made for a wonderful experience in Toledo.
Ken
2016-05-16T00:00:00Z
Francisco hizo que nos sintiéramos muy cómodos y muy agradecidos por su amabilidad. Nos supo guiar tanto para entrar (nos vino a recoger al camino) como para salir de la ciudad (que al tener tanta callejuela antigua era fácil perderse). El vecindario era tranquilo y la ubicación excelente. El piso es idéntico a las fotos, estaba muy limpio y la cocina tenía de todo (café, cafetera, lavadora, leche...).
Jose Luis
2016-10-19T00:00:00Z
Hemos pasado un fin de semana en Toledo y lo hemos pasado de maravilla. Francisco ha sido muy atento con nosotros en todo momento ayudándonos en todo lo que necesitásemos y su casa es perfecta para visitar la ciudad. La zona en la que se encuentra permite ir a cualquier lugar andando y algo muy cómodo para estar en Toledo es que dispone de aparcamiento para dejar el coche. Sin duda, si volvemos a Toledo volveremos a la casa De Francisco.
Sandra
2017-02-05T00:00:00Z
Francisco's place was just as advertised. And for the price I can't complain. It was close to everything we wanted to see and Francisco's recommendations for restaurants were great. He was helpful getting us parked and our luggage up to the 4th floor as there is no elevator. His communication was always prompt. The room was a little noisy at night with the crying baby next door but that is to be expected in these old towns. Bring good walking shoes, you're going to need them in Toledo.
Jim
2017-02-23T00:00:00Z
Ha sido una experiencia maravillosa, el anfitrión ha sido servicial, amable y atento en todo momento antes y durante nuestra estancia La ubicación del apartamento es espectacular, está en el centro del casco antiguo.
Rosa Ana
2016-09-28T00:00:00Z
Tipo de Acomodação
Casa/apto inteiro
---
Tipo de Imóvel
Apartamento
---
Acomoda
2
---
Quartos
Toledo, Castilla-La Mancha, Espanha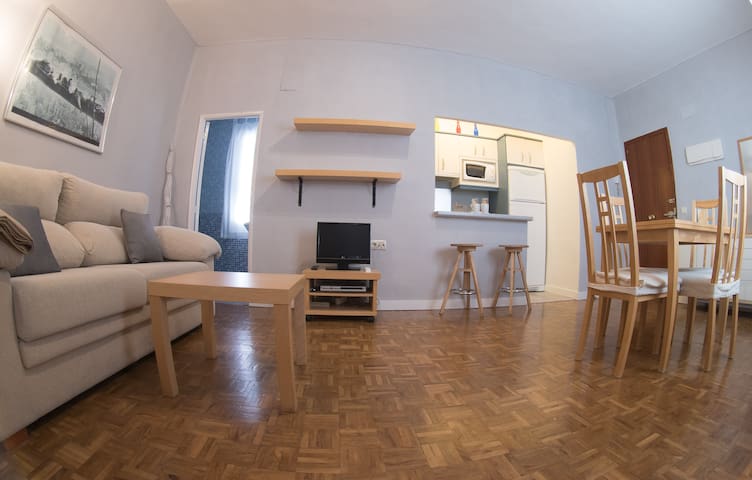 Old fashioned house located within Toledo historical center, brand new. The house is located within a traditional "patio" Toledano, close to The Cathedral, has an ancient cave.
((POR FAVOR, CONSULTAR LAS NORMAS DE LA CASA Y LA DISPONIBILIDAD ANTES DE INTENTAR RESERVAR)) (( PLEASE, READ THE DESCRIPTION AND THE HOUSES RULES BEFORE BOOKING)) The dirección is : Pozo amargo 22 Antigua Casa Toledana situada en el centro del casco Histórico de Toledo, a escasos metros de la catedral y plaza del ayuntamiento, pero situado en una calle muy tranquil, el piso esta totalmente reformado y prácticamente nuevo. Cuenta con: 1 Cuna. 1 Dormitorio con cama de matrimonio. 1 Dormitorio con dos camas individuales. 2 Baños completos uno en el pasillo y otro en el interior de la habitación de matrimonio. 1 Salón con sofá-cama con cama de matrimonio. 1 Cocina totalmente equipada. Capacidad para 7 huéspedes posibilidad de ampliar +2. El check- in se podrá efectuar como norma general a partir de las 12:00 siendo flexible tambien dependiendo de la situación, a la entrada se pagara la tasa de limpieza de 20 Euros que se abonarán en efectivo a la entrega de las llaves. El check-out del apartamento como norma general se efectuara a las 12:00 siendo flexible en la hora si no vienen otros huéspedes ese mismo día.
En un promontorio, rodeada por el río Tajo, le espera la histórica ciudad de Toledo. Su casco antiguo, con más de un centenar de monumentos de casi todos los estilos artísticos, es un excepcional "museo urbano", declarado Patrimonio de la Humanidad por la UNESCO. Toledo es una ciudad única, tiene más de 2.000 años de historia y es símbolo de encuentro entre culturas. Su casco antiguo es, precisamente, un fiel reflejo de este espíritu: iglesias y edificios de los más variados estilos -árabe, mudéjar, románico, gótico, renacentista…- se hallan uno al lado de otro, formando un conjunto monumental de curiosa perfección. Esta ciudad de Castilla- La Mancha se encuentra en la zona centro de España, a 70 kilómetros de Madrid, y desde la capital con el tren de alta velocidad podrá llegar en sólo 30 minutos. Laberinto de arte Pronto se dará cuenta de que "perderse" por las calles de Toledo es una auténtica suerte. Recorriéndolas sin prisa podrá descubrir uno de los mayores patrimonios monumentales de Europa. Sinagogas, mezquitas, palacios, conventos… La lista de lugares para conocer es larga y abarca más de cien monumentos. Podrá acceder al casco histórico por las numerosas puertas que se abren en la muralla que lo rodea como la Puerta del Sol, la de Alcántara o la de la Bisagra. Durante su visita al centro antiguo de la ciudad, no se pierda la Catedral, una obra extraordinaria a la que merece la pena dedicar tiempo: la decoración mudéjar, la sillería del coro, los trabajos de rejería, la sacristía –un auténtico museo de pintura con lienzos de autores como El Greco, Rafael, Tiziano o Goya, o la sala del Tesoro donde se expone la fabulosa Custodia de oro y plata que sale en procesión durante las fiestas del Corpus Christi, son parte de sus elementos más (website hidden) y una rutas Junto a la Catedral, hay muchos otros sitios para disfrutar en Toledo. ¿Sabe que las nueve bóvedas de la Mezquita del Cristo de la Luz se derivan de las de la Mezquita de Córdoba? Sin olvidar las sinagogas de Santa María la Blanca y la del Tránsito, que alberga el Museo Sefardí. Acérquese hasta la fortaleza del Alcázar y podrá contemplar una impresionante vista desde el punto más alto de la ciudad. También le gustará conocer la Iglesia de Santiago del Arrabal, ejemplo magnífico de arte mudéjar; el Palacio de Fuensalida, de principios del siglo XV; el Hospital de Tavera, un gran edificio renacentista con cuadros de Tiziano, El Greco o Ribera; o la Iglesia de Santo Tomé, donde podrá admirar otro famoso cuadro de El Greco, El Entierro del Conde de Orgaz.
O Bairro é próximo á Catedral. Toledo é linda , vale a pena o passeio por lá. O pequeno apartamento possui limitações mas bem montado. Utensílios de cozinha com poucas opções. Wi-fi com intermitência e baixo alcance. O proprietário sempre solícito e a funcionária nos atendeu prontamente quando pedimos a troca da roupa de cama. Limpeza não estava 100%. Tivemos que limpar.Tapetes para o banheiro. Senti falta do secador de toalhas elétrico. E uma secadora de roupas.
Lorenzo
2016-12-26T00:00:00Z
Grato!
Rogério
2016-09-05T00:00:00Z
Todo ok
Marc
2016-10-17T00:00:00Z
Ricardo left the keys for us and we didn't meet him. However, he was responsive to text messages which was very helpful. The apartment is in a beautiful old Toledo townhouse. It doesn't have much natural light (much darker than in the photos) and smelled a bit musty on our arrival. The apartment wasn't as clean as we would have expected but was comfortable - as a result Ricardo waived the cleaning fee which was appreciated. The kitchen equipment is limited, with no small saucepans or tea towels. In the master bedroom, there are missing lights with wires hanging out of the wall and no mirrors other than in the bathrooms. Overall, we enjoyed staying in the apartment although the listing does need updating to remove details of the jacuzzi as it was not available. Also, a manual for the apartment would be useful to explain how things work. The wifi was essentially useless - if you need internet access, this isn't the place for you.
Nick
2016-04-22T00:00:00Z
It was a pleasure to stay in this apartment! Clean, well located and comfortable, we highly recommend it to future guests!
Judit
2016-07-30T00:00:00Z
Beautiful flat near the Toledo Cathedral. Easy access to food and shopping near the center of tourism in old Toledo. Would love to have stayed longer.
Steve
2016-08-23T00:00:00Z
La casa muy bien, súper céntrica, al lado de la catedral. Muy limpia y lo del spa una pasada para descansar de los largos paseos por Toledo. La terraza interior también preciosa. Repetiríamos sin dudarlo.
Rafa
2015-09-28T00:00:00Z
Very nice and cozy place to spend your day in Toledo! My family thoroughly enjoyed the experience.
Elvinas
2015-09-03T00:00:00Z
Tipo de Acomodação
Casa/apto inteiro
---
Tipo de Imóvel
Apartamento
---
Acomoda
7
---
Quartos
Toledo, Castilla-La Mancha, Espanha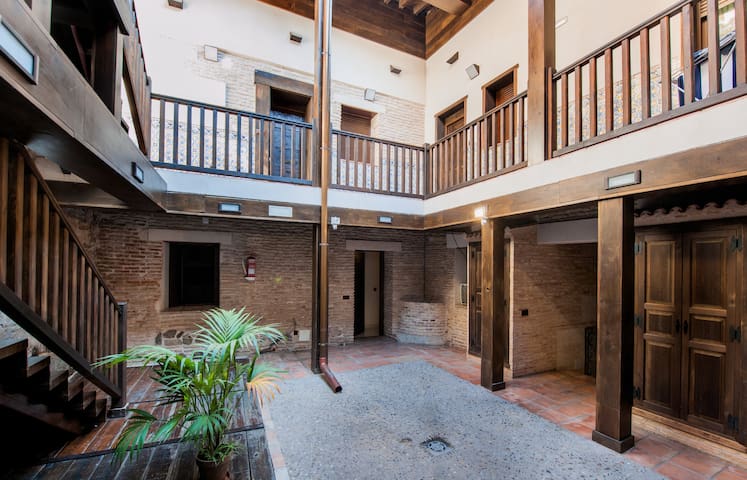 It is a nice accommodation for couples, adventurers, business travelers, families (with children), large groups, and pets. A Private Apartment (not shared with others) with A/C & Parking upon demand. Renovated and fully equipped in center of Old Town of Toledo, next to Real Monasterio de San Juan de los Reyes, Holy Church Cathedral of Toledo City of Toledo, Church of Santo Tomé , Treasury Cathedral Museum, Museo del Greco, Sinagoga, swords Factory. etc. Just bring your own belongings !!!.
It is an old house in Toledo with Patio in the center of Old Town of Toledo. It is located in the Jewish quarter. Very close to museums, cathedral convents, etc. as the Royal Monastery of San Juan de Los Reyes, Convent of St. Clement, Colegio Doncellas Nobles, Holy Church Cathedral of Toledo City of Toledo, Church of Santo Tomé, Roman Baths, Cathedral Treasure Museum, Museo del Greco, Sinagoga, Fabrica of spades. Castilla La Mancha University, Official School of Languages, Councils, Conservatory. The apartment is renovated and fully equipped. It is located in a quiet area and is very comfortable housing. The building is Classified as a historic monument of cultural interest, protected by Spanish Heritage. Cleaning service would provide entry and exit of each guest. Maintenance service 24 hours free access throughout the house. All supplies and bills are included Each apartment has: cutlery, plates, glasses, cups, kitchenware ware, bedding (sheets, pillows, etc.), clean towels. Microwave, toaster, juicer fruit, water heater (Kettle). hob, refrigerator, TV, Wifi, towels ,. Cutting board. Electric coffe maker. Oil, salt, vinegar. Coffee and tea. Bathrooms with shampoo, bath gel and soap dispenser. In common areas there are dryer, ironing board and iron, hair dryers, electric mixer and dishwasher. Toledo is located 70 km from Madrid and get to the by a) TRAIN AVE in about 20 minutes or e b) in line Autocar arriving in about 50 minutes From the train AVE high speed train or the bus station you can order a taxi for 6 Euros. If you want to reach by public transport, you can use the city bus for 1.40 Euros. In the case of using BUS we recommend up by escalators which are also free. The apartment consists of: 1 double room with double bed 1 double room with double bed 1 Living room with sofa bed more easily and Smart TV 1 bathroom with shower fully equipped and large kitchen Terrace The capacity is for 6 people
It is located in the Jewish quarter of Toledo. From this location you can easily walk to reach all the monuments of Toledo.
Pensão ótima para conhecer a cidade. Cozinha bem equipada e quartos limpos. Banheiro pequeno. Indico para dois ou três dias.
Antonio Augusto
2016-12-16T00:00:00Z
Apesar de não termos nos encontrado com Carlos pessoalmente, ele foi muito atencioso conosco, tudo estava certo no apartamento com toalhas limpas, utensilios de cozinha em otimo estado e ventiladores para não passarmos calor. A entraga da chave foi simples e o mesmo se mostrou atencioso para o que precisassemos. Certamente nos hospedariamos em um de seus apartamentos novamente!
Ana Carolina
2016-08-30T00:00:00Z
Estamos muy contentos de haber elegido esta casa, muy simpáticos y ayudan con cualquier problema :)
Daria
2016-12-26T00:00:00Z
Great location. Communication was smooth and Sandra & Carlos were always very responsive and helpful with all our questions. They helped us with our parking needs!
Rajeev
2017-03-16T00:00:00Z
Barrio tranquilo, en pleno centro. Piso acogedor, nuevo y bien equipado. El trato fue fácil, cercano, correcto e instantáneo. Sin duda, repetiremos cuando volvamos a Toledo.
Markus
2016-12-17T00:00:00Z
Nos gusto mucho la casa y la zona era muy buena. Tiene todo a 5 minutos.
alberto
2016-12-28T00:00:00Z
Nice place to say! Carlos is really nice, location is perfect.
Lunia
2016-10-13T00:00:00Z
everything if fine
Konstantin
2017-01-17T00:00:00Z
Tipo de Acomodação
Casa/apto inteiro
---
Tipo de Imóvel
Apartamento
---
Acomoda
6
---
Quartos
Toledo, Castilla-La Mancha, Espanha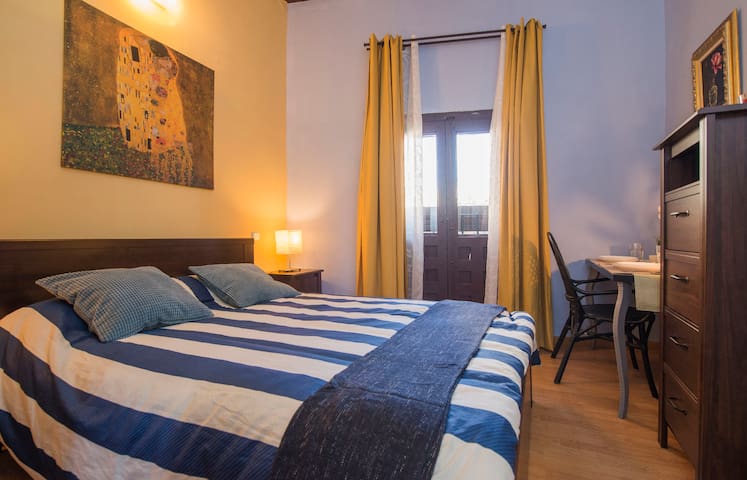 Exclusivo apartamento con aljibe en pleno barrio de la judería de Toledo. Disfrutarás de una estancia de ensueño en pleno centro de la ciudad. A 5 minutos andando de la Catedral y rodeado de los monumentos más importantes. Podrás visitar a pie todo Toledo y estar alojado en un lugar privilegiado. Se encuentra en una pequeña y tranquila plaza en el barrio más emblemático y antiguo del casco histórico. Podrás disfrutar de las estrechas y torcidas calles de Toledo y tener una experiencia única.
El apartamento cuenta con todas las comodidades, dos dormitorios dobles, salón, cocina y cuarto de baño completo. Tiene aire acondicionado, calefacción y todo lo necesario para encontrarse agusto. Está equipado con sábanas, toallas, ropa de cama, secador de pelo, hervidor de agua, microondas, cafetera Dolce Gusto, horno, tostadora, vitrocerámica, y todos los utensilios de cocina que pueda necesitar para disfrutar de su estancia. Una de las habitaciones es un precioso aljibe restaurado en el que podrás vivir parte de la historia de Toledo. Dormir en un sitio tan exclusivo es una experiencia única que te trasladará a tiempos remotos. La estancia está perfectamente acondicionada y disfrutarás de un ambiente acogedor. También contamos con cuna de viaje.
En pleno barrio de la judería de Toledo. Es el barrio más antiguo de la ciudad y tiene un encanto especial. Sus estrechas y torcidas calles enamoran tanto a visitantes como a los propios ciudadanos de Toledo. Un lugar lleno de historia, leyendas, callejuelas y preciosos espacios y monumentos. Cuenta con un parking cercano y tiene facil acceso.
Tipo de Acomodação
Casa/apto inteiro
---
Tipo de Imóvel
Apartamento
---
Acomoda
4
---
Quartos
Toledo, Castilla-La Mancha, Espanha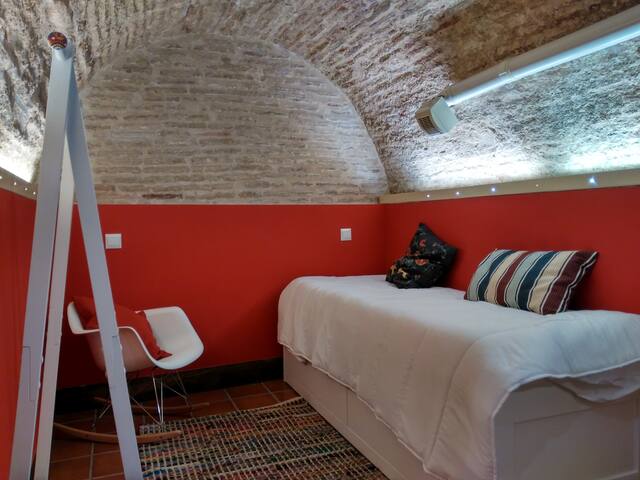 New apartment in the historical center of Toledo, in an ancient typical house of Toledo from sixteenth century fully restored, with all the charm and quite of the Jewish quarter, a privileged apartment for starting to explore the city on foot, 4 minutes on foot from the cathedral.
The design of the apartment, mixed of history and modernity, has a bedroom with a bed of 150 cm width, mattress and pillows are viscoelastic and you will find everything you need (cooking utensils, sheets, towels, hairdryer, shampoo, shower gel, free WIFI) The apartment has a fantastic natural light and you will be able to enjoy the quite that traditionally has been enjoyed in the ancient houses of Toledo. Beautiful patio area with poly chromed coffered common. The kitchen with its modern design has hob, extractor, oven, microwave, fridge, dishwasher, washing machine, Nespresso machine, toaster and everything you need to enjoy your stay. The house is perfect for 2 people, but we also offer all facilities for children: travel cot, high chair, a place to keep the buggy. Please let us know in advance to get everything prepared. As the apartment is in an ancient typical house it cannot have a lift. The apartment is on the 2nd floor, but it has a fantastic natural light, very difficult to find in the narrow streets of Toledo.
What a perfect place to stay in Toledo - an amazing location in an astoundingly beautiful and interesting city! We can only recommend this flat and would definitely return! We have already recommended it to friends. It is really easy to visit the city from the flat - so you can pop back during the day if you need to. It is situated at the top of an old building converted into flats, accessible by stairs. It is very well supplied with everything you need - and everything is super clean, well-organised and new - we wish our own house was as tidy and modern! Our hosts were considerate, friendly and helpful, and contacted us frequently to check that we had everything we needed, although sadly we didn't meet them. Montse's English is very good, and before we arrived she sent us a copy of all the information about the house that we would need, which is also available in a folder in the flat. During our stay, when we had a query we were able to send a message and get a speedy response or advice. On the day we left, and Montse booked a taxi for us and it arrived at the exact time it was booked. If you are thinking of going to this wonderful city, I really recommend that you book Montse and Sergio's flat when it is available! This was only our second stay on Airbnb, and it was a perfect example of how everything should be done to provide an excellent stay!
Katy
2016-09-26T00:00:00Z
We were given very helpful, accurate information by Montse in advance to enable us to find the apartment and the nearby parking garage of Santo Tome, which is on the same street as the entrance to the apartment via Callejon Naranjos and only a four or five minute walk away. The sign on Callejon Naranjos is partly missing but a local man pointed it out for us and we found it without any difficulty. The apartment itself was perfect for us - a lovely series of courtyards within the restored historic building led us up the stairs to the top floor where we found this lovely light, airy flat which was all we needed and was very comfortable. It had every modern convenience and a very good bathroom and kitchen. It is perfectly located in the heart of the old city. We recommend it wholeheartedly. A pleasure to stay there.
Terry
2016-08-29T00:00:00Z
Acabamos de pasar un fin de semana fantástico en pareja en esta magnífica ciudad de Toledo. La casa en la que hemos estado es, con diferencia, la mejor de todas las que he tenido la oportunidad de visitar con airbnb. Todo está nuevo, limpio y de perfecta calidad, tanto el colchón de la cama, las almohadas, las toallas de la ducha, los utensilios de cocina, el horno, el frigo y el lavavajillas. Hay incluso un secador en el baño. La localización de la casa en la ciudad es simplemente perfecta, está absolutamente cerca de todo y se llega a cualquier parte en un paseo de menos de 5-10 minutos. Los propietarios han sido muy amables con nosotros y han dejado indicaciones en una carpeta dentro de la casa tanto en castellano como en inglés, y podías consultarles cualquier duda que pudieras tener por teléfono, así que su accesibilidad es siempre completa y su atención inmejorable. De diez. Sin duda lo recomiendo 100% y volvería de nuevo.
Jennifer
2016-05-09T00:00:00Z
Wij hadden geen ervaring met AIRBNB maar dit was gelijk een hele fijne ervaring. Alhoewel we Montse niet in levende lijve gezien hebben was haar bemoeienis perfect! Vanaf onze landing in Madrid, wist ze op diverse manieren te vertellen hoe je naar het appartement kon komen. Tijdens het verblijf was er ook contact over leuke evenementen in de plaats zelf waar we 2 keer met veel plezier gebruik van hebben gemaakt. Het apartement lag heel centraal en zag er mooi uit. Er was een map met aanwijzingen voor alles wat een buitenlandse gast kon gebruiken. Mede dank zij deze verhuurders voelden we ons veilig en vertrouwd in Toledo! veel dank
Annemiek
2016-09-23T00:00:00Z
Piso muy bien situado. Trato perfecto con los anfitriones. Nos dieron unas indicaciones muy valiosas para aparcar. Por poner un "pero" el sofá un poco pequeño, pero no lo usamos mucho la verdad. Una muy buena opción para hacer turismo por Toledo.
Óliver
2017-03-20T00:00:00Z
Parfait ! Emplacement idéal, hôtes disponibles, Montse et Sergio nous on donné toutes les informations nécessaires pour trouver un parking gratuit, pour les visites à faire dans la ville et bien sûr pour trouver l'appartement. Celui-ci étant magnifique et très fonctionnel idéal pour une petite famille ou un couple.
kevin
2016-11-04T00:00:00Z
Easily the most beautiful airbnb-place we have had. We did not have the chance to meet Montse & Sergio but they gave all information well in advance so we could find and enter the place without problems. The Flat is exaclty as described and shown in the pictures, if not even prettier. Everything is in great and new condition, the taste of the furniture is great and we slept great on the bed! The apartment is perfect for 2 or even more and Toledo is a beautiful city. Montse already promised that we would like it, but we were positively surprised. I am not sure if i will be able to visit toledo again, but if i did, i would always come back here! Thanks to you!
Mirza
2016-08-08T00:00:00Z
Host was awesome.
Ray
2016-11-26T00:00:00Z
Tipo de Acomodação
Casa/apto inteiro
---
Tipo de Imóvel
Apartamento
---
Acomoda
2
---
Quartos
Toledo, Castilla-La Mancha, Espanha
The apartment is just 50 meters from the Cathedral of Toledo, in a former palace of the Sixteenth Century and recently renovated retaining all its beauty, architectural and decorative remains. It´s a former Renaissance Palace that had previously been protective houses and medieval battlements, with ceilings over three meters, masonry walls, Mudejar Tricks and a courtyard with fountain. The apartment has been decorated with all the charm and taste that our guests feel at home. It consists of a room with four-poster double bed, living room with sofa bed, full-equip kitchen and bathroom with shower. For 2-4 people The city of Toledo, declared a World Heritage Site by UNESCO, is located on a rocky hill surrounded by the Tajo river in the heart of Spain and very close to Madrid. Cradle of three civilizations, Muslim, Jewish and Christian who coexisted for years in this city. Here you will find churches, synagogues, mosques, convents, walls, bridges, towers and a host of cultural combinations, all enjoy a great outdoor museum.
Local privilegiado, junto à catedral e de restantes monumentos históricos. Tranquilo para descansar, isento de barulhos e ruídos vindos do exterior. Ideal para quem procura tranquilidade. A decoração corresponde às fotografias, considerando o espaço bastante agradável. Os donos do apartamento mostraram-se sempre simpáticos e atenciosos, não tendo nada a declarar de negativo quanto à prestação "oferecida". Recomendo e caso volte novamente a Toledo irei reservar novamente o apartamento.
Jose
2012-10-22T00:00:00Z
Fomos muito bem recebidos. As acomodações eram exatamente como nas fotos e descrições. A localização era a melhor possível.
Emanuela
2015-06-18T00:00:00Z
Very nice apartment exactly as described would stay here again!
Toby
2014-05-02T00:00:00Z
Daniel fue muy amable con nosotros, nos llevó a un mirador a ver la belleza de Toledo y nos acompañó a la casa, la cual tiene un ambiente muy romántico y acogedor. No podríamos haber estado mejor! Repetiremos sin duda!
Veronica
2015-03-09T00:00:00Z
The place is wonderful, Just like in the pictures. And in addition to it being right next to the catherdral its actually in a building witha courtyard, so once you walked in it was so quite and serene. Besides the place the owners Daniel and maria are so sweet, they madeus feel very much at home and helped in many ways. We felt like we staid at friends. highly recommended if you are in Toledo
Rasha
2012-04-13T00:00:00Z
I booked the place for my friends and they have told me that they had an exceptional experience at Maria and Daniel's house. The recommend it without reservations to anybody who would like a place in Toledo that not only offers comfort but is beautifully decorated and very centrally located!
rima
2013-09-27T00:00:00Z
We have stayed a couple of nights at Daniel's in Toledo. The location is great, steps from the main attractions and good restaurants and tapas bars. The apartment is beautiful, ideal for two, and identical to the photos. Communication was quick and effective. A bit maintenance seems needed to make it perfect. Anyway, I can't think of a best location in Toledo. Certainly a must-stay.
William
2017-01-05T00:00:00Z
Our stay in Toledo was very good. The apartment is perfectly located, all the hotspots are in walkable distance, and the apartment is nicely cool inside. Would be nice if there were some more kitchen utensils, but we definitely had a great stay!
Anne
2015-07-08T00:00:00Z
Tipo de Acomodação
Casa/apto inteiro
---
Tipo de Imóvel
Apartamento
---
Acomoda
4
---
Quartos
Toledo, Castille La Mancha, Espanha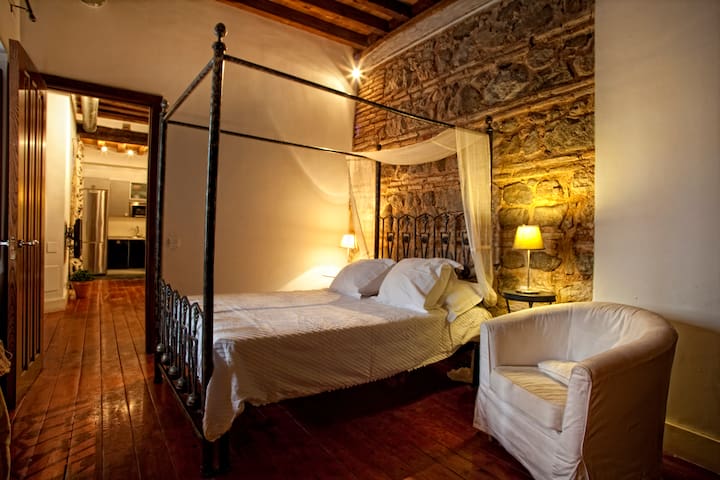 Make your visit to Toledo special by staying at our house. We have been welcoming wonderful people for more than a year, which has made us open another space to make you have a unique experience. We would like to welcome you as well. You will not know Toledo, you will feel it! If this is not the one you are looking for, look at this one that is one floor below https://www.airbnb.es/rooms/10131695?s=i7_-i7l-
The house is located in building of 1800 on the third floor which allows to enjoy good views, we are in one of the most important streets of Toledo 2 minutes from Zocodover and 4 from the Cathedral. It is located in a street where the processions of Easter pass that you can see from the balconies. On Good Friday, too, the processions pass in front of the house. To the house we have imprinted our personality and affection in every corner, in every detail, in each point of it so that you feel it as your own, you fondle it and love it when you leave, and us! We have distributed in 2 rooms with own bathroom each, a fully equipped kitchen and a dining room with sofa bed. The historic essence of Toledo with the comforts of now (washing machine, dishwasher, smart tv, wifi ...) The space we have reformed ourselves with our own hands, and some help and teaching from other friends so that you enjoy our city. Simply ... SENTID TOLEDO The house has the particularity of 2 rooms with own bathroom and even TV separated by kitchen that give an independence and intimacy for 2 couples or freedom if you come with children. We rent the house COMPLETE excluding a room at the price of the web or the house COMPLETE with the 2 rooms including some extra. The house will always be of private use, regardless of the reservation. If you come to the house 2 people and want to use the 2 rooms, mark at least 3 guests or else you could find the room not available. We do not want surprises
We are 4 minutes from Zocodover Square, the heart of Toledo and 4 other of the Cathedral, the soul of the city. Around the apartment there is a lot of leisure area
This is an exceptional find. The apartment is spacious, meticulously cared for, and quite large. We had not expected separate bedroom, bathroom, living and dinning rooms and kitchen. Everything was done well and with a loving touch. The building has charm and the apartment is perfect. We stayed only one night but would have loved to spend a few more nights there. God willing, we'll visit again.
Rex
2017-03-28T00:00:00Z
Todo perfecto
Dolores
2017-03-05T00:00:00Z
El sitio es ideal. El apartamento limpio y muy bien equipado , mucho mejor que las fotografias. los anfitriones Jorge y Alejandra excepcionales por su recibimiento y atención en todo:acogida, detalles golosos para el desayuno, itinerarios varios para conocer la ciudad etc, los puntuariamos con un diez.
jose luis
2017-01-16T00:00:00Z
Se esta estupendamente
Concha
2017-02-27T00:00:00Z
Perfecto. Jorge estuvo encantador y ayudo en todo. Encuentras la casa lista para empezar a funcionar. Con todo lo necesario. Como cualquiera que haya viajado le gustaría encontrarla. Equipada, limpia y acogedora. Luminosa y soleada, cama comodisima. Se nota que le han puesto el máximo cariño. Totalmente aconsejable. Para repetir. Gracias por todo chicos.
Albano
2017-04-03T00:00:00Z
Perfecto! Hemos estado tres días visitando Toledo y ha sido un gran acierto alojarnos en este apartamento que aunque se encuentre en un edificio histórico está totalmente reformado. La ubicación es ideal ya que está muy próximo a la plaza Zocodover y al Alcázar. El apartamento está decorado muy bonito y los anfitriones Alejandra y Jorge son excepcionales, desde el primer momento se han preocupado por hacernos la estancia lo más acogedora posible. Esperamos volver pronto a esta preciosa ciudad y, sin duda, repetiremos alojamiento ;-)
Rosa
2017-01-05T00:00:00Z
El apartamento está muy bien ubicado. Está decorado con mucho gusto, es cómodo y tiene todo lo necesario. Al estar muy céntrico los jueves por la noche hay algo de ruido, pero nada que realmente impida descansar bien. Jorge es muy amable y atento. Nos dio todo tipo de información sobre lugares para visitar y muy buenas sugerencias para ir de tapeo. Por cierto, el desayuno está incluido. No sólo eso, sino que además nos trajo alguna cosa más que le pedimos. No hay duda de que hace todo lo posible para que la estancias sea lo más agradable, cosa que es de agradecer. Si volvemos a Toledo sin duda repetimos.
Javier
2017-01-27T00:00:00Z
El apartamento está ubicado en una zona muy cómoda para pasear, todo accesible a pie y colectivos a 2 cuadras! Muy espacioso y agradable, divinamente decorado y limpio! Nos encanto alojarnos en lo de Jorge! Es un anfitrión muy agradable y atento! Nos atendió su sobrina que nos recomendó lugares para visitar, para comer y para salir! Se los recomiendo!!!!
María Milagros
2017-03-25T00:00:00Z
Tipo de Acomodação
Casa/apto inteiro
---
Tipo de Imóvel
Apartamento
---
Acomoda
2
---
Quartos
Toledo, Castilla-La Mancha, Espanha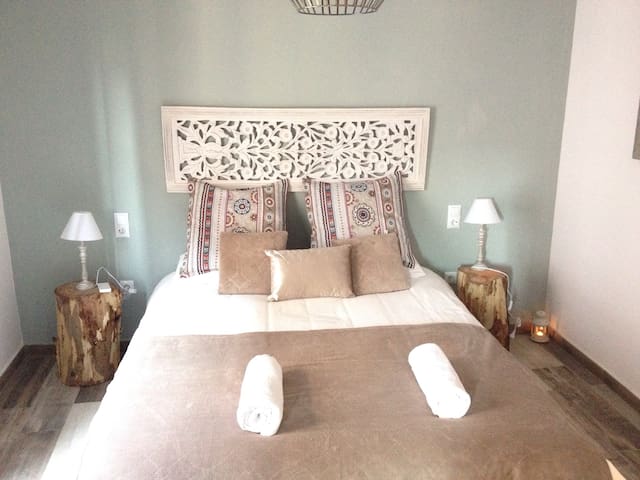 Pequeño gran atico en pleno centro superacogedor,alegre, lleno de preciosas vistas y muchisssima luz :) Terraza privada en uno de los puntos mas altos de la ciudad. Ideal para parejas. 4 pisos sin ascensor merecen la pena! 4floor without elevator.
El apartamento dispone de una terraza privada de 22m,el espacio interior esta distribuido en cocina americana (con lavavajillas,horno,microondas,nevera) baño con ducha y mueble zapatero, salón con sillón supercómodo para dos,tv y dormitorio con armario empotrado,cómoda de tres cajones y cama de matrimonio
El edificio en el que se encuentra el alojamiento data del siglo XVIII, y en cierta manera parece que en ese siglo se ha quedado anclado..... aunque el apartamento en concreto está totalmente reformado en el año 2010 y dispone de todas las comodidades. no os deberiais perder, si el tiempo lo permite, desayunar en la terraza,una de las experiencias mas bonitas de la casa.
L appartement est exactement comme sur les photos, avec une superbe vue! Adriana a tout fait pour qu on se sente bien chez elle et à Tolede, c est une hote parfaite! Pour les periodes caniculaires, comme c etait le cas pour nous, il n y a pas de clim (mais un ventilateur). Bon voyage!
Elise
2015-07-01T00:00:00Z
Aprtamento con unas vistas increibles y totalmente equipado. Perfecto para pasar unos dias en Toledo. Totalemente recomendable!
Jorge
2015-01-25T00:00:00Z
Un paradiso. El piso está situado en el center de la ciudad, pero parece que es demasiado lejos de ese mundo. Adriana y su novio son muy amable y tienen un piso de sueños. Queremos volver. Seguro. A pardise. The flat is situated in the city center but it seems to be far away from this world. Adriana and her boyfriend are really nice people and they have a flat of dreams. We want to come back.
Sören
2014-05-13T00:00:00Z
Recomiendo este atico. Muy buena ubicación. Todo muy cuidado y con buenos detalles. Destaco su limpieza. Las vistas sobre los tejados de toledo son impresionantes. Adriana es muy buena anfitriona. Respondio rapidamente por email a todas las dudas que tuve antes de llegar respecto a la ubicacion, donde aparcar etc.
Juan José
2014-05-27T00:00:00Z
Adriana was great! She was there to welcome us and explain the apartment. There were books, booklets, maps and pamphets about Toledo for us to use. She provided some food for breakfast and even local beers for us to sample. The terrace is very nice in the morning or late at night (otherwise, it gets quite hot on the rooftop). The apartment was clean and quiet. It is very central.
Sophie
2014-08-29T00:00:00Z
Best view ever from Adriana's rooftop. Apartment was very well done and we wanted to stay longer. Highly recommended! Best airbnb we have stayed at out of 10!
Hilary and Kevin
2015-05-07T00:00:00Z
Nice apartment with great view! We love the location too! Adriana is a very nice and helpful lady, thank you for hosting us!
Miss LC
2014-11-07T00:00:00Z
La anfitriona fuemuy atenta y puntual. Estaba todo en perectas condiciones y tal cual el anuncio.
macarena
2015-10-19T00:00:00Z
Tipo de Acomodação
Casa/apto inteiro
---
Tipo de Imóvel
Apartamento
---
Acomoda
2
---
Quartos
Toledo, Toledo, Espanha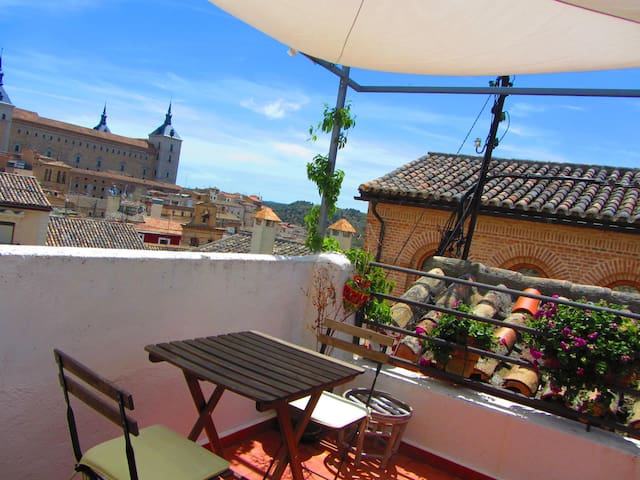 (POR FAVOR LEER LAS NORMAS ANTES DE RESERVAR). Apartamento con el encanto de un patio típico toledano, pero totalmente reformado y moderno. Ubicado en pleno casco histórico a 250m de la catedral y la plaza del ayuntamiento, a pocos minutos a pie de los museos, iglesias, sinagogas, conventos... al igual que de restaurantes autóctonos de la zona, para comer y tapear! Ambiente agradable, tranquilo y con pocos vecinos, ideal para una buena estancia en la maravillosa ciudad de las 3 culturas!
POR FAVOR LEER LAS NORMAS DE LA CASA ANTES DE RESERVAR! Es un apartamento de nueva construcción con mucha luz, que conserva la estructura y el encanto de una casa antigua típica toledana. Se encuentra en la primera planta, sin ascensor. Cuenta con: - Cocina totalmente equipada (lavadora, vitrocerámica, horno, frigorífico, cafetera tradicional, tostadora, sartenes, ollas...) y con cosas básicas para cocinar (especias, sal, azúcar, aceite, café, te...). - Dormitorio doble con cama matrimonial. - Sofácama doble. - Un baño de ducha completo. - Aire acondicionado con bomba frío-calor tanto en la habitación, como en el salón. Un ventilador por si no desean utilizar el aire. - Incluye ropa de cama y toallas limpias. Se intenta ofrecer el mejor acondicionamiento posible para una agradable estancia, cualquier recomendación no dudes en decirme!
Es una zona segura, con un entorno totalmente tranquilo y en el corazón de Toledo.
Localização perfeita. Mesmo próximo da catedral. Apartamento muito simpático, com tudo novo (de acordo com fotos do anúncio). Fabiola sempre simpática e disponível, deixou-nos completamente à vontade fazendo-nos sentir em casa. 100% recomendado.
Guilherme
2016-09-03T00:00:00Z
Fijn appartement, schoon en goed verzorgd Alles was netjes geregeld.
Anke
2016-11-08T00:00:00Z
Estancia agradable, Fabiola muy atenta y flexible en todo momento,el apartamento está en una excelente ubicación!!
Richard
2016-08-22T00:00:00Z
Todo súper bien y Fabiola, muy atenta
Paloma
2016-09-11T00:00:00Z
Logement impeccable. Rien à dire. Quartier calme. Literie de très moyenne qualité ( matelas ??? )
Philippe
2016-09-23T00:00:00Z
The apartment is in perfect condition and Fabiola is very kind.
Michał
2016-09-02T00:00:00Z
El apartamento es pequeñito pero muy acogedor. La casa en la que está es preciosa y muy tranquila, y el piso muy cómodo. Fabiola es encantadora y detallista. Solo pasamos una noche y no podríamos haber elegido un sitio mejor.
Paula
2016-10-17T00:00:00Z
El apartamento era muy acogedor y esta situado en pleno centro de Toledo. El piso esta perfectamente aclimatado y se corresponde con todo lo que hemos podido ver o leer en el anuncio. Fabiola, la anfitriona, ha sido muy atenta con nosotros. En general, hemos pasado unos días estupendos en Toledo!
joel
2016-12-31T00:00:00Z
Tipo de Acomodação
Casa/apto inteiro
---
Tipo de Imóvel
Apartamento
---
Acomoda
4
---
Quartos
Toledo, Castilla-La Mancha, Espanha
Estudio de diseño en el Casco histórico de Toledo, a 150 mtrs de la Catedral y de la Plaza del Ayuntamiento, totalmente reformado y equipado recientemente, es luminoso, silencioso y tranquilo. Totalmente amuebladoCocina equipada con horno, vitro cerámica, microondas, cafetera, tabla de planchar. En el precio esta incluido ropa de cama, toallas y servicio de limpieza a la salida. WIFI incluida De muy fácil llegada en coche y con parking a 50 metros y supermercado a 30 metros. Ideal parejas o familia pequeña y recorrer la ciudad a pie. Descuentos para estancias largas, consultar.
Estudio de diseño en el Casco histórico de Toledo, a 150 mtrs de la Catedral y de la Plaza del Ayuntamiento, totalmente reformado y equipado recientemente, es luminoso, silencioso y tranquilo. Totalmente amueblado, con aire acondicionado. Cocina equipada con horno, vitro cerámica, microondas, cafetera, tabla de planchar. En el precio esta incluido ropa de cama, toallas y servicio de limpieza a la salida. WIFI incluida De muy fácil llegada en coche y con parking a 50 metros y supermercado a 30 metros. Ideal parejas o familia pequeña y recorrer la ciudad a pie. Descuentos para estancias largas, consultar. En los meses de septiembre y octubre de 2016 estarán arreglando la fachada del edificio, si como huésped le es un inconveniente por posibles ruidos o andamios en los balcones visítenos en otro momento. El apartamento sigue tan limpio y cuidado por dentro como siempre. Están trabajando para mejorar la calidad de nuestro apartamento.
Ubicado en corazon de Toledo medieval, edificio del siglo XVIII restaurado y muy cerca de todos los monumentos importante de Toledo (catedral, plaza de ayuntamiento, bares, resturante, SPA)
Pequeno estúdio, mas bem localizado e com todas as condições. Óptimo para um casal passar uns dias em Toledo.
Rui
2015-08-27T00:00:00Z
La estancia en el piso fue excelente, ya que es tal cual lo describe. Es comodo, funcional y está equipado con todo (en esto destaco que eran todos utensilios muy modernos). El casco historico de Toledo es chico, asi es que esta todo muy cercano. Hay un mercado de alimentación a pocos pasos, la Catedral está a dos minutos y la Plaza de Zocodover (la zona mas comercial y por donde pasan los autobuses, a unos siete minutos a pie). Carolina estuvo muy bien, predispuesta a ayudar en lo que sea necesario y guiarnos a quienes no conocemos la zona, como así tambien Lucía, la señora que limpia cada semana, que colaboró de manera impecable. Ademas, la vecindad es supee tranquila y nadie molesta a nadie. Mis tres semanas allí fueron excelentes.
Juan Manuel
2017-02-18T00:00:00Z
El apartamento está genial y las chicas nos ayudaron en todo. Son un encanto
Raquel
2017-02-20T00:00:00Z
Un séjour d'une semaine très agréable dans le studio de Carolina. Il est bien équipé et possède une excellente literie. Carolina est une hôte sympathique qui n'a pas hésité à nous donner de l'aide pour trouver un autre appartement (nous allons vivre l'année à Tolède).
Florent
2016-08-25T00:00:00Z
El apartamento es como se ve, perfecto para dos (para 4 demasiado pequeño). Está muy bien equipado con menaje de cocina, secador del pelo... y muy bien ubicado, cerca de todo y en una calle bastante tranquila. Carolina fue muy flexible con las horas de entrada y salida del apartamento y nos lo facilitó mucho.
Carla
2015-10-12T00:00:00Z
El trato con Carolina y su pareja fue excepcional, y el apartamento fue estupendo. Toledo nos encantó .
Cristian
2014-02-17T00:00:00Z
El apartamento de Carolina ha superado con creces lo esperado, muy céntrico y cerca de un Parking. Es como se muestra en las fotos, limpio ordenado y agradable sin duda totalmente recomendable sin lugar a dudas si vuelvo a Toledo intentare coger este apartamento.
Christian
2016-06-13T00:00:00Z
El apartamento es muy bonito, está céntrico, puedes visitar Toledo perfectamente andando, tiene un súper cercano, te proporcionan un mapa para saber guiarte, la casa muy ordenada y confortable; Lo recomiendo totalmente. Lo único, la gente que vaya a cocinar llevar alguna sartén porque solo hay una, por lo demás muy completo.
Soraya
2017-03-20T00:00:00Z
Tipo de Acomodação
Casa/apto inteiro
---
Tipo de Imóvel
Apartamento
---
Acomoda
4
---
Quartos
Toledo, Castela-Mancha, Espanha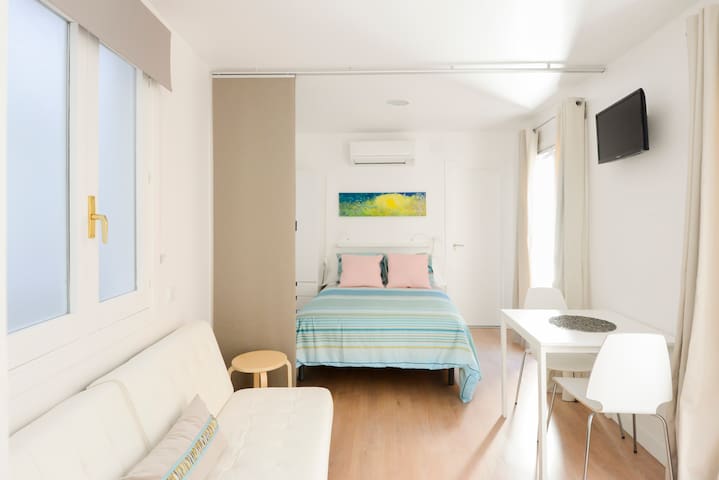 Acogedor y tranquilo dúplex en excelente zona del casco antiguo de Toledo. Ideal para visitar y disfrutar del encanto de la ciudad imperial. Situado en el barrio de la judería, cercano a los principales monumentos de la ciudad.
El dúplex es de nueva construcción situado en lo que fue el primer convento que fundó en Toledo Santa Teresa de Jesús.
Situado en la Judería de Toledo, a 2-5 min de museo de El Greco, sinagogas, catedral, San Juan de los Reyes,... A 5 min de la Universidad CLM en San Pedro Mártir. Cerca de la calle Santo Tomé dónde se puede disfrutar de bares, restaurantes y se pueden adquirir productos típicos toledanos, como el mazapán y el damasquino. A 1 min una parada de autobús os puede llevar a la parte nueva de la ciudad.
La casa de Mercedes es una auténtica maravilla, muy acogedora y con todo el mobiliario nuevo. El sillón es verdaderamente cómodo, así como la cama de matrimonio de la planta superior. Cuenta con aire acondicionado en la planta baja, aunque casi ni lo hemos puesto, ya que no gracias a la pared de piedra tenía una temperatura perfecta. Repetiremos seguro.
Juan
2015-06-21T00:00:00Z
It was great , love toledo, love the house. Is just like the pic or better. The neighborhood was great and quite.
cesia
2016-09-22T00:00:00Z
En pleno barrio de la judería, tranquilo para descanasr, nueva construcción, trato estupendo, volvería a repetir sin dudarlo.
Benjamin
2016-08-23T00:00:00Z
Muchas gracias por la hospitalidad. La casa es un encanto y en lugar ideal para visitar Toledo. Sin duda repetiriamos.
Lidia
2016-10-03T00:00:00Z
Un alojamiento perfecto para pasar unos días en Toledo, céntrico, bien equipado, moderno y acogedor. Además, Javier (sobrino de Mercedes) se encargó de recibirnos y de facilitarnos todo lo que necesitáramos. Un placer!
Alba
2016-11-27T00:00:00Z
Era nuestra primera experiencia con airbnb y la verdad que muy bien. el apartamento es igual o mejor de lo que se aprecia en las fotos. No le falta detalle y sobretodo la amabilidad del anfitrion Javier que nos esperaba guardandonos una plaza de aparcamiento ya que es un apartamento centrico situado en la juderia, casi todo es zona peatonal . Sin duda es para recomendar para los que vayais a visitar Toledo .
olga
2016-07-28T00:00:00Z
Estuvimos un par de días en Toledo pasando el fin de semana y la verdad que todo tal y como nos esperábamos. La casa está super bien, y Javier, el sobrino de Mercedes, muy simpático y atento. Muchas gracias por vuestra simpatía y cordialidad!! Saludos
Juan
2017-02-12T00:00:00Z
Ha sido una estancia magnifica y el recibimiento genial,con Luis una bellísima persona que nos llevo al aparcamiento y nos enseño en coche Toledo. El apartamento es una pasada en pleno casco antiguo y muy cerca de todo lo principal de Toledo. Y Javier un chico fantástico también que en todo momento a estado pendiente en si necesitábamos algo. En general todo genial,volveremos!!
Pablo
2017-04-03T00:00:00Z
Tipo de Acomodação
Casa/apto inteiro
---
Tipo de Imóvel
Apartamento
---
Acomoda
3
---
Quartos
Toledo, Castilla-La Mancha, Espanha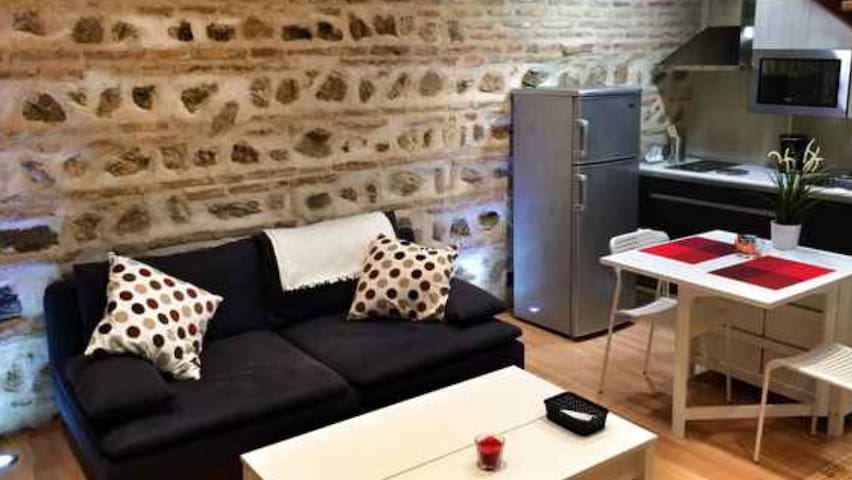 I offer a single room in the historic heart of Toledo, 5 minutes walk from the cathedral, the town hall and the Plaza de Zocodover. The room is well furnished with table, wardrobe and desk.
Mi casa se encuentra en un barrio muy tranquilo, muy cerca (a 2 minutos andando) de mi lugar favorito de todo Toledo: el cobertizo de Santo Domingo el Real, uno de los cobertizos más importantes y largos de la ciudad. Curiosidad: fue aquí donde Johnny Depp rodó una de las escenas de la película 'La novena puerta'. ;)
Staying in the casco viejo of Toledo was fantastic! closed by is an art centre where was a film festival going and also a corner shop to buy groceries. I felt very welcomed by Josemi, he is a gentleman and the place was clean and had everything that I needed for the 5 nights of accomodation. I would definitely recommend it!
Maria
2015-10-22T00:00:00Z
El sitio es, tal cual se describe en el anuncio, MUY pequeño. Sirve perfecto como lugar donde pasar la noche y darse una ducha. La habitación es angosta, no tiene vistas, pero el colchón es muy cómodo. No se puede pedir más.
Antonio
2016-09-25T00:00:00Z
Josemi is nice, friendly, and easy to talk. And his place is clean, comfortable and in an excellent location in the city centre of Toledo. Besides, he gave me a map of Toledo and told me about the famous tourist spots and the transportation in Toledo. It helped my sightseeing and I appreciate his kindness. Highly recommended! Josemiさんはとても親切で、お部屋も清潔で快適でした。ロケーションもとても良かったです。
Yuu
2016-09-19T00:00:00Z
I had a great stay at Josemi's! He was very friendly, gave me some ideas of where to go around town, and made me feel at home.
Rich
2016-08-21T00:00:00Z
Josemi was terrific! He is very kind and accommodating and made sure I was comfortable and had everything I needed. The place was clean and as represented on the web site. It is also in an ideal location for site seeing in Toledo. I would certainly return to Josemi's when I come back to Toledo!
Stephen
2016-05-02T00:00:00Z
Mi último viaje a Toledo y como en otras ocasiones me he quedado aquí porque ya es mi sitio. Tranquilidad, bien ubicado, buen ambiente y Josemi un gran anfitrión. Si algún rato vuelvo con toda seguridad repito. Totalmente recomendado.
Berny
2016-04-27T00:00:00Z
Josemi est très gentil et arrangeant. Le logement est très propre,pratique et bien citué. Merci
charlotte
2016-05-10T00:00:00Z
The room was small, but very clean and comfortable. Josemi is kind and nice person. I could enjoy the stay in Toledo.
井上
2016-02-08T00:00:00Z
Tipo de Acomodação
Quarto inteiro
---
Tipo de Imóvel
Apartamento
---
Acomoda
1
---
Quartos
Toledo, Castilla-La Mancha, Espanha
En el corazón del casco antiguo, a 50 mts de la catedral pero en un barrio muy tranquilo y accesible con el coche hasta la puerta!! Recién reformado y con restos históricos del s XV dentro del apartamento, vivirás una estancia muy especial.
In the historic center of Toledo, next to the Cathedral , completely renovated. Beautiful apartment in a building of the fifteenth century. It combines modernity and comfort with special elements of medieval times carefuly restored. Perfect location for visiting the city on foot and enjoy its streets, churches, monuments and museums, as well as the wide gastronomic and oenological offered by many restaurants arround the old town. 25 minutes of AVE from Madrid and few minutes from the Don Quixote route. Turistic information: Free and guided routes in (URL HIDDEN) Turistic train (URL HIDDEN) . Tapear in Toledo and enjoy the tradicional food: perdiz a la toledana, carcamusas, venao, Senda ecológica around the river Tajo. Playing golf in Layos, (URL HIDDEN) Don Quixote route and, Consuegra windmills.
Ficamos duas noites eu e os meus pais neste lindo apartamento no centro de Toledo. Tudo correu super bem. A Marta tinha dado todas as informações necessárias para encontrarmos a casa facilmente. Ajudou em tudo o que precisávamos. Espero voltar la um dia.
sophie
2015-04-02T00:00:00Z
Fiquei no apartamento de Marta por 3 semanas em virtude de um curso que vim fazer em toledo. O lugar é simplesmente incrível. O apartamento é exatamente como se mostra nas fotos. A um passo da catedral, da Alcazar e da praça zocodovar, a principal da cidade. O bairro é muito tranquilo e seguro. Marta é extremamente gentil e sempre se colocou à disposição para tudo que precisasse. Só tenho coisas boas a dizer. Sem duvida, uma experiência encantadora e que voltarei a repetir. Recomendo muito!
Aline
2016-01-13T00:00:00Z
The apartments are brand new and great located in Toledo, just in center. At the same time they are quiet and peaceful. The interiors are amazing as they keep some original elements of the traditional building. A cave, for instance ;) We walked everywhere, and Marta and his boyfriend were very helpful and nice with us. Highly recommended!
Marta
2012-10-22T00:00:00Z
Estuvimos muy a gusto en el apartemento de Marta. Aunque no la conocimos personalmente, su pareja nos mostró el apartamento muy amablemente. Además nos permitieron dejar las maletas antes de la hora del check-in y después de la hora de check-out. El apartamento es pequeñito y acogedor, perfecto para una pareja. Estuvimos en julio, a 40° en la calle, y no tuvimos que encender el aire acondicionado ni una vez! Al ser una cueva mantiene la temperatura perfectamente. Por poner una pega diría que huele un poco a humedad, cosa perfectamente normel tartándose de una cueva; por otro lado no es un olor intenso no especialmente molesto. En lineas generales muy contentos con la experiencia.
Paula
2015-07-06T00:00:00Z
Muy buena estancia.
Ainé
2016-12-04T00:00:00Z
Hola Marta! Primeramente gracias por tu atención el día de llegada, pues aunque nos surgieron imprevistos durante el viaje te adaptaste en todo momento a nuestras circunstancias. Quisiera transmitirte que me sorprendió la perfecta adecuación del apartamento a nuestras necesidades. La localización perfecta, justo en el centro, perfecta para el fácil acceso a los principales puntos se interés turísticos (catedral, judería y Plaza Zocodover). Junto con el encanto de la ciudad, tu vivienda nos ha permitido disfrutar mucho de nuestro viaje. Si en alguna ocasión volvemos a Toledo, volveremos a contactar contigo. Gracias!
Manuel
2015-01-13T00:00:00Z
This apartment in Toledo is really nice in a fantastic location! I had a brilliant time here, the host Marta was great with communication and everything was as expected, would definitely stay again!
Ash
2015-07-04T00:00:00Z
Marta is a wonderful host! She was extremely gracious, even when our train from Madrid arrived much later than expected. We stayed here for the first part of our honeymoon and found it clean and pleasant-- the decoration is beautiful and the location is so central! We highly recommend staying here and would choose to do so again!
Carlye
2016-04-16T00:00:00Z
Tipo de Acomodação
Casa/apto inteiro
---
Tipo de Imóvel
Apartamento
---
Acomoda
2
---
Quartos
Toledo, Castille La Mancha, Espanha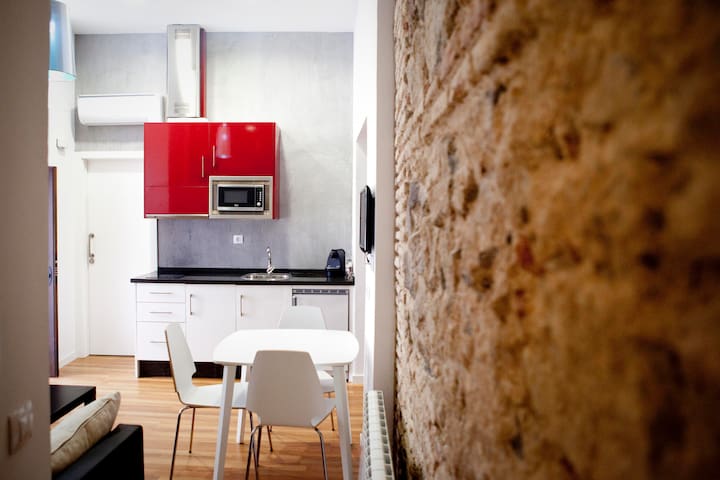 We have our apartment waiting for you, on the Old Quarter on Toledo. We are experienced renters (100 and more 5 stars evaluations on our first one place), and this is our second apartment, brand new. Check the other one. We have tried to make a very relaxed place, where you can rest of your long journey on the city. The apartment has 85 meters, with a very big saloon (a 25 meters), and two bedrooms. We have tried to think on everything you can use or need, based on our experience.
The apartment is brand new, completely renovated. Very near to the Greco´s Museum (3 min. walking), and Jardines del Transito (3 min walking). The street is very quiet, is a little square, with a very good access by car (other places on the Old Quarter are inaccessible). The apartment is on the 1st floor (not at the entry level), but the building has elevator (a rare thing on the Old Quarter). We provide everything we think you can need, but tell us if you miss something.
Es un barrio muy tranquilo, el antiguo Barrio de Curtidores, a la espalda de las Cortes de Castilla la Mancha, a 5 minutos andando del Museo del Greco, el Museo Sefardi, y a 3 minutos del Paseo del Transito, un parque estupendo. Hay un supermercado a 15 metros de la puerta, y una panadería (churros los domingos).
Nos ha encantado el apartamento, muy comodo y limpio, no faltaba de nada y lo de que tuviese Netflix ha sido un puntazo :) Nicolás ha sido super atento y ha estado en todo.
Isabel
2017-02-20T00:00:00Z
Sin duda uno de los mejores alojamientos en los que hemos estado, a la altura de suites de hoteles de cinco estrellas pero con mucho más encanto y familiaridad y a un precio mucho más asequible. Nicolás es un anfitrión espectacular, preocupándose por los huéspedes antes, durante y después de la estancia. Cuando volvamos a Toledo ya sabemos donde nos quedamos.
Javier
2017-03-11T00:00:00Z
I spent three nights in Nico's apartment, staying with two friends. We all very much enjoyed the stay, and I would thoroughly recommend the Curtidores apartment. It is well located in the old part of Toledo within easy walking distance of all major sights, and even walkable from the train station (about 35 minutes). The square which the apartment overlooks is quiet, and the view from the living room takes in some of the hills surrounding the city. Nico was very helpful in allowing us to check in late and was very friendly in his welcome. He provided lots of information in advance about the apartment (including driving directions, which we did not need but may be helpful to others), and about Toledo. The apartment is tastefully decorated, combining modern and "old" features (principally the magnificent wooden beams). While the bedrooms are not large (though still perfectly adequate given the low cost), the living room/ kitchen space is generous, with plenty of furniture and a very well equipped kitchen. Nico even generously provided a selection of small breakfast goods. If I were going to visit Toledo again, I would certainly check whether Nico's apartment were free. Thank you, Nico!
Samudraghosa
2017-02-14T00:00:00Z
Muy bien situado, moderno y con todo lo que te puede hacer falta. El desayuno se agradece, sobre todo si hace mucho frio. Tiene una panadería al lado y una tienda de comestibles q facilita cualquier compra. El propietario respetuoso y fácilmente localizable por (SENSITIVE CONTENTS HIDDEN). Nos ha encantado.
rosa maria
2017-03-05T00:00:00Z
El piso está genial tal como sale en las fotos Excelente fin de semana
Elvis
2017-04-02T00:00:00Z
La experiencia ha sido maravillosa. Apartamento muy bien localizado, cuidado hasta el más mínimo detalle. La cesta de desayuno todo un detalle. Nicolas es un anfitrión fabuloso, accesible en todo momento y haciendo la llegada a Toledo mucho más fácil. Más que recomendable.
Maria
2017-02-05T00:00:00Z
Muy bien tanto el anfitrión como el apartamento. Nicolás nos ayudó incluso a aparcar el coche, en una zona de pago.. el apartamento genial, un detalle el desayuno. Lo recomiendo sin duda
Carmen
2017-03-27T00:00:00Z
Somos un matrimonio con dos niños pequeños y hemos pasado 4 días maravillosos en el apartamento de Nicolás. Ha sido un excelente anfitrión: guías, planos, mejores restaurantes...El apartamento es el mejor que hemos tenido hasta el momento, igual que en las fotos, todo impecable y con todo lo necesario. La decoración es preciosa y muy acogedora. Detalles: Pack de desayuno y baño, Netflix, camas muy cómodas, no hay ruidos, situación excelente, la guía personal de Nicolás... Lo recomendaremos a nuestra familia y amigos sin duda. GRACIAS NICOLÁS. los restaurantes de tu guía nos han encantado!
Mani
2017-03-19T00:00:00Z
Tipo de Acomodação
Casa/apto inteiro
---
Tipo de Imóvel
Apartamento
---
Acomoda
6
---
Quartos
Toledo, Castilla-La Mancha, Espanha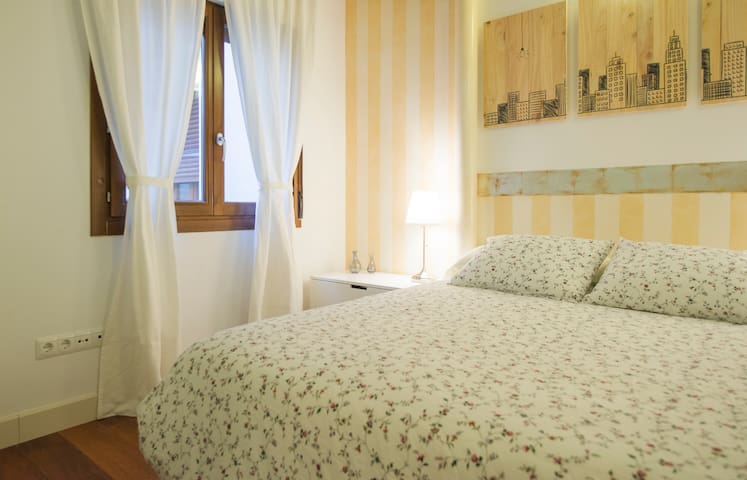 Se alquila habitación en piso con derecho a cocina en el antiguo de Toledo con derecho a cocina y calefacción central Disfrutaras de las vista espectaculares de la ciudad de Toledo
Se encuentra en el casco histórico de la ciudad de Toledo Con unas vista impresionante el las iglesias y monasterios Disfrutaras de las noches toledanas como si no lo hubieras hecho antes
Vivir en donde nació y vivió grandes artistas como el greco, Quevedo, Lopez de vega y personajes históricos como los Reyes católicos. Donde yo vivo puedes disfrutar de la noche toledana
La casa de toledo es perfecta por ubicación, por calidad, precio y ANFITRIONA. La casa situada en pleno casco antiguo, con fácil acceso a apartamentos a unos metros, fiera de la muralla. Frente a la iglesia SAN JUAN DE LOS REYES, vista obligada de la ciudad por su gran valor histórico y belleza. Monica, es una persona muy simpática y agradable que pone todo de su parte para que que te sea lo mas comido posible la estancia. La recomiendo a todos los viajeros.
ANA Y CARLOS
2016-11-27T00:00:00Z
Mónica es un encanto, siempre dispuesta a ayudar. La ubicación es estupenda, habitación y baño amplios. Muy recomendable para conocer el casco histórico de Toledo.
Nazaret
2017-01-19T00:00:00Z
Die Wohnung ist toll gelegen, mitten im historischen Toledo! Monica war freundlich und hilfsbereit, allerdings haben wir sie nur kurz gesehen und hatten ansonsten die Wohnung für uns alleine. In der Küche war alles, um ein Frühstück zuzubereiten. Sogar frisches Obst! Das Internet funktionierte einwandfrei und die Wohnung war angenehm warm. Wir haben uns sehr wohl gefühlt und würden jederzeit wieder kommen!
Klara
2017-02-05T00:00:00Z
Muy bien localizado, a pocos minutos del centro y en zona tranquila. El piso lo esta preparando y le falta preparar un par de habitaciones y la calefacion. Estuvimos con una estufa de butano que solvento de sobras.
Luis
2016-12-05T00:00:00Z
I stayed 2days. Monica is very kind and sociable person. She prepared me food for breakfast, towel, hair drier and maps. She doesn't live in flat that she provides but it has kitchen, bathroom and clean bedroom. It was nice to stay her flat.
Shunki
2017-02-22T00:00:00Z
Excelente ubicación y mejor trato por parte de Mónica
Javier
2017-02-10T00:00:00Z
Me ha gustado todo. La habitación es muy acogedora. Además, ofrece la posibilidad de consumir desayuno.
Lina
2017-02-16T00:00:00Z
Muy bien ubicado el departamento. Muy buena Monica
Dani
2017-01-02T00:00:00Z
Tipo de Acomodação
Quarto inteiro
---
Tipo de Imóvel
Apartamento
---
Acomoda
4
---
Quartos
Toledo, Castilla-La Mancha, Espanha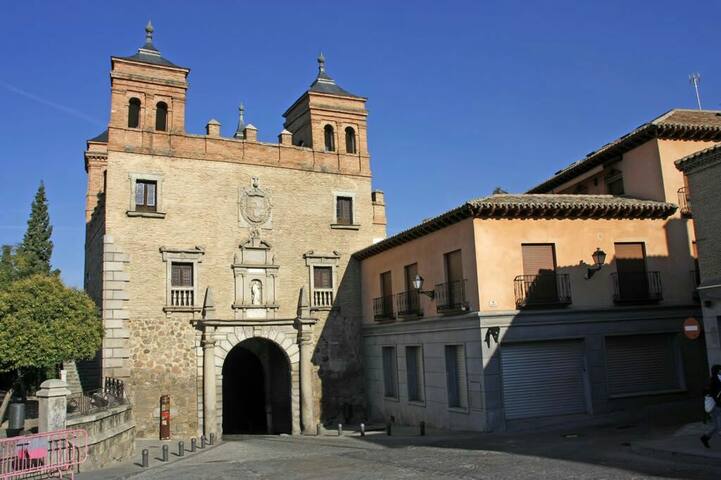 Apartamento histórico en el casco antiguo de la ciudad de Toledo, edificio construido en el siglo XV y restaurado en 1996 de estilo mudéjar, situado en pleno casco antiguo consta de una sala de estar, dormitorio y planta sótano con cuevas y hornacinas de siglos anteriores posiblemente romanas habilitada como sala de TV y ocio, dispone en la planta baja de 1 dormitorio, cuarto de baño individual con agua caliente y ducha, y cocina con cafetera, microondas y tostadora para que los desayunos sean completos.Situado en pleno casco histórico de Toledo a 100 metros de la catedral y rodeado de los sitios de interés turiscticos más importantes, Plaza del Ayuntamiento, Catedral, Santo Tomé, Museo del Greco, Sinagoga del Tránsito, etc.Existe un parking antes de llegar a 50 metros, pudiendo dejar el coche por un precio aproximado de 12 eur por noche, depende las temporadas.Cerca de los restaurantes más emblemáticos de la ciudad, El Botero, La Orza, Adolfo, Aurelio, etc. seguro que disfrutarán de todas las atracciones tanto culinarias como de ocio que esta maravillosa ciudad ofrece.Dispone de información de las rutas guiadas más importantes para conocer la ciudad, las rutas nocturnas, leyendas, la judería, etc.Lo que hace que el palacio de Pantoja y Angulo sea un lugar especial es su entorno perfectamente conservado, el patio toledano interior lleno de plantas y artesonados de madera tallada, el contraste de la piedra y la construcción que los siglos han vivido, hace que nos translademos en el tiempo y poder disfrutar de una experiencia que no olvidaremos fácilmente.
Perfect location right in the centre of this beautiful town. Amazing, quirky historic apartment with a super cosy lounge area. Antonio was really welcoming and there for any queries. Highly recommended!
Kyria
2014-11-24T00:00:00Z
Appartement joliment arrangé et bien équipé, au RdC du patio d'un ancien palais, calme, proche de la cathédrale et parking public à proximité. Le salon est une belle cave ancienne en briques roses. Accueil très sympathique d'Ana Maria qui nous a montré les vestiges anciens du palais, découverts lors de la restauration. A conseiller aussi bien pour son charme que pour sa situation
Isabelle
2016-08-11T00:00:00Z
Ana Maria's house is a delight! The location is quiet, yet an easy walk to all of Toledo's attractions. The house is very close to a number of grocery stores also. As for the house, it is a restored 15th century home that has been beautifully updated. On the first floor there is a kitchen, bathroom and bedroom. Downstairs one finds a Roman-era basement that has been made into 2 living rooms that are gorgeous. This B&B is better than many boutique hotels in which my wife and I have stayed. I cannot do justice to Ana Maria's house. You will not be disapointed if you are lucky enough to stay here.
Edwin Nirdlinger
2016-10-18T00:00:00Z
This place is great and their hosts were super sweet. It was a last minute request when I was already in Toledo because I hated my hotel and wanted to move somewhere else and they were sup[er accommodating and fast. The space is beautiful and they treated me super nice, leaving breakfast, champagne etc... Thanks. El apartamento es precioso y la pareja que lo maneja son encantadores. Fue super de ultima hora cuando yo ya estaba incluso en toledo, pero no me gustaba nada mi hotel y quise moverme, ellos fueron super rapidos y apañaos, me dejaron desayuno, la casa acogedora, vinito... de todo. Gracias.
Alvaro
2016-11-06T00:00:00Z
We enjoyed an enchanted, romantic stay at the Palacio. Antonio was very gracious in every way, meeting us at the train station, showing us the property, encouraging us to open/close windows, light candles, and make it completely our own. We did! A bottle of cava facilitated our initiation to the property. Excellent coffee and cookies jump-started each morning. The Palacio is centrally located in Toledo, an easy walk to all landmarks and wonderful shopping, coffee, internet, and dining options. There may be nicer places to stay, but it is hard to imagine.
Ken
2014-10-11T00:00:00Z
Antonio and his wife are excellent hosts. They were most hospitable and provided more than adequate ammenities. The history of the apartment is worth the stay especially the basement which was kept with its original Roman walls and celing with modern comforts. I ended up sleeping on the sofa instead. The kitchen was well equipped and hot drinks were well provided. Highly recommended!
Boon Yong
2014-10-14T00:00:00Z
Antonio and his wife were very friendly, and made an extra effort to make us feel welcome. Antonio came to pick us up at the station, and offered to drive us to a panoramic viewpoint of Toledo on our way back. The historic apartment is beautiful and extremely well-furnished. Good coffee, marzipan and a bottle of cava awaited us on entry. Its location is perfect; only a few minutes' walk to the centre of town. Highly recommended!
Matthijs
2015-01-03T00:00:00Z
Casa con historia! Las fotos muestran fielmente la realidad, muy tranquila y cerca de todo.
Martin
2014-02-17T00:00:00Z
Tipo de Acomodação
Casa/apto inteiro
---
Tipo de Imóvel
Apartamento
---
Acomoda
2
---
Quartos
Toledo, Castilla-La Mancha, Espanha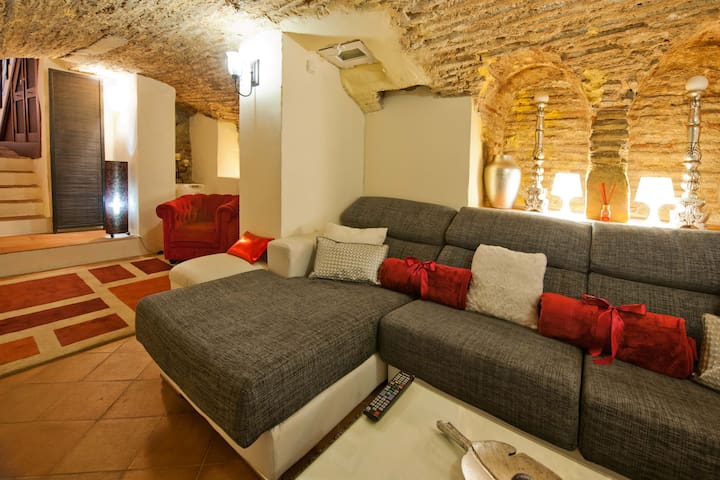 Nuestro magnifico y céntrico estudio,situado en una zona única de Toledo,tiene todas las comodidades para acoger a dos personas y vivir en un espacio recogido,y acogedor,al lado de las escaleras mecánicas,que conectan con el parking publico gratuito,del palacio de congresos y de la plaza de Zocodover centro neurálgico y turístico
Hemos estado muy a gusto en la casa. Todo muy limpio y agradecemos que nos facilitara una cuna de viaje para no tener que llevar nosotros. La ubicación inmejorable. Sin duda repetiremos en una próxima visita a Toledo
Ana
2016-04-16T00:00:00Z
Very well placed flat, with everything you need. Very convenient and nice old building.
Sarah
2016-03-17T00:00:00Z
This is practically real hotel in the historical heart of Toledo. We're meet by Carlos (Ricardo's brother), he was very helpful. All tourist attractions of the town situated on walk distances. I recommend it for stay in Toledo!
Dmitriy
2016-12-04T00:00:00Z
Ricardo fue muy amable y el sitio es muy céntrico, y la relacion calidad/precio muy buena.
Álvaro
2016-08-15T00:00:00Z
The studio flat was cosy and beautiful.The house had a breath taking internal patio and fantatistic views. Excellent location.Ricardo, his bother and their mum were very welcoming.Thank you guys:)
Monica
2016-02-18T00:00:00Z
El piso tiene una excelente ubicación al lado de la plaza Zocodover. Cuenta con lo necesario para una buena estadía. Es bastante tranquilo. Ricardo y su familia son muy buenos huéspedes, han sido muy atentos. Recomiendo totalmente la estadía allí.
Maia
2016-02-05T00:00:00Z
Great location, apartment super clean. The host didn't spend much time with us but everything was at proximity. Had a nice stay!
Doan
2016-05-27T00:00:00Z
Inmejorable la que estancia. Ricardo hace todo lo posible para que estés como en casa, con las máximas comodidades posibles
J. Diego
2015-12-08T00:00:00Z
Tipo de Acomodação
Casa/apto inteiro
---
Tipo de Imóvel
Apartamento
---
Acomoda
2
---
Quartos
Toledo, Castilla-La Mancha, Espanha
Layos - Airbnb
:
Média de

4.74

de

5

estrelas, de acordo com

1508

avaliações de hóspedes
1

–

18

de

269 Apartamentos para Alugar
Insira as datas para ver o preço total. Taxas adicionais serão aplicadas. Impostos podem ser adicionados.