Mais de 300 Apartamentos para Alugar
Die Wohnung verfügt über 1 Schlafzimmer und einen Küche/Essbereich mit Wohnzimmer. Sie liegt 1 km vom Ortskern entfernt und ist ein idealer Ausgangspunkt für Wandertouren. Die Stadt Salzburg ist in 20 min mit dem Auto zu erreichen. Gute Zug und Busverbindungen.
Tipo de Acomodação
Casa/apto inteiro
---
Tipo de Imóvel
Apartamento
---
Acomoda
4
---
Quartos
Kuchl, Salzburgo, Áustria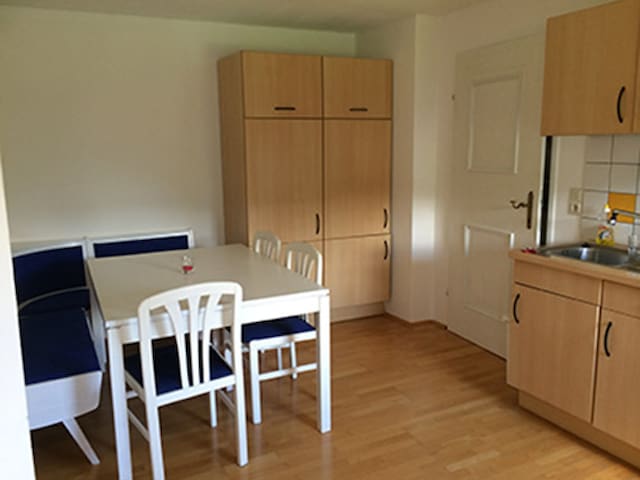 3-room apartment with kitchen and bathroom and balcony, very cozy and quiet in picturesque surroundings, directly at the city limits. Parking available; Bus connection to the center (about 8 minutes), very nice view in the countryside and yet in the city. Shopping center and restaurants nearby. Fantastic view.
Center Salzburg. Near the airport, still staying very quiet and pleasant. In the immediate vicinity of a shopping center, etc. (McArthurGlen) and CinePlexx. good bus links into town.
(URL HIDDEN) (URL HIDDEN) Outlet - Center Arthur McGlenn CinePlexx Kino diverse Restaurant Heurigenlokal
Tipo de Acomodação
Casa/apto inteiro
---
Tipo de Imóvel
Apartamento
---
Acomoda
4
---
Quartos
Wals, Salzburgo, Áustria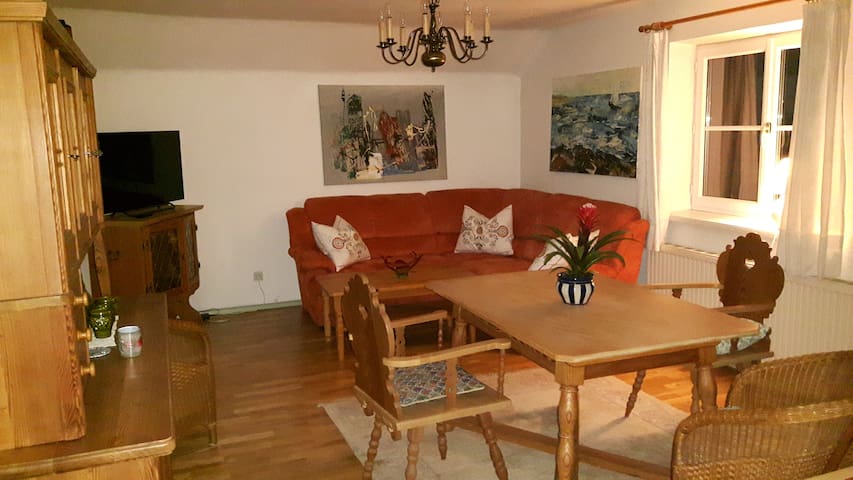 L'ambiance conviviale et confortable de notre belle maison d'hôtes et l'attention personnelle que nous portons à nos clients vont sûrement gagner votre approbation. chambres accueillantes du Guesthouse Heidi'! Un copieux petit-déjeuner buffet avec un coin d'aliments santé veille à ce que votre journée prend un bon départ. Salle de petit déjeuner vous faire sentir vraiment à la maison Le jardin et aire de jeux, la pelouse, piscine et tennis de table vous inviteront à la détente, sans même avoir à quitter la maison d'hôtes. Les nombreuses excursions possibles dans la province de Salzbourg et dans la ville elle-même faire un long séjour très attrayant. Voisines Bavière, avec la belle région de Berchtesgaden et le lac Chiemsee à proximité (avec le château de Herrenchiemsee - environ une demi-heure de trajet de nous) prêter la zone une atmosphère superbe. voyages en calèche voyages en calèche peuvent être réservés à la maison d'hôtes. En plus des visites de la ville avec Panorama Tours (Sound of music) peut être réservé à la maison d'hôtes.
Appartement très spacieux clair et propre. Le ménage est fait tous les jours. L'appartement est situé dans la grande banlieue de Salzbourg. On peut s'y rendre en prenant sa voiture pour se garer à la gare routière puis prendre le tram jusqu'au centre de Salzbourg. Il faut environ 45 minutes.
Rougine
2016-08-07T00:00:00Z
On the trip from Luxembourg to Split my wife and three children stayed in Heidi's place. There was so much space in the apartment, just perfect for resting after all day driving. The kitchen and rooms were very tidy and all the furniture is new. The pool was a wonderful surprise for the children and they were happy to use it. And the best came next morning: a breakfast with hot drinks and fresh pastry at 7 am! I hope to visit again Heidi's place.
Andjelko
2016-08-05T00:00:00Z
We arrived late but Heidi and her Husband were very accommodating. It was a wonderful apartment. The breakfast was great. We are sorry our plans changed and had to leave early.
Dwayne
2016-08-12T00:00:00Z
Tipo de Acomodação
Casa/apto inteiro
---
Tipo de Imóvel
Apartamento
---
Acomoda
5
---
Quartos
Wals, Salzburgo, Áustria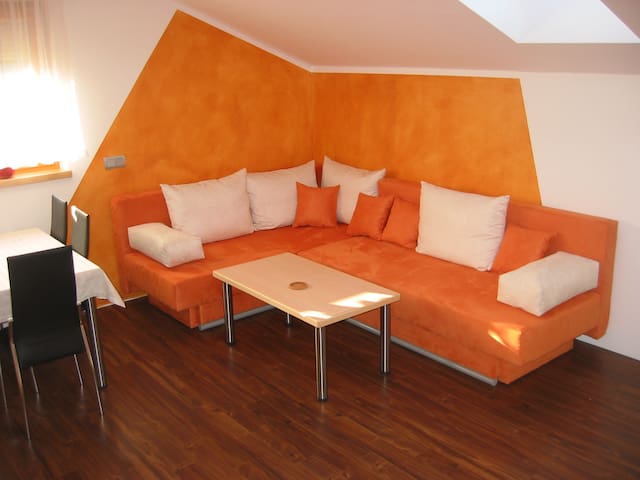 Near the Königsseer Ache, quiet and centrally located in Berchtesgaden our low-threshold apartment on the 2nd floor with 49 m2. It consists of 2 bedrooms, 1 kitchen and a spacious bathroom.
The apartment: Our low-threshold apartments On the 2nd floor with 49 m2 is located in Berchtesgaden, with only a 10 minute walk to the centre. It consists of 2 bedrooms, 1 kitchen / living room and a spacious bathroom. Our non-smoking apartment is absolutely allergenic (no carpets, no curtains, blinds washable) The kitchen / living room: Fully equipped kitchen in L-shape with: • 4 plate hob with oven • Dishwasher inc dishwasher tablets • Refrigerator with freezer *** • Microwave • Coffee maker • Crockery and cutlery for 6 people • pots and pans from WMF • dish towels • Satellite TV • DVD Player • Radio CD and Cassette Player • Internet access in the apartment • Sofa bed for 2 people • Dining table and chairs 2 Bedrooms: . Bedroom one for 2 people • Large mirrored wardrobes • Twin electrically adjustable (height, head & Foot) beds, double bed on request • Generous nightstands with reading lamps Bedroom two for 1 person • Single bed, height adjustable headrest Generous nightstand with reading lamp Bathroom: • Standing toilet • Spacious, wet room style shower (120x120 cm) • Sink with mixer taps and lighted mirror Additionally the shower hose is easy to reach. You may use our laundry room during your stay for a fee of 5 Euros per load, which includes detergent. We have a room for drying ski boots and this is free to guests. • Fun Ski Arena Obersalzberg Gutshof (1 km) The affordable family ski area at Obersalzberg • Ski Resort Ross Field / tines (3 km) The Roßfeld is undoubtedly the safest family snow ski area (natural snow) in Berchtesgaden • Götschen Ski Resort (11 km) The ski area is a regional center Götsch Olympic base in Berchtesgaden • Ski Resort Jenner-Königssee (6 km) Jenner skiing on the mountain for connoisseurs • Hochschwarzeck Ski Resort (14 km) Family-friendly, good skiing Sledge rentals available in winter Unwind at the end of your day with a romantic campfire and relax with views of the Eagles Nest and Watzmann mountain, right from our own back garden.
Zentral, aber doch verkehrsberuhigt gelgen. Supermarkt, Restaurant und Bushaltestelle in unmittelbarer Nähe ( 200 m). Der historische Stadtkern mit seinen bayrisch gemütlichen Biergärten und Restaurants ist in fünf Minuten zu Fuß erreichbar
Thank you again Balinda, i havd had a really great time at your house! For more Chinese tourist understanding, i will draft below comments in Chinese :) 1. 地理位置。 离火车站很近,走路10分钟,而且会经过一条小河,还是不错的 2. 房间条件 属于花园洋房的顶楼,卧室、厨房、卫生间都很好,很适合多住几天,并且可以做饭的那钟,各种厨房电器一应俱全! 3. 房东 一直没有碰面,但感觉还是很okay的,一些安排的也很妥当
Jingdong
2015-05-15T00:00:00Z
The communication with Belinda was good. Apartment was well signed and easy to find. We did not meet Belinda, she was on holidays, but were adequately assisted by her friend. Apartment was clean, large and well equipped. A bit of head ducking with sloping ceilings. No elevator, so have to take luggage upstairs, 2 flights. A bit disappointing that there was an extra fee to pay to use the washing machine/dryer. Overall, a pleasant stay in a lovely town.
Steve
2016-04-17T00:00:00Z
Had a great stay at Belinda's place. A friendly host. Prompt communication beforehand. Thoughtful arrangements to details with decent quality. Felt really welcomed and cosy just like at home. Thanks!
Cheng-Jen
2015-03-31T00:00:00Z
Very nice host. Very nice area. The accommodations were clean and comfortable.
Kevin
2016-04-01T00:00:00Z
Ein tolles Apartment, genau wie beschrieben. Sehr sauber und ordentlich, man hat sich sehr willkommen gefühlt.
Maren
2016-09-10T00:00:00Z
房子外面有很大的停车场,可以免费停车,房源里超市也很近,就是周日不营业要主要安排时间,房子还是不错的,房东还热情的准备了糖果和香槟。屋内温暖舒适,值得推荐。
xiangjie
2016-02-16T00:00:00Z
We had a wonderful time here! The location was great, within walking distance of both a grocery store and the gondola that took us up to Obersalzburg. It is located in a quiet and quaint neighborhood, which was just what we were looking for!
Millie
2015-09-16T00:00:00Z
Belinda's house in Bertchesgaden was very nice. The view out the kitchen window was worth the trip. A short trip to the downtown walking street where we found a great little cafe with the best desserts ever.
Bill
2016-10-08T00:00:00Z
Tipo de Acomodação
Casa/apto inteiro
---
Tipo de Imóvel
Apartamento
---
Acomoda
5
---
Quartos
Berchtesgaden, Baviera, Alemanha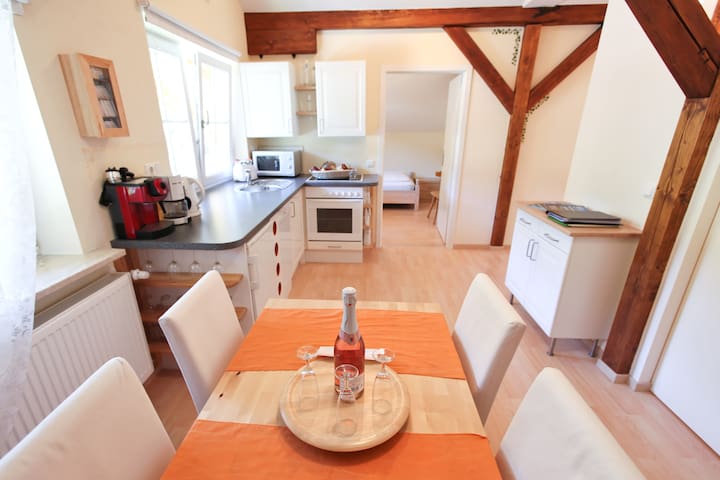 The house lies in picturesque Golling, the secret vacation spot of the stars. It is a cozy bright apartment with plenty of beautiful wood flooring, ceiling and furniture. It is our home away from home.
We are in an ideal space: to the north the beautiful town of Salzburg and the surrounding lake areas, Berchtesgaden, Germany with the National Park of Berchtesgaden. To the south lie the the Alps, the famous castle in Werfen, the ice caves in Werfen and some of the larger ski areas of Austria. An ideal place for hiking, and wandering from alm to alm and many winter activities.
The new Aqua Salza Spa and pool are within walking distance of the house. The Egelsee Nature Reserve, the beautiful Bluntautal valley, the Golling waterfalls, the Salzachofen gorge and zip line, the Furstenhof Organic Cheesery, and the Golling Castle all minutes away by foot.
Very cozy and charming place. The kitchen in particular was pleasant. Right on a main road so car's do start driving by in the morning, but no heavy traffic. Jasmine was attentive and helpful host. Great for couples
Evan and Shaye
2016-12-12T00:00:00Z
Great last moment (we have booked just 8 hours before our arrival) stay without any problems, everything clean and OK,,great kitchen. We recommend this accommodation!
Petr
2017-03-05T00:00:00Z
Nicoles Appartment ist super süß und gemütlich! Man geht durch die Tür und fühlt sich sofort zuhause. Alles ist sauber und heimelig eingerichtet und die Küche ist ein Traum. Dieses Appartment ist wirklich ein super Ort für Paare. Die Gastgeber haben wir nicht gesehen, da sie mit ihrem Schlüsselkasten ein geniales System für eine reibungslose Schlüsselübergabe haben.
Verena
2017-01-08T00:00:00Z
Eine super schöne, kleine und saubere Wohnung in der man sich prima entspannen und wohlfühlen kann. Nur zu empfehlen. Der Blick auf die Berge am Morgen und die Stille von der man umgeben ist, lässt einen den Lärm aus der Großstadt vergessen. Vielen Dank, dass wir es uns in der Wohnung für einige Tage gemütlich machen durften. Liebe Grüße
Caroline
2017-01-04T00:00:00Z
Die Lage der Wohnung ist für Ausflüge nach Salzburg und auch zum Wandern ideal. Die Ausstattung ist top. Die Wohnung ist sauber und gepflegt. Wer lärmempfindlich ist, hört ab morgens 6 Uhr bei offenem! Fenster Straßenverkehr.
Ulrike
2017-03-01T00:00:00Z
What an amazing place. We had a wonderful time. The tidy and clean rooms and a welcoming host.
Gürhan
2016-12-07T00:00:00Z
Tipo de Acomodação
Casa/apto inteiro
---
Tipo de Imóvel
Apartamento
---
Acomoda
2
---
Quartos
Golling an der Salzach, Salzburgo, Áustria
Apartment of 90 m2 for 4-6 persons. Downstairs: living room with fully equipped kitchen, with balcony door entrance to outdoor terrace (7x7m), floor with WC Upstairs: 1. separate bedroom with double bed and child's bed, 2. separate bedroom with double bed and folding bed, with balcony.
Berchtesgaden is a picturesque little town situated in the Bavarian Alps near the border with Austria. The city of Salzburg is only 15 km away.
Hitler's Eagle's Nest, Berchtesgaden Salt Mines, Königssee, Salzburg (is only 15 km away). And a lot of excellent hiking tours around, our favorite activity.
le logement était neuf, superbe, très pratique et bien équipé. 2 chambres, 2 WC, une grande cuisine. Je recommande
David
2016-09-25T00:00:00Z
Karolina und ihre Familie waren tolle Gastgeber. Die Wohnung war genau wie in dieser Anzeige beschrieben und wir haben uns sehr wohl gefühlt. Beim nächsten Besuch würden wir noch länger bleiben, denn die Gegend hat so viele interessante Ausflugsziele. Ein Detail sollte man allerdings beachten: Die Treppe zum Obergeschoss ist recht steil und könnte problematisch für ältere Leute sein.
Daniela
2016-08-01T00:00:00Z
Nice large apartment with everything you need and set up so that you feel at home. Close to supermarket and a short walk into town. Hosts were great, easy to communicate with and very helpful. We loved staying with you guys and would stay again. JOHN and family
John
2016-10-02T00:00:00Z
Karolina's place was perfect for our family. The house was lovely with all the little touches of home. Highly recommed anyone looking for a beautiful place to stay in Berchgarden. Karoline was a perfect host.
Helen
2016-12-27T00:00:00Z
Karolina was not around for our stay but arranged for her daughter to meet us and so everything went smoothly and we were given a great recommendation for dinner! The property was beautifully kept, spotlessly clean and our daughter loved the fact she was able to use a climbing frame and trampoline in the garden. There is a lovely terrace with sunshine from early morning. We were made to feel very welcome and I would certainly recommend it.
Rosalind
2016-08-26T00:00:00Z
Fantastic place to stay in Berchtesgaden. We had three adults, two children and it was ample space, very clean and everything we needed. It is close to the market, restaurants and the historic area.
Jessica
2016-10-11T00:00:00Z
The host is very nice. the location and every other things are just amazing super. I love it.
SHIYUAN
2016-06-24T00:00:00Z
Karolina is the perfect host, she was very helpful, kind and easy to communicate. She provided assistance when needed, and also gave us information about things to do for the neighbourhood. The place is exactly as described. We simply loved it. It was super clean and very cosy. There is a big market very close, so you can easily find stuff you need. There is a trampoline in the backyard and a cradle in one of the rooms, so it is very kids friendly if you have kids. I strongly recommend this place to everyone.
Ertunc
2016-06-18T00:00:00Z
Tipo de Acomodação
Casa/apto inteiro
---
Tipo de Imóvel
Apartamento
---
Acomoda
4
---
Quartos
Berchtesgaden, Bayern, Alemanha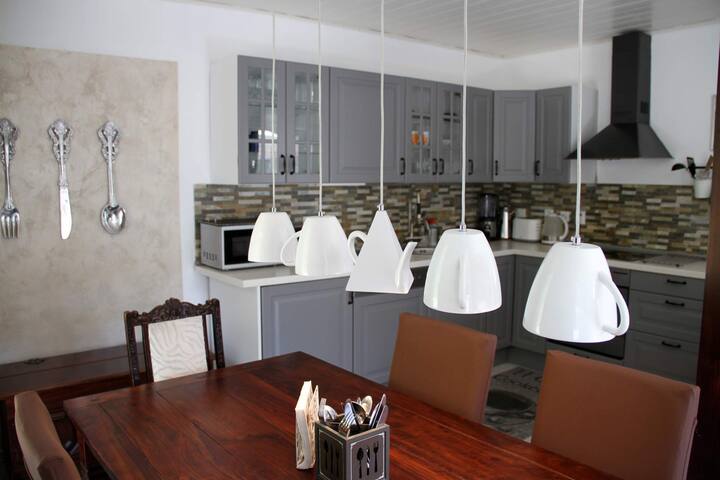 Meine kleine gemütliche Wohnung ist sehr lieb zu mir: klein, stecken direkt in der Altstadt, um alle Salzburger historischen Reichtum zu Fuß erreichbar, Einkaufsmöglichkeiten, Bier, Nachtleben, lederhose & Dirndel ... es macht es so ziemlich ein perfekter Ort um zu fallen liebe mit dem österreichischen glitter. In einem renovierten 16. Jahrhundert ist es modern und einfach: schöne und praktische Küche mit ikeaware mit oldskul Silber-ware für einen noblen Abendessen gepaart, hellen Fenstern und modernen Stadtleben und Parkmöglichkeiten in der Nähe stumm zu schalten.
Ich lebe in dieser Wohnung, weil ich in Salzburg arbeiten, also habe ich es mit viel Liebe ausgestattet und weiter aufmotzen, wie ich in ihr leben. Es ist in der Tat ein ganz einfaches Set-up, das funktioniert und ist tatsächlich genauso gemütlich und nutzbar, da es aufgrund einiger einfacher oldskulness stilvoll ist. Die Küche ist sehr nett, sehr geschickt gebaut und hat sich mit allem, was benötigt, um einen Samstag Abendessen vorbereiten ausgestattet: mit Backofen, Kühlschrank mit Gefrierfach, Töpfe und Pfannen. Ich habe sogar zwei (!) Bärte! Das Bett ist ziemlich groß und gemütlich 200x180, bereit für zwei oder sogar drei winzige, genug Decken und frische Bettwäsche. Das "Internet" Stuhl ist für Sie bereit, das Buch zu beenden und die Internet-Router ist bereit, ein paar tipps über Salzburg zu dienen. Leider hat es nicht den Filter "E-Mails arbeiten", so von sich selbst kümmern. TV ist noch nicht da, aber vielleicht können Sie kaufen und lass es einfach :) Das Bad ist sehr schön auch mit einem Haartrockner, Waschmaschine und Dusche. Im Flur gibt es ein Rack meiner Sachen hängen und gestapelt, sind Sie herzlich eingeladen, den Raum zu nutzen, wie Sie möchten - es sowieso nicht viel davon ist :)
Der Ort ist wirklich in den Eingeweiden von Salzburg, unter dem majestätischen Felsen in einem ausgestopften alten Straße mit einigen Bars und Clubs in 100 m Entfernung. Die Haupteinkaufsstraße ist 4 Minuten entfernt, 10 Minuten die Mozartplatz. Salzburg ist eigentlich eine wirklich nette Stadt zu Fuß voller klassischer Kultur Sie sich nicht entgehen lassen, wo ich wohne. Das heißt, ist das Parken nicht wirklich vor dem Haus, aber man kann mit einem 3 Stunden kostenloses Parken (kostenlos nur am Wochenende) auf der Straße weg oder es einfach weg in eine Garage 5 Minuten setzen. Beachten Sie auch, dass der Zugang zum Eingang des Gebäudes ist nicht möglich, nach 19h Uhr und vor 7 Uhr morgens wegen der steigenden Poller auf der Straße. Oh, fast vergessen. Haben Sie schon von Augustinerbräu gehört? Es ist 10 Minuten entfernt und sie dienen Pints 1 Liter. Es ist wie Bier Himmel. Sie sollten sich nicht entgehen lassen.
Danijel is a perfect host. Communication is easy and friendly. The apartment is in perfect location next to all famous sights. It's fully equipped with staff you need to spend a few comfortable days in the old town of salzburg.
Veronika
2016-12-04T00:00:00Z
Danijels Apartment liegt im Herzen Salzburgs. Alle Sehenswürdigkeiten sind sehr gut zu Fuß und mit den öffentlichen Verkehrsmitteln zu erreichen. Im Apartment findet man alles was man braucht. Es ist genau so, wie im Profil beschrieben und zu sehen. Danijel ist sehr freundlich und antwortet sehr schnell. Der Check in und out war flexibel und alles hat perfekt geklappt. Jederzeit wieder (:
Nathalie
2016-12-10T00:00:00Z
Apartment is just the way it is in the pictures- clean, cosy and well-equipped. The location is perfect, in the city center, just a few minutes walk from the sights. Danijel is a great host, always at your service. I highly recommend it to the other travelers! :)
Magdalena
2017-01-01T00:00:00Z
Danijel's place is in the historic core of Salzburg, tucked right under the cliff that supports the fortress, etc. You can walk to everything conveniently. We loved staying here, Danijel was easy to work with, and we would gladly recommend it to other travelers.
Eddy
2016-12-26T00:00:00Z
Super lage, süße Wohnung. Allerdings waren in der Dusche Haare von jemand anderem. Generell war es ein wenig staubig. Ihr solltet auf jeden Fall den Müll Selbst raus bringen weil sonst gibt es ärger mit dem vermieter ;)
Manuel
2016-12-18T00:00:00Z
The flat was exactly as on pictures, clean and cozy. Everything we needed was provided. We loved the location, it's very central. We just walked around the city, no need of any public transport. 2 minutes away you can buy the original famous Mozartkugel from the Konditorei Fürst (you can get those just in Salzburg) or go to a quite a big supermarket (Billa) which is 4 minutes away and is also open on sunday, what is rare in Austria. I would definetely stay again at Danijels place, as it was very convenient.
Soriana
2016-11-27T00:00:00Z
Tipo de Acomodação
Casa/apto inteiro
---
Tipo de Imóvel
Apartamento
---
Acomoda
2
---
Quartos
Salzburgo, Salzburgo, Áustria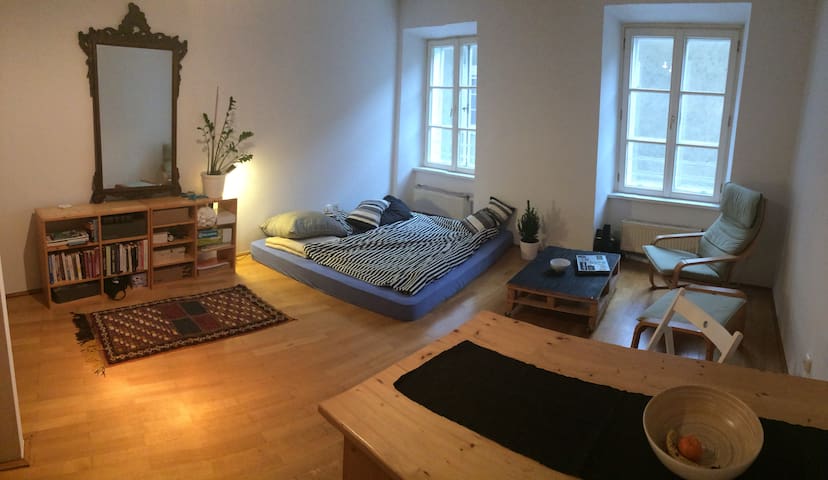 Este acolhedor apartamento para quatro pessoas no centro da cidade de Salzburgo (meia milha a partir da estação de trem principal) oferece uma vista deslumbrante, RARO tanto do Centro da cidade e da paisagem surpreendente (montanhas) que circundam a cidade de Salzburg. Na verdade, é um apartamento muito luminoso, com muito sol e amigável. Ela acaba de ser recentemente renovado a partir do zero. VARANDA disponíveis para uma boa noite fora. Aprecie a beleza desta cidade neste lindo apartamento. WIFI GRÁTIS
Também ideal para uma família de 4, um grupo de amigos, ou um casal.
We really enjoyed our stay here, Maria is a wonderful host. Apartment is in a good location, really close to the train station and only around 15 minutes walk to the central city.
Bridget
2017-03-29T00:00:00Z
Alles hat super geklappt, die Wohnung ist sauber und modern eingerichtet. Zum Hauptbahnhof läuft man nur ca. 5-10 Minuten. Alles in allem eine gute Unterkunft.
Desiree
2017-01-04T00:00:00Z
Čisté, příjemné, útulné. Kuchyň je vybavena dostatečně, bohuž však chyběla sůl, museli jsme tedy kvůli jedné večeři koupit celou solničku.
Jan
2017-02-21T00:00:00Z
Wonderful property near HBF.. Great place to stay
Pradeep
2016-12-25T00:00:00Z
Alles super, Danke!
Irina
2017-03-30T00:00:00Z
Die Wohnung war super sauber und ordentlich. Sie liegt ca. 5-10 Gehminuten vom Hauptbahnhof. Die Kommunikation mit der Vermieterin war einfach und unkompliziert.
Eugen
2016-12-09T00:00:00Z
Maria的房子像单身公寓一样,但是东西齐全,离汽车火车站也很近
Ruohua
2016-12-20T00:00:00Z
Appartement spacieux, extrêmement bien équipé, avec terrasse. Parfait pour passer un séjour en toute tranquillité. L'entrée dans les lieux se fait très rapidement par téléphone. L'appartement est très propre, se qui justifie (en partie) les frais de ménages. Excellente surprise !
Greg
2016-12-03T00:00:00Z
Tipo de Acomodação
Casa/apto inteiro
---
Tipo de Imóvel
Apartamento
---
Acomoda
4
---
Quartos
Salzburgo, Salzburgo, Áustria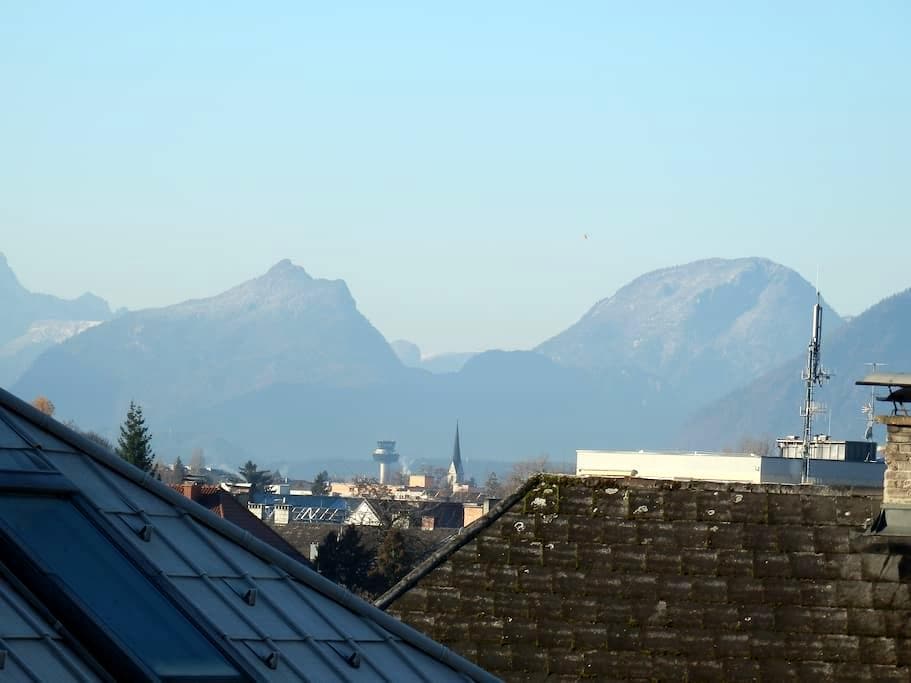 Burmesterhaus is an 1860's treasure located in the oldest part of Bgaden, Nonntal The house was renovated in 2013. Harmony, our cozy and modern apartment has 2 rooms: a living room with kitchenette and a bedroom. Everything is in walking distance!
Burmesterhaus features modern apartments, but the building itself was constructed in 1860 and resides in the historical city center of Berchtesgaden. The surrounding houses are beautiful and the view of the mountains is marvelous. The apartment called Harmony suits two people. Its windows face the garden behind the house.
Burmesterhaus is located in Nonntal, the oldest part of Berchtesgaden. It is only a few minutes to walk to the pedestrian area, where all the cafes, shops and restaurants are. But you come to enjoy the nature of Berchtesgaden and from our house you can start already your hiking. Buses by which you reach easy the lake Königssee or Ramsau's Hintersee-lake or Oberslazberg are all to catch from the railway/busstation (1,5 km from us). Berchtesgaden is such a small place, situated in the mountains, so the magnificent view of mountains is all over here.
What a beautiful welcome we received. Marketta met us at the train station and had prepared home made soup for our lunch on arrival. We stayed only 3 nights - and the whole stay Marketta made sure we were happy and gave us the best tips on tourist travel locations, directions etc each day. The location is in the oldest part of Berchtengaden and you can walk to local restaurants,bars, and beautiful local shops. It is only a bus trip to Salsburg, a great walk to the lake, visit the salt ones, take the cable car up the mountain and there are many walking paths and adventures you can do during you stay. Would definitely recommend a minimum of 7 days to see everything. Our apartment was simply beautiful!! It was luxurious, we had our kitchen, lounge, bedroom with an ensuite. The views are spectacular from the room, watching the mist gather on the mountains or just look at what is going on down in the main part of town. Marketta thought of everything - in the fridge we had water, wine and beer, fruit, bread, cheese and cold cuts of meat to see us through the first day. We were very sad to leave and can't wait to visit again and stay at the Burmesterhaus for much longer. Thank you for sharing your home with us Marketta.
Deb
2015-04-19T00:00:00Z
Marketta was a fantastic host, I had a very warm welcome and a great introduction to Berchtesgaden and Burmeister House. The accommodation was fantastic and better than I expected, there was nothing else I needed. I will definitely be going back to stay again and to keep exploring this great location. 5 nights wasn't enough! Thanks Marketta
Sandy
2015-09-21T00:00:00Z
Marketta is a warm,enthusiastic and helpful host. We had not realised that the flat was situated on the historic Nonntal which enriched our stay. The flat is very well equipped, quiet and secure. There is a host of local information and a communal storage room where serious hikers can store their gear. An ideal flat for a couple.
Peter
2016-07-02T00:00:00Z
Marketta was extremely helpful, making us both feel instantly welcome, providing us with information, guidance and tips. The house and room were lovely, spacious and clean, and Marketta even went the extra mile to pick us up from the station, offer us a drink and was there instantly to deal with any questions we had. Tea and coffee were provided for us in the room, along with a well equipped kitchen. Information about the property is also printed in a helpful guidebook in the room, in German and English. The house is on a lovely street very close to the the town centre and is a great place to stay to explore Berchtesgaden and the surrounding area.
Tom
2016-08-22T00:00:00Z
Marketta is a superb host and her apartment is lovely. Marketta warmly welcomed us, gave us information on things to do in the area and showed us around the airbnb. The apartment felt like a home away from home. The location was great. It was a 5 minute walk to the city center with restaurants and shopping. I highly recommend staying here.
lisa
2016-07-23T00:00:00Z
Marketta was a marvellous host, generous with her time explaining the area and providing us with excellent accommodation.
Brian
2016-06-27T00:00:00Z
Marketta was a phenomenal host! Upon our arrival, she had cheese, jam, crackers, cakes, chocolates and tea ready for us. We sat down and talked for a while about things to do in the area and how she came to live in Berchtesgaden. The apartment had everything we possibly could have needed. The bed was so comfortable, the bathroom very luxurious (the heated towel rack was amazing) and any utensil we needed was in the kitchen. She even had a welcome beer in the fridge for us. Marketta knows how to make a house a home and her hospitality clearly shows how much she wants to share her city with you. She is so kind and helpful. The guidebook is very clearly organized with tons of tips on what to do and what to see. When I return to Berchtesgaden, I will definitely be staying at the Burmester Haus.
Lana
2016-05-17T00:00:00Z
I think that the best gauge of an Airbnb experience is whether you would recommend it to friends and family members after staying. In my case, I am not even back yet from my trip to Berchtesgaden, and I am already recommending to everyone I know that they stay at Marketta's place. Let's list a few of the amazing things that happened during our stay: - Marketta went out of her way to welcome us with an overview of the area (over nice wine, beer, and snacks) - Our apartment was amazingly located, well-appointed, historically awesome, clean, and comfortable - Communication with Marketta before, during, and after the trip was fantastic - Beyond what was promised in the listing, at our disposal were lost of maps, reference materials, equipment, etc. I can't say enough about what a fantastic experience this was. If your experience at Marketta's house is even half as nice as mine, you'll be recommending it to everyone you know as well! I can't wait for the next chance to stay there! Matt
Matt
2016-05-19T00:00:00Z
Tipo de Acomodação
Casa/apto inteiro
---
Tipo de Imóvel
Apartamento
---
Acomoda
2
---
Quartos
Berchtesgaden, Baviera, Alemanha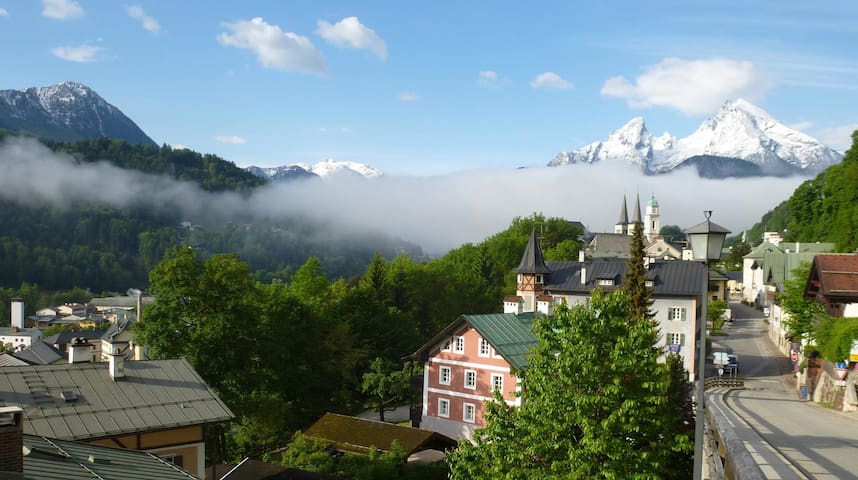 Ein nettes kleines, gut beleuchteten Studio-Apartment (dritter Stock), in der Nähe des Stadtzentrum. Leicht mit dem Bus (Polizeidirektion Bushaltestelle innerhalb 3-5mins Fuß). Ein Blick auf die Festung. Gut gelegen mit 2-3 Supermärkte zu Fuß erreichbar. Gästeparkplätze zur Verfügung.
Tipo de Acomodação
Casa/apto inteiro
---
Tipo de Imóvel
Apartamento
---
Acomoda
2
---
Quartos
Salzburgo, Salzburgo, Áustria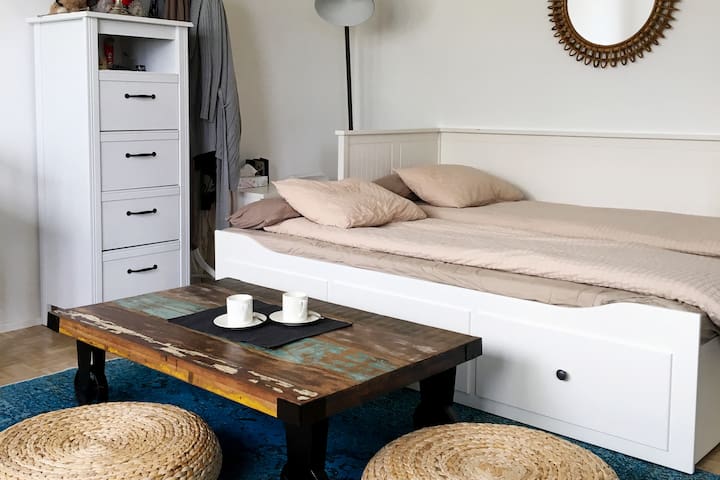 Pequeno apartamento estúdio acolhedor com uma localização central. A Cidade Velha é acessível a pé ou de ônibus em 15-20 minutos. 3 min a pé da estação do metro Aiglhof. Distância da estação de cerca de 15 minutos de autocarro. O apartamento dispõe de uma cama de casal e um sofá-cama pode acomodar até 4 pessoas. Cozinha e pratos estão disponíveis.
We only spent one night in Salzburg and Magdalena's apartment was very well for 2 people. I will just say it's rather 30 minutes than a quarter to go to the old town and so city center which is pretty nice in the evening. The apartment is really close to the S-bahn but train to the center are every 30 minutes.
Marion
2017-04-04T00:00:00Z
The host canceled this reservation 150 days before arrival. This is an automated posting.
Ирина
2017-03-22T00:00:00Z
Путешествовали втроем: муж, дочь 12 лет и я. Магдалена была всегда на связи, общались по (SENSITIVE CONTENTS HIDDEN), встретила нас, помогла с парковкой (парковаться в районе нельзя, пришлось отогнать машину на вокзал на платную подземную стоянку), подсказала, как купить билет и пользоваться общественным транспортом. Квартира Магдалены- это не отель, а ее жилье. Там очень аккуратно, удобно и чисто. Есть все необходимое. Квартира небольшая, но нам места было достаточно. Рядом есть два магазина и остановки автобуса и троллейбуса. Спасибо! Рекомендую паре или семье с одним ребёнком (две двухспальные кровати).
Ольга
2017-04-07T00:00:00Z
The flat is small, but clean, and very sweet in a nice neighborhood, the downtown is in a 15 min walk, it is very comfortable, but for two people, not more. Salzburg is really beautiful town. I recommend stay in Magdalena's apartment.
Natasa
2017-04-02T00:00:00Z
Tipo de Acomodação
Casa/apto inteiro
---
Tipo de Imóvel
Apartamento
---
Acomoda
4
---
Quartos
Salzburgo, Salzburgo, Áustria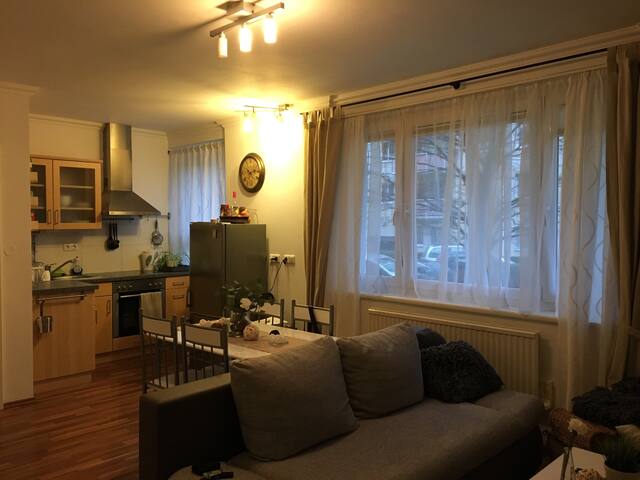 Traumhaftes Bergidyll, herrliche Aussicht, ganztags Sonne, ein sensationeller Balkon. Nicht umsonst wurde hier die Anfangssequenz von "Sound of music" gedreht...Bad, Küche hochwertig und neu, Ausstattung gemütlich und traditionell. Bullerbü auf den Bergen!
Tipo de Acomodação
Casa/apto inteiro
---
Tipo de Imóvel
Apartamento
---
Acomoda
5
---
Quartos
Marktschellenberg, Bayern, Alemanha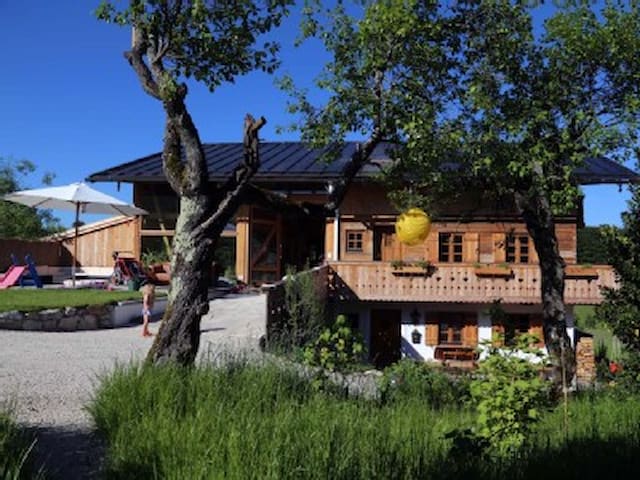 Bequeme Zimmer in einer Wohnung in der Nähe zum Stadtzentrum.
Die Nachbarschaft ist attraktiv vor allem für junge und internationale Reisende.
Das Hotel liegt im Herzen des lebhaften Schallmoos. Sie können alles, was Sie brauchen, in unmittelbarer Nähe zu finden. Lek Thai Küche für Essen, Stadt Keller für traditionelle österreichische Bier, Rockhouse für legendäre Partys und die Kapuziner für schöne Spaziergänge.
Great host and excellent communication. Alex did everything to make me feel at home.
Athena
2016-12-10T00:00:00Z
Es war alles gut organisiert und die Kommunikation im Vorfeld war zuverlässig und einladend. Wolf ist sehr nett und unkompliziert. Als ich ankam, war er nicht zu Hause und ich wurde mit einer netten Nachricht, dem WLAN Passwort und sogar einem kleinen Duschgel begrüßt. Das Zimmer ist genau wie auf dem Bild und war absolut sauber und das Bett bequem. Es gibt auch einen kleinen Schreibtisch und einen Musikanlage mit ein paar CDs im Raum. Außerdem stehen Karten von Salzburg und Umgebung zur Verfügung. Der Standart und die Reinlichkeit von Bad und Küche entspricht ansonsten einer WG. Man kann von dort in 10 min zu Fuß das Stadtzentrum erreichen außerdem gibt es auch direkt um die Ecke etwas zu essen. Ich hatte einen sehr guten Aufenthalt. Danke!
Susanne
2015-11-16T00:00:00Z
Alex was a very polite and approachable host. He kindly stayed up late after a long day in work to welcome me with a happy face and good handshake. The room was exactly as it said, clean, comfortable and homely. Everything in his flat was in good working condition. On a friday and saturday night i would reccomend to join in with the pub a couple of doors down, as the music and people are a little loud. the flat is only 15 mins walk or a 2 min bus ride from all the attractions in the old town. If you get the train into Salzburg his flat is about 20 mins walk away or you can get a good handful of busses very close. You can get the 150 bus from across the road to St Gilgen if you enjoy mountaineering. I would reccomend anyone to stay here, as the location is great, Alex is a good host who likes the Red Bull sports and you feel comfortable and safe. All the best for the future Alex
Debbie
2015-09-09T00:00:00Z
Great, spacious room in a very clean apartment. The location is central - approximately 15 minutes walk to the city centre. Everything was well-prepared, good communication, friendly host, I would definitely stay here again!
Bettina
2015-09-29T00:00:00Z
Location is fantastic, basic accommodations but comfortable. Alex is very friendly and engaging
Leslie
2017-02-15T00:00:00Z
Alex war ein super Gastgeber. Check in und out waren völlig unkompliziert und auch an keine Uhrzeit gebunden. Man erreicht die Innenstadt fußläufig super. In der Küche könnten wir alles benutzen. Es war eine angenehme Zeit bei Alex.
Sarah
2016-12-04T00:00:00Z
Alex was very nice and the room was comfortable, enjoyed my stay here.
Rach
2015-10-08T00:00:00Z
Alex was a very welcoming and fun host. Before arriving, we had a good communication on how and when to arrive. Since there was only one overnight train a day going to Salzburg from Venice and arriving at 4am, he was absolutely kind enough and helpful to let me check in at that ungodly hour. In the morning he explained everything and headed out for the weekend. While he was gone, he let me use his washing machine which was necessary for me. The location was perfect. 10 mins walking to the old town where you can pretty much walk anywhere, including the fortress. His food recommendations were great as well. I ended up coming back to one of the restaurants he suggested to watch the Euro 16 final. Very lovely people. Overall, I am very pleased with my stay at Alex's. Thank you!
Yulduz (Yulie)
2016-07-12T00:00:00Z
Tipo de Acomodação
Quarto inteiro
---
Tipo de Imóvel
Apartamento
---
Acomoda
1
---
Quartos
Salzburgo, Salzburgo, Áustria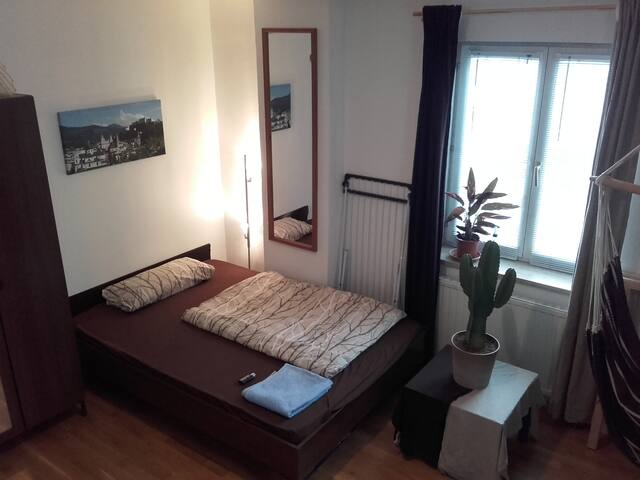 Minha 93 metros quadrados apartamento compartilhado está perto de arte e cultura, excelentes vistas, restaurantes e refeições, transporte, rio, centro da cidade. Você vai adorar o meu lugar por causa da localização. É ótimo para casais, aventureiros solo, e viajantes de negócios. Por favor, note que a cozinha, casa de banho e forma de entrada são compartilhados. Duas portas de separar o meu espaço do resto do apartamento.
Grande, 2º andar, apartamento moderno em um edifício histórico. lareira. tranqüila vizinhos.
Meu apartamento é bem no centro da cidade velha. 10 minutos a pé do castelo, 5 minutos a pé do local de nascimento de Mozart e outras atrações.
Rob is a nice host, and his place is very tidy and clean. We felt very comfortable staying his place. Recommended!
Bess
2017-04-07T00:00:00Z
I always stay at Rob's when in Salzburg. Great host, nice place.
Lee
2016-11-12T00:00:00Z
Rob's place is a home from home!
Lee
2016-10-29T00:00:00Z
Everything perfect! Rob is really nice, communication was good and the flat is really great!
Vicky
2017-02-18T00:00:00Z
The apartment is very clean ,in a central position . Rob is a very nice person, ready to give you all informations you need. The view from the window over the Salzach river is beautiful . The street passing in front of the house is trafficked ,so if you are sound sensitive and you need a very silent place to sleep, take with you some earplugs.
victoria und karl
2017-03-12T00:00:00Z
Even though we didn't have the chance to meet each other in person, the communiction was easy and without any problems. He was very concerned that everything was good for us. We couldn' t arrive in time, but he was very flexible and gave the key to the neighbour. If we come back to Salzburg we'll definately come again. Thanks!
Kerstin
2017-02-26T00:00:00Z
Der Aufenthalt verlief vom Check-in bis zum Check-out komplett problemlos. Rob war sehr hilfsbereit und jederzeit mit dem Handy erreichbar, falls es Fragen gab. Zudem ist die Lage der Wohnung perfekt, um zu Fuß in die Innenstadt zu gelangen.
Patrick
2017-03-04T00:00:00Z
The host canceled this reservation 23 days before arrival. This is an automated posting.
慧
2017-04-13T00:00:00Z
Tipo de Acomodação
Quarto inteiro
---
Tipo de Imóvel
Apartamento
---
Acomoda
4
---
Quartos
Salzburgo, Salzburgo, Áustria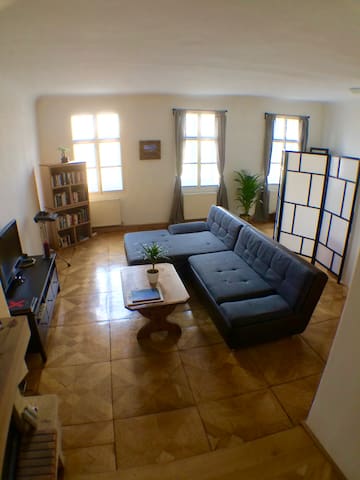 Bavarian-set
Mountain View, peace
Tipo de Acomodação
Casa/apto inteiro
---
Tipo de Imóvel
Apartamento
---
Acomoda
6
---
Quartos
Schönau am Königssee, BY, Alemanha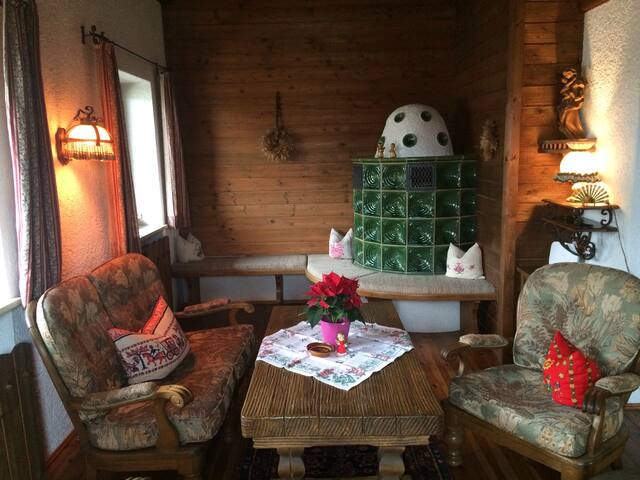 2 double bed apartment with wonderful mountain views, close to all amenities, 2 mins to train and bus. sleeps 2-6 persons. Fully equipped kitchen, separate dining room and lounge. wifi, tv/dvd, wood burning stove, child's cot. Large terrace
Ground floor apartment with views of Watzmann. 2-6 people. Ideally located. Large garden and terrace/deck area in front of house with amazing views. Price does not include local tourism tax of €2.30 per adult or €1.10 per child per night. This gives reduced entries and free local bus travel.
Ideally located close to central Berchtesgaden. Wonderful views from nearly every room, including Watzmann mountain view. Private garden, BBQ, outdoor seating. Italian restaurant 1 minute walk away
Alles wie beschrieben und ein sehr freundlicher Gastgeber...
Rocco
2016-12-07T00:00:00Z
Simon is nice! He is very patient to solve all the problems we had and gave us a lot of useful suggestions. And the house is very nice too. Clean ,well-located (only 5min walk to station) and full-equipped. The only problem is that the air conditioner didn't work well so it is a little cold inside. Anyway, it's a nice trip, maybe will come back in summer next time!
Huijia
2015-03-31T00:00:00Z
Simon was a great host. This beautiful house is located just a couple of 100 meters from the Berchtesgaden Hbf. The apartment had everything we needed for a comfortable stay. We were pleasantly surprised to find board games, a big tv with a dvd player with a huge collection of movies. Simon guided us on what we could do and we had a really good time staying at this rental. We would love to come back again in the summer. I would highly recommend this to someone who is planning to visit Berchtesgaden.
Vinayak
2016-02-23T00:00:00Z
This is a really great location that serves as an excellent jumping off point for all there is to do in the area. The apartment is very spacious, clean, charming, and has wonderful views of the mountains and the town. Simon met us upon our arrival and provided some great recommendations of things to do in the area this time of year. He also provided some great guides and area information for us to read through and transit cards which were very useful in getting around the area. We would recommend this place to others and would return ourselves the next time we're in the area.
Brian
2015-12-12T00:00:00Z
Super Wohnung. Man kann hier BBQ machen.Die Wohnung ist sauber und hell. Die Landschaft in der nahe ist gut. Simon hat uns viel geholfen. Er ist sehr sehr nett. Mit seiner Hilf sparen wir viele Geld. Er ist ein guter Reiseführer.
Chunyan
2014-06-10T00:00:00Z
What a great place to stay for our visit to Berchtesgaden! Lots of space, impeccably clean, and close to all the attractions. But the highlight was Simon's generous and accommodating manner. Our family's mishaps would have challenged any host, but Simon was so gracious. If you have plans to visit Berchtesgaden or the surrounding area, I highly recommend you stay here.
Michael
2014-10-21T00:00:00Z
Simon was fantastic. Gave a very comprehensive talk about what to see and do. Also great restaurant recommendations. The apartment qas clean; huge and great location.
Susan
2016-02-05T00:00:00Z
Simon was the perfect host for our stay in lovely Berchtesgaden. The house/apartment is amazing and really well equipped with everything you might need during your holidays. Simon keeps a big attention to detail to make your stay unforgettable. He also waited for us with the cozy apartment warm and very clean. Besides, Simon is a helpful and talkative host who will be there for any tips or information you might need (but without being intrusive at all). The house is also really conveniently located in the city center with easy access to public transport, supermarkets, restaurants,etc; also, Berchtesgaden is only 15 miles far from Salzburg so the location is ideal to combine a mountain and city escape. Outstanding house, host and place! Will be back at some point! Really felt in love with the place... Thanks Simon!!!
Susana
2015-04-06T00:00:00Z
Tipo de Acomodação
Casa/apto inteiro
---
Tipo de Imóvel
Apartamento
---
Acomoda
6
---
Quartos
Berchtesgaden, Baviera, Alemanha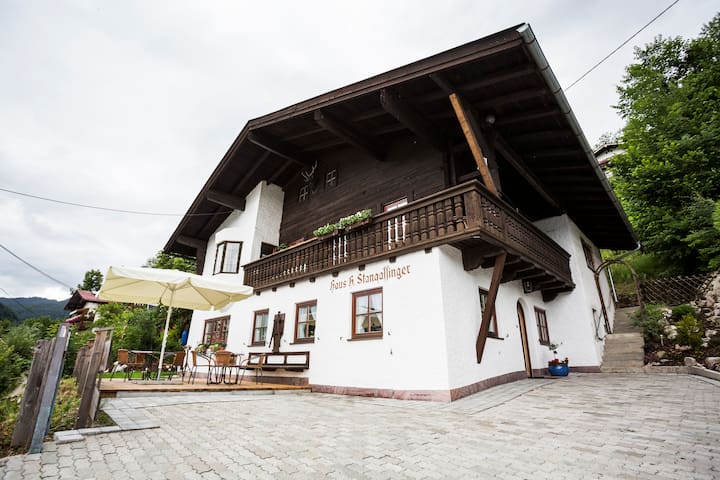 두 개의 층 아파트 두 사람을위한 사랑스러운 방 네 사람과 공유했다. 방의 크기는 약 17m2이다. 바로 옆에 카 푸치 너 베르크 (Kapuzinerberg) 및 버스 노선에 의해 위치. 큰 부엌, 샤워 및 숙박 시설을 포함 큰 발코니가있는 욕실. 산의 멋진 전망. 때로는 체크인 만 아침이나 저녁에 가능합니다. 우리는 이것에 대해 토론 할 수 있습니다. 나는 나 자신에 의해 잘츠부르크 않을거야하지만 내 좋은 룸메이트가 모든 것을 알아서 할 것입니다.
The appartment is very nice, and the roomates even more, very friendly. The room was good, and the kitchen and bathroom also good.
Nati
2017-03-17T00:00:00Z
Good location Nice guys But just a bed. Not for relaxing holiday, more for adventure holiday:)
Dorottya
2017-03-28T00:00:00Z
The host canceled this reservation 21 days before arrival. This is an automated posting.
Cadence
2017-04-02T00:00:00Z
Nettes Appartement hinterm Kapuzinerberg, gute Verbindung ins Stadtcenter, sehr freundliche Mitbewohner - das Schlafzimmer ist allerdings nur für junge Leute geeignet! Gutes Preis-Leistungs-Verhältnis!
Christian
2017-04-10T00:00:00Z
5 roommates and equipments are okay. Just fine for the price.
difei
2017-04-01T00:00:00Z
Fine for the price.
difei
2017-04-02T00:00:00Z
Tipo de Acomodação
Quarto inteiro
---
Tipo de Imóvel
Apartamento
---
Acomoda
2
---
Quartos
Salzburgo, Salzburgo, Áustria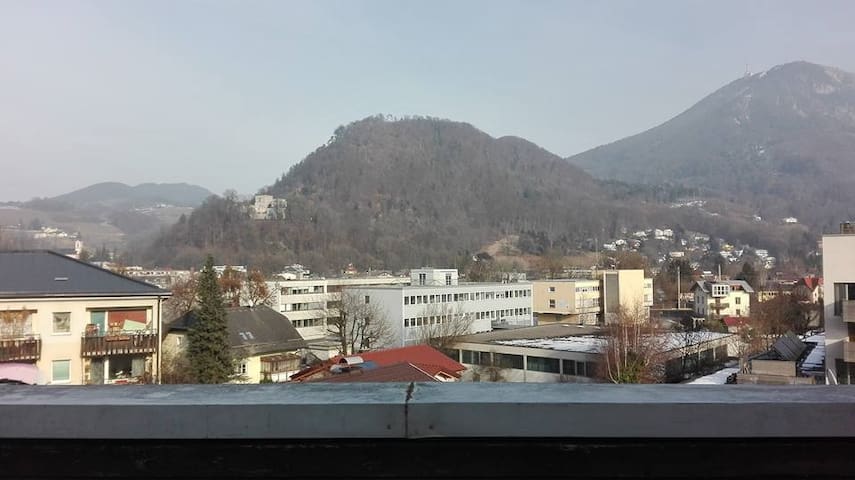 apartamento de 25m2 agradável junto à estação principal Salzburg (3 minutos a pé). I renovado o apartamento de 2 anos atrás.
Detalhes: varanda com vista para a montanha, sala com confortável cama de casal, estacionamento gratuito, acesso WLAN gratuito, toalhas e roupa de cama, cozinha separada, banheiro, TV, máquina de lavar louça E para obter mais informações sinta-se livre para fazer qualquer pergunta, eu vou ser feliz em responder!
Lindo apartamento! Muito bem decorado e equipado! A localização é excelente. O Johannes foi um ótimo anfitrião! A nossa estadia em Salzburg foi perfeita com esta hospedagem. Recomendo muito este apartamento.
Marcelo
2016-10-24T00:00:00Z
Johannes is very friendly and nice. Our train arrived at midnight and he waited for us until 1am for checkin! The apartment is clean and cosy and very well decorated. We like it very much. The kitchen is well equipped for us to cook there. It is very convenient, located right next to the train station. Johannes also recommended us with some good restaurants nearby. We had a happy stay!
esther
2016-05-03T00:00:00Z
Nuestra estancia en Salzburgo fue perfecta. El apartamento es muy bonito, estaba limpio y ordenado, tal y como se ve en las fotos. La cama es muy cómoda, con una pequeña cocina muy completa, el baño nuevo y un armario enorme! También tiene un balcón con una mesa y un par de sillas. Está pegado a la estación de tren y se llega al centro de la ciudad en unos 15/20 minutos andando. Johannes nos estaba esperando en el apartamento cuando llegamos, nos dio las llaves y nos dejó un mapa y una hoja con un listado de sitios para ver, así como restaurantes recomendados y supermercados de la zona. Volvería a escoger este apartamento si volvemos a Salzburgo y lo recomiendo a cualquiera que vaya por allí.
Itziar
2015-08-18T00:00:00Z
Johannes is the man! His place is beautiful, and definitely the place to stay in Salzburg. It is close to the city but also a great location to park a car and visit other areas of Austria. If this place is available, you have to jump on it! You won't be disappointed.
Scott
2016-06-07T00:00:00Z
Really central and a very lovely flat, it has all you need - comfy bed, great shower and a small kitchen to cook in. We enjoyed the evenings on the sofa with a glass of wine, it felt like a home away from home. The Spar at the Station is only a few minutes walk away and it is also a lovely walk into the old town and all the main attractions in Salzburg. I highly recommend breakfast at cafe Fingerlos and dinner at the Bärenwirt or L'osteria. Had a wonderful weekend - Thank you Johannes for having us! x
Steph
2017-01-24T00:00:00Z
smooth check in,very good location 3min walk to train station,highly recommend.I will chose again if I return Sarzburg. 地點超好,房間新,屋主人好,非常推薦
SHU WAN
2015-07-19T00:00:00Z
Location is convenient and the apartment is really what i saw in the photo. Very nice experience.
Albert
2015-12-26T00:00:00Z
Johanne's place was in a lovely quiet area of Salzburg with a nice short walk to the old town. He gave us some excellent recommendations for local eateries and check in was quick and easy! Apartment was clean and had all the necessary amenities for a lovely stay. Thanks again
Laura
2015-03-15T00:00:00Z
Tipo de Acomodação
Casa/apto inteiro
---
Tipo de Imóvel
Apartamento
---
Acomoda
2
---
Quartos
Salzburgo, Salzburgo, Áustria