Mais de 300 Apartamentos para Alugar
Our cozy apartment is nestled in the quiet area of Battambang but is within walking distance of tasty restaurants and colorful markets. Hanging flowers, a hammock, and sitting area make for a perfect porch hangout. 2 bedrooms, 2 bathrooms and a fully equipped kitchen make your stay easy and convenient.
Large kitchen with gas stove, mini fridge, sink, and cooking utensils. Living room with couch, TV and shelf space. 2 bedrooms with A/C and in-suite bathrooms. Hot water showers and flush toilets. Spacious and peaceful porch with hanging flowers, hammock, and seating area overlooking the neighborhood. Space for parking bicycles and motorbikes. Locking gate.
A quaint and quiet neigborhood within walking distance of the city center.
Salee and his wife were wonderful hosts, and their apartment is well located and very nice. We highly recommend it! Salee kindly arranged Mo his friendly Tuktuk driver to take us out on the first night we arrived. Then we rented Salees Moto for the remainder of our time in Battambang, very handy! And a budget way to get around. There was some construction work going on downstairs between 7am and 5pm but we didn't mind as we are early risers and would stay out for most of the day. Salee's wife baked some beautiful cakes which they brought us to taste test! And they kindly made us breakfast on our last day. Very accommodating. Great advice and suggestions. Lovely apartment.
Vivienne
2016-05-05T00:00:00Z
Salees place is just amazing and he and his family are lovely, friendly and helpful people. We also rented some motos from them to discover the area around the city. We highly recommend to stay here.
Antonia
2017-03-19T00:00:00Z
Great value for money with an awesome and responsive host...
Nirupa
2017-03-27T00:00:00Z
Salee is a fantastic host, nothing is a problem for him. The house is spacious, clean and comfortable. Close to nearby restaurants.
Jake
2017-02-06T00:00:00Z
We had a great time at Salee's place in Battambong. He was an excellent host who helped us settle in and find everything we needed. The place itself is nice and about a 20 min walk/5min drive from the bars and restaurants of Battambong. I would recommend this place to anyone wanting space and a quite place to relax.
Ben
2016-03-27T00:00:00Z
Salee is an excellent host. He connected us with a great TukTuk driver who was safe, reliable, and very reasonable. The apartment is just as described; very large and comfortable. It is a typical Cambpdian style house with Western comforts. The main part of town is about 2-3 km from the house. We didn't cook much as restaurants are plentiful and delicious.
Ivan
2016-04-05T00:00:00Z
Great place to stay. Salee and his family are very friendly, helpful and knowledgable. Always willing to help at any time. Very enjoyable experience. Lovely apartment, great space. Would recommend staying here.
Jenny
2017-01-23T00:00:00Z
We had a great stay! The house is very spacious, clean, and has big comfortable beds. The outside patio is great for sitting outside, as the house is in a nice quiet neighborhood, but a close walk into the town. We were able to walk to the market and cook a meal for ourselves in the kitchen, as there is everything you need. Salee was incredibly kind and went out of his way to help us, even giving us a ride to the bus station. Highly recommended!
Clarice
2017-04-04T00:00:00Z
Tipo de Acomodação
Casa/apto inteiro
---
Tipo de Imóvel
Apartamento
---
Acomoda
4
---
Quartos
Krong Battambang, Battambang, Camboja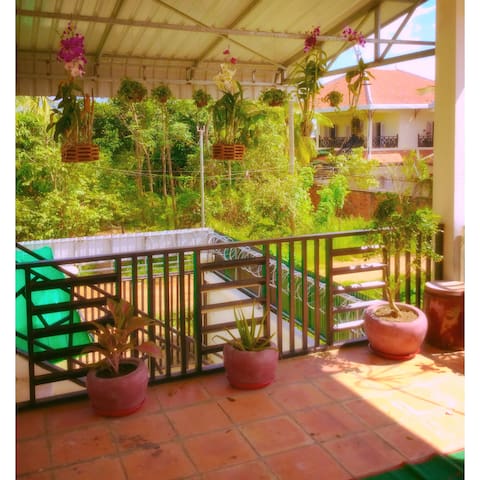 Each room includes a flat-screen TV. Some units include a seating area to relax in after a busy day. Enjoy a cup of tea or coffee in your room seeing a green backyard. Rooms come with a private bathroom fitted with a bath. There is a shared lounge at the property. Free use of bicycles and free pick up in town, bike hire and car hire are available and the area is popular for cycling. Riverside Nights Market is 1.4 km from Norindra Homestay, while Battambang Museum is 1.5 km from the property.
Our space is quiet and peaceful. Each room is fully furnished and well-equipped with the following : - Queen size bed, pillows, mattress - Air con - Fan - Hot shower - Fridge - Cable TV - Closet with hangers - Electric kettles - Hair dryer - High speed Wi-Fi (10MB)
Sinoun and his family were very welcoming, but we left after 1 night versus the 3 nights we had booked. I could not access the wifi in my room. Also, the location seemed a bit grim. There was nobody out walking and it seemed like it was in an industrial part of town.
Melanie
2017-04-02T00:00:00Z
Good! !
qing
2017-02-24T00:00:00Z
It's quite kind and nice of Sinuon for serving us with fresh icy fruit.A quite comfortable place to stay. It is close to the status of the Battambang but a little bit far from the old market. The house is big and well-decorated with a cute dog in it. It is also very clean as and u can get daily necessities here too. U even can see goats in a nice yard from the window which is quite natural. So if u want a quiet and cosy place to live. I quite recommend here.
小喵
2017-02-17T00:00:00Z
Nous conseillons vivement cette adresse. Sinuon et sa famille sont très accueillants. Nous avons été ravis de les rencontrer. Leur logement est impeccable et leurs attentions nombreuses. Nous avons été réceptionné dés notre arrivée à Battambang et chaque jour nous avions notre assiette de fruit dans la chambre. Jeanne-Noël et Jean-Claude Pinto.
Jean-Claude
2017-02-20T00:00:00Z
Tipo de Acomodação
Quarto inteiro
---
Tipo de Imóvel
Apartamento
---
Acomoda
2
---
Quartos
Krong Battambang, Província de Battambang, Camboja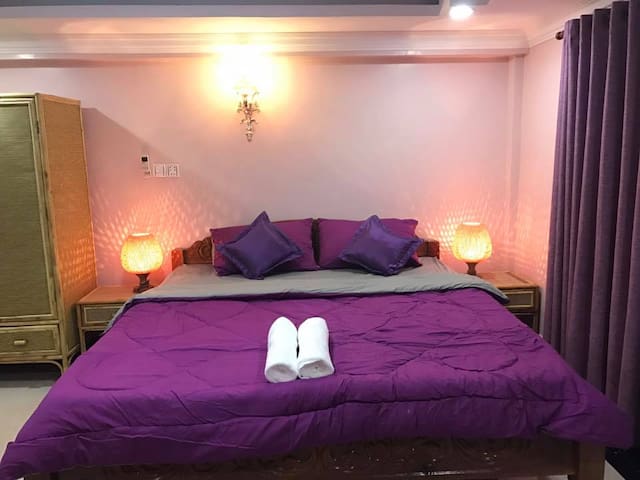 Hidden just off the main highway into downtown Battambang, your large private bungalow awaits. Renovated in 2015 with an Asian flare, and equipped with your own mini fridge, escape the heat, humidity, and noise of town in this air conditioned bliss.
Renovated in 2015 with some wonderful Asian flare, this large 6m x 6m second story room is equipped with air conditioning, 1 queen bed, 2 twin beds and a futon couch that converts into another bed. Escape the heat and humidity in this private, detached room with your own mini fridge.
We live in a safe, quiet neighborhood just outside the city. Once you turn onto our road, it feels rural. Our property is surrounded by vegetation and the sounds of nature are all around.
I spent twelve days at Greg's with my three kids and it was a great opportunity to see up close the local culture. Walking down the dirt roads you can see Cambodians living their day to day lives. Close enough to town to catch a tuk tuk and eat or see the sites. Greg has lived in the area long enough to know a great deal of the countries history and also gives great tours. We learned about the tragic history of this country on one of those tours, saw the killing caves, temples and thousands of bats. Sinoun and Greg were great hosts. They made breakfast for us each morning which was a great start to the day since we weren't right in town. The room was by far the most spacious we have had on this trip.
Trina
2016-03-09T00:00:00Z
Staying with Greg and his family was a wonderful experience. The room is spacious, clean, and comfortable, easily fitting up to 5 people. We loved the quiet neighborhood, which is a little bit off the beaten path, but still accessible by tuk-tuk. Most of all, we loved getting to know Greg's family: his children are adorable and so curious, and he and his wife are very kind (and Sinoun is a great cook!). We loved learning about the work Greg is doing with his NGO Crossing Cambodia, and even had the opportunity to do a tour with him. He knows so much about Cambodian culture and history, so it was really a pleasure to learn from him. Thank you, Greg!
Stephanie
2016-08-23T00:00:00Z
Tipo de Acomodação
Quarto inteiro
---
Tipo de Imóvel
Apartamento
---
Acomoda
5
---
Quartos
Chrab Veal Village, Anlong Vil Commune, Sangker District, Krong Battambang, Battambang, Camboja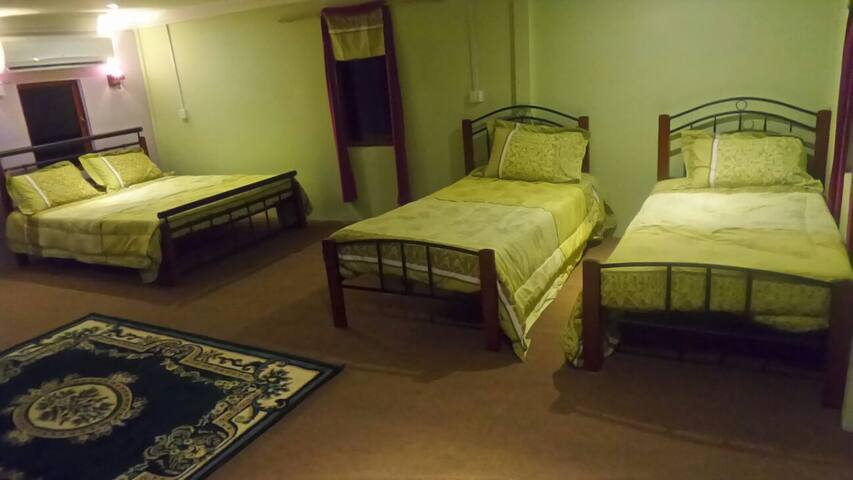 The apartment is very nice, clean, and fully furnished. Each room has private bathroom. The area is safe with 24 hour security. It's in the center of the town. Stair way is shared with the landlord. We're a small family of 3 members, very nice, friendly, and quiet people :) Additional benefits you will enjoy from your stay : - Free bike - Free pick up - Free one plate of local fresh fruit delivered to your room in the evening - Free coffee and tea in the room Regards, Sinuon
We have 5 rooms - 2 master rooms with twin double beds of queen size which can fit 2-4 people comfortably, 2 regular rooms with one double bed of queen size suitable for 1-2 people, and the last room with two single beds suitable for two people. Each room is beautifully decorated and furnished such as air con, fridge, hair dryer, electric kettle, bed and mattress, hot shower, sofa/working desk, cable TV, high speed wi-fi, closet/hangers, daily necessities, etc.
sinuon and his family were very welcoming, but we left after 1 night instead of staying for the 3 nights we had booked. Communication was excellent and Sinuon was very helpful in engaging a guide for our time in battambang. We left because the WiFi did not work in all the rooms. The bed was very hard and led to an inability to sleep well. Further, the location of the house was rather unsettling. There were no people walking around and it seemed rather desolate. Also, it seemed to be located in an industrial area with warehouses, etc. It was not conducive to walking and was a bit out of town.
Melanie
2017-04-02T00:00:00Z
Tipo de Acomodação
Quarto inteiro
---
Tipo de Imóvel
Apartamento
---
Acomoda
2
---
Quartos
Krong Battambang, Província de Battambang, Camboja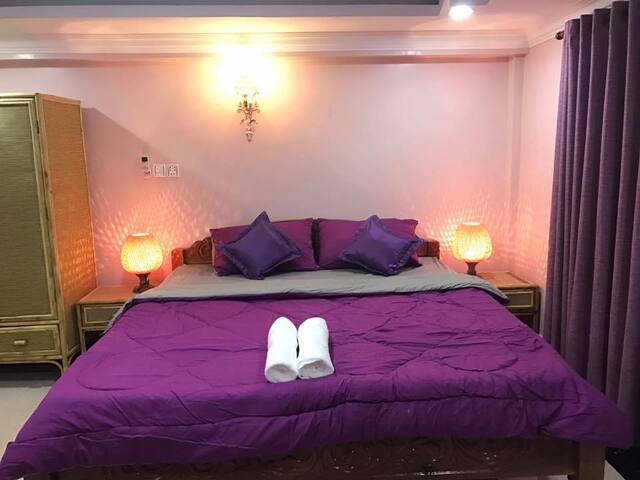 Vores stilfulde, komfortable mini-suiter og breezy tagterrasse har alt hvad du behøver for en kortere eller længere ophold. Vi er beliggende i en farverig lokalområde 5 minutter fra det gamle marked / Pub Street, og kun 10 minutter fra Angkor Wat!
Som navnet antyder, har vi tre 1. sal komfortable og pænt indrettede mini-suiter med privat adgang. Der er en fælles comfy rooftop lounge at nyde vores fantastiske solnedgange, er der også en simpel køkken, hvis du ønsker at forberede dine egne måltider. Vi bor i stueetagen, så du har absolut fortrolighed. 3Suites kan også blive privatiseret, hvis du har en gruppe af venner eller familie opholder sig; sover op til 6 personer. *** Hvis dine datoer ikke er tilgængelige, kan du tjekke vores andre to værelser! ***
Hvis du ønsker en smag af reelle Cambodja, det er det! Vi elsker dette område, fordi det er ganske lokal, men komfortable. Asfalterede veje gør det nemt at gå og dens meget mindre travlt her end omkring de vigtigste turistområde. Vi er placeret i nærheden af Khmer Pub Street område Det er en livlig lokale område med de bedste lokale restauranter, Karaoke og levende musik spillesteder. Musik kan undertiden høres i aften, men det gør ned tidligt. Alt andet du behøver er inden for gåafstand. Hvis du ønsker at vove ned til turist området omkring Pub street og gamle marked er det en kort tuktuk ride herfra; omkring 2 km / 25mins gåtur / $ 2 tuk tuk ride. Den Angkor arkæologiske park er også lige på vores dørtrin; kun 5 km s væk og let tilgængelig. Samt lokale restauranter er vi også tæt på den bedste restaurant i byen; Abacus.
Dean and Ada were very helpful even before arriving. They have helped with all my queries regarding the best restaurants, massage places and things to do. They were just as helpful upon arrival and Ary (designated driver) helped us whenever we needed a ride. The rooms was just as beautiful as the pictures. Dean also helped with recommending the tour company which I've used a lot for temple and floating village tours. Thanks Dean and Ada for having us! Will definitely stay here again if I'm in Siem Reap again.
Sharida
2015-12-10T00:00:00Z
I was staying at a hostel before staying at their place. Even though I'm not with them at the beginning, they still helped me a lot by responding my questions quickly and arranged their driver for me on my request. Their house is situated in the local residential area, so it's a bit far away from the night market and pub street (not a walkable distance). Still, it's only a 5-10 minute tuktuk ride so it's quite convenient. The room was spacious and clean as shown in the picture. Their tuktuk driver Ary charged a reasonable tuktuk price and was really talkative and friendly. I would recommend this place to all of you.
Janice
2017-01-10T00:00:00Z
Tuk Tuk driver picked me up at the airport. Dean greeted me upon arrival at 3 Suites. Overall great experience!!! Thanks again Dean!
John
2015-04-15T00:00:00Z
Great hosts, very welcoming and comfortable room, secure house and the detailed guide is super helpful. Definitely recommended!!
Richard
2016-06-18T00:00:00Z
Our great experience at 3Suites actually started long before we reached Siem Reap. The communication was always prompt and thorough and I immediately felt comfortable to ask any questions I had. The place itself was lovely, spacious and clean and as many others have mentioned beautifully decorated with Ada's bed linen. For us, it was both close to and far enough away from the main tourist stretch - so it had a much more local feel. Dean and Ada are lovely people and we really enjoyed chatting with them about life, travels and Cambodia. Their recommendations for places to go and things to do (and eat) were really helpful. We would definitely encourage anyone to stay at 3Suites and we also had a glimpse of another property they have which looks like a winner too! Thanks for a fantastic stay Dean and Ada.
Dhinali
2016-05-27T00:00:00Z
Very nice couple, fulfill your needs on request, very responsive. Very nice and comfortable room, pack your things and enjoy siem reap, I had a lovely stay. Took me out for breakfast the last day.
Heidi H
2015-12-04T00:00:00Z
We stayed at 3Suites for 5 nights. We found the place very comfortable and clean. Dean and Ada were great hosts. The best thing about staying with Dean and Ada is that they gave you information on the local area. When we arrived we were given the use of a mobile phone to call them at any time. We also had the service of (Ary) their Tuk Tuk driver who was very accommodating and had great knowledge of the area. Dean was also very informative on the best sites to see in Siem Reap. We would highly recommend staying at 3Suites.
Katrina
2015-09-05T00:00:00Z
I have been 3suites 4night.nice experience in siemreap. Dean and Ada is very nice and helpful
Ison
2016-02-22T00:00:00Z
Tipo de Acomodação
Quarto inteiro
---
Tipo de Imóvel
Apartamento
---
Acomoda
2
---
Quartos
Krong Siem Reap, Siem Reap, Camboja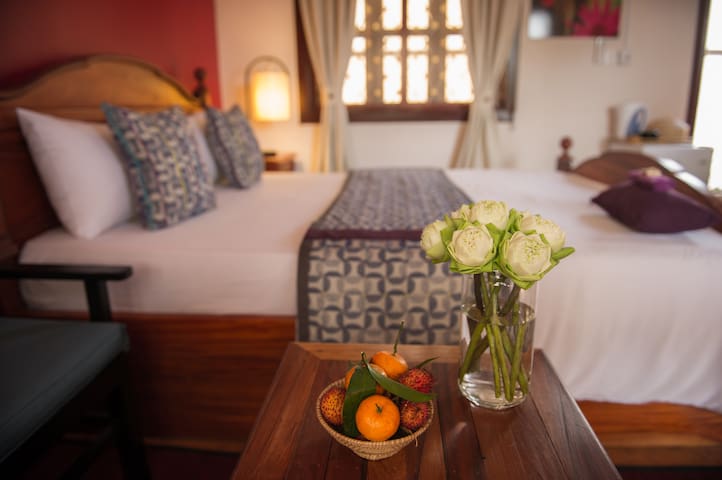 ** My Pick Up U na letiště nebo autobusové nádraží: D ** Nika rezidence je krásná zbrusu nová budova s Fast & Free WiFi. Každý pokoj má vlastní koupelnu a kuchyňský kout s varnou deskou. Nachází se v klidné čtvrti jen kousek od jednoho z našich nejoblíbenějších ulic, Sok San ulici. Jsme 15 minut chůze na slavné Pub Street. Dále nabízíme chutné menu (Khmer jídlo, pizza, hamburgery, těstoviny), které mohou být dodány do svého pokoje. Masáže jsou také k dispozici na místě za pouhých $ 6 za hodinu.
Perfektně se nachází v klidném prostředí místní části města, v pěší vzdálenosti od jednoho z našich nejoblíbenějších ulic v Siem Reap, Sok San ulici. Rychlá chůze a jste uprostřed krásné kavárny, bary a restauracemi na rozpočtu ceny! Náš prostor má pěkný otevřený prostor, kde si můžete pověsit ven, mít nápoj a jen relaxovat. Máme také motocykl k dispozici pro plavbu kolem krásné krajině za $ 10 a den.
Zcela nový a čistý byt budova se nachází ve skvělé lokalitě v klidné části a přesto v docházkové vzdálenosti do kaváren, restaurací, barů, a srdce Siem Reap.
A good choice for peoples who would like to stay in a local neighbourhood. The host is very friendly and helpful. Night market, Pub street and old market are with in 15min walk and a lot of choice for food and drink near by. So overall I liked the place and would recommend for fellow travellers.
DV
2016-06-24T00:00:00Z
Nice guest houses, great hosts... Really welcoming and friendly, Mitch gave me a few tips which where useful.
Angelo
2016-04-18T00:00:00Z
Nika and friends are nice and friendly, and the apartments are new and clean, airy and comfortable. They have good security. I enjoyed my stay there. I should note that there's no air con (there's a fan) and no hot water, though these weren't a problem for me. It's a little too far from central Siem Reap for walking, so you'll have to work out daily transport. This isn't hard to arrange, but it will cost you a few dollars every day.
Jeremy
2016-10-04T00:00:00Z
Mitch is a great host. Pleasant guy, very helpful, gave me his number, I borrowed his adapter for all my stay in there. Invited me to go out with them at night. If you need anything, just knock on his door and he will help you out (or point you in the direction of help at least). Really fun. Really good place, and not far from all the fun areas! Would definitely recommend!
Nour
2016-07-25T00:00:00Z
Mitch and Nika were fantastic. They were really welcoming and full of information. They were really patient and answered all of our first timer questions and provided plenty of information. The place is exactly as is listed. It was comfortable, clean, convenient, and very laid back. It isn't super easy to find at first, but they picked us up and once we got the lay of the land our tuk tuk drivers easily found our spot. We thoroughly enjoyed our stay here.
Katelyn
2016-04-24T00:00:00Z
We stayed here for 3 nights and the room was exactly what we needed. Really nice room, very clean, no bugs! Helpful hosts both before and during our stay Good bathroom, large room, comfy bed. Tea and Coffee provided It's your own room acessed by a front door so easy to come and go as you like Hosts were really helpful in directing the tuk tuk driver here when we arrived
Hannah
2016-09-29T00:00:00Z
Great time at Mitch's and Nika's. The residence is on a quiet area but only a 10 min walk to the center of town. Mitch helped to arrange tuk tuk from the airport at a fair price and to Angkor Wat. Went out for drinks and had great convos with Mitch and other guests.
Alejandra
2016-06-01T00:00:00Z
One of 8 (or so) apartments in a tucked-away building about 15 mins walk from Pub Street in downtown Siem Reap. Description of this unit was spot on, from its cleanliness to its quiet atmosphere. However, what made this stay over the top was the host, Kata. I have stayed in many guesthouses around the world and have never connected with a local host and neighbors (entire apartment was full of travelers from around the world) as quickly and seamlessly as I did here. I was only in Siem Reap for about 60 hours and I was genuinely sad to leave because of the hospitable nature and relationships I was starting to form here at the guesthouse. Kata showed me around Siem Reap, took me to the Angkor Wat temples at sunset, introduced me to the countryside outside of town, and even took me out to meet a few of her friends on infamous Pub Street at night. I had such a wonderful time and will now be making plans to return to Siem Reap, largely because of my stay here at Mitch's apartment. Would recommend to anyone from single travelers to couples and groups of ANY age. My stay here was far more meaningful and memorable than it would have been if I stayed in a hotel or hostel away from the local culture.
Evan
2016-10-09T00:00:00Z
Tipo de Acomodação
Casa/apto inteiro
---
Tipo de Imóvel
Apartamento
---
Acomoda
2
---
Quartos
Krong Siem Reap, Siem Reap, Camboja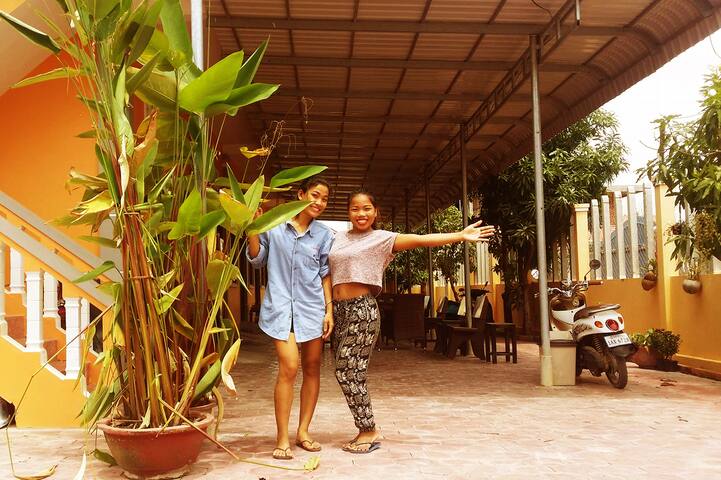 Mon appartement est situé dans le centre de Siem Reap. Regarder la rivière de la 3ème / 4ème balcons de plancher. Mobilier design pour un séjour dans tout le luxe, le style et le confort. Cet appartement unique à Siem Reap offre 3 chambres avec 2 salles de bains sur 2 étages. 2 terrasses qui sont privés, ainsi qu'une piscine sur le toit. L'appartement est entièrement serviced.We avoir une grande cuisine qui est entièrement équipée. Lave-linge, stand de buanderie, fort WIFI et tout le confort comme à la maison. Contactez-moi pour toute aide avec des visites et des voyages!
L'appartement est un Western appartement design de style de luxe, entièrement viabilisés. Conçu par l'un des plus célèbres architectes du sud-est asiatique et situé au cœur de Siem Reap Central. Ceci est l'appartement le plus central de tous Siem Reap. Le style de l'appartement est unique: 2 étages, 2 terrasses, 1 balcon avec vue panoramique sur la rivière et la Pagode. Nous ne disposons d'ascenseur, Wifi rapide et CableTV. La cuisine est entièrement équipée avec wok, cuiseur à riz, bouilloire, micro-ondes, four, et tout ustensile de cuisine que vous pourriez avoir besoin. Nous avons 2 chambres avec lit king size et salle de bains privative.
Cet appartement est l'appartement le plus central à Siem Reap. Coucher de soleil vue surplombant la rivière de Siem Reap et la pagode centrale. Extrêmement fort et sur le côté calme de la rivière. Dans les 5 minutes à pied, vous trouverez des marchés de nuit, rue de pub, de nombreux restaurants comme, Terrazza, Hard Rock, Jungle Burger, The Flow et d'autres. Parfait pour visiter Angkor à partir d'ici, en prenant un de nos chauffeurs de tuk tuk de confiance. Angkor sera de 15 minutes de trajet le long de la rivière Siem Reap.
Super place! Just around the corner of Pub Street! Super host, he even offered to help us with a Tuk Tuk tour of the Angkor! Definitely stay in this place if you want to experience the Pub Street / Night market etc apart from the Angkor Was!
Rajiv
2017-03-17T00:00:00Z
great stay nothing to complain great location the host helped us to arrange everything we enjoyed it very much highly recommend good value for money
Anthony
2017-03-02T00:00:00Z
Good location, walking distance to Pub Street and the markets without the noise since it is located across the river. Good communication.
Sandy
2017-02-13T00:00:00Z
The location is very good to enjoy in Siem Reap! There are great cafes and restaurants near the apartment When we stayed on 1 Jan. We could see fireworks in terrace. It was wonderful!
Jiin
2017-01-03T00:00:00Z
Absolutely delightful to stay. Probably the best apartment in Siem Reap period. Andreas picked us up from the bus station and have Silena helps us lots on out trip. It was really memorable and the trip was perfect due to their warm hospitality effort. If you come yo Siem Reap, stay there and you wont be disappointed :)
Duc
2016-12-27T00:00:00Z
We stayed here with 4 adults in March and it was our 1st Airbnb stay! The apartment was 3 bedrooms with 2 bathrooms. 1 downstairs and one next to the bedroom upstairs. The decor of the apartment makes you feel like you are in a nice comfortable luxury apartment. The bathroom had a rain shower head! It was amazing. Towels..toothbrush and toothpaste along with combs..neatly packaged in a plastic bag. I will definitely consider this place again if it becomes available next time we are in Siem Reap. Great hostess to greet us at the front of the apartment building and gave us a tour of our temporary apartment.
Sotith
2017-03-04T00:00:00Z
Great apartment within an easy walk of the markets and nightlife. Plenty of space and the air conditioning works well, yet it's quiet enough you can sleep soundly. Plenty of English-language TV and sports channels as well. The best thing, though, is the hospitality Andrea and Selina show. They left water and breakfast items for us and helped arrange day trips and transportation anywhere we needed to go. Would definitely recommend to anyone.
Greg
2017-02-25T00:00:00Z
We went to three people, but there were many beds, and we were able to use it generously because it was the second floor. Silena was really friendly. The pool was spacious enough to be a private swimming pool. Pub street and night market were also close enough to walk. Thank you for the hard work of silena.
성규
2017-02-17T00:00:00Z
Tipo de Acomodação
Casa/apto inteiro
---
Tipo de Imóvel
Apartamento
---
Acomoda
6
---
Quartos
Krong Siem Reap, Siem Reap Province, Camboja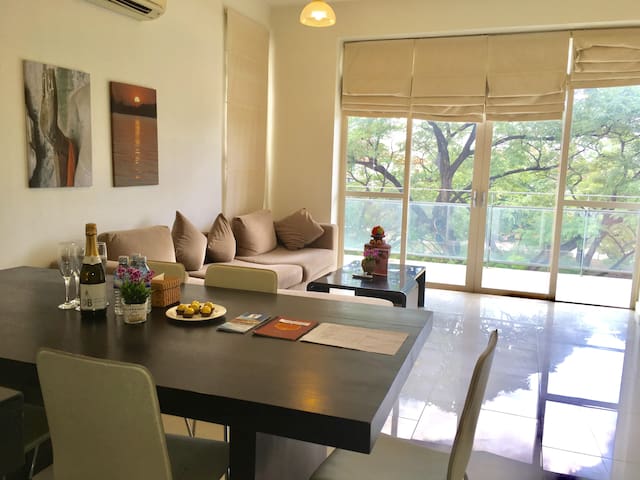 Mein Platz in der Nähe des Karavansara ist ein preisgekröntes architektonisches Juwel, um die reiche Kultur von Kambodscha entworfen wurde. Es ist unmöglich, eine bessere, zentral gelegene Standort zu finden, die Ihren Urlaub zu genießen. Wir sind 5 Minuten von der Pub Street entlang den Ufern des Siem Reap Flusses. Als Einführungsangebot, bitte beachten Sie, dass der Preis einen kostenlosen Tuk-Tuk abholen am Flughafen umfasst. Unser Platz ist gut für Paare, Solo-Abenteurer, Geschäftsreisende und Familien (mit Kindern). Kommen Sie erkunden. .
Unser Gebäude wurde mit einem modernen südostasiatischen Flair von der preisgekrönten REAL Architektur (Vietnam und Japan) entworfen. Der Raum hat eine große innen nach außen fließen, viele Fenster, sehr gute Oberflächen und allen modernen Annehmlichkeiten. Es gibt einen atemberaubenden Blick auf den Fluss und die zentrale Pagode über den Fluss. Und es ist nur fünf Minuten zu Fuß vom Pub Street.
Wir sind in der Innenstadt von Siem Reap entlang des Flusses. Wir sind direkt gegenüber vom Wat Phreah Prom Rath und 5 Minuten zu Fuß von der Pub Street.
Overall a great stay. Could be a little bit more updated on their beds. Wifi could be a little faster.. but it was very spacious for a big family. Major plus is that it was walking distance from pub street and the night market. :) thanks for the stay.
Jenna
2016-09-21T00:00:00Z
Huge duplex penthouse in a great central part of town. Great concierge help with the hotel across the street and awesome restaurant (the temple) right across the street. Only downside was the wifi was shaky and didn't reach the upstairs bedroom. Overall great place to stay.
David
2016-09-24T00:00:00Z
This place was awesome! Tuk tuk driver was waiting for us at the airport. Great location right on King's Road. Places to go all around. Penthouse itself was massive and really nice. Lived like kings for a few days. If I go back to Siem Reap, I'd 100% stay here again.
Damon
2016-10-03T00:00:00Z
Great location at the center of the town. The place looks a bit old from the ouside but inside is spacious and clean.
YUAO
2016-12-27T00:00:00Z
Josh was a great host and the apartment was extremely spacious. 3 rooms that can easily sleep 6. The pool on the rooftop of both our building and the lobby across the street was very relaxing. You're within 5/10 minutes of everything on foot and even quicker for a $1 USD Tuk-Tuk. Josh was a great communicator and we were able to seamlessly check in early. Would stay again!!! Cambodia was incredible!!!
Colin
2016-11-18T00:00:00Z
It was comfortable to stay here and the location was very good. The staff was very kind and was willing to help you with everything no matter what the time was. They make you feel like you were very welcome to stay in there. Grateful for them taking care of us while staying!
Sandra
2016-11-09T00:00:00Z
Overall is excellent, great stay!
Mavis
2016-11-15T00:00:00Z
Awesome place in a central location...
Bharath
2016-11-29T00:00:00Z
Tipo de Acomodação
Casa/apto inteiro
---
Tipo de Imóvel
Apartamento
---
Acomoda
6
---
Quartos
Krong Siem Reap, Siem Reap Province, Camboja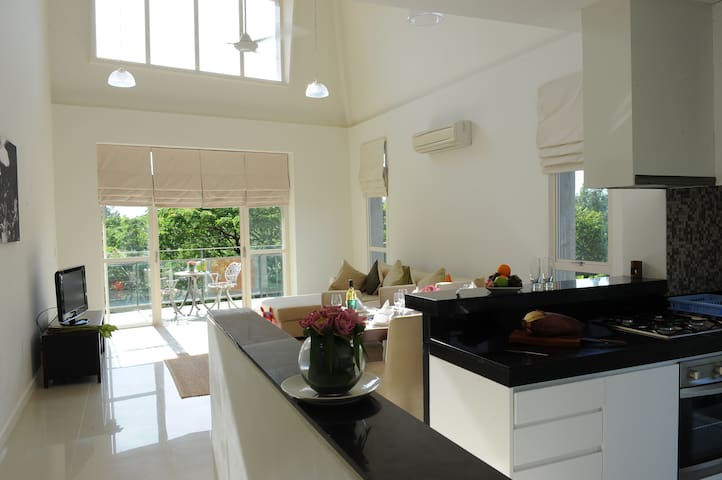 Min plads er tæt på Angkor Wat templet, Old Market, familievenlige aktiviteter, natteliv, offentlig transport. Mit sted er godt for par, solo eventyrere, forretningsrejsende, familier (med børn).
friendly and kind. Cosy and quiet. We are pleased to stay here. Breakfast were delicious.
Mingyu
2017-02-28T00:00:00Z
酒店本身很不错,环境和房间整洁明亮宽敞,游泳池也很方便,服务不错。地理位置偏了些,一路图突突车很颠簸
佳颖
2017-01-12T00:00:00Z
great place, just a little bit too far to walk to town very friendly tuk tuks outside waiting 24/7.... be friendly they are very receptive to friendly people enjoy
Shannon
2017-01-08T00:00:00Z
The room is clean and quiet, staff very friendly and helpful, they can contact tutu car for you, the best thing is the chiefs! Foods so yummy! Next time I will also choose this hotel! Thanks peter!
iris
2017-03-25T00:00:00Z
服务很好,酒店景色很美。
思菲
2017-03-12T00:00:00Z
非常好 性价比很高。离老市场也很近。 免费接机。门口长期有tutu车 也可以预约的士。还含早餐。 住了五天非常满意 游泳池也很漂亮。服务员都很友善。有机会一定还会去。
LEI
2016-12-10T00:00:00Z
Outstanding accomodation, rooms were massive, modern and very clean. The pool was a piece of luxury and the staff were very helpful and attentive. Tuk tuks are ready and waiting outside the hotel and pub street is only a short ride away. Couldn't recommend them enough!!
James
2016-12-29T00:00:00Z
Sehr gutes kleines Hotel. Mitarbeiter sind sehr aufmerksam und sprechen gutes Englisch. Anlage top, wie auf den Bildern. Zimmer sehr stilvoll und sauber. Haben eine Nacht verlängert weil es uns so gut gefallen hat.
Kevin
2017-02-07T00:00:00Z
Tipo de Acomodação
Quarto inteiro
---
Tipo de Imóvel
Apartamento
---
Acomoda
2
---
Quartos
Krong Siem Reap, Siem Reap, Camboja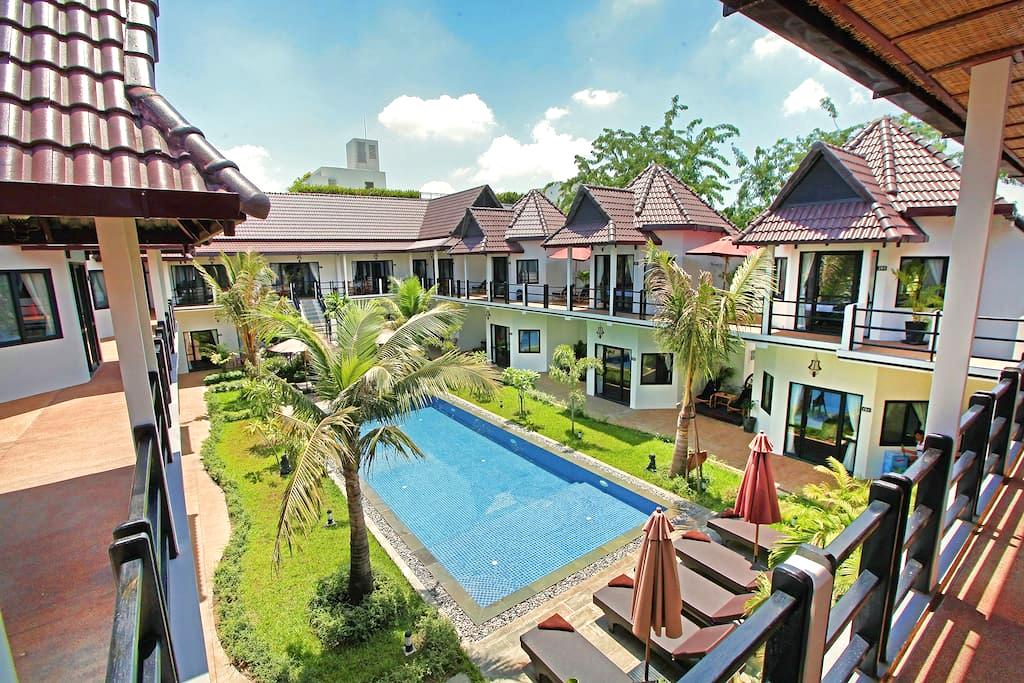 Estamos situados cerca del Central Park en Siem Reap a mitad de camino entre los mercados de noche y Angkor Wat. Ofrecemos conexión rápida, 24 horas de seguridad, televisión por cable y la cocina más nuevo y mejor diseñador! ¡Bienvenido! Nuestros conductores en tuktuk están en stand by 24H delante de nuestro edificio. Un corto viaje al viejo mercado o Lucky Mall Precio: 2 a 3 USD. Podemos organizar viajes cortos con nuestros conductores de habla inglesa fiables. Gratuito de traslado al aeropuerto para todos mis invitados incluido en el precio!
Hola, este es un espacio único en Siem Reap. Disfrutar de mobiliario italiano y francés moderno. Una cocina totalmente equipada con horno, lavadora y nevera enorme. Tenemos 2 baños por apartamento. Hay una bonita sala de estar y una enorme televisión de pantalla plana en la sala de estar. La ubicación es excelente. Un footwalk al Museo Nacional de Angkor. 5 minutos de paseo en tuktuk de taquilla de Angkor Wat. Y otros 5 minutos hasta el centro comercial "el Centro Comercial suerte" y a la famosa zona de "pubstreet". Tuktuks están ampliamente disponibles en frente de nuestro edificio de apartamentos.
El apartamento está situado entre Angkor Wat y del parque central. El barrio es seguro y desde aquí se puede llegar a todas las partes de Siem Reap a los pocos minutos en Tuktuk. Muy cerca se encuentra el río Siem Reap y el parque central que se utiliza con frecuencia para correr por la mañana o el yoga en el parque ../
Secluded and nice place about right between Pub street and Angkor Wat. I felt a bit away from things and wish I had booked closer to Pub street. The place was very spacious and clean, the WIFI was great, the kitchen was very convenient. I noticed the water heater only had enough warm water for a brief 10 minute shower. It was okay for me as a solo traveler, not sure about couples. On a brighter note, the staff was very helpful and there were always tuktuk drivers in the parking lot waiting to take you anywhere you wanted to go. They even picked me up from the airport, which made things hassle free in the beginning.
Mehran
2017-01-23T00:00:00Z
Very friendly staff, helpful. Centralized location. A great place to stay while you explore the area. Hope to stay again.
Cheyenne
2017-03-28T00:00:00Z
房间很大,很清洁,和照片看起来基本没有区别。 房间内有面包机洗衣机洗碗机等等电器,动手能力强基本可以像本地人一张生活。空调也很好,有两个洗手间。 房东的tuktuk司机小哥很nice,送我们去各地收费都比街上叫的司机便宜,英语也好,可以考虑整天包他的车游览。 问题在于位置离市中心小远,周围还算繁华但都是酒店,购物不太方便。此外热水是用电烧的,比较少。整体来说性价比不错。
钧玮
2017-01-02T00:00:00Z
It was a great stay! They gave us a very nice and reasonable tour as well.
Mai
2016-02-26T00:00:00Z
The place is super clean and design to live there. It is a big apartment, a lot of space and 2 bathrooms. The atmosphere is a little bit cold and the kitchen has the minimum to cook ( 2 pans / 1 kettle) We had a very hard time to find the place and no one in the phone knew "richard" so : It is in a big white building called "richard home" on charles de gaulles avenue next to the regency hotel (where the gym is actually) the manager is andrea. The breakfast was chocolate croissant and croissants. The manager Andrea is nice, very busy so Mr Nin take care of you if you need anything. The place was convenient to come back to have a break from Angkor ( if you rent a motorbike) it is 30 mn from the city walking and 2 usd with a tuk tuk.
Camille
2016-11-07T00:00:00Z
The room was absolutely wonderful. Exactly as described with a warm welcome by the staff. Thanks for making our stay enjoyable! Our next stay in Siem Riep will be at Richards Home
Tony
2016-01-08T00:00:00Z
All in all, it was exactly as listed and even better. It was spacious, very clean and luxurious. The sheets pillow and bed and towels were world class; I've Stayed at the Hilton and many upscale hotels and the quality of a nights rest was the same as this apartment. The shower was very good quality, high pressure, and this is important because you would want a clean intense and relaxing bath after temple hopping! There was cutlery and cooking utensils and washing machine which is great. Good quality, thick and fluffy towels and basic shower essentials like shampoo was provided as well. AC worked great. I was a bit troublesome for the host as 100% would stay again.
Sheryl
2016-02-23T00:00:00Z
Very nice apartment - as pictured! Huge! Equal distance from the temples and pub street but the team there organize all the transportation for you, including free pick up which was nice. Mr. Nin was a quick text away with a tuk tuk always ready for us. I t was easy to rent one for the day to take us round the short loop, and take us at 4.30am for sunset! The second day he also organized a tuk tuk for the day, we hopped around museums, the circus, dinners, massages and drinks! They was a washing machine on site, which was great, and they actually brought us some powder. Lastly, as we were picked up, they pulled into a supermarket to grab some essentials and a sim. Recommend!!
Lizzy
2016-02-21T00:00:00Z
Tipo de Acomodação
Casa/apto inteiro
---
Tipo de Imóvel
Apartamento
---
Acomoda
2
---
Quartos
Krong Siem Reap, Siem Reap, Camboja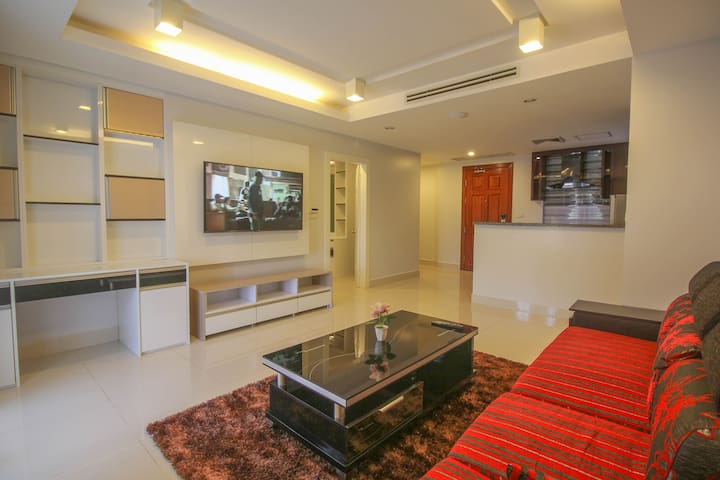 Nice apartment not too far from pub Street. We were provided with a local phone when we arrived which was helpful in sorting out other bookings. We arranged with Mr Vong the tuktuk driver to take us to Ankor Wat in time for sunrise. His English is fairly limited but we managed to muddle through. Good apartment.
Maria
2016-01-22T00:00:00Z
My stay here was fantastic. The place is close to markets and pub street, clean and well maintained. Meang was very helpful and also helped me with his personal umbrella during the rain. Also communication was absolutely prompt.
Ronie
2016-08-28T00:00:00Z
This was one of the nicest places I've stayed yet! The room was clean, the host was very responsive and helpful. Located within a stones throw of pub street, night market, a laundry service, many breakfast places, and a travel agent, the location is ideal.
Nimish
2015-12-06T00:00:00Z
The studio is spacious and nicely decorated. It's in a great location with many restaurants in close proximity. The wifi worked well and the shower was warm and refreshing. It's an easy 5 minute walk to the night market area. Hiroshi and Dahlia do an excellent job managing this listing from abroad. They responded within minutes to emails and have a local management team available to provide assistance.
Biancahillsf
2016-03-01T00:00:00Z
Great location within easy strolling distance to the restaurants and bars. Very helpful staff on hand and they will help with tuk tuk drivers and offer suggestions on things to do. Hosts were very quick to respond.
Markus
2017-01-01T00:00:00Z
Extensive pre-stay communication, arranged a tuk-tuk to pick me up from the airport (very helpful because I arrived late at night and didn't have to fumble with directions), room is very clean & well-furnished & well-stocked
Charles
2015-12-30T00:00:00Z
Our stay in Siem Reap was wonderful. Hiroshi and Dahlia were great with online communication and their local employee Meang was wonderful. The location was great- mere minutes walk to Pub Street and surrounding areas but far enough away so it's not too noisy. We had a free tuk tuk pick up on arrival and Meang sat down with us in the apartment and ran us through the area in the local maps and gave us tips. He was always nearby and arranged a good tuk tuk driver for our trip to the temples. We would definitely stay here again!
Penelope
2016-01-11T00:00:00Z
This was a great place to stay in Siem Reap. The location was quiet but still close to the markets and pub street. There are some great restaurants nearby (we recommend Le Pain du Coeur for breakfast - 3 mins walk along Taphul St and Sugar Palm a bit further along on Taphul St for dinner). We used the hosts' Tuk Tuk driver for all of our excursions to the temples and also a guide he recommended. Both were reliable and reasonably priced.
sarah
2016-01-05T00:00:00Z
Tipo de Acomodação
Casa/apto inteiro
---
Tipo de Imóvel
Apartamento
---
Acomoda
2
---
Quartos
Krong Siem Reap, Siem Reap, Camboja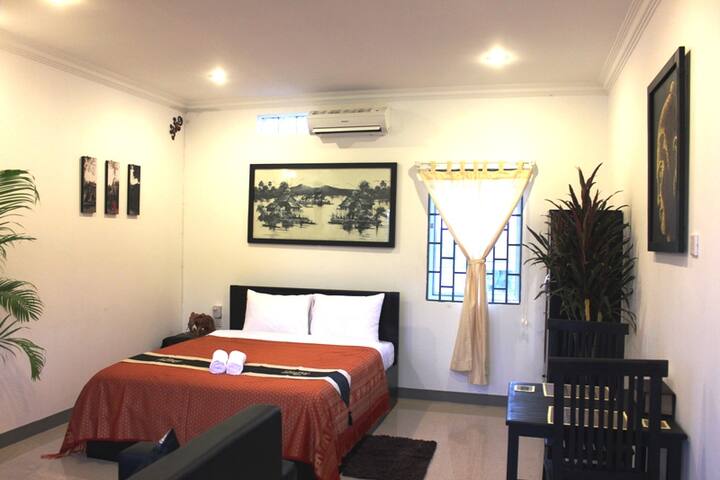 Tanei Chambre Double / Lits Jumeaux avec Vue sur la piscine dispose individuel Balcon avec vue sur le jardin tropical. Les chambres sont décorées avec des motifs pastel, plan ouvert salle de bains en grès et douches séparées. Eh bien aménagées avec télévision à écran plat, lecteur DVD, minibar, thé et café, coffre-fort électronique, comprend également une salle de bains privative avec articles de toilette et douche chaude. Notre tarif de la chambre dose, y compris petit-déjeuner quotidien, Internet WIFI, thé de 24 heures et batardeau et tuk tuk à la ville.
Offrant paisible piscine extérieure et un jardin tropical avec la ferme boutique, Tanei Resort & Spa est situé à Siem Reap Province 5 minutes de la Pub Street, à 7 km du site du patrimoine d'Angkor et à 15 minutes de l'aéroport de Siem Reap International. Vous vous sentiriez commodité par notre remorque Remork sur gratuit depuis ou vers l'aéroport et à la ville. Le Resort, non loin de la ville pas non plus près des gens bondés vivent qui permettent à notre clientèle peut profiter de leur vrai moment de détente et de notre jardin paisible. équipe Tanei Resort sont impatients de vous offrir un accueil chaleureux khmer hospitalité par "Service d'accueil Home" qui nulle part ailleurs vous pourriez vous sentir comme à la maison et inspirer par notre propriété remarquable et unique temple dans notre pays étonnant ..
L'hôtel est situé dans un quartier paisible et calme, propice à la détente. Si vous cherchez l'hébergement plus belle avec une qualité supérieure du service khmer ne cherchez pas plus; Je vous garantis que vous avez le bon choix! Réservez votre séjour avec nous ... ..
Tipo de Acomodação
Casa/apto inteiro
---
Tipo de Imóvel
Apartamento
---
Acomoda
2
---
Quartos
Krong Siem Reap, Siem Reap, Camboja
Meu lugar é perto de Wat Damnak, atividades para a família. Você vai adorar o meu lugar por causa do espaço ao ar livre. Meu lugar é bom para casais e famílias (com crianças).
素晴らしい
拓磨
2017-02-21T00:00:00Z
提前一个月预定了该酒店,临入住的时候跟司机确认行程才发现他们更换了图片。邮件确认两家(住宿和精品)属于一个品牌,不过我更喜欢另外一家。不商量就直接安排到另外一家,我有点不开心。不过酒店的环境不错,很安静,早餐尤其好吃,每次都吃两份。服务人员也非常友好,很赞
永芳
2017-03-06T00:00:00Z
Tipo de Acomodação
Quarto inteiro
---
Tipo de Imóvel
Apartamento
---
Acomoda
4
---
Quartos
Krong Siem Reap, Siem Reap Province, Camboja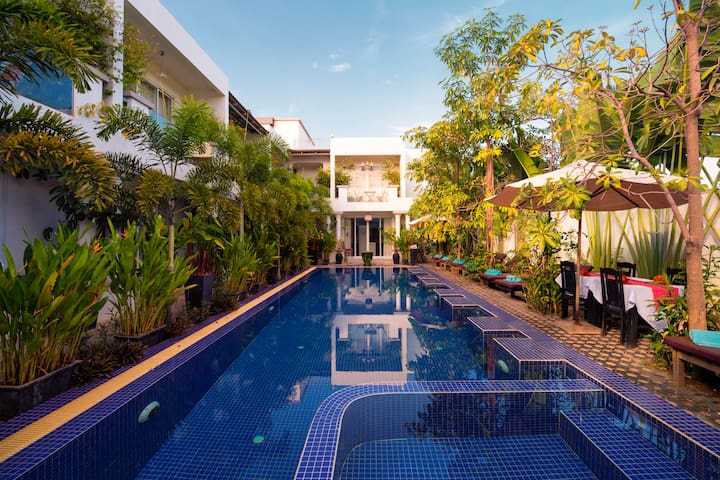 Tipo de Acomodação
Quarto inteiro
---
Tipo de Imóvel
Apartamento
---
Acomoda
2
---
Quartos
Krong Siem Reap, Siem Reap Province, Camboja
Meu lugar é perto de City Center, Templo de Angkor Wat, Restaurante e jantar. Você vai adorar o meu lugar por causa da localização, a vista, valor do preço. Meu lugar é bom para casais, aventureiros individuais, viajantes de negócios, famílias (com crianças), e grandes grupos.
This hotel was just the perfect base for us to discover the Angkor Archaeological Parc by bike and see a little bit of Siem Reap. The room was spotlessly clean, the bed huge and comfortable and the pool was amazing to cool off from the hot weather. Although they sometimes had trouble with the water in the bathroom working, the staff was the nicest and most communicative we could have asked for so the problem was always solved within just minutes. They are very polite and care about your wellbeing, willing to fulfill you any wish you could have. The hotel is situated about 1 km from city center (pub street etc.), but as we rented bikes that was no problem at all. Would definitely recommend this to every traveler if on a budget and searching for exceptional value for his money or even just for people who like to enjoy a little more luxury than usual in Cambodia.
Tillmann
2017-03-10T00:00:00Z
We had really pleasant stay here. Great service, really friendly and helpful staff, fresh rooms with cleaning everyday, nice pool area, a very affordable and convenient restaurant within the hotel. Lots of markets and street food opportunities right outside. You have everything you could need right at hand. Maybe the only downside would be that it is a bit away from the centre of the city (pub street, old market), though it is within walking distance it is barely just. But all in all a great stay and you really get great value for the money.
Alfred
2017-02-10T00:00:00Z
蛮好的,位置不错
riyi
2017-02-01T00:00:00Z
The location is good although a bit away from the busy center. Lots of cheap places around to eat and buy basic things. Our room was perfectly clean and the staff is very friendly. Plus their tuk tuk driver is awesome! We had no problems with commnication. Nice, quiet place worth recommending.
Alicja
2017-02-17T00:00:00Z
Really good value and close to everything, allowed us to check in early and looked after our bags after checkout, very helpful
Glenn
2016-12-29T00:00:00Z
Very nice hotel for stay, not expensive but very good service , nice pool, rooms are clean, you can rent motorbike, car and they also have tuktuk. Two markets near by. A money exchange shop about 200 meters, go east when you out of the door by the same side with hotel.
Tyler
2017-02-06T00:00:00Z
This was a great place to stay for my first trip to Cambodia! The staff made everything so comfortable and relaxing. The place itself is a little far to walk to the night markets and pub street but the staff helped us with a tuk tuk and it was easy to reach.
Riley
2017-01-21T00:00:00Z
Bonito lugar para estar unos días en Siem Reap. A unos 15 minutos andando del centro. A la llegada al aeropuerto nos esperaba un tuktuk que nos trasladó al Hostel. El chico (Mr. Bib) era muy simpático y decidimos quedar con él para que nos hiciera la ruta por Angkor durante dos días, lo que fue un gran acierto, pues nos aconsejó ir el día siguiente al Museo de la Guerra que nos gustó muchísimo. La habitación era grande, con baño privado, aire acondicionado, frigorífico y tv. El único detalle a señalar es que en los días que estuvimos no entraron a limpiar la habitación, aunque no nos importó mucho. El staff es muy simpático y agradable. Volveríamos a este Hostel sin ninguna duda.
Gemma
2016-11-30T00:00:00Z
Tipo de Acomodação
Quarto inteiro
---
Tipo de Imóvel
Apartamento
---
Acomoda
2
---
Quartos
Krong Siem Reap, Siem Reap Province, Camboja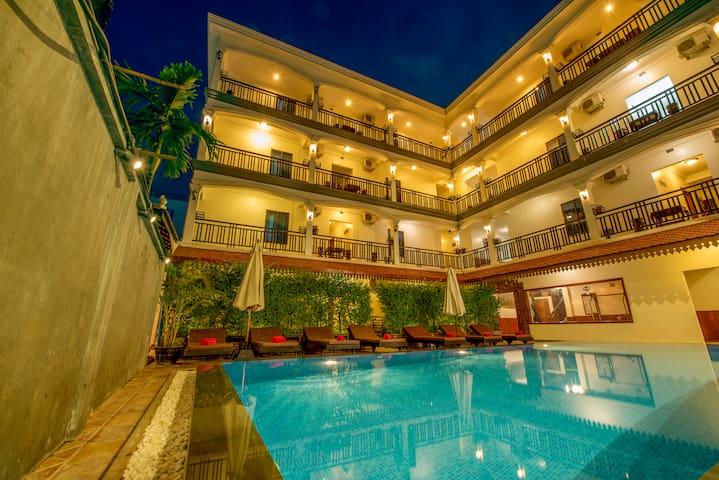 Tipo de Acomodação
Casa/apto inteiro
---
Tipo de Imóvel
Apartamento
---
Acomoda
2
---
Quartos
Krong Siem Reap, Siem Reap Province, Camboja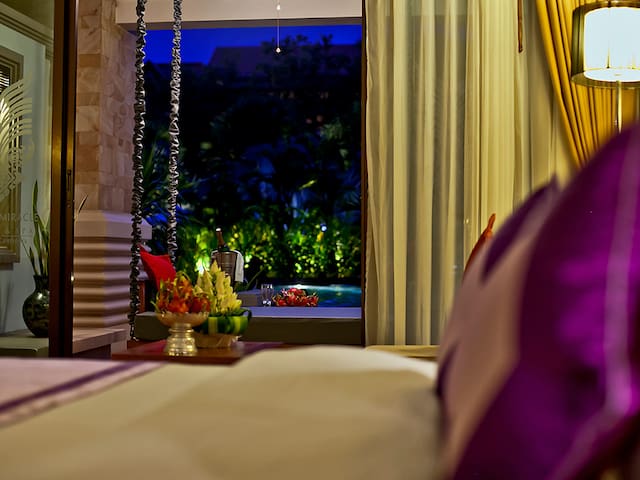 我的地方是靠近当地市场(诗Nher),夜市,酒吧街,餐厅和ATM mecine。你一定会喜欢,因为与酒吧街地区的步行距离在安静的区域,我的地方。我的地方是好夫妻,独奏冒险家,商务旅客,家庭(含儿童),和毛茸茸的朋友(宠物)。
My families and I really loved the house. Living as local people, swimming every afternoon, talking with other guests, all the things gave us a lot of fun! Thanks for giving us the best experience! We will recommend to others!
Tintin
2017-01-29T00:00:00Z
It is a good (URL HIDDEN) friends enjoyed swimming in the pool.The hotel staff is really nice.I hope if go to seam reap next ,I would choose the concept Residence again.
晓冬
2017-02-05T00:00:00Z
The space and feel of the place is pleasant and the interior is spacious and clean. Amenities are rather new and they have a nice pool at the back. However, due to the place being new, there was no WiFi in our room (only at the reception area) and the tap water was a little yellowish due to some issues with the filter system. Was a little disappointed until the manager came personally to apologise and explain the issues. It was a nice personal touch and I believe with this level of customer care concept residence will only improve over time.
Yap
2016-12-27T00:00:00Z
Tipo de Acomodação
Quarto inteiro
---
Tipo de Imóvel
Apartamento
---
Acomoda
3
---
Quartos
Krong Siem Reap, Siem Reap Province, Camboja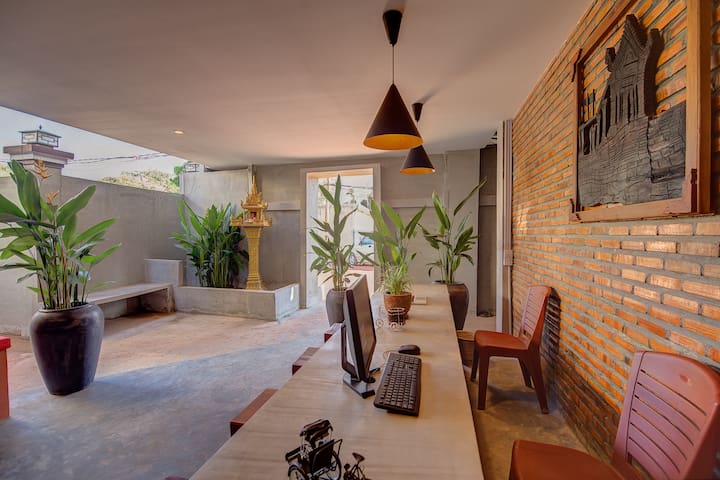 エアコンを搭載し、人気のアパートはシェムリアップに宿泊施設を提供しています、パブストリートから900メートルシェムリアップ。 FREE 2ways空港シャトルサービス。 - ケーブルフラットテレビの画面 -バルコニー -キッチン - ベッドシートタオルが用意されています
オールドマーケット
Tipo de Acomodação
Quarto inteiro
---
Tipo de Imóvel
Apartamento
---
Acomoda
2
---
Quartos
Krong Siem Reap, Siem Reap Province, Camboja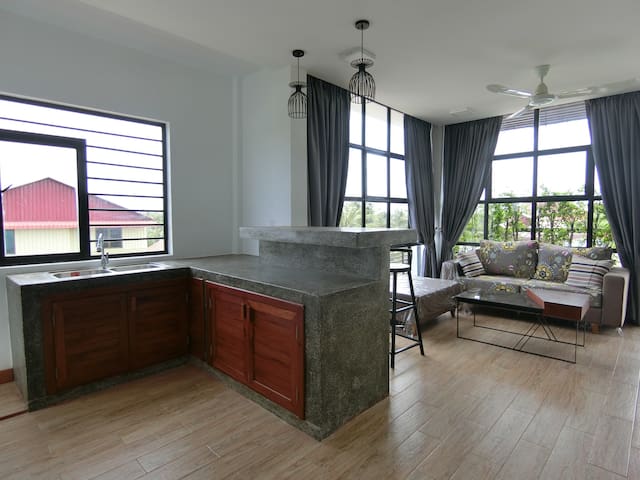 Krong Battambang - Airbnb
:
Média de

4.7

de

5

estrelas, de acordo com

314

avaliações de hóspedes
1

–

18

de

Mais de 300 Apartamentos para Alugar
Insira as datas para ver o preço total. Taxas adicionais serão aplicadas. Impostos podem ser adicionados.