115 Apartamentos para Alugar
A comfortable and large apartment with a balcony that has lots of sun and privacy. The bus-stop to Oslo is only 3 min. away. The bus goes home late at night (last one at 4am). Fully equipped kitchen. Tv and WiFi included.
Nice an sunny apartment near Oslo. Very friendly an uncomplicated contact to Nina.
Jörg
2016-09-17T00:00:00Z
Did not meet Nina in person, but was received well by a friend of hers. Apartment very nice. Communication with Nina before stay and under was excellent. Apartment nice and clean. Quiet neighboarhood and lovely view from balcony. I recommend this place if you want to visit Oslo, which is a short 30 minute busride away or spend a day at the nearby spa. Close to the center of Kolbotn which provides all ameneities.
Geir
2016-05-08T00:00:00Z
Tipo de Acomodação
Casa/apto inteiro
---
Tipo de Imóvel
Apartamento
---
Acomoda
2
---
Quartos
Kolbotn, Akershus, Noruega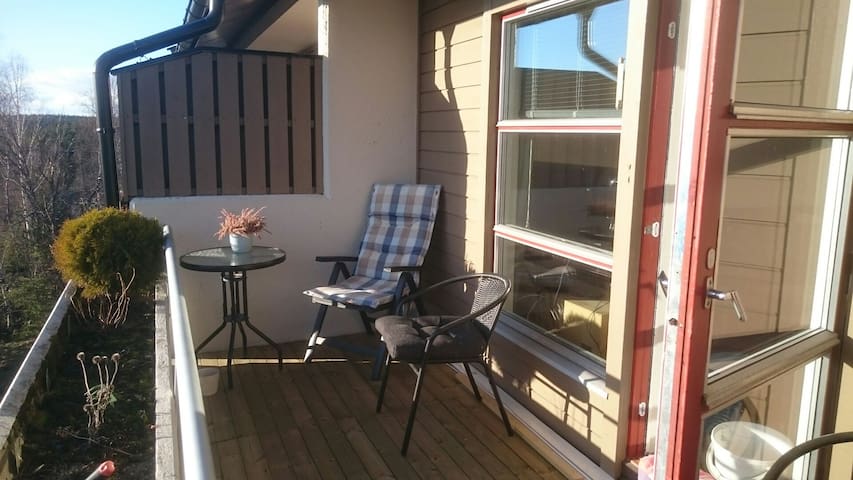 This cozy 45-sqm apartment is well suited for couples, friends and families of 1-3 adults or 2 adults + 2 kids. It is located in a nice neighborhood at Kolbotn 20 minutes south of Oslo. The train station is only a 2-minute's walk away. The apartment includes one bedroom, a fully equipped kitchen, a living room with TV and internet/WiFi, and a brand new bathroom. The apartment also comes with a roof top terrace and a car parking spot
This 45-sqm apartment is well suited for couples, friends and families. It is located in a nice and quiet neighborhood at Kolbotn approximately 20 minutes south of Oslo. The train and bus station is only a short walk away (2-4 minutes) with departures every 30 minutes to and from Oslo's city center. A parking spot is also available just in front of the stairway down to the apartment's entrance.
The neighborhood is nice and quiet, and only 800 m from the centre of Kolbotn.
Came for the second time to Ane's nice apartment. This time for a little longer. Just as comfortable as the first stay. Thank you again Ane!
Ole Morten
2016-11-05T00:00:00Z
La casa es perfecta y esta en muy buenas condiciones. A parte tiene de todo y ella esta dispuesta a todo con tal de ayudar. Esta cerca de supermercados y muy cerca de oslo en tren. Si vuelvo a ir a oslo repito seguro con esta estancia.
Francesc Xavier
2016-12-12T00:00:00Z
Die Unterkunft ist gut erreichbar. Wir sind jeweils 20 min mit dem regionalen Zug vom Lufthavn bis zum Zentrum und vom Zentrum 20 min mit dem Zug zur Unterkunft. Eine gute und günstige Möglichkeit zu Übernachten, vor allem wenn man etwas am Stadtrand sucht. Für uns war das Pendeln ins Zentrum kein Problem (dank Oslo Pass). Wir hatten zu dritt genug Platz, es ist also auch für eine Kleinfamilie ausreichend. Alles war sauber und mit den notwendigen Dingen ausgestattet (Küchen-, Badzubehör). Ein und auschecken war unproblematisch, Ane hat uns vom Bahnsteig (3min) abgeholt.
Lisa
2017-01-27T00:00:00Z
Ble tatt godt imot av verten, og gitt tilgang på utmerket parkering før en god gjennomgang av leilighetens fasiliteter. Den har alt du trenger for både kortere og lengre opphold. Lokasjonen er svært bra! Toget til Oslo og Ski er i umiddelbar nærhet. Leiligheten er moderne innredet, blant annet med nytt bad. Jeg kommer nok tilbake.
Ole Morten
2016-09-25T00:00:00Z
As always happy, in ane house we are at home. To spend a week and more. I recommend it for me is perfect, good deal, friendly people, in short simply perfect.Thanks for another perfect stay.
Jorge
2017-04-05T00:00:00Z
perfecto,gente amable ycordial,en cuanto al apartamento sencillamente genial lo recomiendo,mi mujer ,mi hijo y yo estamos muy amplios,buena zona y bonita tiendas cerca y gente super amable.gracias y seguro que nosotros repetiremos.gracias. perfect, friendly people ycordial, as to just great apartment recommend it, my wife, my son and I are very spacious, nice area and nice shops nearby and super people amable.gracias and sure we repeat.thanks
Jorge
2016-10-12T00:00:00Z
Wir wurden von Ane, einer sehr netten Gastgeberin, empfangen, die uns erst unseren Parkplatz und dann die Wohnung gezeigt hat. Super Parkplatz oben am Berg neben unserer Dachterrasse mit schönem Ausblick. Sehr schöne Wohnung. Schlafzimmer,Wohnzimmer, neues Bad und Fußbodenheizung, perfekt für uns Beide! Die Küche ist für normale, einfachere Zubereitung gedacht, für 3-Gänge Menüs oder mehr erscheint sie für uns etwas klein. Bus und Bahnhaltestelle in wenigen Augenblicken zu Fuß zu erreichen. Auch wenn wir Ane zum Abschied leider nicht mehr gesehen haben, weil sie arbeiten musste, haben wir uns dort sehr wohl gefühlt.
Stephan
2016-10-28T00:00:00Z
.
Thomas
2016-12-02T00:00:00Z
Tipo de Acomodação
Casa/apto inteiro
---
Tipo de Imóvel
Apartamento
---
Acomoda
3
---
Quartos
Oppegård, Akershus, Noruega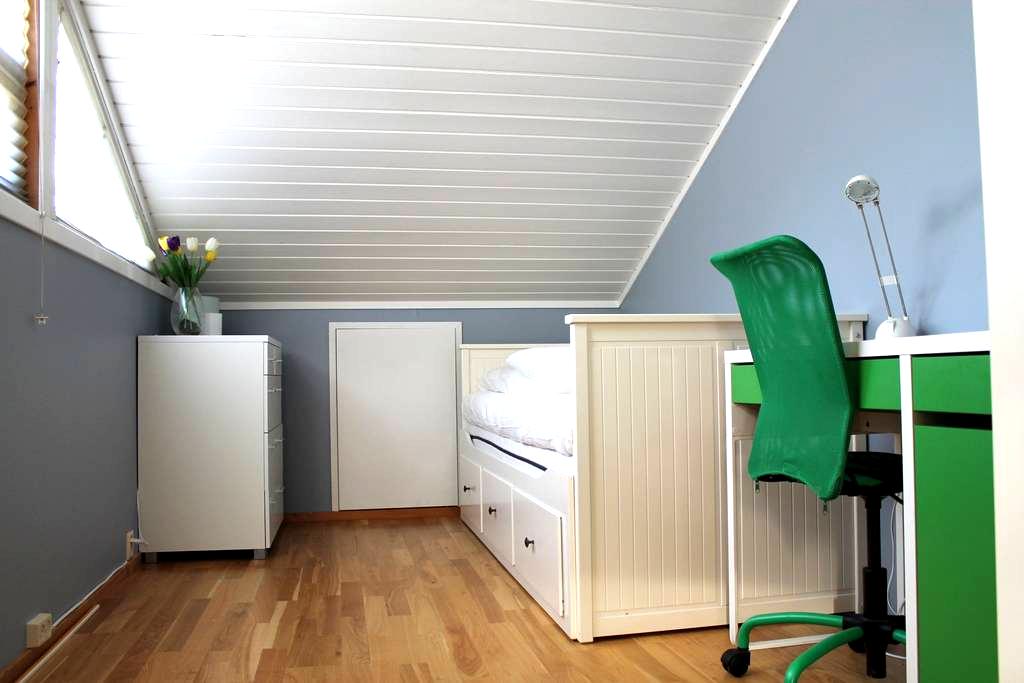 Welcome! We have a studio apartment in a quiet location just outside Oslo. Busstopp (300 meter). Trainstation 10-15 min walk. The apartement is in the first floor of our house, with your own studio. You will have acess to a big garden and peacefull surroundings. Free parking included.
We had very good communication and our welcome was to their home was warm and friendly having coffee and ice cream with them when we arrived. We had everything we needed in the apartment for our overnight stay. Wifi worked very well. The location suited us very well close to Oslo without being in the city.Parking was very easy.
Grahame and Gretchen
2016-07-15T00:00:00Z
Utrolig hyggelig og behjelpelig vertskap med gode fasiliteter hvor vi ble ønsket velkommen med et stort smil. I tillegg til et kjøkken med alt man skulle trenge av 'inventar' hadde vi et eget bad m/ dusj og til dels egen inngang (delt inngangsdør men egen inngang i mellomgangen). Veldig fornøyd!
Mortn
2016-08-21T00:00:00Z
Obwohl wir relativ spät ankamen, hat uns Margit herzlich empfangen. Sie war sehr hilfsbereit und um unser Wohl besorgt. Wir nutzten den Aufenthalt für Oslo-Stadtbesichtigung, Fjord-Rundfahrt und Hochzeitsteilnahme. Es hat alles wunderbar geklappt, auch dank der bereit liegenden Stadt-Pläne und guten Tipps. Die Unterkunft war tipp topp sauber. Wir kommen wieder.
Christoph
2016-09-20T00:00:00Z
The hosts were welcoming, friendly and helpful. A great place to stay
Josie
2016-07-24T00:00:00Z
Ha sido nuestra primera vez compartiendo esta experiencia y muy gratificante. Excelentes personas con las que puedas mantener una agradable conversación y sobre todo, muy buenos anfitriones, no nos ha faltado de nada. Te dan muchas comodidades y facilidades, aparte de guiarnos en nuestro aventura por Oslo. Recomendable 100%. Gracias a ambos!
Facundo
2016-05-30T00:00:00Z
Margit and her husband were so sweet! The greeted us very warm and we felt like home straight away. The studio is inside their beautiful house in the middle of incredible Nordic Nature. We had full privacy with everything inside our studio - kitchen, bathroom and the bedroom, even some table games :) It was also great to wake up to the beautiful garden and autumn trees. We also drove to Oslo from there and it is really close. I would surely recommend to stay at Margit if you on your way to Oslo!
Alina
2016-10-29T00:00:00Z
First: We had a great time! The apartment is very cosy and clean, it is well equipped with everything that you need! Margit and Helge are very!!! friendly hosts! We had some nice talks. :-) And they are very helpful (information about surroundings, Oslo, public transportation etc.). They will make you feel comfortable staying there! We highly recommend this apartment! And we will visit again!
Finja
2016-05-12T00:00:00Z
Margit and Helge are great hosts! They made us feel very welcome and we had feeling like we are at home. Apartment was very clean and had everything what we needed. Great stay, great hosts! If You're looking for cosy , home-like staying, this is the right place.
Tijana
2016-06-01T00:00:00Z
Tipo de Acomodação
Casa/apto inteiro
---
Tipo de Imóvel
Apartamento
---
Acomoda
2
---
Quartos
Oppegård, Akershus, Noruega
You will have your own floor in our norwegian villa. Outside there is a big garden where it's perfect for kids to play, and also a wood close to the house. The house is located in a quite area just outside Oslo. Here you can relax and have a pit stop on your journey in Norway. Stedet mitt er bra på par, familier (med barn) og store grupper.
You will have the first floor on your own. Here you have a studio apartment and an extra bedroom. You will use the same main door as us, but will have your own kitchen and bathroom. In the studio apartment there is two (big) single beds. In the sleeping room there is 1 double bed. It is also a mattress if you need it. Maximum its space for two kids in the double bed and one on a mattress. This bedroom also has a tv and a playstation.
The neighbourhood is close to "Tusenfryd" amusement park, "The well" the biggest spa-centre in Scandinavia and "Rush" trampoline park. I will be happy to explain you the directions.
Tipo de Acomodação
Quarto inteiro
---
Tipo de Imóvel
Apartamento
---
Acomoda
5
---
Quartos
Oppegård, Akershus, Noruega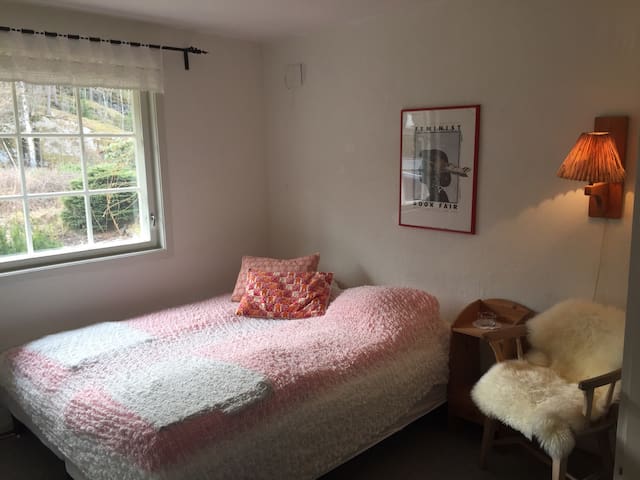 Stille og rolig. Leiligheten ligger ved skogkanten. Moderne og nylig oppusset bolig. Kort vei til Tusenfryd og Oslo. Det er to terrasser i boligen, men den ene er stengt pga rehabilitering. Arbeidet er innstilt pga ferie i hele juli.
Tipo de Acomodação
Casa/apto inteiro
---
Tipo de Imóvel
Apartamento
---
Acomoda
4
---
Quartos
Oppegård, Akershus, Noruega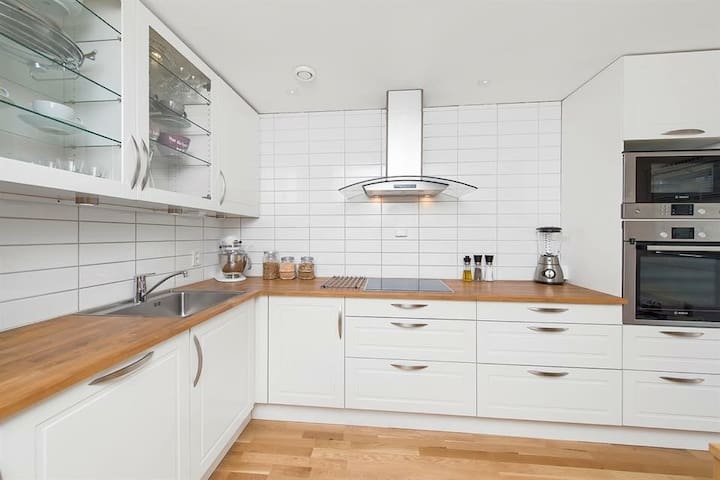 Newly renovated 2 bedroom apt with queen size beds (140cm) . Living room and open gourmet kitchen with direct access to private garden. Very quiet residential area. Bus to Oslo (20 min )from nearby bus stop.
Tipo de Acomodação
Casa/apto inteiro
---
Tipo de Imóvel
Apartamento
---
Acomoda
3
---
Quartos
Oppegård, Akershus, Noruega
A room flat with a double bed, Sofa,kitchen and (URL HIDDEN) will share a kitchen and toilet. It is 4 min walk from Oppegård railstation and 20-24min from Oslo S. It is Quiet&Relax area near the forest and hiking. No possibility for parking the car.
-It easily reachable by public transports, both bus and train. -The L2 train from Oslo S to Ski(or Skoyen-Ski train) makes stop here twice in each hour, this is if you are coming here from Oslo S...this train takes only 24minutes to be here. -The L2 train from Ski to Skoyen via Oslo S, makes stop heere twice in each hour, everyday..and this is if you are coming from Ski or Moss direction. This train takes only 6minutes to be here. -The L2X train from Oslo S to Ski, takes only 18 minutes to be here. -The train R20 and train L2 will let you be here for only 38minutes, this is the train you will take if you are coming from Rygge-Moss Airport, train R20 will bring you up to Ski and from Ski you will change to train L2 . Transportation is all over the day and up all to mid night, the last train coming to my place I suppose to be of 01:05 am from Oslo S and will bring you here up to 01:29 am. after this time there will be a short break and the train start again to come to my area from 03:46 am. It is close to Kiwi Supermarket, where you will have to buy food and other staff. It is close to the hiking area, where you can have an easily access to our nearby forestry. It is a great place to spend a week end or holiday. It is quiet area and no traffic passing over around,so one can read,relax and even sleep well.
Cozy and so very relaxed neighborhood. I recommend you here with 100%
George is a nice host with a clean apartment. The communication was perfect and although we came late he picked us up at the train station. Everything went well! :)
Carolin
2016-08-25T00:00:00Z
I have to spend minut of my time to write about my great experience in George's house. George is wonderful host, very friendly, kind, helpful. His house and nature in his city looks better then on the pictures. George make this travel experience special. I had a feeling like I'm visiting some of my family members. He help me a lot with transportation instructions and what is nice to see in Norway. We exchange some culinary experience :) Highest recommendations for George. I hope to see you soon!
Sofija
2016-06-02T00:00:00Z
I was very satisfied after staying at George's house :) I stayed there for 3 days with my friend and George was taking care of us all the time. He wrote me many important information before we got there. He was very communicative and we talked almost about everything and we changed our experiences. I asked for that accomodation only day before arrival and George was so flexible, that he wrote me back immediately. The house was nice and I definitely recommend this guy :)
Peter
2015-10-18T00:00:00Z
George was great, really felt like I was staying with a friend. He was well prepared for guests gave a lot of guidance as to what to visit and how to get there. Home was cozy and really felt welcome. He provided breakfast and shared everything he had. Great guys, great stay. Area is quiet and not far from Oslo City Center, supermarket is nearby, forest is close good area for walks in nature.
Dan
2015-09-06T00:00:00Z
George was super personable before we even showed up, making sure he got to know us and that we would be prepared for where to go when we got into town. His place was relatively small, and we slept in his bed with only a curtain between us and him on the couch, but that didn't bother us at all! He was very friendly and considerate of us the whole time. The home was very clean!! And situated in a very beautiful area.
Courtney
2016-08-31T00:00:00Z
The host canceled this reservation 3 days before arrival. This is an automated posting.
Torgny
2016-06-27T00:00:00Z
Tipo de Acomodação
Quarto inteiro
---
Tipo de Imóvel
Apartamento
---
Acomoda
2
---
Quartos
Oppegard, Akershus, Noruega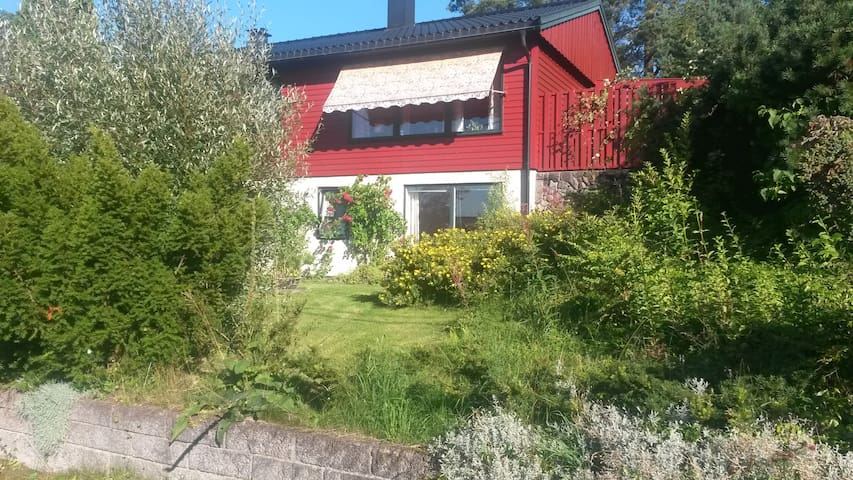 Room in huge apartment, where I live (and may be present). One bedroom and a private bathroom. Shared access to the kitchen/TV-room . Large terrace, nature/wood outside. 10min. walk to the train. 20min car/train to Oslo Close to "The Well" (Spa)
Rent 1 room in apartment. Located 20 minutes from Oslo. Train and busses close by (10 min) Close to forest Stille og rolig sted å bo. Kort vei til Kolbotn/Mastemyr for bedriftsgjester. Kort vei til Tusenfryd/Oslo og THE WELL (Spa-anlegg på Kolbotn).
neighborhood . Close to train / Kolbotn / Tusenfryd 20 min to Drøbak / Oslo . Østmarka right nearby. Close THE WELL ( Spa-Center at Kolbotn ) . MEGET stille og rolig nabolag. Kort vei til tog/Kolbotn/Tusenfryd. 20 min til Drøbak/Oslo. Østmarka rett i nærheten. Kort vei THE WELL (Spa-anlegg på Kolbotn).
Tipo de Acomodação
Quarto inteiro
---
Tipo de Imóvel
Apartamento
---
Acomoda
2
---
Quartos
Oppegard, Akershus, Noruega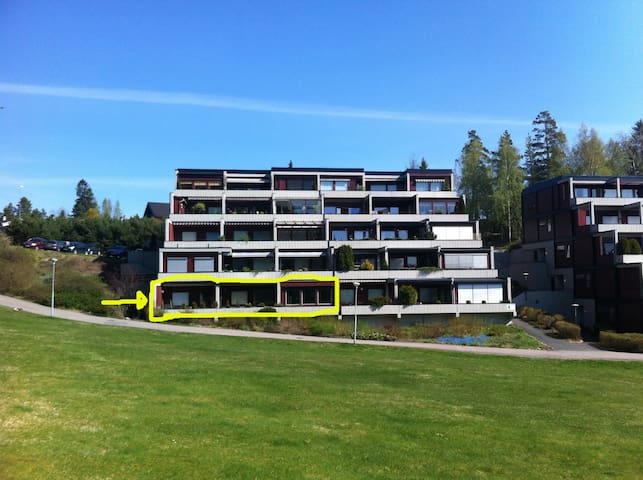 It's a 40 m2 flat in a villa. We live in a friendly and peacefull neighbourhood. 15 minutes from Oslo. Close to forest and beaches. Kolbotn is a little town with a shoppingcenter, restaurants and small shops. Easy public transport.
Easy to make a hike in the forrest and to get to the beaches. Locally there are restaurants, shopping center, cinema and the Spa the Well ( 5mn. by car from home).
A perfect stay, with a perfect host. Thank you, Marie-Frantz! A very nice self-contained unit, in a beautiful, quiet area, 15 minutes from downtown Oslo by train. The station is a seven minute walk through pristine forest. Couldn't ask for more...
Lin
2016-08-23T00:00:00Z
Family very friendly, always ready to help. Quiet and silent zone.services several in the area.
Jorge
2016-11-08T00:00:00Z
It is a very nice and very clean apartment with everything you need. Marie-Frantz and her family are very friendly and helpful.
Jörg
2016-09-21T00:00:00Z
Deilig moderne leilighet. Privat med egen inngang. Kjempegod seng i stille nabolag. Sov som steiner.
Martin
2016-08-25T00:00:00Z
It was a great experience to stay in this apartment. Marie is a very helpful and nice person, she help us all the time with all the details of how to get around and all the things that we needded. Great experience, we will repeated as son as posible. We stayed better than at home.
ALBINO
2016-09-08T00:00:00Z
Marie was really a perfect host from the first second. She welcomed us very hearty and showed us the flat while giving us tips how we can reach different places. It's really a wonderful apartment, it has everything you need for a great stay. The apartment itself was very well cleaned so we felt really comfortable. Although things were very short-dated, Marie perfectly managed to get all things done. She offered us some snacks for the evening and on our trip home she brought us to a bus station very early to make it easier for us getting to the airport. Unfortunately we forgot something on that day in the apartment but she directly contacted us, asking for an adress to ship the items back. We really recommend staying there and we would rest here definitely again!
Laura
2016-09-16T00:00:00Z
Brilliant stay, the apartment is beautiful, stylish and inviting! It had everything we needed, and was very clean. It also includes a refrigerator (not easily seen on the pictures) under the stove. Marie-Frantz was a very warm and generous host, and it was wonderful getting to know her and her family! She was always super helpful and a joy to talk with. Both Marie-Frantz and her husband were incredibly welcoming and accommodating, even when we had to delay our check-in. We found the neighbourhood quiet and safe, and we had no problem walking in the evening. The Kolbotn area was nice, it has lots of nature and a quiet and welcoming environment. It had all we needed of shops, even some that are open on Sundays. Very recommended, we will definitely book here again!
Stein
2016-05-21T00:00:00Z
Tipo de Acomodação
Casa/apto inteiro
---
Tipo de Imóvel
Apartamento
---
Acomoda
2
---
Quartos
Oppegård, Akershus, Noruega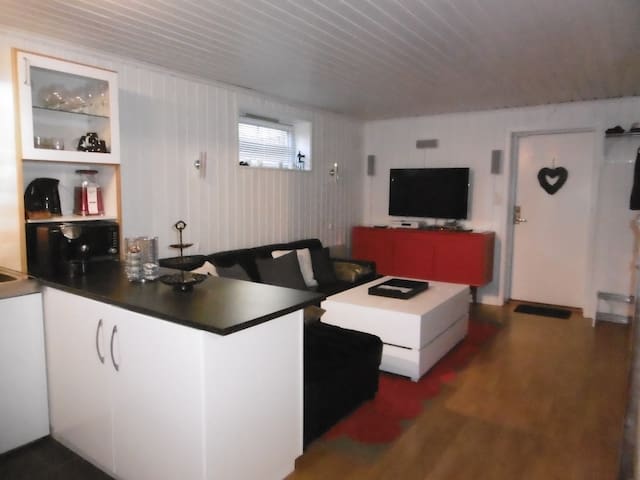 Cozy apartment just 10min from Oslo city centre with the train. Enjoy 80sqm with a completely new, fully equipped kitchen, living room with sofa dining table, TV and WIFI. 2 bedrooms, one with a comfortable double bed, the other with a single. Possibility of extra mattress. Separate toilet and bathroom with bathtub and shower. The large balcony has lovely sun conditions in the afternoon. Welcome/velkommen :)
Quiet, child-friendly neighbourhood with playground just outside the apartment. Forest area 5min away for relaxing walks. 5min drive to the seaside and nice beaches.
Tipo de Acomodação
Casa/apto inteiro
---
Tipo de Imóvel
Apartamento
---
Acomoda
4
---
Quartos
Oslo, Oslo, Noruega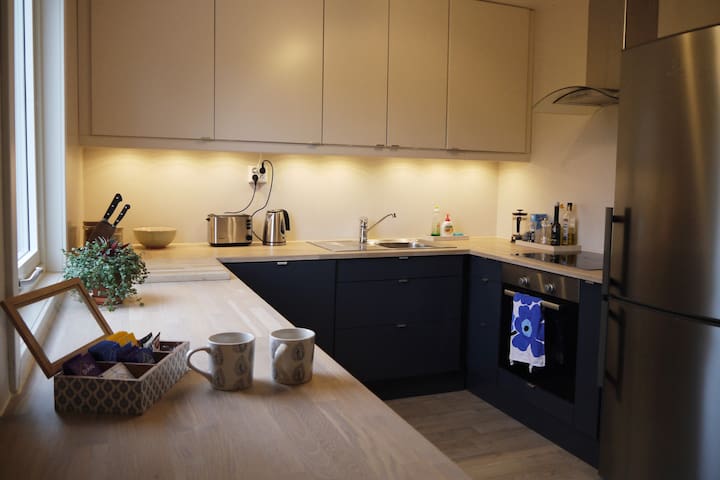 Olá! :) Valorizamos a humanidade e gostaria de conhecer pessoas de outras culturas e dar espaço para que você se sinta segurança e conforto durante a viagem na bela Oslo. Podemos fornecer-lhe um quarto com uma cama queen size e o resto do apartamento que todos nós compartilhamos. Se houver mais de hóspedes, podemos colocar camas na sala de estar. Esperamos vê-lo ao redor! :)
Mortensrud está localizado a 20 minutos de distância do centro de Oslo City. O lugar que estamos vivendo é total recém-construído com shopping center à direita fora da porta. Outras instalações nesta área: uma fazenda, igreja, centro de treinamento, ônibus, metrô a apenas 1 minuto a pé do nosso apartamento. Um lugar perfeito para experimentar Oslo!
Perto de tudo que você precisa :)
Everything was perfect. The apartment is 1 minute away from the train station which takes you directly in the heart of Oslo. The apartment looks amazing, very clean and cozy. The hosts were lovely and helped us out with transport and great restaurant suggestions. I totally recommend this place. The host also makes a mean cup of coffee!
Teodora
2017-01-22T00:00:00Z
Nhi is such a friendly and hospitable host. The apartment is really comfortable, cosy, clean and chique. Didn't regret our stay at all and would have liked to actually stay another night, made our stay in Oslo alot more amazing and memorable!
Muhammad Nur Hisyam
2017-03-30T00:00:00Z
The host canceled this reservation 3 days before arrival. This is an automated posting.
Ronny
2017-03-15T00:00:00Z
非常棒的入住体验,就像到了异国他乡的妹妹家,温馨温暖又爱,超五星推荐。
Joy
2017-01-28T00:00:00Z
Nhi place was very nice and she was very accommodating and a great host.
Matt
2017-03-09T00:00:00Z
Great place.
Diogo
2017-04-02T00:00:00Z
Nhi is a great host!The apartments is so lovely, clean and cozy. It is a perfect place for relaxing after traveling. The location is extremly comfortable. I absolutely recommend this place!)
Yulia
2017-03-21T00:00:00Z
Nhis place is a perfect place to visit Oslo from. It is right off the metro and getting into the center of the city takes no time whatsoever. She was a great host
Taiyo
2017-03-11T00:00:00Z
Tipo de Acomodação
Casa/apto inteiro
---
Tipo de Imóvel
Apartamento
---
Acomoda
6
---
Quartos
Oslo, Oslo, Noruega
Small bedroom, nice kitchen and bathroom, easy acces to Oslo center.
György is a really patients, nice and also very thoughtful person. We just stayed one night, and came, because of a delay, very late. But he waited for us, toke the time to sit down with us and have a chat after our arrival even so he had already an appointment . Our chats during breakfast were really nice and interesting. He is a really kind guy who likes to have a chat but also leaves you your space for doing your own stuff.
Ge
2017-03-26T00:00:00Z
György is nice, communicative and really helpful with regard to what to do in the area. He has great maps! The location of his calm and comfy flat (sunny yellow door) is perfect to enjoy the life, diversity and culture in Oslo, and the beautiful forest (ski trails and walking paths). It was a magical moment to see deer while exploring the woods. The metro line is right on the opposite side of the road and direct to the city center. We took the 7-days transportation pass (Ruter App) which was the best economic deal even for a 4-days stay. György's flat is well-equipped (everything to cook, even French crêpes), spacious (the room is tiny but perfect), light, warm and calm. It was definitely a great stay!
Manon
2017-03-07T00:00:00Z
Nice place! Very close to station
Carmen
2017-03-30T00:00:00Z
I could not have imagined a more cosy, comforting place to stay. György was extremely welcoming, and his whole flat was clean, warm and very calming. The flat is located right next to the bus-stop/metro station, which was really useful - meaning the flat was both easy to find and easy to travel to/from. (The views of Oslo on the bus-journey are also amazing.) The room itself was spacious and clean, with lovely lighting and a big window. It was very relaxing to watch the reflections of the trains pass by on the ceiling in the evening. The forest on the other side of the flat is absolutely gorgeous, and György also pointed out some nearby lakes to me which, had I more time, I would've visited. So I would highly recommend this room to someone who is looking for a quiet, cosy place surrounded by nature :) - and with very easy access to the city-centre! I would love to stay here again if I come back to Oslo - I will always be grateful to György for his kindness and hospitality.
Alice
2017-02-01T00:00:00Z
Mon compagnon et moi, nous avons passé trois superbes nuits au calme et au chaud dans L appartement de Gyorgy qui se trouve être un très chouette type, arrangeant et disponible.
Julie
2017-02-20T00:00:00Z
A very nice place! Nice and clean. The clean sheets smells very nice.
Xiaolei
2017-03-21T00:00:00Z
We didn't talk much with György, he let us do our own thing and that was really nice, being two college students. His place was so clean and very accessible. Everything was in great order and it was nice to have such a chill host. Highly recommend, and if I was to go back to Oslo, I would definitely stay at György's.
Carly
2017-04-02T00:00:00Z
Nice appartment very clean and big. A bit out of the city, but there is the bus and metro station just in front, or 1h15 walk. György was very friendly and helpfull. I recommand and would be back again.
vianney
2017-02-23T00:00:00Z
Tipo de Acomodação
Quarto inteiro
---
Tipo de Imóvel
Apartamento
---
Acomoda
2
---
Quartos
Oslo, Oslo, Noruega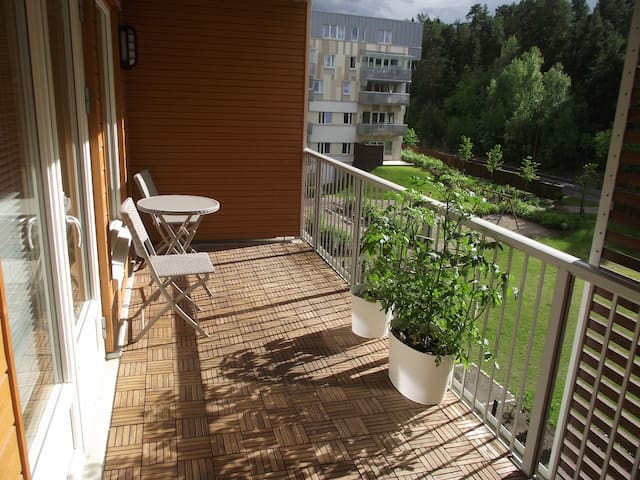 Our amazing new renovated apartment is the perfect place for vacation in Oslo. The atmosphere is amazing :) Big comfertable apartment, balcony with oslo's fjords view. 5 min walk to the beach and just 10 min to Oslo Sentrum with public transport.
Comfy new apartment perfect for vacation for a couple, or a family up to 4 people. The apartment is located in Nordstrand 10 min. from Oslo sentrum, but when sitting in the living room you'll feel like you are on the beach while viewing Oslo's fjords. The sunsets are amazing here and there is a lot of beautiful places to go for a walk around, relax and recharge yourselv. The nice thing is that you can take the buss or the train and be in Oslo S/ Akker Brygger/ Carl Johan street in 10-15 min, but without the noise of the city senter. The big space and the atmosphere are amazing. The apartment has everything that you need from a big living room, bath, kitchen with all equipment, washing machine, amazing balcony and grass area, parking, air conditioning, and even a warm floor. There is an option to contact with us and we'll take care for mattress that can be used for the kids to sleep in the second room.
Tipo de Acomodação
Casa/apto inteiro
---
Tipo de Imóvel
Apartamento
---
Acomoda
4
---
Quartos
Oslo, Oslo, Noruega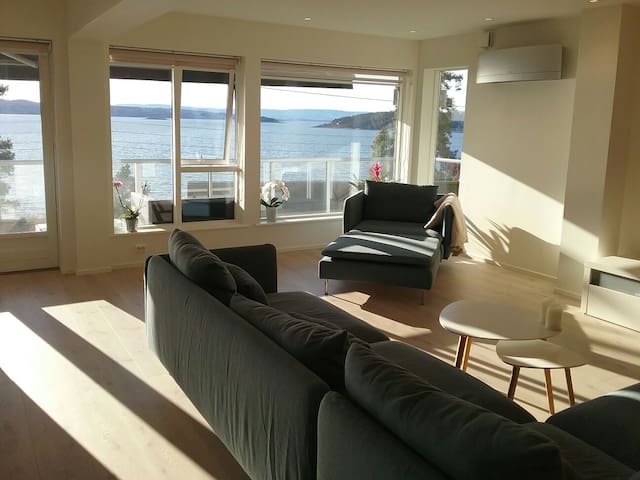 Apartment for rent in a detached house at Bjorndal. The apartment is approximately 70 sqm and is located on the ground floor with separate entrance! The apartment has three bedrooms, living room, kitchen with appliances, large bathroom with two washbasin and underfloor heating. About 3 min walk to the bus stop! Bus number 77 and 71 run every quarter. In rush hour it often express buses. Express bus goes down to Central Station. Nearest center Center Syd and Mortensrud squares. The apartment disposes of a car pitches wide.
Tipo de Acomodação
Casa/apto inteiro
---
Tipo de Imóvel
Apartamento
---
Acomoda
4
---
Quartos
Oslo, Oslo, Noruega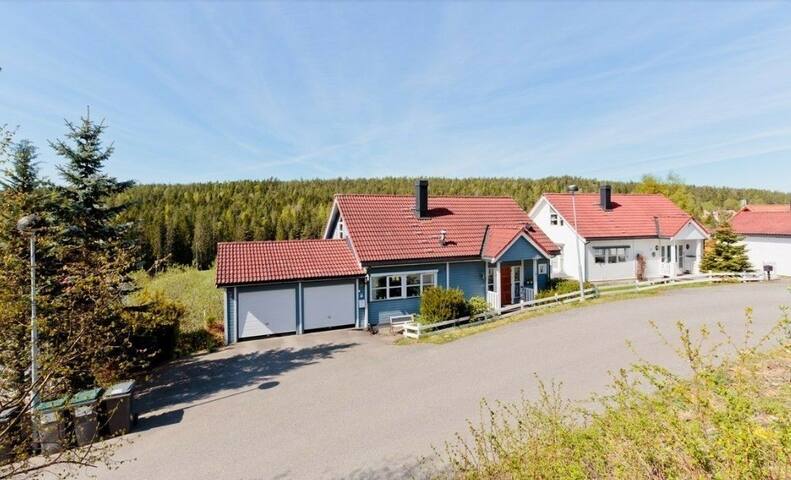 Welcome to Lambertseter! A friendly suburb which is Close to everything you need: Public transportation, a big mall, and even a cute little cinema. Only a short subway ride away from the city centre, and the airport Shuttle bus stops right outside the door! The Apartment is also located Close to a cosy little Beach, the Woods and and idyllic little lake. The Apartment itself is spacious and light. Designed in the typical Norwegian style of one-bedroom appartments
Tipo de Acomodação
Casa/apto inteiro
---
Tipo de Imóvel
Apartamento
---
Acomoda
2
---
Quartos
Oslo, Oslo, Noruega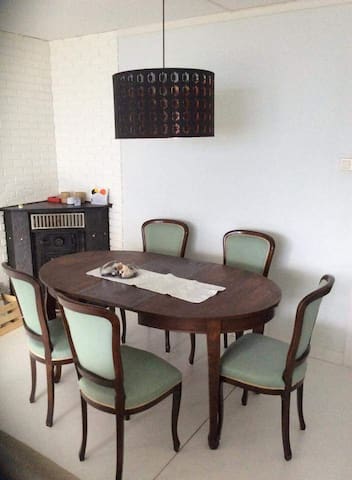 Our place is located in a villa area in Oslo. It will take one minute to the bus that brings you to downtown Oslo. If you come by car we have private parking just in front of the apartment. The apartment is perfectly suited for couples, individuals and business travelers.
Close to Jacobs grocery store, as well as Kiwi, Rema 1000, Europris. 5 min walk to Lambertseter Center (cinemas, subway, Menu clothing stores, etc.). Close to Saether junction where it is now built many new shops and restaurants.
Tipo de Acomodação
Casa/apto inteiro
---
Tipo de Imóvel
Apartamento
---
Acomoda
2
---
Quartos
Oslo, Oslo, Noruega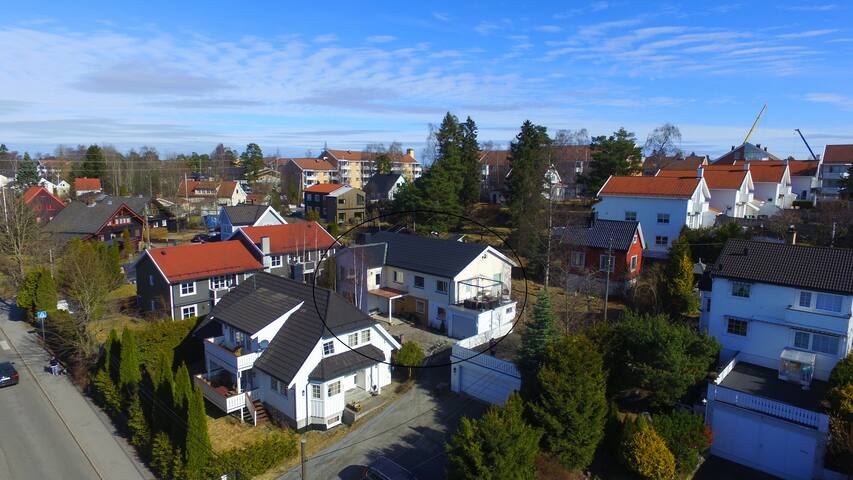 Våkne opp til bølgeskvulp i denne moderne og lyse 2 roms leiligheten med privat skiferterrasse, strand og brygge på en øy 8 minutter med buss fra Oslo senstralstasjon. Soverom med dobbeltseng og dobbel sovesofa i stua. Stort koselig bad med badekar. Godt utstyrt kjøkken med spiseplass.
Det å sovne og våkne opp til bølgeskvulp garanterer god søvn og feriefølelse. Innta måltidene på skiferterrassen med utsikt til sjøen. Ta deg et bad eller en padletur i Oslo-fjorden. Lån sykkel og opplev Oslos severdigheter og omgivelsene fra sykkelsetet. Her hos oss er det muligheter for en fin ferie for store og små.
Jeg elsker å sykle over den hvite hengebroa til Ulvøya, slappe av på den nydelige Sydstranda og gå tur rundt øya og over til Nedre Bekkelaget med sine sjarmerende gamle hus og videre til Ormøya og Malmøya med sine fine strender, fossiler og urskogen. Det er mange idyller og fine steder i umiddelbar nærhet. Det er også mange fine muligheter for utflukter og opplevelser til fots, per sykkel eller ved å benytte Oslos godt utbygde kollektivtrafikk.
Beautiful scenery, excellent location especially you have car, nice apartment. Very peaceful neighborhood and evening lights from opposite shore reflect beautifully on water. I could do my morning swim in Oslo fjord, +18C degrees felt warm! The family lives above, which helps communication. Guro is a very nice person and a good hostess. Highly recommended!
Tommi
2014-09-24T00:00:00Z
Myself and my friends had a fantastic stay with Guro and her family on Ulvoya. The location is great - picturesque and peaceful yet just a short hop on the bus to Oslo city centre. Guro was extremely helpful with travel information and entertainment recommendations before we arrived which proved invaluable for our short stay. The apartment is beautifully appointed with a private entrance and a view over the water that's hard to beat. Guro is a natural, friendly and hugely accommodating host - there when we needed her but also happy to give us our own space to enjoy our time in the apartment. We loved the warm cinnamon buns that greeted us on arrival too! I would have no hesitation in recommending Guro and Ulvoya for your stay in Oslo - we can't wait to come back :)
Nicky
2014-10-28T00:00:00Z
A lovely second visit to Guro's apartment. We enjoyed the home made redcurrant juice and buns!
Michael
2016-07-11T00:00:00Z
It was really, great. The weather, the view and the hospitality of Guro! Every detail was taken care of, we had a great time. It also is a perfect place to combine the city and nature. Really realaxing. Thans a lot Guro!
Monique
2016-08-21T00:00:00Z
The apartment was absolutely amazing with fantastic views and everything you need to enjoy Norway. Our host was extremely helpful and gave us all the extra information. Would definitely stay again.
Lizzy
2016-09-12T00:00:00Z
Our stay at Guro's appartment was... perfect !! Guro and her husband are the perfect Airbnb hosts. They really took care of us and were very present to help us to plan our stay before and during our week. We really enjoyed our stay. The house is just like on the pictures and the place is so peacefull ! Thank you again Guro, and see you soon !
Helene&Julien
2015-08-07T00:00:00Z
I can only second Tainas and Florians feedback. We really had a lovely holiday at Guro and her families place on Ulvøya. We started missing it already the moment we left. Guro welcomed us with a small meal. We felt very welcome straight away. She helped us plan some bicycle tours in the area and we took nice little excursions in the fjord via kayak. Other enjoyable activities included crab fishing, trampoline jumping or simply enjoying the nice view and listen to the gentle sound of the waves. The shop around the corner is very convenient, especially since it is almost always opened (compared to german standards …). We really recommend a staying here heartily! Tusen takk! :)
Alexander
2014-08-30T00:00:00Z
idyllic, quiet surroundings, nice people: simply fantastic - highly recommended!
Gregor
2016-08-05T00:00:00Z
Tipo de Acomodação
Casa/apto inteiro
---
Tipo de Imóvel
Apartamento
---
Acomoda
4
---
Quartos
Oslo, Oslo, Noruega
Stedet mitt er nærme Hauketo stasjon. Stedet mitt er bra på par, bedriftsreisende og familier (med barn).
The host canceled this reservation 2 days before arrival. This is an automated posting.
Marius
2016-10-10T00:00:00Z
Tipo de Acomodação
Casa/apto inteiro
---
Tipo de Imóvel
Apartamento
---
Acomoda
4
---
Quartos
Oslo, Oslo, Noruega
Kolbotn - Airbnb
:
Média de

4.72

de

5

estrelas, de acordo com

106

avaliações de hóspedes