apartamento de 2 quartos limpo e acolhedor numa localização privilegiada; cerca de 50 metros quadrados; Lojas e restaurantes no local; O apartamento está localizado muito perto da gôndola - Wagstättbahn - entrada em grande Kitzbühel. A localização do apartamento é no verão um ponto de partida ideal para inúmeras actividades de lazer. Ponto de partida para passeios de bicicleta de montanha fantásticas nos Alpes Kitzbühel Não precisa de carro. Roupa de cama é por favor, traga (Abrange / folha)
Primavera / Verão / Outono Um excelente ponto de partida para mountain bikers, motociclistas e caminhantes. Caminhadas e passeios de bicicleta no escritório de turismo; inverno A gôndola Wagstätt / Jochberg está a apenas 100 metros de distância - a introdução do único grande Kitzbühel.
Very nice and cosy flat in a nice residence. calm and great view from balcony. Karin the housekeeper and her husband was very welcoming. Jochen is very reactive. we spent a great moment with our three children
Jérôme
2016-08-14T00:00:00Z
The host canceled this reservation 30 days before arrival. This is an automated posting.
Luis & Joanna
2017-01-02T00:00:00Z
Hervorragende Lage neben der Gondel, überaus netter und zuverlässiger Mieter, sehr empfehlenswert!
Tini
2016-01-25T00:00:00Z
The host canceled this reservation 35 days before arrival. This is an automated posting.
Jan
2017-01-02T00:00:00Z
Jochen was very open and flexibel. Easy to communicate with (and fast reactions). He does everything to make you feel comfortable. Nice and friendly person. Location of the appartment is superb. Walking distance from skilift, village and restaurants. Cosy appartment with two bedrooms. Perfect for a family. We had a good time her.
Bastiaan
2016-03-05T00:00:00Z
Tipo de Acomodação
Casa/apto inteiro
---
Tipo de Imóvel
Condomínio
---
Acomoda
4
---
Quartos
Jochberg, Tirol, Áustria
Ski or hiking holiday in the mountains. Beautiful wooden cottage in the mountains, located on the sunny side. Perfect for relaxing with your partner or a holiday with friends. Ski, waterfalls, lakes, fishing lakes or biking. Bramberg is diverse!
Dear guests, since we live even in Bavaria, we decided our log cabin for rent also to nature lovers. November 2014 we have a lot of effort trying our home for you as comfortable as possible. A new kitchen was installed, renewed and lamps, carpets and curtains. We now hope that for you provides our cabin a pleasant atmosphere. Personally, I would ask you to estimate the location of the cottage and nature. It should continue to remain a quaint wooden hut. I hope you understand my concern and have a nice stay. Our acquaintances now include adjacent mountain farmers and craftsmen, we can at any time in case of problems and provide assistance via werden.Informationen Freizeitakitvitäten, gastronomy or shopping available at all times in advance or during your stay.
Enjoy the beautiful view of the mountains. The dark starry sky at night. The unobstructed view of the blanket of fog over the village. Enjoy the fresh chicken eggs in the morning, which they have previously taken from farmers. In consultation with the host may be fished in the lake below the Geislgasthofes. Relax in the not distant Therme Tauernspa Kaprun. From waterfalls, gorge, gemstone valleys, local history museum, huts on small shopping towns and lakes you can do in every season something suitable. The newly built Smaragdbahn in you to the family ski resort "Wildkogel" or the start of the longest toboggan run in Europe (14 km / 2200). I guarantee there is something for everyone.
peter heeft ons op de dag van aankomst aangeboden beneden in het dal op te halen. het huisje ligt boven het dorp met een fantastisch uitzicht en is alleen bereikbaar door een smal weggetje met enige serpentines. het ligt bijna aan het einde van een doodlopend straatje en het is er heel rustig
Juultje
2015-04-04T00:00:00Z
The host canceled this reservation the day before arrival. This is an automated posting.
Rebecca
2017-03-30T00:00:00Z
L'unica difficoltà è stato trovare la casa per il resto tutto così come ce l'aspettavamo, semplice carina e tranquilla, immersa nel verde ed a misura di famiglia. Svegliarsi aprire la finestra e vedere il panorama degli alti tauri la rende ancora piú una cosa unica. Un grazie a Peter e Lisa per la cortesia e la disponibilità.
Gianluca
2015-08-23T00:00:00Z
Die Hütte war genau so, wie wir sie uns vorgestellt hatten: klein, urig, gemütlich, toller Ausblick! Unser Gastgeber brachte uns in der Früh frische Eier, im Ort (ca. 5 Minuten Fahrt) konnte man Semmeln beim Bäcker holen. Wer komplette Abgeschiedenheit sucht, ist hier fehl am Platz - in unmittelbarer Nachbarschaft der Hütte befinden sich weitere Hütten und Häuser. Allerdings bekommt man von den Nachbarn fast nix mit (außer sie mähen ihren Rasen...). Die Küche ist zwar sehr klein, aber mit allem ausgestattet, was man so braucht - für 6 Personen zu kochen halte ich für denkbar, wird aber knifflig und eng. Aus der Dusche und dem Wasserhahn kommt warmes Wasser und der Holzofen war für uns schon eingeheizt, als wir ankamen. Insgesamt waren wir sehr zufrieden mit unserem Aufenthalt, man darf keinen 5-Sterne-Luxus erwarten, aber wenn man wie wir eine nette, kleine Holzhütte erwartet, dann wird man nicht enttäuscht. Achtung bei der Anreise: die veröffentlichten Koordinaten stimmen nicht mit der genauen Hüttenposition überein. Lieber vom Gastgeber lotsen lassen!
Manuel
2015-05-17T00:00:00Z
Sehr netter Kontakt zum Gastgeber! Er gab eine ausführliche Anfahrtsbeschreibung und hat sich stets bemüht, dass wir uns zurecht finden. Die Hütte war wie beschrieben (und vielleicht noch besser!), urig aber süss, sauber, sehr einladend! Hier kommen wir gerne zurück! Die Gegend ist wunderschön, und die Aussicht einfach traumhaft. Die Hütte und den Gastgeber empfehle sehr gerne weiter!
Chrissie
2015-06-21T00:00:00Z
Wir hatten eine schöne Woche in der kleinen Hütte am Sonnberg! Peter empfing uns sehr freundlich und hatte den Kamin bereits für uns angeheizt. Das Haus ist klein, aber mit allem ausgestattet was man braucht und sehr rustikal eingerichtet. Es gibt ein abgeschlossenes Schlafzimmer und ein Bett im Wohnbereich, sowie jeweils darüber noch Schlafebenen welche als Hochbett nutzbar sind. Wir haben das Schlafzimmer für die Kinder genutzt um selbst im Wohnbereich am Abend noch länger zu verweilen. Das taten wir jedoch so gut wie, sondern saßen auf dem Balkon und bestaunten die Berge und genossen den Blick. Eine gemütliche Eckbank lud zum Essen und Gesellschaftsspiele "spielen" ein. Zum Berg orientiert befinden sich die kleine Küchenzeile, sowie ein Bad mit Waschbecken und Badewanne, sowie ein separates WC – alles klein, aber völlig ausreichend. Das Haus ist für vier Personen sehr gut nutzbar, oder 6 Personen die sich sehr gut kennen. Peter erlaubte uns die Feuerstelle zu nutzen und so machten wir Stockbrot und die obligatorischen "Käsegreiner" am Feuer. Die Kinder entdeckte im Teich einen Fisch, eine Kröte und jede Menge winzige Laubfrösche, sowie eine Blindscheiche – ein Paradies! Ich persönlich hätte mir das Häuschen insgesamt etwas sauber gewünscht und das laute Brummen (22-06 Uhr) der Zeitschaltuhr für den Elektrokachelofen störte in den ersten Tagen unseren Nachtschlaf. Trotzdem: rustikale Hütte, toller Blick, schöner Urlaub – nette Gastgeber - schön wir in eure Holzhütte einkehren durften, liebe Lisa und lieber Peter!
Birgit
2016-07-24T00:00:00Z
Wir waren jetzt schon zum zweiten Mal in Lisas Hütte und ihr Vater ist immer gut erreichbar und hilfreich bei allen Fragen. In der Hütte ist es sehr gemütlich und die Lage ist ideal für allerlei Ausflüge in der näheren Umgebung. Wir finden die Hütte zu viert optimal, zu sechst, wenn man sich sehr gut kennt. Vielen Dank an Lisa und Peter!
Michaela
2016-02-12T00:00:00Z
Liebe Lisa, wir haben uns sehr wohl gefühlt in eurem hübschen Häuschen. Die Lage und die gemütliche Atmosphäre sind einfach perfekt, um die Seele baumeln zu lassen. Dir und deiner Familie vielen lieben Dank!
Maren
2016-02-25T00:00:00Z
Tipo de Acomodação
Casa/apto inteiro
---
Tipo de Imóvel
Cabana
---
Acomoda
6
---
Quartos
Bramberg am Wildkogel, Salzburgo, Áustria
Holiday home for 6 people at an altitude of 1200m With 2 separate 3-room holiday apartments, each for 6 people, approx. 90 m², 2 bedrooms, bathroom, furnished balcony, barbecue, cable TV, Wi-Fi, carport, own water purification system, car park, separate entrance for each apartment. The holiday home can also be booked as one unit for 12 people. Poor mobile phone reception, spacious living areas
Uninterrupted views and country house style 3 - Room Flat (approx. 90 m²) for 4 - 6 Persons Entrance area with cloakroom, 1 double room, access to the balcony, Bathroom with double wash basin, shower, Living room/kitchen with 4 hob ceramic cooker, oven, slicing machine, filter coffee machine, microwave, kettle, dishwasher, fridge with freezer section, dining area, double sofa bed, opened fire, flatscreen TV, access to the balcony Storeroom (locked), 1 double room with access to the balcony, ensuite bathroom with wash basin, WC, shower, bath, WC
The "Rettenstein" is one of the most distinctive mountains in the Kitzbühel Alps, and there is a cheese dairy on the "Baumgartenalm" that is well worth a visit. Tip: A treasure hunt in the Habachtal valley. This unspoiled valley in the Hohe Tauern National Park is especially significant because of its emerald mine. The only source of emeralds in Europe to speak of is here in the Habachtal valley. Habachtal emeralds can be seen in in the collections in the local museums in Bramberg and in the neighbouring communities (Neukirchen, Hollersbach or Mittersill). Of course, the well-known Wildkogelbahnen and Kitzbüheler Alpen ski areas are a must, but there is also another attraction that should definitely be included in your winter holiday plans, and that is probably the longest lit natural toboggan run, which is in neighbouring Bramberg.
Sehr schöne Almhütte auf einen unglaublichen Lage. Als letzte Haus an der Straße auch wenig bis kein Straßenverkehr und trotzdem nah an der Skilift (Panoramalift). Der Hütte ist qualitativ hochwertig ausgestattet Von Küche und Bad, biss zum Schlafzimmer und damit absolut empfehlenswert! Nächstes Jahr gerne wieder!
Joel
2016-01-30T00:00:00Z
We've had a lovely stay at the Mountain Lodge. The location is very special. Surrounded by mountain tops on all sides. We've used the lodge as a base for our skiing holiday in February. It's a 20 minutes drive (at most) to the panoramabahn. A great starting point for the Kitzbühler Alps. The lodge is new, spotless and warm. We had the bottom part of the lodge with a living/dining/kitchen, two bedrooms and two bathrooms. There's a huge balcony which would be lovely in summer and an undercover area to park the car which is convenient in winter after a night with snowfall. The housekeeper Helene was friendly and helpful. Definitely worth a visit! PS. I would recommend a 4WD to get up the mountain in winter. We had quite a bit of snowfall.
Peronne
2017-02-25T00:00:00Z
Me and 3 friends rented the house due to its remote location in the middle of the beautiful alps. The house itself is very spacious, provides all the necessities and most of all the scenery from the balcony is simply breathtaking. Pure quietness and a great place for hiking out into the surrounding mountains. The host was very friendly and always available to call in case we had any questions. Would definitely go there again and can recommend the house to anybody looking for a comfortable house in the middle of beautiful nature.
Marcus
2015-07-28T00:00:00Z
De mountain lodge was helemaal nieuw, netjes en op een geweldige plek. De lodge is van alle gemakken voorzien en zeer ruim voor vier personen. Om naar de lodge te komen moet je een mooie tocht maken over een bergweg. Tijdens ons verblijf was er regelmatig sneeuwval maar werd de weg goed schoongehouden. Het uitzicht en de rust zijn adembenemend. De skigebieden zijn binnen 10 minuten te bereiken met de auto.
Ralf
2015-02-07T00:00:00Z
Tipo de Acomodação
Casa/apto inteiro
---
Tipo de Imóvel
Apartamento
---
Acomoda
6
---
Quartos
Mühlbach, Salzburgo, Áustria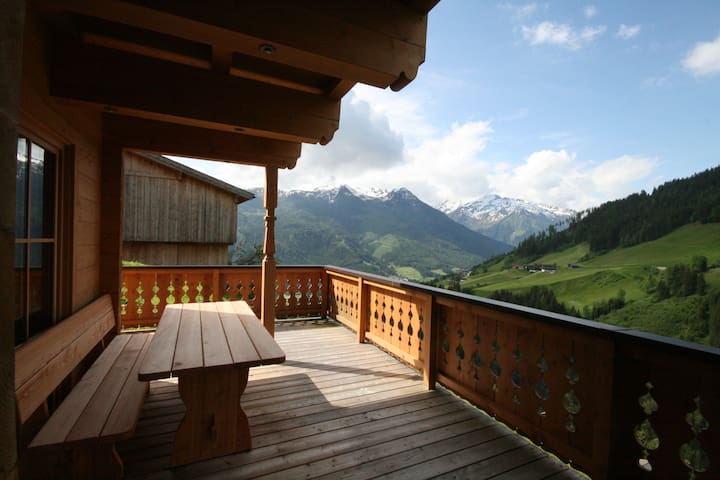 Kitzbühel Alps - Airbnb
:
Média de

4.58

de

5

estrelas, de acordo com

43

avaliações de hóspedes
Insira as datas para ver o preço total. Taxas adicionais serão aplicadas. Impostos podem ser adicionados.