Great getaway on the road to Yosemite, Kings Canyon National Park and Sequoia National park. Great midway point between Los Angeles and San Francisco. Private detached room, with King size bed adjacent to home. Private entrance to guest room.
Private bed and bath in nice neighborhood. Great access to National Parks.
Quaint Swedish heritage make up Kingsburg. Great downtown and "Mayberry" type feel.
The room was just as pictured. It was our first AirBnB Experience, and definitely a great one! Cheri was quick in her responses. The room was great! It was clean, had its own bathroom, and had a separate entrance from the house. She had towels, extra blankets, and basic amenities for us. She even had fresh fruit and a couple bottles of water in the fridge ready for us! I will definitely look for this listing again, the next time I am in the area
AMY
2016-07-25T00:00:00Z
Couldn't have asked for a better place! Everything about this place was wonderful! Cheri was amazing, location was beautiful and for those travelers who forget items don't worry she can read a travelers mind! She has an amazing set up! Loved it! And she also has a book that tells you what places are good to eat and see! Too bad my husband and I didn't see it until after breakfast! This place is way better than any 5 star hotel!
Eva
2016-10-16T00:00:00Z
Cheri's place was just about perfect for my trip up to Kingsburg. Clean, organized, and very straight forward. She was quick to respond and gave me good privacy(you have your own entrance for the room and it is separate from the house). Fully stocked on towels, toiletries, comfortable bed. There's also a coffee machine in the room and a mini fridge with water bottles. Quiet neighborhood and short distance to gas stations, super markets, parks, and pharmacies. She came out to greet me as I left and she was so sweet to hand me some fruits that I could have on the way back. I never had to worry about finding parking space either. Beautiful home! I'd gladly give her place 5 stars for my experience and I will definitely be back!
Elianna Inae
2016-06-26T00:00:00Z
Thank you Cheri for letting us stay at your place. Cheri's place is very clean, has all the amenities you need for your stay and close to the national parks. Responds quicklyto your messages. Will definitely be staying at her place whenever I'm in the area.
Anne
2016-10-23T00:00:00Z
This has to be the BEST place EVER!! I felt like I was at the Ritz! WAY better than I could have ever imagined!! Unfortunately I didn't get to meet Cheri but I can tell by how amazing her place is, she has to be amazing too! Thank you for such a great nights sleep in your beautiful place!
Kelly
2016-08-31T00:00:00Z
We had a great stay at Cheri's Casita! It was all we needed for a quick getaway. The location is convenient for site seeing and the neighborhood is peaceful. I would definitely recommend this place for Airbnb-ers.
Benjamin
2016-05-31T00:00:00Z
Wonderful place! So cozy, clean and just perfect! The host is great and you feel welcomed. What can be better)) You have a lot of privacy as it actually a little guest house. The district is nice and quiet not far from the Sequoia Park. We really enjoyed our stay and would recommend it to every traveler to have good rest in this beautiful place!
Natalia
2017-03-26T00:00:00Z
If you are looking for a pleasant, quiet, clean, comfortable & private feeling place, this is it! Cheri is friendly and helpful. We enjoyed our second stay even more than our first.
Liz
2016-12-26T00:00:00Z
Tipo de Acomodação
Quarto inteiro
---
Tipo de Imóvel
Casa
---
Acomoda
2
---
Quartos
Kingsburg, Califórnia, Estados Unidos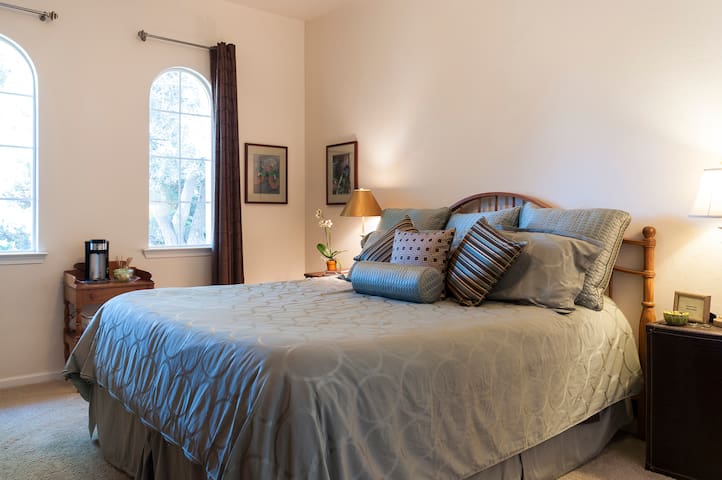 This is the King Bed and is a very comfortable! When the shades are closed you can really sleep in.
We are excited to open up our home to guests who want to experience the Central Valley. We live in Kingsburg, CA. which is a wonderful Swedish town with a lot of history. The nice part about living where we live, is that we are an hour away from the mountains, a little farther to Yosemite and only 2.5 hours from the Coast. We can accommodate up to 4 people. One guest room has a queen size, which is this room, very comfortable bed and the other guest room has a trundle bed. Each room sleeps 2. You would have access to your own guest bathroom and full use of our kitchen. In the warm part of the year, we have a built in swimming pool for you to use as well.
This was our second airbnb stay but it's one we will never forget! Jeff and Krista are such nice people. Their house feels like a real home. We could use the pool, got coffee in the morning and had some interesting talks with the hosts. Krista even gave us tips and advice for our dinner, our hiking in Sequoia,... They are natural born hosts who will do everything to give you a good stay. Everything is super clean, cosy and at ease. We already miss their dog Max :-) We will definitely recommend this place to everybody!
Ellen
2015-07-11T00:00:00Z
Krista welcomed us very warmly and we had a nice chat with her. Everything was very clean, the coffee perfect in the morning and their dog max is really lovely! Thanks for everything
Alex &
2014-09-18T00:00:00Z
The stay at Jeff & Krista's house was awsome. They were really kind and the house is amazing. The pool is also incredible. And finally the bed was really really confy. What a shame that we coudn't stay more. I recommend this place 100%!!
Marc
2014-09-23T00:00:00Z
Our hosts were very welcoming and friendly, and the room was well prepared. Their Boxer dog was also very friendly and happy to meet us strangers. We elected to stay on an extra night, which was accommodated without difficulty. This very nice house is on a quiet estate in an out-of-town location, and although it is quite new, an up-to-date GPS map should find it OK. Definitely recommended!
Keith
2014-04-02T00:00:00Z
Jeff & Krista were excellent hosts. We felt very welcome in their home. The property is very nice and the bed in our room was very comfortable :) We were fortunate enough to share dinner with Jeff & Krista, and another airbnb guest in the home, which was lovely. We would love to stay here for the next World Ag Expo!
Claire
2016-02-11T00:00:00Z
Jeff, Krista and Max the dog are absolutely awesome. We had a great stay in their house during our trip to Yosemite. The house is very clean, and you get great value per money. We enjoyed relaxing at the pool after long trips we had, and we got a recommendation to restaurants and anything we needed. Definitely will stay again in Jeff and Krista house. Recommended.
Raya
2015-09-15T00:00:00Z
It was a wonderful stay, albeit too short! our hosts Krista and Jeff were vey pleasant. Their hous is amazing! AirBnB is the way to go! Thank you, and we hope to see you in Europe!
Francois
2014-02-17T00:00:00Z
Only my second Airbnb lodging experience (still a Rookie in Camp), but I think I'm committed to it near-exclusively for out-of-town travels. Krista was the quintessential hostess and more so because Jeff needed to work later than anticipated. She and I chatted like we were friends catching up on a reunion as I ate the late lunch I'd brought with me and had stored in their refrigerator. They have transitioned their Empty Nester home (both sons now building own lives, youngest having secured gainful employment and future bride in my beloved Boston, Mass.) admirably into its new role as Open Nest for Wayward Bicyclists (from my perspective, anyway) and Other Intrepid Travelers. My carbon fiber companion was nestled safely in their spacious garage and also got a good night's sleep as it performed better than its rider (as it always does) at the Blossom Trail Ride in neighboring Reedley next morning. So apart from storing my food, securing my bike and being good company at lunch, Krista ensured I had directions to Kingsburg's best pasta house for my ritual pre-ride carbo-load later that evening and that the wifi was working properly, a diligent den mother extraordinaire! She will request you write a little something in the guest book and she is building a photo album of guests, so make sure to tuck in your shirt and stand up straight in the requisite spot in the living room. While I was in the area for a specific purpose, you other Travelers may be here as gateway to Sequoia or Kings Canyon, but if Kingsburg is your resting spot for a day or two (there was another room in house for a fellow cyclist that will be utilized next time!), I don't think you can do much better than finding your way into the Bonner's 23rd Court cul-de-sac. Bonne Route!
Brad T
2014-03-02T00:00:00Z
Tipo de Acomodação
Quarto inteiro
---
Tipo de Imóvel
Casa
---
Acomoda
2
---
Quartos
Kingsburg, Califórnia, Estados Unidos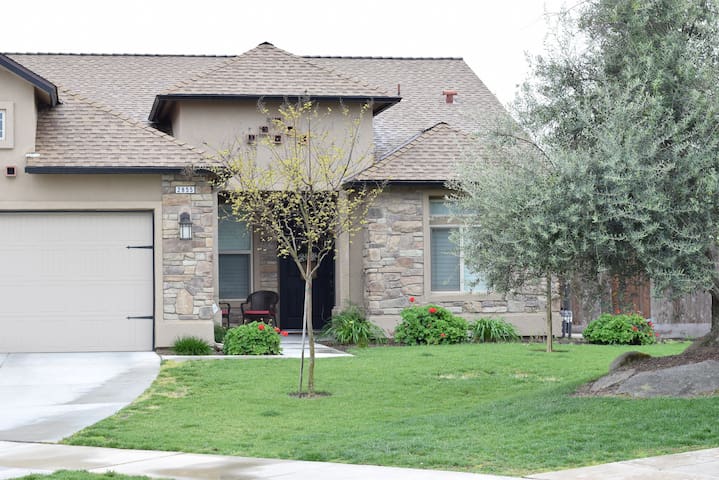 Our bungalow is located in the heart of the central valley of California near the Swedish town of Kingsburg. It is a beautifully appointed one bedroom with full kitchen, laundry facilities, surround sound DVD, and wi fi. We look forward to seeing you
Great business travel spot for those working the central Valley.
Chad
2017-02-16T00:00:00Z
Best Airbnb experience so far! Great location, very comfortable, and has everything you need & then some. Craig & Hope go above & beyond. Ask & you shall receive. They greeted me when I arrived, offered me a bottle of wine & made me feel at home the entire time. I definitely plan to return! If you are looking for a place to stay in the Central Valley of California, this is your home away from home. No need to look anywhere else!
Tiffany
2016-01-25T00:00:00Z
We love this little cottage. It is very clean and comfortable. Not big but fully functional. Mr. Craig was also very helpful when we checked in. Plus, it is a real farm, walking around in the morning, breathing the fresh cold air was amazing...
Oremine
2016-11-22T00:00:00Z
This was the perfect accommodation and place for us to visit after the hustle and bustle of LA. Both Craig and Hope were very welcoming and went out of their way to provide for us. Their home has all the home comforts and is very clean and lovely. I would highly recommend this Air BnB.
Maria
2016-03-25T00:00:00Z
Craig made me very welcome from the time requested the booking to him meeting when I arrived later in the evening to give me the keys and show me around. The casita looks just like in the photos and as clean as in the photos. The kitchen has a pantry that has some condiments and there is a full set of dishes, so really can cook for yourself. I liked the rural setting.
Jill
2016-10-26T00:00:00Z
We had a business associate stay in the space while working in the area. He was very impressed. We would definitely rent this clean and private "bungalow" again. Craig was very welcoming and accommodating. Thanks for the stay!
Jaclynn
2016-02-12T00:00:00Z
We had a wonderful time at Craig's place. Craig was very welcoming and very good at making sure that we were enjoying our stay. The property is very peaceful and we slept very well there after spending most of our days in the parks. Kingsburg is also a charming town. We highly recommend this place :)
Jose Daniel
2016-09-16T00:00:00Z
Craig greeted us the moment we arrived. The property is immaculate with a nice green lawn that our 2 yr old son adored playing on. Craig gave us a tour of the bungalow and made us feel right at home. We had all the amenities of our own home plus all the stone fruit we could eat-fresh picked nectarines, plums and peaches. The bed was comfortable and we slept great, the AC worked great and we stayed cool. The shower was awesome and the tub good for our son. We were so comfortable. My son loved sitting on the old tractor and exploring the property. They have a neat old Barn that they also Airbnb filled with cool antiques, a big dining table and a little patio that would be perfect for a small event. We had a great time and really enjoyed how warm and easy going the Rowleys were! Thank you!
Katie
2016-06-27T00:00:00Z
Tipo de Acomodação
Casa/apto inteiro
---
Tipo de Imóvel
Casa
---
Acomoda
5
---
Quartos
Kingsburg, Califórnia, Estados Unidos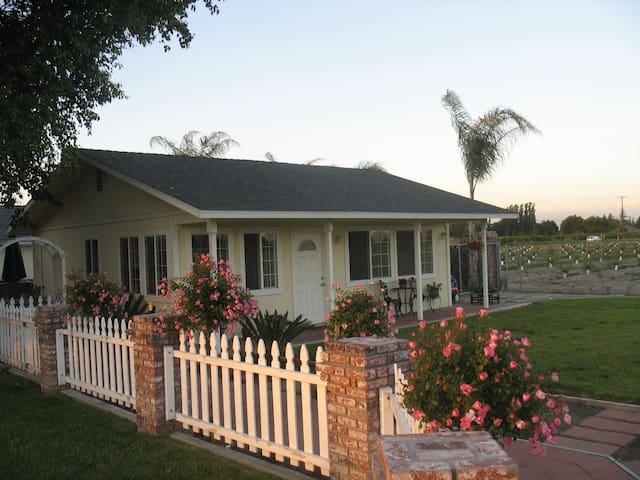 Kingsburg - Airbnb
:
Média de

5

de

5

estrelas, de acordo com

152

avaliações de hóspedes
1

–

3

de

3 Casas para Alugar
Insira as datas para ver o preço total. Taxas adicionais serão aplicadas. Impostos podem ser adicionados.