We live 5-7 minutes walk from the beach (1 minute by car) and have a cozy and spacious 2 story apartment with a large balcony that views natural green fields. We think it's a perfect location since it combines living in nature with all the urban goodies! The large kitchen includes dishwasher, microwave, oven, coffee machine and waterbar.
Cozy and full of light 2-story apartment by the beach and by the National Park. The house is in the north-est street of Herzliya, meaning it literally sits on the fields, quiet and green, 5 minutes walk from Apollonia National Park as well as the beach. The house is in a very quiet and private street & still its close to everything. Lots of space in the house and outdoors, you're welcome to feel at home and enjoy beach life.
The neighborhood is located on the beach side and by Apollonia National Park. 5-7 minutes walk to a gorgeous beach (1 minute by car), 5 minutes walk to the National Park, 3 minutes walk to cafes and restaurants and a grocery shop, 7 minutes drive to the resturants and bars of Herzliya Pituach and lots of take away/delivery options. 15 minutes drive to Tel Aviv
Tipo de Acomodação
Casa/apto inteiro
---
Tipo de Imóvel
Casa
---
Acomoda
10
---
Quartos
Herzliya, Distrito de Tel Aviv, Israel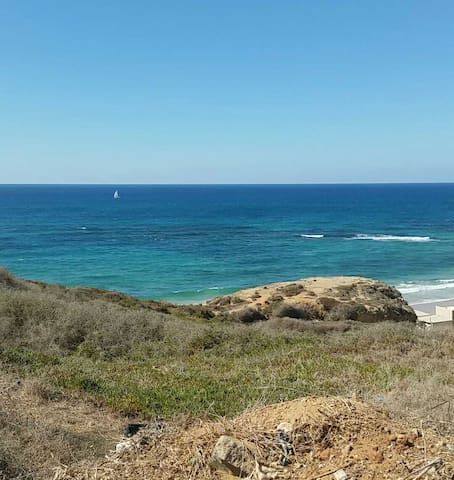 Atypical house with a large living room and a very high ceiling. A 10 minute walk from the beach of Sharon is located in the center of Herzliya Pituach. Perfect for family vacations.
Tipo de Acomodação
Casa/apto inteiro
---
Tipo de Imóvel
Casa
---
Acomoda
10
---
Quartos
הרצליה פיתוח, 1, Israel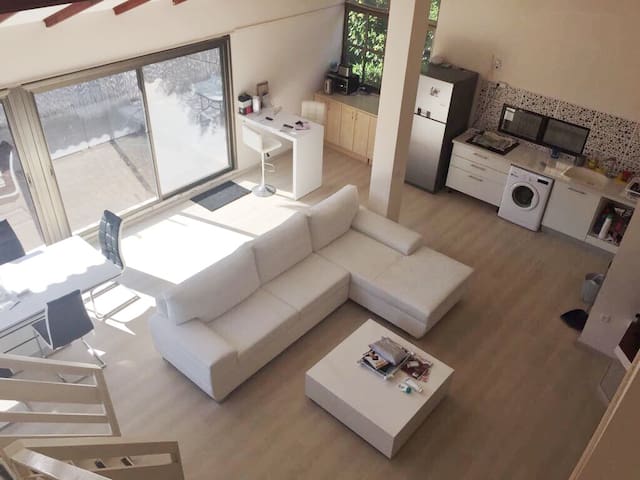 Lovely home near the beach and the touristic area. 10 minutes walk to the sea and the restaurants area. Big private garden with barbecue. Comfortable and suitable up to 5 people.
My property is located in front of a beautiful green area, several minutes walk to the beach and a shopping mall
We were stayed at "country style home near the beach" for 1 week in early September. Apartments are located in the best area of the coasts of Israel - Herzliya Pituach. The better place to rest is hard to found! Oved house is located in a quiet quarter, luxury villas, to the beach 10 minutes leisurely walking, 20 minutes to the Marina. Ben-Gurion Airport 30 minutes by a car. Apartments are perfect! There is everything necessary for life: air conditioner, refrigerator, stove, bed linen and toiletries. Apartments are very comfortable. The interior is decorated with many paintings and antiques. The house has a garden where you can spend time in the shade on a hot day, and free parking next to the house. Oved was very attentive and friendly. All those wishing to stay in Israel - highly recommend this apartments!
Nataly
2015-09-17T00:00:00Z
Очень гостеприимный хозяин! квартира полностью соответствует описанию. Все было отлично!
Zoya
2015-08-22T00:00:00Z
Tipo de Acomodação
Casa/apto inteiro
---
Tipo de Imóvel
Casa
---
Acomoda
4
---
Quartos
Herzliya, Distrito de Tel Aviv, Israel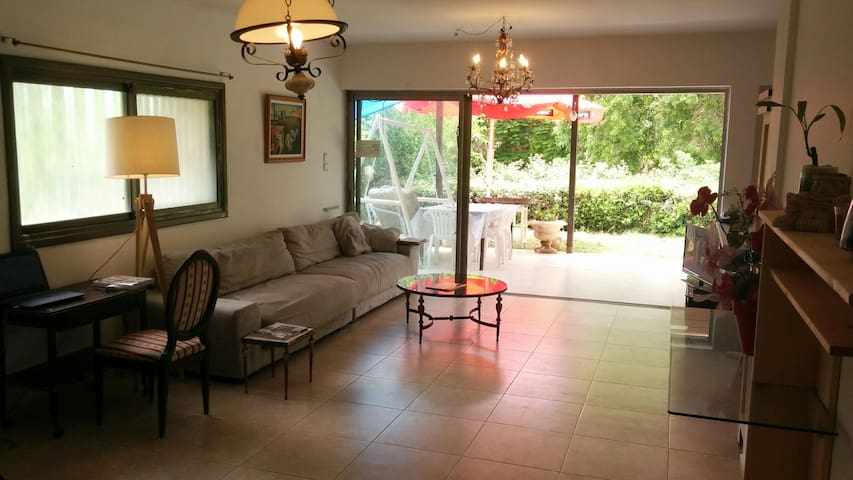 Host made us feel very comfortable, house is spacious and in a nice neighbourhood. not too far from the beach and near shops and nice public swimming pool. the hosts were helpful and supplied us with new kosher dishes as requested.
jennifer
2015-08-27T00:00:00Z
House located in prestigious and quiet quarter. All you need and more in 5 minutes drive. The host was really helpful and attentive.
Alexander
2014-01-13T00:00:00Z
Tipo de Acomodação
Casa/apto inteiro
---
Tipo de Imóvel
Casa
---
Acomoda
7
---
Quartos
Herzliyya, Israel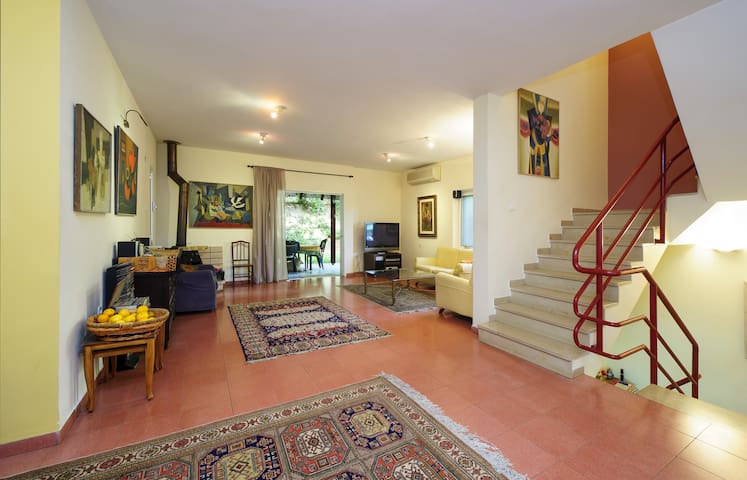 Beautiful roomy villa with a big backyard deck and a fully equipped outdoor bar, perfect for BBQ. Spacy leaving room with 2 lounge areas, equipped with surround sound system, flat scream TV and an HD movie's projector. 2 kids bedroom and 1 cozy master bedroom.
Our house will make you feel right at home from your very first step inside. Nice sitting corners both indoor and outdoor - on the front and back yards - make the perfect friendly environment for your vacation. The proximity to the beach (5 minutes walk) is great. We love it. We made sure that an outdoor fully equipped bar and a gas outdoor grill system will welcome you back after a day at the beach. Our house is a perfect fit for families. In the Kids bedroom you will find many toys/books for ages 2-13. We also have a cool tree house.
The house is in one of Israel's best neighborhoods, located right next to the beautiful Herzeliya beach. There is a very nice park 1 minute walk from the house, a 24\7 supermarket 2 minutes walk from the house and a synagogue 3 minutes walk from the house, a nice Italian restaurant 3 minutes walk from the house and some very cool beach bars and coffee places 5 minutes walk from the house. Specially during the summertime, there is a nice vacation atmosphere in the neighborhood. Everyone either going to or from the beach with bikinis and surfboards. In a close walking distance, you can reach Herzeliya's promenade and the hotels which are located along it. Directly across the street there is a small hotel, perfect if you'll have guests that want to stay close to you, during your vacation.
Tipo de Acomodação
Casa/apto inteiro
---
Tipo de Imóvel
Casa
---
Acomoda
6
---
Quartos
Herzliya, Distrito de Tel Aviv, Israel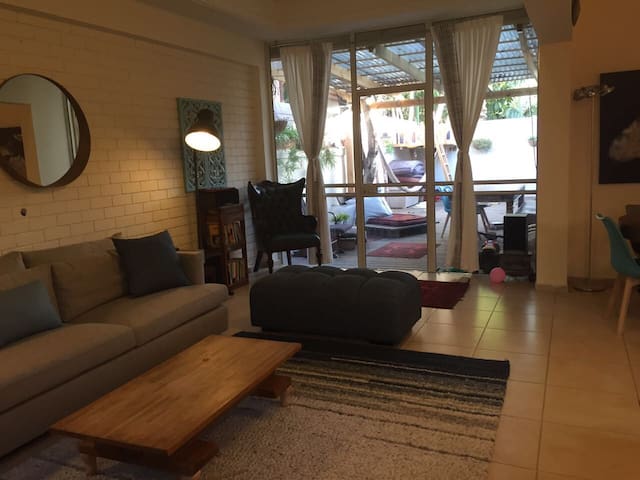 Nuestro hermoso apartamento con jardín recién renovado diseñado es 5 menta pie de la SAE, la ubicación es excelente, cerca de restaurantes cafeterías y centros comerciales. Es un 145m2 con un gran jardín. ideal para una familia. para las personas que aprecian el diseño!
la casa de Nir es hermoso, cómodo y muy bien situado. Es en alfa-numéricos Yam, una zona de moda de Herzliya Pituach. El jardín se abre hacia el Parque Nacional de Apolonia y 5 minutos a pie de la playa! Es un minuto de mínima casilla clave con dos increíbles cafés / restaurantes, una gran carnicería, y una bonita tienda de conveniencia que tiene de todo. Si usted ha visitado sitios famosos de Israel antes, este es un gran hogar para relajarse vacaciones en la playa. Si usted planea en hacer excursiones, que está situado centralmente suficiente para hacer excursiones de un día por todas partes! Se encuentra a 7 minutos de la autopista 2. Fuimos en excursiones de un día al mar de Galilea, el Mar Muerto, y Jerusalén ... cada vez asegurándose de tener un día local en entre porque nos encantó casa y local de la playa de Nir tanto. Él y su esposa era cálido y acogedor, siempre un montón de ropa de calidad agradables (algo inusual en Israel) y son super sensible a cualquier preguntas / necesidades.
-Numéricos Yam se encuentra al norte de Herzliya Pituach, con vistas al mar Mediterráneo. (Website hidden) _Pituah
Nir is a great host, who checks up often making sure that everything is in in order. He also gave great local restaurant recommendations. the apartments is very spacious and well appointed and the terrace with the garden is fantastic with the sun out! many thanks!
Dmitry
2015-06-18T00:00:00Z
Absolutely beautiful house, so artfully designed and in a location right near the beach and a wonderful cafe. Plus exceptionally helpful hosts.
chris
2015-11-01T00:00:00Z
Very nice, charming & cosy house, with a real soul. Nir and his family were very welcoming and helpful and we really felt a home. We also loved this part of Herzlya closed to the wild Apollonia beach.
Veronique
2015-09-21T00:00:00Z
I grew up in Israel so it's hard for me to review without being biased. Staying at Nir's place is like going back in time to an innocent Israel of the 1970s that is hard to find. The neighborhood is not glamorous or anything, tough a few steps from the most expensive area in Israel. It is quiet, family oriented, 5min walking distance to Sidni Ali, my favorite beach growing up, and 1min from two great coffee shops that also serve breakfast and lunch. Not to mention you have Apollonia national park right next to you ,what a gift! Maybe Nir mentioned it or not, but there is plenty of parking at the back side of the house, which is a real advantage considering parking space in Israel...
Ofer
2016-06-10T00:00:00Z
I selected this flat based on the comments and I think that we were not lucky at all. In general, my comments are very good and my objective here is not to settle accounts but to be objective for the following travelers in order them to get a clear idea. This is the reason why, I'm going to ask you some questions and according the answer that you could provide, you could book or not. 1-Is it acceptable to sleep the first night in dirty sheets with hair inside and suspicious tasks and a very bad smell? 2-Is it acceptable when you paid more than 6000e to find dirty socks under the bed? 3-Is it acceptable to pay 97€ for the cleansing and to lose the complete first day to wash everything, sheets, towels, bathroom… because apparently the cleansing has not been done correctly. 4-If you select this flat for the pool and pay more than 6000€, Is it acceptable to have the swimming pool usable for only one day on 14 days past and to prohibit the pool for his children? 5-Is it acceptable to receive a sms saying that we have to have a compensation for it and the host became a ghost? 6-If you select this flat for the garden and pay more than 6000€, Is it acceptable to have the grass till the knee and to see your children afraid to go in the garden. 7-If you wish to wash your clothes, the washing machine works when it wants with several bugs during the programs. 8-Is it acceptable to let for 14 days his suitcases opened in the room because there were no places for clothes? 9-It could be happened everywhere but we had also 3 days without internet, difficult to organize vists and excursions. I have a strong experience with Airbnb and to be honest it was my worst experience. I guess and I hope that I was not lucky and that we accumulated the bad points and I hope that it will be better for the others travelers. If you don't mind about all these points don't hesitate to book this flat, it's very well located, quiet but for me according to the quality of the services, the rate is not worth more than 50 – 60% of the price even if Herzilyah is really expensive.
Nathalie
2016-08-01T00:00:00Z
You will enjoy a spacious, beautifully designed apartment located right next to the beach. A perfect home for a family vacation. Nir and Orit are truly lovely and welcoming hosts- thank you!
Diana
2015-05-12T00:00:00Z
the house is beautiful and Nir and his family incredibly welcoming. we loved our stay - amazing home, great garden, lovely neighbourhood, near the beach.
Rachel
2016-07-10T00:00:00Z
The house is beautiful and very well furnished. Nir and his family welcomed us very well and were always available to give us advices. We spent lovely holidays in this house.
Sonia
2015-08-16T00:00:00Z
Tipo de Acomodação
Casa/apto inteiro
---
Tipo de Imóvel
Casa
---
Acomoda
6
---
Quartos
Herzliyya, Distrito de Tel Aviv, Israel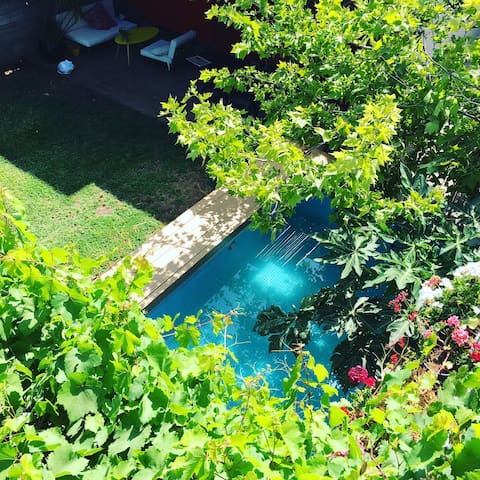 My place is close to all beautiful beaches of herzliya, , the airport is 30 min by car, you can get easily to public transportation. . You'll love my place because of the outdoors space, the comfy bed, the light, the neighborhood is Quiet and pleasant, there is a Small commercial center where you can get your laundry done, enjoy a delicious coffee and eat healthy food. My place is good for couples, solo adventurers, and business travelers.
Tipo de Acomodação
Casa/apto inteiro
---
Tipo de Imóvel
Casa
---
Acomoda
2
---
Quartos
Herzliya, Distrito de Tel Aviv, Israel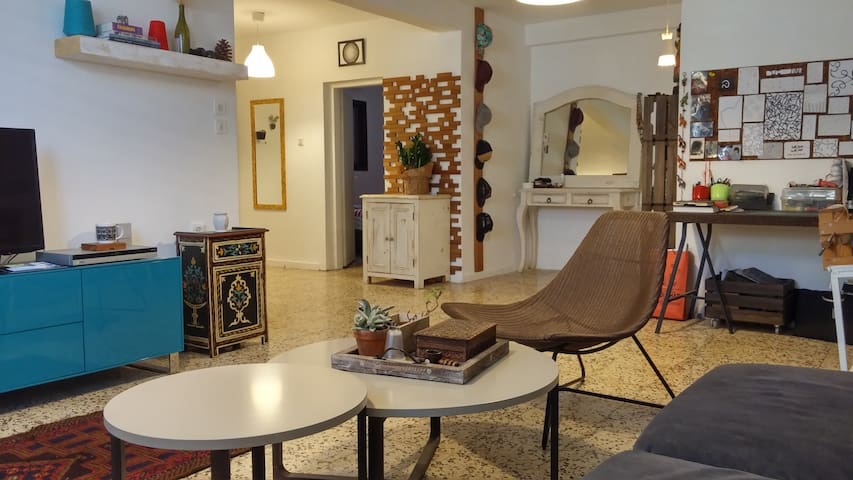 belle maison de vacances avec grand jardin sauvage et à 25 mètres de long piscine. surplombant la mer, à quelques pas en bas de la colline. grands espaces de troènes avec une maison spacieuse avec trois grandes chambres, un grand salon et une grande grande cuisine qui a tout ce qu'il faut.
Arie was a good host and tried everything to make our stay as cosy as possible. We could postpond our stay by one day withaout any problems and the check-out time was very relaxed. Sadly, but as Ariel convinced us, it never happend, the place was partly (kitchen and bathroom) dirty at our arrival. The dishwasher was not emptied and the dishes were dirty. Furthermore the house is a bit run down and could profit from some small renovations, eg. new paint on the wall and new curtains. Besides these problems, that hopefully are a once in a livetime mistake, the garden is beautiful and the pool is great. The kitchen is very well equipped. The beach (not a legal beach but butiful an d lonely) is about 15 minutes away.
Michael
2016-10-14T00:00:00Z
Stayed for 5 days in August, had a wonderful time overall. There was plenty of room for all 8 of us in the house. Kitchen is fully equipped with proper cooking area, stove grill etc. Pool is the best part. We were in it all day long, part of it was shaded. There is no baby pool whatsoever so keep a close eye on the kids.
Yair
2016-08-11T00:00:00Z
We had a great stay! The pool is amazing and the garden is beautiful! Ariel was very helpful with everything we need! We have already recommended his place to all of our friends!
Brian
2016-08-19T00:00:00Z
בית מהמם עם אווירה רגועה ונעימה , בריכת השחיה מפנקת מאוד היה מדהים !
amit
2016-08-08T00:00:00Z
Our vacation was great, the house looks exactly like the photos. The pool is beautiful, the garden is peaceful and the kitchen is fully equipped - we had great meals together. Ariel was very responsive and helpful with his answers. We are already planning our next visit to this great place.
Talya
2016-10-25T00:00:00Z
Ariel was a great host, and the place was fantastic... Every bit as good as it appears in the pictures.
Joel
2016-08-30T00:00:00Z
Ariel is great host, very responsive and helpful, the house is great, 5 min walk from the beach and has a beautiful pool and all the facilities
Liron&Marina
2016-06-13T00:00:00Z
This house is a piece of heaven. The peace and quiet, the huge garden and a perfect pool. We were there only 3 nights and felt we returned from 2 weeks vacation.
Omer
2016-08-23T00:00:00Z
Tipo de Acomodação
Casa/apto inteiro
---
Tipo de Imóvel
Casa
---
Acomoda
10
---
Quartos
Arsuf, Israel, Israel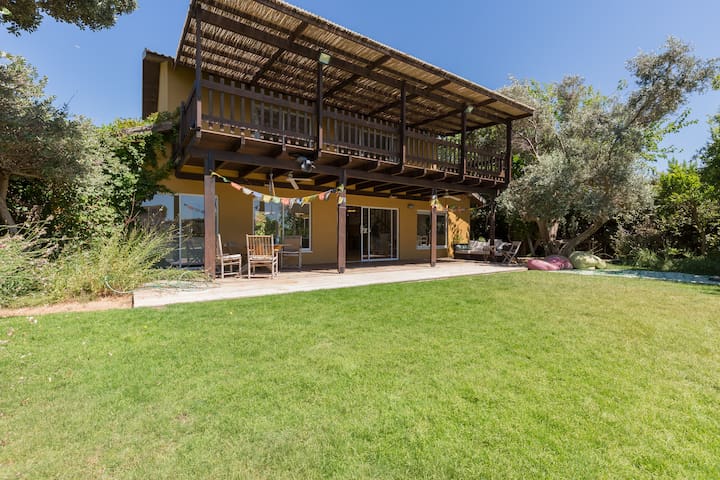 30 mètres d'une grande unité de logement et une rénovation de qualité. Rez-de-chaussée avec coin privé entrance.a avec micro-ondes et un réfrigérateur. Pas de cuisine. Les parents vivent à l'étage. Près de la ville des centres commerciaux, et HERZLIYA superbe plage. Wifi est un peu lent parfois, mais généralement pas de problème
l'emplacement, le quartier tranquille et l'hôte extraordinaire!
les gens tranquilles et amzaing.
The place is great, super nice, clean, good location, Itai was very nice and quick to answer and help. We will surely recommend to friends and family.
Liana
2016-11-20T00:00:00Z
My week at Itai's studio was good it's close to town and the studio was practical and didn't lack anything I would say It was far better than advertised
Stefan
2016-06-13T00:00:00Z
Although I came very late in the night (or early in the morning 2:00 am) Itai left the key of the appartment in the letterbox. The explanations given to find the place were helpful. It is a very quiet place, no noises and I could sleep very well. Itai took care of placing Mineral water and milk in the fridge and there was coffee, sugar, tea and Cookies to allow me to have a morning coffee after my first night. There were sufficient towels and also Soap and shower gel available. What I did not like at this place is that there is no window or balcony to sit outside. I also have a walking problem and the next bus Station (No.8) is not well desserved which means I had to walk around 800 m to reach other busses.
Marie-Andree
2015-12-06T00:00:00Z
Itai and his family are fantastic hosts. Nothing is to much trouble, home made biscuits each week with sheets and towels washed regularly. Quiet, safe neighborhood, close to everything.
Patrick
2016-07-31T00:00:00Z
Place is great, location - perfect. Itai was extraordinarily hospitable and helpful. Very much appreciated the great conversations too! Definitely be back again.
Yaron
2016-02-25T00:00:00Z
The arpartement is in a nice, quiet neighborhood. Small place but totally big enough for one or two people. Clean bathroom, TV and air condition worked well. Good connection to the owners, which live above and welcome you with tasty homebaked cookies! All in all a super price for the location and size of the place! Thanks a lot Itai + family
Christoph
2015-10-19T00:00:00Z
The place was clean, with a comfortable bed, shower, fridge, and everything needed.
Galia
2016-05-29T00:00:00Z
I would simply say that it been wonderful experience from first moment to the last moment. Place is great, location - perfect. Itai was extraordinarily hospitable and helpful. Very much appreciated the great conversations too! Definitely be back again.
Yaron
2016-02-05T00:00:00Z
Tipo de Acomodação
Casa/apto inteiro
---
Tipo de Imóvel
Casa
---
Acomoda
1
---
Quartos
Herzliyya, Distrito de Tel Aviv, Israel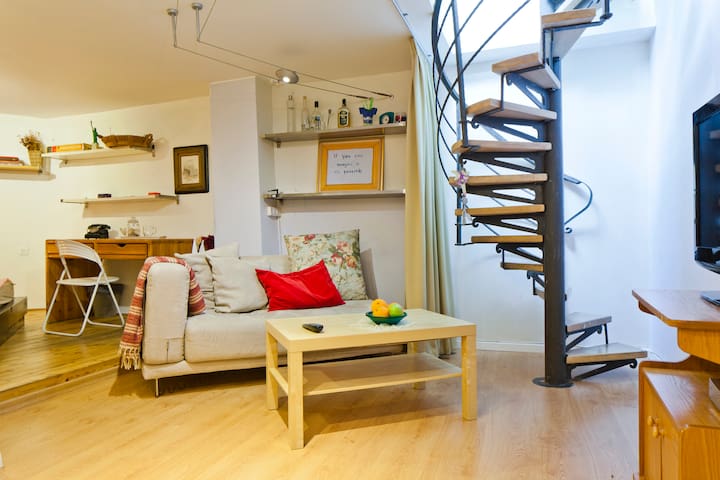 Notre maison est un doux, élégant cottage avec un beau jardin, qui donne les meilleurs mangues et beaucoup d'autres fruits La maison est spacieuse, entièrement équipée pour votre confort, avec une cuisine étonnante et agréable coin salon in & out Il se trouve dans un st tranquille Il est à 2 km d'une plage à couper le souffle, à 2 km de la vie nocturne et le restaurant (haut de gamme à occasionnel), à proximité des transports en commun, train (10 km à Tel Aviv) et centre commercial st & centres commerciaux Couples, familles, amis et hommes d'affaires aimeraient qu'il
Tipo de Acomodação
Casa/apto inteiro
---
Tipo de Imóvel
Casa
---
Acomoda
4
---
Quartos
כפר שמריהו, מחוז תל אביב, Israel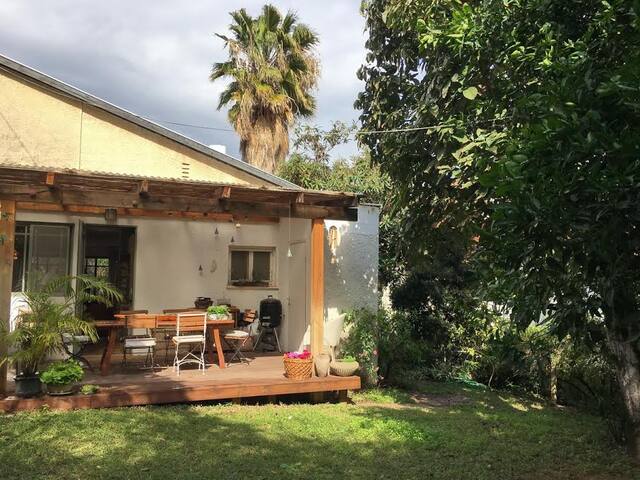 Near to sea stoning villa new 2016 with all luxuries included marble everywhere swimming pool heated and covered jacuzzi for 5 steam sauna dry sauna grill barbecue and outdoor kitchen elevator smart home full with audio video control quiet street 5 min walking to marine and sea fully furnitured
Very quiet street near the beach Private villa
Tipo de Acomodação
Casa/apto inteiro
---
Tipo de Imóvel
Casa
---
Acomoda
14
---
Quartos
הרצליה, מחוז תל אביב, Israel
My place is close to the beach, restaurants and dining, and family-friendly activities. You'll love my place because of the outdoors space, the ambiance, and the neighborhood. My place is good for families (with kids).
Tipo de Acomodação
Casa/apto inteiro
---
Tipo de Imóvel
Casa
---
Acomoda
5
---
Quartos
Herzliya, Distrito de Tel Aviv, Israel
Our house is private villa in herzliya pituach with a beautiful garden and a pool. It is a very quiet and spacious place only 10 min walk from the beach , family-friendly activities, nightlife, public transport. You'll love my place! the neighborhood, the light, the pool, the piano, the coziness, the comfy bed, and the kitchen. My place is good for couples, and families (with kids)
The house is a lovely, spacious place with a lot of magic, It has 2 bedrooms – a master bedroom and 1 children's room. There's a main open big living area which includes a seating area, kitchen and dining area +piano and one mote room with apiano that we use as a working space. There is an LCD tv, cable television, wireless internet access. The kitchen is equipped with an oven, a large refrigerator and freezer. the house have air-conditioning / heating. There is a lovely private garden with seating and greenery.
Tipo de Acomodação
Casa/apto inteiro
---
Tipo de Imóvel
Casa
---
Acomoda
6
---
Quartos
Herzliya, Distrito de Tel Aviv, Israel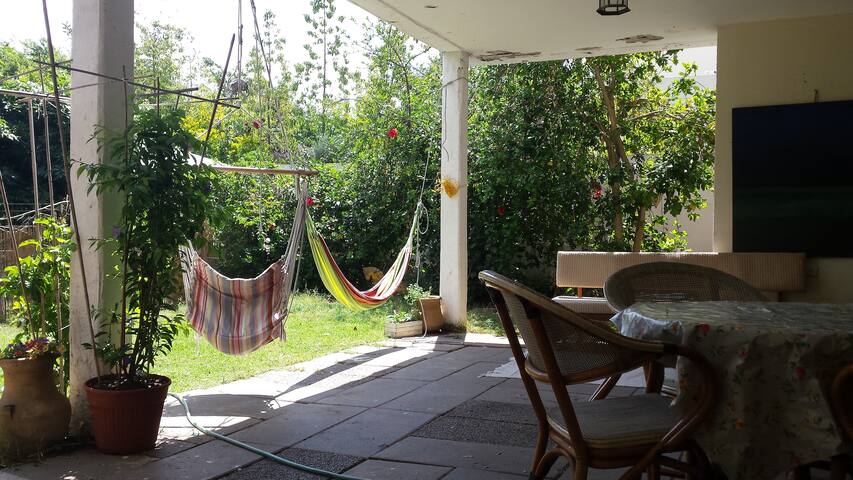 Our house is a great apartment for family with kids with a yard and trampoline. It's a leaving house with full equipment. The house located 6 min (by car) from train station , 10 (by car) from the beach , 15 min from Tel aviv , and 2 min from the center.
It's close to parks and running tracks
Lots of parks around.
Great apartment! nice garden, recommended for families with kids! Meizi our host was very kind. good location close to malls and main roads.
Ofri
2017-02-23T00:00:00Z
דירה מרווחת עם חצר, מומלץ למשפחות עם ילדים, אהבתי שגרנו בדירה שחייה בה משפחה עם חפצים משחקים ועוד, אבזור מלא במטבח כולל מנגל, תנור וכלים. שכונה שקטה, סמוך לבית יש מגרש משחקים. מי שמגיע עם רכב יש חניה. קרבה לים לתל אביב. תודה למייזי.
vadim
2017-03-25T00:00:00Z
Dr Meizi's place is comfortable, really well stocked for cooking and for kids.
Yossi
2017-03-06T00:00:00Z
Very accommodating great location and we would stay there again
Joe
2017-03-14T00:00:00Z
We had a good stay for two nights at this apartment. The place is a larger-than-average Israeli apartment. The family left most of their belongings, which was fine for us but something for other guests to know. Overall, a fine place to stay for a few nights if you're visiting the area.
Lija
2017-01-29T00:00:00Z
It was definetly our faivorite airbnb place in Israel. Our kids love it because of plenty of space and many toys including trampoline. Very good communication with owner. Very good value for the money.
Maciej
2017-01-01T00:00:00Z
Our family liked this house, because it was near the centre and it was very comfortable!
Olga
2017-01-18T00:00:00Z
Tipo de Acomodação
Casa/apto inteiro
---
Tipo de Imóvel
Casa
---
Acomoda
6
---
Quartos
Herzliya, Distrito de Tel Aviv, Israel
De advertentie was precies zo als het er uit zag, een flesje wijn stond klaar ter verwelkoming. We werden verwelkomt door de zus van de verhuurder die naast haar woont. met alle vragen konden we bij har terecht. Wij waren de eerste huurders maar vele zullen volgen met deze service.
Anneke
2015-07-12T00:00:00Z
La maison correspond totalement à l'annonce, la situation est idéale pour la tranquillité, la ville reste très accessible à quelques minutes, l'espace extérieur est un vrai plus pour les enfants. Équipement comme à la maison, rien ne manque Bref soit pour y vivre soit pour les vacances c'est parfait
steeve
2016-08-19T00:00:00Z
Tipo de Acomodação
Casa/apto inteiro
---
Tipo de Imóvel
Casa
---
Acomoda
5
---
Quartos
Herzliyya, Distrito de Tel Aviv, Israel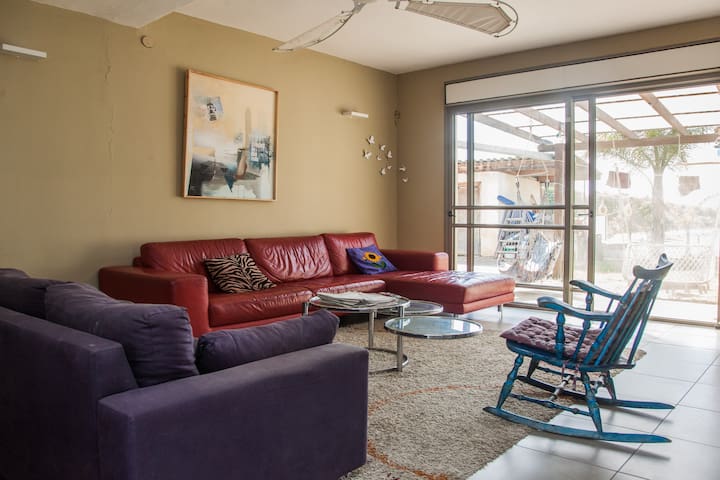 Charming garden house located a few minutes walk from: 1. one of the most beautiful beaches in Israel 2. great local cafe, restaurant, supermarket 3. nature reserve for walking, jogging & drives 4. 15 min drive from the vibrant, culture TLV 5. 5min walk to public transport to TLV 6. great views, garden, playground, historical Apolonia Park reserve. Great for couples, solo retreats, and families. There are a few cats visiting the garden and one super friendly cat living & entering the house
Tipo de Acomodação
Casa/apto inteiro
---
Tipo de Imóvel
Casa
---
Acomoda
5
---
Quartos
Herzliya, Distrito de Tel Aviv, Israel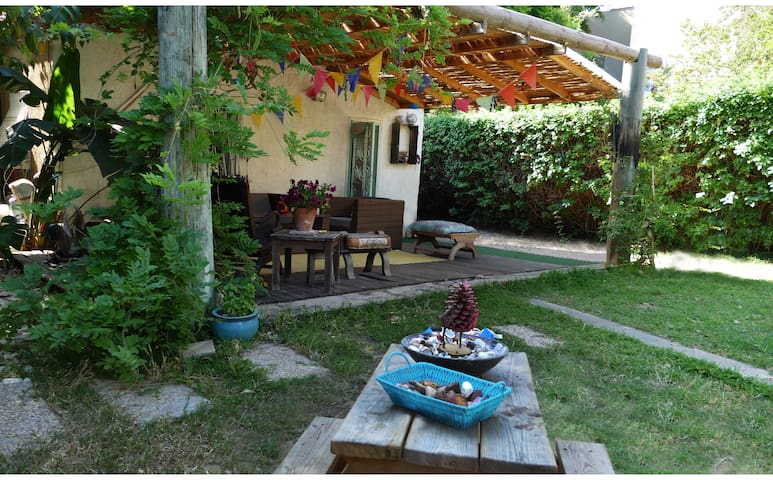 Rummelig familie hus med en enorm baghave, åbne udsigt til naturen. Accessorized køkken, træterrasse med en stor BBQ sted Perfekt beliggenhed, 10min gang til stranden, 10min kørsel til Herzliya og 20min til Tel Aviv.
Du vil få en hyggelig hjem, med en træterrasse & et sted for grill. Huset har en accessorized køkken, rummelig stue, trædæk, to store spiseborde (i og uden for). 4 store soveværelser og 3 store badeværelser. Det store soveværelse har eget bad og toilet og separted fra børnenes værelser. 3 store børneværelse har 4 senge: størrelse (PHONE NUMBER HIDDEN), og to (90x190) har 2 trække sig ud. Huset er omgivet af træer og natur med masser af naturligt lys.
What an incredible place Talia and Eldad have! Fully stocked house, very clean lines and rooms and terrific hosts. Children were playing out in the yard on the trampoline, tree houses and basketball court enjoying the lush, natural outdoors setting and the constant, cool ocean breeze. Walking distance to the beach and beautiful sculpture garden to boot. Really a great find and a great getaway from the crowds of Tel Aviv (but really only 15 minutes from the city if you would like to enjoy that too). Thanks for the stay…we will surely be back!!
Hila
2016-06-10T00:00:00Z
Very nice place, very nice host. The place is located in a quiet area, the house is lovely. Practically, we were there with 2 young kids (Talia and Eldad allowed us to access their kids toys which was very kind): the garden is nice but less organized than the house. Access to the beach is a bit far, we prefered to take the car and go to Hertzlia that was nearby (10 mn by car to Nof Yam the nearest beach). We enjoyed a great journey.
Lido
2016-07-22T00:00:00Z
We were visiting Tel Aviv for a family wedding and our stay at Talia's and Eldad's house was nothing short of incredible. The overall space was very accommodating for our group of 6 people. The amenities like a beautiful back garden area, air conditioning, ample space, and a close walk (10 minutes) to the beach make for an enjoyable stay. Furthermore, the personal attention we received made us feel right at home. If you are seeking a five star experience you have found it here.
Kevin
2016-08-27T00:00:00Z
The place is great! The house is spacious, comfortable and filled with light and warmth. The house itself is very cosy and fully equipped, but what makes it unforgettable and unique is the hospitability of Eldad and Talia. We stayed at their place for 8 nights, we were 5 adults and 2 kids. Everyone enjoyed his/her stay very much. The location is absolutely fantastic; it's close Tel Aviv, Herzliya, Shfaim, Raanana, Sharon area and etc; it's 10 minutes walk from the house to picturesque wild beach. The house is really dipped in nature and is surrounded by beautiful sculptures. Talia and Eldad are so kind hearted and nice people! We highly recommend their place.
Inna
2016-08-17T00:00:00Z
Eldad et Talia nous ont accueilli tres chaleureusement. La maison est superbe et le jardin magnifique:gan eden. Tout etait comme sur la description. nous reviendrons des que possible. merci encore pour leur gentillesse.
Jean marc
2015-10-22T00:00:00Z
Tipo de Acomodação
Casa/apto inteiro
---
Tipo de Imóvel
Casa
---
Acomoda
8
---
Quartos
Arsuf, Israel
perfect for a family holiday.3 Large bedrooms Located 5 Minutes walk to the Beach. large living room and kitchen, overlooking a beutiful garden. multi channels Tv. free wifi. 200 meter from the supermarket and easy acces to the main road .
The space was designed by the owner, an interior designer. The Space includes a living room, kitchen , family room and connected a large open and beautiful Area Of The House.The bathroom large and luxurious with bathtub and shower.3 spacious bedrooms . 2 bedrooms with double beds and a third bedroom with a bed and a half.A charming garden with a seating area and a shaded rest.
Tipo de Acomodação
Casa/apto inteiro
---
Tipo de Imóvel
Casa
---
Acomoda
6
---
Quartos
Hertsliya, Distrito de Tel Aviv, Israel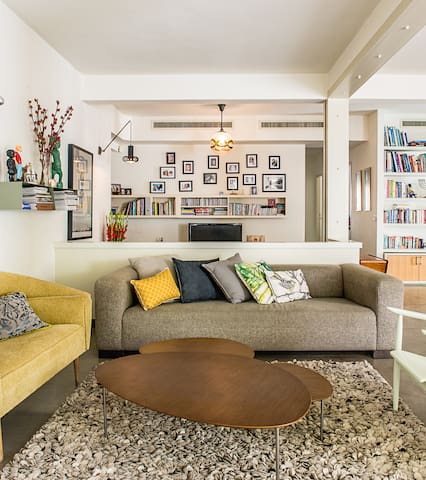 Kfar Shmaryahu - Airbnb
:
Média de

4.38

de

5

estrelas, de acordo com

68

avaliações de hóspedes
1

–

18

de

238 Casas para Alugar
Insira as datas para ver o preço total. Taxas adicionais serão aplicadas. Impostos podem ser adicionados.