An unusual experience is waiting for you! Historic 1890 bunkhouse refurbished in western style on a 7,000 acre working cattle ranch on Horse Creek, ten miles north of Ordway in Southeastern Colorado. Relax and hear the sound of silence, see the vastness of the plains and the planetarium nights. Witness the golden sun rise or watch its crimson fall behind Pikes Peak. Sometimes you can hear the hoof beats of Cheyenne ponies or grinding of wagon wheels on a Kit Carson wagon train. The spirits of th
An unusual and peaceful experience is waiting for you! Historic bunkhouse refurbished in western style on a 7,000 acre working cattle ranch on Horse Creek ten miles north of Ordway, in Southeastern Colorado. Relax and hear the sound of silence, see the vastness of the plains and the planetarium nights. Witness the golden sun rise or watch its crimson fall behind Pikes Peak. Sometimes you can hear the sounds of Cheyenne ponies or grinding wagon wheels. The spirits of the west are all around you. An unusual and peaceful experience is waiting. Spend your time doing absolutely nothing or explore the ranch and the area. Hike, bike, star gaze, bird watch, arrow head hunt, photograph, paint a landscape or hunt in season. Bring your horse and we will board it. Swim, fish or boat on two large lakes just 10 miles away. Day trip ventures out include historical sites at Bents Fort, Sand Creek Massacre, Bogsville, Amanche and the petroglyphs at Vogal Canon. Visit fascinating local museums and a plethora of valley antique stores. Have a beer at the Columbine Saloon in Ordway and admire the antique bar. Just have an unusual experience and a peace filled stay at Trainor Ranch.
Everything!!!!
William was a great host! The place was easy to find with GPS and he was there to greet us as we pulled in, along with his adorable dogs! The "BUNKHOUSE" is a beautiful place to stay and very comfortable. There were two of us and our dog and we felt like there was so much space! I highly recommend this place to anyone who is looking for peaceful quiet, big open starry skies, and comforts like home!
Heather
2016-10-22T00:00:00Z
Great place to stay. Everything was as described or better. Perfect for those looking to be away from the city. I would stay again. Was also well stocked and William was a great host.
Cody
2016-09-05T00:00:00Z
A great spot with beautiful birds right outside the house!
Angie
2016-10-09T00:00:00Z
Bill was an excellent host who made certain we had everything we needed. We had a serious emergency with one of our dogs and he was very helpful in finding a great vet as close a possible. The bunkhouse itself is very clean, comfortable, roomy and well stocked. The views of the prairie are amazing so make sure you have your camera.
Sherry
2016-07-24T00:00:00Z
Bill was great. We missed each other on our first day but we were able to meet and chat when we were packing up to leave. It is a great place to get away and enjoy NO CITY noises. The bunkhouse was great and we would recommend it to everyone wanting to get away from the city. The night we stayed there were thunderstorms in the distance. It was great to watch and enjoy the wonders of nature.
Jessie
2016-08-14T00:00:00Z
Bill was great and the dogs that come down by the bunkhouse to hang out occasionally are very friendly and love to accompany you on walks. The bunkhouse itself was very nice and recently renovated with plenty of sleeping spaces. The views are also gorgeous, and the stars at night are amazing. Great area outside for having a fire and socializing. We ended up having to change the sheets on one of the beds with a spare set we found, as they weren't entirely clean. But it was a relatively small issue. All in all, I'd definitely recommend this place for anyone looking to get away for a bit and would absolutely go back. I think it was a 45 minute drive to the nearest restaurant though so come prepared.
Jeremiah
2016-08-30T00:00:00Z
We had a fantastic time at the Bunkhouse. Bill was extremely friendly and courteous, and we enjoyed every minute of our time there.
Alex
2016-08-19T00:00:00Z
The host canceled this reservation 22 days before arrival. This is an automated posting.
Matthew
2016-11-10T00:00:00Z
Tipo de Acomodação
Casa/apto inteiro
---
Tipo de Imóvel
Bangalô
---
Acomoda
8
---
Quartos
Sugar City, Colorado, Estados Unidos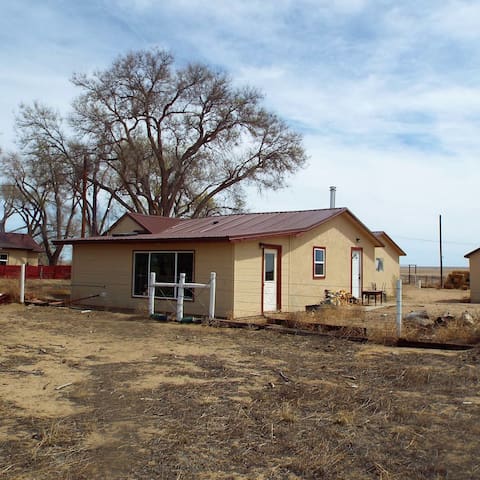 This room is the bedroom of the luxury suites, luxury decoration, modern design, fast WiFi free wireless Internet, living room with sofa, tea table, TV, refrigerator, carpet
The kitchen is equipped with an induction cooker, a hot water kettle, a tableware; The bedroom equipped with new bedding, bed, bedside lamp, bedside cabinet; Independent toilet, large space, dry separation, the configuration of the washing machine, the new change of towels, towels, central hot water 24 hours, let you feel warm and comfortable experience. Adjacent to the Plaza, CITIC Square, Westgate Plaza, Meggie theatre, a step away from the Wujiang road or street delicacy Shanghai center theatre is a 5 minute walk.
Tipo de Acomodação
Quarto inteiro
---
Tipo de Imóvel
Apartamento
---
Acomoda
2
---
Quartos
阿灵顿, Colorado, Estados Unidos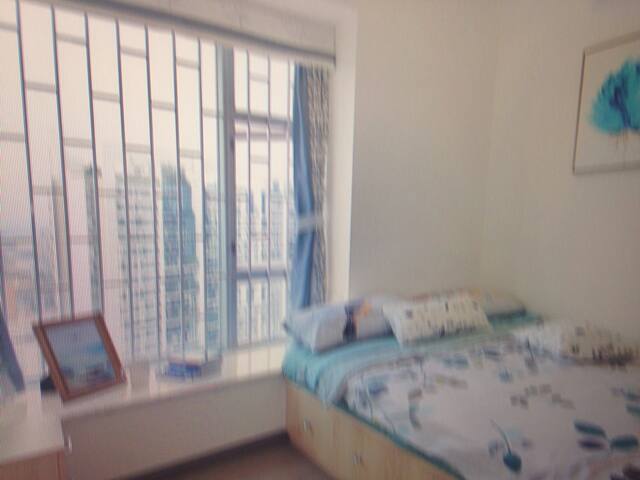 Welcome to Half Pint Ranch, located on the plains of Eastern Colorado and is home to dairy goats, cattle, chickens, sheep, donkeys, horses, dogs and cats. We offer two guest rooms with the two rooms sharing a bathroom separate from the main floor homeowners quarters.
From comfy beds with high quality bedding to great animal photo ops to the taste of homemade banana bread or scrambled eggs straight from the hens, our experience was TOP NOTCH. Pam is warm and a natural hostess. Their farm is comfortable and full of the sounds and sights of their beloved animals. It was a great learning experience to expose our city kids to country life and hear the stories of why the farm is their haven. We were welcomed and treated like family. The bedrooms we used were on a separate level with our own private bath, which was wonderful. We so enjoyed watching the goats frolic and only missed the birth of baby goats by one day. Snacks were generously provided as well as a healthy, well-rounded breakfast each morning. Note: The nearest food is a single Subway several miles away and then about 35 min. to many restaurants in Colorado Springs. We were able to watch the goats being milked, animals being fed, and the routine of fresh eggs being washed. The surrounding fields make for a peaceful, quiet respite from daily busyness, with gorgeous sunrises and sunsets.
V
2017-03-15T00:00:00Z
If you are looking for a quiet's night rest this is the place for you! Pam was really responsive and took me in on short notice. It is pretty remote but I really just wanted a peaceful stay and that's what I got. By the time I got there most things were closed and Pam shared her love of cooking with me and made the night after a 12 hr drive very relaxing. The farm is really charming and all the pups super sweet. Basically an animal lovers paradise! Pam and Andy were great hosts, would definitely recommend staying here!
Emily
2017-02-14T00:00:00Z
We LOVED this house! As soon as we drove up, we were greeted by Pam and her four very friendly dogs! She was very accommodating and offered drinks and snacks. In the morning, her husband scraped the snow and ice off of my car before we headed out! Great hosts, beautiful home! 10/10
Marisa
2017-04-04T00:00:00Z
In one word, awesome! We have certainly met some really good people in this country, Pam and Andy easily tops the list. Right from the word go Pam's hospitality was inspirational. The place is amazing. Very calm and serene, in the middle of nowhere ( well outworldly to us) and her animals are amazing. Sister is so smart and we loved the opportunity to see her and the rest of them, click pictures. Pam was so kind to chat with us, guide for directions and share general wisdom. Oh and the breakfast was just great! The trip could not have began on a better note and we would love to be back again just to meet Pam, Andy and the animals. We hope to see you again very soon. Avinash, Utkarsh & Zorin
Utkarsh
2017-03-11T00:00:00Z
Tipo de Acomodação
Quarto inteiro
---
Tipo de Imóvel
Casa
---
Acomoda
4
---
Quartos
Yoder, Colorado, Estados Unidos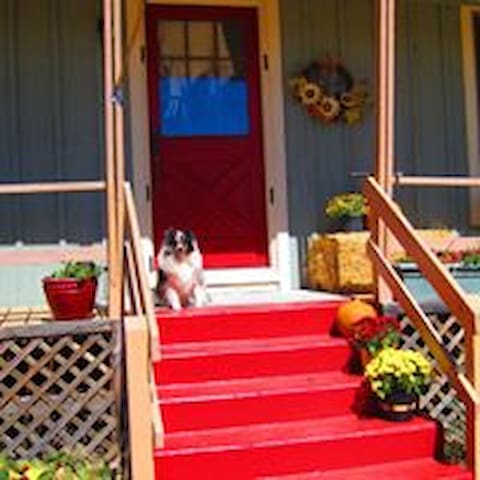 If you are interested in a quiet, nature filled location, Three Dog Night will not disappoint. Enjoy the lake vistas from the patio or take the walking trail to the lake. Lay on the hammock, sit on the dock, read a book, fish, or bird watch. Bring binocs and a camera. Feel free to bring a canoe or a paddle board. Although we would love to accommodate pets, we are unable to do so at this time.
The guesthouse is a beautiful, clean, private unit. It accommodates two comfortably. Accommodations include a queen size bed, twin sleeper couch, small refrigerator, sink, table, microwave, wi-fi, satellite. The guesthouse patio has two adirondack chairs and a Pawley's Island hammok.
Three Dog Night is in a rural area but not far from basic amenities. From the guesthouse, the Sugar City Cafe is approximately 1.5 miles, grocery and gas five miles.
Kiki and her husband and the dogs all greeted us warmly. It was nice to chat with them a bit and find out about the area and the history. They were happy to answer our questions. The 'beach house' was idyllic and peaceful, clean and comfortable. We couldn't have asked for a better place. Just wish we could have stayed a bit longer.
Elizabeth
2016-05-27T00:00:00Z
Kiki was a great host. The place was very nice and spotless. The view is beautiful and it's a dog friendly property. The location is very rural but has a few cafes within driving distance. I would stay here again.
Deborah
2016-06-02T00:00:00Z
This is a top-shelf airbnb in every way-magical, peaceful, graced with three mellow and loving dogs, a more than perfect host, a thoughtfully appointed and beautiful casita designed with a comfy bed for a great night's sleep, a roomy kitchenette with microwave, spacious bathroom and comfortable outdoor furniture and hammock for relaxing and taking in the lake view. Highly, highly recommend
Harrison
2016-06-22T00:00:00Z
Wow! What a wonderful place! Kiki welcomed us in and showed us around. We met the three lovely dogs, who came to say hi every once and awhile. The view and atmosphere here are breathtaking. Cannot wait to go back!
Connie
2016-07-02T00:00:00Z
Kiki was a wonderful host, helpful host who was always available if we needed her. The area was beautiful and serene and the listing was just as described, maybe better! We were so appreciative to be able to bring our furry son along with us too. The resident dogs are sweet and fun to watch play. Only one very minor issue with the TV which was promptly fixed. We enjoyed our 20 or so hours away from the crazy city and would not hesitate to visit again!
Erica
2016-05-02T00:00:00Z
Our stay was amazing we could not have asked for anything more. It is a beautiful oasis. Richard and Kiki are the nicest people and the perfect host.
Carolyn
2016-06-18T00:00:00Z
Kiki was very warm and welcoming! We had a wonderful stay and will definitely be back!!!
David
2016-11-06T00:00:00Z
We just spent a lovely three days at Three Dog Night Guest House. What a fantastic and relaxing setting. It was the perfect jumping off point to visit the Comanche Grasslands and John Martin Reservoir. The house itself was perfect for us, our son and two dogs. We were able to enjoy the grounds and the lake and did some fishing, kite flying and relaxing before and after our day trips. Kiki and Robert are fabulous hosts, very welcoming and warm. We were able to use the kitchenette to prep food for our adventures and brought our camp stove for cooking dinners. The guest house itself is very comfortable and beautifully furnished and decorated. We have a dog that doesn't do well with other dogs but were able to coordinate with Robert and Kiki so they weren't out and about at the same time. I highly recommend this little oasis on the plains.
Michelle
2016-05-31T00:00:00Z
Tipo de Acomodação
Casa/apto inteiro
---
Tipo de Imóvel
Casa
---
Acomoda
4
---
Quartos
Sugar City, Colorado, Estados Unidos
Our beautiful Ranch Style Home is a great way to escape the busy city lights for the stars. This beautiful 40 acres Ranch has incredible views from every window and is secluded giving you complete privacy. Great way to escape the busy city for relaxation. Also, a great place for artist of every type to work and get inspired! Find us on Instagram @TheJRBRanch
With 4 bedrooms and two bathrooms, a family of 10-12 will be comfortable. Living room has a TV with DVD player and fun board games for all the family. Kitchen is stalked with all the dishes, cups, pots and pans to enjoy a nice warm meal. Master bedroom has beautiful french doors that open up to a beautiful sight of Pike Peak. Also, the master has a huge tub for a nice warm bath. The house has a laundry room, dry bar and poker table, the entire family will be entertained. Our home and its location is perfect for all seasons. There are nearly sixty tourist attractions right in Colorado Springs. The outdoor activities are endless. Within minutes from hiking trails, mountain biking, and open spaces in unique to Colorado Springs. Fly fishing at Deckers, rock climbing at Garden of the Gods, Phantom Canyon and Turkey Rock are just a few of the adventures waiting to be experienced. Zip lines, rope courses, guided Jeep tours and train to the top of Pikes Peaks offer a more planned adventures for those visiting the area for the first time. Also, many great places to grab a bite and cute little shops like Poor Richard's Bookstore where you can find unique souvenirs.
The location of our home is convenient to the interstate. You'll enjoy sitting in the back porch watching the afternoon sunset and the beautiful stars. Home is secluded from the city, giving you peace, tranquility and privacy.
We loved ho secluded the ranch was. It had everything we needed for a family of 12 for the weekend. The kids and the Parents :-) loved the space. It was one of my favorite air Bnb rentals so far. Thanks again Diana.
Melissa
2017-03-19T00:00:00Z
Tipo de Acomodação
Casa/apto inteiro
---
Tipo de Imóvel
Casa
---
Acomoda
12
---
Quartos
Yoder, Colorado, Estados Unidos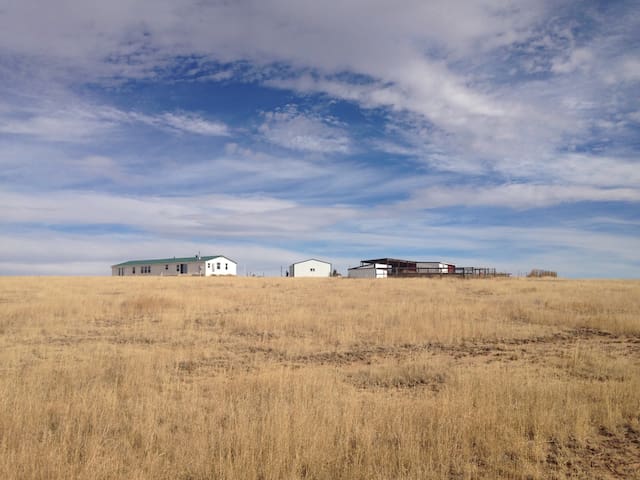 Quiet private rooms, simple clean accommodations. Limon is a small town in the middle of nowhere. We have gas stations, truck stops, fast food-a place to stop on your way to somewhere exciting. If you choose me, plz give me 5 stars for location.
Guest room with queen bed. No unmarried couples, please. I will give you breakfast.... cereal, coffee, tea, milk, fruit and bagels. Limon is a town of 1,800 on the eastern plains of Colorado. No mountains here. We have wind farms, wheat farms and cattle ranches.
We have one stop light, no traffic, no lines. I love it! My listing is in a small rural town, not a city. If you choose me, please give me a 5 star rating for location.
Thanks, Ellie for making me feel welcome at a time of doubt for me. the room is comfortable and the bed especially. This being my first time in an AIRbnb home I wasn't sure what to expect, but Ellie and Warren were great. I recommend this home. Sally
Sally
2015-12-01T00:00:00Z
Ellie was extremely accommodating and she took care of everything including dinner and breakfast. She made me feel at home and part of the family. Bed was super comfy too!
Jia Yi
2014-12-30T00:00:00Z
Ellie welcomed me upon arrival and made me feel right at home. She is a super nice lady and I enjoyed chatting with her over dinner and tea later in the evening. The room was clean and comfortable, and it was a bonus having a private bathroom. The neighborhood was safe and I will certainly recommend this to anyone. Great stay!
Colleen
2015-03-22T00:00:00Z
Ellie is absolutely wonderful. I would recommend a stay at her house any time.
Ashley
2016-11-17T00:00:00Z
Ellie is a fantastic host. Her rooms were exactly as described, and she was accommodating to a special situation that required flexibility. I would definitely stay with Ellie again.
Bryce
2016-07-08T00:00:00Z
Ellie was a fantastic host, even after I arrived late in the evening after a long day of travel. Incredibly friendly, we had a great chat over coffee and local fruit before I headed on my way!
Rob
2016-09-13T00:00:00Z
Ellie was wonderful. I couldn't have asked for a better host.
Lonnie
2014-08-12T00:00:00Z
The host, actually Ellie's husband Warren since she was out of town, was excellent. He was friendly and helpful. The room was clean, comfortable and very quiet. I slept so well there! The breakfast was all set out for me to make and was hearty and satisfying. I would definitely recommend the Colorado Outback in Eastern Colorado for a stay.
Deborah
2014-07-03T00:00:00Z
Tipo de Acomodação
Quarto inteiro
---
Tipo de Imóvel
Casa
---
Acomoda
2
---
Quartos
Limon, Colorado, Estados Unidos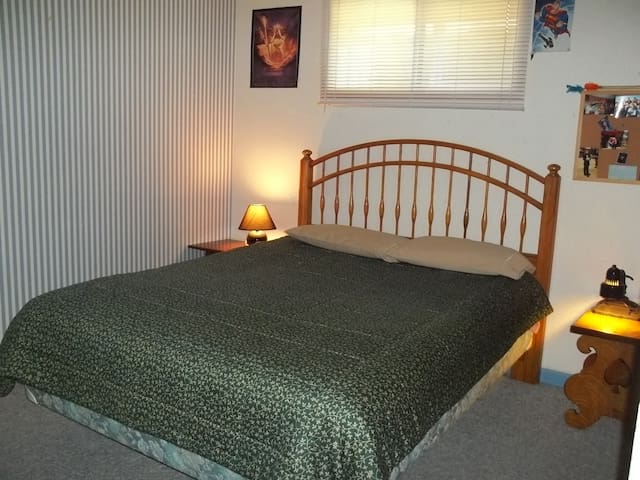 My place is close to Limon Colorado. You'll love my place because of the comfy bed. My place is good for couples, solo adventurers, business travelers, and families (with kids). Queen size pillowtop mattress, 32" hd tv DVD player, and Ac.October - February only service available will be electric and due to climate changes. This is a 33ft rv that sits at the corner of an rv park in a small town 10 miles from the nearest gas station or grocery store. This is a great place to lay your head to rest
Great Place to rest your head get a good night sleep and an early start to your day.
Now a semi-ghost town, Genoa is best known for its "Wonder Tower," a 1920s tourist trap that got the attention of Ripley's Believe It Or Not. Genoa is located next to Interstate 70, ten miles east of Limon at exit 371. It's 2010 population was 104. From a mile away the Wonder Tower appears to be bustling. "See Six States!" yell the hand-painted signs. "Confirmed by Ripley!" You can see cars in the parking lot, and people at the top of the Tower, trying to identify the advertised six states. Once you arrive, you realize that the parked cars are 50 years old and stuffed with sun-bleached bottles, their tires buried six inches deep in windblown prairie dust. The people in the Tower are crude fakes -- lumps of red sheets wearing sunglasses. The Wonder Tower, built in 1926 at the highest point between New York City and Denver, was a welcome stop on US 24. Charles W. Gregory, Colorado's P.T. Barnum, would stand on the Tower and spot license plates of approaching cars. When tourists were within earshot, he would boom state-appropriate greetings through a megaphone. "How're things in the Buckeye State?" His billboard motto was Eat, drink, gas, and pop at the Tower. Fan of the 2-headed calf. Then the interstate bypassed US 24. Charles W. Gregory died. The Tower, however, survived, thanks in large part to its owners since 1967, Jerry and Ester Chubbuck. They charge only one dollar for admission. Small signs at the entrance caution the squeamish, "Animal Monstrosities," and "Two-headed calf." The Chubbucks have stuffed the tower with a mass of spoons, farm implements, and arrowheads, much of it nailed and screwed to the ceiling. The Branding Room, Petrified Room, Indian Room (with its rock walls "painted by an Indian princess") are jammed with bric-a-brac. Jerry and his Tower. In the Animal Monstrosities Room, the jar containing the eight-footed pig is dusty dry, while the one-eyed pig jar leaks something we'd rather not investigate too closely. We notice that the Talking Indian Mummy -- Jerry had wired it with a loudspeaker on an earlier visit -- is missing. It has been repatriated. "The Indians don't want you displaying their dead," says Jerry. Jerry, who's surprisingly spry for his age, has a quiz he pops on lucky guests called the "Guess What." He singles out ten unusual items, and if you guess their identity or purpose you get your dollar back. No one leaves until he finishes. The items include rooster eyeglasses, camel nose bells, and a walrus penis. Just about the only thing Jerry doesn't have is a postcard of his own attraction. This is a notable flaw in the Wonder Tower's marketing plan, as are its lack of signs near the interstate (Government billboard prohibitions don't help). But Jerry is upbeat, and his collections of mysterious tools, murky things-in-jars, and tens of thousands of arrowheads and bottles usually keep tourists inside the Tower for far longer than they had planned. Freaaky dummies play cards. No visit to the Wonder Tower is complete without a climb to the top. Flies buzz through unscreened windows as you ascend its ladderlike stairs, six stories of them, past the fake people and even more perplexing exhibits, to the observation deck. It's not a climb for the faint-hearted or flabby. But those who survive are rewarded with an impressive view of eastern Colorado.
Great host. Friendly. Quien place. The ad is exactly what you get. If you look for something to sleep in the middle of your travel, is a good option.
Jorge
2016-10-07T00:00:00Z
For the price, it was a good place to lie our heads for the night. Bed was comfy and tv was a nice bonus. Recommend if you are driving through .
Bryce
2016-10-01T00:00:00Z
Bob was the best! He greeted us as we pulled up and we immediately noticed a funny smell coming from my car, so Bob checked the fluids and helped me to find a store in a reasonable area through our route to the NW. He was friendly and accommodating, so I can't complain about a thing. A friendly neighborhood cat even kept us company while we unloaded sundries from our car. His trailer is super basic, yet reasonably clean and comfy. My friend slept on the couch and seemed to be comfortable. My bed (the one advertised) was great! Quite soft, clean and comfy. There was no running water but hey, we just really needed a place to lay our heads down for our long trip and he has just that. No frills, no problem. I'd definitely use him again, since it was so convenient for our basic needs. Thanks again, Bob!
Lana & Jamie
2016-10-11T00:00:00Z
Bob was flexibel in terms of arrival time, expected me with a clean trailer, including a comfortable room, toilet, kitchen, wifi. Unfortunately there was no water for taking a shower! Bob was kind and prepared a dvd to watch.
Alin-Florin
2016-10-04T00:00:00Z
had to cancel but responsive to me fast
Jan
2016-10-05T00:00:00Z
Tipo de Acomodação
Casa/apto inteiro
---
Tipo de Imóvel
Trailer
---
Acomoda
6
---
Quartos
Genoa, Colorado, Estados Unidos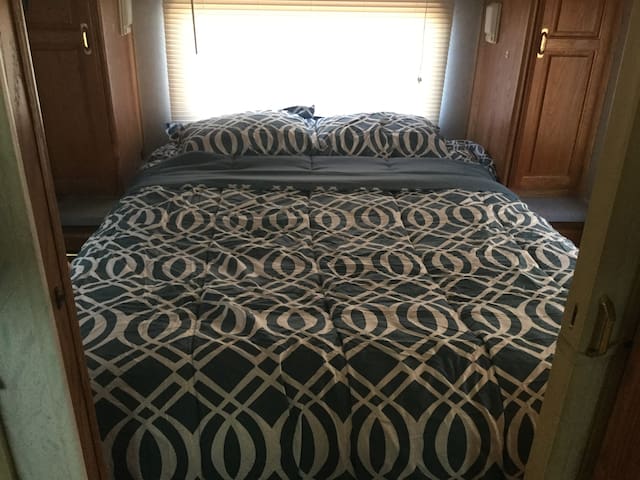 Very peaceful and quite place with a country home feel.
Tipo de Acomodação
Quarto inteiro
---
Tipo de Imóvel
Casa
---
Acomoda
2
---
Quartos
Yoder, Colorado, Estados Unidos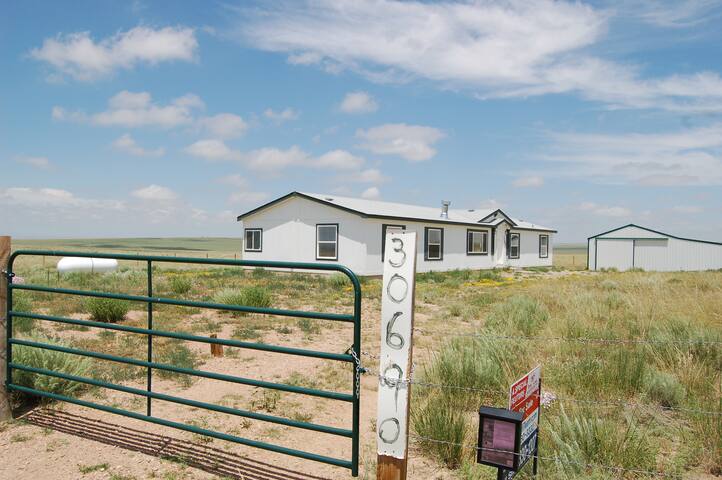 Insira as datas para ver o preço total. Taxas adicionais serão aplicadas. Impostos podem ser adicionados.