NEW! Get away to the beautiful Texas Hill Country at The Cabin at Blue Top Ranch. Enjoy quiet days, spectacular sunsets, and star-filled nights from the wrap-around porch. Explore nearby wineries, restaurants, shopping, and state parks for hiking and cycling. Constructed of aromatic cedar and pine, The Cabin is comfortably furnished with a full kitchen, queen-sized bed, WiFi, and gas grill. Delight in our pure, filtered rainwater and abundant wildlife. Located an hour from Austin or San Antonio.
Blue Top Ranch is 75 acres of the best the Texas Hill Country has to offer: groves of live oaks, native grasses and wildflowers, a multitude of song birds as well as quail, wild turkey, and white tail deer. The view from The Cabin's front porch is to the west and north so you'll enjoy spectacular sunsets. We're close enough to Highway 290 to provide easy access to Johnson City and Fredericksburg, yet far enough away to be quiet, secluded, and private.
Johnson City is a thriving community with quaint shops, art galleries, the Hill Country Science Mill, LBJ's Boyhood Home, a brewery, fine and casual dining, and tasting rooms to sample Hill Country wines. The Cabin is located on 75 acres off a county road just to the west of Johnson City. It is one hour from San Antonio, Austin, or Kerrville and 30 minutes from Fredericksburg, Marble Falls, or Dripping Springs.
Terry's place is everything you could ask for. We went to a local awesome brewery pub and drove around Johnson City and looked at all of the Christmas lights. We visited Enchanted Rock which is a short 50 min ride from the cabin and spent the day out there hiking and rock climbing. Had the chance to go to Fredericksburg which is just 20 min from the cabin and strolled Main street which has cute rustic stores. Terry's cabin is just like the pictures, rustic and charming. We will definitely come stay again. We had a wonderful time!
Adam
2016-12-15T00:00:00Z
I spent just over 24 hours on Terry's beautiful property with my pup, and it was the perfect mini escape from my busy Austin life. It was quiet and expansive. The stars were wonderful, and the tiny cabin is very cozy. The wrap around porch is a perfect place to get some work done and contemplate life. :) The kitchen is simple, but adequate for a weekend. The bed is very comfortable, and the property is a great place to walk and explore. I definitely plan on coming back!
Julie
2017-01-29T00:00:00Z
What a wonderful little slice of heaven. We had a tremendous weekend, enjoying the beautiful countryside and the very clean cabin. Terry could not have been more welcoming. Just a perfect little weekend getaway to unplug and relax. Will definitely be returning!
Andy
2017-03-19T00:00:00Z
This listing is exactly as described. I am hesitant to rave about it because I plan on making this my regular "get away" spot. The cabin is turn key. Everything is labeled and marked. They leave a guest handbook on the table so most of your questions about local hot spots are already answered therein. We enjoyed coffee on the deck every morning overlooking the hill country, listening to the wind blow through the trees, and caught glimpses of deer and wild turkey. The full kitchen and spacious bathroom were unexpected luxuries in this one room cabin. This gets 5 stars!
Joshua J.
2016-12-29T00:00:00Z
Blue Top cabin is the perfect retreat from city life. The cabin is lovely -- all of the furnishings have been chosen to harmonize with the country setting, and to make your stay as comfortable as possible. At night the stars blaze overhead, and during the day the vista of the surrounding hills makes morning coffee on the porch a delight. Terry and Joyce are the perfect hosts -- they are gracious and welcoming, but they also allow you to enjoy the solitude of their ranch property. I spent hours watching birds from the cabin steps -- and when I needed a break from all that quiet, Johnson City was just minutes away. I hope to be back!
Debra
2017-02-25T00:00:00Z
The Blue Top cabin exceeded our expectations for the perfect setting for a quiet, long weekend. It's clear from the moment you approach the gate that the owners have been attentive to every detail for this property. One of my favorite features was a wrap-around porch for sunset and bird watching. Inside the cabin there's a comfy bed, a small counter-height table, love seat, rocking chair and all the appliances and utensils you would need for meal prep. The bathroom is spacious, clean and modern. We didn't miss a TV, but did appreciate good cell signal and wi-fi. We used this private retreat as the base to explore the LBJ. Four nights here left us relaxed and refreshed. We were sorry to leave and plan to return.
Zoe
2017-01-10T00:00:00Z
Loved this cabin! Nicely appointed, great decor in a lovely setting. It was a short stay but I did find time for some nice long walks on the property and a little time sitting on the porch to enjoy the scenery. A great place to decompress and enjoy some peace and quiet.
Julie
2017-03-05T00:00:00Z
My wife and I stayed here for our anniversary weekend. We loved the floorplan of the cabin. Just one large open space for the bed, living room and kitchen. The only other space is a large bathroom, which we really liked as well. High vaulted ceilings give it a very open feel as well. You will love the wrap around porch, where we sat for hours enjoying the view of the property, the sunset, and the deer. We will surely return to this place. It is remote and private, yet still close to Johnson City, lots of wineries, and beautiful country.
Aaron
2017-02-13T00:00:00Z
Tipo de Acomodação
Casa/apto inteiro
---
Tipo de Imóvel
Casa de campo
---
Acomoda
2
---
Quartos
Johnson City, Texas, Estados Unidos
Ready for a Rustic Farm Experience? Our brand-new rustic Writer's Cabin is absolutely charming. The 18' x 20' main room has a queen size bed, poker table, and efficiency kitchen area that includes a small fridge with freezer, microwave, coffee-maker, and double sink. The bathroom has a large shower and a rod for your hanging clothes. You will also enjoy the rockers on the front porch, which are great for sipping coffee while visiting, watching life on the farm and awesome sunsets!
The Writer's Cabin offers total privacy on the farm. You can come and go as you please and never be concerned about disturbing us. Since children are not allowed in the cabin, it is a perfect "romantic getaway". The cabin is full of furniture, artwork, and memorabilia that has been in our family or collected over a period of many, many years. These things were not purchased to furnish the cabin....we built the cabin so we could share these things that are an integral part of our culture and heritage. We only ask that you enjoy sharing space with them and treat everything in the cabin with great respect and care because we have precious memories attached to each and every thing here. The antique radio does not work and the glass is very fragile, so please do not try to adjust the knobs ( I know it is hard to resist...but you can do it!) Housekeeping: Food: If you can't cook it in a microwave, don't bring it, because there is no stove or oven. Tap water is from our well and perfectly safe to drink. Basic dishes and flatware are available for your use. Just hunt around in the cabinets and you should find all the basic utensils and supplies you would need for eating, opening a nice bottle of wine, enjoying some ice cream, or heating up leftovers from your favorite restaurant. Breakfast: We provide the basics for a continental breakfast and your morning coffee. You will find milk, juice, bread, butter, jam, and cream in the fridge. If the toaster isn't on the counter, it will be in the lower cabinet with the cereal and popcorn. However, on Sunday mornings breakfast is more special, with homemade breakfast casserole and fresh baked goodies placed in the cabin the night before. Any day you prefer to have a hot breakfast at the house with us, just let us know. It is also a great way to get to know our other guests if you would like to. We normally serve breakfast at 8:00.
Our neighborhood is easy to find, quiet and convenient to everything in the area. It is a short 15 minute walk to our quaint downtown area, with restaurants, shops, art galleries, the LBJ Boyhood home and Visitor's Center, Pecan Street Brewery, and more! We are 30 minutes from Fredericksburg, with access to winery tours, distilleries and breweries throughout the region.
Great place for a romantic getaway. Amy is a great hostess, she is very personable. Beautiful quaint western cabin. Will definitely stay here again.
Marie
2017-03-12T00:00:00Z
Of all the Airbnb places that we have stayed, this is one of our favorite places. The cabin was new, clean and fresh. Great decor, with interesting stories behind the items. Amy is personable and treats her guests like royalty. We are appreciative that Amy still serves a good breakfast, so many Airbnb places are so minimal on what they have for breakfasts. We plan on returning and staying longer next time. Bravo Amy and Mike.
Mark
2017-03-31T00:00:00Z
New Life Farms BNB was the perfect location to start our new lives together. We ran away to the hill country to elope and stayed here before the wedding and during our honeymoon. Amy and Mike were the best hosts and having farm fresh eggs each morning was a wonderful perk. I even got to gather my own eggs for the dozens we bought to take home. We found privacy and solitude in the writer's cabin (gorgeously decorated and that knotty pine smelled exquisite!) and enjoyed fellowship with other guests and our gracious hosts around the farmhouse table. Perfect for the couple although we will bringing our teen son next time!
Amanda
2017-03-17T00:00:00Z
What a great experience! This was one of the best getaways and AirBnBs that my wife and I have ever stayed at. Amy and her husband Mike were the best hosts. They really made us feel like a part of the family. They purchased a fire pit because the wife and I wanted to sit under the stars next to a fire. They also cooked a fresh breakfast for us each morning - which was amazing.This AirBnb was also amazing. The cabin was so clean, organized, and overall perfect. Amy really thought of everything. The cabin is located on a their small farm where you can little look out the window and see cows and chickens roaming around. My wife and I can not wait to come back and visit this AirBnb, and Amy and Mike. If you are looking for a place to stay in this area you MUST stay here. And tell Amy and Mike hi from us.
Stephen
2017-03-14T00:00:00Z
The writer's cabin was the perfect place to stay to get away from the bustle of Austin. The cabin was clean and cozy with the perfect porch to drink a beer or wine in the evening or have your morning coffee. Amy and Michael were very accommodating and were great about suggesting places to eat in Johnson City. We will definitely be coming back.
Jonathan
2017-02-19T00:00:00Z
Writer's cabin was really beautiful! Amy was very friendly and takes good care of her guests.
Aaron
2017-03-27T00:00:00Z
Amy was an awesome hostess. The breakfast was amazing with fresh eggs. We were the first to stay in the beautiful cabin they just built. I will say that I will be staying with them again
Dorothy
2017-02-12T00:00:00Z
Amy's getaway was perfect for morning porch reading as the chickens, cows, and guineas fed in the grass beside the cabin. We really enjoyed the cozy decor, friendly farm animals (including cat Betty Boop and dogs Ruby and Carly), and Amy's hospitality (including her Sunday morning baked egg casserole -- which she accommodated to be vegetarian for me :)) Would definitely recommend to anyone who wants to get away from the city or needs an unplugged retreat!
Stacia
2017-03-19T00:00:00Z
Tipo de Acomodação
Casa/apto inteiro
---
Tipo de Imóvel
Casa de campo
---
Acomoda
2
---
Quartos
Johnson City, Texas, Estados Unidos
Located just off the HW 290 Wine Road between Johnson City and Fredericksburg, and just a couple of miles west of Johnson City. A great place for quiet nights, dark skies, and wildlife. Well off the beaten path while still close to civilization.
An Arched Cabin, built in 2016, located on 32 acres in the Texas Hill country. The cabin is on the same property as the main house, but situated in it's own private area. The cabin has 480 sq feet on the lower floor, a 12'X16' loft that can be reached by a circular staircase, a full kitchen (refrigerator, stove, oven, microwave), and a complete bathroom with shower. Treated well water for all your needs.
We are out in the country! Over 1000 feet to any of the nearest neighbors, home to some of the darkest skies in Texas, the only visitors you can expect are deer, wild turkeys, roadrunners, raccoons, jack rabbits, quail, and Bob (the armadillo).
Tipo de Acomodação
Casa/apto inteiro
---
Tipo de Imóvel
Hospedaria
---
Acomoda
4
---
Quartos
Johnson City, Texas, Estados Unidos
This charming updated cottage from 1954 is right in the heart of downtown Johnson City. Walk to art galleries, the best shopping, Pecan Street Brewing, wineries, cafes and fine dining at Bryans on 290. The Science Mill and LBJ Settlement National Park are walkable or drive just a few blocks away. A perfect location for visiting the more than 30 wineries on the290 Wine Road or the Johnson City Lights with friends or family for the weekend. The best of Texas outdoors is just around the corner.
This 1950's era cottage is located within walking distance of the best of the city including fabulous antique and mid-century stores and art galleries. A perfect spot to relax and unplug or adventure out to some of the best wineries and state parks in the state. Feeling chef-y? Bring your own ingredients and cook up a meal to remember in our newly renovated kitchen. Essential appliances, a stainless refrigerator/freezer and a gourmet LG convection oven are yours to enjoy. If cooking is not your idea of a vacation, we can suggest the best spots around. Each bedroom is equipped with a queen bed and it's own heated and cooled unit. All mattresses are fully protected . Fans and extra blankets are available in the closets. The bath features a walk in rain shower and bath sheets. After a full day - relax with a book or a bottle of wine in the overstuffed chairs or in our comfy queen beds featuring Calvin Klein pillows and Hotel bedding. Our newly installed rain shower can help set the stage for a great day ahead or a great night's sleep. LED TV, Playstation 3 DVD Blueray and movie collection. Bring your own movies too!
During your stay at our cottage, be sure to visit our friends at more than 40+ wineries in the 25 mile wine road stretch to Fredericksburg. We can assist you with suggestions or help make reservations at some of our favorite boutique-style spots like Calais Winery, Lewis Wines, and more. Just a few minutes walking or driving to the following amazing outdoor attractions: Pedernales Falls State Park, LBJ Historic Site, Johnson City Lights, LBJ Ranch, Blanco State Park. Plus, take short day trips to Fredericksbug, Enchanted Rock, Luckenbach, Horseshoe Bay and so much more. Fine dining at Bryans on 290 is a short 2 block walk. Enjoy a $35 5-course meal on Tuesdays. Walk or drive to Lady Bird Lane Cafe which offers organic farm to table fare and is just outside the Science Mill. Time for a nightcap? Enjoy Kenny's Cantina or Tapz just a few minutes away.
Stephanie's place was great! Exactly what we were looking for to tour the wineries.
Bianca
2017-03-27T00:00:00Z
What a lovely home! I absolutely loved the decor here. Stephanie was a wonderful host and even left us some great goodies for our stay. The location is perfect to walk around the little town of Johnson City and great to get to any of the wineries in the area. The backyard was perfect for us to lounge by the fire. We cooked one night and what a great kitchen to cook in! She has just about everything you could need. I would highly recommend this wonderful home and can't wait to stay again!!
Jess
2017-02-05T00:00:00Z
Stephanie was very thoughtful and a wonderful host! She was easy to get in touch with and when we arrived, she had all the lights on for us with the heat up to make it super cozy. I would highly recommend this airbnb for a family getaway with children or even a quiet romantic getaway. My favorite part of this place was the modern kitchen. So spacious and easy to entertain in. My family loved visiting us here and commented several times what a great place this was. There was so much to do just blocks away in downtown. I felt like I was visiting a home away from home. We will definitely be back soon.
Shelley
2016-12-12T00:00:00Z
Recently renovated. Stephanie does a good job with little extras to make the experience great (like having firewood for the firepit). Great location and close to the wineries if you are into that. Clean and comfortable. We would stay again.
William
2017-02-13T00:00:00Z
We absolutely loved staying here! All the extras were so nice and the kitchen was fully stocked with everything we needed. Thank you Stephanie!
Lauren
2017-03-13T00:00:00Z
Staying at Stephanie's place was perfect for our girls weekend to the hill country. It was super cute and convenient! We cooked dinner at the house both nights and it was a great place to hangout. Stephanie left some fun goodies for us and made us feel very welcome. Would love to stay again the next time I find myself in the hill country!
Melissa
2017-03-19T00:00:00Z
"Stephanie thought of everything" -- That is what my mom and sister had to say about our stay. High praise from my family, indeed.
Rachel
2017-03-23T00:00:00Z
What a great little cottage. We had a lovely time in Johnson City. Stephanie is communicative and overall a great host. We will definitely be back.
Jordan
2017-03-16T00:00:00Z
Tipo de Acomodação
Casa/apto inteiro
---
Tipo de Imóvel
Casa
---
Acomoda
4
---
Quartos
Johnson City, Texas, Estados Unidos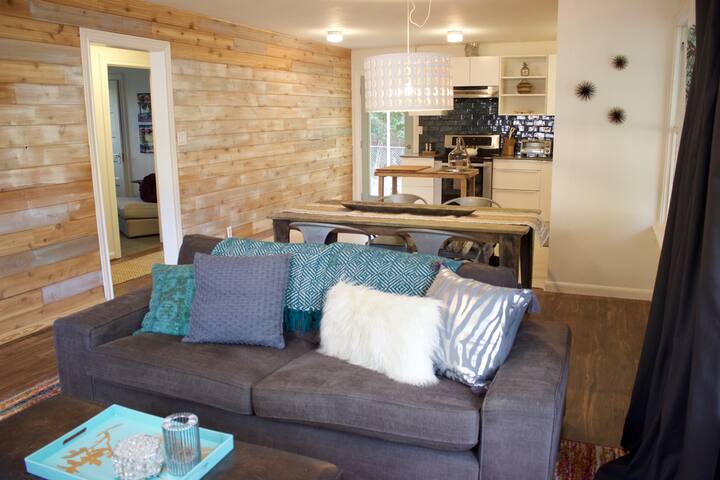 You will feel right at home in this spacious house located in the heart of the Texas Hill Country. Situated on a roomy double-lot, it is the ideal home-away-from-home from which to experience all that Austin/Central Texas has to offer. It has been totally refurbished to accommodate short-term renters in easy comfort, and includes lots of sprawl-space and all the basic amenities and creature comforts of home. It is perfectly suited to business travelers, families (with kids), and large groups.
The house is equipped with wifi, a 40" flat-screen LCD TV and DVD player, washer and dryer, bedding, towels, and all the common kitchen utensils, paper products, and appliances as well as a few of the uncommon ones--in other words, the place has everything you will need except your personal belongings.
The host canceled this reservation 9 days before arrival. This is an automated posting.
cynthia
2017-03-30T00:00:00Z
Karls house in Johnson City was such an enjoyable place for our big group to relax after a long day touring the hill country wineries. Can't recommend this place highly enough.
Robin
2017-01-08T00:00:00Z
Stayed for a girls trip--great for big groups! Easy parking, clear instructions from Karl, and house has everything you could need. About 30 minutes from Fredericksburg, but good spot for any of the wineries closer to Johnson City on 290.
JACQUELINE
2017-02-04T00:00:00Z
This a great house and is central to several outdoor activities in the area. The short drive to Fredericksberg is worth the savings in cost.
Jennifer
2017-01-29T00:00:00Z
this was probably the most organized BnB vacation I have ever had! Great emails and everything well explained in advance, and everything was as described and there was plenty of information available inside. The location is great, located between Austin and Fredericksburg, convenient to LBJ Park, Pedernales, and all the wineries. We also enjoyed the local eateries. A great trip!
Eric
2016-10-16T00:00:00Z
Very nice house to share with friends or family. Rooms are spacious and plenty of living space. Not to far from Fredricksburg and any vineyards you may want to visit.
Minty
2016-11-26T00:00:00Z
What a fun place to stay. The house was very spacious and was perfect for our girls night getaway. Each room was comfortable, clean and well appointed. The kitchen was bright and cheerful and had everything we could need including a coffee pot, coffee beans and grinder, and an electric tea kettle. Fruit, bagels and cream cheese had been left for our breakfast which was a very welcomed surprise. Karl went above and beyond to make sure we were welcomed and everything was as we had expected. There were lots of games, movies and books, which we did not use but I could see this rental being a great place for a large family to stay. We would definitely rent this house again if we are back in the area!
Laura
2016-09-18T00:00:00Z
We had a great time at Karl's place!! We were six young couples and we could find everything we needed in the house, including a charcoal grill in the backyard, where we spent some quality time with our dogs playing around us while we're listening to music and having a few beers/wine. The house was furnished with everything we could possibly need: all sort of kitchen utensils, board games, a collection of books and movies, etc etc. Karl was very friendly and flexible with check-in/check-out times and promptly answered all my messages. The area is pretty close to Fredericksburg, the Texas' wineries, Pedernales Park, Enchanted Rock.....there was so much to do during such a short stay. That was the second time we stayed with Airbnb in Johnson City and we'll definitely return. Hopefully I'll find Karl's place available again. I would recommend it to anyone planning to have a nice stay in the Hill Country Area!!
Fernando
2016-10-02T00:00:00Z
Tipo de Acomodação
Casa/apto inteiro
---
Tipo de Imóvel
Casa
---
Acomoda
12
---
Quartos
Johnson City, Texas, Estados Unidos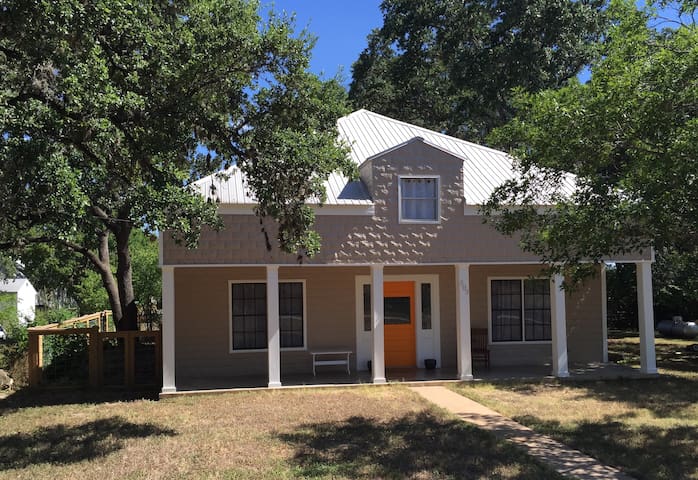 Welcome to the Heart of the Texas Hill Country and Wine Trail. Our Guest House was the olde barber shop on the square in Historic Johnson City. We are the perfect starting point for winery tours, dining, shopping and exploring amazing parks. Come visit.
Welcome! This historic little tin Building once housed the town barbershop and was a gathering spot for the town locals including former President Lyndon B. Johnson. We kept some of the unique features of the old shop but added comfortable amenities for visiting guests, including a private outdoor space. When you stay with us in Johnson City, you can walk to restaurants, shop for antiques and gifts, and visit working artist studios. Step back in history at our spectacular limestone Court House and go to some of our National Park Sites all on foot. We have 3 state parks just a short drive away. Start your getaway at the beginning of the Wine Trail, with approximately 75+ wineries between Johnson City and Fredricksburg (35 miles of vineyards).
Please check out some of our beautiful sites of the Hill Country in our photos.
This was just a beautiful place. Morgan and steve did a great job decorating and maintaining the property. They are so welcoming and friendly. We will definitely be recommending this place and would love to come back.
Karlee
2016-09-12T00:00:00Z
Morgan and Steve have done a beautiful job on this little piece of JC history, we couldn't have been more happy with our stay! The decor is gorgeous! They left us HEB coffee and Shiner beer (doesn't get much more Texas than that!) and delicious chocolate chip cookies! They left a list of nearby restaurants and wineries if we needed recommendations. Johnson City is one of those small towns in Texas that doesn't get the attention it should! We will be back again!
Debra
2016-05-28T00:00:00Z
We thoroughly enjoyed our stay here! The room was so cozy and comfortable. Morgan and Steve thought of all the little details to really make us feel at home and welcome. The location was fantastic for walking to dinner (we love the Pecan Street Brewery and Bryan's on 290) and for excursions to nearby wineries (Hye Meadow, Compass Rose, and Kulhman Cellars are our faves). We can't wait to come back and stay again!
Jennifer
2016-04-17T00:00:00Z
This was my very first experience in Texas Wine country! I stayed here with my boyfriend and this was the perfect romantic getaway. The house was very clean and we really enjoyed the back porch at night! It is centrally located in JC and in walking distance of all of the shops! The hosts are so personable and so hospitable! They made great recommendations for wineries and restaurants! We will definitely be staying again!!
Tamara
2016-07-11T00:00:00Z
Morgan was very kind and responsive to my request to delay my check-in time. The place was immaculate and right in the heart of Johnson City. Wish I could have spent more time there, but was out and about for a wedding miles away. Would definitely recommend for anyone looking to stay in Johnson City!
Elliott
2016-10-23T00:00:00Z
AMAZING! The prairie house was everything Steve and Morgan say it is and more! Pictures are good but in person it's even better! The bed is very comfortable, very nice bed and bath linens, and very very clean! Morgan provides everything for you except for your clothes! Soap, shampoo, conditioner, she even had a sound machine for those of us that need sound while we sleep;), we don't drink so she got us organic sparkling juice, fresh cookies, I was truly blown away at the detail and thought she puts into her home away from home! Quality everywhere no skimping on anything! We found the location to be great to go everywhere we needed. Enchanted Rock only 45 min, Fredricksburg only 30 min, Lukenbach only 20 min. Our time here couldn't have been better! Thank you Steve and Morgan for being so welcoming and helpful on all of your suggestions for dinner as well!
Candy
2016-10-02T00:00:00Z
We loved our stay at Prairie House. Morgan and Steve have transformed a building on the town square into what felt like quaint boutique hotel room. The house was impeccably clean and well appointed with lovely furnishings and many upscale amenities. Loved the sound machine and air purifier! They really have included everything you might need to create a home away from home! The location is within walking distance to shops, galleries and restaurants in Johnson City. Morgan was a great communicator before and during our stay. She provided excellent details on the house and the surrounding areas. We hope to stay in this unique and lovely house again soon.
Deborah
2017-02-26T00:00:00Z
This downtown cottage is perfect in Johnson City. It was truly a get away from it all. The town was quiet with great shops and the restaurants were outstanding within walking distance. The great vinyards were only 15min away, which was perfect. I would recommend this place to everyone if you truly would like to remove yourself from the city or touristy Fredricksburg. Morgan and Steve were amazing! Their hospitality was like no other and their recommendations were spot on! Can't wait to plan again...
Jay
2017-02-12T00:00:00Z
Tipo de Acomodação
Casa/apto inteiro
---
Tipo de Imóvel
Casa de campo
---
Acomoda
2
---
Quartos
Johnson City, Texas, Estados Unidos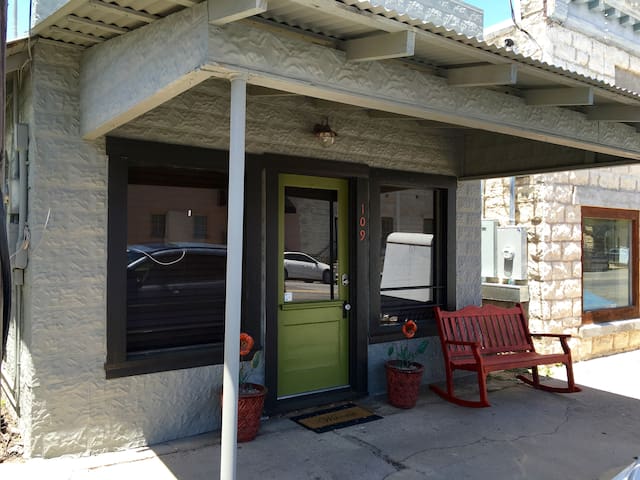 In the heart of the Texas hill country on the popular 290 wine trail just a short drive from Fredericksburg, TX. This comfortable and cozy cabin on 5 acres is ideal for a romantic getaway, relaxing retreat, family vacation or friends weekend.
This vacation home is a tribute to the owners passion for enjoying this region. With comforts such as an memory foam bed and pillows in the master bedroom, Beautyrest Recharge twin beds in the 2nd bedroom, high quality linens, a full kitchen including a Keurig coffee maker, WiFi and satellite HDTV you will want to come back time and time again. Located just one mile from downtown Johnson City where you will find antique shopping, restaurants and art galleries as well as the LBJ National Historical Park and the LBJ boyhood residence. Take a short drive and explore Pedernales Falls, an exotic zoo, the 2nd most visited wine country in the USA, Fredericksburg, TX and many more attractions. Put your boots on and head down to the Pecan Street Brewery on Sat and Sun night where there is usually a local band playing in the Biergarten. Back at the cabin, relax with a bottle of wine on the front yard under the oaks or on the back deck watching the beautiful Texas sunset. This home away from home is a place where you can get away from the hustle and bustle of daily life.
Lot's of elbow room, peace and quiet but close to all the fun.
Beautiful cabin in the country but only a mile out of Johnson City. Exactly as described. We really enjoyed the quite country setting. Watched deer up close from the back porch. We would definitely rent it again. The host provided excellent recommendations on wineries to visit and places to eat.
Michael
2014-09-02T00:00:00Z
Wow! Country music playing when we arrived :) Lots of lovely homey touches. Very easy to check in and find everything. Felt right at home. Very comfortably slept 5. One of the best places to stay for that real Hill Country experience. Saw deer and an armadillo!
Nicole
2015-09-08T00:00:00Z
This place was amazing. Perfect getaway for my mens bible study group. Salena was very attentive and went out of her way to make sure we were comfortable. The cabin is just as described and the AC unit was more than enough to cool the entire cabin. It was really fun to set out on the porch on the rocking chairs and watch the deer walk by or watch the bright stars at night. Perfect!!!
Iván
2014-06-02T00:00:00Z
The place was cute, clean, and quiet. Selena contacted me early, and gave me all the info I needed. Recommended.
Steffen
2016-11-06T00:00:00Z
I stayed here for three days in the spring, and I couldn't have asked for a more peaceful and enjoyable experience! Apparently, I was the first renter, but I couldn't tell based on the perfect amenities, comfort level, and extra-special touches at the cabin. It seemed as if the owners had been perfecting their rental for years. As a peaceful getaway in the Texas Hill Country, I got exactly what I was looking for and highly recommend renting this property. Selena was very responsive if I had any questions, and the perfect host. Enjoy the roaming chickens and lovely views! Although I was enjoying a solo getaway, I will definitely be back with the family. Thanks again for a great experience.
Erin
2014-04-05T00:00:00Z
The cozy cabin was spotless upon arrival and decorated with a fall motif. The cabin is just outside of the city center but yet it is like you have stepped on to South Texas ranch. Deer greeted you every morning when you woke up to the Texas sunrise. I would recommend going to Johnson City just to see the towns Christmas lights. What little they had up while we were there was unreal.
Chuck
2016-10-23T00:00:00Z
The cottage was adorable and the property was beautiful! Very clean and comfortable. Loved how it felt like we were outside of town a bit, even though we were so close to everything we wanted to do! Enjoyed watching the deer and horses roaming the property. Very convenient to Fredericksburg and Pedernales Park. Couldn't have asked for more!
Susan
2015-07-20T00:00:00Z
House was decked out for Christmas. Super cute setting and nice clean house.
Robert
2016-12-18T00:00:00Z
Tipo de Acomodação
Casa/apto inteiro
---
Tipo de Imóvel
Casa de campo
---
Acomoda
6
---
Quartos
Johnson City, Texas, Estados Unidos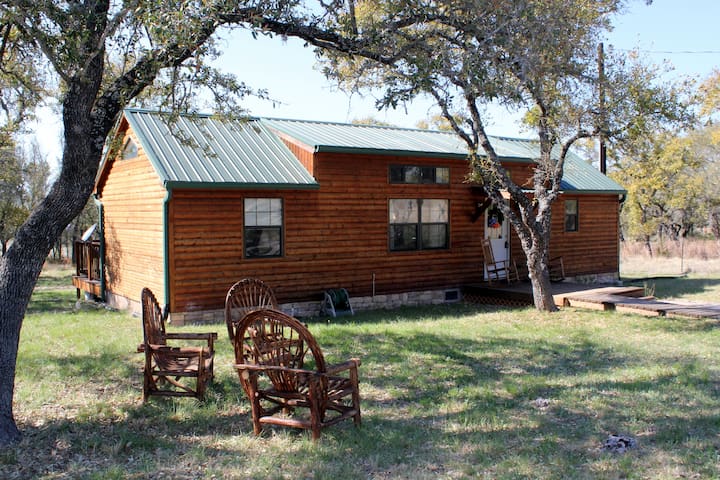 Wood floors, vintage church window, newly appointed bath - situated in Heart of Texas Hill Country Wineries Winetrail & Wine Road 290. 30 Mil to Fredericksburg, 45 mil West of Austin 65 Mil from San Antonio. Can you say Hill Country Sweet Spot?
A Wine Marketing girl fell in love with a West Texas Grape Grower/Farmer and eloped in 42 days. Thus leaving her cottage in the Hill Country. When we're able to get away from the farm we return to visit winery clients, discover music, sample new eatery's and breath Hill Country air. Until then we would love for you to be our guest. Its a 1940s cottage that is a clean serene space full of charm and wine country insider tips.
Oh HELLO! The neighborhood you are in is walking distance to the new million dollar Hill Country Science Mill. (website hidden) A coming Wine Bar. A few long blocks from additional tasting room, Brewery, LBJ Boyhood Home, art galleries, vintage junk shops, new taco trailer and Black Spur Coffee Shop.
Great stay!
Emalee
2016-06-19T00:00:00Z
The cottage was amazing. Pictures do it no justice. Communication with Katy Jane was great. This was exactly what we needed. Note: there are no tv(s) BUT there is a record player and the serenity of such is indescribable.
steve
2016-05-18T00:00:00Z
It was a great stay. We were traveling with a 2 years old, it is hard to have a set schedule. I loved that there is no specific check in and out time. We didn't feel rush at all. The house itself is lovely.
Cixi
2016-07-04T00:00:00Z
Everything was so wonderful at this house. The location, the character of the house and the amazing response from the host!
Sarah
2016-08-01T00:00:00Z
This was our first experience with Airbnb and have to say it was fantastic. The cottage was just perfect for our needs and had plenty of charm. Anyone going to Johnson City and looking for a place to stay, I would highly recommend this. 10/10
Paul
2016-05-09T00:00:00Z
The cottage was the perfect place for our weekend getaway. The decor was fantastic, and Katy Jane was very easy to work with and super responsive. Highly recommend this cottage!
Mary
2016-08-28T00:00:00Z
We absolutely loved our stay! Beautiful, rustic-mod decor, awesome bathroom and super comfy beds! Would definitely recommend! Johnson City is also a great little town!
Megan
2016-03-20T00:00:00Z
The cottage was great. Was not ready when we arrived due to mix up in cleaning schedule, but Katy gave us a complimentary bottle of wine for the delay. The choice of restaurants in Johnson City is very limited (not any) so have to travel to Fredericksburg or Marble Falls for a decent meal. Blue Bonnet Cafe is a must stop in Marble Falls.
Delbert
2016-06-02T00:00:00Z
Tipo de Acomodação
Casa/apto inteiro
---
Tipo de Imóvel
Casa
---
Acomoda
5
---
Quartos
Johnson City, Texas, Estados Unidos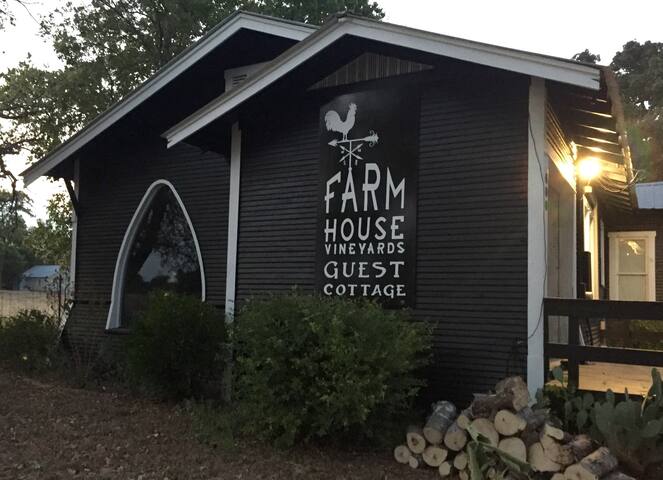 Cozy, yet modern cottage, located right off Hwy 290's Texas Hill Country Wine Trail. A dbl bed in bedroom and a dbl mattress in sofa provide sleeping for 4. Continental Breakfast is provided while a full kitchen is offered. (URL HIDDEN)
The Pickett House is a 615 square foot free standing home. It is like staying at your second home in a small friendly town.
It feels like a small country town (which it is)
The Pickett House is a very quaint, well decorated, little cottage. Melicia was very welcoming and even had fresh cookies just made for our arrival. The kitchen was well stocked with breakfast foods and everything needed. This was a great location for visiting the Texas Hill Country and would we would stay there again on another visit.
Rodney
2015-12-07T00:00:00Z
We absolutely loved this small cottage in the heart of Johnson City. Check in is 3 PM, but Melicia let us check in at 1 PM to accommodate our need to attend a wedding. The kitchen was stocked with coffee and breakfast food. She even made chocolate chip cookies for us! The interior is so well decorated and she did a wonderful job of combining the old with the new. We were very comfortable in the space and the bed was awesome. We would definitely stay there again!
Lynne
2016-10-10T00:00:00Z
Great little hill country house. The pictures don't actually do the property justice. Melicia has done a great job as the home is impeccably taken care of and clean. She also accommodated our early arrival allow us to get to an event and not have to worry about accommodations. Johnson City is a great central location to the wine to the west and the beer to the east. It also gives you quick access to a couple of great State Parks. I would highly recommend it for a couples getaway.
Brandon
2016-03-20T00:00:00Z
The just right place for us to enjoy home away from home celebrating our 40th anniversary. The cottage was better than we imagined from the pictures on the web. We enjoyed walking to shops and dining as well as reading and napping at home.
Scott
2016-05-23T00:00:00Z
The Pickett House is a great retreat to get away for a few days! It has a very warm and comfortable feeling to it. Upon arrival, Melicia greets you and gives you a tour of the house and the property and makes you feel welcomed. There is plenty of coffee and breakfast food available for your stay. The outdoor swing is a beautiful place to enjoy a cup of coffee and watch the sunrise. I could not have asked for a better place to enjoy my time away in the great Hill Country of Texas!
Beau
2015-06-08T00:00:00Z
Melicia's place is adorable. We came for Easter weekend from Houston and really enjoyed ourselves. The location was easy to get to, right of 290, which was great for getting into Fredericksburg and also visiting the vineyards along the way. The place is very quaint and sweet! I really loved the way the home had been decorated. Melicia was kind enough to leave breakfast foods and water in the house, which was a lovely touch. The wine fridge was also perfect when we wanted to crack open one of our purchases from Becker. Great place and made the weekend really special.
Keely
2016-03-27T00:00:00Z
This location was a perfect and fantastically furnished retreat from the city as well as super close to the HW 290 wine country! I highly recommend this location to anyone looking for a short or extended stay away. Wish we had more time there!
Stefanie
2016-10-30T00:00:00Z
She provided restaurant recommendations prior to our arrival. She was flexible about our arrival time (we were later than expected!) I would recommend Pickett House to others visiting the area because it is in a very peaceful, serene area, and is easy to get to the many attractions in any direction.
Jennifer
2016-09-06T00:00:00Z
Tipo de Acomodação
Casa/apto inteiro
---
Tipo de Imóvel
Pousada
---
Acomoda
4
---
Quartos
Johnson City, Texas, Estados Unidos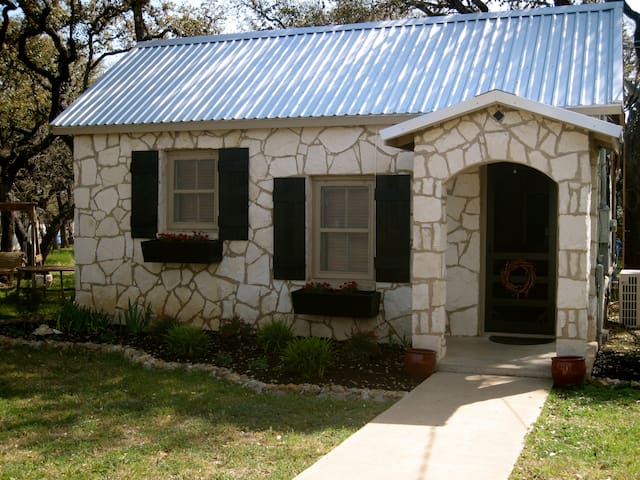 Come enjoy the beautiful Texas Hill Country in our spacious country home, built in 1934 and set on 2/3 acre. It's minutes from downtown Johnson City and Hill Country wineries! The perfect place for groups or the whole family!
Our spacious country home can easily accommodate a variety of Air BnB guests; from couples or groups traveling to the Hill Country to take advantage of the multitude of outdoor excursions, going on one of Texas Winery Tours or meandering the Beer Trail, to families who want to come out to the country for a peaceful vacation! All of the beds in the house are new memory foam, and the master bathroom is more like a miniature spa than a bathroom. The living room is complete with a fire place to cozy up with, and the kitchen and dining areas are perfect for a large feast. Come out to the Hill Country, stay at Amustus House, and see what you've been missing!
Our house is down the street from Pedernales State Park and minutes from Texas Hills Vineyards in the peaceful town of Johnson City. There's a lot of great antiques and food to find in town, which is minutes away, and we aren't far from Fredricksburg, Dripping Springs, or Marble Falls if you are looking for a headquarters for daytripping!
I highly recommend Amustus Guest House for a trip to the Texas Hill Country. We spent most of our time somewhere along the Pedernales River between Johnson City and Fredericksburg. The home is very comfortable with plenty of personality. We ate well, tasted local beers and wines, and learned so much about this area of the state - including a delightful visit to the LBJ Ranch. We were greeted when we arrived, given a tour of the house, and left with still warm ginger-pumpkin bread!!! How cool is that?
David
2016-12-31T00:00:00Z
The stay at Amustus House for 2 nights over the week-end was exceptional! Janet is a wonderful host and she came to welcome us despite the late arrival. She received us with a plate of fresh scones and toured the house with us. She also provided all the information in advance on things to do in the surroundings. We also had the great chance to tour her ranch and see a group of wonderful longhorns! Thank you for the pictures Janet and thank you to our 2nd guide, Jim! The house is also great, very clean, very charming, very well equipped with wonderful beds. Lot of space for 4 adults and 2 kids with2 king beds and 1 queen, 2 bathrooms including 1 brand new with an open shower and and a marvelous tub. I will definitely recommend people to stay there. It's only 10min from vineyards, 30 min from Fredericksburg and 45min from Enchanted Rock. You can also easily visit the 2 Lyndon Johnson State Park and you will find several antique boutiques in Johnson City.
David
2016-06-06T00:00:00Z
We were a group of 4 girls who stayed at the Amustus house for a weekend getaway. It rained all weekend but we had a great time. The house is about 80ish years old and has been updated while keeping the charm and character of the house. The pictures online really don't do this house justice. The house is quite roomy, beds are really comfortable and the master bedroom has a wet room with areas for a soaking tub and an awesome rain shower. There are TVs in each room and games, also. The host, Janet, was really nice to meet us when we arrived and showed us around the house so we would know where things were, asked if there was anything additional that'd we'd need, and shared local eateries and antique shops that we could check out. And she made delicious, fresh scones for us! This house really is a great place to retreat, and is central to Marble Falls, Blanco and Fredericksburg. Highly recommended!
Janice
2016-08-22T00:00:00Z
Good location and very spacious. Comfortable beds and functional kitchen. Easy access to the Texas Wine trail down US290 to Fredericksburg. Janet met us and gave us a tour and even left us homemade scones - tasty!
Alan
2016-10-16T00:00:00Z
Very quiet and quaint place. Plenty of wineries, restaurants and hikes nearby. We enjoyed our stay!
Emily
2017-02-19T00:00:00Z
We really enjoyed our stay at Amustus Ranch. The house is in very good condition and the descrition and pictures were very accurate. Also it was very easy to communicate with Janet prior to our arrival. We didn't spend much time in Johnson City but it is very close to the wineries, parks, restaurants, etc..very nice area! The listing was very well set up for our stay and we were warmly and promptly welcomed by Janet upon our arrival. Janet even invited us to visit her ranch but unfortunately we couldn't make it as we ran out of time. We had a lot of fun and we are already planning to return in a few months time. I would definitely recommend this listing and the Texas Hill Country area.
Fernando
2016-01-04T00:00:00Z
Our host made us feel welcome by giving us a tour upon arrival & even having fresh homemade scones out in the kitchen!
Alexandra
2016-10-24T00:00:00Z
She was very welcoming and helpful. We were very happy about the fresh scones she baked for us! The house was very nice for our family. The beds were super comfortable and the master bath was a pleasant suprise. I wish my bathtub at home was like that one.
Carly
2016-05-09T00:00:00Z
Tipo de Acomodação
Casa/apto inteiro
---
Tipo de Imóvel
Casa
---
Acomoda
7
---
Quartos
Johnson City, Texas, Estados Unidos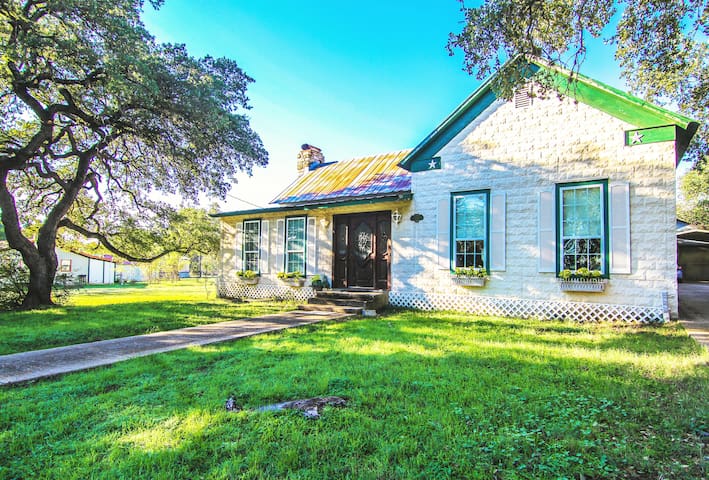 Our Private Suite is located upstairs over the carport with a separate entrance, has its' own bath and a balcony overlooking the property, with A/C, TV, and a beautiful wood floor. It is very private and cozy. Our home is situated on 3 1/2 acres in the beautiful Texas Hill Country community of Johnson City. We are an .8 mi. walk from downtown with restaurants, LBJ Parks, Hill Country Science Mill and shops. Our farm has chickens, guineas, and a couple of calves in the pasture.
The Private Suite is a comfortable 12' x 20' room upstairs with its' own bathroom and balcony. This room is dedicated to my very talented paternal grandmother, Hilda Weisiger, an artist who painted in oils, excelled with a needle of any kind, and enjoyed many other types of crafts. She created the seat on the desk chair, covered the platform rocker, made the quilt on the bed, and stitched the plaque above the dresser. She also painted everything else hanging on the walls! My maternal grandfather, C.L. Cobb, was also very talented, and his favorite medium was wood. His handiwork is seen throughout our home, but in this room he made the wooden candlesticks and the bookshelf we use for your coffee station. Housekeeping Details: You will need to be able to ascend and descend the stairs with your luggage. The Suite is equipped with a full size bed and side table with lamp, TV, desk and a reading chair. There is a closet with fresh linens and towels, as well as extra pillows. The air mattress available in the suite can accommodate one adult or 2 children. It will not remain airtight with two adults. If your party is larger than that, we also have the King bedroom downstairs (king-size bed and bathroom across the hall) or the Writer's Cabin, which sleeps two adults and is located across the yard. About your hosts: We are a husband-wife team who enjoy good food and good company. Pets/Smoking: We have two dogs that are in and out during the day but sleep inside and three outside cats. We love dogs but do not allow them as guests, in order to avoid territorial or personality issues. You are more than welcome to enjoy our pets if you're missing yours, because they will love the attention! No smoking on the property, please.
Our neighborhood is quiet and peaceful and our neighbors look out for one another. We enjoy walking in our neighborhood and to/from downtown. It is also convenient to shopping, restaurants and our local library.
Had a great visit on a unique farm close to all amenities. Close to over 70 wineries. Very relaxing with great restaurants nearby. Better than any hotel in time. Highly recommended.
Calvin
2016-11-09T00:00:00Z
We were so happy with our stay! Amy and her husband are very nice. We got a tour of the cute farm and got to help out gathering some fresh laid eggs. The room was very cute and we had a great nights sleep. We were headed out around 11 am and we saw Amy outside and she stopped us and told us to sit down so she could cook us breakfast! My husband had some fresh eggs and toast and I enjoyed a sweet apple bread. We would definitely stay there again!
Jonathan and Lauren
2017-01-01T00:00:00Z
Amy, we enjoy your place so much! I don't have a lot of family so coming to your farm feels like home ! I'm so glad I was able to bring my husband this time! I know we'll be back!
Debra
2017-03-19T00:00:00Z
Amy is a fabulous host. She had homemade cookies in our room and made us breakfast the next morning. The room has a small balcony which was perfect for sitting and looking at the stars. I can't recommend her place highly enough.
Nell
2017-03-14T00:00:00Z
Amy was very informative and kind. She was easy to reach out to, and she greeted us when we arrived. They do have different kinds of animals roaming around that you'll fall in love with. The bedroom upstairs was private and just right for a couple's getaway. Coffee machine in the room and a spacious balcony to enjoy the morning view of the farm area. Perfect way to experience some Texas Country with good location.
elizabeth
2016-11-27T00:00:00Z
Amy is a great host. The room was just fantastic. Close to the city center, but very quiet and peaceful as well. Phenomenal value. We just may be back next year!
Moose
2016-12-22T00:00:00Z
Great location. We visited Fredricksburg/Johnson city. Great communication. Privacy not an issue. And an unexpected breakfast. Highly recommend this location.
Jennifer
2017-03-12T00:00:00Z
We had a great time - thanks to Amy and Mike - they are wonderful hosts. We, especially the kids, enjoyed the farm experience.
Srini
2017-03-05T00:00:00Z
Tipo de Acomodação
Quarto inteiro
---
Tipo de Imóvel
Casa
---
Acomoda
3
---
Quartos
Johnson City, Texas, Estados Unidos
Enjoy all the local flavor just short drive from Wineries, San Antonio and Austin (Capitol of Texas). The cabin is located on a 315 ac ranch off the beaten trail. The owners reside in home near cabin is near spring fed creek among abundant wildlife. Also available - pull thru RV site extra and fishing in one of the ponds. Guaranteed to catch a fish or your money back or extra night in the cabin.
Birders and Mountain Bikes welcome.
I thoroughly enjoyed my stay at the cabin! The cabin was very spacious. I was so surprised by the amount of space it provided. On my trip, three adults stayed comfortably in the cabin, not cramped at all. A kitchen area with a dining table and chairs is installed in the cabin, along with sleeping quarters. The host provides all of the cooking supplies, utensils, and cutlery. Also, fresh linens and towels as well. Lastly, the property is gorgeous and offers so much recreational activities! Great hill country views can be seen all throughout the property! I will definitely have to come back in order to do all the activities that this place offers. For the price, the cabin is a steal! The host is great! He is very accommodating and welcoming. You'll feel right at home at this place! I found it hard to leave. I will definitely visit again!
Mercedes
2017-03-17T00:00:00Z
Tipo de Acomodação
Casa/apto inteiro
---
Tipo de Imóvel
Casa de campo
---
Acomoda
4
---
Quartos
Johnson City, Texas, Estados Unidos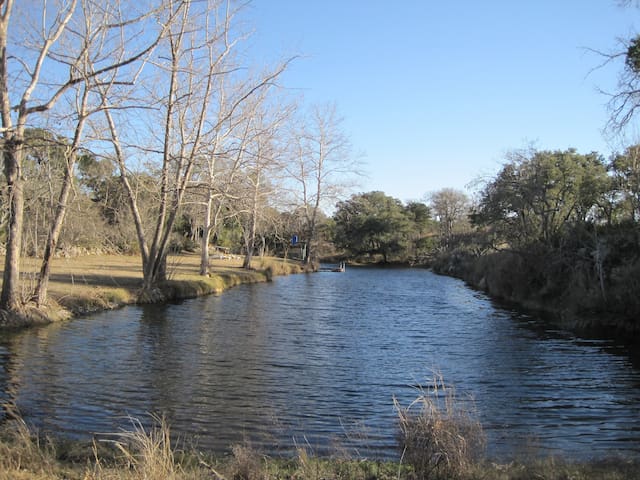 This pink granite 1936 house was home to Sam Houston Johnson, brother of Lyndon Johnson, 36th president of the United States. Situated just a few blocks from restaurants, a brew pub, art galleries, tasting rooms and the boyhood home of LBJ. A charming relaxing home in the country.
The Sam Houston Johnson House is constructed with pink granite quarried from Marble Falls and is the same stone used to build the State Capital in Austin. This cozy, charming, country home will delight you with its quiet and comforting atmosphere. It's appointed with beautiful country chic furnishings and surrounded by majestic oak trees.
Johnson City is centrally located in the hill country, just a 30 minute drive to Fredricksburg, Marble Falls, Pedernales State Park, Blanco and the many wineries on the Texas wine (website hidden) The House is just a short walk to galleries, restaurants and a hiking trail. Tours of the LBJ ranch and boyhood home are offered daily and both are just a short drive from the house.
One of the best AirBnB places I've stayed in! Loved it!
Cato
2016-04-12T00:00:00Z
Wilma's place is tucked in a block from the square, and miles from the action. Beautiful yard, lovely cottage, and so much personality and comfort inside. Absolutely loved it.
Nelson
2017-02-19T00:00:00Z
Wilma was so great! Her responses were prompt and extremely informative. She helped me plan the trip and made me feel very comfortable. Great house, everything we needed was there. Would definitely stay again!
Henry
2016-06-20T00:00:00Z
Thanks for having us in your house. Nicely located and thanks for the tips for the restaurants!
Soazig
2016-04-17T00:00:00Z
The house was great and in a quiet neighborhood. Check in and out went very smoothly. We would definitely consider staying again.
Laura
2017-03-12T00:00:00Z
Such a cute little house. We had a very pleasant stay there. The neighborhood is nice and quiet, yet close to shopping and places to eat. It's a nice little place to unwind and spend time with family &/or friends. There's no wifi or cable, which is just fine with me, we didn't leave town together to watch tv and be connected to social media, after all. Would definitely visit again.
Juanita
2017-03-05T00:00:00Z
We had a great time in Johnson City, and the house was perfect for us. The central location makes it easy to walk to the courthouse square and all of the great antique shops nearby. Perfect little house with everything you need, and the historical photos of President L.B.J. were really interesting.
Andrea
2016-07-04T00:00:00Z
This is a great place for a quiet weekend in Hill Country. We've enjoyed learning about the history of Johnson City first-hand, reading the books about LBJ and his family, and exploring the surrounding towns and places. If you enjoy night life or being close to restaurants and popular places, this cottage is not for you. For example, the nearest Starbucks is 22 miles away :) Expect to be back at the cottage by 9pm and have a good nights' rest.
Kirill
2016-09-06T00:00:00Z
Tipo de Acomodação
Casa/apto inteiro
---
Tipo de Imóvel
Casa
---
Acomoda
6
---
Quartos
Johnson City, Texas, Estados Unidos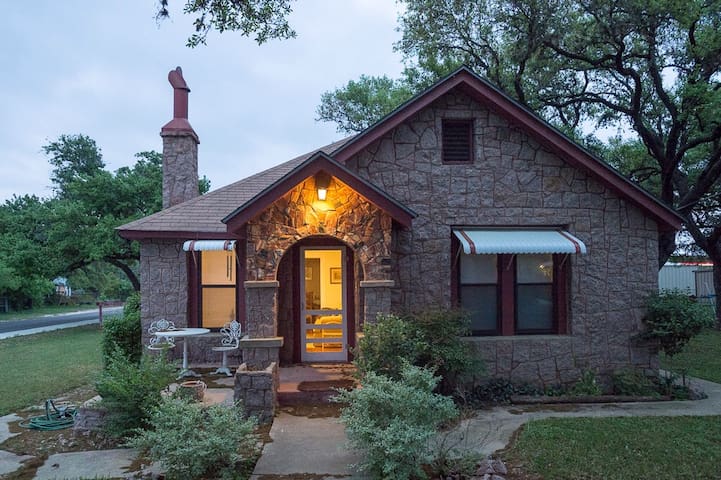 2 beds 1 bathroom rodeo themed cabin in the beautiful Hill Country but still close to town.
Authentic Rodeo themed cabin that gives you a private yard and private patio to enjoy a night away. #JCCowboyCabin
Located 3 miles from town on a private 10 acre hill country ranchette.
I would definitely recommend staying here! It is quiet, cozy, and lots of options to do around the area. The host, Kim, made it as comfortable as possible, as she provides toilet-trees, clean sheets, snacks, etc. The interior is unique. It was a great experience overall!
Valerie
2017-03-14T00:00:00Z
This is the perfect place to stay if you're visiting Johnson city! The cabin is clean and Kim is such a great hostess! She makes sure you have everything you need. It's absolutely gorgeous and a quick drive to Main Street of Johnson city. We loved how it was secluded, but still very close to town. Would highly recommend.
Casey
2017-03-19T00:00:00Z
Awesome quaint Cowboy cottage...very clean and nicely decorated in typical cowboy style. Kim is superfriendly and made us feel at home from day one after welcoming us with home made cake. Will definitely recommend.
Douglas
2016-09-05T00:00:00Z
Awesome, quaint little cabin. Kim was great, and we would definitely stay again!
Jeremy
2017-02-19T00:00:00Z
She was great and very friendly and accommodating. Water in fridge and some snacks were a nice touch. Quiet in the country Loved our time there with one small issue. The cabin has only partial height room dividing walls between all the rooms including the bathroom. We did not see it shown in the pictures or description.
Kacy
2017-01-02T00:00:00Z
We had a wonderful stay, very peaceful and relaxing. Kim and her family were wonderful hosts as well as a wonderful family. We look forward to revisiting again in the future.
Regina
2017-02-05T00:00:00Z
Beautiful and tranquil location, Cody and i loved it and was perfect for us and out 4legged family!!
Alessi
2017-04-09T00:00:00Z
Kim was an amazing host--communicating clearly with me from start to finish--making our stay with her wonderful! She was an absolute pleasure to work with, and the Cowboy Cabin is soooooo cute! The details in the decorations and "extra touches" such as water, snacks, etc. made us feel right at home. Her place is absolutely beautiful! We can't wait to comeback! Thank you, Kim, for a weekend to remember.
Sharla
2017-03-12T00:00:00Z
Tipo de Acomodação
Casa/apto inteiro
---
Tipo de Imóvel
Casa de campo
---
Acomoda
4
---
Quartos
Johnson City, Texas, Estados Unidos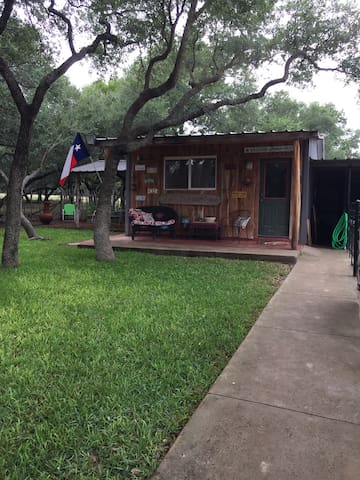 East Bluebonnet Guest House is a private 4 bedroom, 3 bath house one block from the Historic Town Square of Johnson City. Restaurants, art galleries, shops and the Science Mill are all within walking distance. Sleeps 8 comfortably.
Tipo de Acomodação
Casa/apto inteiro
---
Tipo de Imóvel
Hospedaria
---
Acomoda
8
---
Quartos
Johnson City, Texas, Estados Unidos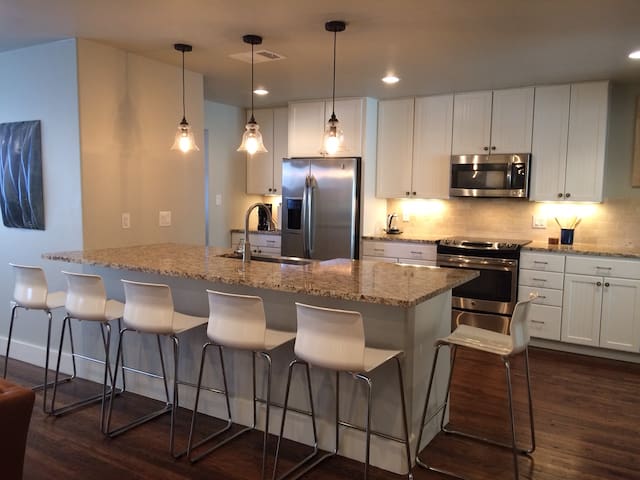 A 13% tax will be collected at the time of check in. The Rosemary Cottage is located at Chantilly Lace Country Inn. We are located in Johnson City, Texas, about one half mile from the downtown area and the Highway 290 Texas Wine Trail, featuring approximately 34 wineries. The Rosemary Cottage is located on 6 private acres. The cottage has 2 rooms with 512 square feet, accommodating 4 adults. A Gourmet Breakfast is served each morning in the Inn.
The cottage is a short walk to antique shops, restaurants and tasting rooms. The city pool is located in the park across the street with a lighted walking trail that takes you to downtown, the President Johnson boyhood home as well as the Johnson Settlement.
Tipo de Acomodação
Quarto inteiro
---
Tipo de Imóvel
Casa de campo
---
Acomoda
4
---
Quartos
Johnson City, Texas, Estados Unidos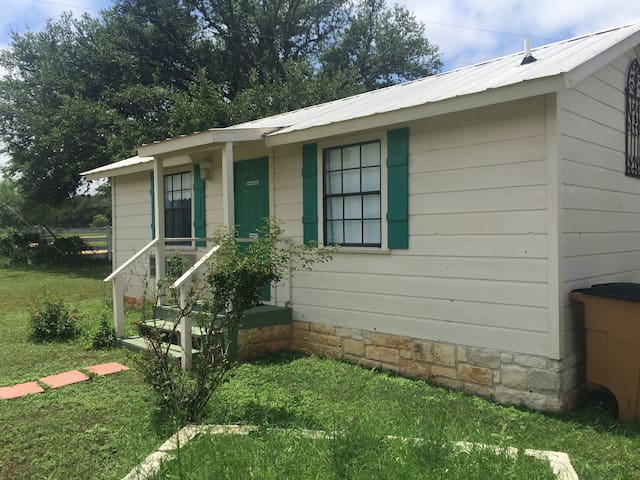 Our King Guest Room is roomy with a king size bed and a bathroom directly across the hall. Morning coffee is just steps away in the kitchen. Your room is on the opposite side of the house from ours so you will have plenty of privacy.
The farm seems to be what draws our guests the most. Chickens, guineas, calves, dogs and cats... occasionally we branch off into other stock as well, but with only 3.5 acres... it is definitely a "hobby farm".
Our neighborhood is quiet and just off the beaten path but easily accessible to everything. It is a great place to start your morning run or walk and downtown, with shops, art galleries and restaurants, is an easy 15 minute walk.
The New Life Farm is a quiet, clean, comfortable place with great central location if you are visiting the Hamilton Pool Nature Preserve (25 min), the Enchanted Rock (50 min) and Fredericksburg (25 min). Amy was a very hospitable host. She baked delicious banana bread for breakfast, and kindly provided alternative sightseeing alternatives in the strong gusting day. The two little dogs are so friendly and cute. Really enjoy the stay. Highly recommended.
Gary
2017-01-22T00:00:00Z
This is our 2nd stay & it just confirmed how much we like staying with Amy & Mike! While it has a very quiet, country feel, you can walk to restaurants, shops & parks. Our king bed is crazy, comfortable & the sleeping is great. Amy & Mike are super welcoming & fun to visit with and their two "girls", Carly & Ruby are super sweet & a constant source of entertainment! We have made this our hill country launch point - wine, hiking, wine, restaurants - good nights rest - it's perfect!
Geri
2017-03-06T00:00:00Z
We loved our stay with Amy & Mike. They were both very friendly & welcoming. We were there only one night but are already planning return stays. It is quiet, comfortable & they make it feel like home. It is a perfect location for hill country exploration, you can walk to downtown Johnson City for meals, beautiful parks and only a 30 minute drive to Fredericksburg. Added bonus are the sweet puppies!
Geri
2017-01-29T00:00:00Z
New Life Farms is a great place to stay. Amy is an amazing host and made our first ever BnB experience one we will cherish for a long time. Our 5 year old daughter had her first farm experience and it could not have been any better. The dogs Carly and Ruby were a great hit with her and she thoroughly enjoyed playing with them. Amy and Mike showed her around the farm with all the love, attention and enthusiasm she would get from her own grandparents. I don't know what I enjoyed more, her opportunity to explore her favorite rhyme or the lingering smile on her face. My wife had a great time chatting with Amy and just within a day's interaction Amy's warmth and hospitality made her feel like she had known Amy for ages. I enjoyed practicing my photography skills capturing dozens of pictures of my daughter in lively action around the farm. We can't wait to go back when we are around San Antonio next time.
Ashwin
2016-12-31T00:00:00Z
We could have not asked for a more awesome place to call our 'home away from home' for 5 nights! You welcomed us 'Yankees' with open arms, introduced us to your family and made us feel right at home! The quiet, relaxing country of your home was very much appreciated at the end of each day. We'd put on our lounging clothes and just enjoy the evening visiting and/or reading. The other guests that came and went during our stay were such quality people. It was hard to believe we were all just strangers! Everyone seemed to fit right in, from the youngest couple to the bicyclists to the family passing through on spring break. This place is magical like that!! Amy and Mike, thank you from the bottom of our hearts!
Caroline
2017-03-17T00:00:00Z
We spent our first night in an upstairs room, then, moved downstairs in order to accommodate our schedule and their availability. Amy and Mike were so very welcoming and thoughtful. They could not have been more kind. We felt like we were treated like family. All was as expected or even better. We felt comfortable, safe and very well taken care of. They went the extra mile with delicious breakfasts, cookies upon arrival and allowing us to play with the sweeet dogs and cat meet the cows and chickens!!! By the way, the animals are not too close to the house- You would never know there are any animals anywhere if you are concerned about animal smells. One evening, we even got to sit under the stars by a fire pit outside and visit with our new friends. We enjoyed getting to know the other guests was wonderful as well. This is a warm and friendly environment and we all loved Amy and Mike!
kim
2017-03-19T00:00:00Z
Our stay could not have been better! Amy was so kind and welcoming, showing us around the house and property, ensuring that we had everything that we needed. The room was spacious and the bed was so comfortable. The bathroom was right across the hall and had a great shower and ample room to get ready in the mornings. The property was far enough from the main road to be quiet and relaxing but close enough to easily enjoy the sites that Johnson City has to offer. The two dogs were sweet and got lots of belly rubs while we were there. We will be staying here again next weekend and are already looking forward to our visit!
Kelsey
2017-02-12T00:00:00Z
Amy's farm was very cozy and relaxing. A wonderful getaway for an evening or a week or two! They are very hospitable and friendly hosts! We highly recommend staying with them.
Ryan
2017-02-18T00:00:00Z
Tipo de Acomodação
Quarto inteiro
---
Tipo de Imóvel
Casa
---
Acomoda
2
---
Quartos
Johnson City, Texas, Estados Unidos
In the middle of the Texas Hill Country, this is a great base for your Central Texas tour. We are located just an hour from either downtown Austin or downtown San Antonio, in the heart of the rolling hills wine region. Our Fine Art gallery is located on the town square, across from the Blanco County Courthouse. Our home as well as the Tree House Suite (separate entrance) overlook a tree line creek at the rear of the property. You can walk to several restaurants and art galleries in minutes. The Lyndon Johnson boyhood home as well as the original Johnson family "settlement" ranch and the LBJ Visitors Center are all within walking distance. The LBJ Texas White House Ranch is a few miles from here in Stonewall. This spacious bedroom with a king sized bed, a large desk (wireless internet) and a private deck, will make you feel like you are in a tree house. There is a coffee pot, a TV and a refrigerator. We do not provide breakfast but will direct you to the best places for that. Area attractions besides the LBJ destinations and the Wine Trails include lots of live music, wide Texas skies, art galleries, antique shops, and of course - Texas cuisine. A coffee shop, brew pub and restaurants are within walking distance. Our place is quiet and private and yet located in the heart of all things Texan.
This is a very quiet little town, at the gateway to the acclaimed Texas 290 Wine Country. You can do as much or as little as you wish.
We had a great time in Johnson City and at this conveniently located room. Nestled above an art gallery and wine tasting room, the stairs are steep but the room, balcony and bathroom are amazing.
Chris
2012-11-19T00:00:00Z
Susan and Warren made us feel incredibly welcome. We were invited to an open evening and met all their friends. We we're also invited to a wine tasting. Warren is very knowledgable about wines and showed us the proper way to taste. The room is above the studio with a large bedroom, a peaceful deck overlooking the garden and creek. There is an excellent shower in the bathroom with a small refrigerator. The wifi signal is sporadic. We were woken early by the light coming through the windows (blinds would have been good for restless sleepers). Johnson City is convenient to visit the Hill Country and the recommended Lot 102 food truck is great, both food quality and value. There are a few arty shops in the town and Black Spur has good coffee.
Ruth
2014-10-19T00:00:00Z
What a lovely oasis for a traveler to call home. So grateful to the lovely owners of this beautiful and ever so comfortable property. They were incredibly accommodating, kind and generous. If ever I am able to make it to this sweet town again... It is here that I will stay.
Katy
2016-05-25T00:00:00Z
We had an awesome time visiting Johnson City for our first wedding anniversary! Susan and Warren were friendly and accommodating hosts. The room was clean with plenty of space and natural light. It was great waking up in the morning and seeing the treetops out the window (and the bed was comfortable too). As wine novices we learned a lot by having a guided wine tasting with Warren. Our hosts were also very knowledgable about the surrounding area and helped us decided the best things to fit into the short time we were visiting. Highly recommended to anyone wanting to make a getaway to the Hill Country.
Scott
2014-04-21T00:00:00Z
Susan and Warren were fantastic hosts. They made every effort to make sure our stay was comfortable and enjoyable. Their suggestions for things to do and places to eat in the area were fantastic. The room was large, very clean, relaxing and very quiet. The balcony was a great place to sit and relax both in the morning and in the evening. This is a great location to enjoy Johnson City and the hill country. I highly recommend staying here.
Michele
2016-05-31T00:00:00Z
I had a wonderful weekend staying at this adorable loft in Johnson City. The accommodations were lovely-huge plush bed, great bathroom space, and a cute little patio to drink my coffee in the mornings. Susan was a great host and I would stay there again in a heartbeat.
Holly
2014-06-16T00:00:00Z
Tipo de Acomodação
Quarto inteiro
---
Tipo de Imóvel
Pousada
---
Acomoda
2
---
Quartos
Johnson City, Texas, Estados Unidos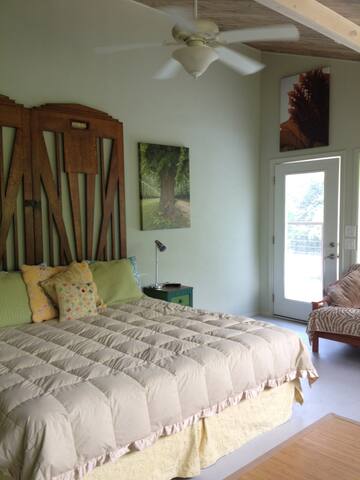 Insira as datas para ver o preço total. Taxas adicionais serão aplicadas. Impostos podem ser adicionados.