Mais de 300 Apartamentos para Alugar
Renovated Horse Stable with exposed beam ceilings, new kitchen, 2 bedroom one bathroom 2 story home. Very stylishly decorated. Bed Linen is 1000tc and 10 min walk to City or Parade. Small courtyard. House is quirky and fabulous! Right near Clipsal!
An interesting, quiet place, friendly feel. Comfortable bed, stairs are quite steep for those with limited mobility. We arrived late and Holly had supplied a tasty supper. She had contact over the weekend, checking on whether we had all we needed. Air-conditioner upstairs and down in one bedroom were great. Easy walk to park, city centre, cafes.
A
2017-03-12T00:00:00Z
Holly was a great host and the unit was cosy and adorable. We loved Holly's style and felt very at home. The converted stable was full of charm and lived up to expectations. The lounge was a super comfortable spot to relax in on a stormy night, the beds were also extremely comfortable. It was a perfect base from which to explore Adelaide. We found it's close proximity to the CBD very convenient. Finally, Holly was happy to let us check out later in the afternoon, which was a huge bonus as we had an evening flight. I would definitely stay here again.
Robert
2016-10-03T00:00:00Z
Great place within just a couple of minutes walk of the main gate to the Equestrian event we were attending. Holly had left fruit and snacks for us which was great as we arrived late at night and didn't have a car. The property is full of character and interesting and quirky items. The beds were comfortable and the towels huge and fluffy! We loved the history of the building, evident from the interior beams downstairs and it is in a very quiet street. The nearest shop we found is a bit of a walk away, but there is a good pub (the Colonial) for dinner in that direction too. We would definitely stay here again.
diane
2016-11-05T00:00:00Z
Holly was lovely and the place was in a great location.
Kate
2016-12-24T00:00:00Z
Nice enough place but very cluttered with stuff.
Andy
2017-01-21T00:00:00Z
The house is well lived in. A 15-20 min walk to the centre of the city. The photos are better than how the place was presented to us.
Lucy
2017-02-24T00:00:00Z
Holly's place was a lovely place to stay. Super cosy and comfortable. great central location
Storm
2017-01-15T00:00:00Z
Brilliant and cosy place, felt like home after the first night. Holly was very hospitable and a great host with a beautiful home. Will definitely stay here again.
Bradley
2016-09-17T00:00:00Z
Tipo de Acomodação
Casa/apto inteiro
---
Tipo de Imóvel
Apartamento
---
Acomoda
4
---
Quartos
Kent Town, Sul da Austrália, Austrália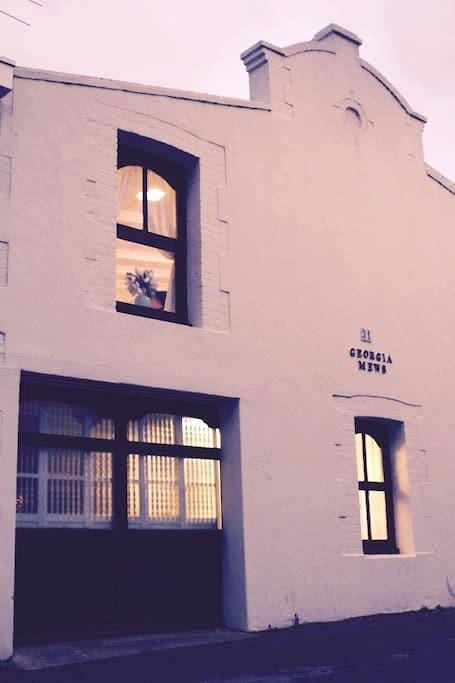 This beautiful unit is in the leafy suburb of Kent Town - only minutes away from CBD . Its located on the second floor and surrounded by trees and birds . This unit is very close to CBD You can either rent the whole place to yourself or only rent a room. Please email me about your request of renting a room or entire unit first.
This unit is ideal for people who like to be close to the city or coming to Adelaide for a visit It's a walking distant to historical Parade with variety of restaurants and cafes . Only few minutes to CBD either walking or riding or taking a bus– Bus stations are around the block and easy access to shops too.
Clos
Great place to stay in Adelaide. Very convenient location. Walking distance to Rundle Mall. Excellent communication. Very clean. Recommended
Peter
2017-03-23T00:00:00Z
Nice simple apartment close to town.
Rosie
2017-03-19T00:00:00Z
Good quiet place Walking distance from Rundle St. and its array of restaurants and coffee shops, close to relaxing public parks
Massimiliano
2017-03-14T00:00:00Z
handy and enjoyable walk to the City
Linsey
2017-03-17T00:00:00Z
Wouldn't recommend
Zac
2017-03-11T00:00:00Z
Clean and tidy little apartment close to the city.
shae
2017-02-25T00:00:00Z
This is a clean and basic place close to the city and other amenities. It would be best to avoid the time of the Clipsal event. You need to be able to climb the stairs. Taking a small electric fan might be helpful also as the unit attracts alot of sun in the summer time. It is truly a lovely leafy spot.
CATRIONA
2017-03-07T00:00:00Z
Tipo de Acomodação
Casa/apto inteiro
---
Tipo de Imóvel
Apartamento
---
Acomoda
3
---
Quartos
Kent Town , Sul da Austrália, Austrália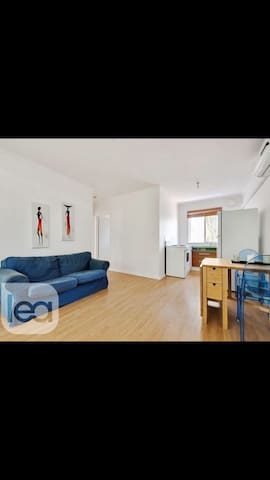 My place is close to the city centre, parks, art and culture, great views, and restaurants and dining. My place is good for couples and solo adventurers. It is a 5 minute walk to the East End of Rundle Street with its many restaurants/cafes/pubs. A free city circuit bus is also a short walk away. The apartment is on the 4th floor of a modern complex with top level (swipe card) security and secure basement parking. The sauna, pool, gym, and spa are well maintained (full time caretaker).
I could not more highly recommend this place! John was so incredibly helpful and friendly. Great location right next to Rundle st, very clean and incredibly functional! Fantastic pool, spa and sauna facilities. We will definitely be back....we stayed for a week and didn't want to leave...
Paulette
2017-03-27T00:00:00Z
Great location. Great pool/spa/sauna. Great views.
Piaf
2017-03-14T00:00:00Z
We needed a place to stay whilst we were having some renovations done. After looking at various hotels in and around Adelaide, I came across John's apartment on Air BnB. As a host, John and Pat are very accommodating. They had goggles ready for my kids to use the pool, very clean apartment and thorough instructions for our stay. The pool, spa and gym are a real bonus to have access to. Two secure car parking spaces also a massive bonus. The city is only a 5 minute walk and plenty of nice places to dine only a short cab ride away. Highly recommended. Thank you John and Pat.
Bart
2017-03-20T00:00:00Z
The place is very nice, big and there's everything you need. If there's anything you needed John and Patricia were happy to give advice :).
Sarah
2017-03-17T00:00:00Z
Tipo de Acomodação
Casa/apto inteiro
---
Tipo de Imóvel
Apartamento
---
Acomoda
4
---
Quartos
Kent Town, Sul da Austrália, Austrália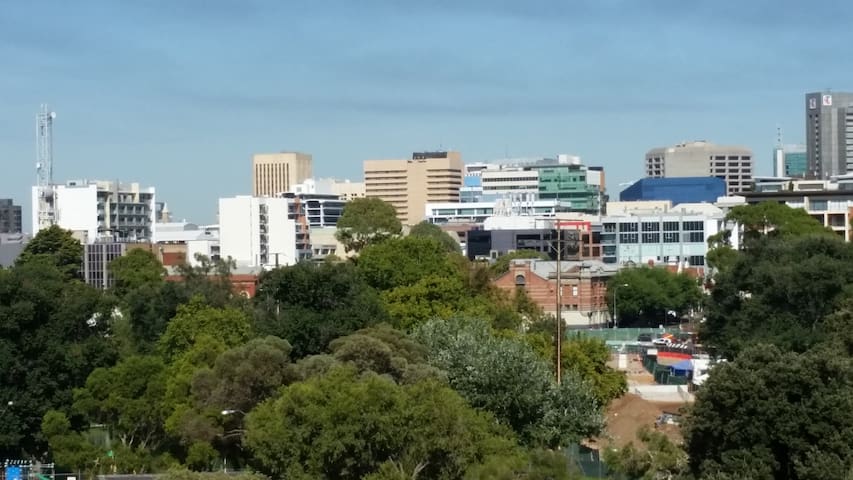 Perfectly located, the apartment is walking distance to cafes, restaurants and bars on Rundle Street. Literally over the road from the parklands hosting the Fringe Festival, and a short walk to the Botanical Gardens, the Zoo and Rundle Mall. It's also an amazing location if you're attending the Clipsal 500. The pool, spa and sauna are a welcome addition to your stay, alongside the gym.
Excellent apartment on the city fringe... very comfortable and quiet... host Maya very accomodating...
Samantha
2017-03-06T00:00:00Z
We had a very nice time at this place. it was very central but quiet enough for rest and sleep. the house is very safe, clean and has every comfort you could think of (except wifi, no biggie). Maya is a lovely host who did whatever she could to help our stay, wouldn't hesitate to recommend :-)
Sam
2017-03-13T00:00:00Z
Tipo de Acomodação
Casa/apto inteiro
---
Tipo de Imóvel
Apartamento
---
Acomoda
5
---
Quartos
Kent Town, Sul da Austrália, Austrália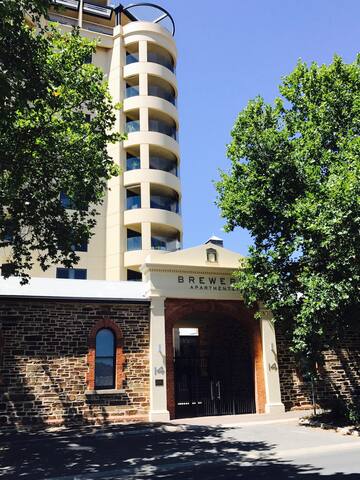 This sunny two-bed flat is a 2 min walk to the Clipsal track, 8 min to the Garden of Unearthly Delights and 20 min (or short bus trip) to the WOMAD festival. It comprises one double bedroom and one single bedroom, with bathroom, kitchen and lounge.
The property is a self-contained flat in a block of 21 similar apartments. The property is on the second floor with stair access only.
Kent Town is a leafy inner-city neighbourhood bordering the eastern parklands of Adelaide. You can walk to the centre of the CBD in 15 minutes.
Tipo de Acomodação
Casa/apto inteiro
---
Tipo de Imóvel
Apartamento
---
Acomoda
3
---
Quartos
Kent Town, Sul da Austrália, Austrália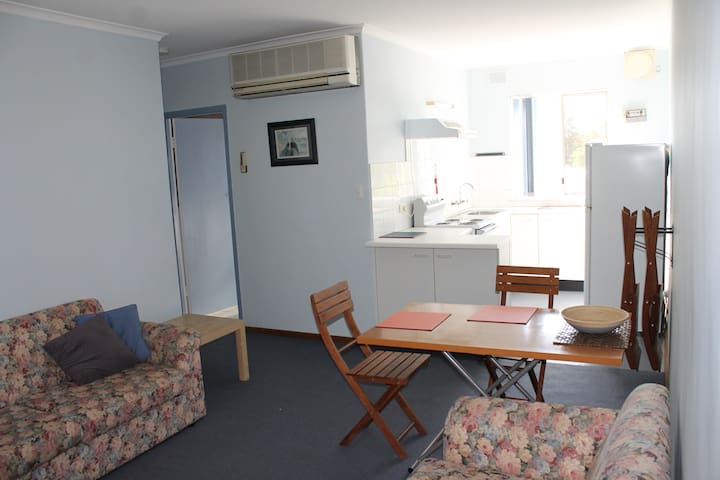 COLLEGE SQUARE APARTMENT offers a stunning location and design. This 3 bedroom town home is a short stroll through Rymill Park to the city centre or east to the Norwood parade. Walk to Adelaide Oval through the Botanic Gardens.
Double garage, very secure. Outdoor entertaining courtyard with adjustable vergola.
Close to cafes and bars
Jane's place was perfect for our Womad weekend. An easy walk to town and the Botanic Park. The place was spacious and clean. Beds were very comfy. We didn't get a chance to use the courtyard but it's be perfect for having meals outside. Communication and coordinating access to the key was easy. Highly recommend host and accomodation. Thanks Jane!
Annette
2017-03-12T00:00:00Z
Jane was incredibly helpful and communicated well. Her home was spacious, quiet, modern, clean and a short walk to the city. I would highly recommend staying.
Marty
2017-03-05T00:00:00Z
Tipo de Acomodação
Casa/apto inteiro
---
Tipo de Imóvel
Apartamento
---
Acomoda
4
---
Quartos
Kent Town, Sul da Austrália, Austrália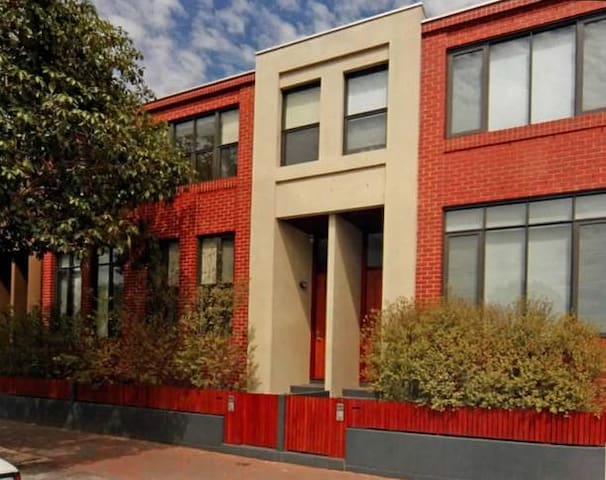 My place is minutes stroll away to Frewville cafes & shopping centre. This fresh unit is great for couples, travellers, family and solo adventurers. Prime position for access to the CBD, parklands, public transport. This city fringe second floor apartment in this secure group of 14 enjoys views across the tree studded suburb of Eastwood and includes chefs style kitchen featuring oodles of storage.
Our second floor apartment offers contemporary style, fresh renovated, and carpets in the bedrooms. Separate large living space with huge amounts of storage. The spacious bathroom has shower, bath, two separate sinks, heaps of storage for your toiletries and a washing machine. The fully renovated kitchen adds further to the modern sophisticated edge of this unit with ample cupboard/bench space with oven, microwave, toaster, Kettle all ready for use! Other great features include: - Plenty of storage with built in cupboards - Reverse cycle split system in lounge - heating and cooling. - private parking Any items that you may require during your stay please let us know and if we can make arrangements to have these available for you we will do our very best. Eg, if you need iron, ironing boards, pedestal fans, extra blankets, towels - be sure to ask and we will do our best :) please take note: We are able to provide you with a spare mattress if necessary in the second studio room.
Beautiful apartment to stay in with everything you'd need. Poppy was a terrific host and easily contactable for questions. Apartment block a little 'old school' but apartment was perfect. Would totally stay again!
James
2017-02-28T00:00:00Z
Excellent apartment, newly renovated, super clean and quiet. Comfy queen size bed with quality linen. Comes with a lock up garage with electric remote door. Poppy is a great host. Would definitely stay again!
Mitch
2017-04-02T00:00:00Z
Poppy's home is tastefully decorated, very clean and comfortable, you will feel at home. The location of the apartment is close to the city, and there is plenty of car parking area in the street. Poppy is a great host , her home has been set up especially just for you!
Amanda
2017-02-11T00:00:00Z
This was our first Airbnb and wow we loved it. Poppy was a fabulous host and communicating was a breeze. Needless to say nothing was too much trouble and we felt so welcome. Poppy's place had everything in it we needed. The bed was comfy, the ammenities were perfect and wow what magic kitchen, we stayed for 10 days and it really felt like our place, home away from home. Poppy had put a lot of little extras in and the treats were lovely, thank you Poppy we enjoyed it all. What is also great is the location, approximately 2km out of the city and the bus route into the city was just around the corner. Two supermarkets, a Foodland, that has won International retailer of the year 2016 and 2017, it has everything from basics to gourmet delights, Woolworths is just across the road, a massive fresh seafood place close by and BWS is around the corner. It has a delightful array of restaurants and pubs in the next street over and it is all in walking distance. We were there 10 days and didn't need a car, we walked or used public transport. Poppy's at Eastwood is a great find and we look forward to returning. All in all, 10/10 Poppy we loved it. Bob & Nicky
Robert & Nicky
2017-03-26T00:00:00Z
很好的房东,房间收拾得很干净,屋内设施都齐全,还要很贴心奶茶点心,总之是一次非常满意的入住
玲
2017-02-16T00:00:00Z
Great place. Clean, with modern and bright furnishings. Shame we only stayed for a night. Poppy was very prompt in her replies too so communication was a breeze.
Hanna
2017-03-30T00:00:00Z
Everything was great—the apartment is spacious and clean, walking distance to groceries and a quick drive into the city. Highly recommend.
Luke
2017-02-23T00:00:00Z
This apartment was exactly as pictured, no tricks of photography here! It's well equipped with appliances and lovely little extras, and Poppy is a great communicator who made us feel very welcome. She has obviously put in a lot of effort into making the house a great place to stay, rectifying previous guests concerns and meeting everyone's needs. Seamless check in process and very handy off street parking. Loved it! Great Airbnb!
chloe
2017-02-18T00:00:00Z
Tipo de Acomodação
Casa inteira/apto
---
Tipo de Imóvel
Apartamento
---
Acomoda
2
---
Quartos
Eastwood, South Australia, Austrália
Cosy, quiet and secure apartment situated in friendly neighbourhood. Conveniently situated just a stone throw from the Torrens Linear Park, great for walking, riding and all other recreational activities. The bus stop is a short 3-minute walk – it's a 15-minute trip into the heart of the city. Private undercover parking is also available. Unlimited WIFI available, extra bedding can be provided at your request.
Tipo de Acomodação
Casa/apto inteiro
---
Tipo de Imóvel
Apartamento
---
Acomoda
3
---
Quartos
Marden, Sul da Austrália, Austrália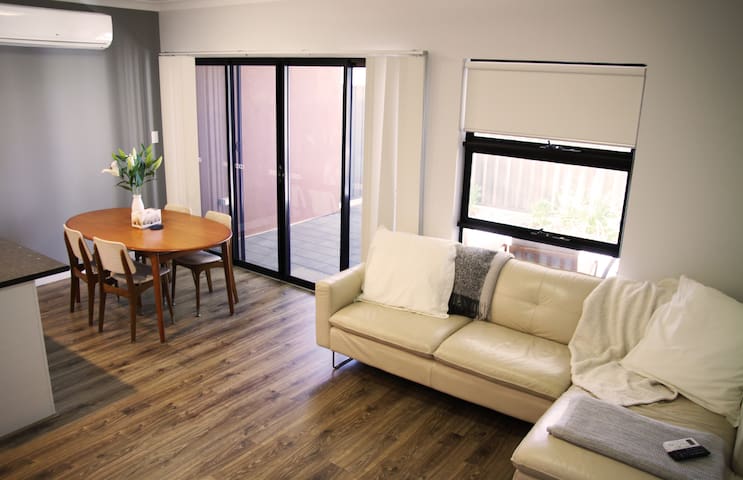 Gorgeous little red brick unit located in Tusmore, South Australia. Just 15 minutes by car from the CBD and close to Adelaide Hills. 2 bedrooms, bathroom kitchen, lounge, outdoor deck and laundry. Close to great restaurants, shopping and cinemas.
Fully stocked kitchen including, oven and cook top, dishwasher, saucepans, electric frying pan, microwave, cutlery, glassware and crockery for up to 6 people. Nespresso pod coffee machine. Fridge and washing machine. Bed linen, towels and kitchen napery included. Built in wardrobes in both bedrooms with plenty of hanging space and coat (website hidden) and luggage racks in the other bedroom for your suitcases, DVD player with some DVDs to watch. There is 1 Queen bed and 2 single beds which can be turned into another Queen bed.
The unit is located in a quiet group of flats. Tusmore is close to Adelaide CBD. Local restaurants include Korean, Indian, take away pizza, chicken and chips, Thai, Nepalese, pub meals, modern Australian and are all close to the unit. Burnside Village is one of Adelaide's premier shopping destinations and is only a 10 minute walk. Local public playgrounds, swimming pools and cinemas are only a short walk away. Coles and Woolworths supermarkets are within a 10 minute walk away and a very reliable laundromat with washers and dryers is less than a 5 minute walk away. Tusmore is ideally located in close driving proximity to the beautiful Adelaide hills where you can indulge in our gorgeous local food and wine. (URL HIDDEN)
What a fantastic unit in a great area of Adelaide and to top it all off, what a great host! The unit is as described and more with many thoughtful extras this place is bonza. Roberta ensures that you are comfortable with everything you need and great communication. If you are looking for a great unit in the leafy eastern suburbs of Adelaide, then this is the place! We highly recommend.
Marie
2016-03-22T00:00:00Z
Great apartment and convinient to CBD and Adelaide Hills area! Definitely recommend to travellers wanting to visit Adelaide and the surrounding areas! Well equipped home with all the required necessities, feels like home!
Jethro
2016-06-20T00:00:00Z
We did not meet with Roberta throughout the stay, but she gave very clear check-in instructions and welcoming message. The nice little house is located at somewhere very strategic. It's much better than any hotel, and we were very lucky to be able to book her place. Highly recommended!! Thanks for the candle souvenir!!
Tim
2016-11-04T00:00:00Z
Roberta's apartment is absolutely beautiful and has everything you need. It is located in lovely neighbourhood with great access to public transport and shopping facilities. It was great to be away from home but to still be able to cook your own meals in a well stocked kitchen, do your own laundry but it also included some hotel-like luxuries. We were welcomed with a personalised note and a bottle of chilled champagne. Communicating and coordinating with Roberta was easy. I would highly recommend staying here.
Missy
2016-03-02T00:00:00Z
Location: Great CLEAN place for a great value. Lots of traffic lights if you want to go into the city but if you are planning on touring the outskirts we found it really easy to escape from to go to Barossa/Adelaide Hills/ McLaren Vale/Hahndorf etc. Accomodation: comfortable, extra linens, wifi, an iron, a few toiletries, laundry facilities, decent size kitchen and fridge. Had some basic staples already stocked in the kitchen which was much appreciated. Large closets with drawers and hangers so we didn't have to live out of our suitcases. Lots of tourist info brochures. There was a folder with important emergency information which if in need would have been really good to have. Cons: no corkscrew (wasn't end of world since most wines were screw-cap). Really tight parking. If you have a large vehicle or SUV good luck, back in really slowly. We had a smallish car and managed with guidance. Second bedroom has two king-singles and we were two couples...but we made it work. TV was a little wonky, the image kept scrambling but I think we turned it on only once the whole week just to check the weather, so we weren't too worried about it. Overall really great unit and Roberta left us with some local wines so we were pretty happy from the start.
Andrea
2017-02-15T00:00:00Z
House is very neat and tidy, has everything you need, Roberta is very thoughtful, she also provided lovely welcome food. Unit is close to everything.
Kristy
2016-04-01T00:00:00Z
Roberta is obviously passionate about making guests comfortable, this place had everything we needed and was a pleasure to stay in. You won't be dissapointed.
Leigh
2016-12-04T00:00:00Z
Exactly as stated, good experience
Thomas
2017-01-23T00:00:00Z
Tipo de Acomodação
Casa inteira/apto
---
Tipo de Imóvel
Apartamento
---
Acomoda
4
---
Quartos
Tusmore, South Australia, Austrália
Esta unidade 1 quarto recém-renovado está situado no recinto Hutt Rua localizado dentro do CBD. Apenas a 15 minutos a pé para o centro da cidade e está rodeado por uma generosa quantidade de cafés e restaurantes. supermercado, banca de jornal, estação de correios local e químico estão todos localizados dentro de minutos ao longo Hutt Street. Local perfeito para Fringe Festival, Tour Down Under, Clipsal e outros eventos Adelaide tem para oferecer. St Andrews Hospital está convenientemente localizado apenas a 350 metros a leste da unidade.
Ebony's place was great! Even though it was small, it was clean, perfectly decorated and fully equipped. There was coffee, tea etc. The bed was plush and the air-conditioner really helped with cold nights. Also love the spacious bathroom. It a tiny bit further away from the main area of the CBD but so easy to get around everywhere in Adelaide anyway. Street parking was all free everywhere for 2+ hours. We did have some trouble finding a spot on Fri lunch when arrived but no issues whatsoever after that. There is a construction site next door but we didn't hear anything at all over 3 days. Having said that, the walls are quite thin lol. All in all I'd recommend Ebony's place for a valued, lovely inner city stay for Adelaide.
Thao
2017-04-02T00:00:00Z
A beautiful clean unit set back from the main street so quiet (apart from the current construction site next door). Super convenient to the free bus and lots of places to eat and good coffee right on the corner.
Wendy
2017-01-29T00:00:00Z
Ebony was there to meet me on arrival and show me through the flat. The milk in the fridge, coffee and tea were greatly appreciated. I was in Adelaide for work and pre relocating so the location was great as easy to get to everywhere. Ebony has city guides for you to look through if you were there on holidays. I cooked some nights as stayed 18 but no need if you didn't want as great variety on door step. Yes in construction next door at present but was only woken once in 18 sleeps!
Louise
2016-12-22T00:00:00Z
Ebony's place is small and cosy and yet nicely fitted with a spacious shower, thick lovely towels and a very comfortable bed. Please note that no milk or breakfast produce is provided but there are great cafes and restaurants a stone's throw away in Hutt Street. Construction starts next door but if you are an early riser this is not a problem.
Steph
2016-11-17T00:00:00Z
We would highly recommend Ebony's place. It is in such a fantastic location just off Hutt St. The unit was very well equipped with everything you need and Ebony has done a great job in presenting the place.
Russell
2016-12-31T00:00:00Z
Close to restaurants, bars and the central business district. Perfect! Funky and clean. This is a great place to stay. Highly Recommended
Rob
2016-11-24T00:00:00Z
Ebony was a such a lovely host- easy to get in touch with & has put in so much thought (& style) in the design and decor of the apartment. The apartment was very modern yet cosy with everything to make you feel right at home. Location was about a 20min walk away from the city centre. However, construction in the building next door at the time of my stay was noisy and disruptive, sometimes blocking off traffic and pedestrian access to the building.
Aimelyn
2017-03-15T00:00:00Z
Amazing location! Pictures are the exact same. So close to everything and buses right at your door. Ebony was a wonderful host and would be happy to stay again!
Pamela
2017-02-13T00:00:00Z
Tipo de Acomodação
Casa/apto inteiro
---
Tipo de Imóvel
Apartamento
---
Acomoda
2
---
Quartos
Adelaide, Sul da Austrália, Austrália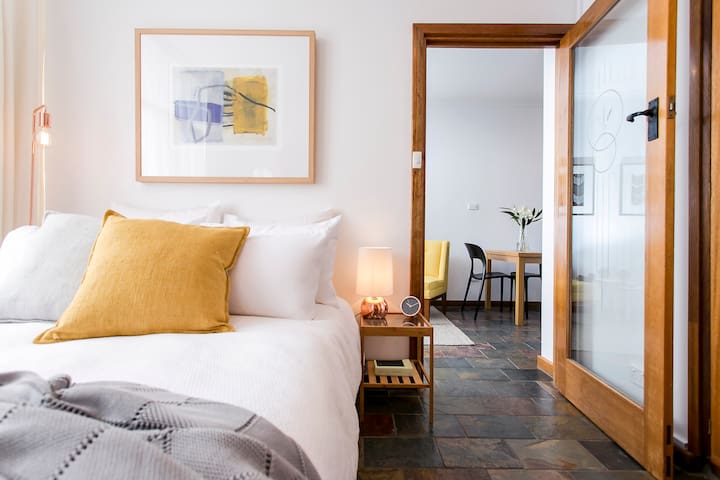 Modern sunny spacious studio overlooking pool. Set in the beautiful gardens of an old heritage listed villa. Quiet, leafy residential area and only 3km to Adelaide CBD. Short walk to cafe strips on Duthy St, Unley Rd & King William Rd. Free wifi and foxtel. Good bus links to the CBD. Breakfast basket included on arrival.
Large light filled open area with high raked ceiling upstairs overlooking pool Instant reverse cycle heat/chill airconditioning with remote control Iron/Ironing board Microwave, toaster, fridge & one induction cook plate Filtered water tap Plates, cups, glasses, cutlery, pots & pans Kettle, tea, Nespresso coffee maker, sugar & milk Please note no conventional oven Excellent dining options short walk away on Unley Rd & King William Rd Public laundromat 5 mins away Foxtel Flat screen TV Free wifi This is a family home and we do have children (+12yrs) who use the pool and back garden
Malvern is a favourite suburb and on the doorstep to Adelaide City. Many visitors choose to stay in Malvern for its proximity to the City, leafy green streets and relaxed atmosphere. There are many al fresco cafes, restaurants and wine bars only 5-10 minute walk away. Unley Rd has many shops including supermarkets, banks, chemists, laundromat, clothes shops and hairdressers. We can help with directions to many places of interest. Barossa with its fascinating history and heritage and fantastic wineries is just over an hour away and McLaren Vale wineries 45 mins away. There are great barbecues and picnic areas close by and the tram to Glenelg is only 5 mins drive away. Adelaide is one of the best cycling cities in the world, with a network of bike paths sprawling in and around the city. Adelaide hosts the "Tour Down Under" each year in February. The beaches & hills are just 20 mins away and you can always spend a couple of days on Kangaroo Island.
Sandra and her family including the pets were very welcoming. The studio was spacious and every thing you needed was provided. To our delight the writing desk contained pads, pens and even white-out! Absolute nothing was overlooked. The breakfast and local produce that was provided on the first morning lasted us for days and naturally was delicious. The pool looked most inviting but unfortunately we ran out of time for a quick swim. Sandra's studio was superb and of exceptional standard. Hopefully next time we are in Adelaide we would like to stay again.
Peter
2017-01-28T00:00:00Z
What a fantastic place Sandra is a great host and I would highly recommend this place to all searching for perfection in Adelaide.
Sandy & Joe
2017-04-02T00:00:00Z
A slice of heaven in Adelaide! This is one of the nicest places I've ever had the pleasure to stay - a completely self-contained unit that feels spacious and luxurious. Easy transport puts you in the centre of Adelaide within minutes. Hosts Sandra and Richard were helpful and accomodating and unobtrusive. And they spoilt me with a hamper of gourmet foods and wine upon arrival! Highly recommended - worth every penny.
Richard
2017-03-19T00:00:00Z
Had a great stay at Sandras studio, lovely area of Adelaide not far from town, check in easy, would highly recommend!
Alex
2017-03-23T00:00:00Z
Highly recommended ! I had a lovely time in this apartment, Sandra welcomed me very warmly and was always helpful with me if needed. I've stayed in this studio for business purpose (a month) and I would definitely stay again there if I have to go back to Adelaide. Thanks for everything Sandra!
Kelly
2017-02-27T00:00:00Z
Everything about this place is divine. Studio was very clean with beautiful furnishings and a generously stocked kitchen. Situated in a quiet and beautiful area with easy access to the city. Loved everything about our stay.
Katie
2017-03-28T00:00:00Z
Tipo de Acomodação
Casa/apto inteiro
---
Tipo de Imóvel
Apartamento
---
Acomoda
2
---
Quartos
Malvern, Sul da Austrália, Austrália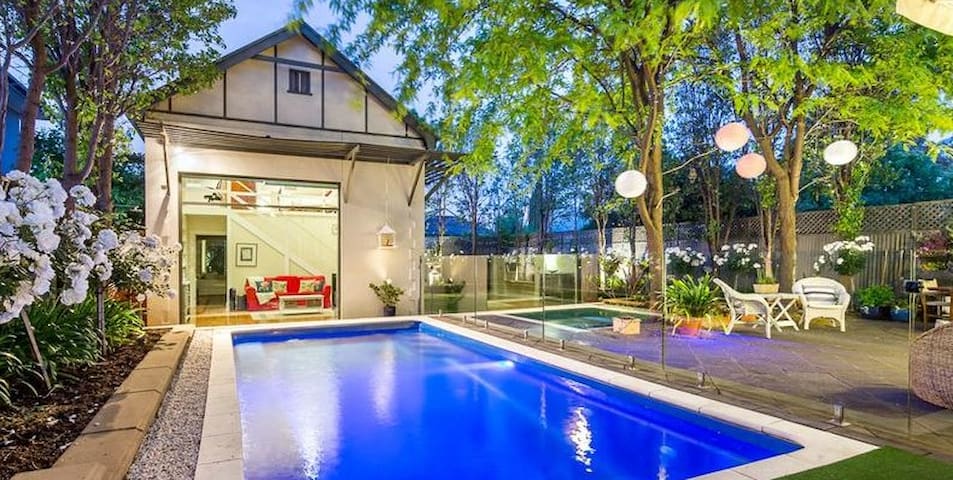 Modern 1 bedroom apartment close to the city, the hills and the botanic gardens. Brand new stainless appliances, spacious balcony and in a secure building. Parking is available around the complex as well as a secure room to lock up bikes. Wifi is available in the apartment.
Brand new apartment in a secure building, with a big balcony overlooking the park lands.
5 minute walk away is popular Melbourne Street in North Adelaide with lots of cafes and boutique shops. The Parade in Norwood is a short drive away also filled with trendy cafes/restaurants and lots of shopping. Rundle mall is Adelaide's shopping precent with large department stores. Popular walking/cycling trails are situated just behind the apartment complex on the Linear Park Trail that can take you to the Mt Lofty ranges or down to The popular Henley Beach. Parklands are just across the street featuring soccer goals, tennis court, basketball court, cricket field, playgrounds and barbecues.
Tipo de Acomodação
Casa inteira/apto
---
Tipo de Imóvel
Apartamento
---
Acomoda
2
---
Quartos
Gilberton, South Australia, Austrália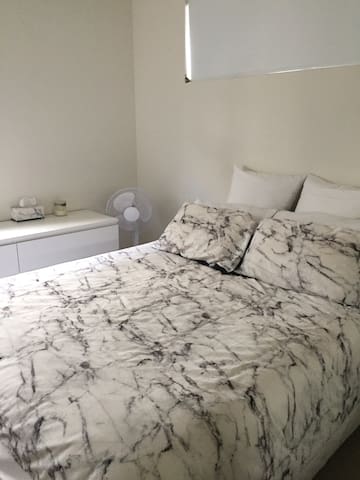 A charming modern one bedroom unit in a beautiful tree lined street. Equiped with amenities to make any stay feel like you are in your own home.
Modern unit, bedroom with generous BIR, internal combined bathroom/laundry and private courtyard with BBQ and outdoor setting. Onsite parking, easy public transport access. Walking distance to farmers markets, trendy cafes, awesome pubs, fancy restaurants, Adelaide show grounds.
Walking distance to public transport. farmers markets, trendy cafes,fancy restaurants and the Adelaide showgrounds. Some awesome pubs aren't far away either. Short uber or tram ride and you are there!
L'appartement est très bien et bien situé. A 150m de la station de tram Black Forest et à 15mn du centre-ville d'Adélaïde. Parking facile à l'intérieur de la résidence. Appartement bien équipé. Le seul reproche cest l'absence de contact avec notre hôte en dehors du téléphone et des mails.
Marc
2017-03-22T00:00:00Z
Ray's place is gorgeous. It has everything you need and is decorated/set up really nicely. Checking in and out was simple and the place really is nice and quiet (apart from the birds!!). The apartment is a ten second walk to the tram station which makes getting around Adelaide & Glenelg incredibly easy, and we saved so much money on Ubers. There is a cafe 500m down the tram line called Dear Daisy which we frequented, and would recommend to anyone who is a fan of a coffee & a light walk in the morning! If you're planning to stay longer than a weekend and want something really home-y instead of a hotel room, Ray's place is a winner!
Samantha
2017-03-27T00:00:00Z
We had a great time! Very close to public transit and a short ride to the city or beach.
Nichole
2017-03-11T00:00:00Z
It's a very nice apartment
MENGYUE
2017-03-06T00:00:00Z
Tipo de Acomodação
Casa inteira/apto
---
Tipo de Imóvel
Apartamento
---
Acomoda
3
---
Quartos
Floresta Negra, South Australia, Austrália
Centrality of location is huge fun. But the outlook, over the gardens and across to the hills is really stunning. Hard to believe you are in the CBD. And the palm trees in the courtyard reach to the balcony, so its very green, private and calm. Covered car park available for $25 per day/night.
We came back to Adelaide for my graduation ceremony. It was a really short Sunday to Wednesday stay. Jane met us on the day of arrival and showed us all around the apartment. She helped to arrange an undercover parking lot for us although we decided to rent a car at a very last minute. The apartment is wonderful, neat, tidy, near to everything - Adelaide CBD, restaurants, Obahn, etc. And we only have to walk to The University of Adelaide on my graduation day! Its really smoothened my tight schedule. We really had a pleasant, wonderful stay :)
Asfizahrasby
2016-09-13T00:00:00Z
This apartment is in a great location. Quiet but high level of local light at night. Botanic garden and museums just across the road, easy access to Torrens River and zoo where there is also free bike hire. Plenty of choice in eateries just around the corner in Rundle St. Easy access to public transport.
Noelene
2017-04-04T00:00:00Z
Nice apartment! Wonderful location!
Fangxi
2017-02-09T00:00:00Z
Jane's place is clean, spacious, comfortable and quite while still being a very short walk to the city. Many restaurants and pubs around, as well as the park across the road. Alex, who helped out with the check-in and check-out was friendly and easy to contact. Would definitely recommend!
Roberto
2017-03-27T00:00:00Z
The location is awesome! So close to great bars and restaurants and short walk to the shops. Jane's friend Simon met us as planned to let us in and give us a quick tour of the apartment. The apartment building has two doors and a lift which all need the security fob to access which I found reassuring. Toiletries were available to use and some cereal, tea, coffee and the like were conveniently provided. We were just in town for the weekend and having a cosy place to stay in the CBD was great.
Tenille
2016-06-06T00:00:00Z
Amongst the best location one could hope for in Adelaide.
itamar
2017-01-27T00:00:00Z
Perfectly located, nice and spacy appartment with all features such as great balcony and WiFi. Buses and access to cafés, bars and restaurants close by. The botanical garden is definitely worth visiting.
Frank
2017-01-10T00:00:00Z
Had a great stay here. Jane and Simon were very helpful with everything. Location is great too.
Mardina
2016-09-06T00:00:00Z
Tipo de Acomodação
Casa/apto inteiro
---
Tipo de Imóvel
Apartamento
---
Acomoda
5
---
Quartos
Adelaide, Sul da Austrália, Austrália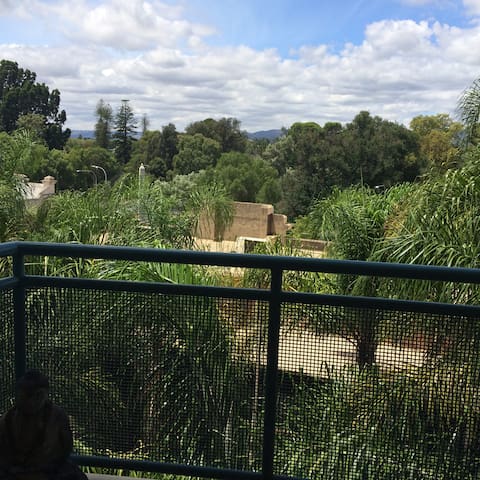 說中文也可以 *Less 5mins away fromTram stop,Restaurants,Pubs,Centre market *15mins away from airport *Free one secured car parking is provided *Quality linen, towels and essentials provided *Free and fast WiFi *Built-in wardrobe with huge mirror & hangers *Arrival time can be arranged earlier or late in advance *If you sign up for Airbnb with this link, you'll get $50 AUD off your first trip. http://abnb.me/e/52tq2vyA5B
The apartment is in the city, nearby everything, *2 bedrooms *L sofa bed in living room ( 2 singles beds or one king bed if joined) plz see photo *1 bath room,kitchen , living room , laundry , dining room, also opening balcony *1 Car Parking space can be used * Free or paid parking just downstairs on the street for 2nd car
Living in a very safe neighbourhood and less 5 mins walking distance to the Centre Market and supermarket and Lots lots of cafe and restaurant.
Beautiful apartment very conveniently located to everything from supermarkets, restaurants and transport. Our hosts were very accommodating and made everything easy. Highly recommended!
Stephen
2016-11-10T00:00:00Z
Great apartment and location! Sarah was helpful and always in touch to make sure we had everything we need. Thank you for your hospitality Sarah.
Luis
2016-08-07T00:00:00Z
Felt very welcome upon arrival. Had a great stay.
Joshua
2016-09-13T00:00:00Z
Sarah is a wonderful host, when the power outrage happened she tried to contact me instantly and offered to come over if I need any help. Her apartment is sparkly clean. The location is very convenient, surrounded by restaurants and Coles supermarket. I will definitely recommend this apparent to anyone who plans to travel to Adelaide.
Kam
2016-09-30T00:00:00Z
This place has everything you need. It's clean and very comfortable
Tommy
2016-11-16T00:00:00Z
Location was great, so close to Chinatown, short tram ride to city centre (or walkable). Inclusion of car park was also great, no struggling for on street parking and completely secure. Communication before and during the stay was prompt and responsive. Accomodation is reasonably spacious 2 bed, 1 bath, in a secure building. Safe and well insulated - barely heard street noise or neighbours once inside. I would definitely recommend and would stay again.
Brianne
2016-11-04T00:00:00Z
Although the furniture was not very new but great value and awesome location would make this place a good choice to stay.
Junyan
2017-04-05T00:00:00Z
Perfect location, perfect host! We had awesome days in Sarah's apartment. The location is perfect to see the center of Adelaide and the tram is driving directly in the next street - so it's easy to go to Glenelg. The apartment was very new and cosy, so it would be nice to stay longer! Sarah is always available and very helpful and friendly! I would always stay there again :) thanks to you Sarah, you made our stay in Adelaide unforgettable!
Dorothee
2016-01-01T00:00:00Z
Tipo de Acomodação
Casa/apto inteiro
---
Tipo de Imóvel
Apartamento
---
Acomoda
6
---
Quartos
Adelaide, Sul da Austrália, Austrália
Bohemian 'pied a terre' ideally located near the heart of Adelaide. Comfortable ground floor, two bedroom apartment offering modern conveniences. A five minute walk to cosmopolitan Norwood Parade where you will find cinemas, cafes, pubs, fine fashion and eateries from gourmet burgers from Grill'd to rustic French fare and Thai take away.
Spanish style apartment on leafy Osmond Terrace. The open plan dining and living areas adjoin the functional kitchen complete with new oven, filtered water on tap and an Nespresso pod coffee machine. A complimentary bottle of SA's fine wind is also provided. I hope guests feel relaxed and comfortable in my "home away from home", and their stay will add to their Adelaide visit.
Quality residential area close to the action and easily accessed .
Good value in a great location in a leafy up market inner suburb with a great shopping and eating precinct within walking distance.
Di
2017-02-15T00:00:00Z
We enjoyed our stay and didn't want to leave. Everything was great - 40 minute walk to the city, close to the Parade with shops, cafes, pubs. House quiet and really nice.
Veronica
2017-03-24T00:00:00Z
Great place, very convenient to CBD, Highly recommended. Also plenty of dinning choices within easy walking distance. A great home base
Valerie
2017-03-14T00:00:00Z
Tricia's place is quiet and offers secluded garden areas. Access to the garden area was simple. Tricia supplied all for a hearty breakfast and generous amounts of other necessities. Ideal if you value space, quiet and a garden as well as a stroll to all amenities along a tree lined wide street.
Sabina
2017-03-19T00:00:00Z
The Spanish Hacienda was everything and more. We found the apartment extremely quiet and comfortable. There is a large living space with comfortable chairs for relaxing after a day of walking. The two separate bedrooms are spacious and have very comfy mattresses. Kitchen is fully equipped, with nice extras like a nespresso machine. Our host was very helpful and easygoing, allowing us to check in a bit later. We were delighted with the homely feel of the place, as well as the location in Norwood with plenty of local restaurants within walking distance. Buses to the city also within 5 minutes walk.
chris
2017-02-18T00:00:00Z
Gr athr at place to stay.
Maria
2017-03-26T00:00:00Z
Tricia is a very warm, loving, caring and hospitable host.
Joseph
2017-03-05T00:00:00Z
Tipo de Acomodação
Casa/apto inteiro
---
Tipo de Imóvel
Apartamento
---
Acomoda
4
---
Quartos
Norwood, Sul da Austrália, Austrália
The property has extraordinary facilities. (see photos) It is within a short walk to supermarket coffee shops etc. Bus stop at the door. Off street parking and provides seriously good security for occupants. Opposite Victoria Park which has beautiful walks for leisure and exercise. All amenities are modern with a fully equipped kitchen. It is a very cool place to stay. Definitely best facilities in Adelaide if not Australia
Indoor and outdoor pools, tennis courts, first class gym with sauna and spa. BBQ area. Conference room available depending availability . Discuss pricing at time of booking.
Safe secure property in a safe Eastern suburbs neighbourhood.
Tipo de Acomodação
Casa inteira/apto
---
Tipo de Imóvel
Apartamento
---
Acomoda
4
---
Quartos
Eastwood, South Australia, Austrália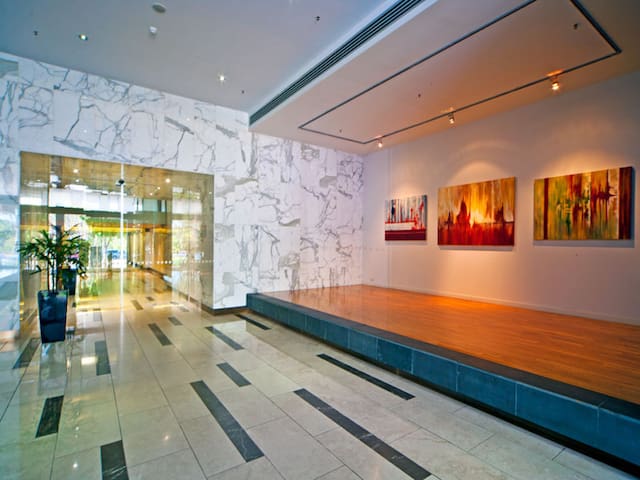 Welcome to Apartments on George at Norwood, your first choice for self-contained apartment accommodation in Adelaide, South Australia with 6, Two Bedroom Apartments. In a prime location, just 350m from Norwood Parade and less than 2km from the city, our 2 bedroom apartments will be your home away from home, with secure off street car parking and free wireless internet.
Nice place near good amenities. Host was abit slow to reply and stopped replying after office hours. Washer wasnt working. Other than that, nice place.
Choo
2016-10-18T00:00:00Z
I stayed here while visiting friends close by. The location was good - close to the shops and cafes etc on The Parade (although be aware that the Coles there shuts early at weekends) and buses to the city, although you can walk it in 45 minutes or so. The apartment itself has seen better days, with dated decor and a stained carpet, but you get what you pay for and the bedding etc was decent and clean. Kitchen quite well equipped and there is an outside area where you can relax. You have to collect the keys from a nearby hotel which is fine if you have a car but would be trickier on public transport.
Valerie
2017-02-27T00:00:00Z
Nice and clean, suitable for small stay!!!
Avinash
2016-12-24T00:00:00Z
The property is fairly old but functional and in a central location.
Shuya
2017-01-29T00:00:00Z
It was very private and nice! Enjoyed the time of staying
Carine
2016-12-15T00:00:00Z
James
2017-01-30T00:00:00Z
Nice place
Mostafiz
2017-02-18T00:00:00Z
Communication was very good regarding check in/ check out. The receptionist Carmel was an absolute gem. Very accommodating, easy to deal with and flexible. The accommodation itself is very basic and plain but its in a good location and good for a couple space wise.
Sandra
2016-10-15T00:00:00Z
Tipo de Acomodação
Casa/apto inteiro
---
Tipo de Imóvel
Apartamento
---
Acomoda
4
---
Quartos
Norwood, Sul da Austrália, Austrália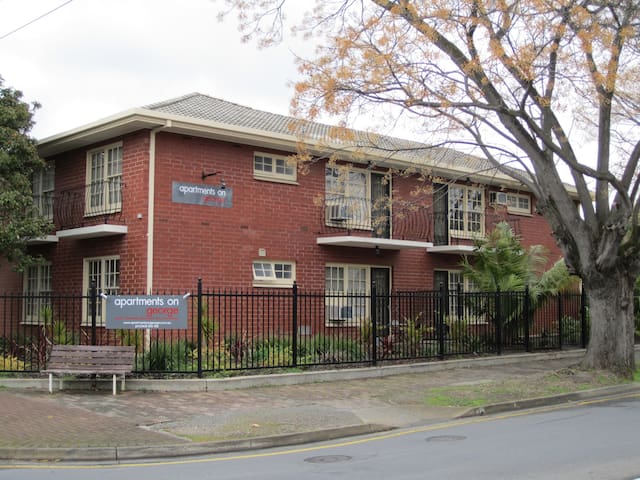 Glenside - Airbnb
:
Média de

4.75

de

5

estrelas, de acordo com

259

avaliações de hóspedes
1

–

18

de

Mais de 300 Apartamentos para Alugar
Insira as datas para ver o preço total. Taxas adicionais serão aplicadas. Impostos podem ser adicionados.