22 Apartamentos para Alugar
Located 5 minutes from downtown. Very bright. View of the Charente River. Not overlooked. Large living room of 45 m2. Bathroom with corner bath and 2 basins. 2 bedrooms upstairs. Fully equipped kitchen. Private parking for 2 cars.
quiet bright wide
Quiet and green
L'appartement est super. Il est grand, bien équipé et plein de charme et les gîtes sont très accueillant. Merci à vous
adrien
2016-10-06T00:00:00Z
Le secours dans l'appartement de patrick s'est très bien passé . L'appartement est grand et propre . Je recommande .
Lionel
2016-11-20T00:00:00Z
Le logement est plûtot vaste, le salon bien équipé, propre et lumineux. En revanche, beaucoup de bémols sont à pointer du doigt. Un lit des deux chambres grince tellement que tout le logement entends le moindre mouvement de bras. Lorsqu'un logement n'est pas habitable on ne le propose pas à la location ! On prévient par politesse les locataires des problèmes survenus, surtout quand il s'agit de problèmes d'électricité majeurs et de chauffage des radiateurs et donc du ballon d'eau chaude. C'est tout juste inadmissible de faire payer 140euros à des personnes lorsque que le tableau électrique saute à tout moment et donc même la lumière centrale s'allume et s'éteint sans raison à tout moment !
Sonya
2016-05-14T00:00:00Z
Accueil agréable, logement spacieux mais un peu froid en plein hiver
Francois
2016-12-01T00:00:00Z
Belle expérience dans cet appartement confortable et bien localisé. Quelques petites améliorations auraient augmentées notre appréciation de ce séjour mais en général très bien.
Carole
2016-08-28T00:00:00Z
Patrick met us on arrival, he spoke very good English, we parked out Motorcycles in his secure driveway, which for us was fantastic, the property was large and spacious, The kitchen area and living space was very nicely furnished. Patrick put the heating on and the house quickly warmed up. Patrick also provided some washing liquid so we could do a wash, as we had been traveling for a few days. The center of town was a 15/20 minute walk away which was perfect for visiting the Cognac distillers, Martell, Otard, Hennessey and Remy Martin are all around 15/20 minute walk away. I would defiantly recommend and stay here again when visiting cognac The property has been fully furnished since the current pictures were taken, which do not do it justice
John
2016-10-14T00:00:00Z
Patrick and his wife made us feel so very welcome, so much so we stayed an extra night! The house is on a quiet street just outside the town proper. Also, their puppies came for breakfast and belly rubs, which just tickled me silly :-)
Jo
2016-09-14T00:00:00Z
Appartement spacieux, bien aménagé. Dommage que l'on ai pas pu resté plus longtemps
Stephen
2016-03-14T00:00:00Z
Tipo de Acomodação
Casa/apto inteiro
---
Tipo de Imóvel
Apartamento
---
Acomoda
4
---
Quartos
Cognac, Poitou-Charentes, França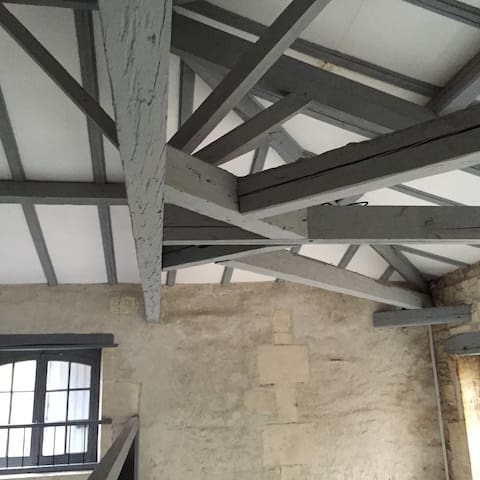 Beautiful bright and spacious apartment 2 minutes from the Place Francois 1er 75 m2 on 1st floor without elevator consists of 2 bedrooms living room equipped with an oven with ceramic hob microwave coffee maker grill bread bathroom with large shower free parking nearby
spacious and bright design apartment decorated with taste and fine furnishings
2 mins walk from the center 10 mins walk from the Cognac station All conveniences at 2 steps from the apartment Cinema
Laurence est une hôte exceptionnelle, elle met tout en place pour que vous vous sentiez chez vous et que votre séjour se passe au mieux. En déplacement professionnel, j'ai été ravie d'être si bien accueillie. Une excellente adresse à retenir.
Sylvie
2016-10-28T00:00:00Z
Laurence a fait tout ce qu'elle pouvait pour nous recevoir dans de bonnes conditions sachant qu'elle revenait de voyage le jour même de notre arrivée. Elle est restée très disponible pendant notre séjour et a répondu à nos demandes même celles non prévues... Merci pour sa réactivité et sa disponibilité. Le logement correspondait tout à fait aux attentes et est très bien situé. Je recommande Laurence comme hôte.
Julien
2016-10-09T00:00:00Z
We had a very comfortable stay. Flat is spacious and warm in an ideal location in Cognac Laurence was very welcoming and we had some lovely coffee for breakfast.
Stéphanie
2016-11-13T00:00:00Z
Je recommande
ALAIN
2016-12-02T00:00:00Z
L'appartement de Laurence est idéalement placé (proche du centre ville, du cinéma, de stationnements) dans Cognac. Il est très agréable et plein de charme, décoré avec beaucoup de goûts, et Laurence est une hôte disponible, accueillante et prévenante. J'étais venue pour des raisons professionnelles, et j'ai très envie d'y retourner pour profiter de cet appartement confortable et apaisant. MERCi !!
Valé
2016-12-13T00:00:00Z
Приехали мы вечером, хозяйка встретила, все рассказала, квартира великолепная ,все удобно и сделано с душой, чистота необыкновенная ,и все по- домашнему. Хозяйка оставила для нас много еды, за что отдельная благодарность. Квартира удобно расположена, в центре ,но при этом есть рядом парковка, смотрели шикарный бесплатный концерт акробатов на площади ,и также ходили в рестораны на той же площади. Дети в восторге от квартиры , это первое жилье ,где им понравилось абсолютно все ( скрипучие лестницы не в счёт)! Жаль, что хозяйка передумала продлять жилье на несколько дней!
Alisa
2016-09-05T00:00:00Z
Très bel appartement et une hôte disponible et accueillante !
Gilles
2017-03-17T00:00:00Z
The flat is very nice and looks like on the pictures. It is well located (centre of Cognac).
Marine
2016-12-20T00:00:00Z
Tipo de Acomodação
Casa/apto inteiro
---
Tipo de Imóvel
Apartamento
---
Acomoda
4
---
Quartos
Cognac, Aquitaine-Limousin-Poitou-Charentes, França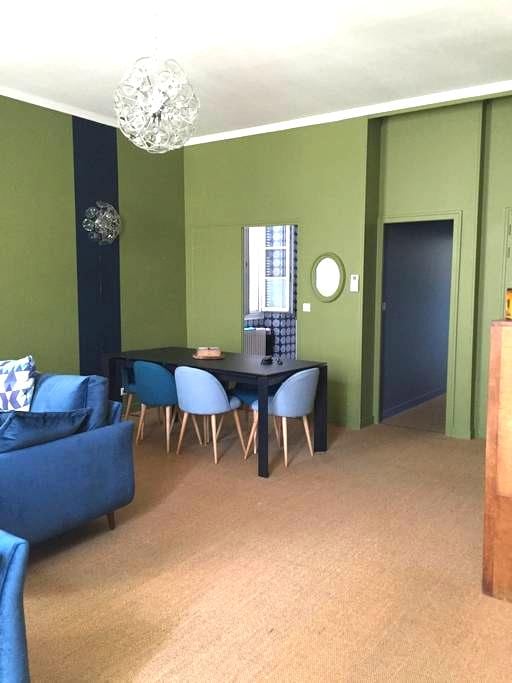 O apartamento está localizado numa rua pedonal no centro da cidade de Cognac, a poucos metros do parque e do 1er lugar François. Você vai apreciar este alojamento incomum para seu charme e localização. interesses perto, casas de Cognac, lojas, restaurantes, estacionamento, etc ... Perfeito para casais e viajantes individuais.
Este apartamento é um triplex 30m2. 1º piso: sala de estar com sofá, televisão etc .. 2º andar: cozinha, sala de jantar. 3º andar: casa de banho e acesso ao mezanino.
O estabelecimento está situado no coração da rua pedonal de Cognac, com vários parques de estacionamento nas proximidades, alguns deles gratuitos. Perto das casas maiores e mais antigas de Cognac, o apartamento também está localizado perto da Praça ea 1er Garden François e do rio Charente. Muitas atividades estão a uma curta distância do apartamento para explorar a cidade.
Magnifique appartement en plein coeur de Cognac sur une rue piétonne donc très tranquille (pas de bar ni resto en dessous). À 5-10 minutes à pied de plusieurs grandes maisons de cognac (Hennessy, Otard, Martel, Remy Martin, Camus...). Thibaud était très disponible pour toutes questions, soucieux de mon bien être.. Sinon, sa mère habite l'appartement à coté de cas de pépin. L'appart est vraiment génialé Il est sur 3 étages (salon, cuisine et toilette, chambre et salle de bain) ce qui apporte un cachet particulier. La cuisine est très bien équipée avec tout ce qu'il faut pour cuisiner, même les épices sont fournies. En plus, c'est très propre, bien décoré avec accès internet sans fil.
Kevin
2016-10-08T00:00:00Z
très bon accueil avec une grande disponibilité tout au long du séjour. appartement très bien situé dans Cognac et correspondant à l'annonce. attention beaucoup de marches à grimper mais cela fait travailler les cuisses et ne nous a pas empêcher de passer un bon séjour !!
Candice
2017-02-18T00:00:00Z
All very good! It is cosy in that each floor is compact, but contains everything needed over the 3 floors. Absolutely perfect for a night right in the centre of Cognac. Thibaut was always very quick to respond to any questions, his mother was very welcoming when we arrived, flexible check-in/out times and everything clean & correct. Good value too so, yes, well recommended!
Tom
2016-10-31T00:00:00Z
Un appartement atypique et très bien aménagé. Idéalement situé dans le cœur historique de Cognac. Bien équipé et avec goût. Un super accueil. Adresse à recommander sur Cognac.
thomas
2017-01-10T00:00:00Z
Appartement atypique très charmant. Très bien situé il permet de passer un excellent séjour au cœur de cognac. Les hôtes sont très agréables et disponibles.
benjamin
2016-11-26T00:00:00Z
Excellent appartement situé en plein centre proche de tous Je conseil fortement
Gautier
2017-04-02T00:00:00Z
Thibaud et sa maman Anne ont été très réactifs lors de nos échanges et arrangeants quant à mon petit chien qui faisait parti du séjour. Le logement est très bien situé (au centre ville de cognac) avec des parkings gratuits à proximité. L'appartement correspond bien aux photos et est très propre (attention nombreux escaliers qui peuvent ne pas convenir aux personnes d'un certain âge). Nous avons été très bien accueillis par Anne lors de notre arrivée. Je recommande
Anne-Laure
2017-01-04T00:00:00Z
La maman de Thibaud nous a très bien accueillies dans ce bel appartement atypique de centre ville. Nous avons passé un très bon we sur Cognac.
Julie
2016-11-12T00:00:00Z
Tipo de Acomodação
Casa/apto inteiro
---
Tipo de Imóvel
Apartamento
---
Acomoda
4
---
Quartos
Cognac, Aquitaine-Limousin-Poitou-Charentes, França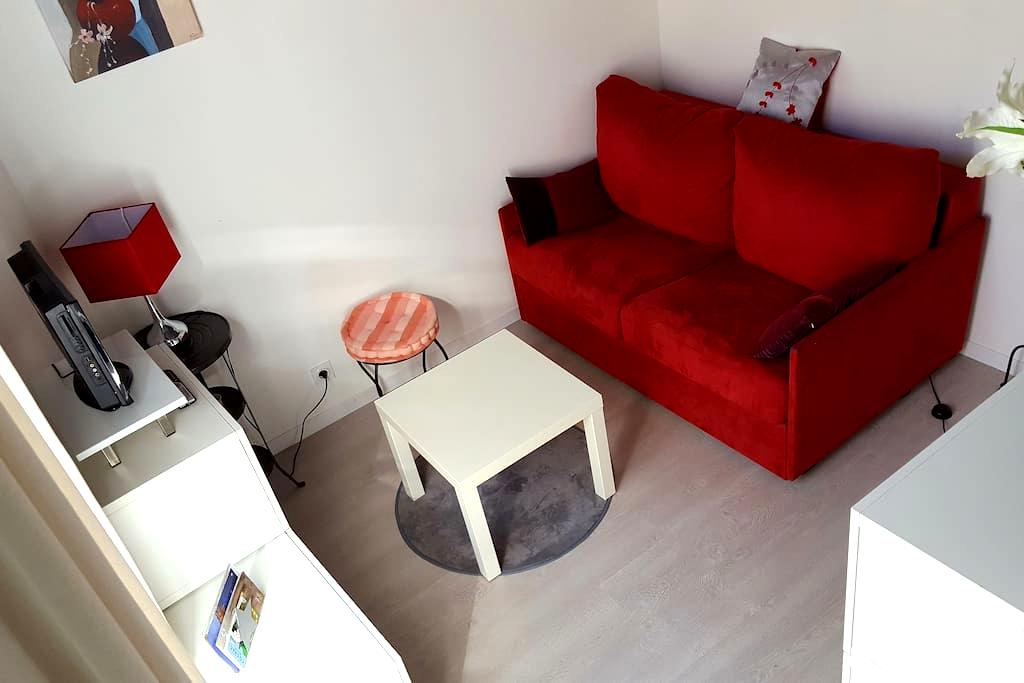 My property is located downtown, close to parks, restaurants, art and culture. Enjoy my apartment for the location, atmosphere, neighborhood, comfort and functionality. My accommodation is perfect for couples, business travelers and families (with children).
Comme d'habitude Parfait.
Antoine
2016-09-23T00:00:00Z
Frédéric est un hôte formidable, accueillant et très disponible. Toute la famille (2 adultes + 2 enfants) a passé un très bon séjour dans son superbe appartement. La localisation du logement est idéale en plein centre ville à proximité des tous les services et commerces.
Laetitia
2016-12-27T00:00:00Z
The flat was exactly as described. Very large, clean and centrally located. Frédéric and his wife welcomed us with a description of the town and suggestions for sightseeing locations. I highly recommend this flat for your next stay in Cognac.
Philip
2017-03-19T00:00:00Z
Parfait ! Rien de plus à dire... Le genre d'endroit qu'on conseille aux amis tout en espérant qu'ils ne seront pas ceux qui auront réservé juste avant nous !
Olivier
2017-01-28T00:00:00Z
Logement très spacieux et très propre. Emplacement à quelques pas du centre de Cognac. Appartement idéal et Hôte parfait.
Antoine
2016-09-16T00:00:00Z
Appartement de grande qualité très bien situé dans le centre ville de Cognac, proche des parcs. L'appartement est lumineux, bien équipé avec une décoration très soignée et contemporaine. Nous y reviendrons.
Martine
2017-02-01T00:00:00Z
Appart parfait très spacieux 110 mètre carré Avec 2 enfants c est appréciable. Très bien équipés. Literie très confortable. Nous avons vraiment passé un super week-end. Le logement est situé au pieds du centre ville, a 2 min de tt ( boulangerie café Resto marché cave de cognac parc ....). Nous avons tout fait à pied pendant notre séjour. Merci Frederic nous gardons l adresse pour revenir faire un séjour en amoureux dans cette superbe ville facile à vivre. A bientôt
Melanie
2016-10-30T00:00:00Z
Super appart. Emplacement idéal, accueil et conseils top. Belle parenthèse à Cognac.
Marie
2016-11-13T00:00:00Z
Tipo de Acomodação
Casa/apto inteiro
---
Tipo de Imóvel
Apartamento
---
Acomoda
4
---
Quartos
Cognac, Aquitaine-Limousin-Poitou-Charentes, França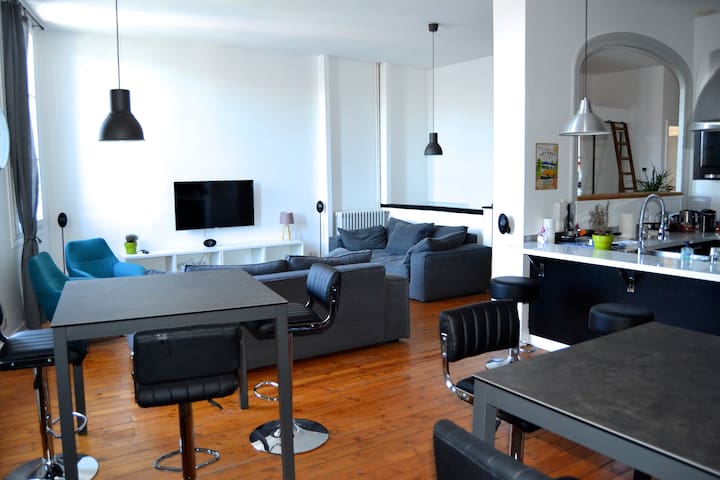 Tipo de Acomodação
Casa/apto inteiro
---
Tipo de Imóvel
Apartamento
---
Acomoda
2
---
Quartos
Cognac, Nouvelle-Aquitaine, França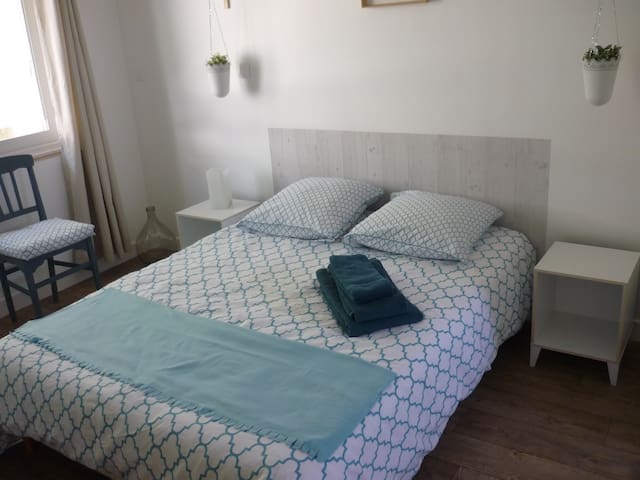 Located in the heart of Cognac, duplex entire floor, made the first: living room, kitchen, dining room, library, games, sofa and that the second floor, a double room Twin (2 beds in 110 comfort) and bed possibility king size bed, private bathroom (shower and wc). Opportunity to visit the city and historic district Pieda 2 minutes, city market, park in front, restaurants, museum, cinema, pedestrian street, bars, Cognac houses, banks of the Charente near
Duplex in the heart of town close to the covered market (daily except Mondays), restaurants, city center, movie theater, museum .. You will be welcomed in a duplex comprising an entrance hall, first floor, relaxation area kitchen / living / dining area / library / games The view of the park and brightness are equally privileged moment. On the second floor, the sobriety of a Twins room, with the simple pleasure of 2 cozy beds comfortable, a wardrobe, central heating, bathroom with shower and wash basin, towels, a separate toilet, overlooking the Park.
With the park, inhabited by beautiful sanctuaries trees, we benefit from living and green environment, you will have diversity in your heart of city walks. from the first steps. Close to restaurants, shops, the whole town (historic district) is at your feet, as well as the museum and the banks of the Charente
Messaouda met un soin particulier à l'accueil et au bien-être de ses hôtes. Le gîte est propre, confortable et très bien équipé. De plus, situé au centre de Cognac mais disposant de places de stationnement très accessible, il n'en est que plus agréable.
Isabelle
2017-01-01T00:00:00Z
Highly recommend this place for touring around Cognac region.
brian
2017-03-26T00:00:00Z
Messaouda was the perfect hostess and her place is exactly as it appears in the photos. It overlooks the Jardins de Public and is so peaceful. Beds were very comfortable and the bathroom/WC were very clean. Quick walk to everything. Communicating w/Messaouda was never a problem and she was a joy to talk with and get to know. She made herself available throughout my visit. There was plenty of information about the city (she has a convenient folder with all details) and she even provided a small selection of groceries in the refrigerator. I would loved to have stayed longer but will definitely seek this rental out when I return to Cognac.
carla
2016-10-19T00:00:00Z
Nous avons eu un très bel accueil! Nous ne savions pas que cetait le festival de blues donc cetait très bruyant mais sinon l'emplacement est ideal!
Virginie
2016-07-13T00:00:00Z
Massouda's husband Siebe met us at the apartment and was very helpful and accommodating. We had a lovely stay in this newly refurbished apartment within walking distance of the centre of Cognac. Everything was perfect - Thank you.
Sara
2016-08-30T00:00:00Z
Great location. Very cosy apartament.
Tiago
2017-04-10T00:00:00Z
Rien à redire. Messaouda est une hôte très attentionné, l'appartement qu'elle propose est agréable, on y trouve tout le nécessaire et même quelques petits plus. Super expérience, je reviendrais et je recommande !
margaux
2016-11-17T00:00:00Z
Fantastic apartment in the centre of Cognac - beautiful view of the town park, a minute away from the square with restaurants and all in all in a great setting. Messaouda left us a little breakfast ready for the morning which was very much appreciated! Great hosts and great apartment! Thank you
Snezana
2016-05-23T00:00:00Z
Tipo de Acomodação
Casa/apto inteiro
---
Tipo de Imóvel
Apartamento
---
Acomoda
2
---
Quartos
Cognac, França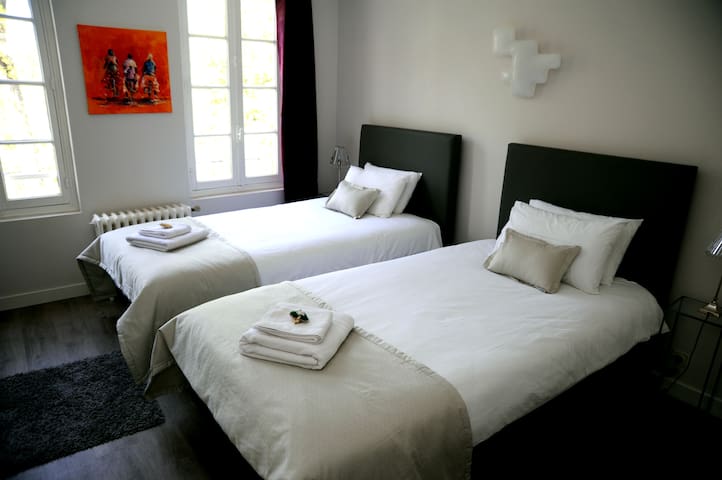 New apartment located in the city center with a courtyard that can accommodate a car. It is warm, with every comfort, close to all amenities (tourist office, shops, restaurants, bars, cinema, city center ...) 20% DISCOUNT APPLY FOR A PERIOD OF 6 NIGHTS UNTIL June 30 CONTACT ME TO MODIFY THE RATES FOR YOUR BOOKING.
Apartment duplex new downtown, really close to shops. Everything is done on foot. You can park the car in the secure yard, in the street, there is also free parking at 50 meters. The living room consists of a sofa, coffee table, TV cabinet, flat screen TV, glass and wrought iron table and 6 chairs. Orange TV, free wifi. The kitchen is equipped with dishwasher, fridge / freezer, microwave, induction hob, washing machine, dishwasher, pyrolysis oven, coffee maker, filter coffee maker, kettle, toaster, vacuum cleaner, washing machine, iron and ironing board , dryer, clothes pins. There is also no extra water, coffee, tea, cocoa powder, sugar, milk, salt, pepper, oil, vinegar, cleaning products. 1st floor, A shower, 2 sinks, washing machine, hair dryer, towel with bath sheets (600g / m2), towels and washcloths, shampoo and shower gel. Separate toilet. Two rooms with beds of 140x200, bedside tables and lamps, large closets. A room with 2 beds 90x200m. On arrival, the beds will be made. A courtyard with a barbecue and garden furniture. Pets are allowed on request. Intercom
allez y les yeux fermes
Brigitte
2016-12-26T00:00:00Z
Tipo de Acomodação
Casa/apto inteiro
---
Tipo de Imóvel
Apartamento
---
Acomoda
6
---
Quartos
Cognac, Poitou-Charentes, França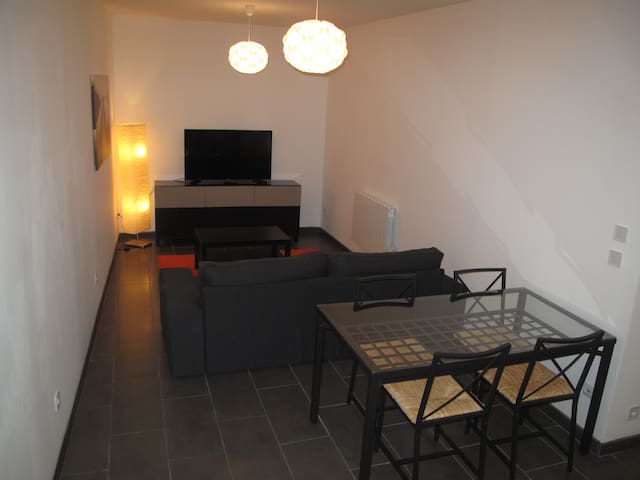 Located in the center of Cognac Pedestrian Street, Apartment very pleasant to live.
Tipo de Acomodação
Casa/apto inteiro
---
Tipo de Imóvel
Apartamento
---
Acomoda
1
---
Quartos
Cognac, Nouvelle-Aquitaine, França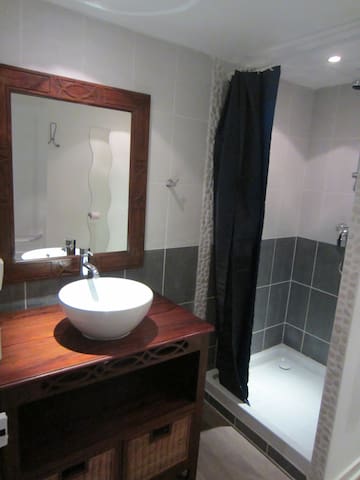 Appartement, grand propre et très lumineux, idealement placé dans le centre de ville de cognac avec parking a côté. Hote disponible et agreable, arrangeant sur les horaires. Je conseille tres fortement
Cedric
2015-05-11T00:00:00Z
Cet appartement est idéalement situé et permet d'explorer Cognac en toute facilité. L'appartement est grand, en parfait état et décoré avec goût ; mention spéciale pour le confort de la literie. Thomas est un hôte disponible, arrangeant et agréable. Je recommande vivement cet appartement.
Juliet
2017-04-04T00:00:00Z
Logement correspondant parfaitement à la description de l'annonce, idéalement placé dans le centre de Cognac avec parking à proximité. Hôte très arrangeant sur les horaires et disponible. Répond rapidement aux messages. Je le conseille fortement, adresse à garder pour le festival de l'année prochaine qui sait ;)
Emilie
2016-07-09T00:00:00Z
Thomas est un hôte très agréable avec qui nous avons pu discuter à bâtons rompus. Son appartement est très bien situé au centre ville de Cognac, nous avons apprécié de laisser la voiture (stationnement gratuit les samedis, dimanches et jours fériés). La chambre est confortable avec un bon couchage ; une armoire pour les invités qui restent plusieurs jours serait appréciable mais cela ne nous a pas manqué. Une très bonne adresse à retenir pour de futurs séjours, qui sait ?
MARYSE
2016-02-01T00:00:00Z
Thomas is a very nice and helpful host. Both the location and the flat are perfect: minutes away from the cognac houses, comfortable, bright and cozy. I'd definitely love to cone back here.
Ivett
2016-06-18T00:00:00Z
Very nice space and Thomas himself was an accommodating and helpful host. The area is within close walking distance to various Cognac houses.
Yudi
2015-05-16T00:00:00Z
Very nice place to stay, clean and spacious. On top of that, Thomas speaks good English which is a great asset for non-French speaking traveler in Cognac city.
Coco
2014-06-20T00:00:00Z
Tipo de Acomodação
Quarto inteiro
---
Tipo de Imóvel
Apartamento
---
Acomoda
2
---
Quartos
Cognac, Poitou-Charentes, França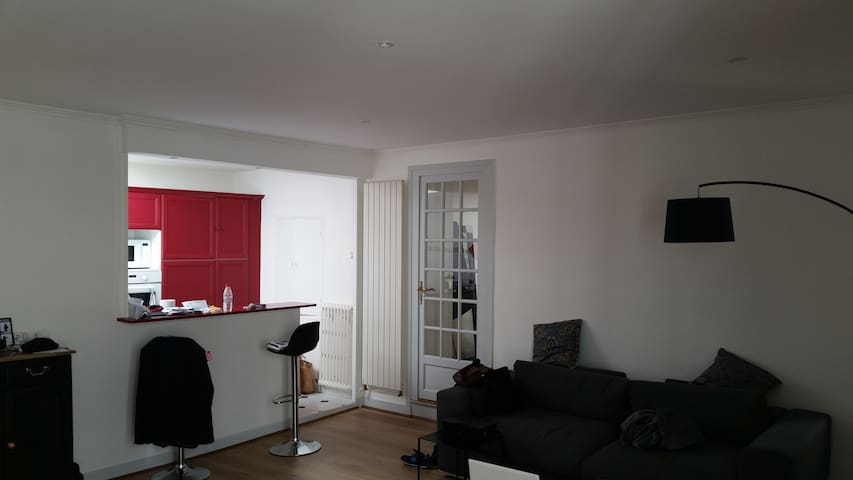 Apartamento en el centro del antiguo coñac. Usted tiene su propia habitación!
Apartamento en el centro de Cognac. Una situación ideal para asistir a la pasión Cognac Blues, una fiesta muy conocida! El desayuno y las comidas no están incluidas. Sin embargo, usted tendrá acceso a la cocina para cocinar uno mismo.
Excellente communication et disponibilité, accueil parfait et appartement agréable. Séjour impeccable, merci Pierre.
fanny
2016-06-27T00:00:00Z
Pierre a été un hôte très accueillant. Je n'ai rien à dire de particuliers, tout s'est très bien passé.
Aeiia
2016-07-10T00:00:00Z
Discret et très accueillant.
Rémy
2016-09-27T00:00:00Z
Pierre was very friendly and nice. The room was clean, and near by the centre of Cognac. If we ever go to Cognac again, we will also choose his place.
Jet
2015-08-13T00:00:00Z
It's very clean, comfortable and neat place in center of Cognac. And Pierre is very friendly person, and wonderful host, who gave me allot of tips regarding my future destinations in France. I will stay there again next time in Cognac
Anton
2015-08-09T00:00:00Z
Pierre is a nice guy, the location is great, and the room is comfortable and very clean.
Samantha
2016-10-03T00:00:00Z
Pierre était un hôte courtois, attentionné et attentif. Sa maison est très accueillant et confortable, propre et bien rangé. Je ne sais pas mieux ..... sauf que j'espère revenir!
Sandra
2017-03-31T00:00:00Z
Séjour de 3 nuits à l'occasion du festival blues passion. La chambre est conforme à la description et l'ensemble de l'appartement est agréable et propre. Pierre s'est montré accueillant et discret. Tout s'est bien passé en ce qui me concerne.
Manuel
2015-07-04T00:00:00Z
Tipo de Acomodação
Quarto inteiro
---
Tipo de Imóvel
Apartamento
---
Acomoda
2
---
Quartos
Cognac, Poitou-Charentes, França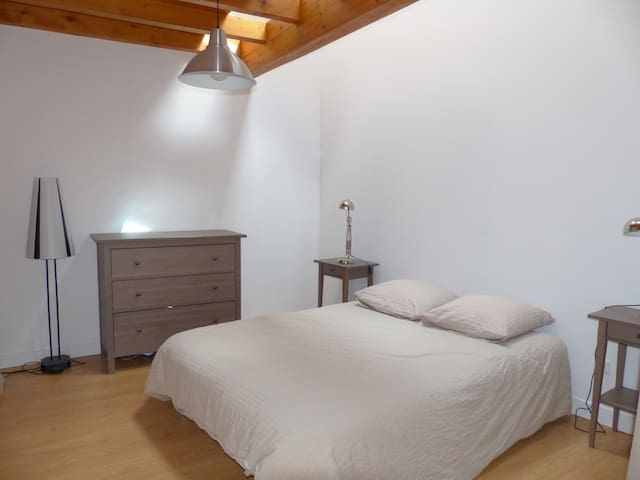 Unsere schöne Gartenwohnung mit Schlafzimmer, Wohnzimmer und Bad ist ideal für das Herz von Cognac zu erkunden. In der ruhigen St Jacques quartier sind Sie nur zwei Minuten von lokalen Annehmlichkeiten zu Fuß (und die perfekte Baguette!) Und nur 5 Minuten zu Fuß von unserem berühmtesten Cognac-Häuser.
Unser schönes Apartment mit einem Schlafzimmer mit Gartenterrasse ist der ideale Ort, um die Herzen der Cognac zu erkunden. Die Unterkunft ist sehr komfortabel (unsere Familie und Freunde lieben es!) Und einfach, aber stilvoll mit Gegenständen dekoriert gesammelt aus unserer Zeit in Asien leben verbracht. Perfekt für ein Paar können wir auch eine Familie mit einem Baby oder Kleinkind aufzunehmen. Es ist auch möglich, das Sofa (im Bild) in der Lounge für ein Schlafsofa zu tauschen, und auf diese Weise haben wir vor kurzem aufgenommen Freunde (die nicht wollen, ein Bett zu teilen) und eine Familie mit einem älteren Kind (bitte beachten Sie aber, dass Zugang zum Bad ist durch das Doppelzimmer). Es gibt ein Schlafzimmer mit Doppelbett mit Blick auf den Garten. Das Bad hat eine begehbare Dusche. Die Lounge ist hell und luftig und verfügt über Terrassentüren, die auf eine kleine Terrasse geöffnet, wo Sie das Frühstück oder einen Aperitif vor dem zu entdecken, was die Stadt zu bieten hat haben. In der Lounge finden Sie eine kleine Küche mit Kühlschrank finden, die wesentliche Ausrüstung Frühstück vorzubereiten hat oder ein Sandwich / Salat zum Mittagessen machen. BITTE BEACHTEN SIE ES GIBT KEINE KOCHECKE, aber es gibt zwei Bäckereien und eine ausgezeichnete Delikatessen, die täglich frische Gerichte zum Mitnehmen vorbereitet, nur 2 Minuten zu Fuß entfernt. Es gibt auch einen kleinen Fernseher mit DVD-Player und eine Musikanlage im Wohnzimmer.
Das St Jacques Viertel liegt direkt gegenüber der Hauptbrücke zum Stadtzentrum führt. Wir haben seit vier Jahren hier permanent gelebt und wir lieben es! Es ist ruhig und friedlich, und wenn Sie im Garten sitzen fühlt man sich wie auf dem Lande sind. Doch nur 2 Minuten zu Fuß entfernt haben wir Zugang zu den lokalen Geschäften, einschließlich; - Zwei boulangeries die ausgezeichnete Brot und den berühmten machen "St Jacques 'unsere eigene Unterschrift Patisserie - Ein Feinkostgeschäft, wo Sie sich frisch zubereitete Speisen und lokale Spezialitäten zum Mittagessen holen können - Ein Zeitschriftenladen, die englischsprachigen Zeitungen Bestände; - Eine Bar / Brasserie und zwei beliebte Restaurants - Ein Waschsalon. Eine Minute zu Fuß oder 2 Minuten mit dem Auto werden Sie zu einem ausgezeichneten Supermarkt nehmen. Überquerung des "Pont Neuf" (5 Minuten zu Fuß) führt Sie direkt zu den berühmten Otard und Hennessy Cognac Häuser, die hervorragende Führungen und Verkostungen anbieten. Und es gibt viele andere Cognac Häuser in unmittelbarer Nähe zu entdecken. Sie könnten auch entlang des Flusses zu Fuß gehen, eine Bootsfahrt auf dem berühmten Gabare (ein großes hölzernes Boot zuvor für den Transport von Cognac Fässer), mieten Sie ein Kajak oder gehen auf dem Land für einen Spaziergang nehmen. Ein 10 Minuten zu Fuß in die Stadt führt vorbei an den "Jardins publics" führen, die die fantastische Blues Leidenschaft Festival veranstaltet. Je nachdem, wie Sie den Kopf gibt es immer etwas zu entdecken und alles ist leicht zugänglich.
Had a lovely stay, great to visit cognac for a few days! Walking distance to e city center. Nice little patio and large bedroom. Very nice hosts.
Reinier
2015-08-22T00:00:00Z
Un petit coin de paradis au centre de cognac Nicol est acueillante et la petite maison très confortable avec une grande chambre,une belle salle de bain ,un petit salon qui donne sur une terrasse très très agréable . Tout peut se faire à pieds. Une super adresse!!!!
Corinne & Christian
2016-06-27T00:00:00Z
Lovely, welcoming family. The beautiful garden outside the suite was an added bonus! Great location for touring the cognac houses, all within easy walking distance, as were many restaurants and bakeries. Thank you Nicol.
Alan
2016-05-18T00:00:00Z
Nicol is a wonderful host, she has a great sense of hospitality! The location is absolutely perfect, just next to the old town and very nice restaurants... Highly recommended!
Louis
2016-05-27T00:00:00Z
Merci Nicol de nous avoir accueilli si chaleureusement à Cognac. Une très jolie petite maison indépendante qui comprend un salon avec un coin suisine et une télévision, à l'étage une chambre zen avec un lit très confortable ainsi qu'une salle de bain très propre. Un petit jardin permet de prendre le petit déjeuner au calme et tout ça en plein coeur de la ville de Cognac. Nous reviendrons avec plasir !
Antonin
2015-07-03T00:00:00Z
Nicol was an excellent host, very warm welcome, the garden apartment was delightful and immaculately clean. Everything we needed was provided including some essentials to get us started. The apartment was in a great location to explore Cognac with everything just a short stroll away yet it felt like a little quiet oasis.
Gerald
2016-08-02T00:00:00Z
Nicol is a wonderful and welcoming hostess. Our stay here was just perfect, from the conversations we had at booking to suggestions for things to do to prepare for our visit all the way up to arrival and providing restaurant recommendations. The whole family is kind and engaging, and we loved our stay. We hope to stay with Nicol and her family again on our next visit to Cognac.
Dianne
2017-03-25T00:00:00Z
La "petite maison" est vraiment proche de superbes restaurants, de la rivière, de la vieille ville.. L'accueil est formidable. Nicol is the best hostess ever. Un petit bémol: aucun point d'eau dans la pièce du bas, qui donne sur le jardin. Pour laver le petit déjeuner c'est loin d'être pratique!
Floris
2016-08-25T00:00:00Z
Tipo de Acomodação
Casa/apto inteiro
---
Tipo de Imóvel
Apartamento
---
Acomoda
3
---
Quartos
Cognac, Poitou-Charentes, França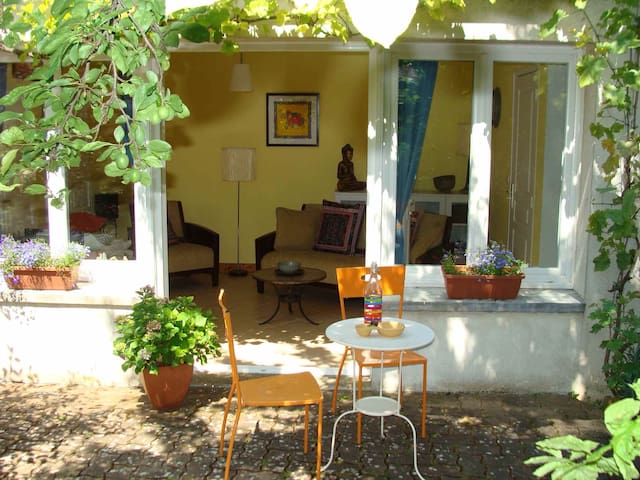 Young couple happy to receive with ease. Our room overlooks a small terrace and we are near the public garden in the center of Cognac. See you soon !
Marine et Karim sont des hôtes accueillants et charmants. La discussion est sympathique et les crêpes de la Chandeleur (avec le thé à la menthe) étaient vraiment bonnes
Sophie
2017-02-03T00:00:00Z
Tipo de Acomodação
Quarto inteiro
---
Tipo de Imóvel
Apartamento
---
Acomoda
1
---
Quartos
Cognac, Aquitaine Limousin Poitou-Charentes, França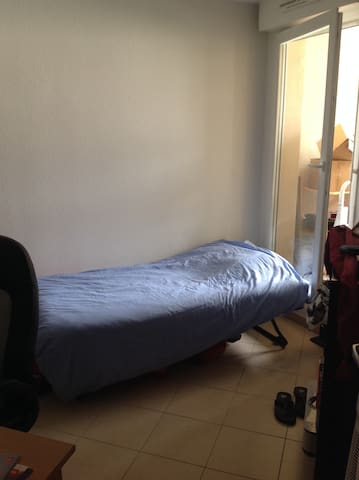 Bonjour. Nous avons passé 1 agreable sejour à Cognac et bien profité du festival blues passions. La situation est ideal et tres calme. On regrette le manque de portes serviettes ds la sdb et de stores sur les 4/5 velux du salon. Dommage.
M
2016-07-11T00:00:00Z
Tipo de Acomodação
Casa/apto inteiro
---
Tipo de Imóvel
Apartamento
---
Acomoda
2
---
Quartos
Cognac, Aquitaine Limousin Poitou-Charentes, França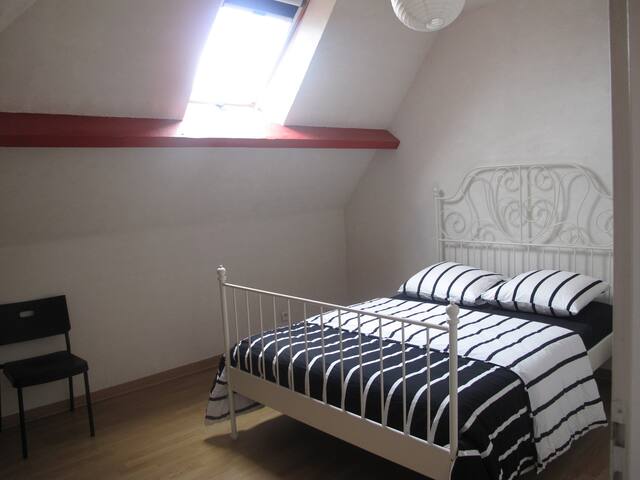 Our 2 bedroom Gite in a 400 year old watermill finished with a smart modern twist. Comfortably sleeping 4 people. Enjoy the large fully equipped kitchen, or have a BBQ in the garden by the mill stream
This Gite used to house the grinding stone for the mill. Now provides a large open plan living and kitchen arena downstairs and 2 bedrooms and bathroom upstairs.
Small friendly village
L'appartement était impeccable. Très bon confort general. La petite boulangerie juste au bout de la rue était aussi très pratique pour nos gros appétits de croissant and pain au chocolat!.
Thomas
2016-09-11T00:00:00Z
Le gîte Arcana est situé dans un ancien moulin oú se trouvent d'autres gîtes. La transformation est une réussite. Anne et son mari ont beaucoup de goût pour l'aménagement et la décoration. Le gîte est très bien équipé et correspond aux photos. Des transats, tables et un barbecue sont à disposition dans le jardin commun aux gîtes. Les propriétaires sont attentionnés puisqu'ils prévoient du pain,du lait et du café pour le petit déjeuner. Le seul bémol est la présence d'une voie rapide à proximité qui génère du bruit empêchant ainsi d'entendre le ruisseau quand on est dans le jardin dommage.
Gaele
2016-08-21T00:00:00Z
Agréable surprise de trouver un gîte presque neuf dans un ancien moulin à eau entièrement rénové. Il dispose de tous les équipements nécessaires et de qualité : cuisine équipée, vaisselle, linge de lit et de toilette. Barbecue mis à disposition, vous pouvez profiter d'un jardin avec une mare à canard. Au calme dans un petit hameau (Vieillard) avec une boulangerie à 100m. Serviable, Anne a à cœur de bien vous accueillir.
olivier
2016-04-15T00:00:00Z
Nous avons passez une excellente semaine, le logement était mieux que prévu, tout et neuf et propre... Les propriétaires ont été sont très sympa et à l'écoute, nous reviendrons avec grand plaisir!
frédéric
2016-07-02T00:00:00Z
Excellent accueil, endroit très calme et agréable, maison propre et très bien équipée
Ugo
2016-12-22T00:00:00Z
Tipo de Acomodação
Casa/apto inteiro
---
Tipo de Imóvel
Apartamento
---
Acomoda
4
---
Quartos
Bourg-Charente, Poitou-Charentes, França
This cottage that is within our hamlet is 90sqm large and may accommodate very comfortably up to 4 adults It is located at the ground floor of a wing of the hamlet and has : - a living-dining room with a fireplace, TV set, Hifi - a fully equipped kitchen corner - a bedroom with a double bed - a bedroom with twin beds - a bathroom, separate wc - in each bedroom, a socket RJ45 for free broadband Internet access - a private terrace with a BBQ and patio furniture.
Discovery of the traditional distilleries of cognac
Tipo de Acomodação
Casa/apto inteiro
---
Tipo de Imóvel
Apartamento
---
Acomoda
4
---
Quartos
Saint-Preuil, Poitou-Charentes, França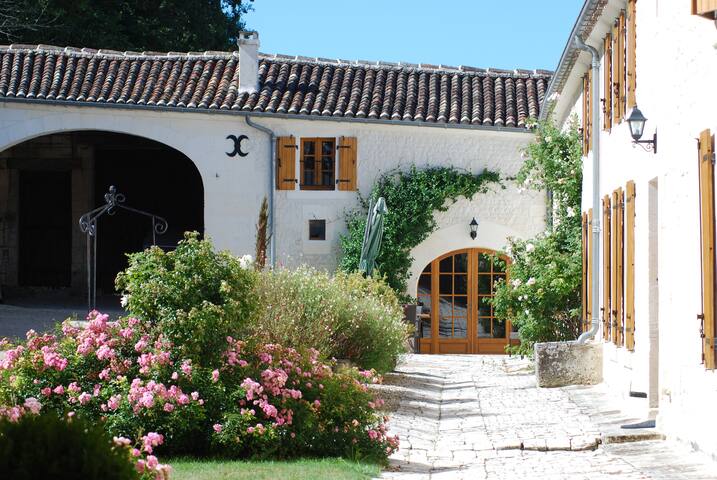 My place is close to Jarnac & Cognac for shopping and restaurants. . You'll love my place because of the neighborhood, the kitchen, and the outdoors space. My place is good for couples and families (with kids).
Excellent location and highly recommended. We stayed there with our young girls and they loved the village ducks. Overall very easy place to stay for those not fluent in French and with young families.
Nicholas
2016-12-21T00:00:00Z
Tipo de Acomodação
Casa/apto inteiro
---
Tipo de Imóvel
Apartamento
---
Acomoda
6
---
Quartos
Bourg-Charente, Aquitaine Limousin Poitou-Charentes, França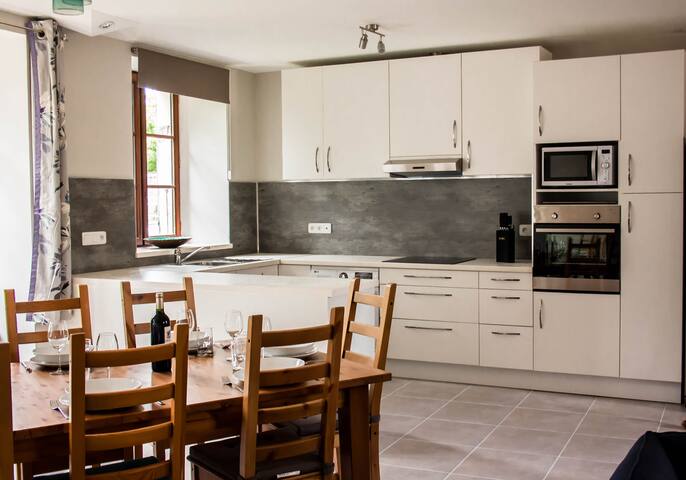 tastefully renovated 1 bedroom Gite in the Charente. 4km from Jarnac, 10km from Cognac. Sofa bed in lounge will accommodate an extra person
Converted Watermill with open plan lounge, fully equiped Kitchen and dining area downstairs. Large bedroom with bathroom upstairs.
Situated in Old village of Veillard, Le Petit Moulin in one of 3 Moulins in the area. There is a Boulangerie in very easy walking distance (200mtrs)
Très bon séjour passé chez Anne. Elle a su nous accueillir avec de nombreuses attentions! Le logement correspondait parfaitement à la description et à nos attentes, tout est neuf, fonctionnel et propre. L'extérieur est top! Je recommande!
aurélia
2016-07-14T00:00:00Z
Anne et Christian ont été charmants, et se sont adaptés à notre horaire d'arrivée. L'appartement est à la fois très bien aménagé, très propre et très fonctionnel, il ne manquait absolument rien ! Le cadre est très mignon, le jardin assez grand pour que tout le monde puisse en profiter tranquillement, bref, c'est parfait !
Lauranie
2016-07-16T00:00:00Z
Tipo de Acomodação
Casa/apto inteiro
---
Tipo de Imóvel
Apartamento
---
Acomoda
2
---
Quartos
Bourg-Charente, Poitou-Charentes, França
1

–

18

de

22 Apartamentos para Alugar
Insira as datas para ver o preço total. Taxas adicionais serão aplicadas. Impostos podem ser adicionados.