83 Apartamentos para Alugar
Adorable one bedroom apartment in a private country location three miles from I91. Fully equipped kitchen, large sunny deck, beautiful views. Private entrance and parking. Just 6 miles from downtown Brattleboro.
Tipo de Acomodação
Casa/apto inteiro
---
Tipo de Imóvel
Apartamento
---
Acomoda
2
---
Quartos
Dummerston, Vermont, Estados Unidos
Beautiful tranquil retreat overlooking lush New England landscape of rolling hills and small trout pond. Gorgeous brand new studio adjacent to historic farmhouse. You will enjoy a private entrance via one flight of stairs and a partially enclosed wood patio. Relax outside watching the trout or enter your private space. Fully equipped kitchen & bathroom. Complete privacy. One queen size bed and ample seating.
Private entrance to a brand new studio apartment (build in August 2015) with complete kitchen, including brand new appliances and kitchenware. Your own private bathroom with heated floors and skylight, plus washer dryer. Gorgeous hardwood floors and wood paneling surround your own private getaway. Dish TV on a 20" wall mounted television and complementary WiFi throughout the apartment.
The apartment is adjacent to a restored 18th century farmhouse and down the road from a working dairy farm. This is a peaceful atmosphere on a quiet country road. 5 minute drive from quaint downtown, 15 minutes to Bellows Falls VT and interstate 91 to head north or south. Close to all attractions and beautiful unspoiled scenery, lovely and cool in summer, view of amazing foliage in fall, cozy and warm in winter.
Judith was wonderful and full of info for us...very private and cozy...beautiful area...we couldn't have asked for a nicer place and a wonderful host!!!
Sheri
2016-09-30T00:00:00Z
Anna and Judith were exceptionally responsive to our needs. When we arrived, we found wine, cheese, crackers, fresh eggs, butter, and coffee. The space is excellently appointed for the comforts of two. Tranquil Retreat is just outside of Walpole in a lovely rural setting and we enjoyed a nice walk on the country roads.
Jerome
2016-08-04T00:00:00Z
My boyfriend and I were looking to get away from the city/suburb life for Labor day weekend, and we wanted a quiet, peaceful place to stay in the country. We chose to rent the Tranquil Retreat, and it was amazing! It was peaceful, quiet and so relaxing. Anna was a huge help in booking the reservation, and answered many questions I had regarding the rental and near by locations. Janet (Anna's mother) lives at the farm house that the rental is attached to, and she made us feel right at home. We arrived late at night, and she left the lights on for us, and welcomed up with a nice array of yummy treats and a bottle of wine. The rental has been completely redone inside and has a modern, yet country chic feel to it. At night, there's complete silence outside. No sounds of cars, sirens, nothing! All you hear are the sounds of crickets. If you are definitely looking to getaway and just unplug from reality & every day life, the Tranquil Retreat is the place to go. Plus, less than 10 mins down, there's a little town that has a fabulous chocolate store that sells hand crafted chocolates, a wonderful restaurant next door, and a small grocery store where you can buy local cheese's, wines, craft beers, fruits and veggies and hand cut portions on beef and chicken. Also less than 10 mins from the rental is a fabulous winery where you can go and sample wines that are made on sight, while snacking on yummy cheeses and meats. The center of Keene & Keene State is also about a 30 min drive from the rental. Hands down, we would stay at the Tranquil Retreat again, and we want to thank both Anna and Janet for being such spectacular hosts!
Morriah
2015-09-07T00:00:00Z
Anna's host was extremely warm, kind and considerate. Fresh cut flowers were left out,. It was everything I thought it was going to be and much more.
John
2015-10-12T00:00:00Z
Just finished our "tranquil retreat" at this understated tranquil retreat. Sorry we missed the infamous Judith, but the property, set-up and privacy were all beyond words. Also can't express the perfect sensory experience, from the smell of cedar to the crackle of a fire from the wood stove. Highly recommended for anyone looking to have a romantic retreat.
Michael
2016-10-31T00:00:00Z
Perfect. We arrived late on Friday to a welcome note and a stocked fireplace, a clean, romantic setting, and wine and cheese in the fridge. Judith kept the lights on for us on the attached home and turned them off as soon as we got our luggage inside. The intoxicating aroma of cherrywood, walnut, and other wood filled the air with rustic pleasure. The mattress was extremely comfortable and everything was perfectly in place. A truly wonderful experience. Thanks!
Tyler
2016-04-05T00:00:00Z
We were so happy with our stay. This beautifully designed spacious studio was the ideal intersection of high quality artistic meets elegant-Eco. The bathroom is very modern and tasteful with heated floor tiles. Adorable and functional kitchen. The space is as lovely as the photos. Set against a picturesque backdrop of Vermont at it's best we fell in love with the space. We'll be back if it's available next time we visit our son at his nearby college. Hosts were lovely, responsive and really went the extra mile to make our stay great. Enjoy!
Elizabeth
2015-09-27T00:00:00Z
I arrived in the evening to a lovely, welcoming studio that looked exactly as described. Judith had left me the key with a note that she had laid the fire for me, and I happily snuggled up in front of it with the frogs chirping in the background. The wine and cheese in the fridge were such a nice, tasty touch. It was a short drive to Mount Monadnock the next day. After the hike, I enjoyed the skylit shower (glorious), sunning on the bench in the backyard (while admiring William the horse), and cooking stir fry in the kitchen (small, but perfectly adequate -- helped to open the ceiling skylight for ventilation). I don't know what kind of mattress the bed has but it is HEAVEN. Thank you Anna and Judith for a delightful stay! "Tranquil retreat" couldn't be more accurate.
Rebecca
2016-04-22T00:00:00Z
Tipo de Acomodação
Casa/apto inteiro
---
Tipo de Imóvel
Apartamento
---
Acomoda
2
---
Quartos
Walpole, New Hampshire, Estados Unidos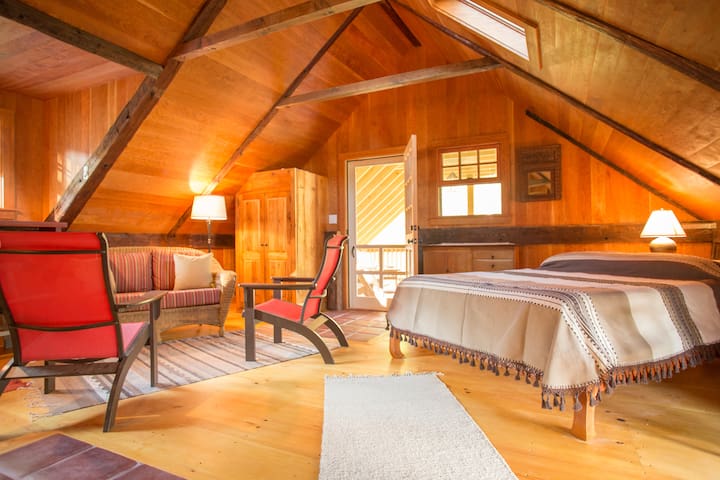 Now is your chance to vacation on a farm! This newly-renovated apartment is above the farmhouse at Great Brook Farm where the Graves family has farmed for over 250 years. Private access. Pond. Brook. Rolling fields. Until April, 2017 this was a working dairy farm. Although we no longer milk cows, there are still animals here: 4 pairs of oxen, heifers (young cows), 2 horses, a slew of barn cats, "Breezy," our big, friendly Bernese Mountain Dog .... and often in the summer and fall, pigs.
The apartment has been recently renovated and it is absolutely beautiful. It gets lovely afternoon light in the living and dining rooms through westerly-facing windows ... a perfect spot to relax. These rooms have hardwood floors, oriental rugs and gorgeous antiques. The futon opens out into a full-sized bed. It is brand new and super comfortable. There is a flat screen tv (with satellite) mounted on the wall in the living room. WiFi is available throughout the apartment. The bedroom has a lovely queen-sized sleigh bed and a window with views overlooking the cows and dairy barn. Guests are welcome to enjoy our covered porch. The perfect spot to relax with a book or enjoy a meal or glass of coffee. Or wine! There is a kitchen with mini-fridge, microwave oven, toaster oven, single burner hot plate and coffee pot. It is stocked with plates, bowls, glasses, silverware and other essentials. The entrance to the apartment is private -- through the garage and up a set of stairs.
Walpole is an absolutely beautiful New England village. It's streets are lined with gorgeous homes and public buidlings. For a small town, we have unbelievable diversity and most importantly ... community. The locals are proud of their New England heritage and the newcomers (like me) bring a respect for that heritage and a little bit of something different to the mix. This town has it all. And what I most appreciate ... it has a town center; a central location where we interact with one another. A post office. A couple of coffee shops. A gas station. A town green. A town recreation area. Restaurants. Taverns. A golf course. This is a town that is built on community. L.A. Burdicks and it's grocery store provide world-renowned chocolate, strong coffee, french pastries, lunch and dinners and high-quality (and often locally-sourced) groceries. The Bellows Walpole Inn is another local favorite; both its pub and its gourmet restaurant. The Walpole Tavern is a local gathering spot, offering resonably-priced pub fare in a kid-friendly environment. There are often concerts on the green on Sunday afternoons. The golf-course and town recreational area with swimming pool, tennis and basketball courts are open to the public. The Walpole Mountain View Winery and Alyson's Apple Orchard are great excursions ... each 5-minutes from the farm. Walpole has an ice cream scoop shop with antique car cruise nights on Sunday evenings during warm weather as well as a weekend flea market. We are happy to provide other suggestions for nearby towns as well. Skiiers ... Stratton, Mt. Snow, Okemo and Mt. Sunnape are all within an hours drive away and Killington and Pico are certainly not too far! There is a public ice rink in Keene, and tubing at Granite Gorge, also in Keene. The farm is located on a snow-mobile trail .... direct access to miles of both snowmobiling as well as cross-country skiing. Hip, artsy, Brattleboro, Vermont and lovely Keene, NH are both just 20 - 30 minutes away. Skiing at Okemo and Stratton are close. Bromley's alpine slide and adventure park, various zip-line parks, West Lebanon, NH (Dartmouth) and Manchester, VT (outlets) are just an hour away.
Amazing experience @ this working dairy farm! Karin, Pete and their family are warm, welcoming hosts. The apartment is super-clean and Karin has thought of EVERYTHING - even providing bagels, juice & more for our first breakfast. . . wonderful thick towels. . . all bedding. . .did I mention everything?! Loved milking the cows, hanging with the calves/goats, and especially spending time with Breezy the resident Bernese Mountain Dog - love her! What a rich experience as we dropped one of our kids to start his freshman year at a local college. We would HIGHLY recommend this apartment for anyone wanting a glimpse of a small family farm, a chance to get back to the source of our food and a chance to show your kids the same thing. Thanks so much Karin, Pete & family!
Linda
2016-08-28T00:00:00Z
The farm was the most unique place my wife and I have ever stayed. The apartment itself was wonderfully decorated, and comfortably furnished. Karin was very open and helpful with everything that we needed. We were given a full tour of the farm and its history, which was very cool and unique for us city dwellers (nyc). I particularly enjoyed the whole relaxed feel of the place, which made it a perfect place to stay after a long day of skiing. I highly recommend this place.
Eli
2017-01-17T00:00:00Z
We had a blast staying on this working farm. My kids saw cow milking in progress and rode Farmer Pete's tractor. Plenty of barn cats and cows, plus a farm store and a really friendly dog. Advice: bring a separate outfit and pair of shoes for exploring the farm, and change into something fresh before you explore the area. You want a legitimate farm experience? You'll get it, and you'll have fun in the process.
Jacqueline
2017-03-19T00:00:00Z
Wow - what a find. Karin was both friendly and attentive to detail throughout our whole booking process and stay. The place was super clean, which is very important to me. When we got to the farm she drove us to her massage office and gave us both AMAZING massages.. Like the BEST I've ever had. She also made us dinner reservations and had awesome reccomendations for what to do and where to eat. I wish this place was closer. The farm was absolutely beautiful and seeing the animals was a real treat. We loved all of Karin's little special touches that made our stay that much more memorable. We cannot wait to go back. Cannot reccomend enough!!!
Katrina
2016-10-23T00:00:00Z
My wife, 2 daughters (4 and 7) and I stayed for a night recently. It honestly couldn't have gone any better. When we left I told my wife that everything about the stay could have been an advertisement for Air B n B. Karin and Pete were both fantastic and were more than accommodating. They opened their home and entire farm up to us to see and explore. They really went above and beyond. Thanks.
Kristian
2017-01-12T00:00:00Z
A wonderful place to visit. The accommodations are great. Karin and Pete are very welcoming and have thought of everything that you may need during a visit. We were greeted by the happiest and friendliest dog when we arrived, which appropriately set the tone for the rest of our stay. We highly recommend a visit.
George
2017-03-05T00:00:00Z
What a wonderful unique experience! Maybe not for everyone but being on a working dairy farm was very cool for us and Karin was super-helpful making sure we had everything we needed. And Pete was very gracious in sharing his cows and knowledge with us. Thank you!
Mark
2017-01-26T00:00:00Z
We couldn't possibly have been more pleased with our stay on Karin and Pete's farm. Karin was warm, friendly and helpful from the moment we arrived, and the apartment was wonderful! We felt like we had escaped from reality when we woke up to see the (very quiet) cows out of the bedroom window. Karin also recommended Burdick's for pastries and coffee- she was absolutely right, and please consider this my recommendation to you- don't just stay at Karin and Pete's place, but check out Burdick's in town, too!
Aimee
2017-01-29T00:00:00Z
Tipo de Acomodação
Casa/apto inteiro
---
Tipo de Imóvel
Apartamento
---
Acomoda
4
---
Quartos
Walpole, New Hampshire, Estados Unidos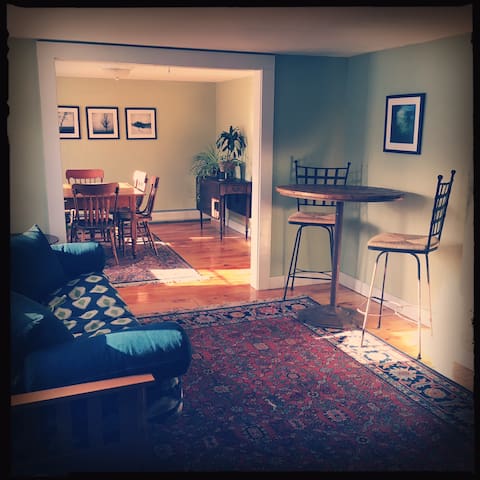 This small space is located directly on the Cold River in Walpole NH. Less than 10 minutes from downtown. The living room boasts a beautiful view of the river in the spring. The space also includes a jet powered tub, propane fireplace and outdoor firepit.
The space available is the mother-in-law quarters located on the back of the original home.
There are a number of cabins located in the area, all neighbors are friendly.
I was pleasantly surprised by how lovely this turned out to be! The Cold River is the backyard and there are a couple swimming holes upstream. We came to hike and ended up spending most of our time on the river! The place itself was quaint and cozy and full of awesome artwork. I never wanted to leave. How lucky to live in a place like this!
Allison
2016-08-09T00:00:00Z
Tipo de Acomodação
Casa/apto inteiro
---
Tipo de Imóvel
Apartamento
---
Acomoda
3
---
Quartos
Walpole, New Hampshire, Estados Unidos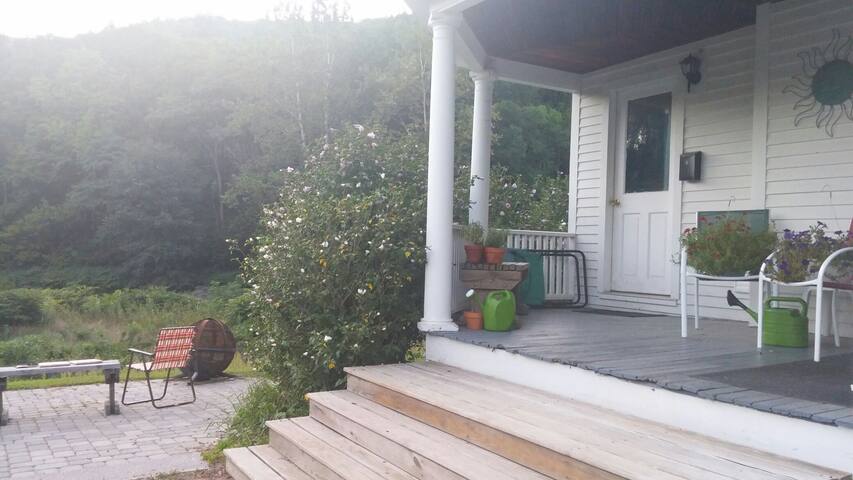 Centrally located in southern Vermont and surrounded by rolling hills, our loft studio apartment fulfills all the needs of your trip to the country. Quiet, clean, comfortable and with easy access to outdoor adventure and old New England charm.
In this studio apartment you'll enjoy a private bathroom with clawfoot tub, kitchen stocked with cookware essentials, dining area with mission table and seating for four, flat screen television with premium channels and your own back deck with views of the surrounding rolling hills. We are a direct 15 minute drive to Mount Snow and 25 minutes to Stratton. You can easily walk down the hill to our village store and small town cafe for breakfast or lunch. We are 5 miles to Jamaica State Park. 25 minutes to Manchester and 35 to Brattleboro. See everything southern Vermont has from a very central location. We have outfitted the loft with a high end queen size bed as well as a full size European style fold down sofa. We provide all linens and towels as well as some toiletries. You'll wake to views over the field and country quiet. Make meals in and eat at our mission dining table and enjoy your morning coffee on the deck.
Wardsboro is a small village surrounded by the Green Mountain National Forest, ski resorts, quaint villages and countless access to outdoor adventure. We love the friendly nature of Vermonters and peace the landscape brings.
Nothing that hasn't been stated already. My trip was great! The studio is very cozy and well decorated. Everything was clean. The mountain view from the windows is very pleasant. There's no cell phone service in the town if you have Sprint, but you have wifi in the studio so it's not a big deal. Kirsten and her husband Jason are great hosts and welcome any questions you may have. Mount Snow is 20min away!!
Dmitry
2014-03-22T00:00:00Z
My husband and I just returned from a wonderful stay at the barn house loft. It was so cozy and comfortable with picturesque views. It has all the amenities you would need for a 3 night ski vacation. We definitely would love to stay again!
Emily
2015-02-20T00:00:00Z
We had a a great stay in Kirsten's clean and cozy apartment. It's a quiet place to relax but also a great location for trips to Brattleboro and Bennington. Also we didn't get to know Kirsten personally she and her husband has been very attentive hosts.
Linda
2016-07-19T00:00:00Z
My boyfriend and I had such a great time the first time we stayed here, we came back again! Awesome location close to Mt Snow and Stratton, very clean, such a cute and cozy apartment to stay in for the weekend!
Jenny
2015-03-23T00:00:00Z
My husband and I stayed here with my 9.5 month old daughter in min-April. While Kristin wasn't there, she had very friendly house guests who greeted us. The place was wonderful and the furniture was very baby friendly. We ended up having to leave early since my daughter got sick and Kristin was very accommodating. We also left something at the loft and she offered to mail it back to us. She was very quick to get back to us with any inquiries we had as well. We will certainly return next time we are in VT!
Grace & Mark
2015-04-22T00:00:00Z
Another wonderful weekend in Kirsten's beautiful apartment! Kirsten is so friendly, warm and accommodating! Any questions I had before or during our stay were answered incredibly quickly. The apartment is packed with all essentials and more! This is the PERFECT place for a relaxing Vermont getaway! We plan on coming back again and again!
Jaime
2015-03-02T00:00:00Z
The loft was absolutely lovely and close to all the winter sports we wanted. Cozy, clean, and easy we had a great time. The full kitchen was a big plus.
Alexis
2015-01-12T00:00:00Z
Great experience in every aspect
Ryan
2014-12-22T00:00:00Z
Tipo de Acomodação
Casa/apto inteiro
---
Tipo de Imóvel
Apartamento
---
Acomoda
4
---
Quartos
Wardsboro, Vermont, Estados Unidos
This quintessential Vermont farmhouse originally built in 1809 is the perfect retreat from everyday life. The Farmhouse Apartment is its own 2-story attached addition, and it is completely private.
Enjoy a Vermont getaway at our private, two story, newly-renovated Farmhouse Apartment. With hardwood floors, exposed beams, and amazing skylights with views of our 10 acres of rolling green hills, you'll relax in comfort. This unique space is the perfect place for a winter hideaway, summer vacation, romantic getaway, girls' weekend, honeymoon, writer's retreat, family trip, you name it! Whether you want to explore the small towns and winding trails of Vermont or truly get away from it all, the Farmhouse Apartment is a spacious and beautiful home-base. Upstairs, there is a luxurious king-sized bed in the huge master bedroom with a memory foam topper, so you'll get a great night's sleep! The bathroom is newly renovated with mosaic tiles. Downstairs there is a fully-equipped kitchen, dining area, and living room with cozy, wood-burning stove and comfortable sofa. A private deck on the back and a separate front porch (with porch swing) complete the downstairs. If interested, we can add a roll-away twin bed downstairs for an extra guest. We also have a portable Baby Bjorn crib, high chair, and a toddler bucket swing out back -- babies welcome!
Our picturesque farmhouse is just outside the artsy village of Putney, VT on an easily-accessed country road. Hike, bike, walk, cross-country ski, or run on the nearby trails and peaks, some of which start right from our driveway. Visit a neighboring sheep farm and sample their award-winning cheeses, or head into the nearby villages of Putney, Walpole, or Chester for a stroll in town or a bite to eat at locavore favorites The Gleanery or Burdick's Restaurant. Spend an afternoon at Green Mountain Orchard, picking blueberries, raspberries, apples, or pumpkins (depending on the season), and finish off with a cool dip at a local swimming hole. In the evenings, relax by the fire, curl up with a good book, and unwind! We are also close to downhill skiing, (Okemo, Bromley, Stratton), the Putney School, Landmark College, the Greenwood School, and The School for International Training (SIT)/ World Learning. In Putney, you have the Putney General Store, the Putney Food Coop, the terrific West Hill Bike Shop, spinning and yoga studios, massage, the delicious Curtis' BBQ, (seasonal) Swirl second-hand shop, antique stores, Hidden Springs Maple, and more! We're also close to hip Brattleboro, Vermont with it's wonderful art festivals, farmers markets, movie theatre, music venues, food coop, Grafton Cheese Company, art galleries, bookstores, cafes, restaurants and shops galore. And we're close to lovely Keene, NH with Antioch College and Keene State College, great coffee shops and a lively Main Street, The Colonial Theater and more. The Farmhouse Apartment is a great place to visit year-round and experience Southern Vermont in all seasons: In SPRING, stop in at a maple sugar house while they're boiling, and enjoy a pancake breakfast before visiting local farms to see the new lambs being born. In SUMMER, wander the deep green woods on foot or by bike and then cool yourself in a clear local swimming hole. In AUTUMN, hike along streams, up to mountain view points that will blind you in leaf season with amazing Fall color, and enjoy a stop at a farmer's market. In WINTER, snowshoe or Nordic ski on nearby groomed trails and return to a cozy fire to enjoy some hot cider before heading off to the pub for dinner. Or, check out Stratton, Okemo, or Bromley Mountains for downhill fun (about 50 minutes away).
Alex and Michael have a wonderful space that is exactly as described. They made us feel very welcome, with lilacs on the kitchen counter for when we arrived, and a nice detailed list of things to do and see in and around Putney. The best part about staying here was the incredible loft bedroom upstairs, complete with three huge skylights and low-to-the-ground king-sized bed... it was very dreamy! This was the perfect escape from the busy city life, as it really is out in the middle of nowhere among rolling hills, winding roads, and adorable farms. Couldn't ask for anything better.
Laura
2015-07-03T00:00:00Z
Wonderful time. Great accomodation. Very quite and peaceful. Great host!
Feodor
2015-08-24T00:00:00Z
We had a wonderful four-night stay at Alex and Michael's beautiful apartment - the house is a great country getaway from the city and Alex and Michael are terrific hosts: responsive, helpful, and accommodating. The nearby towns of Putney, Brattleboro, and Walpole are lovely small towns with great restaurants and shops, but we spent most of our trip staying cozy by the woodstove and walking on the dirt roads around the property. Our dog loved the apartment and farm too! We'd love to come back again in the winter or summer.
Daniel
2016-01-14T00:00:00Z
We had a great stay at Alex and Michael's wonderful home on several acres in Vermont. It is perfectly situated that it is close enough to town but far enough into the country that it feels you are completely off the grid (there is no cell service, which helps). They are gracious hosts, and the apartment has amazing views of their property. It is also a short distance to the town of Putney and other villages. We loved our stay and hope to return soon.
Matthew
2016-04-24T00:00:00Z
The place was perfect for us. The apt was beautiful and spacious and the surroundings were relaxing. Alex was very communicative and made it all easy. Highly recommended!
Nate
2016-08-28T00:00:00Z
Our stay was wonderful. The apartment is very cozy and comfortable. The property is beautiful and the town is quaint. Alex was wonderful and responded quickly. The apartment was perfect. We really enjoyed our stay!
Cristina
2015-10-18T00:00:00Z
Loved staying at Alex's loft. She was very nice and flexible to what our need was. Spacious and the windows facing the sky in the bedroom were incredible!
Erika
2016-07-26T00:00:00Z
Such great recommendations! Great hikes! Great directions! Great restaurants! We felt at home in this very special air Bnb.
Jon
2016-10-01T00:00:00Z
Tipo de Acomodação
Casa/apto inteiro
---
Tipo de Imóvel
Apartamento
---
Acomoda
3
---
Quartos
Putney, Vermont, Estados Unidos
The 2nd floor Skunk Barn Farm apartment gets rave reviews from folks looking for a cozy simple complete home and a departure from the hum drum & the hubbub. Available until a refugee family arrives and I'm not sure when that will be.
This second floor apartment has seen a lot of Love. Two babies were born here! Built under the same roof as my house, on the West side of what was a hay barn, it still is barn- like. And you might, depending on the season pass by the chickens en route to your country get-away. In the winter the coop is underneath the apartment. Rise and shine!! We call our farmette the Skunk Barn Farm, and have raised animals here, but these days mostly fruit, eggs, and vegies. I made a conscious choice not to spend thousands of dollars on a septic system so there are NO FLUSH TOILETS on the premises. If you like the idea of sharing the fertility of your manure in the outhouse then you'll enjoy being here. If you cant bear the thought of not having a flush toilet to whisk your feces away (where?) than you wont! There's a wood stove and propane heater for heat, a gas stove for cooking (its little but works great!) Tub/shower, nice hot water. A bed room, a big room with Kitchen /dining /living in mind, and bathroom, and a loft -- it's little but two people could sleep there. There's a full bed in bedroom and a twin futon in the loft. I'm working on returning the chaise that you see in the pictures. I say 5 people could stay here cause some groups have wanted to gather and are willing to camp out on the floor. Groups over 2 or 3 should keep in mind that the resources of gas, wood, and electriciy to heat and light are precious and finite and are encouraged to make sustainable, conservative choices. I have 2 cats and 14 chickens. They are fab. Your dog has to be farm tested or kept on a leash. That's all i can think of for now.... Mas pronto nos vemos Greenough and the Skunk Barn Farm
The neighbor hood is quiet and rural. Very pretty. A little rarified, but we're doing our best to bring it down-home.... there are great people around but you dont see them too often.
We had an amazing time at Greenough's in Putney. The apartment is a converted barn with a shower, very effective little kitchen, and loft area. It's everything you could want in a rustic getaway, even the outhouse was TOTALLY fine, you don't need to be afraid. Putney itself is a really cute town with a nice co-op and general store. What really made our trip though, was the hospitality of Greenough. She brought us some extra breakfast, cheese, crab apple jam, and even sent us off with cookies, though we really weren't ready to leave!
Erika
2013-09-06T00:00:00Z
3 of us used the loft for a weekend reunion from around New England. The loft is cozy, clean and inviting. We enjoyed petting the coats and hanging with the chickens. Greenough was gracious, accommodating and flexible. We're hopeful to go back!
Amanda
2013-10-09T00:00:00Z
We had a wonderful weekend at Greenough's apartment. It's rustic - which is exactly what we were looking for! We slept three there very comfortably (two in the bedroom and one in the loft). Even my dog enjoyed the space! Greenough was very accommodating with a late check out and very pleasant the entire time we were there. This is a wonderful place to escape a hurried lifestyle.
Kathleen
2014-11-03T00:00:00Z
Our stay at Skunk Barn was an absolute delight and we drove away after our weeks stay feeling refreshed with mountain air and good company. Upon arrival, we pulled into the parking area and emerging from the car after a long day of driving were greeted by the scent of lilacs, one could feel the road tension begin to float away on the breath of spring.. The farm has neat little garden beds here and there as well as a herd of chickens and guineas to add to the country aura. It has a disheveled lovliness to it that will appeal to many though not all. If tall grass, chicken presence and using an outhouse brings you a bit closer to nature than you'd like to be then this place is not for you. However, if inexpensive digs close to fishing, hiking, village hopping, orchards, small farms and spectacular outdoor areas are what you need this is a great find. Say hello to your inner farm kid at Skunk Barn. What a made it for us was the convienient kitchen and little rocket of a stove where we fried chicken, made bread, took advantage of Greenough's long rows of rhubarb and canned up chutneys and preserves, we steamed FM veggies, threw pizza, tossed stir fry, grilled burgers from local beef, oh yes, we put a nice mess of food out of that place. We do not eat out when we travel if we can help it and an efficient, cozy studio kitchen was just right for our creative needs. When a big store is needed there is a Hannaford's ten minutes away. The apartment itself is clean, warm and charming with an appealing rustic feel. The woodstove kept us warm on a couple chilly nights and screened windows and doors allowed the breeze to come through on warmer days. The skylights lend a terrific amount of sunlight to the space, a peaceful yet lively feel. At the heart of it all one finds a charming host in Greenough who is eager to please, amiable but understands guests need for time to themselves, ready with information or assistance at anytime. We look forward to returning someday.
Kathy
2015-06-01T00:00:00Z
Greenough's barn apartment was a perfect stop on our mini tour of the Green Mountains. Greenough is welcoming and relaxed. The property is beautiful and peaceful, with a large, wild backyard that extends down into a forest. The barnhouse is very comfortable - we loved Greenough's dedication to creating an energy-efficient and low-waste household, and really appreciated the time she took to tell us the story of the barn remodel. The town of Putney was by far my favorite town that we visited in Southern Vermont - we had a sweet dinner at The Gleanery and explored the Putney School campus. Very neat stuff happening all over that town. High recommendation!
Lulu
2014-09-27T00:00:00Z
Greenough and her apartment are equally amazing. Greenough is an incredibly gracious host that was very accessible to us when needed. I used the place to serve as a writer's retreat as well as a getaway from the city and it certainly exceeded our expectations. The apartment has plenty of nooks and crannies for you to utilize and the windows brought in enough natural light that we didn't need any lights. Also, for someone who lives in NYC it was great to truly enjoy the stars at night. Greenough has literally thought of everything one may possibly need so it's not really necessary to bring anything except your suitcase. The neighborhood is full of friendly neighbors and lovely farms. Truly a great getaway!
Brittani
2014-09-13T00:00:00Z
Our hostess was so sweet and caring. She welcomed us to her home and the sustainable apartment with the little loft with open arms and a big heart. She showed us how to make ourselves at home and took us immediately to see the yummy strawberry patch she had growing and the beautiful flowers and her bountiful garden. We got to say hi to the chickens and feed them. The outdoor bathroom was very functional and easy to use. The house has a large solar panel outside, and supplies for the needs of the house. We felt comfortable, and I especially enjoyed reading in the little loft until late at night. Good, off-the-grid experience and kind and caring hostess, clean accommodations and lovely views in the really nice town of Putney.
Tajana
2014-06-26T00:00:00Z
I had a glorious stay here. The scenery was amazing and beautiful. It was an excellent escape in a super cozy apartment away from civilization. The host was very responsive and easy to communicate with. Good place to get off the grid for a bit!
Benjamin
2014-07-28T00:00:00Z
Tipo de Acomodação
Casa/apto inteiro
---
Tipo de Imóvel
Apartamento
---
Acomoda
5
---
Quartos
Putney, Vermont, Estados Unidos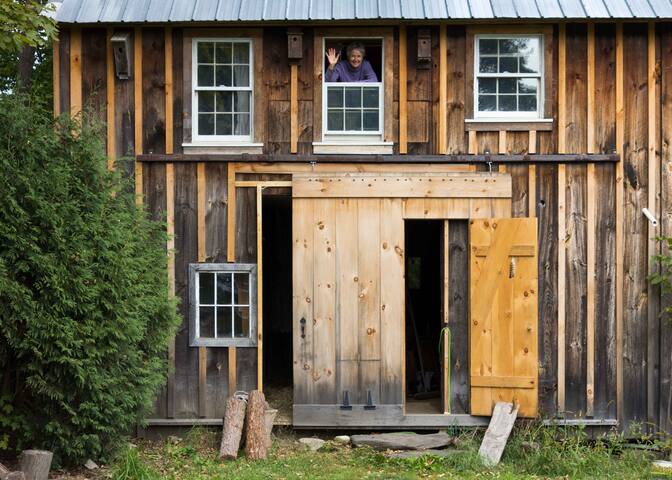 Relax and recharge in our recently renovated Vermont cottage. Enjoy hardwood floors, wifi, a fully equipped kitchen, gorgeous natural light, views of surrounding hills and pond, gardens, and your own private back deck.
Our recently renovated Vermont cottage is a perfect weekend getaway. Upstairs in the sleeping loft, you'll find a quiet retreat with queen sized bed surrounded by bookshelves, and the nook with an extra long twin bed. On the main level, there is a fully-equipped kitchen, dishwasher, countertop bar with stools, table, and bathroom with funky copper tub and shower. Four steps down brings you to the sitting room where we recommend the comfy sofa as a great reading or lounging spot with full southern exposure. The south facing bay window and cushion seat doubles an additional single bed. Bay window has views out to the pond and woodlands.
We live in a gorgeous, rural setting yet very close to the rich outdoor and arts scenes that Putney, Westminster West, and Brattleboro offer. We are on a paved road (no problems in winter or mud season!). The cottage is located just 5 miles to downtown Putney where you'll find the Putney Food Co-op, The General Store, the West Hill Bike Shop (mountain bike and x-country ski/snowshoe rentals). Check out our local orchard, Green Mountain Orchards, where you can pick-your-own blueberries, raspberries, plums, pears, peaches, and apples. They also sell delicious homemade pies and cider donuts. For outdoor enthusiasts, we are close to ski mountains- under an hour to Mt. Snow, Stratton, Magic Mountain, Bromley, and Okemo. Wake up early and be the first on the slopes! We live on a paved road (no dirt or mud to navigate!). We are 9 miles to the quintessential village of Saxton's River, 10 miles to Walpole, New Hampshire, 15 miles to Brattleboro, and 13 miles to Grafton. Under 10 minutes to The Putney School, Greenwood School, Landmark College, and Vermont Academy.
A lovely place to stay with 2 adults, and 2 kids. The kitchen was great, the walking trails were lovely, and the beds cozy with cotton linens and down pillows and comforters. We were very happy here!
Sparrow
2016-11-22T00:00:00Z
My girlfriend and I had a perfect weekend at Lauren and Drew's cottage! Lauren was extremely responsive prior to our arrival and provided helpful suggestions for local activities and restaurants. There is a lot to do and see around Putney, in all seasons. The cottage is extremely cozy and is very well equipped, including a full kitchen, extra linens, books, board games, and wifi. It has a very intimate feel with lots of natural Vermont character. The property is beautiful and has a lovely pond and some walking trails along a river. The cottage is relatively close to the main house, but is situated in a way which feels very private. My girlfriend and I walked over to meet Lauren and Drew who were incredibly friendly, and went out of their way to make us feel welcomed. We also had fun talking to their two energetic kids and meeting their friendly black lab. We couldn't have asked for better hosts and would definitely recommend this cottage to anyone looking to stay in the area!
Gregory
2016-11-13T00:00:00Z
My friend and I had a wonderful weekend in the cozy cottage loft! The cottage is adorable and the surroundings couldn't be more beautiful. Drew and Lauren made us feel very welcome and their suggestions of things to do in the area were spot on. We ate like queens with fresh veggies and cheeses from local farms and got a lovely taste of life in rural Vermont. The cottage had everything we needed--nice dishes, comfy beds, even a few board games. We did not have any cell reception, but the internet was fast. (We were even able to stream a movie one night.) We were able to get cell service in the nearest town. Overall, it was a great experience. I hope I can make it back to see the leaves one year. I can't even imagine how gorgeous that would be.
Emily
2015-11-08T00:00:00Z
"Cozy cottage loft" was just perfect. This is an extremely charming place, and also quite functional. I'm a very sensitive sleeper, and I slept better here than I have in a long time. The loft bed was super comfortable and cozy. The kitchen was well equipped, plus Lauren and Drew had generously stocked it with coffee, tea, breakfast foods, etc.. Communication was excellent. Although I never met Lauren and Drew in person, they made it clear that they were available if I needed them (just a short walk to the main house). I appreciated the space and privacy that they gave me. I was happily surprised to discover that the cottage is a completely detached from the main house, making it feel like your very own vacation home.
Hans
2016-10-03T00:00:00Z
We had a lovely stay at Lauren's cottage! Lauren made sure that we had everything that we needed and left a book for suggested things to do in the area. We loved driving around and discovering nearby farms and trails to hike. The cottage was very cozy, relaxing and clean! This was our first Airbnb stay and I'm sure we will be back again.
Trisha
2016-09-16T00:00:00Z
Lauren and Drew's cottage is perfect Vermont. I had my two kids with me. They had an awesome time exploring. It was a real free range couple of days for them. Cottage is on a busy road. But not busy all the time. The cottage abutts a lot of open acreage and wooded area that's nice to walk through.Lauren and Drew are great hosts. They're there as much as you need them or will give you total privacy. The cottage is really well stocked and has a full fridge, gas stove and dishwasher. Book selection and even the magazines were great. Because of the loft stairs I wouldn't recommend this to anyone who has difficulty with climbing stairs or for kids under 5 years old. In closing... Quote from my 9&11 year olds: "Mom, this is so perfect! Thanks for picking it!" Go.; enjoy a nice taste of Vermont and it's finest folks !!
Deirdre
2016-10-12T00:00:00Z
We stayed 2 nights at the cozy cottage loft. It is a lovely and comfortable with a new kitchen and bathroom. The views from all sides are beautiful. It was peaceful and very relaxing. Lauren, her husband Drew, their 2 sons and the dog were all very friendly and welcoming.
Joel
2016-07-19T00:00:00Z
Lauren is an incredible host. The cottage beautiful, cozy, and completely stocked with everything we could imagine needing. On top of that, Lauren lives right next door, is incredibly friendly and professional, and she is willing to address any questions or requests we had right away. The internet is fast, the bed is a dream, and whole place is full of light and high-quality accoutrements, from linens to dishes to views. The yard outside is spacious, sunny, and surrounded by gorgeous high trees. There's even a small pond and a forest trail behind the house for hiking and running. Overall the surrounding area provides excellent running / hiking / biking trails and a peaceful place to wander and wonder, spreading out into other gorgeous spreads of land, farms, forests, barns, and meadows. It's an easy, quick drive to the Putney town center too, where you'll find the Co-op grocery store, the General Store, cafes, shops, yoga, and more. A great place for a writing retreat or a fresh mountain air getaway! The place is very new and very cozy - fantastic on comfort, aesthetic, and location, all three. We can't wait to come back!
Jen
2015-09-22T00:00:00Z
Tipo de Acomodação
Casa/apto inteiro
---
Tipo de Imóvel
Apartamento
---
Acomoda
4
---
Quartos
Putney, Vermont, Estados Unidos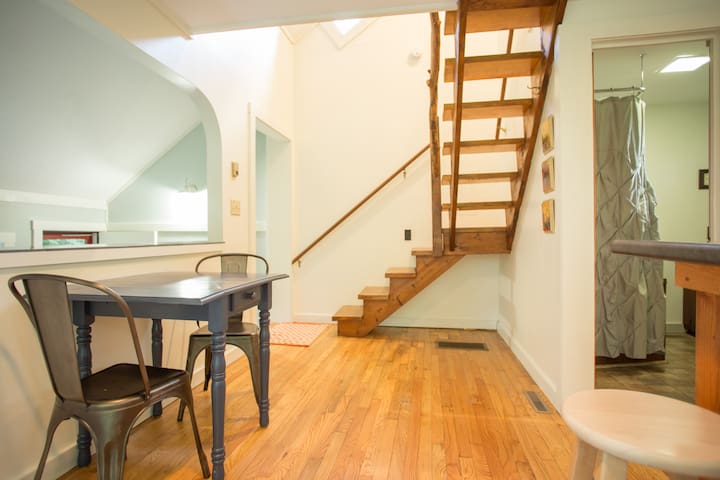 The apartment is nestled on 9 acres overlooking a beautiful forested mountain & trails to explore along a brook. A peaceful getaway retreat equip with a living room, a bedroom with a queen bed, full kitchen, & full bathroom. 1 hour from ski resorts. *NO SMOKING ANYWHERE ON THE PROPERTY
*The apartment is attached to our home that we live in. The apartment is located on one level of the home & has it's own private entrance & is blocked off from our living area. Eco-Friendly Home: - LEED standards - Solar panels for electricity - Solar thermal for water - Radiant floor heating - Compost System - Organic Garden
Quiet neighborhood along a peaceful dirt road. Putney Attractions: - Green Mountain Orchard - Hidden Springs Maple - Basketville - Putney Mountain Winery - Next Stage - Sandglass Theater - The Yellow Barn Concert Series in the Summer - Miles of cross country ski trails at the Putney School - West Hill Bike Shop *information about local rides - Edel Byrne Stained Glass - Swirl a Vintage Store - Green Mountain Spinnery - Miles of hiking trail *guides provided Putney Eateries: - Putney Co-Op - The Gleanery - Putney General Store & Pharmacy - J.D. McCliment's Pub - Putney Farmers Market - Putney Diner - Curtis' Barbecue - Katy's Nearby Attractions: - Brattleboro = 15 minutes - Jamaica State Park = 10 minutes - Downhill skiing = 45 minutes - Stratton = 1 hour - Mt. Snow = 50 minutes - Okemo = 55 minutes - Manchester = 1 hour 15 minutes *Appalachian & Long Trail Access - Marlboro Music Festival = 1/2 hour - Bradley International Airport = 1.5 hours Grocery Stores A-Putney Co-op - 8 Carol Brown Way, Putney, VT 05346 B- Brattleboro Co-op - 2 Main St, Brattleboro, VT 05301 C-Hannafords - 896 Putney Rd, Unit 5, Brattleboro, VT 05301 D. North End Butchers - 972 Putney Rd #2, Brattleboro, VT 05301 Restaurant Recommendations A.The Gleanery - 133 Main St, Putney, VT 05346 B.Duo - 136 Main St, Brattleboro, VT 05301 C.Whetstone Station Restaurant and Brewery -36 Bridge St, Guilford, VT 05301 D.Burdick's - 47 Main St, Walpole, NH 03608
It was a very peaceful, quiet stay... There are some nice winding dirt roads next to a small stream worth checking out. Thanks for hosting!
Kelly
2015-12-17T00:00:00Z
The stay was a breath of fresh air. The whole house was super clean and Andrea was an awesome host! I can tell she put a lot of love in this rental and I can't wait to come back next year. 5 stars all the way!
Sandy and Niva
2015-10-10T00:00:00Z
It is a special place out in the country. Very quite. And the home was very clean and well equiped.
Elisabet
2017-01-25T00:00:00Z
This was a lovely place that exceeded our expectations. It was cozy and comfortable. The kitchen had everything we could need and more. Plus, it was close to town but felt far from town. Great place!
Lora
2017-03-27T00:00:00Z
I really needed some time away from the city and this was a perfect location for me to introvert and recharge. Andrea let me know where there was good hiking in the area, the co-op for groceries, as well as their brook (there's a rock that makes a great perch for reading). I left feeling more like myself.
Annette
2016-11-14T00:00:00Z
We loved our stay here! The space is charming, there are lots of flowers, Milo softened my dog averse friend's heart, and the brook down the path is very calming. A great peaceful place to start off our vacation =D. Andrea's recommendation of dining at the Gleanery led us to the most savory and delicious food. This is definitely a place we would recommend to anyone stopping by!
Eugenia
2016-07-16T00:00:00Z
Andrea and Jon's apartment was perfect! Clean, crisp, and very comfortable. Vermont warmth with all the conveniences you need! I would highly recommend their place and look forward to future visits.
Beth
2015-10-01T00:00:00Z
I really enjoyed the time I spent at Andrea's home in the mountains of Vermont. The space was lovely and just as it looks in the pictures - clean, comfortable, and with a great view! Andrea and her family were friendly and welcoming, but also respected my privacy. She was easy to communicate with and gave me great recommendations for things to do during my stay. Their dog Milo was a great playmate for my puppy. I would definitely recommend staying here and would come back anytime myself.
Katie
2016-10-11T00:00:00Z
Tipo de Acomodação
Casa/apto inteiro
---
Tipo de Imóvel
Apartamento
---
Acomoda
4
---
Quartos
Putney, Vermont, Estados Unidos
Located at the base of Putney Mountain with access to spring-fed pond, bright stars, medicinal plants, hiking/biking trails and the wonders of nature sits a 400 sf studio with private, luxurious bath, queen bed and kitchen.
With views of lovely spring-fed pond, this 400 sqft space is perfect for travelers that do not want any forced interactions or intrusions. We're located less than 3 miles to the Putney School, Green Mountain Orchard, downtown Putney and Landmark College, and it takes approximately 50 minutes to drive to Stratton, Mount Snow, Bromley; and, 70 minutes to Okemo. Guests can choose to enjoy the natural environment at our homestead, mingling with other guests or family as it unfolds, or trek out in the 400 acres of wild land that we border. The choice is yours; the space encourages freedom and authentic relating.
Our neighborhood is filled with people that are living their dreams, raising families, food and serving the world via their gifts. The energy here at the base of the mountain is notable for it's serenity. Our home is less than 100 yards from the studio and there is a one bedroom apartment inhabited by a student above it.
We spent two nights at Marcella's cabin. The place is simple but convenient. It is surrounded by a beautiful garden with a private pond which we enjoy swimming in. We didn't meet Marcella but communication went well. All together we enjoyed staying there and recommend it.
Eran
2015-07-26T00:00:00Z
Marcella was very welcoming. Check in and check out was easy. She made us fresh warm cinnamon bread for breakfast. She made sure all our needs were met. Very helpful and cheerful(URL HIDDEN)This is a small lovely studio with a paddle boat and a zip liner surrounded with beautiful fall foliage. Peaceful and calm. Had our privacy. Close to the wild life and we had the touch of the Vermont's local farm grown tea, coffee and maple syrup(URL HIDDEN) We went there on a columbus day weekend and there was a little carnival nearby selling all kinds of local and handmade products. For you to go to nice restaurants, get something to eat or gas station you will need to drive for about a 20 min. Good for hiking, exploring and getaway(URL HIDDEN) Over all had a great time.
sravanthi
2014-10-13T00:00:00Z
We really enjoyed our six night stay in this cozy apartment in a very beautiful setting. It's probably even more spectacular in the other seasons! Marcella was very friendly, welcoming and helpful before and during our stay. Since we have family in Putney, we hope to return again in this summer or fall. We wish you allowed dogs because we would book an extended stay here if our 24 pound, well-behaved Shiba Inu could stay with us. Thanks for helping to make our first winter stay in Putney a wonderful experience.
Gary
2016-01-26T00:00:00Z
Everything was accurate and the host was very welcoming. The space is beautiful, you can't beat the view of the Milky Way at night, and the room is a quick drive from Putney Village (but far enough that it does feel like an escape). I never actually met the host, but that was fine.
Angelina
2015-08-23T00:00:00Z
We enjoyed an excellent stay at Marcella's place. The location was fantastic, very close to Putney but still out of the way that you felt you were truly in the countryside. Marcella was an excellent host and provided absolutely everything we needed for our stay
Fim
2016-05-31T00:00:00Z
The location is lovely, a 20 minute walk from the summit of the mountain, which has sheep and nice views. Neither host was around when I arrived but I was able to make myself comfortable. The room could benefit from additional soundproofing, as the upstairs neighbors woke me up early on Sunday morning. Other than that, I enjoyed my stay.
Beverly
2015-06-28T00:00:00Z
Im sorry to say that this was the first airbnb experience that was not positive for me. When we arrived the gas had not been turned on for the stove. The heat was insufficient even with the space heater on high for the entire visit (although it was probably the coldest weekend we will have this winter). For me, however, the worst was the fact that the sheets smelled like a man's body odor! Marcella immediately brought a new set of sheets for me. She was very kind and gracious, but the place felt unclean and cold! Having said that the location is amazing. The pond out back and the remote location are beautiful.
Solange
2016-02-15T00:00:00Z
Marcella communicated with me ahead of time, giving me all of the information that I needed to arrive, then settled me in, where I had fresh wildflowers awaiting me. The space itself feels wonderful, and has the best soaking bathtub I have ever had the pleasure of using. Sitting right outside my door and looking at the milky way and bright stars, hearing the spring feeding into their pond, was deeply relaxing and rejuvenating. I look forward to staying here again.
Ann
2015-08-17T00:00:00Z
Tipo de Acomodação
Casa/apto inteiro
---
Tipo de Imóvel
Apartamento
---
Acomoda
2
---
Quartos
Putney, Vermont, Estados Unidos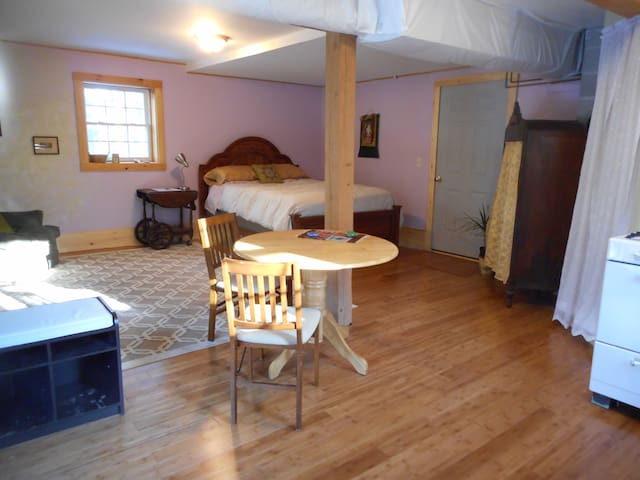 A secluded, romantic get-away for a couple. An idyllic retreat for a single person.
A free-standing guest suite (attached to our 2-car garage) Your suite has its own private entrance. Queen-size bed Your own bathroom Kitchenette Sitting room with gas fireplace We live in the woods, at the end of a country road. You have complete privacy. You have shades on all the windows. The front window shade pulls down from the top so you can see out, but no one can see in.
We'll tell you about the secret local places to hike or to swim in the beautiful West River. Or where to put in with your kayak. 40 minutes from Mount Snow. Brattleboro is one of the 10 best Small Towns in America, according to Fodor's. Putney is a happening place. Classical music--Bill attends concerts every weekend. Theater--We see at least 2 local plays every month. A couple of jazz venues nearby. Arts & Crafts in every nook and cranny of the hills around here. Great Farmers' Markets We are 2 miles from one of the 5 Best Nurseries (We would say farm stands!) in New England. Brattleboro has one of the 2 top Circus Schools in the country.
I had an absolutely amazing experience over the Thanksgiving weekend at this place! Clean, quiet, and so incredibly peaceful. Although I waited until the very last minute to book, Cheryl got back to me right away! She took time on Thanksgiving to prepare the room and stalk the fridge with the most incredible granola! The property is secluded and very quiet at night. Although the main house is located directly across the mother in law style apartment, you'd never believe anyone else was there, you are completely unaware of the comings and goings of the owners. The house is about a 15 min drive from Battleboro for any service you'd need, there are also tons of awesome maple syrup farms, orchards, and scenic drives nearby. If you're looking for a room in VT, I strongly encourage you to book this one! I absolutely will be back!
Kellie
2015-11-30T00:00:00Z
I counted the days until I could return to this beautiful piece of heaven on earth. When I got there Cheryl greeted me with a hug, and I settled in to the cosy little house. Easy and kind hosts and the attention to detail, not to mention the beautiful fall foliage made it such a joy to be there. I miss it already!
Traveling
2016-10-18T00:00:00Z
We were looking for a quiet stay in the woods in Vermont and that is exactly what we got. We had such a peaceful time in beautiful surroundings. The garden is lovely, and the close hiking trails are easy to maneuver. The hosts were very helpful with directions and suggestions. If you are looking for a quiet area then look no farther.
Brittany
2014-09-02T00:00:00Z
Cheryl and Bill's house At the End of the Road was great! My partner and I wanted to escape the city for the New Year holidays and this little place was a good decision for us. Cheryl and Bill were good hosts-- they were so gracious and offered to lend us crampons and gaiters for walking around the network of trails behind the house. I loved how we got a taste of the beautiful VT countryside, and still stayed a short 10 minute drive from the charming city of Brattleboro. The house was clean, warm and cozy (which was perfect for that snowy, rainy day), and was well stocked with the supplies we needed for a weekend in Vermont. They even provided us with delicious homemade granola and cereal. If I have to criticize this place for anything, it would be for the unfortunate scheduling of construction during our stay-- more insulation was being installed in the building. We appreciate that Cheryl compensated us for the disturbance and inconvenience created by the construction during our first morning there. The hammering was pretty loud, though. It would have been better if we were warned about this prior to our trip. Regardless of the construction, I would return to stay at the lovely house at the end of the road. Maybe in the summer next time, so we can take advantage of the many miles of walking trails around their house, while keeping our toes warm and dry.
Michael
2016-01-02T00:00:00Z
What a great spot in the country, and Cheryl and Bill were very welcoming. Unfortunately, my wife was holed up sick basically the whole time we were there, but there are certainly worse places to be stuck. Friendly hosts, clean and cozy amenities, and a beautiful setting.
Nathan
2015-10-05T00:00:00Z
Cheryl and Bill have a lovely cottage by their house where I stayed for a night with my mother. The place is nice, comfortable and they left us breakfast goods - their homemade granola is super yummy! We booked the same day and I know as a host same-day booking are not very convenient but it took them a very long time to respond and when we arrived we felt like they were almost surprised to see us and the cottage was 57°F and took two hours to warm up. Anyway, as I said it was a off-season same-day booking so I'm sure this would probably have been different otherwise.
Manon
2015-11-11T00:00:00Z
We had an amazing time in Putney Vermont. So much hospitality and lots of trails to visit. We didn't get the pleasure of meeting bill, but Cheryl was amazing. Everything was already set up and ready for us upon our arrival. Fresh fruit, granola, yogurt, milk and juice. The house was extremely cozy and well equipped, it went above my expectations. I definitely plan to extend my stay and visit for a little longer next time. I highly recommend this nice getaway for anyone.
Ikenna
2016-06-08T00:00:00Z
Great cottage in a beautiful location. Loved the gas fireplace in the living room.
Michael
2016-10-16T00:00:00Z
Tipo de Acomodação
Casa/apto inteiro
---
Tipo de Imóvel
Apartamento
---
Acomoda
2
---
Quartos
Putney, Vermont, Estados Unidos
A spacious apartment with great views and location. It is situated 2 miles from the town of Putney and very near to The Putney School and Green Mountain Orchards. It sleeps 4 in bedroom and living room pullout couch.
It is a detached garage with a one bedroom apartment with full bath, kitchen and large living room. It has a queen sized bed in the bedroom and a queen sized futon couch in the living room.
Located in rural setting, adjacent to The Putney School and near to Green Mountain Orchards. Situated two miles from the center of Putney. Excellent hiking opportunities on local mountains nearby. We are also close to downhill skiing, (Okemo, Bromley, Stratton), Landmark College, the Greenwood School, and The School for International Training (SIT)/ World Learning. In Putney, you have the Putney General Store, the Putney Food Coop, the terrific West Hill Bike Shop, spinning and yoga studios, massage, Swirl second-hand shop, antique stores, Hidden Springs Maple, and more! We're also close to Brattleboro, Vermont with its wonderful art festivals, farmers markets, movie theatre, music venues, food coop, Grafton Cheese Company, art galleries, bookstores, cafes, restaurants and shops galore.
Terrific host and apartment. Gorgeous setting and great local advice. Wifi was down and minimal cell reception, but understand Elisabeth working to reinstall wifi.
Jordan
2016-08-28T00:00:00Z
I had a wonderful stay with Elisabeth! The space was beautiful and Elisabeth was very nice and accommodating! If you are looking for a beautiful vermont get away this is a great place! The town is also beautiful!
Meghan
2015-10-12T00:00:00Z
The apartment is lovely and bright with beautiful views. Elizabeth is welcoming and thoughtful and let us know every detail about the place before the stay. We will definitely use her place again and recommend it to anyone looking for a cozy place to stay:)
Michelle
2015-11-29T00:00:00Z
This is a very lovely location, and it proved very convenient as I was visiting family who live just up the road. Everything was very tidy; the instructions were clear. We were very happy here.
elizabeth
2016-11-25T00:00:00Z
Elizabeth's private West Hill apartment was just what I needed after my drive up to Putney. Elizabeth graciously met me with the key, and everything was easy to navigate. The apartment has just a few rooms, but a very spacious feeling. Elizabeth provided a list of recommended things to do, places to eat, etc., as well as a number of brochures from local interests and events. The kitchen was wonderfully stocked with a selection of teas, and coffee for the morning. Everything was immaculate and in good working order. I enjoyed a wonderfully cozy night in a beautiful wooded setting, and am eager to return.
Kristin
2015-12-14T00:00:00Z
Incredible location for Cross Country skiing, walk a few steps down from the door, put on your skis and the trail behind Elisabeth's house connects to the entire Putney School ski trail system. Looking out the large windows from the living/kithen area you'll see the skiers in the field across the pond. The apartment was very clean and the layout was convenient with the bathroom right by the doorway for any wet clothes. The bedroom was large and the living area had the great view of the ski trails and country side. The kitchen was well equipped. The location is very convenient for VT, being only 5 miles off the I-91 Exit and 10 miles from Brattleboro. Elisabeth responded very quickly to my questions before I booked and was available to answer any questions while we were there.
Brian
2017-01-02T00:00:00Z
Lovely hosting of my parents who drove from Toronto.
Ellen
2016-06-26T00:00:00Z
Perfectly comfortable with lovely scenery. Bring some board games or good books and enjoy with the family or a loved one. Easy access to i91, small restaurants located nearby. Lovely, communicative and welcoming hosts. And their wonderful dog will play catch with your children for hours! :)
Samantha
2017-02-20T00:00:00Z
Tipo de Acomodação
Casa/apto inteiro
---
Tipo de Imóvel
Apartamento
---
Acomoda
4
---
Quartos
Putney, Vermont, Estados Unidos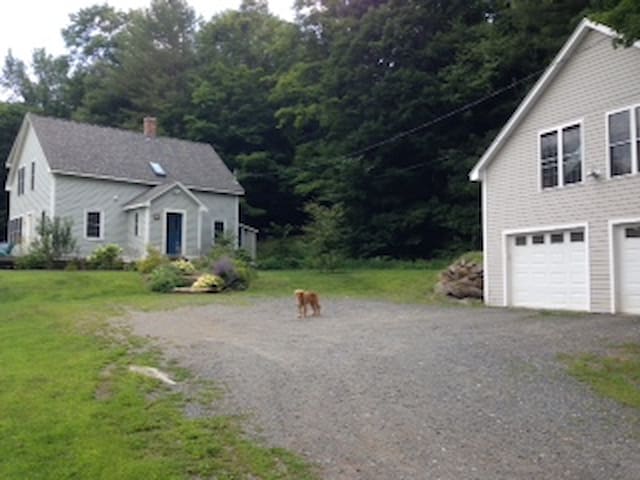 My very comfortable apartment is located only 10 minutes from Brattleboro. this area is rich in arts and crafts, and the famous entertainment theaters, the yellow barn, sand glass theatre and next stage. there are also biking and hiking trails.
My apartment is in a rural area, so you have peace and quiet if you want it. Brattleboro is only 10 minutes away, so you have access to movies theaters, restaurants, bookstores, etc.
This area is known for its arts and crafts. Most of the artists have open studios that you can visit. There are wonderful walking trails and swimming holes, all within a ten minute drive.
The host canceled this reservation 29 days before arrival. This is an automated posting.
Mariana
2016-09-08T00:00:00Z
Josh's place was cozy and quiet - in a beautiful spot! He was a great host - coffee and waffles, fruit and fresh-squeezed orange juice - and I had an easy and restful stay.
caryn
2015-09-27T00:00:00Z
Great experience staying at Joshua's! He was very welcoming, helped us find the local markets, swimming holes and made us feel right at home. We enjoyed the bonfire and used the grill to cook a delicious, local meal. Great escape from NYC for the weekend, thanks Josh!
Roman
2015-07-12T00:00:00Z
Joshua is a fantastic host! The place was terrific, and he is a pleasure to chat with. I would certainly recommend Josh's home to anyone traveling near Putney. Great experience and incredible pottery!
Dan
2015-08-09T00:00:00Z
Josh was a wonderful host you created a very satisfying Airnnb experience--for, in an unexpected twist, my ex-husband (its own story entirely)! I'm grateful for Josh's flexibility and graciousness and look forward to being hosted by Josh directly--hopefully the next time I'm up at Putney.
Jenny
2015-10-11T00:00:00Z
Josh was very friendly and easy to communicate with. He checked in before our arrival and met us on the property to orient us. The property is beautiful and the apartment was great. It had everything we needed for our weekend stay. It's worth noting that both Josh and a neighbor live on the property in close proximity to the apartment. They were very friendly and unobtrusive. If you are looking for a country home with space all to yourself, this isn't a great fit. If you are looking for a beautiful property and comfortable stay with some friendly neighbors, this is for you.
Laura
2015-08-23T00:00:00Z
We chose the apartment for a last minute booking as the price was right. The apartment was part of several structures on a large tract of land. Josh, the owner, was onsite and was helpful and generous (let us cook from a fully stocked kitchen). The apartment had everything we needed and was uniquely directed with Josh's ceramic works. We also received great tips on local activities and where to eat and buy groceries.
Michael
2015-06-22T00:00:00Z
Josh was a great host. He quickly answered our texts and easily arranged a time for us to meet him at the home/apartment. Every room, including the kitchen and bathroom, were very clean. He provided new pots for cooking and everything we needed to fix meals for ourselves. He even threw in two bottles of San Pellegrino! Wi-Fi was reliable, and we used his cable to watch TV. The home/apartment is a separate unit on acres of land, very beautiful setting and lovely space. We look forward to returning. A highlight was a tour of his pottery studio.
William
2015-11-05T00:00:00Z
Tipo de Acomodação
Casa/apto inteiro
---
Tipo de Imóvel
Apartamento
---
Acomoda
2
---
Quartos
Putney, Vermont, Estados Unidos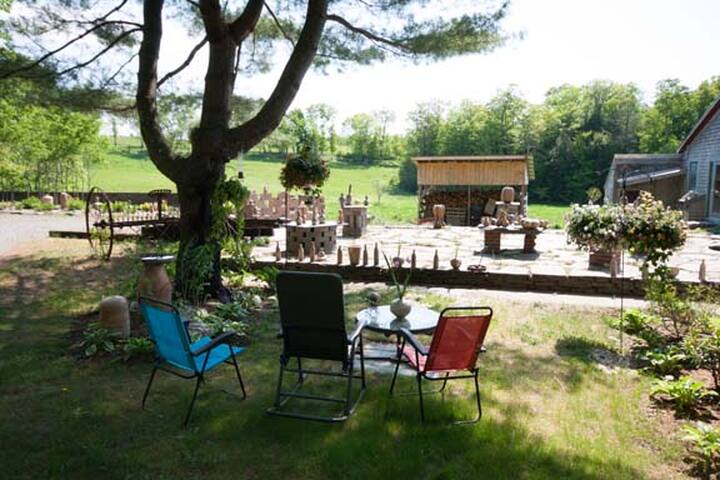 Timber frame home nestled just 20 miles over the border in the rolling hills of southern Vermont is the perfect retreat or home base for skiing, hiking, snowshoeing and exploring the region. This home features high ceilings, exposed beam and brick, shabby chic decor and provides access to over 90 acres of private hiking and cross country ski trails right out the backdoor and a private pond. Well suited for couples, solo adventurers, business travelers, and pets.
The home itself is a south facing, sunny, red oak post and beam open concept retreat. Guests have entire top floor which feature a rustic country kitchen, comfortable Serta sofa set in the living room, a restored antique dining table, cozy sleeping quarters, custom brick and ceramic fireplace and floor to ceiling windows in the breakfast nook. The open concept living and dining makes this space perfect for entertaining or relaxing, and will make you feel right at home. If you're the outdoorsy type this is the property for you! Over 90 acres of rolling fields, ponds, streams, extensive maintained wooded trails surround this home away from home. Wander through the extensive trails Upper Meadow Farm offers, immersing yourself in the renown beauty of Vermont fall foliage, discovering beaver dams, and nesting Great Blue Heron. Or in the winter bring your snowshoes or cross country skis to take advantage of your own private network of trails. Or explore the historic town of Putney, or Walpole, NH, both just 10 minutes away. In the evening relax on hilltop patio next to an open stone fire pit. Or catch a show at one of the many local event spaces such as Yellow Barn Music Festival, Next Stage Arts Center, The New England Center for Circus Arts, Vermont Jazz Center, Marlboro Music Festival, Sandglass Theater, The New England Youth Theater or The Brattleboro Museum and Arts Center. The main bedroom has queen bed with custom Stickley bed frame, two closets, and a writing desk. The upstairs bedroom has a full bed, skylight, and custom built in shelving. Both are chicly sparse to allow you to focus on what you came to do- rest and relax! Library has custom (decorative) fireplace, built in custom shelving, silk couch and home theater projector for streaming HBO, Netflix, Amazon Prime, basic cable.
Tipo de Acomodação
Casa/apto inteiro
---
Tipo de Imóvel
Apartamento
---
Acomoda
4
---
Quartos
Putney, Vermont, Estados Unidos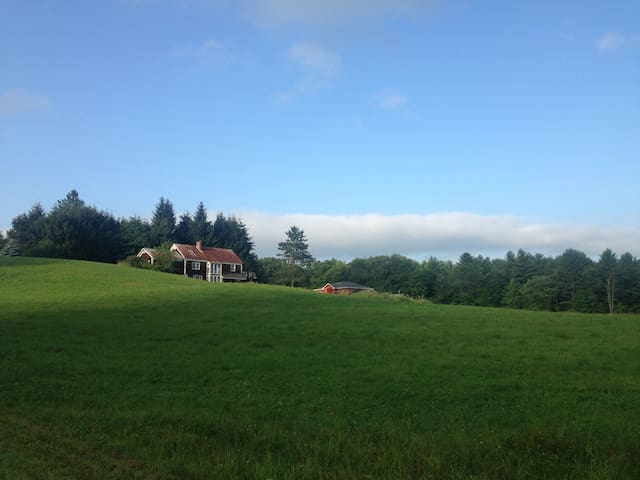 Our place is close to Mt Snow, Marlboro College and Brattleboro. You'll love the private apartment because of the fresh country air and proximity to miles of woods trails. It's good for couples, solo adventurers, and furry friends (pets). We're also a short walk through the woods to a small spring-fed lake that is quiet and pristine.
Best Grocer: Brattleboro Coop Best Coffee: Mocha Joe's Best Restaurant: TJ Buckley's Best Deli: Brattleboro Coop Best Beer: Hermit Thrush
Bright, cozy and warm cabin. Thoroughly enjoyed our stay.
Alyssa
2017-01-02T00:00:00Z
Raphael and Saint's property is stunning and perfectly sums up all the enchanting things about rural Vermont living that I was hoping for from this experience; the open fields, the muddy roads, the big birch trees, the amazing views, architectural details, the stunning simplicity that makes experiences more vital. My son and I loved this place and decided this is a much better experience than hotels. I probably slept better here than I have in months. Raphael was great about coming out and meeting us, telling us about the heating situation and just all around making us feel welcomed. Great conversation and communication! We want to come back!
Selené
2017-04-02T00:00:00Z
Raphael's "barn" was the perfect place for our little Vermont getaway: It's such a comfortable, cozy, and distinctive cabin-like place, with a great kitchen, a warm pellet stove, a gorgeous sleeping loft, big windows with beautiful views, and a idyllic setting in the woods. My wife, baby, dog, and I all had a great time relaxing and exploring the area.
Cleve
2017-01-03T00:00:00Z
Beautiful spot, cozy and rustic. We had a wonderful stay!
Kyle
2016-12-13T00:00:00Z
It was a very warm and cozy apartment, the owners are very friendly. they have a very pretty peice of land with dogs and horses !
Mike
2016-12-23T00:00:00Z
Raph's place was a delight. It has a nice rustic feel, which I would describe as a barn-loft. It's a converted barn, so it has a lot of really cool original details, raw wood, but still very warm and comfortable to stay in, even in the below freezing temps outside. It is a great dog-friendly space and I brought my own little buddy. The location is quiet and secluded, which was just what I was looking for. Raph was an awesome communicator- super friendly, gave some great local recommendations and wanted to make sure I had everything I needed for my stay. It's near Brattleboro and 25 mins from Mt. Snow. Thanks Raph, hope to visit again!
Rob
2016-12-09T00:00:00Z
The barn was awesome! The place was clean and charming. It really had a rustic cabin feel and it's l a great place if you are looking to get a little off the grid and have some peace and quiet. Raphael was a super nice and easy going guy. He made sure we had everything we needed and made us feel at home. I would absolutely stay there again next time I get up to Vermont.
Andrew
2016-12-24T00:00:00Z
The cabin was beyond beautiful! The design of the place was very unique and rustic. The bottom floor had a very cool wood fireplace along with a great kitchen that we made pancakes and eggs in (boyfriend loved the skillet!!). The upstairs was beautiful, including the bed and the decorations. The view was amazing, we woke up at 3am on the first moonlit night and were able to see two horses in the field running and playing around! There are also some pretty neat knick knacks in the notches of wood, so that's fun to keep an eye out for! Raphael gave us the rundown of the place and was so helpful, especially when we ended up getting stuck in the driveway because of snow (make sure you have snow tires on! A mistake we made). The stay was great and was great distance away from Mt. Snow (reason for our visit)! Can't wait to visit again!
Michelle
2016-12-18T00:00:00Z
Tipo de Acomodação
Casa/apto inteiro
---
Tipo de Imóvel
Apartamento
---
Acomoda
2
---
Quartos
Marlboro, Vermont, Estados Unidos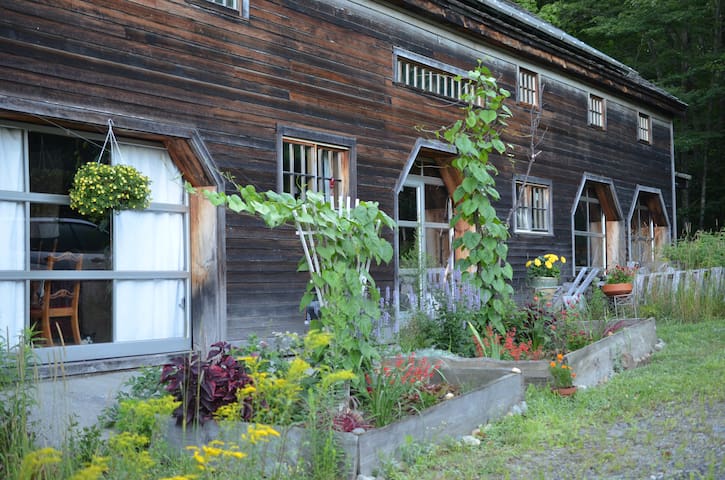 Abundantly sunny apartment tucked away in the hills of Southern Vermont. Beautiful rolling field with mountainous views. Minutes away from Marlboro College (the annual host of the Marlboro Music festival). The property is about 10 miles away from downtown Brattleboro and 20 miles from Mount Snow. Marlboro is a wonderful place to explore, with many trails in the area, as well as dirt rounds that are never heavily traveled and make for lovely and peaceful strolls.
We are backyard farmers and gardeners so, at some point, you'll see us outside, tending to things.
Our house is located on a quiet, dirt road. It's a wonderful place to walk, run, or ride a bike.
Tipo de Acomodação
Casa/apto inteiro
---
Tipo de Imóvel
Apartamento
---
Acomoda
2
---
Quartos
Marlboro, Vermont, Estados Unidos
Located in a quiet, scenic pine forest setting, less than a mile to Marlboro College and it's Summer International Chamber Music Festival. Perfect spot to Relax, Read, Hike & Explore Autumn's Changing Colors.
Newly built 2012, Private, not shared LARGE 1 BEDROOM APARTMENT 24' x 28' Kitchen Appliances Clean Ceramic Tile Floors Queen Size Bed Wi-Fi Internet service Vermont state 9% tax included in rates. The Smithsonian Magazine's May 2012 issue lists Brattleboro as one of the 20 Best Small Towns in America. Brattleboro takes pride in its reputation as a hidden artistic haven. Your visit will likely coincide with at least one of many annual festivals: * Marlboro Int'l Music Festival … Concerts July – August …less than a mile from our rentals on the campus of Marlboro College in Marlboro,Vermont. (URL HIDDEN) * Strolling of the Heifers Weekend (June )…Parade on Saturday, on Brattleboro's historic Main Street. A parade of lovable heifer calves led by future farmers, followed by other farm animals, bands, tractors, floats, clowns & more. Bicycle "Tour de Heifer"…farm to farm cycling rides . * Annual Slow Living Summit, taking place in downtown Brattleboro June ..a conference focused on the development of nurturing and mutually supportive communities, bioregions and economic systems. *Gallery Walk is a year-round, festive FIRST FRIDAY stroll, 5:30 to 8:30,in downtown Brattleboro, Vt. *Brattleboro Farmers Market May 2- October 31, Saturdays 9am-2pm Route 9 near the Covered Bridge *Brattleboro Contra Dance.  At the Stone Church at the corner of Main and Grove Streets, just north of the post office in downtown Brattleboro, VT.The dance starts with a workshop for beginners at 6:45 and continues with dancing for all from 7:00 to 10:00 PM. Admission is $10. Beginners are welcome; all the dances will be taught. (PHONE NUMBER HIDDEN)nd and 4th Sunday (URL HIDDEN) *Brattleboro Open Mic Poetry Nights @ Twilight Tea Lounge takes place once a month on the 4th Friday of each month at the Twilight Tea Lounge, 7:30-9 p.m. Lower Level, 41 Main St, Brattleboro, VT 05301. The event includes everything from poetry, prose, short stories, and all things that involve writing/verse. * Vermont theatre Company in Brattleboro … Rotary Stage at Brattleboro Memorial Park Yellow Barn Concerts: July / August * Deerfield Valley Farmers' Day Fair, August , nearby in Wilmington, VT. showcase Classic Car Show, Demolition Derby, Horse Pull, Horse Show and much more! * Annual Brattleboro Film Festival, October a 10-day event that features 25 films in Current Global Cinema, (URL HIDDEN) Nearby Lake Whitingham's 28 miles of winding coastline & Hiking Trails makes a visit to our part of Vermont a wonderful choice. *Molly Stark State Park Trails Molly Stark State Park, 705 Vermont 9 Wilmington, VT, 05363 Phone: (PHONE NUMBER HIDDEN) *Fort Dummer State Park Trails 517 Old Guilford Road Guilford, VT, 05301 Phone: (PHONE NUMBER HIDDEN) *Sadawga Pond Sawdaga Lake Road, off Route 100 Whitingham, VT Description: The Vermont Fish and Wildlife Department's access area offers shoreline fishing opportunities, or you could launch your own boat. *Southern Vermont Natural History Museum Route 9 Marlboro, VT, 05344 Phone: (PHONE NUMBER HIDDEN) This natural history museum in the foothills of the Green Mountains offer mounted specimens of 600 native New England birds and mammals as well as live hawks and owls. Hours: Summer hours are Memorial Day to late October, daily, 10 a.m.-5 p.m.(URL HIDDEN) *Brattleboro Museum and Art Center 10 Vernon Street Brattleboro, VT, 05301 Phone: (PHONE NUMBER HIDDEN)
The neighborhood is secluded in the woods and not near stores....therefore you must come prepared with food and all else!
Don't expect luxury. The unit is a first floor in-law that's super comfortable for two people (plenty of space). It's a bit on the humid side and some of the windows don't have screens. The water has a well filtration system which leaves a metallic taste/smell. Overall a nice place if you want to experience rural Vermont and have a place to cook and sleep (that's exactly what we did). It even has an interesting landscape with an outdoor table and exercise gazebo. I liked the experience overall.
Alex
2014-08-18T00:00:00Z
Staying at Theo's was a delight. His driveway was clearly marked and a small light shone over the address at night so we wouldn't miss it. Theo was friendly and accommodating and we enjoyed chatting with him when our paths crossed during our stay. The apartment was spacious, very clean, and located in a quiet wooded area near a small stream. The stars at night are spectacular. Very close to Marlboro College and the Marlboro Music Festival in the summer. We'd love to stay again.
Brittany
2015-08-03T00:00:00Z
Had a great stay at Theo's place. Really beautiful apartment. Spacious and cool in the hot weather. Absolutely serene. Theo was very welcoming.
Joseph
2016-07-25T00:00:00Z
Theo is a wonderful person and we were more than happy with our stay in this apartment. It is fairly standard in terms of amenities (dishes, towels, sheets, wifi, etc.) and very spacious. The bed was a tad bit on the hard side but that is to my preference so it worked well for me. We were in town for the Tough Mudder event and it was only a 20 min drive to get over to mount snow and only a mile away from the college. Just a word of caution, this really is in the middle of nowhere so come prepared with food to cook. It's not an easy pop over to the store to grab what you forgot type of place. That being said I want to say a word on Theo. We left NY later than we wanted to and didn't get to the area until around midnight. Theo not only waited for us, stayed on the phone until we found the house (got lost in the darkness, the house is NOT easy to find at night) but also gave us a quick tour before heading back to sleep. It's worth the visit for some peace and quiet in a very beautiful part of vermont.
Raymond
2016-06-20T00:00:00Z
Theo is a gracious host, showing great flexibility in my accommodating my changing arrival time, several times. The unit itself, is pretty much brand new and quite attractive. Unfortunately, I was very disappointed with the lodging for several reasons, and had to get a hotel room for my entire three-night stay in VT: 1) The "master" bed is a very low rollout with a thin mattress, which is completely unacceptable for my painful low back, 2) there is no air conditioner, or even a fan in the unit - my stay was during an extreme heat wave, and upon returning from dinner around 10 P.M., entering the house was much like walking into a furnace, 3) there is no cell phone access from inside the house, and the unit doesn't have a land line. In addition to my low back problems, I have several other serious, potentially life threatening conditions, making access to a phone critical, 4) while located on a charming dirt road, the house and driveway are not easy to find in daylight; after dark it's nearly impossible.
Dennis
2014-07-01T00:00:00Z
This apartment was perfect for an adventurous weekend away. All the amenities were just what we needed and loved the peaceful and relaxing location. Falling asleep to the sound of the brook in the backyard was just was these city dwellers needed. Thanks for being a great host. Theo! :-)
Laura
2015-07-05T00:00:00Z
Theo is a great host and I always feel welcome staying at his place. Thanks, Theo!
Marie
2014-08-16T00:00:00Z
Theo was a gracious and wonderful host. The woodland retreat is spacious and beautiful. During our stay, we enjoyed the peace and quiet, and the gorgeous woodland scenery. We took a hike up to a peak with 100 mile views in every direction. We cooked a lot in the kitchen, which, while small, was well stocked with equipment and we were able to make feasts. The stay was exceptionally comfortable. I highly recommend a visit to Marlboro Woodland Retreat.
Thomas
2012-11-05T00:00:00Z
Tipo de Acomodação
Casa/apto inteiro
---
Tipo de Imóvel
Apartamento
---
Acomoda
2
---
Quartos
Marlboro, Vermont, Estados Unidos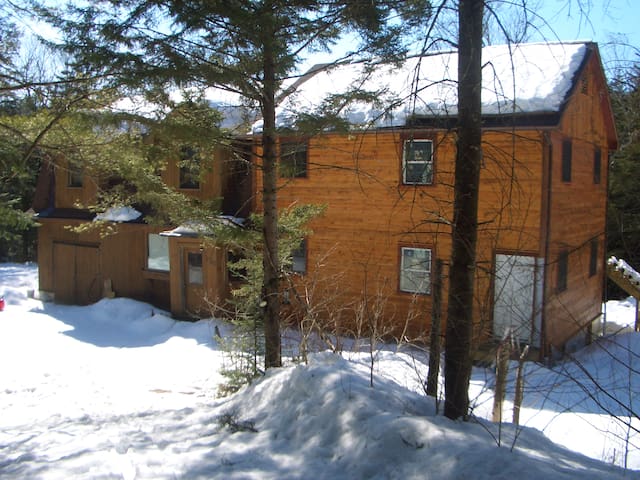 Studio apartment is located on top of Hogback Mountain at the Skyline. The property abuts the VAST trail system and is 15 minutes from Mt. Snow. . You'll love the place because of the 100 mile view in all directions and the 10 acres of land for a snow shoe, cross country or snowmobile adventure. Entire apartment is brand new with all new appliances in the full kitchen. The apartment is good for couples, solo adventurers, and business travelers.
A modern and country mix with relaxing open feel.
The property is across the street from Southern Vt Wildlife Museum and Old Hogback Ski area. Sunrise and sunsets are magical.
Tipo de Acomodação
Casa/apto inteiro
---
Tipo de Imóvel
Apartamento
---
Acomoda
2
---
Quartos
Marlboro, Vermont, Estados Unidos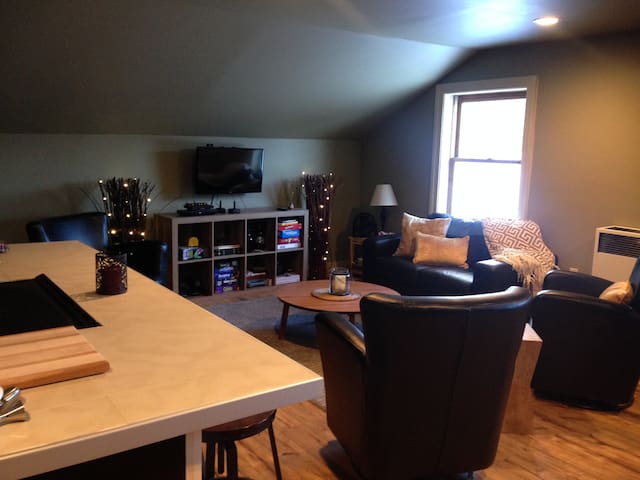 1

–

18

de

83 Apartamentos para Alugar
Insira as datas para ver o preço total. Taxas adicionais serão aplicadas. Impostos podem ser adicionados.