Mais de 300 Apartamentos para Alugar
Newly built frontside apartment 70 m2 with breathtaking sea view as far as the island of Corfu and a swimming pool nearby.Two minutes walk from the town center and 70m from the beach. The town of Saranda is a quiet and safe holiday destination suita
Lejligheden har et stort soveværelse, stue står havet, et fuldt udstyret køkken, badeværelse og 2 bred veranda, vender den utrolige udsigt over bugten. Placeringen af bygningen er centralt med nem adgang med bil kun 2 minutters gang fra byens centrum og på tværs af offentlige strand. For nemheds skyld kan du også bruge swimmingpoolen ved siden af. Mig eller mine forældre vil være der til at byde dig velkommen til lejligheden. Vi vil være tilgængelig på hvert øjeblik via telefon eller e-mail, hvis du har en nødsituation eller spørgsmål til lejligheden eller dit ophold i Saranda. Vi vil være glade for at tilbyde dig yderligere oplysninger, såsom bedste spisesteder, steder at besøge osv Vi ønsker at sikre, at du har en vidunderlig oplevelse i vores by! Folk er meget venlige og hjælpsomme. Tøv ikke med at spørge nogen oplysninger til dem. Saranda er en lille by. Du kan finde forskellige restauranter rundt, hvor du kan smage lokale retter og frisk fisk. Du kan nyde en gåtur langs kysten, og for dem, der elsker nattelivet er der forskellige pubber. Saranda er et ideelt sted at kombinere kulturelle ferie, mens du nyder den attraktive havet og naturlige skønhed. Byen er også bekvemt placeret mellem Grækenland og Italien, og derfor er det nemt at besøge alle tre lande under samme rejse. Byen Saranda ligger på en smuk bugt mellem bjergene og Det Ioniske Hav og kan nås med land eller ad søvejen. Byen er bygget på en ideel beliggenhed for dagsture til de nærliggende attraktioner, der varierer fra arkæologiske steder til fantastiske strande. Nogle af disse omfatter den antikke by Butrint, UNESCO World Heritage, (website hidden), (20 minutters kørsel), den gamle by Finiq (10 minutters kørsel), den Lekursi Slot bygget i 1537 placeret på toppen af en bakke udsigt Saranda (8 minutters kørsel), den 40 Saints klosteret bygget i det 6. århundrede (8 minutters kørsel), og den naturlige dybe forår "The Blue Eye", og sidst men ikke mindst, de smukke øer Ksamil (20 minutters kørsel).
The location is great and the apartment is spacious. Great view of the water. I wish we could have stayed for longer. Saranda was such a great city and has great proximity to other areas and beaches like Ksamil and the Blue Eye. Certainly a great vacation spot and this apartment was easy to get to and near a market and several restaurants.
Jason
2016-08-02T00:00:00Z
It's a great apartment to stay if you want to spend some time in Sarande: it is very big, comfortable, clean and has a stunning view of the ionian sea from the big balcony and the living room. We've spent 2 nights there and definitely would book it again!
Fabian
2016-07-31T00:00:00Z
We never met Alexandros but communication was no problem, we could even write in German with him. After we missed our ferry from Corfu to Saranda, his father had to wait 4 hours for us but nonetheless, he was very friendly when we met him. He drove us to the appartment which is very very clean and big. There is simply nothing we could criticize. Alexandros father also offered us to drive us to another city in case we want to. The location is also good since it is not too far away from the center but very quite though. All in all a pefect stay!
Ellen
2016-08-12T00:00:00Z
Alexandros was brilliant from the first moment we made contact. He answered all our questions very quickly and efficient. He is a brilliant host. We own a flat in London and felt immediately at home. The flat is beautifully furnished, immaculately clean and met all our needs. The view from the balcony is simply stunning. We recommended the flat to all our friends and family and will happily come back!
Christian
2016-07-05T00:00:00Z
Alexandros dad met us at a nearby hotel and took us to the appartment. He spoke mo English but was very very nice, and we managed to figure everything out. The view from the balcony is amazing and the appartment spacious and clean. It is about 10 mins walk from the beach esplanade and 5 mins from the nearest little beach. Note there is no wifi in the appartment. We can really recommend staying here!
Mia
2016-07-13T00:00:00Z
We really liked the flat itself as it is very new and clean. There is a parking space just in front of the building and the view to Saranda and Corfu is just great. To make the place perfect for us free WiFi was missing. The flat is well equipped and Alexandros father also put some fresh water and a beer in the fridge. Communication with the host and it's father who is responsible for the flat in Albania ( Alexandros doesn't live there) was a bit complicated sometimes f.ex. the meeting point wasn't communicated well. We were told to meet Alexandros' father in Hotel Butrinti. After calling Alexandros 2 times and texting him (with my Austrian mobile phone to his German phone in Albania) we met his father 30 minutes later. He was waiting close to the Hotel at a public parking area and he was really angry. He got worse when he found out that may husband had to go and get our car before we could follow him to the flat. Alexandros' father doesn't speak any english so I could hardly explain anything to him. The mood got better when we were in the flat although he seemed to be afraid of our children then. So he told us/ showed us a few times that they were not allowed to touch the wall, open cupboards... Communication with Alexandros himself worked out well as he answered the phone immediately and wrote back very fast. The stay itself was great and we even stayed 2 days longer (The flat got more expensive in the meantime). The day we left Alexandros' father arrived 1 hour earlier because he had Greek time. He was looking around in the flat and then went to the coffee machine looking at me and gesticulating like he wanted to know why it didn't work..I tried to explain to him that we never used that machine, we didn't even touch it... when he didn't stop trying to put some parts together..gesticulating...etc my husband showed him how the machine works and he seemed to be happy. We recommend the flat in general as the place is great. We do not recommend the flat for families with little children what doesn't mean that the flat doesn't fit therefore but we had the impression that Alexandros' father would have been happier with some grown ups. I'm sure Alexandros' father is a nice man. If you rent the place you can be sure to get a very tidy, clean place Alexandros' father really cares for. Be good to the flat!
Kerstin
2016-07-20T00:00:00Z
Ottima accoglienza e appartamento nuovissimo con tutte le attrezzature necessarie e anche di più. Vista spettacolare sul mare e su Corfù. Peccato lo sviluppo incontrastato di saranda che poteva avere tutte le caratteristiche di un bel centro balneare.
Alberto
2016-07-12T00:00:00Z
Worth staying here for the view. Nice apartment and not far to walk to the town and many bars etc
Gideon
2016-08-31T00:00:00Z
Tipo de Acomodação
Casa/apto inteiro
---
Tipo de Imóvel
Apartamento
---
Acomoda
3
---
Quartos
Sarandë, Albânia
A fully furnished flat (75 m2) located nearby city`s center, just a 5 minutes walk to the beach. The flat has one bedroom, a living room facing the sea, a fully equipped kitchen, bathroom, a wide balcony, fast WI-FI connection, suitable for up to 4 guests.
The apartment is located nearby city`s center and has a nice view facing the sea. It is well furnished and comfortable, it has two AC units, a fully equipped kitchen (oven, fridge, microwave, kettle, toaster, coffee machine, steam cooking equipment) and all other necessities for a comfortable stay (washer, hair dryer, a small iron, a large terrace and seats when you can enjoy your meals). The flat (no other apartments on the floor) has one double bed and two sofas that can be converted into beds. WiFi network on flat is accessible by all devices and the connection provided is reliable. The flat is located on the 4th floor of a newly built building so it is quite private and quiet. We offer parking near the flat and will cost you only 1.5 euro per day. I use to get my guest personally from the bus stop or the port and show the way to the flat. (If I can't be there personally, someone from my family will be there for you, so there will be no worries about how to find the apartment).
It is actually a quiet neighborhood inhabited mostly by locals, you will need to take a quick walk to get to the noisy cafes, shops etc. So consider it as a balance between peace and sea.
Mirela est venue nous chercher à l'arrêt du bus et nous a conduit à son appartement. Le logement est conforme à la photo. Très agréable et le grand balcon surplombant le quartier et la mer est très agréable.
Myriam
2015-09-27T00:00:00Z
What an amazing stay at Mirela's apartment! Mirela is super hospitable and efficient in communication. I arrived Saranda from Greece in the very early morning (around 0530am) and I got off somewhere a little bit away from the center. Before my arrival, I communicated with Mirela about that and she was too sweet to arrange a cab to pick up me to avoid being ripped off by the taxi driver. Finally it was Mirela, together with his brother and their car to pick me up there. I was surprised and thankful for Mirela so that I could arrive the apartment without hassle and took a bath immediately after a long night ride. The apartment itself is very modern, clean and even much bigger than I expected. There are everything I needed and the wifi works perfectly. It is centrally located in a safe and quiet neighbourhood. Near the apartment, there are plenty of mini markets, cafes and within 5 minutes, you will be in the promenade and there are lots of nice restaurants. In the daytime, the area is very quiet but it becomes lively at night. Mirela also provides me the information what I can do and see in and around Saranda. She also helps to check the bus schedules which indeed it is very important in travelling. Next time if I come back Saranda, I will definitely stay at Mirela's apartment again :)))
Woodspy
2015-06-01T00:00:00Z
The apartment is in a really strategic position in the center, near to the bus station. It was very comfortable and cleaned, there was a lot of space and the view from the balcony it's stunning. The host is really helpful for everything, very welcoming. All the experience was relaxing and enjoyable. Lovely and super recommended.
Erblina
2016-10-30T00:00:00Z
Mirela has been a great host, answering all our questions before and during our stay in Saranda. She told us what were the nice places to visit but also how to go there (which is important). She tried to solve all our little problems as quickly as possible and was available all the time. The apartment was exactly how we expected it to be. Clean, spacious (at least for two people) and bright. It is located in the center of Saranda, which means close to the bus station, which is very interesting if you want to visit the area (like going to Bytrint, Ksamil, Gjirokastra...) and close to the sea. In winter the neighborhood is very quiet.
Florent
2015-03-01T00:00:00Z
Smooth check in and drop off, great communication from the host and a lovely well equipped apartment in a great location. We were very comfortable in Sarande and thought the apartment was perfect, air conditioner and a spacious terrace made it a comfortable stay during a hot period. Nice surroundings and good local recommendations for food meant we got to experience Albanian cuisine and warm hospitality firsthand, thanks for the lovely stay Mirela.
Emily
2015-06-12T00:00:00Z
Nice experience at Miranda's flat. We recommend it!
Benjamin
2017-04-04T00:00:00Z
We really enjoyed our stay in Saranda. Although we didn't meet Mirela personally the communication and organisation of check in and out was easy and without problems. The flat is great and had everything we needed - and also a nice view to the bay of Saranda. Thanks a lot for everything.
Anne
2017-03-23T00:00:00Z
Mirela's apartment felt like a home away from home! Spacious, comfortable, impeccably clean, and well-equipped, we were able to relax, cook, and take in the great view from the balcony. Mirela had excellent communication before and during our stay and even arranged a 4am check-in for us after a long bus ride from Greece. The bed was also very comfortable. Excellent value for money!
Heather
2017-04-01T00:00:00Z
Tipo de Acomodação
Casa/apto inteiro
---
Tipo de Imóvel
Apartamento
---
Acomoda
4
---
Quartos
Sarandë, Sarandë, Albânia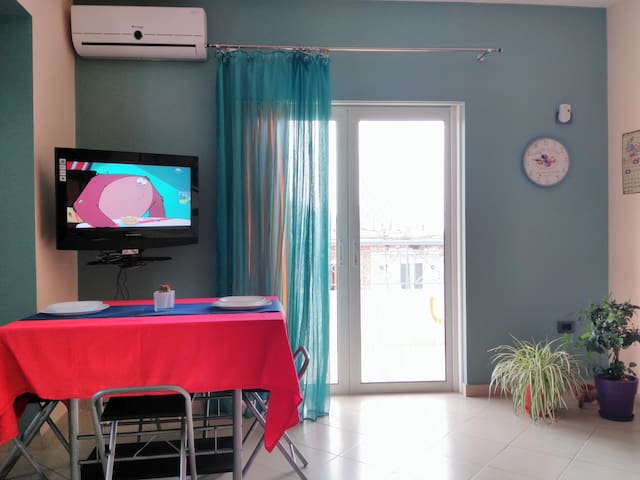 Brand new APARTMENTS in SARANDA. You will find in the apartment all equipments necessary for a wonderful holiday break. Located at the edge of Ionian sea, this apartment represents the best of holiday homes in Saranda. Living area, two bedrooms, two bathrooms, and a big balcony with sea view.
Tipo de Acomodação
Casa/apto inteiro
---
Tipo de Imóvel
Apartamento
---
Acomoda
6
---
Quartos
Sarandë, Qarku i Vlorës, Albânia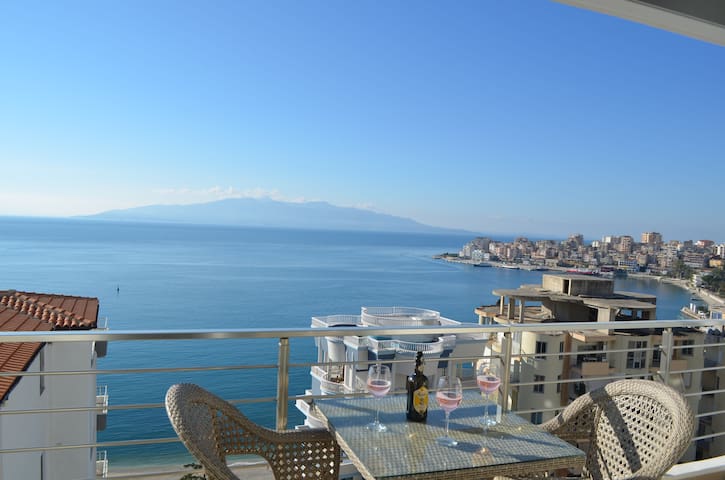 My accommodation is located on the beautiful beach of Saranda, in the heart of the city. Near activities suitable for families, restaurants, public transport. Enjoy my accommodation for the open sea, the area, brightness (incredible sea view), comfortable beds, outdoor areas, kitchen, proximity to the beach (2 min walk). My home is brand new, perfect for couples, families (with children), large groups.
Tipo de Acomodação
Casa/apto inteiro
---
Tipo de Imóvel
Apartamento
---
Acomoda
6
---
Quartos
Sarandë, Qarku i Vlorës, Albânia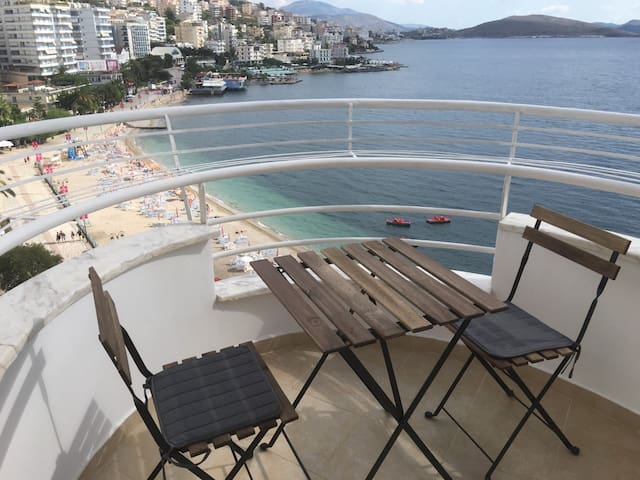 Newly built frontside apartment 100m2 with breathtaking sea view as far as the island of Corfu. Two minutes walk from the town center and 70m from the beach. The town of Saranda is a quiet and safe holiday destination suitable also for families with children.
The spacious apartment has two bedrooms, living room facing seaside, a fully equipped kitchen, bathroom and a wide veranda, facing the incredible bay view.
Restaurants and bars can be fund just a few steps from the house. Very close to the apartment is also found a playground.
Evi's Mom was there to welcome us. We loved staying at this apartment, especially the view from the balcony is stunning! The apartment is exactly as described and shown in the pictures, and it is within close proximity to the beach. We had a little trouble with the internet the first day, but after that it worked better.
Tabea
2016-06-15T00:00:00Z
Evi is a great host. We have not met her in personal but she was represented by her mother, a lovely, very warm and welcoming lady. Evi is very quick in her response in case you have any questions during your stay. The apartment is surprisingly spacious and clean and offers indeed the amazing sea view you can see on the photo's. Its close proximity to a supermarket and the city centre are other advantages, as is the parking space under the building. The latter being a true incentive as parking becomes more and more a problem as the popularity of Sarande grows. Can absolutely recommend the apartment to others.
Marina
2016-08-18T00:00:00Z
Our stay in Evi's apartment was just wonderful. The place looked just like in the pictures, was clean and well kept with all the kitchen stuff needed to make our breakfast. The balcony has good afternoon and evening sun and is a short walk from all the hot spots along the beach. We never met Evi but she was very helpful in her contact with us, and her mother came by on our last day to check everything was fine and even gave us a homemade cheese pie she had baked the night before! In summary: great hospitality, a perfect stay and a reliable and kind host. Would stay here again with no hesitation.
Axel
2016-05-02T00:00:00Z
This apartment in Sarande was really nice and in a great location. Evi was a really helpful and pleasant host with a lot of good advice of what to see and do in the area. Highly recommended.
Thomas
2015-10-03T00:00:00Z
Yes
Joriva
2014-09-07T00:00:00Z
Evi's mother met us and showed us the flat. Beautiful location near the city centre with a great view over the coastline. Very nice apartment with all mod cons. Highly recommend
Joe
2015-09-11T00:00:00Z
We had a great stay at Evi's apartment. The apartment had a nice location and a wonderfull seaview with terasse. Her mum baked Lovely donuts and a cheesepai
Annika
2016-08-10T00:00:00Z
The trip was perfect. The apartament was as Evi said, and how you can see on the pictures - clean, well designed, with breathtaking view from the terrace! Contact with Evi is immediate and perfect, she answers on every question and is very helpful. Evi's mom, who is the responsible party there in Saranda was the kindest person in Albania :), helpful, every time smiling and having best ideas ;) I really recommend this apartment and Retziou family as a tenants :) Thanks Evi for all. Wish you luck and maybe see you someday !! Jarek
Jarosław
2015-09-09T00:00:00Z
Tipo de Acomodação
Casa/apto inteiro
---
Tipo de Imóvel
Apartamento
---
Acomoda
5
---
Quartos
Sarande, Vlore, Albânia
This is absolutely best complex in Sarande, perfect ! Soak up the sun and fresh air as you enjoy your morning coffee in this luxurious, fully furnished duplex apartment. Located in the coastal town of Sarande, on an open sea gulf of the Ionian Sea, this apartment has kitchen, two large bedrooms, two bathrooms, two large balconies free Wi-Fi etc Located inside the exclusive gated community of Bougainville Bay, this property is brand new and offers the most modern amenities. No events or parties.
Romantic apartment is in front of the private beach - Ionian sea. You will have direct view to the pool and sea. Access to the beach through elevators or stairs just 2 minutes walking. There is also optional solution for secure 24/7 underground garage if you arrive by car. Bedrooms are in upper floor. Master bedroom have direct access to the balcony with perfect romantic Ionian sea view. There are a lot of bed sheets and towels. You will have also towels for the beach. There is laundry machine. Optionally you will have gym hall is in the complex.
Complex it is fenced off with guards on duty 24/7. There is also optional solution for secure 24/7 underground garage. There is also reception working 24/7 if you need anything
Tipo de Acomodação
Casa/apto inteiro
---
Tipo de Imóvel
Apartamento
---
Acomoda
5
---
Quartos
Sarandë, Vlorë County, Albânia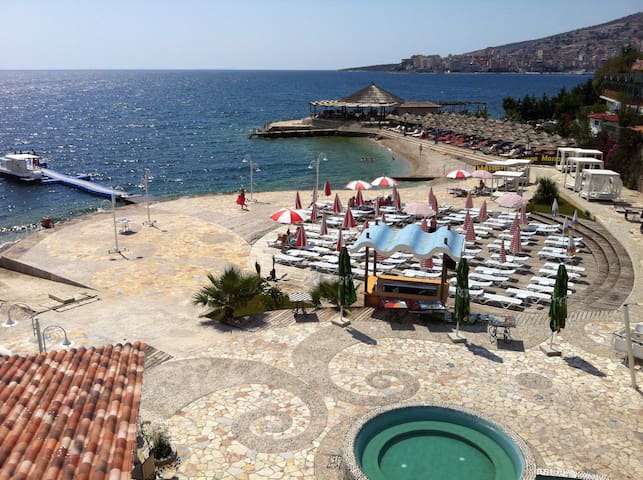 The apartment is located on the hill above the city center offering you a stunning sea view as well as a walking distance proximity of the city center. There are shops in the street for all you basic needs (bakery, supermarket, bars, restaurants...).
Two bedrooms, one with one big double bed, the other one with 2 double beds.
Very nice sea view from the balcony, quiet area. The apartment is located in the city center, 10min walk to the beach, 3min from a hotel swimming pool, in front of a small supermarket, beside a small cafe. There are also several garages in the street if you need to fix your car.
New and large appartment in saranda with a great view over the bay and to Korfu!The appartment is well equipped and the highlight is the balcony. It is around 10 Minutes away from the centre if you walk in a cosy quarter next to a food market. Meti, the nice guy who is in charge for the appartment in saranda was several years in the UK so communication was really good!If you don't have a car i would recommend to rent a scooter to discover the beautiful coast!
Marcel
2016-08-01T00:00:00Z
Adrien's apartment is a great location in Saranda. It is not far away from the busy nightlife at the coast but still quiet enough to be a welcoming place. The view from the balcony is great and there is a nice café nearby to get your day going. All in all, it's a great place for the price. Highly recommended!
Rob
2016-08-24T00:00:00Z
Siamo stati molto bene nella casa di Adrian. La casa è vicina al mare ma sappiate che Saranda è costruita in salita quindi in salita quindi potrebbe essere faticoso per alcuni. Ogni tanto potrebbe andare via l' acqua ma è tornata sempre nel giro di poco tempo. I letti matrimoniali a castello sono molto comodi a dispetto di quanto si possa credere. Veranda bellissima, casa funzionale e senza difetti in particolare.
Fabrizio
2016-08-10T00:00:00Z
Appartements situé sur les hauteurs de sarande avec Vue imprenable sur la ville Appartement parfait et terrasse au top ! Sarande est tout simplement magnifique et ksamil egalement! Appartement à recommander sans soucis
Sébastien
2016-07-03T00:00:00Z
We had a great time in Adrien's apt! Plenty of space and superb view from the balcony. It is a 10 minutes walk down the mountain to the harbour front where all the restaurants etc. are. There is a small but well stocked supermarket just across the street.
Rasmus
2016-08-19T00:00:00Z
Great host, great place! Will be there again!
Argent
2017-01-06T00:00:00Z
Nous avons passé un très bon séjour en Albanie ! L'appartement était vraiment agréable, tout à fait conforme à l'offre annoncée. La vue sur la mer du balcon était à couper le souffle et tout était tes propre. Adrien a été un hôte prévenant, nous donnant des conseils tout au long séjour.
Maud
2016-08-16T00:00:00Z
Tipo de Acomodação
Casa/apto inteiro
---
Tipo de Imóvel
Apartamento
---
Acomoda
6
---
Quartos
Sarandë, Vlorë, Albânia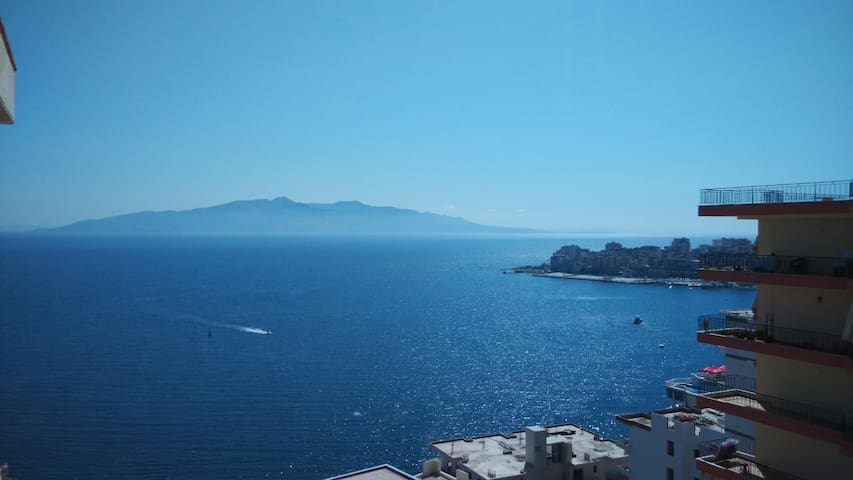 My place is close to the beach and promenade with restaurants and bars and to the bus stop with buses to Ksamil and Butrint. You'll love my place because of the location, the people, the outdoors space, the ambiance, family friendly resort and the relaxed pace of life. My place is good for couples, solo adventurers, business travellers, and families (with kids).
There is no parking or wifi sorry. Parking is available on quiet street outside the building
Close to the beach bit on s worst 8 road. Plenty of local shops
The place was very nice. It's called modern, and it is modern, newly built building. Coming there we felt like home. There is a stove you can make breakfast, lunch or whatever, the balcony with a spectacular view there you can relax with your coffee in the morning and enjoy night sky. I liked that the place was not in the center, because me and my boyfriend prefer more peaceful surroundings, but it's also not too far from it, few minutes walk, and you are in the center with all cosy places. Also from the place is close to the beach, good restaurants, shops, cafes with wifi. I appreciated our host's tips for the place and communication :) Before going to Albania I have heard some myths about cockroaches, nothing like this in here. very happy in staying here.
Vita
2016-08-14T00:00:00Z
Tipo de Acomodação
Casa/apto inteiro
---
Tipo de Imóvel
Apartamento
---
Acomoda
4
---
Quartos
Sarandë, Vlorë, Albânia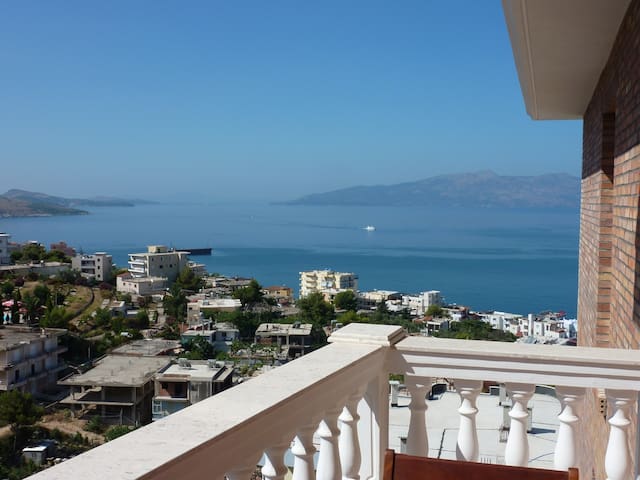 Apartment at the 3rd floor,next to a hotel with a pool bar,amazing view with all comforts.
Tipo de Acomodação
Casa/apto inteiro
---
Tipo de Imóvel
Apartamento
---
Acomoda
3
---
Quartos
Sarandë, Qarku i Vlorës, Albânia
Este é verdadeiramente o mais incrível localização em Saranda !! Ver e ouvir os sons do mar, que fica a apenas 100 passos da porta da frente! Este novo apartamento será a sua casa longe de casa!
Estamos muito animado para oferecer-lhe nossa casa / apartamento em muito possivelmente a melhor localização na bela cidade de Sarande, Albânia. Incrivelmente aconchegante, moderno, fresco e convidativo! Desfrutar de um café da manhã, cozinhar marisco local, ou saborear o vinho enquanto vê o pôr do sol da varanda com vista mar. Você será de 150 passos da praia! Respirar o ar do mar e ouvir as ondas quebrando dia e noite. Apartamento é organizado com uma sala de estar / jantar confortavelmente mobilados, cozinha completa e banheiro. A cozinha está equipada com aparelhos novos. No quarto há uma cama de casal, com roupa de cama frescas e construído em um guarda-roupa. Há lavanderia no local (máquina de lavar), e estacionamento gratuito para o seu veículo. A varanda oferece vistas deslumbrantes sobre a costa. Wi-Fi gratuito para todos os nossos convidados! Lojas, restaurantes e bares estão ao virar da esquina. Mercado Um grande fazendeiro acontece todas as manhãs. Certifique-se de check-out o restaurante Mare Nostrum ao virar da esquina do apartamento. Os nossos hóspedes acho que é o melhor restaurante da cidade.
Saranda tem uma comunidade real sentir, as pessoas são super simpáticos e prestativos (pode ser demais, se há uma coisa dessas!) Você vai estar bem no centro da cidade, a poucos passos da praia e todas as atrações locais.
Vi hadde et veldig fint opphold i Sarande og i Vana's leilighet. Den er ren, moderne og nærme stranden. Vi ble plukket opp i havnen rett etter passkontrollen, og gikk direkte til leiligheten (ca 5min). Vana var rask og vennlig til å svare på alle våre spørsmål.
Lasse
2015-08-10T00:00:00Z
Me and my girlfriend had our most amazing holiday ever and that was partly down to this perfect appartment; spaceous, comfortable with a perfect working airconditioning (needed it sometimes to escape the heat) and everything you would need during a longer stay was there. We were welcomed on day one by Vana's father who briefly showed us the appartment. After that we were on our own in this beautiful city. The location was perfect as well, a mere 100 steps from the front door to the beach, 4th floor for a nice view (don't worry, there's an elevator :)) and just behind the first line of buildings near the street so there was very little noise coming from there as well. Would recommend this appartment to everyone!
Johnny
2016-07-03T00:00:00Z
We had a great stay in Saranda! Vana's apartment is the perfect location for any holiday: beach, restaurants, port, market and car/bike rentals. The flat was very clean and comfortable (super bed!). Sure we'll return!
Guido
2016-08-27T00:00:00Z
we had a great holiday in Saranda. House location is as great as you see in the pictures. I recommend Vana`s house everyone who wants to come Saranda
Ilker
2016-09-04T00:00:00Z
Great location close to the port, beautiful views over the bay. Communication was regular and helpful, as was Edi when he welcomed us. Added bonus being just behind one of the best restaurants. Generally great place to base yourself for an Albanian adventure.
James
2016-09-11T00:00:00Z
We only spent 4 days in Sarandë, but the apartment was absolutely perfect. It really was a beautiful place and far exceeded our expectations. It is right at the heart of Sarandë and has many restaurants just on its door step. We are already thinking about coming back but staying for longer. Couldn't fault the place or the apartment.
Adam
2015-05-10T00:00:00Z
Superb location, perfect sea view from the front window/balcony. This apartment surely puts a smile on your face! Close to everything. I few steps from the boardwalk/beach, a few minutes walking distance from the port/ferry. Looks exactly as the listing. I would definitely stay here again! Vana did communicate/responded very quickly and precisely. We arrived with the ferry from Corfu and Vana's father met us at the dock, much-appreciated (thank you). Vana and her family are very friendly, quality and service minded people. We can give them our best recommendations. Just book it :- )
Affa
2014-08-22T00:00:00Z
We all greatly enjoyed our stay in this comfortable and very clean apartment in Sarande. The fourth storey view to the sea, and being located right off the pedestrian stretch, as well as our host kindly meeting us to take us right to the flat, made our stay remarkable.
Emma
2014-10-27T00:00:00Z
Tipo de Acomodação
Casa/apto inteiro
---
Tipo de Imóvel
Apartamento
---
Acomoda
4
---
Quartos
Sarandë, Vlora, Albânia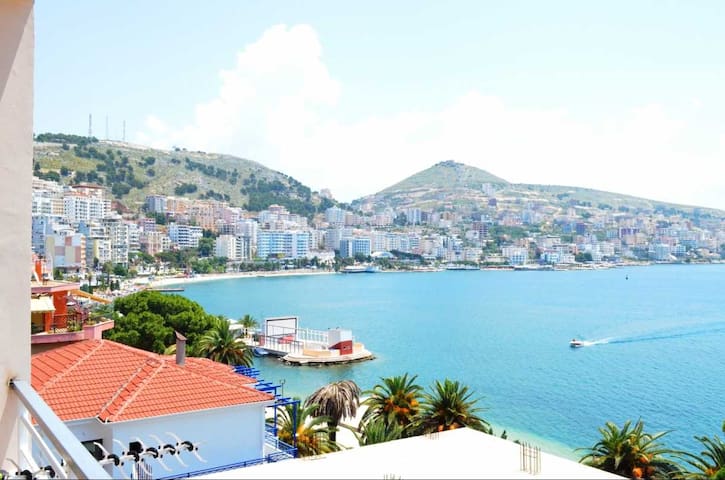 A luxury penthouse for your holidays in Saranda offering you a spectacular views. Fully furnished, fully air conditioned ,with kitchen and dining area. Easy access to the center of town. Only a few minutes walk away from the best beaches of Saranda. In a walking distance you will find the best restaurants and bar coffee.
Tipo de Acomodação
Casa/apto inteiro
---
Tipo de Imóvel
Apartamento
---
Acomoda
5
---
Quartos
Sarandë, Qarku i Vlorës, Albânia
Inside the 5-star resort Santa Quaranta with beach, pool and wonderful seaside restaurant. The apartment has been furnished by an Italian designer with the idea of playing a typical house of the Amalfi Coast . Furnished with Sorrento ceramics I made my beach house where you can spend unforgettable moments and share it with my guests. The White Recidence is definitely the most luxurious complex and better achieved Albania worthy of calm and elegant holiday.
My accommodation is close to the beach , family-friendly activities , nightlife and public transport . You will like my accommodation for these reasons : the views, the comfort of the bed , the intimacy , the high ceilings and the kitchen . My accommodation is suitable for couples , lone adventurers , business travelers , families ( with children ) and furry
Cristina's appartment in sarande is truly great. It's very clean, has a good equipped kitchen, comfortable bed and pillows, and a direct view on the sea! We watched the sunset there every evening :-). When i booked the appartement i was a bit worried that it might be located in a loud area, but this was definitely not the case! It was very quiet and we couldn't hear cars or loud touristy things - just perfect. Checkin process also went very smoothly. I would definitely recommend staying here!
Jozefien
2016-09-14T00:00:00Z
Great apartment! And Cristina was a great host! Thank you.
Susanna
2016-08-11T00:00:00Z
The apartment was beautifully furnished...just like the pictures! The only disappointment was that it was stated the pool was included and it was not. We were not able to use it all, which was very disappointing, as that was one of the main reasons we rented it. Cristina's friend on site met us with no problem. She found us a driver one day to take us to see different spots. They gave us some great recommendations of what to see and where to eat. The beach was beautiful but I think they should put in the listing that you have to pay for the sun beds/umbrella (although it is very reasonable). It was a little warm at night without air conditioning...we tried to get help from her friend to borrow/buy a fan but that didn't work out. Overall, it was a pleasant experience.
Patty
2016-09-08T00:00:00Z
This apartment was fantastic. Private parking with a security guard throughout the day. Loved the Italian inspired decor. The views were absolutely stunning. Watching the sunset from the balcony is something I'll remember for a long time to come. One caveat to note is that the centre of Saranda is a 20 minute walk away from the apartment. There are however a number of nice restaurants on the way. Had a lovely time and would definitely stay again.
Thomas
2016-09-23T00:00:00Z
Tipo de Acomodação
Casa/apto inteiro
---
Tipo de Imóvel
Apartamento
---
Acomoda
4
---
Quartos
Sarandë, Vlorë, Albânia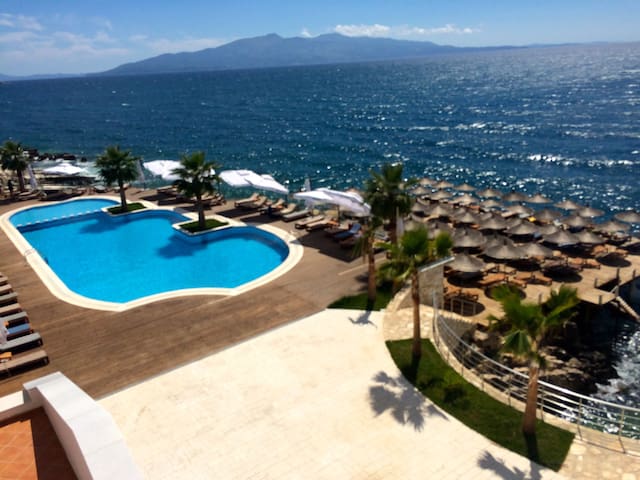 comfortable apartment with expose brick has a true city feeling it comfortably fits two and is near the sea and centrally located and 7 min by Port and 5 min by bus stations . second floor,has palms trees, beach is in front of flat and you can see from window.2 minute walk to beach. All you need is clothes and a toothbrush here Everything else is provided . Fun fulled enviorment have fun and for night life has Disco or pool party 20 min from Flat.You will love it here.
center the city in the most favorite place .5 min near bus stations,7 min near Port and 2 min near the Sea
in this area has a lot of Restorants and Bar and neighbors are different country they are Tourists .
Pour commencer l'hôte est vraiment super et à été à notre disposition pendant tout le séjour ! L'emplacement est parfait et vraiment à coter de tout ! On ne pouvais pas être mieux placés. L'appartement est vraiment grand et très bien équipée. Super séjour, super vacances Merci beaucoup à Érald.
Kamelya
2016-08-25T00:00:00Z
We had the most an unforgettable and wonderful journey across Albania in Saranda. When we arrived at the bus station Saranda, - Erald and all his family met us in time, and then accompanied us to their apartments for 10 minutes. This is the best place is in the heart of the city of Saranda. Near with house of Erald we saw a very beautiful promenade overlooking the sea, which runs through all the beaches in this place. Many cafes and various restaurants was just 3 minutes walk from our apartments. We could test a lot of food in those dining rooms because food prices were all very good! Also, we were swiming in the sea with morning and before evening near to our apartment. This is a very calm place which is away from the noisy activities and loud sounds. Saranda is a great place for recreation and swimming - we were on different beaches in this city and everywhere we met only interesting, friendly people which talk about Albania from a positive side. When our vacation came to an end - host Erald and his family arrived in the evening to accompany us on the next day. They invited us in a great restaurant that is located on a huge mountain above the city of Saranda in a large tower known as Castle. We ate, danced and talked with Erald in the mountains most of the evening and then went back to our apartment for sleep until morning. It was the best vacation in the city of Saranda in Albania, which we will always remember. Thank Erald and his family for such attentive, caring and kindness about us. Sincerely yours, Dmitry Alexandrovich and Maria Alexandrovna Balagur
Dmitry
2016-08-06T00:00:00Z
Tipo de Acomodação
Casa/apto inteiro
---
Tipo de Imóvel
Apartamento
---
Acomoda
3
---
Quartos
Sarandë, Vlorë, Albânia
Double room with balcony, kitchen, private bathroom and sea view as well. 2 km from Saranda center, about 80 meters from the Ionian sea and 200 meters from the nearest beach. Mini-markets and restaurants are located in nearby area. Wifi&Free parking. Price negotiations or private communication requests will be rejected. After reservation please be my guest and ask me for whatever concern you might have. Thank you
There are 7 apartments for four people each and 7 double rooms in our building. All are well furnished and all rooms have sea view. We are about 80 meters from the beach. There is a private beach just in front where you can buy a set of chaise longs and umbrella for two with a cost of 500ALL. Room configuration: There is a balcony for each. kitchen and table with two chairs. Please do not ask other than price already published.
Our location is quite and offers a perfect sea view for all rooms. Restaurants and grocery stores are nearby our building. You may cook in the room/apartment or you may taste Mediterranean cousin in nearby restaurants.
I was really pleased with this bnb. It was right on the water and had a balcony with a stunning view. The room had an efficiency style kitchen with a pot and pan, too. Great value! I'd stay again. The owner was also SUPER friendly and accommodating. Everyone went above and beyond.
Saera
2015-09-01T00:00:00Z
L'appartamento è in realtà una stanza d'hotel con cucina (attrezzata). Inaspettatamente infatti ci hanno rifatto la Camera ogni giorno. La pulizia è quindi ottima e anche la costruzione si è rivelata decisamente migliore rispetto allo standard dei dintorni. Consigliatissima la Camera vista mare. Una pecca per raggiungere il parcheggio bisogna fare una strada abbastanza ripida non asfaltata.
Stefano
2015-08-22T00:00:00Z
We had an amazing time in Saranda. Mainly because of great care and attention we received from our hosts. Room was cleaned almost every day, which is unheard of even in five star hotels. Fresh bedsheets and towels were usually waiting for us every afternoon when we're back from beach. An then the place. We've been given an apartment with great view of sea and Corfu island. All the amenities were fairly new and finished to good standard. Overall, I would highly recommend staying here if you're looking for place in Saranda.
Maciek
2016-08-09T00:00:00Z
My fiancé and I had an excellent time in Sarandë, and that was in large part due to our beautiful accommodations at Hotel Romario Sarandë. We had two spacious rooms, a small kitchen, bathroom, and a balcony overlooking the Ionian Sea. The place was immaculate and comfortable. The room was cleaned for us everyday, and our host Flutura was one of the kindest people I have met using AirBnB. She made sure that we were pleased with our room, gave site recommendations, and greeted us with warmth . The location of the hotel was also perfect! It was a 1 minute walk to the sea, 20 minutes from the port, and 10 minutes from the boardwalk area. Taking a cab to/from the port was 5 minutes at 500Lek (roughly 3 euros). Overall, our time was amazing, only enhanced by our wonderful apartment and host!
Katherine
2016-05-31T00:00:00Z
The room was really great, with a beautiful view and just a few meters from the ocean. The location is a bit away from centrum of Saranda, however this didn't matter to us. Taking caps is easy and cheap in Albania and the owners of the Romario apartments even offered to drive us - however we just chose to walk. The owners of the apartments were so nice to us and always very helpful. I would definitely recommend staying there.
Lærke
2015-08-07T00:00:00Z
The apartment was very clean and the family was very nice to us.
Alexandra
2016-07-25T00:00:00Z
We highly recommend this airbnb, they were lovely, lovely hosts who were there to greet us when we arrived late at night, even when we didn't have internet to advise of our late arrival time and they even took us to the bus on our day of departure to Tirana. The room was very clean. It is within walking distance of everything and we had a great stay
Julia
2016-09-25T00:00:00Z
Lovely spot, great people, amazing view!
Ane
2016-07-20T00:00:00Z
Tipo de Acomodação
Casa/apto inteiro
---
Tipo de Imóvel
Apartamento
---
Acomoda
3
---
Quartos
Sarandë, Albânia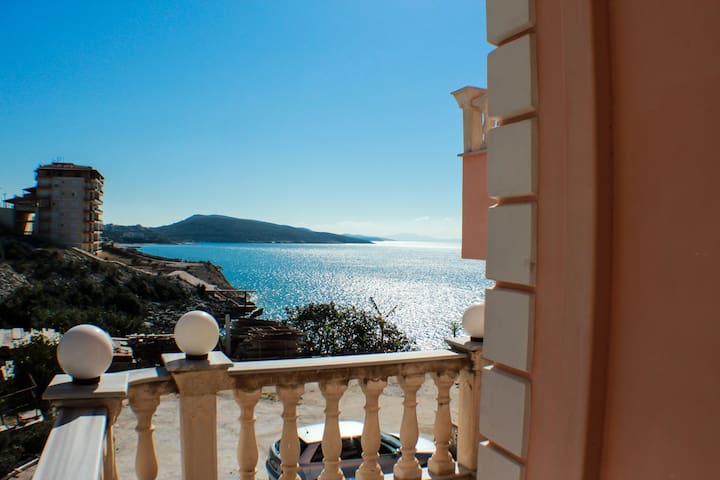 My place is close to restaurants and dining rooms, beach activities for families, nightlife and public transport. Reasons that my room will like: the view, the location and the environment. My space is suitable for couples, activities for an individual, business travelers and families (with children).
Mary and friend were very helpful and responded directly. Directly accross the road is a fishrestaurant. we loved so much sitting on the pier-restaurant nertili (you can see it on the picture). Great view, wifi and nice drinks and food. the balcony is very nice and cool in the shade as you can see. Beautiful new furniture and excellent bed.
corien
2016-08-01T00:00:00Z
The best place in Saranda! The apartment actually is much better in reality than the pictures(almost brand new). Mary took the time to tell us everything that we should visit and we even had a drink one day. In addition to the almost private parking, the view from the balcony is spectacular! No complaints, just praisal. Don't hesitate to book!
Luben
2016-08-23T00:00:00Z
Mary and her husband are really good hosts, they were really helpful throuhought our stay. The flat is brand new and the view from the balcony is amazing. A little problem with the shower however I still recommand this place.
Christina
2016-08-20T00:00:00Z
We were completely satisfied with the apartment. It is very clean and comfortable. Seaview is opened from the balcony. Beaches are near. There are all necessary in the apartment. Mary and her husband are very friendly. They very help us with questions not related with apartment. Next time in Albania we will stay here.
Mykola
2016-08-04T00:00:00Z
Mary is fantastic host who made our arrival to Saranda very welcome. The flat is brand new with everything you nice 15 minutes walk away from center. Really nice view from the balcony ;) !!!
Santa
2016-08-10T00:00:00Z
Tipo de Acomodação
Casa/apto inteiro
---
Tipo de Imóvel
Apartamento
---
Acomoda
2
---
Quartos
Ksamil, Vlora, Albânia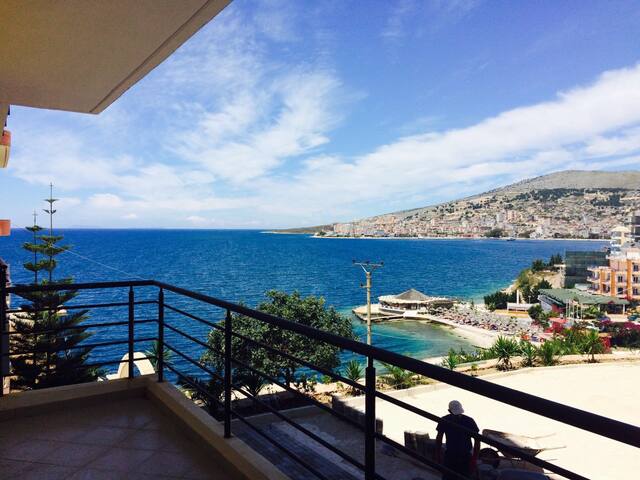 Beautiful one bedroom apartment, with balcony, private beautiful beach, with magnificent views the city of Saranda. The apartment comes fully furnished and with all kitchen appliances and utensils, wi-fi, air-condition and private parking.
Beautiful one bedroom apartment (53 m2) with a balcony and sitting area, and magnificent views of the Ionian Sea, the city of Saranda and the Greek island of Corfu. The apartment block provides its residents with a private beautiful beach, where you can swim and relax, enjoying the mesmerising view of the city. The apartment comes fully furnished and provides all kitchen appliances and utensils. The apartment also provides air-condition, wi-fi and private parking, and the building has a lift. The living room area has a sofa bed and a double bed in the bedroom, so a family of 4 can be accommodated. There is a variety of shops, bars and family restaurants nearby. The closest restaurants are only 5 minutes' walk (Restaurant Aragosta and Beer House). Furthermore, two of the most famous pubs and family bars are located nearby, Santa Quaranta only 5 mins away, and Mango Beach 10 mins away. The apartment is also 10-15 mins walk to the city boulevard where all the coffee shops, pubs and restaurants are located. There is also a swimming pool nearby with free entrance. We also provide a leaflet with a list of attractions and beaches to be visited, as well as highly rated restaurants and pubs.
Antzela was incredibly kind to us. As soon as we booked the apartment, she got in contact with us and answered all of our questions not to mention she picked us up and took us to the apartment. The apartment is even more beautiful than the photos show. It is very clean and spacious. The balcony was exactly what we desired in booking an airbnb, as we spent both nights (and mornings) enjoying the sunrises and sunsets. Antzela kept in contact with us via texting and even went to the ferry port for us to check times for transportation to Greece. She really went above and beyond to ensure our comfort and happiness while we stayed in Saranda.
Andrew
2016-12-29T00:00:00Z
This appartment is spotless and very well equipped. It looks across to Corfu and is slightly outside the high rise busy sarande. Sea immediately in front. Maria fantastic with communication and making sure all well. Highly recommended.
Malcolm
2017-03-28T00:00:00Z
A wonderful apartment with stunning views. Each night we watch the sunset directly in front of our balcony with a chilled glass of wine and it was exquisite. Is it worth booking the apartment just for the view. We would then watch the lights from the bay of Saranda twinkling whilst reflecting on our wonderful trips to various parts of Albania. Visits to the beach, ancient sites and spectacular viewpoints make travel to this city very worthwhile. We also found that the Albanian people are hospitable and generous. Maria and her family are excellent hosts and she met us at the port which was above and beyond what is normally required when staying at an air B and B property. She even gave us time to exchange our pounds into lek. Such a generous gesture. The beach at the back of the apartment is a lovely little bonus and a great way to relax after all the sightseeing. We would thoroughly recommend staying at Maria 's place and to do as much travelling as possible into other areas of Albania. Enjoy.
Joe
2016-10-08T00:00:00Z
The apartment was nice, clean and well furnished. Also Maria was really nice and helpful. Unfortunately, during our stay we had two electricity and water blackouts for several hours.
Leon
2016-10-21T00:00:00Z
Great apartment, loved the view and access to the beach. Not too far to walk to the main boardwalk. Enjoyed our time in Sarandë, would recommend Maria's apartment 10/10.
Chloe
2015-10-30T00:00:00Z
I stayed at Maria's flat in Saranda for three nights. At first I was suspicious that the picture on Airbnb was too good to be the reality, but found that it was exactly as depicted. The flat was immaculate, tastefully furnished, very functional and very clean. From the balcony, one has views of Corfu to the South East and the centre of Saranda along the coastline to the immediate West and a mesmerizing sunset to the South West. At the time I was there, I had clear views of Jupiter and Venus to the South in the night sky. At sunset, the full spectrum of twilight colours is visible as the sun sinks below a declining promontory. It was astonishing. The air conditioner worked, but wasn't needed due to the most refreshing sea breeze blowing through the flat day and night. The internet was good and all the kitchen appliances seemed new and worked well. The building itself seemed very secure, with families living in the other flats. The location was also very good, as one didn't find oneself in the middle of the hustle and bustle of Saranda, but only a short distance away. Very close by are a number of restaurants, including Aragosta, which are also well-placed to enjoy the sunset and provide excellent food. I rented a car for my time there so Maria offered a parking space in a garage just opposite the building for an additional EUR 3 a night, though there is usually space to park around the area. I only had the pleasure of meeting Maria's father and cousin, who were very helpful and charming. They picked me up from the port and showed me around the flat. I felt very welcome and taken care of. Overall, this is a brilliant offering and would love to stay again in future. I emphatically recommend it to anyone considering a stay in Saranda.
Mohamed
2015-07-14T00:00:00Z
Maria's apartment is about as close to perfect as you can find. It's got everything you need, has a stunning view, a little private beach and a very comfy bed. Maria and her parents are always available and very helpful. It's not exactly in the middle of town, but there are loads of restaurants and markets nearby. Highly recommended!!
Christopher
2016-04-21T00:00:00Z
The apartment is exactly as it looks like in the photos, the view is stunning. It is equipped with basic cutlery, pans, it's got a washing machine, air conditioning works well. It takes about 15 minutes to get to the main promenade, and about 30 to get to the port by foot. There is a sandy beach with sunbeds near the building belonging to a hotel, which you have to pay for (a reasonable price), a few nice restaurants just opposite, and many mini markets, so everything you need within reach. Saranda is a very beautiful, vibrant town. People are nice and helpful, even if they don't speak English :) I recommend going to see Blue Eye (syri i kaltër) by a public bus. Maria and her family were very helpful – Maria replies to your messages instantly. Her father and sister collected us from the port and took to the apartment, while her mother awaited us at the spot and explained everything, gave infos about what to see, where to eat and so on. We had some adventures – due to the storm there were several power cuts during our stay, we had no internet for some time. Maria was very responsive and eager to help, called the supplier, asked parents to help (because she lives in the UK) so everything was under control. Once again thank you Maria for all your and your family's help. I highly recommend this offer!
Karolina
2015-09-12T00:00:00Z
Tipo de Acomodação
Casa/apto inteiro
---
Tipo de Imóvel
Apartamento
---
Acomoda
4
---
Quartos
Sarandë, Vlorë, Albânia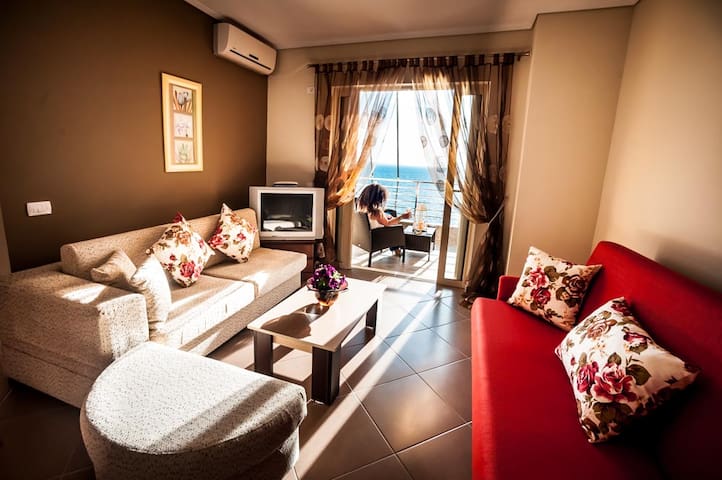 The beautiful city of Saranda, which is located in the far south of Albania provides a special atmosphere and a unique style. Located in front of the Greek island of Corfu, Saranda is now mostly visited by tourists who come here to enjoy the climate
Lovely apartment in Saranda. Distance from the sea 400 m. The beach and the center of the city you have access to walk in less than 10 minutes. Saranda is accessible by car, taking the ferry from Ancona - Igoumenitsa and then 1 hour driving towards Saranda. By plane with direct flight Airlines flying from Rome / Milan to Corfu or Tirana, and then by ferry from Corfu to Saranda (25 min). The vacation apartment is within walking distance from the port of Saranda - 2.5km away.
the whole neighborhood and recently (website hidden) are large parking lots, grocery stores, bars, playgrounds and more.
Tipo de Acomodação
Casa/apto inteiro
---
Tipo de Imóvel
Apartamento
---
Acomoda
4
---
Quartos
Saranda, Vlorë, Albânia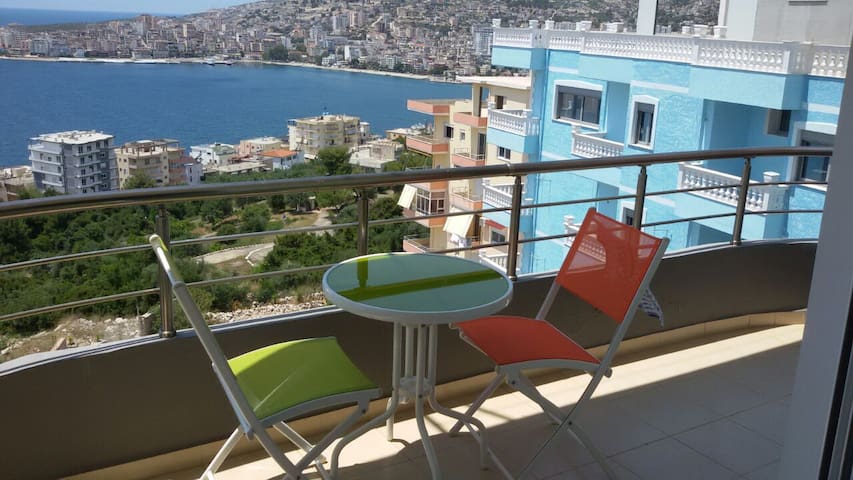 My place is good for couples, business travelers, families (with kids), and big groups.
Tipo de Acomodação
Casa/apto inteiro
---
Tipo de Imóvel
Apartamento
---
Acomoda
5
---
Quartos
Sarandë, Qarku i Vlorës, Albânia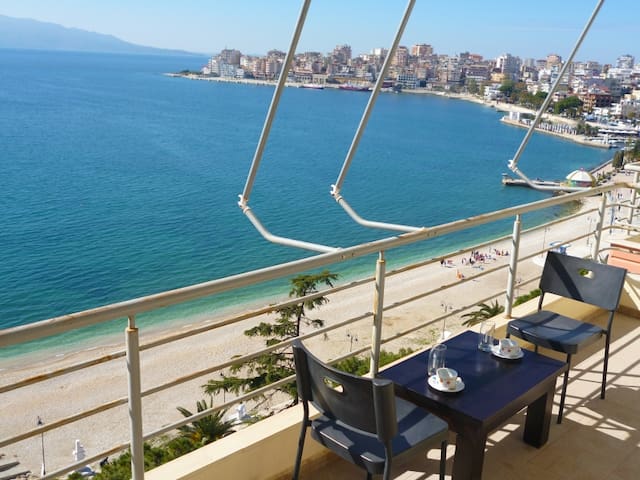 Delvinë District - Airbnb
:
Média de

4.81

de

5

estrelas, de acordo com

205

avaliações de hóspedes
1

–

18

de

Mais de 300 Apartamentos para Alugar
Insira as datas para ver o preço total. Taxas adicionais serão aplicadas. Impostos podem ser adicionados.