O Nugget é ótimo para aventureiros individuais, viajantes de negócios e ideal para a recuperação de cirurgia. Ele está situado em um quintal calma, em um bairro residencial e seguro, entre bambus, aloés e agaves. Especial atenção foi dada à cama queen-size confortável (espuma de memória topper, lençóis de linho, travesseiros de penas e edredom). O "business corner" apresenta internet rápida e um balcão de laptop. Você pode saborear o seu café em seu próprio deck privado para o lado. Estamos localizados a 5 minutos de carro para a praia. Venha conferir!
Eu só "estrada testado" a unidade de mim e foi uma experiência incrível. Aconchegar na cama com um livro, enquanto aprecia a vista para o jardim é um deleite. No entanto, o Nugget não é para todos ... Eu prefiro ser brutalmente honesto do que decepcionante ninguém, então aqui vai: -Por causa limitações água / esgotos, a permanência máximo para um par é de 2 dias (para o preço de venda). Se um casal escolhe uma estadia mais longa, uma taxa de limpeza extra de R $ 30 será aplicada (limpeza total, exceto para trocar lençóis). Por favor, lembre-se do Nugget é um 10' x 14' , que é muito pequeno para 2 pessoas. Seu compromisso com o outro será testado ... Eu tenho uma garagem para guardar sua bagagem e / ou você também pode usá-lo como um retiro se você entrar em uma briga;) - O chuveiro é bastante alto, mas é a profundidade-wise pequena (2'x5' ). Se você está no lado maior, você não pode achar que é muito confortável. (Pense chuveiro espaço RV) - Toalete portátil (ver fotos). Ele é novo, impecável e totalmente limpos após cada convidado, e uma vez a cada 4 dias para estadias mais longas (sem custo extra). É um flush manivela. - Meu vizinho usa fertilizantes em seu jardim, e, dependendo do vento, você pode sentir o cheiro de fora. (Sem cheiro dentro do Nugget, embora!) - Você vai ver muitas criaturas e animais selvagens no quintal. Pássaros, esquilos, gambás, guaxinins, beija-flores. Eles são fantásticos para observar e eu espero que você vai gostar deles tanto quanto eu faço. - Kitchenette: básico, torradeira e bebidas frias são fornecidos. - Máquina de café / chá. - leite de amêndoa / produtos secos são fornecidos para café da manhã - Bath: toalhas, secador de cabelo, kit de primeiros socorros - Muitos dos estabelecimentos para a eletrônica - cortinas black out em todas as janelas - Ar condicionado / aquecedor no controle remoto - pequeno alto-falante Bluetooth
É um bairro calmo, seguro e residencial. Minha rua termina com um cul-de-sac. É muito grande e cercada por carvalhos. Mesmo que existem 2 bares e um café incrível (Outpost) a uma curta distância, você provavelmente vai precisar de um carro para se locomover.
The "Nugget" is perfect! Cozy yet equipped with everything you need for a comfortable stay. First time staying in a tiny house and I loved it. Live simply! Everything is well thought out. Beautiful furnishings and decor. I was traveling for work and stayed all week - can't wait to come back!
Sara
2017-03-31T00:00:00Z
This is a very secluded little guest house in residential Costa Mesa. I really enjoyed how comfortable and cozy it was. It is probably a little smaller than the average hotel room and lacks a TV, but that felt like part of the charm.
Nick
2017-03-12T00:00:00Z
Fabulous. Incredible. Perfect. The Nugget: I dug it.
stephan + jen
2017-03-22T00:00:00Z
Celine is a great host! She's always just a text away to answer any questions or suggestions, she gives you privacy but still makes you feel very welcomed. The "nugget" is an amazing experience too, it was clean, organized and very cozy. It will always remain in my good memories and I hope to come here again in the future!! 100% recommended
Lalo
2017-04-02T00:00:00Z
This is a great place for guest that need a quiet place to catch up on work after a meeting and/or guest in need of a private, comfortable and quiet place to catch up on sleep. Location was great for food and easy highway access. Celine is a great host, I love the snacks and welcoming notes she left for me and she was very helpful in recommending area shops and restaurants. I would love to come back and stay in the "nugget" again!
Shalon
2017-02-26T00:00:00Z
The Nugget is exactly as if it is pictured in the owners post. It was fun to stay in a tiny house that is so mod and well finished. It it is truly a small oasis you'll enjoy the stay. Selene was a excellent host, prompt with communication, and a pleasure to work with.
Michele
2017-03-17T00:00:00Z
The place was clean and efficient, exactly as depicted. Celine was very communicative and helpful.
Emma
2017-04-06T00:00:00Z
Celine is a great host and the Nugget is a great place to stay. Well designed, comfortable, super clean, little details that take the experience from good to great. Don't hesitate to book this spot.
David & Katie
2017-03-04T00:00:00Z
Tipo de Acomodação
Casa/apto inteiro
---
Tipo de Imóvel
Hospedaria
---
Acomoda
2
---
Quartos
Costa Mesa, Califórnia, Estados Unidos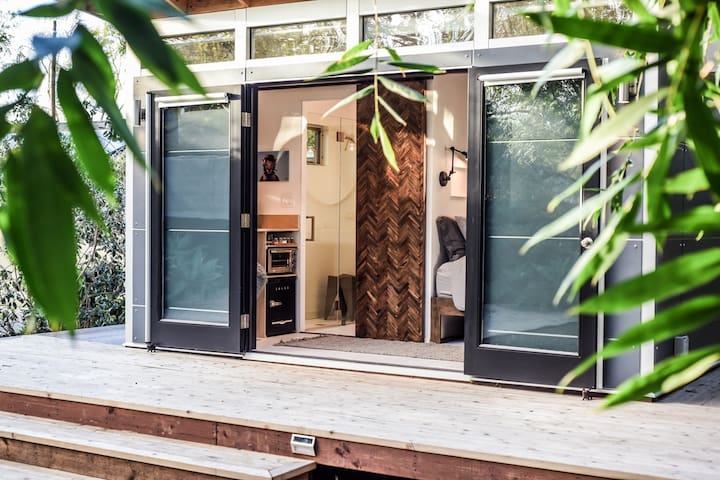 Back house studio is located in owners' private backyard featuring pool, spa, BBQ, firepit, fireplace and all the amenities. Located in Newport Heights neighborhood, minutes away from The Triangle and a bike ride from the beach. 2 Beach Cruisers inc!
Modern cozy living that opens up to a firepit and newly installed pool. Comes with many upgraded amenities.
Half a mile from The Triangle, one could walk or bike ride to a plethora of destinations including the beach, South Coast Plaza, bars, gastropubs and a collection of excellent restaurants. We have plenty of recommendations!
Excellent location with quick access to the beach and shopping. Super accommodating host who heated up the hot tub in anticipation of our arrival back from Disneyland one evening. Relaxing in the hot tub after 12 hours of walking through Disney couldn't have been a better way to conclude the day. All thanks to these A+ hosts! Not to mention they give the BEST restaurant and bars recommendations... each meal was local, fresh and delicious. Thank you so much Rosie and Ryan!! Hope to stay again soon... Cheers!
Cesar
2016-05-27T00:00:00Z
We had an amazing stay with Ryan and Rosie! They were helpful, friendly, and their place was clean and filled with everything we could need! The location is great and central to the area, would stay here again, and I highly recommend!
lexxis
2016-10-08T00:00:00Z
Rosie and Ryan are perfect hosts. We would recommend it to everyone. Both are so friendly and courteous. The studio is 100% like the pictures show. It was clean and the bed was very comforteble. We had an awsome time enjoyed very much. There is nothing to comlain about. We would come back evrytime. Thank you Rosie and Ryan.
Lisa
2016-07-25T00:00:00Z
I thoroughly enjoyed my 5 night stay at Rosie and Ryan's pool house. This was my first Airbnb experience and I couldn't have been more pleased. Highlights: Knowledgeable, friendly hosts with great food recommendations. Super comfy bed and pillows. Nice TV for sports and movies. Full Keureg coffee setup with plenty of choices. Big, clean, tall shower. Unique, well-tended to pool. Beach cruiser bike included...which made it to the Wedge and back a few times. Lowlights: It rained one morning... I hope their place is available next time I have business in Costa Mesa. It will be the first place I try and book.
Joe
2016-05-07T00:00:00Z
Ryan and Rosie were great hosts! The place was easy to find and the welcome packet was very thorough! When we walked in, we were extremely impressed with the set up! We will definitely be staying here again. :)
Mallory
2015-11-20T00:00:00Z
Hands down best Airbnb experience ever! I have stayed in airbnb's throughout the world and Ryan and Rosie do it best! I would recommend to anyone staying in the Newport or Huntington area!! Perfect for romantic getaways or family vacations. DEFINITLEY RECOMMEND!
George
2016-07-26T00:00:00Z
Ryan & Rosie are super awesome. Definitely a cool couple to stay with in Costa Mesa if you're in the area! Everything is exactly as they described in their listing & they are more than accommodating. The back pool house is a perfect fit for two with a comfortable bed, anything you may need for bathroom toiletries, iPhone chargers, pans for cooking, coffee, etc :) You'll feel right at home here! They sent a welcome packet the day before to help us with our TV, local places to grab food/drinks (where "locals" go) & are quick to respond to messages for anything you may need. We shot them a text to turn on our hot tub so it was warm when we returned back from dinner & it was perfect.
Jenny
2016-03-30T00:00:00Z
Ryan was a great host, responded quickly when we booked his place the day before, and had the place ready for us. Their studio was nice for the couple days we stayed, with a fully functional kitchen, entertainment system and nice bathroom. We also enjoyed the access to the pool and would certainly recommend staying here.
Brijett
2015-10-15T00:00:00Z
Tipo de Acomodação
Casa/apto inteiro
---
Tipo de Imóvel
Vila
---
Acomoda
3
---
Quartos
Costa Mesa, Califórnia, Estados Unidos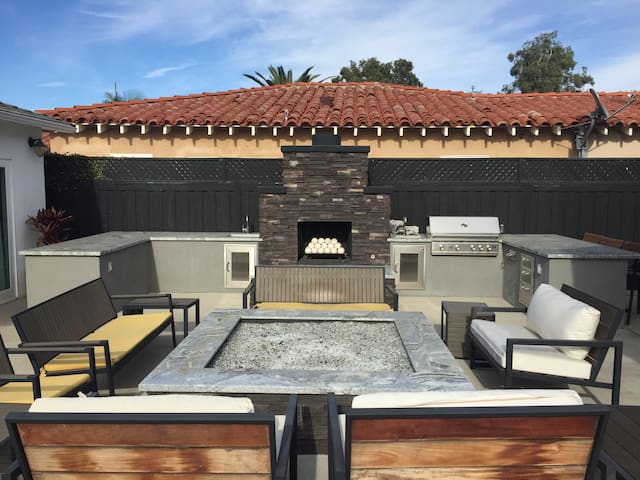 Our home is 2500 sq ft and located on a quiet, palm tree lined, street. We are located in a perfect location for Disneyland, the beach, shopping, and lots more.
Tipo de Acomodação
Casa/apto inteiro
---
Tipo de Imóvel
Casa
---
Acomoda
7
---
Quartos
Costa Mesa, Califórnia, Estados Unidos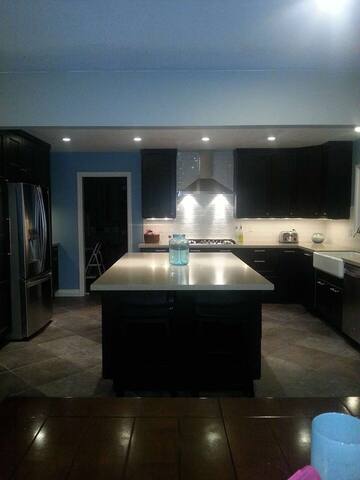 Completely restored and carefully designed Located 1.7 miles from the coast; this carefully designed and curated two bedroom one bath bungalow is centrally located is the perfect place to stay! Perks include total enjoyment and relaxation!!
One of the top 10 best airbnb's in Orange County! This completely restored mid-century modern bungalow is set within "1.7 Ocean", a thoughtfully designed 12 home community. Named for its proximity to the ocean (1.7 miles), this 2 bedroom, 1 bath home sets itself apart with its carefully curated interior, all designed by bettershelter. This home has many details that add to the authenticity and charm. New plumbing and electrical and screens on ALL windows. The area gets great ocean breezes that keep the home cool all day. Many lights are on dimmers, we are really into our lighting! Enjoy dining al fresco with a dining table and bar-b-que all set up and ready to go. Native California landscaping throughout adds to this private and peaceful oasis. Your bungalow has been fully furnished and features an open living, kitchen and dining room plan. Living room has hardwood floors, flat screen HD satellite / cable TV and a fold out sofa capable of sleeping two people. Kitchen also has hardwood floors, butcherblock counters, gas stove for cooking in addition to dishwasher and microwave appliances. French press available for coffee snobs. Each bedroom has seagrass flooring, a queen size bed, linen bedding and four down sleeping pillows as well as full size closets for hanging and storage. Both of the beds' mattresses are new. Extra linens & blankets are supplied for pull out sofa in living room. Bath towels and small amenities are supplied in bathroom. Washer and dryer are available for your use inside the bungalow. High speed internet included!
1.7 miles from the ocean, 7 minute drive. 2 blocks from Triangle Square's movie theaters, great restaurants and retail. Centrally located to EVERYTHING that Orange County has to offer! Quick access to the 55 freeway. quick drive to cute shops and restaurants on 17th street. 15 mins to Balboa Island & Newport Bay Harbor 15 mins to Fashion Island or South Coast Plaza 30 mins to Disneyland & Angels Stadium 15 minutes to John Wayne Airport Centrally located between San Diego and Los Angeles.
My family enjoyed the stay at Jones & Malson's lovely place. It's very clean and spacious, and filled with beautiful arts. Nice neighborhood and it comes with a parking space. Location is great too, very close to the beach, highway and short drive to disneyland. Totally recommend stay here if you are visiting the area :)
Sunli
2016-02-20T00:00:00Z
House and location were perfect. Nothing bad to say about this one at all. We loved 1.7!!!! Thanks guys for making our family trip a success. :)
Bryan
2015-07-12T00:00:00Z
Place was great. Jones and Malson were available and quick to respond to questions!
Adam
2016-09-13T00:00:00Z
So good. Beautiful, clean. Very true to the photos. Mattresses were so comfy... a rarity for Air Bnb places. Host was lovely and very responsive. A gem of a place. Would love to stay here again.
Dana
2016-07-26T00:00:00Z
Our host was very kind and welcoming and easy to get in contact with. The house was wonderful; it was very cute and suited our needs perfectly. The location is very central and convenient, close to the beach and has easy access to the freeway. We'd love to stay again!
Lauren
2015-06-26T00:00:00Z
Great location and cute place! Loved staying there for work (quiet and relaxing).
Jan
2015-04-12T00:00:00Z
Great communication. The home was clean, well-furnished and comfortable. It is close to a lot of amenities and a short drive to the beach. I would definitely recommend in the future. Thanks!
Adam
2014-07-22T00:00:00Z
We enjoyed our stay in Newport Beach. The house was as described, clean, and in a nice neighborhood. Actually we spent pretty little time there, since we were there for a conference. The owners communicated with us by text, giving us the code to get into the house, the wifi password, etc. This was a great place to stay, and I would stay there again.
Crystal
2016-01-29T00:00:00Z
Tipo de Acomodação
Casa/apto inteiro
---
Tipo de Imóvel
Casa
---
Acomoda
6
---
Quartos
Costa Mesa, Califórnia, Estados Unidos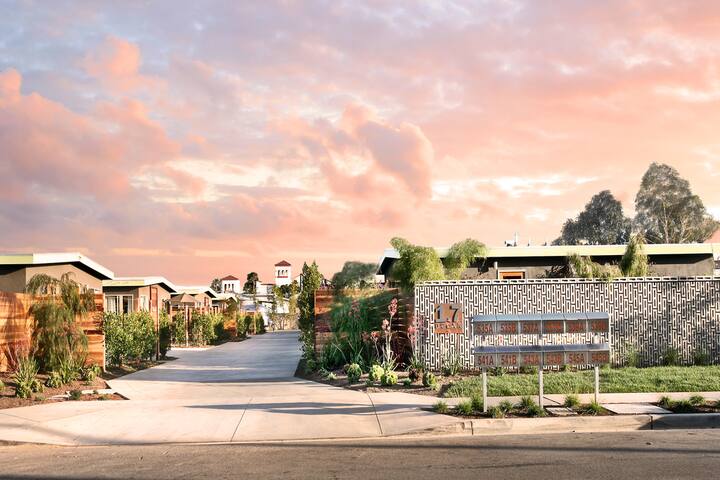 Welcome to Costa Mesa. This fabulous townhome/duplex is located within a mile of the amenities of Newport Beach. You can park in your own single car garage and have direct access to your home from the garage. The rooms are spacious and air conditioned
Located on a residential street, this newly remodeled townhome has easy access to your own garage and driveway with plenty of guest parking along the street. Walking distance to Triangle Square and the shops along Harbor Blvd. Guess will have access to large screen TV with cable, internet and wifi. Washer and dryers are conveniently located in the hallway. I live down the street and will be happy to answer any questions you might have regarding the listing and surrounding areas. Walk to Triangle Square in Costa Mesa. The night life here is great with clubs and restaurants. Car: easy access to numerous freeways including 5, 55, 405 and 73. Bus: public OCTA buses run every 15 minutes from bus stop on Harbor Blvd goes direct to Newport Beach. You can also make connections that will take you everywhere in OC and LA. Bicycle: an easy 15 minute bike to the beach Walk: 5 minute walk to bus stops and 10 minute walk to Triangle Square
Walk to Triangle Square in Costa Mesa. The night life here is great with clubs and restaurants.
The listing description was spot on. The place looked exactly like the photos. Lina was a great host. She was very responsive and flexible with our check in time. The kitchen was fantastic and had everything that I needed.
Christina
2016-11-27T00:00:00Z
Absolutely loved Lina's home! Very modern and clean. Very organized. Everything you need for a comfortable stay! Loved the extra fans blankets and pillows. Beautiful home and wonderful location in Costa Mesa! We will be staying here again.
Denise
2016-10-04T00:00:00Z
Great experience and very accurate. Lina is a friendly person and explained everything. The place is great and very clean. We enjoyed every moment of our stay with my family. Lina instaled an AC prior to our arrival and it was great. We had a 3 wonderful weeks in Costa mesa and I highly recommend the place for my friends and it will be my stop every time I'm visiting the area if available.
Massoud
2016-07-26T00:00:00Z
Lina was very helpful for both check in and check out. The house is very clean and modern and has all the amenities you would need. Well furnished and well stocked cupboards. Perfect sized house for 4 people and nice to have garage/driveway parking.
Pam
2016-10-09T00:00:00Z
This home is VERY clean and exactly as pictured. Beds very comfortable. Neighborhood quiet too. We found the property pleasant. We visited Disneyland- that is about 20-30 minute car trip. Also we enjoy the local shopping in Costa Mesa and Newport. Only a few minutes to the back bay.
Mary
2016-12-19T00:00:00Z
The place was clean, modern and the location is great. It's in very close proximity to great skateparks for the kids and the beach. Chipotles, Starbucks are super close. Having the garage was a big plus. Lina was very responsive and helpful when the internet went out she called the company to have them fix it and it was back up and running soon. We would like to stay again next time and we highly recommend the place.
Scot
2016-08-11T00:00:00Z
Lina was great with communication. Fantastic spot- weekend hype achieved.
Patrick
2016-08-14T00:00:00Z
Great place to stay. Very quiet and cozy.
Michelle
2017-03-23T00:00:00Z
Tipo de Acomodação
Casa/apto inteiro
---
Tipo de Imóvel
Casa
---
Acomoda
4
---
Quartos
Costa Mesa, Califórnia, Estados Unidos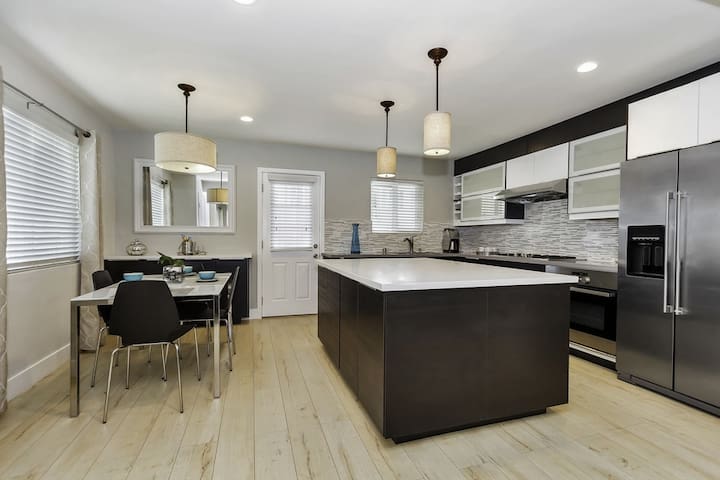 Truly a private oasis with a fenced in front yard and beautiful backyard set amidst single story homes on a quiet street not far (approx 2.5 miles) from the ocean. Lovely updated 3 bedroom home with unique furnishings that add a whimsical flair. Tastefully "appointed" private guest room with queen bed and ceiling fan and a private, detached bathroom. Street parking right in front of the house; parking is never a problem. I look forward to meeting you and sharing my home and surroundings!
You'll love the deco. It's fun, a bit glamorous, yet has a touch of boheme and is very comfortable and inviting. In addition to the indoor space, I have a beautiful hardscaped backyard with firepit, built in barbecue and seating area and a private fenced in front yard with high-top bistro table or a hammock to enjoy the fresh air. You will have access to cable TV and WiFi. If you wish to watch movies in the privacy of your room, I have a TV/DVD player in your room that I am happy to set up. There are plenty of shops and restaurants nearby; even within walking distance for those that don't mind a 10-15 minute walk. Disneyland is a 25 minute drive and most area attractions are within 30 minutes. 10-15 minutes from world class shopping at Fashion Island or South Coast Plaza. A quick ride or walk to the beach and the airport is less than 10 minutes drive. I'm happy to pick you up if our schedules work out. Public transportation is also nearby. Lyft or Uber is $5-$10 to most nearby locations. 10 minutes to John Wayne airport. The neighborhood is quiet and safe and the home a peaceful refuge. I do have a beautiful and friendly little pup, 14 lbs and full of life, but he is independent and has his own doggy door.
Tamara was a wonderful host. The instructions for arriving were clear and she had an easy solution for our inconvenient arrival time. She gave us the space to choose how much privacy or conversation we wanted, and was lots of fun to chat with. The room had everything we needed plus some treats! The bed is comfortable. Her kitchen is spacious and available to guests, which is particularly nice since there's a Fresh & Easy and a Mother's Market nearby. We already knew the area, but if we hadn't Tamara had a list of suggestions for places to eat out and things to see. It's a lovely house in an excellent area for seeing Orange County!
Meryl
2014-06-01T00:00:00Z
Great experience! Very lovely home, it looks exactly as the pictures convey. I didn't have much host interaction but when I did it was nothing short of excellent! Wonderful home and wonderful host.
Alli
2015-02-15T00:00:00Z
I had a great stay at Tamara's place. It was clean and very cozy. Tamara is a great host and I enjoyed her pup, Beau's company also.
Alma
2014-09-16T00:00:00Z
Tamara has a lovely home and was very committed to making my stay comfortable. The house was very convenient to the conference I was attending at the Hyatt Regency Newport Beach and cost much much less than staying at the hotel. The dog is very friendly and was no problem.
John
2014-09-21T00:00:00Z
This was our first airbnb experience and it was great meeting Tamara and Bo. Everything was just in place and it felt so private.
Jose
2015-10-18T00:00:00Z
We had an awesome time staying with Tamara. She is an extremely friendly host with a beautiful home. We enjoyed her so much we brought her with us to the local swap meet and had a great time. Her little dog is pretty high speed. I was almost arrested for attempting to steal her dog Bo (LOL! kidding!) Excellent location with plenty to do in the area. We'll definitely be staying with our friend Tamara in the future. - Carl
Carl & Shannon
2014-11-16T00:00:00Z
Tamara is a lovely sweetheart who went way out of her way to make me comfortable with her hospitality. She has a beautiful home, close to everything and a backup plan just in case we encounter a glitch (which we didn't). Everything was beautifully decorated, easy to access and had her gorgeous niece and sweet little puppy to keep me company. All in all, her home is quiet, clean, restful and in a great neighborhood. Thank you Tamara for sharing your beautiful home and being one of the awesome guardian angles to go above and beyond to help me on my mission. The kindest regards to you and Melinda for keeping me in the comfort zone.
Virginia
2015-03-03T00:00:00Z
perfect!very good!superhost
Hunter
2016-07-13T00:00:00Z
Tipo de Acomodação
Quarto inteiro
---
Tipo de Imóvel
Casa
---
Acomoda
3
---
Quartos
Costa Mesa, Califórnia, Estados Unidos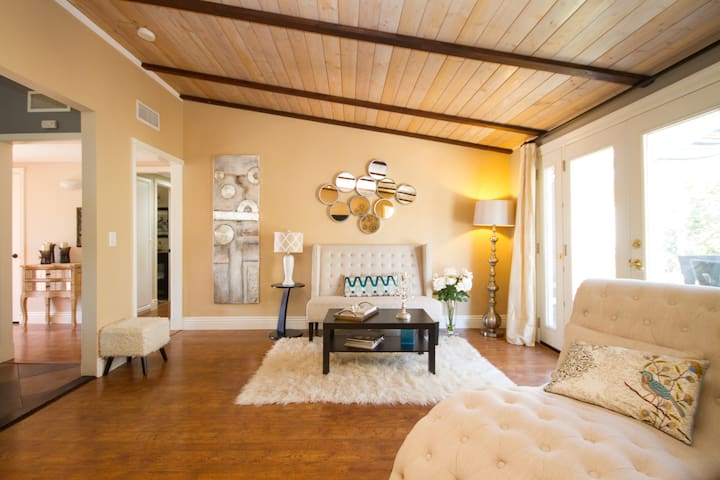 Active family home with large yard for sports and a playhouse for the kids. It's the perfect family getaway in the sweet spot of coastal Orange County. Just a couple minutes from Newport Harbor, Back Bay and Beaches in one direction and 3 major freeways leading to Los Angeles, Anaheim and San Diego in the other. It is a new listing for the summer so we don't have any traveler reviews for it yet but please contact me with any questions or concerns you might have. I want you to have a great stay!
Everyone gets a bed – no sharing, except in the Master Bedroom of course. One bedroom has twin and full bunk beds and the other has a twin with rollout trundle twin. The Master Bedroom has a California King bed with built in headboard lights. All bedrooms have ceiling fans.
Eastside is a charming small neighborhood bordering Newport Beach. There is a shopping street (17th) with dozens of cafes and restaurants just a few minutes walk or bike ride away.
Tipo de Acomodação
Casa/apto inteiro
---
Tipo de Imóvel
Casa
---
Acomoda
7
---
Quartos
Costa Mesa, Califórnia, Estados Unidos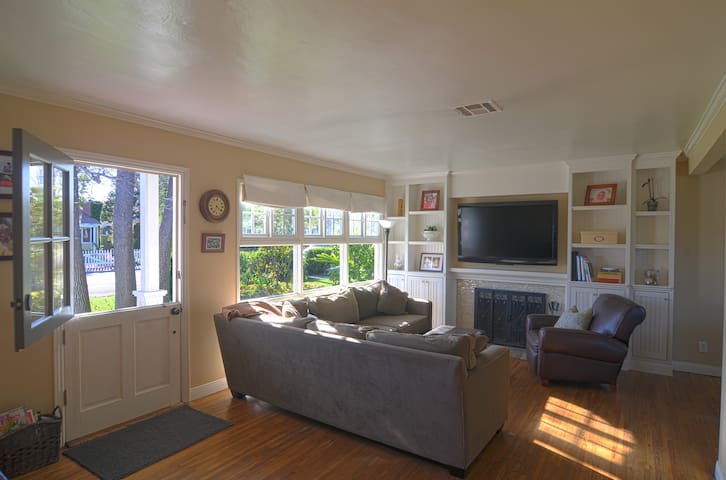 This recently remodeled townhouse is the perfect vacation place for a family to stay at an affordable price. This townhouse is less than 10 minutes to the beach and 20 minutes from Disneyland. This unit has been recently remodeled, very spacious, and full of windows so is ideal to catch all the breezes coming off the ocean.
Available May 26-29th, 2017 and June 22nd through July 2nd. This unit has tons of character and the kitchen comes with a Nespresso coffee machine.
We are close to 17th St dining, Newport Beach Fashion Island Shopping, and the beaches of Huntington Beach and Newport Beach. Pacific Coast Highway is less than 3 miles away.
Tipo de Acomodação
Casa/apto inteiro
---
Tipo de Imóvel
Casa
---
Acomoda
6
---
Quartos
Costa Mesa, Califórnia, Estados Unidos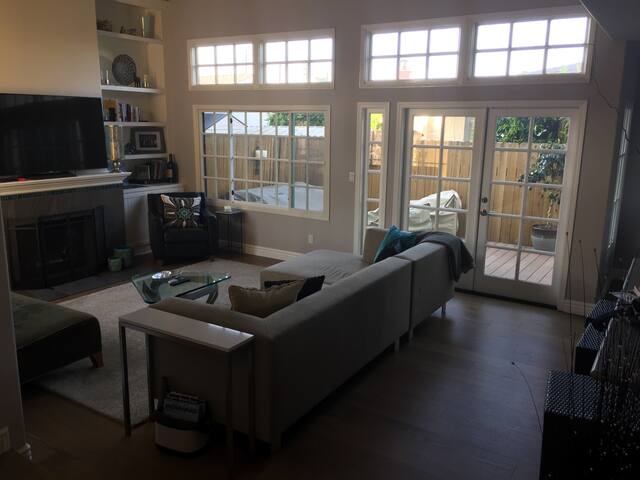 Beautiful apartment with brand new furnitures.Wifi , coffee , tea , shampoo , towel , linen . walking distance to lots of shops and restaurants. you have access to kitchen, living room , dining area and washer and dryer inside the apartment and you have access to the pools Jacuzzi ,Gym and Business center.
Breat taking outdoor area few water falls inside the complex with a romantic area for walking .BBQ area .
Close to John Wayne airport, walking distance to south coast plaza shopping Center and lots of restaurants and supermarkets .
Lora was a very gracious host who made us feel welcome and did well at communicating with us leading up to our arrival
Steven
2017-03-30T00:00:00Z
Tipo de Acomodação
Casa/apto inteiro
---
Tipo de Imóvel
Apartamento
---
Acomoda
5
---
Quartos
Costa Mesa, Califórnia, Estados Unidos
My place is close to beach and about 10 minutes to the 405 freeway, the airport, parks. You'll love my place because of the outdoors space. My place is good for solo adventurers and business travelers.
Great as always!
Matthew
2017-02-10T00:00:00Z
Great!
Matthew
2016-09-30T00:00:00Z
I feel quite comfortable here. Even with the roommates, it's a quite, clean and convenient place to rest your head.
Matthew
2016-10-14T00:00:00Z
Great spot with some good people!
Matthew
2016-09-23T00:00:00Z
Tipo de Acomodação
Quarto compartilhado
---
Tipo de Imóvel
Casa
---
Acomoda
1
---
Quartos
Costa Mesa, Califórnia, Estados Unidos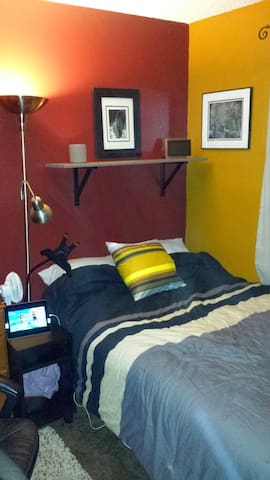 Watch the sun set over the ocean from the balcony of our modern, 2 bedroom, 2 bath + loft condo. You'll love the open floor plan and natural lighting as well as the location of our space. Less than two miles from Newport Beach and Huntington Beach!
Our airy, updated two-bedroom condo with a bonus loft space is less than two miles from both Huntington and Newport Beaches. This space is perfect for a couple, small family or hotel alternative for a business trip. The master bedroom has a private newly remodeled bath (double vanity and double showerheads) and access to the back balcony, which boasts views of Talbert Nature Preserve, Huntington Beach, the Santa Ana Mountains, and the Pacific Ocean. On a clear day you can even see Catalina Island. Our newly remodeled kitchen has granite countertops and is fully stocked with cooking utensils. The open floor plan, high vaulted ceilings, and good natural light make the living space comfortable and easy to spend time in. The main room also has access to the back balcony. Lucky for us the sun happens to set in the west…and our balcony happens to face west! Our large sliding doors allow the sea breeze to cool down the entire space. The second bedroom is a nursery with a crib and a twin bed, perfect for families with a baby and/or toddler. The loft space is a great bonus sleeper. The ladder is steep (so watch your step). The loft has a comfortable queen bed and it opens to the main room, as you can see from the pictures. The second bathroom, also newly remodeled, has a bathtub and a vanity outside of the bathing area. Our condo is a five minute walk (or less depending on how fast you are) to Vista Park with great playground equipment and a large grassy area. If you walk five minutes the other direction you hit two nature preserves (Fairview Park and Talbert Nature Preserve) with a good network of trails. The city of Costa Mesa just renovated the preserve, adding a small pond system and a variety of native Californian plant species.
Costa Mesa is centrally located halfway between San Diego and Los Angeles in beautiful Orange County. We are on the west side of Costa Mesa, the last street before you reach the city of Huntington Beach. We're less than 2 miles from both Newport and Huntington Beaches, you take your pick! It is easy to connect to the paved Santa Ana River Trail from our condo. It will lead you to either beach or take the 5 minute drive to the beach. We are 15 minutes from John Wayne Airport and 45 minutes (without traffic) from LAX. The Happiest Place on Earth is only a 30 minutes away. You can actually SEE the Disneyland fireworks from our back balcony. They go off around 9:30pm every evening. Costa Mesa is home to some of the best shopping in California. South Coast Plaza is 15 minutes from our place and has just about every retailer you could hope for (if you're into that sort of thing). We also have plenty of amazing restaurants nearby. Costa Mesa's 17th street is quickly becoming a foodie hot spot! And Trader Joes is only a 5 minute drive (or nice evening stroll) away. And you can't beat the southern California surf. We're minutes from River Jetties, Brookhurst Jetty, Magnolia, and Newport's 56th Street.
Travis and Leah were super informative and helpful. We are new to airbnb so not sure what to expect. Really easy. The place us great - we were on family vacation with adult married children and wanted to spend time together that hotel travel just doesnt accommodate. It was like a family home - as it is - with clean well equipped kitchen - everything you could need. Plus amazing view and watching hummingbirds on the balcony, as well as the Disneyland Fireworks. Perfect option for us - couldn't be happier. Very clean and products were just as we use - no chemicals - we like that.
Sherrie
2014-07-14T00:00:00Z
This apartment is best choice for 3 to 4 people who want to travel around Irvine. It is warm, quiet, roomy and entertaining. We have fun staying here in Traivs and Leah's apartment, and Traivs and Leah is really nice and warmhearted.
鲁
2016-11-26T00:00:00Z
We had a great time staying at the Hartanov's place. It is a beautiful condo with a minimalist design throughout. Very clean, organized, and simple. It had everything we needed including a room, toys, and books for our toddler. It was close to the beach and had a stunning view of a state park. They were very communicative with us giving us detailed instructions for everything and checking in with us to make sure things were ok. Overall it was a very relaxing, peaceful, and comfortable environment. Would definitely stay there again!
Erin
2015-03-22T00:00:00Z
Travis and Leah went above and beyond to make us feel welcome in their lovely home. It was spacious, very clean, quiet safe neighbourhood (with a park walking distance for kids) and close driving distance to everything. Beyond ensuring that we were well set up and had any local information we needed, they were very supportive when I had a medical emergency. They took the care to check in while I was still there and even days after. This is what I love about Airbnb - it's about real people sharing their homes with others. I always read owners profiles before I rent and choose carefully. And I have always had great experiences. Thank you Travis and Leah : )
pia
2015-08-02T00:00:00Z
This was our first air bnb experience and Travis made our introduction both pleasant and smooth. The instructions were clear and very helpful about how to get in and how to take care of the condo, how to enjoy the area and how to get needs met. The condo was terrific, just as advertised. I suspect that not every host is this organized and helpful, but I hope so!
Li z
2015-11-29T00:00:00Z
Thank you for the wonderful stay. Having the nursery and children's toys was perfect! Location was perfect and our daughter loved the park down the street.
Shelbylyn
2017-01-12T00:00:00Z
This place was amazing! Beautiful Place and everything we wanted and needed at our disposal.
Heather
2015-12-26T00:00:00Z
Travis and Leah were extremely accommodating in preparation for our stay in their condo. Beautiful place that fit our family's needs perfectly, we couldn't have asked for more.
Alexia
2015-06-26T00:00:00Z
Tipo de Acomodação
Casa/apto inteiro
---
Tipo de Imóvel
Condomínio
---
Acomoda
4
---
Quartos
Costa Mesa, Califórnia, Estados Unidos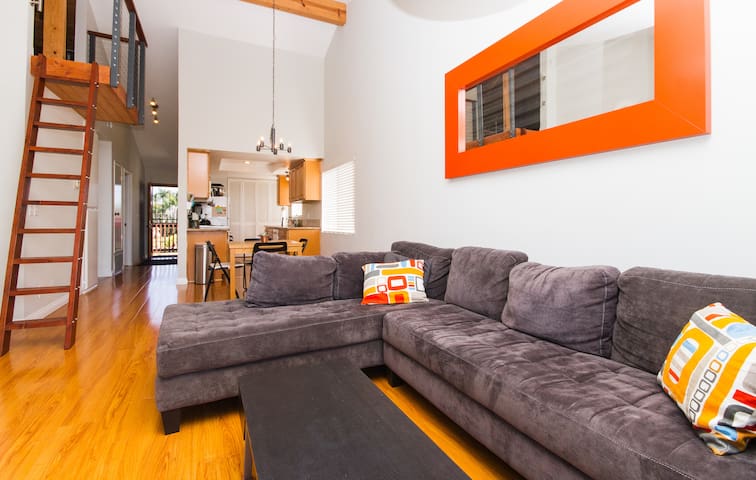 Bem-vindo à nossa casa! O nosso confortável 3 bd / 3.5 casa ba está convenientemente escondido em uma das mais belas cidades da América. Desfrute de sua própria casa privada com quartos 2 mestre, rei, rainha, gêmeo, e milhas de trilhas e pôr do sol na praia!
Bem-vindo ao Newport Beach! Nossa comunidade condomínio é limpo e situado em uma bela natureza preservar. Os hóspedes têm casa cheia, incluindo cozinha, sala de estar, sala de jantar, 3 casas de banho, 3 quartos. Temos mestres individuais com novo rei e rainha colchão de tamanho, bem como um futon queen size e sofá-cama e cama de solteiro. Sim, existe agora uma TV na sala de estar e uma segunda TV no quarto principal inferior. Existem várias milhas de belas trilhas perto e 3 parques diferentes para desfrutar. A 1,5 milha caminhada ou passeio de bicicleta para a praia deixa no surf bonito em Newport Beach. É uma jóia escondida Newport com trilhas limpas e excelentes vistas. Estamos localizados a 5 blocos e fácil caminhada de grandes lojas, restaurantes e bares. Nós incluem placas de corpo, refrigeradores, cadeiras de praia, guarda-sol, vagão de praia, brinquedos de praia, etc, para usar em seu lazer.
Existem várias milhas de trilhas para crianças ou o entusiasta ao ar livre para desfrutar de horas de diversão sem fim. bairro extremamente limpa e segura de Eastside Costa Mesa / Newport Beach. Muito perto de linhas de ônibus, lojas, restrições e mais. Verdadeiramente espectacular com trilhas limpas, gramíneas nativas, flores silvestres e árvores.
We had an excellent time at Misty's. The check in was super easy, the house was clean the beds were very comfortable, we really felt that we are home. The pool area was very good. The communication with Misty was very easy, she replayed to our emails in a very timely manor. After all, thank you Misty for making our vacation so enjoyable. Sam
Sam
2015-06-29T00:00:00Z
Stay at Misty's place was mostly enjoyable. Apt. was as described - it was clean with well equipped kitchen that was very useful for us. Check-in and check out was very smooth. We got immediate response to any questions - important when on short vacation trip. One inconvenience we had was not finding parking near by. House has one car parking - for the other two cars, we had to park quite far. TV - it is not in the family or master room. Being in one of the smaller rooms - we could not really watch TV together. We also liked the 12:00 O'clock check out comparing to many others that ask for 10:00 AM which I think is too early.
Suniti
2015-01-03T00:00:00Z
The reservation was canceled 16 days before arrival. This is an automated posting.
Son-Hsiung
2014-06-11T00:00:00Z
We really enjoyed our stay here, very comfortable, the location was great! Very nice surroundings for trail-running. This was my second Airbnb stay and will definitely book again!  Misty and Greg was great hosts. I'm highly recommending their place and would rent it again!
Fredrik
2014-07-29T00:00:00Z
We arrived on the later side and checking in was very easy. The property was as described and our host had fresh squeezed orange juice and coffee available just for us. This location was close to everything. The patio was our favorite part. A great area to chat, have a glass of wine and relax. Thanks Misty!
Amber
2016-06-29T00:00:00Z
We really enjoyed this town home. It had everything we need, fully stocked kitchen and bathrooms. The beds were comfortable. There was no tv which was an unexpected disappointment and there was construction going on around the neighborhood. Obviously the construction was out of the control of the homeowners, but it was loud early in the morning and all day. I loved that there was a dedicated parking space. The master bedroom got quite hot and there was no air conditioning, but at least they had a couple fans. The master bed's fitted sheet was unzipped and smudged and there was no top sheet, which made me wonder if the sheets were even changed; it was not a professional job making the bed. There was a washing machine and dryer, and it was wonderful to wash our beach clothes and towels after coming in from the beach. They were very friendly and worked with us on a late check out. Overall, a positive experience.
Jennifer
2014-08-02T00:00:00Z
Misty's townhouse was extremely beautiful and it was a very welcoming experience. It felt like home but only a short distance to the beach. Everything was clean and as described in the post - plus the beds were very comfortable!! The location was nice and convenient. The community felt safe and there was a lot to do around the area. Parking was convenient. I definitely recommend staying here if possible and I hope to return again one day.
Rachel
2015-07-01T00:00:00Z
The home is in a wonderful setting and Misty took great care of our needs.
Rhonda
2015-08-22T00:00:00Z
Tipo de Acomodação
Casa/apto inteiro
---
Tipo de Imóvel
Casa
---
Acomoda
8
---
Quartos
Costa Mesa, Califórnia, Estados Unidos
Welcome to East Side Costa Mesa! Grandma cottage style home (built before 1945). Your room has its own private entrance! Sorry for Non smokers only that includes Pot. You are renting the bedroom and the bathroom, there is no access to the rest of the home. The bathroom is shared with other 1 other guest when booked. Note: It has a very Tall Queen sized bed. Non smokers only, please. Please read all the posted info and view the photos, I want you to be happy with your stay.
Welcome to East Side Costa Mesa! You will be staying in our Grandma cottage style home (built before 1945). Your room has hard wood floors, and its own private entrance! It will comfortably fit 1-2 guests, but no more. The bathroom is shared with another guest when that room is occupied. It has a Very Tall Olympic Queen size bed, always clean sheets. There is plenty of closet space to store your stuff as well as a full length mirrors on the wall. There is also a mini fridge in the room for you to store food and beverages. Wi- Fi available, password is in your room. Note: Due to lack of use the TV and cable box has been removed. Everyone uses their computers now. Check in is self serve. Check in anytime after 10am, on Sunday's check in anytime after noon. Checkout is by 9am, Sundays check out at 11am. The rest of the home, kitchen and laundry is not available for use but there are great places to get coffee and great food and laudromat just a few blocks away. See the guidebook. Please Note: There is no way to heat food or cook in the room. It is a non smoker room. Sorry we do not rent to smokers. The climate in Costa Mesa is usually very mild, most homes do not have air-conditioning. In the summer you will need to open the windows and turn the ceiling fan on, as this room does not have air conditioning. If you are not used to warmer weather please consider this before you book. Parking is available on the street, but Wednesday morning is street cleaning. Park on the Streets that run parallel to our street. Please don't park in the driveway. Thanks. For those of you who are not familiar with the area, East Side Costa Mesa is a real hot spot in Orange County! We are right by John Wayne Airport, less than a mile from the beach, and close to so many amazing local coffee shops and eateries. Note: The gardeners do come on Saturday morning around 7:30. But they are pretty quick, hope it won't be to annoying. If you have any additional questions about staying here, or about the property, please feel free to message us. Guests will have access to the room, with a private entrance. The key will be left under the mat to your door, it's the door on the left side of the house as you approach from the street. The door with the Mini blinds. The hallway leads to the bathroom which is shared with another guest if it is occupied. Guests have a mostly private stay. Guests may see each other in the hallway or outside the house coming and going. We have had several stay and not even meet them due to schedules. We are always happy to meet the guests, but respect your desire for solitude also. Eastside Costa Mesa has everything so close by. Within walking distance to grocery stores, restaurants and great coffee shops. For specific recommendations click guidebook. Bus stop is just a few blocks away. Go to (website hidden) for schedule or Uber App for car service. We have our price so reasonable that we do not do any discounts and we don't rent by the month. Please finish verification and post your photo and information about you just as we have or the request may be denied,
Eastside Costa Mesa is a wonderful neighborhood close to the freeway, John Wayne Airport and the beach. We are close to many great coffee shops, restaurants and Boutiques all on 17th St. The beaches are close enough to bike to. Many have felt they need a car or have used Uber because things are spread out in Orange County.
Newport Beach and Newport Center friendly location. Only 15mns from SNA airport. Comfy queen bed. friendly welcome by Vicki. Shared bathroom has heater if needed. Free street parking. Great value.
RPaul
2016-02-05T00:00:00Z
This is a fantastic airbnb place! The room is beautiful with lots of natural light, a huge, comfortable bed and a little table outside the door where I ate my dinner. The room and bathroom were very clean and tastefully decorated. Vicky's notes were helpful. I met her briefly and she is a lovely, friendly lady. I wish I could have stayed longer - I highly recommend this place!
Rhianne
2015-05-26T00:00:00Z
Great place to stay
Maria
2017-03-23T00:00:00Z
Vicki was lovely, the neighborhood safe, the bed comfortable and the bathroom clean and charming.
marilee
2016-07-16T00:00:00Z
Vicki is amazing. Extremely accommodating and friendly. A real joy.
Bryan
2014-09-06T00:00:00Z
Charming room, ample parking, great bathroom
Nakul
2016-04-06T00:00:00Z
The neighbor is quiet and safe. The room is clean and big. I recommend to live here.
lu
2015-06-19T00:00:00Z
Staying with Vicki is always an enjoyable experience--she makes it easy.
John
2015-02-14T00:00:00Z
Tipo de Acomodação
Quarto inteiro
---
Tipo de Imóvel
Casa
---
Acomoda
2
---
Quartos
Costa Mesa, Califórnia, Estados Unidos
My place is close to Huntington beach 10min, Newport Beach 15 min, Laguna Beach 20 min, Irive 10 min. You'll love my place because of the location, and the pool and hot tubs stay open until 10pm. My place is good for business travelers, adventurers, and couples.
Nice sized one bedroom. Comfortable balconey with furniture. Nice space for inflatable mattress if needed. Great pool and hot tub in the complex!
Brian is a great host! He is super quick to respond to any questions and his communications regarding his place were excellent! It's a sweet one bedroom condo with great amenities: 2 large outdoor hot tubs and a fabulous palm tree enshrouded pool. It also has a nice outdoor patio to relax on. His place is pretty close to Newport Beach (4 miles), and easy access to the highways. I was in town for the Natural Products Expo West at the Anaheim Convention Center, and Brian's place was an easy 15-20 minute drive. His place is great for 1-2 people in town for business or leisure...I'd stay there again!
Shaun
2017-03-11T00:00:00Z
Close to Newport Beach and Huntington:) Was a great location and Brian was awesome with response times with any questions I had:)
Madison
2017-03-15T00:00:00Z
Awesome place
Steven
2017-03-17T00:00:00Z
My wife and I stayed at Brian's place over the weekend to finish our open water diver certification. The location was great; there are a lot of restaurants and markets around and is very close to Newport beach. Brian was VERY quick to respond to any messages and was very helpful. Thanks Brian!
SungHwan
2017-03-19T00:00:00Z
Tipo de Acomodação
Casa/apto inteiro
---
Tipo de Imóvel
Apartamento
---
Acomoda
4
---
Quartos
Costa Mesa, Califórnia, Estados Unidos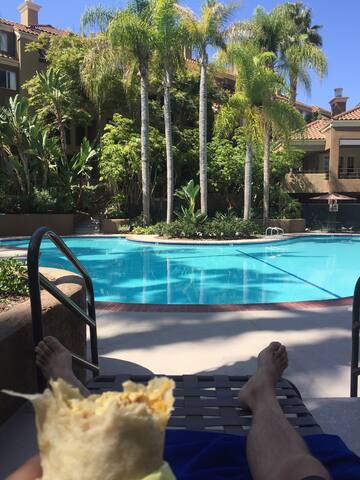 My place is close to restaurants and dining, the beach, family-friendly activities, nightlife, and great views. You'll love my place because of The location is in a quiet street in Costa Mesa, only 1.5 miles from the lively Triangle Square and close to the beach and a short walk to Back Bay. There's convenient access to all the beaches, South Coast Plaza, The Camp among other fun places.. My place is good for couples, solo adventurers, and business travelers.
Awesome stay! :]
Ronnie
2016-12-29T00:00:00Z
Great place. Great host. Great trip!
Ronnie
2017-02-15T00:00:00Z
Place was great! Coming here weekly for work!
Ronnie
2016-12-08T00:00:00Z
Another great trip down to Costa Mesa!
Ronnie
2016-12-01T00:00:00Z
Great guy! Great place!
Ronnie
2016-06-23T00:00:00Z
Never can complain about anything!
Ronnie
2016-10-07T00:00:00Z
Never lets me down!
Ronnie
2017-02-09T00:00:00Z
Another great stay!
Ronnie
2016-08-11T00:00:00Z
Tipo de Acomodação
Quarto inteiro
---
Tipo de Imóvel
Apartamento
---
Acomoda
1
---
Quartos
Costa Mesa, Califórnia, Estados Unidos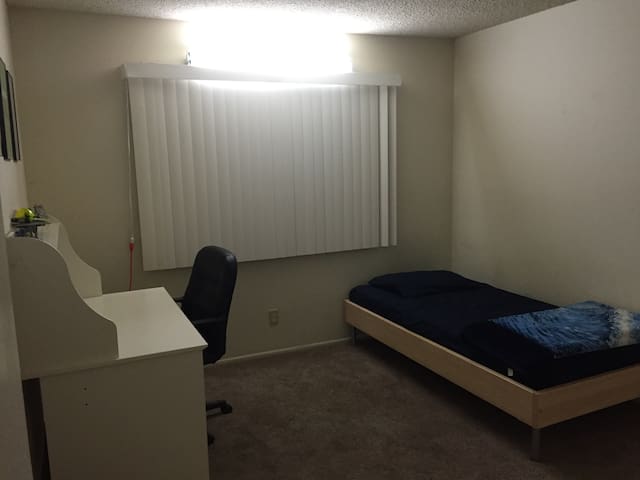 One Light Bright Sunny Bedroom Available In A Four Bedroom Single Story Home Full Sized Bathroom South Side of HB.... 2.5 Miles To The Sand!! Across From Park/Elementary School. Five Minutes, (By Car) to Main Street, Pier & Beach!!!
Charming one story beach cottage 4 bedrooms, 2 bathrooms across from park/elementary school home decor is very light bright clean beachy/shabby chic home is a 5 minute car ride to Main Street/Downtown HB Surfing/Biking & Shopping New Pacific City!! Shopping/Restaurants House is in South HB 5 minutes to Pacific Coast Highway which leads to ..... Newport Beach, Corona Del Mar (CDM my personal FAV)!! Crystal Cove Laguna Beach Dana Point!!
House is 2.7 miles to HB State Beach, Approx. 10 minutes to Newport Beach.
I had a very short but sweet stay with Jenia. She is kind, welcoming & her space is very clean. The bed was super comfy! I rested well after a very long and busy day.
Julie (& Stephen)
2016-01-16T00:00:00Z
Fantastic stay as always
Rashmi
2016-10-08T00:00:00Z
Jenia was a great host and is super friendly! She was very welcoming and made me feel right at home. The bed was very comfortable and she let me help myself to any of her food! I had an amazing experience staying with Jenia. Next time I'm in the area I will definitely book again!
Brittany
2016-06-06T00:00:00Z
Jenia was an amazing hostess. She was gracious, kind, and fun to be around. I would stay with her again. The place was super clean and very cozy, and she offers every possible accommodation to her guests.
Naomi
2016-06-12T00:00:00Z
This was my second experience with an Airbnb host and I had such a wonderful experience staying at Jenia's place. Jenia is a very open-hearted and a lovely hostess. Her house is beautiful and very well-maintained. I stayed at her place for a week and my stay was extremely comfortable. I really recommend her place if you are visiting HB for work or leisure. Thanks for everything Jenia. God bless you!
Rashmi
2016-03-09T00:00:00Z
All the reviews were right on- great location, clean and comfortable home, and Jenia was very nice and welcoming. It was a great experience. Highly recommended. I would definitely stay here again.
Shawn
2016-02-17T00:00:00Z
This was my first experience using Air BnB. Jenia's home is beautifully decorated and super clean. I was travelling alone to see my first granddaughter so security was very important. Jenia herself is very kind and caring. Great location and awesome experience. She set a very high standard of excellence. I hope to book again!
Catherine
2016-08-05T00:00:00Z
Jenia's home is tastefully done (esp the garden with beautiful roses) and impeccably clean. Jenia herself is laid back, generous and easy to get along with. There were plenty of towels and other supplies. Thoroughly enjoyed my stay.
Sunil
2016-07-01T00:00:00Z
Tipo de Acomodação
Quarto inteiro
---
Tipo de Imóvel
Casa
---
Acomoda
1
---
Quartos
Huntington Beach, Califórnia, Estados Unidos
Sua própria entrada privada em seu bungalow privado separado da casa no nosso quintal. O banheiro não é anexado, mas localizado na casa principal cerca de 10 passos do bungalow. decoração adorável, pisos de bambu, cama queen-size acomodando confortavelmente dois, TV, Wi-Fi, mini-frigorífico, máquina de café, e muito mais !!!
Nós vivemos em uma tranquila cul-de-sac em Costa Mesa apenas uma unidade de três milhas da praia ea uma curta caminhada de Back Bay. Enquanto nosso quintal se presta a grande entretenimento, um ginásio gigante selva, um trampolim, um gazebo, espaço para o nosso cão para passear, decidimos construir um estúdio de aparência moderna situado na esquina ao lado de nossa árvore de abacate. Desde nós estendemos família, que vivem em todo, nós realmente queria que eles têm um lugar próprio para ficar sempre que visitar. Nossos filhos, cachorros e amigos da vizinhança jogar no nosso quintal e passar para o cul-de-sac atrás de nós, enquanto nós desfrutar de sair com amigos e familiares em nosso pátio grande quintal! Costa Mesa tem uma localização central no meio do caminho entre San Diego e Los Angeles na bela Orange County, a apenas 5 minutos do Aeroporto John Wayne. Dentro de um raio de 5 milhas, o bangalô está localizado entre alguns dos centros comerciais mais cotados e restaurantes do (URL HIDDEN) lojas, restaurantes, ou simplesmente encontrar actividades divertidas, o bangalô fica à direita no cruzamento. Além disso, o acesso fácil às convenções em Anaheim para as praias de Newport para fazer compras em South Coast Plaza, o bangalô é o refúgio certo. Enquanto o bangalô é um aconchegante 120 sq. Pés, você tem sua própria entrada, criando um ambiente mais privado. O bangalô está equipado com uma televisão nova marca, ligado com Wi-Fi, uma decoração divertida, um mini-frigorífico, e um pátio pequeno bonito. O bangalô, no entanto, não tem um banheiro ou chuveiro ligado para que os hóspedes precisam caminhar fora da casa principal para usar o banheiro de hóspedes. Somos uma família de quatro pessoas vivendo em nossa casa, com 3 casas de banho, para que você pode se deparar com os nossos filhos, mas não há muito espaço para (URL HIDDEN) toda esta sala, infelizmente não podemos aceitar animais de estimação!
Eastside Costa Mesa tem todo qualquer coisa e tudo que você precisa por perto. O bangalô está a uma curta distância para mercearias, restaurantes ou cafés.
Such a wonderful stay and such a wonderful family! Til next time!
Paige
2015-05-19T00:00:00Z
The bungalow was perfect! The family was awesome and so helpful. They also went above and beyond what I expected to make it a pleasant stay. I thank you guys for allowing my guest and I to use your back yard to have a delicious grilled dinner. We both felt very comfortable and almost as if we new you before the stay.
Dan
2016-04-28T00:00:00Z
Lovely two nights stay in this cozy, neat room very tactfully decorated. Hosts were very warm and welcoming . Having your own place in the garden was both private and comfortable as a hotel room and charming as being outdoor. I would love to come back next opportunity
David
2016-04-30T00:00:00Z
Great place. Cozy. Close to all the amenities and minutes drive from the ocean ☺
Tatti
2017-02-09T00:00:00Z
Lysanne & Rick couldn't have been kinder or more welcoming. The bungalow was very private, quiet, immaculately clean, tastefully decorated and had many thoughtful touches that made my stay truly enjoyable. Highly recommended!
Jennifer
2016-01-13T00:00:00Z
What a great place the Bungalow is! No matter how long your flight is or how tiring the meetings can get, the Bungalow, Lysanne and Rick come to the rescue with a place that feels like home, even though the real home is thousands of miles away. I would book again in no time!
Dan
2016-05-14T00:00:00Z
Lysanne and Family, Thank you for the warm welcome and making our first experience on Airbnb awesome! The room was beautiful and had everything we needed. Again, thank you for making our stay so inviting. We definitely are looking forward to our next visit :) Ps Shout out to Bullet for all the Love he showed my wife and I!
Michael
2016-02-05T00:00:00Z
It was great to stay in the "Bungalow". The place is very nice to discover the south beaches of Los Angeles. The bed was comfy and the room well equipped (coffee machine, fridge, TV, Internet). The Lysanne and Rick's backyard have a lot of charm ! Lysanne and Rick are very kind people who advises us about what to discover around the house. We have discussed about very interesting things.
Thomas
2016-09-21T00:00:00Z
Tipo de Acomodação
Quarto inteiro
---
Tipo de Imóvel
Casa
---
Acomoda
2
---
Quartos
Costa Mesa, Califórnia, Estados Unidos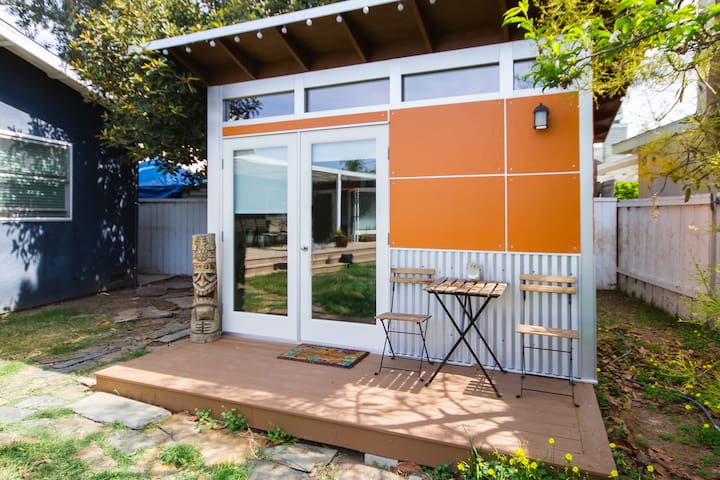 I have a cozy 2 bedroom house, close to anything and everything you could possibly want. Fabulous beaches, amazing nightlife, farmers markets, shopping, or you can just relax with a glass of wine on my beautiful private patio.
My patio was just completely redone and is such a nice place to relax, read a book, or have a cozy dinner. Master bedroom has a king size bed and the guest has a queen.
The beauty of my place is that it's close to everything. Fashion Island, Disneyland, Balboa Peninsula, Huntington Beach, Laguna Beach, and San Diego is just about an hour and a half south, LA is about 45 mins to an hour north.
Every thing like on the picts! Nice area! Thank you Tracie! Best wishes... hope you find our chocolate!
Rose
2016-07-23T00:00:00Z
Looked exactly like the photos. Perfect.
Rebecca
2015-06-05T00:00:00Z
Great spot in a nice quiet neighborhood. Tracie was very gracious and accommodating. We ended up extending our stay an extra night due to car troubles, and Tracie was happy to work something out. 5 out of 5 in my book.
Neil
2015-05-24T00:00:00Z
Tracie was a wonderful host! She promptly replied to emails and text messages. She was very accommodating to my family's needs which we very much appreciated. The home came with off-street parking which is a bonus in the Costa Mesa area. The house itself was clean and comfortable. During our stay we visited family and friends in surrounding areas and it was easy to find main streets from Tracie's home. Overall, our stay at Tracie's home was very pleasant.
Talia
2015-12-22T00:00:00Z
Lovely clean property with everything you need to have a relaxing stay. The Balinese outdoor setting is a lovely sanctuary. Tracie was very good and communicated very well before and during our stay. Great location to shops and restaurants, bars and well within walking distance. Great running area and easy run/jog to Newport beach.
Rachael
2015-08-20T00:00:00Z
We had a great stay at Tracie's place. It is a short über ride to the beach- way easier than trying to find a place to park. We really enjoyed the beautiful patio and quiet neighborhood in the evenings!!
Sarah
2016-08-16T00:00:00Z
Everything were good.
kong
2015-11-15T00:00:00Z
Tracie's place was perfect for our little family. The place was very clean and had everything we needed. Thanks Tracie!
Manuel
2015-10-11T00:00:00Z
Tipo de Acomodação
Casa/apto inteiro
---
Tipo de Imóvel
Casa
---
Acomoda
4
---
Quartos
Costa Mesa, Califórnia, Estados Unidos
1

–

18

de

Mais de 300 Espaços para Alugar
Insira as datas para ver o preço total. Taxas adicionais serão aplicadas. Impostos podem ser adicionados.